There is a variety of the things lying around uselessly in our surroundings and doing nothing but contributing to the damage our earth is facing due to pollution. Not only our surroundings even our houses are filled with the expired things which have served us their primary functions and now they are resting in peace at places like stores, basements, yards, trash cans and even in the drawers. So it's time to re-purpose all these useless items and bring them into action again with these DIY projects but in a new and more functional role.
To inspire you for the repurposing, we have collected these 40+ repurposed DIY projects to upgrade your home at no cost and these showing you best ways to reuse your old windows, doors, salvaged wood, bottles, tires, tin cans and lot more. It would not only help you to get rid of the unwanted stuff but also add a lot to the functionality and decoration of your house and that too at the least cost. So just come along this awesome collection of DIY repurpose ideas and learn to breathe a totally new life to the deceased things in and around your house.
The collection includes a set of smartly made wooden crafts made of repurposed old wood! Pallets have been a great source of free wood and here you can see some amazingly sample crafts and home improvement projects done with pallets! Get inspired by the given coffee table, garden pumpkin decors and multiple different kinds of handmade tables, all made of repurposed pallets! Integrate smartly the recycled pallets and build custom storage units, kids playhouses, and even the large wooden sheds! In this entire collection of repurposed DIY projects the pallets rock!

Next, you can recycle old tires for making awesome planters, at the same time you can also wrap the rope around your old tin cans for making rustic succulent DIY planters! Patch up your old denim pockets with leftover hoops and just fill the pocket with faux flowers for a graceful piece of wall art!
Browse the all the 40+ DIY projects to find more cool and genius repurpose projects, DIY furniture projects and for a comprehensive help and tutorial guides, you can hit the source links, pasted under each listed project!
DIY Vertical Chicken Wire Planter On Pallet Wood: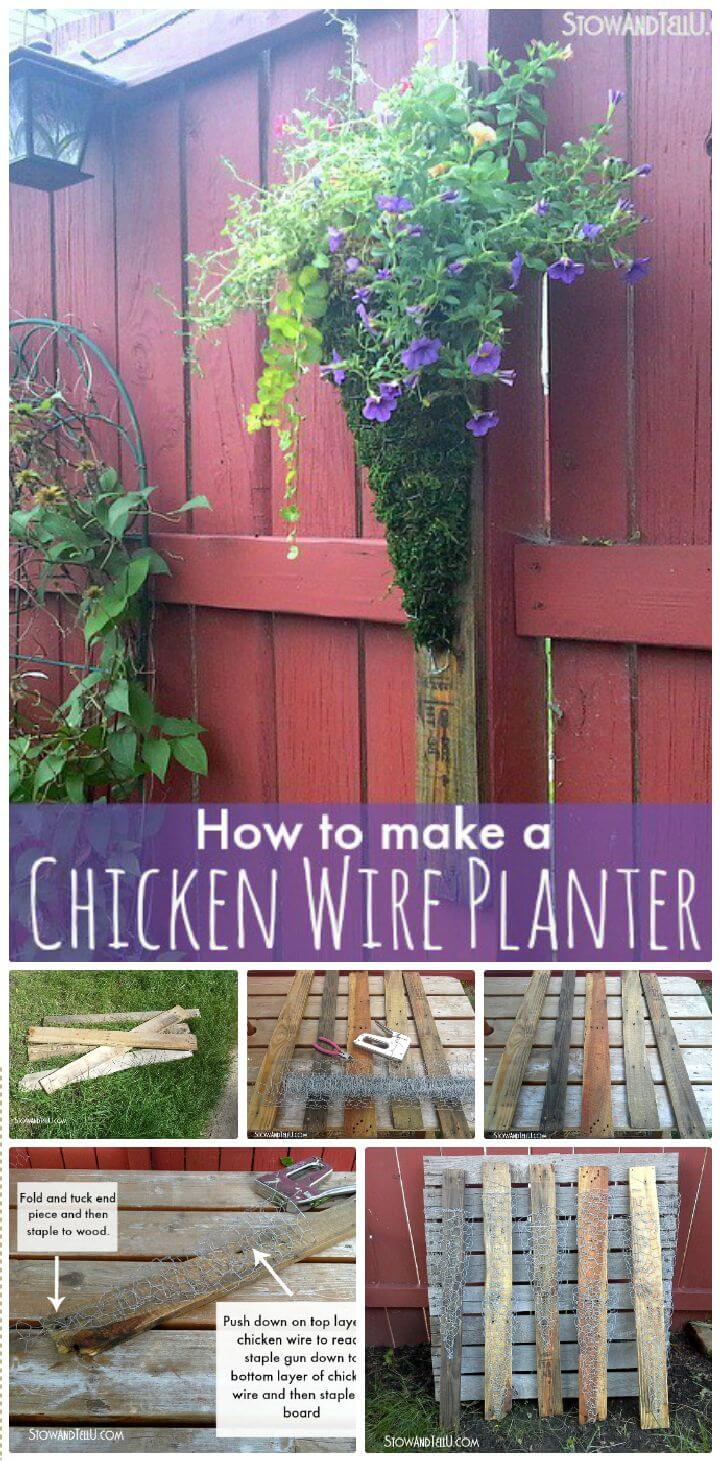 Creating a vertical garden is the best way to enjoy the favorite flower and plant possessions and that without losing your space and using pallet for the purpose would surely save your money too. Just grab a pallet skid, dismantle it into the single piece and then attach the chicken wire rolled cones on each. Fill up the cones with mosses and your favorite green thing and they are read to hang on the garden walls and add so much to the garden beauty and style. You can check out this feasible project with all the details right on this link provided stowandtellu
DIY Pallet Mini Bar And Almost HOME Sign: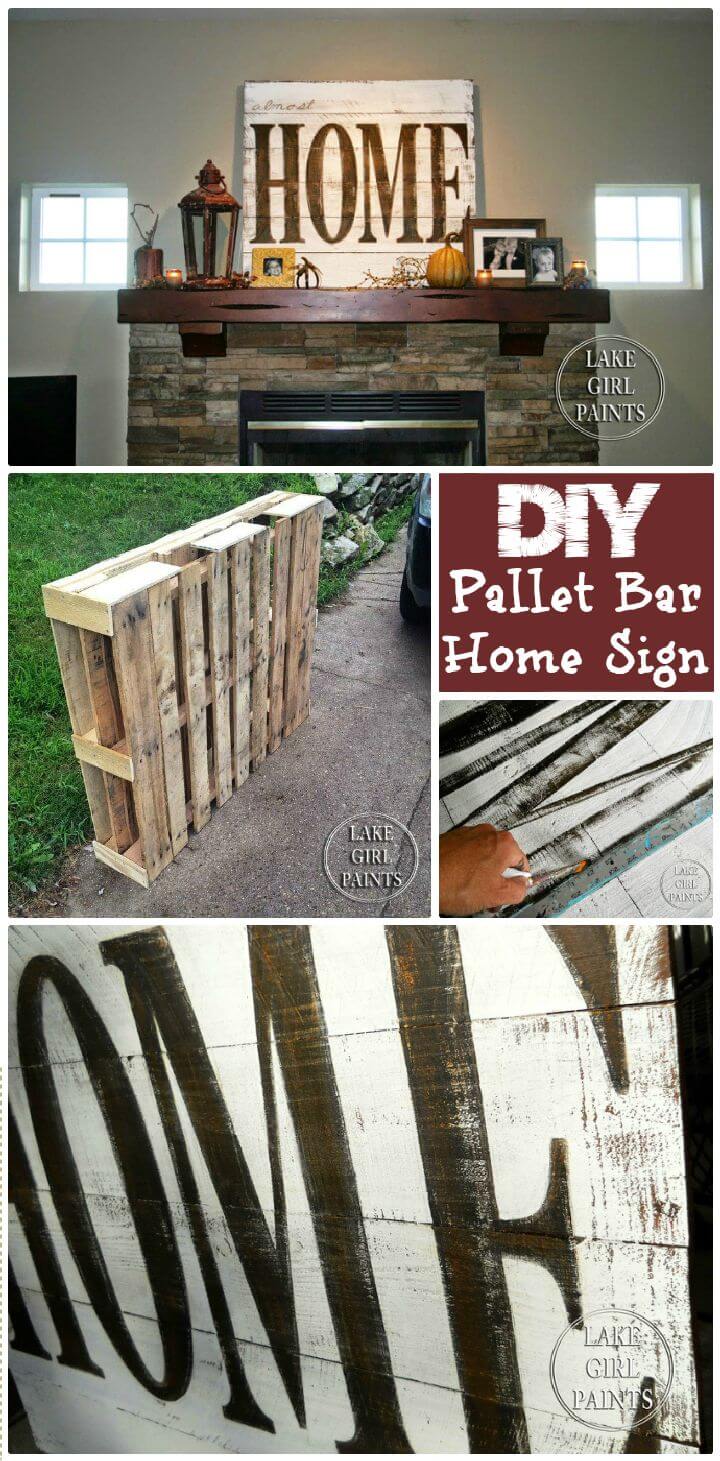 The fireplace is one of the most crowed space in the house during the winters so you really need to embellish the fireplace mantle shelf so that it can really contribute to the decor of the spaces for the common days and also for the special events. This rustically gorgeous Home sign made out of the pallet wood board would the right thing to get your hands on. So make it and display it over the fireplace mantles and it would really bring the cute homey vibes in your spaces for sure. Get the simple yet detailed instructions of making it on your own right here lakegirlpaints
DIY Upcycled Coffee Table: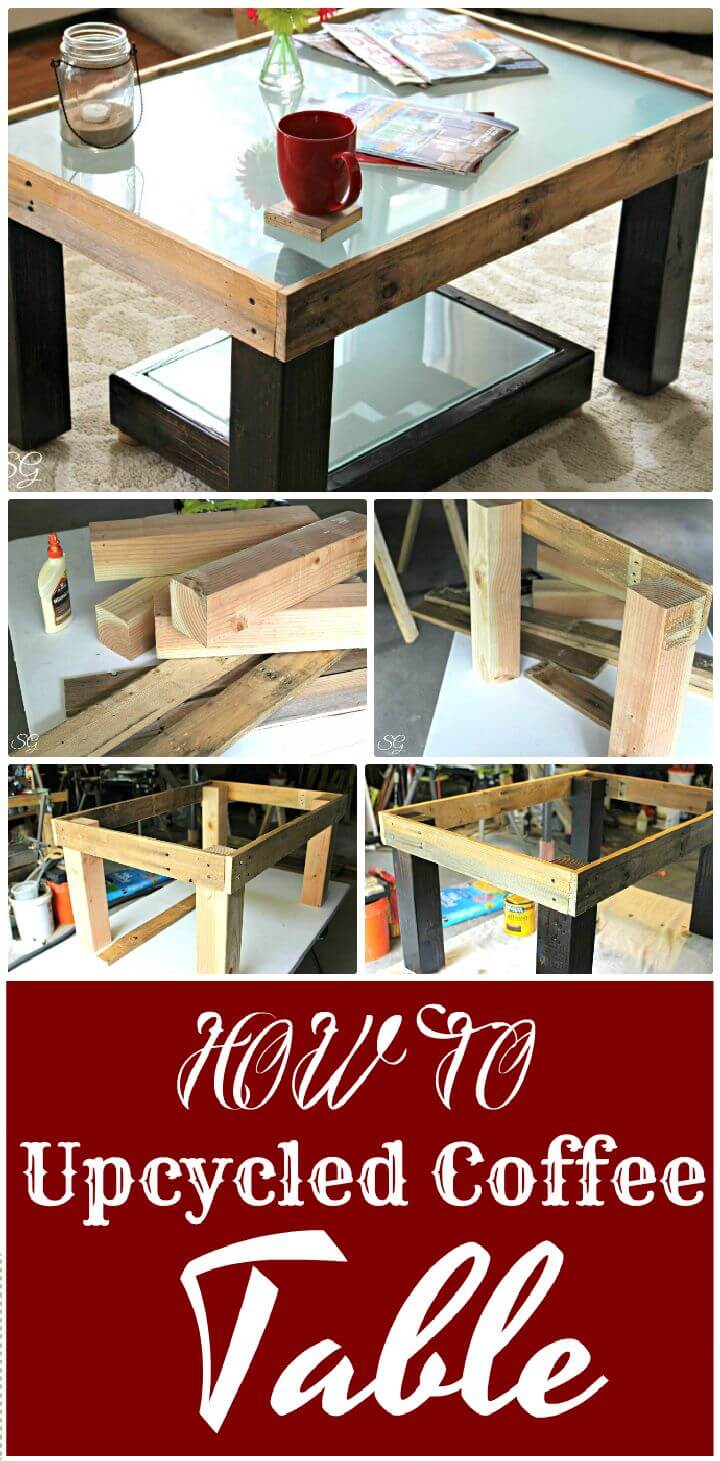 Making a coffee table out of the recycling things is one of the best ideas to save your money and to bring some chic style possessions in your living room spaces too. Here is this simply yet gorgeous coffee table having been made out of the salvaged pallet wood and a sheet of glass for that perfect shabby chic look. A shelf at the base of the table really wards it a more unique and functional look which also has been created out of a pallet wood frame and a glass sheet at the top. check out the step by step tutorial details here scrappy geek
DIY Easy & Simple DIY Coffee Bar: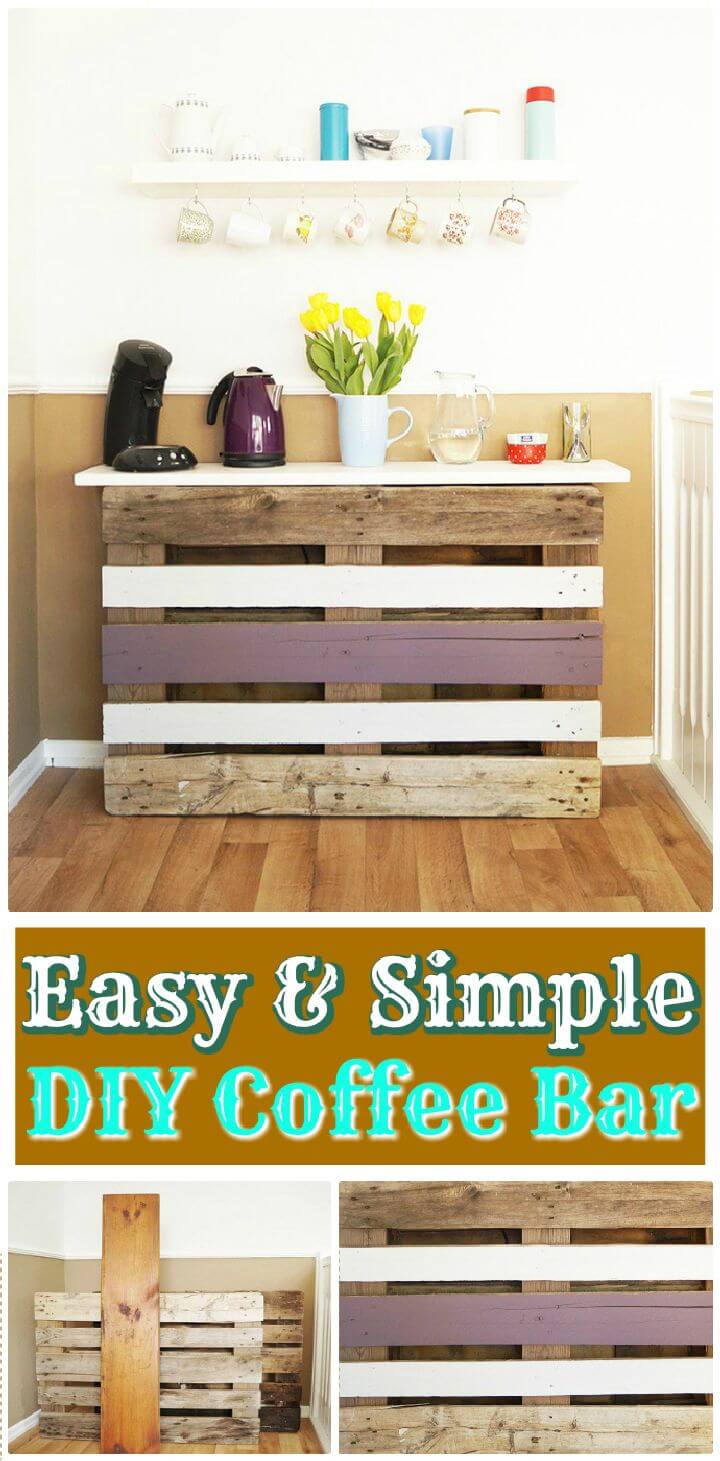 What can be a great weekend idea than building a coffee bar in the house and celebrate your coffee love in the most fun and enjoyable way. You do not have to spend a fortune to build it as it can be created out of the old and recycled pallets to save a lot on your budget. All you need to make this coffee bar are the two pallets, one wooden board to work as the top and some nice shades of paint to make it look exquisitely good for your spaces and decor. This coffee bar is movable so you can shift it from outdoor to indoor depending on your moods and needs. Learn to make it on your own with the tutorial guidance given right here
DIY Warm And Rustic Pallet Wood Wall: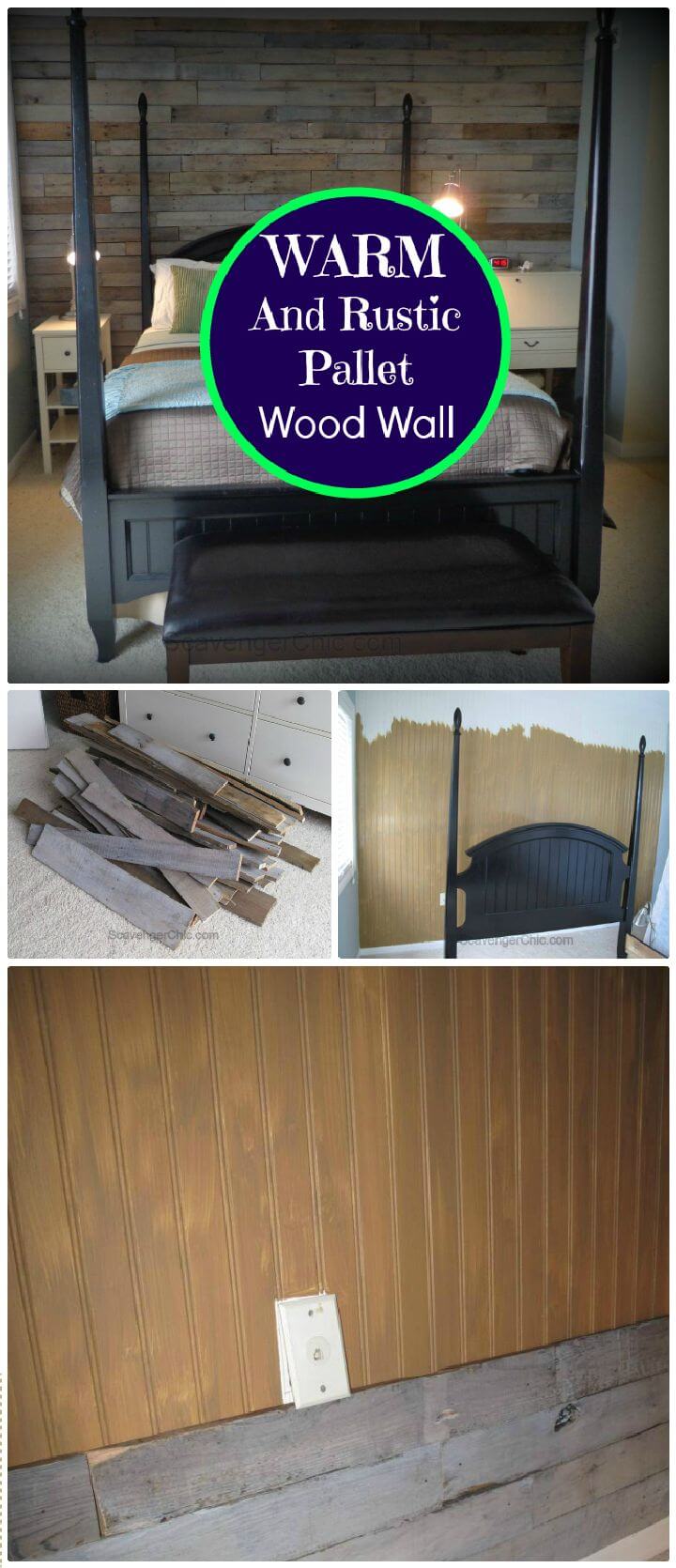 The rustic and natural vibes in the bedroom would really give the soothing effect and now you ca achieve at no cost all. Yes using the old pallet wood dismantled into the pallet planks have been paneled all over the wall behind the bed to create a rustic and warming look. You can keep the wall unstained to enjoy the natural texture of the pallet wood or stain in your desire hues to make complimentary style statement with the bedroom decor. So if you also want to create this amazing pallet wall start collecting the pallet wood and also grab the full tutorial details from this link scavengerchic
DIY Antique Sewing Drawer Turned Seed Box: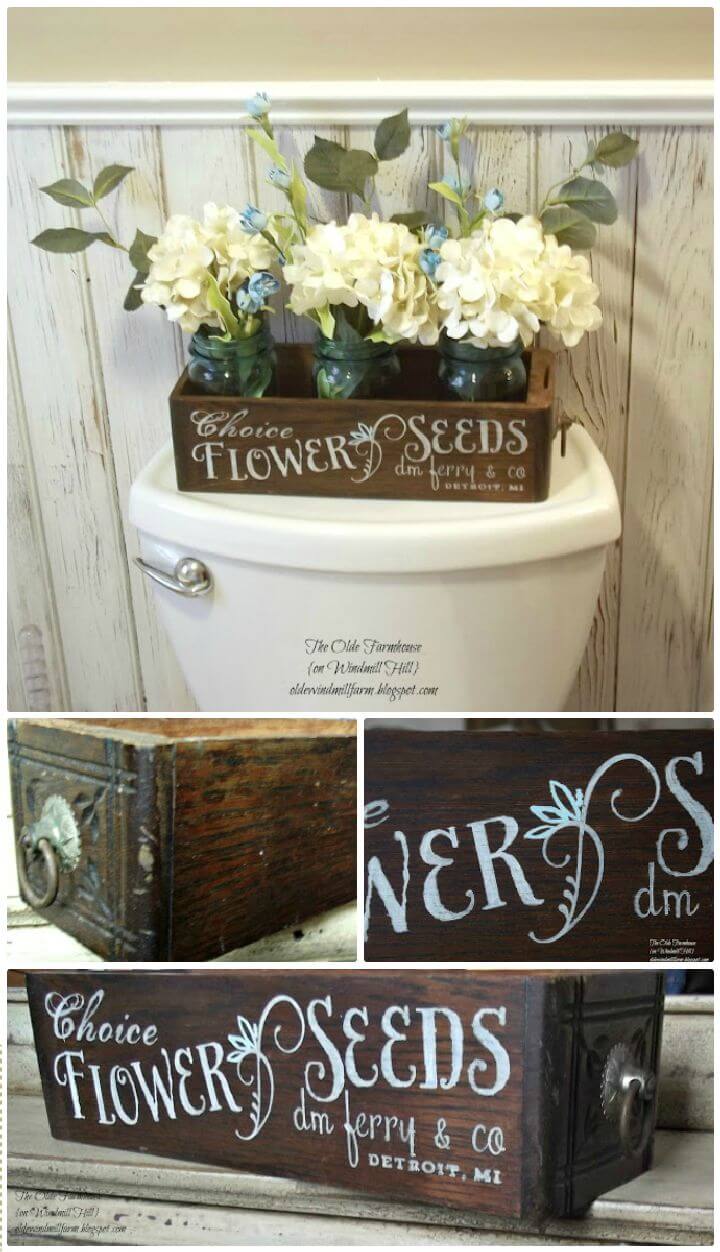 You can easily find this old and not in use sewing drawer and then use it for the cute and decorative purpose of holding flowers and seeds inside. All you need to do is just little cleaning, staining it in fresh rustic brown hues and then adding the stencil designs, letters and texture of flowers to make it look unique and fun. You can hold your seed jars or the flower vases and display it nicely on your side tables or the shelves for an amazing decor look. Get the easy tutorial details of this handy project right here oldewindmillfarm
DIY Twisted Rope Wrapped Cans:

The backyard can be easily styled up and beautified with the addition of these really gorgeous and textured pieces of succulent rope planters. You can easily create these lovely planters on your own getting some empty tin cans and some thick jute rope to cover the cans all around. You can make as many as you want and that too in any of the desired size to display them in a row in the backyard for a perfectly enchanting look. Get the complete tutorial details here frugelegance
DIY Recycled Pallet Vertical Garden: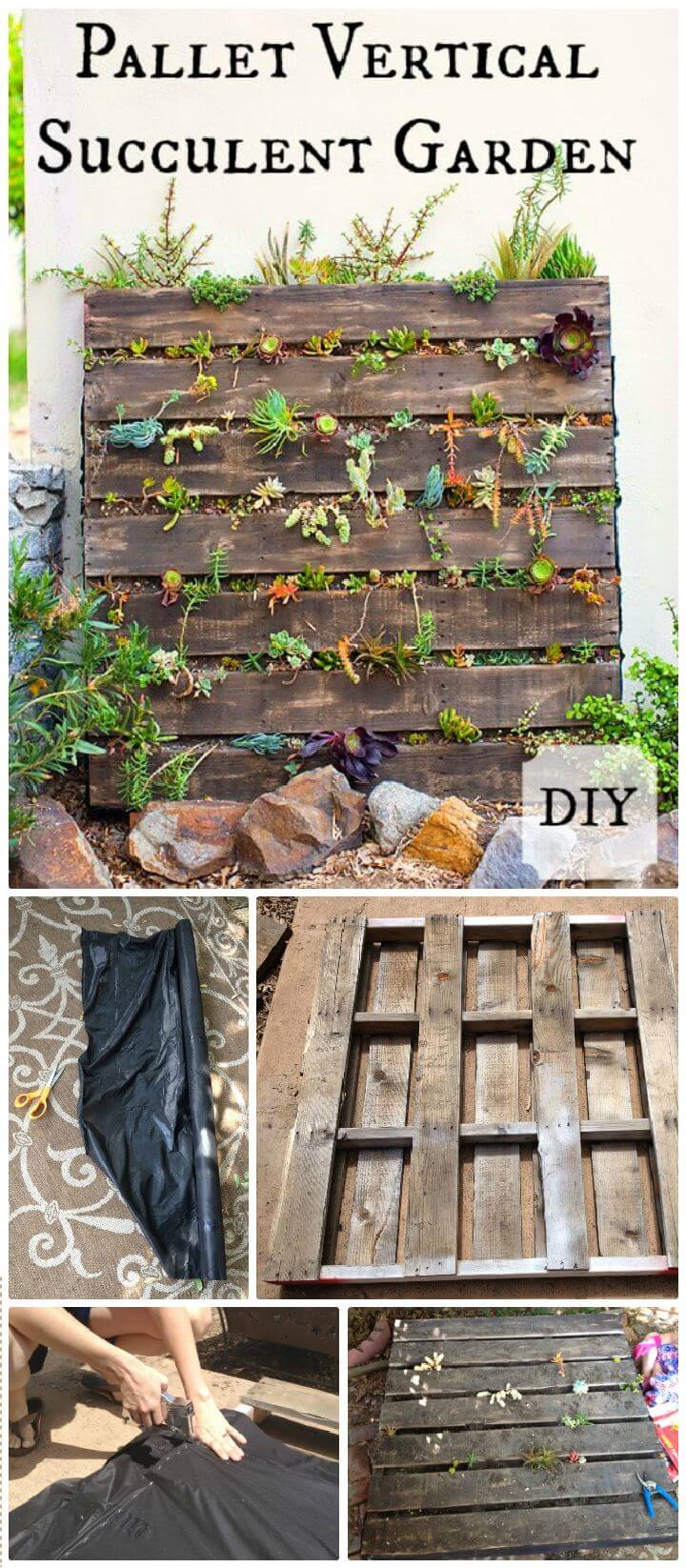 Vertical planters are the perfect solutions to enjoy the green thumb in your spaces if you do not have a garden spaces or if you have they can really add to the beauty and style of your garden spaces too. So here is this totally cheap and simple pallet vertical planter made out of a pallet, some landscape fabric to cover it at the base, black stain, soil and the cute succulents. Check out the tutorial in steps right here to make it this weekend kentheartstrings
DIY Pallet Wood Wall Clock: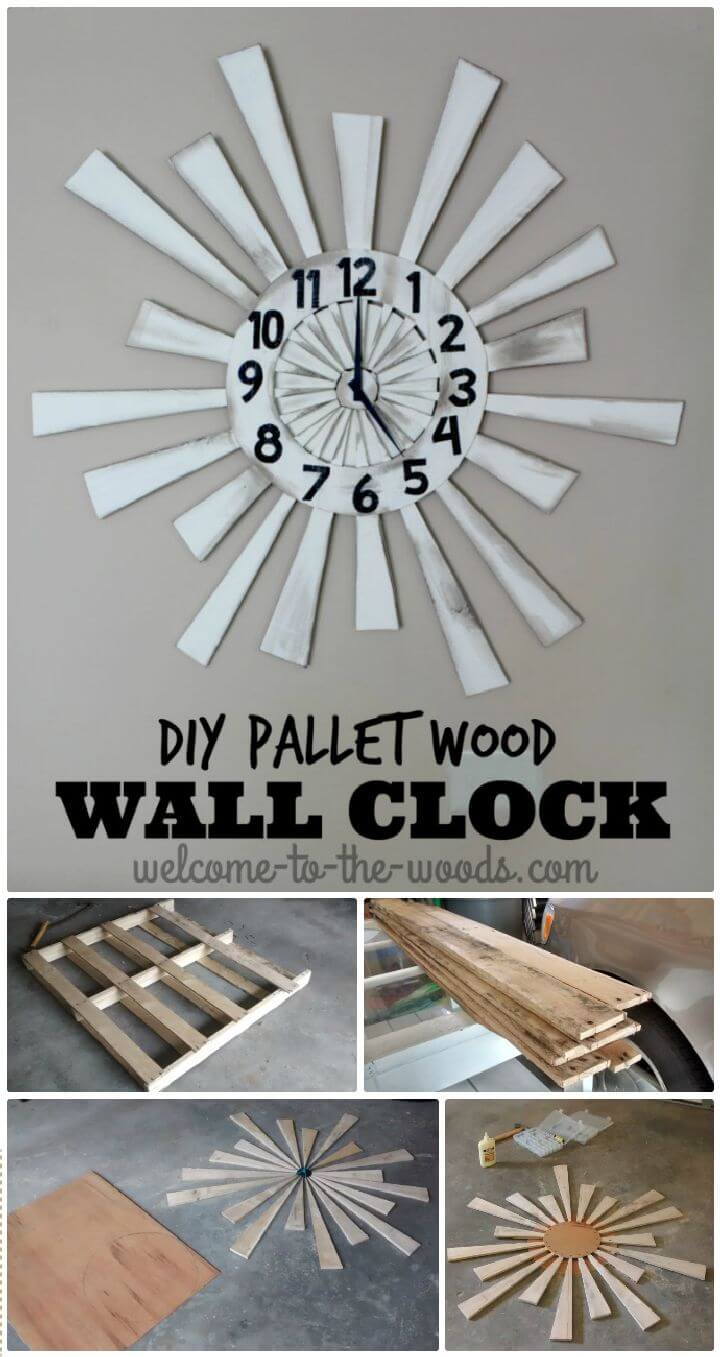 Wall clocks are not in fashion but you can bring them in fashion if you make one with a creative tough and unique approach. Do not need to buy expensive stuff and material to make one as it can be easily whipped off from the pallet wood around. Here is the inspiration of this wooden pallet clock that would look super cool and interesting on your empty walls for sure. A thin round sheet of wood has been encircled with the triangular pallet slats to form up the basic clock structure. With the chic white coating and black stenciling of the numbers the clock has been finished in a modern chic style. Step wise tutorial here welcome-to-the-woods
DIY Pallet & Pipe Dog Bed Tutorial: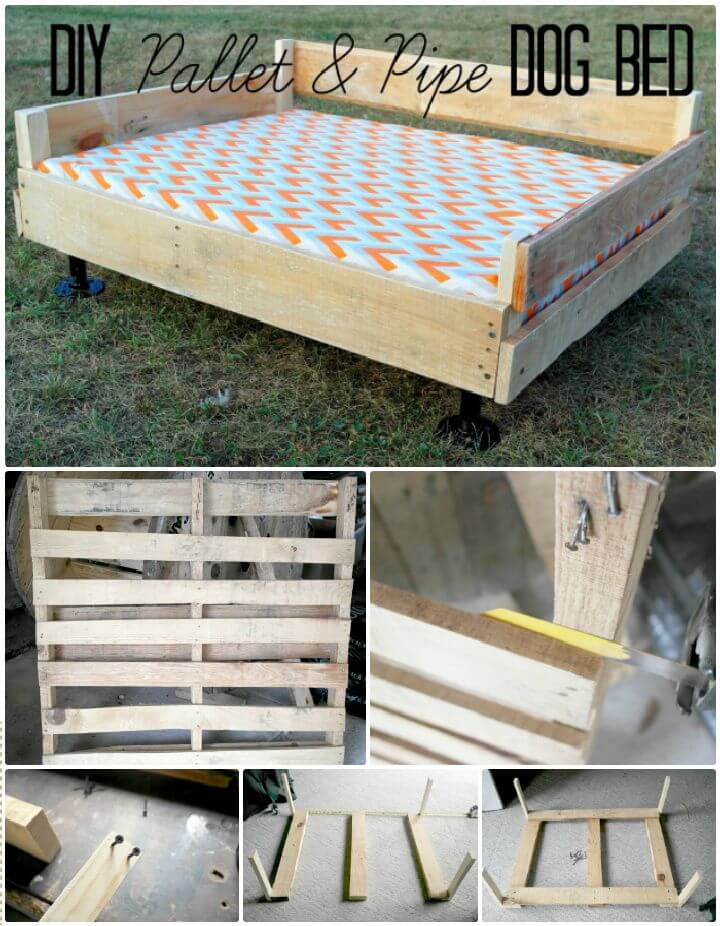 What can be more loving gesture for your pet than building him a nice and comfortable bed to sleep, sprawl and rest on. Instead of wasting your hard earned money on the market bought dog beds make this super functional and cool in design pallet dog bed and save your money. Just dismantle the pallets and get the wooden bars to shape up the pallet dog bed structure. Add the pipe legs to the bed for a sturdy and robust support to the bed. Paint it and pad it and its ready to be the ultimate lingering sport for your lazy and cute dog. Catch the complete details of this project here thecharmingfarmer
DIY Cutest Painted Pallet Wood Pumpkin Patch Ever:

The famous online shops are loaded with the wooden pumpkins when the fall arrives as they knew how important they are for the decor of the fall events and celebrations. But why waste your money as you can make the same gorgeous and super cute wooden pumpkins on your own using the old and retired pallets. Just draw the different size pumpkin shapes on your pallets, cut them out and paint in the desired colors of multi enchanting shades. You can decorate your shelves or mantles or the front porch, garden spaces and the entrances as well. You can check out the easy and fun tutorial of these pumpkins here walnuthollowcrafts
DIY New Junk Styled Pallet Wood Coffee Table: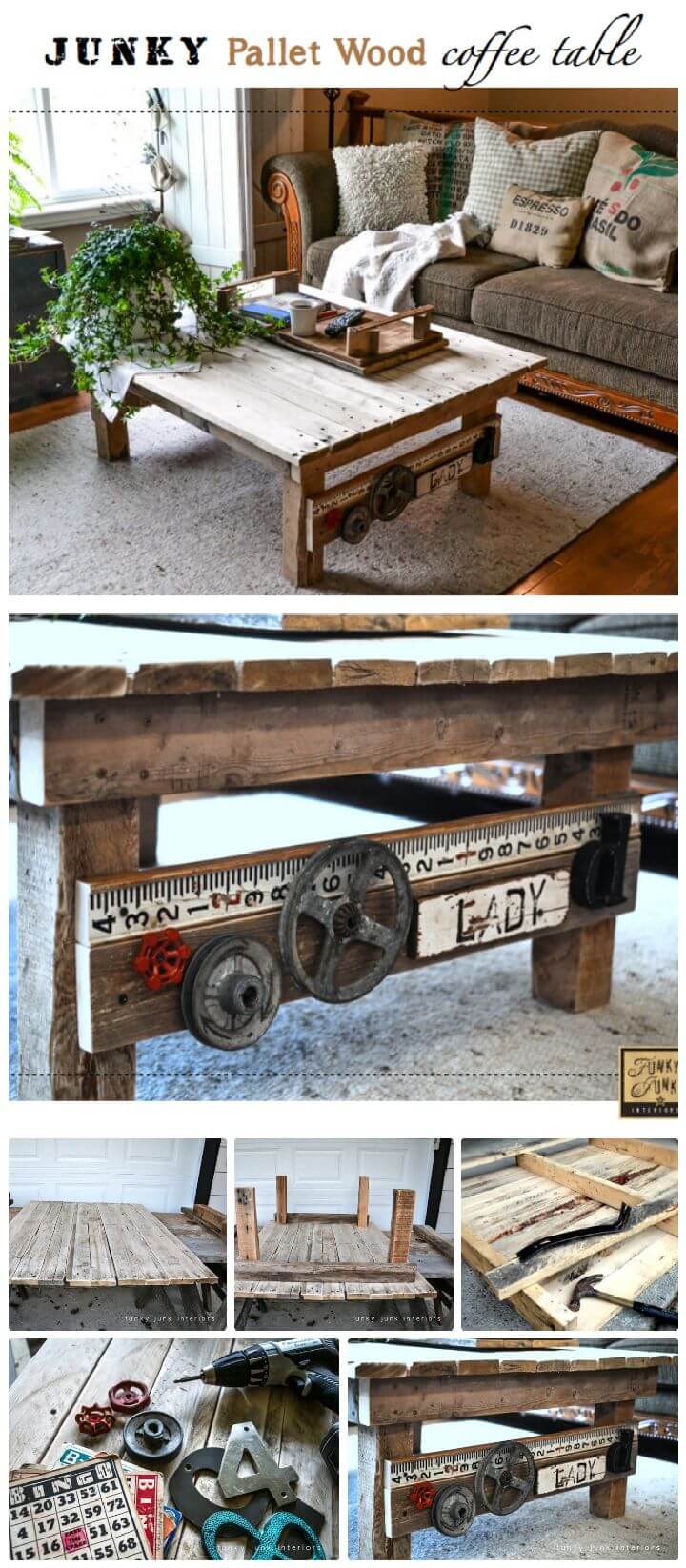 The coffee tables are so much fun to build out of the pallet wood and here is another fun and innovative addition to the pallet made coffee tables. This is one is junk inspired to it would really instigate your quirky side to have it right in your living room. Using the separated pallet bars this simple structured coffee table has been built with a top and four legs. The twist and fun to the structure has been added with this side supporting beam or board having been screwed up with some old metal possessions to incorporate that junky look. So do check it out complete on this link to have this rustic piece in your spaces funkyjunkinteriors
DIY Repurposed Tire Planter: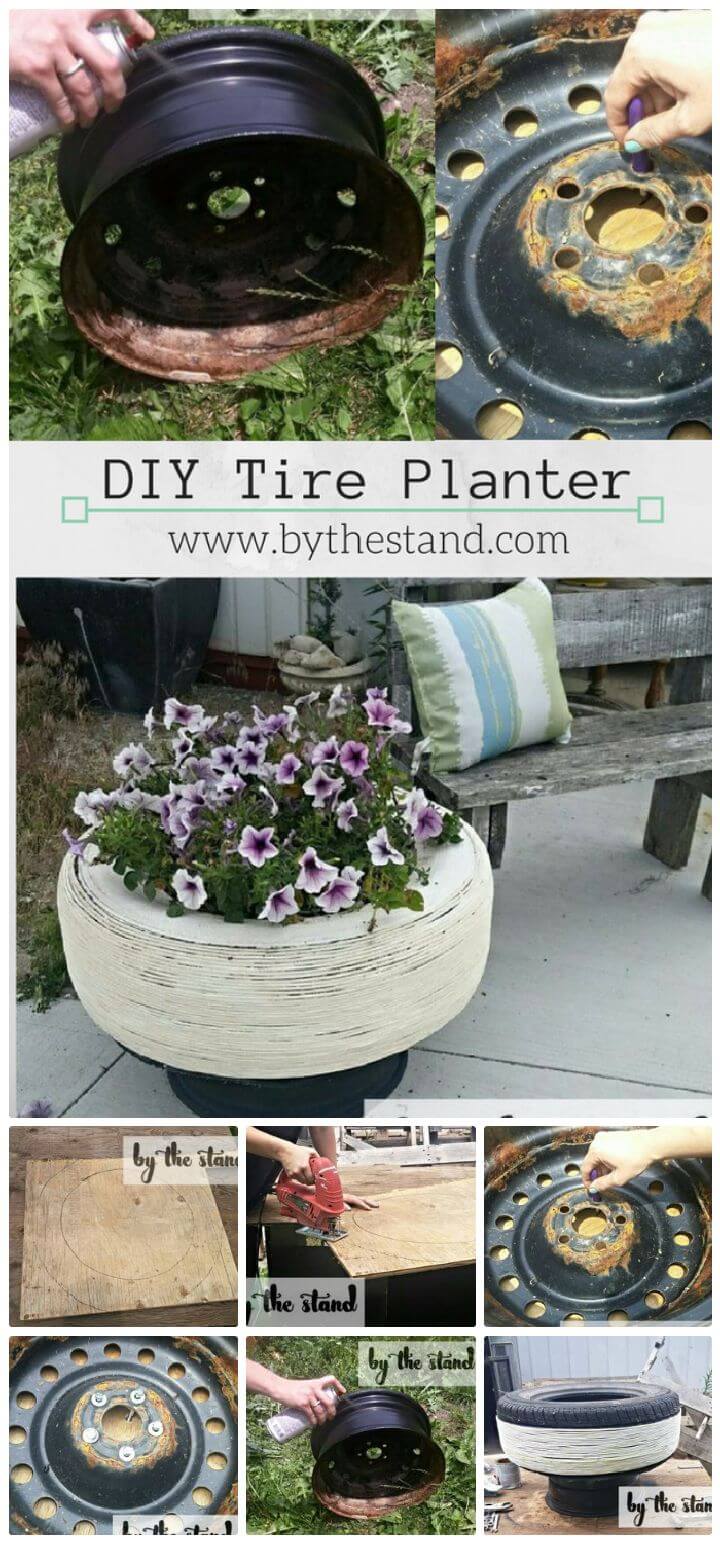 You can now literally turn the trash into the decor treasure of the house and this tire made planter is the apt example in this regard. Using a black stained tire time as the base, a plywood circle for the rim top closing and an old white stained tire on the top are the easy to find things you need to pull off this really cool and decorative decor idea for your outdoor spaces. You can grow your favorite plants or flowers inside this tire plant and make it proudly display in your porch, patio or the garden and thus uplift the chic look of your spaces at no cost at all. Peek into this link for full details of this project bythestand
DIY Rope Wrapped Cans Succulent Vases: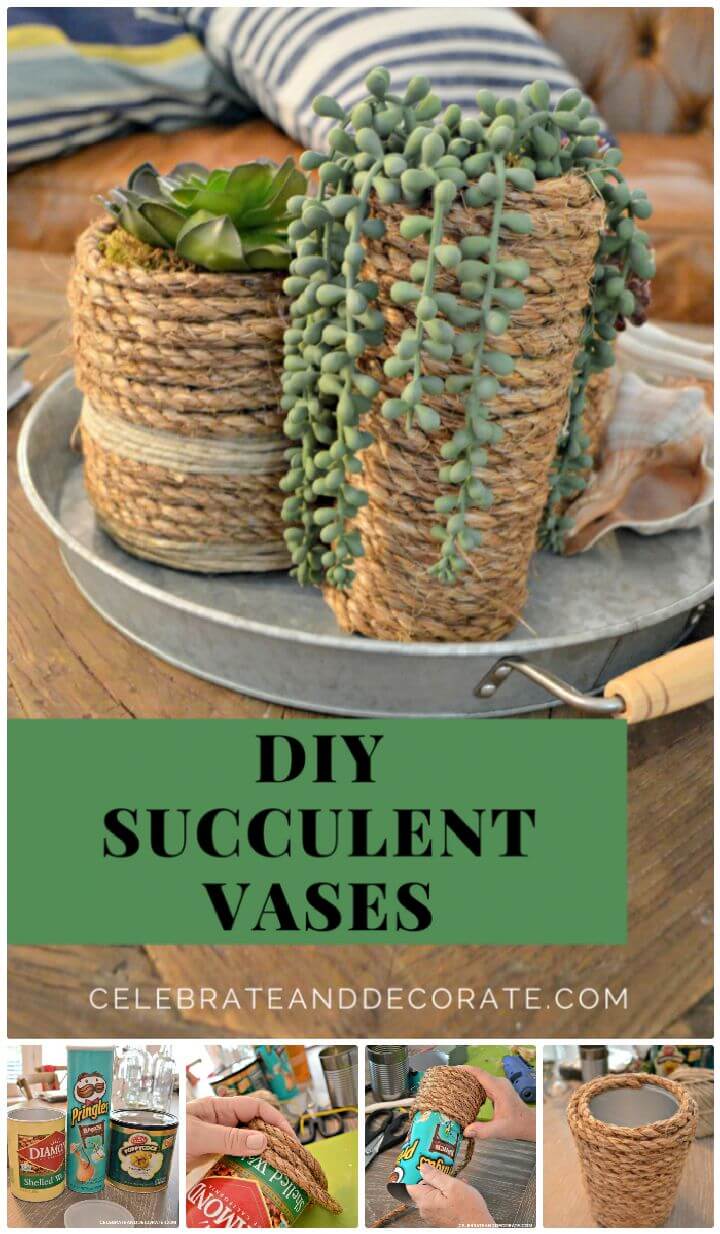 Recycling is the necessity of the hour to make our environment clean so here is this totally fun and functional recycling project for the empty tin cans. Yes taking out all the tin cans from your kitchen you can get your hands dirty with this super cute and decorative project. Just cover the cans with the thick rope and use them as the pretty vases for your side tables, coffee tables, shelves and the mantles and add a bunch of style and beauty to your home decor. This totally cheap and interesting recycling tin can project can be hacked from this link celebrateanddecorate
DIY Repurposed Pallet Coat Rack: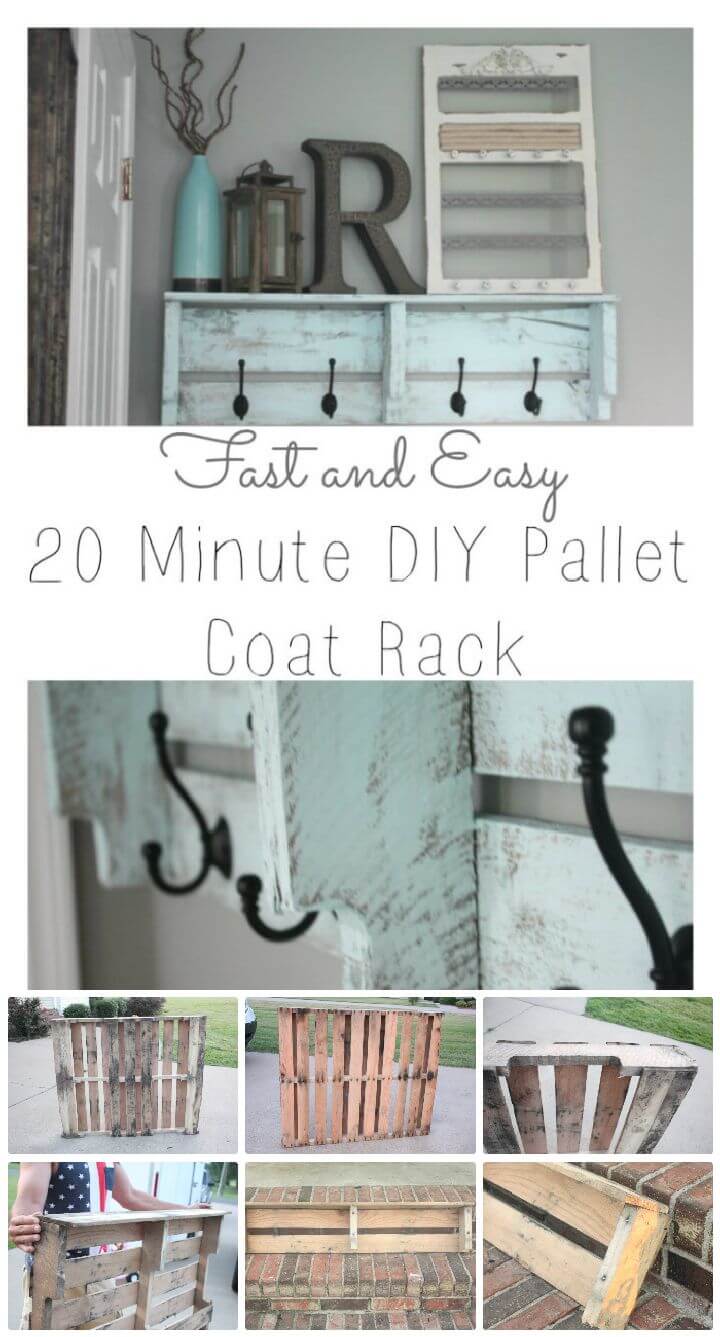 Coat racks are the must haves for the foyers of the house to make them the most functional so here is this really useful idea of making a cost free coat rack out of the pallets. The pallet skid has been dismantled into two and one of the parts have been further cut down at the top to get the coat rack structure from it. Paint this rack in your desired hues that matches your entrance or the foyer and then add those totally interesting look vintage hooks to the rack and give it a nice finished look. The fully fun and cheap tutorial of the coat is lying here on this link with step by step instructions and pictorial details too re-fabbed
DIY No-Cost Pallet Playhouse: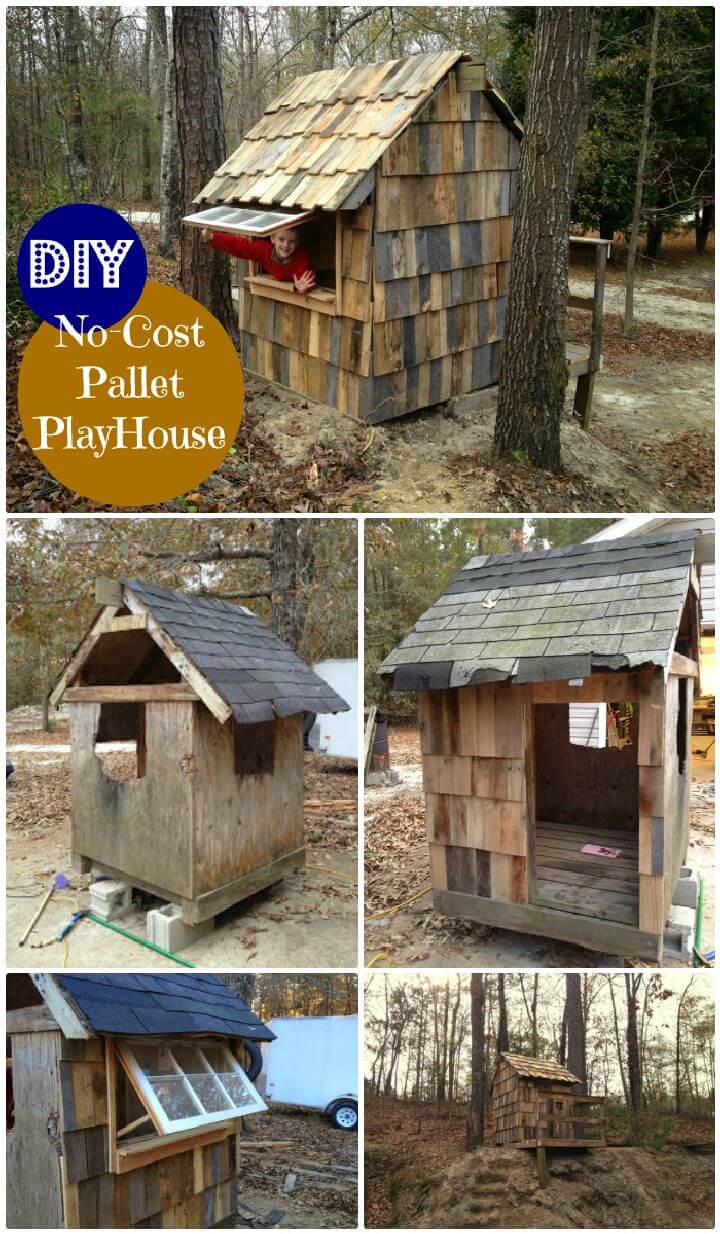 To have a playhouse of their own is the the dream of every kid and now you can fulfilling this dream without burning a hole in your pocket.Yes using the recycled pallets you can build this totally fun and rustically gorgeous playhouse for your kid with an old window being the focused feature of the playhouse. Kids can see through it and also get some fresh air so gather some pallets and grab an old window from your storage to create this fun play station in the outdoors for your kids to spend some quality time there. Check out the complete instructional tutorial here
practips
DIY Repurposed Pallet Storage Crates: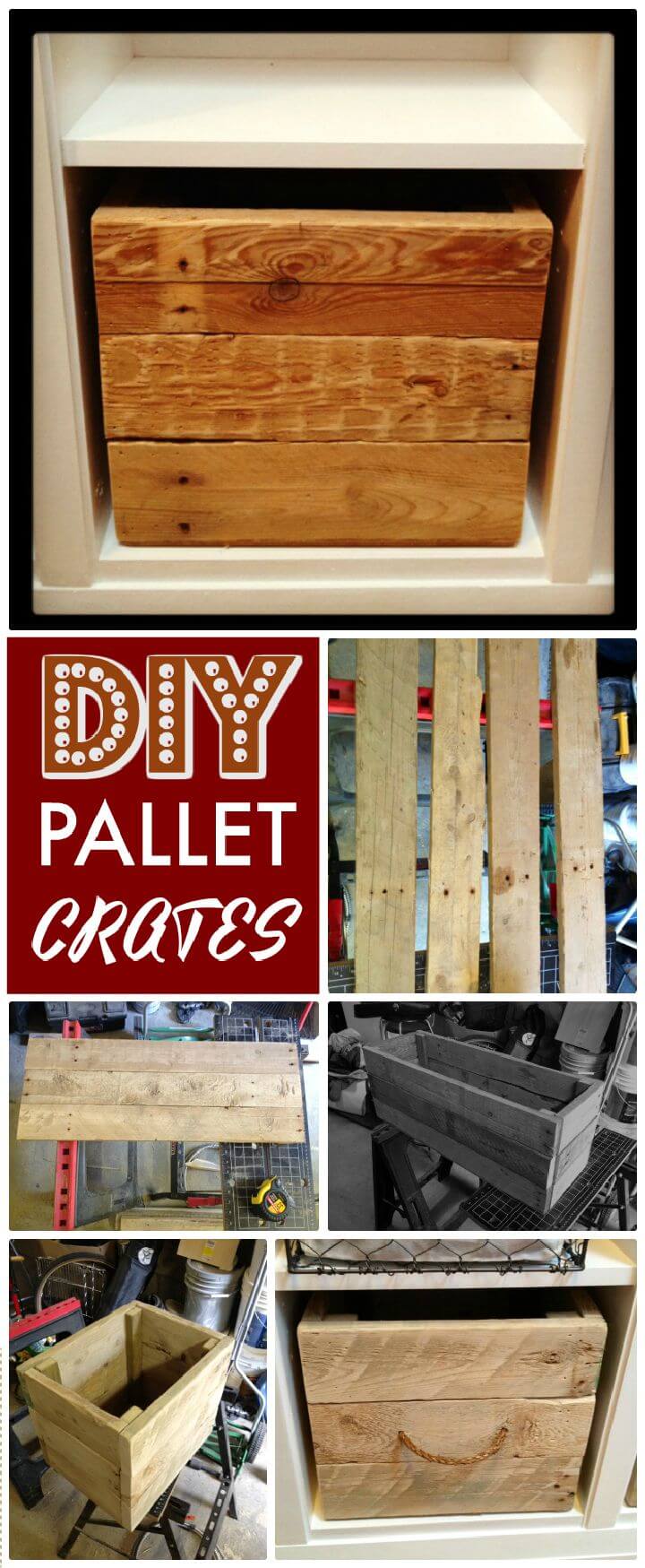 The storage problems are no more an issue when you have some recycling wood around like the pallets to create the storage crates out of them and cut out your clutter in the most genius and fun way. Stacking the pallet slats together these functional crates can be built in any size and shape be it square or rectangular to fit in your storage cubbies, holding a bunch of the storage possessions inside. The handles of rope would make them easy to pull out and make your storage more feasible for you. Here is the simple tutorial with all the information you need to make them nicely at home storefrontlife
DIY Drawer Turned into Spring Centerpiece: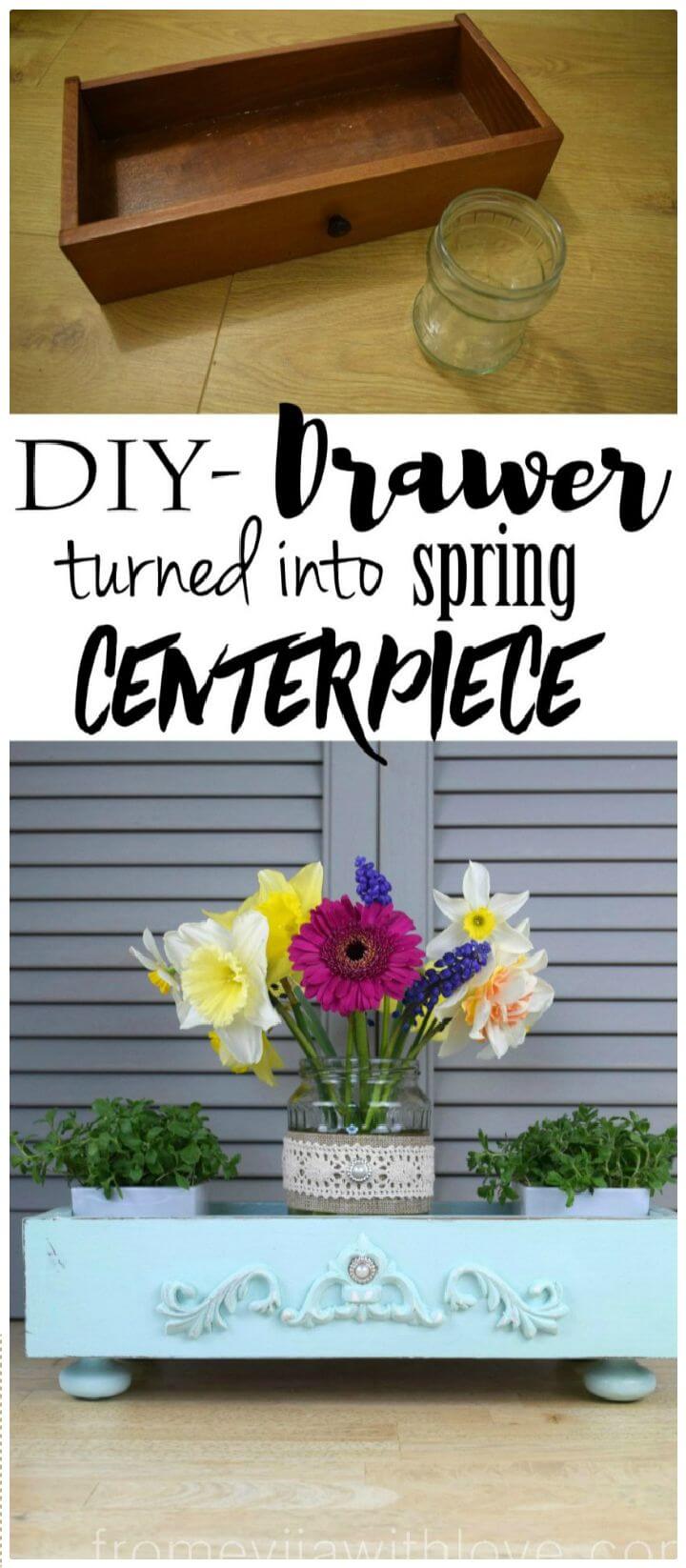 Anything can come under your crafting hands to get transformed into something fun and functional from being dull and useless. The perfect example is this pretty spring center piece that has been created out of an old drawer and an empty pickle jar. Adding the bigger knobs as legs and the chalk mint paint, the drawer has been nicely spruced up while with the lace embellishing the pickle jar has been turned into an awesome flower holder that would rest in the drawer and make a gorgeous display on your tables and shelves. Grab the step by step tutorial details from this link fromevijawithlove
DIY Upgrade Your Tabletop: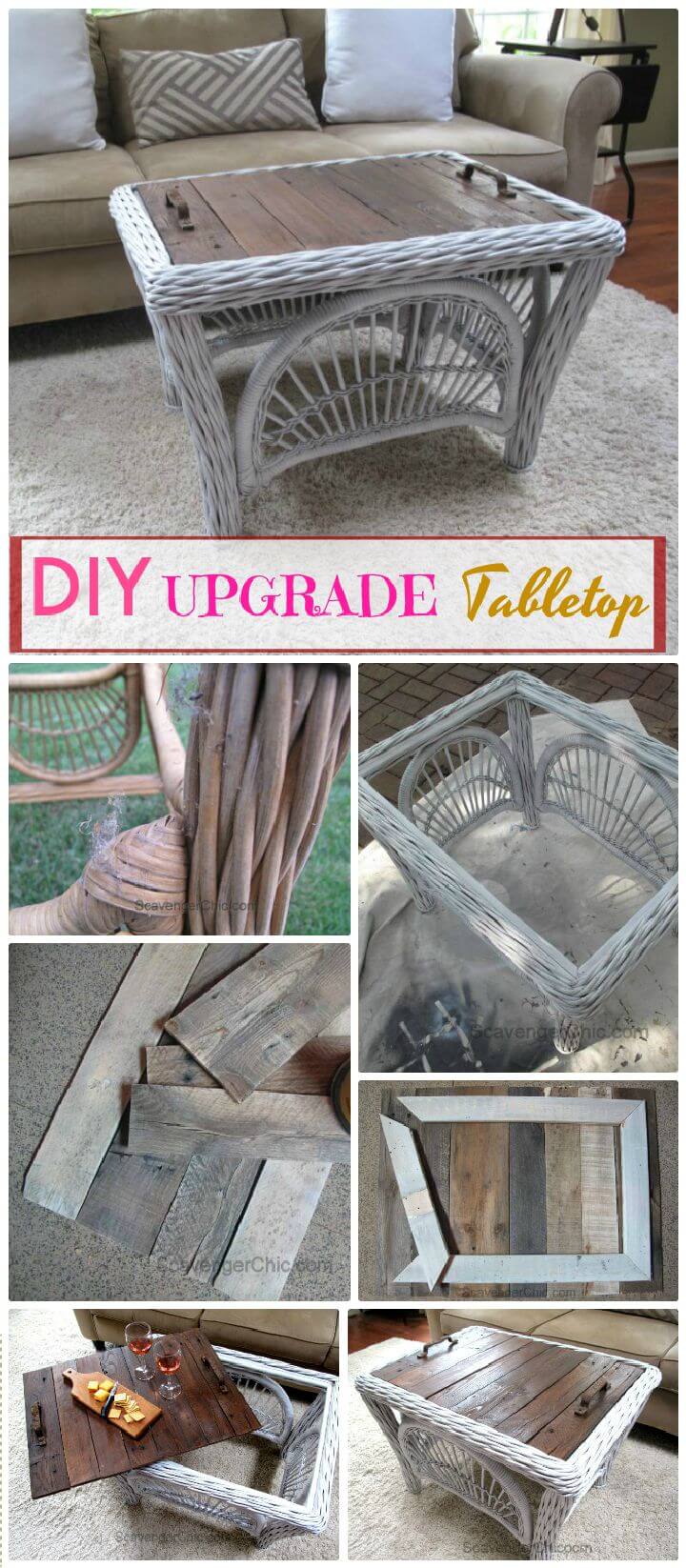 There can be so many sudden expenditures to disturb your budget like a broken glass top of your coffee table that needs an immediate repair. Here is this totally low cost idea to replace your table top and make it all functional again. You can use the pallet wood or any other wood available to you and create this nice and handy table out by stacking the wooden slats together.The handles added to the top make it really unique and one of a kind as you can use it as a serving tray too. Here is the link to know more about this really cool and useful project scavengerchic
DIY Drawer Finds A New Life as a Storage Ottoman: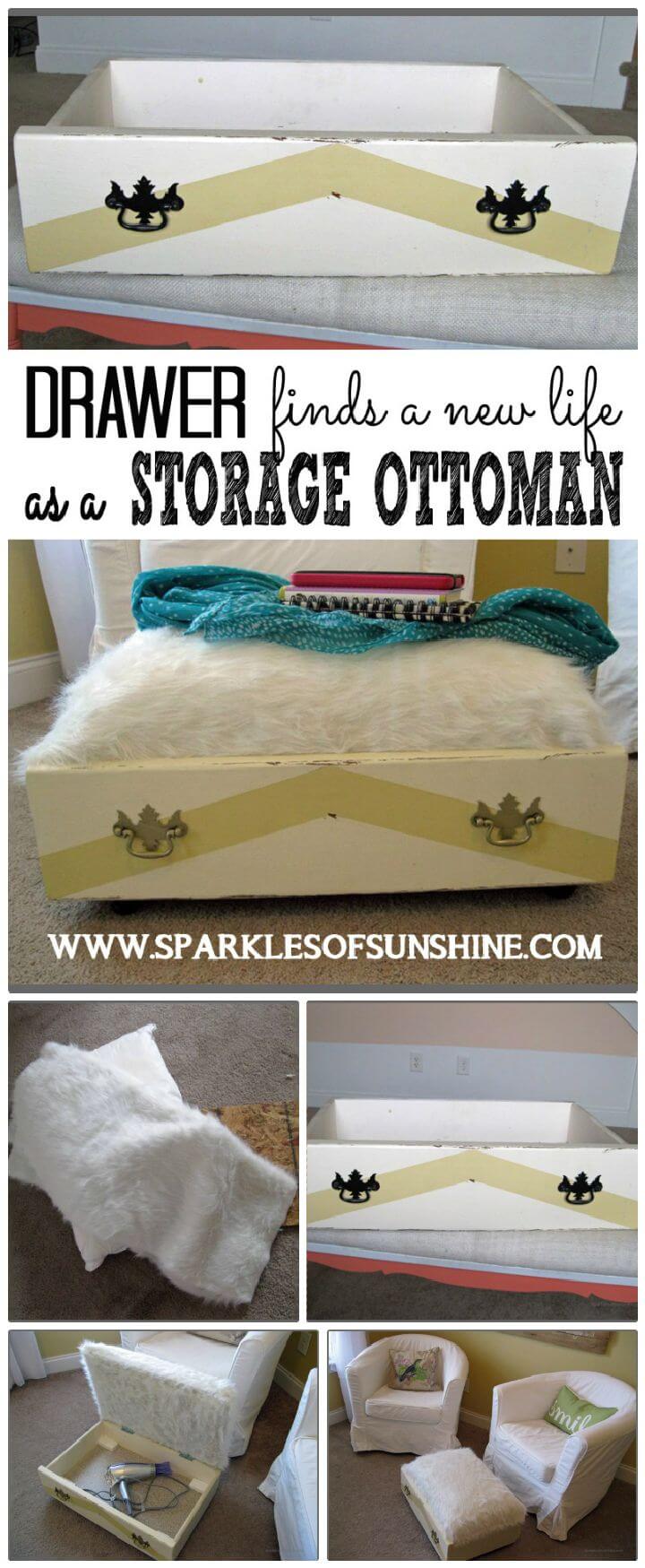 Sitting in your favorite chair, stretching out your legs and putting your feet on a soft ottoman is the kind of relaxing we need at the weekend. And if you do not have an ottoman till now you can have one and that too without spending a penny. Just grab and old drawer , add casters to the ends and attach and hinged upholstered top to it so that you have some storage space left under the to top hide some of your items there. You can complete this totally easy and fun project in less than an hour so do catch all the needy details of it here sparklesofsunshine
DIY Wood Pallet Shed: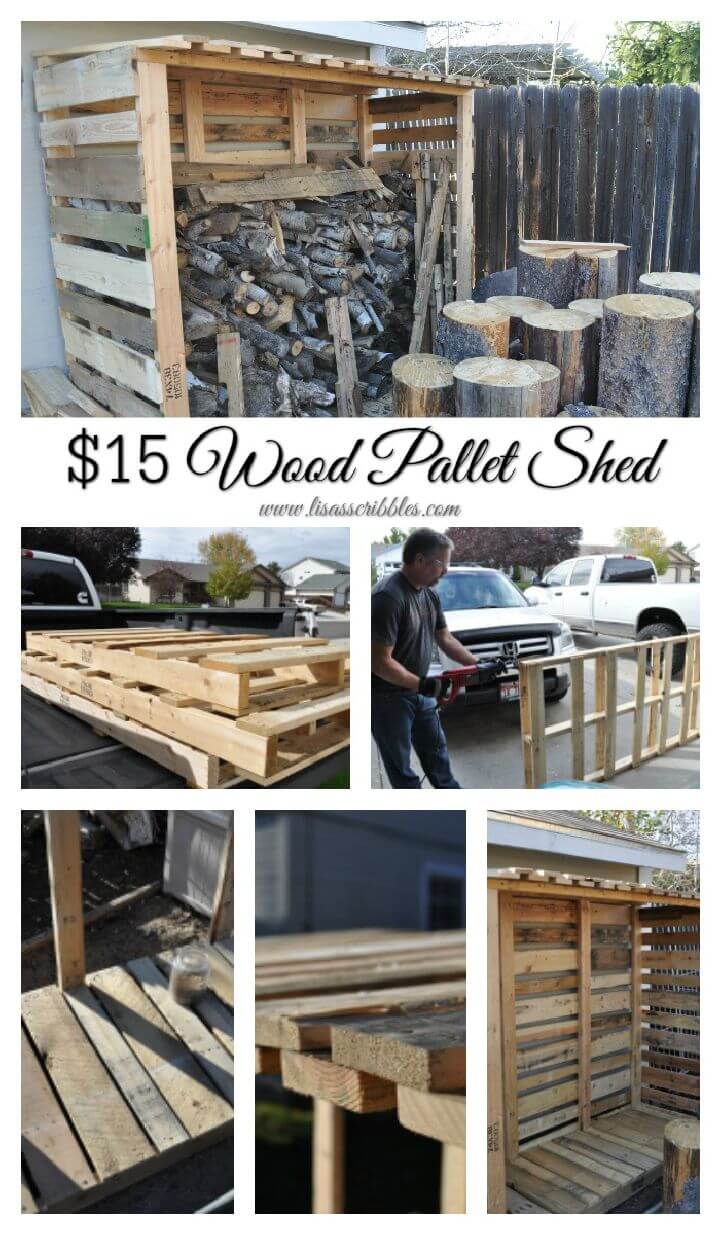 You can get the full tutorial and instructions details here: lisasscribbles
DIY Using an Old Picket Fence For Spring Decorating: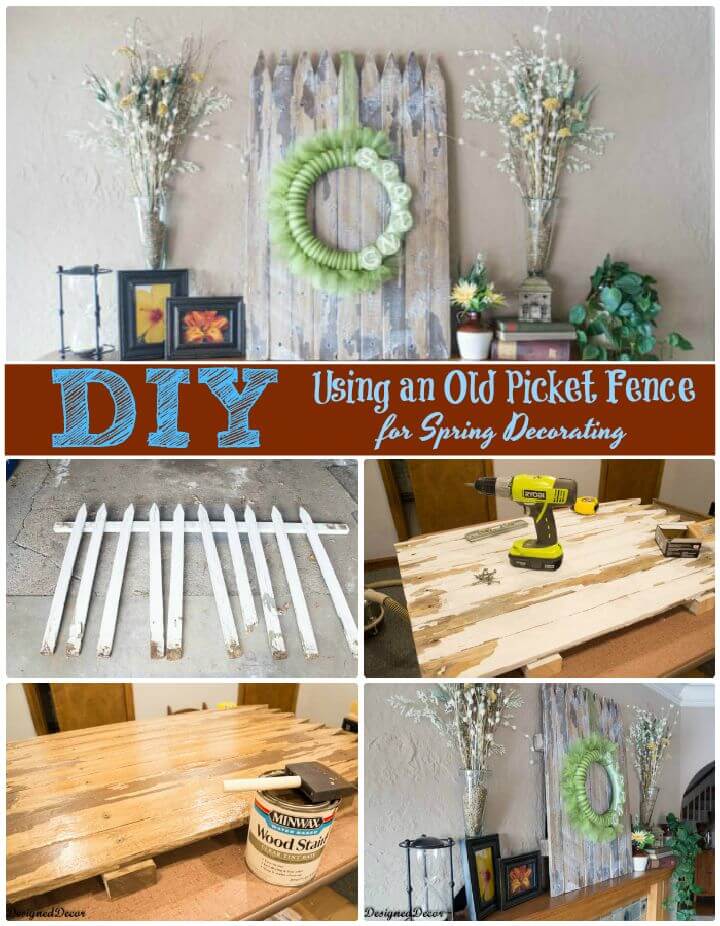 As the winters are coming you really need to have a shed in your spaces to use for the firewood storage so that you can keep yourself cozy and warm all through the winters. Here is a handmade pallet woodshed that is just too simple in structure to be built at home with the help of dismantled pallet bars and slat pieces. Here we are sharing the link to catch the step by step instructions to make this shed on your own and feel proud about yourself designeddecor
DIY Recycled Can Tool Caddy: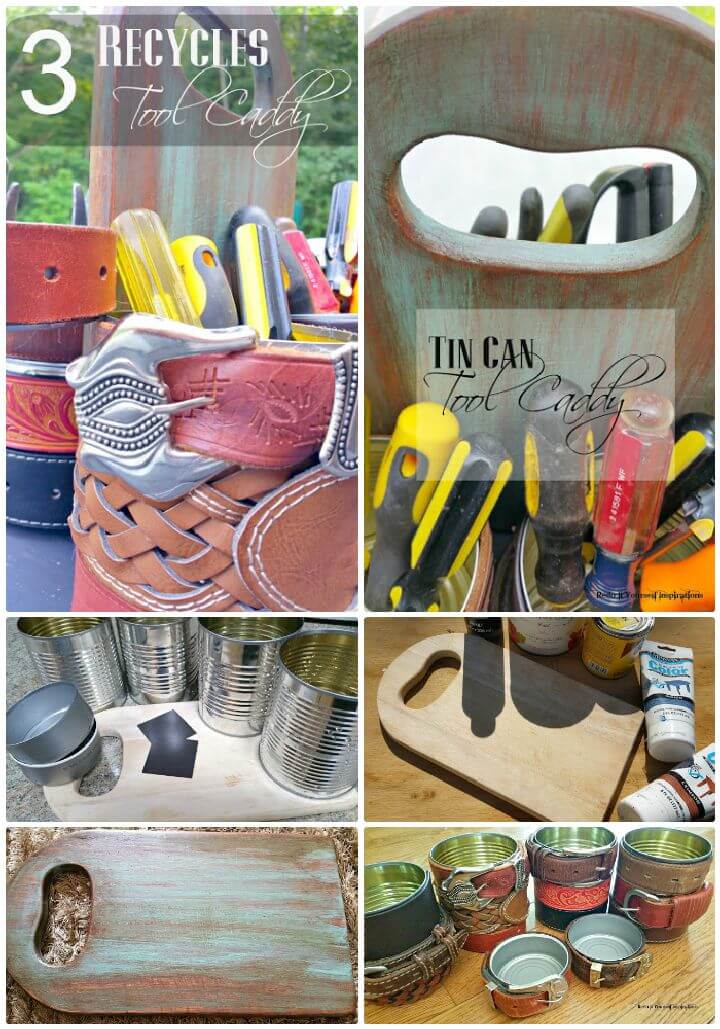 This awesomely functional tool caddy idea would really blow your mind for being made out of multiple recycling materials like tuna cans, sauce cans, scrap belts and an old wooden cutting board. The cans have been buckled up, the board has been stained and then all the things have been put together to form this really useful and fun looking tool caddy holding all your tools in an easy and sorted way. Get the complete details of this pretty unique idea right here which is absolutely cost free to get your hands on redoityourselfinspirations
DIY Recycled Denim Pocket Hoop Art: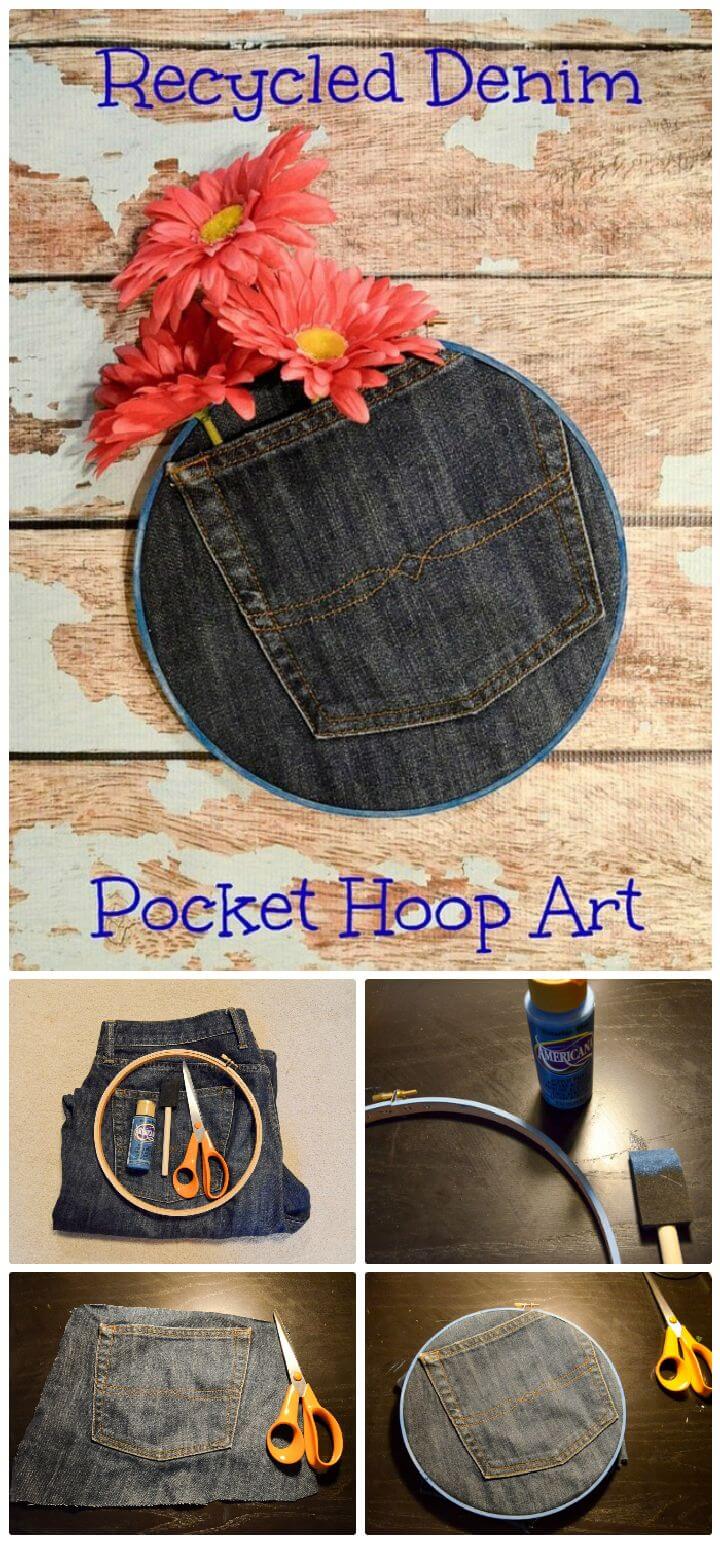 We all have a lot of pairs of our favorite old denims taking up a huge unnecessary space in our cupboards. So its time to free up some space and make room for new clothes so recycle the old denims. You can make this perfectly cute denim pocket art for your walls and add some interesting and fun aspects to your home decor. Cut the pocket, place it in the hoop, paint in blue, add flowers and its ready to rock the wall beauty and style in a really cute and pretty way. Here is the link this cool idea belongs to albiongould
DIY Colourful Tin Can Planters And Pallet Holder: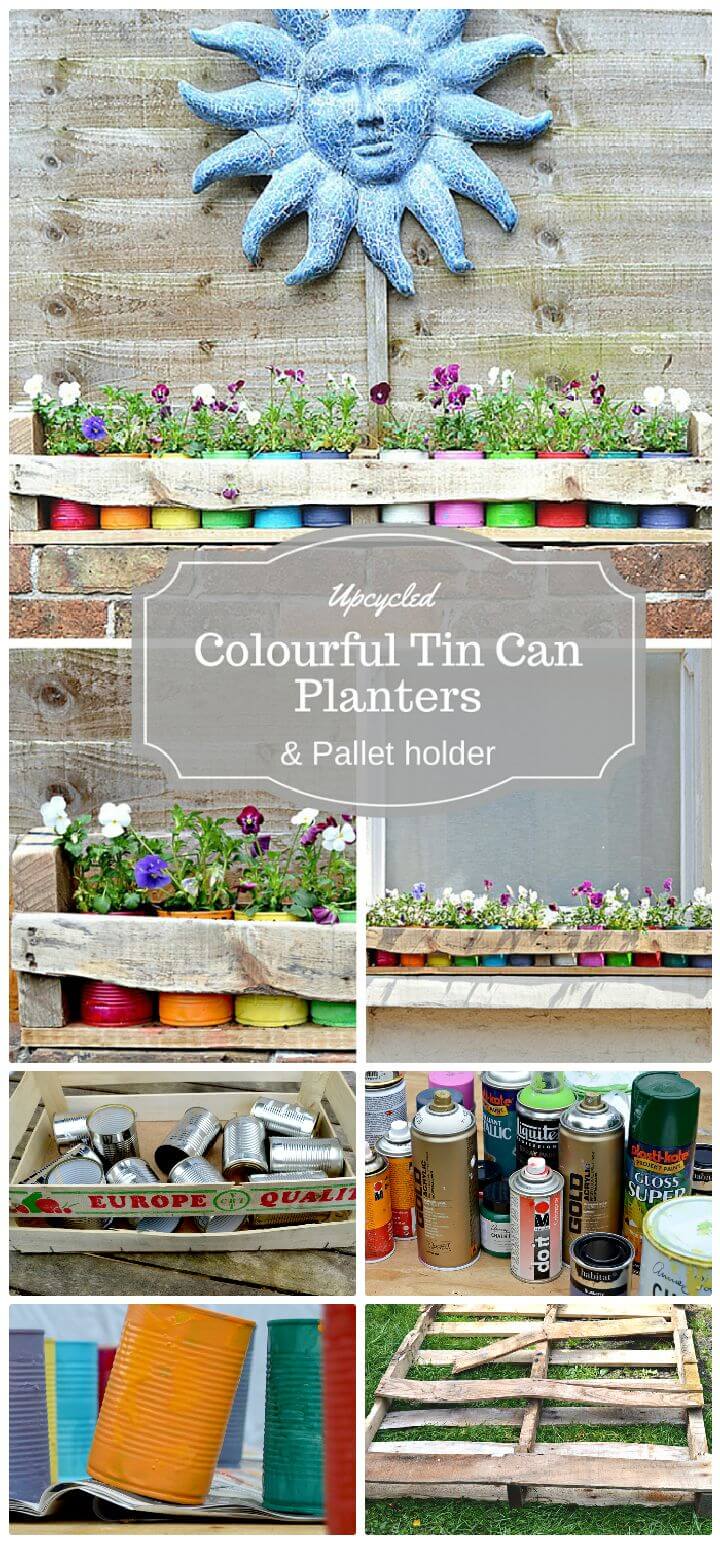 Here is a really smart and cost free idea to add super cute look to your garden or patio spaces. It involves two kind of recycling supplies, one is the pallet skid and and the other is a bunch of tin cans. Paint the tin cans in exciting and vivid hues and use the pallet to form a nice and functional plant holder. Fill the cans with your favorite plants and flower and hold them in that pallet planter and create an eye catching spot in your outdoors for almost free. Details here pillarboxblue
DIY Grandinroad Hack A Pallet Project: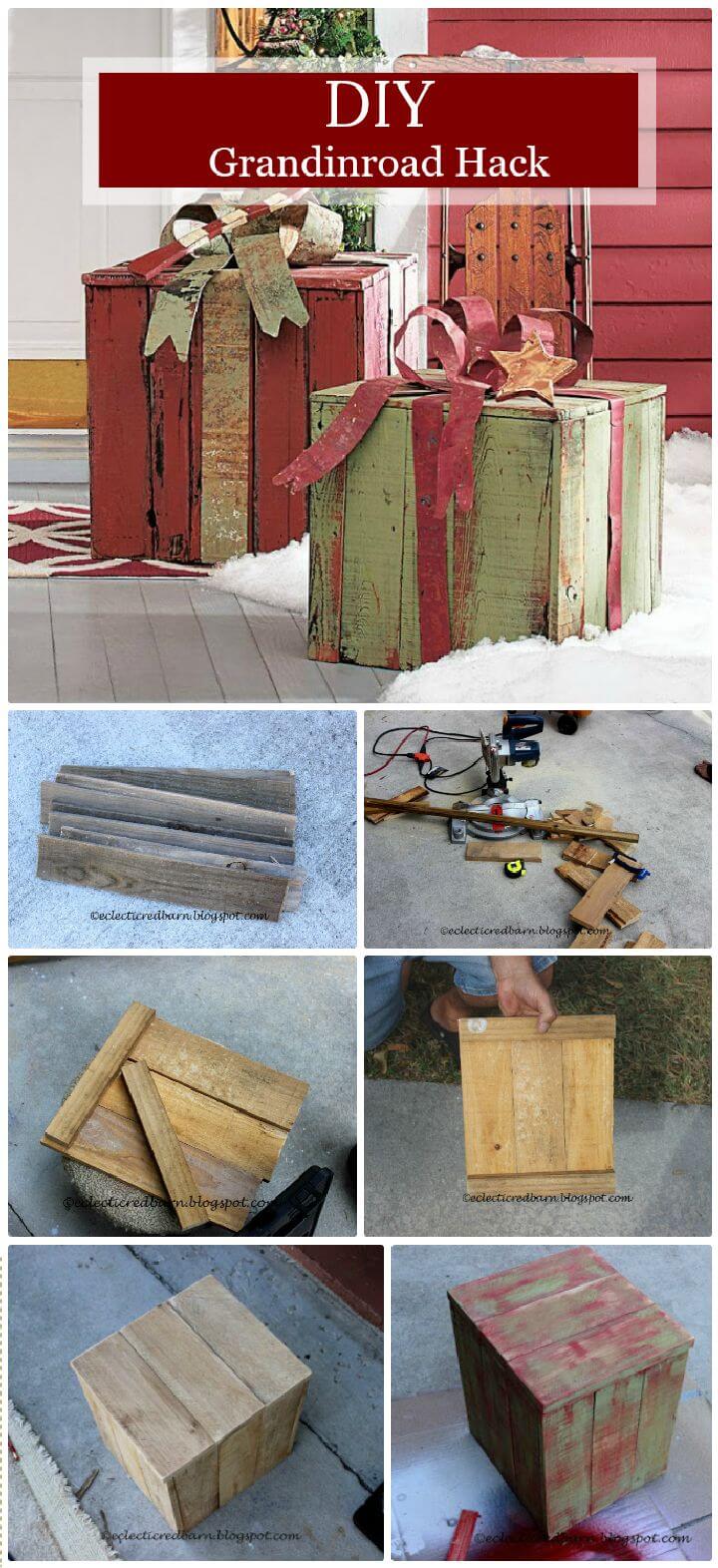 You can make all those hefty and expensive wooden crafts that you see on the pinterest and Ikea and that too staying in your budget limits. Like these immensely adorable and cute grandinroad boxes for the Christmas decor and celebrations. You can easily cut out the short slat pieces out of the free pallets and then stack them to form these cute cube boxes of desired size. Paint them, embellish with bow and ribbons and they are ready as the most pretty present boxes to give away or for the decor display. Link for details here eclecticredbarn
DIY New and Improved Window Shutter: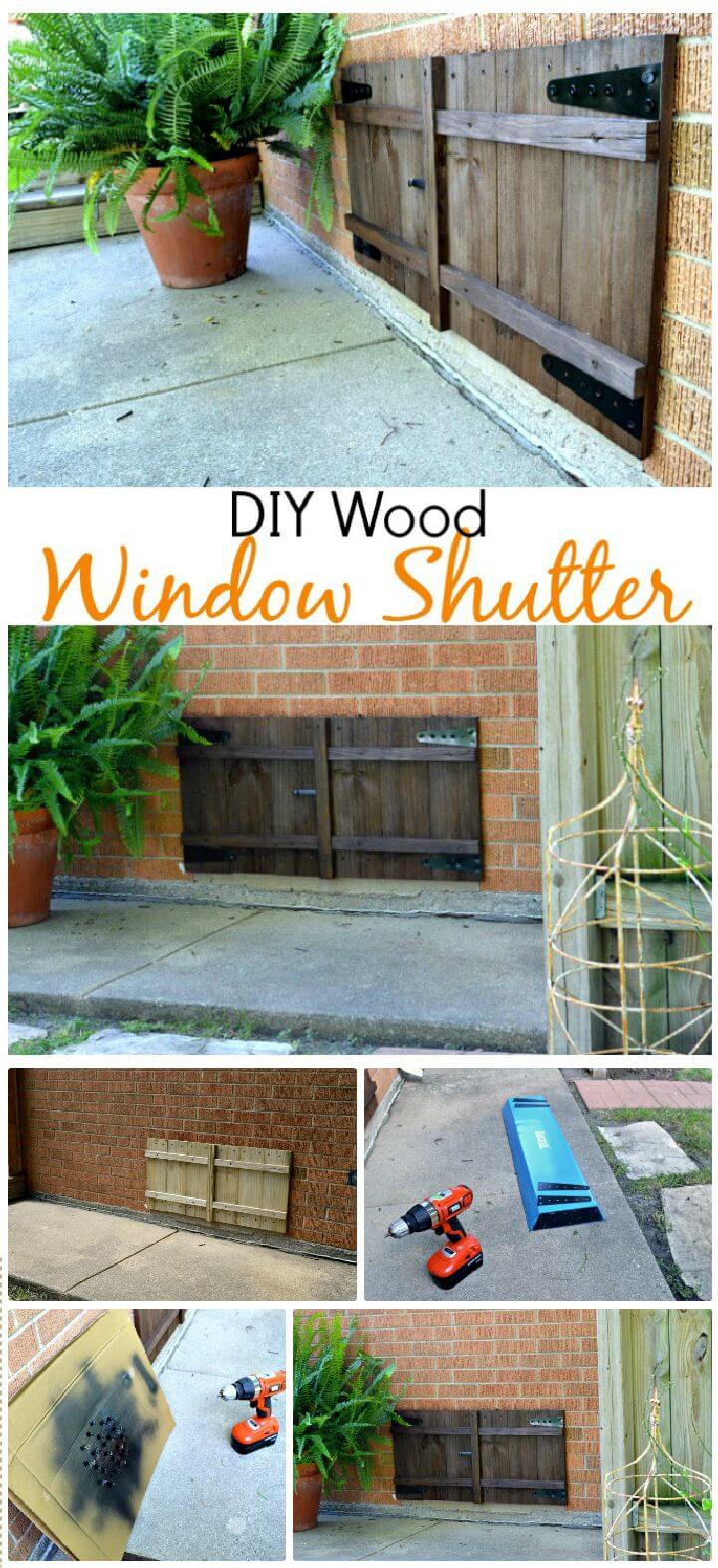 Here is this superb idea showing how nicely a basement window has been covered with this pallet made wooden shutter which is really easy and cost efficient to make. All you is some free pallet to cut into slat pieces and then stack them to form up the shutter doors, some hinges for the shutter support and lastly that alluring walnut stain for that perfect rustic and charming look. You can do this project yourself and for a firm grip over it you can check out its details right here chatfieldcourt
DIY Skippity Do Da Day: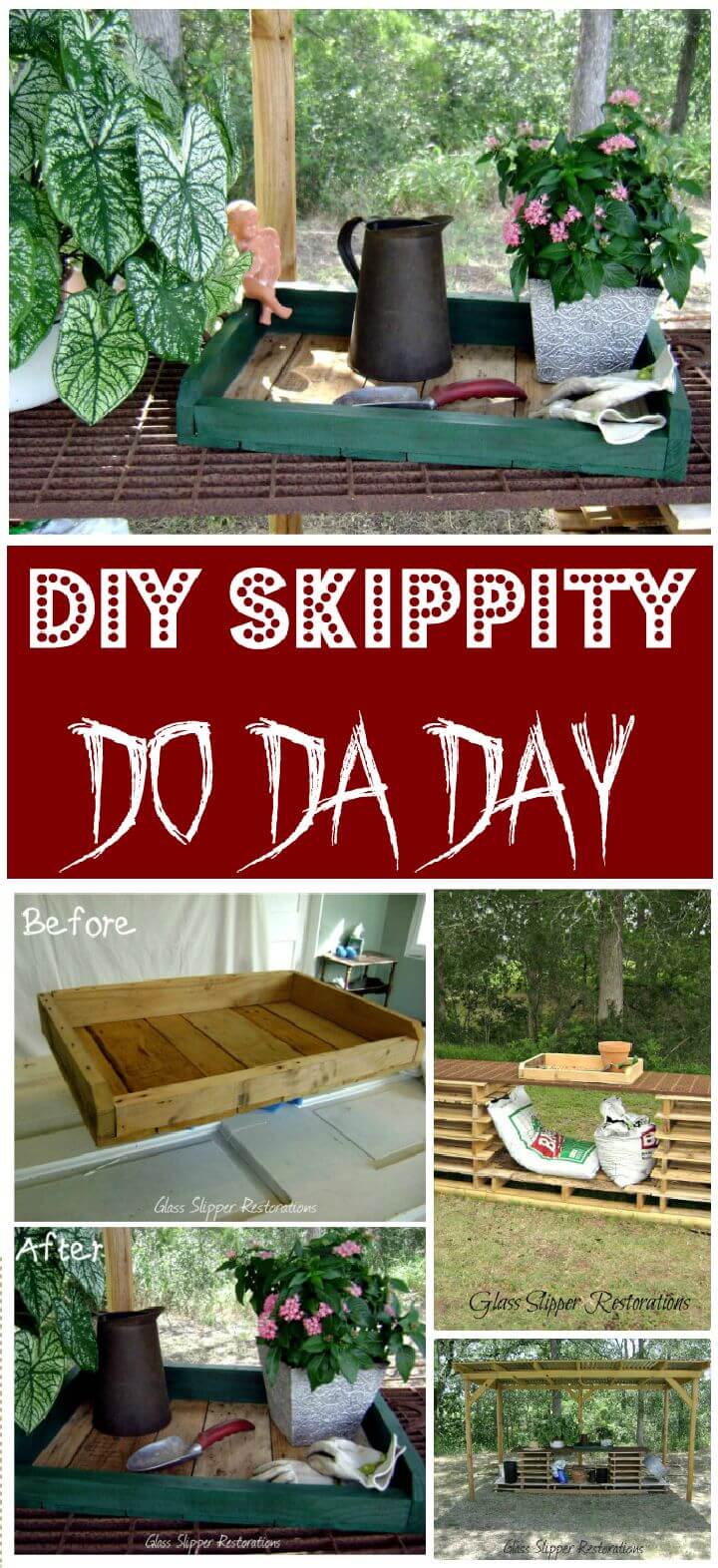 There are lot of things you can make out of the pallet wood to enhance not only the functionality but and style of your spaces too. Like this simply gorgeous potting tray has been created out of some pallet boards in the pretty green stain hues at the edges, making it suitable for the green garden vibes. You can nicely display it over your potting bench holding some garden tools and utilities in it and thus increasing the usefulness of your potting table and bench. More details here glassslipperrestorations
DIY Upcycled Paint Can Ice Bucket:

The old paint cans be recycled in really cool ways to let your enjoy some really cool and functional possessions like this paint can has been tuned into a gorgeous ice bucket. Get a paint can, clean it, spray paint it in gold and lastly add the print paper to it with an adhesive glue and its all done to serve the ice and bottles to you and to the guests and that too so decoratively and stylishly. Check it out all here with complete details and instructions heyletsmakestuff
DIY Succulent Planter Box: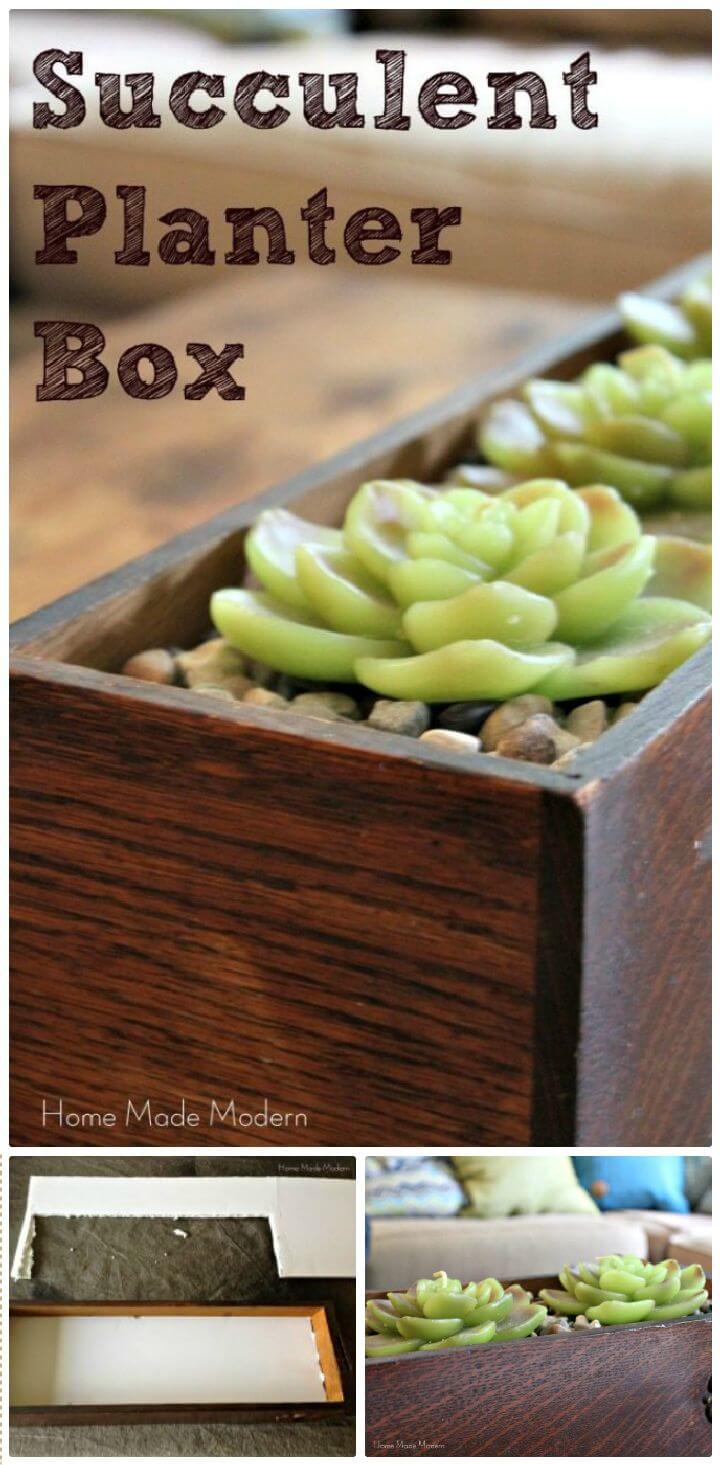 Succulent plant can ad the natural fresh vibes to any part of your spaces and decor so do bring them home but in style. Yes hold them nicely in a box, holder or planter to make them display gorgeous all over your spaces. This is a really simple and cute wooden succulent planter box that you can easily make out of a few wooden piece and some rustic brown stain hues for the gorgeous finish. Add stones and pebbles and then your succulents and display it over the coffee table or the shelves. Details here homemademodernblog
DIY No-Sew Drop Cloth Curtains: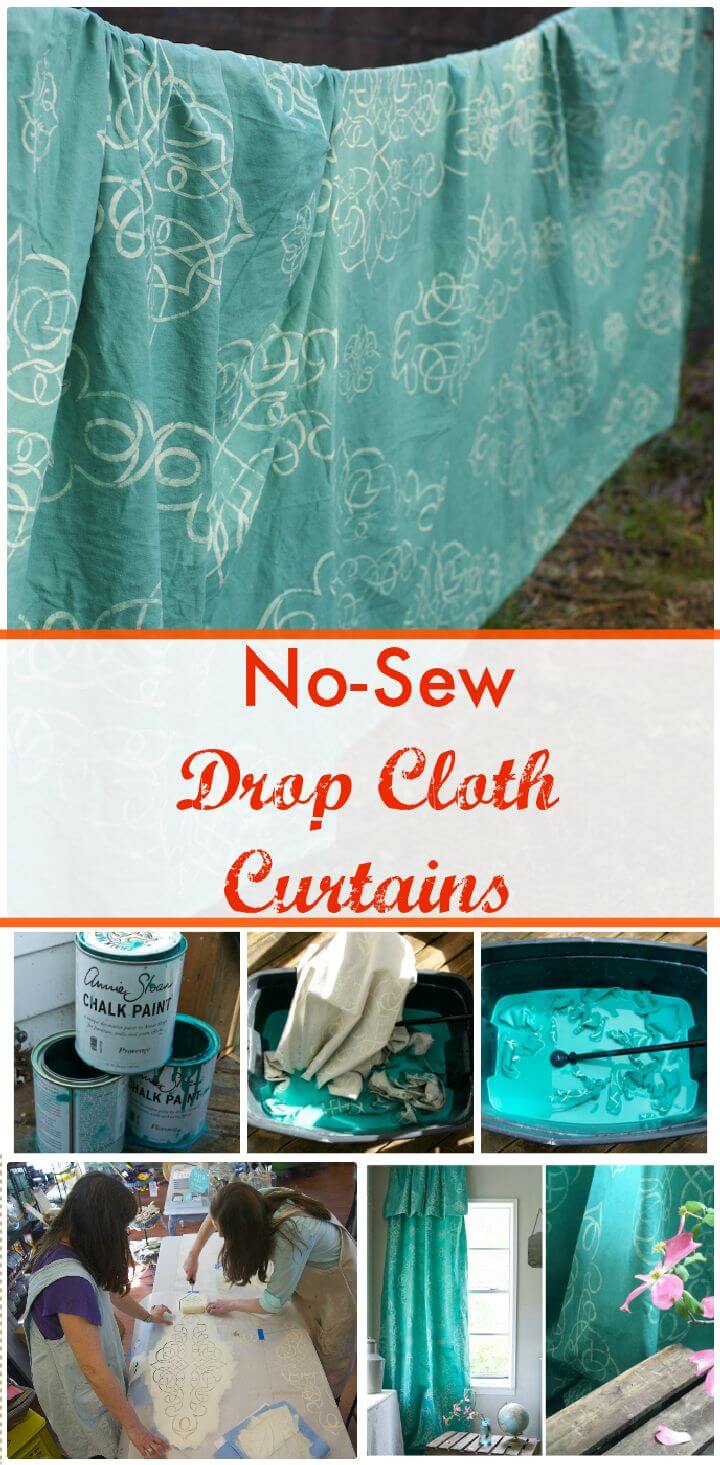 A pretty and boho curtain can add the chic vibes to your bedroom spaces and bring the amazing style statement to it. So here is the idea of creating a lovely curtain out of the drop cloth on your own using some stenciled design in white and the pretty greenish dyeing. You can adopt this really cool and cost efficient idea to create a variety of gorgeous curtain for all your homey sections and thus beautify them at the least of the cost. Full tutorial here unfolded
DIY Upcycled Craft Idea Valentine Tin Lantern: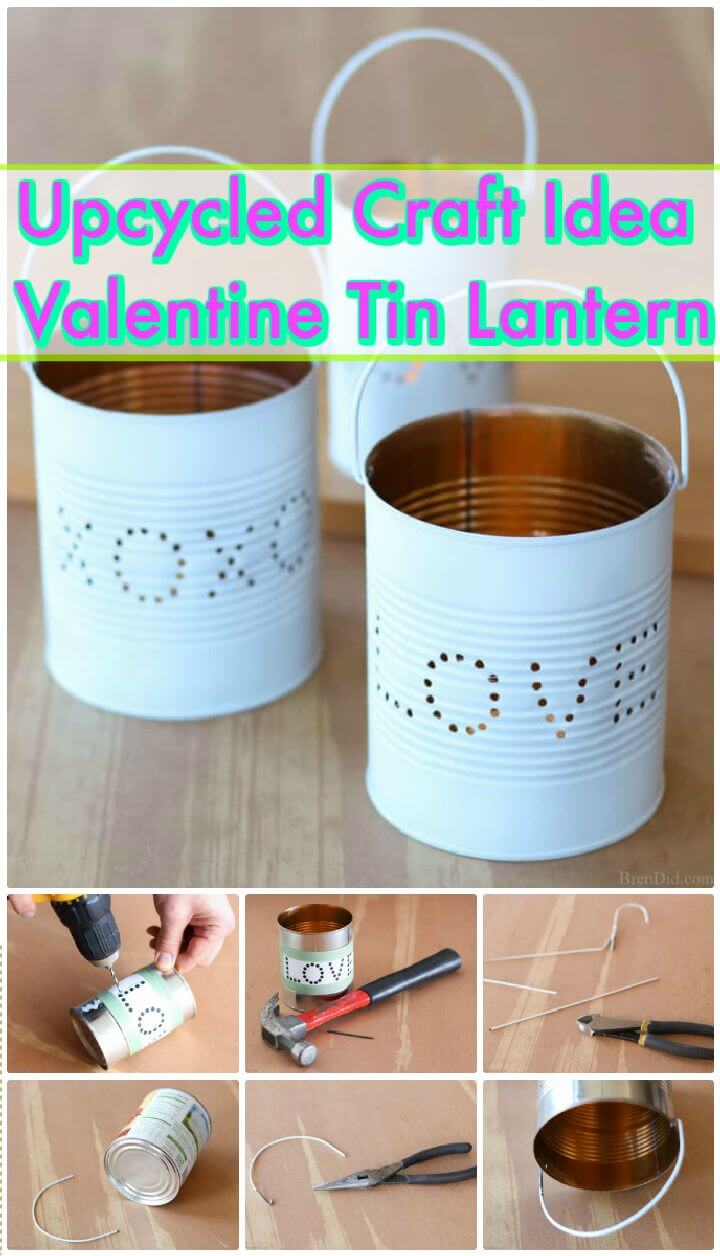 The old tin cans are used for a lot of fun projects at home and here is another exciting and fun recycling projects involving the tin cans. Just clean them up, add your favorite design or words, drill them, add a handle made out of a hanger wire and paint. Hold the candles or the tea lights in side the lanterns and they would look just so romantic and gorgeous while spreading out the soft and warm glow to your spaces. They also make perfect valentine day gift too so check it out here brendid
DIY Distressed Coffee Table with Storage:

A coffee table which can store a lot of your clutter too is the need of almost every house and now you can make it out of the old and recycling items. Here is this super functional and smart coffee table with storage having been made out of ply wood, old drawer pull outs and sheets and a door used as the table top. You can hide a bunch of your knick knack stuff in the drawer and that too in a secret way. Here are the complete details and instructions of this shabby chic double functional coffee table rogueengineer
DIY Patriotic Pallet Wood Centerpiece: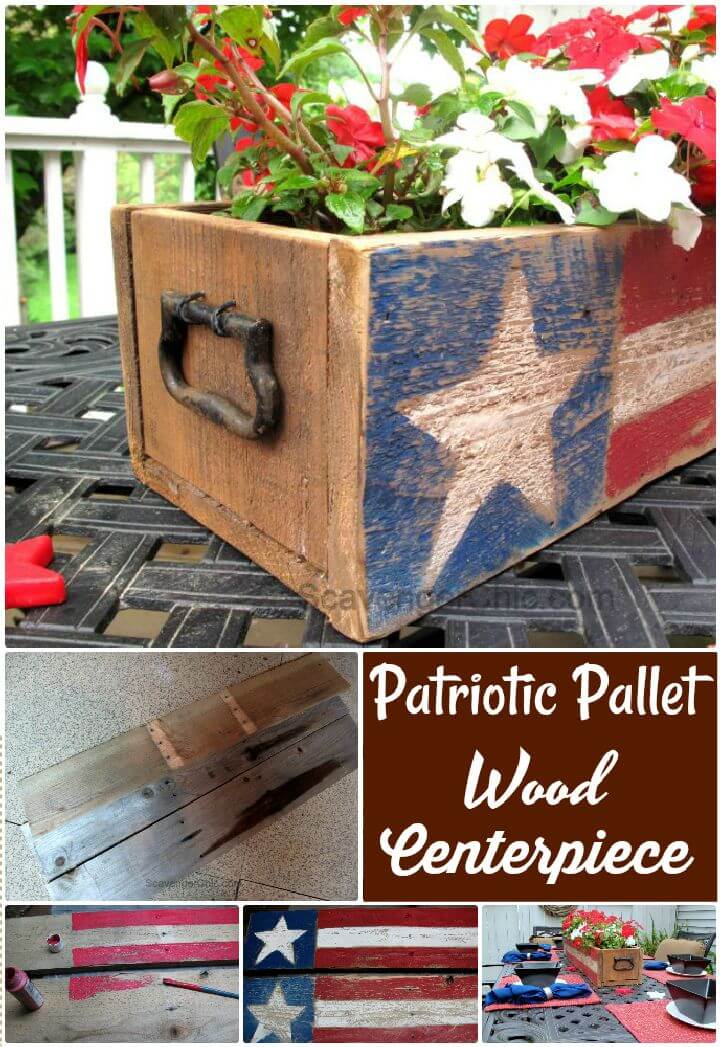 If you are looking for a cool and impressive 4th July project then you got one. You can get your hands on this pretty patriotic pallet wood planter box which is super fun and immense easy yo make and display in your outdoor decor for the freedom celebrations and decor. Cut out the slats out of junk pallets, paint them with the flag colors and symbols, stack to form the box and they are ready to get loaded with soil and hold the plants and flowers in. Complete tutorial here scavengerchic
DIY Organize Your Tools On an Enhanced Pallet Shelf: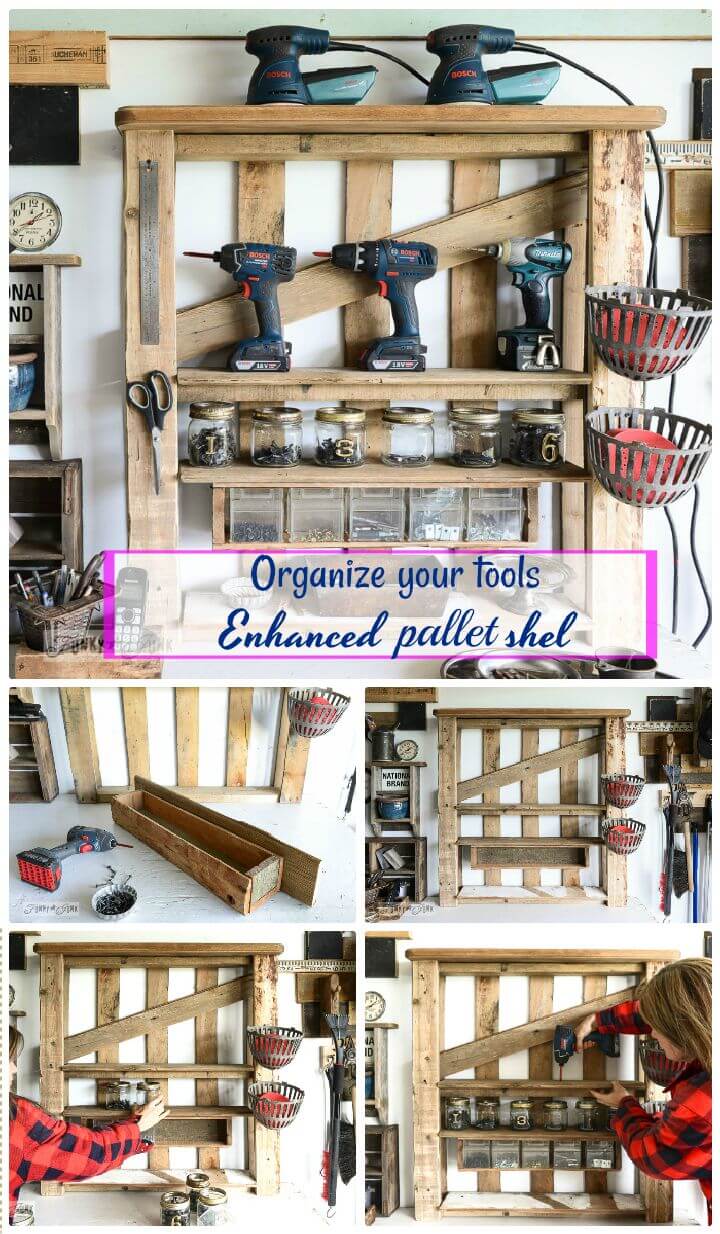 Having a working station in your outdoors and organizing it really a tough job especially when you have a lot of work to do there. So to ease you out we have this feasible tool organizing shelf unit having been made out of the pallet wood to cost you the least. Using the separated pallet wood bars and slats this extended shelf unit has been created to hold the tools and the hardware containers nicely on it and thus providing you everything easily without getting into the hassle of finding it out of the mess. Check out the complete details of it here and make it this weekend to organize your working station funkyjunkinteriors
DIY Tea Rrarium: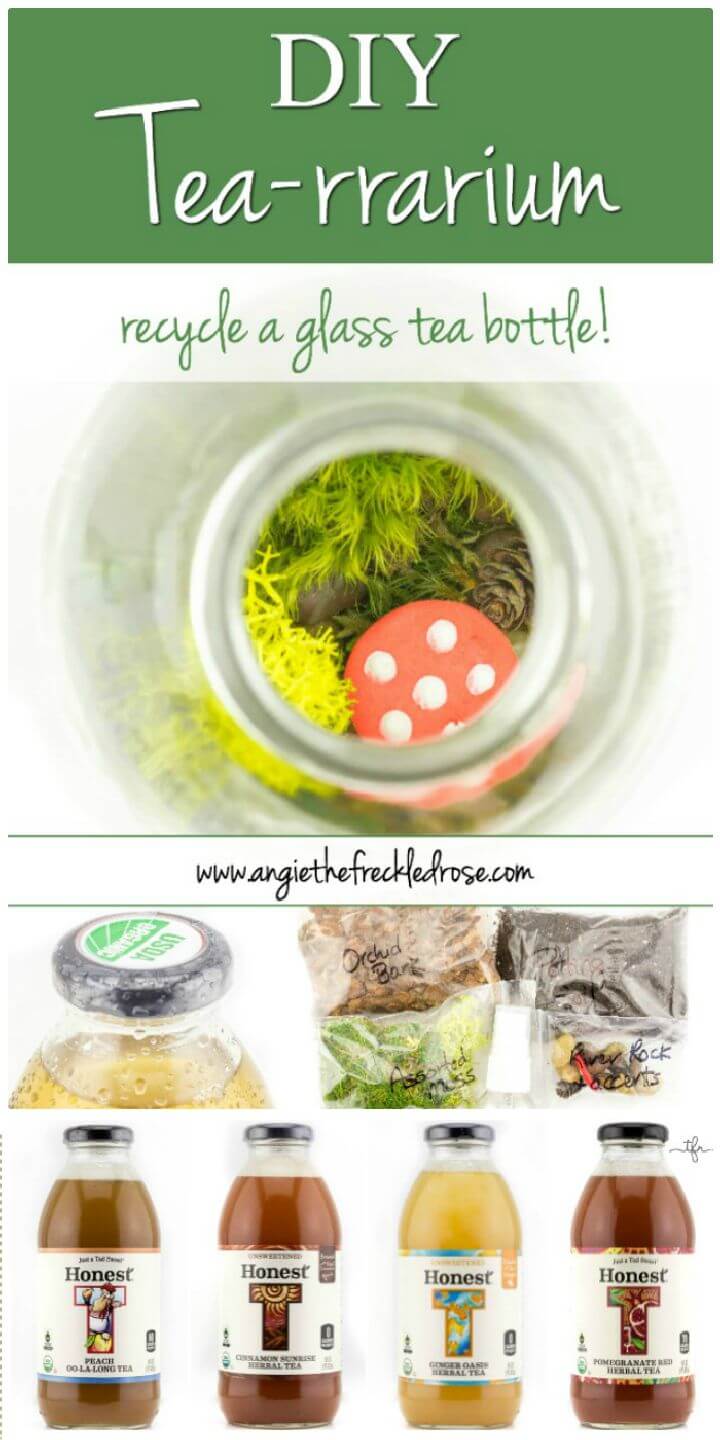 Made out of an empty tea bottle this tea-rrarium has been nicely crated with the easiest of the things to grab and get your hands on. Wash the bottle, dry it, add layers of orchid bark, soil, river stone and the moss to create this lovely tiny garden inside a small bottle and display it so gorgeously on your tables, mantles and shelves. Even the kids can easily make it so get more details of it here angiethefreckledrose
DIY Faux Window Shutters From a Repurposed Door:

Bring some vintage vibes to your home decor with a wooden window shutter in your spaces. If you can not have one in real you can get the faux one and that too from an old door and thus saving yourself a lot of dollars. Here is a complete tutorial showing gorgeously an old door has been re-purposed into a faux shutter with the addition of paint and some nice mid century designed hinges on it. Link here to catch the details of it thepaintedhinge
DIY Grocery Bag Holder Tutorial: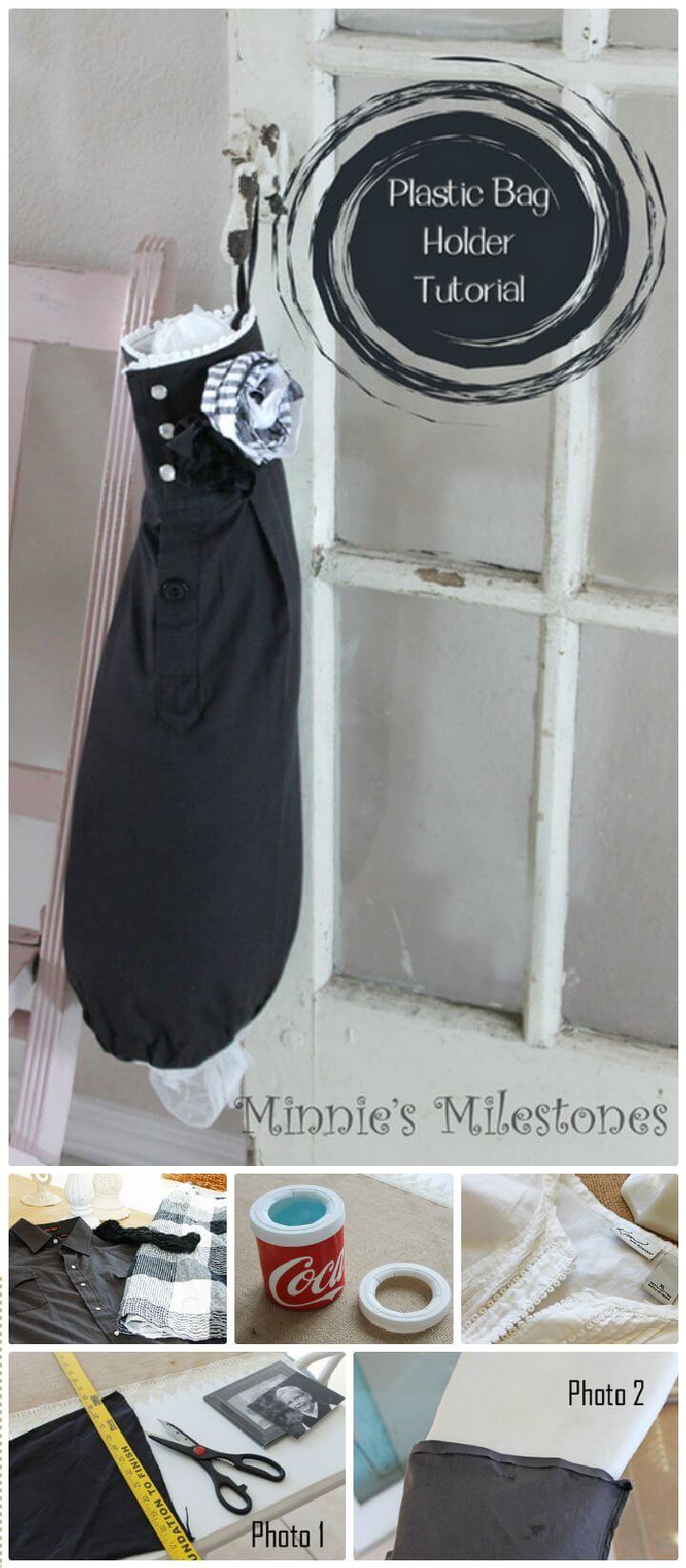 Most of us use a big plastic bag to hold other plastic bags but that does not look good for the decor and home styling. So here is this pretty idea of creating a stylish and unique kind of plastic bag holder out an old men t-shirt. Yes you can use any old shirt of any color lying around uselessly and create this lovely and functional plastic bag holder easily and cheaply. All the instructions details and guidance to make is lying right here shellknoblakegirl
DIY Thrift Store Decor Upcycle Challenge: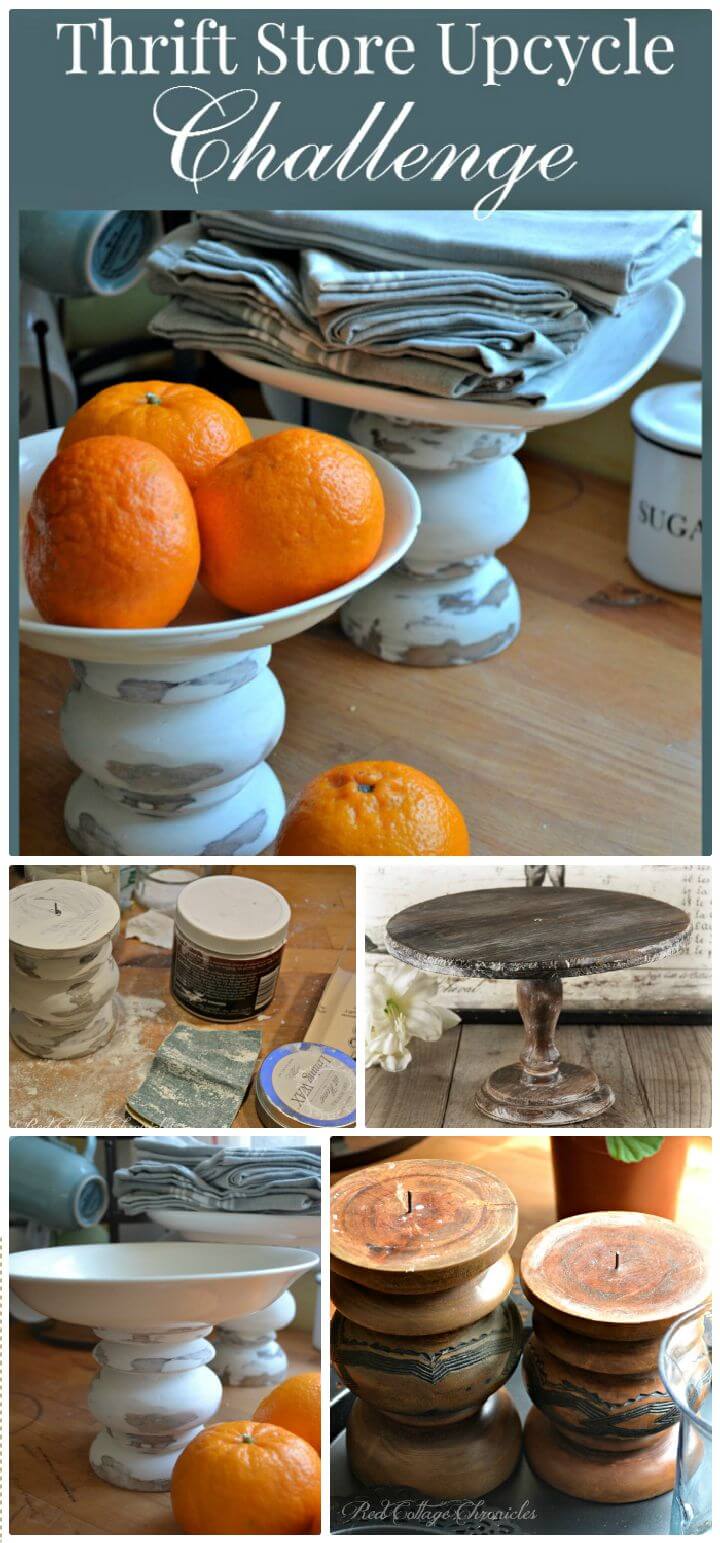 You can make this really cool and useful stands for your kitchen or for some other holding purposes in the house and that too at the cheapest of the cost as you can find all the supplies from a thrift store. You would be in need of some wooden candlesticks , and some plates to serve as the base and the top of these stands on which you can hold the oranges, planters, napkins and many such things in a really cool and pleasant way. Here is the link to follow the tutorial of it step by step redcottagechronicles
DIY Sun Garden Art: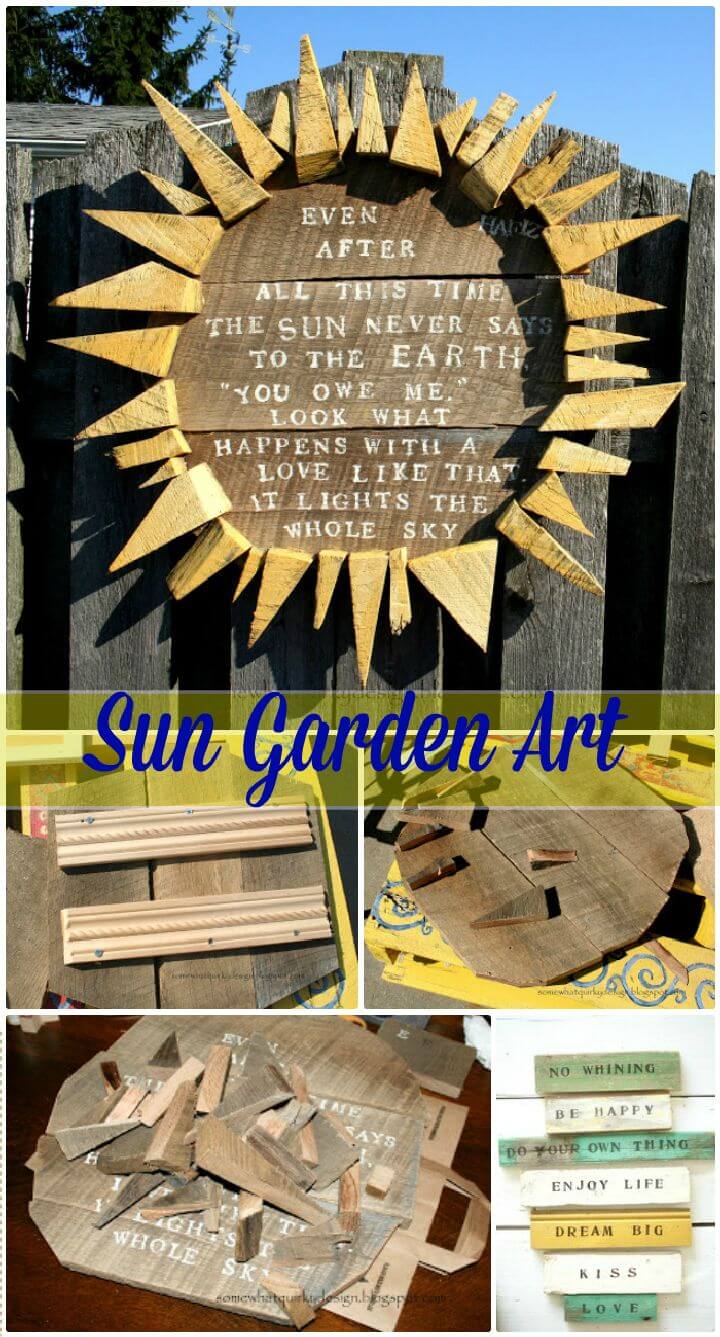 This wooden sun would look great in your garden and patio spaces making some really unique and fun style statements. So grab some scrap wood from your wood working station or any other nearby to create this pretty sun to shine out in your outdoor decor. Three edgy slats to form the basic round shape of the sun and the angled pieces to use as the sunbeams. An impressive quote has been written inside the sin which makes it look more cool and quirky. Here are the complete details somewhatquirkydesign
DIY Repurposed Pallet Wood Projects: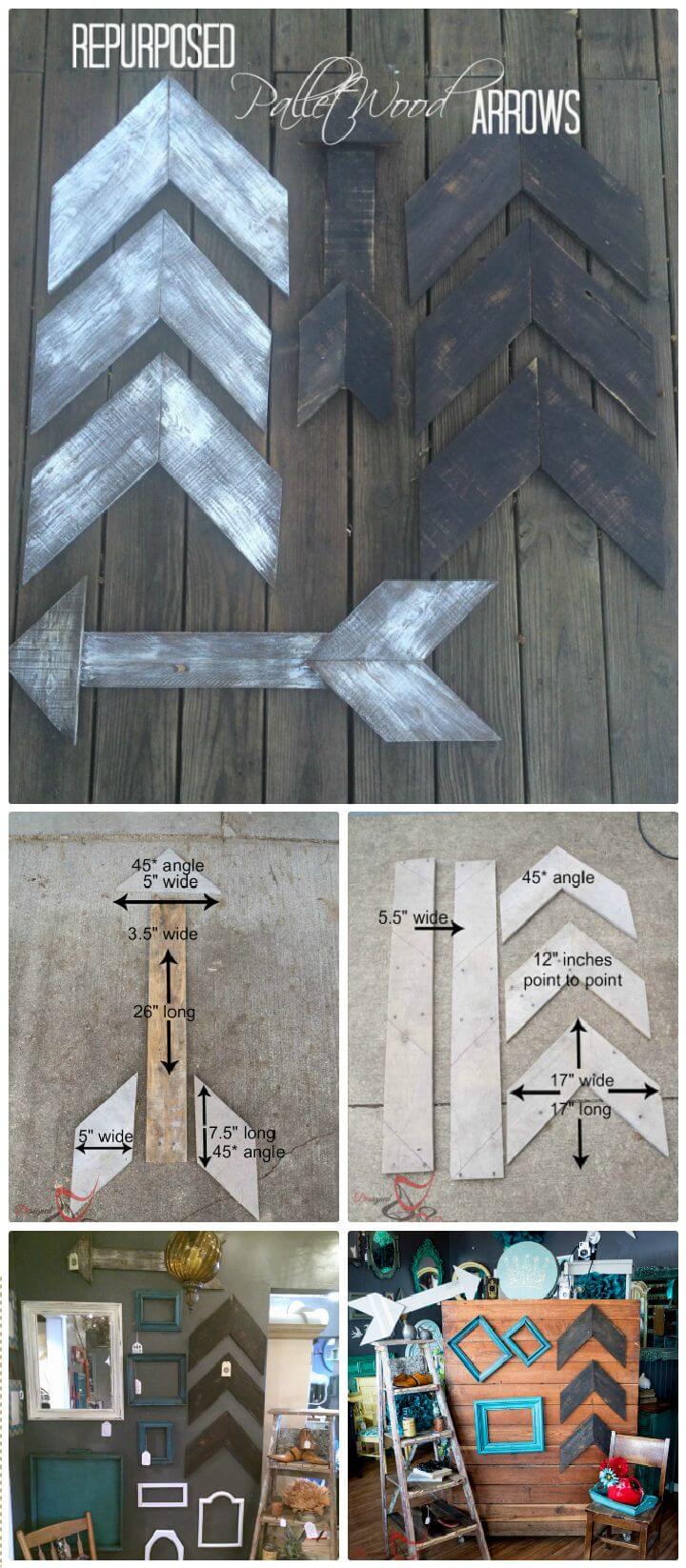 Wooden arrows are quite in decor trend these days and now you can make few of them on your own using the free found pallets.Grab some free pallets cut them into the smaller pieces and then stack them together to form up these different size and shaped arrows. You can display them on any of the wall of the house be it in interiors or the exteriors of the house. Staining of your own choice would also make them look more petting and personalized. So do check out this decorative and fun project right on this link designeddecor
DIY Bathroom Storage Tower Repurposed into a Craft Cart: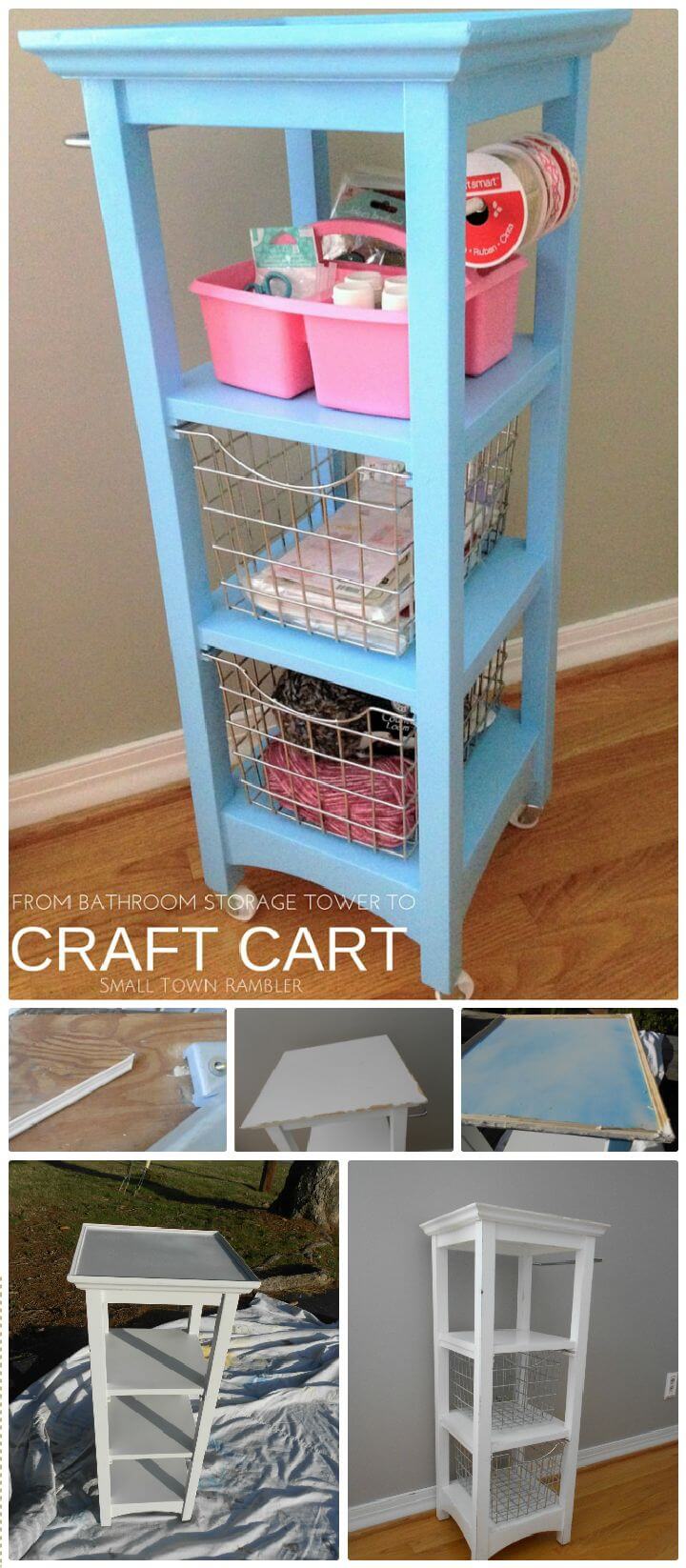 The old and worn out bathroom storage unit here has been given a really awesome transformed look to serve as a craft cart. The bathroom storage unit has been sanded, stained and painted in the chic blue hues along with the caster wheels at the ends, making it look more fancy and fascinating. You can hold a bunch of your crafting supplies on the top and in the steel wire baskets to be housed on the base shelves. Here is the link to get more details of it smalltownrambler