Burlap is a rustic and popular fabric choice for many crafting projects. Bows are a popular embellishment and can be made in many ways. Learn how to make a bow with burlap or tie a burlap bow with these 20 ways to make a burlap bow for a wreath or other DIY projects. We'll also show you how to tie the burlap bow to your project.
If you are in awe of the large and mesmerizing burlap bows in the market but are reluctant to, but because of the high prices, worry not! We have gathered these super easy and flawless 20 ways to make a burlap bow! With these DIY burlap bow tutorials, you will never have to spend money on expensive or pricey market gift decor items! Our selected DIY burlap wreath bow tutorials are all pretty detailed and helpful! And you would be quite amazed to know that with this simple skill, you can not only add meaningful appeal to your wedding decor and presents! But also bring out quite a lovely accent to your DIY home decor!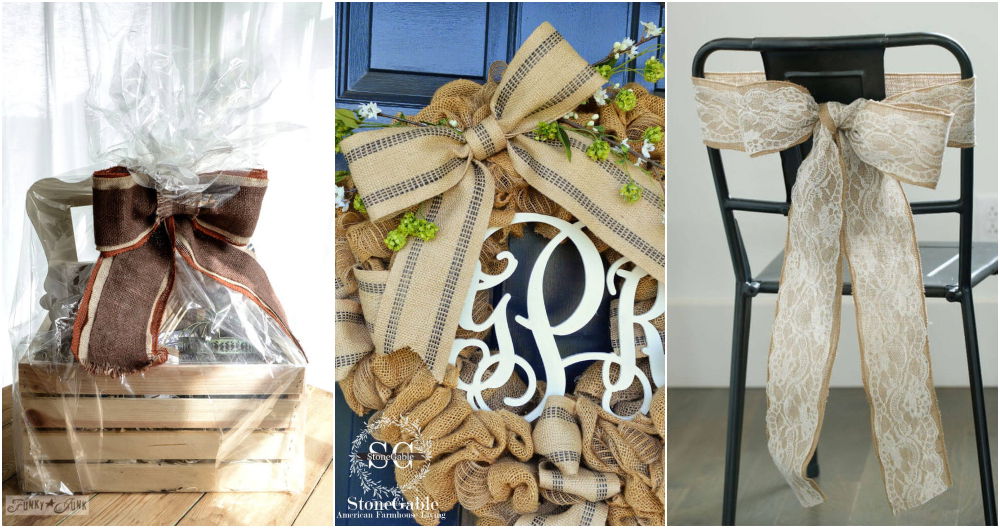 How to Make a Bow Out of Burlap
For making a burlap bow, the supplies or materials are usually quite the same and simple! You will need a burlap ribbon, scissors, stapler, and the texture or color of the burlap bow depends upon your choice or theme of the decor! Also, you can say that the key element in keeping things clean and giving them quite a neat look is to use twine! This is to make the middle of the bow look as tidier as possible. And, at the same time strong enough so the burlap bow stays as it should, in the form of the bow! Make lovely fall wreaths or DIY spring wreaths with these burlap bow ideas, or add them to your wedding decor theme, wedding presents and gift baskets, gifts, or anything you want!
1. Pretty DIY Burlap Bow for a Wedding

Learn to make this Pretty DIY Burlap Bow for wedding and make your special day more special. Use any fancy burlap ribbon that is typically woven from the skin of the plant and contain strong fiber and tie it around the wreath in a way that gives the burlap the shape of the fancy bow for the wedding. stonegable
2. DIY Burlap Bow Perfect for Fall Wreath
Leaves are falling, and autumn is calling. Spice your fall season up with this DIY Burlap Bow for Fall Wreath. Watch this Perfect Fall wreath tutorial to get a perception of embellishing your front door. Use a zigzag printed burlap and some artificial flowers to garnish the wreath. thedomesticdiva
3. How to Make a Burlap Bow
If you are an initial learner but love to craft new objects, then give this Burlap Bow a try and learn how to make a Burlap Bow easily. Use any of your favorite printed burlap and use any fork or your fingers to shape it in a bow. mommysuite
Related DIY Projects:
Crafts With Burlap: Burlap can be used in a variety of crafts and home decor projects. Check out these burlap crafts and burlap ideas for decorating. Make your home and office feel warm, cozy, and chic with burlap crafts.
DIY Burlap Flowers: Making your own burlap flowers is fun and easy with these DIY burlap flowers guide.
Make Ribbon Bow: Learn how to make a bow with ribbon and have fun crafting! These DIY ribbon bows are perfect for gift wrapping, party decorating, and more.
Crochet Bow Patterns: A round-up of 50+ free crochet bow patterns in various styles. From simple to sophisticated, there are plenty of crochet bow styles.
4. DIY Burlap Bow Fall Wreath
Hang this awesome DIY Burlap Bow fall wreath up to your main door to give it a charmingly beautiful look in this fall season. Tie a burlap bow around the corner of this wreath and affix some little tulips on it. This wreath can be perfectly used at a Halloween party too. Trick & Treat. lifeshouldcostless
5. Make a Burlap Bow for Wreath
Discover more ideas with this proposition of making a Burlap Bow for a wreath. This Burlap bow for wreath has the most straightforward technique for the beginners. It's an easy and concise project to do. It can be used as a decoration piece for a wedding, Christmas, Halloween, Easter, etc. chatfieldcourt
6. No Sew Burlap Wreath Bow
For all the ladies out there who don't know how to handle the needle, make your own DIY No Sew Burlap Bow for a Wreath entirely without stitching. Learn how to make Burlap Wreath Bow with glue epoxy that will give the exact same look as a sewed burlap bow. onsuttonplace
7. Simple DIY Burlap Bow
Check out this Simple DIY Burlap Bow for all those who have no clue about stitching. This simple technique will let you make an instant Burlap bow in less than a minute. All you need to make this bow is a string fiber fabric and a thick thread. madewithhappy
8. DIY $12 Burlap Bow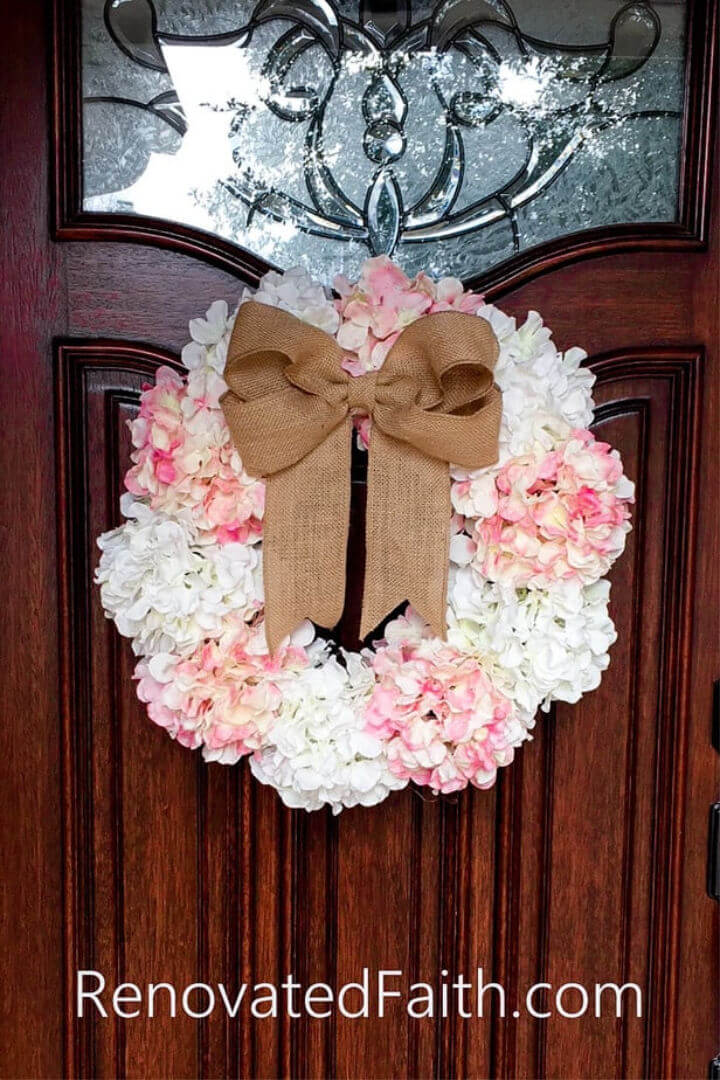 Renovate your door with some door hangings at this Christmas evening to tempt your guests. Innovate your ideas with this DIY $12 Burlap Bow by embellishing the wreath with original or artificial flowers of your choice, tie them around the wreath and enhance the level of the beauty with a burlap bow! renovatedfaith
9. How to Make a Burlap Bow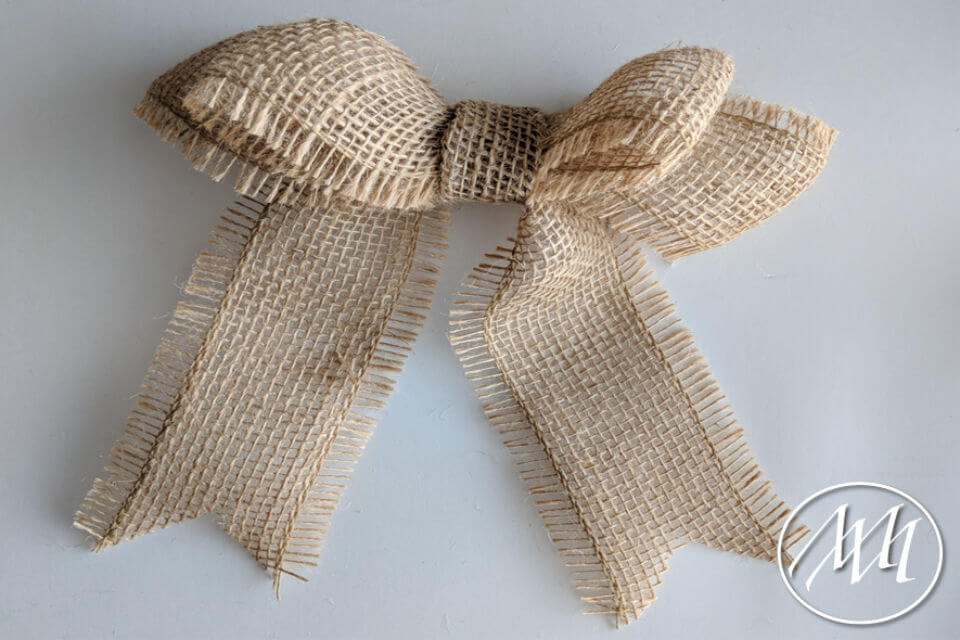 Don't put yourself in some complications to form a fancy Burlap Bows but make this Quick DIY Burlap Bow. This quick pick bow can save your time and energy and allow you to make decent decor item at almost no cost and time. michaelimarler
10. Homemade Burlap Bow for Gift Basket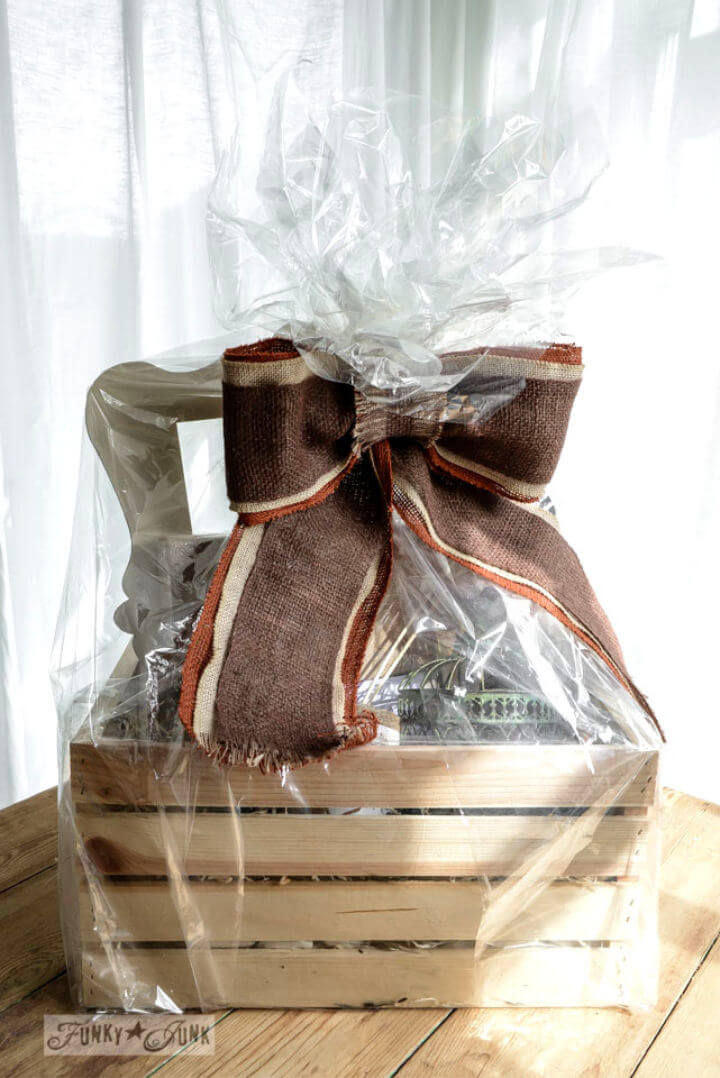 Save your money by making a Burlap bow for gift Basket by entirely yourself. To make a bow for a gift basket, you need either a burlap fabric or a silky ribbon, depends absolutely on your choice or option available to yourself. funkyjunkinteriors
11. Easy to Make a Burlap Bow
For all the crafty people around who want to make a bow by just tying a knot, here is this Easy to Make a Burlap Bow with no hitch. All you need to have is burlap fabric to make this bow. You can use this burlap bow for tying the sacks or bags. daisymaebelle
12. DIY Chair Bow Using Burlap and Lace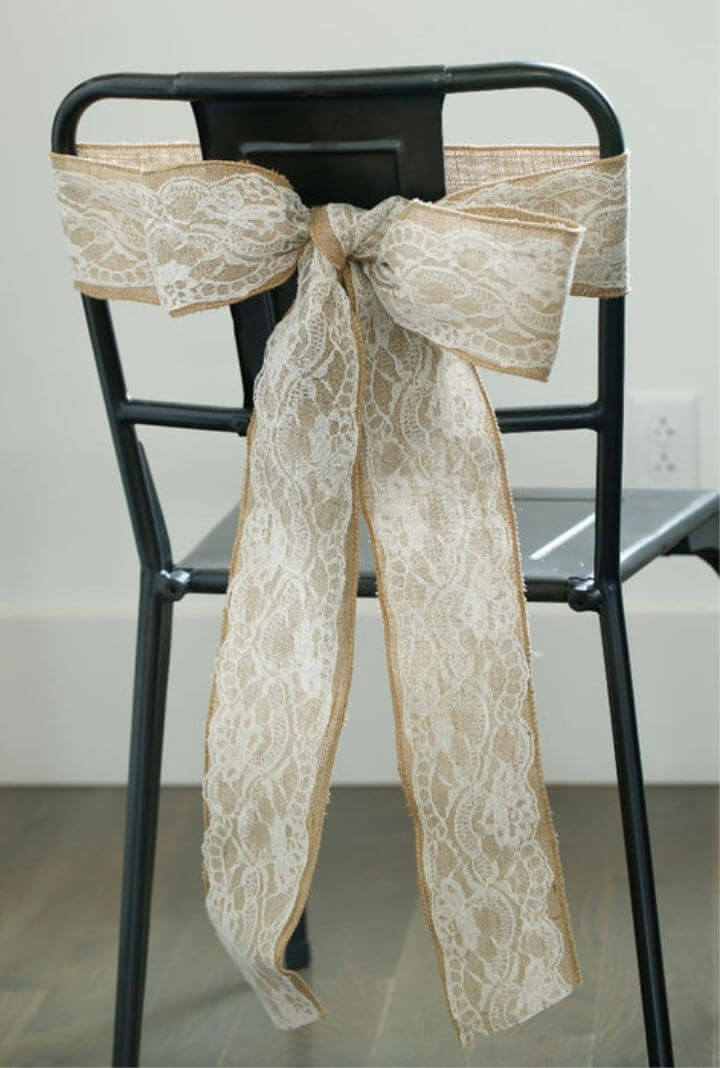 Next time when you have an event at your home, don't waste your money on hiring a decorator. Try out this DIY Chair Bow Using Burlap and Lace and furnish your chairs all by yourself by knotting the burlap or lace ribbons around the chair. instructables
13. DIY 5 Minutes Burlap Bow
This 5-minute DIY Burlap Bow can be used to beautify your terrace grill and is super easy to make by anyone who even had no idea previously about tying a bow. The burlap bow is a great way to add a rustic charm in your home decor and enhance the grace of your front view of the house. lifeonthebaybush
14. How to Make Burlap Wreath Bow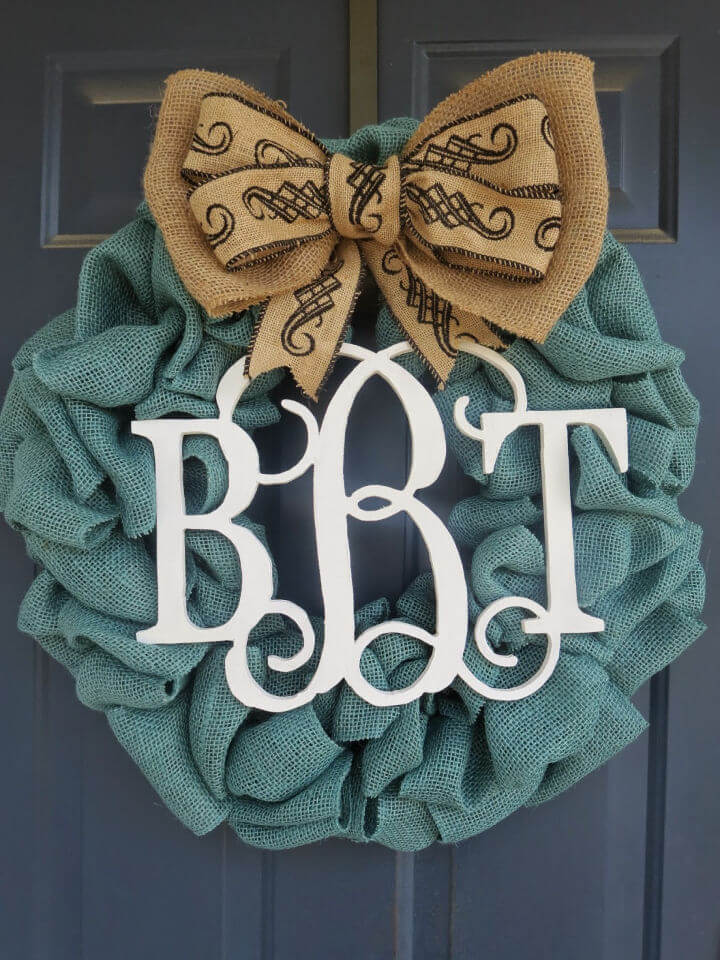 Be eccentric and learn how to make this burlap wreath bow, covered in a fabric that brings out the uniqueness among the other burlap bows that your neighbors are hanging out of their doors. Adorn it further with a printed burlap and place it well on the top of the wreath. findingfairy
15. Burlap Seashell Wreath with Bow
This burlap seashell wreath with a gigantic bow can perfectly be used on the parties you are having at the beach house. You can use this seashell wreath as a decoration piece door hanging. Fit the seashells like puzzles on the burlap wreath and make a bow on the top to finish the look. girlgonemom
16. Beautiful Big Burlap Bow
Add a rustic charm to your home decor with this beautiful DIY Big Burlap Bow for a wreath! This big printed burlap bow can be used for other purposes like pasting on gift wrappers, tying a gift basket, and many more. lizoncall
17. DIY Burlap and Lace Bow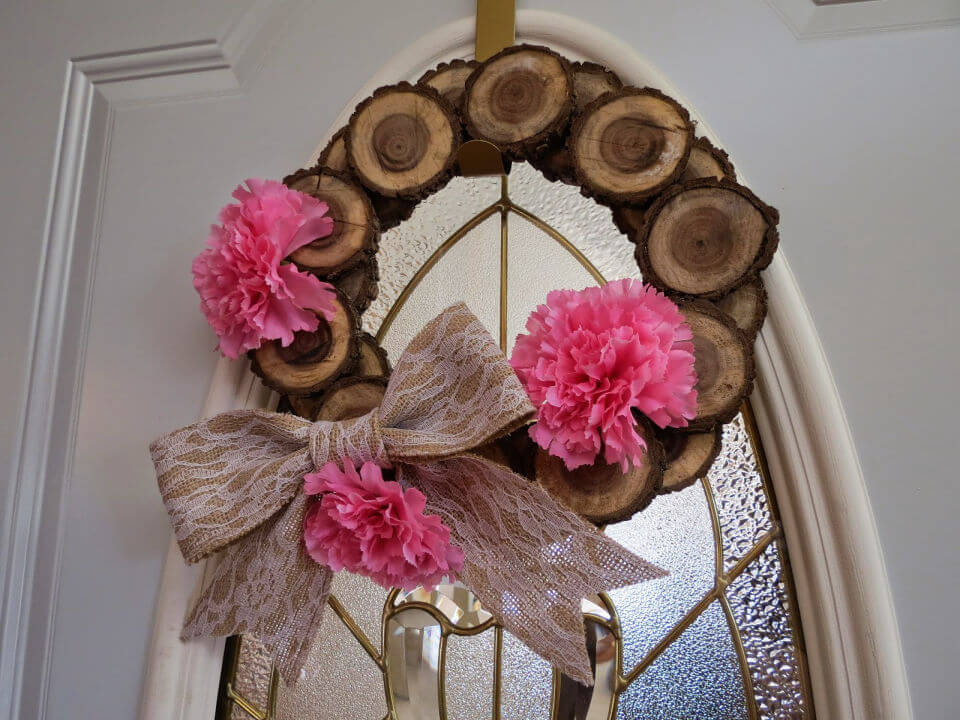 Decorate your windows with this DIY Burlap and Lace Bow, specially designed for Christmas! And enjoy the party and watching the snowfall simultaneously from the inside through the embellished window. You just need some inexpensive stuff like a carved wreath and a burlap fabric for the bow. victorious
18. Burlap Pull Bows
Here is something you must be desperately looking for, Burlap pulls Bow. This Bow is wholly made for wrapping the gifts for Christmas. Enthusiast your kids for the Christmas party by alluring them by packing the gifts with this astounding Burlap pull bow.
19. Burlap Bow for Tulip Spring Basket
For all those who have been looking for something different and unique this Thanksgiving. Learn to make this Bow with burlap for Tulip Spring Basket, and be thankful to your loved ones with a bouquet that you bind with a Burlap Bow at the front door.
20. Easy DIY Burlap Bow for Wreath
Enrich the beauty of your home by hanging a pretty enticing wreath with a burlap bow up at your door! Welcome the guests with This Easy DIY Burlap Bow that gives a refreshing and reviving look to your place. Make your decor whimsical just like that!
Conclusion:
We've shown you three different ways to make a bow out of burlap. Whether you go for the classic looped bow, the elegant waterfall bow, or the simple and rustic double knot bow, we hope you have fun trying them out! If you decide to make a burlap bow this holiday season, share pictures with us on social media – we can't wait to see them.