The beach site is something that helps soothe your nerves and makes you feel just relaxed! The lovely ocean or lake view, the cool breeze, and the beautiful super soft and build our inner calm and turn ON the happier mood of us! So, every time you need to get back to nature in summer, you can beachside take a visit to the beach and can also go for a picnic there with the whole family!
So, if it gives you great pleasure to see the beachside or coastal areas, then you can add some beach inspired or coastal decors to your home that will make you feel that you are still visiting a cool beach place! So, if you are looking forward to gaining some amazing coastal decor for your home decor theme then head over to these 28 DIY coastal decor ideas for your home that are amazingly genius and would help to create a stunning beach inspired look of your home! Moreover, all these coastal home decor crafts are budget-friendly to make, and every coastal decor love can try these ideas out without any hesitation!
Bring amazing beach grace to your patio or any outdoor by making seashell patio pots and vases! Incorporate the coastal decor theme to your interior spaces by making cool and lovely sand and seashell wall mirrors, grace up also your interior spaces by making beach inspired pillows with old jeans that may also come with custom is overwritten letters or coastal quotes! Make the custom letters using the colorful sea glass and then adhere them inside the shadow boxes to make beautiful monogram wall art signs that will bring great coastal decor touch to your home spaces! Next also put together the driftwood pieces to make a coastal wreath that may even come with the langar accent and fabric bows for a great decorative appeal!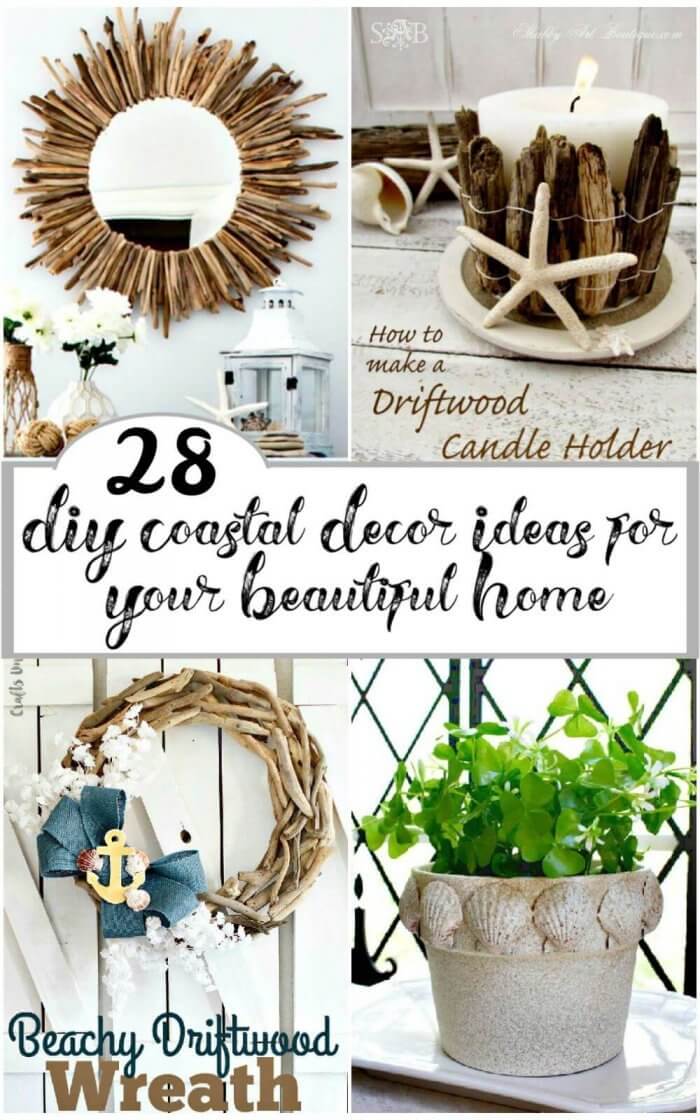 Frame up also the faux starfishes and make beautiful coastal wall art signs and also bring a tremendous coastal decor touch to your interior home spaces by making special coastal rope wrapped wall mirrors that can also be graced up with seashells and faux starfish embellishments!
DIY Home Decor Ideas and Projects:
Wrap also the half of the cylindrical glass vases with the nautical rope and make great hurricane coastal vases that will rock as home decor centerpieces, put together also the pallet slats using the nautical rope and then adhere some seashell in the center of the pallet board to make precious coastal decor wall signs! Put also the driftwood planks all around your round mirrors to make coastal sunburst wall mirrors and also bring the nautical grace to your living spaces by making PB inspired rope wrapped candle holders, do take a look at the given sample that is lovely and cool to look at!
Fill also the wax in the seashells to make instant tea lights that will rock your coffee or dining table and also bring beautiful nautical decor touch to your home spaces by making Mason jar lanterns that will hang in the knotted jute mesh or macrame holders! Just Check out much more coastal decor projects in the given below list and do clone your favorite ones at home! Visit also the attached links to reach to full free project guides, visual tutorials, and step-by-step instructions!
Easy DIY Scallop Shell Terra Cotta Pot: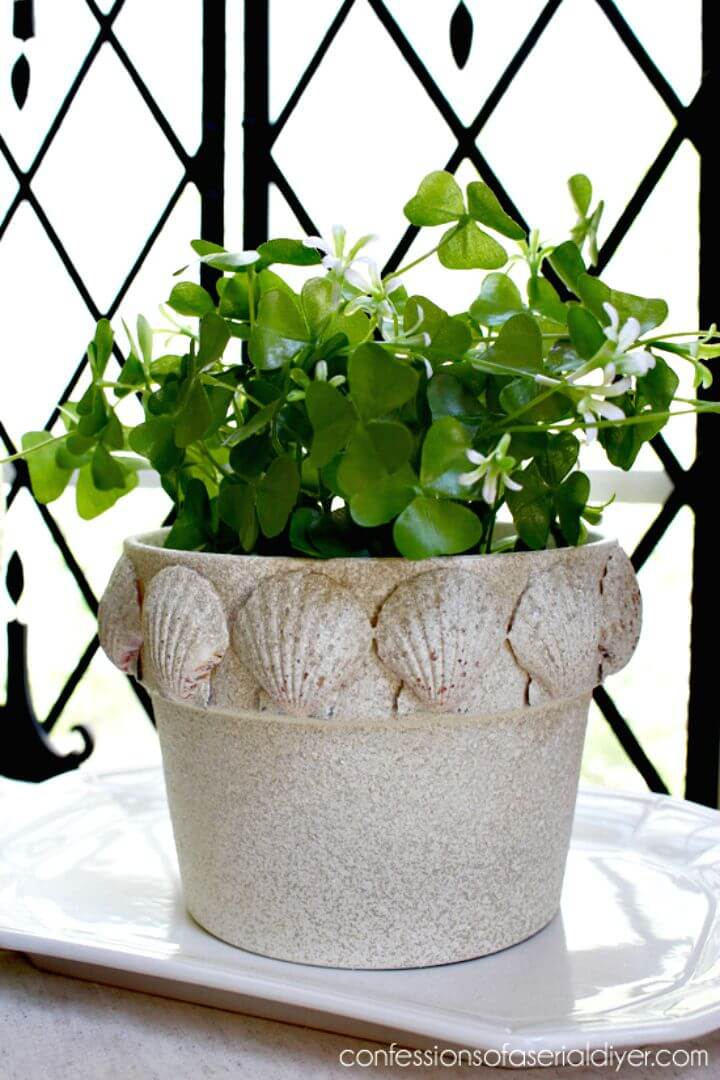 Bring a nautical decor touch to your patio or porch to any indoor with this handmade scallop shell terra cotta pot that is an intelligent piece of DIY crafting work! Here first the pot has been painted in white using latex paint, and then the seashells have been mounted in a scalloped manner all around its top! Finally, the entire pot has been finished with faux stone spray paint for a stone look! Complete project details here confessionsofaserialdiyer
Make Your Sand Dollar Mirror:
Another fantastic coastal decor idea is here to inspire your creativity! Just make sand dollar wall mirrors that will also bring a great coastal decor touch to your interior walls! Get inspired by the given sample mirror that is made of frameless mirror that has been made by gluing the assorted sand dollars all around the mirror! Another great and outstanding coastal decor craft project to do at home! Grab the full free tutorial and instructions from here marthastewart
DIY Beach Pillow from Old Jeans: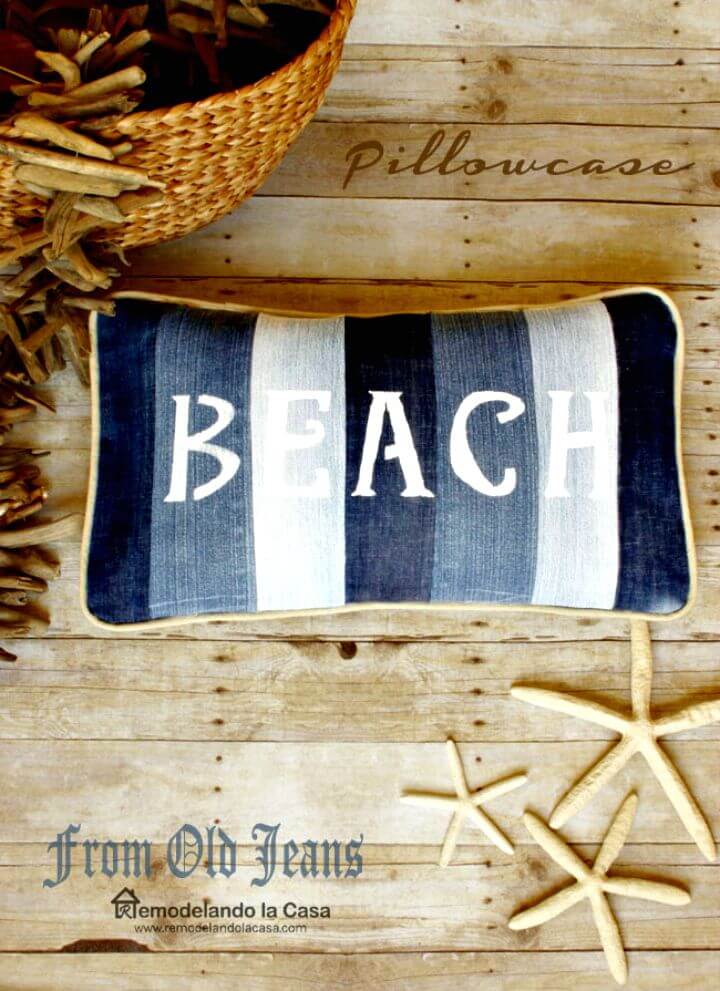 Repurpose also your old denim jeans to make amazing looking beach decors, just cut strips from different colored jeans and next sew them to sew a pillow cover, fill the cover with batting and then personalize the finally finished pillow with custom overwritten letters, use letter stencils for them! Here this finally finished pillow has been adorned with "BEACH" letters beautifully stenciled there on the pillow! Complete project tutorial here remodelandolacasa
How To Make Sea Glass Monogram:
Sea glass is another interesting item that you can use to bring nautical decor vibes to your interior spaces! You can use the sea glass in numerous different ways to do and here is a beautiful suggestion, make the sea glass monogram frames using the sea glass, some fabric, and a shadow box! Get inspired by this sample sea glass monogram that is looking beautiful and much focally stimulating! Complete project tutorial and instructions here thecountrychiccottage
Adorable DIY Beachy Driftwood Wreath:
The rusticity of driftwood can also be used to give a nautical decor touch to your interior walls! You can implement this idea in numerous different ways, but the best way would be to make a driftwood wreath for an instant beach decor vibes to any of your space! Here all you need a driftwood wreath which you can decorate with nautical embellishments like the wood anchor, seashells and decorative blue burlap! Here the white double gypsum flowers have also been used to decorate this wreath! Complete project tutorial here consumercrafts
Easy DIY 3D Framed Starfish Art: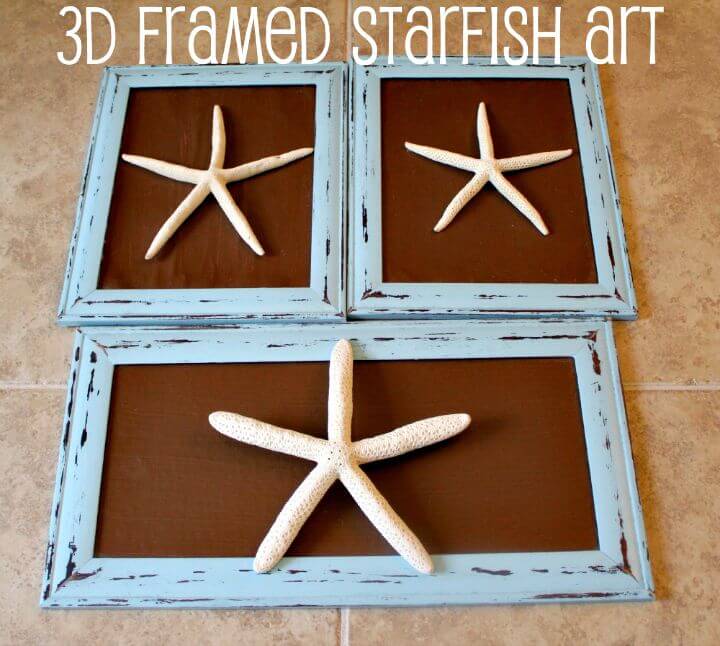 Here is another beautiful coastal decor idea that will please the nautical decor lovers! Here beautiful frames have been made using the 3D start fish embellishments and old picture frame! Just remove first the glass of the frame and then paint the frames in your desired color! Paint the back of the frame in dark brown and distress the painted frame also for a rustic look! Paste your star fish decors and make 3D coast decor art frames for your interior walls! Complete project tutorial here momendeavors
Cute DIY Coastal Rope Mirror Makeover: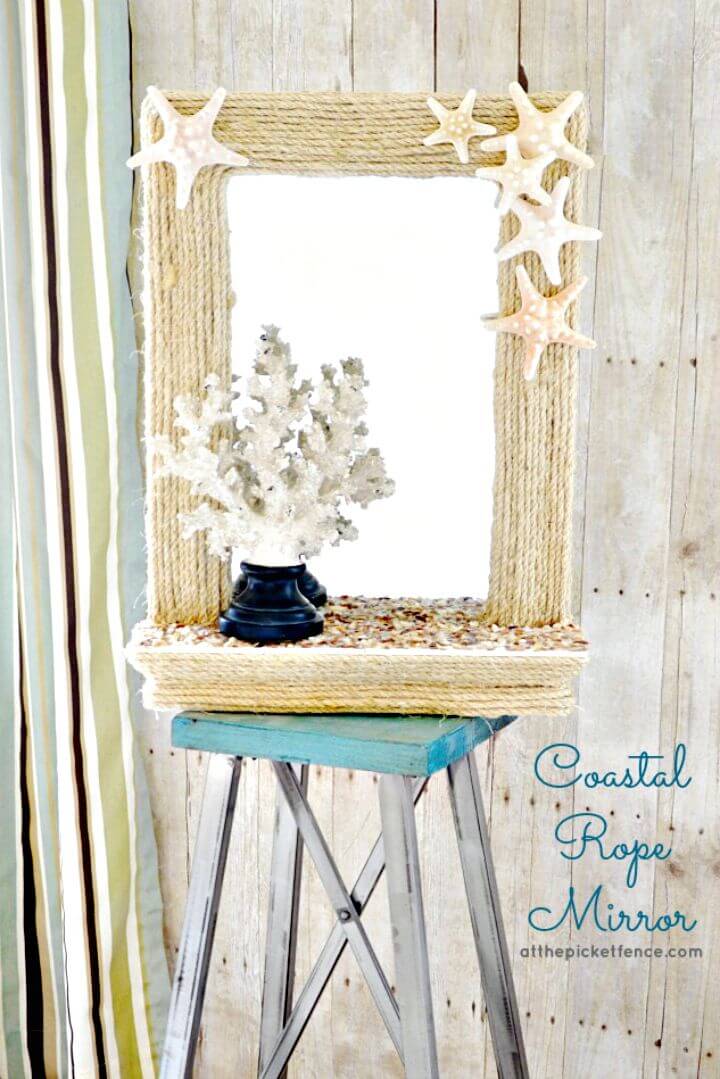 You will like to praise the amazing makeover of a framed mirror here that has been transformed into a brilliant coastal decor delight! Just by making smart use of nautical rope and star fish embellishment a fantastic coastal mirror centerpiece has been gained that will hang like an enticing charm on any interior wall! It would also make a Thanksgiving gift to coastal decor lovers! Complete project tutorial here atthepicketfence
Make Rope Hurricane Vase: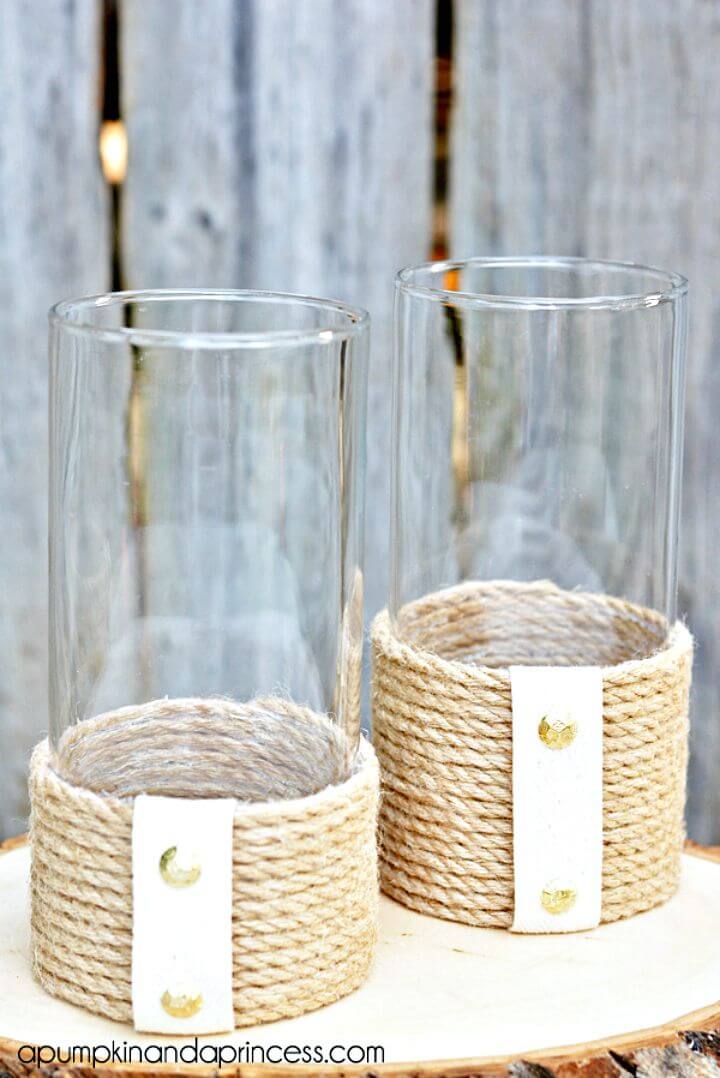 Boost also your coastal decors by making special rope hurricane candle jars or vases! Just fall in love with this rope hurricane vase that is made of a glass vase having nautical rope wrapped around the bottom and then twill has been used for extra charm and grace! Finally, the twill has been brought to prominent look by using gold nail heads glued in place! Put your cut flowers or candle lights inside the rope wrapped vases and enjoy! Complete project instructions and tutorial here apumpkinandaprincess
Simple DIY Coastal Pallet Art:
Fall in love with this another mind-blowing piece of wall art that has been done to rock and inspire! This is here the coastal pallet wall art that is made of 3 wooden pallet planks put together on the front door and have been fastened together using the rope! Finally, the entire wall hanging pallet board has been embellished with a seashell embellishment and hence a glam looking wall art piece has been gained! Grab the full free guide and visual tutorial from here kleinworthco
How To Make A Driftwood Mirror: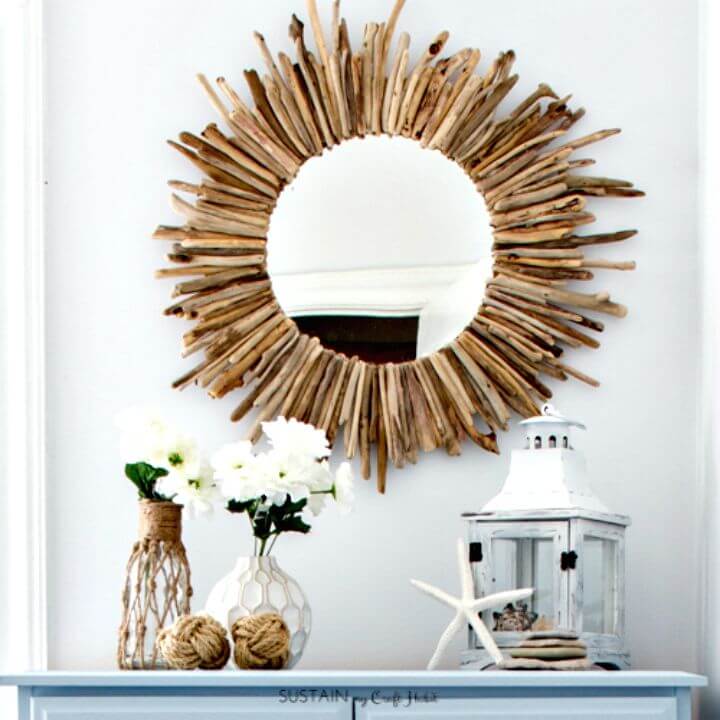 Get inspired by this another beautiful idea that will help add a nautical finishing touch to your modern room interiors! Just make the driftwood round wall mirrors that will be highly attractive to look at and will also be super easy to make! Just take the assorted pieces of driftwood and just put them around the mirror as a rustic frame, you can simply glue the driftwood pieces in place! Here you can do this project with both frameless and framed round mirrors! Complete project instructions here sustainmycrafthabit
DIY PB Inspired Rope Wrapped Candle-holder:
Craft also the PB inspired candle holders that will also serve as charming coastal decor centerpieces in your home! Just grab your cylindrical glass jar and wrap the rope around their bottoms for a nautical decor touch! Next spice up your candle holders with custom coastal embellishments like seashell, sea glass with the star fish! Here the finally finished candle holder has been spruced up with a star fish embellishment and is looking beautiful! Grab the full free guides and visual tutorial from here stonegableblog
How To Make Handmade Shell Candles: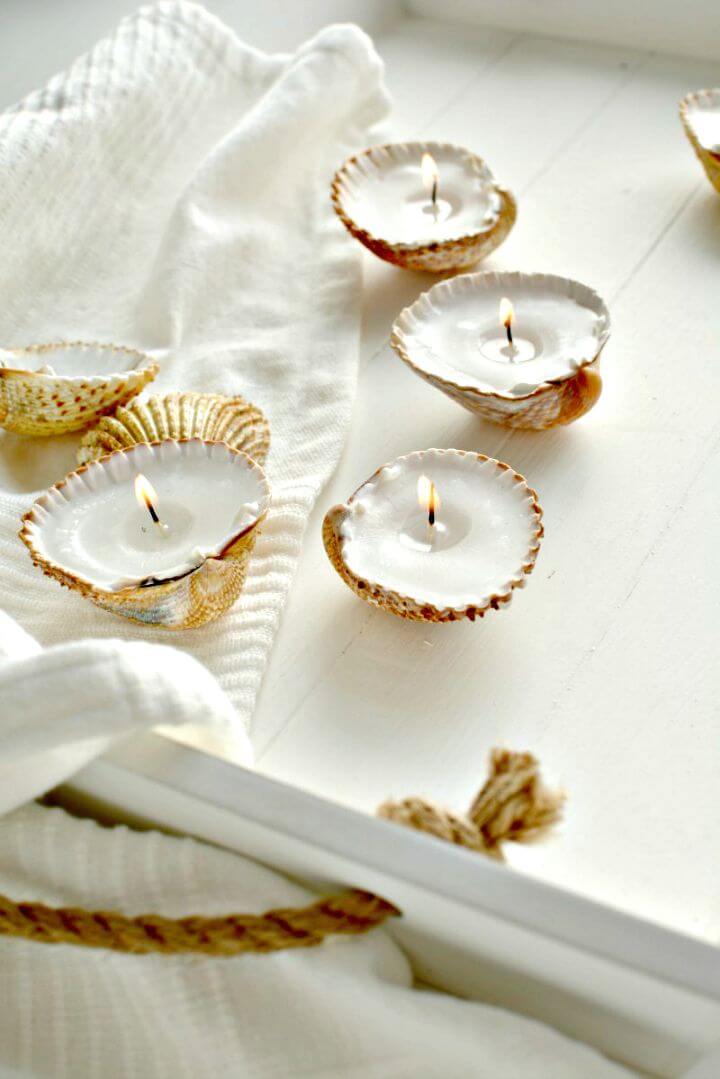 Make also interesting looking shell candles that will go eye-catching if place on a dining or coffee table! Make the seashell candles are pretty simple, and you only need some wicks with tabs and the wax that maylooks scented also! Just fix the wicks in the center of your seashells with tabs and then fill them up by pouring the melted wax! Try to grab the seashells with flat bottoms for making the coastal candles at home! Another brilliant coastal decor craft project! Full project details here burkatron
DIY Knotted Hanging Lanterns:
Spruce up also the indoor and outdoor of your home with the special handmade coastal lanterns! Just grab some rope and your favorite candle jars to make hanging lanterns at home, this will all demand for some macrame-ing skills that will help to turn the rope into a knotted holding in which you have to place the candle jars! Make use of empty Mason jar to make the perfect candle jars! Complete project tutorial and instructions here marthastewart
Easy DIY Coastal Chic Decorating:
Another interesting and brilliant hack is here to bring a touch of coastal decors to your spaces! Just make the driftwood candlelight centerpieces that will rock in both vintage or rustic environments and will be super beautiful to look at! Put together the pieces of driftwood flat on the surface in a line and then start tying them together using cotton or twine thread! Next, wrap the driftwood mat around the candles and transform them into precious coastal candle lights! Don't forget to finish your candles with a flat round base and also with custom coastal embellishments! Complete project tutorial here livecreativelyinspired
Create Your Own Sisal Shade: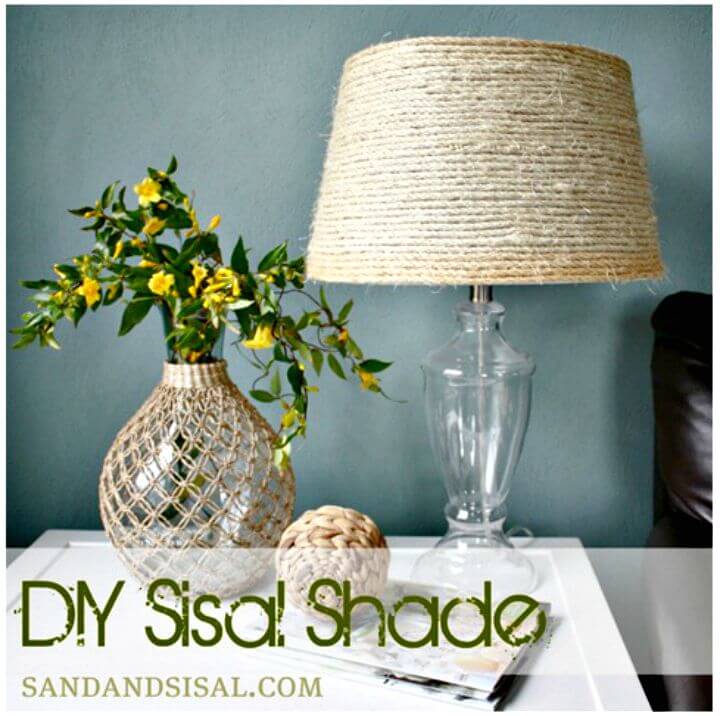 Look at this another genius hack to make your interior decors coastal decor inspired! Just make smart use of nautical rope and wrap it around your lampshade so it will behave as a coastal decor centerpiece there! This is here another fabulous and outstanding coastal decor project that everyone can try at home! Grab the full project tutorial from here sandandsisal
DIY Clay Pot Lighthouse Tutorial:
If you have the nautical deecor loving heart inside then, you will definitely like this clay pot lighthouse, a fantastic coastal decor project and a smart crafting achievement! Here this lighthouse tower has been made by using clay pot in different sizes and the saucers! The top of the lighthouse has been done using extra small clay pots, extra small saucers, a glass votive holder and also with a battery-operated light that is to put inside the votive! Here most of the project is all about painting the stacked pots for a precious lighthouse look! Full project details and instructions here ehow
Adorable DIY Shell Planter Tutorial: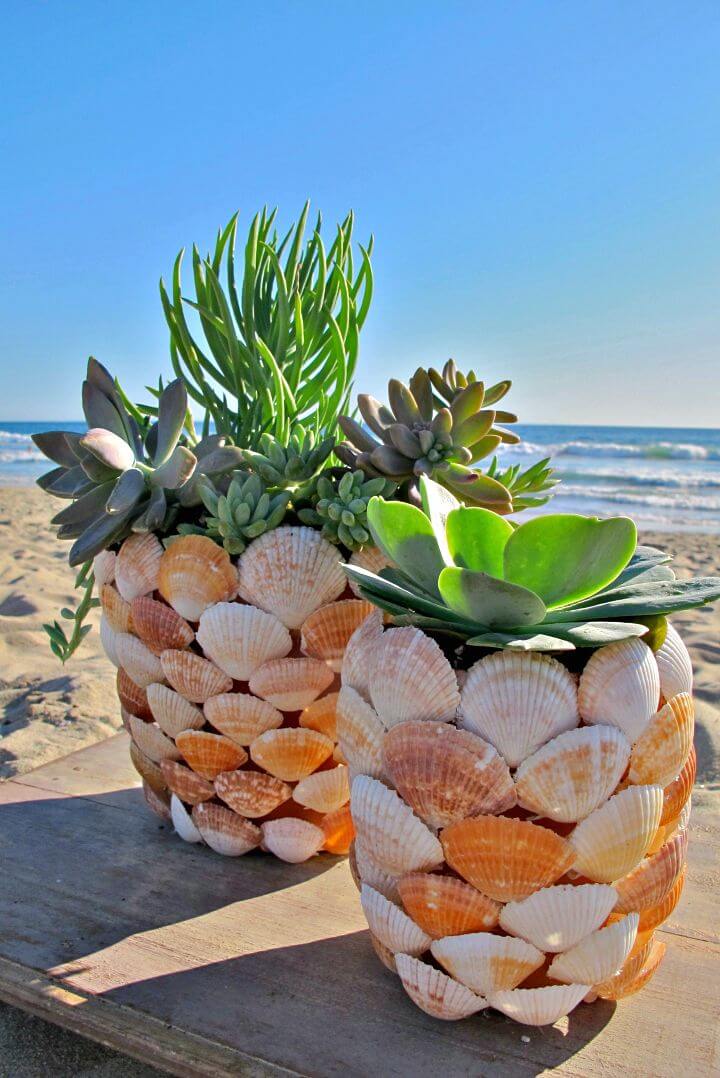 Bring both a garden touch and the coastal decor vibes to your spaces with these handcrafted shell planters that are a super quick and easy to make at home without getting a bit expensive! Here all you need some seashells and a pot to duplicate this project! The idea is to glue the seashells all around the pot in a scalloped manner, and this entire makeover will not take much time! A super easy but smart coastal decor project to do at home! Full project tutorial here billabong
DIY Upcycle A Ship Helm Into A Nautical Wreath: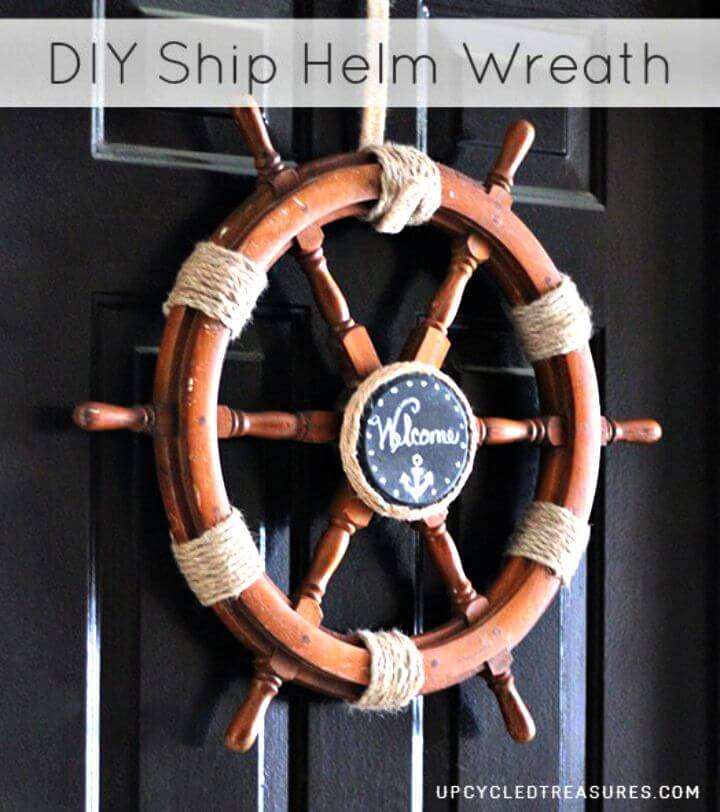 Have a look at this another fabulous front door wreath that is made of a ship help wrapped in nautical rope and makes a brilliant coastal decor! Grab a ship helm and just wrap the nautical rope around its rim leaving equal space intervals! Cover the center of the helm with a wooden round selected in matching size and just chalkpaint it! Wrap also the rope around the center of the helm and write custom letters on the central chalk-painted disc for a brilliant appeal! Another great beachy decor project that everyone can duplicate! Full project tutorial here mountainmodernlife
How To Make Rope Memo Board:
Memo boards are often to find in a home where can write or hang custom messages, inspirational quotes, announcements and your favorite photos for display or as a reminder! So, you can also make the coastal memo boards at home using the nautical rope that will also bring a fantastic touch of nautical decors to your home! Check out here this sample rope memo board that has been done to inspire and is looking beautiful! Here all you need the birch wood square frame, rope, and furniture nails to duplicate this coastal decor project! Complete tutorial here emilyaclark
Quick DIY Seashell Artwork Tutorial:
You can get crafty with the seashells to make amusing decors and interesting wall art pieces that will help boost the coastal decor factor of any of your space! Check out here a precious seashell wall art piece, perfect artwork to do with seashells and old frames! Just give the interesting background to your square-shaped or round frames using water-colored cardstock and next paste your custom nautical embellishments in the center like seashells, starfish and sea glass monograms! Complete project tutorial here thisgrandmaisfun
DIY Nautical Oars And A Beachy Porch In Progress: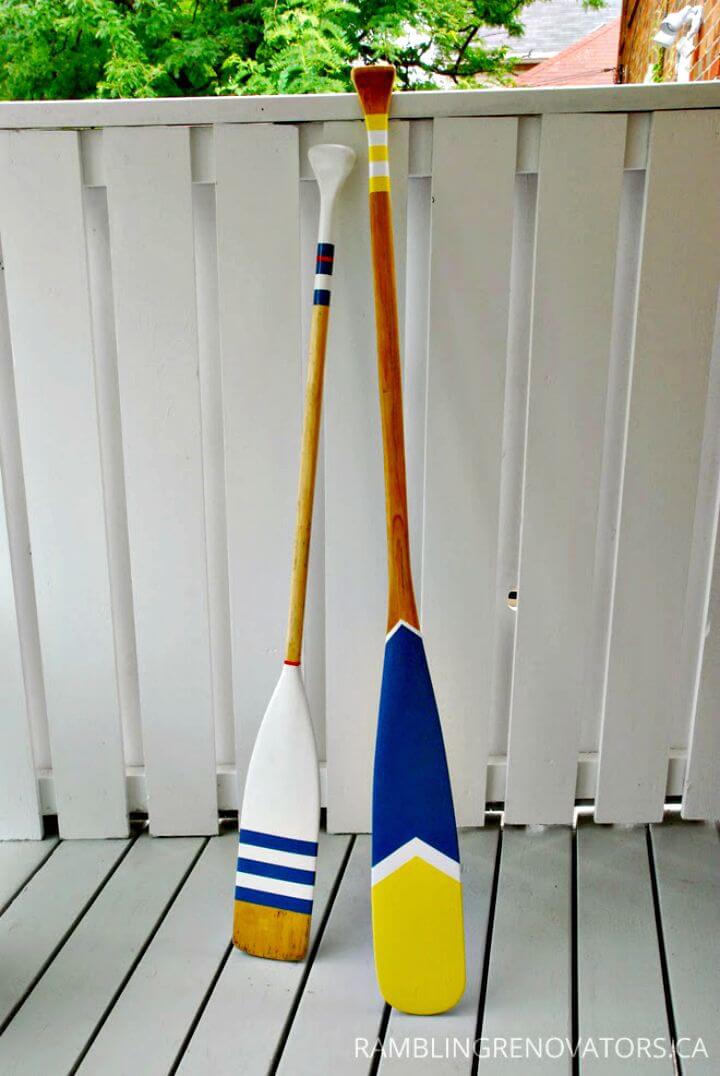 If you are willing to do some super simple and straightforward beachy decor projects then here is a brilliant hack and sample project for it! Just paint the oars with custom paint colors for custom patterns like color block, chevron lines or colorful stripes and next just put them anywhere in or out of your home for a nautical decor touch to a targeted space! Here a white painted porch area has been spruced up with the nautical decor charm that comes from the painted oars! Grab the full project guides from here ramblingrenovators
Adorable DIY Nautical Flag Garland:
Make also visually captivating nautical garlands that will also help to bring a great nautical decor touch to any of your space! Here all you need is a set of nautical wooden cubes or blocks which can be painted in custom flag colors and then can be threaded onto a piece of jute rope to make a beautiful nautical flag garland! Make use of knots to keep the blocks in place and also use the washi tape strips fan or easy and nice painting of flags on the wood blocks! Grab the full project tutorial from here consumercrafts
Make Starfish Wall Art Decor: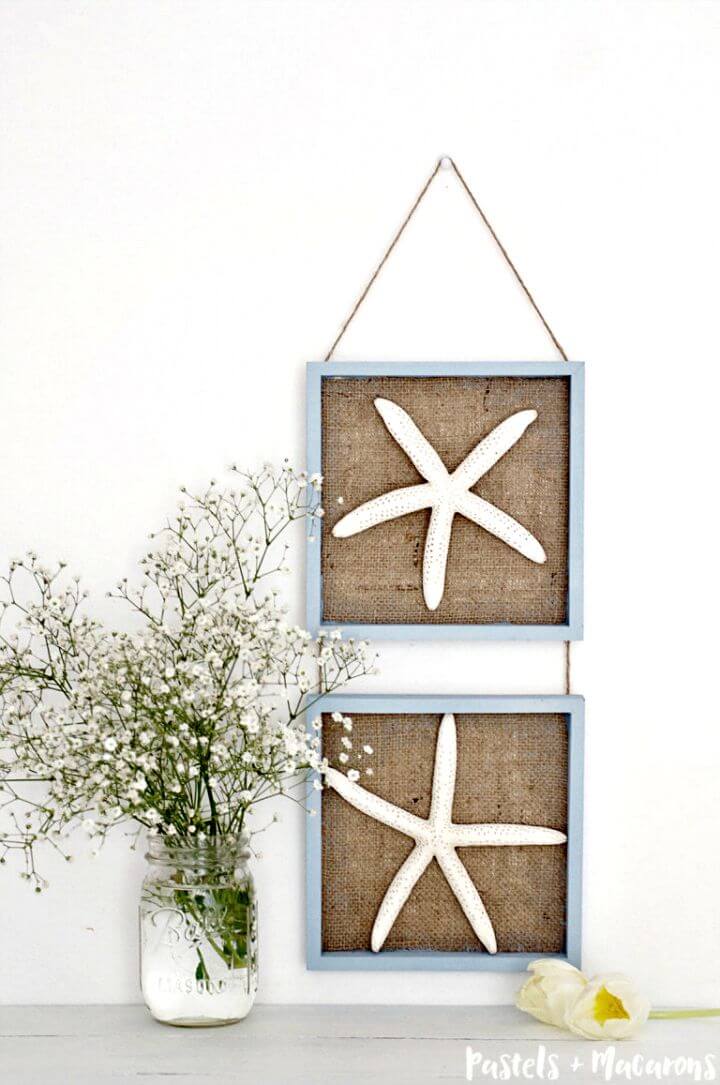 Fancy up your interior wall with the starfish wall art frame that will also make the much visually captivating nautical or coastal decors! Get inspired by the given frames that are made of shadow boxes that come with a rustic background made of burlap fabric! Fina,lly, they have been completed by gluing the bigger starfish embellishments in the center! Glue the rope in back of both frames and make a loop to hang them on the wall as tiered wall art frames! Full visual tutorial and instructions here pastelsandmacarons
Create Your Own Beachy Lantern: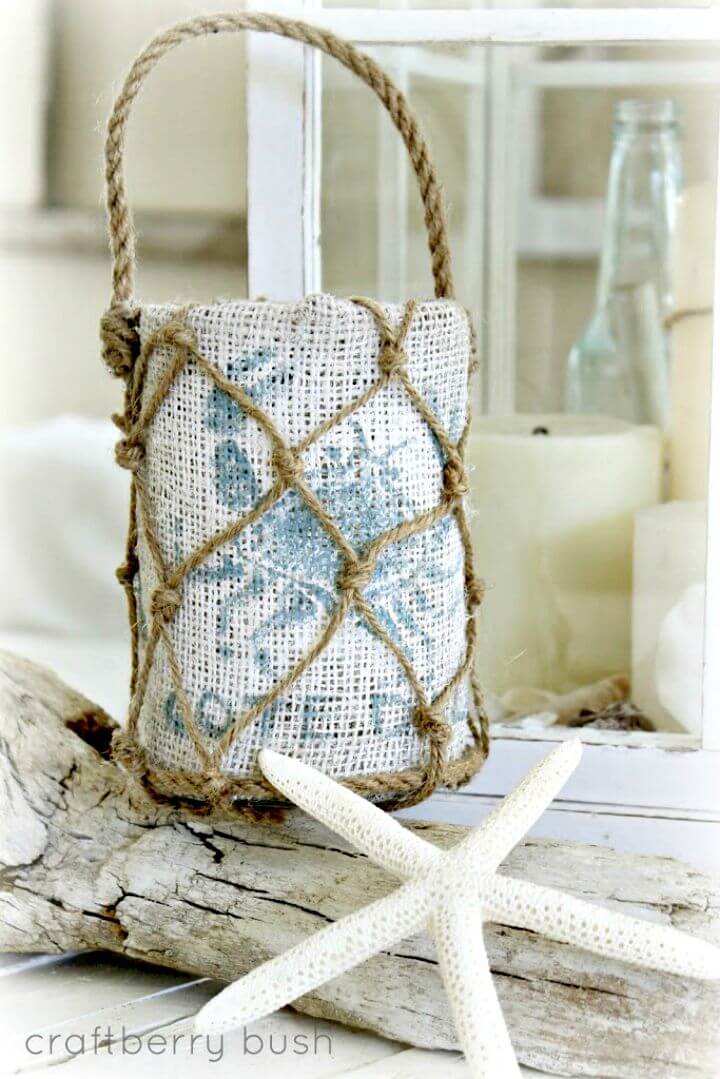 Grab a Mason or custom glass votive or candle holder that will sit beautifully inside a rustic rope macrame hanging to make a precious looking beachy centerpiece or lantern! Check out here the outstanding-looking beachy lantern that is made of a jute macrame hanging and also with a burlap-covered lantern that have been put inside the macrame hanging! Another beautiful and outstanding costal decor project to duplicate at home! Grab the full free instructions and tutorial from here craftberrybush
How To Make PB Style Shell Candles:
Spruce up also your dining or coffee tables with a touch of coastal decors just by putting some amazing seashell lights or candles over there on the tables! Just Check out here the PB style shell candles that have been made at home and are just looking damn beautiful! Here these shells candles are a big delight to view and will also make a great gift to a nautical decor lover! Just grab some shells, wicks and some wax to duplicate these coastal candles! Get the full project tutorial from here thevspotblog
Adorable DIY Natural Textured Cones: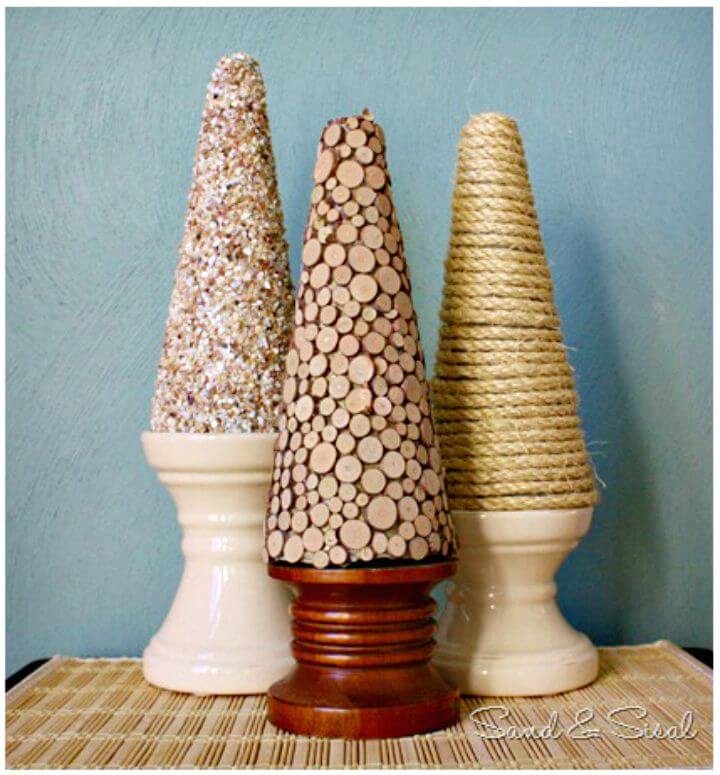 The beach sand look, the wooden texture and the nautical rope can be the best things to play with when intending to make some perfect coastal decors or centerpiece at home! Just have a look at these textured cones that have been done to inspire and are looking just fantastic! Grab your Styrofoam cones and then wrap them around in nautical rope, adorn them with wood slices or just create a beach stone look of them to turn them into adorable beach decor centerpieces! Don't forget to finish them with a candlestick base! Complete project tutorial here sandandsisal
Easy DIY Rope Anchor Sign:
While talking about the coastal decors, you can't forget about the anchors, the most used sign, embellishment, and symbol for nautical and beady kind of decors! So, you can also make adorable looking anchor wall signs that will make fetching coastal wall decors! If you intended to do so, then have a look at this rope anchor sign, great inspiration here! Grab a wooden board or canvas frame and just paint it in your desired color, next use an anchor template to trace out the anchor sign and then glue the rope on your anchor design! Complete visual tutorial and instructions here therusticwillow
DIY Beach Themed Summer Wreath:
Check out here another fantastic coastal decor idea that will rock at your front door! This is here the beach themed summer wreath that is made of a Styrofoam wreath form painted in custom colors and which comes with colorful Styrofoam cones and a Styrofoam ball as embellishments! Here a wooden dowel has also been fixed inside the wreath to boost the nautical decor touch! Use the craft paint to paint your items and glue will rock as a great adhesive! Grab the full project instructions from here consumercrafts
Adorable DIY Shell Mirror Tray:
One more praise-worthy coastal decor craft project is here that will make great inspiration! Just make the super cute and enticing shell mirror trays that can be used in numerous different way to boost the nautical home decors! Here all you need a frameless round mirror piece which can be given a fantastic nautical decor boundary all around using glue and vase filler chips! Check out here this ample shell mirror tray that has been done to inspire and rock and it would make a great vase to your candle votives and other flower vase centerpieces! Full project details here gina-michele