Maximizing your garage or workshop space becomes a breeze with our 15 easy DIY lumber rack ideas, perfect for all your wood storage needs. These DIY lumber storage rack plans will help you organize and store lumber, wooden planks, plywood, and even small scrap wood pieces you can install in your garage or workshop. Ranging from wall-mounted racks to rolling carts, you'll find the perfect solution to suit your space and woodworking needs among these DIY lumber storage rack ideas.
One popular DIY lumber rack is the gorgeous DIY cantilever lumber rack, which offers versatile storage in a sleek design. If you're on a budget, our cheap and easy DIY lumber rack ideas include building wooden racks or using materials like EMT conduit. Looking for something mobile? Try building your own rolling lumber rack and sheet goods cart! For a comprehensive storage solution, consider our combo miter saw station lumber rack.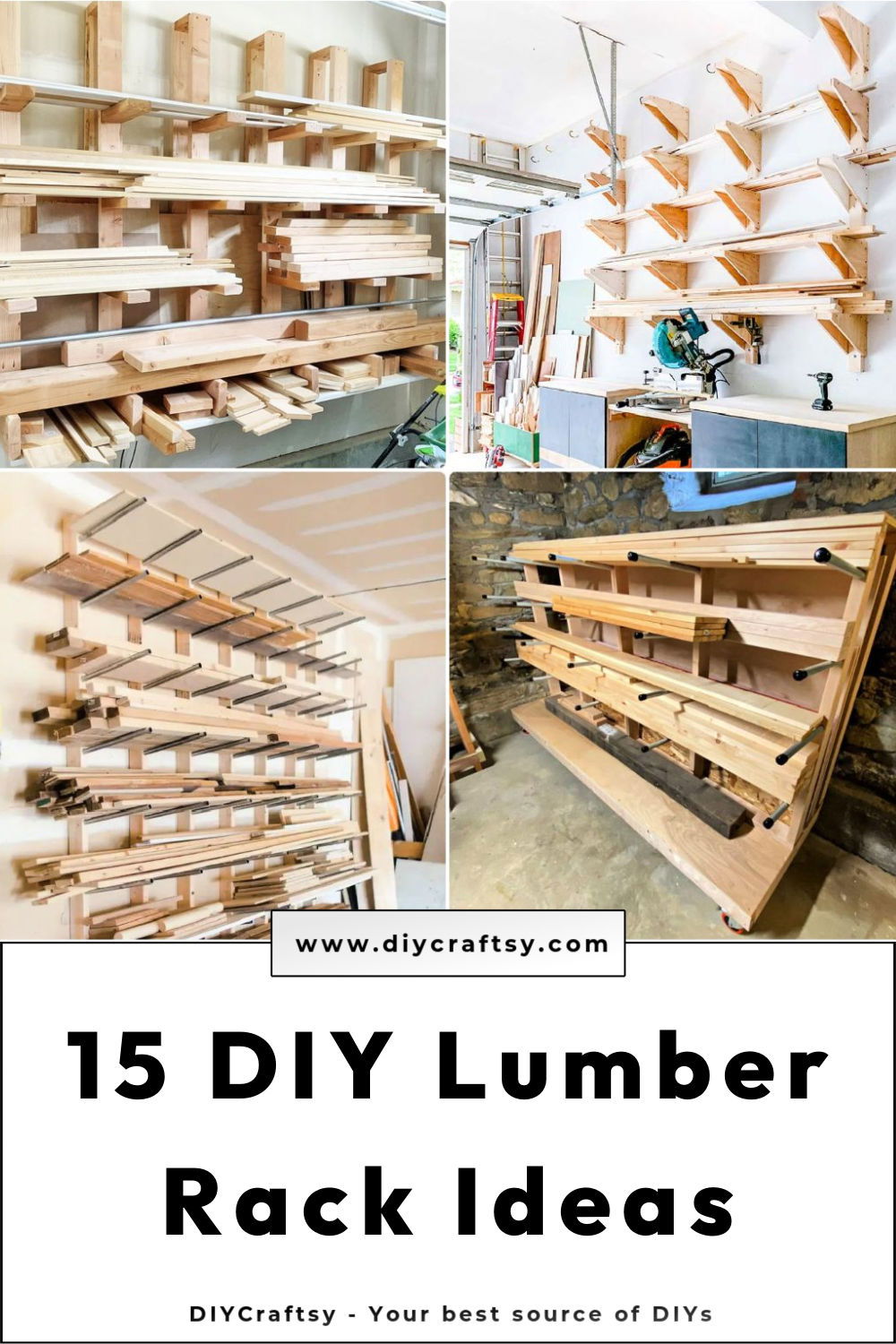 Each of these DIY lumber rack plans and ideas provides detailed instructions, ensuring a smooth build and successful outcome. DIY woodworking enthusiasts will find plenty of inspiration in these lumber shelf and storage ideas, perfect for streamlining their workspace. So grab your tools and materials, and get started on building the perfect DIY lumber rack to enhance your home workshop today!
1. Gorgeous DIY Cantilever Lumber Rack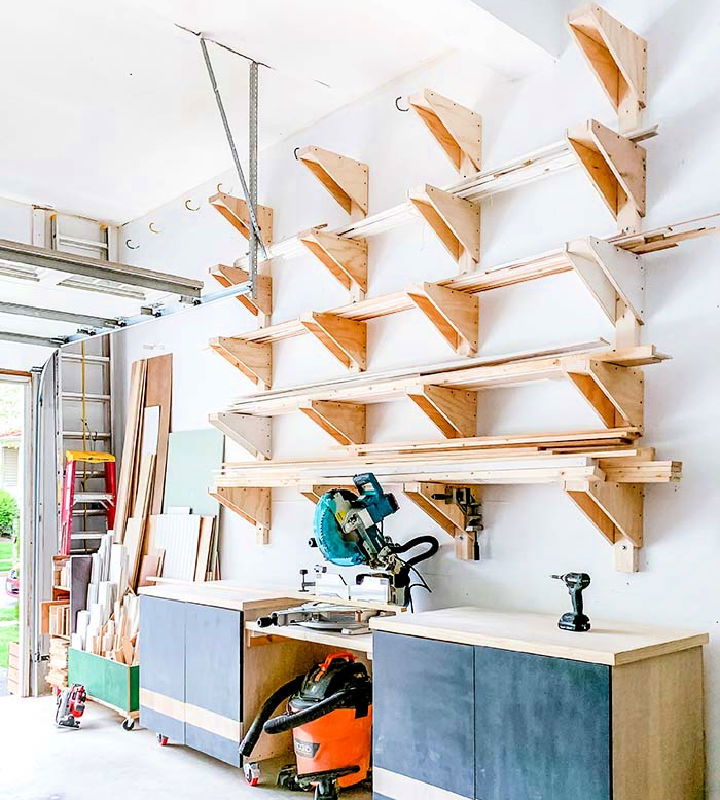 Maximize your garage's potential with this practical DIY guide on building cantilever shelves! This wall lumber storage rack resolves the common problem of wood storage in garages, offering a designated area for your lumber and larger tools.
The project involves simple materials like 2x4s, plywood, and lag screws, combined with handy tools such as a tape measure, level, circular saw, and a drill.
With a clear set of instructions – from locating the studs to mounting the vertical supports and assembling the brackets – this shelving system optimizes your workspace. It adds a structural appeal to your garage. Remember, a clutter-free workspace promotes productivity and creativity. Enhance your garage organization today with this project! remodelandola
2. How to Make a Lumber Rack With EMT Conduit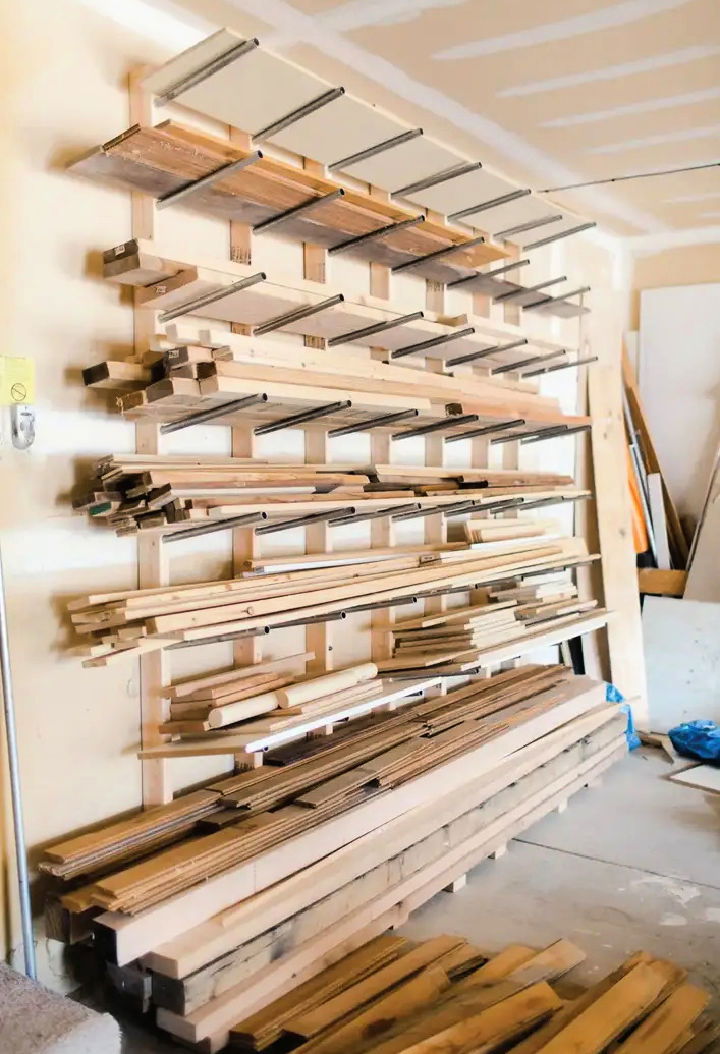 In the struggle to manage your ever-growing lumber collection? Consider a comprehensive, do-it-yourself organizational solution to streamline your workspace. By making a dedicated lumber rack, not only will you have an easy-to-access repository for your supplies, but you'll also utilize space effectively.
This project leverages the sturdy and cost-effective design of a heavy-duty lumber rack that's affordable and easy to build. The materials required are minimal; 2 x 4 x 8 lumber, 3/4″ EMT conduit, and 6″ lag screws.
Constructing your lumber rack can be rewarding and financially prudent, especially if you find used materials. The straightforward assembly process results in a highly functional and organized storage solution. Your lumber will be neatly stacked, easily retrieved, and conveniently sorted. So, roll up your sleeves and prepare to transform your workspace today! housebecoming
3. Free Lumber Rack Woodworking Plan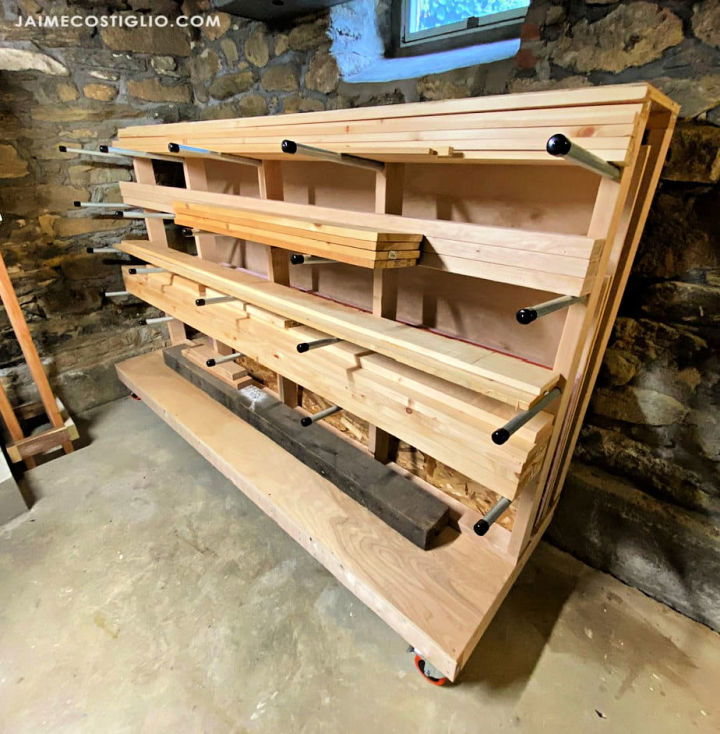 Embrace the efficiency of a well-organized workspace with a DIY lumber rack that accommodates full sheets and boards. Expertly designed to suit your needs, this portable storage solution is ideal for keeping your materials tidy and accessible. Built from one plywood sheet and 13 studs, this customizable lumber rack is perfect for your corner storage space.
This lumber rack is versatile with features such as four open shelves for up to 8′ boards and longer, a solid top shelf, and a large base shelf. It's also mobile, thanks to the included locking wheels. Follow this detailed plan and step-by-step instructions to guide you through the process.
Building this lumber rack will enhance your shop's organization and save you time and effort in the long run, making your crafting endeavors more productive and enjoyable. So why wait? Start planning your lumber rack today and revolutionize your workshop organization! jaimecostiglio
4. Cheap DIY Wooden Lumber Racks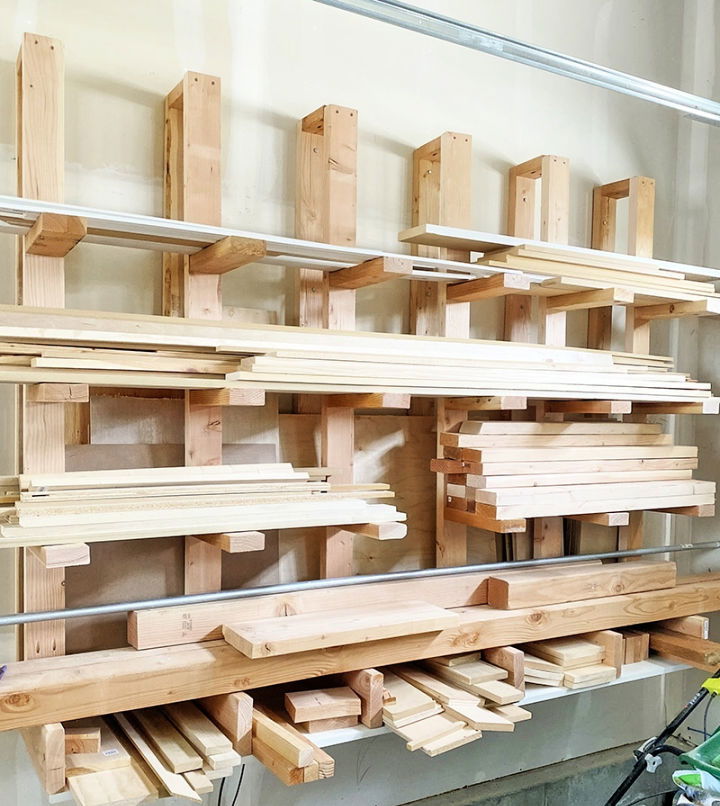 Revamp your garage space with a DIY lumber organizer for an efficient and tidy storage solution. This project offers a practical way to declutter your basement during renovations or streamline your woodworking space. It is designed to host various sizes of wood, including short-cut pieces, long planks, and sizable plywood, without the risk of items slipping.
The organizer is mainly made from 2x4s, 2x6s, and plywood, attached with pocket screws, and fastened securely to the garage wall with lag screws. This innovative design keeps your lumber off the ground, helping deter unwanted pests, and optimizes your garage space due to its slim profile.
Whether tackling a basement renovation or seeking a better organization system for your woodworking materials, this lumber organizer plan offers a sturdy and user-friendly solution. honeybearlane
5. Simple Lumber and Scrap Wood Storage Rack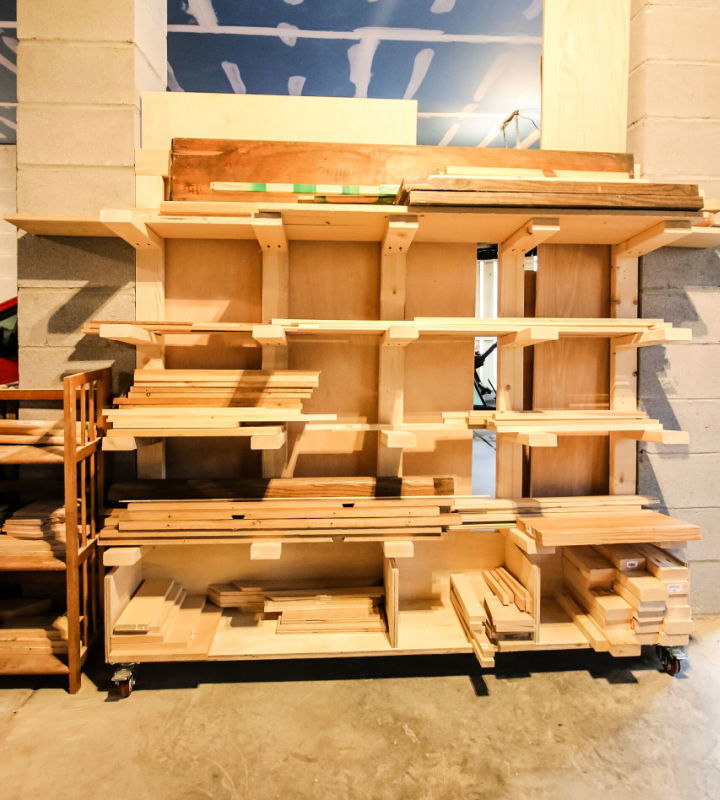 Learn to build an efficient rolling DIY scrap wood storage cart with this comprehensive guide! As your woodworking projects evolve, leftover lumber can accumulate, and an organized system for storing these scraps becomes essential. Built for woodworkers, this guide will help streamline your workspace, allowing you to easily access needed materials for your projects, boosting efficiency and productivity.
This guide offers a step-by-step process to construct a portable storage solution for various sizes of wood, including longboards, small pieces, and sheets of plywood.
The tutorial highlights key tools such as the Plunge saw, Miter saw, and Kreg pocket hole jigs and utilizes common materials like plywood, 2×4 boards, and rolling locking casters. It's not just a storage cart; it's a tool for honing your skills and developing your craft. charlestoncraft
6. Make a Lumber Rack With Step by Step Instructions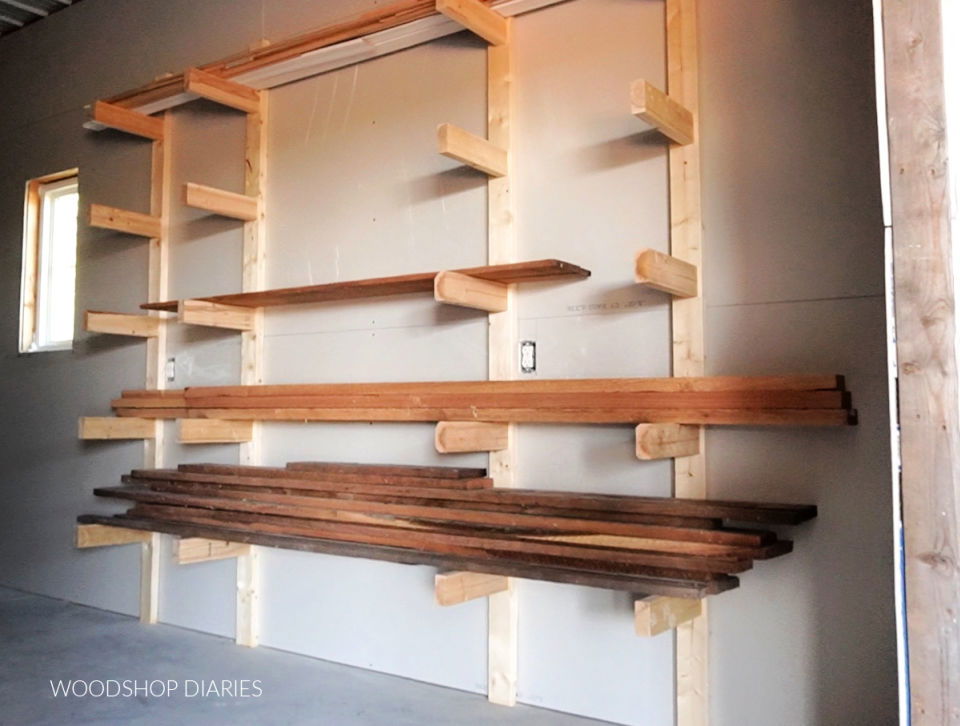 Discover a fantastic way to keep your workshop tidy and efficient with this easy DIY lumber rack. Built using basic 2x4s and wood screws, it is an ideal storage solution for managing your lumber pile. With an 8-foot height and 14-inch rungs, this rack can easily fit within standard-sized workshops.
If you've got higher ceilings, adjust the length of the 2x4s to suit your needs. The rack's simple assembly process, utilizing tools like a saw, drill, level, stud finder, and measuring tape, ensures a quick setup.
This cost-effective and practical solution, designed to keep your lumber off the ground and neatly stacked against the wall, will help make your woodworking experience smoother and more enjoyable. Remember to secure the rack-to-wall studs for stability. Happy building! woodshopdiaries
7. Make Your Own Wooden Lumber Rack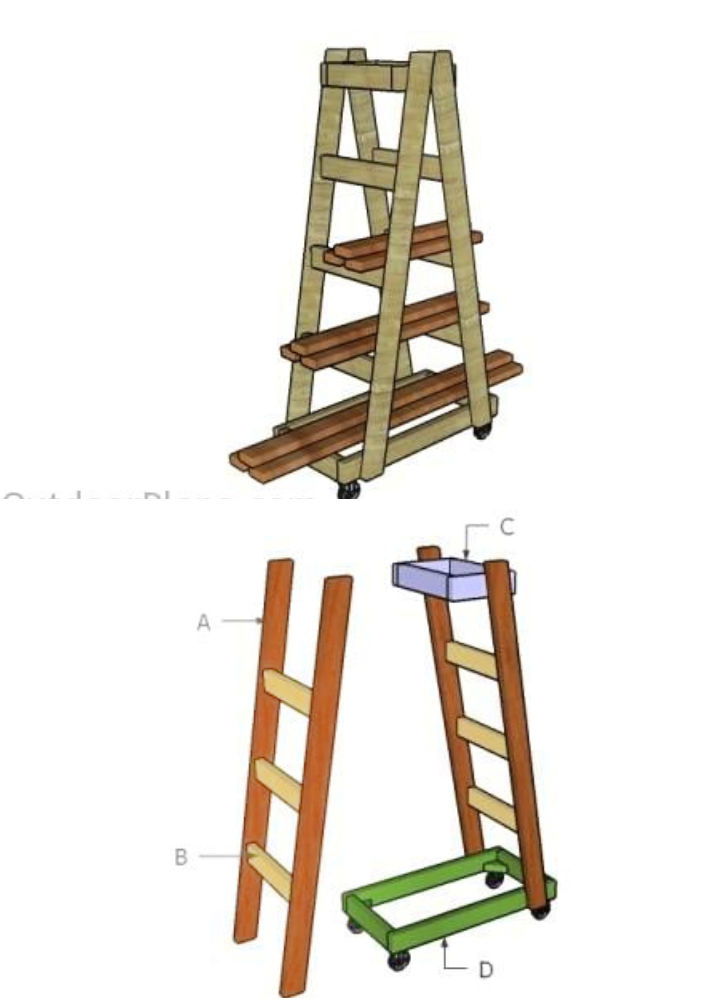 Step into the world of efficient woodworking with this DIY A-frame lumber rack. This project combines common materials and tools to make a storage space that makes the most of your workshop's real estate.
With a careful selection of straight, defect-free planks – preferably cedar or other weather-resistant lumber, you can construct a rack that stands the test of time. Remember to use a spirit level for a perfect alignment before inserting galvanized screws.
This is a symmetrical, efficient lumber rack that you can assemble in a day with just 2×4 lumber, screws, caster wheels, and essential tools (hammer, measuring tape, framing square, level, Miter saw, drill, screwdriver, and sander). Enhance your workspace and keep your materials organized with this practical project. myoutdoorplans
8. DIY Combo Miter Saw Station Lumber Rack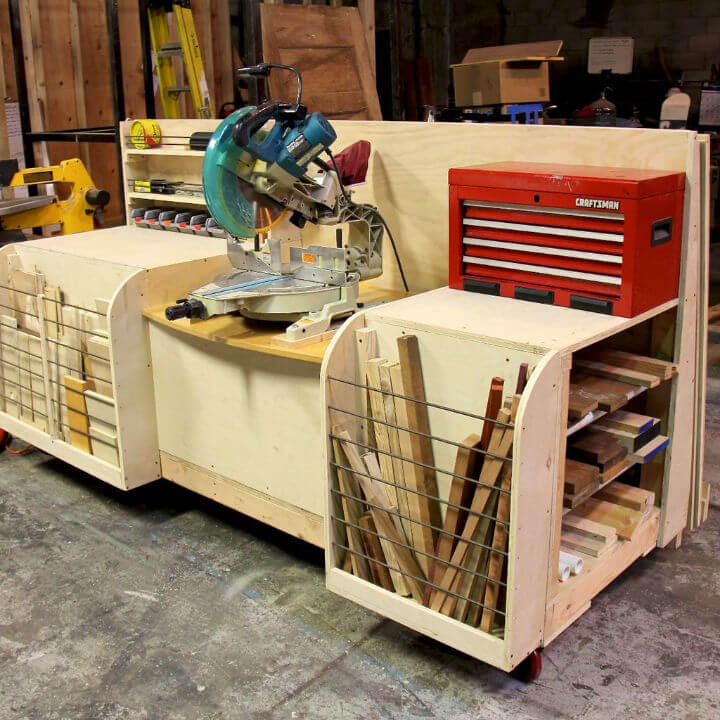 Looking to maximize your woodworking space with a dual-purpose addition? The combo miter saw station and DIY lumber rack are transformative solutions, offering ample storage and a functional work surface. This innovative structure accommodates longboards and 4'x8′ sheet goods while featuring transparent bins for easy cut-off access.
Adapting from a sketch in an old Fine Woodworking magazine, this rendition is practical and well-designed. Built from materials like plywood, square wood stock, and iron pipe, the station is robust yet semi-portable thanks to the addition of heavy-duty locking casters.
While it's not a step-by-step guide, the detailed descriptions inspire and guide woodworkers looking to customize their space. This combo miter saw station, and lumber rack ensures no woodworker should have to choose between storage and functionality again. instructables
9. Build a Rolling Lumber Rack and Sheet Goods Cart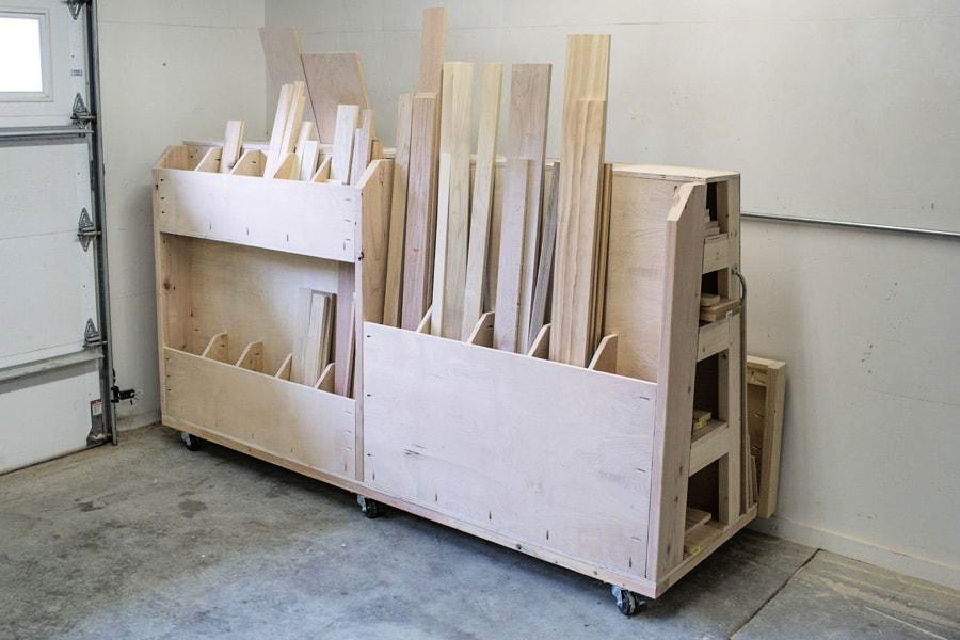 Dive into the world of woodworking with this versatile DIY rolling lumber & sheet goods cart. Designed to store all your lumber and sheet goods efficiently, this cart boasts spacious shelves for longboards, upright bins for shorter pieces, and an ample area for sheet goods. Enhancing convenience, the cart is mobile, allowing you to move it around your workspace as required.
Building this cart requires moderate skills and standard wood products, including different sizes of boards and plywood. In addition, you'll need hardware and supplies like pocket hole screws, finish nails, heavy-duty locking swivel casters, utility pulls, lag screws, washers, and wood glue.
Once assembled, this rolling lumber cart will help declutter your workspace and provide a systematic approach to storing your woodworking materials. Engage in this handy project today and enhance your woodworking experience. buildsomething
10. Cheap and Easy DIY Lumber Rack for Storage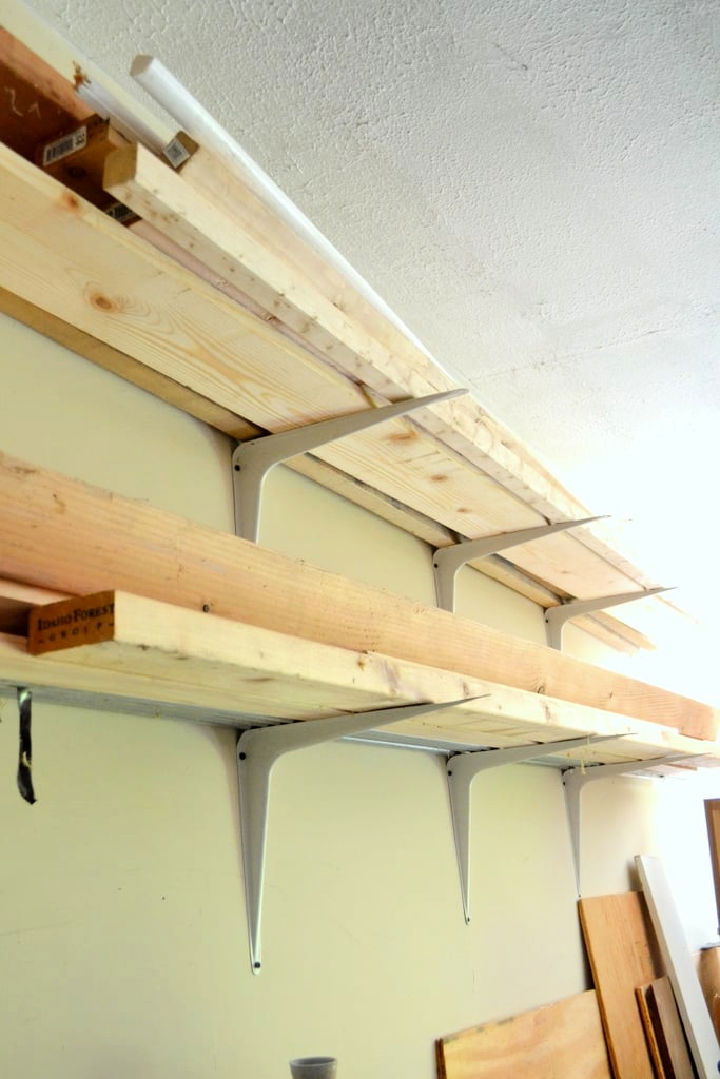 Unveil an innovative approach to lumber storage with a quick and cost-effective DIY garage lumber rack. Built from heavy-duty shelf brackets, this rack creates organized storage for various types of lumber, conduit pipe, and scrap wood, streamlining your woodworking or renovation projects.
A wall-mounted design saves floor space and prevents warping, ensuring easy access and an orderly workspace. Additionally, differentiating between diverse wood types, such as valuable hardwoods and basic 2x4s, becomes effortless.
Revitalize your workspace with this functional and visually appealing storage solution! No need to overspend or endure complicated assembly process. Experience improved productivity and creativity with your lumber neatly arranged, ready for your next masterpiece. uglyduckling
11. Build Your Own Mobile Lumber Rack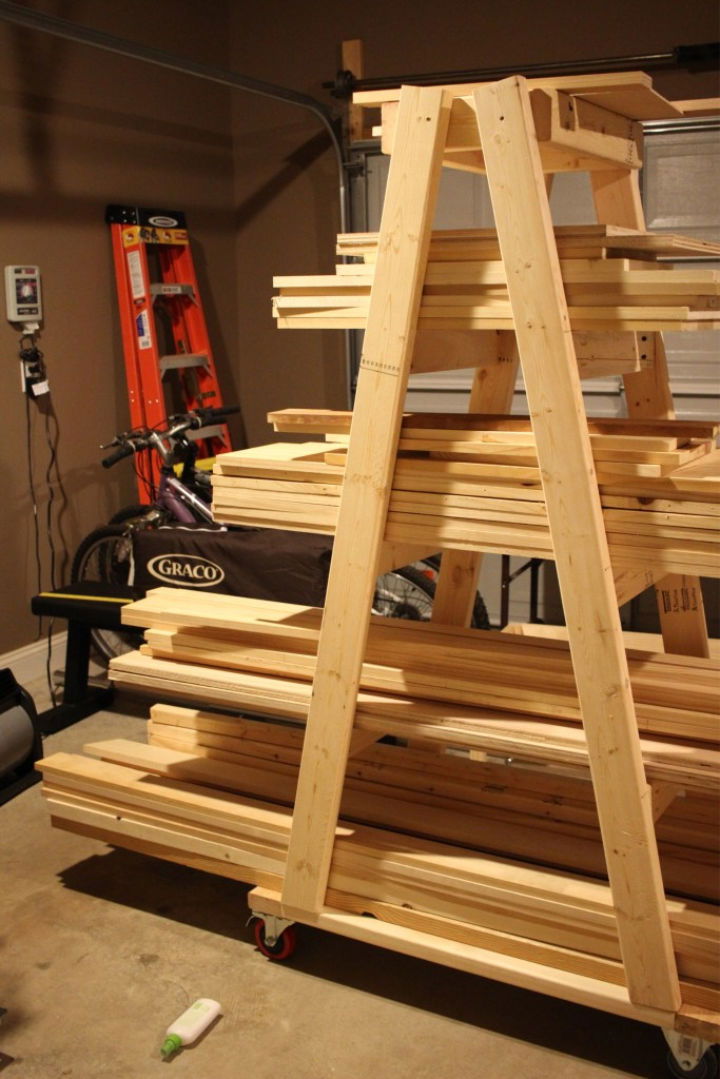 Boost the utility of your garage with a DIY mobile lumber rack built using the free plans. This lumber rack is a game-changer: it's not only capable of storing a vast amount of lumber, but it's also easily moveable. This DIY project is an efficient storage solution constructed from 2×4 boards with swivel caster wheels.
You'll need tools such as a Kreg Jig, right angle clamps, a Japanese hand saw and guide, and a Nobex Champion Miter saw. The steps are straightforward: cut the boards, drill pocket holes, assemble the ladders, assemble the base, attach the caster wheels, assemble the top rack, and join the ladders to the base and top rack.
This mobile lumber rack will significantly optimize your garage space and bring order to your workspace. Built with love and precision, the rack is functional and a testament to your DIY skills. No more cluttered garage – just a neatly organized, mobile lumber rack ready to hold your future projects. ashleygrenon
12. How to Make a Wooden Lumber Rack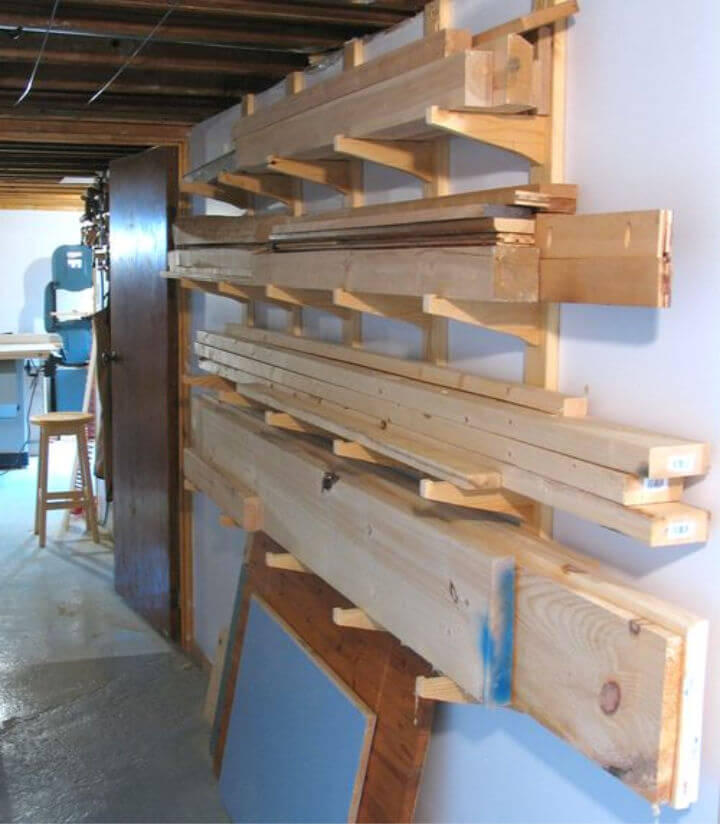 Make an organized and efficient woodworking space with a DIY lumber rack! This shallow, space-saving design can be installed in hallways or other small areas and is made from reclaimed futon frame wood. With four supportive arms on each of its five uprights, this rack offers 20 supports to store various lumber pieces.
Special design elements include a bump at the end of each arm, preventing any accidental slipping of your materials. This sturdy rack will be assembled quickly with a bandsaw and tenon jig. Detailed plans are available for download for those interested.
Beyond providing an organized storage solution, this DIY lumber rack repurposes materials and promotes sustainable woodworking. Be ready for your next woodworking project by keeping your materials neatly arranged and easily accessible. woodgears
13. Building a Free Standing Lumber Rack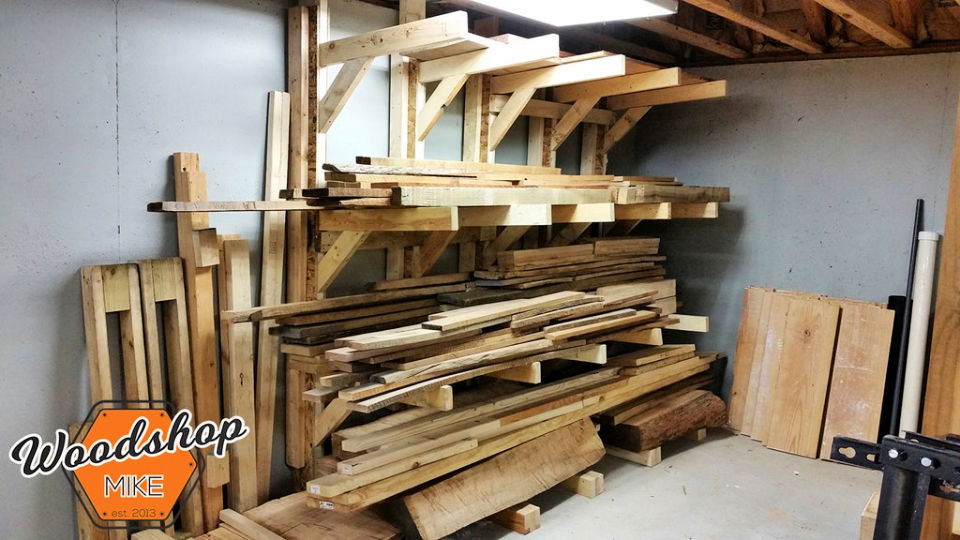 Have a versatile and robust lumber storage solution for your shop with a DIY wall-mounted lumber rack! Perfectly suited for spaces of varying dimensions, the modular design allows easy adjustments based on your storage needs. The completed rack measures up to 10′ wide and 8′ tall, providing ample room for your wood collection.
Using essential tools and materials such as 2x4s, OSB plywood, screws, and glue, the rack features four spacious shelves extending about 30″, ensuring generous storage space. The benefits of this handcrafted storage rack include better organization and optimization of your workshop space.
In addition to being functional, the design adds a unique aesthetic appeal, making a professional and tidy look for your workshop. With this custom-built rack, wave goodbye to clutter and hello to an efficient workspace! instructables
14. Handmade Wall Mounted Lumber Storage Rack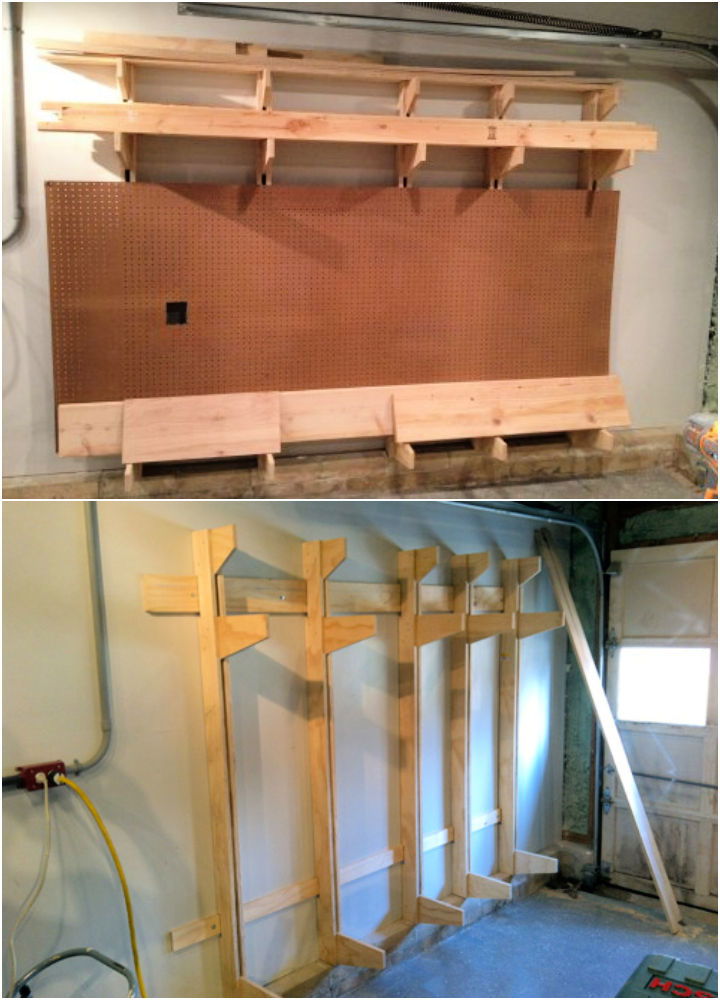 Delve into the DIY world and elevate your workshop organization with a sturdy, wall-mounted lumber rack. This practical storage solution keeps your materials off the floor, enhancing workspace efficiency.
Crafted with just 1.5 sheets of 3/4″ plywood, flathead screws, lag screws, washers, and wood glue, this rack ensures sturdiness without breaking the bank. Skillful use of tools such as a table saw, Miter saw, jig saw, and drill is key in this project. The process involves:
Ripping the plywood.
Cutting the shelves and notches.
Assembling the pieces with screws and glue.
This meticulously designed lumber rack provides ample room for dimensional lumber and sheet goods of any length, while the removable shelves allow easy adjustments. Offering strength, convenience, and cost-efficiency, this rack is an indispensable addition to any workshop. oneprojectcloser
15. DIY Lumber Rack and Plywood Cart Tutorial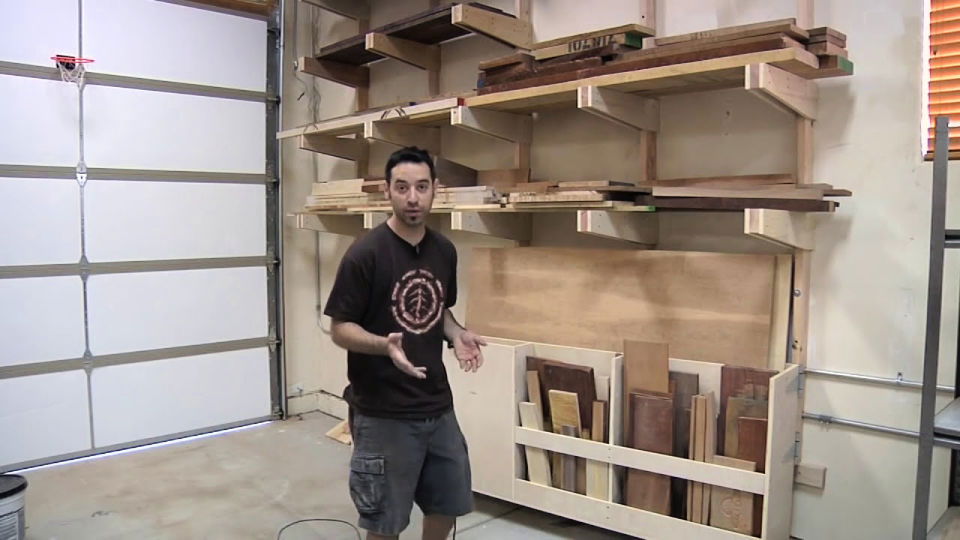 Spruce up your woodworking shop with a DIY lumber rack, a true workhorse that offers safe and organized storage for your raw materials. Specifically designed for those who cherish their wood collection, this sturdy, adaptable storage solution is constructed entirely from 2×4 lumber and 3/4″ shop-grade plywood.
The rack boasts vertical uprights bolted to wall studs and bracket supports firmly screwed to the uprights. Also featuring under-rack storage that swings out on casters for convenient loading, it's perfect for storing sheet goods and cut-offs.
Its design is adjustable to fit your personal preferences and shop needs. So, start planning your lumber rack, and enjoy a clutter-free, efficient woodworking shop.
Conclusion: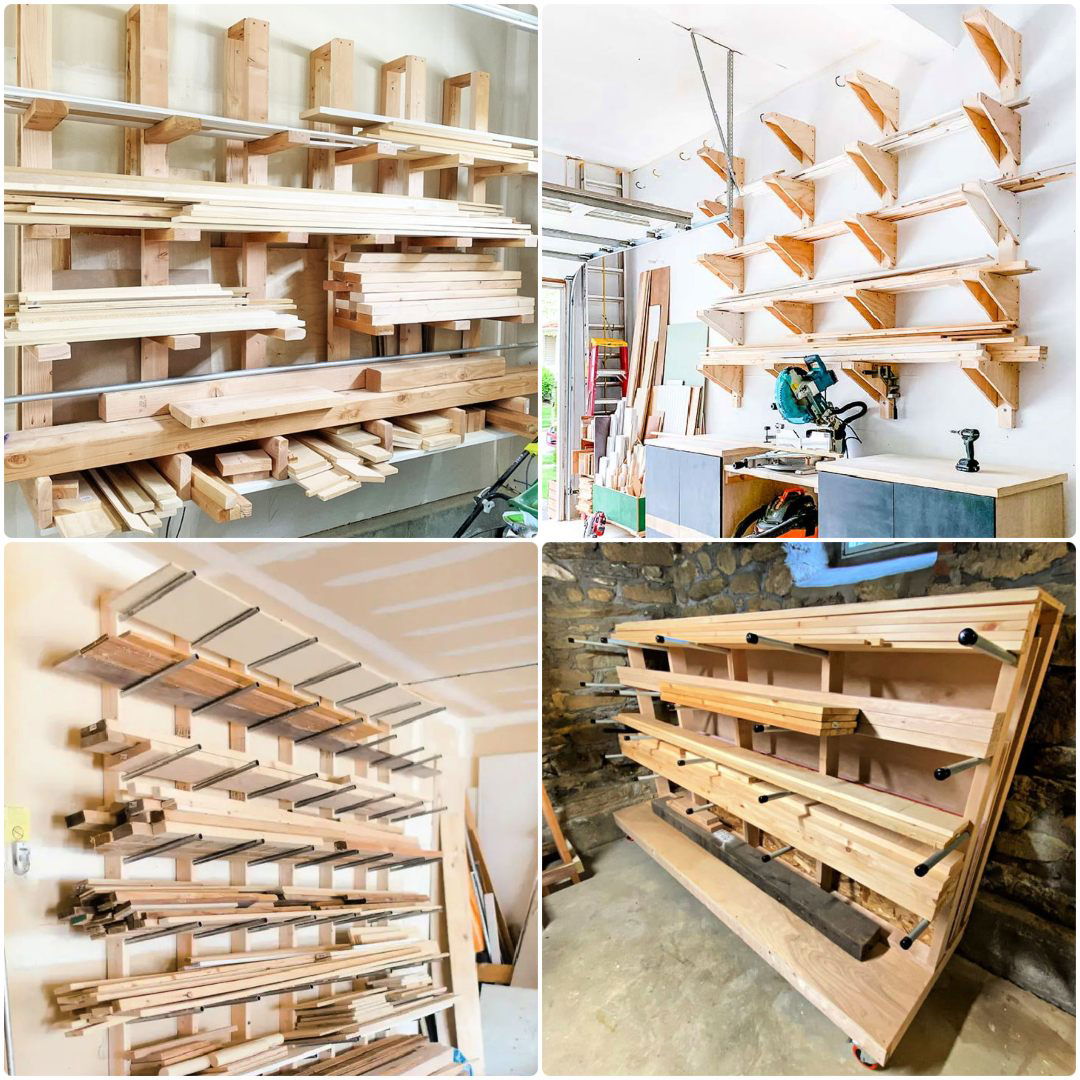 In conclusion, a DIY lumber rack can greatly improve the organization of your woodworking space, whether it's a garage, workshop, or wood shop. With the various creative ideas presented, from cantilever lumber racks to mobile storage solutions, you can find the perfect design for your needs. Don't forget to explore different materials like EMT conduit or wooden shelves to make a truly unique and functional lumber storage system. With proper planning and execution, you can build a practical, budget-friendly, and stylish DIY lumber racks to optimize your lumber storage space.