Every time we go far away on a long journey we pack our outfits in the suitcases, so they suitcases are used only at the time when we wish to travel here and there around the globe! As the suitcases are used rarely, so they have a great lifespan if they are made durable! That's why always have the old suitcases we bought years ago, in excellent condition! But as the trend changes, everything changes and this must remove our interest in the old suitcases, but the problem is what to do with the suitcases that are taking the home spaces for years! You need to get rid of them if you have bought the new modern suitcases! Don't throw them up, just your DIY ideas to put them to good use so they will still be playing a big functional role right in your home! You can do wonders with the old suitcase, and it only demands a creative spark to your thinking!
And we are going to inspire your creativity with these DIY ideas to ruse Old Suitcases that are too amazing that would never make you throw your old suitcases! After seeing these projects, you will be busy finding your old and vintage suitcases as these projects are attention-grabbing and the stuff you will make would be attention-grabbing and mind-boggling!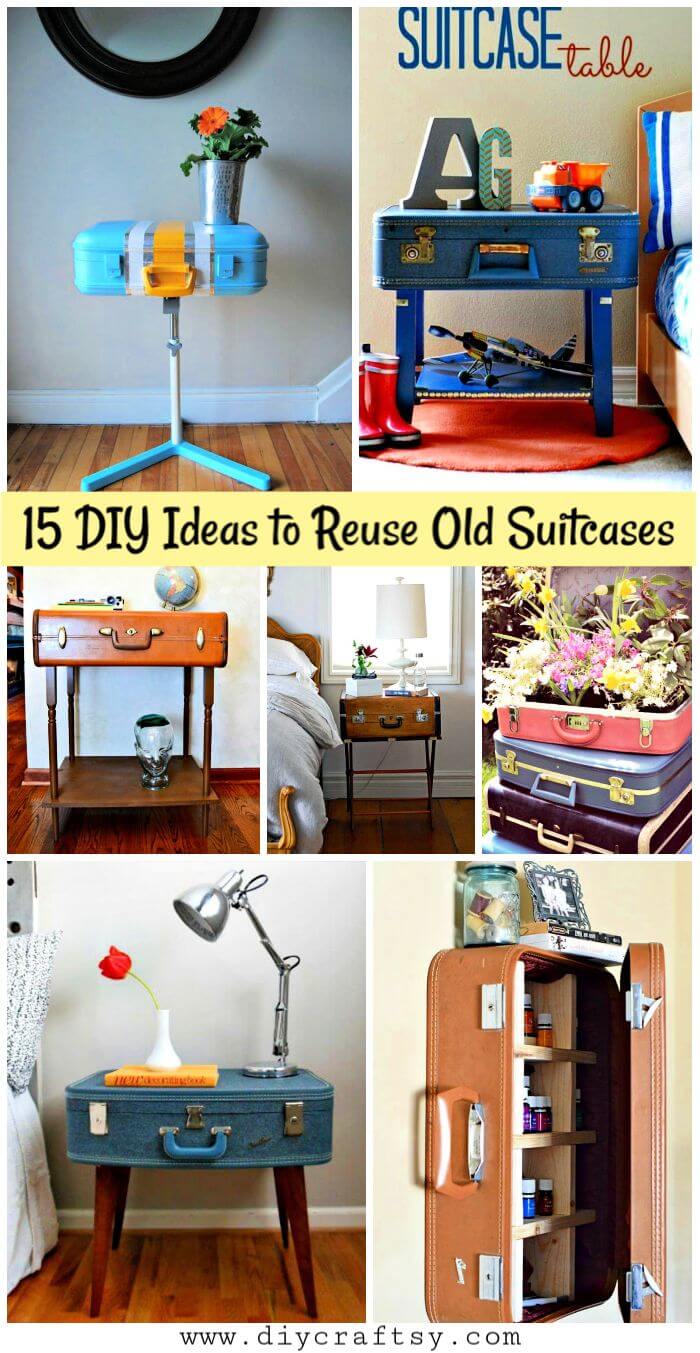 Finish an old suitcase with a custom metallic pedestal base and make an accent table for your living room, check out the given sample that can also be used as a bedside table in your bedroom! Install the wooden hairpin legs to your old suitcases and make fabulous nightstands that would also be super storage-friendly! Install also the speakers in your old suitcases and make amazing speaker systems that will definitely entertain the audience and you can also raise them to a custom height level by installing custom legs, do stare the given below sample to learn some great tricks!
Plan the custom bases and finish them up with suitcase tabletops to make beautiful tables which can also be added with some built-in shelves if you need some extra storage space! Have you ever thought you could reuse your old suitcases as an amazing piece of interior home furniture? This list is going to give you a lot of great inspirations in this case!
Add also the wooden shelving units or frames in the suitcases and next install them on any of your walls to serve as brilliant cabinets, get inspired by the given sample that is amazing and eye-catching! Transform the old suitcases into cute picnic baskets and also make a stunning coffee table and home decors with them! Just browse the entire list to see some more interesting old suitcase hacks and projects and also visit the attached links to reach to full free project tutorials and visual instructions!
Easy To Make Vintage Suitcase Table: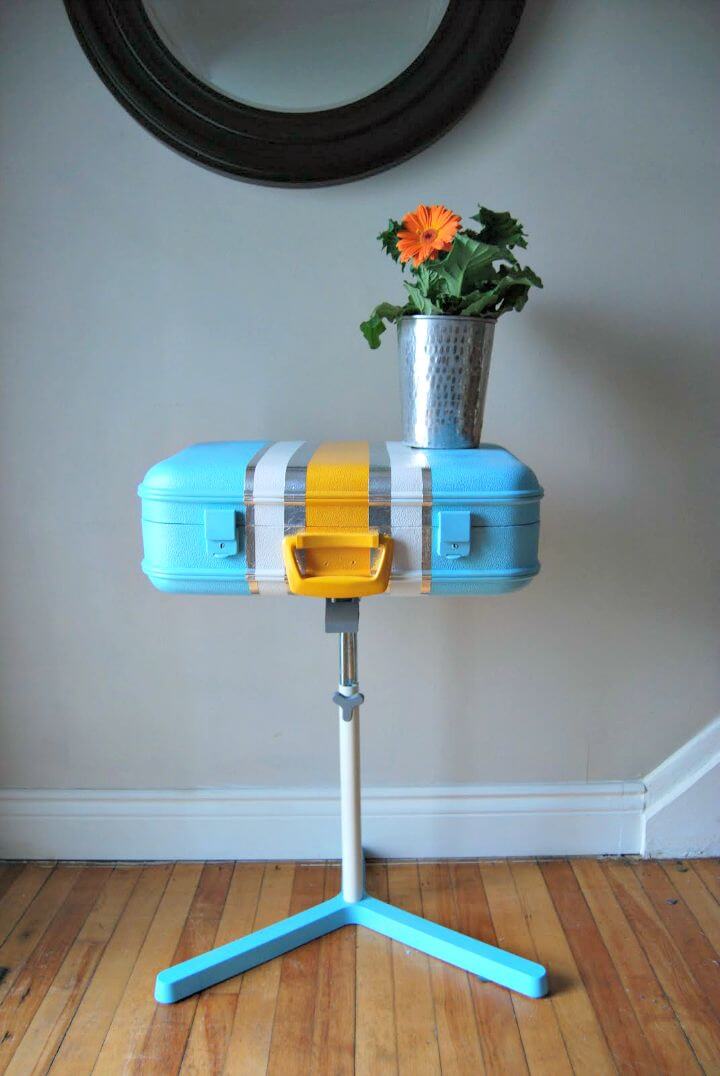 Bring some vintage vibes in your home decor with this super cute and fun looking vintage suitcase table that is super easy to build on your own at home. An old suitcase has been painted in pretty boho shades and made to stand on a table post, and your uniquely gorgeous table is ready to serve you for laptop handling or decor boost up when not in use by holding your vases and pots. Here are the details of the idea to know the complete how-to angelsinthearchitecture
DIY Suitcase Side Table: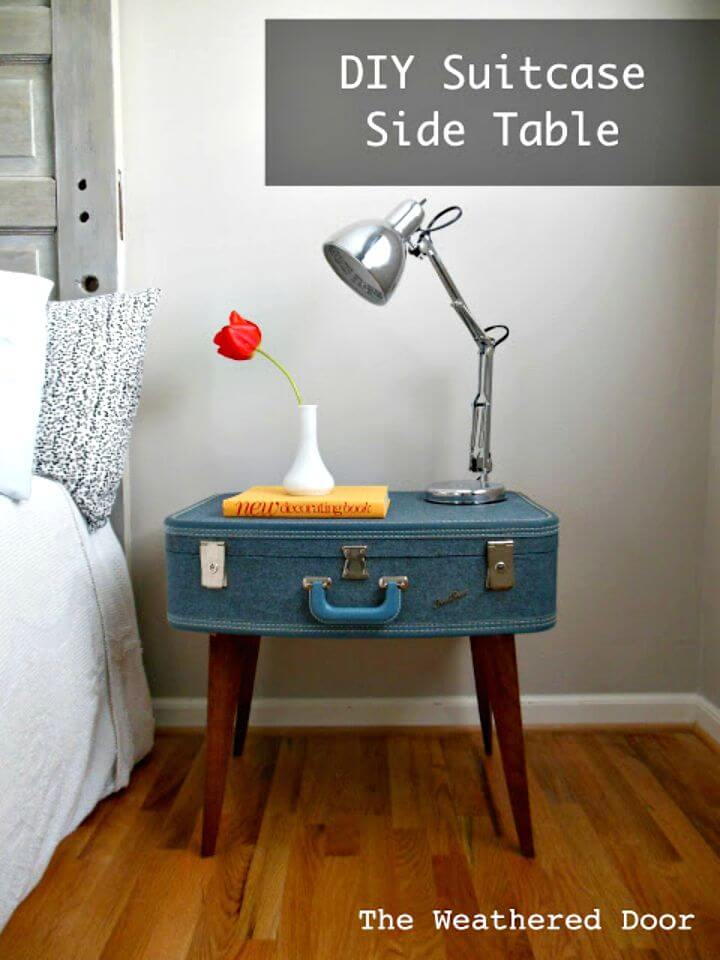 You can turn a suitcase into a chic and boho styled side table for your bedroom and enjoy so much fun being added in your bedroom decor and it would take least of the time and hassle to do this. Yes add the wooden legs to the suitcase, and your instant nightstand is just ready to rock your bedroom decor and not only a nightstand it would provide you so much storage options too. Here are the details of it theweathereddoor
DIY Suitcase Picnic Table and Speaker System: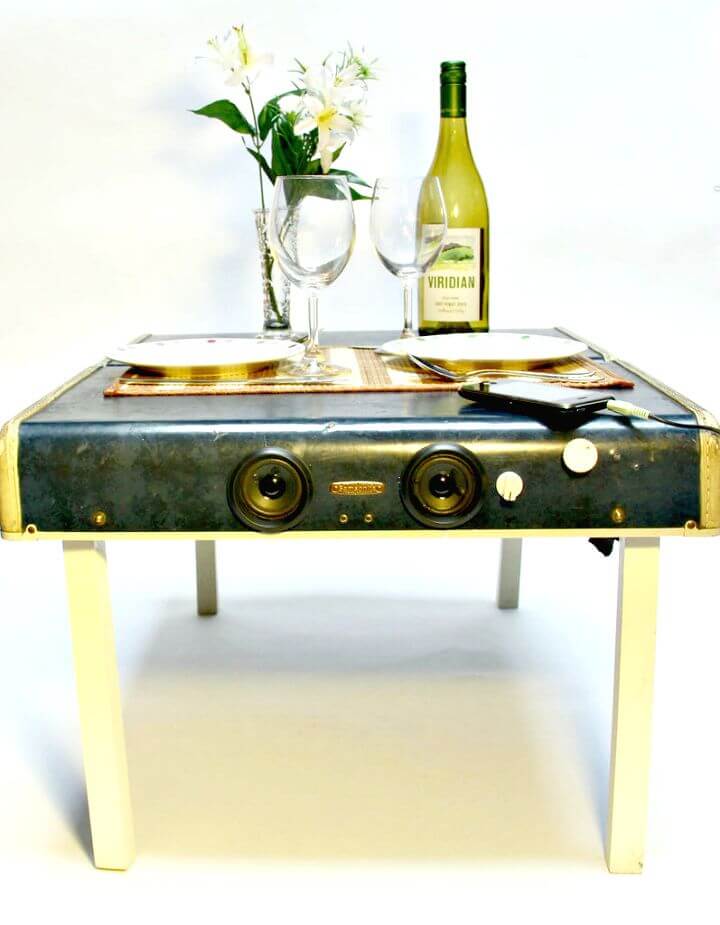 We all love picnics in the park and enjoy some fun time without a precious time, and if you have an old suitcase, it can double up your picnic up. Yes, you can turn your suitcase into a picnic table by adding legs, adding speakers to it for music and carrying your food and silverware inside it. So catch the details of this multipurpose suitcase recycling project and enjoy its so many benefits for your picnics instructables
How to Make Suitcases Bedside Table: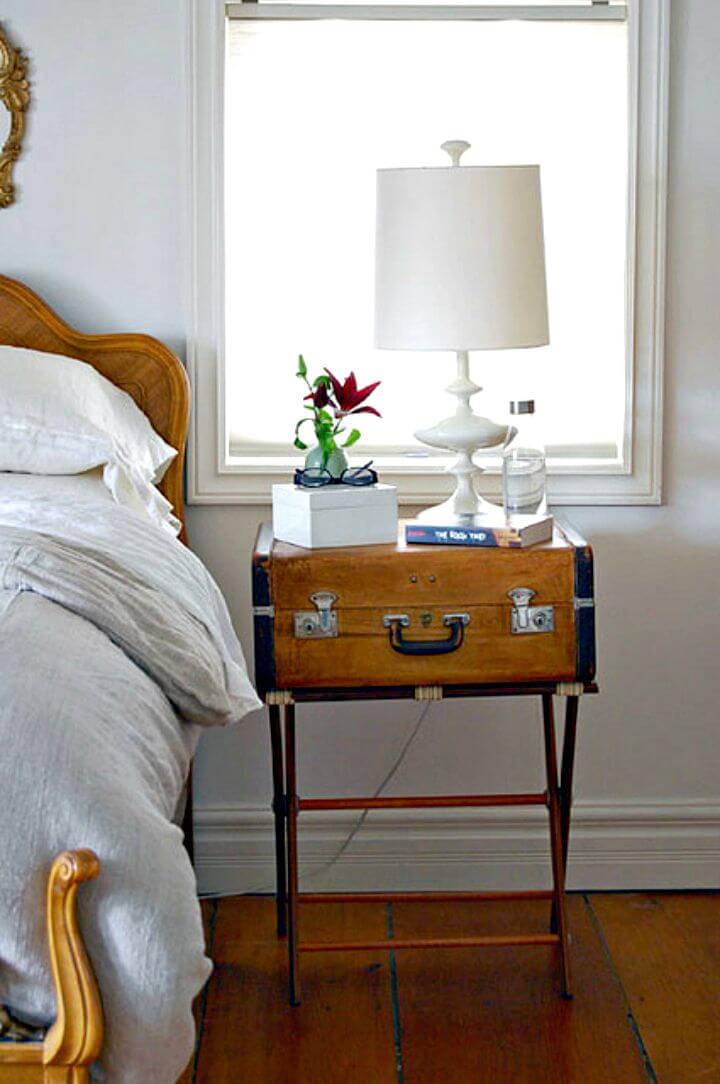 Those old suitcases are of so much decorative value for your bedroom spaces or any other place in the house when you turn it into this super stylish and unique looking table. The fabric of the suitcase has been ripped off and painted in brown wooden hues for a perfectly rustic look and make it stand on the suitcase stand and your quick nightstand for the bedroom is ready along with the storage. Here are the details of the idea to know more about the project theartofdoingstuff
Easy DIY Suitcase Table: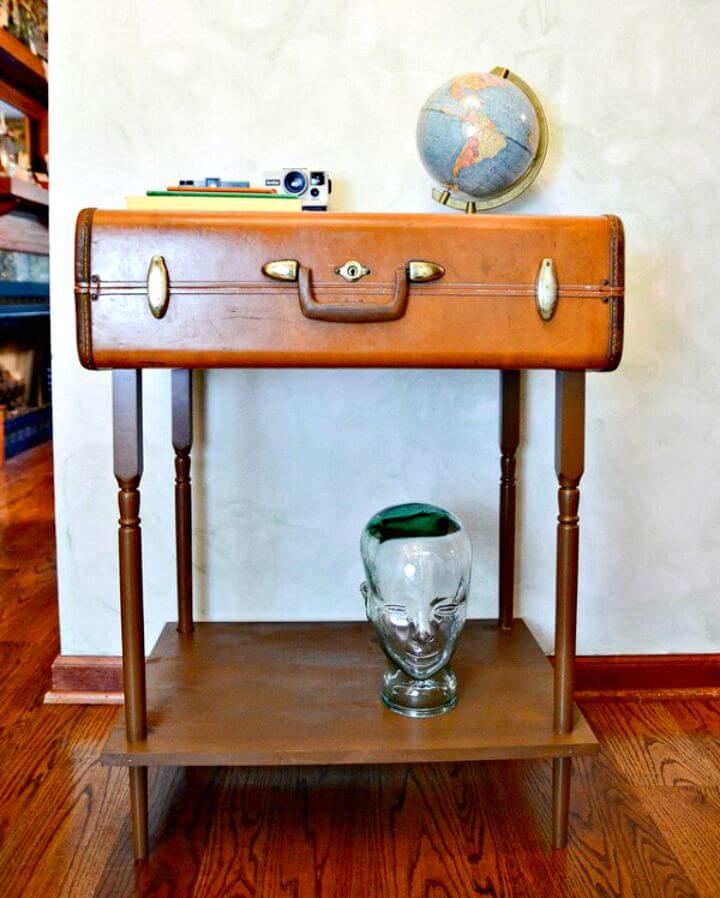 If there is some left out space in your hall and you want to make it up this lovely and innovative looking suitcase table would do the magic. The suitcase has been turned into a fun table for the spaces by adding the legs and a base shelf to provide you more space for the storage and the display of your decorative and artistic possessions and thus add oodles of vintage charm in the decor. Here are the details of the idea to grab the step by step instructions starsforstreetlights
How To Turn A Suitcase Into Table: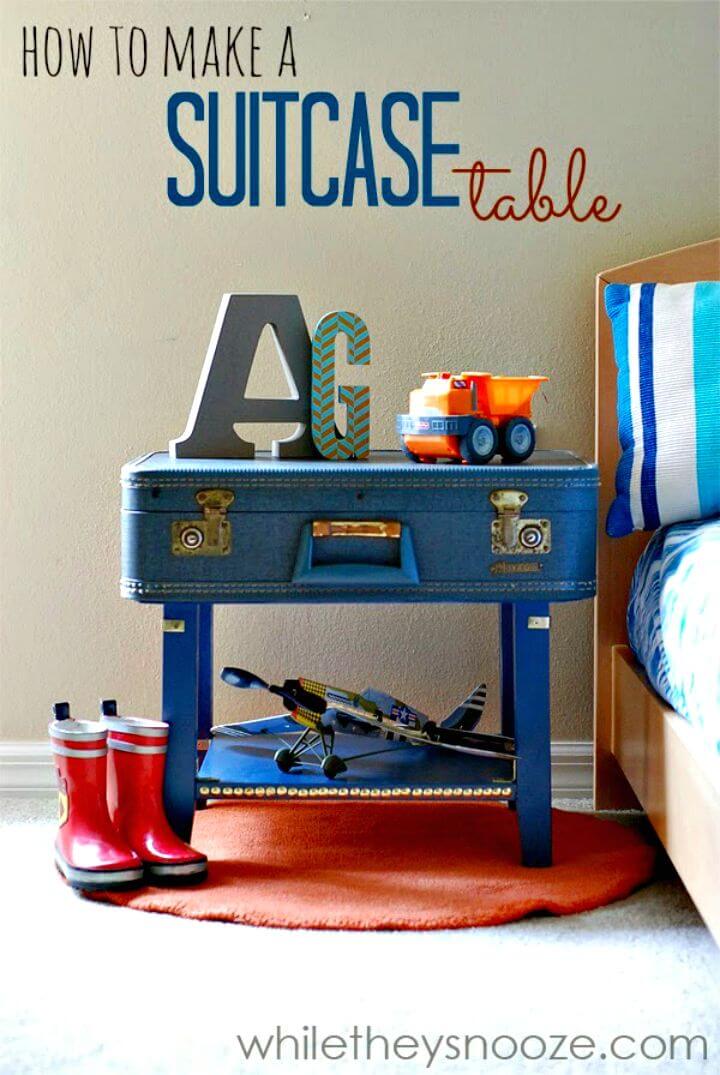 The kids' room should really be funky and cool, and the chic styled furniture possessions would really do the work and now you can DIY some. Yes with an old vintage suitcase and an old table you can create this totally modern and hugely stylish nightstand piece for the bedroom of your little munchkin that comes with lots of hidden storage for his toys too. Here are the details whiletheysnooze
Vintage DIY Suitcase Suitcase Cabinet: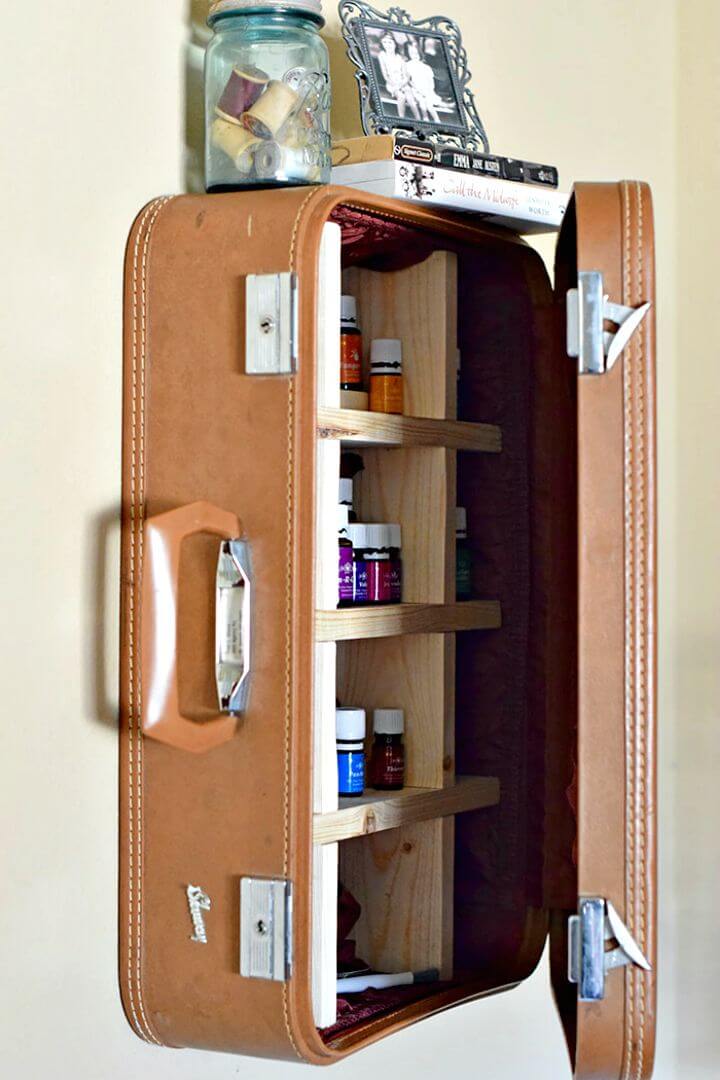 Here is how you can bring the perfectly adorable and fun looking storage solutions to your kitchen spaces with this suitcase cabinet on the kitchen walls to hold your essential oil collections with safety. Yes, you can make a wooden shelf unit and place it inside the suitcase and let it hang over the walls of your spaces and you are done with a perfectly fun storage cabinet to get your stuff organized with. Follow the tutorial here adventuresofmel
DIY Old Suitcase A Picnic Basket: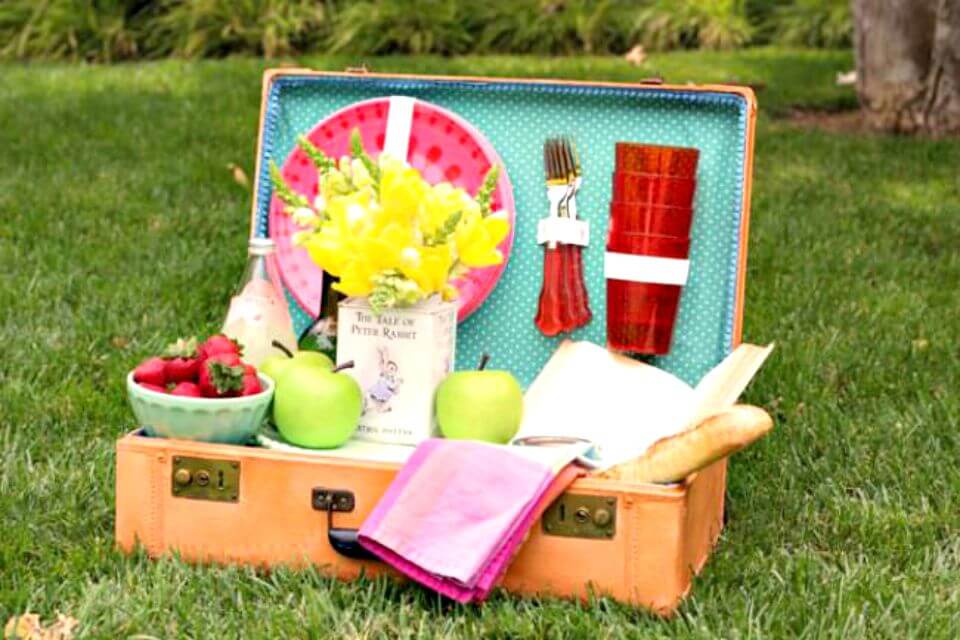 Now your picnics would be more fun when you have this super cute vintage styled suitcase being turned into a super functional and fun looking picnic basket to hold all your picnic stuff inside. You just need some paint to restyle it up, some fabric for the makeover and some clips to hold your cups, plates and so much more inside it. You can grab the complete how-to of the idea here ehow
DIY Boden Inspired Suitcase Decor: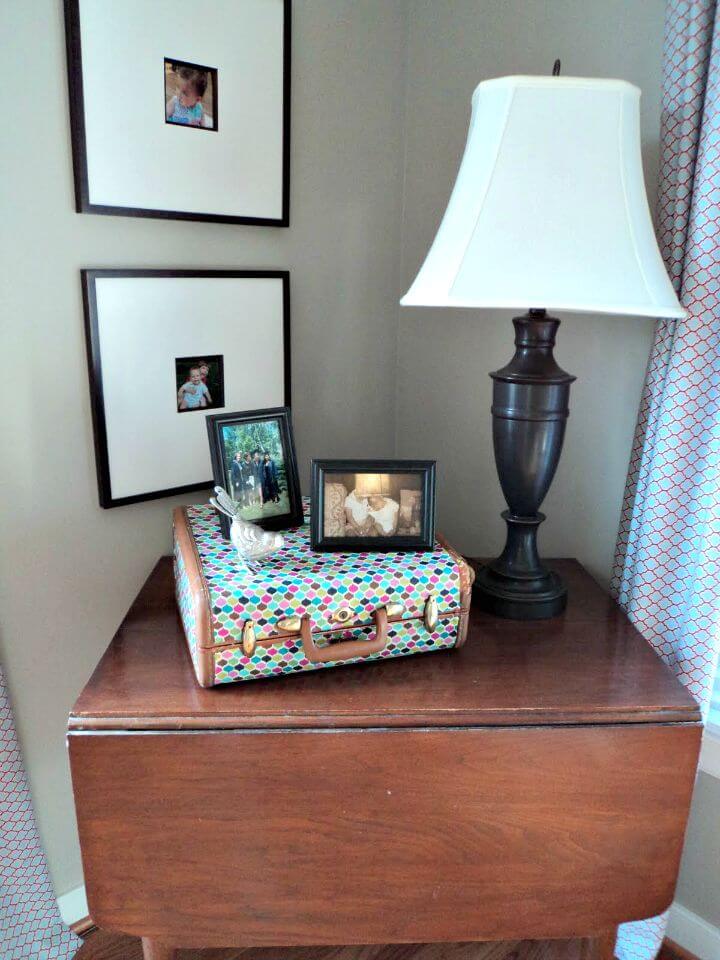 Either small or the big ones those old vintage suitcases belonging to your mother or the grandmother can make some quirky decor possessions with a little makeover done to them. Here this small bold vintage suitcase has been fabricated in a pretty style and design and turned into a chic holder for your frames and pictures on the side tables of the foyer tables. Complete instructions can be followed here richmondthrifter
DIY Decoupage Suitcase Tutorial: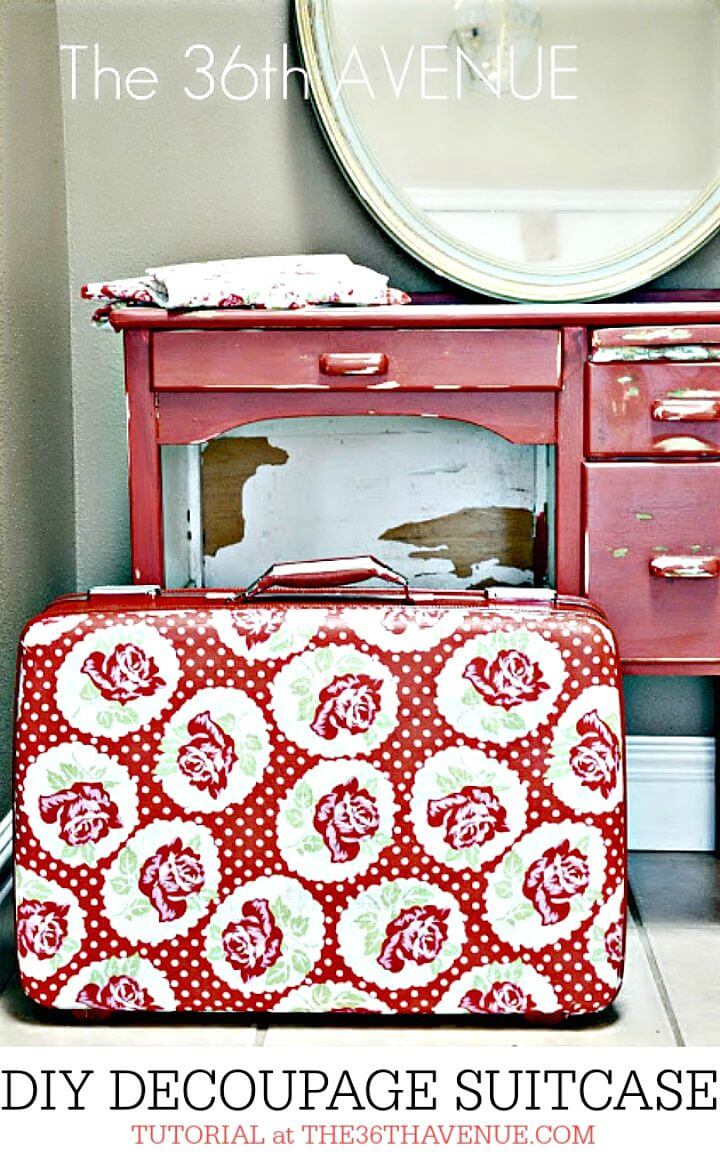 You can take out those old suitcases out as they are no more in fashion, but you can bring them again in the fashion game with some restyling work being done on them. All you need to do is paint the suitcase in your desired color and then cover up the top and base with a coordinating fabric in delightful print, and your super cute and funky suitcase is ready to travel along. We got you the complete tutorial details here the36thavenue
Make Vintage Suitcase Garden Planter: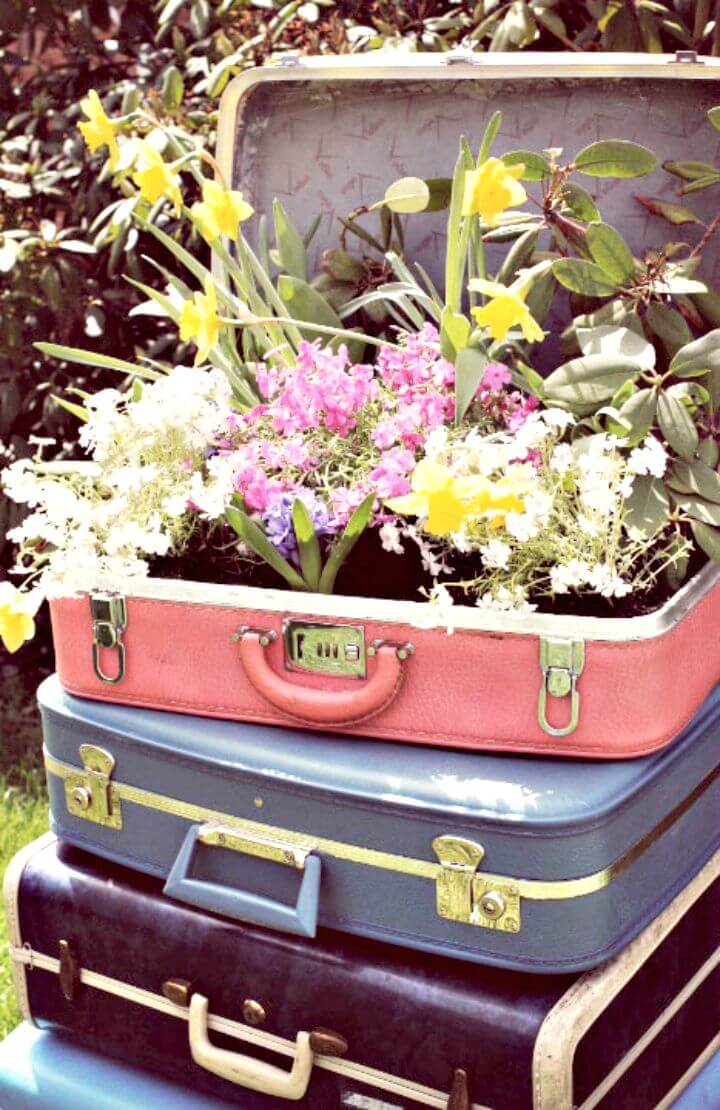 If you need a centerpiece for your garden decor then here is the idea of using that old set of your vintage suitcase for the purpose, and it would be super exciting and fun for the purpose. Yes, you can paint your suitcases and plant your pretty plants and flowers in them and layer them up, and you perfectly adorable and unique kind of centerpiece is ready to create a huge visual boost for the garden beauty. Step by step details of the idea can be found here traceytilley
DIY Ashley's Vintage-suitcase Coffee Table: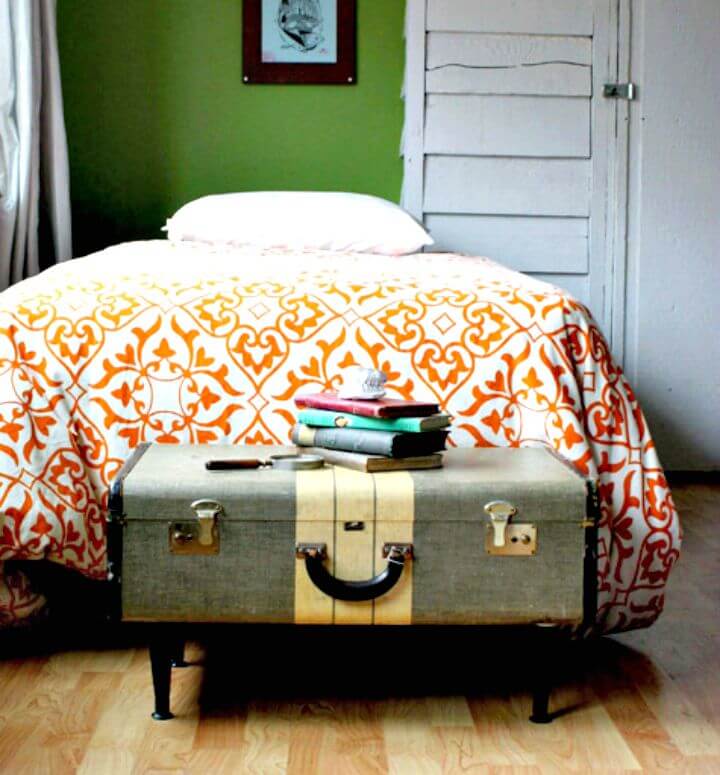 Do not let your old suitcase collect the dust lying in the store room as you can make the most out of them for your decor boost up just like making this vintage styled coffee table for your living spaces. By just adding the tapered legs to the suitcase it has been turned into a super cute and quirky in style coffee table to jazz up the appeal and feel of your living room spaces. Check out the details here designsponge
Make Suitcase Dollhouse for Samsonite's Suitcase Amnesty: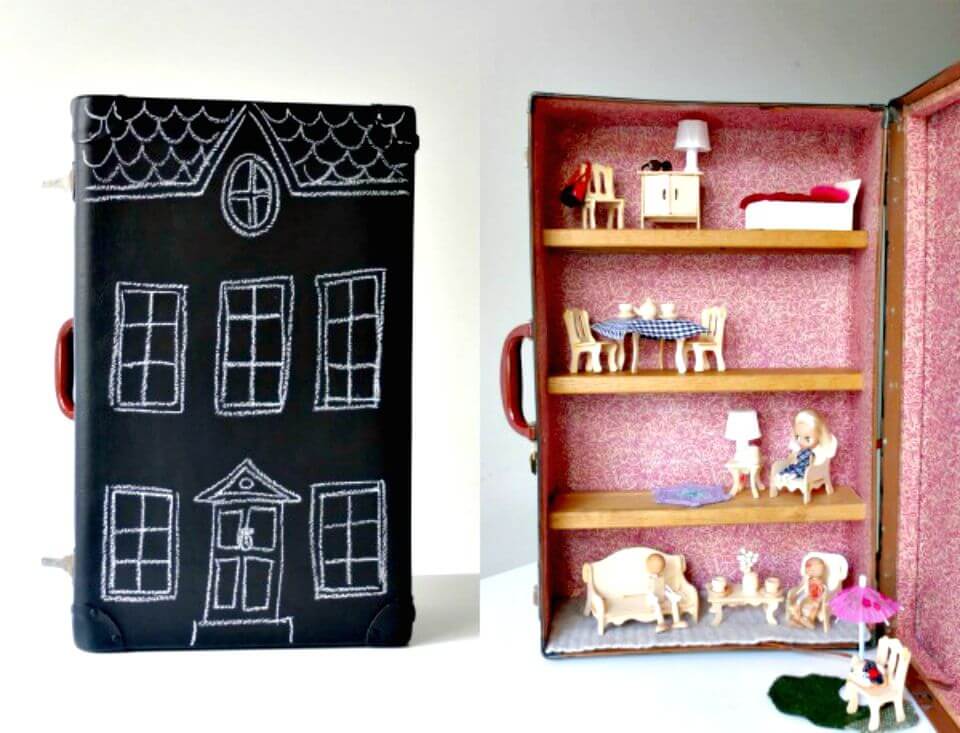 A dollhouse is the dream house for the little girls, and they can play for hours with them and here is how you can save yourself a huge fortune by creating this cute doll house out of an old suitcase. With some wooden pieces, the suitcase has been provided with the sections for the dollhouse rooms and the front of it has been painted up and the cheap but fun dollhouse is ready which is also portable. Complete details can be hacked from the link here mypoppet
DIY Suitcase Vanity and Towel Holder: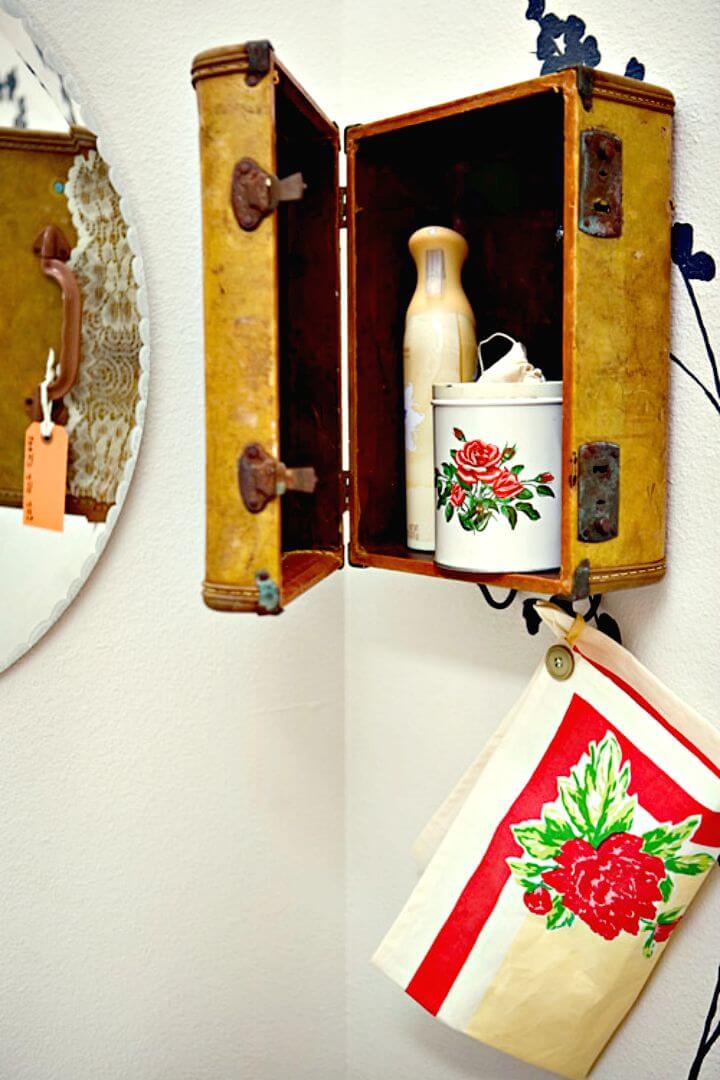 You can enjoy a great organizing system in your bathroom for the vanity items and the towels and that too without spending a single penny. Yes, you can use an old suitcase to hold your vanity possessions inside and a hook attached at the bottom would let your towel hang on it and to spruce up its vintage appeal more add a piece of lace to it and you are done. Check out the details of the idea right on the link here designsponge
How To Make Suitcase Chair: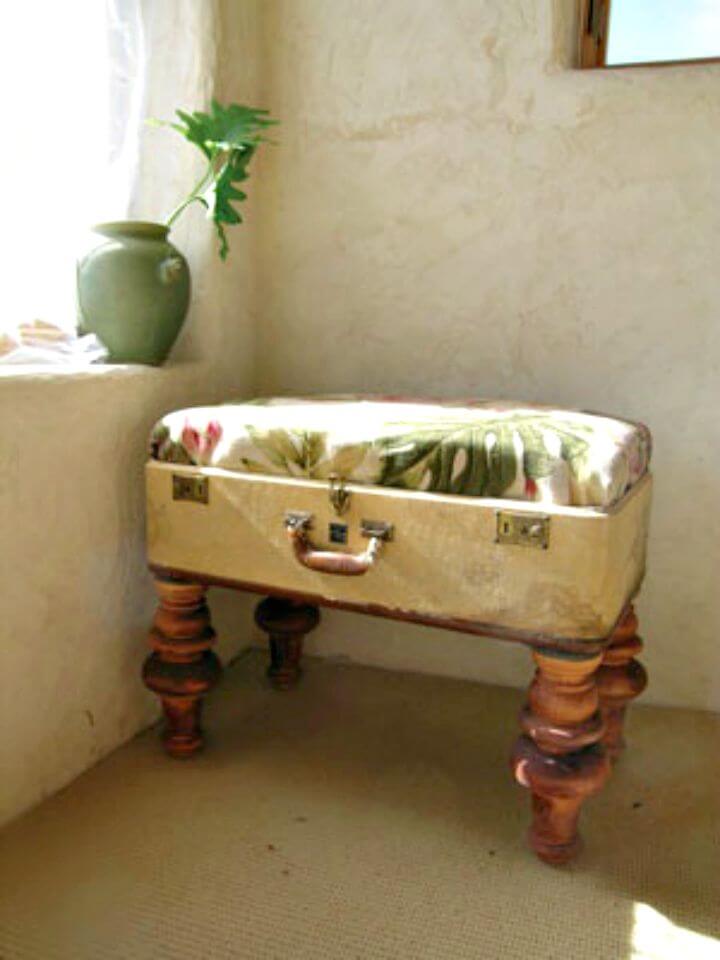 A seat beside your window is must to have there to enjoy a fun view of the rain and the sun and even reading of a book. You do not need to buy a seat for the purpose as you can make one on your own by using an old suitcase with a little work on it. The suitcase has been provided with the tapered legs and the upholstered seat top and here are the details of doing nice and easily at home so do check it outs motherearthliving