Stepping out from the bath with wet feet is something that annoys the home lovers a lot! The water dripping down from your shoes and feet will make the surfaces wet you have recently cleaned, and there would be many chances for the dust to settle down the wet spots you have recently left behind! So, you can't skip a cool bath mat that prevents to happen so and it will just soak up all the wetness from your shoes and feet and will allow you to entire the room interior with dry feet! This is not the only the way the baht mats serve, and they can be much for a room or bathroom interior! They will also make the perfect bath décor also if selected in beautiful shapes and with fantastic design patterns!
So, if you have also got boring the simple and towel style bathroom mats then time to spice up your bathroom decors with some new beautiful design of the bath mats that you can easily make at home without breaking the bank! Before you get busy in making outstanding looking bath mats, we would like you to get some fantastic tips from these 15 DIY Bath Mat Ideas that have only been shared for you and will make great inspirations and hence will help to take a bright start! You will also be provided with a lot of homemade bath mat design here, and you can easily choose from them to add a great flare to your bathroom decors! You will have great fun while making these bath mats!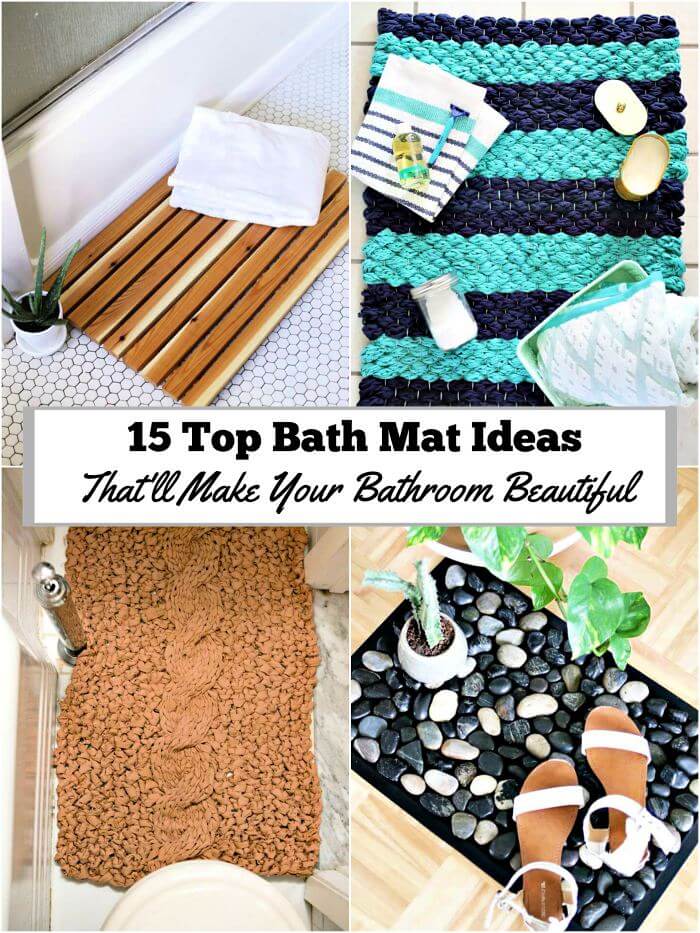 If you are handy at weaving then go handmade with the chunky yarn weights and weave the precious bath mats that would be super soft to walk on and will also bring extra grace to your bathroom! Also, recycle the old fabric pieces and rags to make beautiful bath mats without getting a bit expensive! Grab also the normal floor mats and then glue the colorful garden pebbles and stones on them to make the lovely river or garden stone mats for your bathroom that will not be slippery!
DIY Home Decor Projects and Crafts:
Weave the fabric yarn and make the big Mandala style round bathroom mats that you will like to stare at twice and also upcycle the bath sheets to make gorgeous bath mats in no time! Are you a big fan of wooden mats that come with stunning textures? Then go with the IKEA plate decking and make fabulous bath mats in just no time! Get inspired by the given sample that is gorgeously beautiful!
Also put together the wooden slats flat to make instant cool bath mats that will also bring the wood grace to your bathroom and also cut a table runner to size and finish it up with an accent line trimming to make a beautiful bath mat! Check out some more DIY handmade bath mat projects given below and do clone your favorite rugs for your bathroom! Just check once on the attached links to reach to free project tutorials and instructions!
DIY Chunky Woven Bath Mat: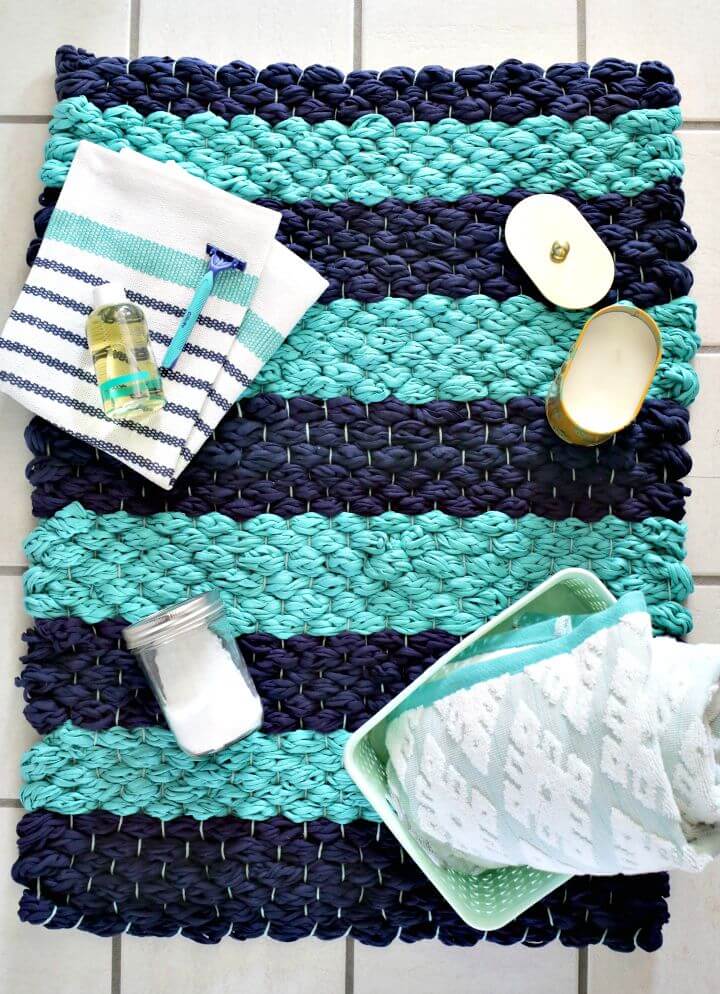 Bring some more beauty to your bedroom by creating this super cute and fun looking mat for your bathroom spaces with pretty colors of yarn being nicely weaved up in a chunky pattern. The navy and sky blue weaved strips repeat themselves to complete this cute little mat, and you can customize the pattern with your favorite hues. Details here abeautifulmess
How to Make Rag Bath Mat:
You can make so many things for your house when you are skilled with the art of weaving, and this time you can get your hands on the making of this lovely and functional bath mat that you can put outside of your bathroom door to get your feet dry on. So grab some fabric, make stripes and weave it up for a bath mat. common-thread
DIY River Stone Bath Mat for Your Shower:
You would have never seen a bath mat made out of the wooden stones so here is the jaw dropping the idea for you to get your hands on. Yes with a cheap plastic bath mat and a bunch of black river stone this total nature inspired bath mat has been made and brought to your home decor to add more fun touches to it. countryliving
Adorable DIY Woven Bathmat: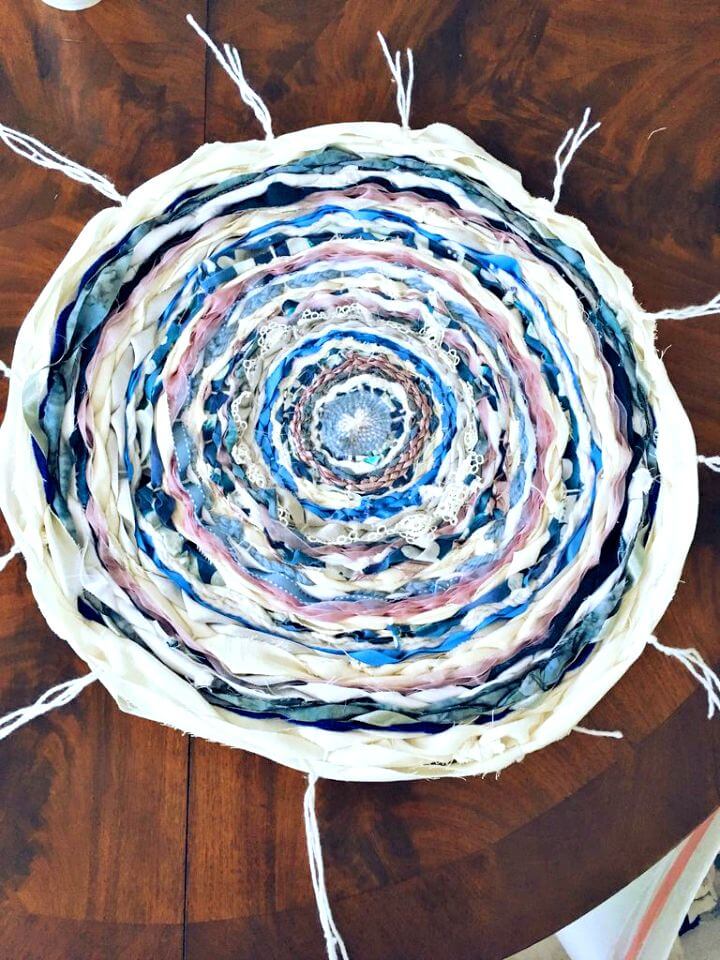 Here is what to do in your leisure time to spend is so functionally, yes making this lovely yarn art inspired bath mat would be a great idea to pass your time so usefully. Using a cardboard cut circle, some yarn threads and the fabric yarn this lovely and cute bath amt has been made using the loom technique. instructables
DIY Repurposed Bath Sheet To Bath Mat: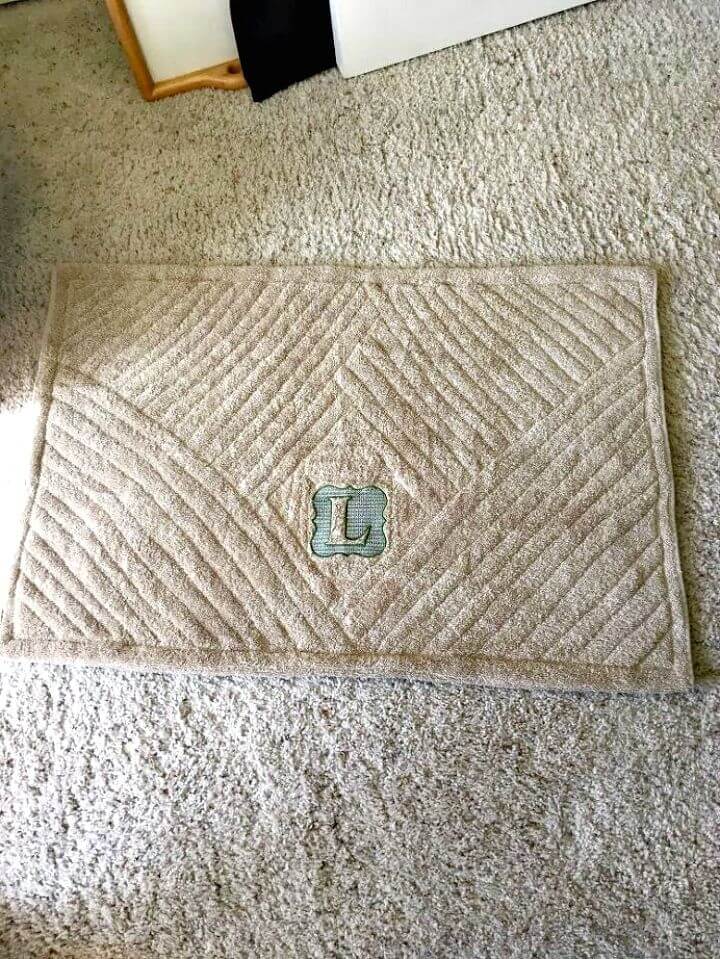 When you have a carpeted bedroom, you need to be careful with so many things like not wlaking on the carpets with wet feet after the bath, so you need a bath mat to stand on and dry your feet while roaming around the room. Here is the cheap yet functional idea of creating a bath mat out of the bath sheet with a letter on it. hometalk
DIY Spa Bath Mat Using Ikea Outdoor Decking:
If you have a spa in your room then here is how you can add more spa like feel and fun to it with this gorgeous and totally cool in style wooden spa mat for it. By stacking together half dozen of the IKEA outdoor decking squares this gorgeous and impressive wooden spa mat has been made and rock your room decor with. houseofhepworths
Build Wooden Bath Mat: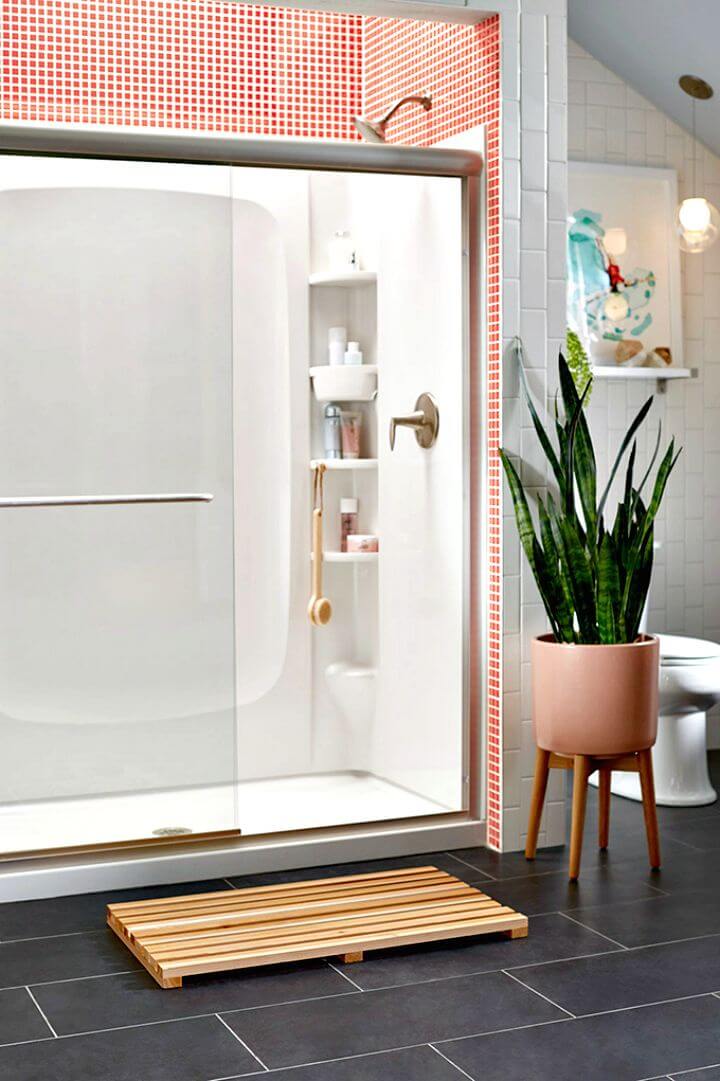 Coming out of your bathroom and reaching over your dresser has a mid way stay for a while and that is a bath mat. Yes, a bath mat is the need of your rooms due to the functional roles and the decor needs they come up too. So here is the idea of creating this chic and gorgeous bath made out of the wood to compliment your spaces with. ispydiy
Simple DIY Cedar Bath Mat: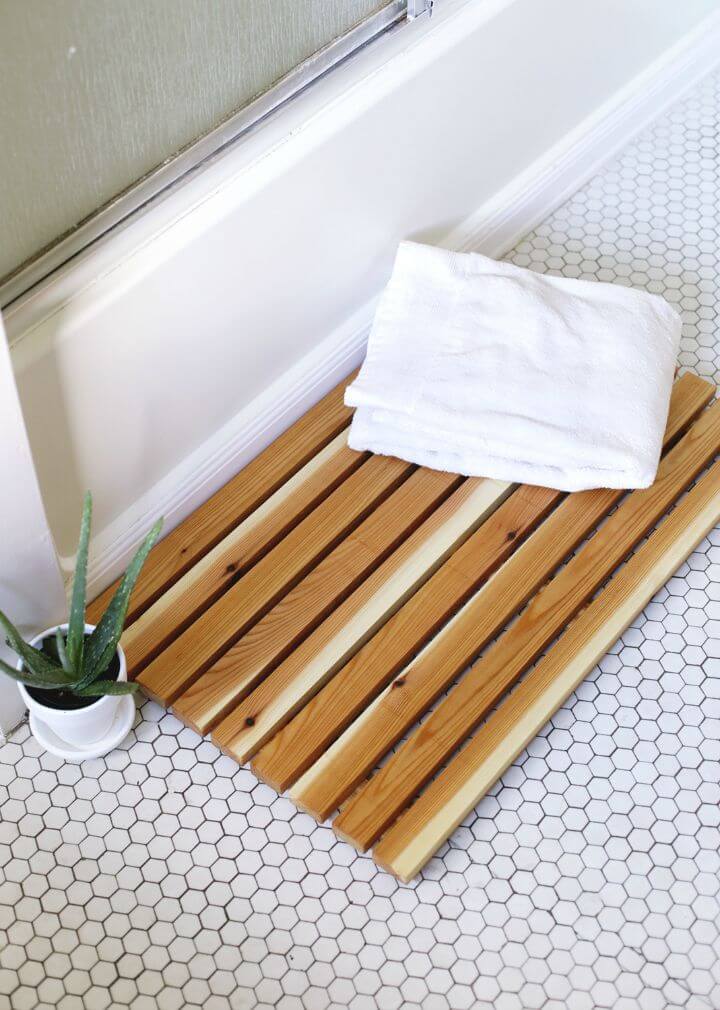 Bring a real spa-like feel to your bathroom spaces by adding this lovely and graceful wooden bath mat to it, and you can do it so nice and easily at home on your own. Yes using the thin cut pieces of the cedar wood being nicely put together this small and cute bath mat has been made to get your feet gently step up on. themerrythought
Easy To Make Bath Mat from A Table Runner:
If you also have a table runner that looks like a rug then here is how you can recycle it for a more better and fun use for other spaces of your house like the bathroom as it can serve you as a great bath mat. With a few changes in the shape, you can easily cut and sew it up as a new and functional bath mat for any of the bathrooms especially for the kids grecodesigncompany
How To Make Loopy Bath Mat:
If you are looking for a fun knitted project to be on your next to do list, then this idea of creating a loop bath mat is the right thing to work on and bring the perfect knitted delight to your room spaces. The loop knits would look cool and feel so soft to your feet when you would step up on it after the bath. purlsoho
Easy DIY Wooden Bathmat:
We are so relieved in a spa and to enjoy a relaxing experience of the spa in your bathroom you can make this spa bath mat this weekend. Yes, the spa inspired bath mat is made out of some tiny and rustic stained wooden pieces and by holding the towels and the candles it would completely make your spaces look so peaceful and fun .eclecticcreative
Make A Custom Rug Out Of Fabric:
If you have a kind of fabric that soaks the water then here is the idea to use it for the best of the purpose it could serve you for your home better, and that is making the of this cute bath mat out of that fabric. Using the vinyl cut flooring and the cutely colorful fabric this awesome bath mat is just super easy and fun to make on your own this weekend. inmyownstyle
DIY Ocean Stone Bath Mat:
The summers are here, and the ocean and beach themes are going to get in our spaces in so many cute decor forms, and this time you can also treat your bathroom with the ocean theme and here is the idea of doing it on your own. Yes using a rug pad loaded with the river rocks you can easily create this lovely and adorable bath mat to infuse some natural vibes in your spaces. tattooedmartha
Make Rag Rug Bathmat from Upcycled T-shirts:
There are so many projects to do with an old t-shirt, and this one is the most functional one to get your t-shirts recycled for. Yes making this lovely bath rug out of the strips cut of old t-shirts and tired through the holes of the mesh bath pad, you can easily work up this amazing bath mat and here is the complete tutorial. diynetwork
Quick DIY Upcycled Bath Mat:
Here is how you can bring some grooming touches to your bathroom spaces with the addition of this bath mat to your spaces to save the floor from getting wet and moist. So if you have those old place mats then its time to reuse them by stitching them together and creating this super cool and fitting bath mat for the bathroom. diycandy