Learn how to make the best streamer backdrops with these 10 easy DIY streamer backdrop ideas made from crepe paper, ribbon, pom pom, fabric, and metallic foil fringe curtains. Spice up your photo booth game to the next level with these DIY streamer backdrop ideas s that will make your photos pop.
These DIY streamer backdrop ideas will teach you how to install a professional streamer backdrop in many different ways without causing any load on your wallet. The streamer or striped line backdrops will make your photos look stunning. Choose them for a graduation party to a birthday party to a newborn photo session. Moreover, opt for these backdrops for your photo studio too. Jump in the list of these 10 creative DIY streamer backdrop ideas made of crepe paper, fabric, and metallic foil fringe curtains.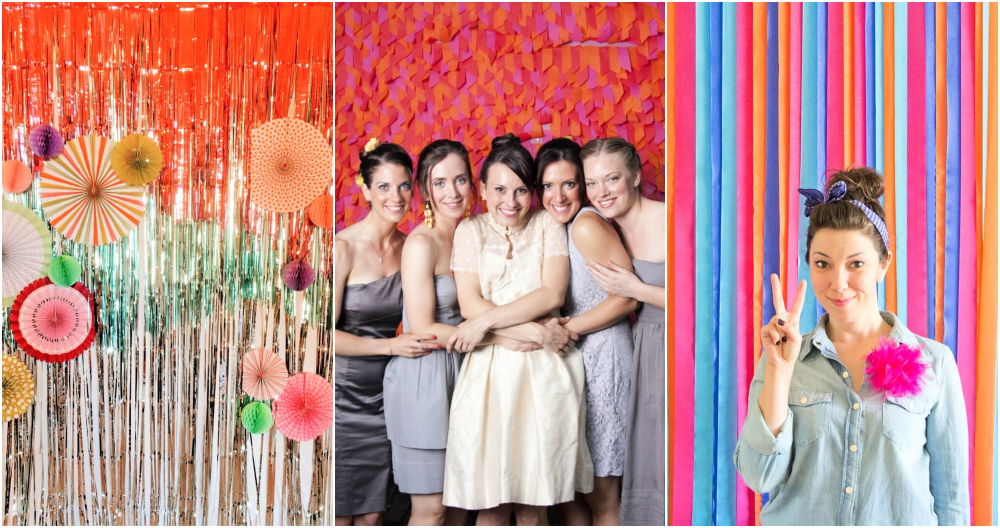 10 Easy DIY Streamer Backdrop Ideas You Can Make
Go with any color scheme that fits best with your party decor theme. Take your favorite streamer lengths that may be normal or fringed and hang them on a curtain rod or string to make a streamer backdrop. Choose the streamer length according to the size of your backdrop you want for a photo booth or a party buffet.
From geometrical herringbone to line striped to rainbow streamer backdrops, the list shares details for all. In addition, also use your favorite embellishments to spice up the streamer backdrops more. In this case, paper flowers, pinwheels, and balloons will make lovely embellishments. Take a tour of all the DIY Streamer Backdrops to get fab design and color inspirations.
1. DIY Streamer Backdrop
One of the most recreated DIYs, to install this streamer backdrop. String up the streamers selected in your favorite colors, by tying knots. Put them together for a dense filling and a big metallic touch, use the metallic foil curtains, will blend in beautifully. The perfect backdrop for a photo booth. letsparty
2. How to Make Party Streamers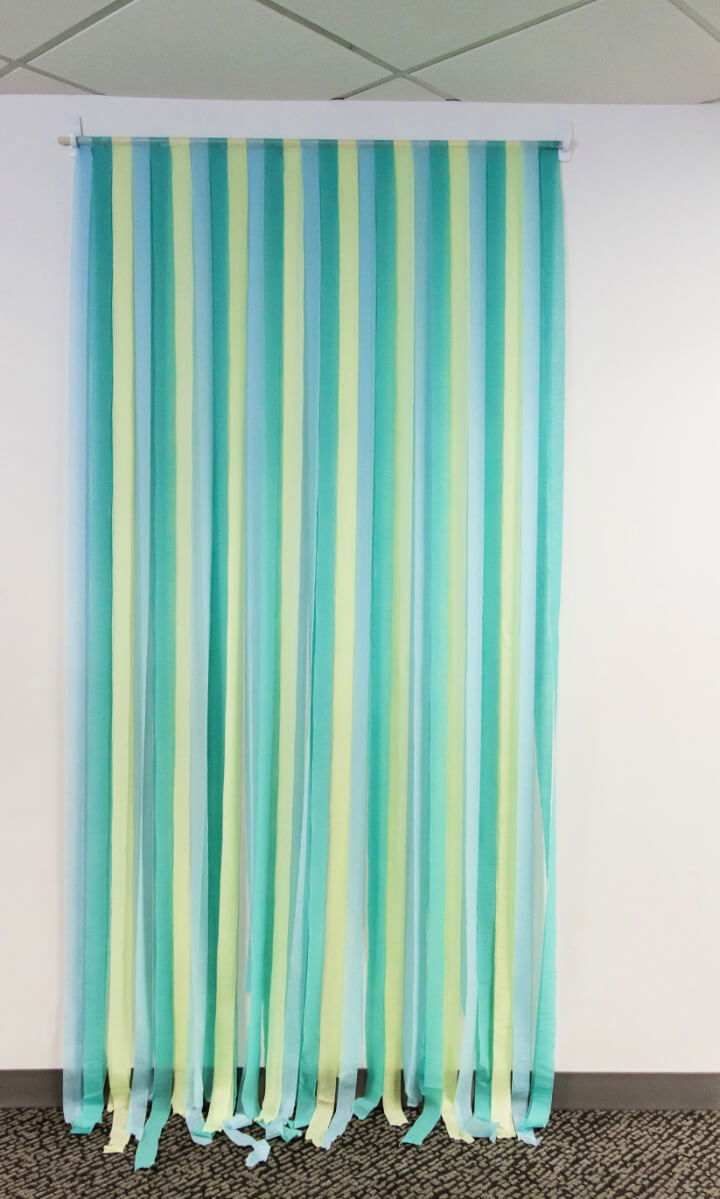 Take the best party snaps with this party streamers backdrop, will be a smart addition too to your photo booth. Install the backdrop curtain rod, next start hanging your 20ft streamers on it, should be selected in colors matching to your party decor theme. Make sure they are nicely draped over the rod. weddingwire
3. DIY Streamer Backdrop for a Photobooth
Add up a party photo booth with this streamer backdrop, quite easy and budget-friendly to make. This streamer backdrop has 5ft by 7ft size, and 3-4 rolls will be enough to make it. Along with using a curtain rod, use a masking tape strip on the wall with the sticky side up, next keep on adding streamer lengths one by one. feelingnifty
4. DIY Crepe Paper Strips Streamer
A unique paper backdrop to make for a party photo booth. It can even be done in a geometrical pattern like in herringbone and chevron style. First, make the base of the streamer backdrop using large paper, next start making your backdrop by gluing the pieces. Fold a few feet of paper in halves and cut 45-degree angle cut to get the paper pieces made. ruffled
5. Making a Photo Backdrop Out Of Streamers
Making backdrops is big fun when everything fits your budget. So have great fun making this photo backdrop out of streamers. Install a curtain rod like line using masking tape, next, keep on adding your crepe paper streamers one by one repeating the colors. The best line striped backdrop to make on a budget. lovelyindeed
6. DIY Streamer Wall Hack
Clone this colorful streamer wall will make a cool backdrop for every party photo booth. Get the 3 sets of Foil Fringe Metallic Curtain in 3 different colors, a set of pinwheels, command hooks, and fishing line to get this streamer wall made in no time. Beautiful and affordable backdrop design. revelrygoods
7. Wedding Streamer Backdrop Ideas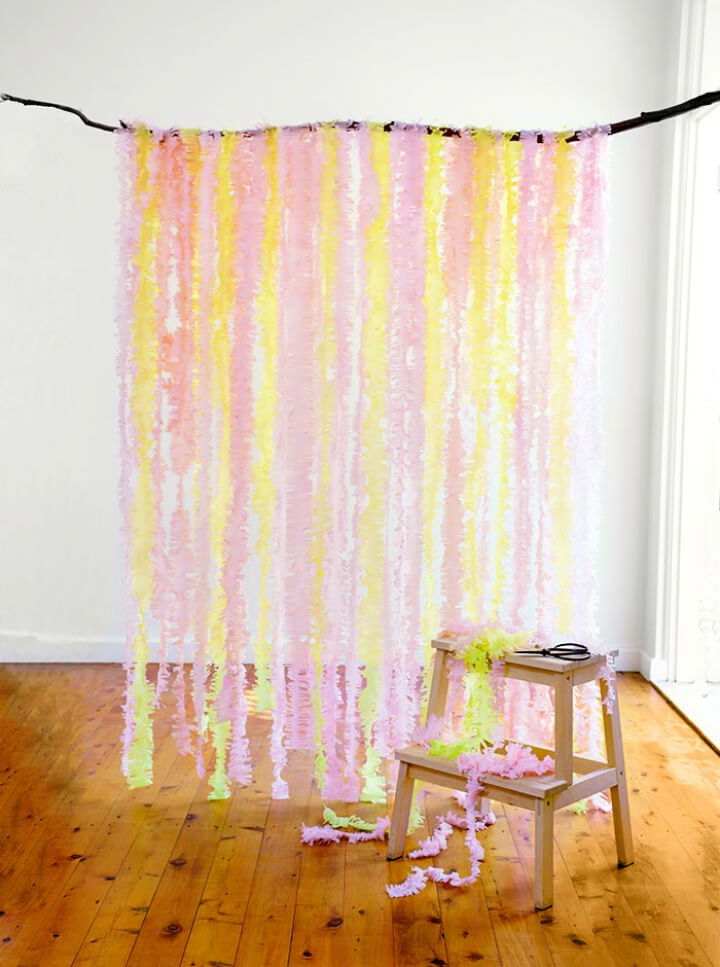 Grace up your wedding decors with this streamer backdrop made to rock and inspire. Cut fringes in the crepe paper strips, scrunch up the fringes with fingers, unravel each fringe streamer and hang on a string maybe on the wall to make a wedding streamer backdrop. Complete tutorial here. modernwedding
8. DIY Rainbow Streamer Curtains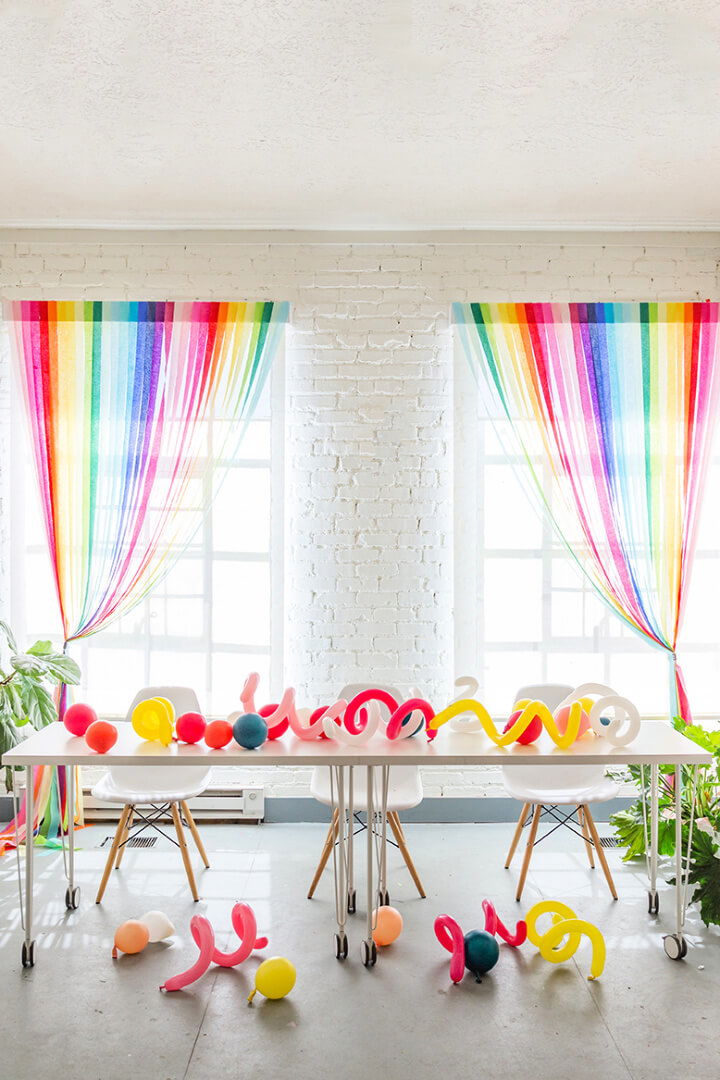 Bring rainbows in your room over the windows by making these rainbow streamer curtains. The best and affordable window decor treatment. Grab crepe paper in rainbow colors and washi tape to whip up this rainbow streamer curtain. Tape the rainbow streamers on the window, and that's it. thehousethatlars
9. How to Make a Fabric Backdrop
Rock your parties with this fabric streamer backdrop will come behind the party buffet for stunning visual grace. You need fabric strips of choice and parachute cord to make this fabric backdrop. The total project will cost you almost $30 and a little bit of time, but the resulted backdrop will make you feel proud. twotwentyone
10. DIY Disney Frozen Ruffled Streamers
Are you planning the parties on a Disney Frozen theme? Then do double up the part decors with these Disney Frozen ruffled streamers, which come in white and light blue colors inspired by targeted decor theme. Take the 9 fee strips of blue and white crepe paper streamers, sew ruffles in them and then hang them to decided location. twosisterscraft
Related DIY Projects and Ideas
Photo Backdrop Ideas: Looking for a beautiful backdrop for your next photo shoot? Here are easy DIY photo backdrop ideas that you can do with items you likely already have on hand.
Photo Booth Ideas: Learn how to make photo booth and add a little extra fun to your next party! From silly onesies to wacky backdrops and props, these creative DIY photo booth ideas will make your guests smile.
DIY Light Box Ideas: Learn how to make light box to take your photography game to the next level. These easy DIY light box ideas are inexpensive and can be made in a day.
Photo Album Ideas: Make your family and friends proud with these easy DIY photo album ideas for your wedding, baby, anniversary and graduation photos.
DIY Photo Gift Ideas: Looking for a creative way to show your friends and family how much you care? Check out these easy DIY photo gift ideas that are perfect for friends, family, colleagues, and everyone in between.
Picture Frame Ideas: Nowadays, anyone can make picture frame using nothing but scissors, glue, and some paint. These easy DIY Picture Frame Ideas will have you framing vintage photos in no time.
Conclusion:
Whether you're looking for a quick and easy backdrop for your next live stream or want to add some extra flair to your next party, these DIY streamer backdrop ideas are perfect for you. With just a few simple supplies, you can create a beautiful and unique backdrop that will make your event stand out. So what are you waiting for? Get creative and start crafting today!