If you love storing things in the Mason jars, then do get them for preserving your food. Go with these 8 DIY mason jar vacuum sealer ideas that will extend the life of your stored food for a long, long time. Vacuum sealing the Mason jars removes all the air from the Mason jars leaving no medium for the bacteria to exist. You can vacuum seal the Mason jars in lots of different ways. See them all by visiting this collection of 8 DIY vacuum sealer mason jars to make inexpensively. Most of these projects using a handful of supplies that you can easily get from the stores. Going with these foodsaver mason jar hacks will definitely help you to spice up your food storage hack.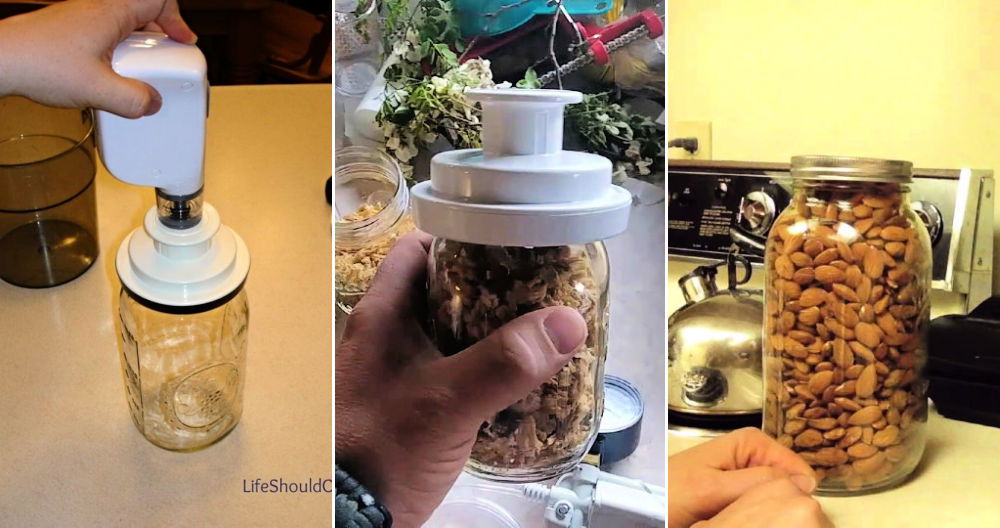 To quickly vacuum seal the Mason jars, there are two major solutions you are going with. First, go with the electrical vacuum sealers that will provide a vacuum hose. 2nd option is to go with the non-electric solutions that may involve creating the Vacuum with a hand like using a vacuum gun. First, to vacuum these Mason jars, connect a vacuum jar sealer over the Mason jar and then connect the vacuum seal hose to it and start the machine or vacuum gun. Soon, you will create a vacuum in the jar.
The list will also provide instant solutions to make vacuum sealer mason jars at home. This may involve using airline tubes, valves, and syringes. Moreover, these Mason jar vacuum sealers will make quick handmade gifts too for friends.
1. DIY Mason Jar Vacuum Sealer
Make this vacuum Mason jar seal using inexpensive supplies. Just cut the 8″ of airline tube into 2″ pieces. Add them onto an airline connector and finish with a check valve. Make a mini hole in the jar lid and fit a piece of airline tube there, too, using a check valve. Next, connect a bigger syringe that will create a Vacuum. instructables
2. Mason Jar Vacuum Sealer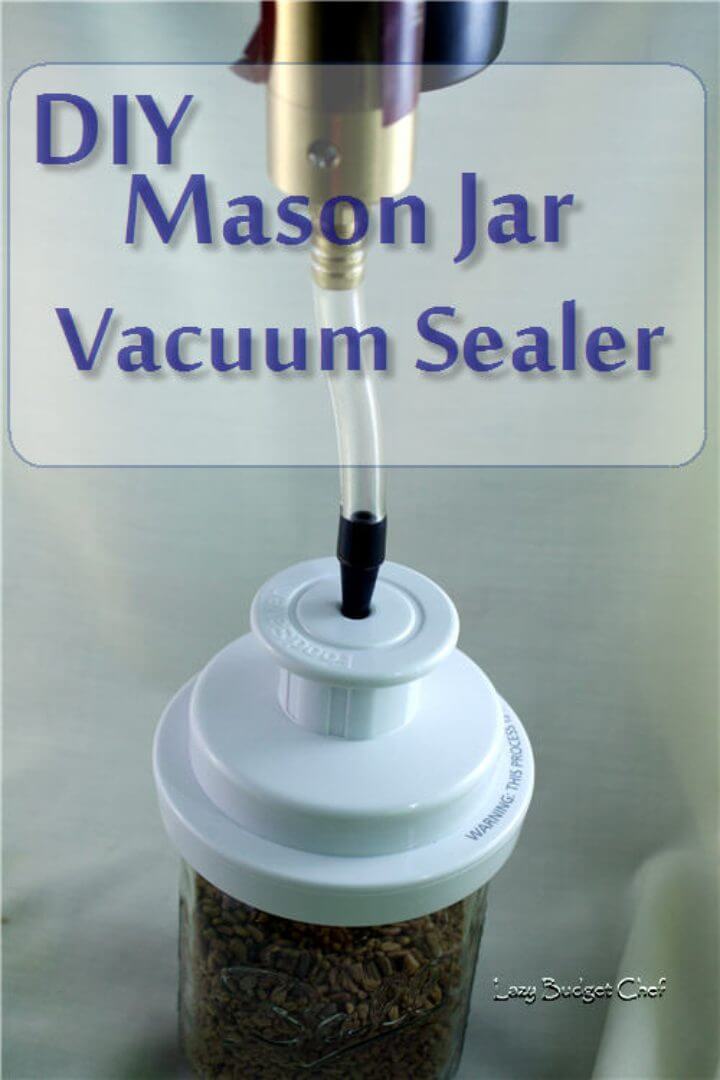 Keep your drying goods fresh using this Mason jar Vacuum sealer that is self-made. Here you need a Mason jar, a brake bleeder or pump, and a regular mouth jar sealer to make this vacuum sealer will make a lovely handmade gift. One of the best vacuum sealers to make at home. lazybudgetchef
3. How to Make Mason Jar Vacuum Sealer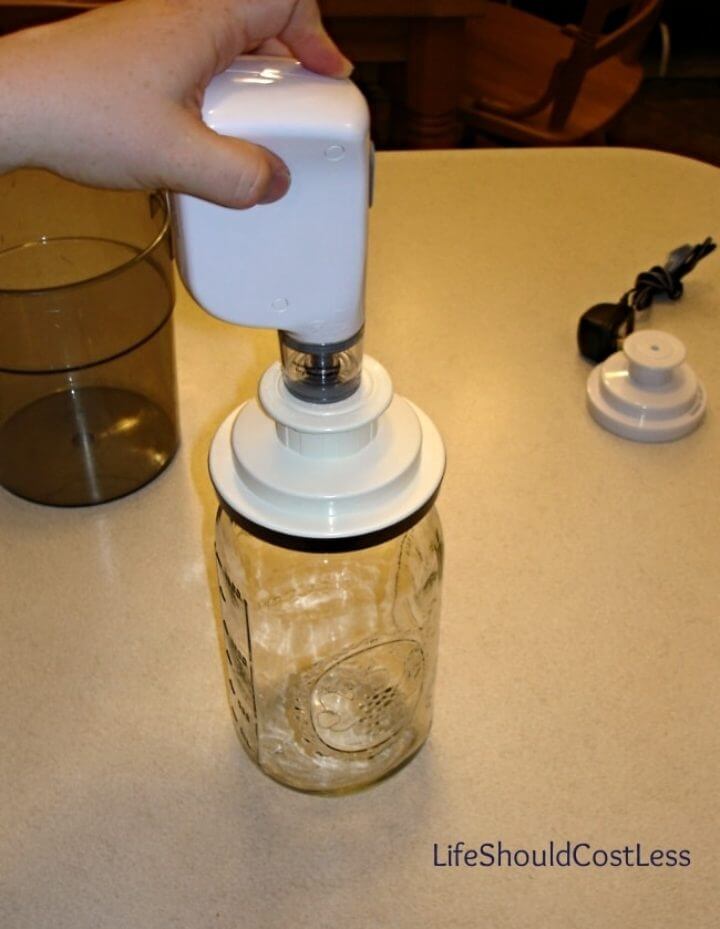 Grab the Mason jars and auto vacuum pump jar sealer attachment to make this Mason jar vacuum sealer, will make a great handmade gift to someone special. Making these mason jar vacuum sealers at home will cost you nothing, and you will love having it in your kitchen. Details here. lifeshouldcost
4. Mason Jar Vacuum Sealer
This will be one of the best vacuum sealer projects that even a beginner can do with great ease. You need a Vacupack machine here to create a vacuum in the Mason jars. Just make a mini hole in the top of a Mason and plug one end of the tube into the lid. Start the machine to create the Vacuum.
5. Vacuum Seal Mason Jars for Under $30
Vacuum sealing helps keep the vegetables and herbs and other items of this kind fresh and cool for a long period of time. Create this Vacuum Seal Mason jar for under $30. Start extending the life of your food with this vacuum seal Mason jars. Grab a food saver vacuum jar sealer and a vacuum-seal to do this project.
6. How to Vacuum Seal Mason Jars
Start preserving your dry fruits and herbs for a longer period of time using the vacuum seal Mason jars. You need a vacuum sealer and a food saver jar sealer to make this mason jar vacuum sealer. It will help keep the almonds fresh for a long, long time. Use the wide-mouth Vacuum sealer for this project.
7. Non-Electric Vacuum Sealing Mason Jars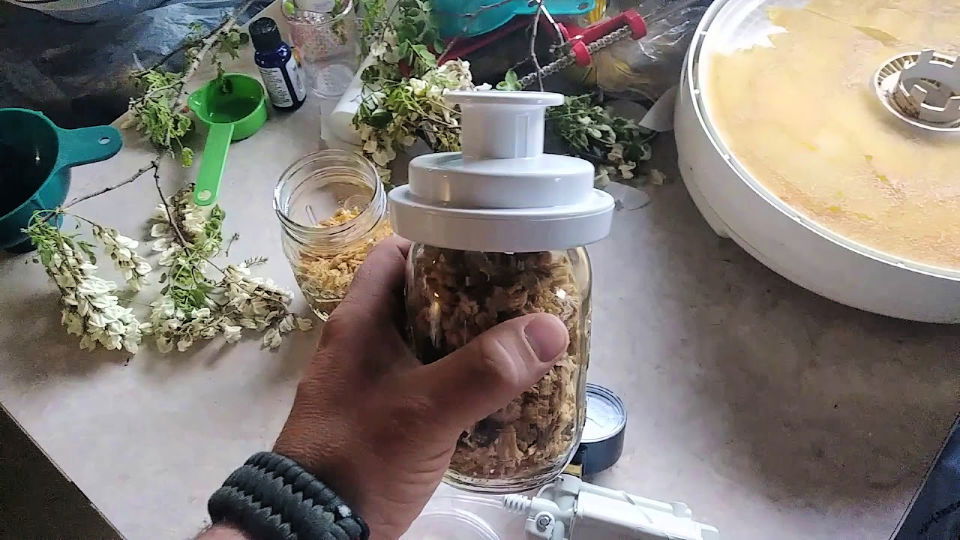 The electric food saver vacuum sealer works great undoubtedly, but something they are expensive to afford. So, non-electric Vacuum sealing options are also available. This time Vacuum seal your Mason jars full of dry fruits, herbs, and meat products using an inexpensive vacuum gun and vacuum hose. DIY mason jar vacuum sealer details here youtube
8. How to Store Oatmeal in Mason Jars with Vacuum Sealer
Preserve the dry oatmeal in the Mason jars using an electric vacuum seal. It will keep the oatmeal fresh for a long, long time. Just fill your dry oatmeal in the Mason jars, put the food saver wide-mouth jar sealer on it and then plug in the electric vacuum sealer hose to create a vacuum.
Conclusion:
It is a big disappointment when you see your stored foods rotted in the jars. So, go with these DIY mason jar vacuum sealer hacks to store your foods for a long, long time safely. Get all the hacks here to vacuum seal all the Mason jars instantly, which will help store dry herbs, foods, and vegetables. These are here an inexpensive way to vacuum seal the Mason jars.