Get these DIY rain sticks and make unique sound makers for your kids or as a gift. Learn how to make rain sticks with these 25 fun and easy DIY rain stick craft ideas, complete with step-by-step instructions for transforming ordinary household items into beautiful, soothing, and mesmerizing sound makers. From recycled paper towel rolls to vibrant rainbow-themed designs, our DIY rain stick ideas cater to various artistic tastes and skill levels. Create your own rain stick today and experience the enchanting sounds of nature at your fingertips!
Embrace your inner artist and enjoy the process of creating homemade rain sticks with our versatile and detailed guides, featuring materials such as cardboard tubes, PVC pipes, and even baby-sized rain sticks for little ones. Unleash your creativity and personalize your rain stick with various colors, textures, and decorative elements.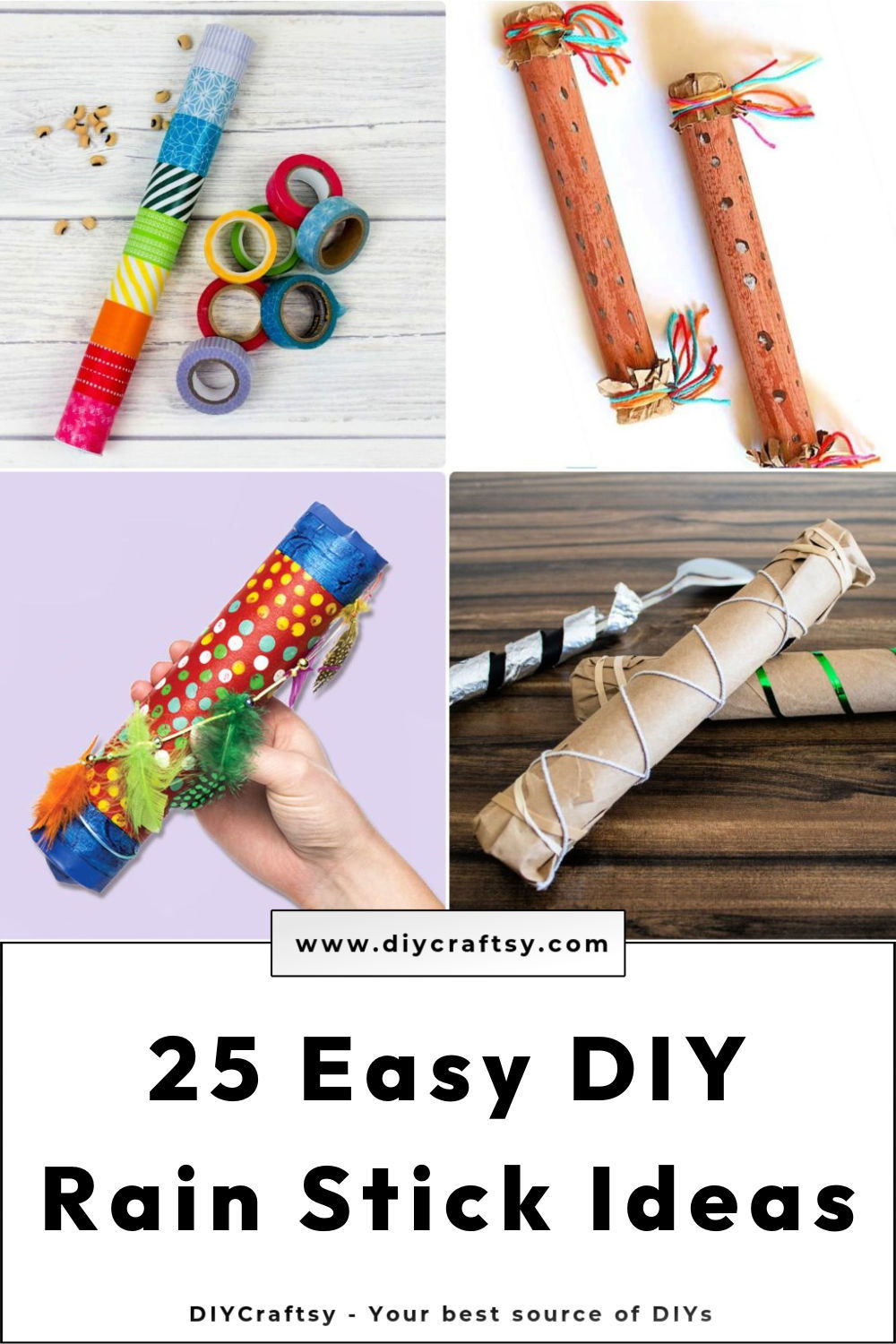 Each DIY rain stick idea offers clear instructions to help you craft your masterpiece easily, regardless of your expertise in crafting or experience in handling materials. So why wait? Take delight in our collection of DIY rain stick craft ideas and begin your musical and artistic journey today!
1. DIY Rain Stick Out of Recycled Paper Towel Roll
Immerse in the joy of eco-friendly crafting with this easy DIY project for a homemade rainstick! This unique instrument mimics the soothing sound of falling rain, perfect for entertaining and educating kids. It's a fantastic way to upcycle a paper towel roll and engage your little ones in creativity while teaching them the importance of recycling.
The process involves simple materials like a paper towel roll, a sheet of paper, aluminum foil, plastic wrap, dry beans or popcorn kernels, and your choice of markers or stickers for decoration. The aluminum foil is a clever inclusion, acting as a barrier to slow down the movement of the kernels, recreating the calming pitter-patter of rain.
Transform your kitchen and craft room supplies into an enchanting auditory experience! This rainstick will surely bring a shower of fun to your home. Unleash your imagination and let the melody of homemade rain inspire you. Enjoy crafting with a purpose! kixcereal
2. Paper Towel Roll Rainstick Craft
Beat the rainy day blues by crafting an easy, homemade rainstick! This DIY project is a fun activity and offers a delightful rhythm to your day. You'll need simple items like a paper towel roll, colored construction paper, rubber bands, aluminum foil, rice, scissors, and a glue stick.
Wrap the construction paper around the tube and secure it, then make a corkscrew from the aluminum foil to fit within the tube. Add a sprinkle of rice, seal both ends with paper squares held tight by rubber bands, and your rainstick is ready to make soothing rain-like sounds!
This hands-on craft activity promotes creativity and sensory exploration for kids. Use your artistic flair to decorate the rainstick and make a personalized musical instrument. Don't let the rain stop you; shake up the day with this rhythmic craft project! supersimple
3. How to Make Rainsticks – Step-by-Step Instructions
Faced with a rainy forecast, engage your kids in a fun and creative DIY project – crafting rainsticks from cardboard tubes. Repurposing spare tubes from wrapping paper, your children can decorate them with crayons, construction paper, or any other materials they fancy.
To make the sound of rain, cap one end of the tube, insert a crumpled piece of aluminum foil, pour in about 1/2 cup of rice or birdseed, and seal the other end.
Now, turn it from side to side to enjoy the soothing sound of falling rain. This project makes indoor activities fun, rewarding, and achievable. Embrace this weather-themed craft and make some noise of your own, all while enjoying family fun and creativity! happinessishome
4. Homemade Rainstick Using a Cardboard Tube
Embark on a DIY project that's both fun and educational, ideal for children to delve into the world of sound with this homemade rainstick craft! This engaging activity utilizes a sturdy cardboard tube and various crafting materials. Kids will enjoy the creative process of decorating their rainsticks and be amazed to produce music from their handmade instruments.
This project is easy to assemble using simple supplies such as paint, yarn, a large brown paper bag, rubber bands, scissors, pipe cleaners, and fillers like beads, rice, or beans. Adding different fillers gives each rainstick a unique touch, allowing kids to experiment with various sounds.
Perfect for a rainy day or a science class, this rainstick provides a hands-on craft activity and a practical way to explore the science of sound. It's a wonderful opportunity to learn while having fun! buggyandbuddy
5. Easy Rainbow Rainstick Craft for Kids
Craft a vibrant rainbow rainmaker using recyclable materials! This DIY project turns an ordinary cardboard tube into a lively homemade musical instrument that kids and adults can enjoy. Echoing the rich traditions of the Aztecs, this rainmaker, believed to bring about rainstorms, now serves as a delightful plaything that can bring a colorful touch to your home.
Using materials like a cardboard tube, washi tape of different colors, white duck tape, and dried beans or rice, you can remake this amazing craft in no time. This eco-friendly, easy-to-make craft is a perfect activity for St. Patrick's Day, infusing a lively beat into your celebrations. Show your creativity and bring colors to life with this fun craft. muminthemadhouse
6. How to Make a Rain Stick for Preschoolers
Engage your kids in a burst of creativity with a fun and engaging DIY project: the rainbow rain stick craft. This fantastic upcycle project brings new life to otherwise discarded paper towel rolls, combining them with colorful art supplies to make an entertaining and educational whimsical toy. It's an excellent opportunity for children to learn about recycling while enhancing their artistic talents.
This easy-to-follow guide will have you using supplies like paint, foil, rice, gold bells, and glitter to make a dazzling rainmaker. This unique craft can make learning and playing a vibrant, multi-colored joyride, perfect for St. Patrick's Day or any rainy day.
Let your children express their creativity, learn about colors, and explore sound through this homemade musical instrument. This charming rainbow rain stick is ready to bring joy and art to your little ones' playtime. musthavemom
7. Bright and Colourful Rainstick Tutorial
Make a vibrant and engaging DIY rainstick with your kids using simple materials and minimal parental involvement. This step-by-step guide will direct you through the process, from coloring a cardboard tube to creating soothing rain-like sounds. Your children can enjoy a creative and educational activity with just a few supplies like pens, cotton wool, washi tape, quinoa, and paper. Embrace their creativity while fostering their motor skills and imagination. Explore other exciting craft ideas on the blog for more inspiration. Let's get crafting together! letsdosomething
8. How to Make Your Own Rain Stick
Let the sound of your rain stick remind you that you can make magic from the simplest materials. Craft a delightful rain stick right at home with this engaging, cost-effective project that is perfect for children! This activity requires common household supplies such as gift wrap tubes, cereal boxes, packing tape, assorted beans, and decorative embellishments.
Let your creativity shine as you decorate the outer layer with kraft paper, crayons, yarn, feathers, or any other craft supplies available. This DIY rain stick doubles as a playful and educational toy, creating a unique auditory experience with each shake, an ideal blend of fun and learning. Craft yours today! somewhatsimple
9. Handmade Rain Stick Using Recycled Products
Discover how to make your rain stick with this step-by-step guide. You can make a unique instrument that mimics the sound of rain using simple materials like a cardboard roll, toothpicks or pipe cleaners, wax paper, and rice or dry beans. Follow the instructions to assemble the rain stick, adjust the elements to perfect the sound, and enjoy the calming and creative experience of crafting your very own rain stick. Unleash your creativity and bring the soothing ambiance of rainfall indoors. carrefour
10. Cheap DIY Rainstick Instruments
Engage your preschooler in a creative project by crafting a DIY rainstick. You can make a fun and stimulating toy with common household items like a paper towel roll, grocery bag, tin foil, a large spoon, and rice. The process involves:
Rolling a piece of tin foil into a long strip.
Wrapping it around the spoon handle to form a coil.
Inserting it into the paper towel roll.
Once the ends of the roll are secured with the paper bag and rubber bands, pour in some rice. Tilt the rainstick and listen to the soothing, rain-like sound it produces.
Enhance the visual appeal with optional markers, stickers, paint, or ribbon. This rainstick fosters creativity, learning, and fun, and it is perfect for encouraging your little one's musical skills. tierraencantada
11. How to Do Rain Stick
Looking to bring some creative magic and soothing sound into your space? Try crafting a DIY rain stick! An ancient instrument traditionally made from dried cacti or hollow reeds, this version swaps for materials easily found around the house. Start with a kitchen towel tube, decorating it with acrylic paints in a pattern of your choice.
Once dry, seal one end with a cut-off balloon, then insert crinkled foil and half a cup of rice. Seal the other end with another balloon, securing both with masking tape. Finally, wrap and tie jute twine around the stick, adding beads and feathers for a touch of whimsy.
Now, turn it upside down and enjoy the calming sound of falling rain. It's a fun, engaging, and artistic process taking about two hours, perfect for a crafty afternoon. Let your creativity soar, and make a unique piece of functional art with this rain stick. bakerross
12. DIY Native American Rain Stick
Experience the soothing sounds of nature with your very own DIY Native American rainstick! This project perfectly blends creativity and cultural learning, which is ideal for children and adults. The primary material is a simple kitchen roll tube covered in colored cards and filled with rice.
To alter the sound, you can also experiment with assorted fillings like lentils, beads, or small pebbles. Following a step-by-step guide, you will layer red, yellow, and green cards and secure them with double-sided tape.
The process concludes with a creative opportunity to decorate your rain stick according to your preferences. This unique project serves as an interesting conversation starter and adds a touch of musical charm to your surroundings. bakerross
13. Simple DIY Musical Rainstick
Relish the soothing sounds with a DIY rainstick! A versatile craft and a musical instrument, this project involves simple items like a cardboard tube, aluminum foil, and rice or lentils. It requires some preparation, but an outcome is a reusable tool that offers an auditory delight! The process includes the following:
Decorating craft paper to wrap around the tube.
Creating a foil spiral to guide the rice.
Sealing both ends securely.
Beyond the basic design, let creativity take over by adding feathers, beads, or stamps. Perfect for all ages, it can inspire children to explore the history of rainsticks and traditional construction. Make, play, and enjoy the rhythm of the rain at home! mykidcraft
14. DIY Recycled Paper Tube Rainsticks
Unearth the joy of crafting musical instruments with children using this DIY paper tube rainstick project. Harnessing the vibrant shades of DecoArt Americana Paints, scissors, parchment paper, and household materials, this fun endeavor not only cultivates creativity but also ignites all areas of child development.
Music supports school readiness and contributes to intellectual, social-emotional, motor, and language development. So let's dive into this innovative and enriching activity that combines music, creativity, and learning. Remember, painting with kids is a simple craft and an opportunity to express emotions, explore color, and build confidence. meandmyinklings
15. Simple Rain Stick Craft for Kids
Unlock your inner child and make a unique rain stick with the DIY simple rain stick craft for kids! This project harnesses the soothing sounds of nature, creating an instrument that mimics the calming pattern of rain. To start, you'll need a paper towel roll, aluminum foil, rice, clear tape, a wooden spoon, a broom handle, and colored paper.
Optional: a funnel for easier filling. The process involves twisting aluminum foil into spirals, using the broom handle and wooden spoon as guides. These spirals are inserted into the paper towel roll, followed by a quarter cup of dried rice.
The ends of the roll are secured with circles of paper and copious amounts of clear tape. A colored paper sheath adds a vibrant touch to the rain stick, and decorating with markers and rubber bands lets kids unleash their creativity. Enjoy the rhythm of the "rain" once the crafting concludes! giftofcuriosity
16. Create Your Own Rain Stick
Jump into an engaging craft with delightful DIY rain sticks! When twisted side-to-side, these musical instruments make sounds reminiscent of falling rain, adding a serene touch to your surroundings. The craft involves a cardboard tube, nails, hammer, duct tape, and a filling of your choice, such as beans or rice, transforming into captivating artwork.
Decorating materials are completely up to you; washi tape, wrapping paper, fabric, or foil can be used, allowing you to customize it to your preference. This fun and creative project is an excellent way to spend quality family time. So, get your supplies ready and prepare to make your very own rain stick! hannahkleindesign
17. Making a Rainstick From a Paper Towel Roll
Take flight with your creativity and make a musical masterpiece with just a paper towel roll and some household materials! An entertaining craft for children and adults alike, making a homemade rainstick requires only basic supplies like a cardboard tube, rice, and decorative items such as paint, beads, or ribbons.
This sensory activity encourages creativity and keeps children engaged for a significant amount of time. With detailed instructions and minimal effort, you'll make a unique instrument replicating the falling rain's enchanting sound. So, save those paper towel rolls and add a dash of creativity to your routine by constructing a rainstick today! craftingwithkids
18. How to Make Rain Stick in 7 Steps
Craft your rain stick using everyday items for a unique, soothing sound. This project utilizes a 1.5m cardboard tube, nails, and lentils as the core components, which are easily accessible and budget-friendly. Begin by hammering nails in a spiral pattern around the tube, ensuring equal spacing for a consistent sound profile.
A filling of lentils, rice, beans, or sand allows for customization of the 'rain' sound according to your preference. Seal both ends with wooden circles or similar materials, then wrap the tube in masking tape to secure the nails.
Acrylic paint and optional adornments like ribbons or feathers offer endless creative opportunities for decoration. Seal your masterpiece with varnish for durability. Enjoy the calming rhythm of your handmade rain stick, filled with character and a touch of personal flair. instructables
19. How Do You Make a Rain Stick
Make delightful sounds mimic the falling rain with your DIY rainstick! You can make this fun and musical instrument using a paper towel tube, tin foil, uncooked rice, and masking or duct tape of different colors. The construction process involves the formation of a tin foil coil that, once placed inside the tube, helps to slow down the rice, creating a prolonged sound akin to rainfall.
Adorn your rainstick with decorative duct tape feathers for a personalized touch. With a gentle 45-degree tilt, you'll be met with a soothing, rain-like sound that can be repeated repeatedly. It's an exciting project that fuses creativity and learning about sound! scholastic
20. Make Your Own Rain Stick
Fashion an enchanting musical instrument that mimics the soothing sound of falling rain with this DIY rainstick. A thick, strong cardboard or soft plastic tube is the main component, along with a handful of small nails and your choice of filling to make the rain-like sound – think butter beans, pinto beans, rice, or even macaroni.
This project is also a fantastic avenue for young children to demonstrate their creativity and finesse. Let them help by wrapping the tube in colorful paper or applying delightful decorations from a jar of wonders.
Once your creation is complete, you will have a homemade instrument that sounds like a gentle rain shower and a fun, immersive learning tool. Making a rainstick enhances knowledge about instruments and music making, refines fine motor skills, and encourages creativity, dance, and movement. It's the perfect blend of learning and fun! theimaginationtree
21. DIY Baby Size Rain Sticks
Dive into the joy of DIY baby play bottles, a quick, fun, and engaging toy for your little ones. It's a quick 5-minute project that entertains your babies and doubles as a unique learning tool. You'll need an empty bottle, baby oil, water, food coloring, craft foam, sequins, silver glitter, and glycerine.
These play bottles encourage motor skills and color recognition and are amusing to watch as the glitter and shapes dance around. Customize with different colors and shapes to keep the playtime exciting. Remember, always supervise while they are playing with these to ensure safety! theimaginationtree
22. How to Make a Rainstick at Home
Immerse your kids in a fun, educational DIY project with this DIY rainstick craft guide. Transform everyday household items like a paper towel roll, aluminum foil, rice, and paper into a delightful rainstick. This activity not only stirs creativity but also introduces children to the science of sound waves.
Kids will learn how sound travels, its interaction with different mediums, and even the principle behind noise-canceling headphones. Adding a custom rainstick for your little one using an empty Gerber Puff bottle makes this project all the more special.
Inexpensive and easy to construct, the DIY Rainstick offers an intriguing blend of art, music, and science. Craft yours today and let your child experience the soothing sounds of a rainstorm anytime! livelikeyouarerich
23. Creative PVC Pipe Rain Stick
Transform your surroundings into a soothing ambiance with this unique DIY PVC pipe rain stick. This versatile percussion instrument emulates the tranquil sound of falling rain, offering an audio escape to nature from the comfort of your home.
A fusion of creativity and resourcefulness, this project employs a standard PVC pipe, approximately 36 inches long, drilled with holes and inserted with bamboo skewer sticks. The process is simple yet rewarding, culminating in an attractive piece of décor that produces calming sounds.
Although the PVC pipe rain stick may seem an unorthodox musical instrument, its striking acoustic effects, and aesthetic appeal make it a compelling addition to your DIY collection! instructables
24. Easy DIY Rain Stick
Capture your little ones with a fun and straightforward DIY rainstick project, perfect for long summer days when boredom creeps in. With a handful of easily accessible materials, including a paper towel roll, nails, aluminum foil, tissue paper, Mod Podge, and rice, this craft offers a chance to bond with your child and stimulate their creativity.
You and your child will enjoy transforming simple materials into a musical instrument that mimics the soothing sounds of rainfall. Customize your rainstick with different fillers, or try varying tube lengths for diverse sounds. A lovely way to incorporate play and learning, this crafty creation promises countless hours of amusement while fostering your child's love for creative DIY projects. thecraftingchicks
25. Making Your Own Rain Stick
Transform simple supplies into soothing rainfall with your DIY rain stick. This project is fantastic for immersing in a sensory experience, evoking the lush atmosphere of the Amazon Rain Forest. This project requires minimal supplies, including an empty mailing tube or paper towel roll, beads or dry beans, packaging tape, colorful duct tape, a small square of felt, and a rubber band.
Begin by sealing one end of the tube, decorating it with vibrant duct tape, and adding a cup of beads or beans for the signature "rain" sound. Seal the other end and top it off with a felt piece secured with a rubber band.
As you tip it from side to side, the cascade of beads mimics the soothing rhythm of rainfall, providing an engaging and educational experience. Create your rainforest adventure today with this unique project! occasionallycrafty
Conclusion:
In conclusion, exploring the world of DIY rain stick craft ideas can lead to endless creativity and fun. With DIY rain sticks like recycling paper towel rolls, making simple musical instruments for kids, using PVC pipes, or even creating a Native American-inspired rain stick, there's no shortage of inspiration. Engage in this craft activity and make your own unique rain sticks, either as an educational project for children or simply to indulge your artistic senses. The DIY rain stick craft ideas are endless, and the outcome is guaranteed to be both delightful and relaxing.