Welcome the sunshine and warmth with a beautiful DIY sunflower wreath for your front door or any space in your home. Learn how to make sunflower wreaths with these 25 simple DIY sunflower wreath ideas, featuring burlap wreath to mesh wreaths. These DIY sunflower wreath ideas are perfect for those who want to add a touch of nature-inspired elegance to their home decor.
These sunflower wreath ideas include various styles and materials, such as burlap sunflower wreaths, mesh sunflower wreaths, and even sunflower wreaths made from clothespins or ribbon. Each sunflower wreath design comes with step-by-step instructions, making it easy for beginners and seasoned DIY enthusiasts alike to make a unique and eye-catching sunflower wreath that showcases their creativity and style.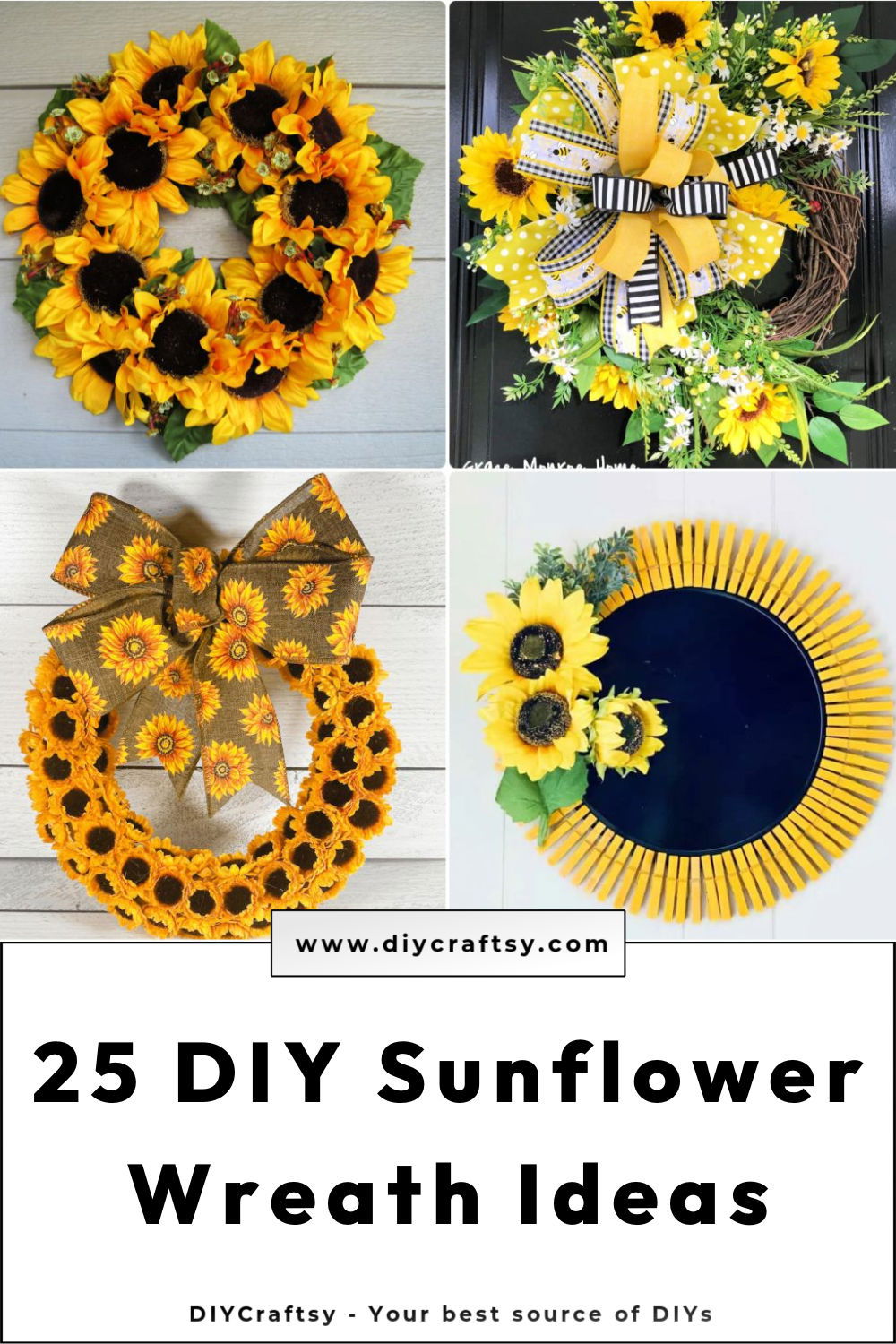 Sunflower wreaths are not only a delightful way to express your love for this cheerful, sunny flower, but they also make a statement as a welcoming piece for your front door or as a charming addition to your interior décor. With options ranging from simple and budget-friendly DIY sunflower wreaths to more intricate designs for those looking to challenge their crafting skills, there is a sunflower wreath idea for everyone. So, gather your supplies and start crafting your very own sunflower wreath today!
1. DIY Sunflower Wreath for Front Door
Inject a vibrant touch of rustic charm into your space with this stunning DIY sunflower wreath, easily crafted from brown, yellow, and green burlap. This project is an affordable and engaging endeavor, transforming your front door into a statement piece that smoothly transitions from summer to autumn.
This project requires burlap ribbons, floral wire, a wire wreath form, and cardboard. Follow the step-by-step instructions to make this beautiful décor piece that anyone can tackle without spending more than $30 or half an hour.
This wreath's multi-seasonal appeal makes it a valuable addition, enhancing your home aesthetics all summer and fall. Enjoy the praise for your creative crafting skill with this conversation-starter sunflower wreath! craftsbyamanda
2. Simple DIY Dollar Tree Sunflower Wreath for $7
Discover the joy of creating a radiant sunflower wreath with everyday supplies from The Dollar Tree, costing a mere $7. This DIY project is a remarkable way to add a vibrant touch to your late summer and fall door decor.
Made in just 15 minutes, this wreath is economical and stunningly beautiful, perfect for anyone who appreciates a welcoming front door. You'll need two black and white Buffalo Check Ribbon rolls, a metal wire wreath, two sunflowers, lavender bunches, and a hot glue gun.
With just a few steps—wrapping the wire wreath with ribbon, integrating the flowers, and adding a simple bow—you'll have a wreath that rivals the expensive ones in stores. All you need to do is switch the ribbon and flowers. So why wait? Start making a wreath today and make your door the center of admiration! simplycraftylife
3. Homemade Clothespin Sunflower Wreath
Infuse your home with the warmth and vibrancy of summer with a homemade clothespin sunflower wreath. You can craft a striking piece of decor with a handful of everyday supplies, including wooden clothespins, a 16″ metal wire wreath frame, and Rit Dye in shades of Black Azabache and Golden Yellow Amarillo Dorado. The process involves:
Prepping the clothespins.
Dyeing them.
Drying them off.
Adding polka dots before arranging them on the wire frame.
To cap it all off, embellish with flowers. This creative, unique, and budget-friendly project elevates any space, capturing the essence of sunny days in a long-lasting, eye-catching display. instructables
4. Make a Sunflower Wreath With a Burlap Bow
Discover a world of inspiration with DIY sunflower wreath ideas, adding a splash of color and warmth to your home. Brighten your home this autumn with an easy-to-make, budget-friendly DIY sunflower wreath featuring a charming burlap bow. Transform your entranceway in 30 minutes using simple supplies like a foam wreath form, sunflowers, ribbon, and paint.
The sunflower bushes and ribbon can be found at most craft stores. The crafting process is straightforward – paint your wreath form in warm fall colors, attach sunflowers using a hot glue gun, and finish with a rustic burlap bow.
You also have the option to include fall accents such as pumpkins, maple leaves, or mini pinecones for a more traditional autumn touch. This quick and simple project offers a stylish way to welcome the fall season, adding a country-chic look to your front door while keeping to a budget! prudentpenny
5. How to Make a Mesh Sunflower Wreath
Explore the world of DIY projects with this vibrant and inviting sunflower wreath, a creative project that adds a refreshing splash of color to your home decor. The sunflower wreath can be assembled using simple materials. With this easy guide, even the least experienced crafters can make this stunning decoration in minimal time.
The process involves loading the wreath board with zip ties, fastening scrunched yellow mesh fabric, and adding a final touch with a styrofoam flower center. This sunflower wreath is a charming decoration and a project that allows you to express your creativity.
One of the key advantages of this project is the reusable Large Wreath Board, allowing you to undertake a wide array of flower designs for future projects. So, why not bring a ray of sunshine into your living space? debbie debbiedoos
6. Make Your Own Sunflower Wreath
Celebrate a cherished memory or occasion with this easy-to-make sunflower wreath! Inspired by a sunflower-filled summer wedding, this wreath is a bright and cheery reminder of a special day. You can craft this heartwarming home decoration with just a few supplies, like a wire wreath form, burlap strips, sunflower sprays, a hot glue gun, and complementary flowers of your choice.
The creation process is straightforward. This project is budget-friendly, estimated to cost around $10 if you leverage craft store coupons, and adaptable to your personal preferences. Feel free to replace the sunflowers with any flower that signifies a memorable moment.
Each glance at this wreath is a lovely reminder of an unforgettable day, making it more than just a decorative piece but a symbol of joy and warmth. So, why not capture your unique story in a charming sunflower wreath today? henhausstyle
7. Clothespin Sunflower Wreath – Step-by-Step Instructions
Rejuvenate your summer home décor with a vibrant DIY clothespin sunflower wreath. This economical and uncomplicated project adds sunshiny color to your surroundings. You can craft a beautiful sunflower wreath with basic materials like wooden clothespins, yellow and brown acrylic paint, and a 14-inch wire wreath frame.
The detailed tutorial and supplementary video guide provide easy-to-follow steps, ensuring the process is enjoyable and stress-free. Customize this project to suit your style, adding optional elements like ribbons or faux flowers.
This charming and budget-friendly craft is an ideal decorative piece, particularly for traditional or farmhouse décor lovers. Don't hold back; make this stunning wreath and add a summer touch to your home today! hootshack
8. Sunflower Bandana Wreath Idea
Transform your doorway with these vibrant DIY sunflower wreath ideas that make a lasting impression on guests. Jazz up your summer with a charming sunflower wreath DIY project! Crafted with yellow bandanas and a round wreath form, this beautiful piece brings a warm, sunny vibe to your home. You'll need nine yellow bandanas, a 12-inch wire wreath form, 4-inch zip ties, spray starch, a rope, and a paper plate or cardboard circle to get started.
This wreath also incorporates a creative twist, using rope coiled on a paper plate to mimic the intricate core of a sunflower. This easy-to-follow guide allows pauses between steps, perfect for crafting while catching up on your favorite podcast or TV show. It's a simple and enjoyable craft that provides a fun pastime and results in a lovely, sunflower-themed decoration, adding a touch of summer to any room. itsalwaysautumn
9. DIY Pool Noodle Fall Sunflower Wreath
Revamp your door decor with this innovative and delightful DIY wreath that subtly captures the essence of fall. You can craft a beautiful adornment that's not overtly autumn-themed using readily available materials such as burlap ribbon, a pool noodle, duck tape, white and yellow sunflowers, and decorative pumpkins.
Your personal touches and the clever use of a pool noodle and duck tape for the structure will make this project uniquely yours. This wreath offers an engaging, fun, and budget-friendly crafting experience, resulting in an elegant decorative piece.
And even better, assembling in under 20 minutes is possible – saving you from potential hot glue mishaps! As this beautiful wreath graces your door, you'll revel in the satisfaction of crafting your decor. thediyvillage
10. How to Make Your Own Sunflower Wreath
Fall's golden hues inspire the perfect craft project, a DIY sunflower wreath. This inexpensive decor brings warmth to any space with the change of seasons. From just $7, you can make this captivating piece using materials easily found at your local dollar store, like a 14″ wreath frame, yellow and brown decorative mesh, a yardstick, and a hot glue gun. The creation process involves:
Stretching and weaving brown mesh for the center.
Cutting yellow mesh into strips for the petals.
Tying them around the wreath frame for that sunflower aesthetic.
With a few finishing touches to fluff the petals, you'll have a delightful fall-themed wreath—an easy and affordable way to invite the charm of autumn into your home. amaryllislane
11. Burnt Orange Fall Sunflower Wreath Design
Craft a delightful sunflower wreath to brighten up your fall decor! This handcrafted piece harmonizes perfectly with autumn's changing colors and adds vibrant charm to your door. You'll find it a fantastic family project, allowing everyone, even the kids, to be involved in its creation.
All you need are a 10-inch wreath form, a 9ft roll of burlap ribbon, orange sunflowers, cream flowers, 1/2in glue dots (or hot glue), and scissors. Assembly requires no more than 25 minutes and a budget of around $15.
Beyond being an enjoyable family activity, this sunflower wreath is an affordable and captivating way to celebrate the short yet beautiful fall season. So why wait? Start creating today, and let this wreath serve as a proud symbol of your family's shared creativity. colormecrafty
12. DIY a Large Yellow Sunflowers Wreath
Transform your home's entrance with a DIY sunflower wreath that brings the essence of summer to your doorstep! This cheerful, vibrant adornment, brimming with large yellow sunflowers and small white daisies, is sure to catch the eye of every passerby.
The wreath creation process is simple and enjoyable, starting with a 14-inch grapevine wreath base to which you add flowers, assorted greenery, and lovely ribbons in contrasting patterns and colors. Utilize florist wire to secure the elements and a hot glue gun to ensure longevity.
Optional use of a Bowdabra bow maker can enhance your wreath with professional-level bows. This Sunflower Wreath elevates your home's aesthetic and doubles as a joy-inducing summer staple. Enjoy the process, and watch as your wreath-making skills bloom! gracemonroehome
13. Unique DIY Dollar Tree Sunflower Wreath
Get crafting with these DIY sunflower wreath ideas, turning your home into a cheerful haven with simple steps. Uplift the charm of your home with an easy DIY Dollar Tree sunflower wreath! This is a delightful way to bring the vibrant colors of summer to your door, made achievable with readily available supplies. By using small grapevine wreaths, a bunch of faux sunflowers, black and white polka dot ribbon, faux feathers, scissors, and a hot glue gun, this project comes together for a mere $5. This unique door hanger will add a touch of nature to your space and serve as a beautiful transition from summer to fall. So why wait? Craft your sunflower wreath and let the beauty of sunflowers uplift your spirits all year round. averageinspired
14. Homemade Sunflower Clothespin Wreath
Upgrade the aesthetic of your front door with a handmade sunflower clothespin wreath. An effortless and affordable DIY craft, this vibrant wreath harnesses the simplicity of a pizza pan as its base, making it a unique and cost-effective alternative to conventional wreath forms.
Using clothespins, spray paint, and some beautiful sunflowers from Dollar Tree, you can construct a piece that radiates charm without burning a hole in your pocket. Moreover, chalkboard paint offers a customizable element, transforming this wreath into a message board for warm welcomes or important kitchen reminders.
So, let your creativity flourish and design a distinctive sunflower clothespin wreath that can breathe life into your front door or kitchen decor. singlegirlsdiy
15. How to Make Sunflower Deco Mesh Wreath
Get the joy of crafting a vibrant sunflower wreath, perfect for adorning your door or wall. With the help of a flower form and deco poly mesh in stunning yellow and emerald hues, you can bring the beauty of sunflowers into your space.
While this guide recommends specific colors, select alternatives that suit your taste or available supplies. The center of the flower is crafted from brown felt, presenting an authentic sunflower look. In addition to the mesh and felt, you'll need tools such as a styrofoam disk, zip ties, and hot glue.
The sunflower wreath takes shape as the petals unfold – a testament to your creativity and craftsmanship. Suitable for different seasons, this wreath-making technique can be adapted to make an array of stunning floral decorations! trendytree
16. Bicycle Tire Sunflower Wreath for Front Door
Boost your home's curb appeal with a vibrant, easy-to-make DIY bicycle tire sunflower wreath. This fun project breathes new life into an old bike tire, transforming it into a beautiful decor piece for under $10. Highlighting the heartwarming allure of sunflowers, the wreath infuses a dash of summer freshness onto your front door.
You'll require sunflowers, olive stems, accent flowers, a bicycle tire, floral wire pipe cleaners, and a hot glue gun. The straightforward, step-by-step process will guide you through attaching the flowers to your wreath form, culminating in a delightful display of color and creativity. Embellish your front door with this handmade sunflower wreath and enjoy the charm of summer all year round. ourcraftymom
17. Sunflower Mesh Wreath Using UITC Flower Board
Step into the DIY world and discover how to make your vibrant sunflower mesh wreath using a UITC flower board. It's simpler than it sounds and results in a visually stunning decor piece unlike any other. This wreath uses the charming combination of green and yellow poly burlap deco mesh, a styrofoam flower center, and a hot glue gun, among other tools, to breathe life into this eye-catching floral creation.
With a detailed step-by-step process, it's easy to master this craft technique, and the outcome is a beautiful wreath and an opportunity to enhance your creativity. Using this approach, you could transform your space or sell your creations for profit. So, embrace this engaging crafting journey and add a touch of summer to your door today with this sunflower mesh wreath! howtomakewreaths
18. How to Make a Sunflower Clothespin Wreath
Bring sunshine indoors with these easy-to-follow DIY sunflower wreath ideas, perfect for brightening up any space. Experience the joy of crafting with this unique DIY project instructing you how to make a stunning DIY sunflower clothespin wreath. It's a simple, fun activity involving common materials like clothespins, Rit Dye in Lemon Yellow, a wire wreath form, brown acrylic paint, faux flowers, burlap ribbon, and twine. The method involves:
Soaking clothespins in dyed water.
Drying them.
Arranging them on the wreath form.
Painting them for a vibrant, sunflower-like appearance.
You can enhance it further by adding faux flowers with a hot glue gun and a burlap ribbon bow. Not only is it a brilliant way to enhance your decor, but it's also a cost-effective alternative to store-bought wreaths. So grab your supplies and get ready to make a sunflower clothespin wreath that's sure to impress! chascrazycreations
19. Making a Sunflower Wreath Out of Paper Mesh
Bring a splash of summer cheer to your indoor or patio settings with this DIY paper mesh sunflower wreath. With a myriad of colorful mesh options, this tutorial guides you in creating a sunflower wreath that matches your taste and mood across different seasons.
This project entails a systematic process from crafting the sunflower leaves and petals to adding a touch of personal flair to the final product. By diligently following the steps, you can make a visually stunning, high-quality sunflower wreath that stands out in its unique charm.
This sunflower wreath-making guide is apt for all, regardless of their level of craft proficiency, and will surely add a creative spark to your summer days. Craft your sunflower wreath and experience the joy of personalized décor today! howtomakewreaths
20. Easy Burlap Sunflower Wreath Tutorial
Make a charming first impression by adorning your front door with a delightful sunflower wreath, perfect for any season. Illuminate your front door or interior space with a DIY burlap sunflower wreath, an artistic creation that will brighten any space with its rustic charm. Handcrafted using a 10-inch box wire wreath frame and 6-inch burlap, the process is straightforward and efficient, offering a lovely decoration of around 21 inches upon completion.
Materials include 25 apple green pieces cut into 6×9 inches, and 55 ivory pieces fashioned into 6×6 inch squares, arranged beautifully into multiple rings to imitate the vibrant hues of a sunflower.
This burlap sunflower wreath provides an enjoyable and rewarding experience for those interested in enhancing their homes' aesthetic appeal or seeking creative ways to use their burlap rolls. It's a unique and impressive way to showcase creativity while adding a touch of nature to home decor.
21. Free Sunflower Wreath Pattern
Add a burst of sunshine to your doorstep with this simple DIY sunflower burlap wreath. Effortlessly crafted in less than 60 minutes, this sunflower wreath transforms your front door into a captivating display of summer charm. This project utilizes basic supplies such as burlap, wire wreath frame, and hot glue, enabling you to make a vibrant masterpiece swiftly.
This do-it-yourself guide delivers straightforward instructions, making it easy for everyone to assemble their floral accent piece. Besides its decorative appeal, this wreath showcases your unique creativity, making your home's entryway more inviting.
Above all, the sunflower, as the centerpiece, radiates warmth and joy. So, dive into this enlightening tutorial today and design your sunflower burlap wreath, a perfect representation of summer's beauty.
22. Fall Sunflower Center Wreath Tutorial
Embark on a crafting journey with this DIY and uncover the potential to make stunning wreaths from scratch. This platform provides easy-to-follow tutorials that help you turn simple materials into intricate and captivating designs.
You can make personalized wreaths at home with poly burlap, olive green burlap, and a basic wreath frame. Additional tools like zip ties, felt, moss, spray paint, pins, and glue further enhance your creation.
Your final product is a beautiful decorative item and a testament to your creative skill. This tutorial lets you engage in a creative hobby, craft unique home décor, and even grow your creative business. Your next crafting adventure awaits. youtube
23. How to Make a Sunflower Bandana Wreath
Explore these creative DIY sunflower wreath ideas, perfect for adding a touch of summer to your front door. Upraise your home décor with an easy DIY sunflower wreath that embodies the vibrant charm of the season. Using simple supplies such as bandanas, a 10″ wreath form, and a sunflower craft accessory, this project allows you to make an impressive decoration piece, regardless of your crafting prowess.
These DIY wreath tutorials provide explicit instructions, guiding you through every step to ensure the finished product resonates with your style.
You'll craft easily, from choosing your preferred bandana colors to attaching them to the wreath form. The outcome? A sunflower bandana wreath that adds a splash of color and sunflower cheer to your living space.
24. Wire Wreath Frame and Pipe Cleaner Sunflower Wreath
Introduce a splash of sunshine to your home decor with a hands-on DIY sunflower wreath tutorial! Crafted from a 10″ wire wreath frame, poly burlap mesh in vibrant yellow and lime green, and held together by pipe cleaners, this floral masterpiece effortlessly radiates charm and creativity.
With a backtracking method, you'll be guided on how to loop the center and make a stunning flower wreath. Don't worry about sourcing; items like the wireframe are readily available on online craft platforms.
The addition of faux jute flex tubing brings a rustic appeal, while zip ties and plastic canvas five mesh ensure a sturdy structure. Get ready to accentuate your space with this bespoke sunflower wreath and embrace the DIY spirit today!
25. DIY Sunflower Wreath for Beginners
Brighten your home's entrance with a stunning sunflower wreath for your front door, adding warmth and a welcoming touch. Bring a pop of vibrant hue to your home decor with a DIY sunflower wreath, a perfect piece for Spring. This homemade wreath uses readily available materials such as a 10″ wire wreath frame, yellow poly burlap, canvas mesh, zip ties, felt, sunflower center, wire, floral pins, and T-pins.
This fun-filled activity is an artistic endeavor and an interesting project for anyone interested in enhancing their DIY skills. This wreath, characterized by its mermaid petal pattern, introduces a lively spirit to any living space.
It serves as an exquisite home ornament that embodies both creativity and uniqueness. Channel your inner artist today and craft this radiant sunflower wreath, creating an instant mood lifter right at your door!
Conclusion:
In conclusion, exploring various DIY sunflower wreath ideas can bring a touch of brightness and warmth to your front door or home décor. From burlap sunflower wreaths to mesh sunflower designs, there are numerous creative options to choose from. Don't be afraid to experiment with different materials such as clothespins, bandanas, or even repurposed items like bicycle tires. With numerous tutorials and patterns available, crafting a stunning sunflower wreath has never been more accessible for all skill levels.