Learn how to make hooded towels with our 25 free DIY hooded towel patterns and step by step guide. Perfect to sew for kids of all ages for a cozy day in or after bath time! From a simple hooded towel pattern to more elaborate hooded towels, you'll find step-by-step instructions, detailed tutorials, and useful tips to help you make your very own hooded towel from scratch. With the right pattern, materials, and guidance, you can make a hooded bath towel for children, toddlers, or even adults, making bath time more fun and comfortable.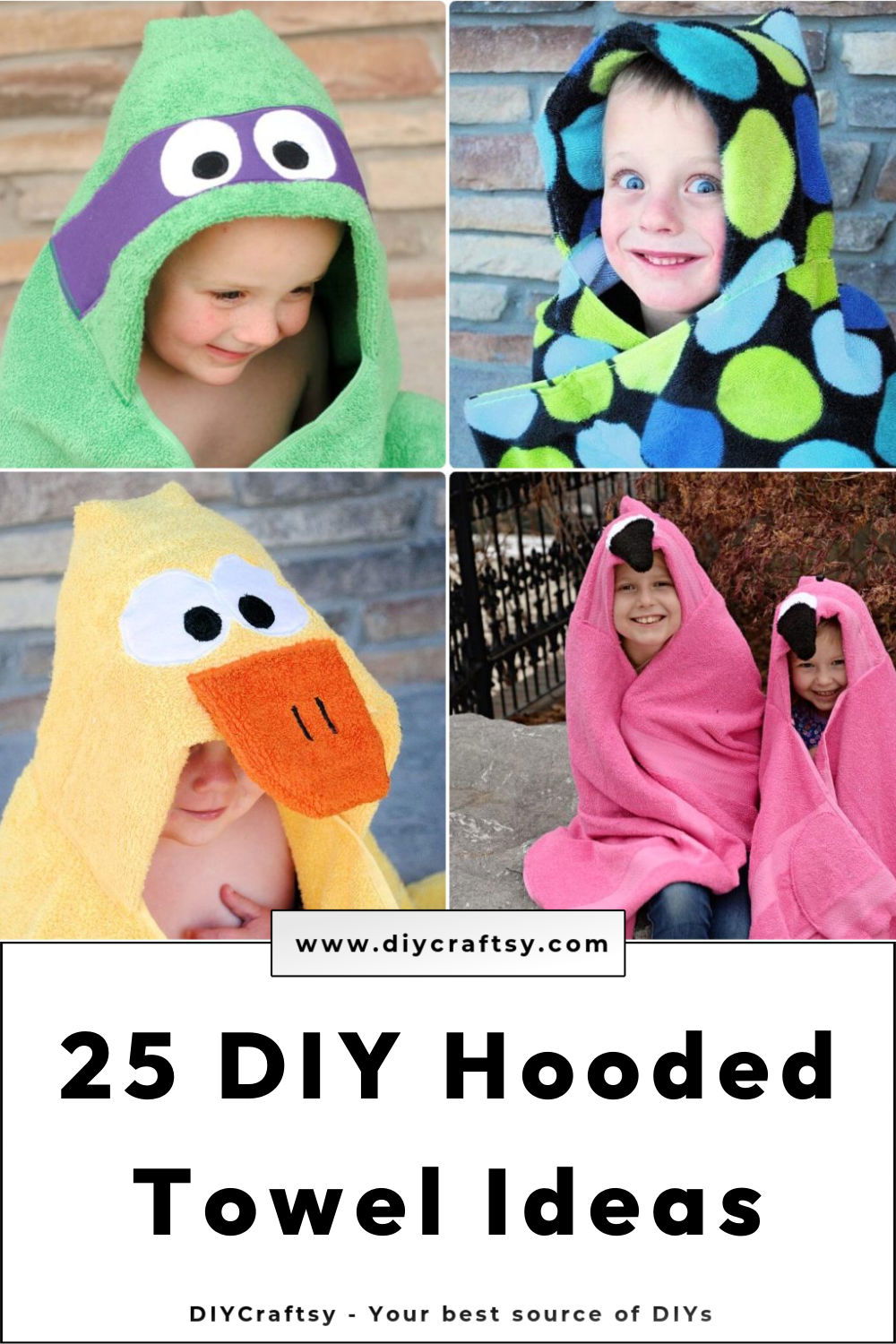 Popular among parents and caregivers, homemade hooded towels make for an excellent handmade gift or a practical addition to your daily routine. A hooded bath towel pattern can be as basic or intricate as you like, with options to add embroidery, appliques, or other embellishments to personalize your design. Expand your sewing and crafting skills by diving into this useful project — learn how to make a hooded towel today and enjoy the satisfaction of a beautifully crafted, practical accessory for years to come.
1. DIY Flamingo Hooded Towel
Indulge in the pure bliss of bath time, together with your little ones, using a DIY flamingo towel. The soft and snug towel not only fosters a special bond with your child but also makes bath time more comforting and exciting.
Making the towel is a breeze! All you need is a large pink towel, a pink hand towel, a black and white hand towel or washcloth, good scissors, a sewing machine, and a printable pattern.
Once completed, this whimsical towel will highlight your kids' bath time, making them look forward to it every evening. This hooded towel cleanses and offers a fun and memorable bath time. housewifeeclectic
2. How to Sew Hooded Towel – Free Pattern
Discover DIY hooded towel patterns and make cozy, customized towels for your little ones to enjoy after bath time. Experience the joy of summer by designing your own dynamic DIY hooded towels for pool days! With towels easily found in stores like bright flamingo towels from Target, you can promptly make cozy and entertaining hooded towels for your entire family.
An extra towel is needed to form the hood, but this yields two hoods, meaning multiple creations can be made simultaneously. The crafting process is simplified with the help of a downloadable free pattern.
Ideal for drying hair and adding an element of play, these hooded towels are a summer must-have and can also serve as unique handmade gifts. The tutorial accompanies a video guide to assist you throughout the process. This summer, take the plunge into creativity and fashion your hooded towels to enhance the poolside experience. seekatesew
3. Homemade Kids Beach Towel Poncho
Brighten up your child's beach time with a DIY kid's beach towel poncho! This lightweight, absorbent piece is perfect for drying off and staying warm post-swim. An affordable, fast project – 15 minutes, and you're done! You'll need a beach towel, snaps, and a snap fastener. The process involves:
Cutting the towel.
Tracing a semi-circle for the head opening.
Creating a hood.
Sewing the hood to the cape.
Attaching snaps for closure.
This poncho is not only practical for bath, pool, or beach time, but it also makes a wonderful personal gift. Say goodbye to shivers and hello to cozy fun with this easy-to-sew kids' beach towel poncho! gina michele
4. Make a Hooded Towel With Pom Pom Trim
Relive your summer this year by making these fun DIY hooded towels, perfect for the family beach or pool days. Jazz up an ordinary bath towel and a coordinating hand towel with playful pompom trim to craft these fun, sun-ready accessories.
These towels are functional, letting you stay hands-free while keeping the little ones warm, and also fashionably chic, thanks to the personalized color and trim choices. Plus, these hooded towels make perfect handmade gifts that will bring smiles.
Prepare your scissors, matching thread, and measuring tape, and dive into the step-by-step guide below. Let your imagination run wild with color possibilities, and don't forget to share the joy of sewing by creating these adorable summer essentials! theproperblog
5. DIY Blue Hooded Towel Poncho
Discover a fun, practical project for your little swimmers this summer – a homemade towel poncho! Ideal for post-swim lessons, this cozy DIY ponch provides warmth and comfort, helping your children ward off chills after a refreshing dip in the pool. Crafted from two quality bath or beach towels and some matching thread, this activity is swift and straightforward.
Using a hooded sweater as a template, you'll make a hood to be attached to the second towel, forming a poncho. These roomy towel ponchos, simple in design but highly functional, can grow with your child, ensuring long-term usability.
They offer an easier alternative to traditional towels that may slip off, keeping your child wrapped up snugly from pool to car. Embark on this crafting journey and add a creative touch to your summer essentials today. deliacreates
6. Easy DIY Hooded Towel
Make a cozy and large hooded towel for your growing toddler with this straightforward DIY project. This soft, snuggly hooded towel can fully envelop your child post bath time, making it a delightful and practical addition to their routine.
You will need a bath towel and a matching hand towel, with a sewing machine, fabric scissors, a clear acrylic ruler, and straight pins as your main tools. The step-by-step instructions guide you through sewing the two pieces together to form the hood and body of the towel.
Soft bath towels are utilized for this DIY, but choosing towels is open to your preferences. The total project time clocks in at a mere 30 minutes. Embark on this easy-to-follow DIY and ensure your little one stays warm and dry for years. practicallyfunctional
7. Free Hooded Towel Sewing Pattern
Explore unique DIY hooded towel patterns, transforming simple towels into adorable, practical accessories for children. Relish the fun of bath times with DIY hooded bath towels for your kids! In simple steps, you can turn regular-sized bath towels and coordinating hand towels into cozy, warm, and versatile hooded towels. All you need are some sewing essentials, including matching thread, a sewing machine, scissors, a ruler, and sewing pins.
The process involves creating a neat hood from a hand towel and attaching it securely to the bath towel, and an option to add hand pockets for an added practical touch.
Not only will your kids adore their personalized hooded bath towels, but you will also find this project a rewarding and cost-effective solution for growing children. It's the perfect way to extend the comfort of hooded towels beyond infancy, bringing joy to kids! projectnursery
8. DIY Ninja Turtle Hooded Towel
Transform your little one into their favorite ninja turtle in the blink of an eye with this DIY Ninja Turtle hooded towel! This fun project uses simple materials, including a green bath towel, a hand towel, and scraps of black, white, and colored fabric. With heat transfer paper and our easy-to-follow instructions, you'll transform these everyday items into an endearing, character-themed towel.
Cutting the hand towel in half and sewing on a cute turtle mask, complete with expressive eyes, are just some of the steps involved. Moreover, the towel's hood is customized for a child's fit, adding comfort.
This creative approach to bath time essentials brings beloved characters to life, making routine tasks enjoyable for your little ones. Your kiddo will love wearing their favorite Ninja Turtle towel post-bath! crazylittleprojects
9. How to Make a Hooded Bath Towel
Experience the joy of crafting a DIY hooded bath towel for your little ones! This cozy, easy-to-make project enriches bath time, creating memorable moments for both parent and child. You can make a snug comfort for your kids after a playful bath using only two large bath towels, one hand towel, and matching thread.
The process involves straightforward steps such as cutting, folding, and sewing, which are suitable for all levels of sewing enthusiasts. This towel provides a heartwarming snuggle after bath time and is a tangible reminder of the warmth and care provide your kids.
Moreover, these handmade towels make thoughtful, useful gifts that can light up a child's day. So, grab your materials, follow the simple steps, and immerse yourself in the joy of making a comforting, personalized cath towel today! inspirationalmom
10. Easy Infant Hooded Towel Tutorial
Immerse yourself in the joy of crafting with this DIY guide on making a fun and practical monster-themed hooded towel! Ideal for keeping little ones cozy and entertained, this tutorial calls for everyday crafting materials, including terry cloth, cotton fabric, fusible web, and some creativity.
With your sewing machine ready, you'll turn a simple yard of fabric into a playful hooded towel adorned with cute monster eyes and teeth, perfect for kids aged 0-18 months. This crafting project is rewarding, cost-effective, and offers an attractive, homemade alternative to store-bought towels.
Adding this monster hooded towel to your repertoire of DIY projects can give you a sense of accomplishment and might even excite you about your next crafting adventure! Remember, it's not just about the final product but also the joy of creating. Happy crafting! hillmade
11. How to Make a Panda Bear Hooded Towel
Learn how to make a hooded towel and let your little one snuggle up in a cozy towel of warmth and love – the perfect panda bear hooded towel! Craft an adorable panda-themed hooded towel for your toddler with this innovative DIY tutorial. Add warmth and creativity to bath time with this charming DIY project. Using a white hand towel, black bath towel, and black washcloth, your child will love this delightful bathing accessory.
Step-by-step guidance transforms these towels into a snuggly panda with lovable ears, eyes, and a nose. Get your scissors and sewing kit ready and prepare to brighten bath time. This cuddly panda hooded towel is a fun and practical addition to your kid's bath essentials, making the routine an exciting adventure. creativegreenliving
12. DIY Hooded Towel for Toddlers and Kids
Revamp your little one's bathtime experience with a DIY hooded towel tutorial! A project that promises simplicity and practicality, it delivers an end product loved by children and mothers alike. Following the steps, you can craft a large, cozy hooded towel that absorbs moisture and encapsulates warmth, ensuring your child's comfort post-bath.
You only need a bath towel, a half-hand towel, and a heavy-duty sewing machine needle. The hooded towel is aesthetically pleasing, functional, last several years, and is suitable for children up to 8 years old.
Feel free to let your creativity flourish by transforming the basic towel into an array of exciting animal characters, adding an element of fun to the useful item. This towel serves as an excellent gift, especially for new parents. It's a project that encapsulates love and thoughtfulness through a homemade touch. crazylittleprojects
13. DIY Hooded Towel With Step by Step Photos
Unveil your crafty side with this practical and adorable DIY hooded towel tutorial. Ideal for both babies and kids, these towels serve as perfect baby shower gifts and become essential items for bath time. Created from a large bath towel and a hand towel, this beginner-friendly sewing project takes merely 30 minutes.
The supply list is simple – scissors, a rotary cutter (if available), rickrack or ribbon, matching thread, pins, and a sewing machine. These handmade hooded towels are functional and incredibly cute, giving your little ones something to look forward to during bath time. So why not pick up that needle and thread today and make bath time extra special? whimsynorth
14. Sew a Cozy Hooded Bath Towel
Revitalize bath time with customized, soft, and cozy animal-themed DIY hooded towels that match your child's unique personality. Crafted from a bath towel, hand towel, and washcloth, these charming towels are perfect companions for a fun bath or pool time.
Adorned with iron-on eyelashes and alphabets, the durable and trendy patches can withstand multiple washes while maintaining their charm. Involve your children in this simple sewing project for a wholesome bonding and learning experience.
With a sewing machine, thread, iron, scissors, straight pins, and cotton cloth, make these bespoke, snug towels that can be perfect gifts for birthdays or special occasions. Wrap your little ones in these fluffy, personalized towels for an unmatched cozy experience. abeautifulmess
15. DIY Duck Hooded Towel
Get ready to craft a delightful and fun DIY duck hooded towel, perfect for children of all ages. An adorable way to wrap up after a bath, this yellow and orange towel doubles as a cute toy. Made from a yellow bath towel, a yellow hand towel, and an orange hand towel, the supplies needed for this project are readily available.
Add a touch of white and black fabric for the eyes, and your hooded towel begins to take shape. Detailed instructions will instruct you through each step of the process. With this comprehensive guide, you can make this fun and useful bath accessory.
This towel is not only a practical item but also brings a sense of whimsy and enjoyment to bath time. As a handmade gift for birthdays or holidays, it's sure to bring smiles and squeals of delight. Grab your materials and start sewing today! crazylittleprojects
16. Unicorn Hooded Bath Towel Pattern
With easy-to-follow DIY hooded towel patterns, you can craft the perfect personalized gift for new parents or birthdays. Let's unwind the magic of bath time for your kids with a DIY unicorn hooded bath towel. This charming creation, perfect for those enchanted by unicorns, can make routine bathing a whimsical experience. You can craft this delightful accessory with fleece fabric, metallic gold fabric, a bath towel, two hand towels, a needle & thread, and an iron.
The towel, oversized for added comfort, can keep children warm post-bath while prepping for bedtime. For an added touch of whimsy, use heat n bond non-woven craft fusible extra firm Interfacing to craft a unique unicorn horn.
This project not only adds fun to bath time but is also an engaging way to channel your creativity. Enhance your kids' bathing routine with this homemade unicorn hooded bath towel. sweetredpoppy
17. How to Make a Hooded Baby Towel
Spruce up your baby essentials with this DIY hooded baby towel. It is ideal for gifting or personal use and provides an endearing solution for bath time or beach adventures. It can also be customized to match your nursery decor or for the perfect baby shower gift.
Constructed from a yard of terry cloth fabric, this project is easy to accomplish, with materials including binding or double-fold bias tape, an embroidery design, a stabilizer, water-soluble stabilizer, embroidery threads, a ruler, scissors or a rotary cutter, a matching thread, a water-soluble marker, and a rounded object for measurements.
The process of making is straightforward. In this DIY journey, not only will you make a unique baby essential, but you will also experience the satisfaction of crafting something useful and beautiful. Start sewing today and add a touch of creativity to your everyday essentials. weallsew
18. Sew Your Own Hooded Baby Towel
Embark on a creative journey with this straightforward DIY sewing project to craft a beautiful and practical baby shower gift. Construct a 31-inch square towel and two 9-inch washcloths using Michael Miller Organic Terry Cloth and Kokka Fabrics Sheer Floral in Blue Posies. With careful cutting and sewing, the result is a soft, stretchy baby set perfect for delicate skin.
The careful layering of Terry Cloth and Sheer Floral results in a fascinating texture and aesthetic, with the Terry Cloth providing comfort and the Floral pattern adding a touch of elegance. Ensuring not to stretch the Terry Cloth while sewing, you can make an appealing and useful gift set. This baby shower gift project's blend of practicality and style underscores the beauty of thoughtful handmade items. purlsoho
19. DIY Harry Potter Hooded Towels
Craft an enchanting piece of magic with this DIY Harry Potter hooded towel tutorial! Enthralling for Potter fans of all ages, this wizardry-themed towel provides a spellbinding combination of comfort and fantasy. This project offers an innovative way to show your love for the Harry Potter series.
The standout feature is the addition of the iconic black glasses, yellow lightning bolt scar, and golden snitch, meticulously crafted using a cutting machine.
This tutorial provides clear and comprehensive steps, making it straightforward to make a unique piece of Potter magic that's perfect for both the poolside and at home. Get whisked away to Hogwarts through a unique project that lets your creativity take flight and elevate your daily routine! raegunramblings
20. Embellished Hooded Towel Pattern
Unleash your creativity by designing fun and functional DIY hooded towel patterns, perfect for keeping kids warm and dry. Dive yourself into the festive spirit with this engaging guide on crafting a charming DIY hooded towel, perfect as a unique, handmade gift. Make a personalized gift using extra fabric, a hand towel, and a large bath towel. It's perfect for anyone!
A few handy items, such as scissors, thread, and iron, are all you need to get started. Not only does this project offer a meaningful, custom gift option, but it's also a fun way to repurpose materials effectively.
The result is a standout, giant-sized hooded towel that goes beyond the usual baby size, bringing comfort and a touch of whimsy to anyone's bath time. Try this exciting DIY project today to prepare your unique gifts in time for the holidays! thecottagemama
21. Make Your Own Hooded Towel
Look no further for all parents searching for unique DIY ideas to entertain their kids. This easy, step-by-step guide on crafting a personalized hooded towel is a surefire way to bring a smile to your little one's face. Made from a hand towel, bath towel, and washcloth, this project allows you to select your preferred colors and textures.
Add a touch of creativity with a fun ribbon, and you've got a charming hooded towel. This project isn't just practical and beautiful, but a fun way to spend a rainy day with your kids, dreaming of sunny pool days.
So, why wait? Gather your supplies, including fabric scissors, straight pins, a heavy-duty needle, and quality coordinating thread, and let's start crafting these adorable hooded towels. Once you make one, the process will become even simpler, and you'll make a set in no time! ourhomemadeeasy
22. How to Make a Penguin Hooded Towel
Take on an exciting DIY project with this engaging guide on crafting your hooded penguin towel, a delight for kids and a charming addition to your bathroom. Using common materials like a black bath towel, a black hand towel, an orange hand towel, and small amounts of white and black fabric, you can make this adorable penguin-themed towel that adds a whimsical touch to your child's bath time.
The process is simplified with detailed instructions and pattern pieces, making assembly seamless. Apart from the fun and creativity, it's a wonderful opportunity to impart the joy of DIY crafting to your little ones. Stitch your way to a cozier and more colorful bathtime experience with this tutorial! cherishedbliss
23. How to Sew a Hooded Towel
Get the joy of making a homemade hooded towel with this insightful DIY sewing tutorial. Ideal for wrapping your little ones in comfort, this guide offers an uncomplicated, step-by-step approach that even novice seamstresses can follow.
Combining a towel, hand towel, or terry cloth fabric is all it takes to start this quick and easy sewing project. Along with basic supplies such as scissors, pins, a sewing machine or serger, and embellishment materials like applique, rickrack, and ribbon, you're all set to make a one-of-a-kind piece that also makes a fantastic baby shower gift.
The provided free applique designs and full pattern make it a breeze to customize your creation. Get started on your hooded towel project today!
24. DIY Hooded Towel for Toddlers
Improve your sewing skills and surprise a new mom with a DIY hooded towel perfect for toddlers and babies. Break away from the lackluster store-bought options and craft a comfortable, large, and unique towel using a hand towel, bath sheet, or beach towel.
A wonderful project to undertake during pregnancy or as a thoughtful gift, it promises to be user-friendly even for those new to sewing. Using a hand towel as the hood ensures versatility in size and comfort for any child. Embrace this simple, fun, practical project that transcends everyday baby essentials.
25. Hooded Towel Sewing Pattern for Beginners
Browse a variety of DIY hooded towel patterns, allowing you to make charming, one-of-a-kind creations for your family. Learn the basics of hooded towel sewing and make your unique masterpiece with this easy-to-follow pattern! This easy project requires minimal sewing skills, great for a unique baby gift or fun bath accessory for your child. Gather essential materials such as a hand towel and bath towel, clover chalk liner, wonder clips, a quilting ruler, a rotary cutter, and a cutting mat to get started.
The process of making this cozy hooded towel is simple and rewarding. Just follow the methodical instructions to bring this project to life. It serves as a practical item, keeping your child warm and dry, and it also ignites creativity and makes sewing an enjoyable hobby.
It presents an excellent opportunity to develop your sewing skills while creating something useful and endearing. So, pick up your sewing tools today and start creating your hooded towel!
Conclusion:
In conclusion, learning how to make hooded towels is a delightful and practical skill that enables you to make unique, personalized items for yourself or as thoughtful gifts. With various hooded towel patterns available, embrace creativity and explore the possibilities of creating distinctive and functional designs. From DIY hooded towels for kids to hooded bath towels for toddlers, there's an abundance of inspiration to fuel your projects. Enhance your sewing abilities by diving into these engaging and enjoyable hooded towel tutorials, and make handmade treasures for all ages.