Are you looking for a wonderful coffee table for your living room? These free coffee table plans featured on the best and flawless collection of Ana White can upgrade your living room decor! Building a DIY coffee table from scratch can be one fun and sensational woodworking project that can actually spruce up your furniture decor game! We have rounded up below some perfect and darn inspirational free coffee table plans that can totally compliment your design and decor sense!
Make sure to keep reading and explore through these 13 free coffee table plans featured on Ana White so you can choose among the ones that best compliment your decor and style need! We have got numerous options from upcycled coffee tables with glammed up mirror tops to wooden Balustrade beauties, all designed to fully complement the style of your home. These free coffee table plans come with detailed materials and supplies guide, also detailed illustrations. So even a beginner can nail these quite easily. Ready to get inspired by Ana White coffee table plans?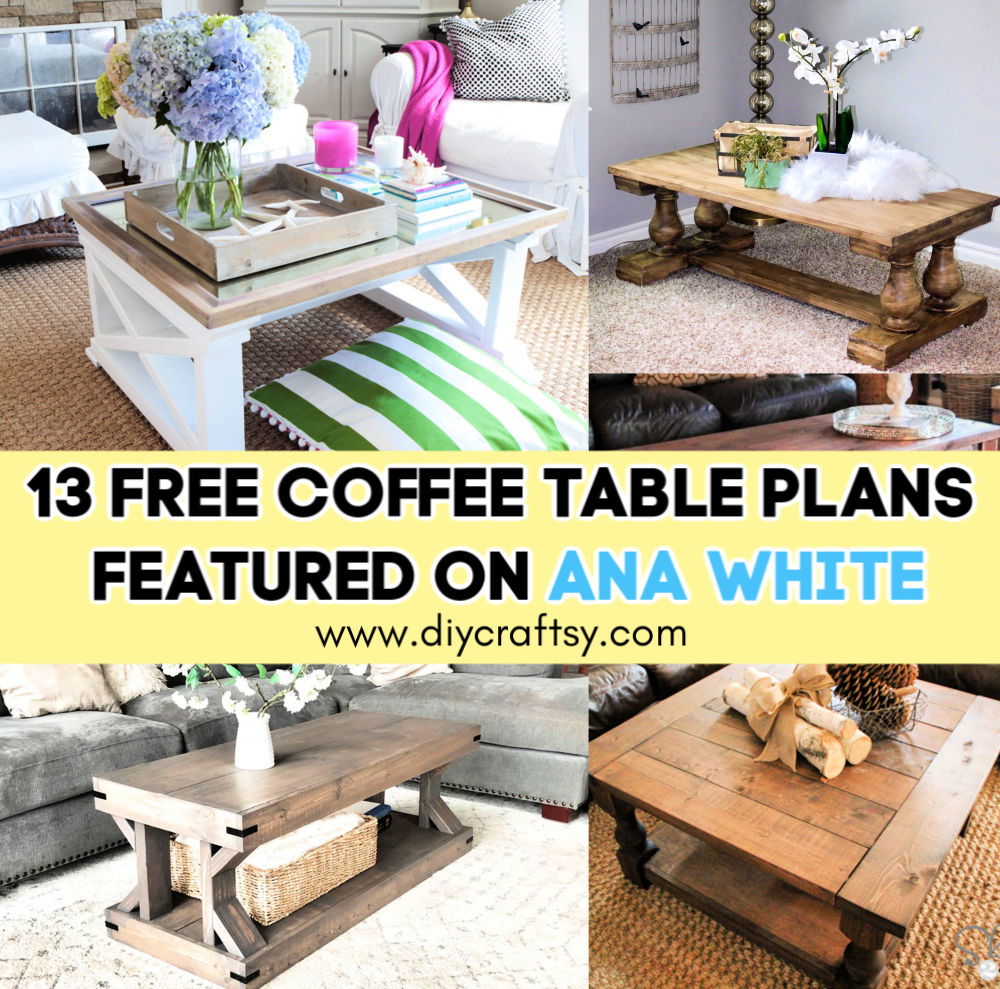 1. Rustic X Coffee Table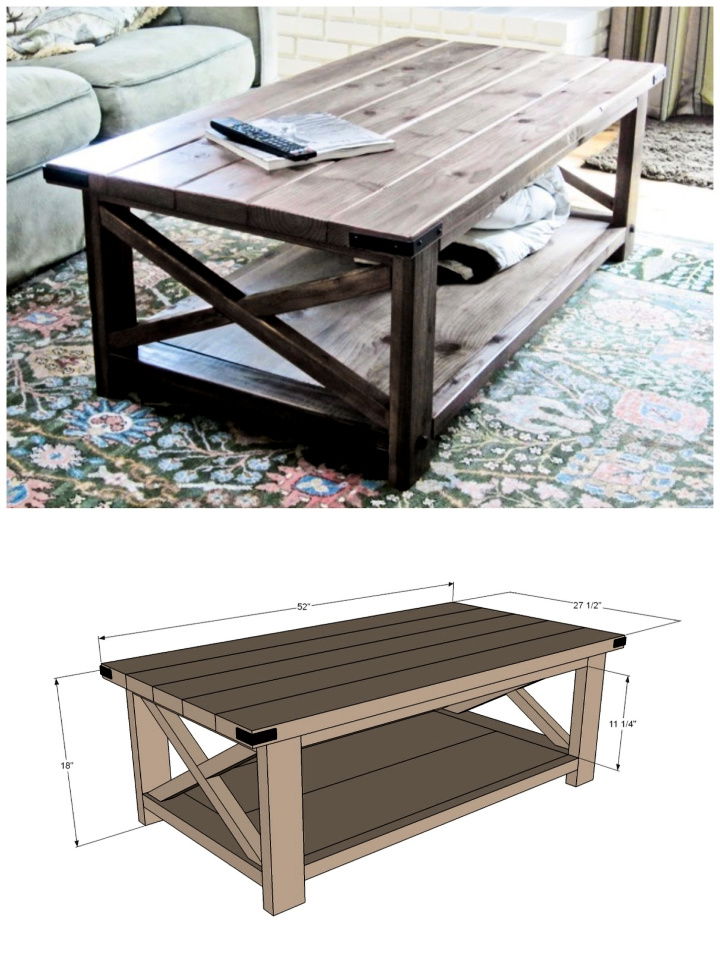 We are totally drooling over the details of this rustic ana white coffee table! With its X legs and the double shelf, extra storage appeal, it is going to be a perfect match for any living room. Made out of Lumber, these materials are hardly going to cost you $50. Find this ana white table here. ana white
2. Modern Farmhouse Coffee Table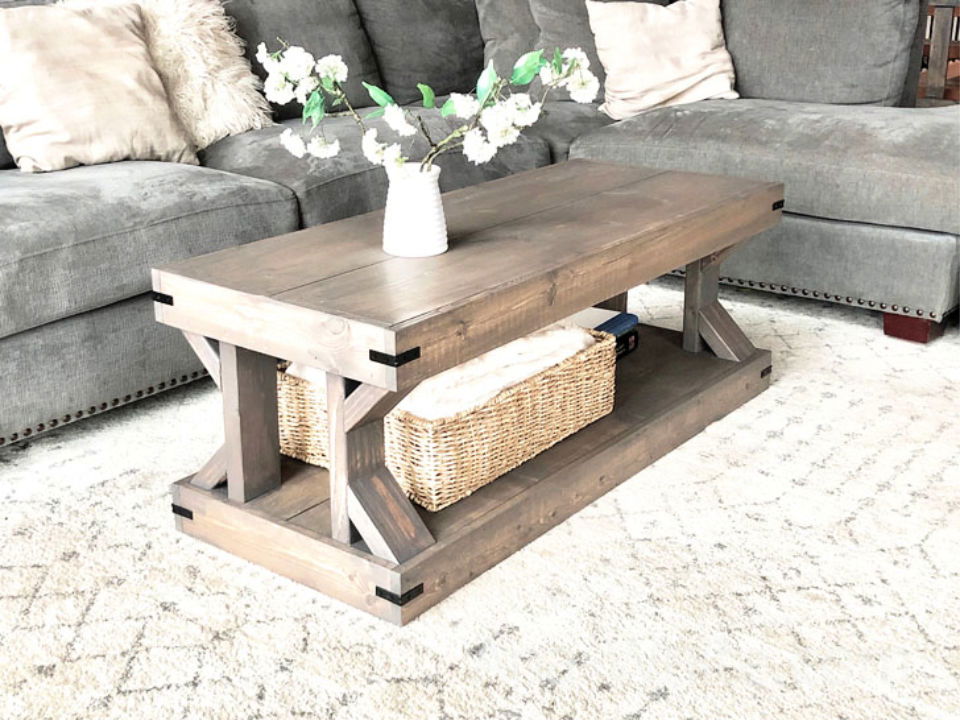 A mixture of contemporary and farmhouse, this DIY coffee table can surely add a lot of character to any room! It is built using basic tools and will hardly cost you around $60. You can find the free plans for ana white farmhouse table with step by step guide here. ana white
3. DIY Baluster Coffee Table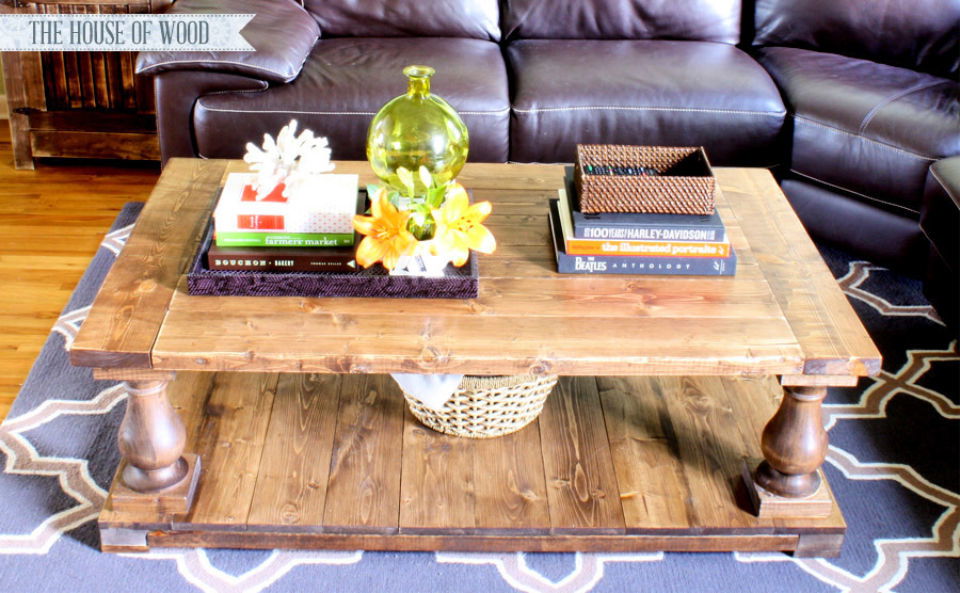 An enchanting touch of vintage with a huge Balustrade coffee table can make things way more inviting and cozy in your living room! This flawless baluster coffee table is hardly going to take 6 hours to make! jenwoodhouse
4. Build a Coffee Table Under $50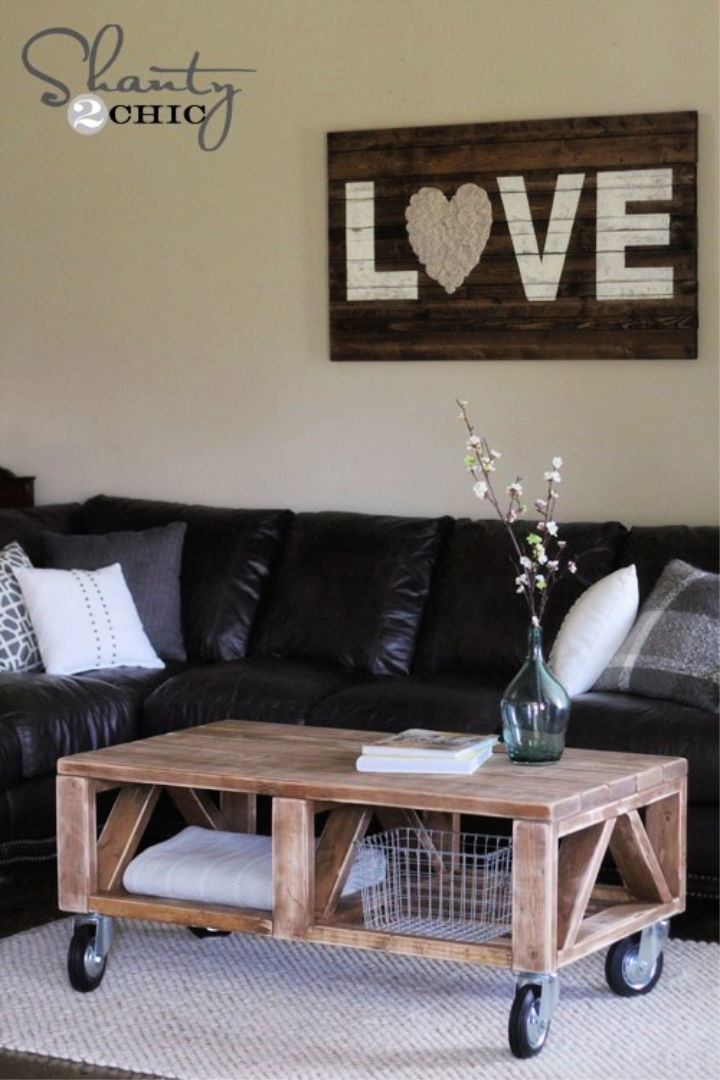 If you have been planning for a decor redo under budget, this DIY coffee table with wheels and added storage options is not just functional but will also cost you only $50. The tutorial suggests using Kreg Jig while putting up pieces together! shanty 2 chic
5. Printmaker's Coffee Table
This much more looks like a medieval theme inspired coffee table! A perfect restoration hardware printmaker's coffee table! Assembled using thick boards along with with Kreg jig, Spax screws, and Titebond glue! thecreatedhome
6. Ana White Coffee Table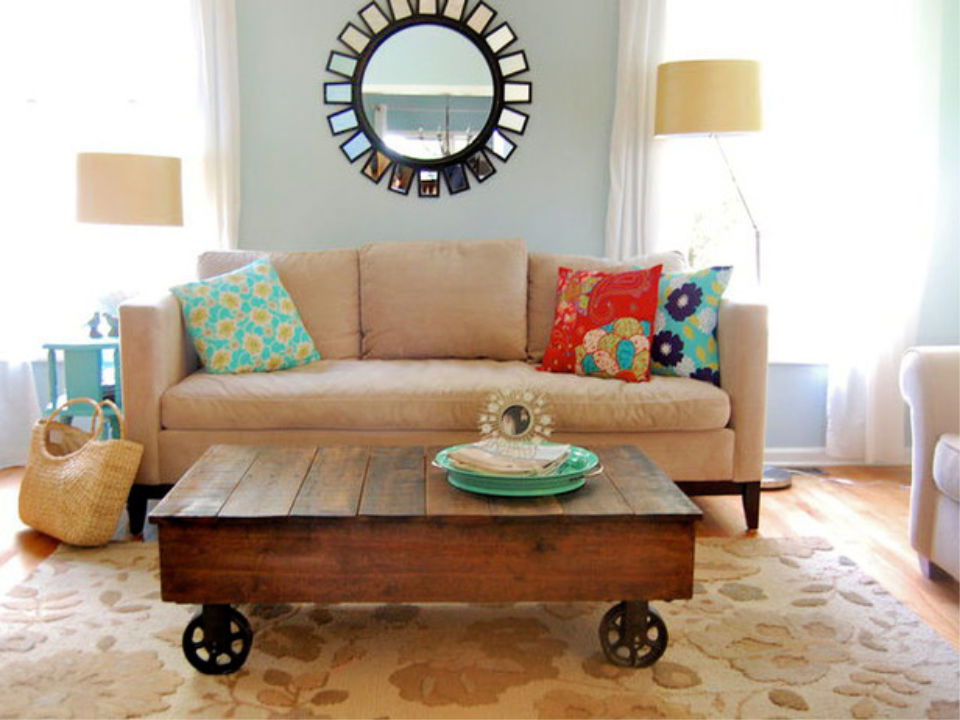 Here is another one great Ana White coffee table with a total minimalistic and uber-chic appeal! It is more like a reminiscence of old factory carts with the wheels. Building a classic industrial charm to your living room! Get the full details here. ana white
7. DIY Square Coffee Table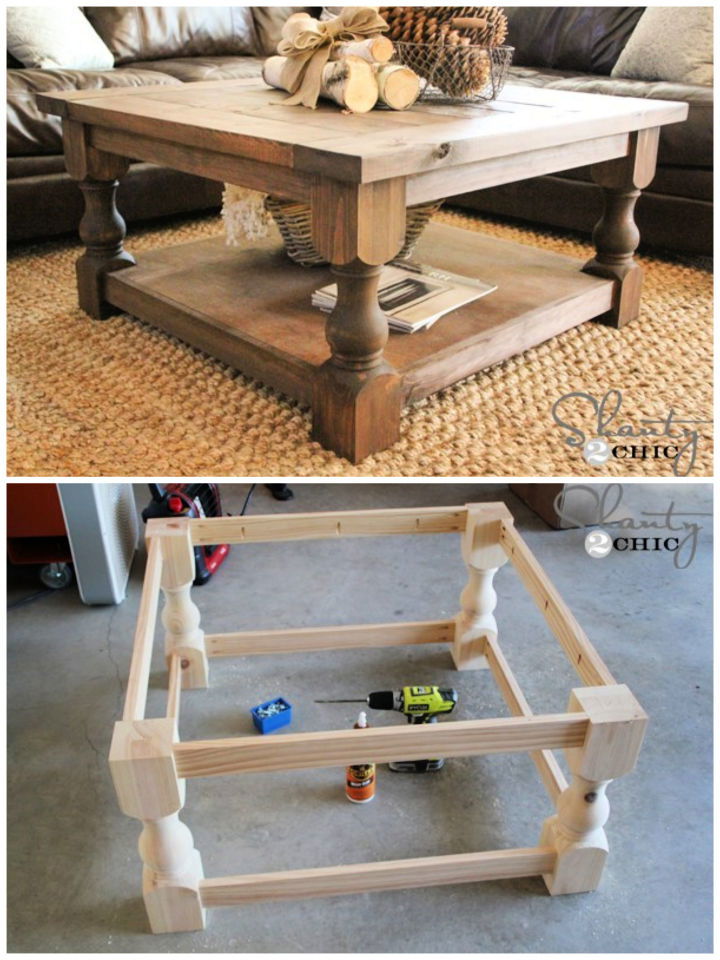 Square things up in your living room with this superb square coffee table! Start off by buying the legs, the folks at Shanty 2 Chic got these classic legs at Osborne. Continue by attaching the sides of the table to the legs. shanty 2 chic
8. Oakley Coffee Table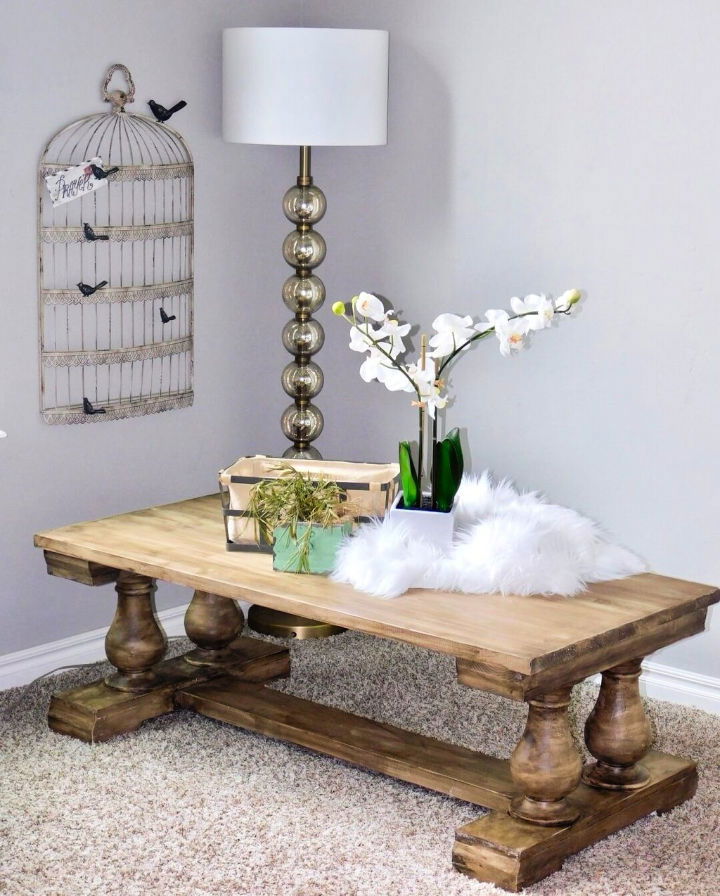 If you have been a part of the woodworking community, you must have seen the rise and popularity of these legs over time. They bring a perfect farmhouse character to any room. This one here is a little bit tweaked version of Balustrade coffee table with a refreshing twist! handmade haven
9. Library Coffee Table with Drawers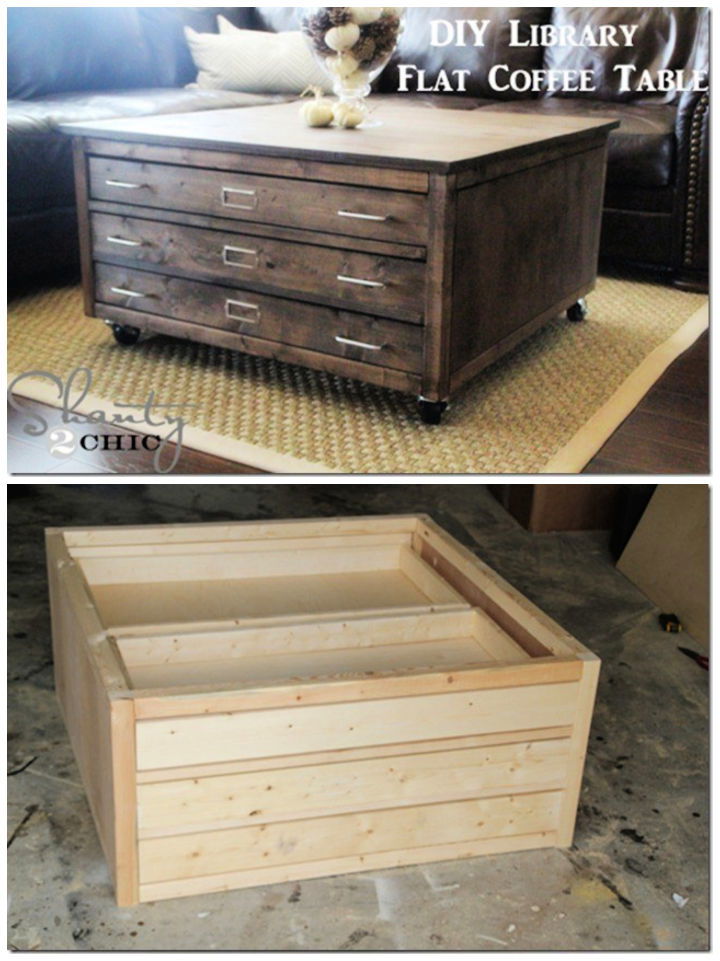 Style with storage is quite hard to come by! This DIY coffee table with 6 drawers is a perfect piece of furniture to brighten up the place in your living room or your library. Start off by building the frame using Gorilla glue and a cordless drill. shanty 2 chic
10. Repurposed Mirror Coffee Table
This tutorial features a repurposed, rustic coffee table by using an old mirror built with some 2×4. If you are looking for something casual and at the same time glammed up for your living room, this DIY coffee table in whimsical white is all of these things! inmyownstyle
11. DIY Splayed Leg Coffee Table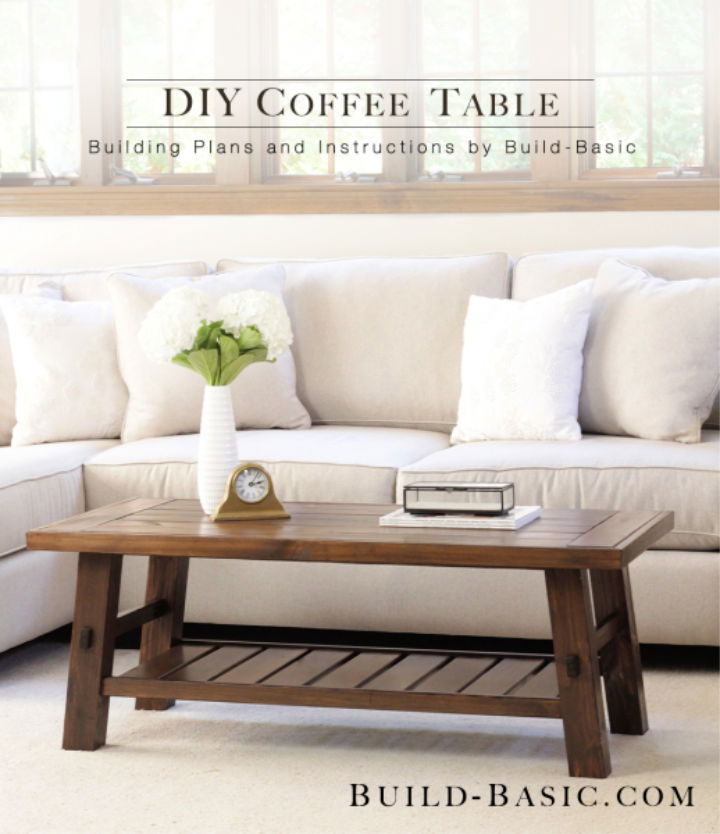 Would you love adding spayed legs on your basic coffee table? Build Basic has got the basic guide for that! This spayed leg coffee table will hardly take 4 hours of your time and around $45 for the whole materials and supplies. build basic
12. Pottery Barn Knock Off Taylor Coffee Table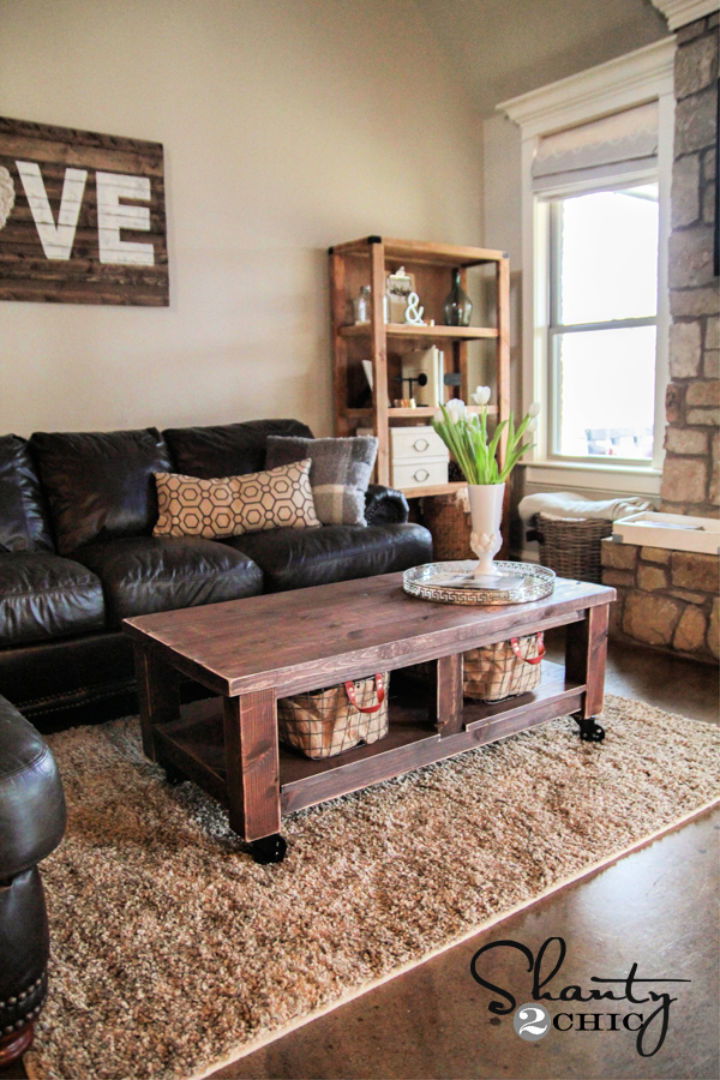 This Pottery Barn knock-off Taylor coffee table is made using untreated Douglis Fir. It is made with 4×4 for the legs and 4×4 boards. This will cost around $10 for an 8ft board! The tutorial suggests using Kreg Jog for building the whole thing. shanty 2 chic
13. Easy Turned Leg Coffee Table
This turned leg coffee table can brighten up the whole vibe around your living room! Another easy to assemble DIY coffee table plan by Ana White can brighten things up for you here! These colonial style legs are designed by folks at Osborne Wood. jenwoodhouse
All of these free coffee table plans are featured on Ana White, and all the plans included above are the most profitable small woodworking projects to build and sell and wonder of Ana White, herself and other homes owner! You must have spotted the pricey brands inspired designs as well, like Pottery Barn and Printmaker's coffee table. Most of these designs also offer ample storage and hence are quite functional to hold your magazines, books, or remotes in the living room or even in the library! Spruce up your decor game with these perfect coffee table plans.
If love to have rustic and farmhouse decor in your home, then we have some best DIY projects to save your money and give your home a rustic charm.