Building shelves can be a smart investment, especially when you prefer the plumbers or industrial pipe shelves. The idea is convincing for a couple of reasons. You get the fun storage, modern urban-farmhouse decor touch, and pleasure to fill up a blank wall stylishly. But you can save your lot of money using our given DIY shelves. So, rock your spaces with these DIY Pipe Shelves that will bring rustic industrial decor vibes to every ambiance of a room. Pipe shelves will also be a great option due to their quick assembling and disassembling features when you are renting a house and keep on changing the homes or apartments much often.
So, Are you in the group of people waiting for pipe shelves sincerely? Then browse this compilation of 30 DIY Pipe Shelves, providing so many different options according to storage hopes and room space. Due to enough visual charm and industrial grace and also due to unbeatable stability, the pipe shelves now have a prominent position in the interior design decor.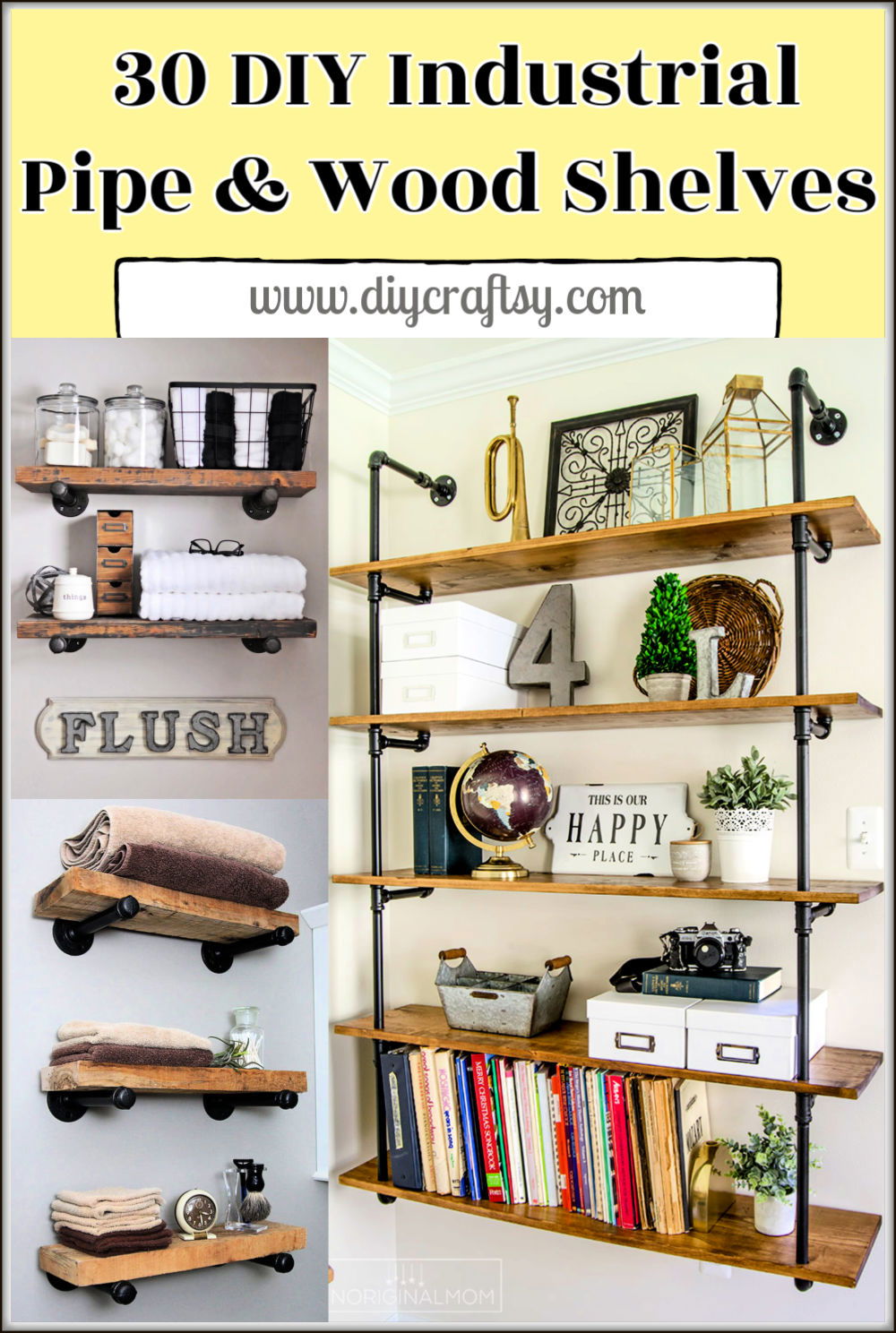 Today the pipe shelves lie among the most popular interior design subjects, and they become irresistible literally due to the amount of rustic charm they provide. They are also quite something easy to make and install and can be raised to any size. Checking out all the DIY industrial pipe shelving Projects will provide lots of more creative information.
1. Modern Homemade Pipe Shelves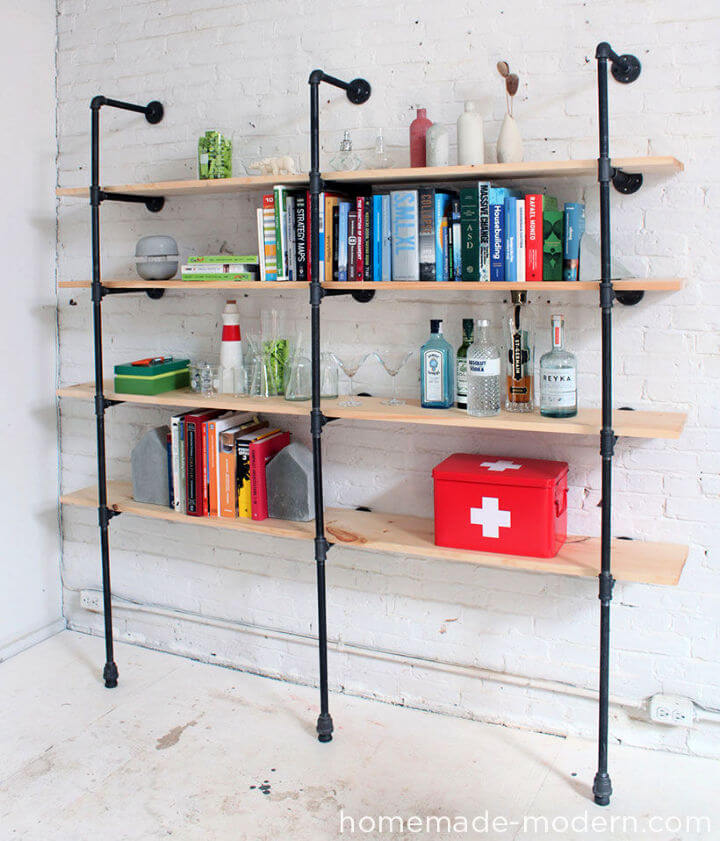 This shelving scheme will be equally beautiful for all offices, homes, and workspaces to organize and stock up your items of interest and need. Here these DIY black pipe shelves are super durable due to made of metal pipe frames and supports that hold flat the wooden shelving boards on them. Full guides here instructables
2. Galvanized Pipe Shelves
Bring a glam industrial touch to any home interior by building these galvanized industrial pipe shelves that are highly stable and lasting longer. Install the metal pipe supports to the wall and then make them hold the wooden shelves flat to store and organize your stuff. A cost-efficient way to save a lot of floor space. Complete guides here cherishedbliss
3. DIY Industrial Pipe Shelves
Maximize your home storage space by installing this very cool industrial pipe shelving. It will be a brilliant way to shift your items on the wall without using further inches of floor space. This big industrial shelving scheme is just ideal for storing books, utensils and other items of this kind. Full guides here thedesigntwins
4. DIY Copper Pipe Shelf
Improve the aesthetics of your home with these accent copper pipe shelves, will bring a hot metallic touch to any interior space. Put together the leftover copper pipes to build the wall mounted shelving frame and supports and next let them hold the wooden shelving boards flat in place. Complete how-to guides here heylilahey
5. Full Wall Industrial Pipe Shelving
The interior wall shelves are the ideal candidates when you need to get instantly organized in your home. Feel an amazing warmth that these industrial piping shelves will bring in a particular room interior. Here all you need the metal pipe scrap and the wooden shelving boards to build this durable shelving scheme. Full guides here onebroadsjourney
6. DIY Industrial Shelves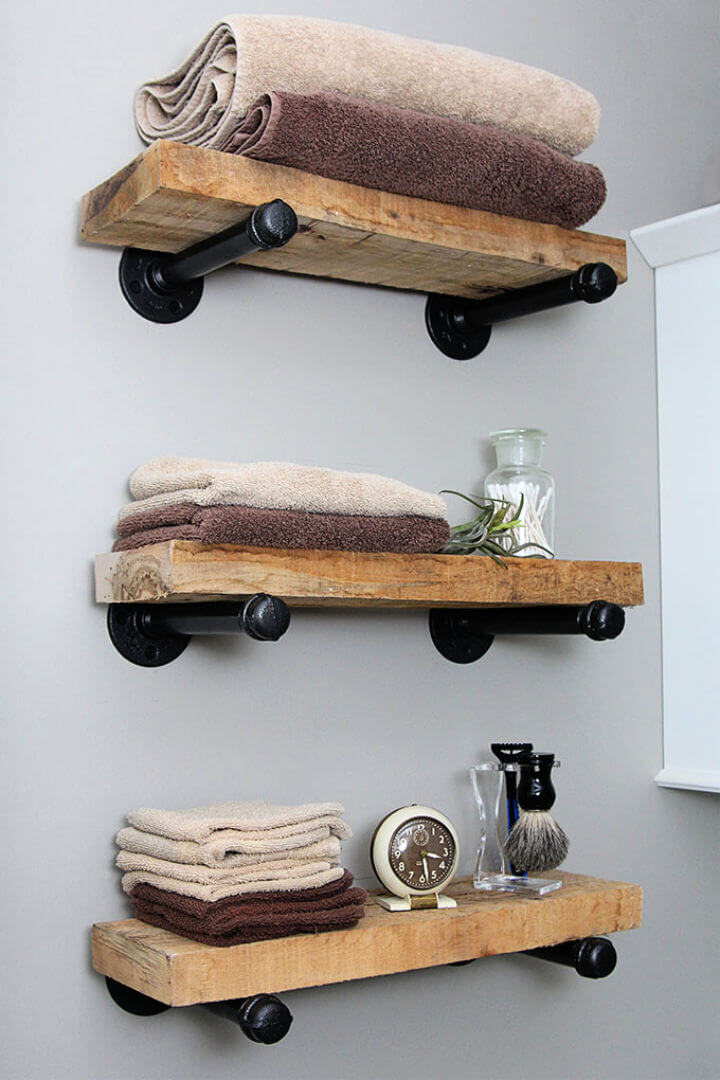 For bathroom renovations, opt for these industrial pipe shelves that are capable of holding the toiletries and towels with care. They have been supported there in place using durable metal pipe shelf brackets and will never get out of style. The rustic yet modern type of DIY floating shelves to make at home.
7. Industrial-Style Pipe Wall Shelves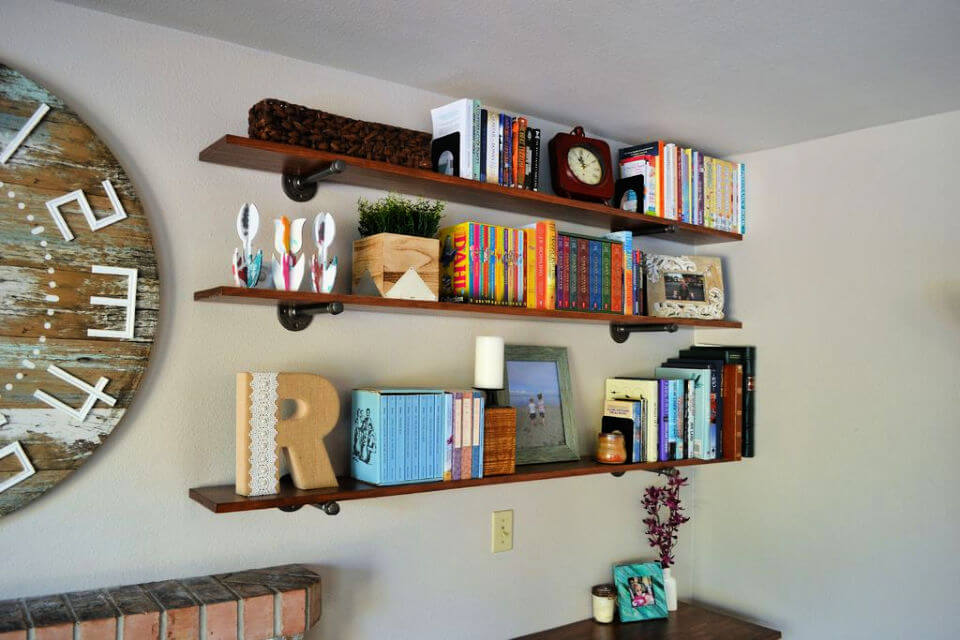 Are you a big fan of the dark, sleek tone of wood then you will fall for this industrial style pipe wall shelves installed to corner space. Here two metal pipe brackets will be enough to support each big shelving board on the wall. From adorable pipe bookshelf to accent display shelves, these shelves will be all in one. Complete tutorial here instructables
8. Fixer Upper Pipe Shelving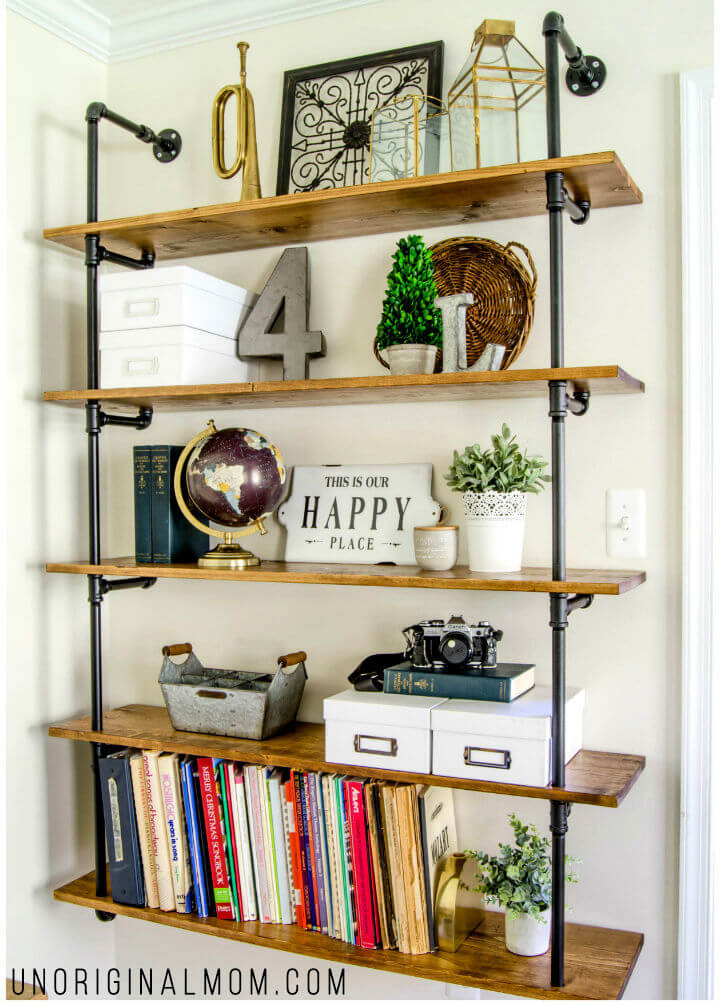 Get organized in your living room or bedroom by installing these fixer-upper pipe shelving. Use the floor flanges smart as ending feet to metal pipes, will help fix the metal pipe shelving easily supports on the wall. Next, drop the durable wooden shelving boards onto them. Complete how-to guides here unoriginalmom
9. Reclaimed Wood & Galvanized Pipe Shelves
Wood and metal combinations always go appreciated and these galvanized metal pipe shelves are also going to live a long functional life in your home. Again put together the galvanized metal pipes to install the supports, and overall framework for the wall shelves and next add the shelving boards. Rest them upon the metal pipe supports by making holes in them. Complete how-to guides here instructables
10. DIY Industrial Shelving and Built-in Desk
At a very first look, you will fall in love with the dual-functional behavior of this industrial pipe shelving, end up with a desk surface. The wall-mounted shelves and a desk are the main features of this DIY industrial shelving plan. Clone it with a beginner skill level. Full how-to industrial shelving guides here remodelaholic
11. Black Pipe Shelves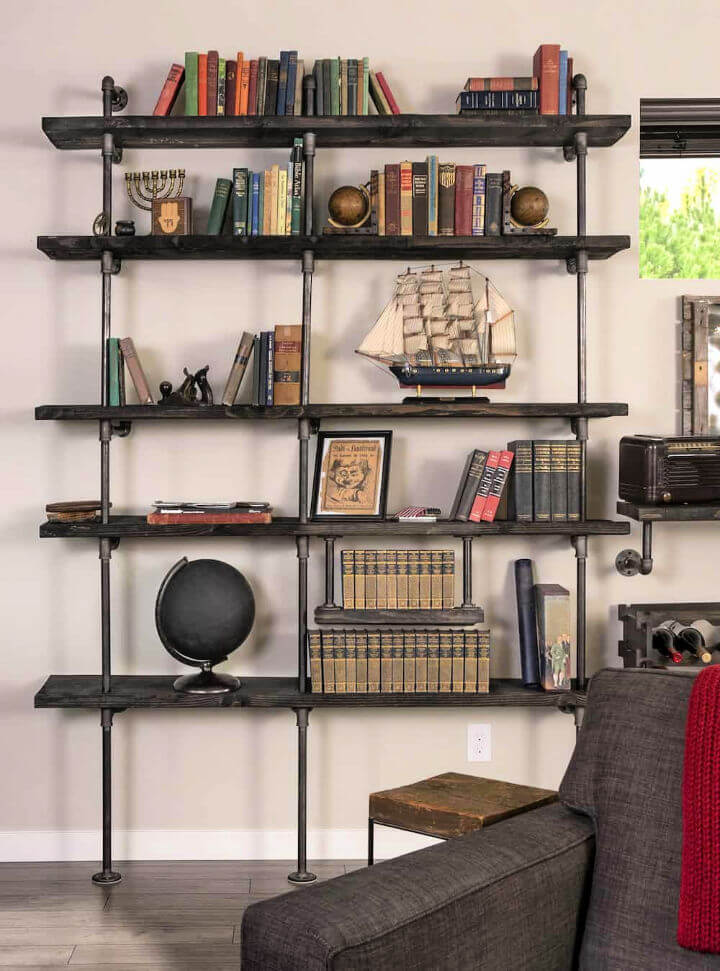 Here is the ideal scheme for wall shelves raised from the floor to higher on the wall. This metal pipe shelving has its feet on the floor and gets it fixed on the wall using floor flanges. Build the entire model at home by threading the wood shelving boards on the metal pipes. Complete how-to guides here diycandy
12. Industrial Shelving Units
You will give ten out of ten to these durable industrial wall shelves. They are quite durable and lasting longer, will also bring an outstanding style to the targeted space. The metal pipe frames have its floor flange feet rested upon the floor. A quick to build industrial shelving will nicely display your wedding gifts. Complete tutorial here twelveonmain
13. DIY Floating Shelves With Pipe
Maybe you are tangled in storing the things nicely. They must choose to make these floating shelves are much doable using metal pipes and wood shelving boards. Grab a length of metal pipe, finish one end with a cap and other with a floor flange, and fix it on the wall as a shelving board. Next, put flat your shelves on them. How-to guides here shanty-2-chic
14. DIY Pipe Bookshelf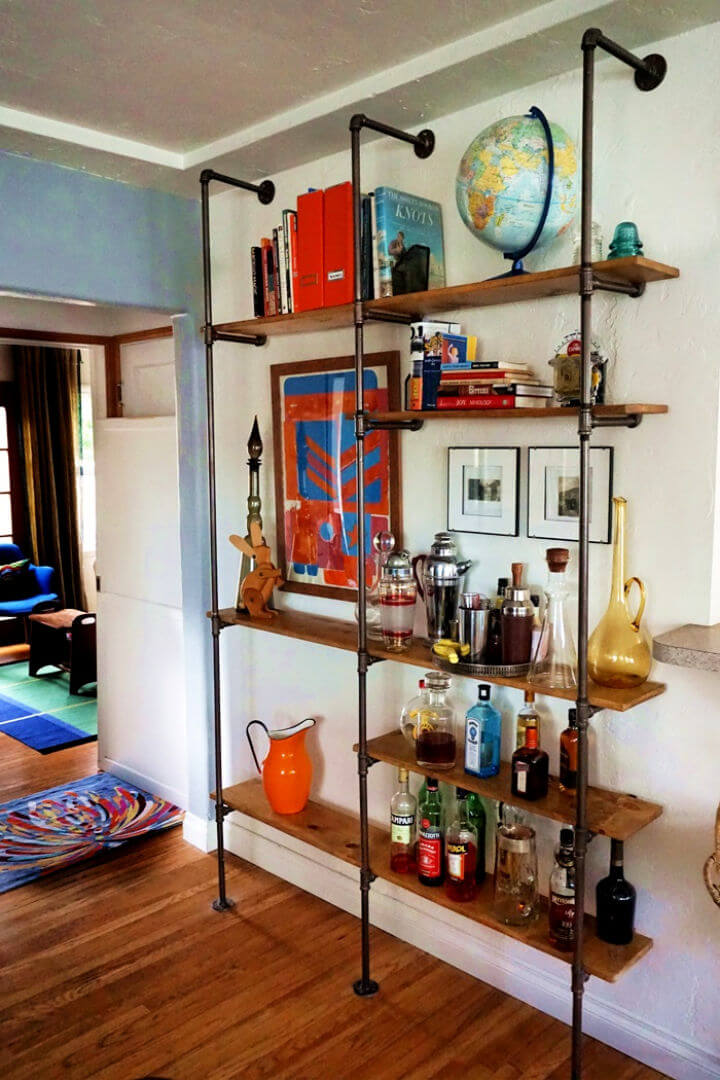 A best industrial solution to organize all your paraphernalia with great ease. A brilliant big DIY pipe shelf with wooden shelving levels. The big metal pipe frame provides evenly flat supports to hold the shelving boards nicely in place. A low-cost but durable shelving hack to solve the home storage issue like a pro. Details here lovelyimperfection
15. Industrial Pipe and Wood Shelves
Are you hesitating from installing the industrial pipe shelves in a home like a pro? Then you must follow the hacks and tips provided in this how-to make industrial pipe shelf tutorial, will tell you how to install the pipe shelves on a large scale. Full how-to guides here wellnessmama
16. Simple Pipe Shelves
Nothing can display your decors and centerpieces more beautifully but these accent metal pipe shelves. Rest the well finished and dark stained wooden boards on the metal pipe wall hooks. This will make you get with outstanding industrial shelves, will be loved dearly by all. How-to details here designertrapped
17. Concrete and Pipe Shelves
This is totally a new concept for affordable, stylish, and durable home wall shelving. A genius combo of concrete and metal pipes resulting in this precious shelving design will be an ideal platform to display your wedding gifts, book stacks, and other items of interest. The zig-zag design will be a big center of attention. How-to tutorial here homedepot
18. Industrial Floating Shelves
A dining room may be one of the places that you can decorate to impress your guests. So, do install these pipe shelves in your dining room to create a stunning display of dining utensils. With the help of floor flanges, you can easily fix the metal pipe lengths to the wall to serve as durable shelving hooks. Next, add shelves on them. Detailed guides here overthebigmoon
19. Industrial Pipe and Wood Bookshelves
People love to look at odd things or made in unique ways. So, put a lot of visual interest in any boring interior wall using this industrial pipe, and wood bookshelves look flipped. Here metal pipes hooks come at the top of shelves but durably hold metal pipes in places. Complete tutorial here craftthyme
20. Pipe Shelves In 11 Easy Steps
Building industrial shelves out of metal pipes and wooden shelving boards is the easiest DIY project ever. Follow these eleven easy steps to gain a brilliant display shelf, will be an ideal choice to display and organize your things, gifts, and items of decors. Full how-to guides here backtothesouth
21. Industrial Style Wall Shelving
Boost the functional behavior of your bathroom by adding these lasting longer shelves, will carefully hold your bathroom concerns. The simple shelving concept again that involves using metal pipes as hooks and wooden planks as shelves on them. The shelves that you can whip up in a couple of minutes. How-to guides here hip2behome
22. Black Iron Pipe Shelves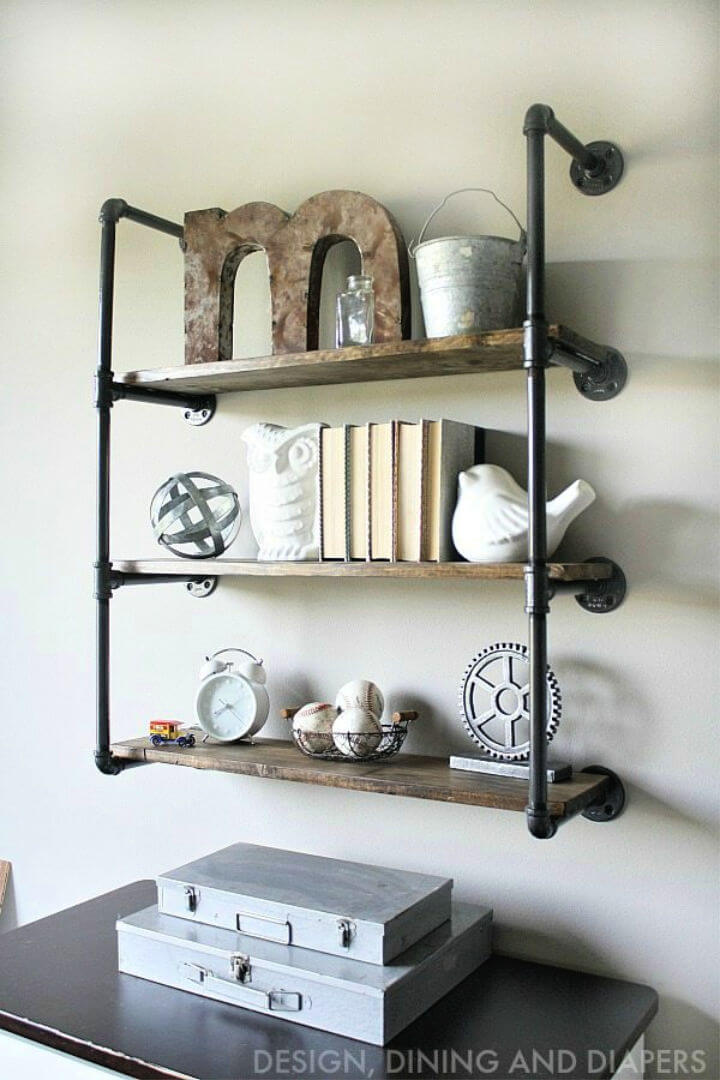 The wall-mounted pipe bookshelf and display shelves become crucial when need to get a room ambiance visually impressive and well organized. The affordable plan for this will be these industrial pipe shelves. Use the metal elbows joints, floor flanges, and T-joints to install the shelving frame as you can see. Further details here tarynwhiteaker
23. Farmhouse Pipe Shelves
A little touch of rusticity in your modern elegance interior can do very well to the entire ambiance of your interiors. Go for appreciated combinations of wood and metal pipe shelves, will bring an instant beautiful industrial and rustic touch to modern interior elegance. They will add a lot of storage and display space too. Details here warmcozyhome
24. Laundry Room Shelves with Industrial Pipe
Have you messed up in the laundry storage issues? Solve them smartly with these laundry room shelves with the industrial pipe, will be there in your laundry inexpensively. Repurpose the wooden slats that you can think are good for making shelves and put them flat on the metal pipe brackets, already fixed on the wall. How-to details here makingmanzanita
25. Build a DIY Pipe Shelf
This industrial shelving tower will be the impressive beauty station in your entire dwelling. Elegant metal pipe frames, having supports passing straight through the corner holes in the wood shelving board, is something impressive to look at. The T-joints with an extended metal pipe length to wall hold well the shelves in place. Full how-to guides here houseofhipsters
26. DIY Farmhouse Pipe Shelves
At a very first look, you will fall in love with these farmhouse pipe shelves, will blend in beautifully to modern aesthetics of interior space. Again you need durable wooden shelving boards and reclaimed plumbing pipe scrap to duplicate these DIY shelves. Complete tutorial here boxwoodbliss
27. DIY Industrial Pipe Open Shelving
Give your interiors a strong reason to be more visually attractive by incorporating the rustic wooden elegance and solid industrial touch. Both will come from these industrial pipe open shelves, will be there to hold your accents and all decor items you are willing to display prominently. Full how-to guides here createdbyv
28. Simple, Cute DIY Pipe Shelves
You will love the rusticity of these shelving dominating in the entire room interior. The most affordable type of industrial shelves to add on any indoor wall. They will rock in the kitchen. Four equal lengths of metal pipes with four ending caps, four-floor flanges, will be enough to build the industrial supports for shelves. How-to guides here anexerciseinfrugality
29. How to Build An Industrial Pipe Shelf
The metal pipe shelves are mostly to build in the same manner, but you can vary the tone of wood shelving boards to give amazing variations to them. Dark stained planks will really for a rustic or farmhouse style appeal of the shelves. The industrial pipe shelves to build for your kitchen. How-to guides here brittanystager
30. Pipe Bookshelf
Install the two metal pipe shelves on the wall, should be having space between them equal to your book lengths. This type of shelves will allow you to organize the book stacks in an epic vertical manner. Display your decors and accent over the top shelf. Complete how-to guides here 1905farmhouse
Wall Mount Pipe Bookshelf
What an amazing wall mounted pipe bookshelf scheme has been achieved here using metal pipes, floor flanges, elbows, and T-joints smartly. The way the floor flanges hold the shelves over their top is just amazing. The best DIY industrial pipe shelving to build uniquely.
You may also like these DIY farmhouse decor ideas:
DIY Your Dresser with these Free Plans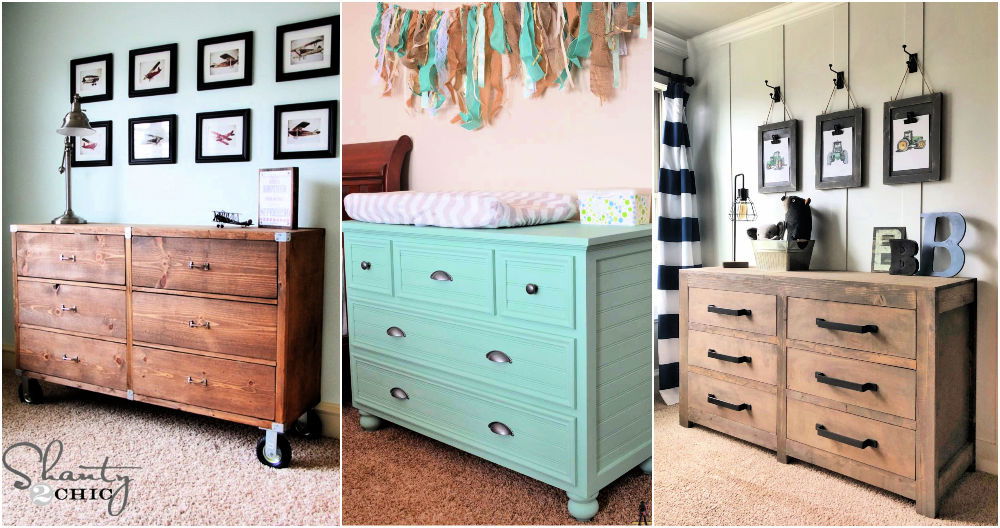 Bring a whole new layer of rustic charm to your room with these free DIY dresser plans, functional beyond your imaginations, guaranteed to add a character. Have you been in the dresser dilemma? Have a peek at the ideas to make a quick smart choice, will help create a unique and custom fitting layout of dresser design with the desired amount of rusticity and features.
DIY Bathroom Vanity Plans for Free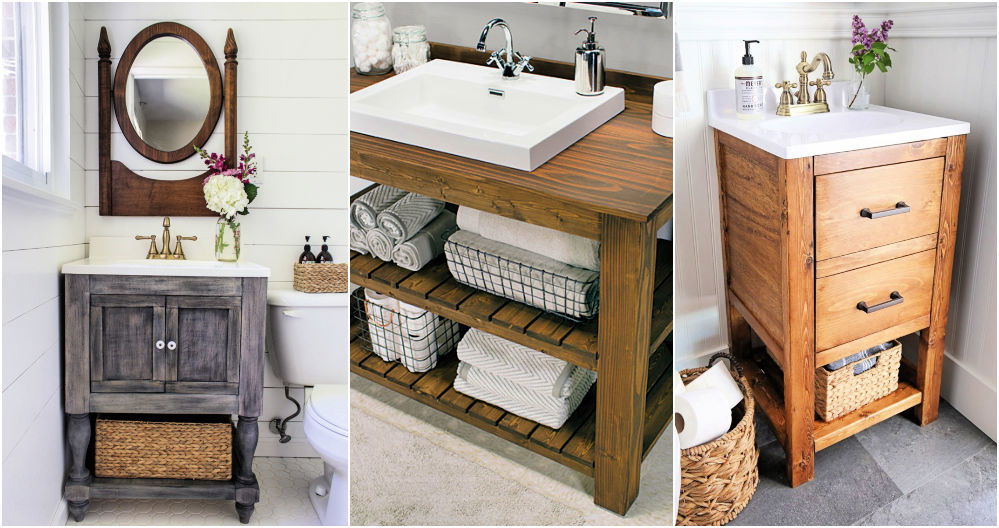 Upgrade your bathroom to look and perform better with these free DIY Bathroom Vanity Plans, will be a smart choice too if you are looking forward to adding a new layer of rustic charm to your bathroom. The best bathroom vanity designs for quick farmhouse-style bathroom remodel. Enjoy building a custom one from the list, suiting your needs best, in a budget-friendly way.
DIY Live Edge Wood Slabs Projects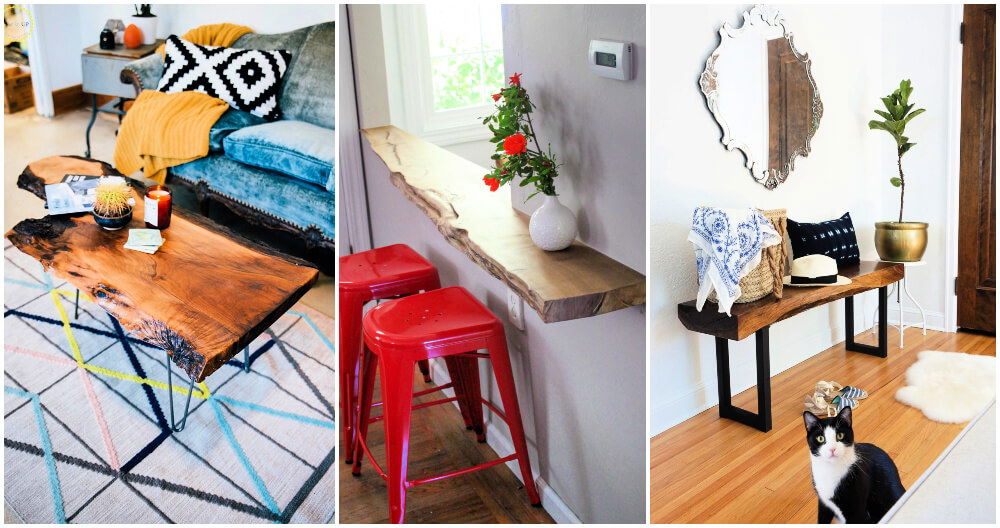 Incorporate new style to your DIY pipe shelves by building shelves with Live Edge Wood Slabs featuring wood grains, knots, wormholes, bark, and at least one natural edge of the wood. Going live edge will rock to prettify any room elegance with a little hot mix of wood rusticity. Get your home featured with the arthritic wood beauty with these DIY Live Edge Wood Projects.