If you're looking for a way to add some extra storage space to your home, consider making your own DIY Built in shelves. With some basic tools and supplies, you can easily build custom built in shelves that are both functional and stylish. Learn how to build Built in shelves with these 10 easy to make DIY built in shelves and cabinets, including free plans and instructions.
Boost the aesthetics of any particular room interior and add tons of storage with these DIY Built in shelving ideas that will ease your construction work by sharing all the secrets and pro tips. It may be daunting for many of us to construct Built in shelves, but going with these hacks will make it easy for you to build a Built in shelf from scratch. Maybe you are confused about the styles and design options.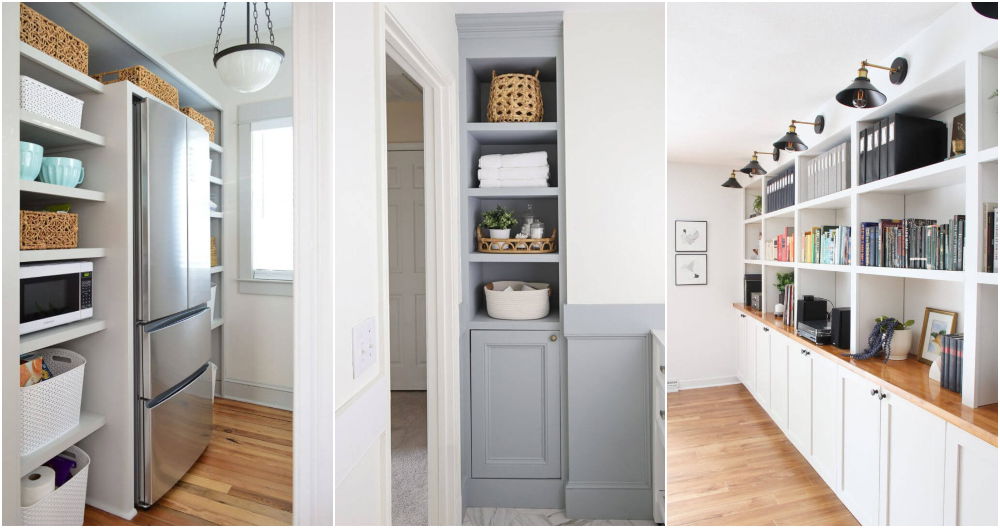 Choose the style that best fits your need from these 10 easy DIY Built-in shelving projects shared to inspire and for smart decluttering of a room. The list shares all the hacks from constructing Built-in pantry shelves to stunning Built-in bookshelves. There are several different wood options too to choose from. The pine boards, lumber, MDF, and beadboards will be ideal wood supplies to build most of these Built in shelving units.
Installing Built-in shelves is recommended when you bring character, visual interest, and smart storage to a room's interior. In addition, this list of DIY Built in shelves inspires you more by sharing the IKEA hacks for building modern Built in shelves at a minimal cost. You will love taking the tour of all the ideas as they are so creative and inspiring.
1. Built in Bookshelves from Ikea Billy Bookcases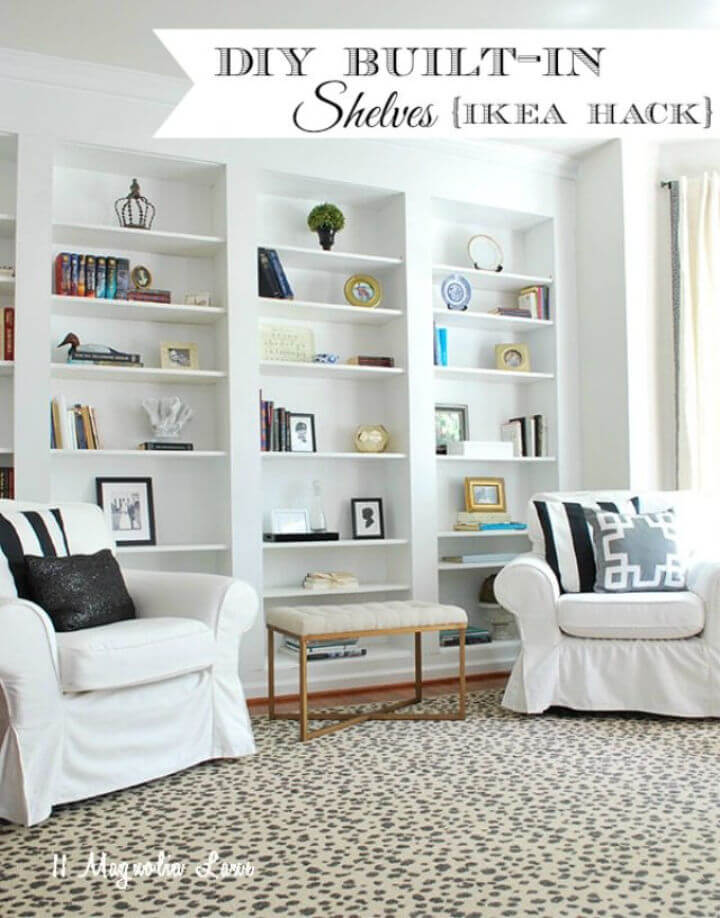 Put your personality on display by adding these Built in shelves to any particular room interior. Grab the 4 IKEA Billy bookcases to get these Built-in wall shelves made quickly. Align together the IKEA shelving unit vertically, and finish by caulking the gaps. Tutorial here 11magnolialane
2. Make Built in Pantry Shelves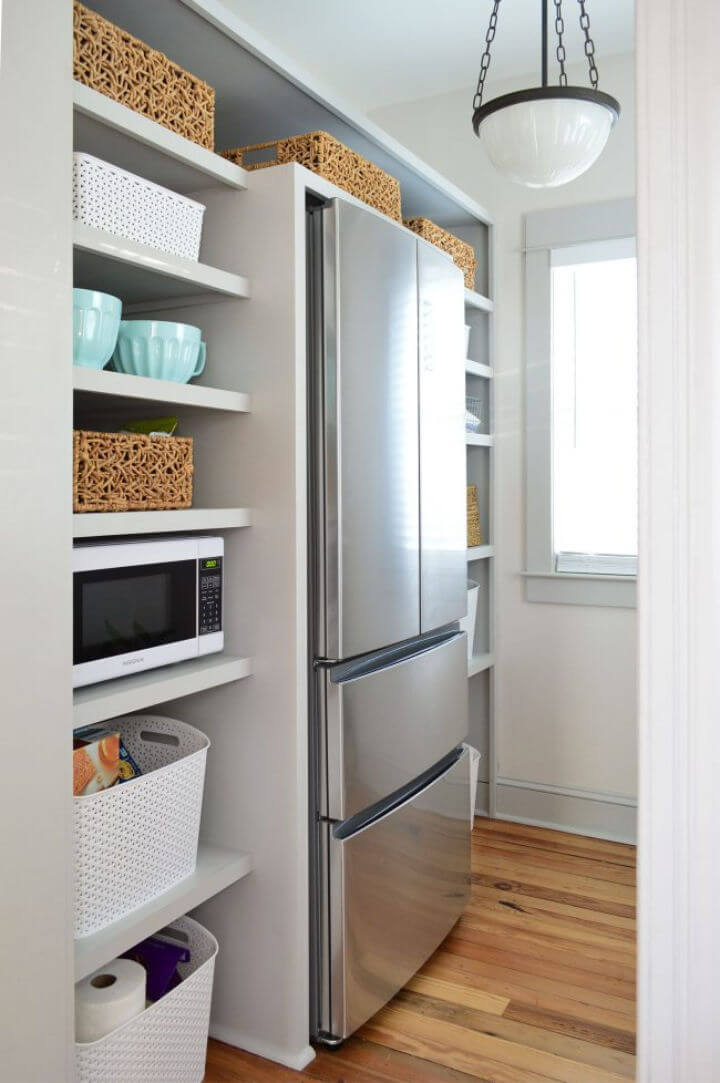 Fancy up your pantry shelves using the 4′ x 8′ sheets of 3/4″ MDF, will surround the fridge for a bold decorative statement. The best design of shelves to organize your pantry, you need 1 x 2″ pine boards too to build these pantry shelves like a pro. The total project will cost you less than $200. Details here younghouselove
3. Build Your Own Built in Shelving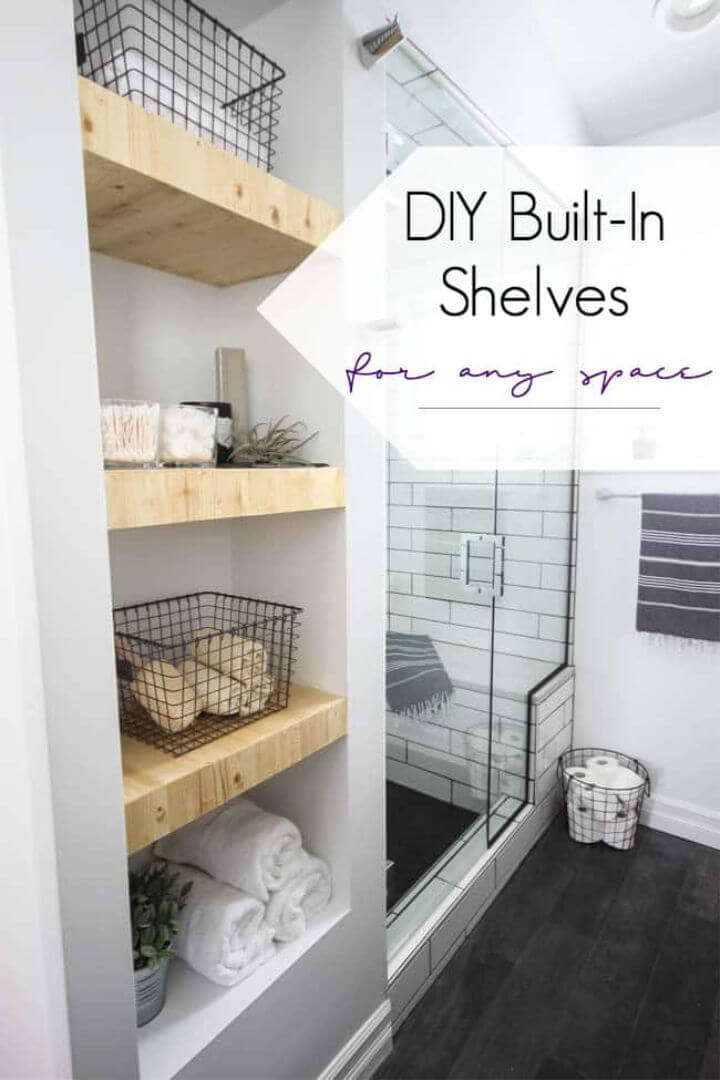 Add amazing storage to any particular room interior by installing these Built-in shelves, which will float nicely, adding a great style to a targeted room interior. You need 3/4″ thick plywood, 2x4s wood slats, polyacrylic, pine shelf board, and wood stain of choice to build these shelves. lovecreateceleb
4. DIY Built in Bathroom Shelves and Cabinet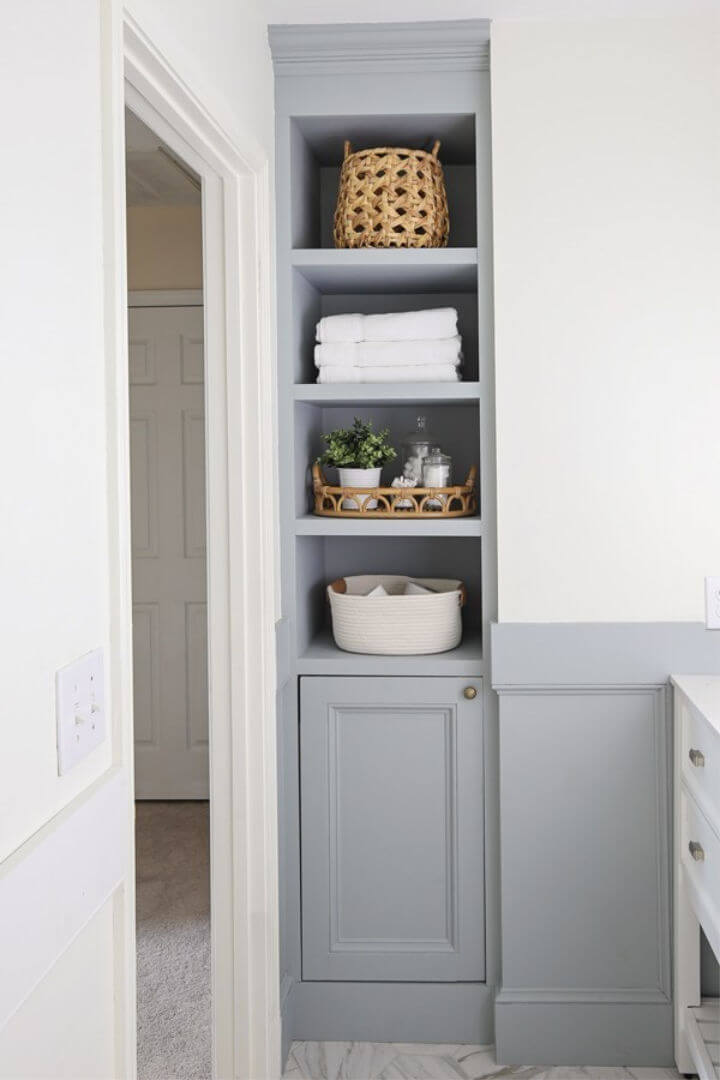 Bring tons of storage and elegance to your bathroom by adding these Built in bathroom shelves, will work up super quickly. A big column of short vertical shelves ends up with a cool storage cabinet. You need plywood, pine boards of different sizes like 1×6, 1×2, 1×3 and 1×8, etc. and other hardware to make these bathroom shelves and cabinet. angelamariemade
5. Built in Shelving for Bathroom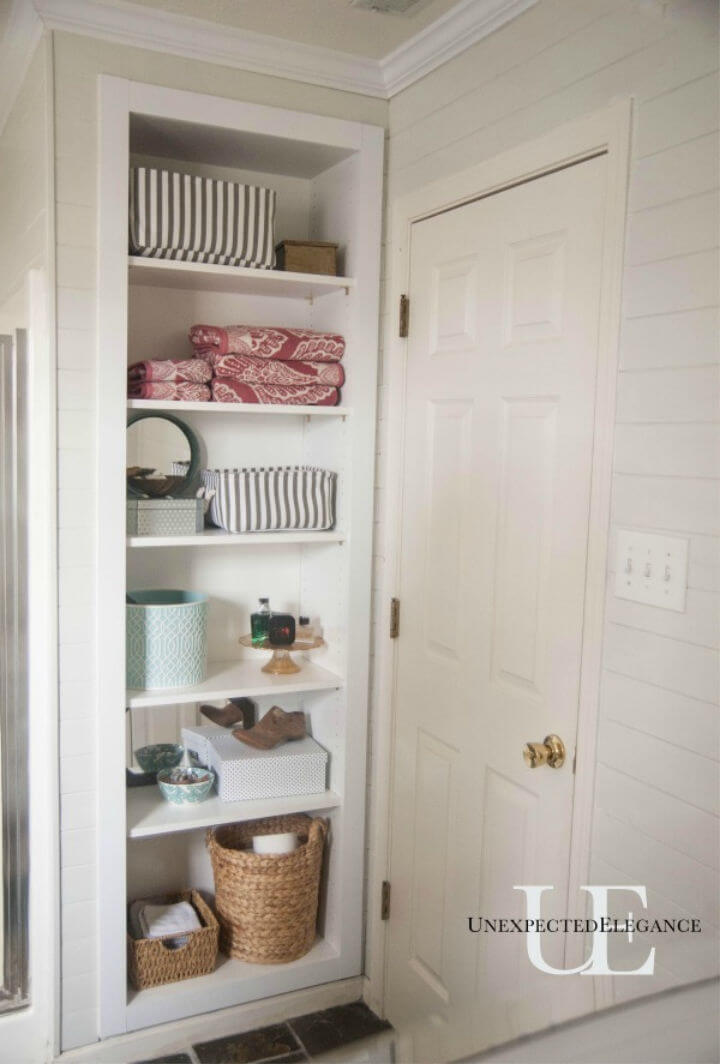 Create a distinguished look of your bathroom by adding these Built in shelves. You need predrilled melamine, 2x4s wood slats for building the frame of shelves. The best way to add storage to your master bathroom by building these Built in shelves. The most straightforward wooden project that needs precision. unexpectedele
6. DIY Built in Bookshelves + Window Seat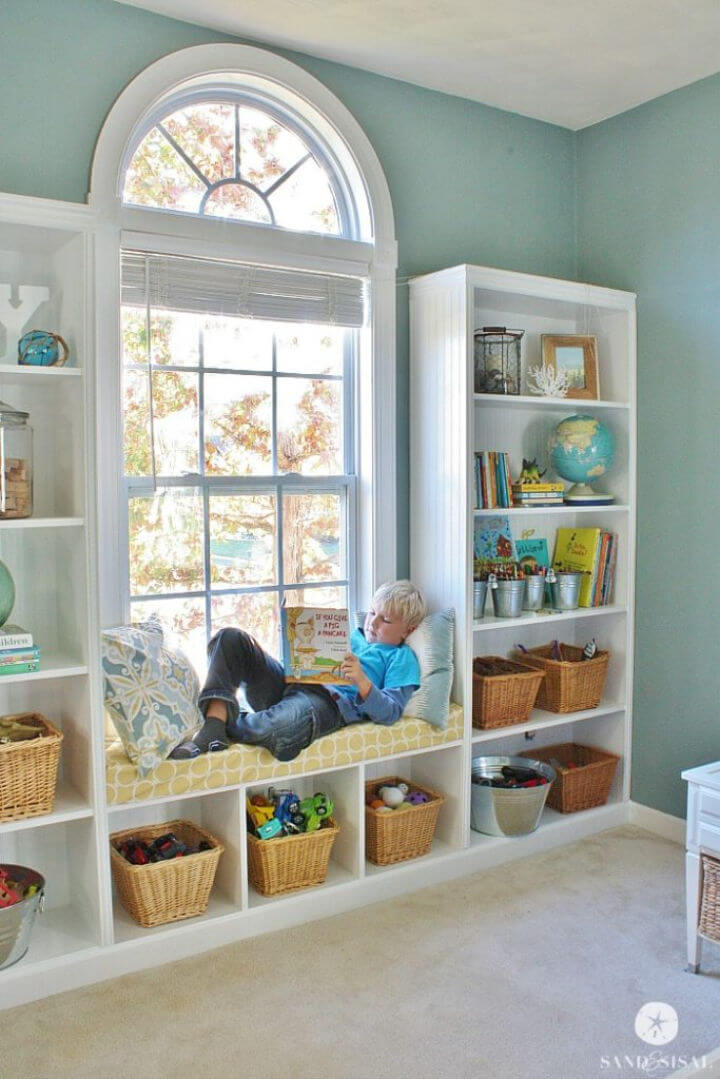 The sides around the windows are just amazing to think about building cool Built in shelves. Opt for these Built in bookshelves, will transform your window-side into the best reading nook. Cushion up the mid sections to enjoy book reading by lying down comfortably. Supply list and cutting directions here sandandsisal
7. Easy DIY Built in Shelving
Jazz up a room or a home partition by installing these Built-in shelves will make a big difference in the overall beauty of the room. Grab MDF boards, MDF sheets, lumber, constructions adhesive, beadboard, and MDF trim to build this giant shelving system. The ultimate smart storage to get for a room. Detailed guides here lemonthistle
8. How to Make Built Ins Shelves
Declutter any part or room of your home by building these Built in shelves. They are highly easy to build even for a beginner. The project cost is from $1000-$2000, and you will have the open wall shelving ending up with the miniature cabinets. Paint or stain in the way you like or according to the room theme. paultrandiy
9. DIY Built in Bookshelves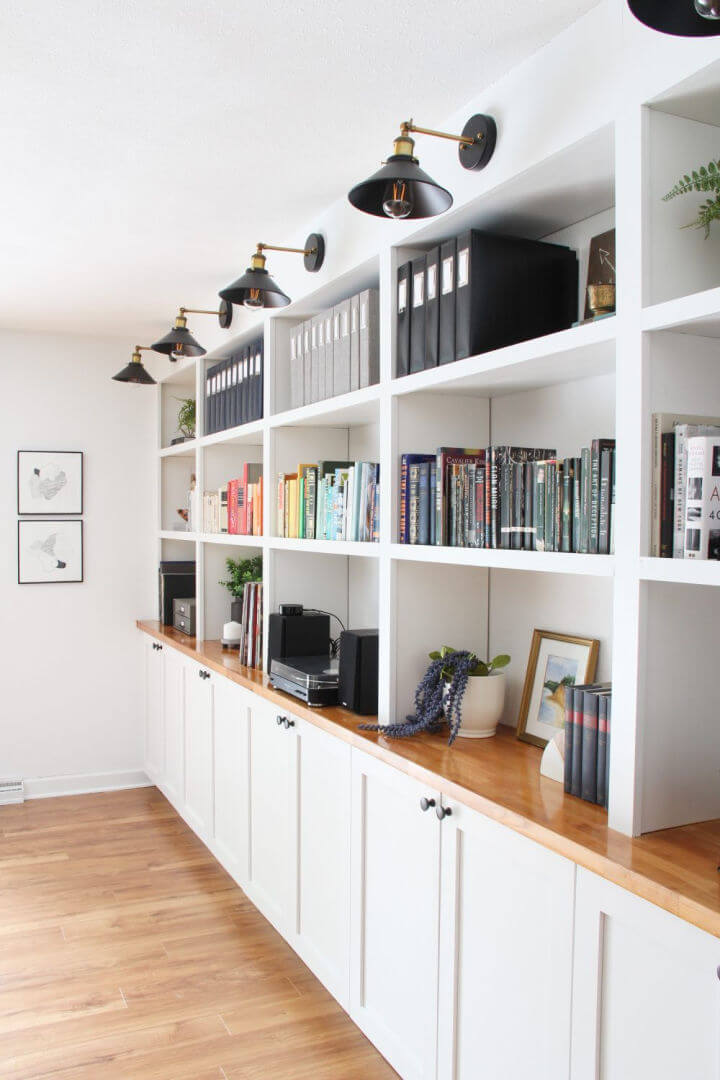 Grab the free custom built-in shelves plans to build like a pro. Get all the pro tips to construct frames and shelves for an integrated shelving scheme. The choices are all yours, make these bookshelves with or without the base cabinets. It depends on your room storage needs too. Going this way gives the user a lovely wooden countertop too. melissalynch
10. How to Build Built-in Shelves for She Storage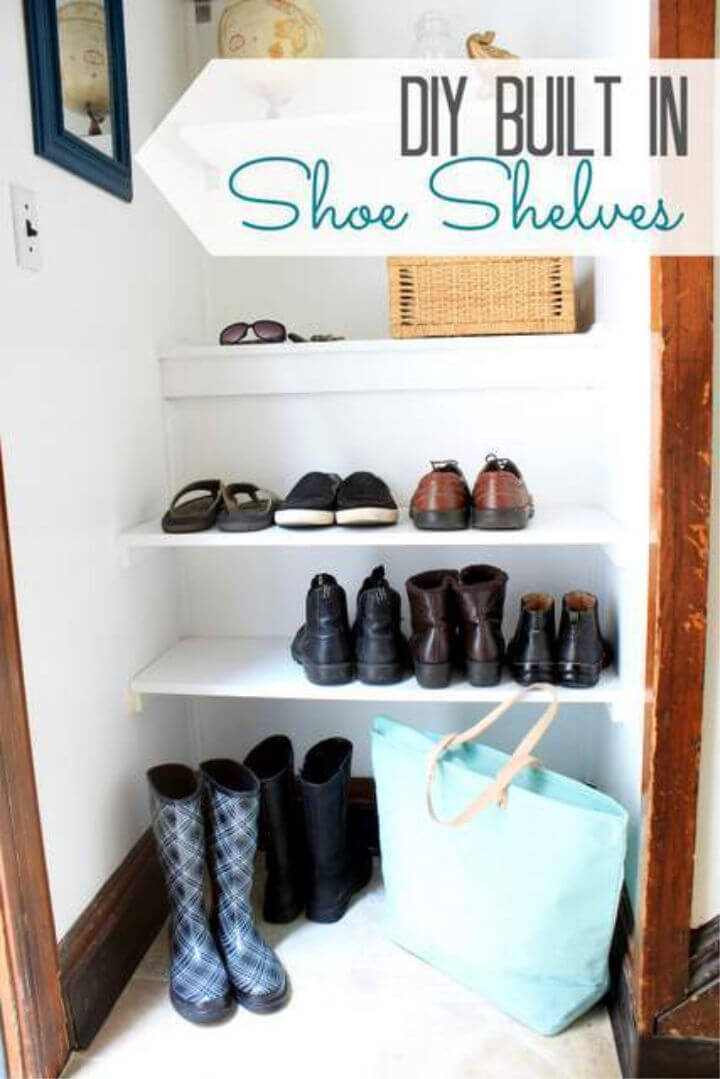 Solve your shoe storage issues using 12″ deep MDF or pine boards that you need to build these Built-in shoe shelves. Finally, you need 1″ x 2″ wood supports to add extra durability to the shelf frame. Give a primer base coat, and then finish the shelves with paint of choice. Tutorial here prettyhandygirl
Related DIY Projects:
DIY Shelves
Find these simple DIY Shelves made from upcycled materials that are a great way to add extra storage to your home without spending much money. You can use materials like old crates, boards, or metal pipes to create simple and stylish shelves that fit your needs.
IKEA KALLAX Hacks and Ideas
Transform your IKEA KALLAX into the perfect storage solution for your home with these IKEA Kallax hacks and ideas. From adding doors to creating a built-in look, these tips will help you get the most out of your KALLAX.
DIY Triangle Shelf Ideas
Triangle shelves are a hot new trend in home decorating. Whether you're looking to add a little something extra to your room or want to create a functional storage solution, these DIY triangle shelves are the perfect option! They're simple, and elegant and can be used to display all sorts of things.
Pallet Shelves
Looking for a cheap and easy way to add additional storage to your home? Check out these DIY pallet shelves made from reclaimed wood, these shelves are a great way to add some rustic charm to your decor.
DIY Pipe Shelves
Looking for a quick, easy, and affordable way to add shelves to your home? Look no further than these DIY pipe shelves made with industrial pipe and wood!
Functional DIY Laundry Room Shelves
Laundry rooms can be messy, but with some functional DIY laundry room shelves, you can get your space organized in no time! These shelves are easy to make and can be customized to fit your specific needs.
Wall Storage Ideas
If you're short on space, don't worry! These wall storage ideas for small spaces will help you make the most of your available room. From using hooks to hang pots and pans to creating a DIY bulletin board, there's sure to be an idea here that will work for you.
Conclusion:
If you're looking to add some extra storage space in your home, consider building some DIY built in shelves. They can be added almost anywhere, and they are a great way to make use of unused wall space. We've put together a list of 10 easy ways that will show you how to build your own custom built in shelves.