A DIY rope shelf adds a touch of rustic charm to your home decor! Learn how to make hanging shelf with these 25 easy DIY hanging shelves with rope that are prefect for making unique, stylish, and functional display spaces. With step-by-step instructions, these DIY hanging shelf ideas cater to various skill levels and preferences, ensuring everyone can find a design they love. Making your own DIY rope hanging shelf allows you to customize it with a variety of materials, colors, and finishes to suit your personal style.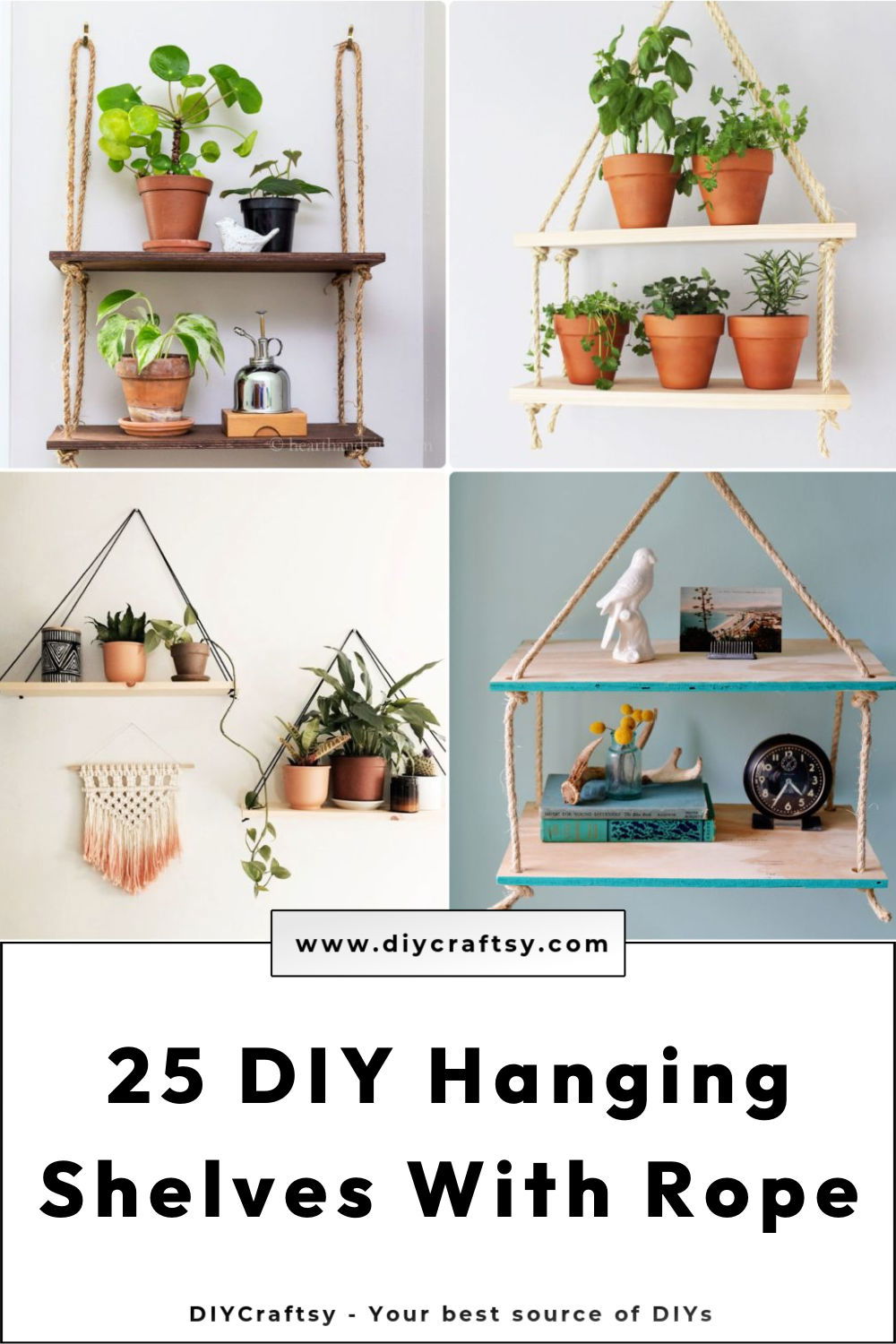 These DIY hanging shelves offer creative and budget-friendly ways to showcase your favorite items, from books and plants to decorative accessories and artwork. From modern wooden designs to boho-inspired macrame creations, there's a DIY rope shelf project for every taste and room in your home. So gather your materials and start crafting your own unique DIY hanging shelves with rope. Happy DIY-ing and enjoy the satisfaction of making beautiful and functional pieces for your living space!
1. Modern DIY Wooden Hanging Rope Shelf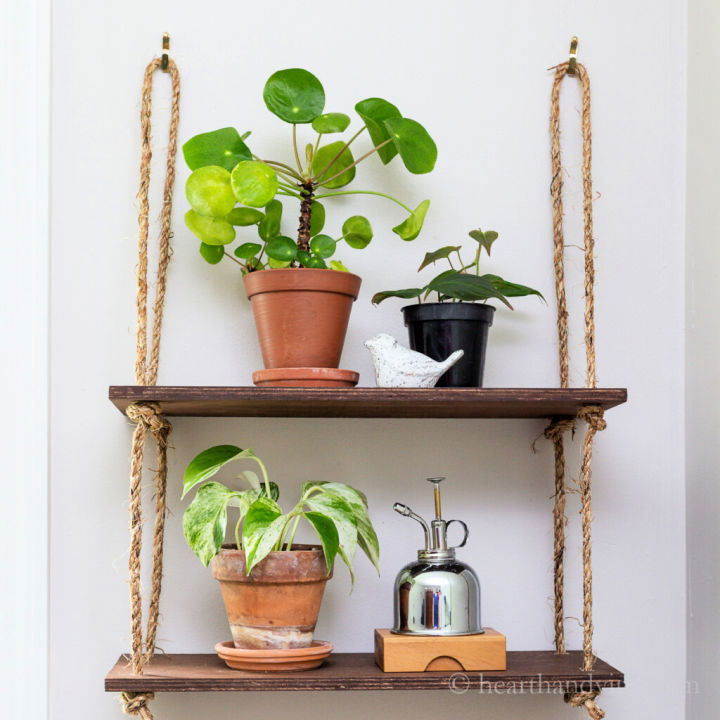 This engaging DIY project brings natural aesthetics to any room by crafting a hanging wood rope shelf. The simplicity of using earthy materials like wood and rope delivers an updated, stylish feel, ideal for home decor enthusiasts. With scrap wood, Old Masters Gel Stain in walnut, a 3/8 inch drill bit, and a 3/8 inch thick rope, you can easily assemble this floating shelf within an hour.
It's an excellent opportunity to upcycle materials and introduce a handmade elegance to your space. The finished shelf is perfect for displaying cherished items, providing a conversation starter for visitors while adding character to your interior.
Moreover, this project is a cost-effective alternative to purchasing similar pieces online. Add a rustic, natural element to your home with this easy-to-make hanging wood rope shelf! hearthandvine
2. Homemade Hanging Shelves With Rope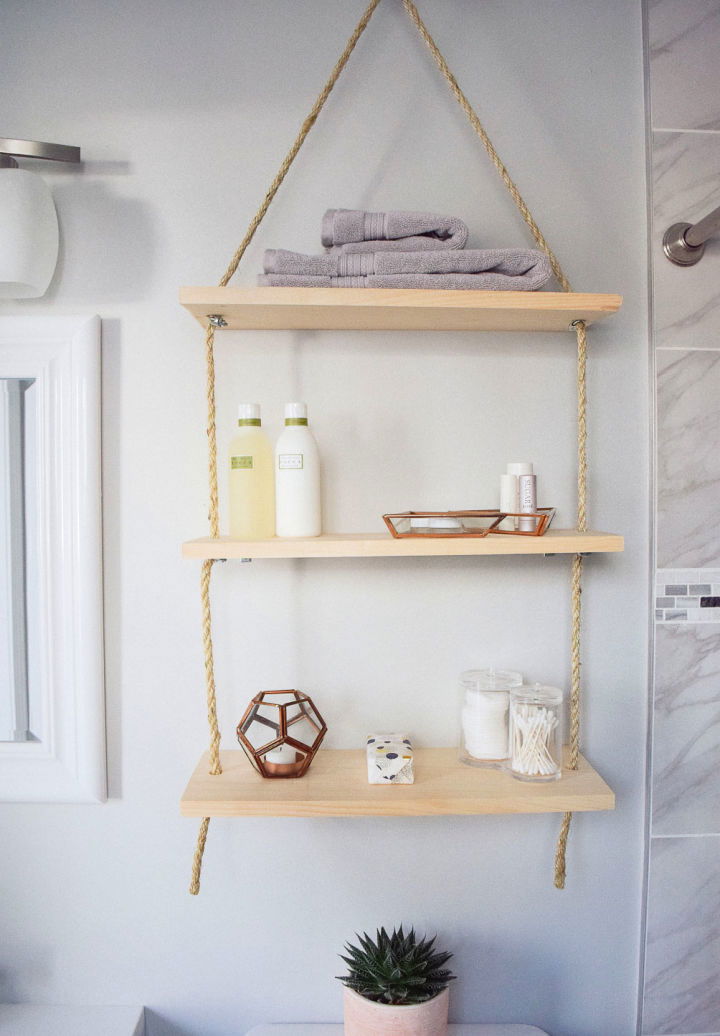 Elevate your home aesthetics with a functional yet stylish DIY project – hanging shelves. These shelves, perfect for the master bathroom, provide additional storage while maintaining your space's chic feel. To make these, you'll need a few supplies like wooden planks, thick raffia rope, cable locks, and a ceiling hook, alongside basic tools like a drill, measuring tape, pliers, pencils, and scissors.
Starting with marking the center spot on each wooden plank, you'll drill holes, thread the rope, and secure the planks using cable locks. Once set, your hanging shelves are ready; cut off excess rope, install a ceiling hook, and voila.
This project blends decor with function and offers a unique way to organize and personalize your living space. Get your hands busy, use your creativity, and spruce up your bathroom with this brilliant do-it-yourself endeavor. onebrassfox
3. DIY Hanging Rope Shelves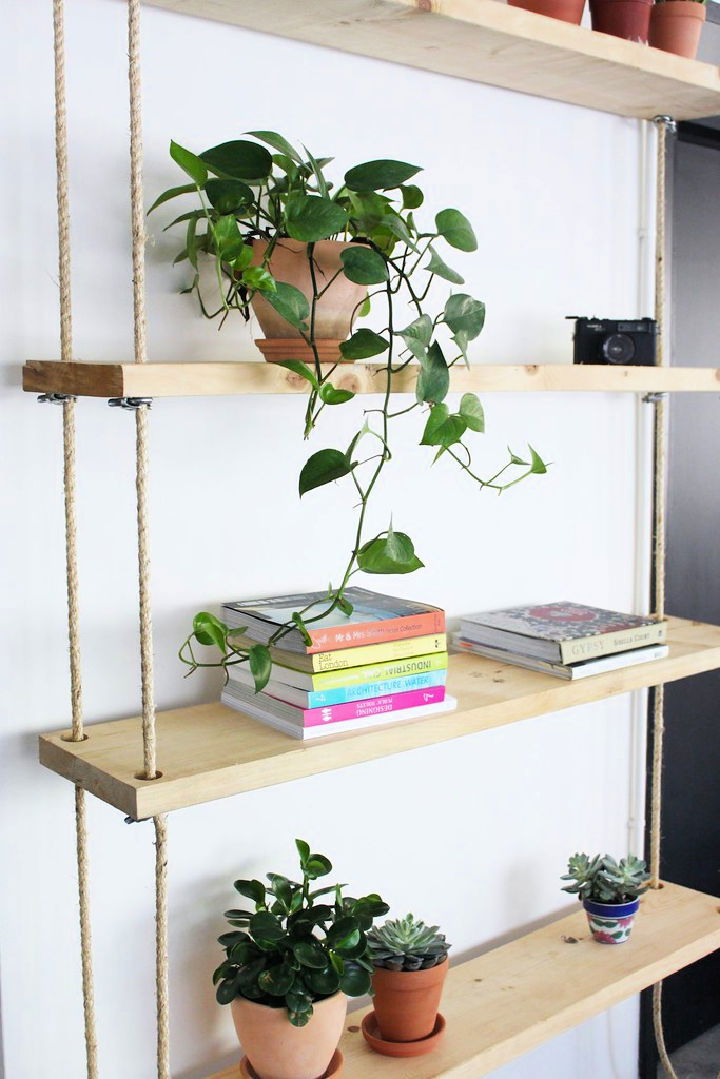 Immerse yourself in a hands-on DIY project combining utility and aesthetic appeal: building a hanging shelf using thick wooden planks and raffia rope. Requiring minimal tools and materials, including planks, a drill, cable locks, and hooks, you can transform any space into a functional and stylish area.
Follow this step-by-step guide to drill holes in your wooden planks, hang ropes from ceiling hooks, and meticulously align and secure your planks using cable locks. With some patience and a keen eye for detail, you'll soon have a unique, suspended-shelf unit.
It's an engaging and satisfying task, making it perfect for all DIY enthusiasts. This rustic hanging shelf is not just functional for storage; it also adds a chic, minimalist touch to your studio or workspace. So, why wait? Turn those nails and wood into something spectacular and useful today! collectivegen
4. DIY Triangle Hanging Shelves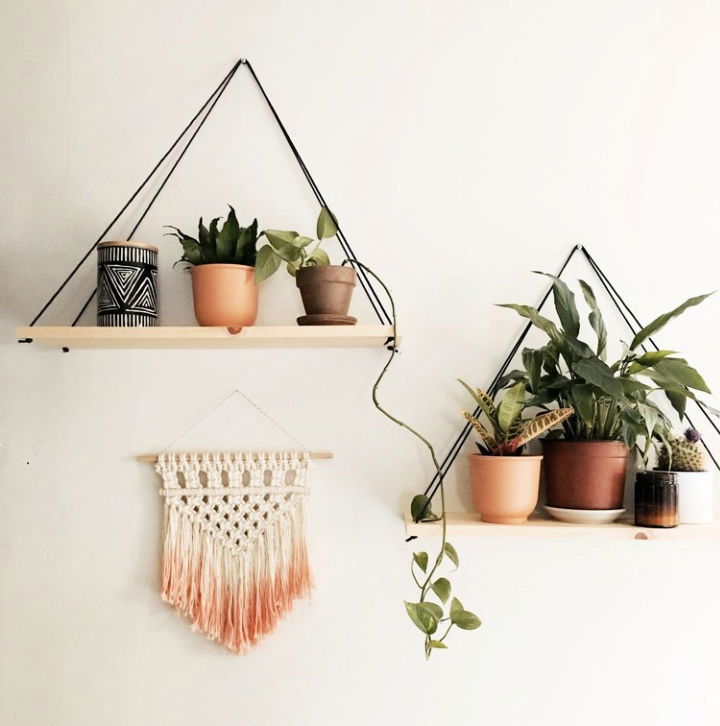 Maximize your vertical space and add personality to your home with these DIY hanging shelf ideas and designs. Elevate your indoor plant display with this space-saving DIY hanging shelf! Requiring only a 1×8 common board, cord, rope, and basic tools, you can assemble these hanging shelves within 10 to 15 minutes. Cut the board to your preferred length, drill holes to thread the ropes through, secure knots at the ends, and attach them to your wall.
These quick and easy shelves inventively showcase your beloved plants and bring a refreshing touch to any room. Go ahead, and make your bedroom a little greener and more stylish today with our efficient hanging shelf project. lizmorrowstudios
5. Easy Macrame Hanging Shelf Tutorial
Discover the artistry behind making a boho-style DIY macrame hanging shelf. Ideal for displaying a small collection of plants or books, it's a distinctive accessory that uplifts any room with a modern, bohemian vibe.
You can construct a stunning decor piece with simple items like a wooden dowel, cotton rope, wood spacer beads, a wooden shelf, and some scissors & masking tape. The creation process involves:
Meticulous knotting.
Crafting Half Square Spiral Chains.
Tying lark's head knots and making beautiful geometrical shapes with square knots.
All the while incorporating spacer beads for added charm. The final touch includes staining the wooden shelf for a refined look. This chic accessory is a functional decor piece but doubles as a charming conversation starter, sure to gather compliments. So why wait? Embrace the bohemian in you and make a cozy retreat with this lovely macrame hanging shelf! myfrenchtwist
6. How to Make a Hanging Rope Shelf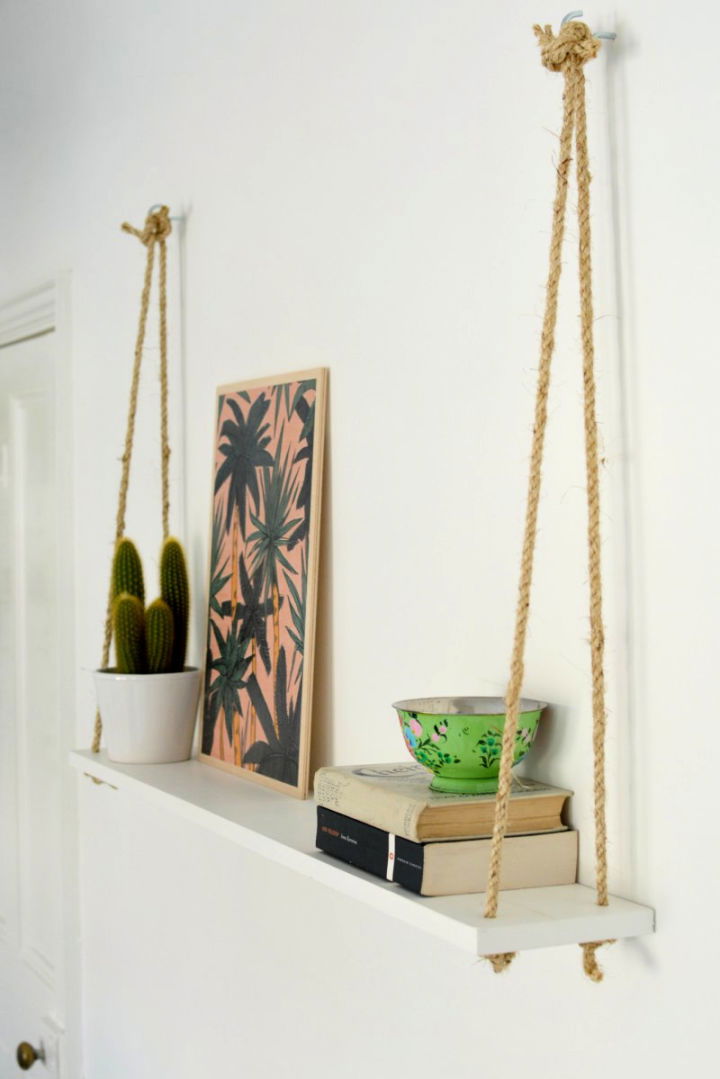 Unleash your creativity and transform your living space with this surprisingly easy and cost-effective DIY hanging rope shelf project! You can bring a touch of rustic charm to any room with a simple list of supplies – a length of wood, robust 8mm rope, a drill, and two large hook screws.
Customize the wooden shelf with paint or wood stain to match your decor, and learn how to anchor your shelf to the wall for stability securely. This weekend project not only enhances your decor but also provides valuable storage space, all for around £15. So why wait? Discover how to build this aesthetically pleasing and functional piece today. burkatron
7. Making a Hanging Shelf Out of Embroidery Hoops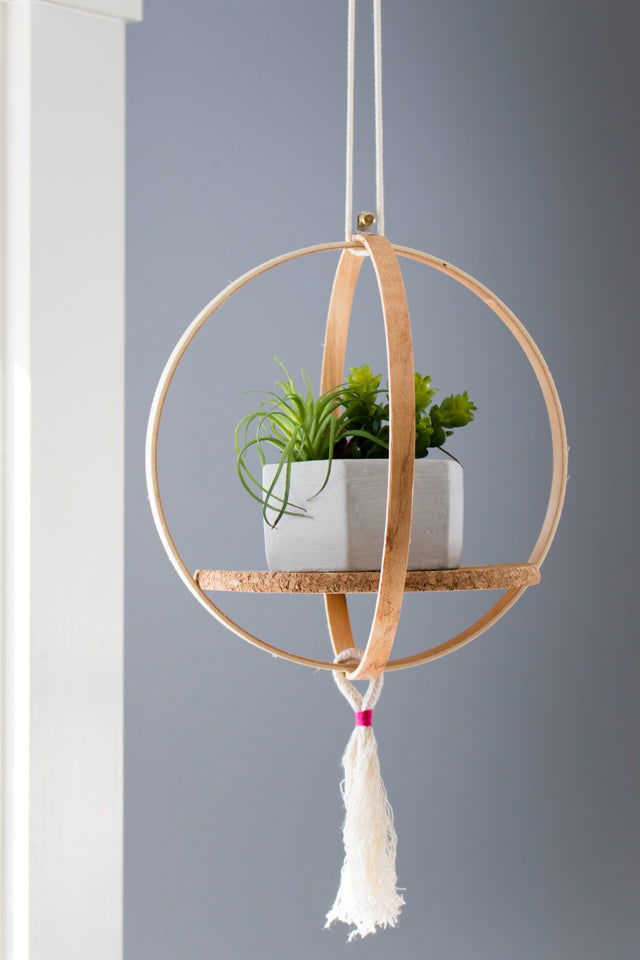 Turn embroidery hoops into a stylish hanging shelf with this straightforward DIY guide. This adaptable project lets you make a collection of hanging shelves in various sizes customized to your decor. All you need is a 9-inch wood embroidery hoop, a 7-inch wooden cork trivet, tacky craft glue, binder clips, and some rope or cording.
Just separate the embroidery hoop into its two rings, glue them together at a 90-degree angle, and let it dry. Then, balance the cork trivet evenly on the hoops, affix it with glue if necessary, and pass a length of rope through the rings for a hanging loop.
Add tassels, beads, or other embellishments for a personalized touch. These hanging shelves make great gifts for plant lovers and add a charming touch to any room. stitchedmodern
8. Build Your Own Hanging Herb Shelves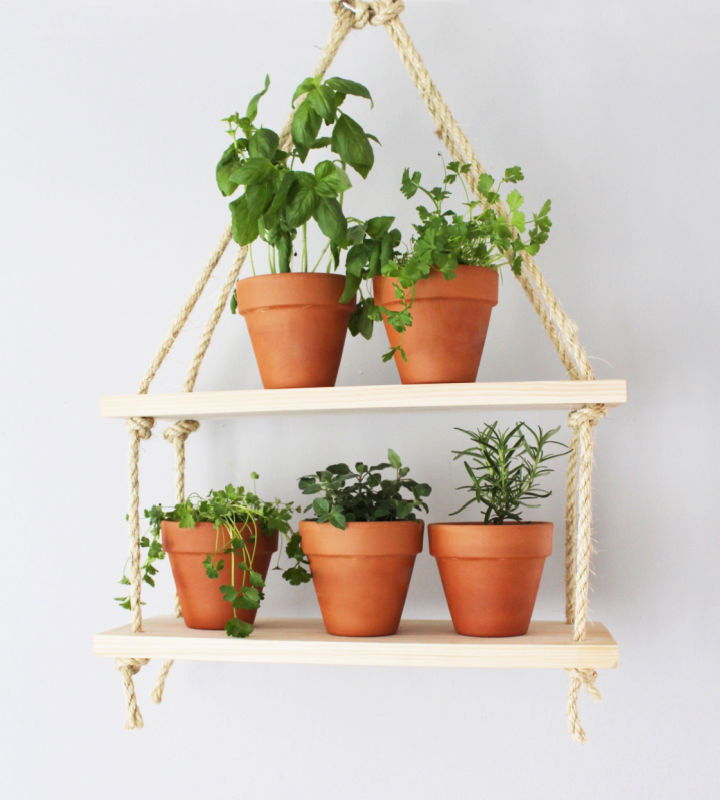 Invite the warmth of spring into your home with this DIY hanging herb garden project. After enduring a tough winter, spice up your living space with fragrant and fresh herbs. This hanging garden is a practical addition to your green thumb's repertoire made from just two pieces of 18-inch long wood, sisal rope, a jump ring, and terra cotta pots.
Begin by drilling holes into the wood, thread the rope through, and attach it to the jump ring. Tie the knots and trim the ends to get your desired shelf heights. Choose a south-facing window, perfect for your herbs to soak up the sun and pot your favorite herbs.
With this easy-to-follow guide, your herb garden will be up quickly, bringing fresh air into your home. Cost-wise, it's an affordable project that offers high returns. You can access fresh herbs for cooking, and the hanging garden also elevates your interior aesthetics. So grab your drill and start planting today! alyxhouse
9. DIY Hanging Rope Shelf With Driftwood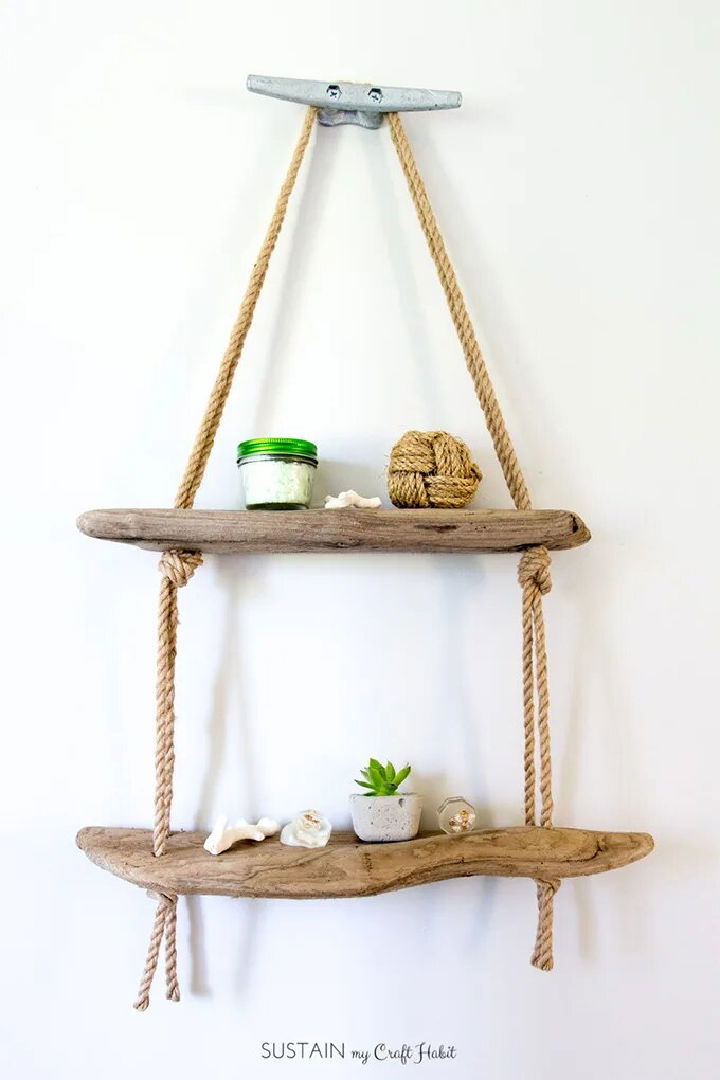 Elevate your storage solutions with these inspiring DIY hanging shelf ideas, perfect for showcasing your favorite items. Step into coastal minimalism with this DIY hanging rope shelf tutorial. Ideal for adding functional, rustic charm to your space, this project revolves around using unique pieces of driftwood or, if preferred, regular wood planks or reclaimed wood such as barn board.
This project is the perfect way to showcase your beach finds and add extra storage in any room, but it is particularly conceived for a beach-themed bathroom renovation. The materials needed for this rope shelf include driftwood, natural colored jute rope, a 4″ boat cleat, a screwdriver, large-sized drill bits, scissors, and clear matte spray paint.
This easy-to-follow guide ensures a quick and simple process, leading to a beautifully crafted hanging shelf. Make your home decor stand out with this creative and naturalistic project. Don't miss this opportunity to make a rustic, coastal-style shelf tailor-made by you. sustainmycrafthabit
10. Easy DIY Hanging Shelves With Rope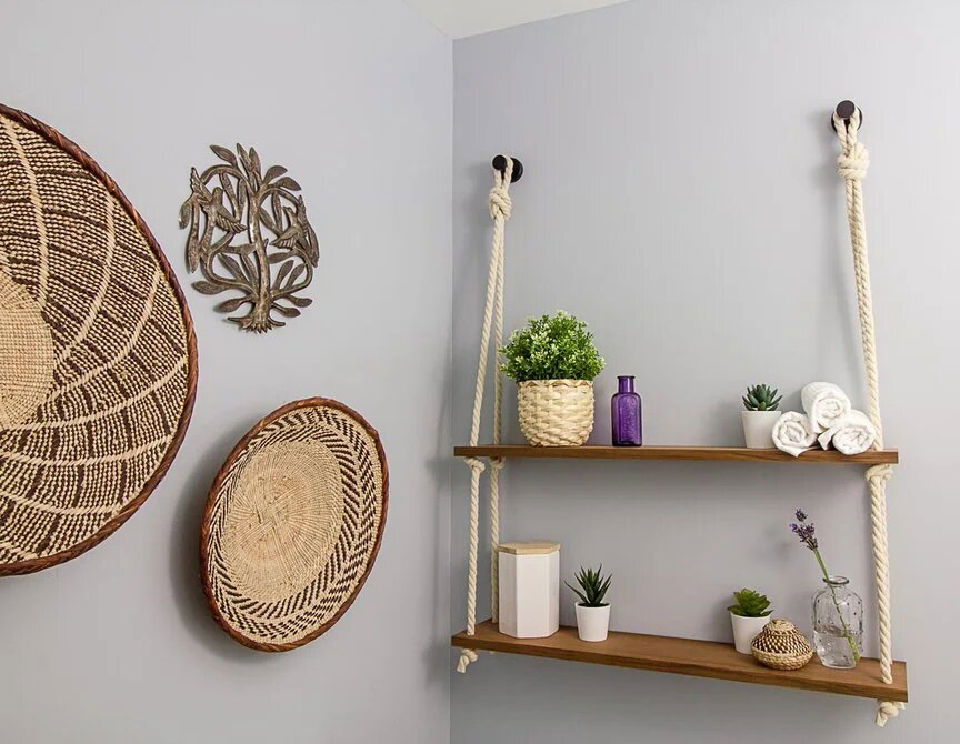 Bring functionality and style to your home with this step-by-step guide on building DIY hanging rope shelves. This minimalist project, requiring only 1-2 pieces of wood, a 16′ length of 5/8″ rope, a 1/2″ Forstner drill bit, clear tape, wall hooks, and a level, is perfect for maximizing wall space and adding a touch of personality to your rooms.
Starting with some leftover cedar, you can cut it to the desired shelf size. After sanding the ends and drilling holes for the ropes using a Forstner bit, measure the rope lengths, cut, and knot them through the shelves. For installation, secure hooks in the wall and adjust the shelves for balance.
This versatile project can be tailored to any space and need. Its unique aesthetic is perfect for displaying decor or useful items and adds a new dimension of style to your living areas. This guide makes it easy to elevate your home design with practical and beautiful hanging rope shelves. listinprogress
11. Homemade Hanging Flower Pot Shelves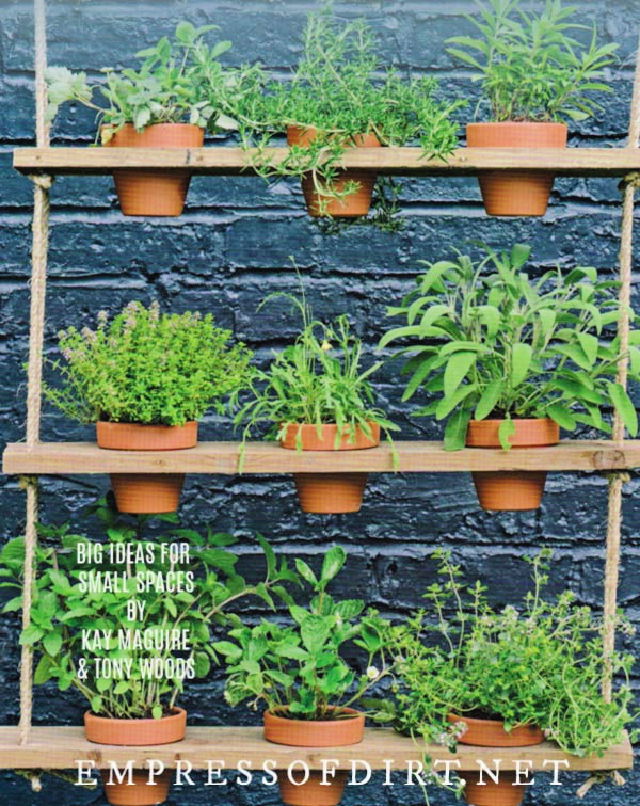 Get a fresh outlook for your balcony, windowsill, patio, or roof garden with DIY hanging plant shelves! This project is an innovative approach to green space, offering a step-by-step guide to making vertical gardens.
You can build a three-tiered, rope-hung plant display using basic tools like a tape measure, pencil, drill, circle bits, and sisal rope, along with items like terracotta pots, wood boards, and your chosen herbs or flowers. This design ensures balance and adequate space for your plants to thrive.
This guide also provides tips for perfect pot placement, making it an easy afternoon project. With your creativity and this unique idea, transform your small outdoor space into a charming, verdant escape. Perfect for urban dwellers seeking to add some nature to their living spaces! empressofdirt
12. How to Make Hanging Shelves for Office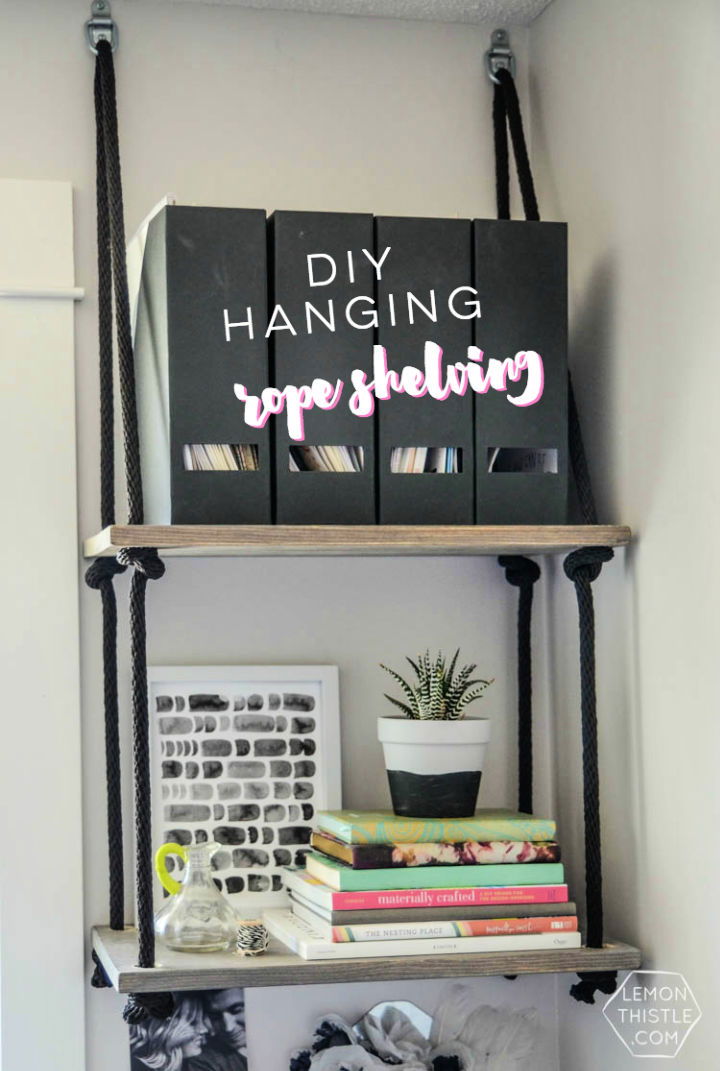 Make stunning wall displays with these easy-to-follow DIY hanging shelf ideas for any room in your home. Transform your space with these DIY hanging shelves that can be built easily in the afternoon using supplies from the hardware store. These shelves are perfect for small spaces and add a unique touch to your office or any room. Discover step-by-step instructions and a list of materials needed, including 1×12″ boards, the stain of your choice, nylon rope, drill bit, power drill, metal anchors, and a small level.
Follow this creative guide to building sturdy and stylish open shelving without brackets. Enhance your home decor and organization with these budget-friendly hanging shelves. lemonthistle
13. Make a Hanging Plant Shelf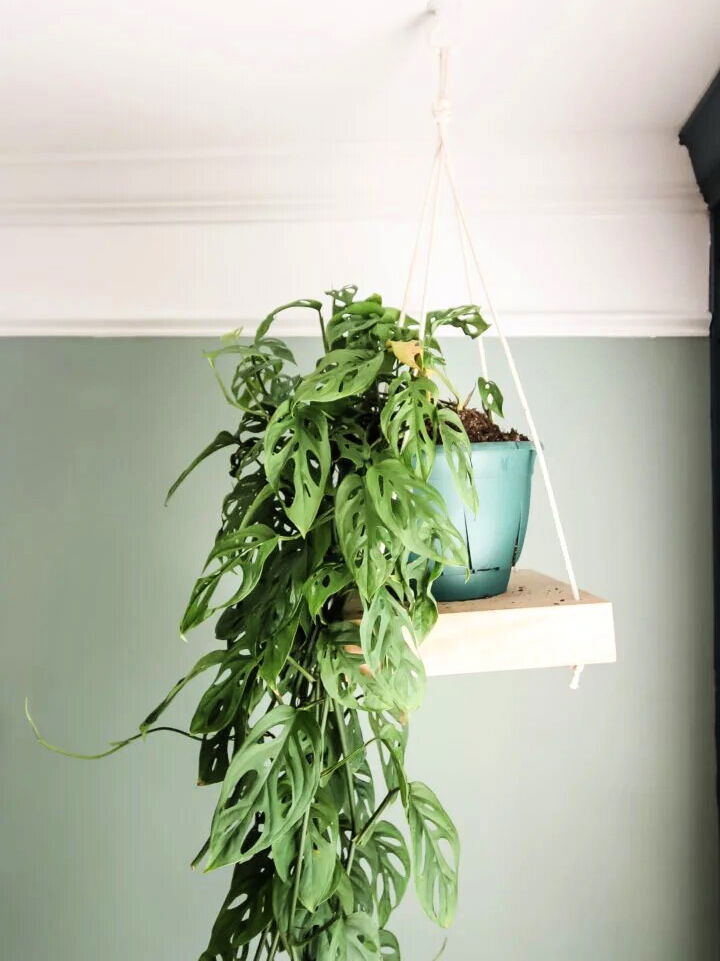 Beautify your living space with a DIY hanging plant shelf! An excellent way to exhibit trailing plants, this project is a treat for plant lovers, maximizing vertical display and making an appealing aesthetic. You can make a charming display for your plants using basic materials such as scrap wood, rope, and a ceiling plant hook. Key steps include:
Cutting wood for the shelf.
Drilling holes.
Sanding and staining the wood.
Threading the rope.
Installing the ceiling hook.
The whole process is simple, cost-effective, and open to customization. Make sure to choose plants that thrive in your chosen location – trailing plants work best. Embrace this creative DIY project to make your room look larger, the ceilings taller, and your plants happier! charlestoncrafted
14. Make Your Own Leather Hanging Shelf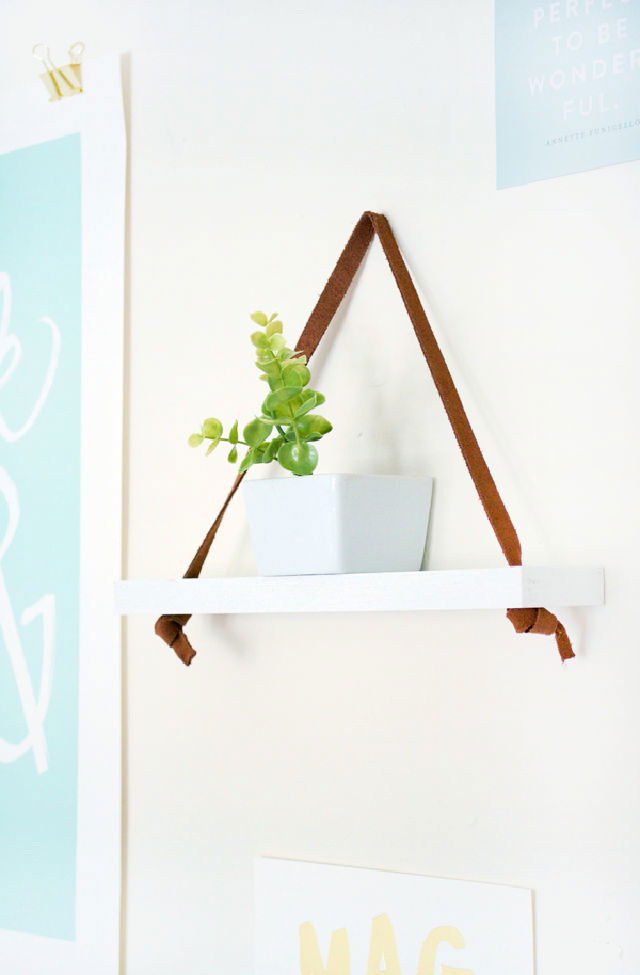 Boost your home's aesthetic with a simple yet elegant DIY leather hanging shelf! This project is not just easy but also a stylish addition to any room in your house, adding a bit of flair to your walls. All you'll need are a piece of wood, white paint, leather or suede rope, and a drill.
After cutting the wood to your desired length, drill two holes at each end, then paint it white for a polished look. Attach your leather rope through the holes, securing it with knots to make the shelf's hanging feature.
Ideal for displaying small decorative items like succulents, this shelf design is a charming solution for adding depth and dimension to your space without the complex angles or math! brepurposed
15. Homemade Swing Shelf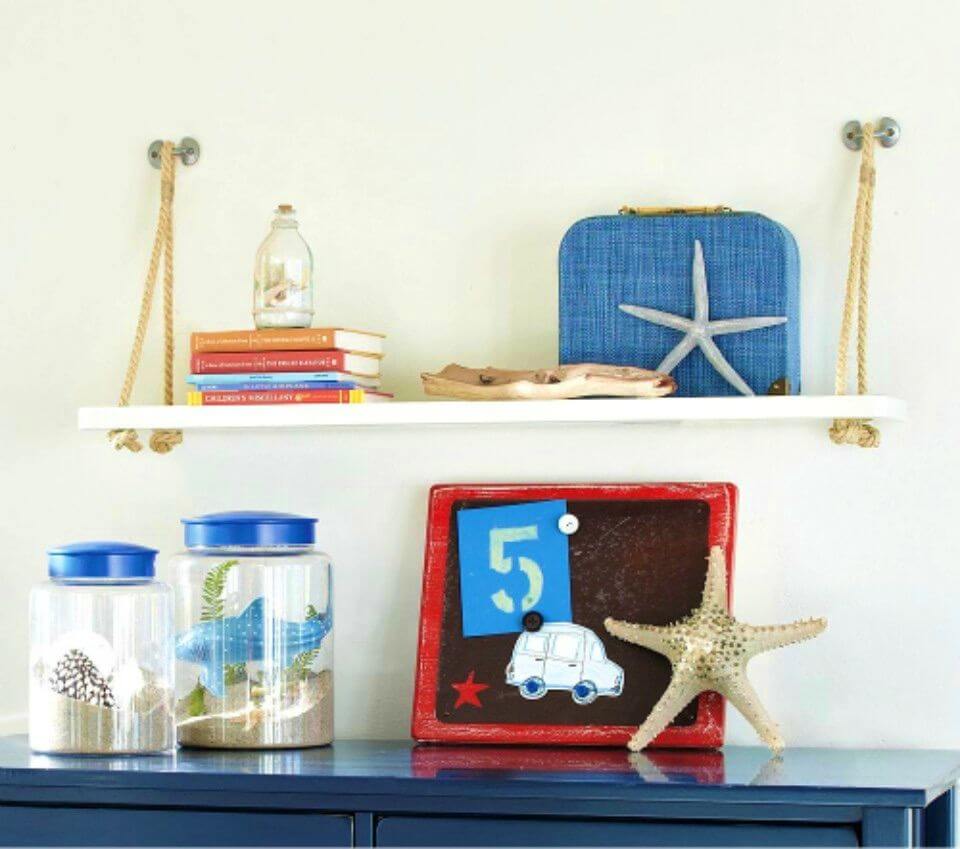 Make a great space for your little ones with a DIY surf-themed swing shelf! Inspired by an unavailable Pottery Barn Kids version, you can craft a similar aesthetic for a fraction of the cost. This quick and easy project includes a 27″ x 7″ prefinished laminate shelf, small drawer pulls, drywall anchors, screws, and jute rope.
Drill holes, secure drawer pulls, feed and knot the rope, and you're done! For an estimated cost of $12, you can fashion a functional, whimsical display area that not only holds your accessories but also seamlessly fits the room's theme. A unique and engaging way to spruce up your child's room! projectnursery
16. Simple DIY Hanging Rope Wall Shelves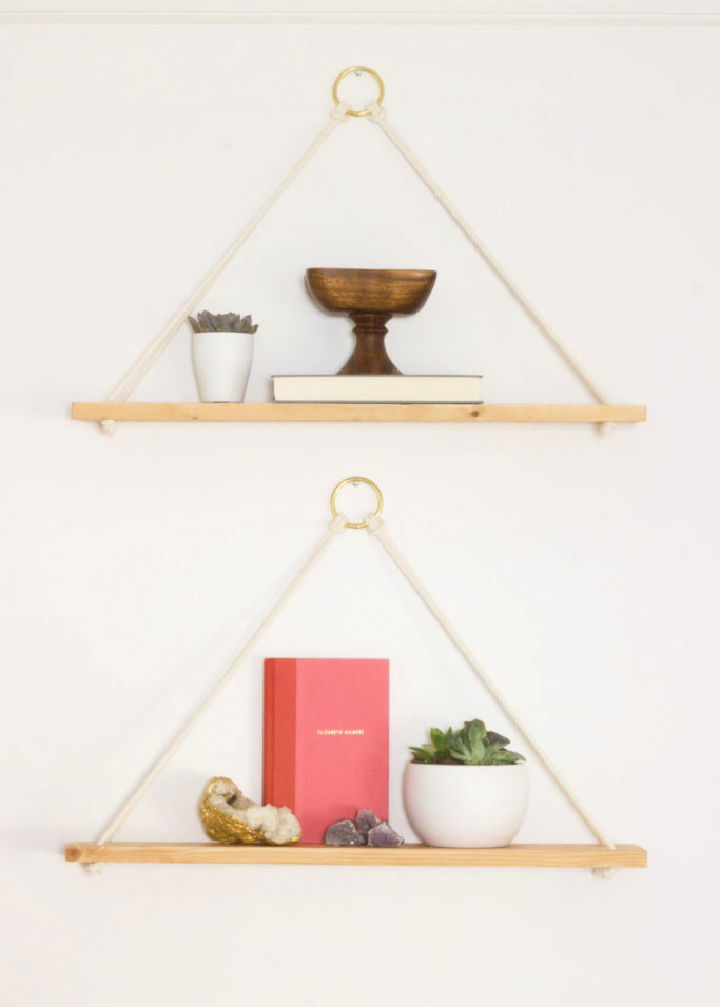 Refashion your living area with DIY hanging rope wall shelves, a charming home decor project you can tackle with minimal supplies and tools. With just four 1×6 boards cut to 26″ long, eight strands of twisted cotton rope, a Bosch 50ft self-leveling cross-line laser level, and a handful of other readily available tools, this creative endeavor is both straightforward and rewarding.
Not only does this project add a unique touch to your room, but it also offers a practical solution for displaying your favorite items. It's a valuable way to utilize vertical space and add a rustic, homey vibe to your living room or office.
With an easy-to-follow process and the reward of a beautiful, handmade piece of decor, there's no better time to get crafty with these hanging rope wall shelves! erinspain
17. How To Make a Leather Hanging Shelf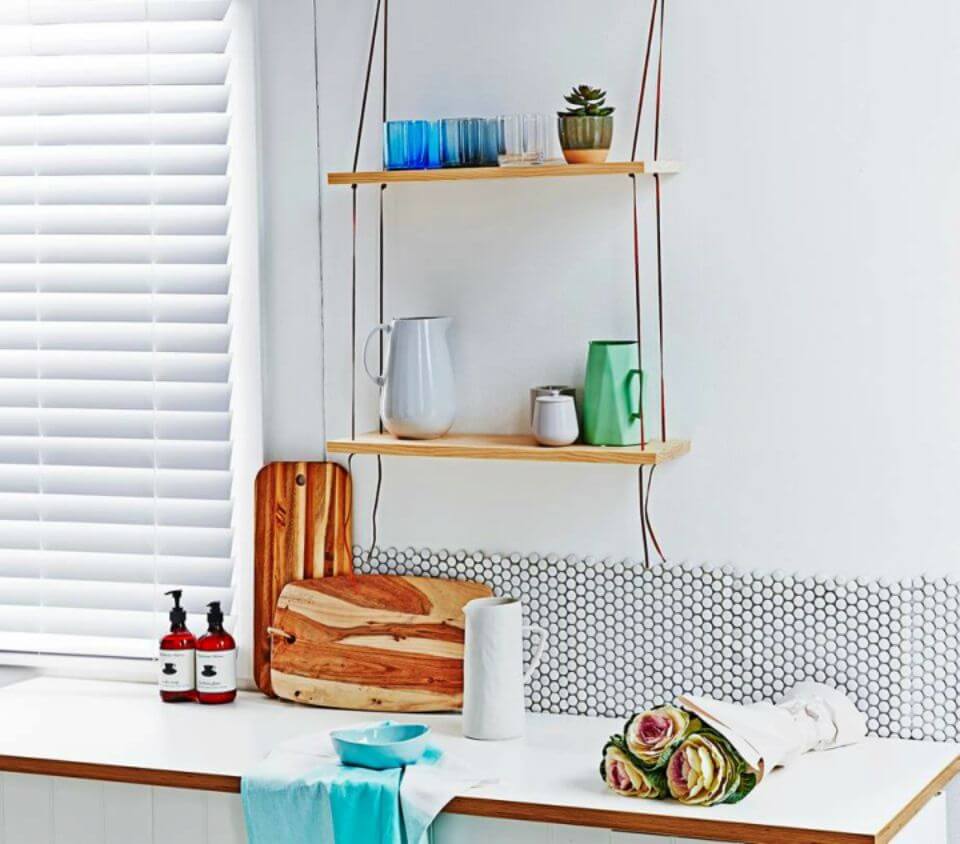 Uplift your living space with a stunning and versatile DIY leather swing shelf. Ideal for displaying your favorite keepsakes, this simple project requires only pine planks, a ruler, a pencil, a cordless drill, thick leather cords, and a little bit of your time.
Follow the easy step-by-step guide to assemble this portable piece that adds elegance to any room. Drilling holes in your pine, you'll thread leather cords to form a sturdy and stylish shelf. The best part? It's movable so you can change its location according to your mood or decor. Craft this stylish shelf today and enjoy the comfort and style it will get to your home. homestolove
18. Inexpensive DIY Wooden Swing Shelf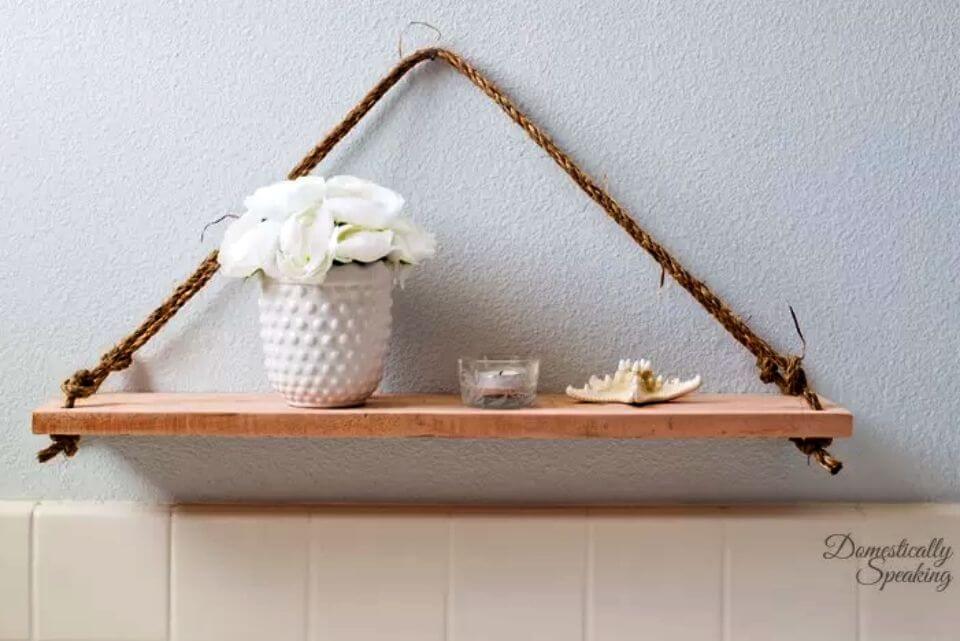 Refresh your home with a hint of coastal charm by crafting a DIY wooden swing shelf! This unique project brings a nautical vibe into your space, effortlessly bridging functionality and aesthetics. You'll need a few items like a cedar plank, a miter saw, a drill, a sander, and a sturdy rope to start.
This project offers endless customization options – you can choose from different types of wood or add a dash of color with paint or stain. Place it anywhere in your home; it is a charming spot for your favorite decor or flowers for a fresh, spring feel. In just 20 minutes, you can build this beautiful, beach-inspired wooden swing shelf. Let your creativity take the helm and get started today! domestically
19. How to Make Hanging Shelves at Home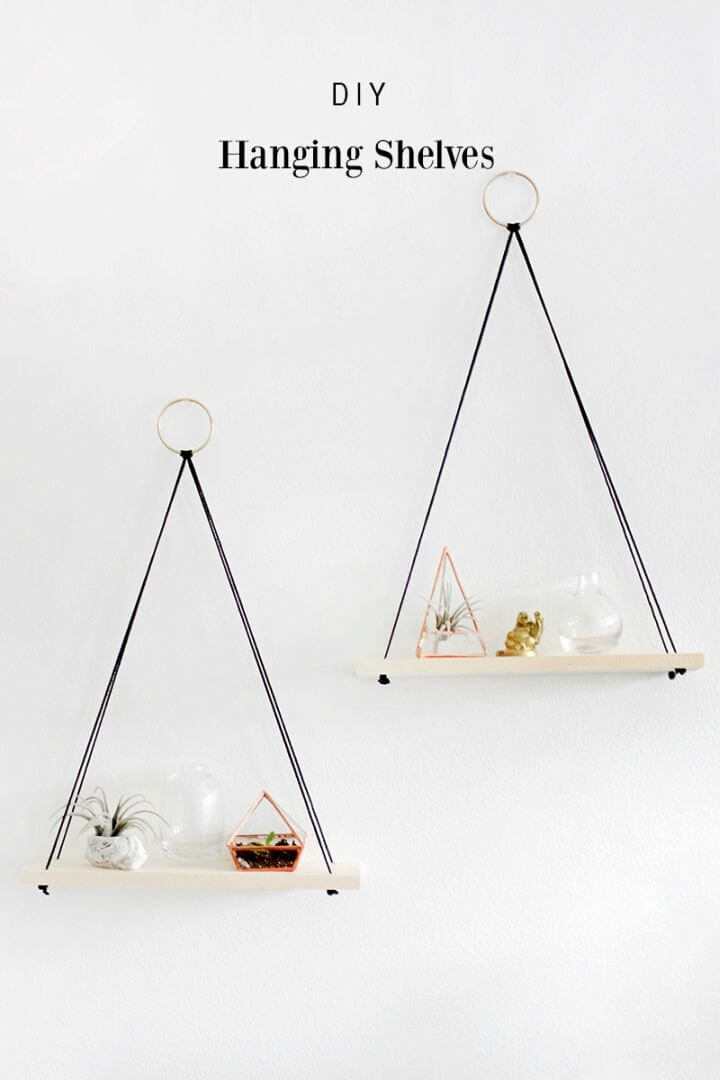 Upgrade your living space with this creative DIY hanging shelves project. Perfect for showcasing small trinkets, framed photos, or little plant pots, these shelves blend the rustic appeal of unfinished wood and the industrial simplicity of rope cord to make a visually pleasing and practical decor piece.
With supplies including a wooden board, rope cord, metal rings, a drill, and a saw, this easy-to-follow tutorial leads you through each step, from cutting and drilling the wooden boards to mastering the Lark's Head knot for hanging your shelf.
Adjust the cord length to your liking, trim the excess, and add your favorite decor pieces. Simple yet impactful, these shelves will add a distinct charm to any space. whydontyoum
20. How to Hang a Rope Swing Shelf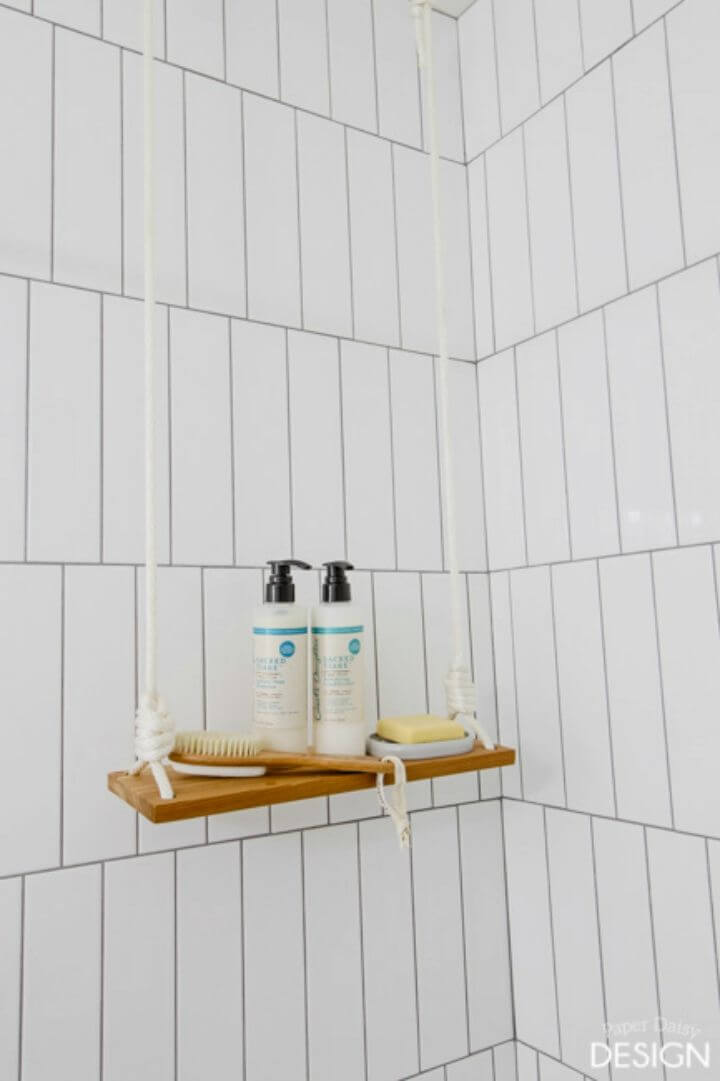 Add an innovative and functional touch to your home with a DIY rope swing shelf featuring the distinct San Diego Jam Knot. Ideal for bathrooms, this project avoids clutter by providing extra storage space while maintaining aesthetics.
The design offers a perfect blend of utility and whimsy, crafted from cedar wood and about 20 feet of 3/8″ braided nylon rope. The swing shelf is a unique solution that doesn't disrupt clean vertical tile lines, making it ideal for spaces where recessed niches are not an option.
Learn to tie the San Diego Jam Knot through a comprehensive video tutorial and enjoy making a practical yet playful addition to your home. The project requires basic tools and your desired wood size. Plus, you can tailor it to match your space perfectly! paperdaisydesign
21. Rustic DIY Hanging Shelves With Rope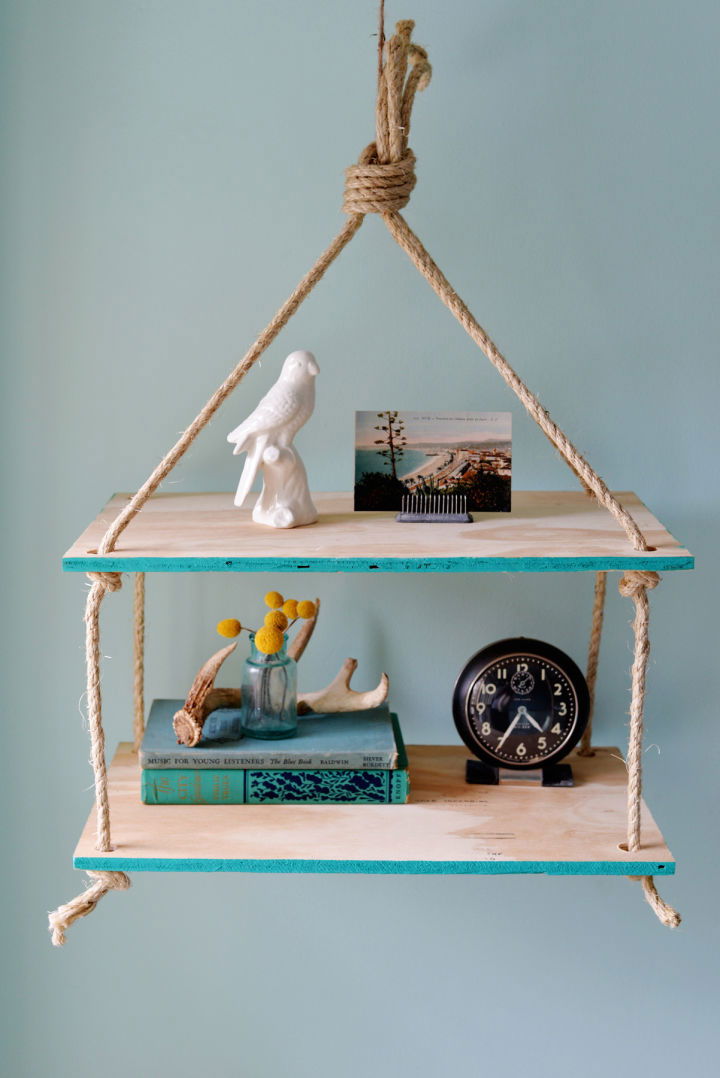 Discover clever DIY hanging shelf ideas to transform your living space into a stylish and organized haven. Transform your empty corner or wall with a creative and functional touch using a DIY hanging rope shelf. This easy-to-make project allows you to display your favorite items without drilling multiple holes in the wall. Whether you're a renter or someone who frequently changes decor, this rope shelf is the perfect solution.
Learn how to make a rope shelf by choosing the right wood and rope materials, gathering the necessary supplies, and following the step-by-step instructions. With various design options and the ability to customize the number of shelves, you can make a unique and stylish addition to your home.
Discover different rope shelf designs, such as farmhouse-style, minimalist, tiered, swing, or using reclaimed wood. Enhance your home's aesthetics while maximizing functionality with this versatile project. homedit
22. Making a Swing Shelf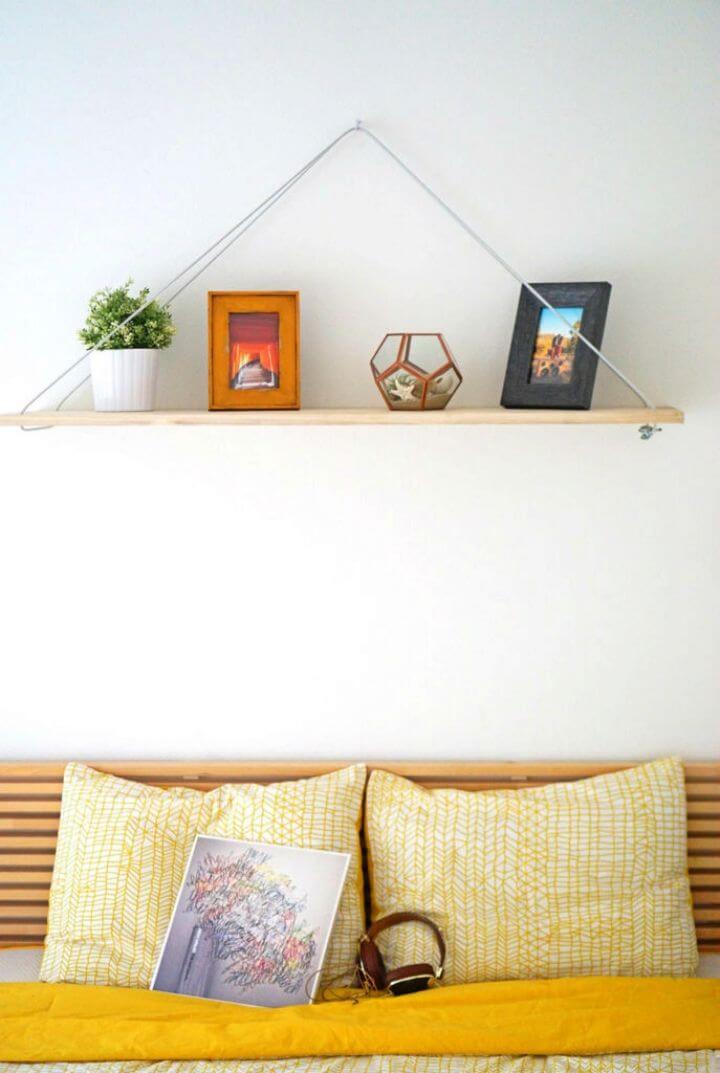 Embark on a minimalist journey with a DIY swing shelf project that brings functionality and elegance to your urban living space. With a simple list of supplies – a poplar plank, a vinyl-covered steel cord, a screw-in hook, and a nut fastener, paired with the power of a Black + Decker 2-speed drill, you can bring a chic touch to your bedroom.
This engaging project not only caters to the aesthetics of your home but also nurtures your creativity. The swing shelf serves a dual purpose – it adds to the interior decor and provides a functional space for display or storage. The star of the process is the versatile Black + Decker 2-speed drill that makes crafting a breeze.
Embrace this inspiring home improvement idea that echoes the essence of urban living and minimalist design, all within an estimated completion time of just 30 minutes. A dash of creativity and the right tools can truly transform your living space. tynology
23. How to Make a Boho Hanging Shelf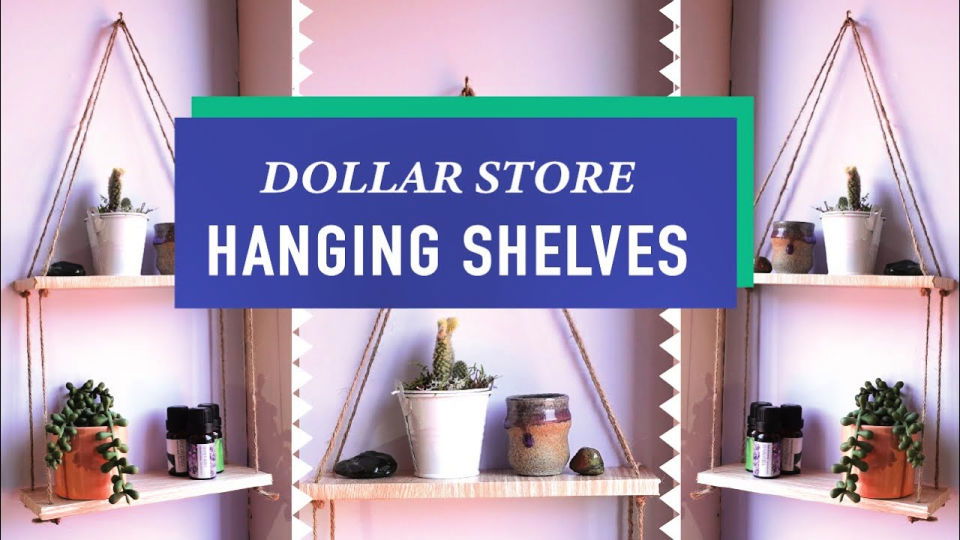 Design your chic DIY boho hanging shelf using just $3 worth of supplies from the dollar store! You can make a minimalist yet stylish home decor piece that's both functional and aesthetic using a few inspirational signs and some twine. This project is affordable, straightforward, and doesn't require precise measurements.
Don't worry if you're not a professional – this project thrives on creativity and a DIY spirit. Plus, you might find the process amusing as you navigate through with the help of your curious pet, adding to the personal touch. Take this chance to add a unique and inexpensive addition to your living space, embodying your creative abilities and style sensibilities!
24. Make Your Own Rope Shelf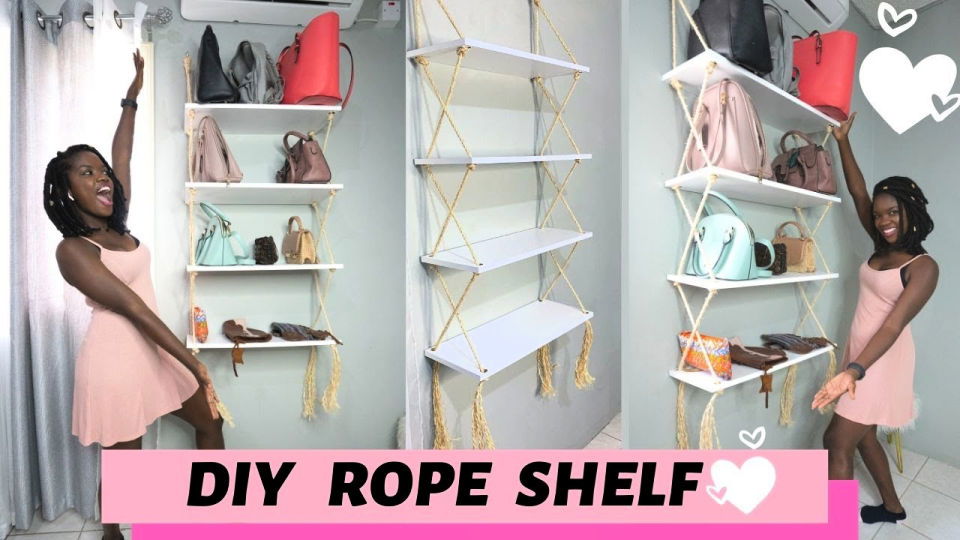 Get ready for some creative and informative DIY fun! With this guide, you'll explore an exciting project using materials such as boards, hooks, and ropes. Discover this endeavor's step-by-step process, cost-effective methods, and unique benefits.
Transform your home decor with this stunning and thrifty project. This step-by-step guide will show you how to build an aesthetically beautiful storage and display solution using simple tools and materials.
Whether you're a beginner or an experienced DIY enthusiast, this creative project is perfect for adding a unique touch to any room. So, enhance your living space by expressing your creativity and showcase your favorite items with this eye-catching home decor piece. Let's get started!
25. Affordable DIY Hanging Shelves With Rope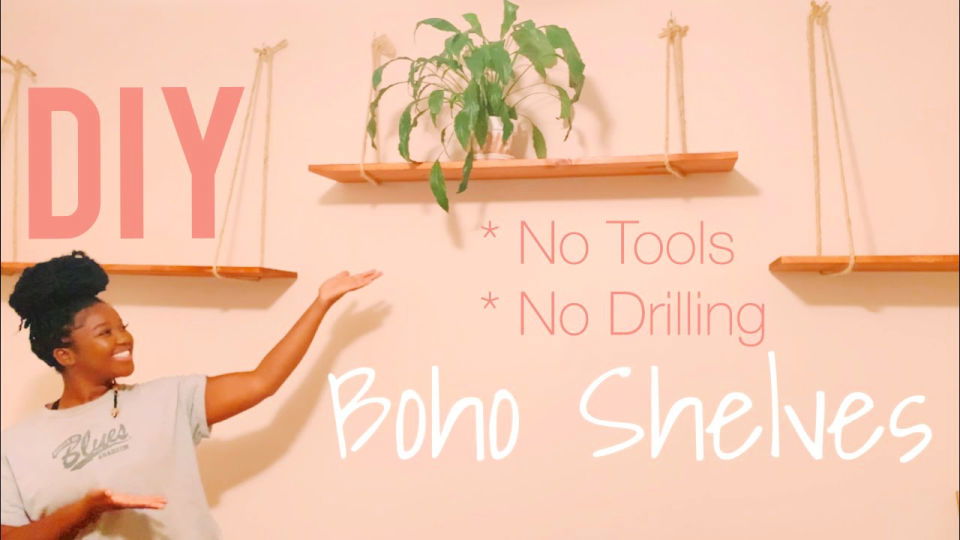 Get an easy and affordable way to build your DIY shelves with a step-by-step guide. The combination of rope and wood gives these shelves a trendy Boho vibe that will enhance any room. Follow the instructions and get creative with materials and supplies to customize your shelves to fit your unique style.
Whether you're a beginner or experienced, this project is perfect for adding a touch of ingenuity and functionality to your space. These super easy and affordable shelves will add creativity and uniqueness to your home decor. Elevate your interior with these aesthetically pleasing additions without breaking the bank. Get ready to showcase your style with these charming shelves.
Conclusion: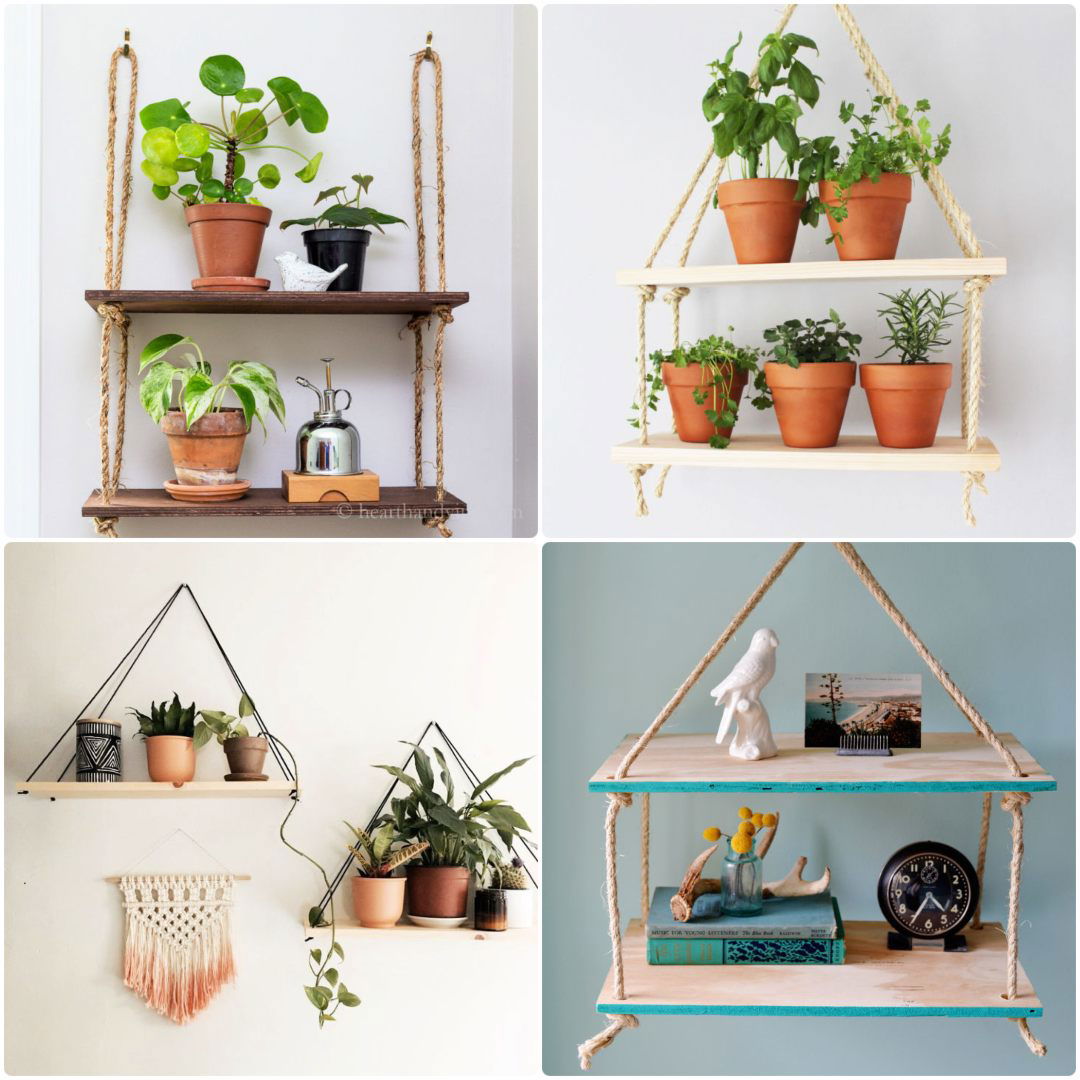 In conclusion, these DIY hanging shelves offer a creative and budget-friendly solution to display your cherished items and enhance your interior decor. With various DIY hanging shelf ideas like wooden hanging shelves, rope shelving, and macrame hanging shelves, you can effortlessly make a design that complements your personal style. Follow user-friendly tutorials on making triangular shelves, hanging plant shelves, or even leather ones, and experience the satisfaction of crafting unique organizers for your home or office. Don't wait; start exploring the versatile world of DIY hanging shelves today.