If you are a guitarist and just love to perform then you must be well familiar with the importance of a homemade pedalboard. So, build a custom and fully functional DIY guitar pedalboard at home with these 11 free DIY pedalboard plans that much doable for everyone. The DIY pedalboard is the main container that can nicely hold the effects pedal that will allow getting a rock-solid tone. This board will provide a patchy bay and power supply to all effect pedal along with helping in easy management of pedals. Install your own input jacks and other panels. So, just look through all these 11 ways to make a pedalboard that will help build a pedalboard using lots of recycled and inexpensive materials.
The first ideal materials to build a custom homemade pedalboard will be the wood. So, grab the leftover wood slats and pieces from home to build a custom model of Pedalboard. Next, opt for the IKEA Gorm Shelves to build a modern-looking pedalboard in a budget-friendly way. Plastic ABS boards will also be a smart choice to build a nice looking pedalboard and next head over to GREJIG shoe racks to build affordable and functional models of pedalboards. Browse the entire collection of these DIY pedalboard plans to see a lot more unique designs, will make lovely homemade gifts also for guitarists and musicians in the home.
1. Affordable DIY Pedalboard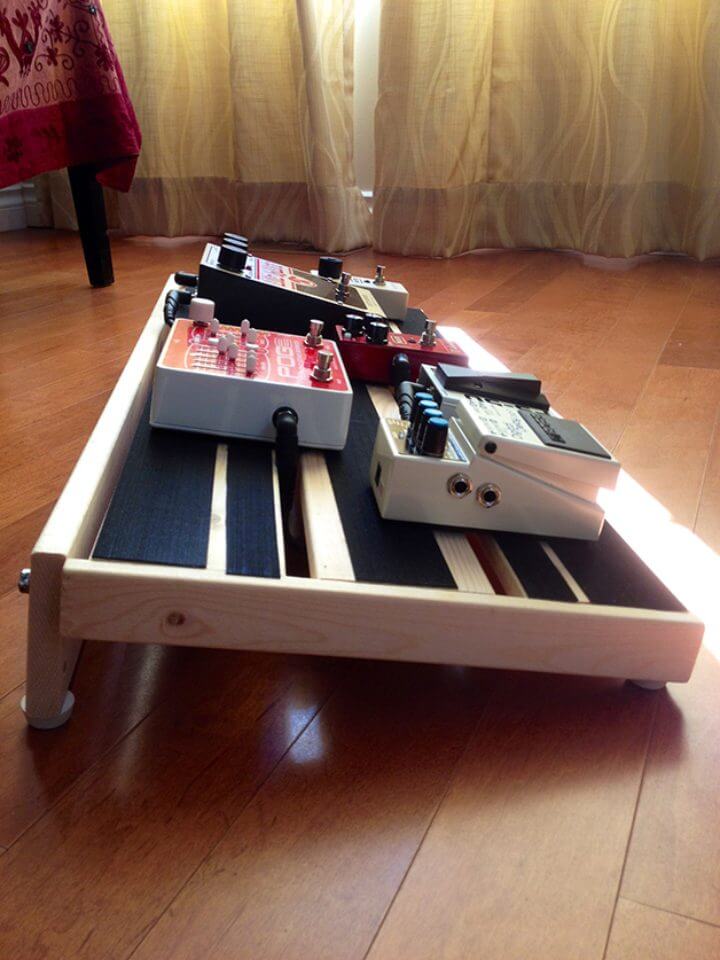 An interesting IKEA hack for making an inexpensive pedalboard. Grab the two-pack IKEA Gorm shelf. It can accommodate various pedals at one time and will be one of the best gifts to give to a guitarist. Assemble it using screws and L-brackets and finished with rubber feet. Provide power supply from the underside. Details here reverb
2. DIY Powered Pedal Board With Input Jacks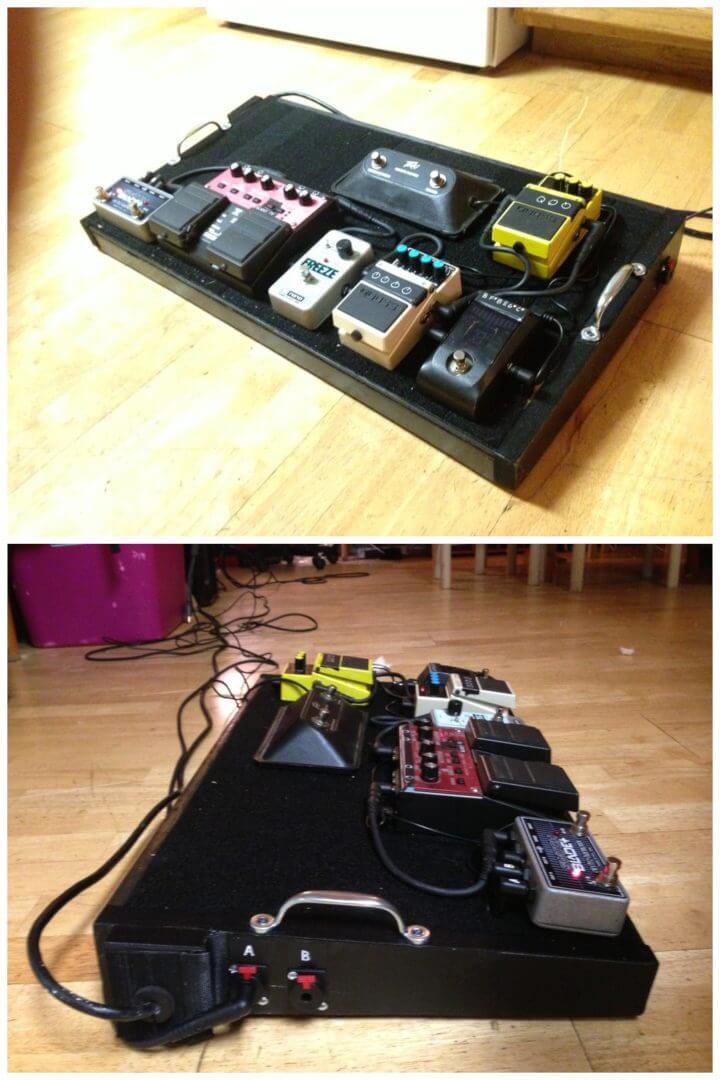 Make this superior design of Pedalboard using 1/2″ thick 2×4 birch wood pieces and industrial strength Velcro. This powered pedal board gains attention from the input jacks and comes with excellent management of electric cables. Use glue and durable hardware for overall assembly and use spray paint to paint it. instructables
3. Homemade Guitar Pedalboard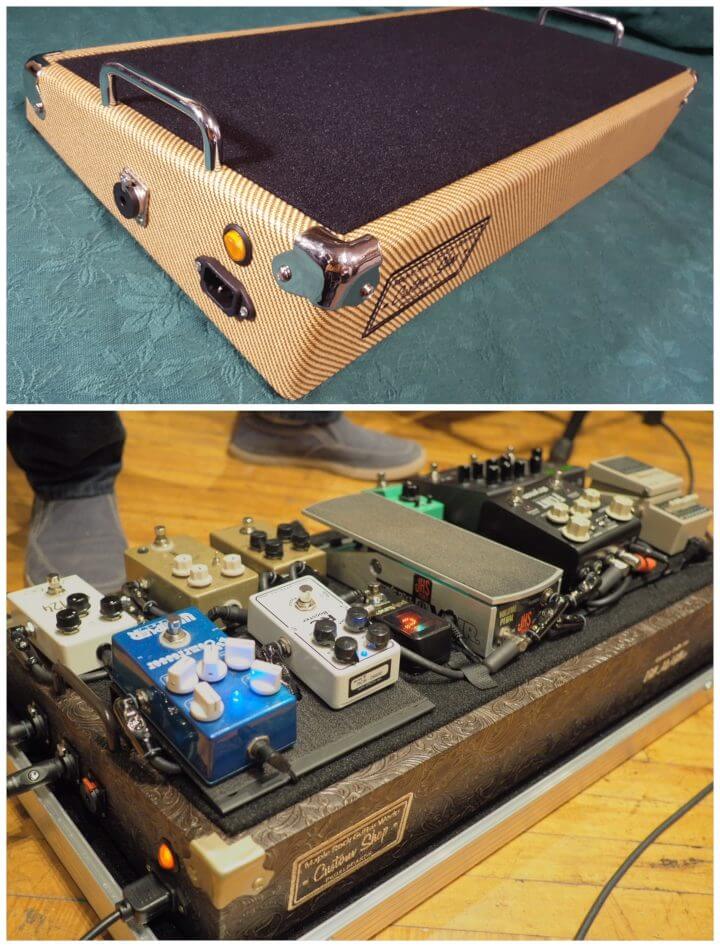 Grab here the free instructions about how to build a pedalboard like an expert. This design will allow us to hide the cables under the pedal deck neatly. Again go with the hardwood to build these strong and durable looking pedalboards for the guitarists. Use 1/4″ jacks for the power inputs. Details here shredaddict
4. Build Your Own Pedalboard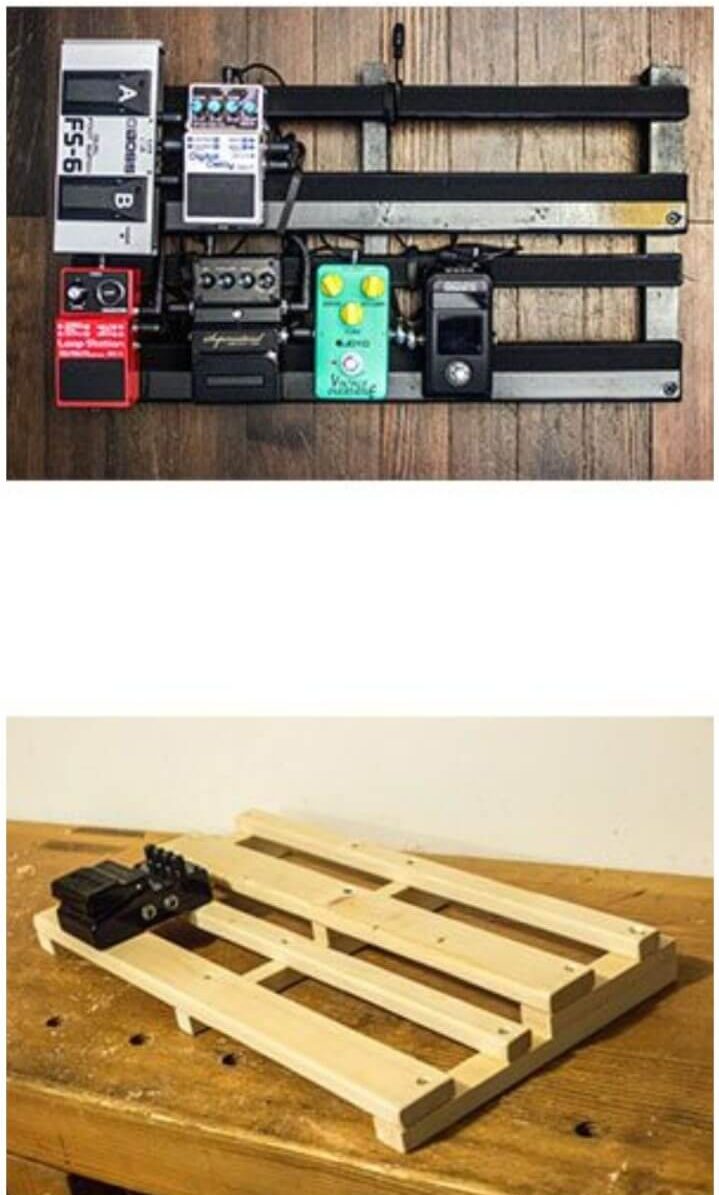 If you have made your mind to build a pedalboard at home like a pro, then get free step-by-step instructions from here. Make this durable design with an angled top panel that allows you to store the electric power supply underneath easily. The corner guards and bolts will be the most necessary hardware for this pedalboard project. guitarfella
5. Inexpensive DIY Pedalboard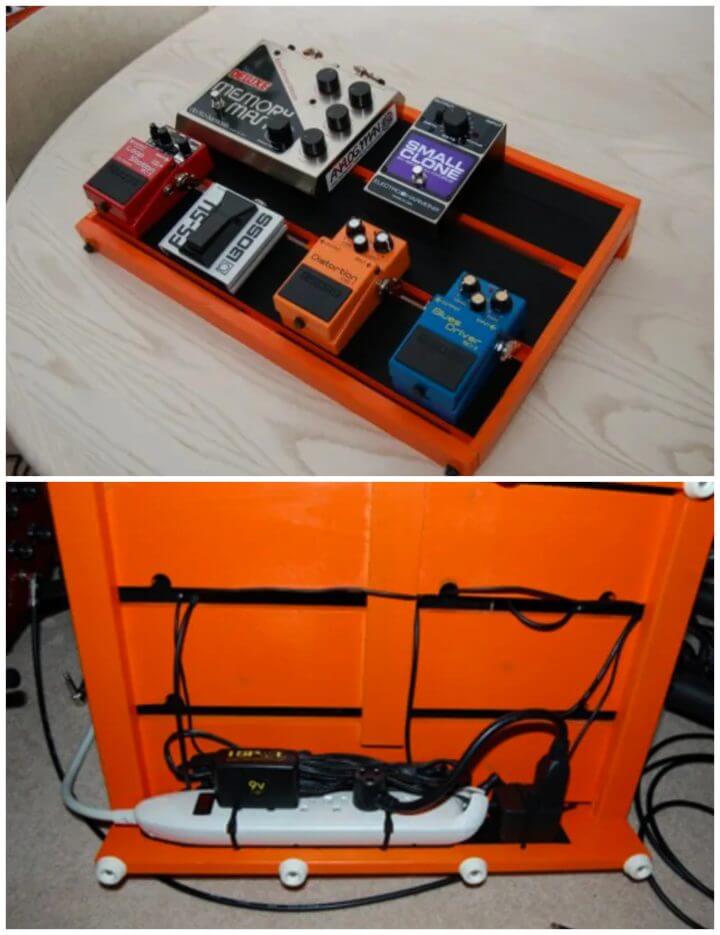 Are you a Musician or a guitarist? Willing to build a cool looking pedalboard that will nicely hold your effects pedals? Then don't buy it expensive, just head over to IKEA Gorm Shelving Units to make a beautiful instant board in a super inexpensive way. An amazing IKEA hack for a DIY pedalboard. lifehacker
6. Simple to Build Pedalboard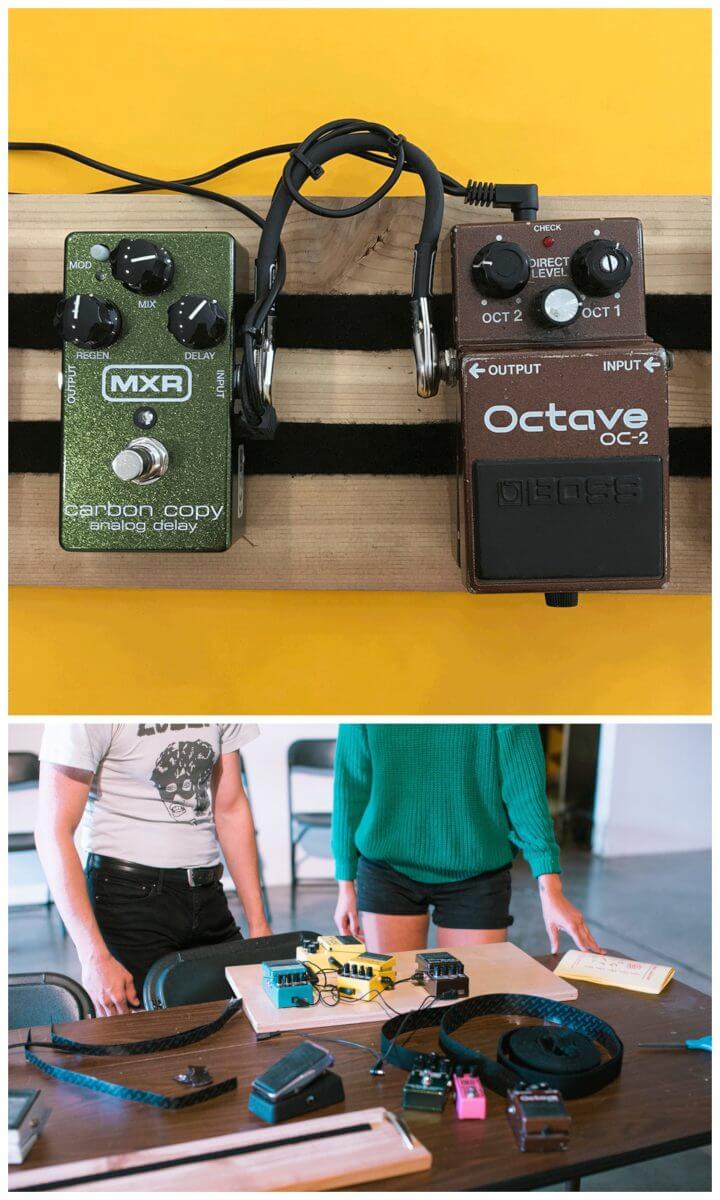 Get here the free plans to build a simple pedalboard super quickly. Just recycle a piece of wood to make this no-cost wooden Pedalboard. After a piece of wood you need, drill, screws, Velcro, scissors, and zip ties to build this beautiful Pedalboard. A better handmade musician gift. sheshredsmag
7. DIY Homemade Pedalboard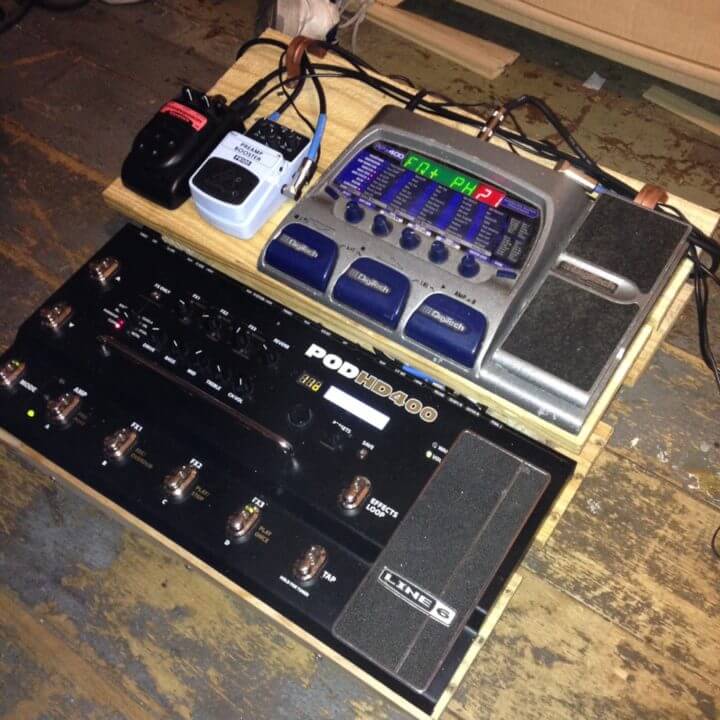 If you want to set up a lot of gears more along with the effect pedals, they must make this wooden Pedalboard, the 3 tiered pedalboards. The 3 tier design comes with PPII and a radio pack underneath. While the mainboard has a 12 x 18 ATA case. Something best to get for a guitarist out of wood slats. seymourduncan
8. How to Make a Guitar Pedal Board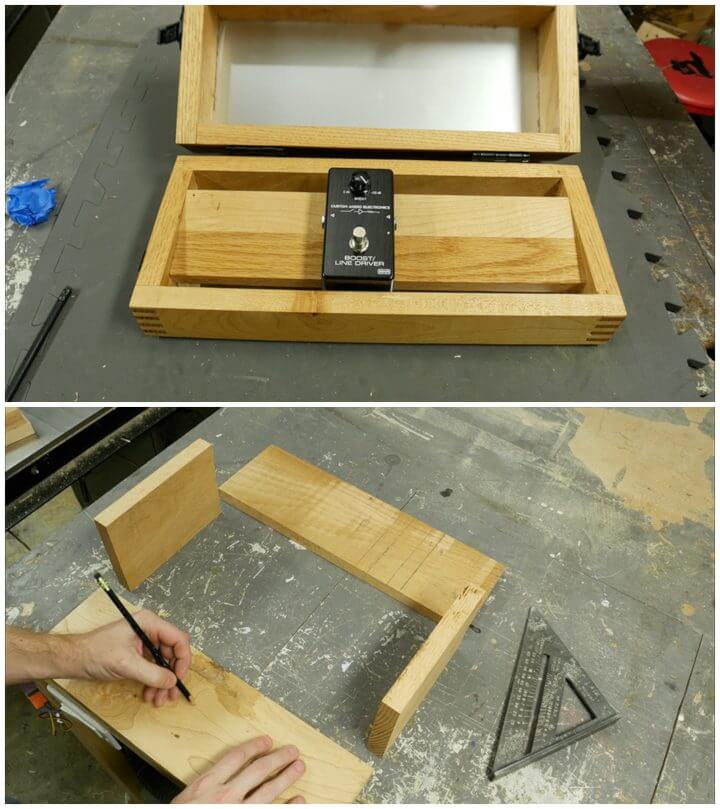 This guitar box is just like a wooden box and comes with an aluminum top and bottom. Just cut your wooden slats for the box and then cut also the box joints on each end of the slat. They much fix in one another nicely, making a lovely solid box. Next, make the lid and hinge them together. Details here iliketomakestuff
9. DIY Pedalboard Out Of ABS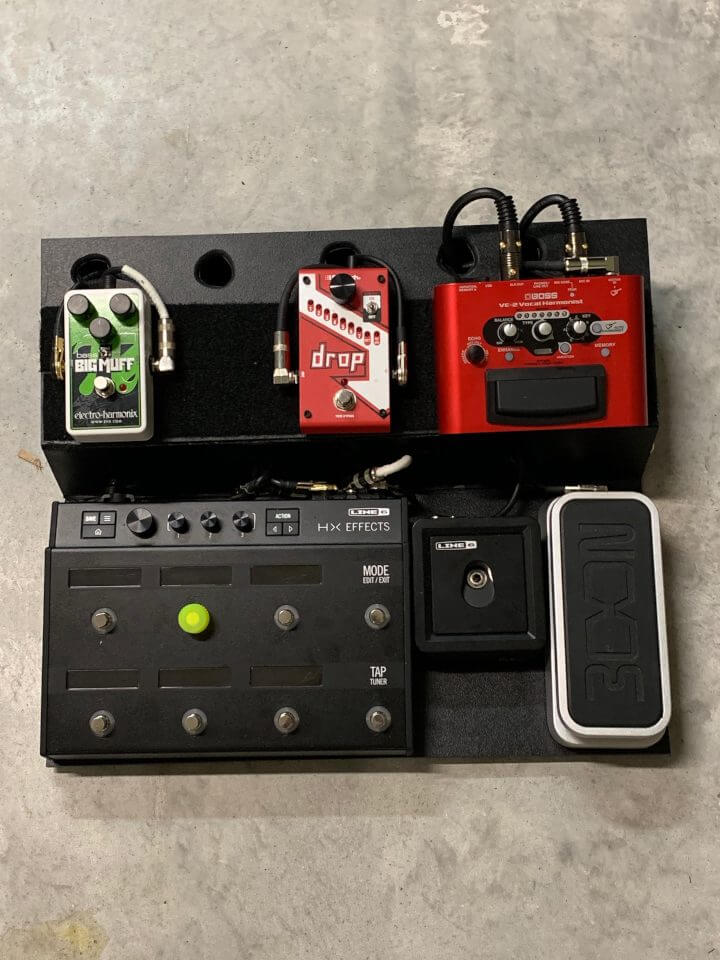 Build this lovely Pedalboard out of the ABS plastic. For assembling the parts nicely, you need the ABS cement and plastic welder. Create a cardboard mockup first to nicely cut the pieces. Next, just cut the side panels and fix them in place. It appears in a hot black color. Details here imgur
10. DIY $15 Pedalboard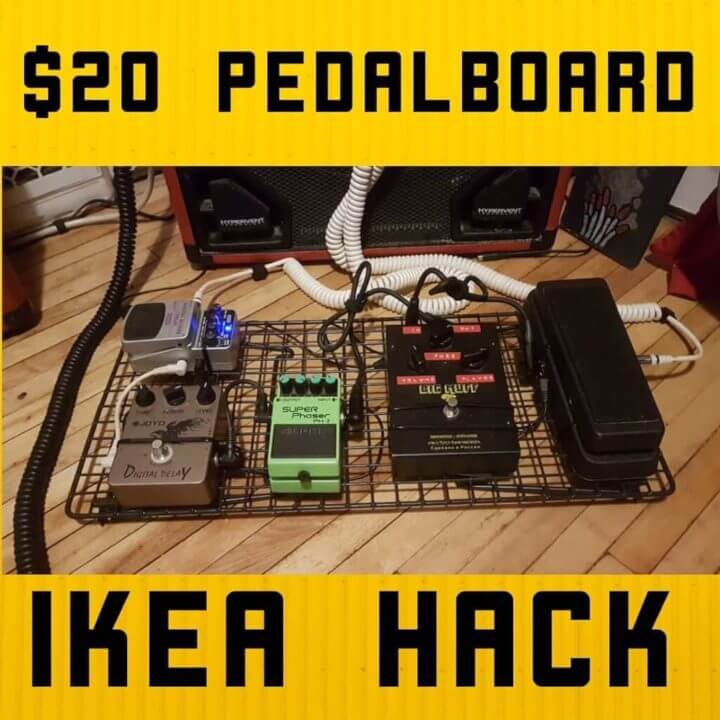 This Pedalboard will complete in an hour and will cost you $20 only. Build this pedal board using a GREJIG shoe shelf, and next, you can adjust your effects pedals on it with the zip ties. The total project will cost you much less and will also allow you to nicely organize your power supplies and cables. ikeahackers
11. Easy and Simple DIY Pedalboard
to build this Pedalboard, first, make a rough plan on the paper and then go ahead with the wood. Use the leftover wood slats to build this Pedalboard. Use two tapered lengths of wood for building the base rail and next fill the rail with equally spaced wood planks. Cover planks then with Velcro. Details here tdpri
Conclusion:
There are lots of effect pedals that musicians and guitarists use to add lots of effects to their voice and tone. The demand for easy handling of all those pedals gives birth to a pedalboard that is quite expensive to buy, but they are a big need of guitarists. These DIY pedalboard plans will allow you to build custom pedalboards at home that will fit best to your custom needs. Take a round up to get inspired.