We all think differently toward the items that are lying around! Hence we are all having different tastes and list of likings! If talk about the decors and patterns, then there are various patterns that are liked by most of the people around the globe and chevron pattern is one of them! The fans of chevron pattern and decor style are in millions and if you are also one of those millions of people then here are some fantastic hacks for you to incorporate the chevron pattern and style to your life! Just have a look at these 25 DIY craft ideas and home decor projects with chevron patterns that will show you the tons of different ways to bring the chevron pattern and style to your home and life! Here all these chevron DIY projects are the borderline genius and are amazingly innovative, so they are sure to give a creative spark to your thinking!
Just bring the chevron decor touch to your interior home walls by hanging the lovely chevron yarn hangings there! Boost your fashion and style also by sewing the chevron appliques on your fashion clothes and other items of fashion, get inspired by the given kid's t-shirt that has been adorned with the chevron appliqué! Incorporate the chevron style to your spaces by making the chevron vases, take a look at the given glass vase that has been brought to posh appeal with gold chevron lines painted around! Make also the wooden chevron wall vases using the scrapped wood and old mason jars and even spruce up your yards and garden space by installing there the wooden chevron trellises and also the excellent looking chevron DIY planters that will be ready in just no time, check out some exciting samples given below!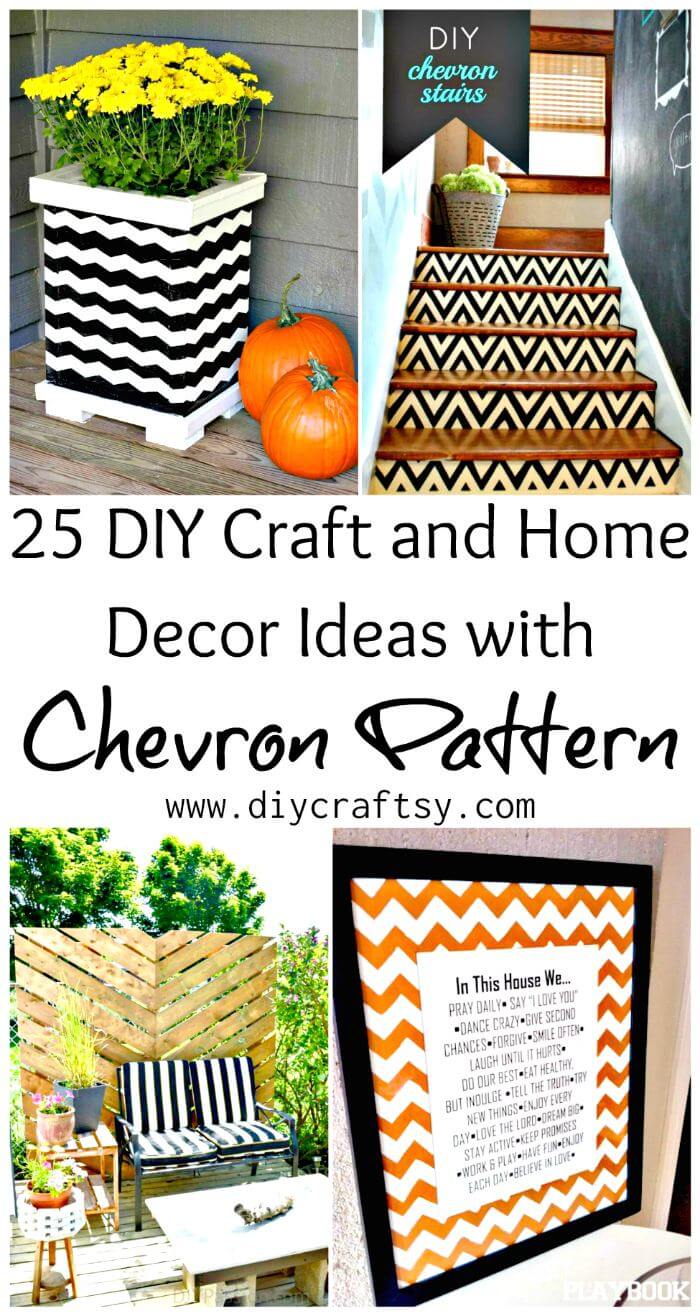 Satisfy your love for chevron by sewing the pencil skirts and also jazz up your interior walls by mounting the chevron photo frames there and also do amazing chevron makeovers of your shoes to make them look stunning and great! See some interesting examples and samples given below to get yourself inspired! Make also the chevron edibles at home like the given chevron striped fondant cake and also express your passion for the chevron by installing the chevron privacy walls at your outdoor! Bring the chevron to your modern home interiors by introducing the chevron stairs and also hold the chevron striped always in hand by making the adorable chevron iPhone cases!
Bring chevron decor vibes to your home by making chevron memo boards, chevron trays and also the chevron table runners and also make the interesting chevron ombre necklaces that will make a great gift too! There are dozens of chevron projects more given in the list, so do check them out to fall in love more with the chevron! Do visit the respective attached links to get the full free tutorials and to open up the complete project details!
DIY Ideas You May Like:
DIY Chevron Yarn Wall Hanging: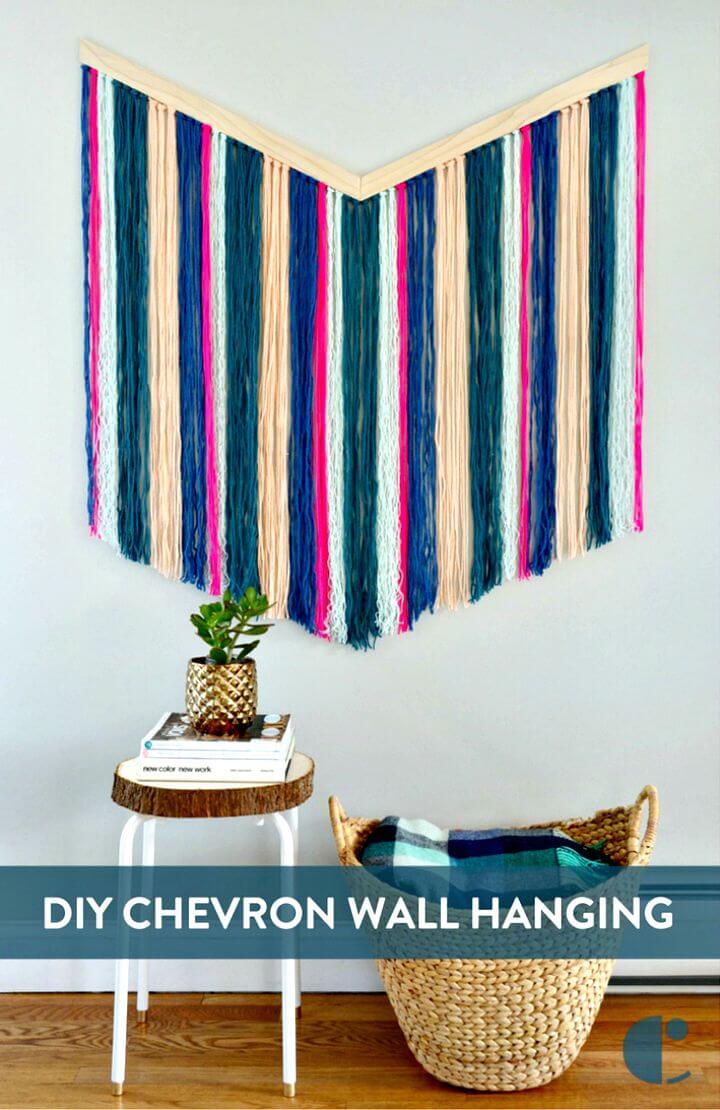 Chevron style is also one of the most loved styles of decors! The chevron lines and the chevron stripes just go much focally stimulating, and you will find the statement so true after taking a look at this chevron wall hanging! This is here the perfect piece of wall art that also bring some brilliant colors to the targeted wall! An instant wall décor solution that everyone can try at home! Here all you need two wooden lengths and some colorful yarn to duplicate this chevron yarn hanging! Full project tutorial and instructions here curbly
Cute DIY Chevron Stripes Applique: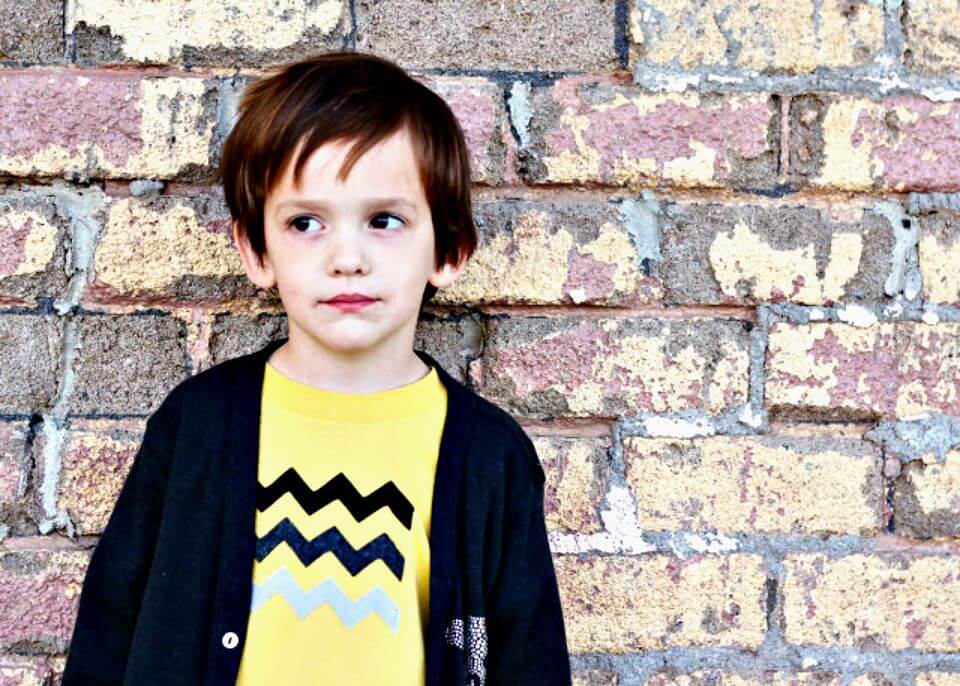 Boost also your fashion by doing some amazing chevron projects! We would like to hold your attention with this beautiful-looking chevron striped kids t-shirt that is just looking fabulous and dominating in fashion! Here only the chevron appliqués have been applied in a front side of the t-shirt for bigger fashion statements! Another cool and outstanding chevron project that everyone can do! Full project instructions here finleyandoliver
Adorable DIY Gold Chevron Vase: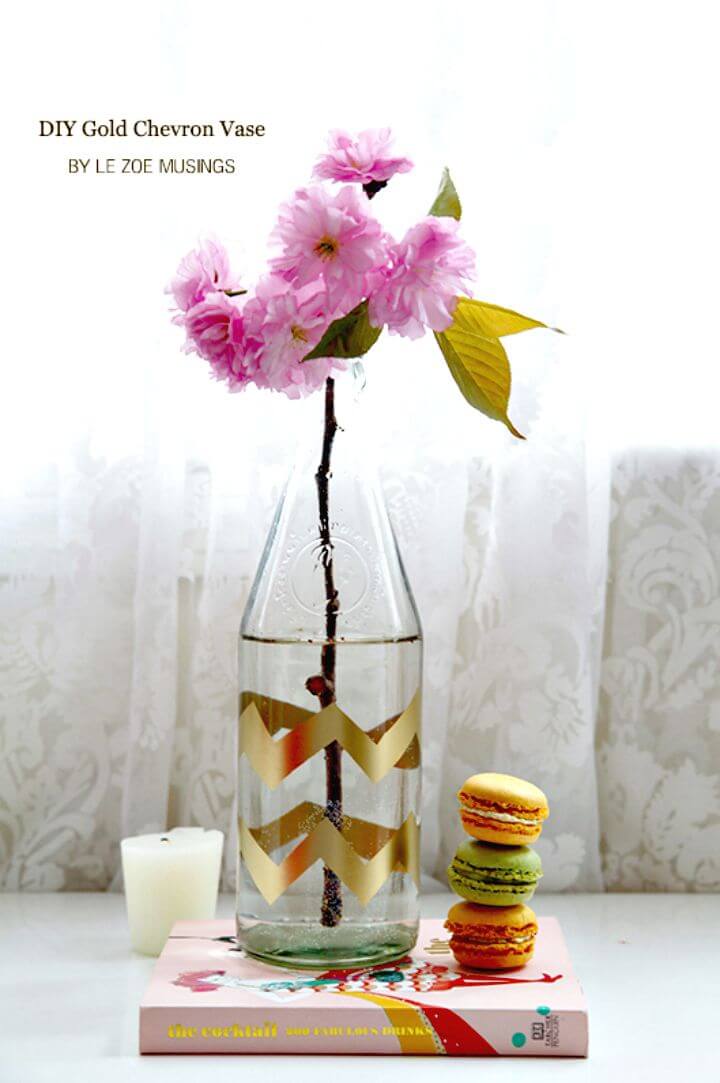 Boost also the visual of your transparent glass vases at home by giving some chevron decorative treatments! Here a posh look of a glass vase has been created by spray painting the gold chevron lines around it! Just cover your glass vase with masking tape in chevron style, and next just apply the gold spray paint for the neat and clean looking chevron lines! Another genius project that you can do to incorporate chevron decors to your home! Full project instructions and tutorial here lezoemusings
DIY Chevron Pallet Mounted Hanging Mason Jar Vase: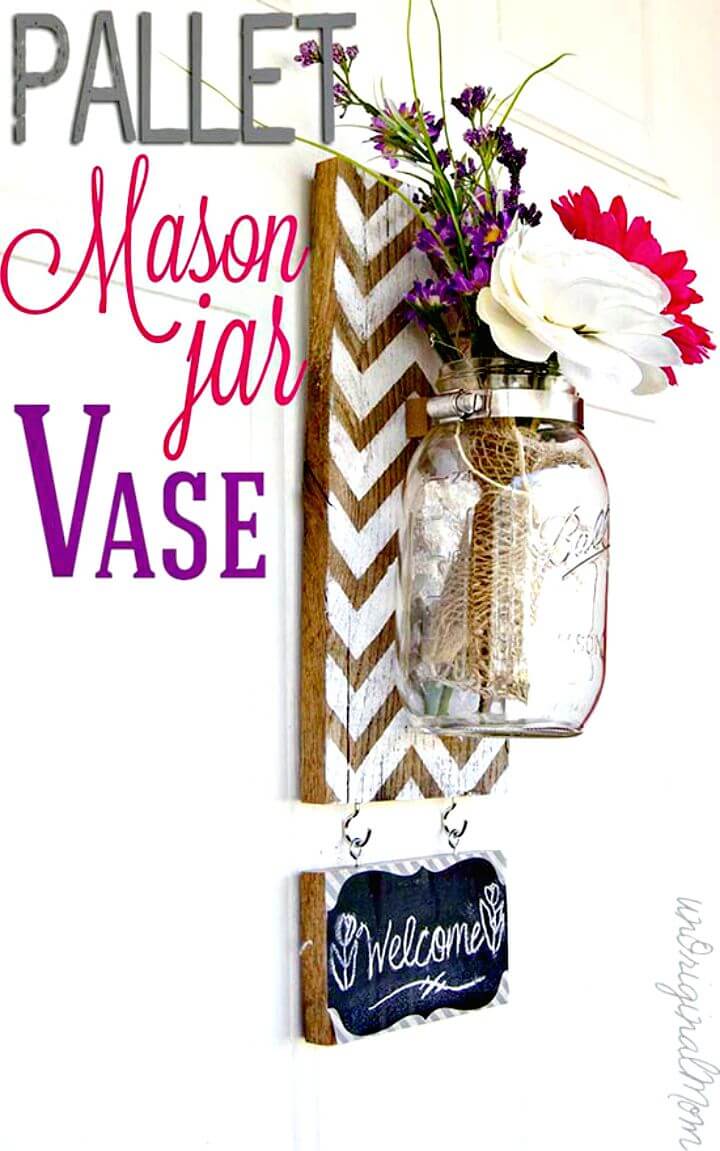 Another brilliant chevron project is here to hold your attention! Just make the fantastic looking chevron wall hanging vases that will definitely bring a touch of chevron decors to your home! Here all you need some pallet wood slats, mason jar, cup hooks, a hose clamp, eye-hooks, masking tape and white paint to duplicate this project! Just paint chevron stripes on your wooden pallet slat, add your mason jar vase on it with the help of a hose clamp and then add the bottom chalkboard plate using s-hooks and eye-hooks! Full tutorial and instructions here unoriginalmom
How To Build Chevron Lattice Trellis: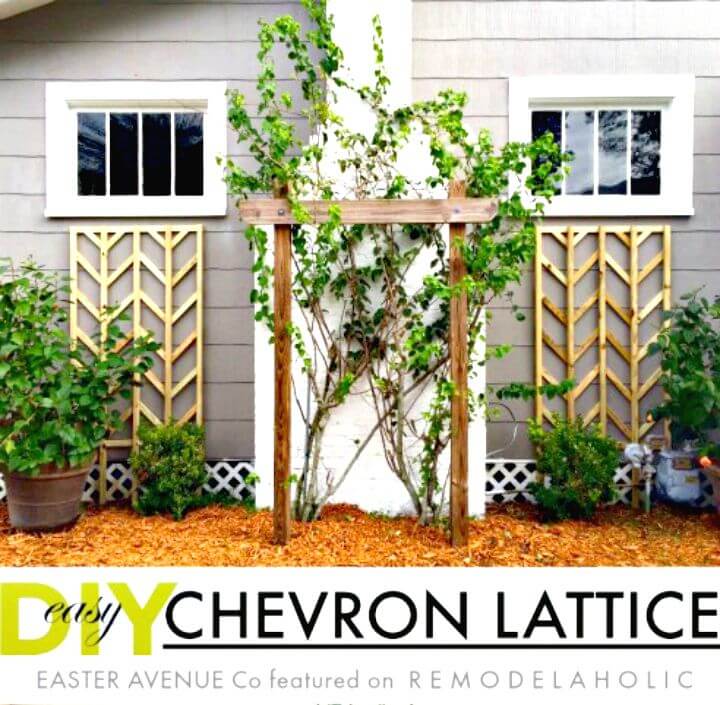 Not only for indoors, you can also do amazing chevron projects for your outdoor for bringing great visual details to your outdoor! Just make the chevron lattice trellises at home that will definitely go eye-catching in your backyard, garden or in the front yard! Check out here the sample chevron lattice trellises that are looking great and amazingly beautiful! Here all you need the custom wooden planks and lengths to duplicate this chevron lattice trellis! Full project instructions and tutorial here remodelaholic
How To Sew Chevron Pencil Skirt: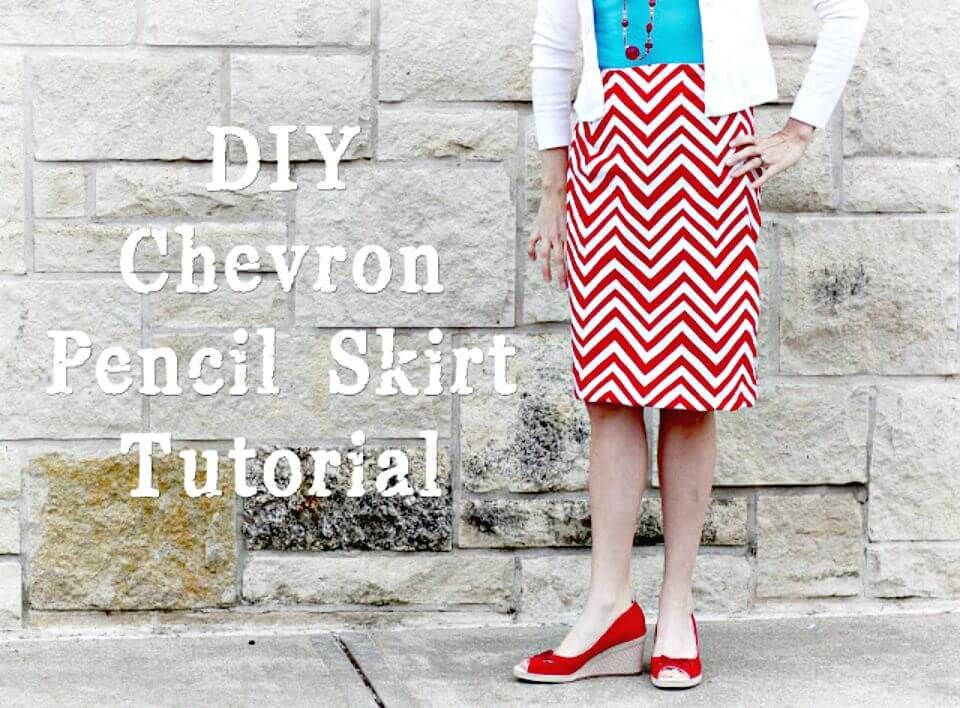 If you are big fan of chevron decors you can also do some amazing chevron sewing projects to wear the chevron lines as a fashion! Just get inspired of this lovely chevron pencil skirt that you can sew for yourself and also for a style loving friend or lady in the home! Here the fabric with red chevron lines and textures has been grabbed and sewn to make this stylish looking skirt! Another great chevron project to duplicate at home! Full project tutorial and visual instructions here sugarbeecrafts
DIY Chevron Picture Frame: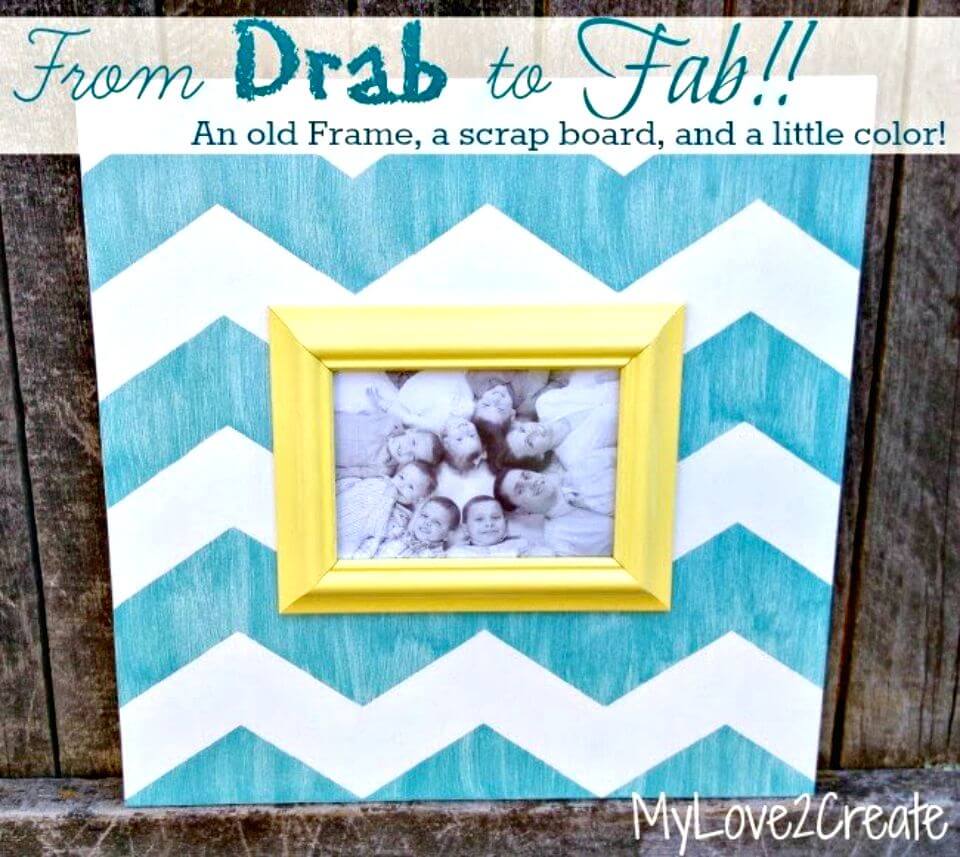 Intending to give your interior walls a damn beautiful touch of chevron decors? If yes, then just checkout here this interesting looking chevron picture frame that is really beautiful to look at! Just grab an MDF board, cut the area out from it according to your picture frame dimensions and next paint your MDF board for brilliant chevron lines! Add the picture frame at the end and then your favorite picture or photo from the backside! Another great chevron project to do at home! Full project instructions here ohmy-creative
Make Chambray Chevron Pattern Shoes: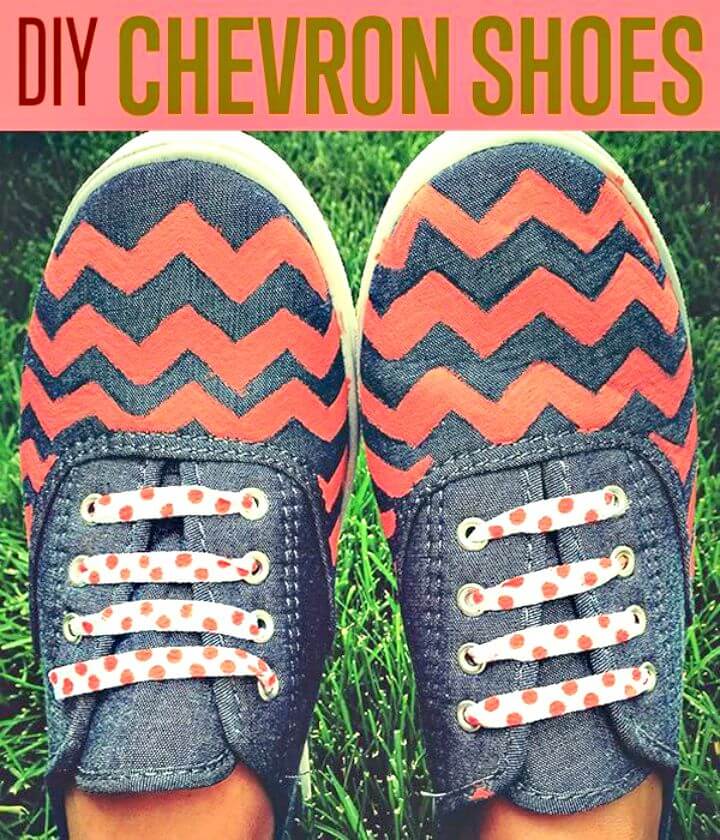 Here is another great and lovely chevron project that you can do at home! Just make the chevron patterned shoes at home that will definitely go lovely to your feet! Just make use of chevron stencils and to trace out the chevron lines and next just fill paint in your traced out chevron lines for a gorgeous pair of shoes that will definitely boost your fashion! Just check out here the sample shoes that are looking damn beautiful and enticing! Full project tutorial here diyprojects
How To Make Chevron Cake: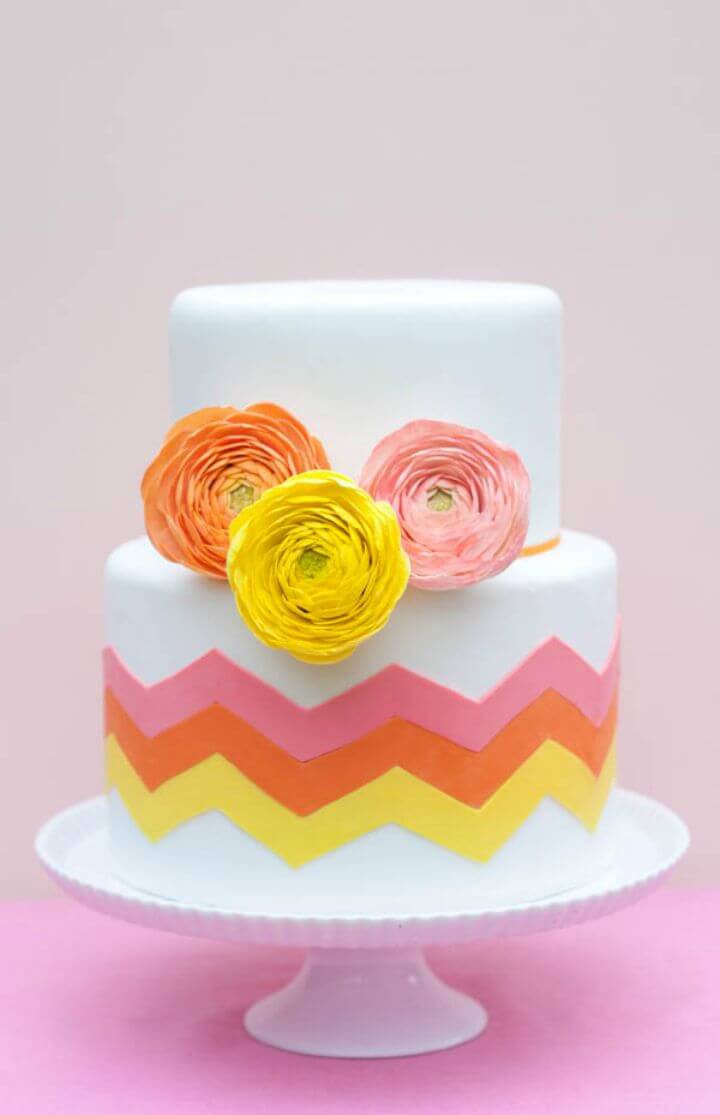 You can also incorporate the chevron decors to your party environments easily, here is a beautiful suggestion to do it! Just make the chevron cakes that will go eye-catching on your dessert table! Just have a look at this sample chevron cake that comes with colorful chevron fondant strips and hence gains a gorgeous appeal! Finally this cake has also been adorned with the faux flowers for a super beautiful appeal! Just cut a paper chevron template to cut fondant chevron lines! Full project tutorial here ericaobrien
Simple DIY Chevron Outdoor Privacy Wall: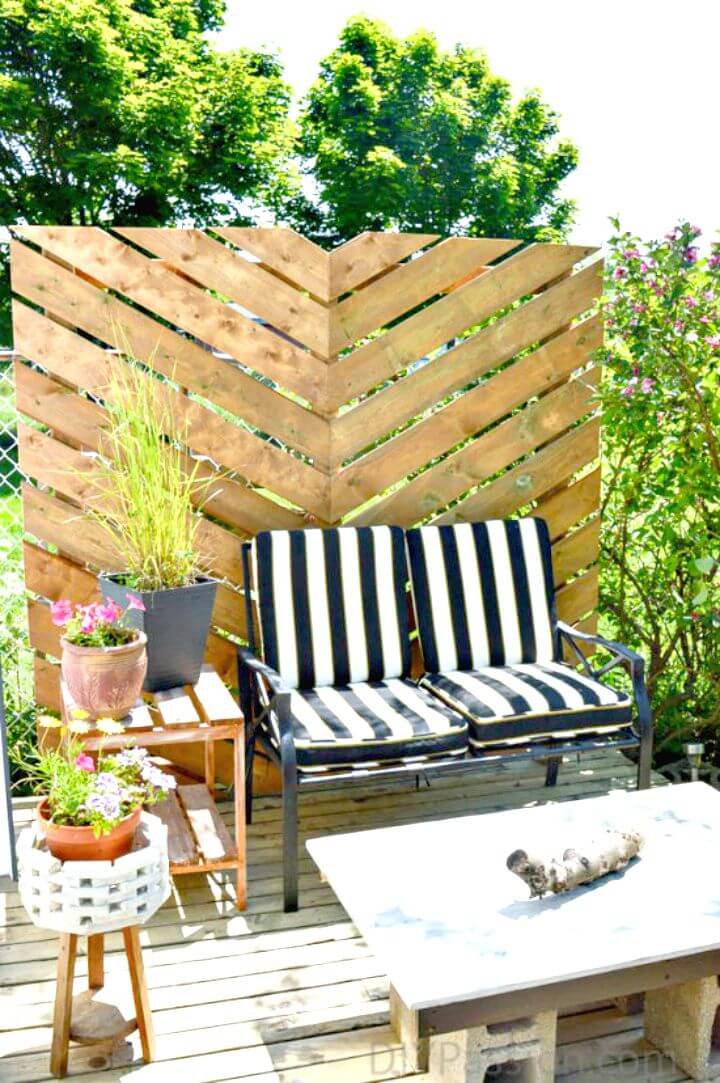 It all always demands to create some privacy to your outdoor sitting spaces, it is good also for the sunshade and shelter! Check out here the sample outdoor privacy wall that is made of custom cut wooden slats! Just make first the wooden frame for the chevron wall and next start filling it with chevron alignments of your wooden planks or slats! Grab the full free tutorial and instructional guides from here diypassion
Build Your Own Chevron Wood Planter: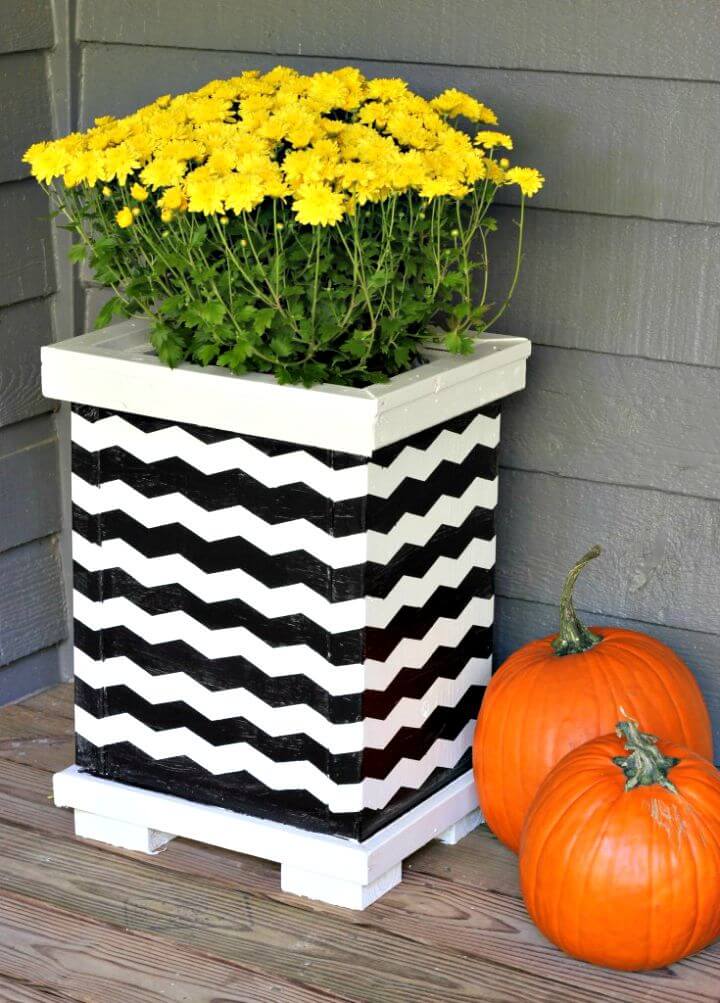 Bring also a touch of your chevron decors to your patio or any outdoor by making the handsome looking chevron wood planters! Need some inspirations? Then just have a look at this given chevron wood planter that will be ready in no time! Just grab the custom wooden slats and boards and build a box-shaped wooden planter! Make a hole in the bottom side for drainage and then just make use of paint and masking tape to paint the enticing chevron striped all around the wood planter! Full project tutorial here erinspain
Adorable DIY Chevron Stairs: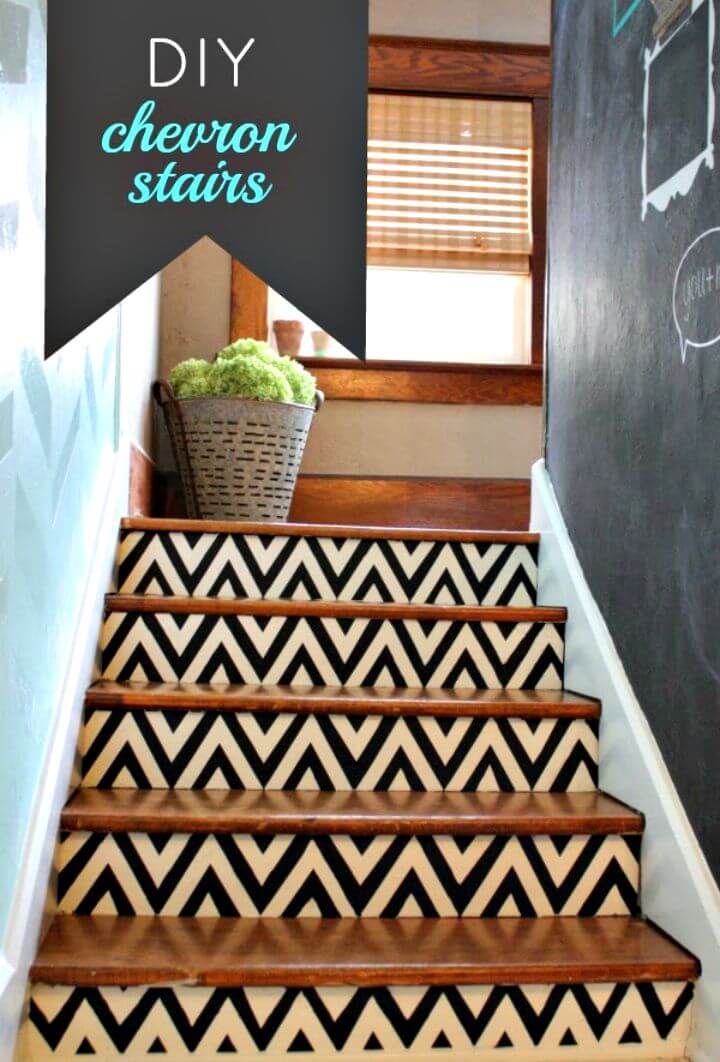 You will definitely love this another great hack here that is all about to incorporate the chevron style to your modern home interior! The idea is to install the precious looking chevron stairs that will definitely go eye-catching! Just grab a triangle template and then trace out the chevron patterns in front of your interior home stairs! Cover the traced out chevron lines with painter's tape and then paint the stairs in your own favorite color! Full project tutorial and visual guides are here robbrestyle
DIY Chevron Glitter IPhone Case: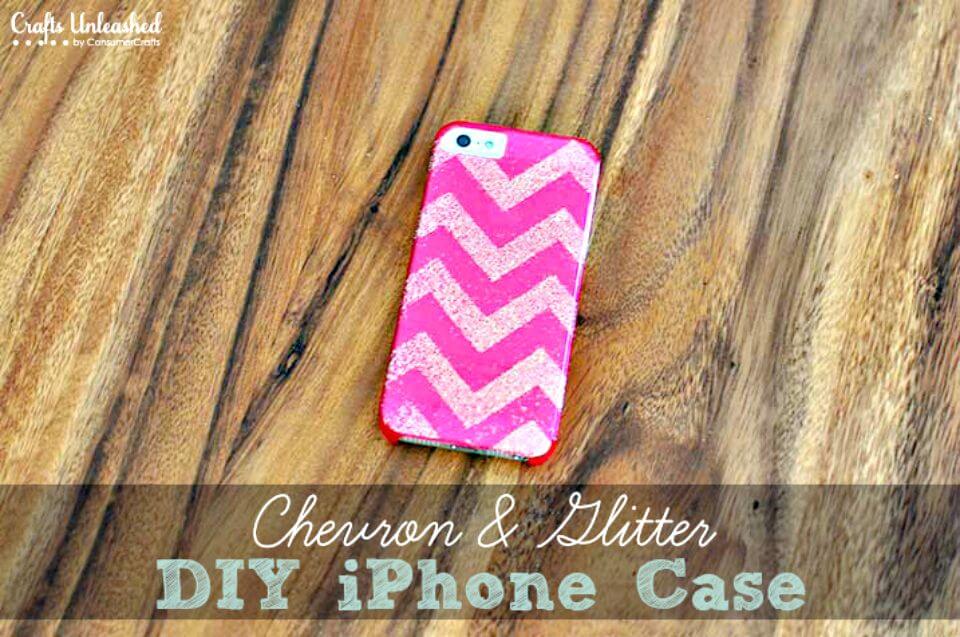 If you are a big fan of chevron style then you can also adorn your iPhone cases with brilliant chevron stripes to keep the chevron stripes always in your hands! If you are intending to do so then you can get inspired of this chevron glitter phone case that is entirely self-made! Here all you need a chevron stencil and then you can easily make the iphone consumercrafts
Beautiful DIY Pink Chevron Zipper Clutch: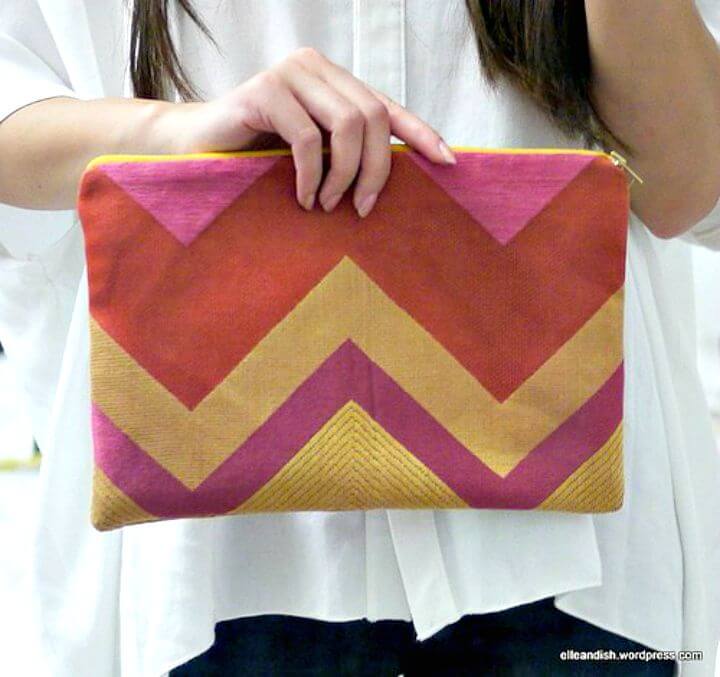 While the chevron style is getting all trendy for the home décor and styling projects you can introduce it in your fashion world too and this adorable chevron zipper pouch is just the mouthpiece of it. Just find a colorfully chevron printed fabric and sewing it up and adding a zipper to it you can easily get yourself this cool and funky clutch to hold in your hands and look super stylish for your outdoor visits. Check out the complete details of the idea right on the link here so make a bunch of them and give away a few as gifts too elleandish
Create a Chevron Magnetic Memo Board: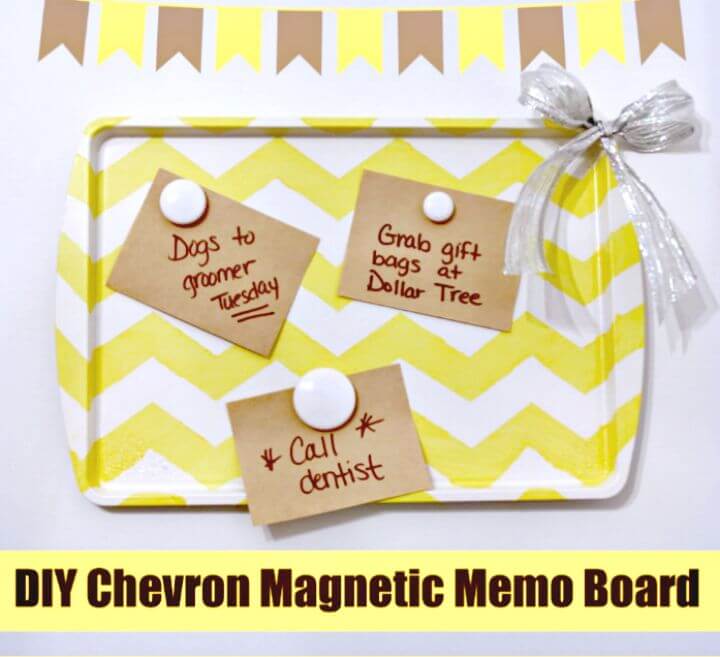 The memo boards really make it easy and fun for us to remember tasks that we forget due to our hectic routine and this chevron style magnetic memo board is just the right thing to get your hands on. Using a tray from your kitchen and then painting it up with the chevron lines in white and yellow this super chic and gorgeous memo board has been made to add oodles of modern style to your home décor. The idea is too cool and simple to work on and here we got you the link to check out complete details of it mamamommymom
DIY No-sew Chevron Table Runner: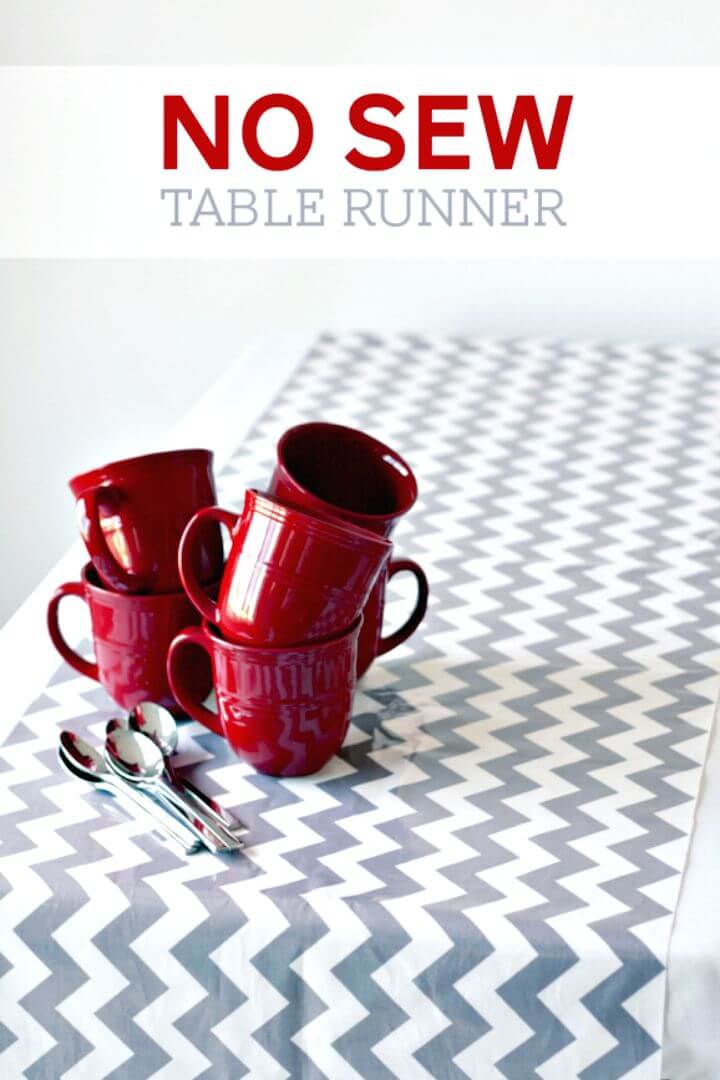 A party table is the center of focus while we are preparing for the party décor and home styling and a gorgeous table runner is the first thing you need to arrange for the pretty look of your table. So go to the fabric market and find out this super cute and fun looking chevron patterned fabric that would really turn out to be an awesome table runner with its pretty stripes. With suitable measures and cuttings you can prepare the table runner with no sewing involved. To know more about this great now sew table runner you can visit the link here pagingsupermom
Quick DIY Ombre Chevron Necklace: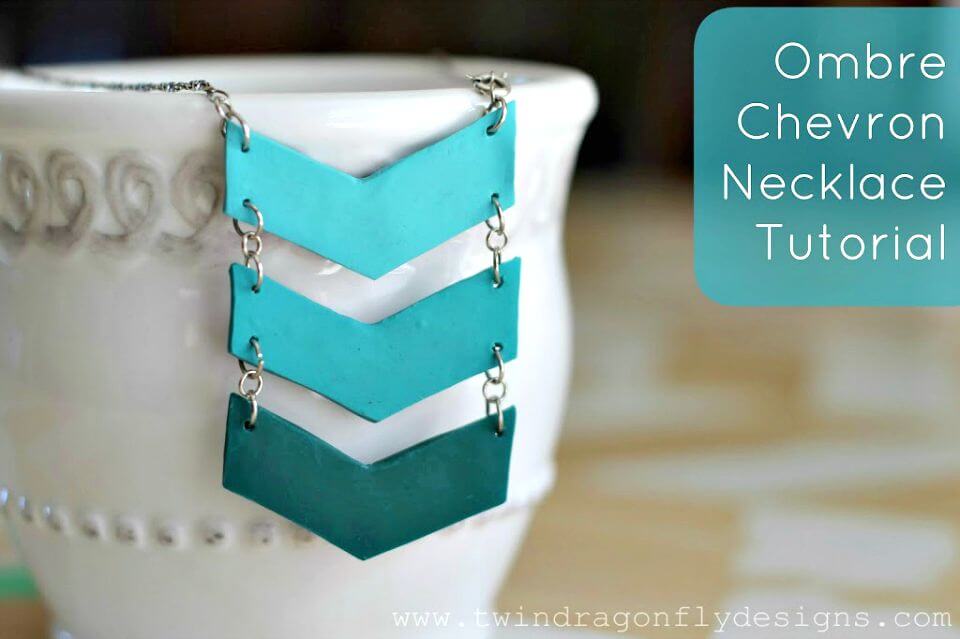 This funky Omber chevron necklace would surely add a boho look to your dress up for a party or the event as the chevron lines are super modern and chic in design and becoming inspiration for so many projects. So using the omber shades of the blue polymer the chevron arrow head like pieces have been made and chained up to form a perfectly cute and stylish chevron necklace to glam up your neck with. You can also make and gift it to your girl gang and they would all just love it so learn making it here with all the details and the instructions twindragonflydesigns
Gorgeous DIY Chevron Serving Tray: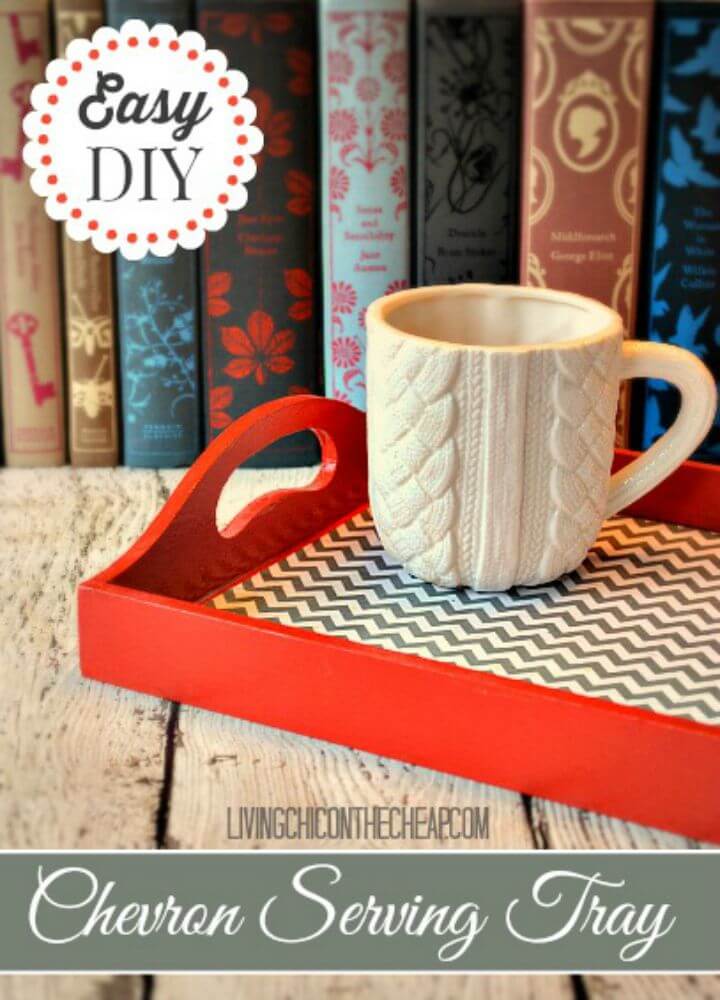 A cup of coffee or tea served at the right time can really cheer up our mood and if this gorgeous chevron serving tray is used for the purpose the mood would be cheered up doubled. The adorable chevron stripes just really make the serving tray look super cute and attractive for the eyes and you can easily make one for your servings at home to the family or the guests. A chevron designed scrapbook paper has been glued on the tray and your tray makeover is done. Complete details and instructions here livingchiconthecheap
How To Make Chevron Stripes: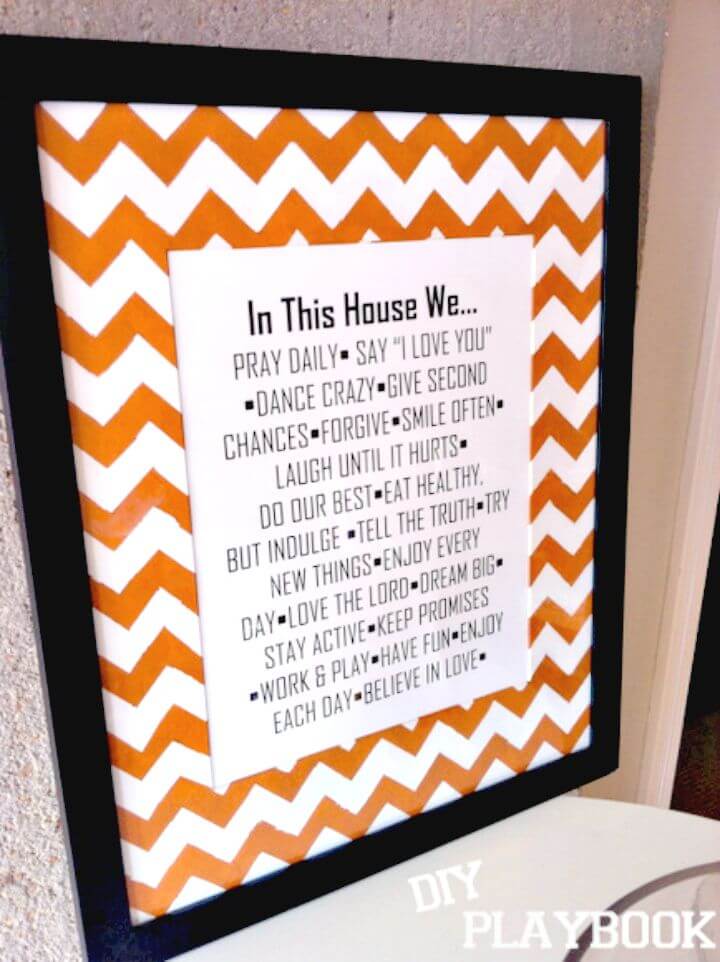 Another smart hack is here to incorporate the chevron style to your interiors! Just make the interesting looking chevron wall frames and let the chevron stripes spruce up your room interior ambiance! Just grab your frame and next just paint the chevron stripes on it! Just make use of ruler, pencil, paint and painter's tape to paint the chevron stripes! Just have a look at this sample chevron frame and do duplicate it! Full how chevron stripes tutorial here thediyplaybook
DIY Chevron Moccasins: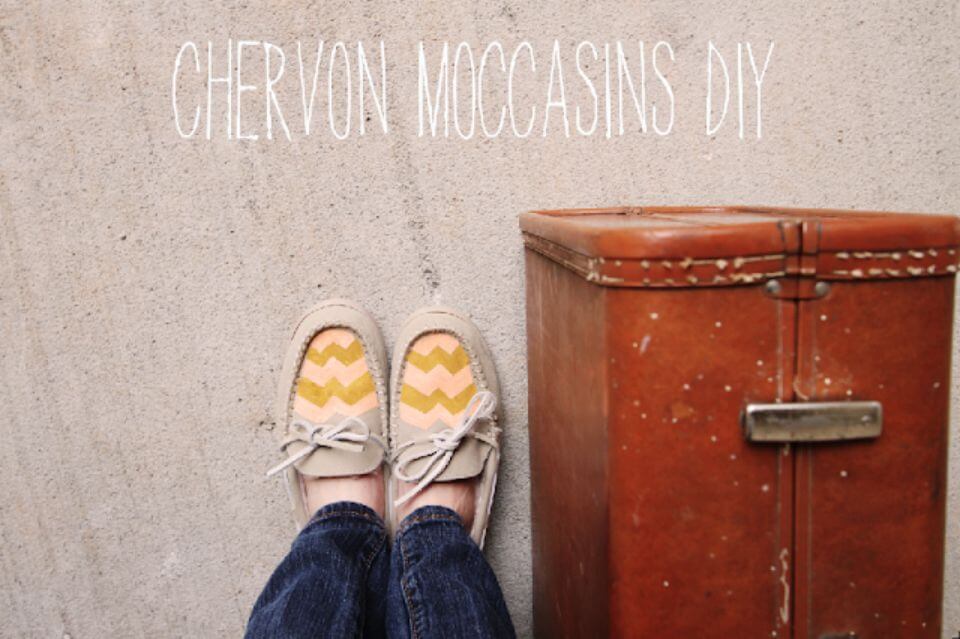 Wear also the chevron pattern on your feet by making stylish chevron footwear! We would like to draw you attention toward these chevron moccasins that are looking damn lovely and beautiful and are super beautiful to look at! Here again you have to grab your favorite moccasins and next you can make smart use of chevron stencils and paint to paint the chevron stripes on your shoes! This also a great idea to make your old and boring old shoes look great and enticing! Full project tutorial and instructions here sincerelykinsey
Awesome DIY Chevron Vases: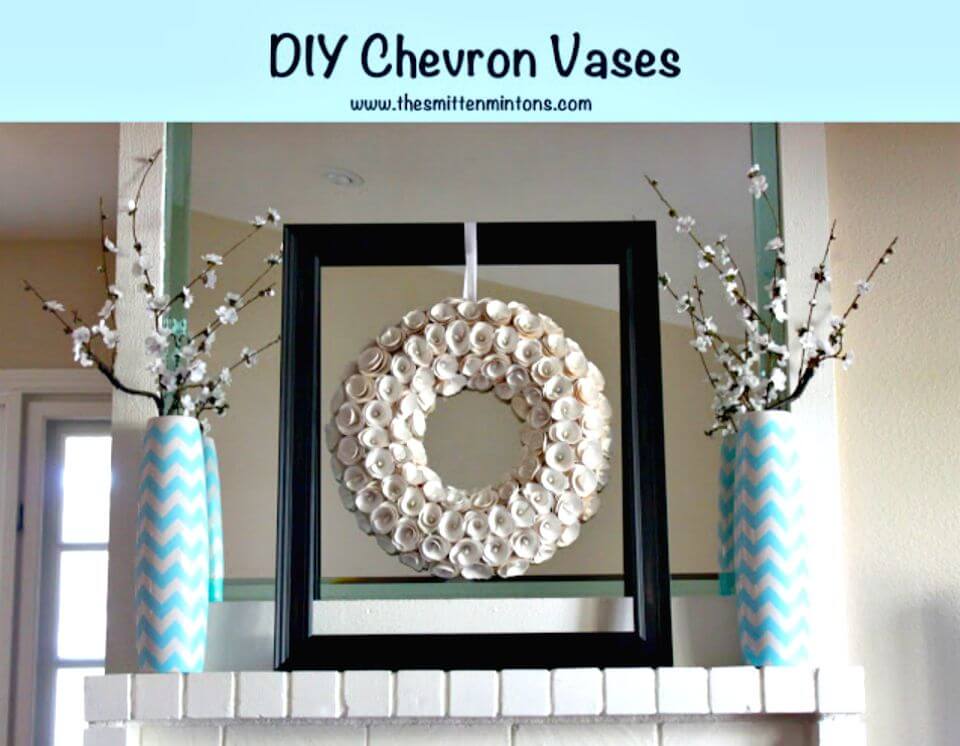 Make also the good looking chevron vases at home that will also held much precious to eyes! Here the white vases have been transformed into chevron visual delights just by doing a smart makeover! Here what you have to do is to trace out the chevron pattern on a paper and then you can cut the paper chevron lines out to use as stencil in the makeover! Adhere the chevron stencils around the vase and then spray paint the vase! Another smart chevron project to do at home! Full project instructions here katienrush
How To Make Glitter Chevron Art: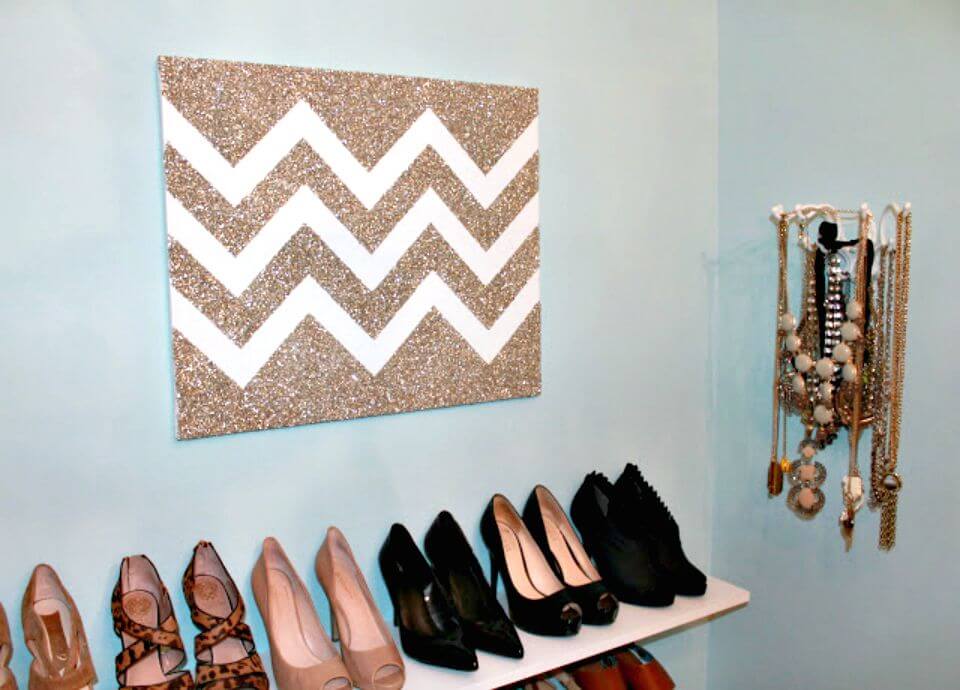 Here is another interesting chevron project that you can do easily to jazz up your interior walls! Here all you need is to make smart use of masking tape and glitter to make this perfect chevron wall art sign! Just grab a canvas frame and then just mount the masking tape on it in a chevron style, next adhere glitter on the entire canvas using glue or mod-podge and peel of the chevron masking tape stripes when glitter gets dried! Next spray paint to change the colors and that's it! Full project tutorial here pennypincherfashion
How To Paint A Chevron-patterned Dresser: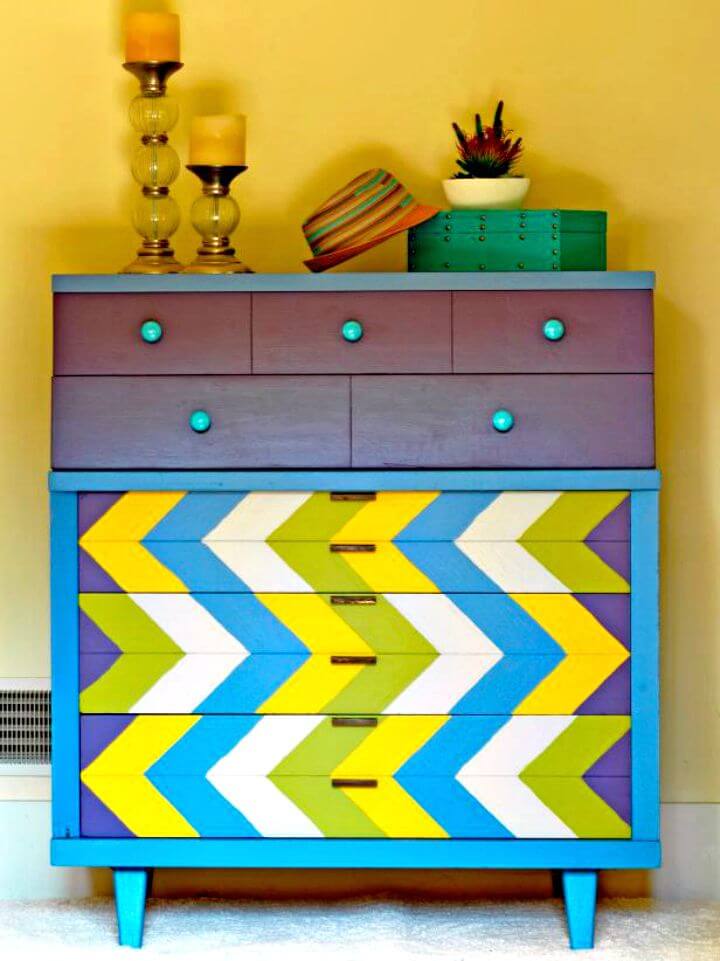 You can also paint your interior furniture for amazing chevron patterns and stripes and this would be another great way to bring a touch of chevron decors to your home! Just have a look at this chevron patterned dresser that is purely self-made and is just looking damn cool and fantastic! just grab triangular or chevron template and trace out your chevron design on the dresser, next fill your chevron design or stripes with paint and make a brilliant chevron patterned dresser! Full project instructions here diynetwork
Inexpensive DIY Chevron Friendship Bracelet: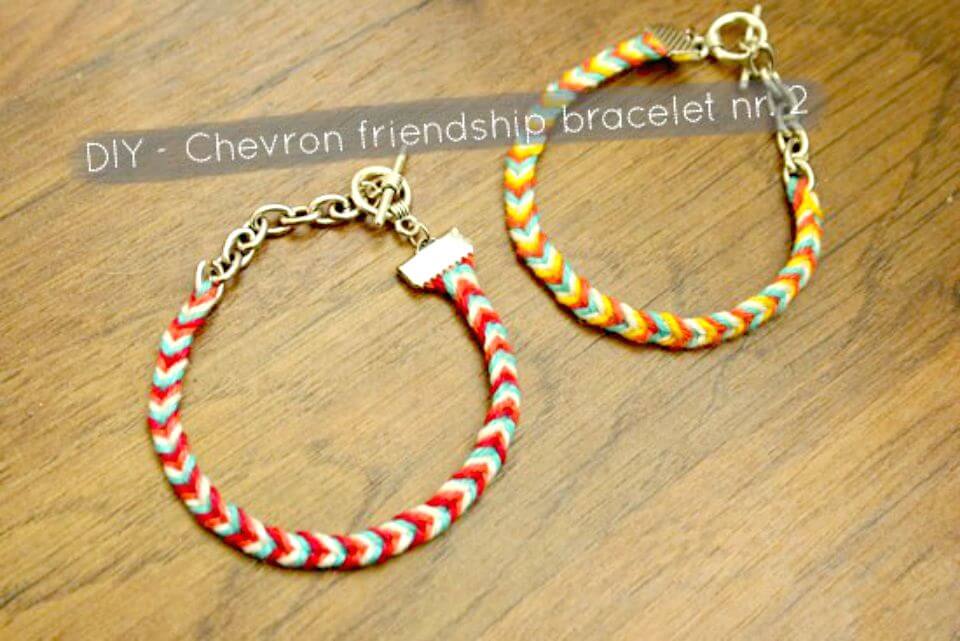 Make also very good looking items of jewelry at home in chevron style that will really rock when worn for personal adornments! We would like to inspire your with this example of chevron friendship bracelet that is looking damn lovely and cool and is just super easy to make at home! Here different colored yarn threads have been braided together to make the chevron bracelets which have been finished with metal chains and with bracelet hardware like with the toggle clasp closure to make a bracelet! Full project tutorial and instructions here bywilma
DIY Chevron Wooden Tray: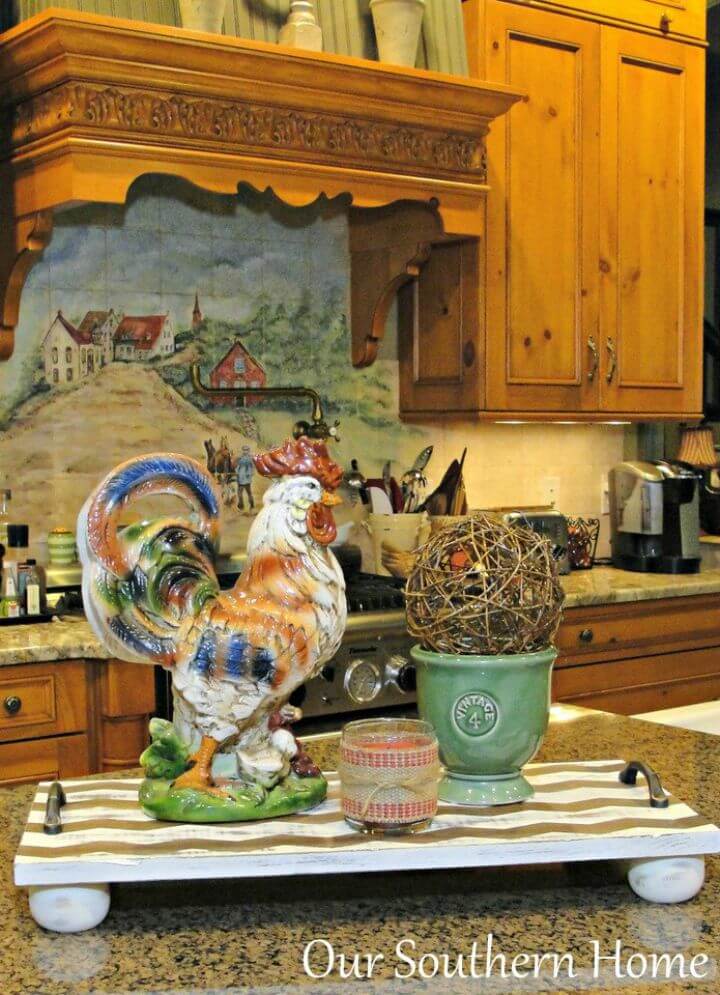 Here is another great and lovely chevron craft that you can do at home to show your love for your chevron style! This is here a brilliant looking chevron wooden tray that will definitely look great when placed on a kitchen counter or on a dining table! Just grab some piece of wood cut to the desired size and next make use of chevron template and white paint to paint the chevron lines on the wooden tray and then finish your wooden tray with some bun feet! Another great and smart chevron project to do at home! Full project tutorial and instructions here oursouthernhomesc