Keeping chickens or hens at home might sound all fun and games until you really have to do the whole thing by yourself. We have gathered time-saving and quite easy 19 DIY chicken waterer ideas using PVC to keep you off the clock, all the time. When you have several chickens to take care of, you cannot always keep running back to check on them. In the backyard or your barn or their chicken coop to make sure they have water and feed supply available. And because we totally understand the pain, we have rounded up these brilliant and handy DIY chicken waterer ideas.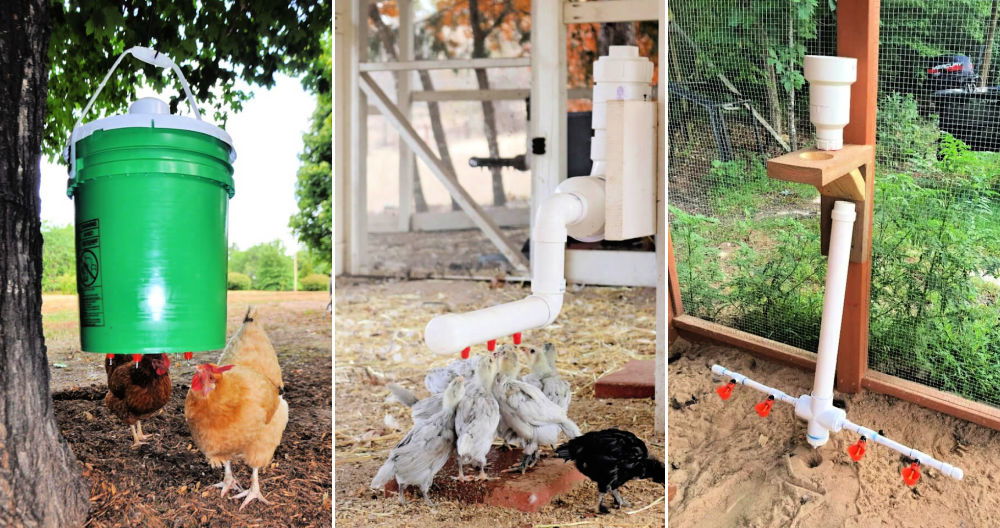 Almost all of these ideas are insanely cheap to setup! And they are SO easy to make that you will be thrilled to know how easy it is actually to manage your feathered friends. We can claim without any shrink of doubt that our collection of DIY chicken waters is going to be your favorite thing on the internet today! Of course, given that you are a chicken person with a thing or two for efficient time management and handy ideas! Having said that, let's dive in and have fun exploring through our 19 FREE DIY chicken waterer ideas!
1. DIY Chicken Waterer from 5-gallon Buckets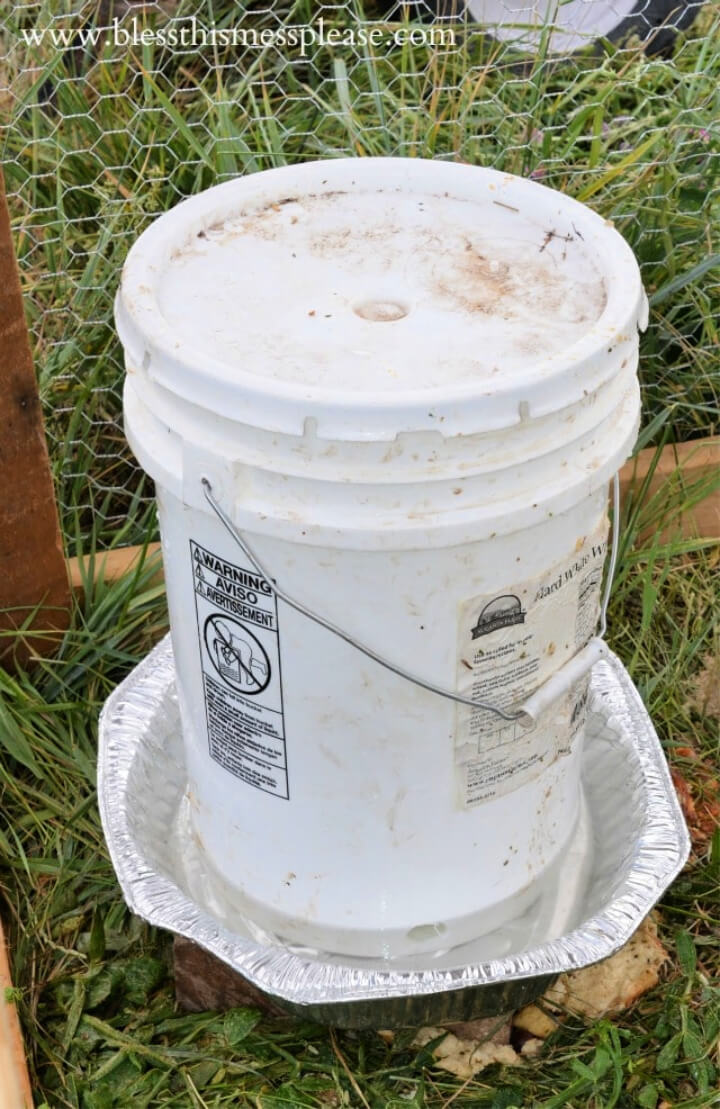 Save yourself some money by getting a totally cheap alternative to commercial chicken waterers. This 5-gallon DIY chicken waterer idea is just going to cost you $1. No kidding! See for yourself in the tutorial. blessthismess
2. DIY PVC Chicken Waterer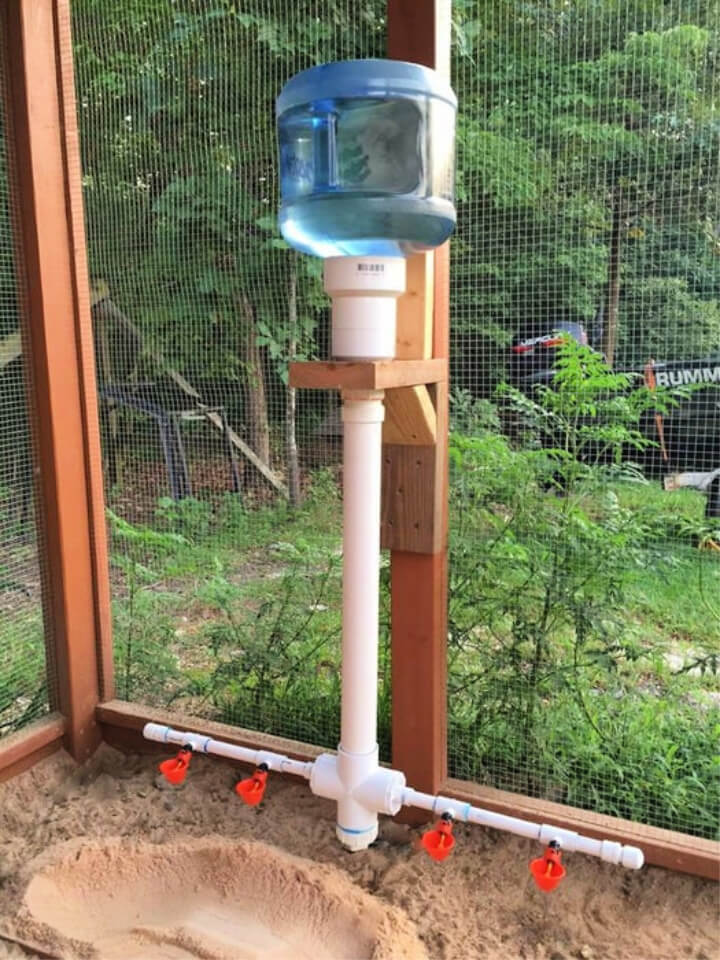 Keep your flock watered by also keeping them away from any messy landscape filled with water! This totally systematic PVC pipe chicken waterer is going to save you SO time and effort in maintaining your flock like a pro. See details in the tutorial. instructables
3. DIY Glass Chicken & Poultry Waterer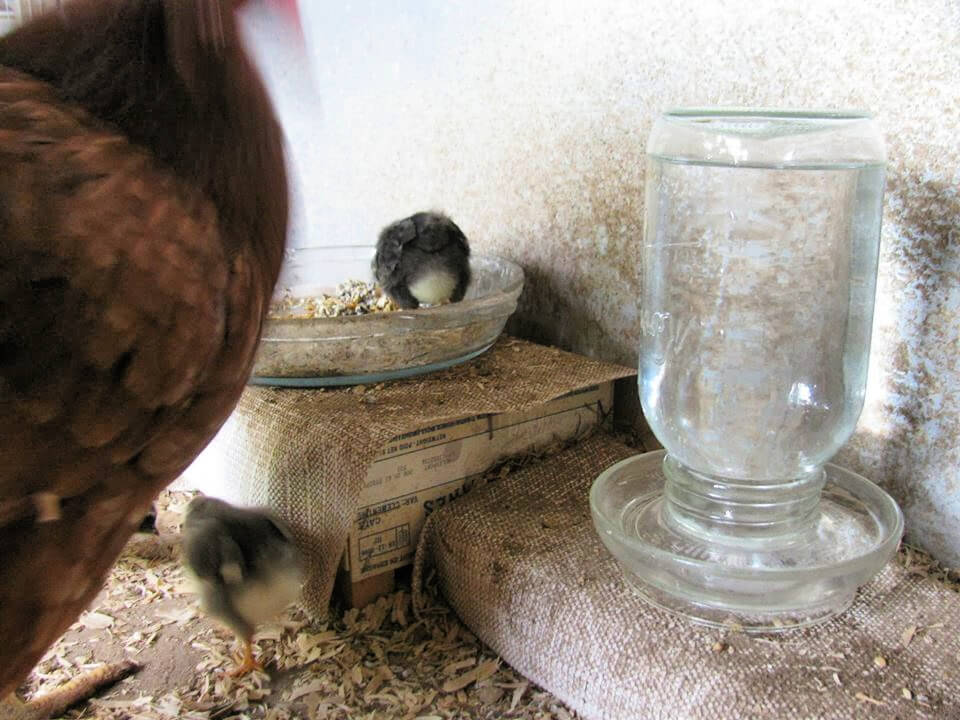 If you are not a plastics kind of person, this glass bowl and a canning jar feeder will be your thing. Make a super handy chicken waterer using this idea and keep your concerns untroubled as well. Head over to the tutorial for details. naturalchicken
4. How to Make PVC True Auto Waterer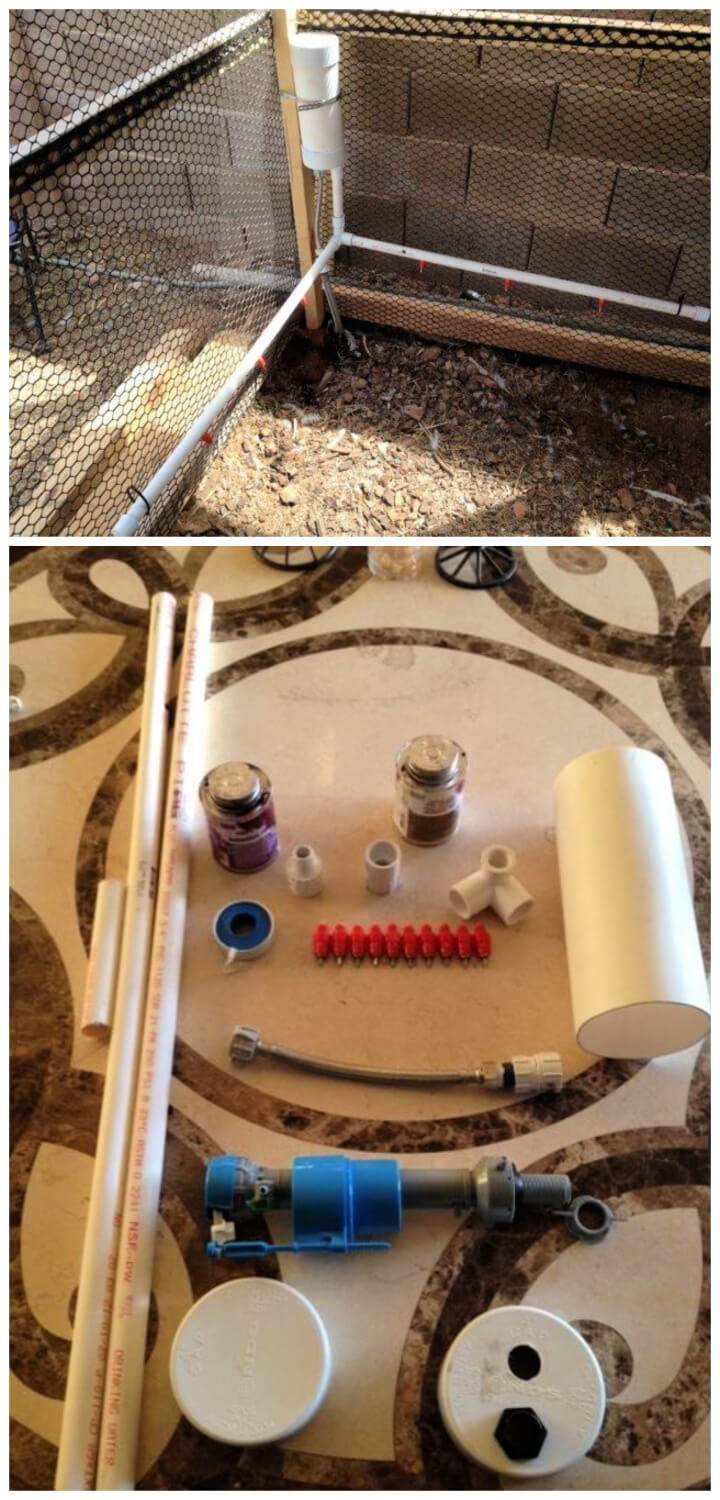 Manage your backyard flock of chickens with this DIY auto chicken waterer! You might have to leave for work in a hurry. You cannot always step out in the morning to refill the water supply. How to make a chicken waterer out of PVC pipe? Handle these kinds of situations by walking through this DIY PVC chicken waterer tutorial. backyardchickens
5. Build an Automatic Chicken Waterer
An automatic chicken waterer is what you need to keep yourself free from the tough routine of always looking out for your chickens. Cut yourself with some slack with this automatic water supply. See the tutorial for details.
6. Chicken Waterer from Beverage Cooler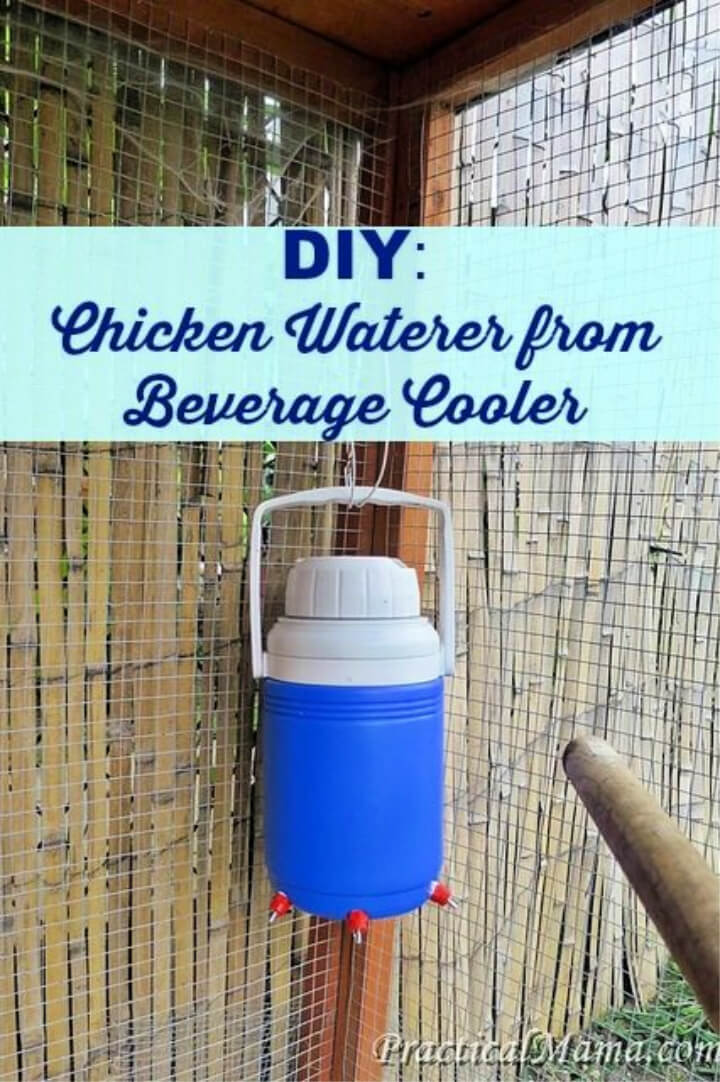 Did you know your old beverage cooler is not totally useless? Turn it into something entirely handy with this catchy and appealing DIY chicken waterer idea! All you need to add to it is around 5-6 poultry nipples. See details in the tutorial. practicalmama
7. Fang Dangled Automatic Waterer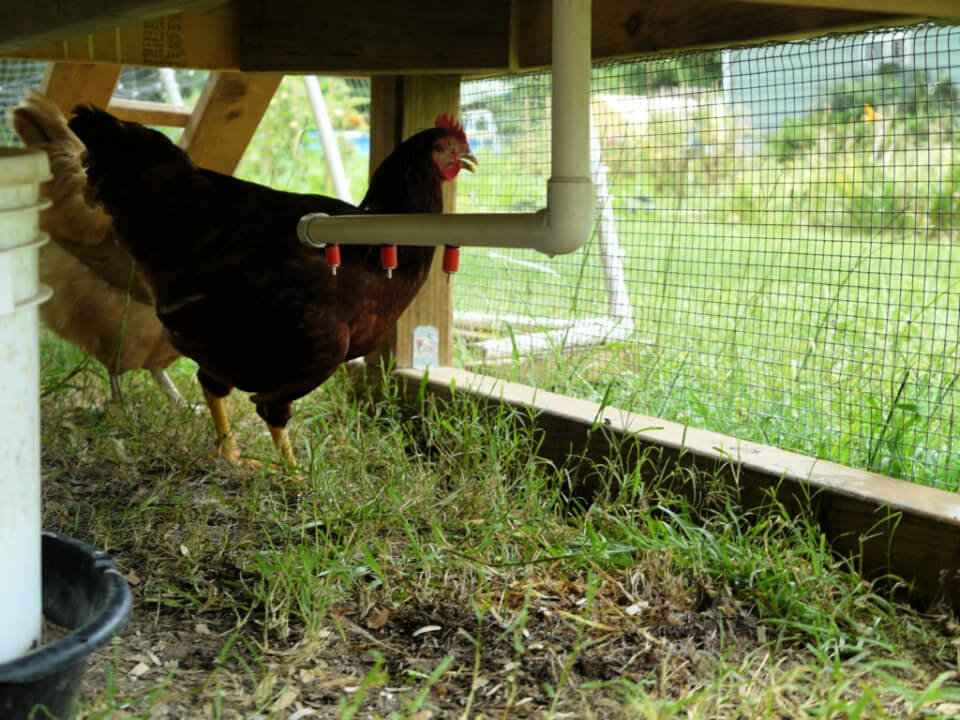 A fang dangled automatic waterer can help keep the pallet chicken coop well-managed, less messy, and more worry-free! The tutorial will walk you through the step by step guide on how you can make a totally functional waterer using a 5-gallon bucket. backyardchickens
8. Chicken Nipple Waterer using a Plastic Bucket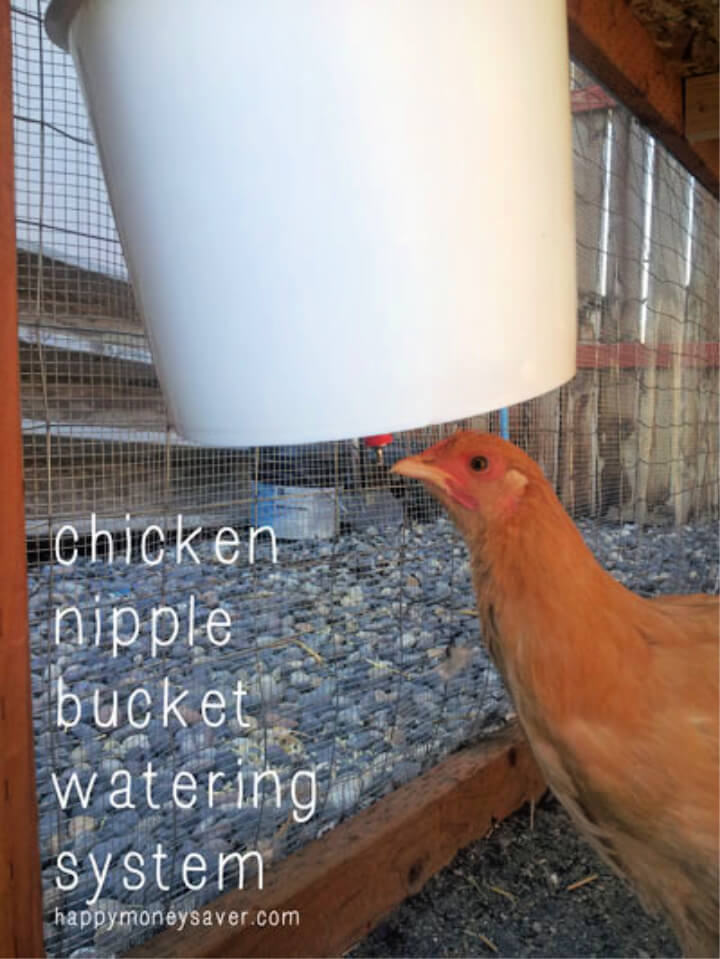 Make your feathered friends a totally functional and easy to handle automatic waterer. Using a 5-gallon bucket and a nipple! It will be effortless to refill and manage, as well. Head over to the tutorial now for step by step guide. happymoney
9. Inexpensive DIY PVC Chicken Waterer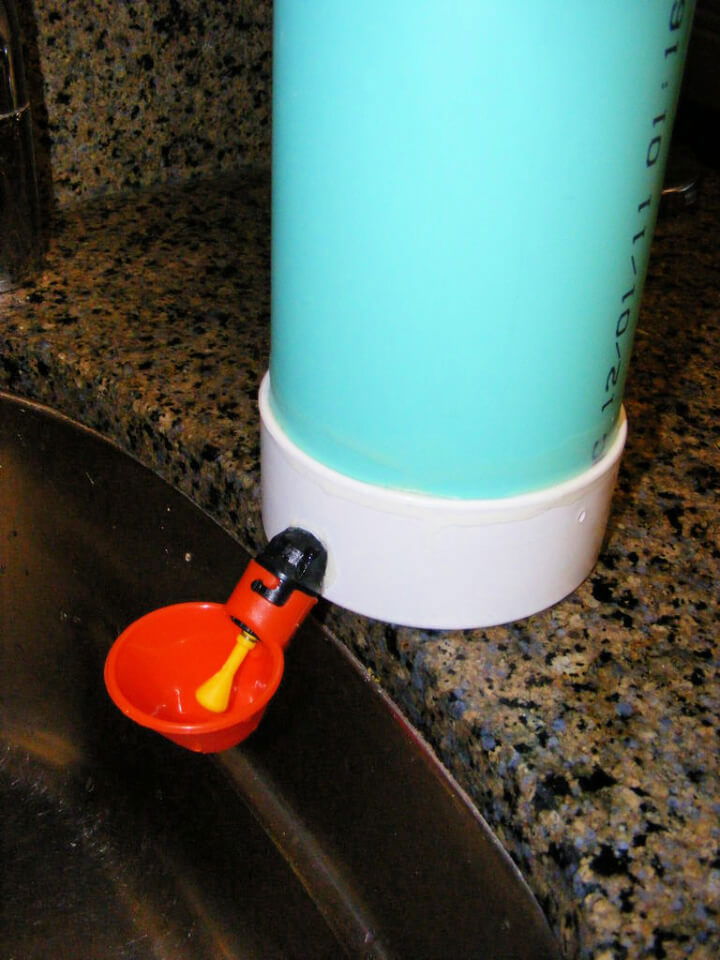 Make an auto refill and less messy chicken waterer using a PVC pipe, cap end, threaded cap, a chicken feeder cup, silicon sealant, and PVC solvent. For exact measurement and illustrations with step by step guide, hit the tutorial. instructables
10. DIY 5-Gallon Chicken Waterer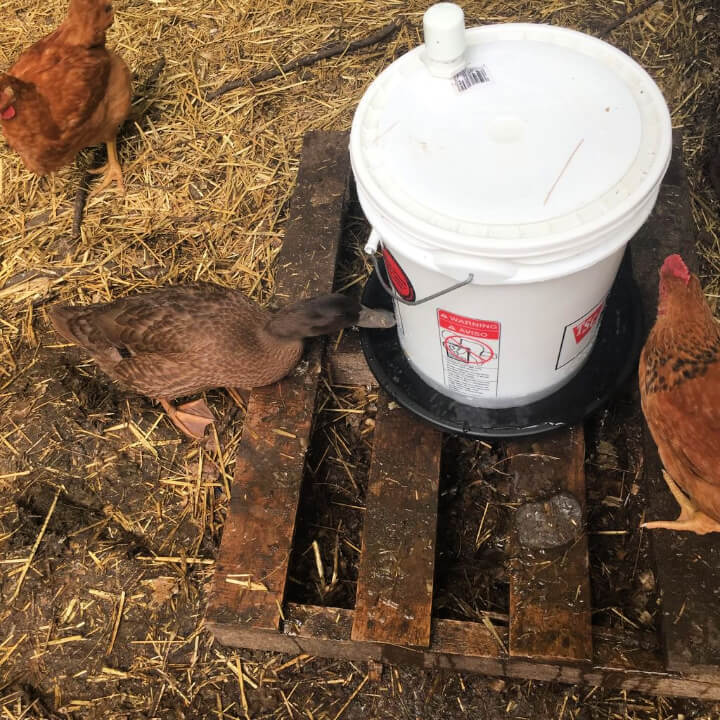 Make a functional and insanely inexpensive chicken waterer using a 5-gallon water basket. This will help you cut time on the strict flock patrol you used to have after every one or two hours! See the tutorial for details. instructables
11. Make Your Own Chicken Waterer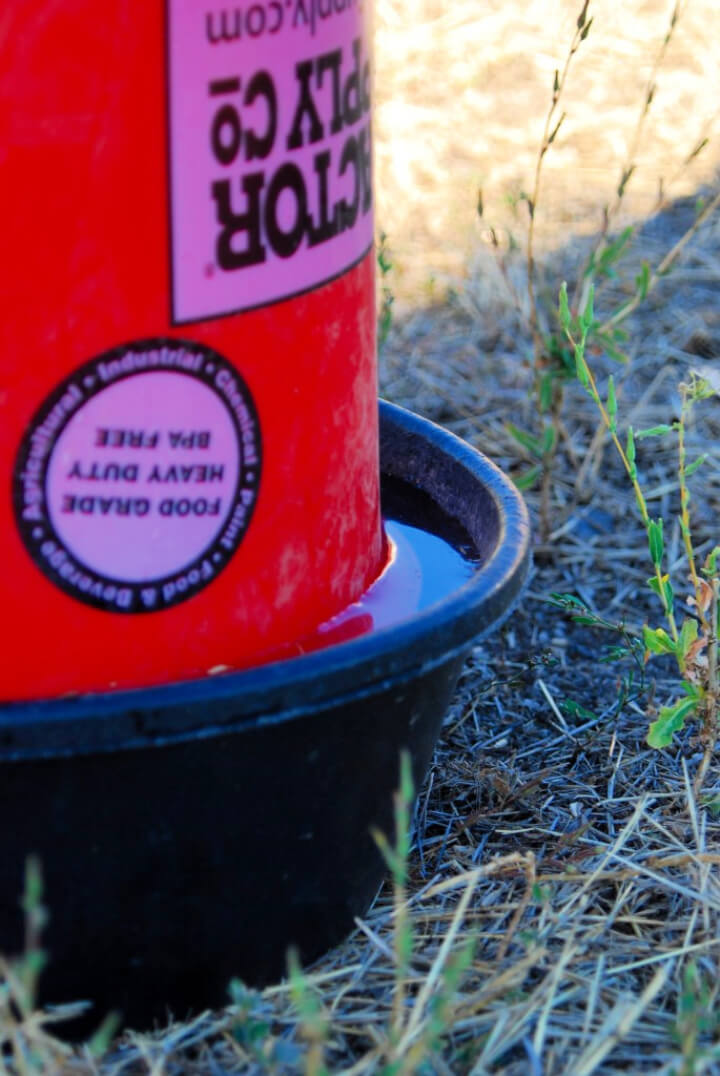 People are always looking for ways to make things more automatic and more functional! Managing a flock of hens is not as easy as it may sound. But with this DIY chicken waterer, at least one part of the feed supply gets easier. longbournfarm
12. DIY Chicken Waterer
You can already imagine how handy a DIY chicken waterer like this could be by looking at the image. Less messy and all of your feathered fellows happy and satisfies too! All by using a PVC pipe as the main supply. See the full details in the PVC chicken waterer tutorial. threelittleblack
13. Gravity Fed Chicken Waterer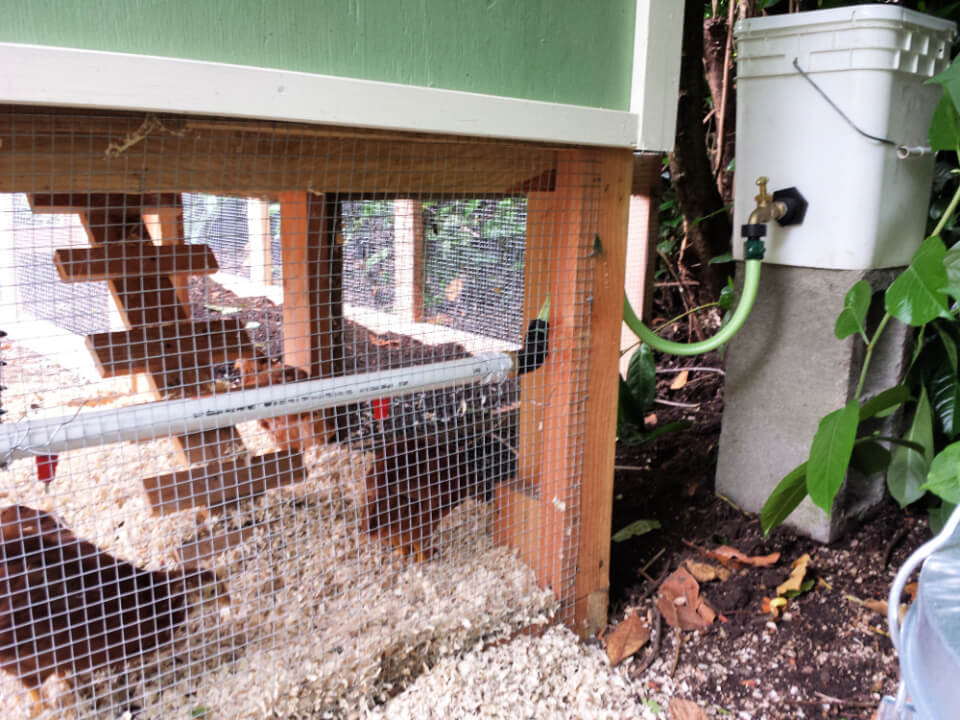 The added benefits of a gravity-fed chicken waterer are SO many! You don't have to keep cleaning the water container because it is filled with poop or grass or mud or feed, and well, what not! Less messy and just so much handier! wellinformed
14. Simple DIY 5-gallon Chicken Waterer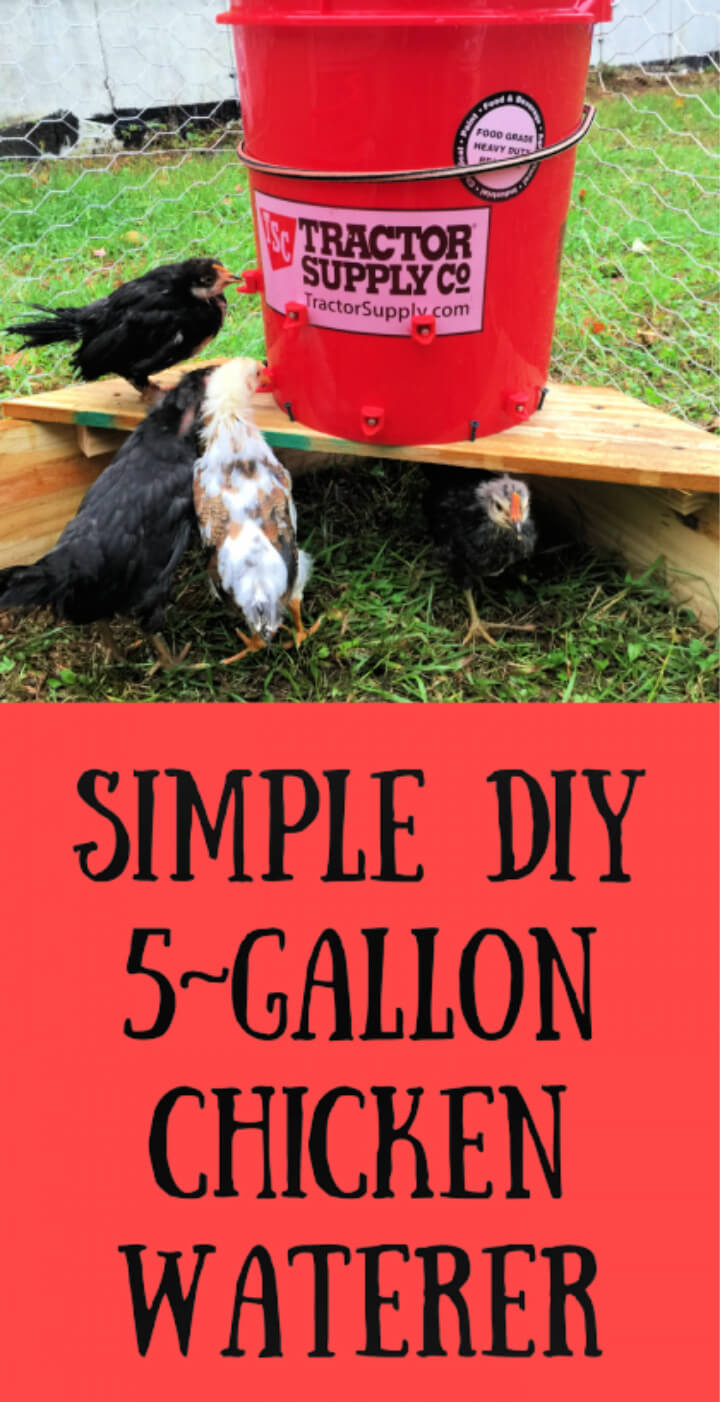 A simple DIY chicken waterer can help you organize and manage the chicken coop or backyard way better than you could have done without these customizable ideas! Like this 5-gallon water supply can save you loads of messy and trampled grass days. lumnahacres
15. PVC Soda Bottle Chicken Waterer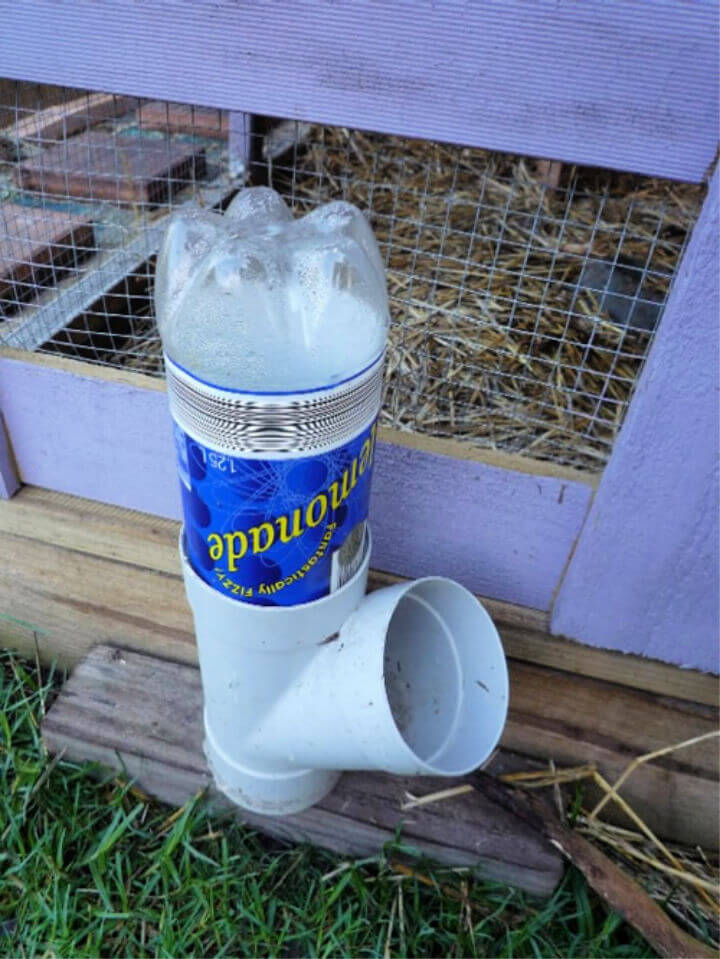 Are you not a very craft person? With a little bit of detailed architectural genes. Don't you worry! This insanely easy to make DIY chicken waterer using a PVC pipe and soda bottle is going to be your personal favorite chicken waterer DIY! homesteadlife
16. DIY $12 Chicken Waterer
If you are handling your chicken coop with a totally DIY approach, why not go for the best ideas. Thinking all the things through that could keep your flock happy and coop less messy. This gravity-fed 5-gallon waterer is just an idea of this sort. community
17. Automatic Heated Chicken Waterer Nipple Gravity
For winters or cold days, this automatic heated chicken waterer is going to be your personal favorite coop savior! Plus, it comes with the added benefit of a gravity chicken waterer. Just imagine how many of your flock problems it will take care of. youtube
18. Chicken Water Station Idea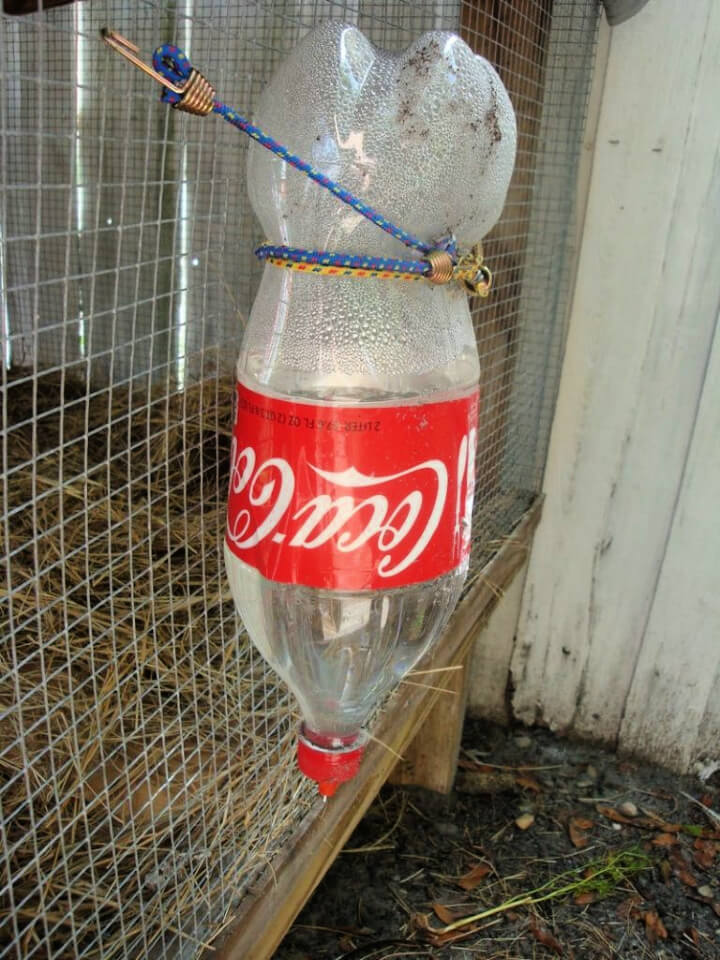 No matter how hard you try, you cannot keep your chicken's water bowl neat! But with this DIY PVC chicken coop watering system, you can make it more likely. Just a soda bottle with a little hole drilled in the cap will do the magic! Check the tutorial for details. georgiascook
19. How to Make PVC Chicken Water Feeder
Make a totally functional and systematic PVC pipe chicken waterer! Minus the water splashes everywhere. The dirt and messy water bowls! Keep water more accessible to your feathered friends with minimal wastage and mess around!
We bet after exploring through our DIY chicken waterer ideas, and you must have fallen in love with your noisy and chirpy chickens all over again. As now, you see how much easier it can be to manage them! No worries about long trips now. You can keep your chickens stocked with water and feed while you are away. Happy Chicken-ing, people!