The whole living room entertainments are linked to a media console or DIY entertainment center that is a must-have for every living room! A stylish entertainment center can be a beauty station for your living room, a music station and also brilliant TV screen holder! It is what that allows you to play video games with your kids, to watch your favorite movies and to listen to your favorite music and hence you just even think to skip it while organizing your living room! According to style, settings and room space of your living room, there can be a variety of entertainment of centers to choose from that will fit best to your living room style and space! However, getting a custom design will cost you big so why not consider making your own beautiful DIY entertainment center at home?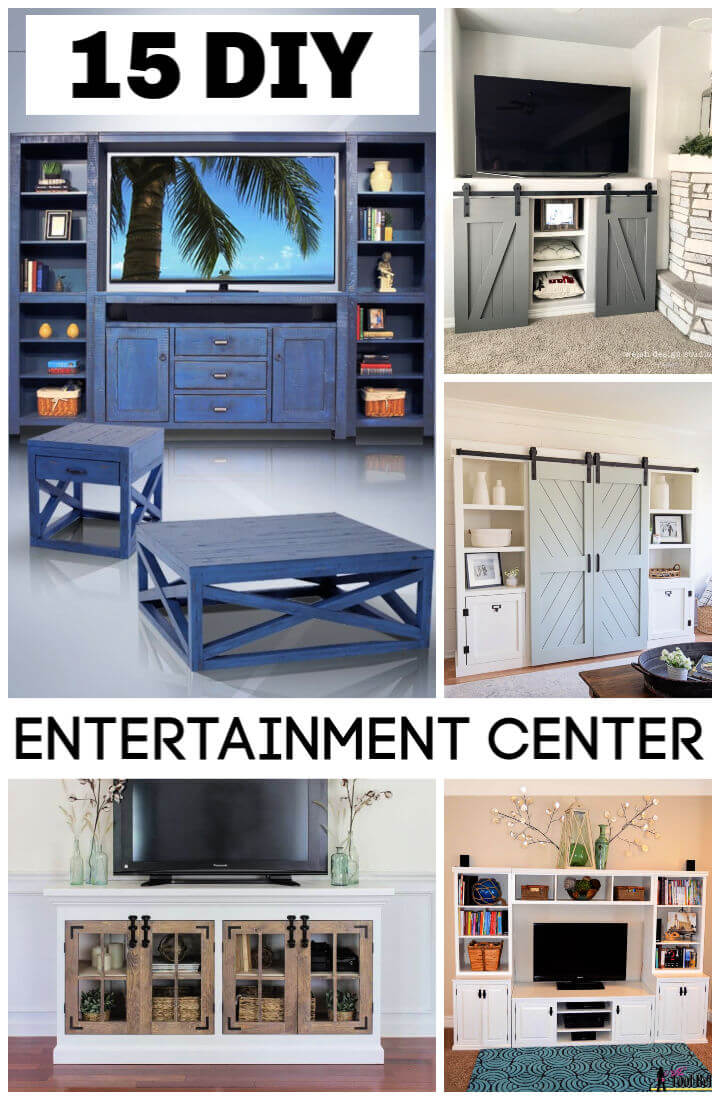 Yes, it is all possible with the DIY projects to build a media console or DIY TV Stand of every time at home with your own added features and storage options! Not going to believe it? Then browse these 15 DIY Entertainment Center plans that are all self-made ones and are sure to bring great visual details to your living room along with raising the living room fun to peak level! Here the purpose of these homemade media consoles is not only to hold or display your TV or LCD screen but also to store your media concerns and to display your living room decors! From simple to multi-featured, from one drawer to super storage-friendly and from rustic to modern, this list is having all the DIY entertainment center designs to choose from!
Give your living room a touch of farmhouse style living by building a farmhouse style media console and also reuse the EPAL pallets to build a stylishly modern wooden media console that will cost you just nothing! Build the media consoles in the wall with sliding barn cabinet doors and boost also the style of your living room by adding a taller DIY entertainment center!
Prefer ones that will come with lots of storage drawers and cubbies if you need storage space in your living room and also go for bigger statements of living room decors by installing a media console that will come with display shelves built-in both sides! Take a short tour of all these DIY entertainment center ideas to get yourself inspired with attached reference links to grab full free instructions, visual guides, free entertainment center plans, and tutorials!
Affordable DIY Entertainment Center: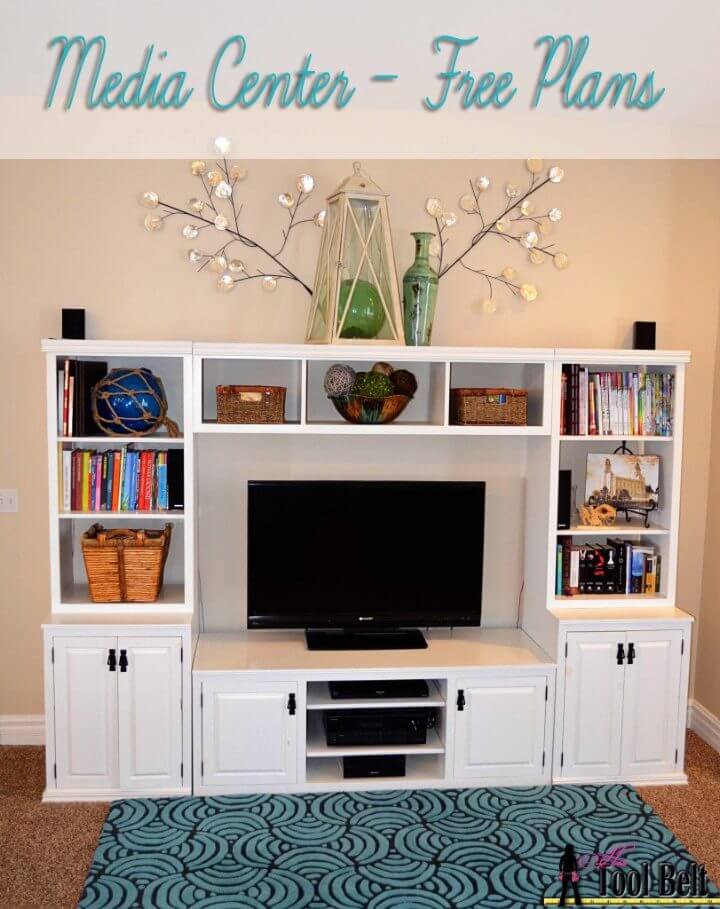 Style up your living room also by adding this precious DIY entertainment center that comes with lots of storage options and with amazing design dimensions! The display screen compartment is having lots of storage compartments, cubbies, drawers, and sub-storage-cabinets all around to store all your concerns!
Here is how to make it hertoolbelt
DIY Pallet Entertainment Center Tutorial: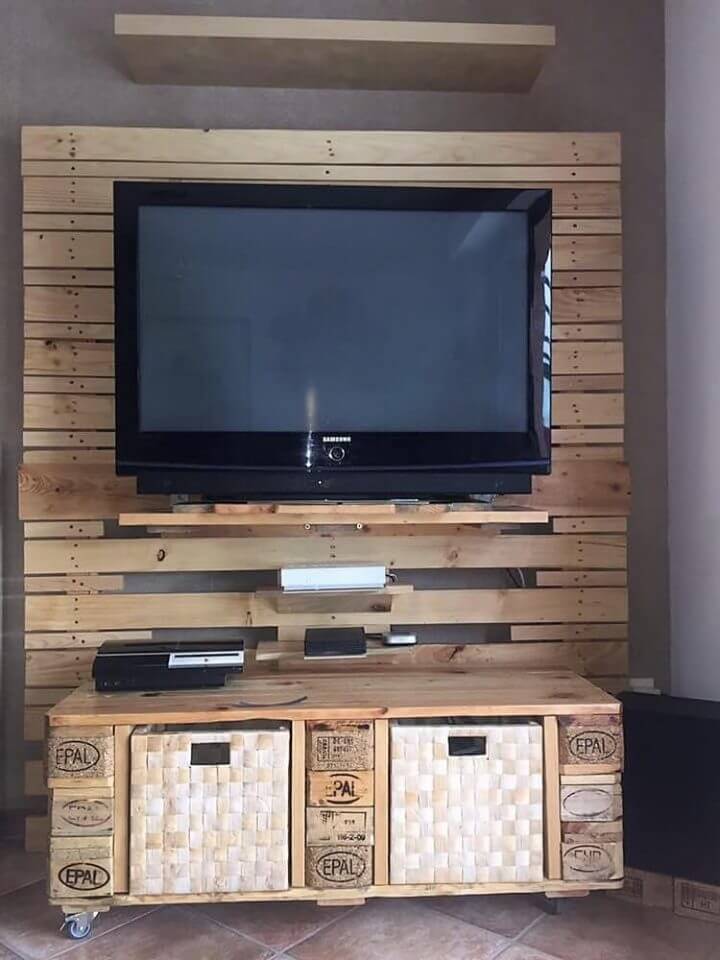 One more glamorous model of the wooden entertainment center that you can build at home for free! Plan the free pallets to build this wall mounted media console table that comes with rolling table base that you can also use separately as a DIY coffee table in your living room!
Full how-to tutorial: Shared By Julien Lecoutre (Facebook.com/furniture.pallet)
DIY Entertainment Center with Sliding Barn Doors: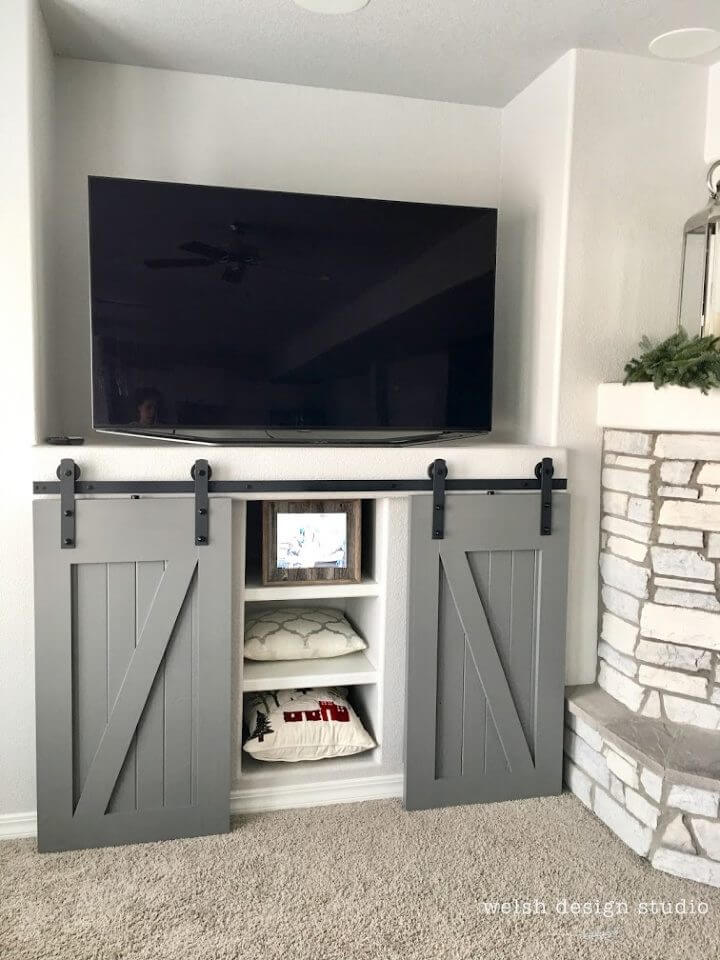 There are endless different designs for the living room entertainment centers that you can quickly build at home! Clone this given entertainment center that has been built in the wall, and it is super storage-friendly! The whole beauty comes with the sliding barn doors!
Full how-to instructions here welshdesignstudio
Farmhouse Style TV Stand: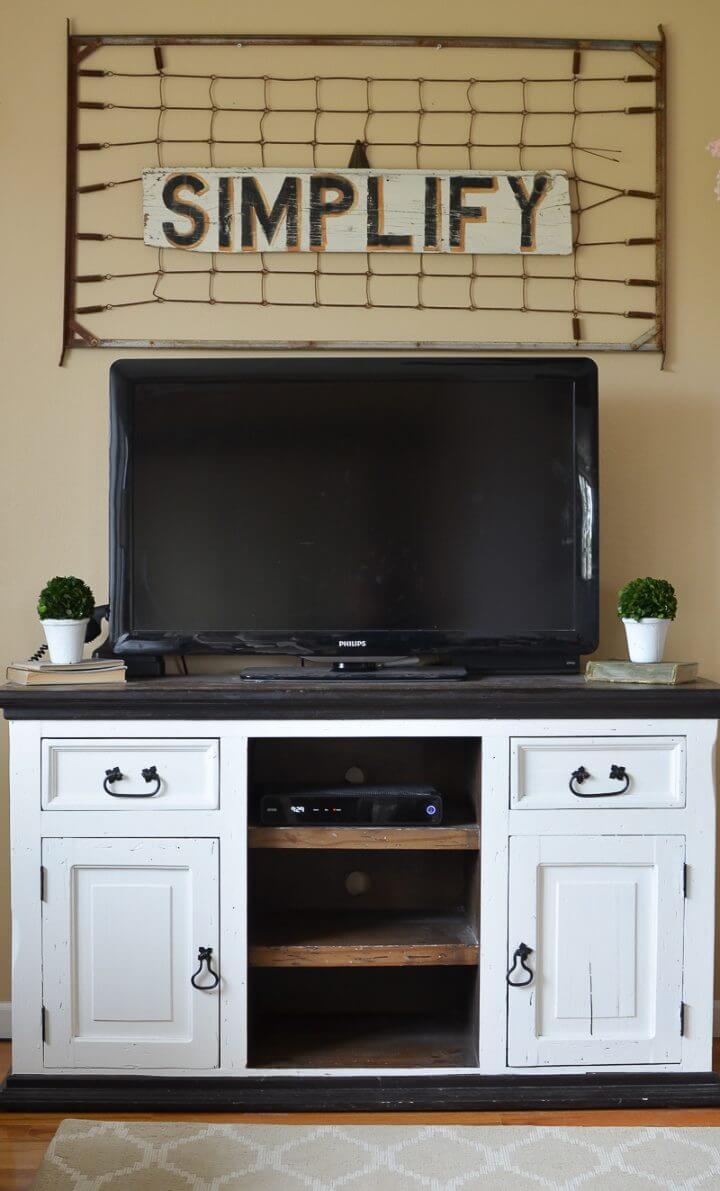 Rock your living room also with this wooden TV stand that comes in a brilliant farmhouse style look and is super quick and easy to build at home! This DIY TV stand is also storage-friendly and will be super quick and easy to build also using even the recycled wood!
Free plans and tutorial here sarahjoyblog
DIY Tall Corner Media Console: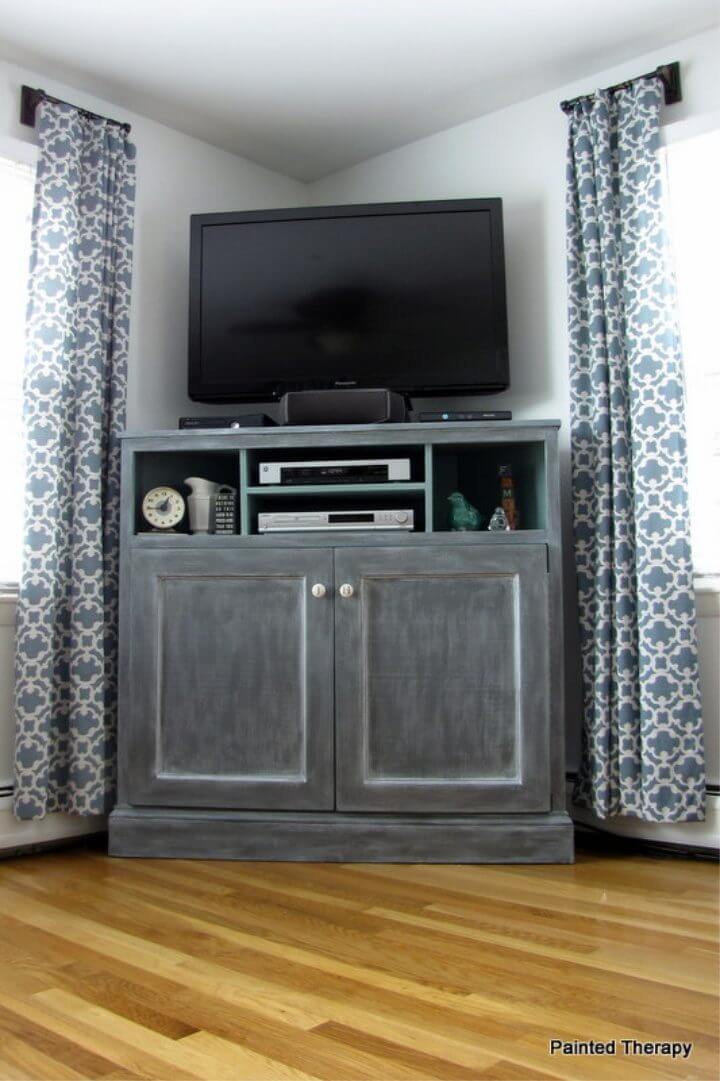 Boost the living room entertainments and style by adding this tall corner media console that is made of recycled wood, and it looks great in the rustic avatar! This will also add a lot of storage space to your living room!
Want to duplicate it? Full tutorial here ana-white
6 Glorious Giant Drawers Media Storage Dresser: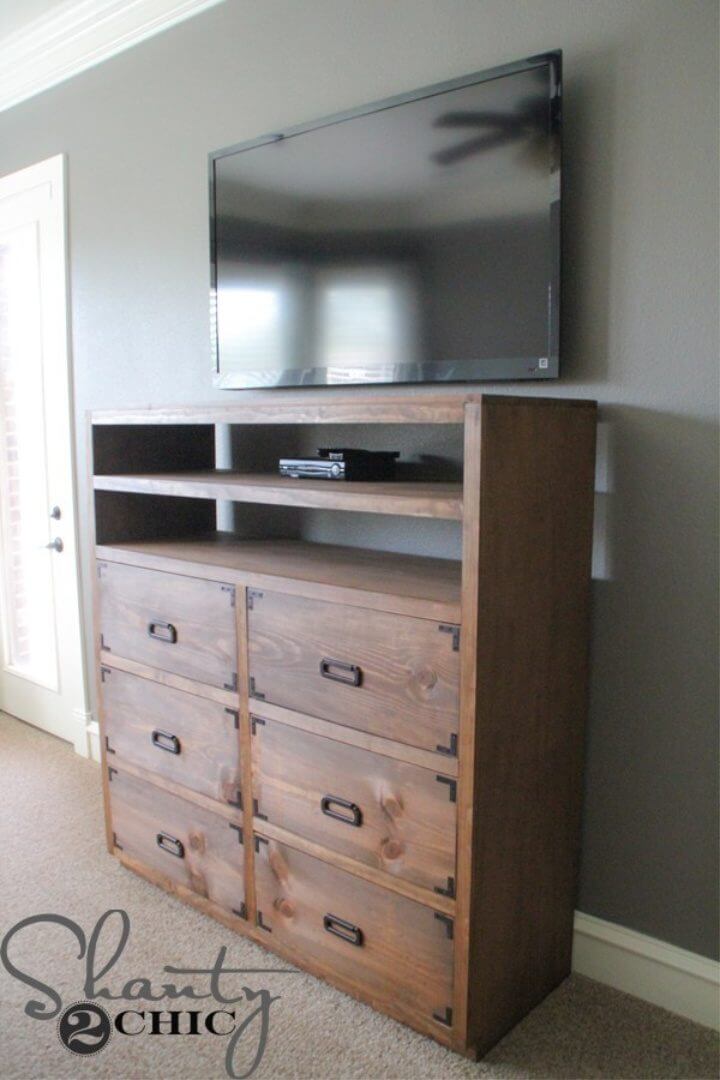 Build durable and stylishly beautiful media consoles at home with your own added number of drawers which you can also paint or leave blank to suit your living room style! Give a glam wooden touch to your living room with this giant drawers media storage dresser, will also nicely display your TV screen!
Full tutorial and instructions here shanty-2-chic
Build Your Own X-leg TV Stand: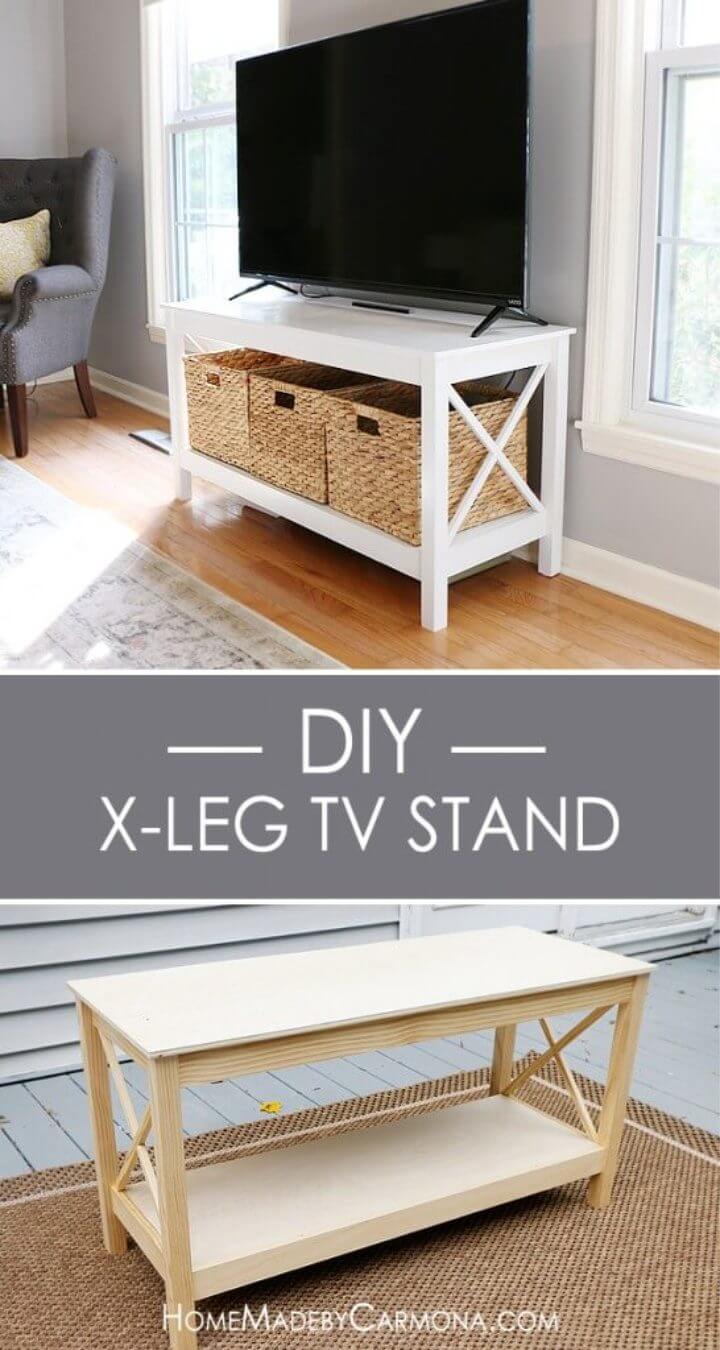 Jazz up your living room also with this X-leg TV stand that is super quick and easy to build and comes in enchanting white chic appeal! The crisscross accent sides make it a bit more beautiful! It offers basket storage and is just a perfect farmhouse style living room!
Full how-to tutorial here homemadebycarmona
How to Make Media Console: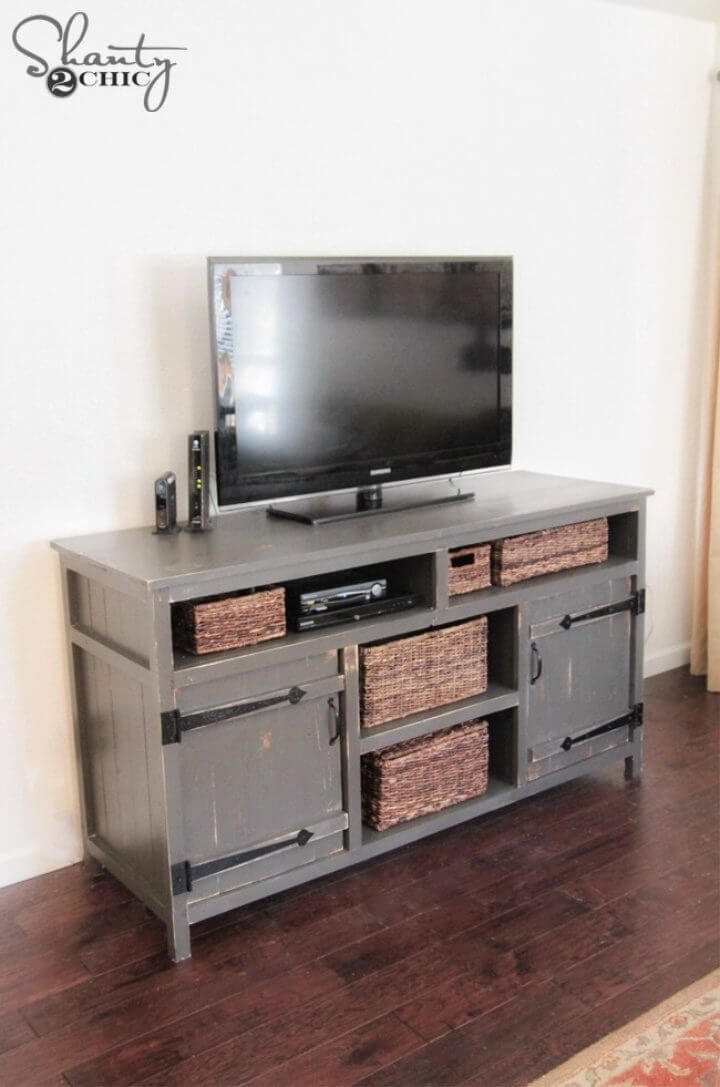 If you are following a rustic yet modern style of interior decors, then you will definitely give ten out of ten to this wooden media console that is also homemade! Clone it using recycled wood slats and use antique hinges for installing cabinet doors! It also provides ample storage space in the form of slim long storage cubbies!
Free plans and instructions here shanty-2-chic
DIY Entertainment Center from Ammo Crates: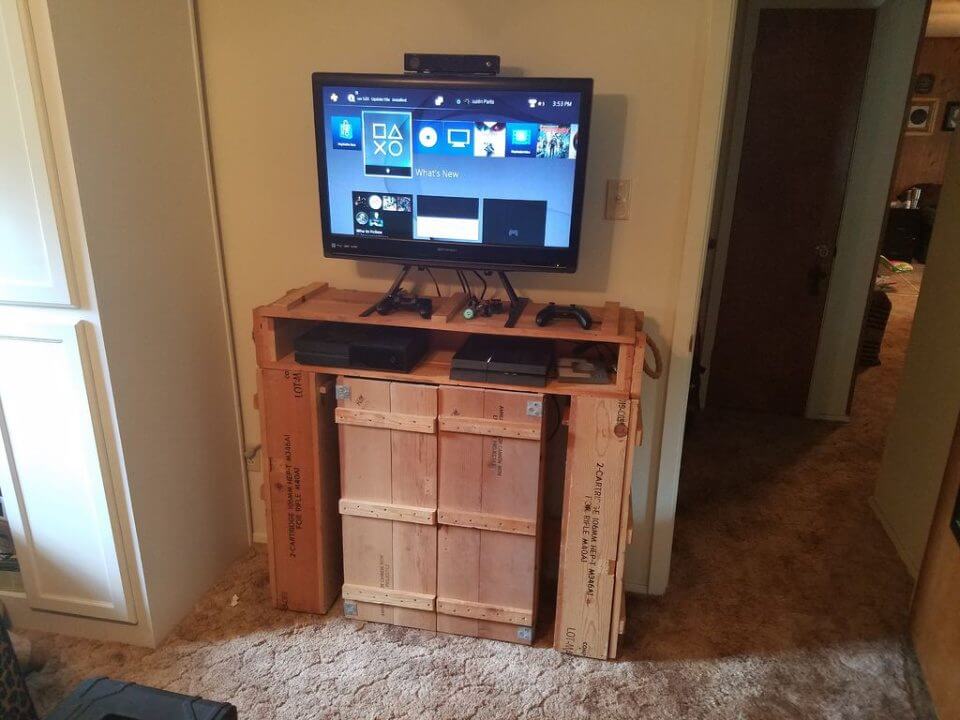 There are various types of recycled woods lying around that you can repurpose to build outstanding media consoles and entertainment centers! Get inspired by the creative design of this entertainment center that is made of ammo crates!
Project details here instructables
How to Build Entertainment Center: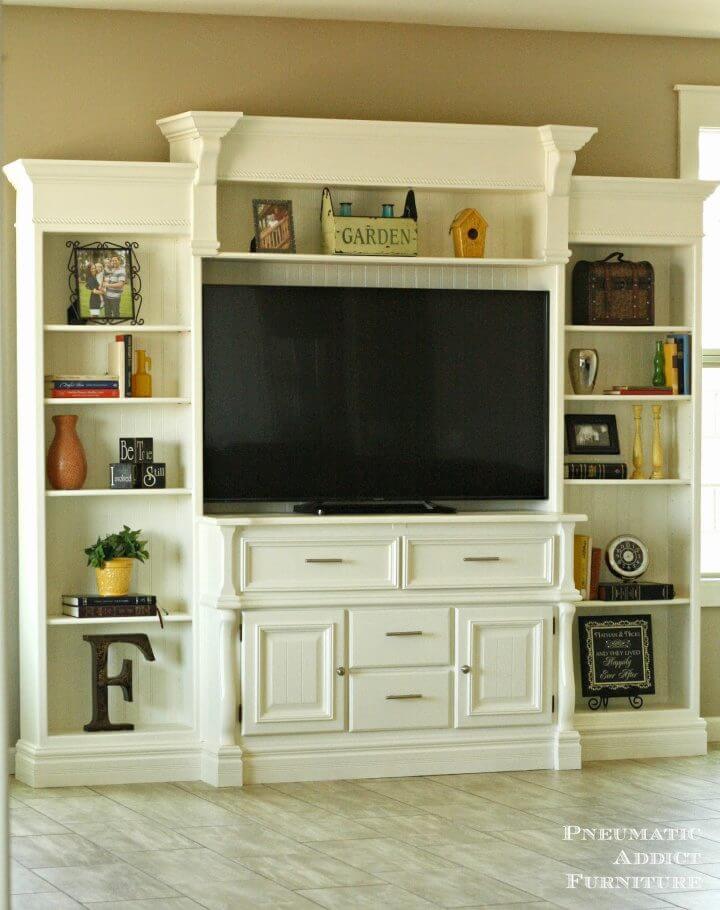 A jazz living room beauty station and an entertainment center, a precious model of homemade media console that offers display shelves at both sides! It also comes with built-in storage drawers, here accent side trimming has been done using wood molding, and it looks a great in chic white painted appeal!
Full instructions here pneumaticaddict
DIY Home Entertainment Center: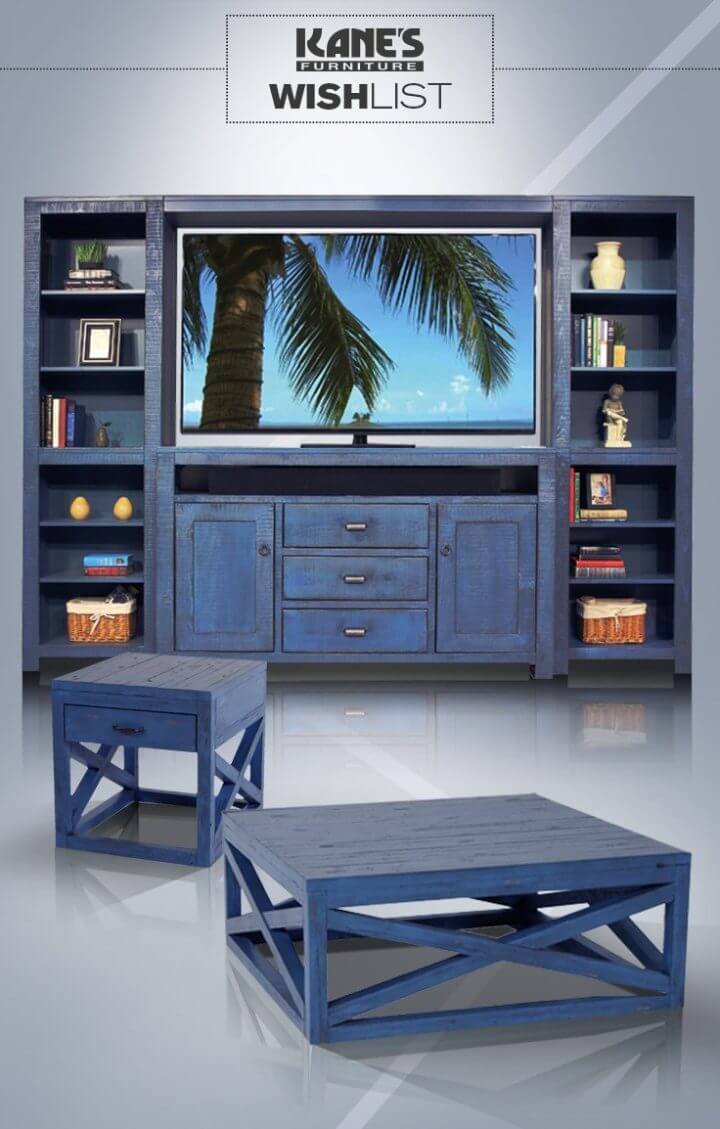 Bring amazing style statements to your living room by installing this wall hanging entertainment center that is loaded with lots of storage drawers, display shelves, and with a big display screen compartment in the center! Another great design of media console to build at home!
Full tutorial and instructions here demiandashton
DIY Barn Door Entertainment Center: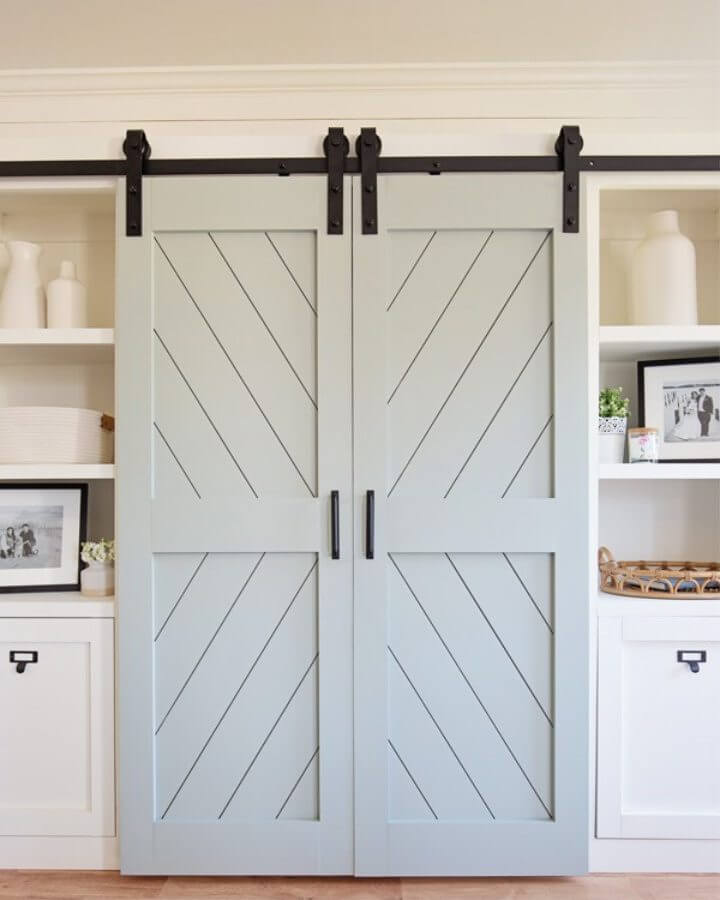 This entertainment will rock for a home where there are lots of naughty kids, and this one comes with a sliding barn door that will cover the display screen when not in use and hence keeping the screen safe! Step-by-step instructions here angelamariemade
How to Make Entertainment Center: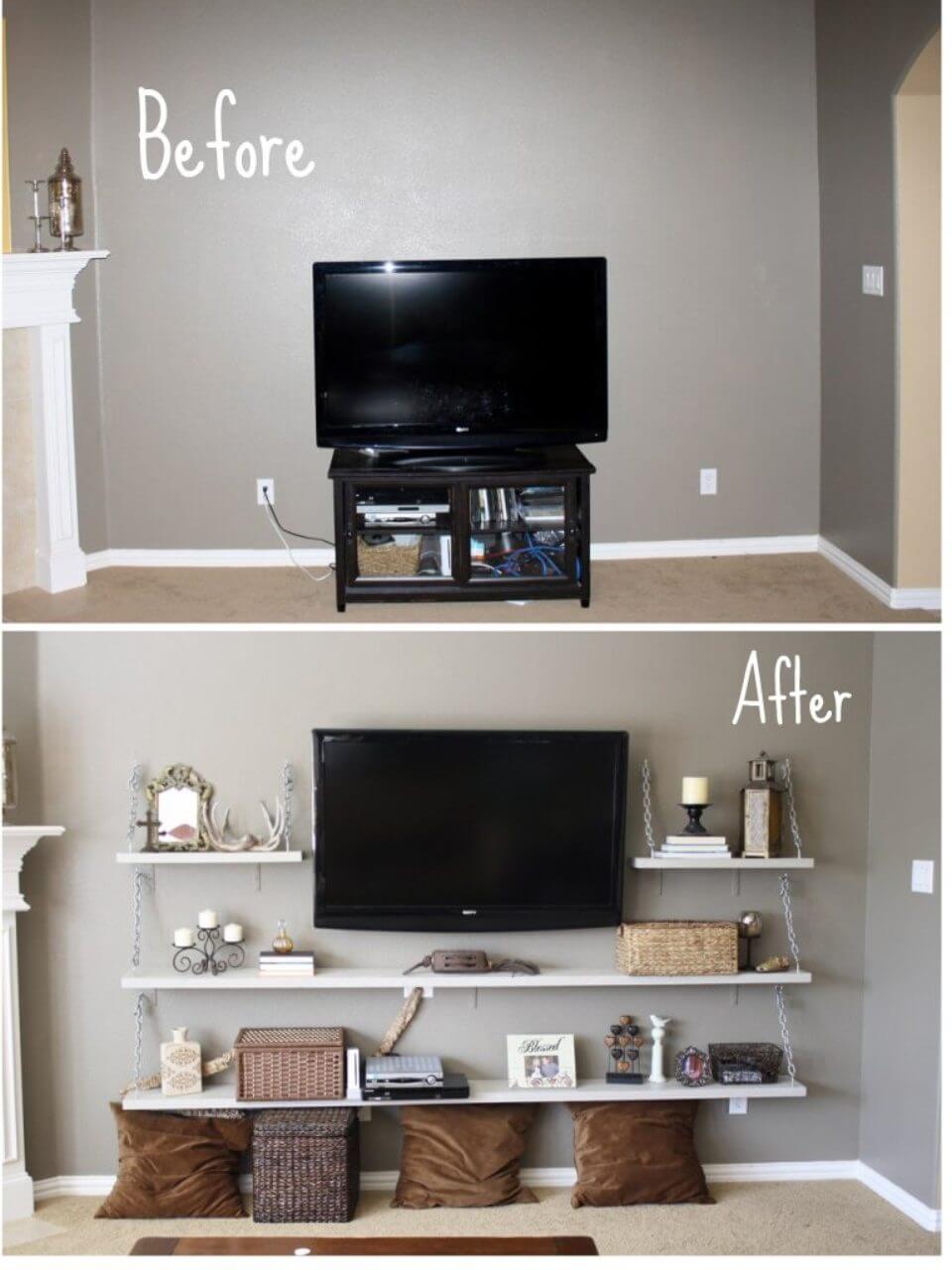 You are going to see something fantastic here for sure, a wall hanging entertainment center that is actually a cluster of white painted wall shelves that looks great with metal chain supports! Grab some IKEA or wooden shelving boards and some metal chains to clone this entertainment center!
Full instructions here diyever
Farmhouse Style Media Cabinet: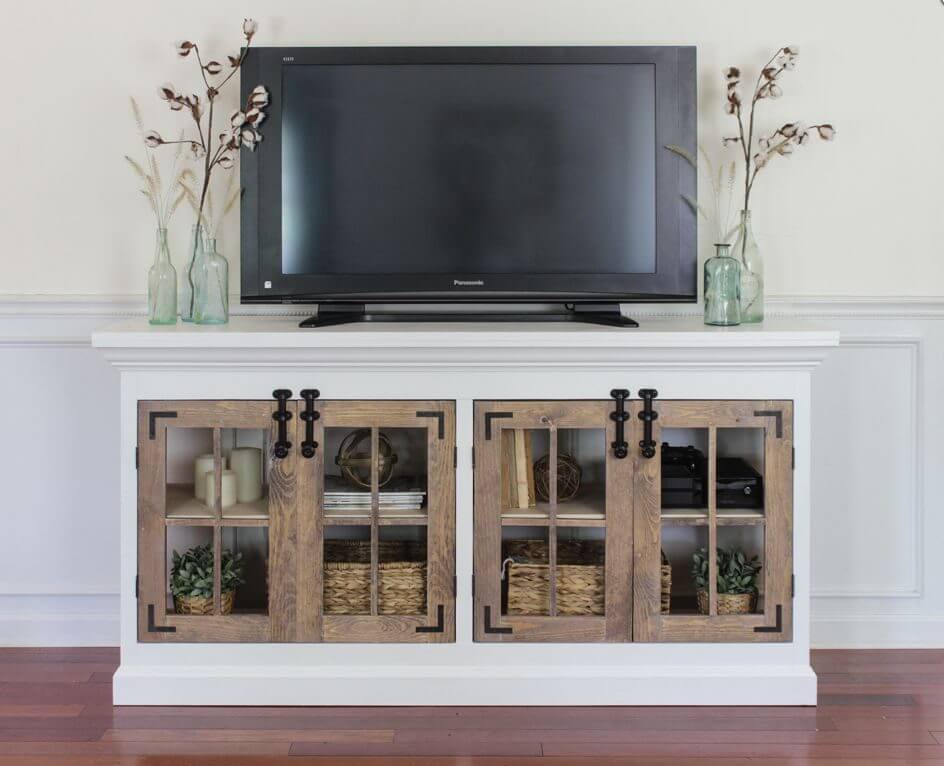 Give also a glam touch of farmhouse style to your modern living room by adding the farmhouse style media cabinet that is a piece of cake to make at home! Build a cabinet with two glass paneled hinged doors and then magnify the look of it using accent wood molding!
Step-by-step instructions here buildsomething
Build a Rustic TV Console: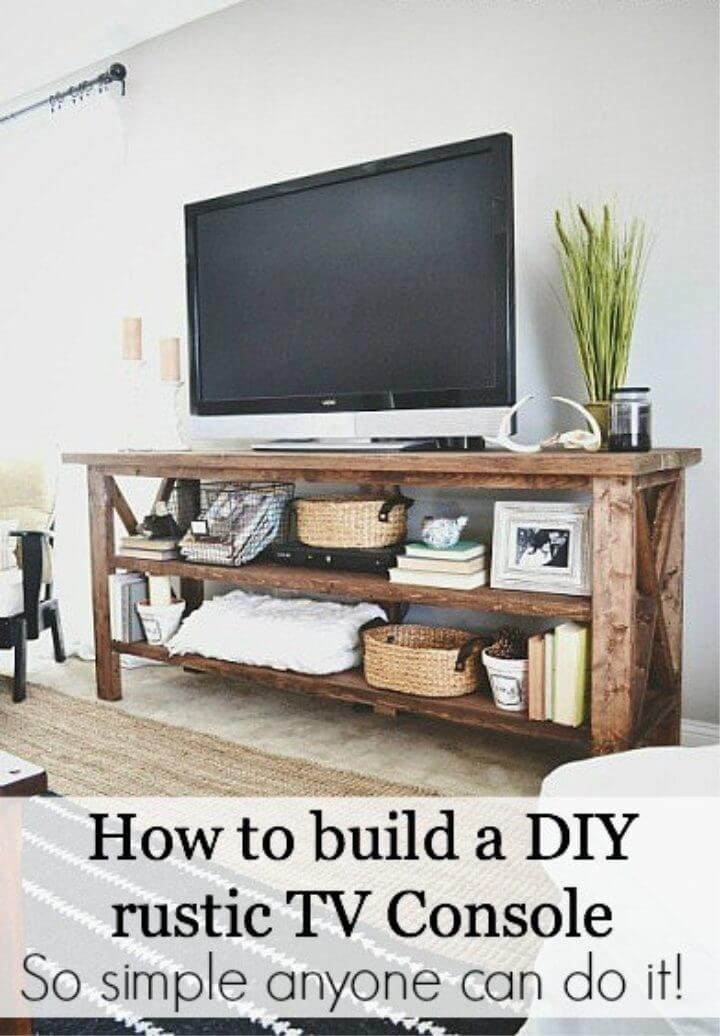 Having a beautiful media console really compliments the style of your living room! Rock your living room with this rustic entertainment center, will rock in both modern and farmhouse style living rooms! It gains beauty from the criss-cross sides and is super storage-friendly due to two built-in shelves!
Tutorial here lizmarieblog