DIY stencils are a great way to add a personal touch to any project. With more and more diy stencil ideas below, it has never been easier to make stunning pieces in the comfort of your own home. From simple stencil patterns to complex stencil art ideas, there's something for everyone. Whether you're looking for easy stencils for kids crafts or wanting to create intricate stencil painting ideas and home decorations, there's a diy range perfect for you. Planning on tackling a bigger project? Consider making your own stencil using items from around the home – it's easy! Be sure to check out some of the many creative diy stencil craft ideas that'll help get the job done quickly and efficiently – enabling you to achieve professional-looking results with ease.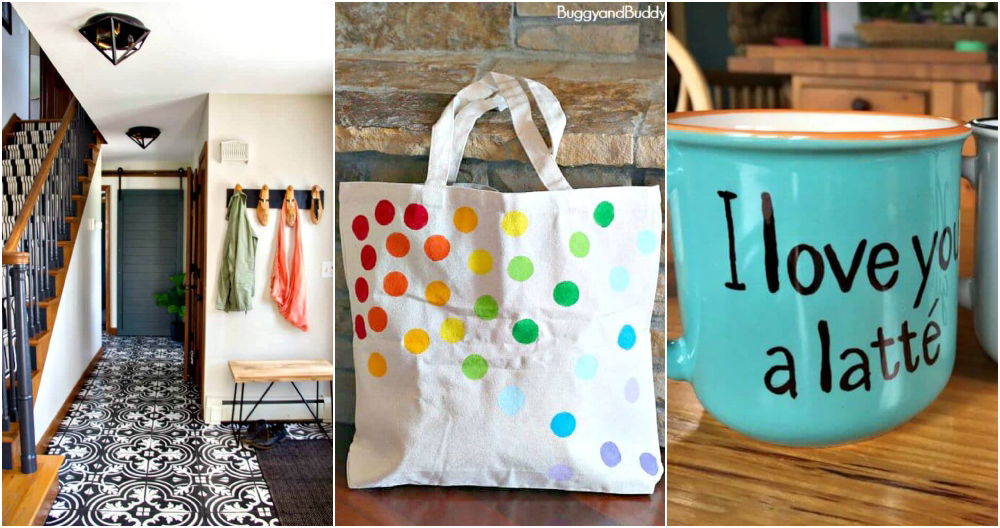 Do you have creative diy home projects in mind but don't know how to get started? DIY Stencils are an easy and effective diy tool to help turn your ideas into reality. From stencil craft ideas and stencil art projects, you can make something beautiful with just a few simple materials. With resources available below on how to make stencils and do amazing home makeovers and crafts, it's never been easier and more fun to create great works of art or decoration for your home. Gather up some inspiration and take advantage of what stenciling has to offer – explore the many diy stencils and stencil ideas out there today!
1. Adorable DIY Stenciled Tile Floors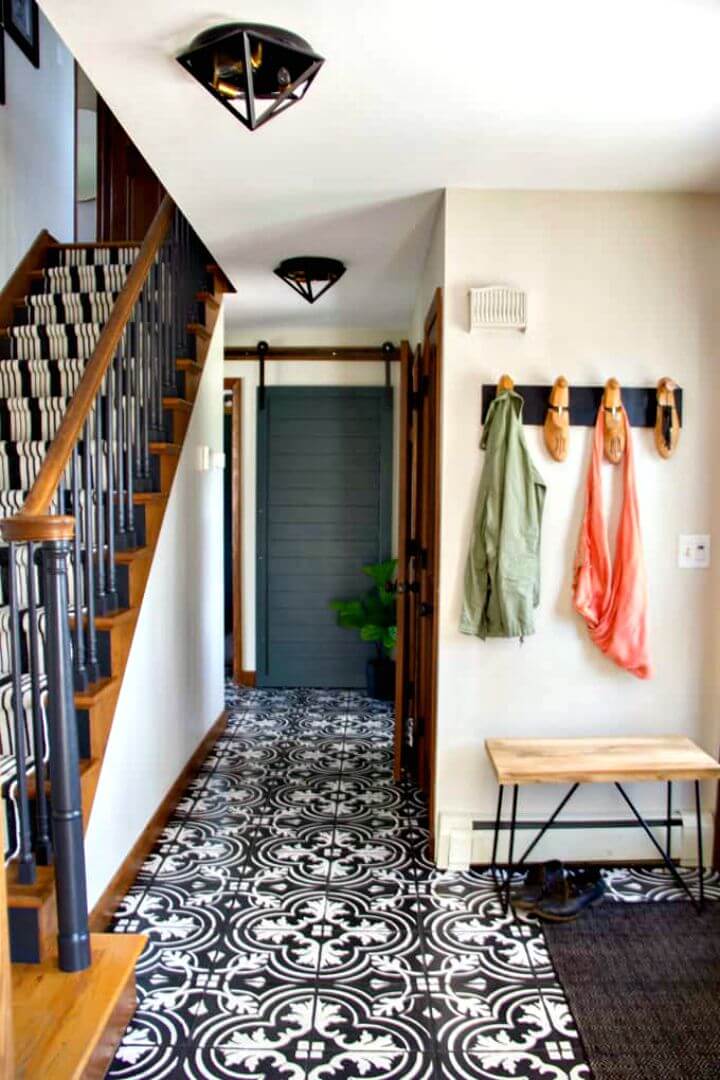 The floors are most focused part of a interior when intending to put extra grace and focal stimulation in it! So, if you are intending to make your interior floors look beautiful then you can do a little stenciling also to make them look extra beautiful! Here the floor tiles have been stenciled for a precious floral pattern and everyone can just do that easily! Just grab the one time paint and create a personal appeal of the tiled floor and next stencil the tiles for a beautiful pattern! Full project tutorial here brightgreen
2. DIY Stenciled Summer Tote Bag
You can also make use of letter stencils to write custom quotes, messages and name letters on your all items of interest, this would be a great way also to personalize your items! Here a fantastic summer tote bag has been stenciled for custom colorful letters and is just looking damn graceful and enticing! Here all you need the letter stencils and your favorite paint to do this project! Full project instructions here consumercrafts
3. How to Make Geometric Stenciled Floor
Need to paint some quick patterns and art shapes on your interior floors for an instant glam appeal of them? Then just go with the custom stencils and paint your favorite pattern on your interior floor quickly! Here the geometrical floor pattern has been painted using the geometric stencils and this looks super cool! Just grab the poster board and next trace your custom geometrical shapes on it and then cut them out to make geometrical stencils! Full project details here abeautifulmess
4. Easy DIY Stenciled Art
This just not ends here, you can also make fabulous looking pieces of interior wall art using the custom stencils! Just checkout there this precious looking stenciled art that is looking amazingly beautiful and is just super easy to make! Just grab a canvas and then tape your custom art stencils on it and next use the foam brushes or paint roller to paint your stencil on the canvas! Experiment this canvas stenciled art with a different stencil! Full project instructions and tutorial here justagirlandherblog
5. DIY Stenciled Wrapping Paper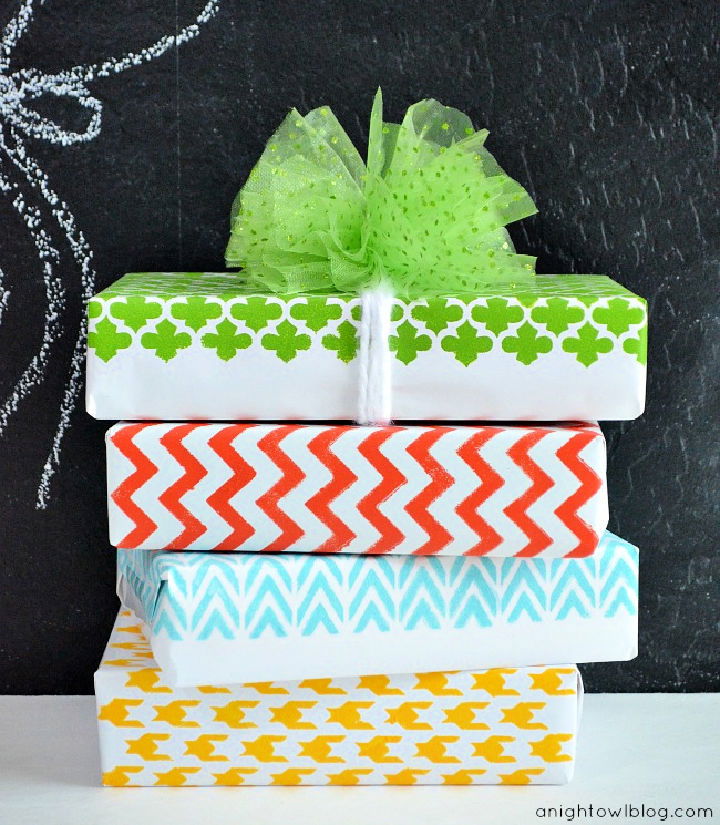 It is just amazing to wrap your gifts beautifully so they will go more eye-catching to the receiver! Here we would like to draw your attention toward these patterned wrapping papers that are a purely handmade and all you need to have the custom patterned stencils to make these gift wrapping papers! Just tape your gift paper on a flat surface and then tape the stencil on it, use the foam pouncer to fill the paint in the stencils and hence make precious looking gift wrapping paper! Full project guides are here anightowlblog
6. Homemade Stencil Wall Art from Scrap Wood
If you are majorly concerned with the interior wall art then the art of stenciling can really help you out! Just make your wall look great by making custom stenciled wall art pieces just like these wooden stenciled wall art pieces that have been done to rock and inspire! Simply grab the scrapwood pieces or boards and stencil them to make a charming piece of wall art! Just repurpose the scrap wood boards from home like the pallet wood planks and then stencil them! Full project guides are here designertrapped
7. DIY Laundry Room Makeover with Stenciling
Also make your laundry room look beautiful by using the art of stenciling! Here an enchanting background has been give to the laundry room using the custom stencils! Just grab your favorite art stencil, tape it in place on the wall and then start filling the paint in using a paint roller! This is here a super quick and low-cost way to put extra grace to your interior walls! Full project instructions here viewalongtheway
8. Creative Stenciled Burlap Art Using a Silhouette Machine
If you are a big fan of the rustic art pieces then just make use of burlap and custom stencils to make some lovely ones at home! Just checkout there the stenciled burlap art pieces that are looking damn gorgeous and good looking! Just make your custom art and letter stencils using the silhouette machine and next paint those stencils on the rustic burlap panels and make fab looking burlap art pieces at home! Full project instructions and tutorial here theturquoisehome
9. DIY Packing Tape Transfers Tutorial
If you intending to stencil some glass surfaces or glass objects like the candle holders, votives and the glass vases then packing tape transfer technique would really work great! Just grab your custom images which can also be made using a cricut machine and next make smart use of packing tape to transfer your images onto the glass! Just checkout here the sample glass jars, vases and the candles that have been adorned with a quick transfer of images and art shapes! Full packing tape transfer tutorial here thegraphicsfairy
10. DIY Painted Floors with Annie Sloan Chalk Paint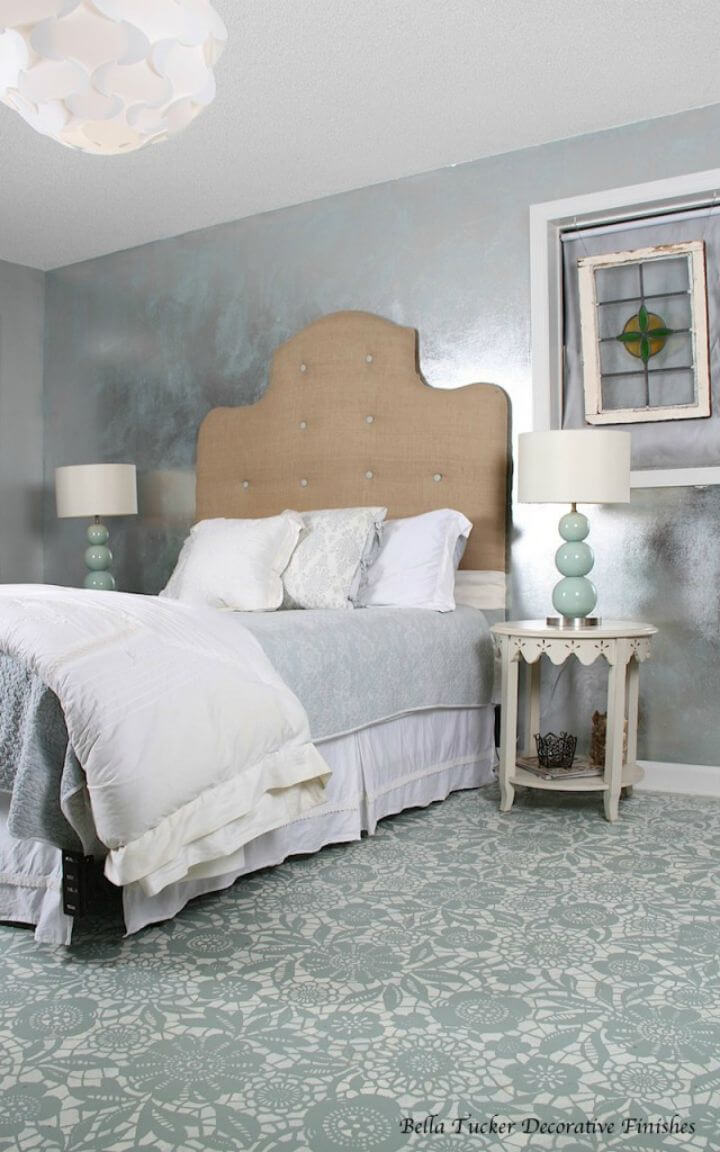 A bedroom if a place of your dreams so you can also bring extra grace and charm it by stenciling its interior walls and floors! Here a fab floral pattern has been painted on the bedroom floors using the custom stencils and the chalk paint and hence extra grace has been added to the bedroom! What you have to do here is to grab the Annie Sloan chalk paint and a floral art stencil to paint the brilliant floral art floor! Full project instructions and tutorial here bella-tucker
11. Adorable DIY Painted Vinyl Floors
Check this floor stenciling project that has been like a pro and you will find great stenciling hacks here! Here first the floor has been give two coats of primer and then have been stenciled with black chalkboard paint using a vinyl stencil! You can also make smart use of silhouette or cricut machine to make custom vinyl letter or pattern stencils! Here the high density foam roller has been used to fill paint in the stencils and finally finished stenciled floor has been treated with polyurethane water based floor sealer! Full project instructions here hhandtw
12. Handmade Stenciled Welcome Mat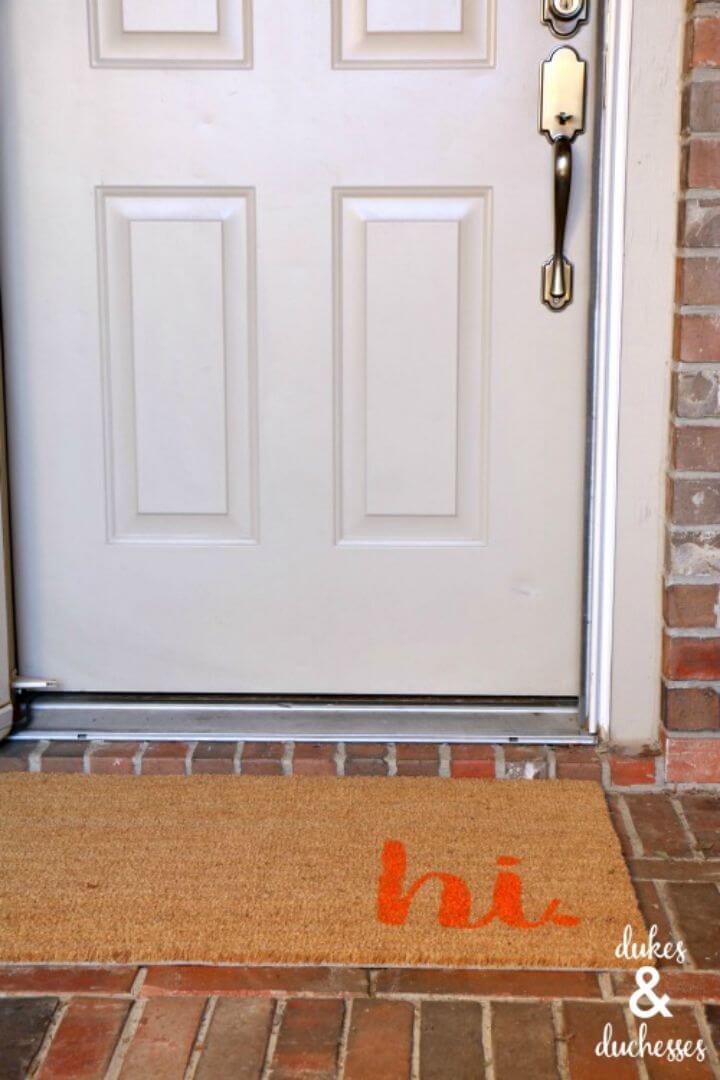 Willing to give a warm welcome to your guests? If yes, then just make your entryway impressive and this can also be done using the art of stenciling! Just make your door mat stenciled for custom messages or to just say hi, hello and welcome using the letter stencils and that's it! Here a fabulous welcome mat has been made by stenciling the custom letters on the door mat! Full project instructions here dukesandduchesses
13. How to DIY Stencil a Concrete Floor
It really brings extra grace to your interior design having the patterned and enchanting floors! However, you can do some easy stenciling projects to make your boring interior floor looking great in just no time! Just checkout there the concrete floor that has been stenciled using precious art stencil! Just give first some primer coats to your floor then star stenciling using the paint roller and your stencils which should be tightly taped in place! Full project tutorial here thecrownedgoat
14. Simple DIY Painted Kitchen Floors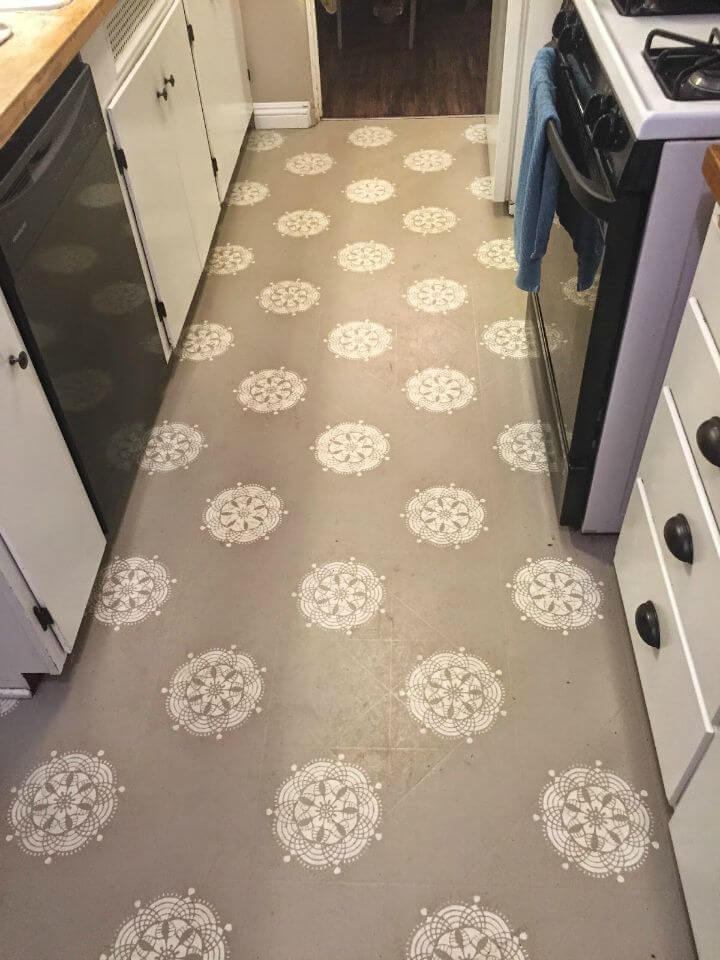 It can also bring great visual details to your kitchen if you stencil the kitchen floor for some eye-catching patterns and art shapes! Here again the kitchen floors have first been painted with primer for a cool base color and next the stenciling has been done using a precious tile stencil and the high density foam roller that will fill the paint in the stencil beautifully! Full project instructions here sallypreston
15. Making a Stenciled Bathroom Tile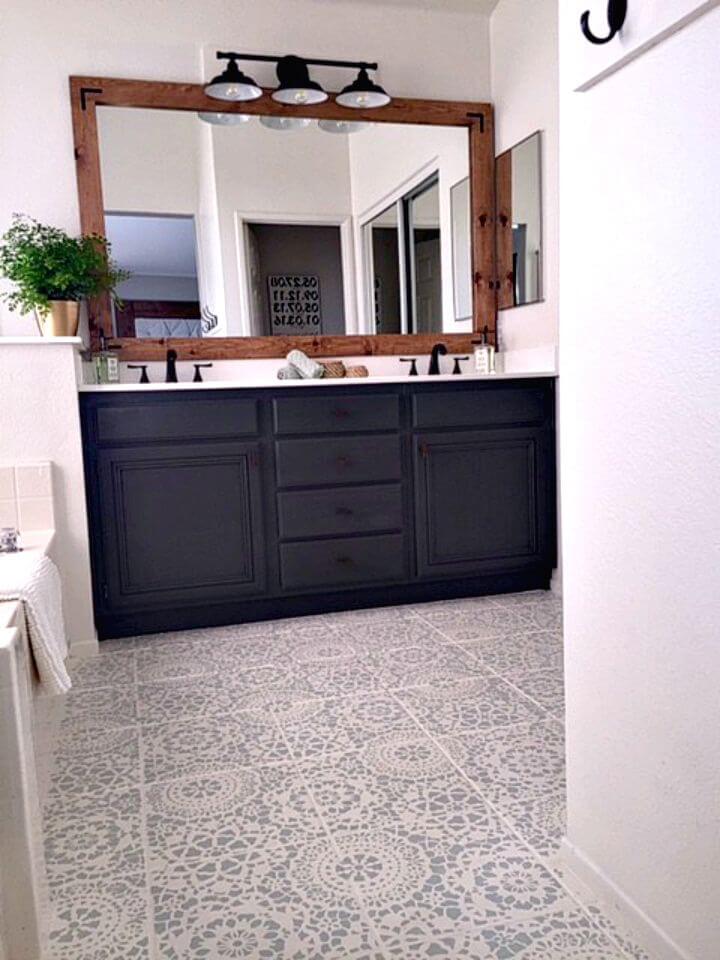 Make also your bathroom look great and extra beautiful by installing stenciled floors to it! here a bathroom has been brought to a prominence by stenciling the floor tiles and hence is looking great and fantastic! Here first the bathroom tiles have been given a two coats of rust-oleum primer and next the stenciling has been done using the patio paint and the paint stencil roller! Another great stenciling project to hold your attention! Full project instructions here domesticblonde
16. DIY Stenciled Fall Pumpkin Pillow
Personalize also your items of interest using custom stencils! Here we would like to draw your attention toward this fall pumpkin pillow that comes with a stenciled pumpkin! Here all you need to do is to glue your stencil on the pillow fabric. And next you can layer the deco foil on the stencil! Next just place the parchment paper on the deco foil and given a hot iron press to transfer the stencil! Next you can start sewing your pillow and that's it! Full project instructions here craftremedy
17. How to Make Stenciled Pop Art Blazer
Boost also your fashion by stenciling the items of fashion like the clothing and foot wear! Here an ordinary blazer has been stenciled for a gorgeous appeal! This would also be a great way to bring custom décor statements to your items of fashion clothing! Here all you need is to grab the custom stencils, foam pouncer and fabric paint to do this stenciled pop art blazer project! Full project instructions here mrkate
18. Quick and Easy DIY Paint Vinyl Floors
Making the interior home floors look beautiful to show your home interior spaces! Stenciling is a quick and low-cost way to paint your interior floors like a pro with your favorite patterns and art shapes on your floor tiles! If you concerned with the striped interior floors then the masking tape would rock as the stencils! Here the vinyl floors have been painted for beautiful straight line strips using the masking tape and paint! Full project tutorial here designertrapped
19. Cheap DIY Tote Bag Using Stencils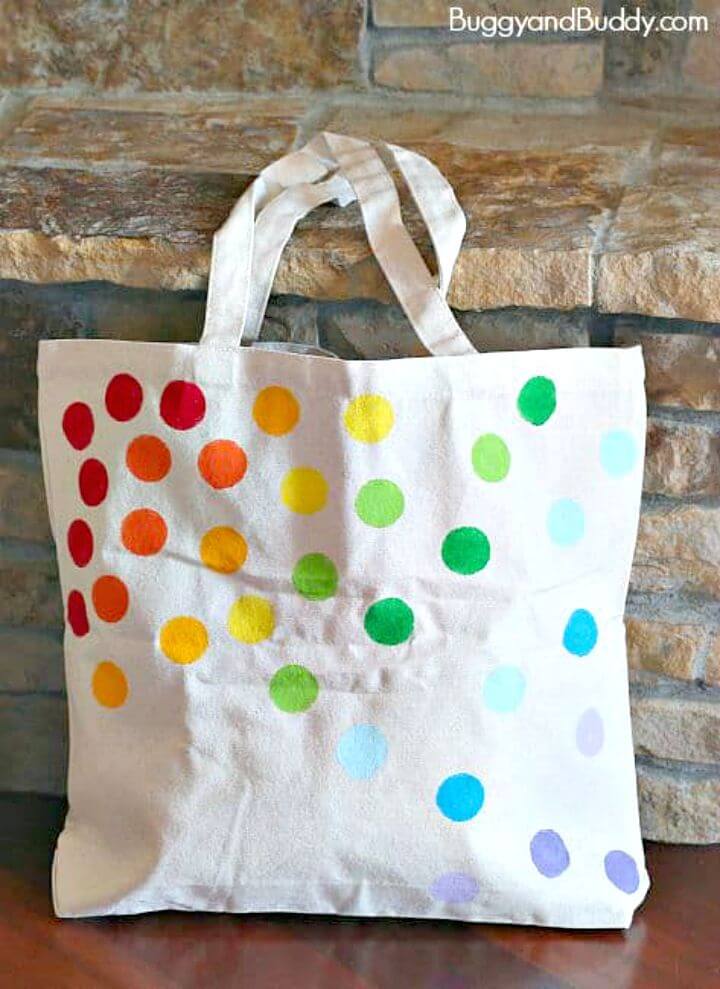 Make also your tote bags look special and enticing using the custom stencils! Just make your stencils at home using cardboard and or other thicker type of paper! Just trace your letters, patterns and art and then cut them out to make stencils in no time! Here the circles have been cut out from a thick white paper. Hence the polka dot stencils have been made that you can use to paint fantastic colorful polka dots on the tote bag! Full project instructions here buggyandbuddy
20. Make Your Own Stencil Mugs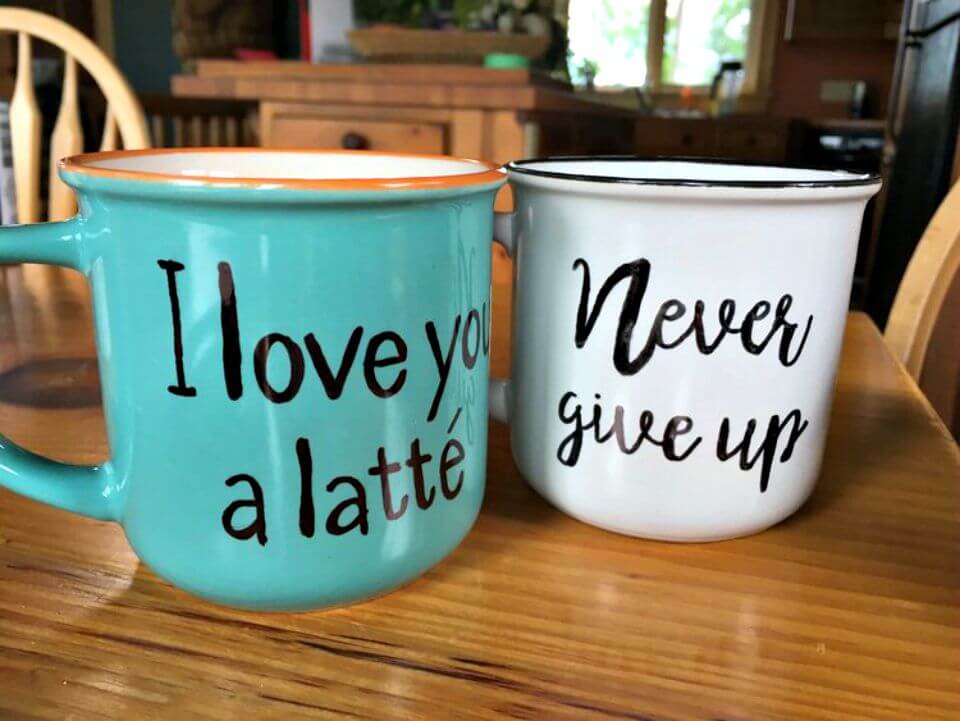 The stencil projects are just never ending and you can stencil anything that held special to you! Here the coffee mugs have been stenciled for the custom quotes and are looking super beautiful and amazing! Just make the paper letter stencils and then wrap them around your mugs and fill paint in them using the black markers or other colorful sharpies! Another great and interesting stencil project to do at home without getting a bit expensive! Full project instructions and visual tutorial here rapidresizer
Related DIY Projects and Ideas
DIY Stencil Ideas: Learn how to make a stencil in less than five minutes with items you probably have at home. You will find tutorials for all skill levels from simple shapes to intricate designs.
Polka Dot Crafts: These fun DIY polka dot crafts will show you the perfect way to dress up your home and express yourself that includes painting your furniture and decorating your walls.
Geometric Painting Projects: These beautiful DIY geometric painting projects are the perfect way to keep your creativity flowing. All of the painting projects come with easy-to-follow instructions and a list of what you'll need.
Chalkboard Paint Ideas: These pretty DIY chalkboard paint ideas are perfect to decorate your home and wall. You can paint anything from doors to walls, furniture, fireplace mantels and more with chalkboard paint.
Sharpie Art Ideas: Sharpie art is an easy way to customize everything from furniture, walls, and lamp shades to clothing. Check out these adorable DIY Sharpie art projects that'll make your home colorful and personal.
String Art Projects: String art is a fun and easy way to add some personality to your home or office. These insanely creative DIY string art projects will teach you how to make every design imaginable, from animals and people to geometric shapes.
Cool Crafts for Teens: Looking for an art project that is easy, fun and cool? Check out these creative crafts for teens. There are hours of entertainment, creativity and expression to be found here.
Conclusion:
Whether you're looking for a way to add a little personality to your walls or start crafting and selling your own stenciled creations, these 20 DIY stencils will give you everything you need. We hope you enjoy trying out these easy stencil patterns and craft ideas so that inspire you to come up with some of your own stencil ideas. If you do, be sure to share them with us – we love seeing what our readers create!