There is nothing more enjoyable in summers but to visit a beach! It is just amazing to walk barefooted on the sand and enjoy the cool breezes that are a big relief for the summer-beaten people! So, if you are also planning some beach parties, picnics or family visit then you should definitely manage a great collection of the outfits to wear for the beach tours! The outfits that you will select for the summer beach picnics should be light-weight and breezy so you will feel relaxed and comfortable!
But selecting the light and airy outfits does not mean that you should sacrifice your style while beating the summer heat by going out on a beach, you can get the special beach cover up or outfits that will not make you lose any fashion points but will be super airy and breezy too! You can shop such beach outfits or cover up dresses from the stores but they are going to cost you a lot, so you can also consider making your stylish beach cover-ups at home, and it will save you a lot of money which you can spend elsewhere!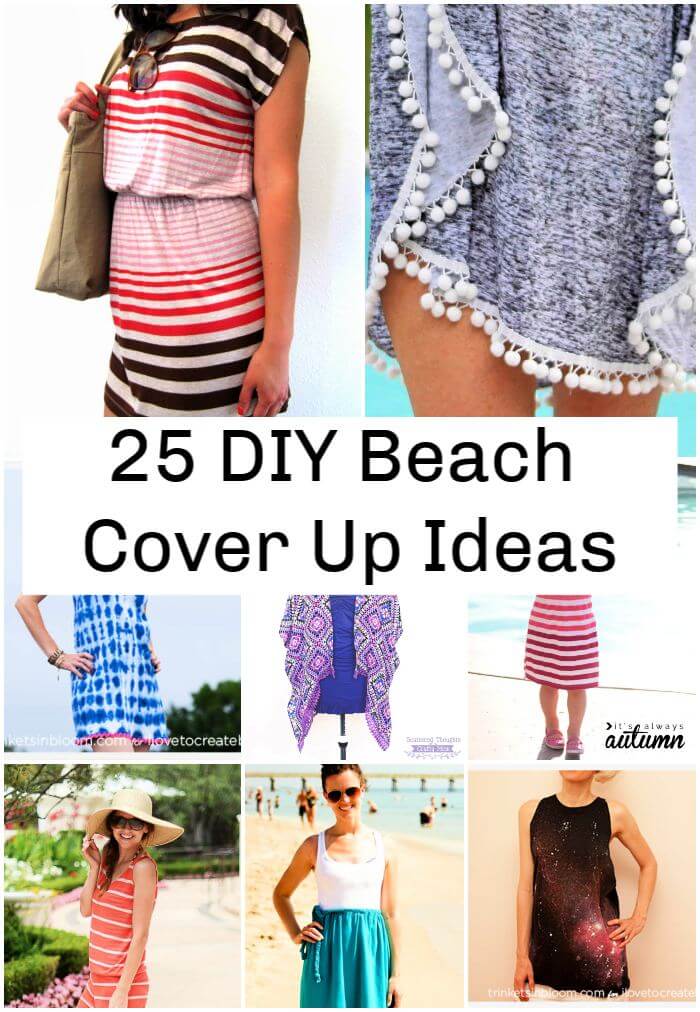 Are you intending to make your beautiful beach cover up at home? Then browse this collection of 25 Easy DIY Beach Cover Up Ideas that will make you wear a great style while going barefooted on the boardwalks, walking on the seashores and also when you are at a lovely ocean coast! Here these homemade summer cover-up will not make you go out of style but will help to go for bigger statements of beach fashion! Here all these beach cover-up dresses are self-made ones and everyone can just try making them at home for herself and also for a friend or beloved family member!
DIY Ideas for Summer:
Double up your beach enjoyments by wearing a kimono swimsuit beach cover-up that would be super easy to make at home and will also boost your style! Just grab a few yards of fabric and sew them to make a lovely beach poncho which you can decorate with a nice pom-pom trim to gain a lovely and fashion-worthy beach cover up! Make also the J.crew beach cover-ups at home that will bring a great beach fashion style to you and also make the beautifully striped swim cover-up for your little girls that will really make them feel great and would also create a remarkable cute look of them! Just check out some interesting samples are given below!
Next, the list will also guide you on how to make the lovely summer rompers that will also rock your beach fashion! Just check out the entire list to see tons of more self-made beach cover up ideas and projects! Just select your favorite projects from the list and do try them at home! Open the attached links to reach full free tutorials, free beach cover up patterns, and step-by-step instructions!
How to Make Kimono Swim Suit Cover Up – Free Pattern:
Here is how you can look really stylish on the beach with this hand sewed beach cover up for your body. With a pretty printed fabric, you can easily sew up this lovely kimono styled swimsuit cover-up on your own than buying an expensive one from the boutique. Here is the link to check out the details of this complete idea from cutting to sewing and then flaunting it around scatteredthoughtsofacraftymom
Make Your Own Beach Poncho: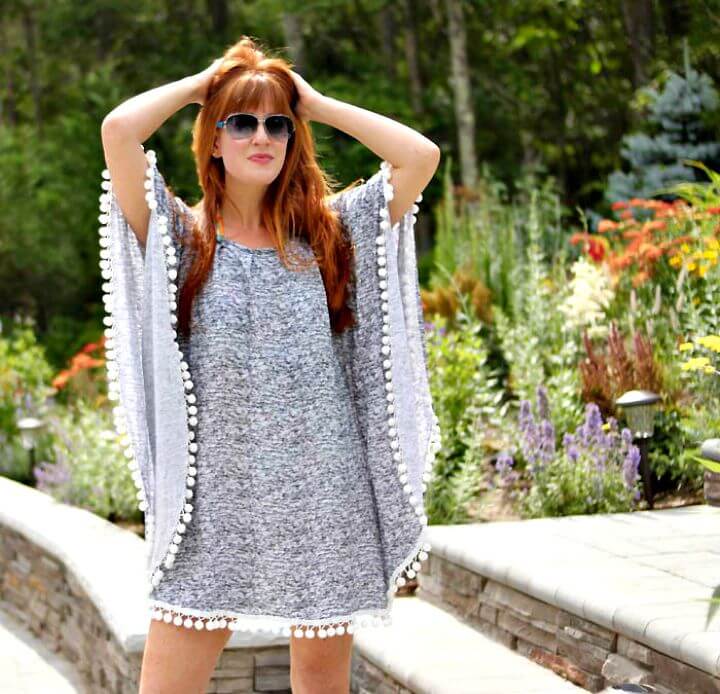 Here is how you can create these cool and stylish kinds of ponchos for your summer fashion especially for the pool or the beach fun to get your swimsuit covered. All you need is a 2-yard fabric and some pom pom trim to do this project with a little sewing at the neck and the sides which are immensely easy to be followed by the beginners too. You can check out the details of the idea given right on this link here gina-michele
How To Sew Swimsuit Cover-ups: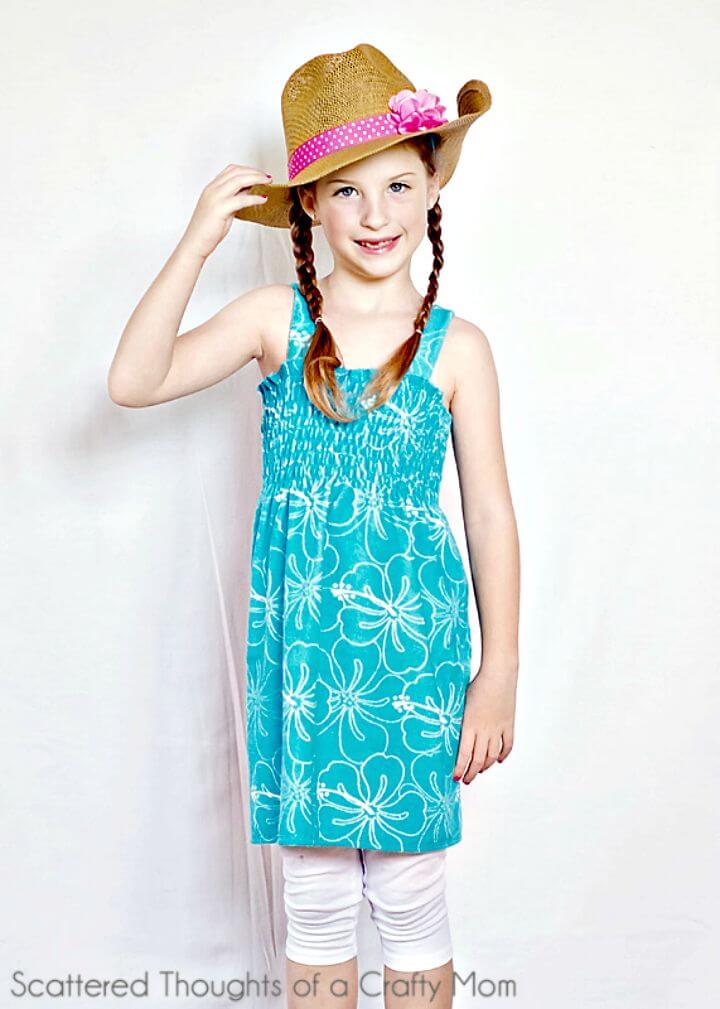 You can pair up with your daughter on the next pool party or the beach trips with these really cute and fun looking swimsuit cover-ups are that are just too easy to sew yourself at home. They are pretty in print, light in fabric and really stretchy to feel really comfy in and the icing on the cake is that they can also be worn with the leggings as a casual dress at home or anywhere around. The complete sewing details of this lovely and easy swimsuit idea are given here to be followed easily at home scatteredthoughtsofacraftymom
DIY J.crew Inspired Beach Cover-up: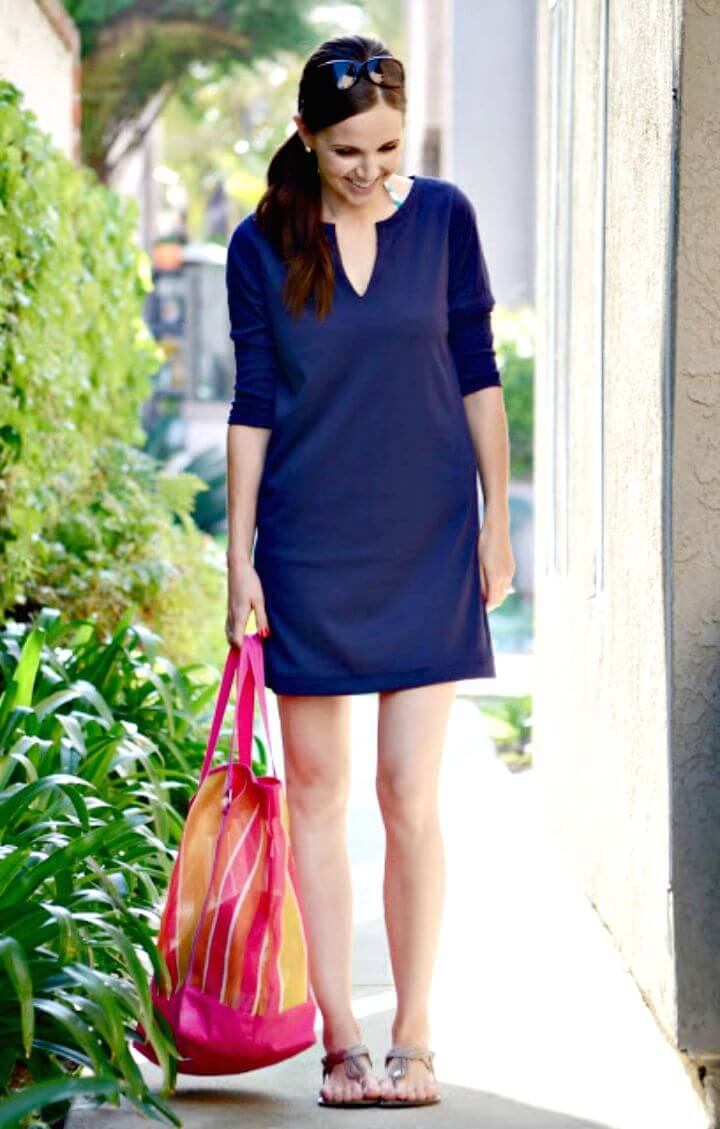 Summers are meant for two things mainly, one is the fashion freedom and the other is the beach fun and here is how you can combine them both. Yes you can make this simple yet stylish piece of the swimsuit cover up for yourself this summers and wear it on your beach trips with rich style, high comfort and looking so much gorgeous in it. It is really easy and fun to sew yourself at home and here is the link to check out the details of the complete idea to own one merricksart
How To Make Swim Coverup: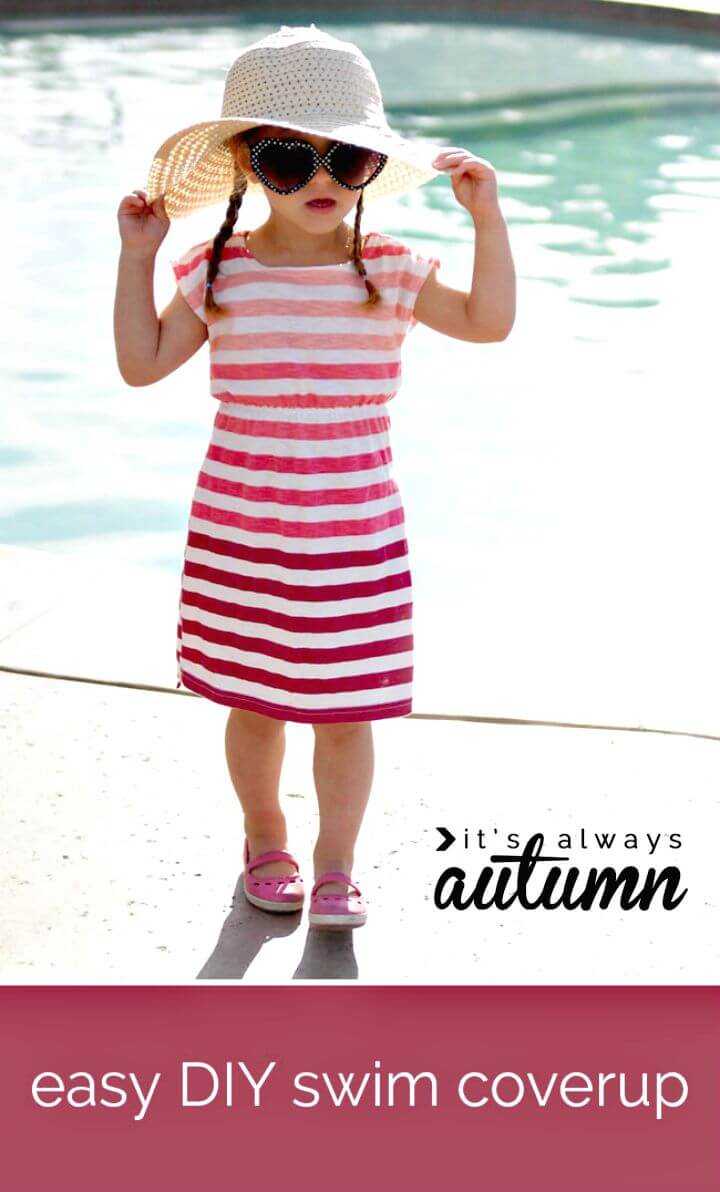 Let your kids also enjoy the summers in complete style and fashion and while you are getting fashioned up with those pretty and cool swimsuit cover-ups let your little dolls also look the same and here is the pretty idea of the swimsuit cover up made simply out of the lovely fabric with least of the sewing and the hassle. Details here itsalwaysautumn
DIY Swim Cover Up In Three Steps: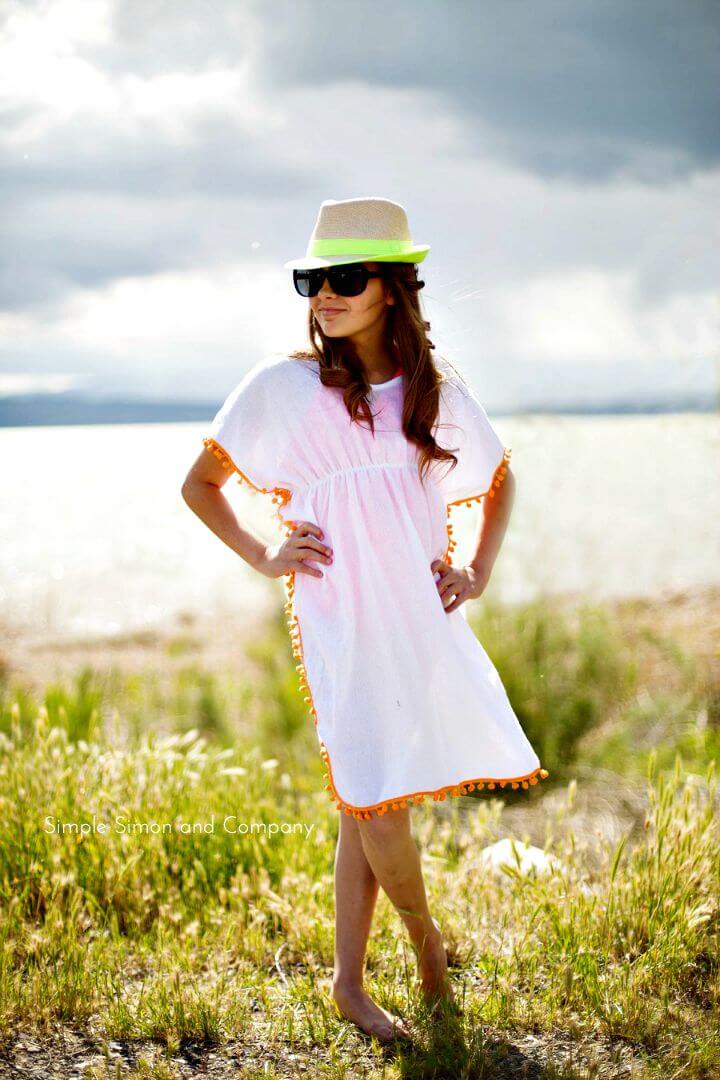 Here is the idea of creating a really simple yet totally stylish and pretty swimsuit cover up for your fun pool parties and the beach visits. You would need the fabric of your choice and with three easy steps of measuring, cutting and sewing you can easily get this lovely cover up ready to rock in. You can add the pom pom lace to this cover up and the shirring under the chest and it would look more gorgeous and fun.Check out complete details of the idea here simplesimonandco
How To Sew Beach Cover-up: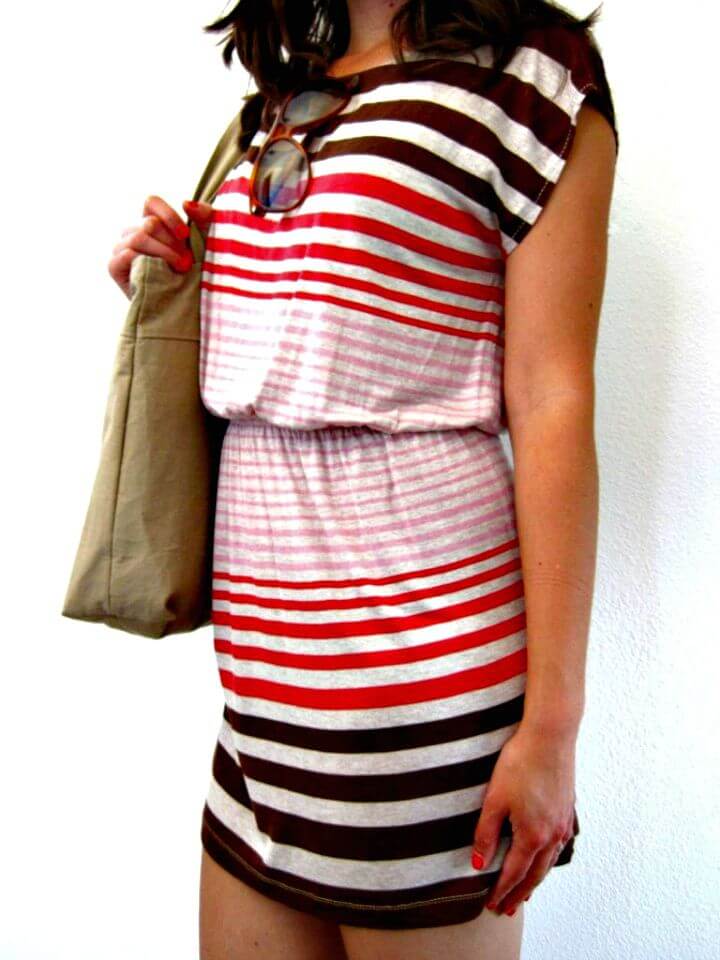 This is one of the cutest and the prettiest of the swimsuit cover ups that you would see around on the web. WIth a cute and stripy fabric this lovely and short size cover up has been nicely yielded. Just grab your fabric, cut the neckline, sew at the arms and add elastic at the waist and thus so nice and easily you can get this lovely swimsuit done.You can check out the details of the idea here shesgotthenotion
DIY Swim Cover-up Tutorial: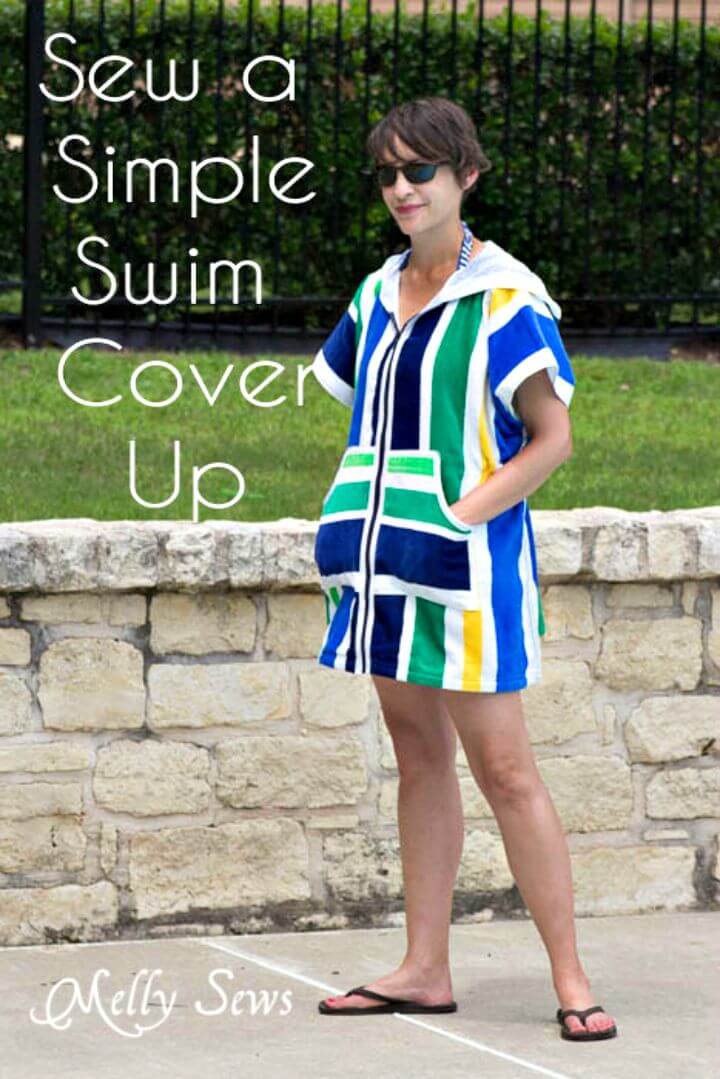 Here is this super cool and totally fun looking swimsuit cover up with lots of colors and strips and thus would make a huge compliment while you walk to the pool wearing it. The more fun thing about this pretty cover-up is that it has been sewn out of a beach towel and thus would be o much easy and comfortable to roam around in.You can check out the details of the idea here mellysews
Awesome DIY Summer Romper Tutorial: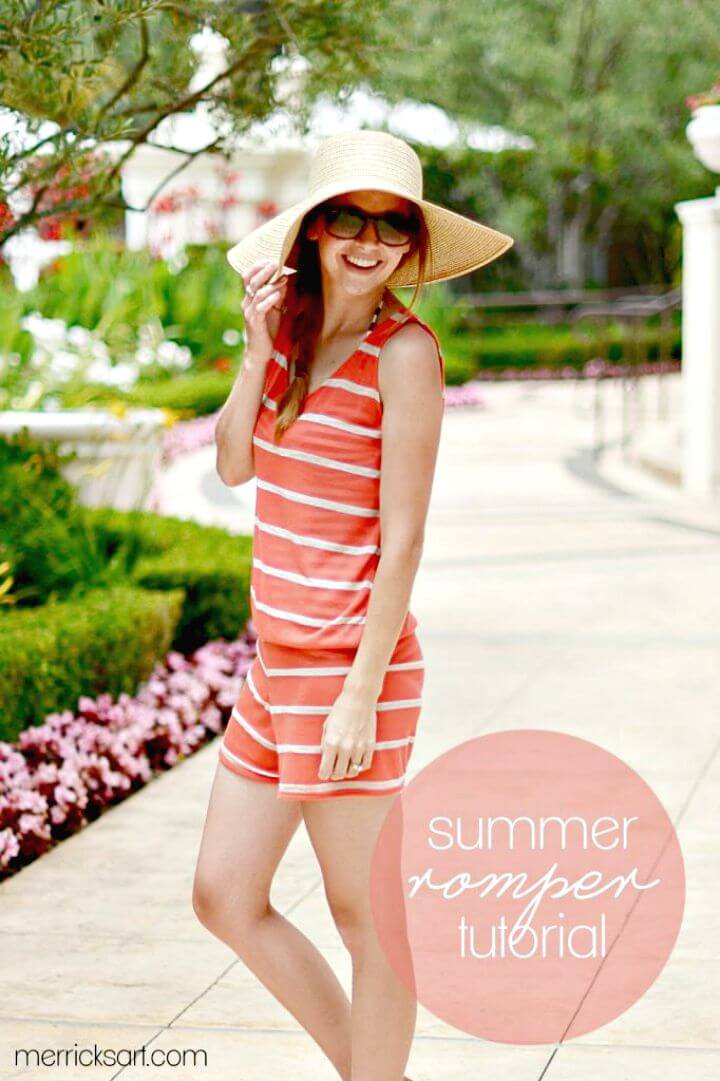 We all wait long for the summers to let our fun beach dreams come true. So here is the idea of creating this lovely romper at home and look all stylish and fun in it. So you would need the fabric of your choice an color, cut out a tank and the shorts of your size and then sew them together and you are done. Not only for yourselves you can make it for your little ones too and here is the link to check out the details of it merricksart
Make Tie-dye Swimsuit Cover-up: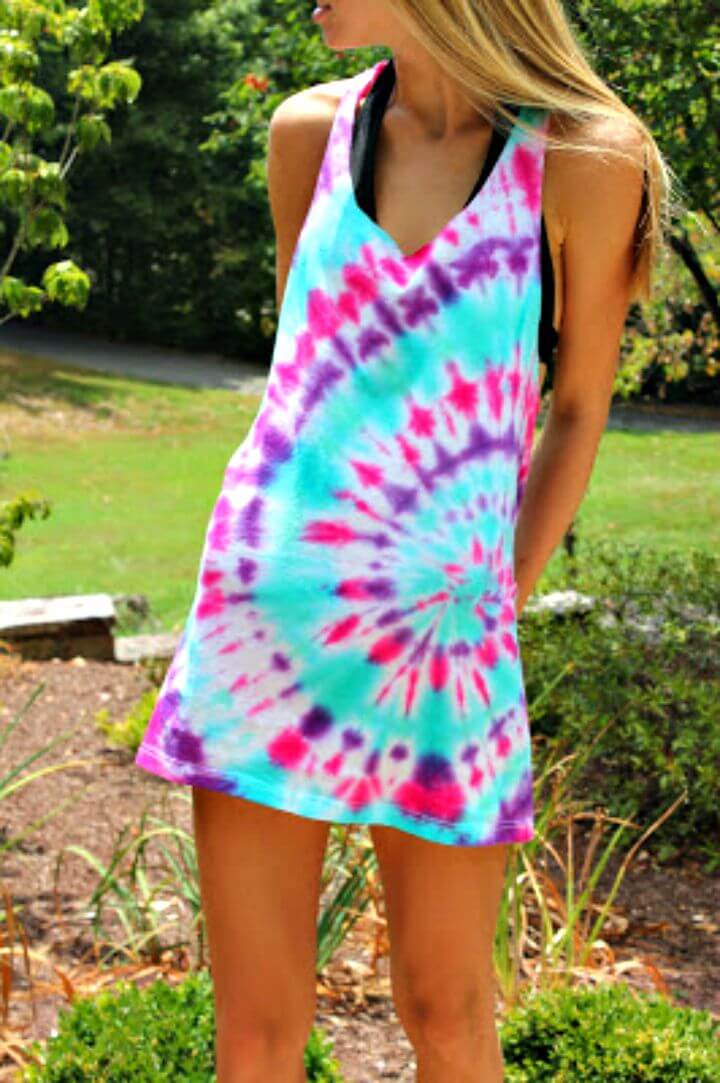 Tie-dye can really add instant fun to any of your boring and dull possessions and so to your swimsuit cover-ups. Here is this tank styled beach wear having been made to look so much fun and cool in design with a tie-dye technique. You can choose any of the design and the colors to get the cover of your own choice with the custom style and beauty.You can check out the details of the idea right on this link adventuresofamiddlesister
How To Make Tie-Dye T-shirt: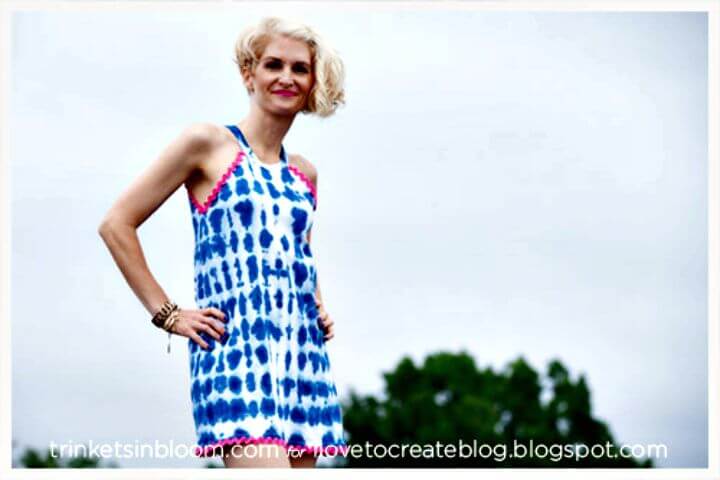 Here is this pretty and unique kind of swimsuit cover-up that you would love to wear while getting fun ready for your pool parties and the fun beach trips too. The white tank top has been tie-dye in blue and graced up more with pink pom pom lace over the arms and the lower edges and it turns out to be really cute and pretty.You can check out the details of the idea right on this link own it ilovetocreateblog
DIY Halter Wrap Swim Coverup: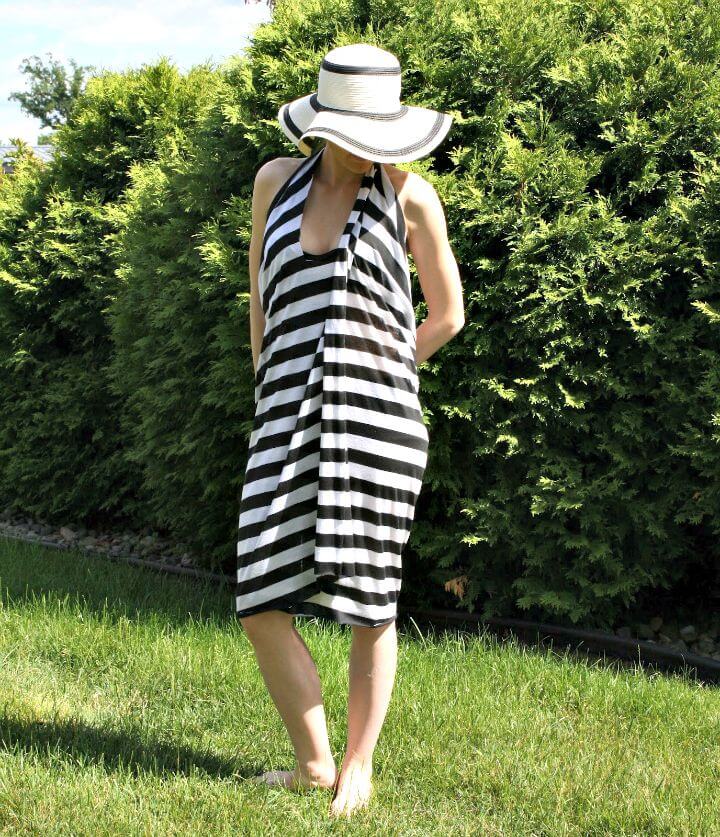 You can not only look sexy in your swimsuit but in the swimsuit cover up too. yes with this halter swimsuit cover-up you would look hotter than the summer and totally high in fashion. The gorgeous and super sexy swimsuit cover-up is super easy to make with that backless appeal making it look ore wow and fun. You can learn to make it on your own right on this link with complete details laviediy
Beautiful DIY Beach Cover-Up: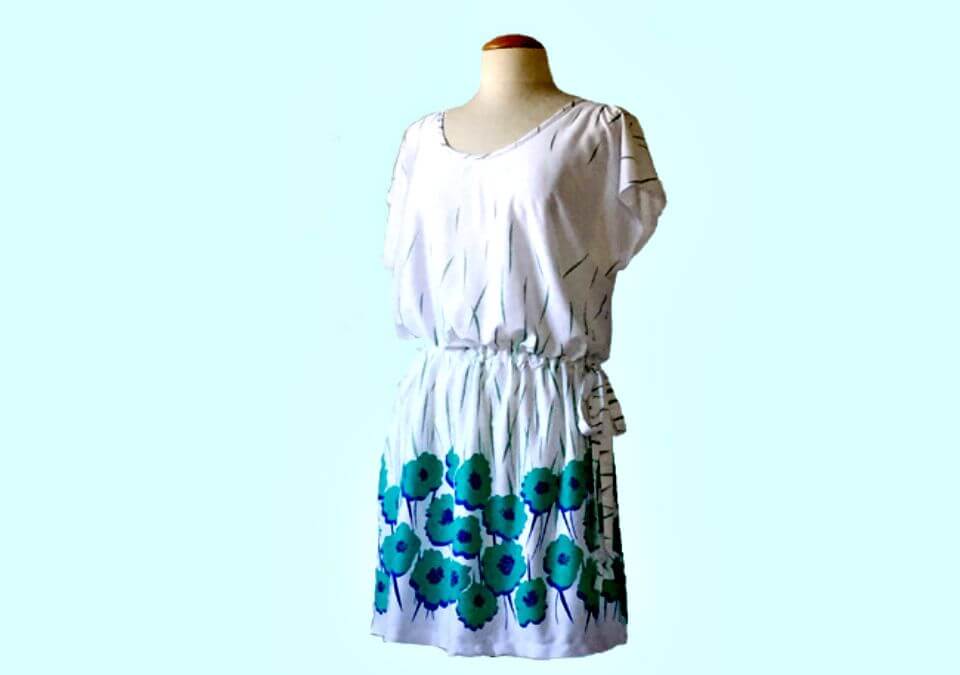 After getting refreshed in the pool when you want to just lounge and enjoy some fresh drinks this pretty and cute sim suit cover-up is the right thing to feel comfortable in. Not only comfy and breezy but this pretty and cute cover-up would make you look really gorgeous and stylish too. So here is the link showing you the complete details of this beach top's cutting and sewing on your own craftsy
How To Sew Pom-pom Trim Beach Cover-up: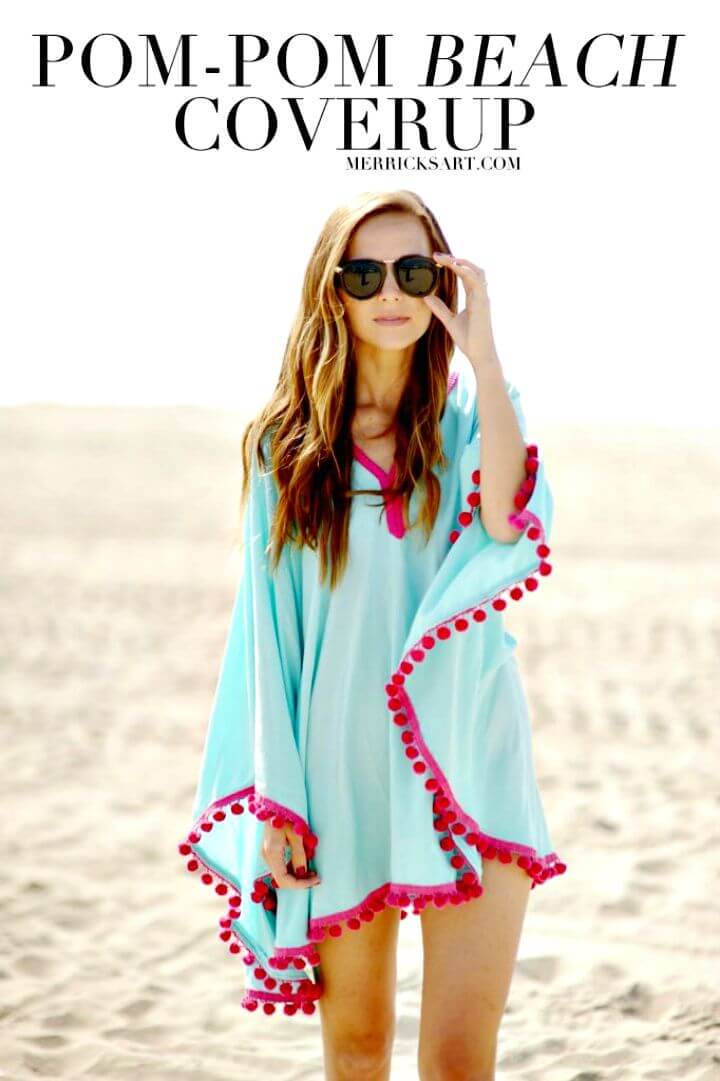 If you are planning to fly to your favorite beach this summer then here is the idea of creating this super gorgeous and stylish swimsuit cover up for you to flaunt around. So get this pretty rayon fabric in teal, get your cover measured up and sewn and lastly add the pink pom pom trim to it all over and it would be ready rock you sexy beach avatar for sure. You can learn the complete details of the idea here to look stunningly hot this summer merricksart
DIY No Sew Beach Cover Up: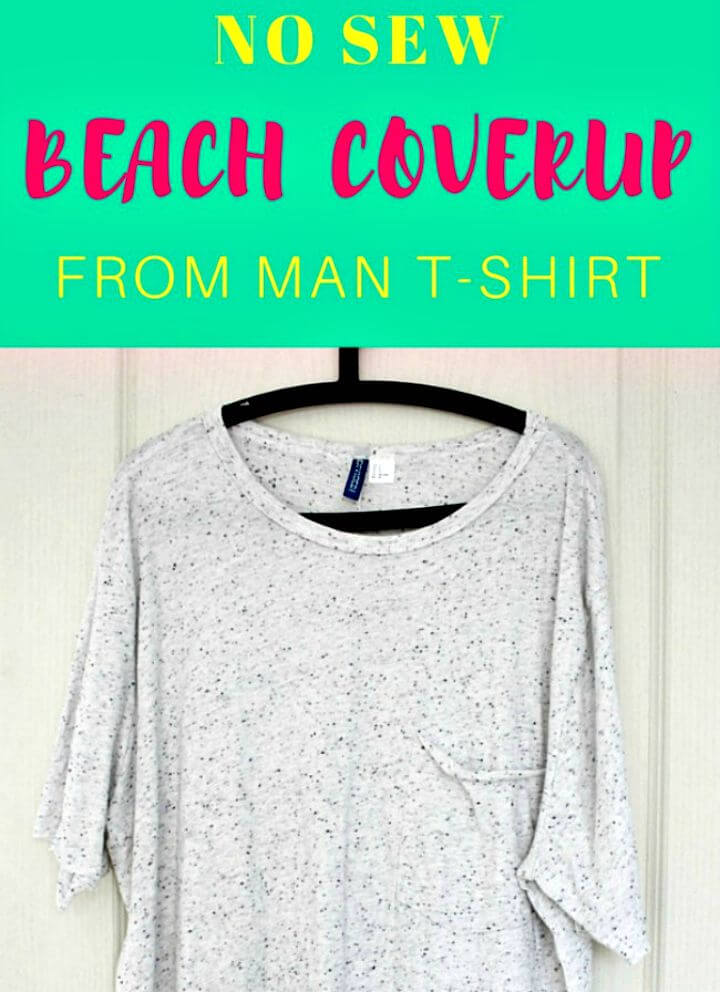 Here is how you can create a complete sassy yet cost-free swimsuit cover up for yourself to adorn yourself for your beach fun or the pool parties. All you would need is an old t-shirt of your husband or dad and with just no sew involved you can turn it into this really cool and stylish swimsuit cover-up. You need to cut the neckline and the arms of the t-shirt and then cut out the straps to be curled up and tied up at the back. You can check out the written details with the pictures right on this link theseamanmom
DIY No Sew Swimsuit Cover Up: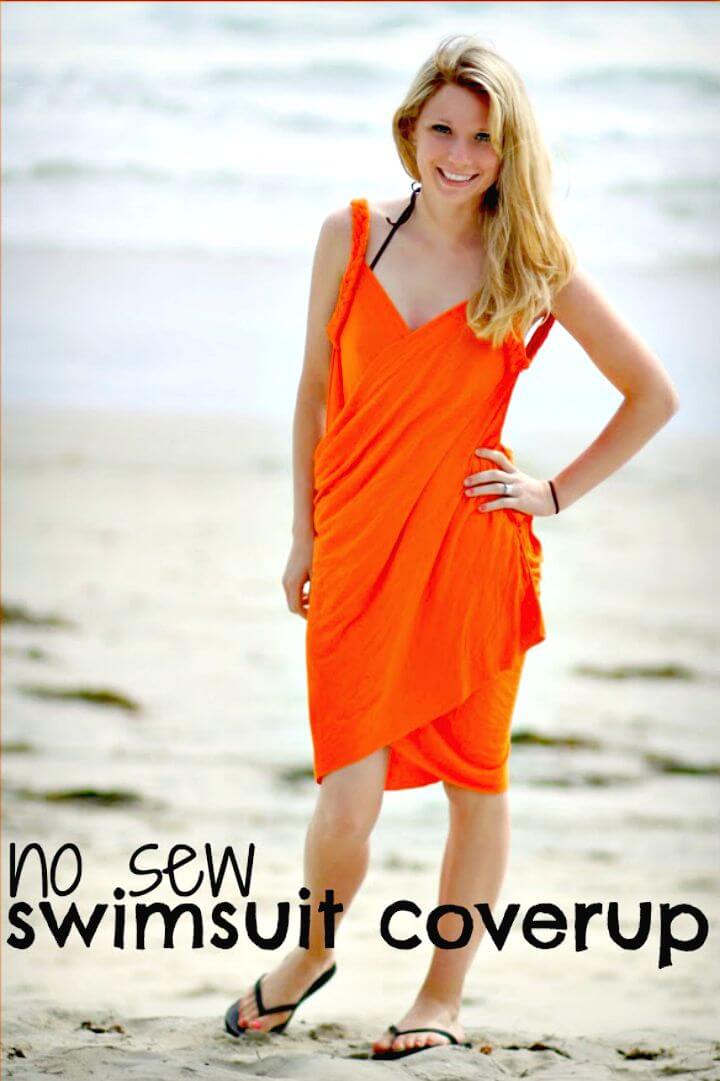 Do not lose hope if you can not sew a pretty swimsuit for yourself as everybody around is doing as we got this no-sew sim suit cover up as the pretty solution to your problem. Here is this gorgeous, stylish and totally cheap to make no-sew swimsuit cover-up that would make you nothing less than a diva.You can check out the details of the idea right on this links to no-sew it yourself at home watchoutforthewoestmans
Create Your Own Swimsuit Cover-up: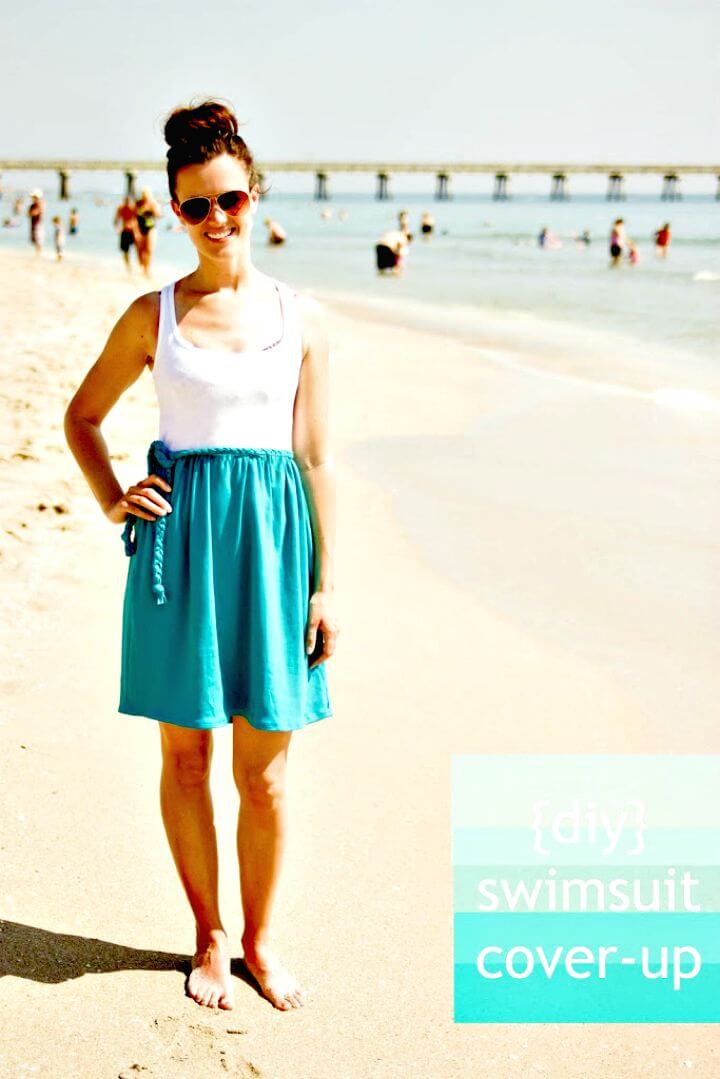 Do you like skirts? if yes then you are surely going to like this pretty idea of creating the lovely swimsuit or the sundress in skirt style and look really cute and fun at your beach fun or the pool parties or just lounging in the sun. You would need your old tank top to be cut in the size of the empire waist and then sew it with your cute turquoise and fabric skirt, and it's done. Breezy, comfy and cute in style swimsuit cover-up tutorial is lying here colorsandcraft
DIY Knit Beach Coverup Tutorial: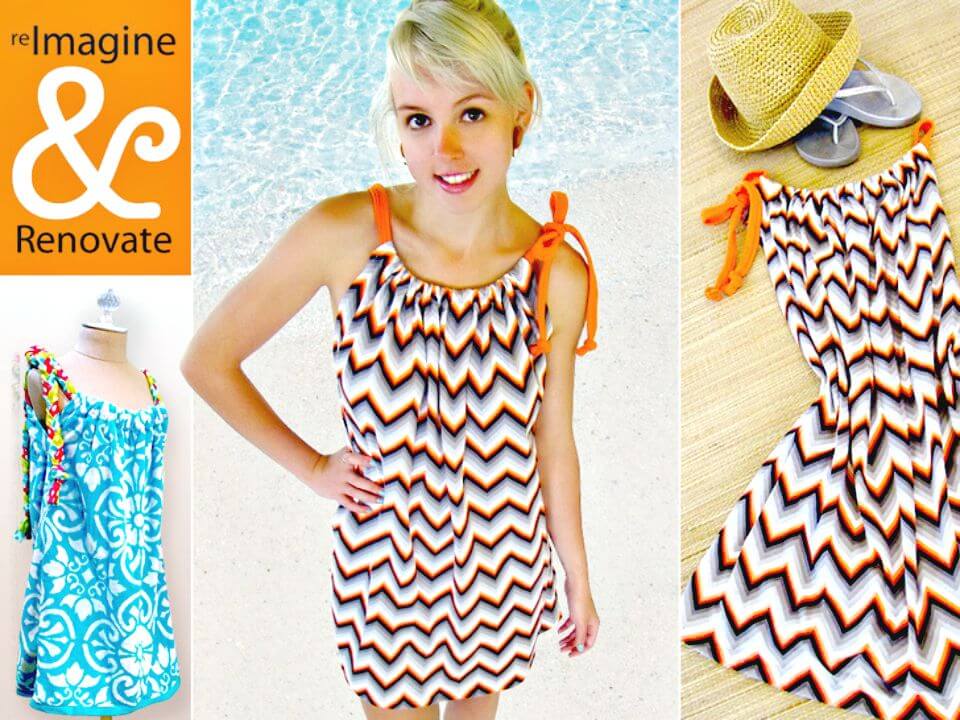 If you have this kind of pretty looking beach towel then you can create a funky beach top out of it. Yes using this lovely chevron patterned beach towel this lovely swimsuit cover-up has been made with a little cutting, sewing and adding the shoulder strips. You can do it all yourself so much easily and nicely and for the help you can check out the details of the plan right on this link so do open it up sew4home
DIY Ultimate Beach Cover-up Kaftan: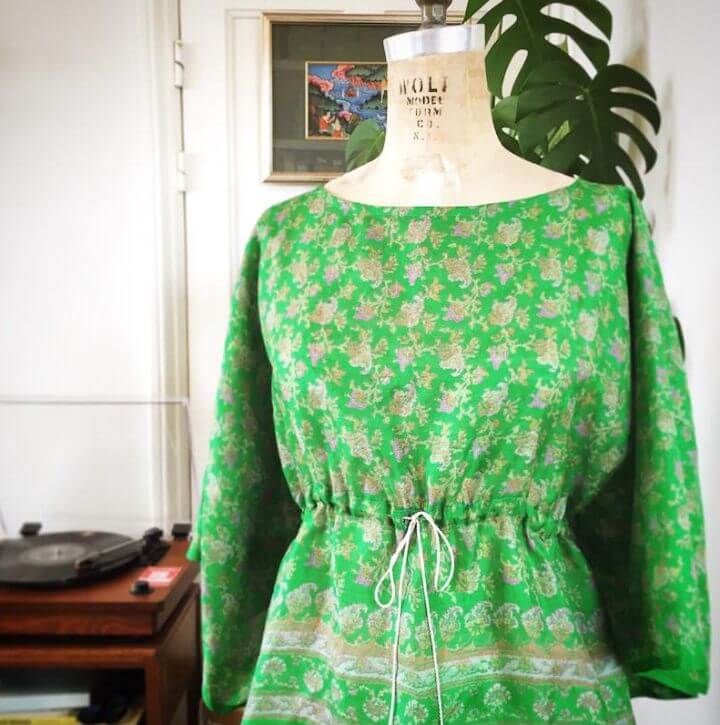 Summers are so hot that we can not wear tight clothes so here is the idea creating this really comfy and loose fit floaty kaftan to wear and feel so cool and nice. You would need a?lengthy yard of the fabric to create this super cute and super easy to make Kaftan for the full body cover-up. IT would be really easy to sew yourself and so much fun too and here is the to check out the details of it byhandlondon
How To Sew A Swimsuit Cover-up:
If you are left with a small piece of the cutely floral printed fabric and thinking what to do with it then its the right time to make the most out of it. Yes with the lovely fabric you can make this adorable and simple swimsuit cover up to wear over your two pieces while you are out for the fun on the beach or on the pool. The cover-up has been made up easily with a shirring waist and the braided strips which are making it more adorable. You can learn to make it on our with all the details being provided here elleapparelblog
Super Easy DIY Caftan Cover Up: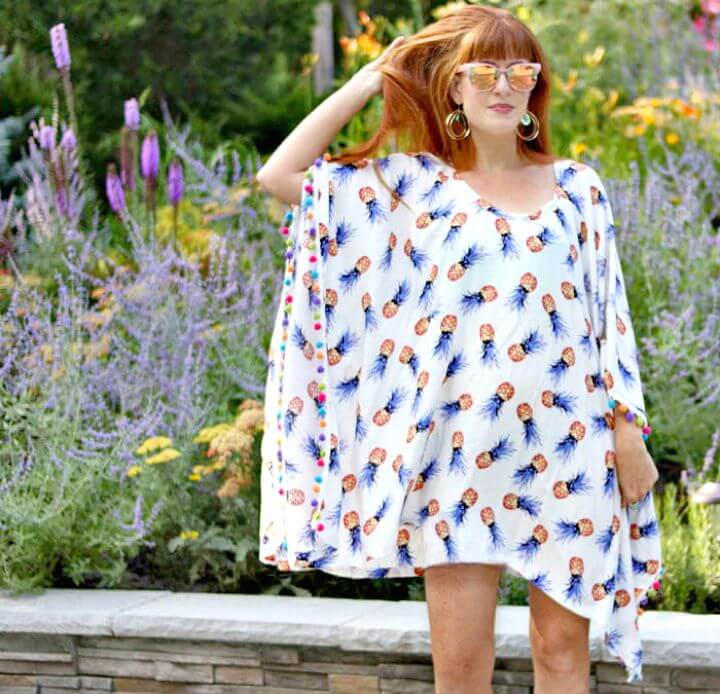 Kaftans are not only super comfy and easy to make but they are super stylish too. Yes they look really boho and chic in the summers and you can use them in so many fun ways like here they are serving as the lovely swimsuit cover-up. With a fabric having a nice summer print, sufficient length and width you can easily create this lovely and modern looking swimsuit cover-up in about half an hour. The colorful pom pom lace at the sides is adding an extra touch of cuteness to it. You can learn its sewing details right on this link gina-michele
Beautiful DIY Beach Kaftan Dress: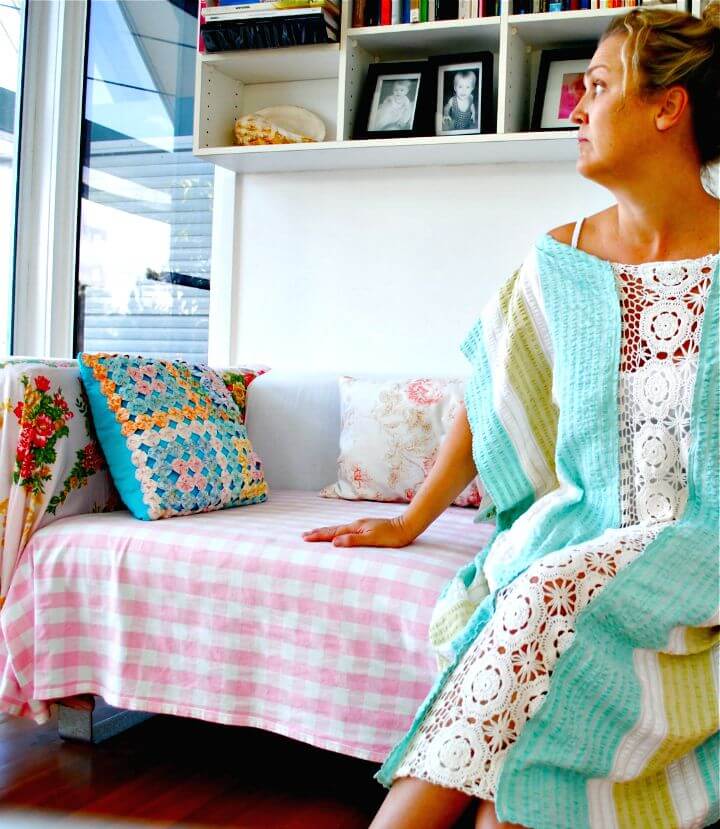 You can create a lot of functional and fun things out of the materials lying uselessly around you and we got you the perfect example here. This lovely and uniquely stylish looking swimsuit cover-up has been made out of an old table cloth and a doily and no doubt it turned out so damn pretty. The doily lengths have been added to the center of the cover and making it look so much quirky and boho. You can easily make it yourself by learning all its details right on this link beachvintage
DIY Galaxy Beach Cover Up: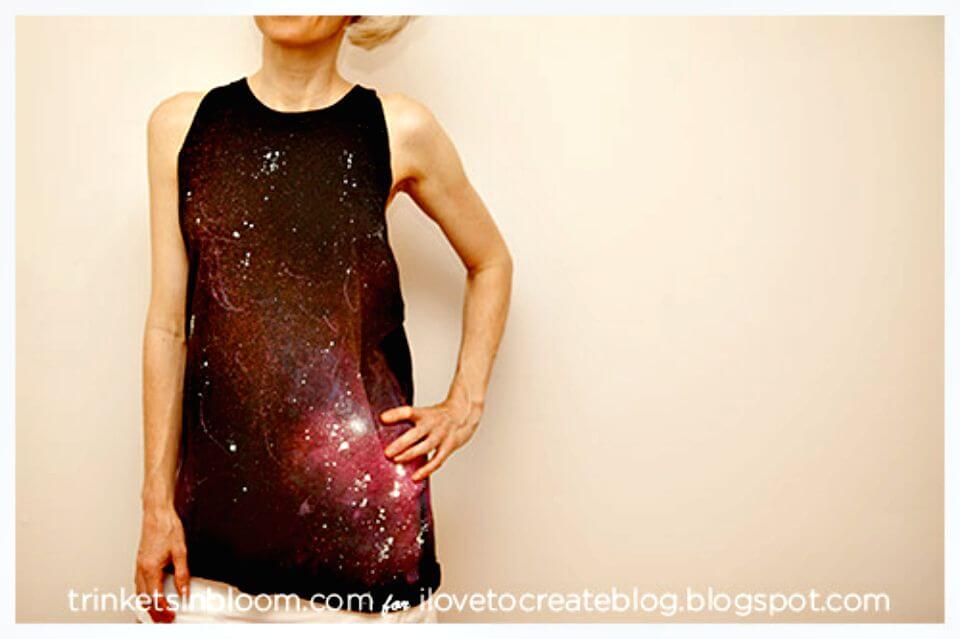 With a little effort and creativity you can really transform the look of your simple and boring possessions. Here is this idea of pretty galaxy top that you can use as the perfect beach swimsuit cover up when you are hitting the beaches or the pools to enjoy the summers to the fullest. A black and plain t-shirt has been bleached and painted to look amazingly beautiful with the galaxy effects and the deep cut at the back makes it more sexy to wear.You can check out the complete instructions of this idea right on this link ilovetocreate
How To Make Beach Cover-up:
look stylish and graceful on the beach with this really gorgeous swimsuit cover-up that you can make yourself at home for your lovely self. It got so many pretty features that make it super cute and stylish like the tie belt at the waist, ribbons of a bright yellow color over the arm sides and the edges and the pretty black crochet trim. You can easily get your hands on this lovely beach top r the cover up while getting all the help and instructions about it sewing being given here sewdiy
Super Easy DIY Beach Towel Dresses: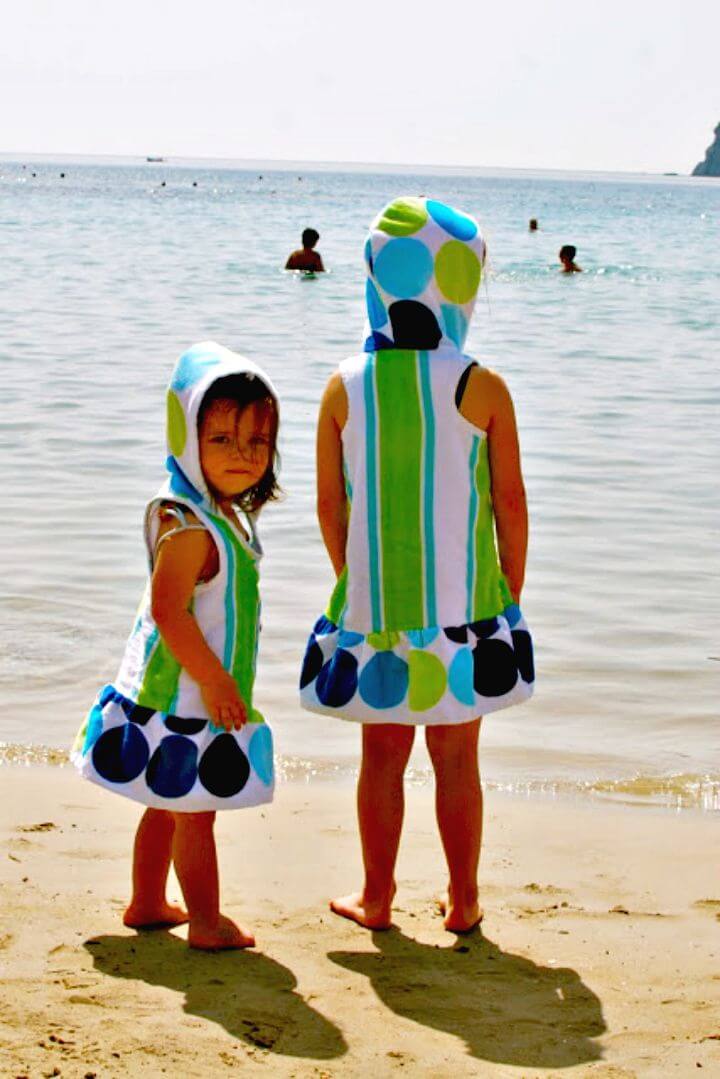 Whey should only the elders look stylish and cute on their beach visits the little ones have the equal right to enjoy their beach fun to the fullest. so to make the adorable beach wears you can get your hands on the beach towels and create these super cute swimsuit covers or the beach tops with the hoods which is really making them look more cute and pretty. They are super easy and fun to make and you can learn to make them here madeeveryday
Adorable DIY Scarf Beach Cover-Up: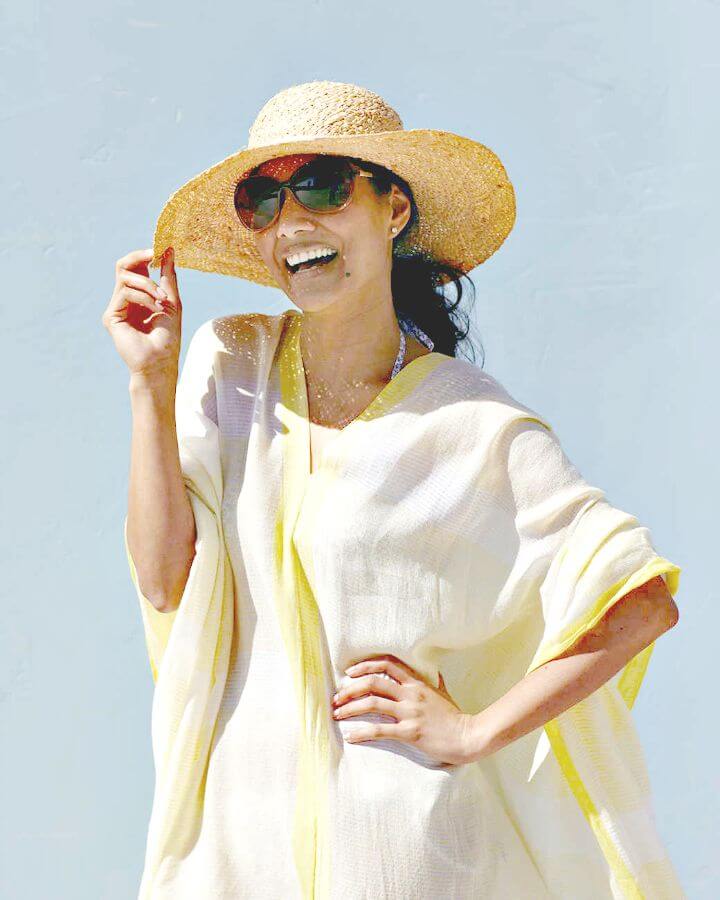 The first thing that comes to our minds while planning our summer trips to the fun beaches is the cover-up that you would wear over there. So everyone needs a breezy, comfortable and a super stylish cover up to flaunt around while walking on the beach sand and now you can make one on your own. with two cotton scarves of yours you can easily and really simply make this lovely and totally boho styled beach cover up with a simple sewing technique involved and for the details and instructions you can click her marthastewart