A Valentine's Day is a day of love or to spread love, and it is a complete holiday! It is mostly a misconception that Valentine's Day is only for couples and other have nothing to do with it, and this is wrong, this is the day to show your love for anyone from a toddler to a mother and from friend to neighbor! So, you can also give heart-winning DIY gifts to your kids, mature ladies in a home and also to other people you love and care about!
Have you decided some awesome gifts for the Valentines Day that will simply go eye-catching and pleasing? If not yet then we would recommend you to go with some handmade lovely DIY crochet gifts, in this case, your art of crocheting can really help you out! Just get a little smart first and then get busy with your hook to crochet valentine's day patterns from simple crochet hats to adorable crochet clothing with some fetching heart motifs, such a crochet patterns would just make outstanding presents for the day! Just to let you know that what special you can crochet for this loving event, we have round up these 94 Free Crochet Patterns for Valentine's Day that are sure to make the best Crochet Valentine's Day Gifts for the day! In this collection, you will find the adorable gift ideas for your nice and nieces, nephews, parents, grandparents, neighbors and also for close friends!
Crochet stuffed animal toys with precious heart motifs and let them go in hands of a person you love and care about and it will just show you love for him/her! A perfect example here the crocheted teddy bear that comes with accent dark pink bow! The heart shape is the symbol of love, so you can crochet tons of different heart shapes to give as cute mini Valentine's Day gifts to your beloved ones! Moreover, you can also crochet these hearts with little yarn loops at backside so they will make the perfect hanging ornaments for a Valentine's Day party area! Furthermore, just get these crochet hearts onto a piece of string or yarn to make outstanding love buntings and garlands that will speak volumes for Valentine's Day love!
Crochet also the heart shape applique that can be crocheted onto various other crocheted items as a reminder of your love! Crochet also heart shape coin purses for the kids and also the cute heart shape sachets that would make lovely heart winging gifts for the day! Check out some fascinating samples given below! Just go with the heart motif and crochet outstanding throws, hats, blankets, mittens, coasters, potholders, bookmarks and even the fashionable clothing that would make epic Valentine's day gifts for sure, see some exciting examples given below like the crochet heartfelt halter!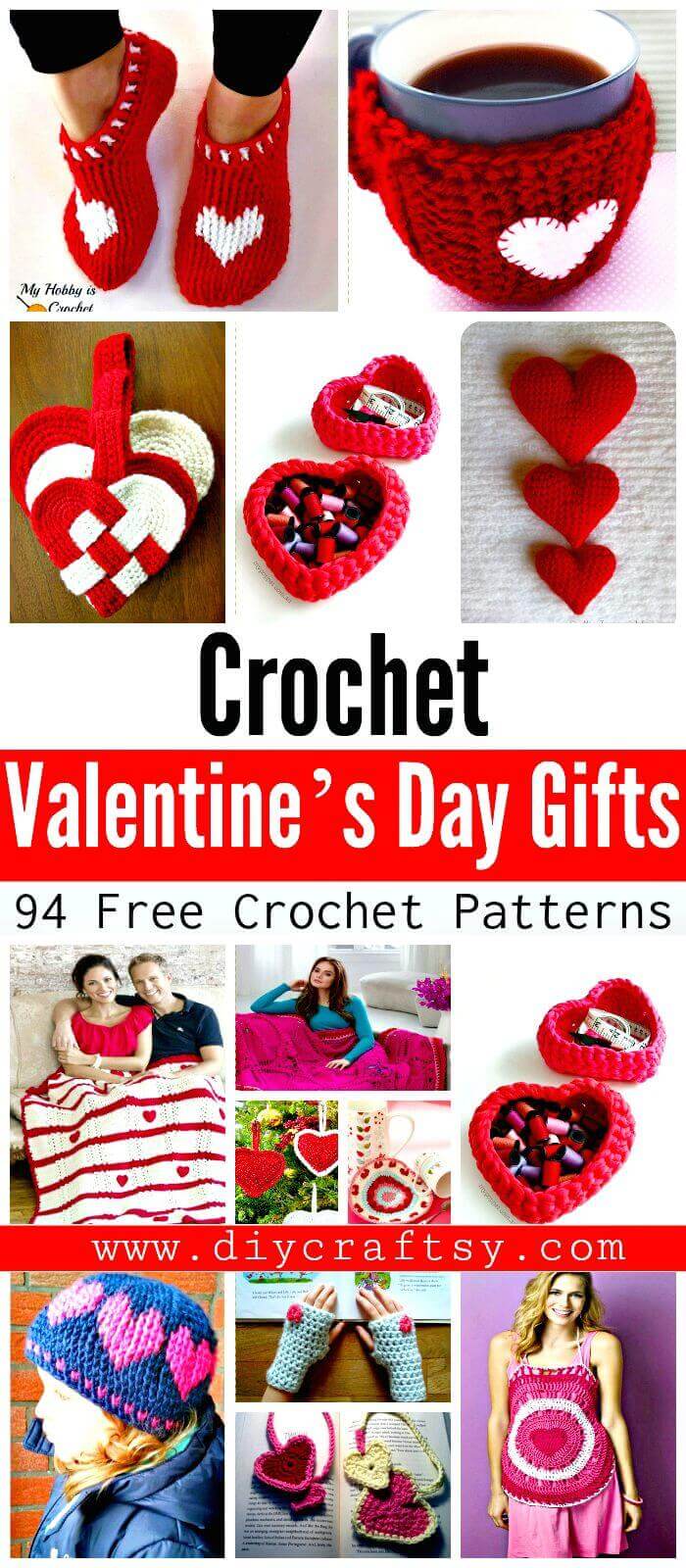 Just go on a short visit of the entire collection and see dozens of more incredible Valentine's Day patterns that you have never thought before! Select your favorite ones you want to try out and then just click the respective source links that will take you to the complete visual guides, free crochet patterns and also complete project details!
Want more Free Crochet Patterns?
Free Crochet Heart & Sole Slippers Pattern: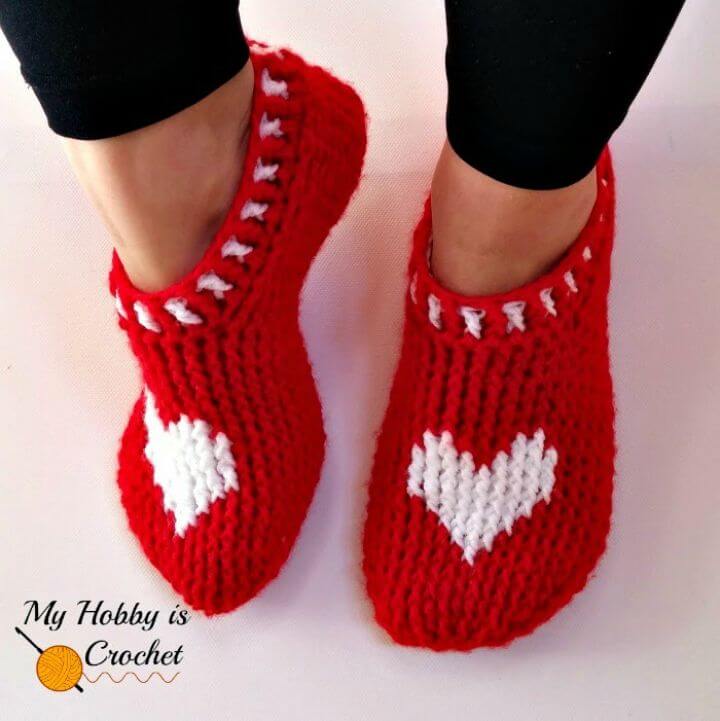 Do you know how to crochet baby booties or slippers at home? If yes, then why not crochet some love-themed shoes that can be given on Valentine's Day as an epic gift to someone special! Check out here the sample slippers that come in hot red yarn color that speak volumes about the love and then there are white miniature hearts visible thought the red yarn that is a big delight view and give a more dominant expression of love! Another great Valentine's Day crochet pattern! Further guide and free crochet pattern is here myhobbyiscrochet
Crochet Valentine's Day Mug Cozy – Free Pattern: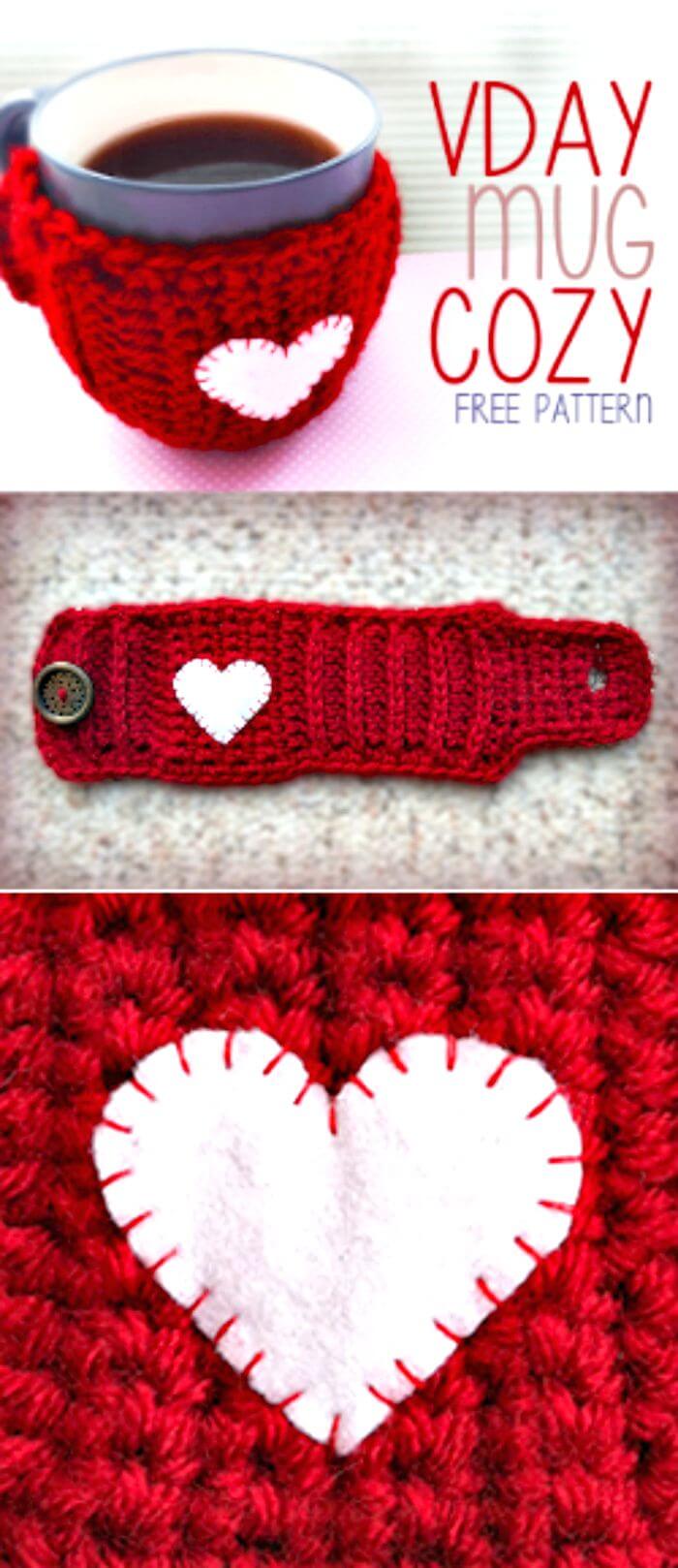 This is not the size of gifts that go impressive, but it is the hidden love in the gift that wins the receiver's heart for you! You are going to find it all true after putting a glance at this crochet mug cozy, crocheted in precious red color and is there is an also a white heart visible in the center that turns it into a romantic Valentine's Day gift! So, this crochet mug cozy which is just timeless to crochet is another epic gift suggestion for the day! Free crochet mug cozy pattern and tutorial guide is here littlemonkeyscrochet
Free Crochet Corazoncitos Amigurumi Hearts Pattern: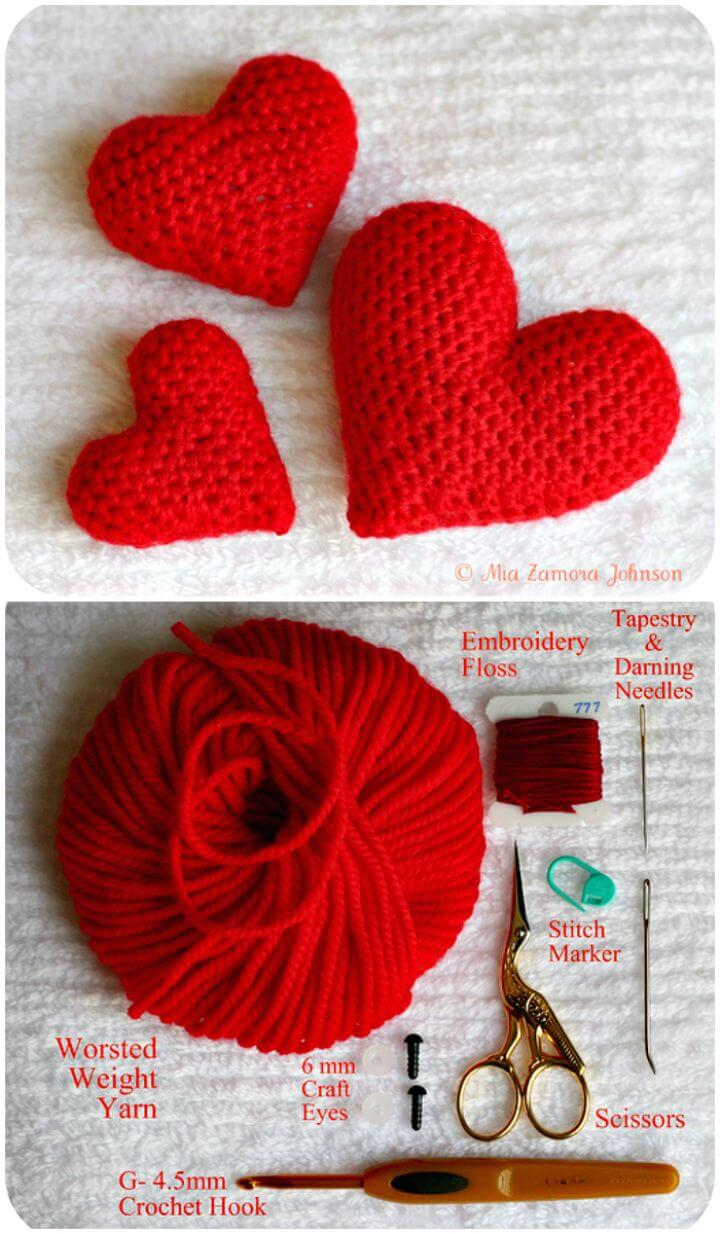 Crochet also the very good looking crochet heart amigurumi that will make outstanding love gifts for sure! Check out here the mind-blowing stuffed hot red hearts that are too beautiful to please the receiver! Moreover, you can also crochet these lovely hearts with custom yarn loops so they will also serve as perfect hanging love ornaments and also as precious buntings or love garland pendants! So, are you interested in crocheting these hot red hearts? Just grab the full free guide and tutorial from here owlishly
Crochet Notebook Sweater For Valentines: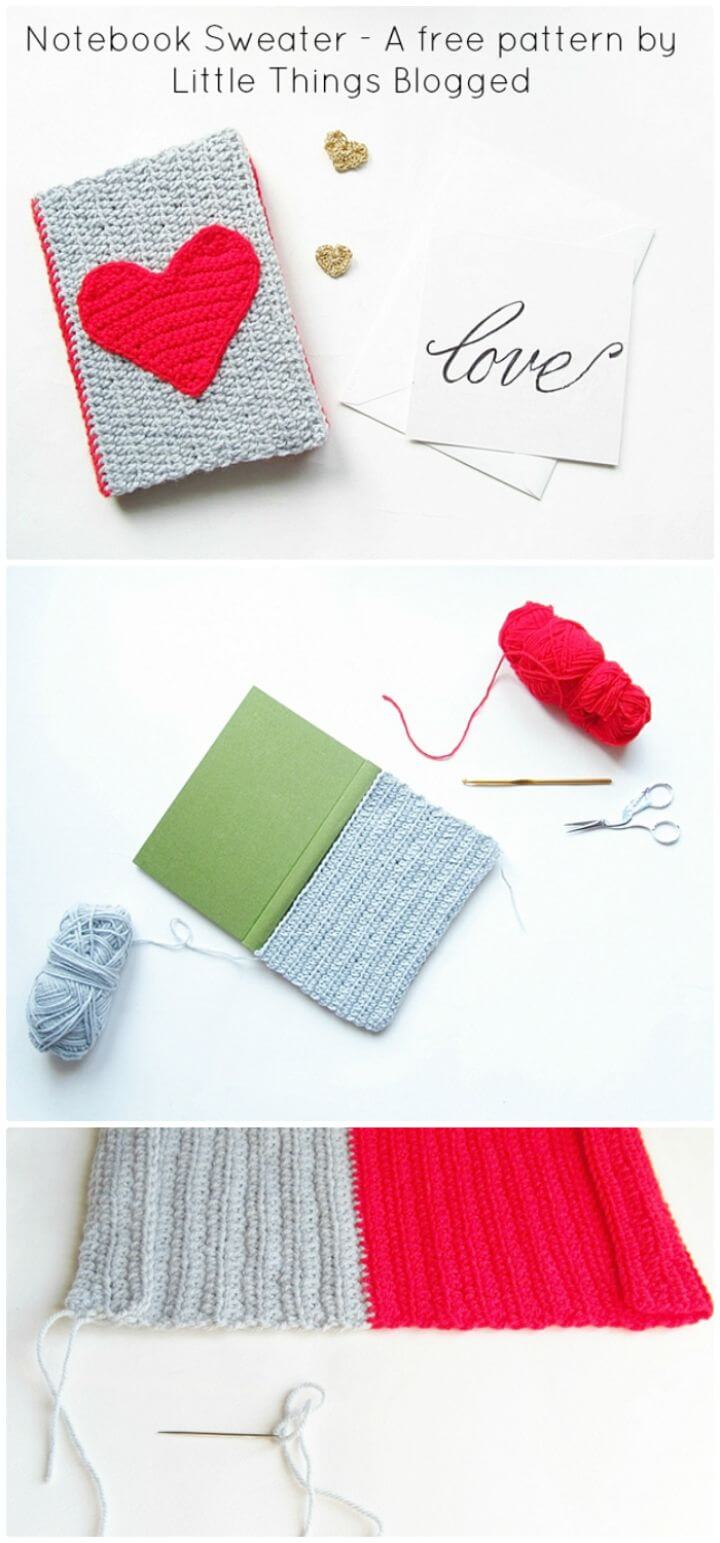 Another mind-blowing idea to please your Valentine, just grab the notebook of your beloved one and just spruce it up for love them by crocheting a sweater or cozy for it that must come with a heart motif! This is here another great recipe to cool for a glorious and pleasing Valentine's Day gift! By getting inspired of this project, you can crochet same kind of cozies for various other things , the coffee mug cozies, the mobile phone sleeves and other cozies of this kind! Further project details and instructional guide here claireabellemakes
Free Crochet Four Hearts Square Pattern: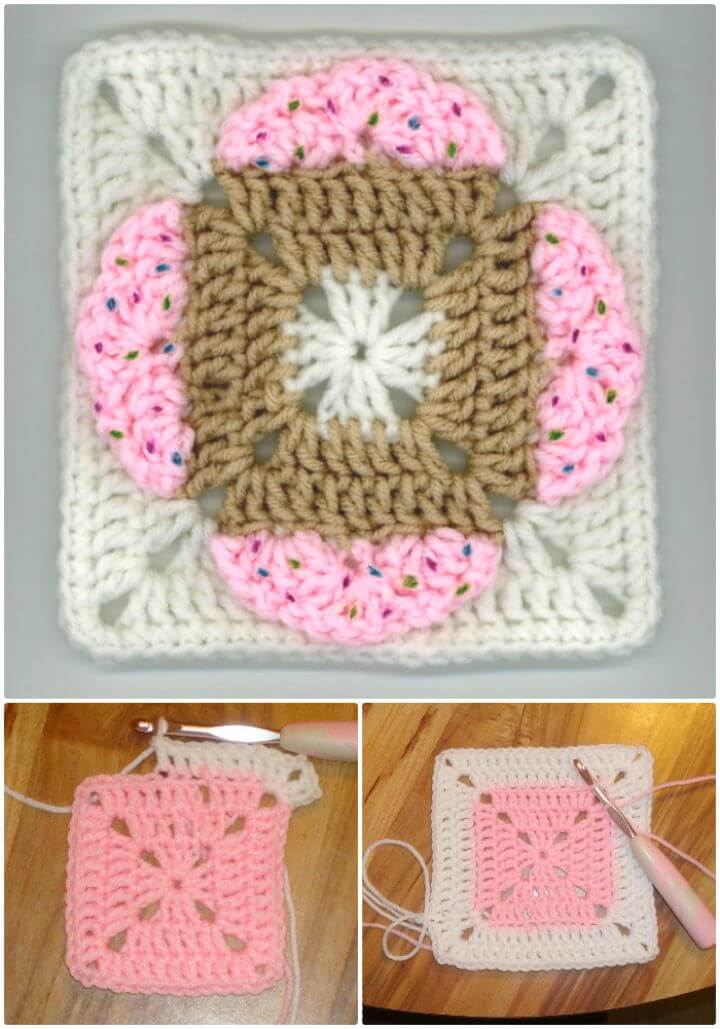 Here you are going to see various design textures and shapes in a single miniature crocheted square! Check out here the four hearts square that is a circle based crochet square and airy diagonal lines! See also a hot mix of light yarn colors like the light brown, light pink and white in this crocheted pattern! Put multiple of such a square to crochet a blanket or throw that would make a perfect Valentine's Day gift too! Free crochet pattern and tutorial guide is here hooksandyarns
Easy Free Crochet Floral Heart Motif Pattern: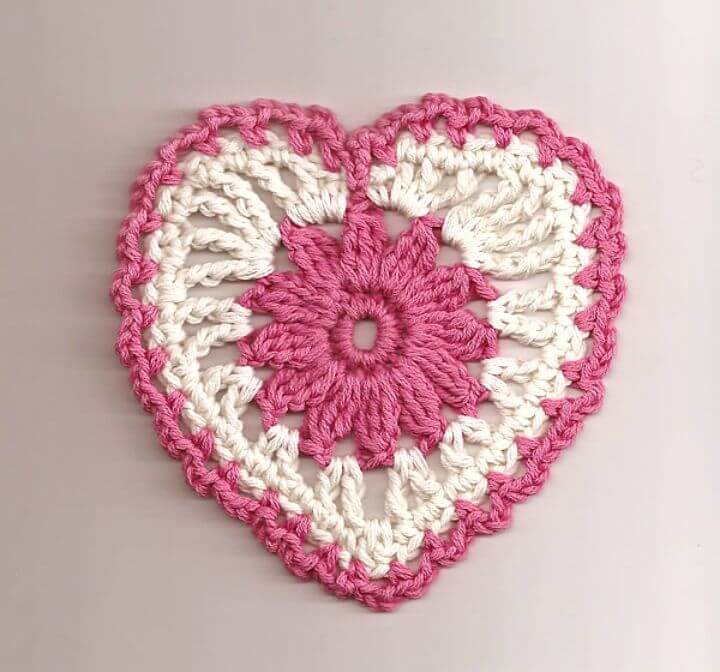 One more enchanting heart motif to include in your Valentine' Day special patterns! This is here a flower based crochet heart motif that can help crocheting outstanding romantic gifts and also the spellbinding Valentine's Day ornaments! This is here another beginner-friendly crochet heart motif that will not take much time to be in your hands also! Free crochet pattern and tutorial guide is here crochet
Easy Free Crochet Cute Heart Pattern:
The pretty beautiful miniature crochet hearts are all beautiful to look at and are also something special to give as an epic romantic gift! So going with mini colorful hearts will be recommended when you are to give someone special a handsome gift on Valentine's Day! Don't know how to crochet some miniature hearts? Just check out here the sample cute hearts here, find also the free crochet patterns for them from here cre8tioncrochet
Free Crochet Valentine Teddy Pattern: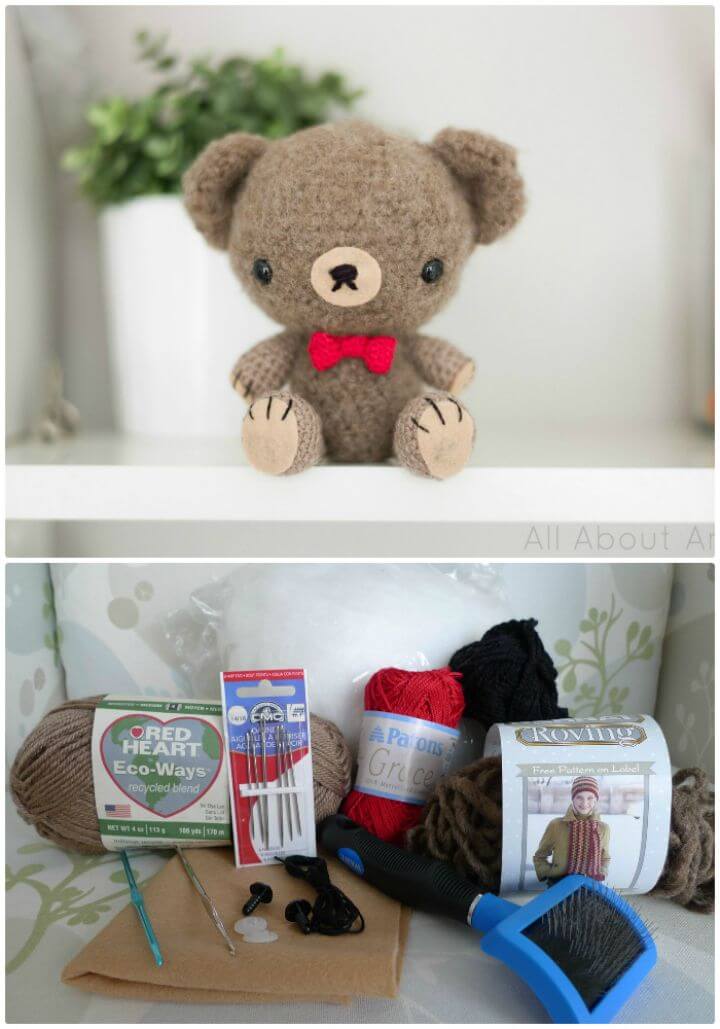 A Valentine's Day is what to see love everywhere! It is also the day when gift-giving is at its peak! So, if you are also willing to get some romantic gifts for the upcoming love day then you can also go smart with your crochet hook too! A great sample here is this crochet stuffed teddy bear that is as handsome as it is easy to crochet, would make perfect love and cute gift! Free crochet pattern and easy visual guide is here allaboutami
Easy Crochet Heart Motif Applique – Free Pattern: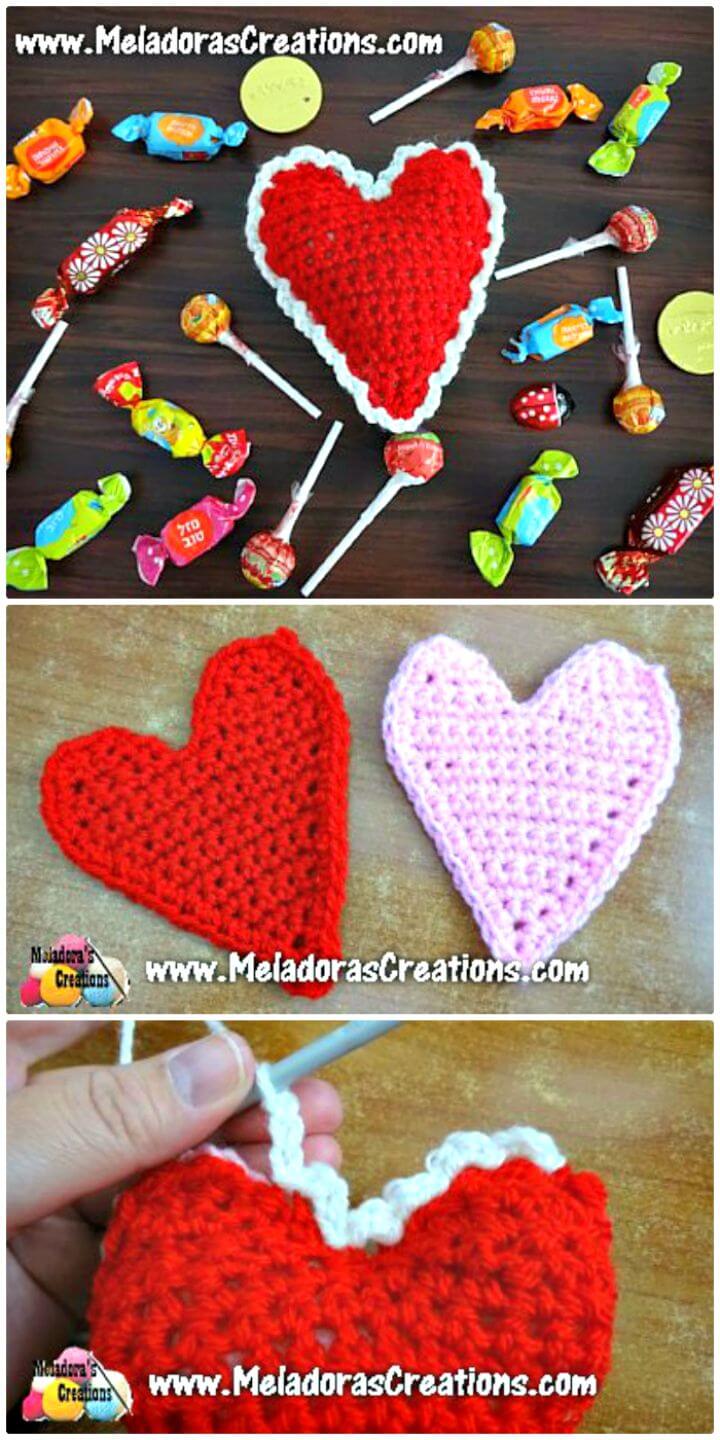 Make your own beautiful Valentine's Day gifts instead of buying them expensive! You will keep on saving your hard earned money if you keep on using your crochet hook! Here is another cool suggestion, the crochet heart motif appliqué, can be incorporated to various crochet patterns for a damn romantic theme and hence can be used to produce enchanting gifts for the love day! Want to know how to crochet this heart motif? Grab the full free guide and easy crochet pattern from here meladorascreations
Crochet Heart Shaped Storage Baskets – Free Valentine's Day Pattern: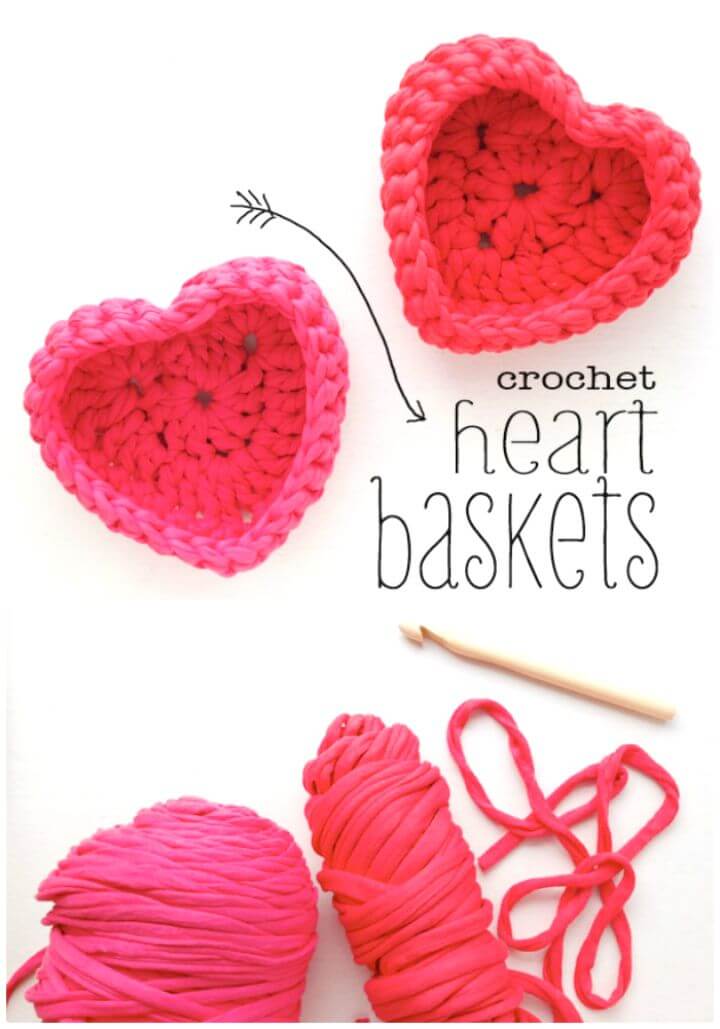 Check out here some more heart shapes that make the perfect storage pots for your craft room supplies, the love organizers for your desk and also the best gifts for the Valentine's Day! Here you all need to work in single, double and treble crochet stitch to crochet these baskets and you can simply get busy with chunky yarn weights or even with t-shirt yarn to duplicate these lovely baskets! Here these baskets have been crocheted with t-shirt yarn selected in pink and red! Further project details and free crochet pattern here mypoppet
Free Crochet Box Of Chocolates Pattern: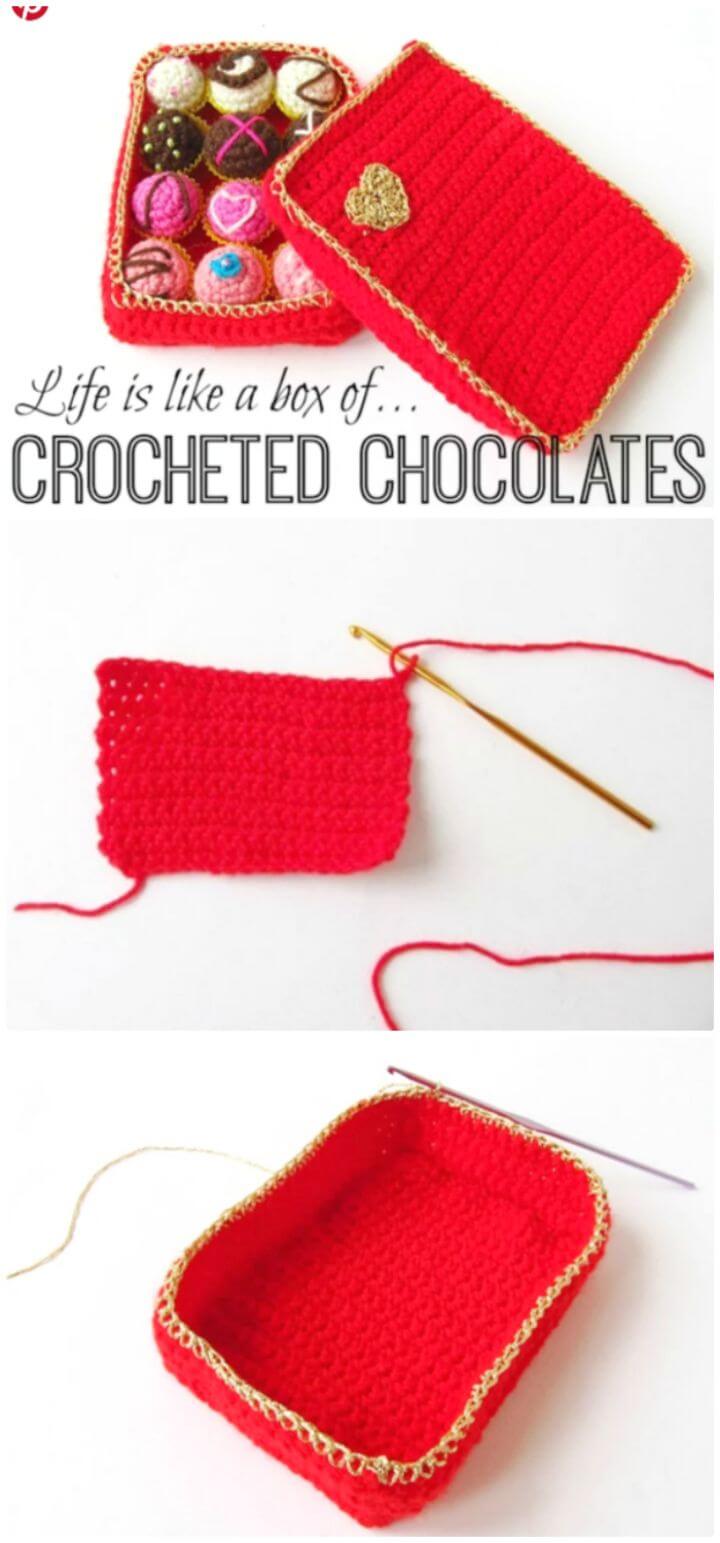 Chocolates can be given as a sweet gift on pretty much every occasion and what about to give them on Valentine's Day to someone special? This definitely makes the sense and will please anyone you like and care about! Packing of chocolates will matter a lot and here is what you need, a crocheted box for chocolate that comes in hot red yarn color and is something that raise the value of your gift! Another cool idea for Valentine's Day gift that you will definitely like to clone! Free crochet pattern and instructional guides are here sheknows
Crochet Cute Heart Applique – Free Pattern: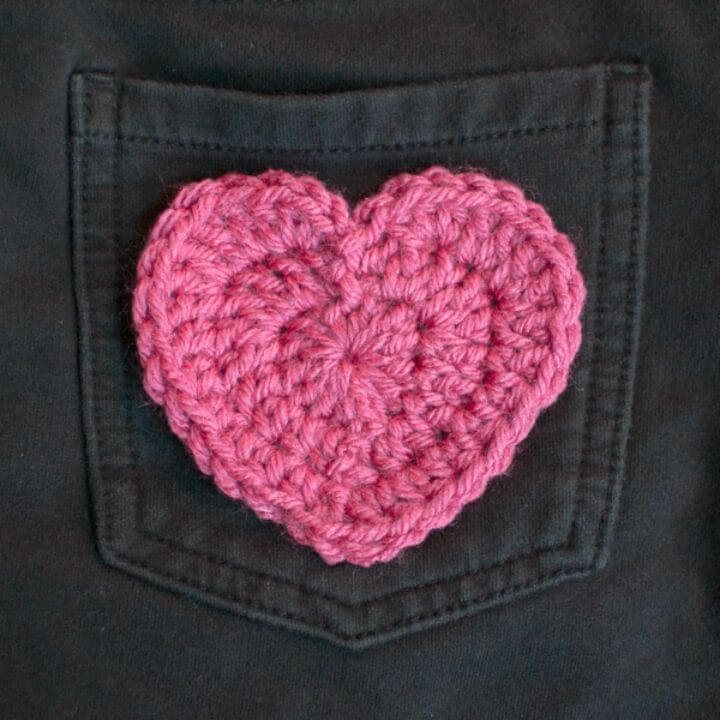 If you decided some special items of clothing or fashion to gift on a Valentine's Day to a style lover then heart appliqués would be the best option to give your selected gifts a love statement! Here is another cute crocheted heart appliqué that has been sewn onto a pocket of denim jeans and works great as a love monogram! This will give the receiver a call of your love everyday! Another interesting crochet Valentine's Day Pattern to duplicate! Free crochet pattern and instructional tutorial here petalstopicots
Crochet Heart Applique – Free Pattern: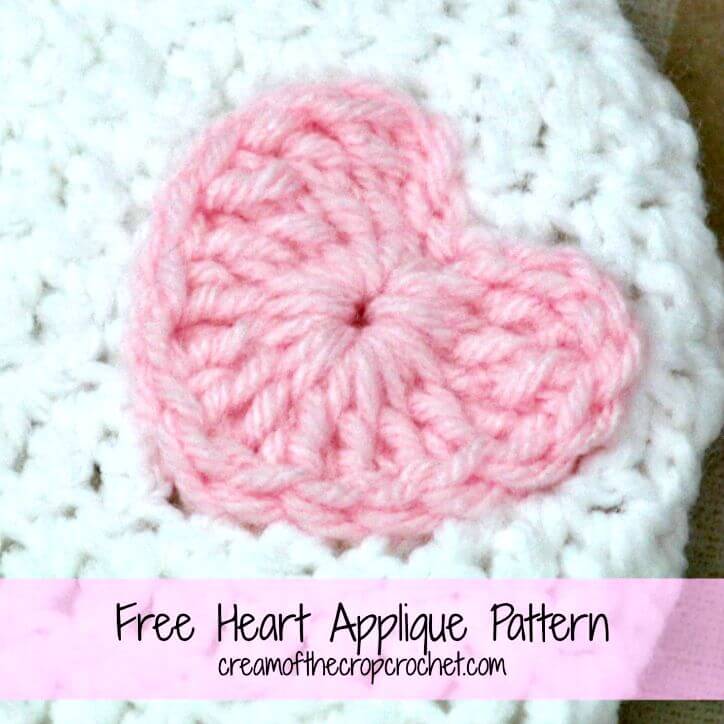 Addition of heart shapes to anything can make it love special and same will be true for your Valentine's Day gifts! So presenting here the yarn heart monograms to sew or crochet onto your selected Valentine's Day gifts, the perfect crocheted heart appliqué to inspire your hook! Willing to duplicate it now? Grab the full free visual details and free crochet pattern from here creamofthecropcrochet
Crochet Valentine's Day Heart – Free Pattern: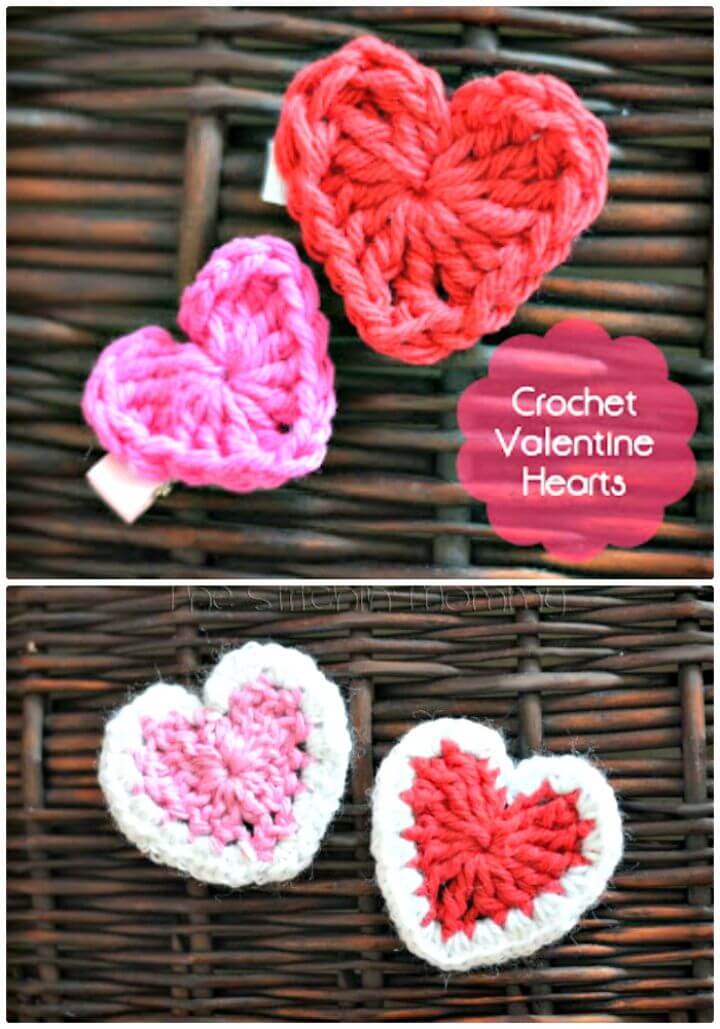 The love vibes come from a heart shape so you can go with the heart shapes while decorative a space for upcoming Valentine's Day, just make the heart buntings, garlands and hanging ornaments with your crocheted heart shapes! Checkout here the sample crocheted hearts that are a delight to view and are attention grabbing! These hearts can serve as love monograms for your gifts and would themselves make cute Valentine's Day gifts for sure! Free crochet pattern and tutorial guide is here thestitchinmommy
Free Crochet Valentine Danish Heart Pattern: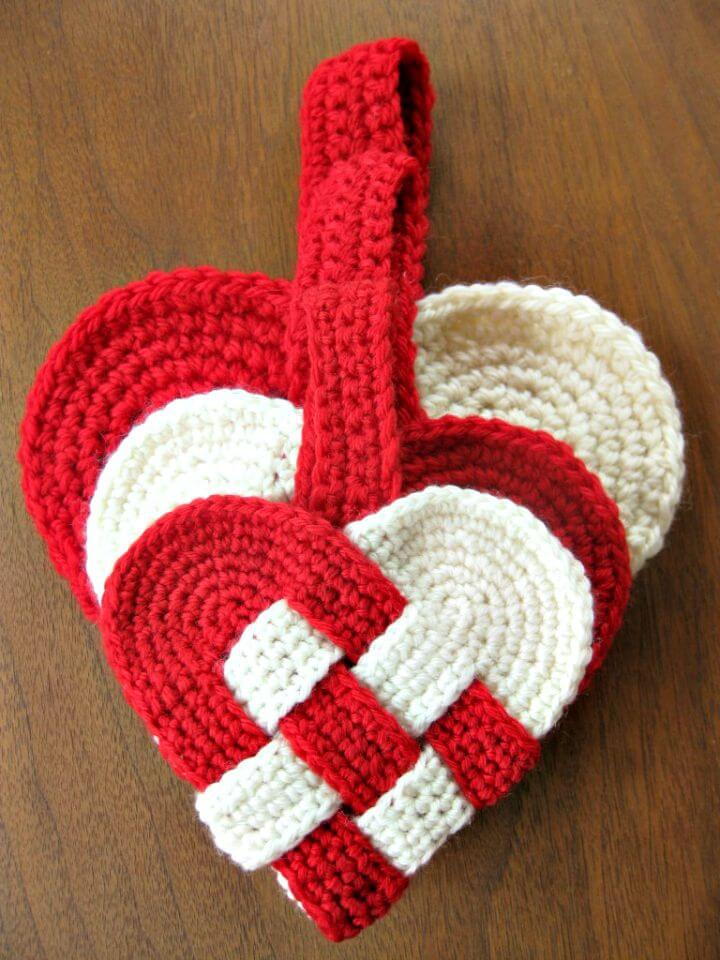 If you are going with the medium of crocheting to get some eye-catching Valentine's Day gifts then your finally finished patterns must come with some heart motifs! Moreover, you can also crochet only the hearts with your favorite yarn weights and in your amazing design texture that would make epic gifts for the day and also the precious ornaments as well! Get inspired of the given Danish heart that looks like woven is damn lovely to look heart! Grab the full free pattern and tutorial guide from here alipyper
Crochet Scarf Valentine Toddler – Adult Free Pattern: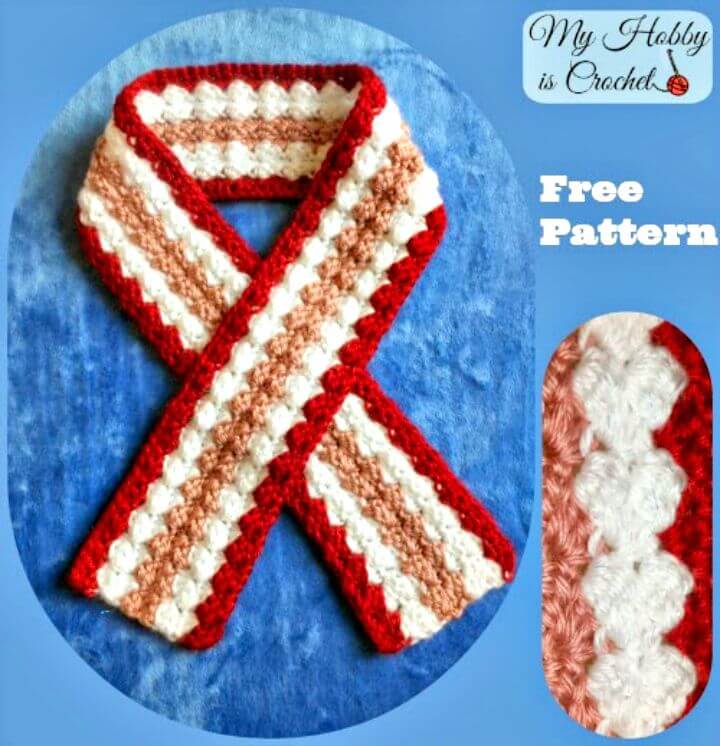 If you go with the medium of crocheting then gift possibilities for the Valentine's Day are just endless! Check out here the precious crocheted scarf, that comes in white and hot red color and hence speaks volumes about the love! This here the perfect Valentine's Day gift idea for both toddler to adults and is also something super easy to crochet! Willing to duplicate this interesting crochet scarf? Grab the full free pattern and tutorial guide from here myhobbyiscrochet
Free Crochet Valentine Baby Mine Hat Pattern: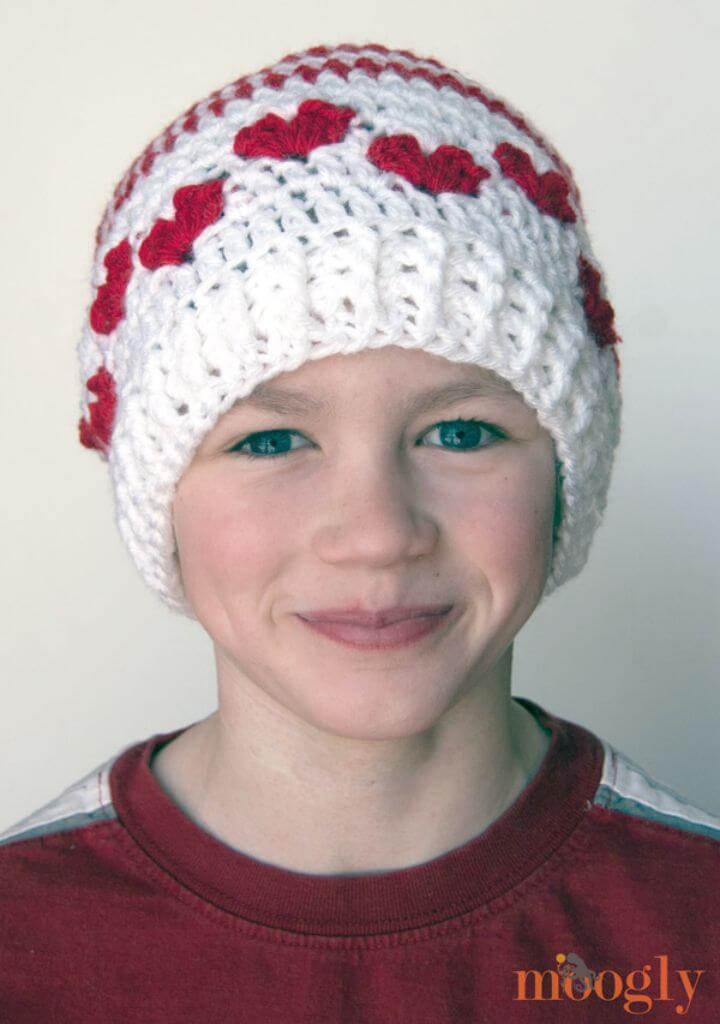 A Valentine's Day is a day to spread love and this may be pretty easy to do by giving and taking some sweet gifts! Here is how to show your love for a baby, teen or toddler, just crochet this lovely hat that comes with precious mini heart motifs for exclusive love statements! This hat can also be a romantic gift for your lover and for anyone you love and care about! Further project details and free crochet pattern here mooglyblog
Free Crochet Be My Valentine Dishcloth Pattern: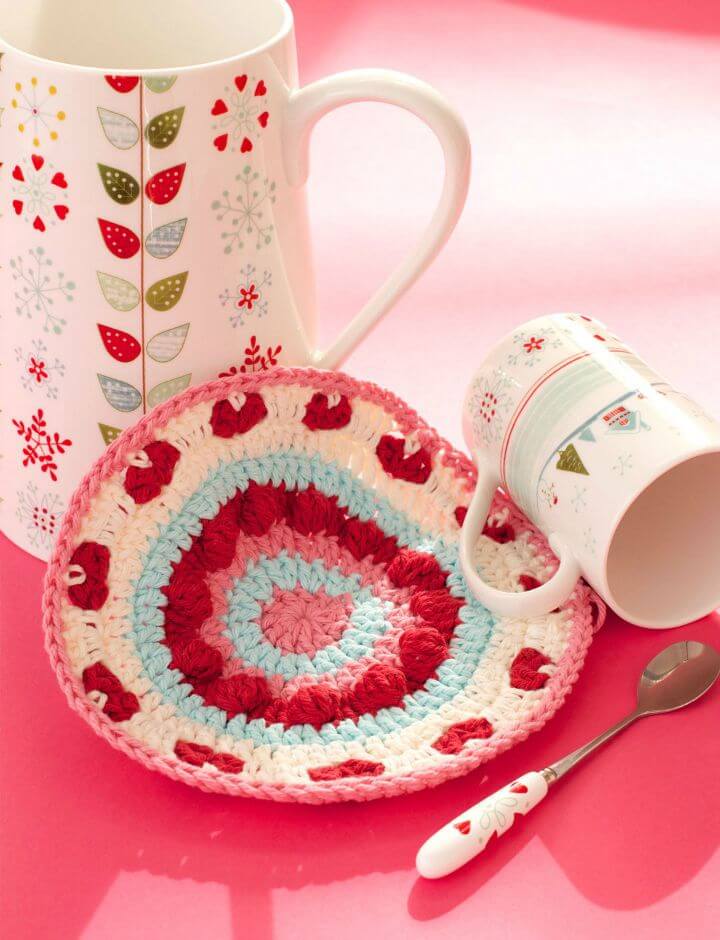 Are you on a mission to please a kitchen loving mom at this Valentine's Day or to a new homeowner? Here is the perfect loved themed gift, a crocheted be my valentine dishcloth that comes in red, pink and white hue and hence just make a perfect love gift! Here this dishcloth is a circle based crochet pattern and only require an easy skill level! Complete project details and free crochet pattern is here yarnspirations
Crochet Be My Valentine Throw -Free Pattern: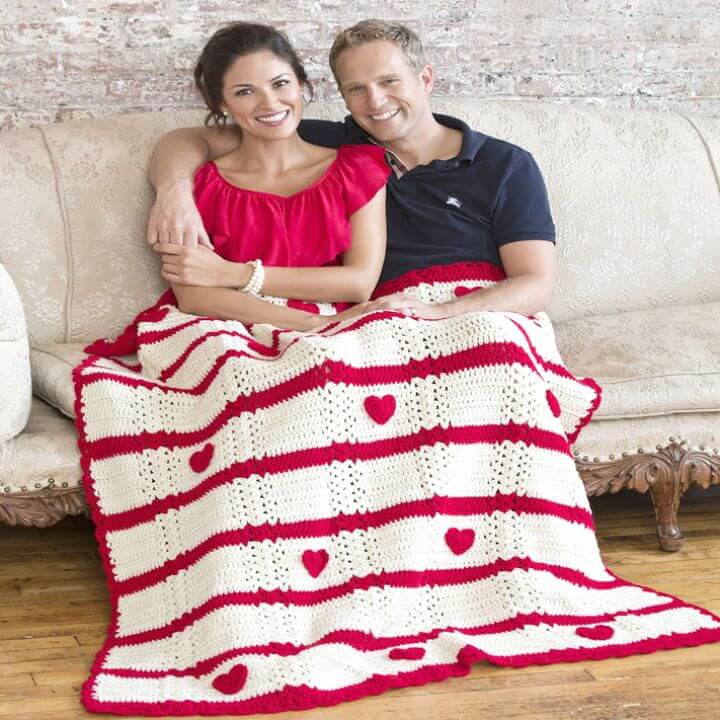 A sweet love gift will only be an option to win the heart of any on a Valentine's Day! Are you sorting out a mind-blowing pleasing gift for the day or event? If you love to crochet then here is a beautiful gift suggestion, the handsome crocheted throw that comes with hot red lines and also with miniature heart embellishments that give a perfect love theme to entire throw or blanket! The alluring dark pink and white hue of this blanket will go pleasing to all and will just be relevant to Valentine's Day! Get the full free pattern and tutorial guide from here redheart
Crochet Tiny Valentine – Free Pattern: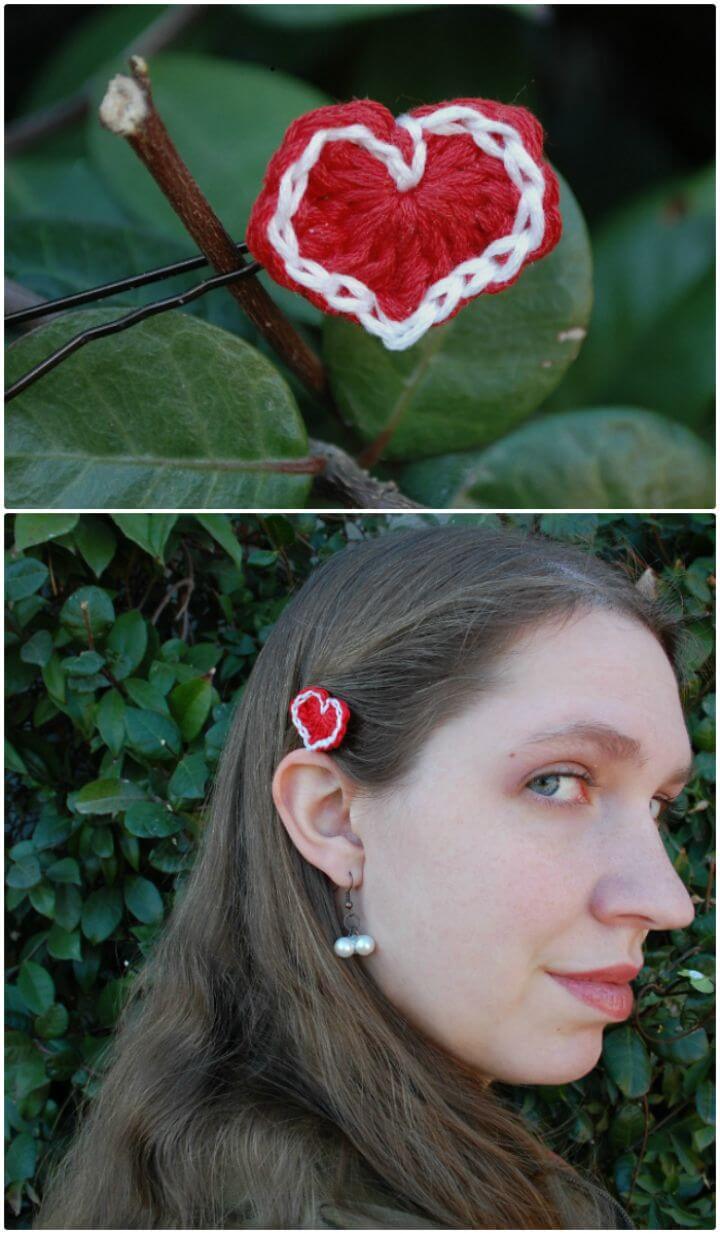 It is the not the size of gift that earn the love of the targeted person, it is only the hidden love and sweetness of the gift that makes it special and pleasing to receiver! Check out here this small hairclip embellished with the miniature crocheted heart that turns it into a perfect love gift! So, why not choose this heart hairpin to give as an epic mini present on Valentine's Day? Grab the full free pattern and easy to follow tutorial from here innerchildcrochet
Crochet Scrap Heart Finger Less Gloves – Free Valentine Pattern: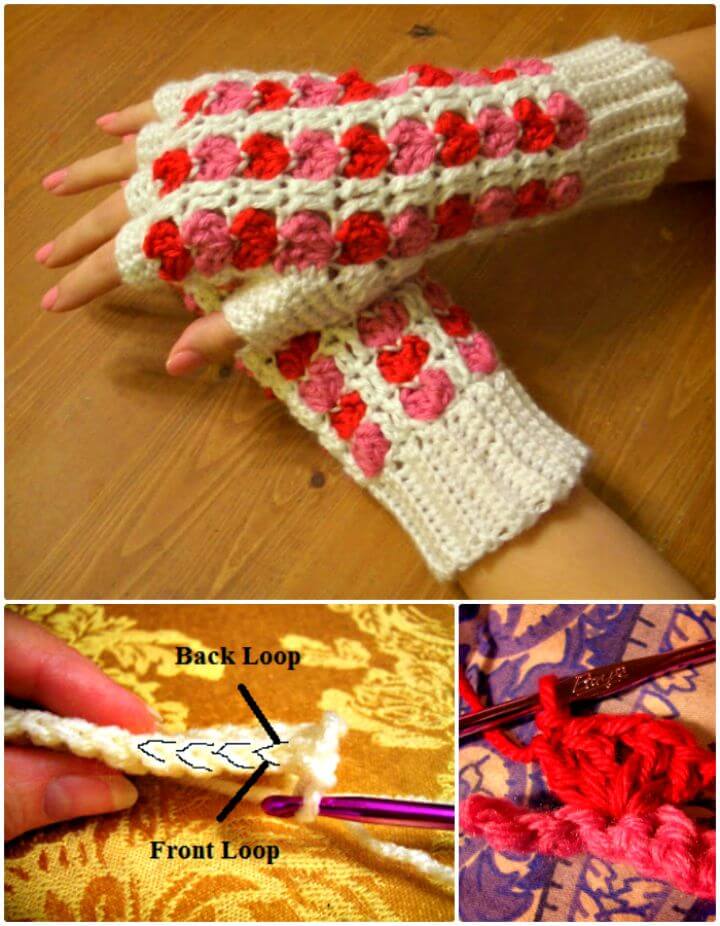 Just crochet anything with some sweet heart motifs and this will make a perfect gift the love day, the Valentine's Day! To inspire you hook, here is another mind-blowing gift suggestion, the precious fingerless gloves given a romantic theme by crocheting some miniature but color heart motifs! These are the perfect hand and forearm warmers that come with a precious love statement! Want to clone these gloves for a beloved one? Free crochet pattern and tutorial guide is here crochetparfait
Free Crochet Dark Red Valentine Day Craft: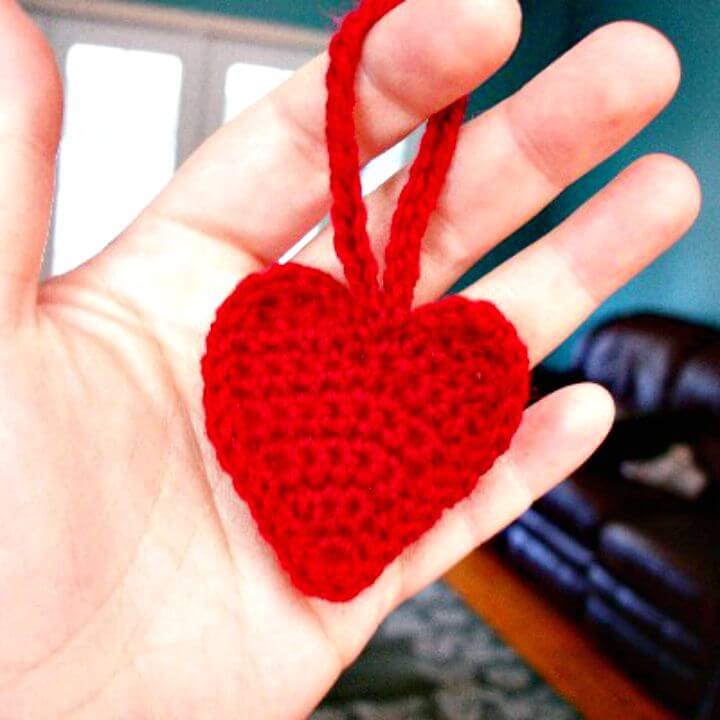 Looking for some outstanding ornaments for the Valentine's Day? Just checkout this miniature heart hanger that can be used smartly in various different ways for exclusive love decors for the day! Like you can use these hearts to make Valentine's day garlands, banners and flawless hanging ornaments for sure! Crocheting this dark red heart is just a big fun and you can crochet it in any of your free time! Grab the full free guide and tutorial from here roxycraft
Crochet Hearts In A Row Patch – Free Valentine Pattern: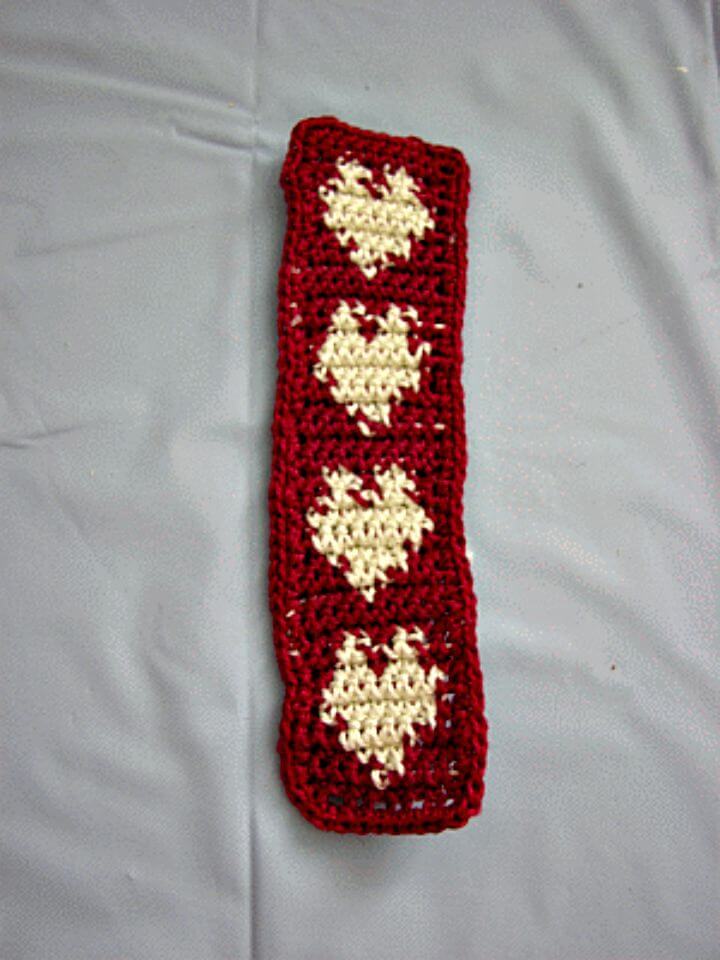 One more interesting crochet pattern here that you can clone as gift for the Valentine's Day! This here a precious patch that comes with a row of white hearts and would make an interesting love patch to give any of your item of clothing or interest a precious love statement! This is here another mind-blowing romantic love gift idea that will work up quick even by a beginner! Free crochet pattern and tutorial guide is here donnascrochetdesignstheblog
Free Crochet Heartfelt Halter With Pattern: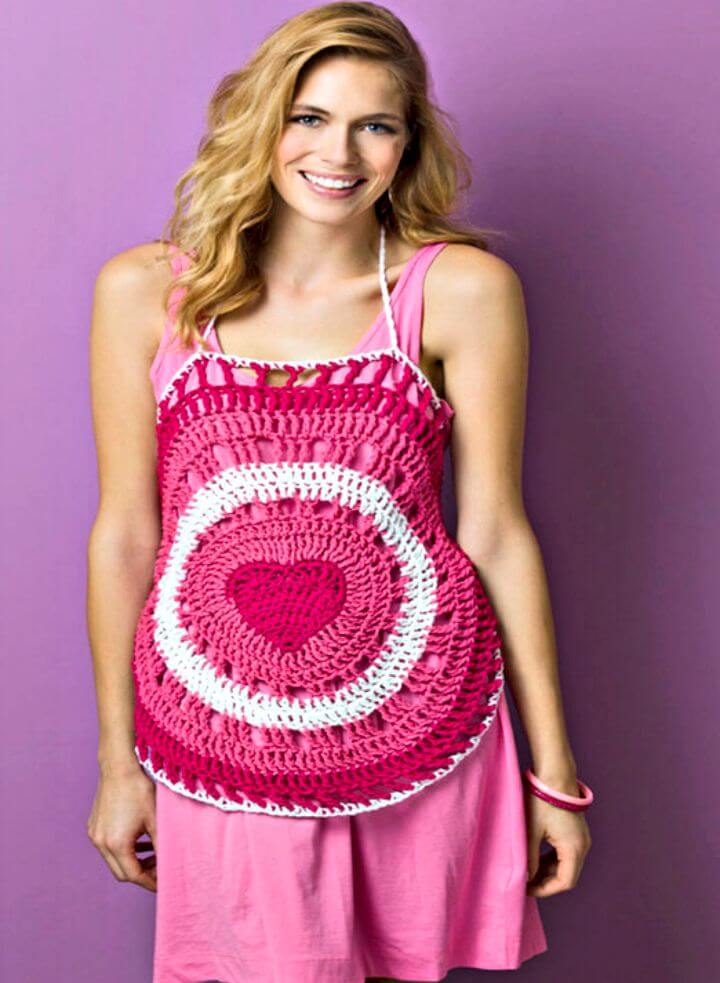 Grab the another outstanding love gift to please any of the girl on the Valentine's Day! Just peak into details of this heartfelt halter that is a heart shape based mandala and is something that will add mind-blowing amazing details to any of your top or outfit! The feminine factor has been increased to peak by making smart use of colors, the dark pink, light pink and white that are liked by the girls too much! Intending to clone this very handsome crochet halter to add to your winter wardrobe or of a teen? Then just duplicate it via free pattern and tutorial given here redheart
Crochet Heart To Heart Bookmark With Free Pattern: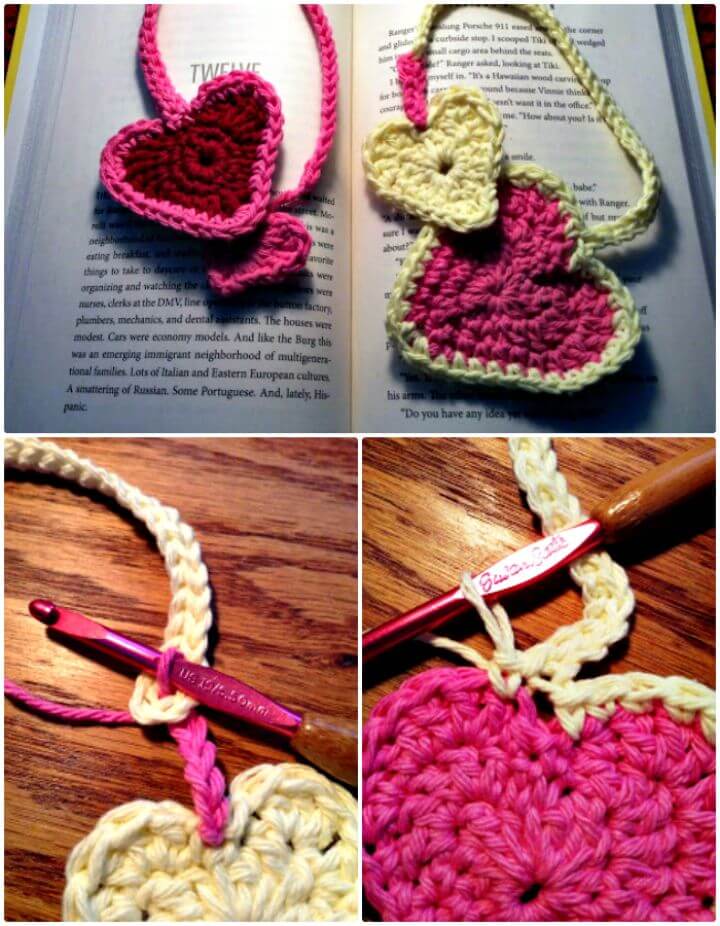 Any gift for the Valentine's Day will look like it is missing something if it is not come with heart shape and with a touch of red color, the color of love! By having these points in mind, here another mind-blowing love gift has been crocheted that is super easy to crochet in very of your spare time! This is here the heart to heart crochet bookmark that is sure to please a book lover you have fallen in love with! Here is how to crochet this special love-themed bookmark! Just grab the full free guide and easy tutorial from here theshtickido
Crochet Smooth Fox's Heart Square – Free Pattern: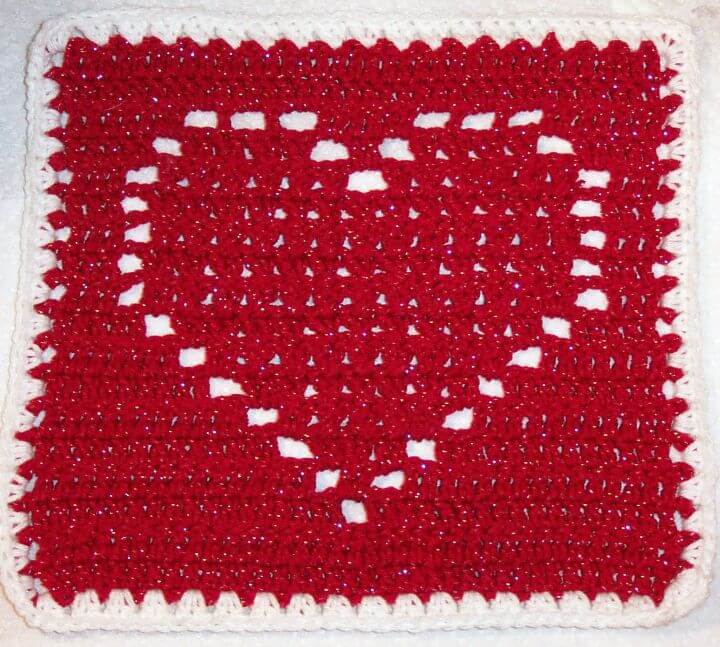 The love gift ideas for the Valentine's Day are just endless! You can really go smart with your crochet hook to produce some heart winning Valentine's gifts like this fox's heart square, just enlarge it to make a perfect love blanket, throw, or afghan or just use it as it is as a mind-blowing love pot holder in your kitchen! This here another interesting crochet gift idea for the day! Free crochet pattern and instructions are here smoothfoxlover
Free Crochet Heart-Shaped Table Mat And Serviette Ring In "Cotton Viscose" Pattern: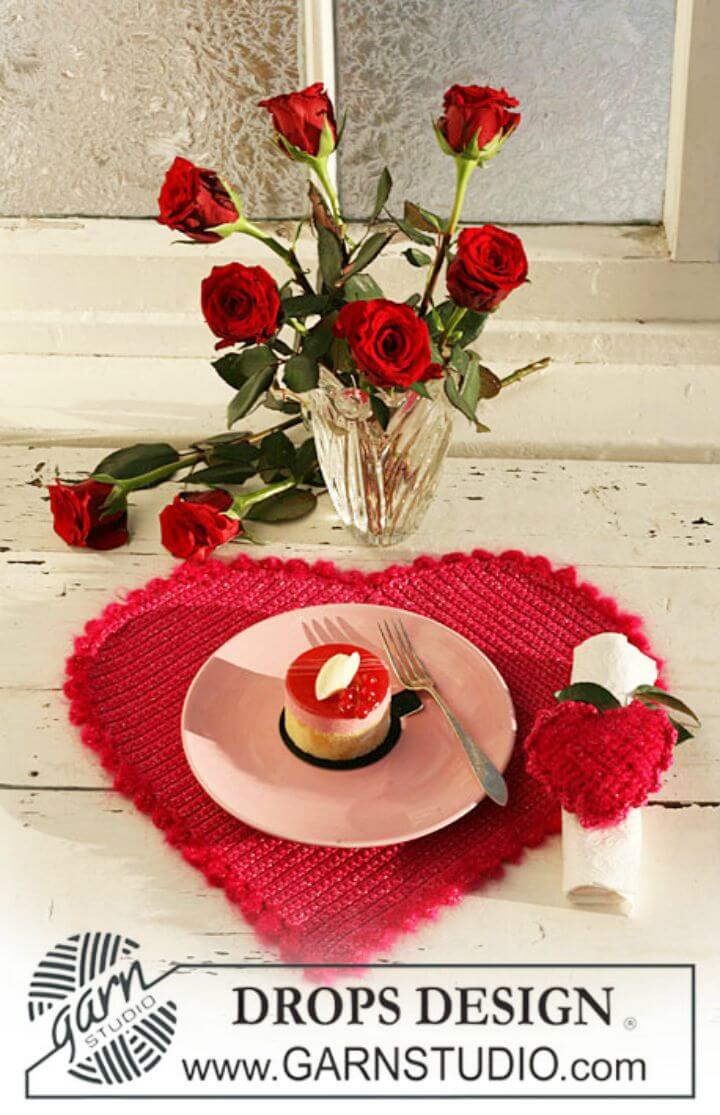 Duplicate here another smarter gift idea for the Valentine's Day! Give some love themed gifts or presents to a new homeowner or neighbor, it would really earn more respective love for you in revenge! Check out here this heart-shaped table mat and napkin ring that are sure to spread love all around a dining or coffee table! Perfect housewarming gifts with love theme that every beginner can crochet! Another great romantic gift idea and suggestion! Further project details and free crochet pattern is here garnstudio
Crochet Heart Motif – Free Pattern: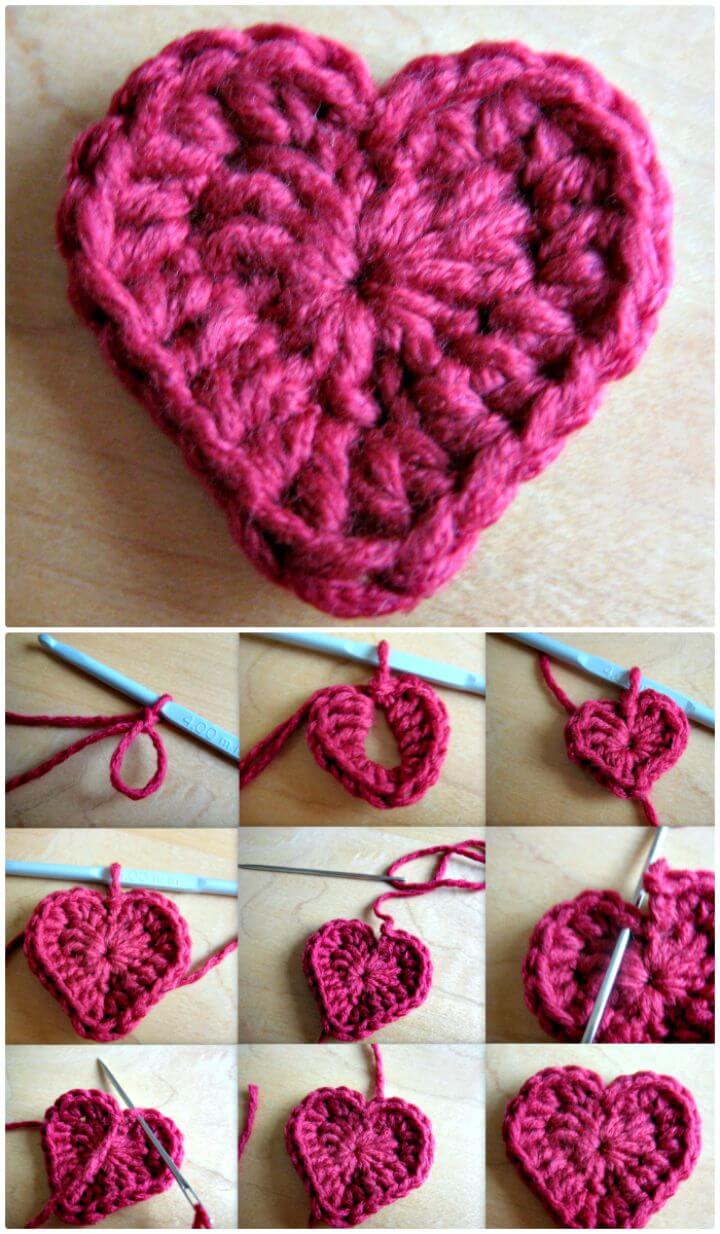 If you are on a mission to please all your beloved ones by crocheting some amazing gifts then going with heart motifs would be highly recommended! This would also work great for Valentine's Day gift you are to crochet! If you still don't know that how to crochet a precious heart motif then you are sure to get all the assistance and help from here! Just check out here the sample crochet heart motif and here is visual tutorial and pattern for it makemydaycreative
Crochet Valentine Heart Pillow – Free Pattern: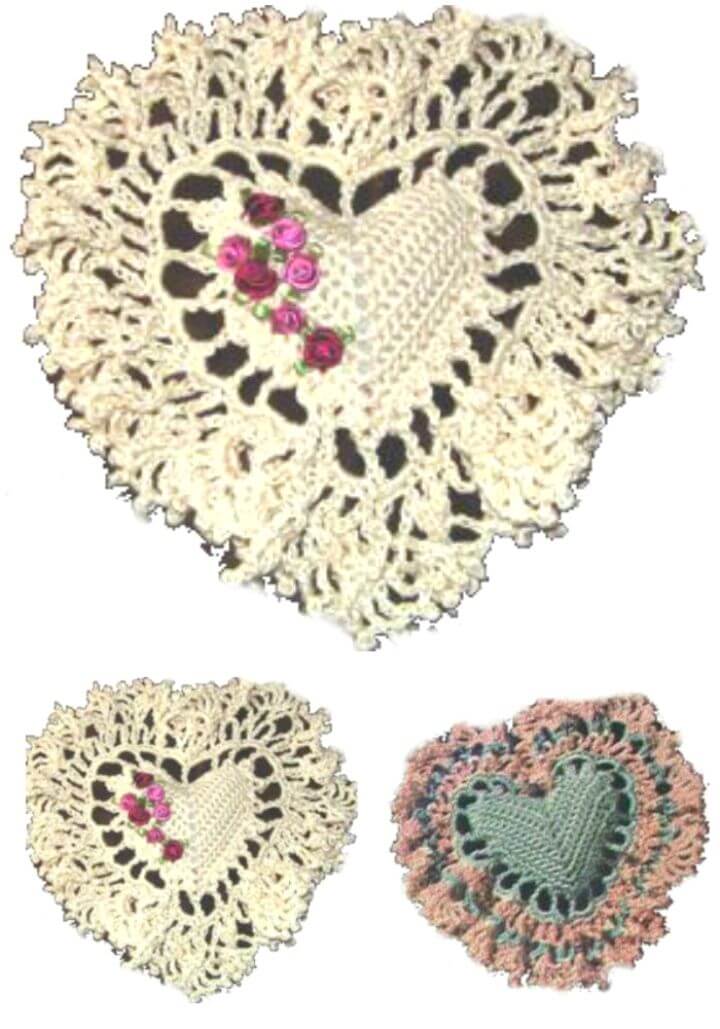 You can give anything to someone special with a noticeable heart shape as an epic Valentine's Day gift! A mind-blowing suggestion would also be this valentine heart pillow that is amazingly handsome and cute looking! The will help the receiver to recall your love every time he/she just get comfortable with it or just sees it in the bedroom or on a couch! Willing to duplicate this precious heart pillow to give as an epic present on the day! Grab the full free pattern and visual tutorial from here craftbits
Crochet Heart Pot Holder – Free Pattern: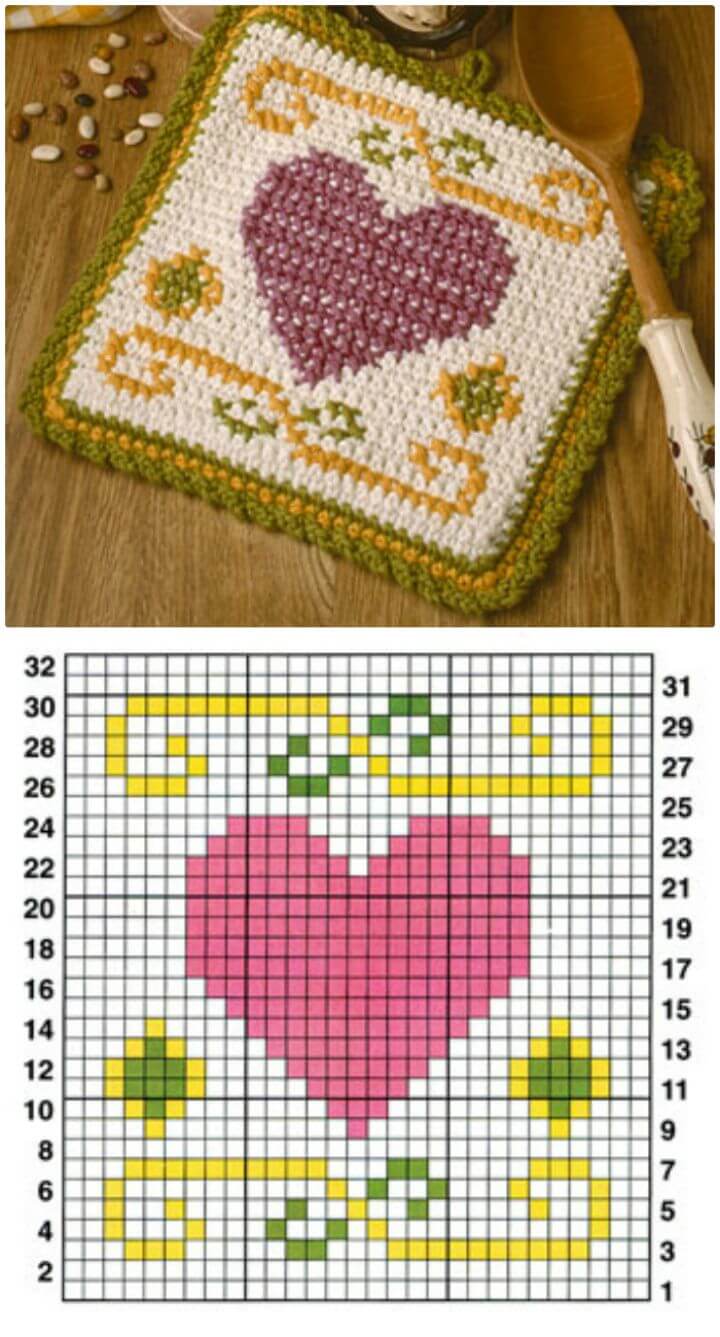 Sky is the limit for crochet pattern that may come with the precious heart motifs and will make epic love gifts for the Valentine's Day! Here is another mind-blowing one, the very special crochet heart potholder that comes with amazing boundary line and also with spicy mix of yarn colors! This can also be given as a perfect Valentine's Day present to a cooking loving mom! Free crochet pattern and complete visual tutorial is here crochet
Free Crochet Valentine's Heart Coaster Pattern: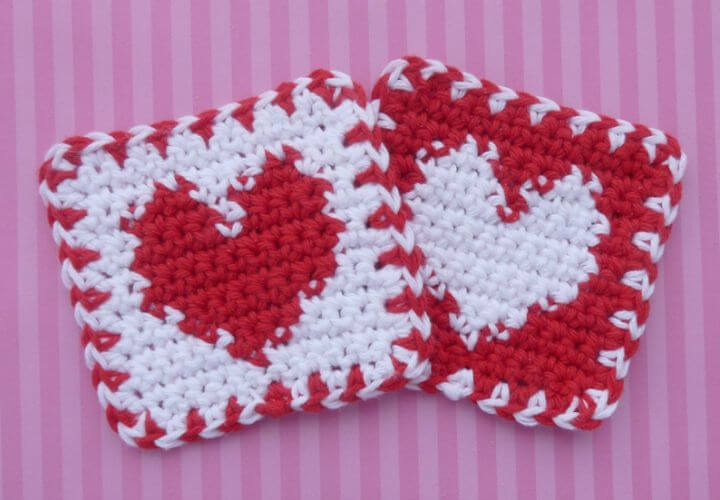 If you have just learnt about how to crochet a perfect heart motif then you can easily crochet some outstanding love gifts at home! Get inspired of these love heart coasters, would not they make the coolest Valentine's Day gifts? These coasters are just super easy to crochet no matter if you are having an easy skill level! Enjoy happy hooking and crochet these coasters for a new homeowner! Free crochet pattern and instructional tutorial is here whiskersandwool
Crochet Gorgeous Heart Coaster – Free Pattern: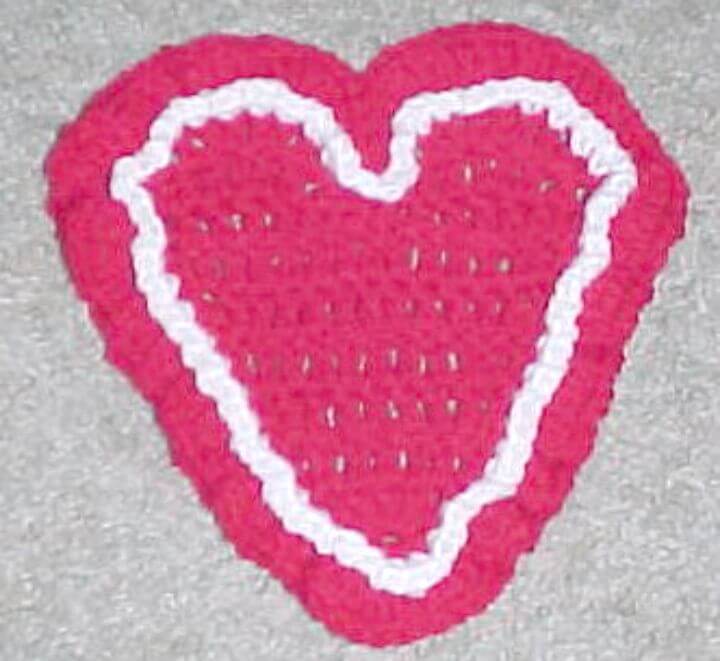 Once again a precious crocheted coaster, this one also comes with an enchanting heart motif and is something super beautiful to look at! This is here a pretty big crochet heart and would really making a heart winning gift for a home lover and also for new homeowner as it would also make a brilliant housewarming gift! Try out this coater with any of your favorite yarn color! Free crochet pattern and tutorial guide is here crochetnmore
Crochet Suzies Stuff Bookmark – Free Pattern: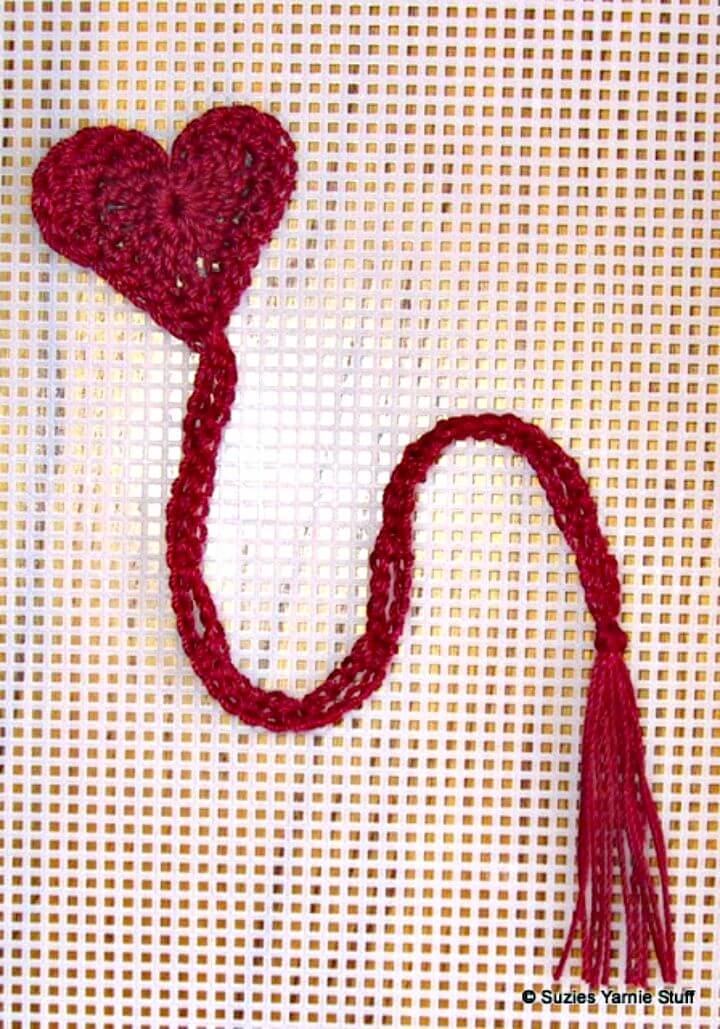 Sometime simple and mini gifts go more pleasing! You will find the statement so true after taking a look at this handsome heart bookmark, this a also a cool stuff here to give as a special Valentine's Day gift to a special book-loving friend! You can easily clone this little love gift just by using your basic crochet skills only! Free crochet pattern easy tutorial guide is here yarnie
Free Crochet Heart Bunting Pattern: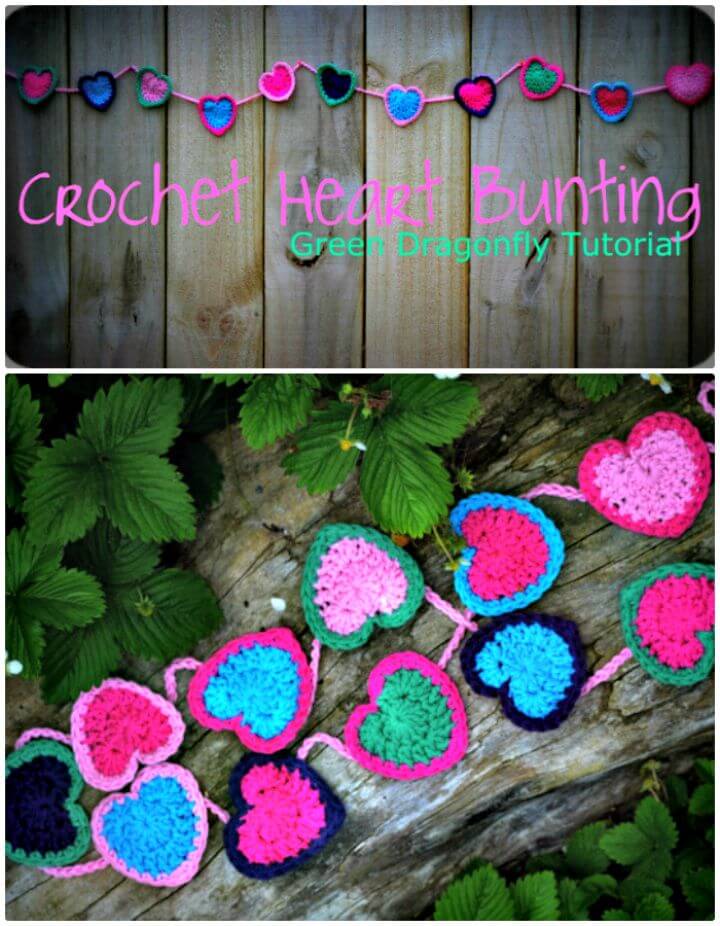 Crocheting some miniature heart or heart motifs can be good for various reasons! Like they can help crocheting better gifts for the Valentine's Day for any love event like wedding and can also be used in various loved themed party ornaments! Check out here an extraordinary sample, the crochet heart buntings or garland, would make perfect decors to make any area or party space a stunning love theme! Free crochet pattern and tutorial guide is here thegreendragonfly
Crochet Happy Hearts – Free Valentine Pattern: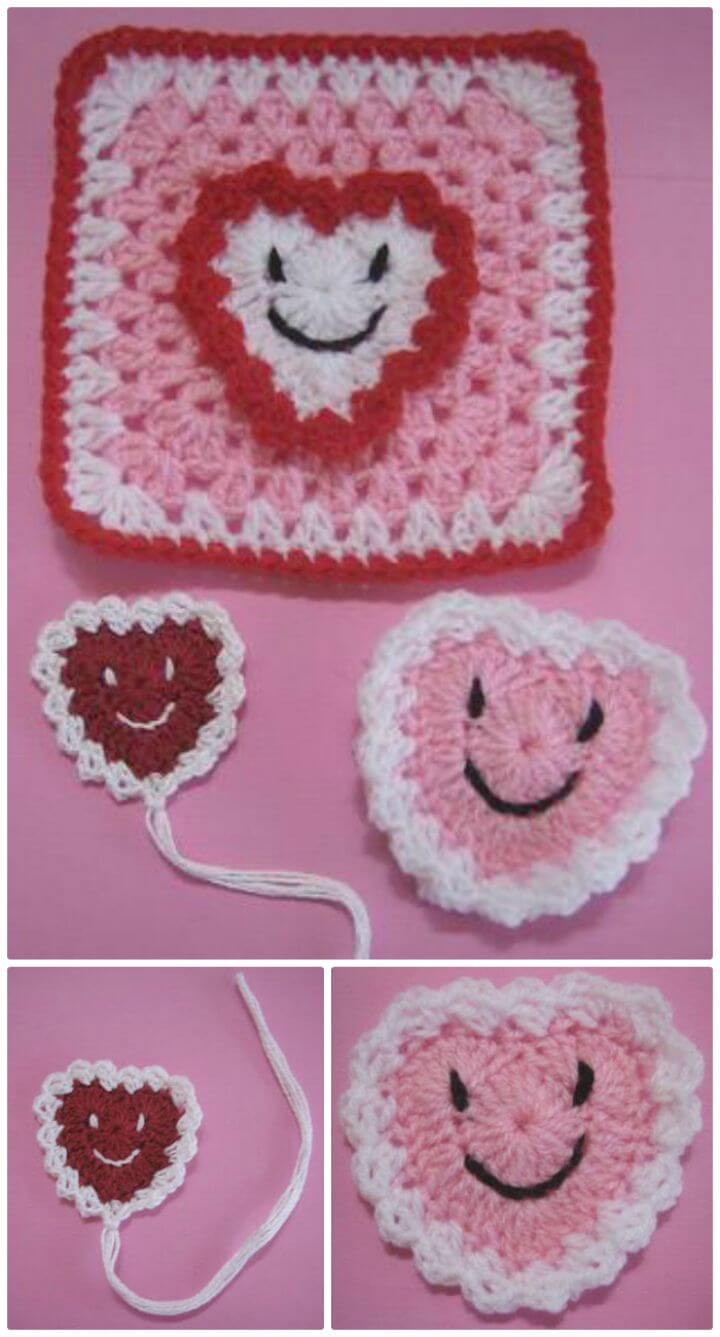 This not ends here to crochet some heart motifs only for exquisite love gifts, you can do a lot more to make them more special and eye-catching! Here check out here this heart motif square that is outstanding to look at due to a smiling expression! Here a great cuteness has been brought to this crocheted heart square by crocheting two tiny eyes and smiling lips that bring life to this heart square! Here is how to go smart with your crochet hook to spice them up more! Free crochet pattern and tutorial guide is here crochetroo
Crochet Valentine's Day Heart Afghan Square – Free Pattern: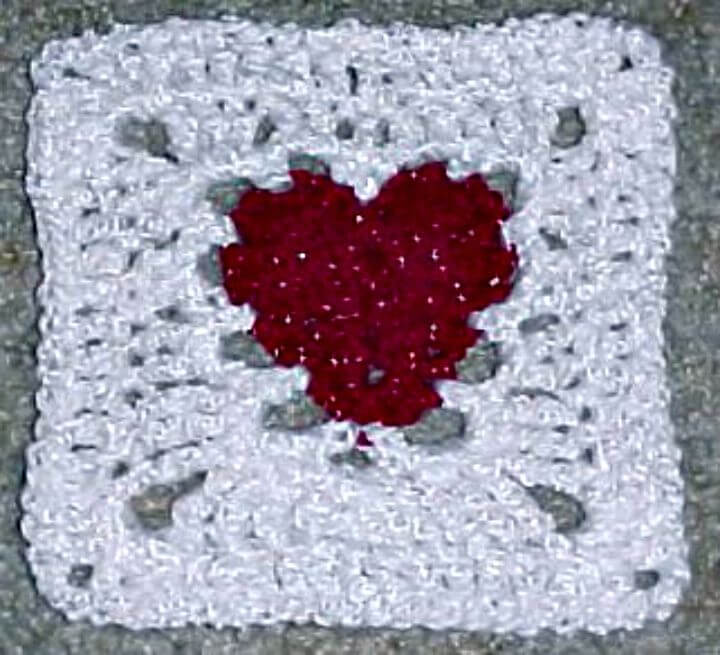 You can come with any special crocheted item with custom heart motifs, for making outstanding romantic and love gifts out of them! Need an inspiration to take a smart start, just have a look at this fetching crochet heart afghan, a perfect item to use as a Valentine's Day gift and would really be heart winning present! Here only a heart afghan square has been shown, that can clone in dozens and can make beautiful afghans, blankets or throws out of them just in no time! Free crochet pattern and tutorial guide is here crochetnmore
Crochet Granny Heart Bunting – Free Pattern: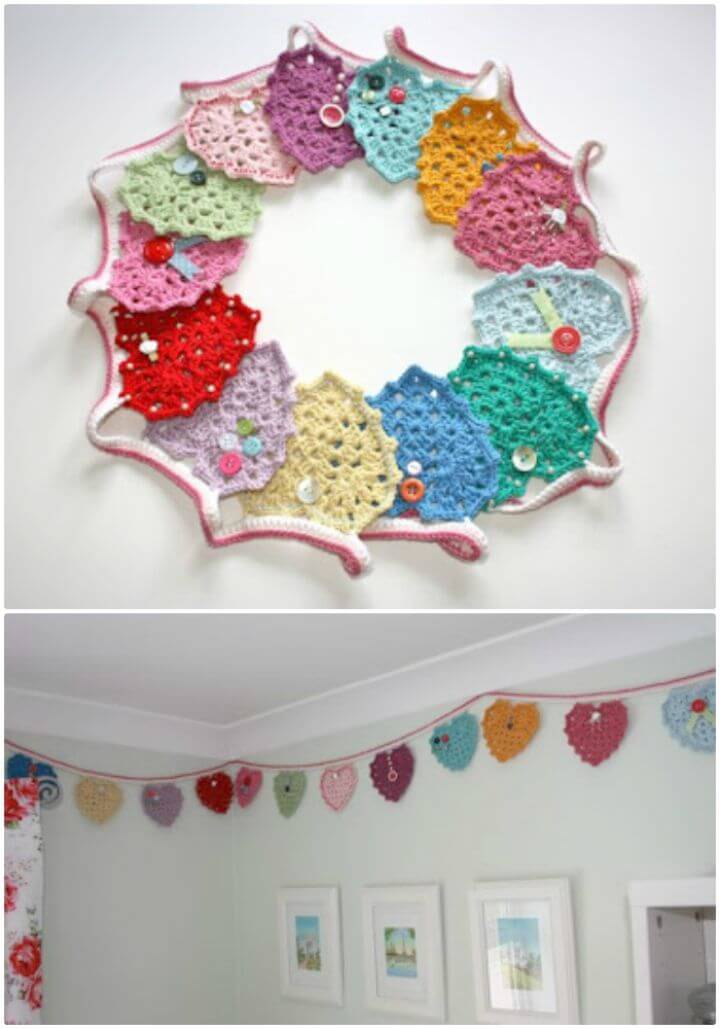 Sorting out some perfect ornaments for your decorative plans for the Valentine's Day decors? For the love the day, the heart shapes decors will just rock, then why not go with these granny square heart buntings that are a big delight to view and crochet and this pattern is all about to play with various yarn colors you like a lot! Just crochet some hearts and then add them onto a string making a beautiful garland or buntings! Complete project details and easy crochet pattern here cherryheart
Free Crochet Flower In A Hear Pattern: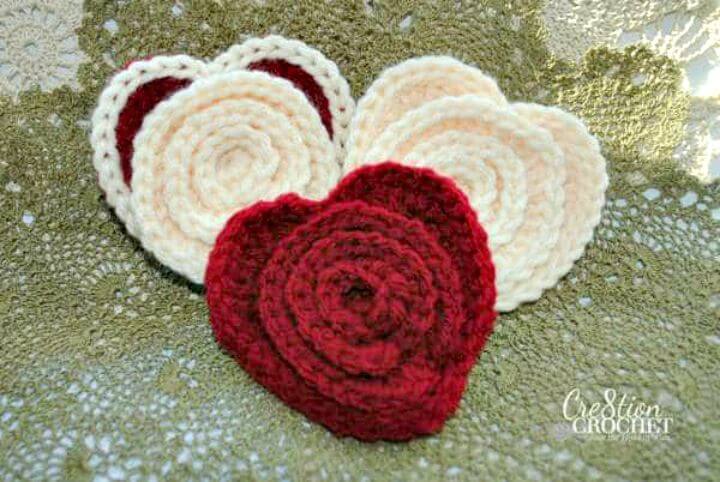 It also becomes necessary to crochet some perfect embellishments like flowers, heart shapes, stars, bows and various animal inspired shapes or motifs to make the finally finished pattern look extra beautiful! Custom motifs can be crochted to vary the theme of the pattern, the heart motifs will always rock for an incredible love statement ! So, are you interested in crocheting some perfect heart motifs like these given flower in a heart motifs? Then just grab the full free tutorial and easy crochet pattern from here cre8tioncrochet
Easy Crochet Snowflake – Free Pattern: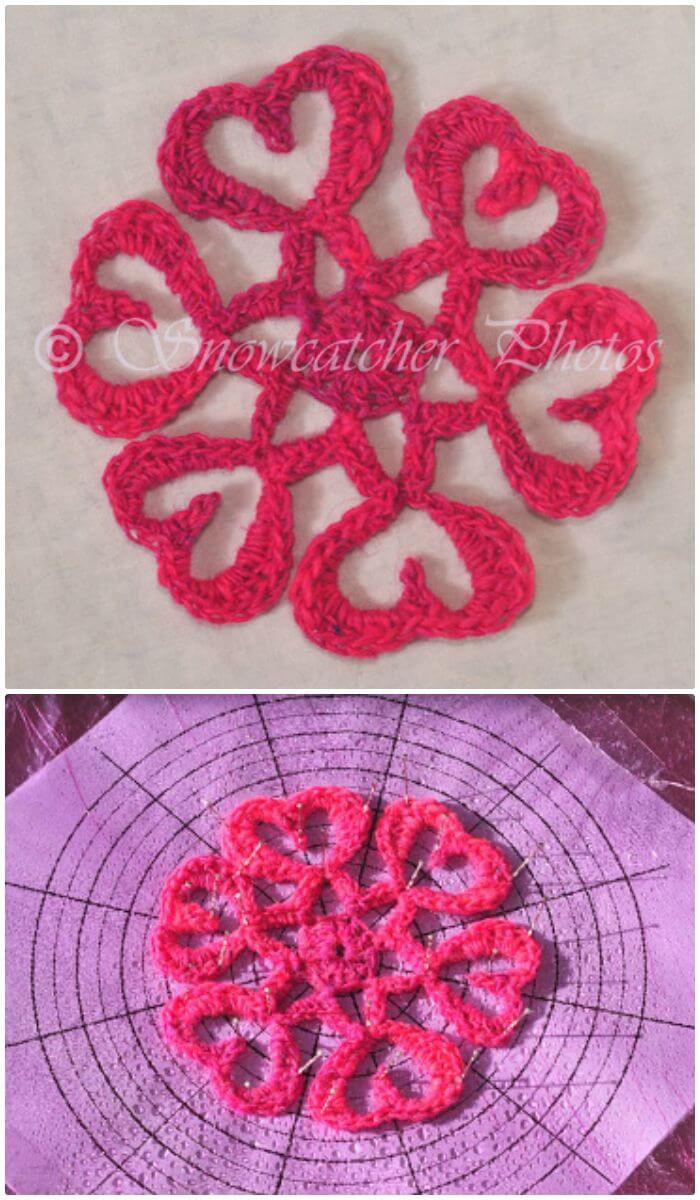 While talking about the hanging ornaments or decors, the snowflakes are always to come to our mind! So, how about crocheting some snowflakes with mini hearts included? This would be like to express your love through some snowflakes and hence these love snowflakes can also be used in gift-giving on a Valentine's Day! Get inspired of this sample crocheted heart snowflake that is outstandingly artful and attention grabbing and is all easy to crochet also! Free crochet pattern and tutorial guide is here snowcatcher
Crochet Colored Hearts Coaster – Free Pattern: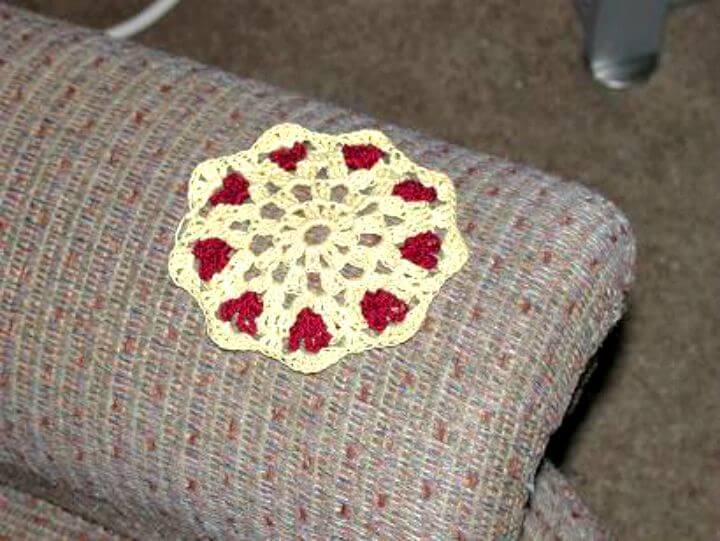 Check out here the daisy style coaters that comes with hot red heart motifs that also blend in beautifully in chic white appeal of this round coaster! Finally it comes out as an eye-captivating gift to give on a Valentine's Day! Time to express your love emotions through your crochet hook! This is here the adorable coaster crocheted in just no time and is just mind-blowing to look at! Moreover, this crocheted coaster will make a great housewarming gift if you are to please a new homeowner or a newly shifted neighbor! Free crochet pattern tutorial guide is here strngbn
Crochet Love Hearts – Free Valentine Pattern: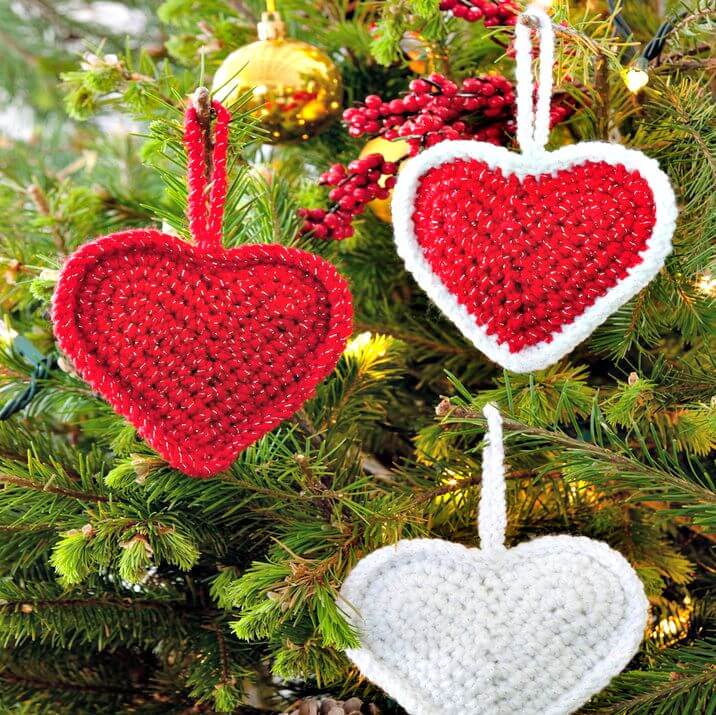 Want to bring a festival vibe to your home? This would just demand for the respective and most relevant types of decors! If you are willing to spice up your space for Valentine's Day then you must go with decors that come with maximum involvement of red color or of heart shape! These hanging big crocheted hearts are just the epic decors to choose the Valentine's Day and are just mind-blowing to look at! Willing to crochet these mind-blowing heart hanging ornaments? Just grab the full free tutorial and easy to follow instructions from here redheart
Crochet Circle of Hearts – Free Pattern: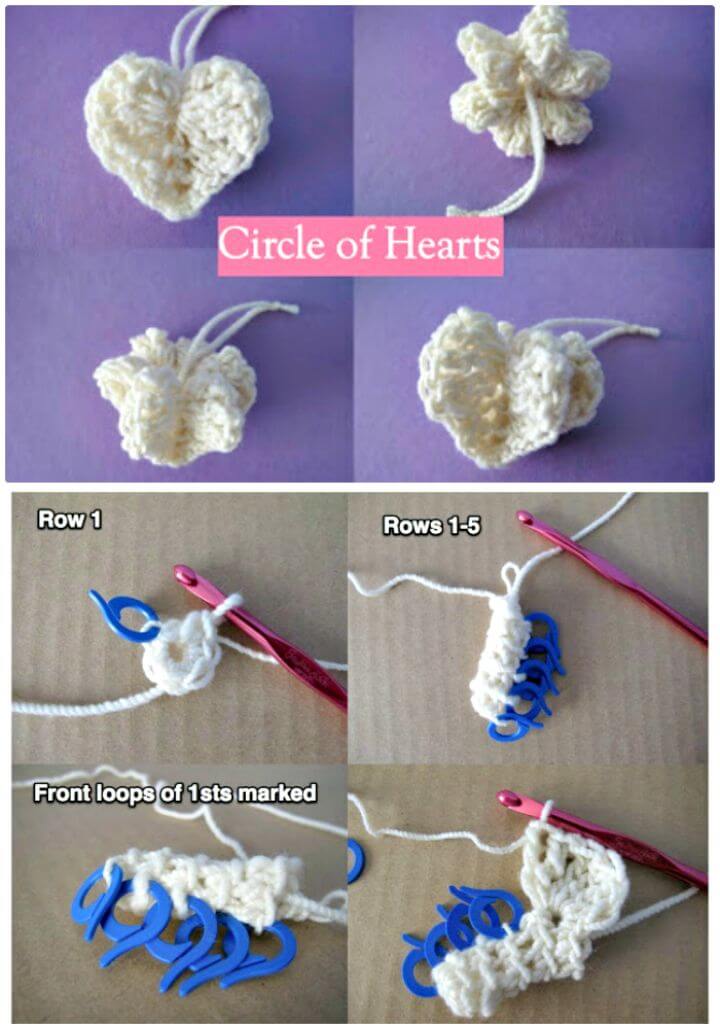 If you sorting out some great looking love ornaments that will help creating a divine look of your spaces or home on Valentine's Day then here is what you can go with without any hesitation! This is here the circles of heart that can be suspended aloft as precious love hanging ornaments! Here the miniature hearts come in fetching white appeal but you can go with the hot red yarn color which is the color of love! Do duplicate these crocheted mini hearts to bring a love vibe to any of your new space! Further project details and free crochet pattern is here windrosefiberstudio
Free Crochet Spectacle Case In "Cotton Viscose" And "Glitter" Pattern: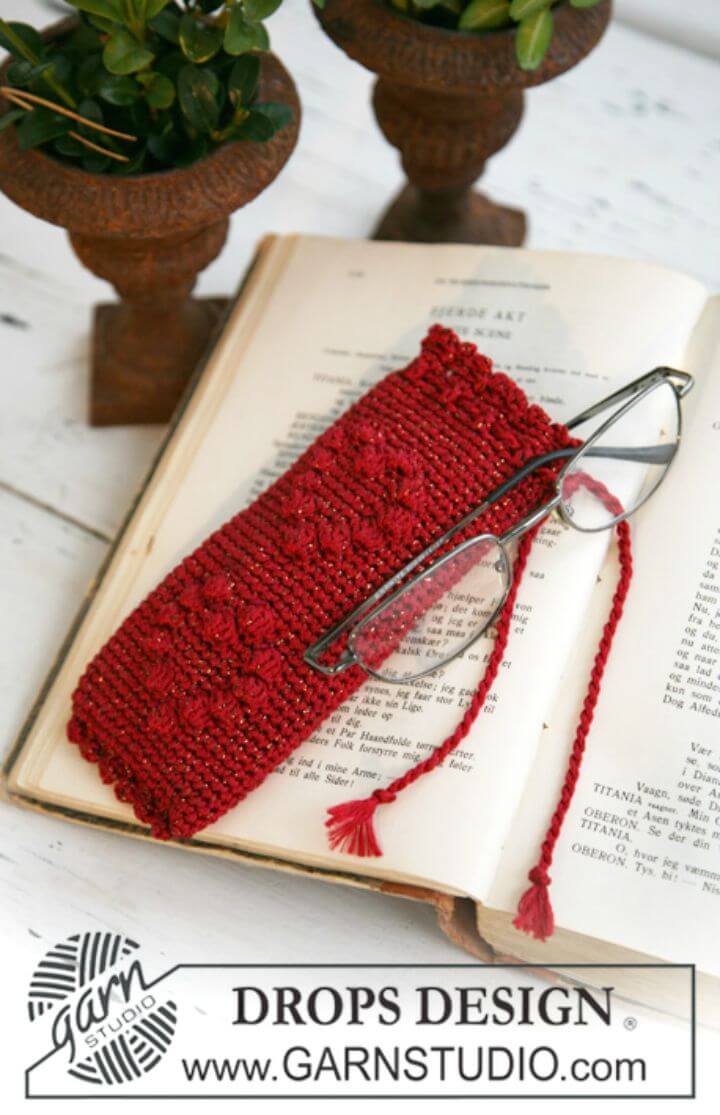 If nothing special is coming to your mind then you can also crochet simple mobile cases, coffee cup cozies the spectacles cases in red, the color of love, that will make outstanding gifts for the day! Check out here this very beautiful spectacle cases, crocheted in cotton viscose and glitter, the brilliant mini heart texture that ends up making a big heart is what that brings the perfect love theme to it! Willing to duplicate it now? Just find the complete free crochet pattern and easy to follow guides from here garnstudio
Easy Free Crochet Valentine'S Day Basket Pattern:

Check out here another praise-worthy crocheted item, the lovely crochet gift basket that comes with beautiful heart embellishments and hence expresses the love beautifully and cutely! Just fill this yarn basket with your favorite items of gifts and let it go to a beloved on as an epic Valentine's Day present! This is here another beginner-friendly crochet Valentine's Day pattern! Further project details and easy crochet pattern is here thestitchinmommy
How To Free Crochet Infinity Scarf Pattern: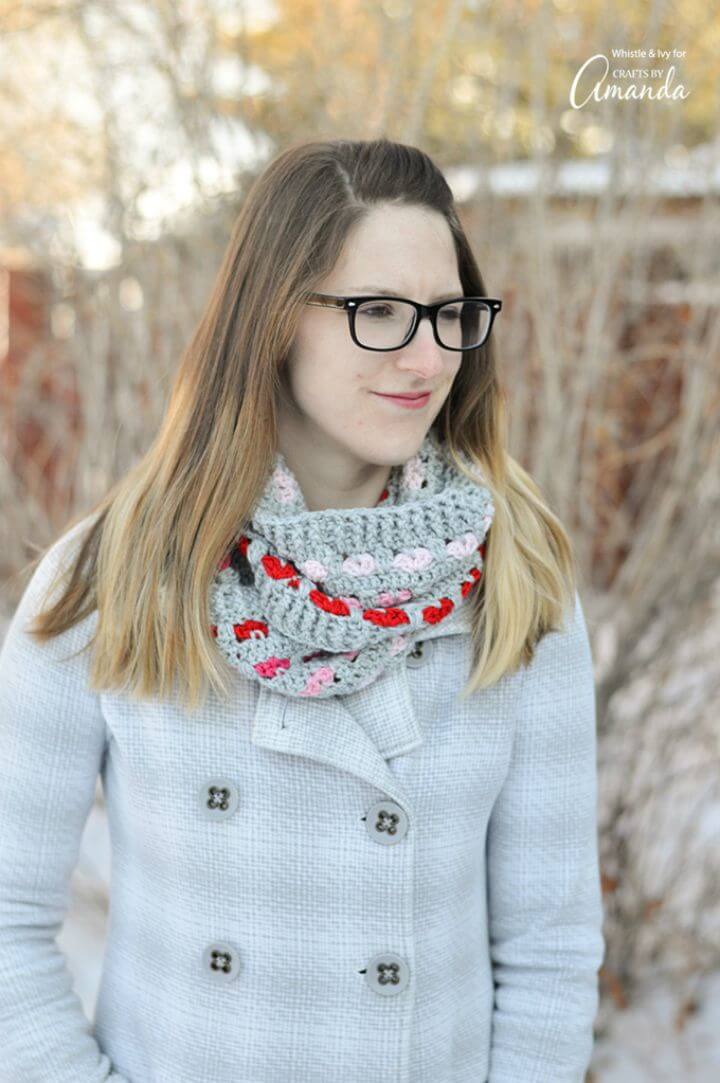 Scarves are what that bring great fashion to women and becomes center of attention in dead of cold! So, if the Valentine's Day is coming in extra chilly days then why not crochet a scarf with heart motif? It would be like to kill two birds with one stone, it would make a perfect neckwarmer along with a  sweet Valentine's Day gift! Check out here the sample scarf that is as beautiful as it is easy to crochet! Further project details and free crochet pattern is here craftsbyamanda
Crochet Affair Of The Heart Topiary – Free Pattern: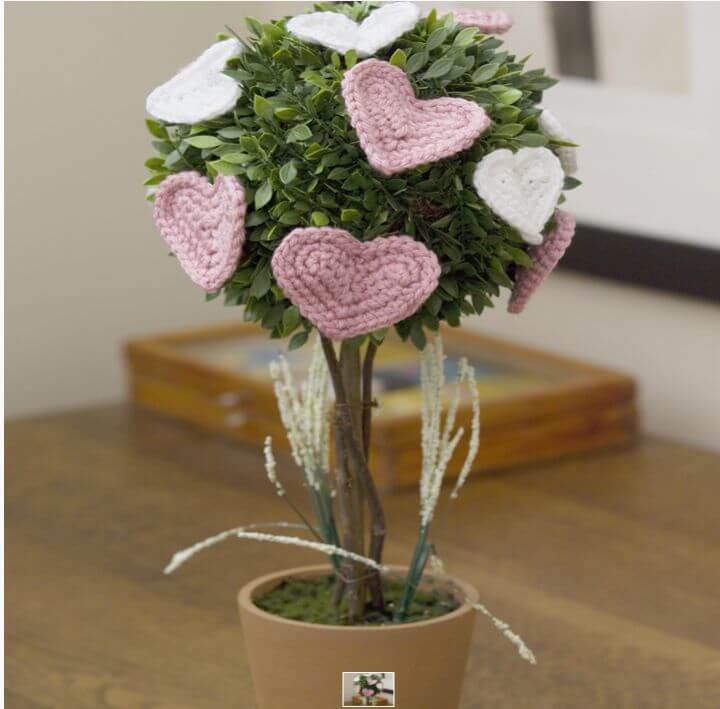 Nothing would make the perfect present for the Valentine's Day but the heart shape inspired crochet patterns! Everything that comes with a sweetheart shape or monogram, can be given as an epic Valentine's Day present, a brilliant sample here is this crochet heart topiary, here the crocheted hearts have been added to a pot plan for brilliant love vibes! This is here another easy but great crochet gift idea for the Valentine's Day! Free crochet pattern and easy visual guides are here redheart
Easy Free Crochet Lovebirds Pattern: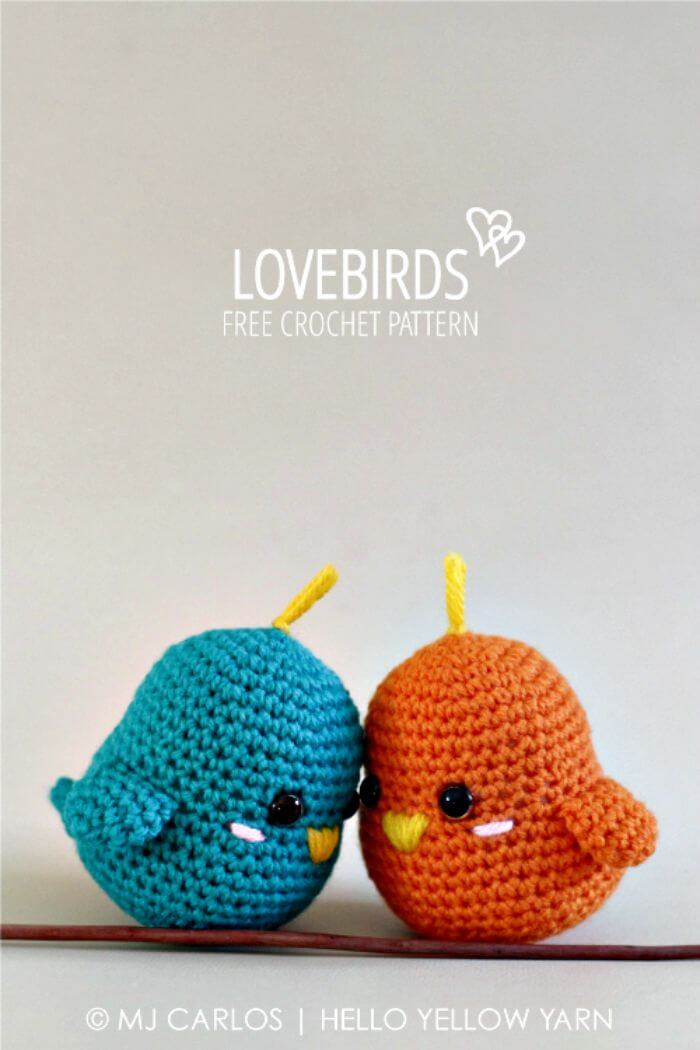 Everything from the crochet medium that somehow describe the love, will make an awesome Valentine's Day gift! You can also crochet some love-themed plushies or stuffed toys to please your Valentine or any person you love a lot from a toddler to a mother! A smart suggestion here are these lovebirds, crocheted to amaze and inspire and would make outstanding Valentine's Day gift! The cutest crochet bird amigurumi ever! Grab the full project details and free crochet pattern from here helloyellowyarn
Crochet Love My Valentine Throw – Free Pattern: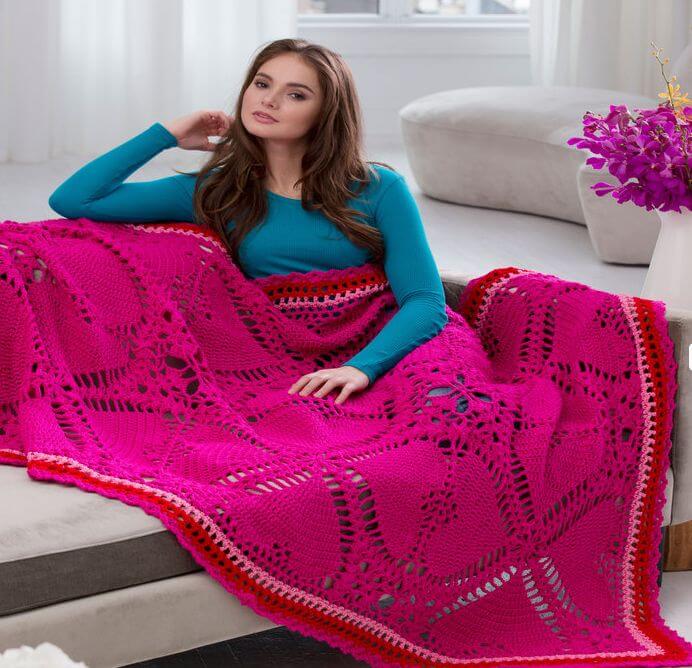 Want to build stronger love bonds? This can easily be done by giving some love gifts to some special persons you love a lot! The love gifts will just go more rocking if you give them on a love day like on a Valentine's Day! So, just use your minimal crochet skill and crochet this precious blanket or throw that comes dignified with the enticing design texture, perfect Valentine's Day gift, the love throw, crocheted to inspire! This crocheted throw is a little airy and is a having a dominant dark pin color, the side trimming has been done with light pink and red yarn lines! Further project instructions and free crochet pattern is here redheart
Free Crochet Ombre Heart Coaster Pattern: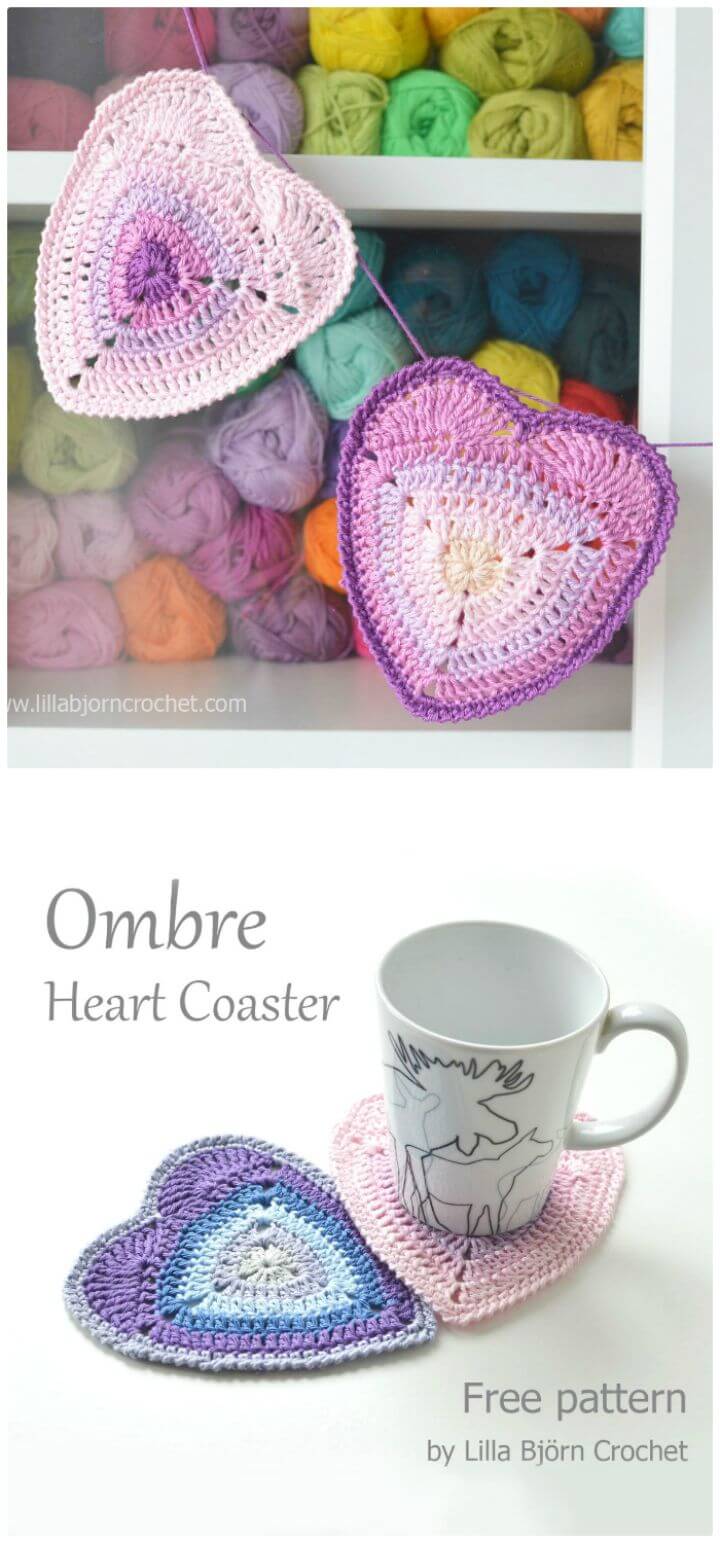 Looking for a precious romantic gift to give on a Valentine's Day? Just go with these crochet ombre heart coasters that would be a super fun to crochet are the perfect love gifts! You can play further also with these heart coasters  like you can simply get them onto a piece of string to make a beautiful love garland for a party area for the Valentine's Day special home decors! Intending to duplicate these love coasters? Find the complete free crochet pattern and easy tutorial guide from here lillabjorncrochet
Crochet Gorgeous Heart – Free Pattern: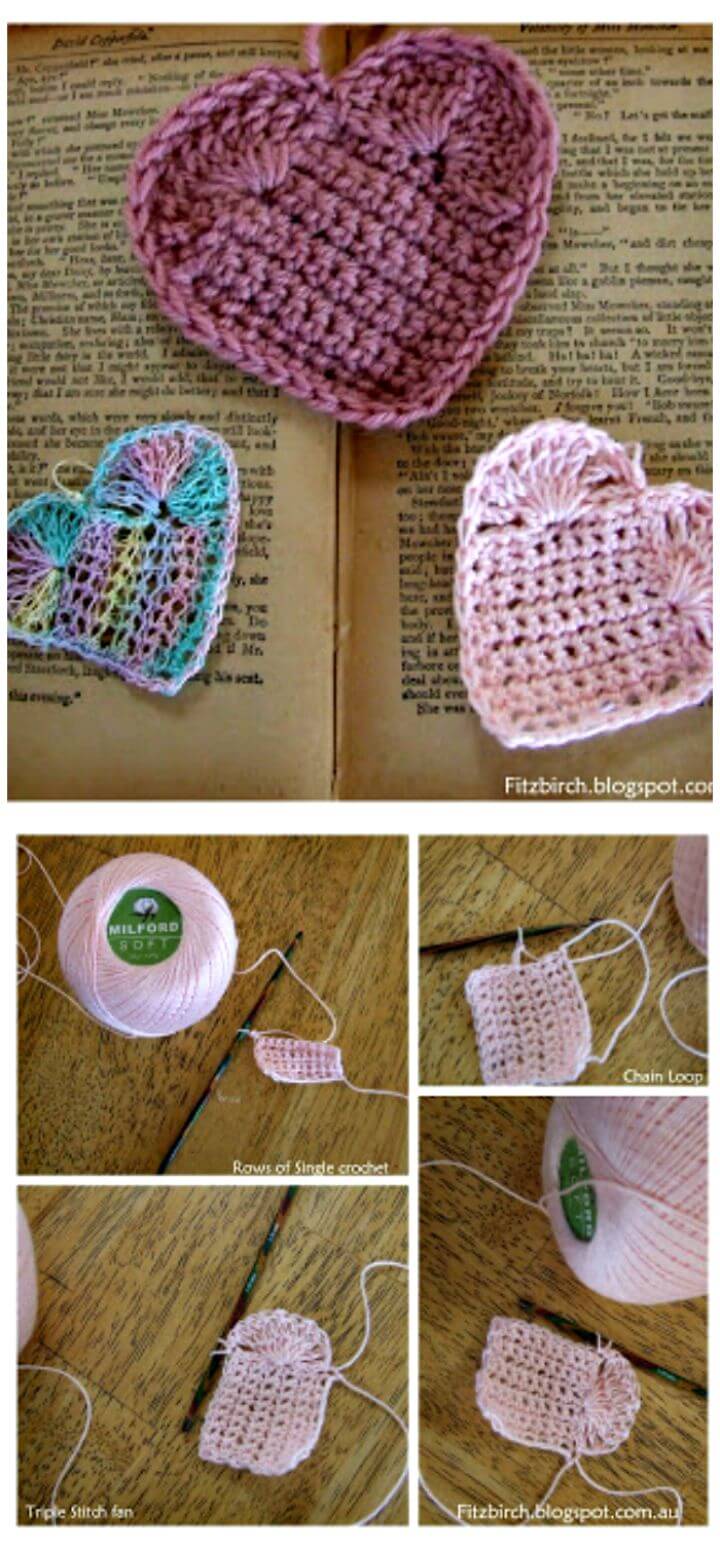 The heart shape is a symbolic meaning of love, so we just can't go without it while crocheting some beautiful yarns gifts for the Valentine's Day! Even if you crochet a simple mini yarn heart, it would also make a sweet gift for the day! Get inspired of this gorgeous yarn heart that a delight a view and is super easy to crochet! This is something here pretty cute and adorable and every beginner can try it without any hesitation! Free crochet pattern and tutorial guide is here blogspot
Easy Free Crochet Valentine Mitts Pattern: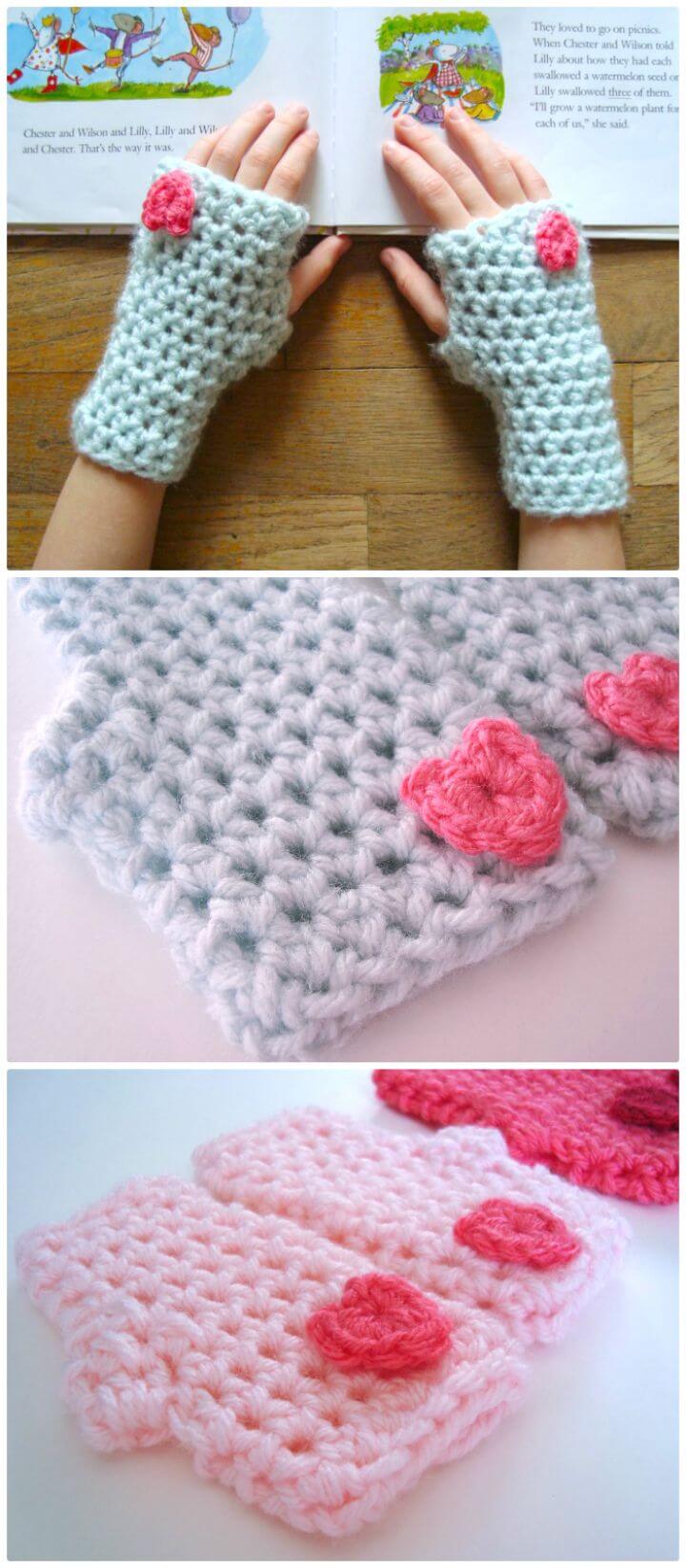 Let your other crochet pattern come with cute heart motifs so they will be serving as romantic love gifts for the Valentine's Day! Get inspired of these lovely crochet mittens, the special handwarmers embellished with mini yarn hearts and will definitely please a kid or toddler girl you love a lot! Want to crochet these special mitts this weekend? Free crochet pattern and easy tutorial guide is here tangledhappy
Free Crochet Heart Coin Purse Pattern: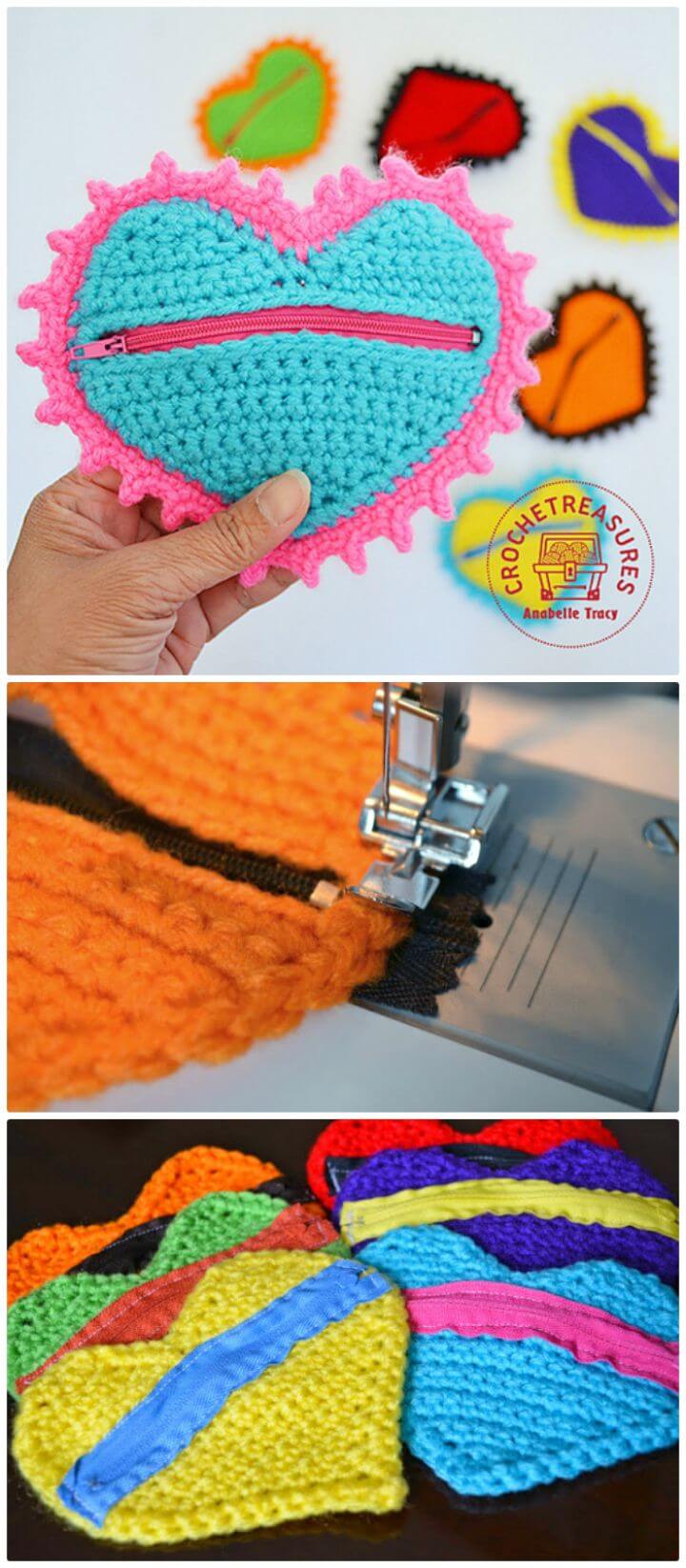 Crochet also the miniature yarn hearts and just double them up with a sewn zipper in the center! This will make you get with the precious heart coin purses that would make the sweet love gifts also for the day! Check out here the lovely yarn hearts that are outstanding to look at and are super easy to crochet also! Another cool Valentine's Day gift suggestion here! Grab the full free guides and easy crochet pattern from here crochetreasures
Free Crochet And Ribbon Valentine's Wreath Craft Pattern: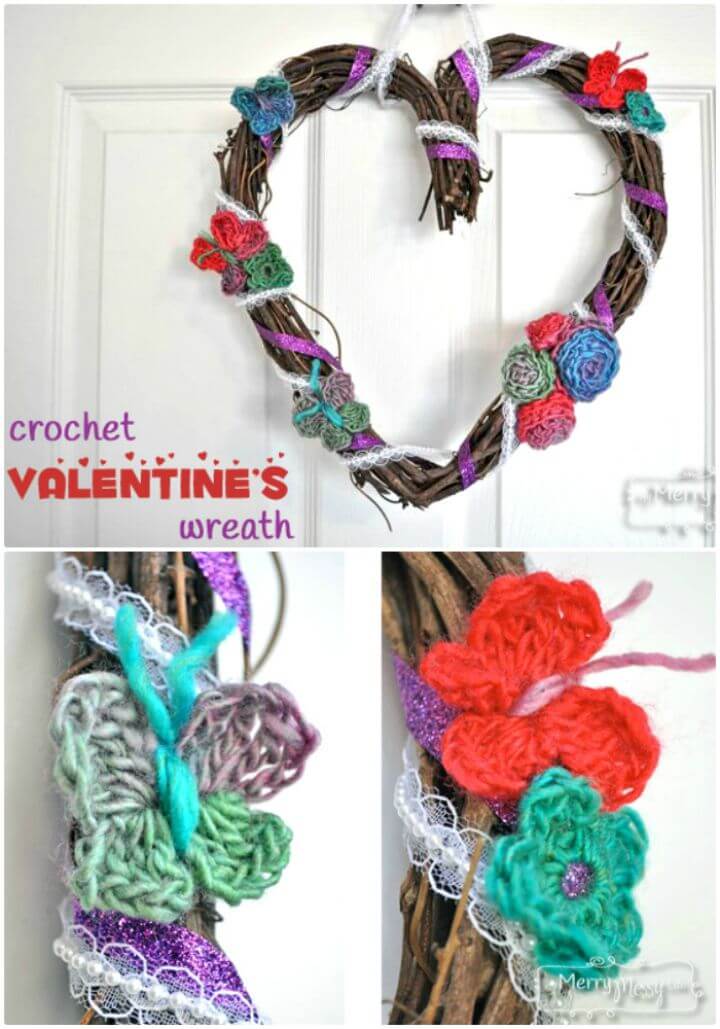 The wreaths make the perfect front door accents for a warm welcome to any upcoming event or festival! Looking for a precious wreath for the Valentine's Day? It must come with some beautiful heart shapes and love colors, get inspired of this crochet and ribbon Valentine's Day wreath that is simply eye-catching! Just grab a heart shaped wreath form and then bring colors to it using ribbon and crocheted embellishments like the crochet hearts, butterflies and crochet flowers! Further project details and free crochet pattern is here mymerrymessylife
Crochet Flying Heart Applique – Free Pattern: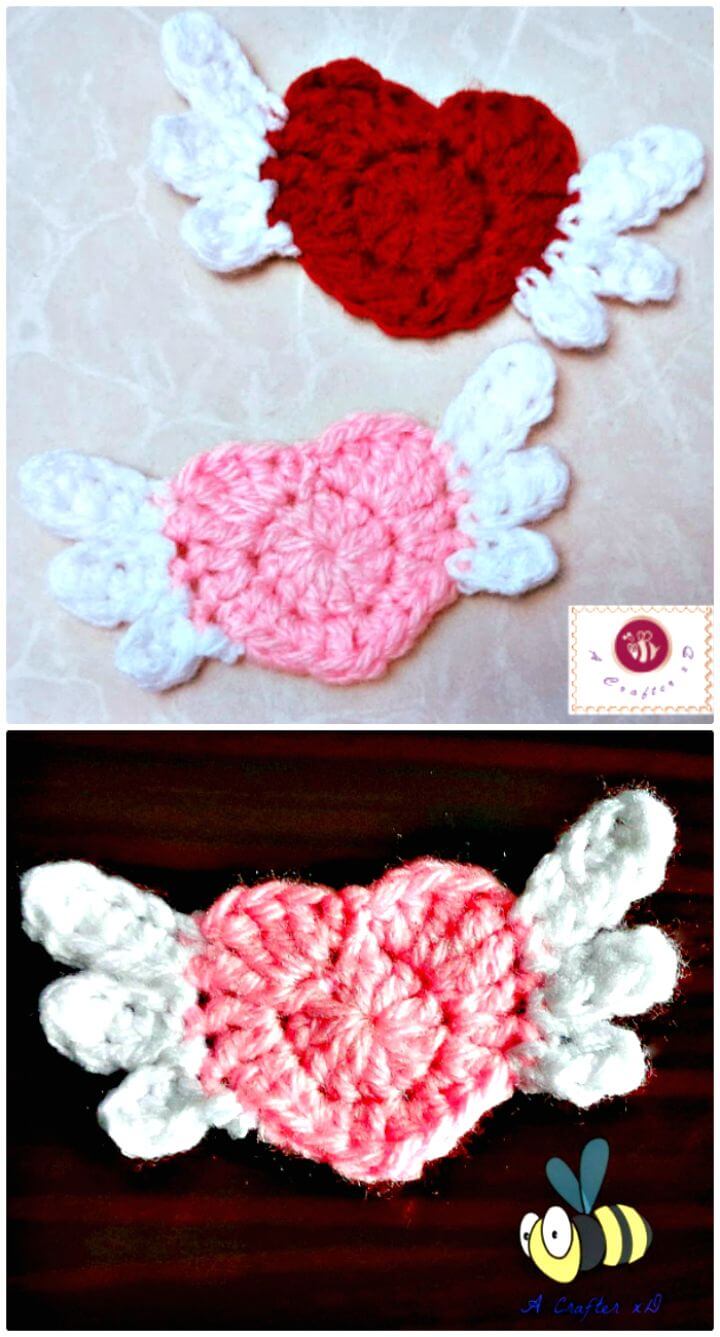 Willing to give a custom love statements to something special you have recently crocheted? The simple solution would be to crochet some love-themed appliqués like this given flying heart appliqué, crocheted to inspire and comes with angelic wings! The flying hearts will go as the flying kisses to any beloved one and will make epic gifts for the Valentine's Day for sure! Willing to clone these precious flying heart appliqués? Just grab the full free pattern and visual tutorial from here beacrafter
How To Crochet Sachets And Trinkets – Free Pattern: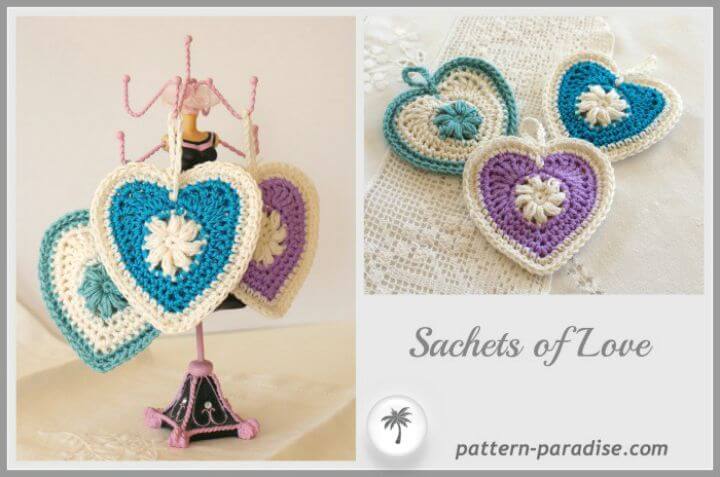 You will definitely fall in love with these crocheted sachets of love, the miniature crocheted hearts that come with beautiful yarn loops at back! These little but colorful heart hangers would make outstanding hanging ornaments for the Valentine's Day! These are here the flower or circle centered crochet hearts that are lovely to look at and would make dashing hanging ornaments for any space! Willing to clone these miniature heart hangers? Grab the full free pattern and tutorial from here paradise
Easy Free Crochet Rose Pattern: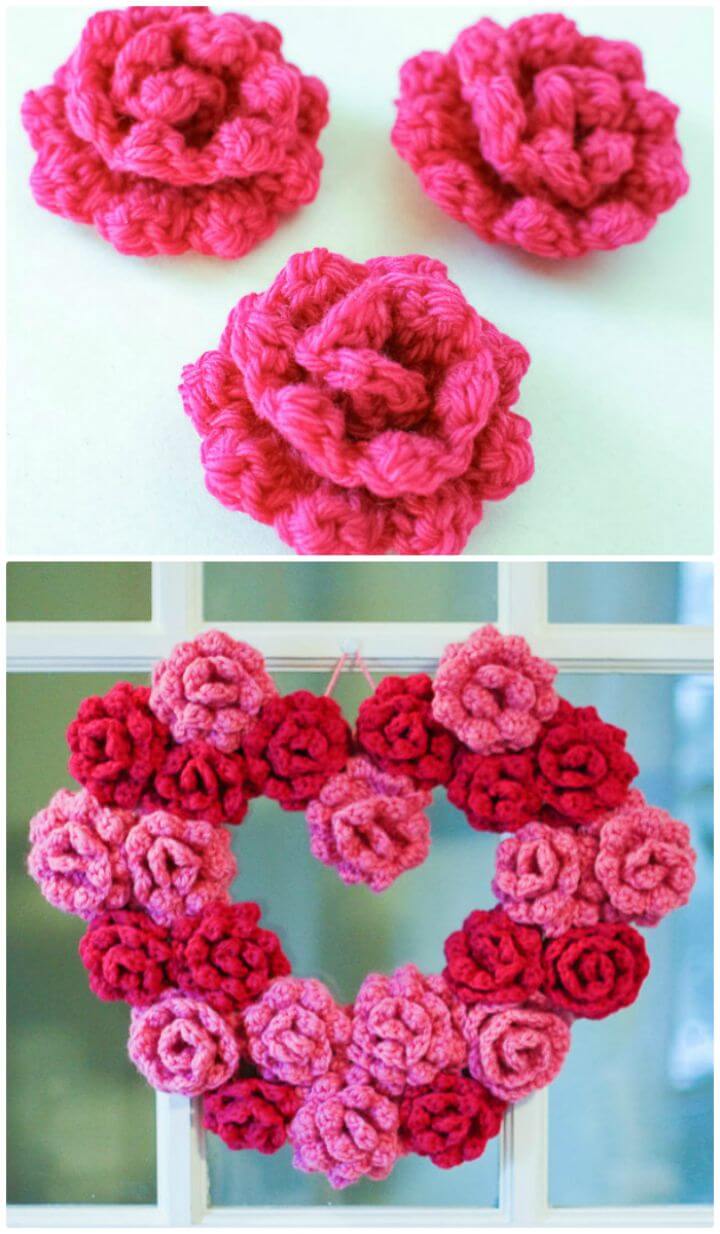 After the heart shape, the red roses inspired gifts or embellishments would make the perfect gifts for the Valentine's Day! It is all pretty simple to crochet a rose flower, just check out here the mind-blowing sample that is just lovely to look at and is amazingly eye-catching! Crochet dozens of crochet roses and just put them together for bigger love decors and Valentine's Day gift like the given heart shaped wreath that is all made of crochet roses crocheted in red and pink color! Grab the full free crochet pattern and tutorial guides from here petalstopicots
Crochet Ring Around The Hearts Beanie Valentine's Day Pattern: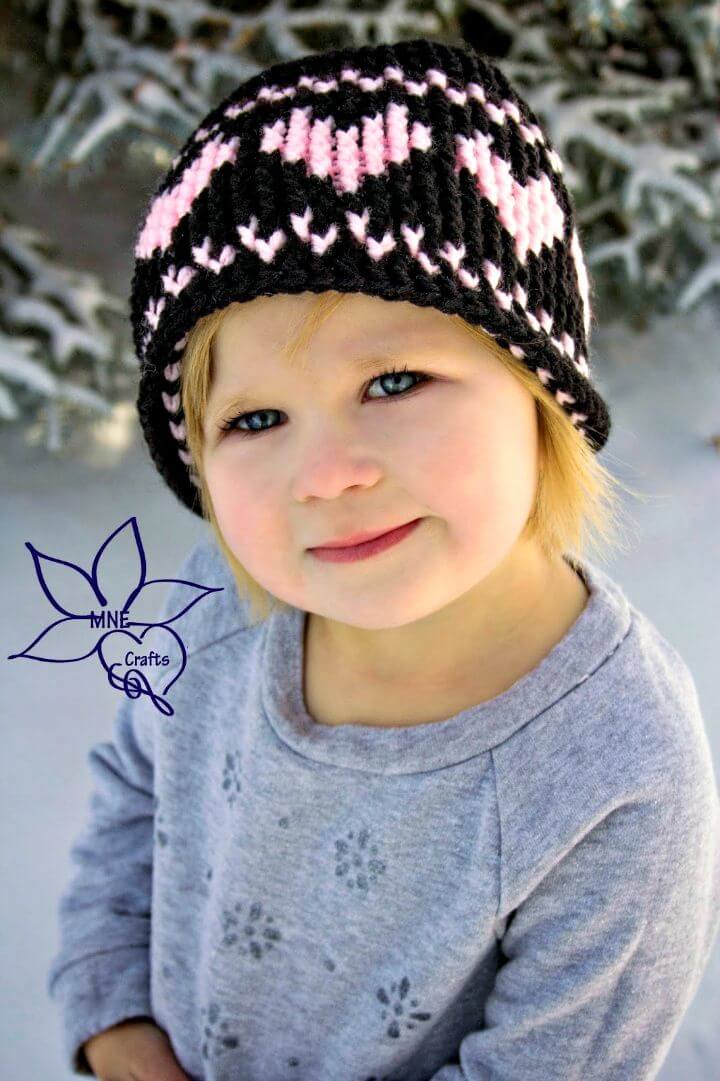 One more enchanting love gifts for the kids, this is here the adorable crochet beanie that comes with precious heart shape motifs! This ring round heart beanie would also make a dashing and heart-winning gift for the Valentine's Day and will surely go impressive to a little girl! This heart beanie here is an alluring mix of black and pink yarn color and will also serve as precious winter head warmer for sure! Free crochet pattern and easy to follow visual guides are here mnecrafts
Crochet A Hat With Love – Free Pattern: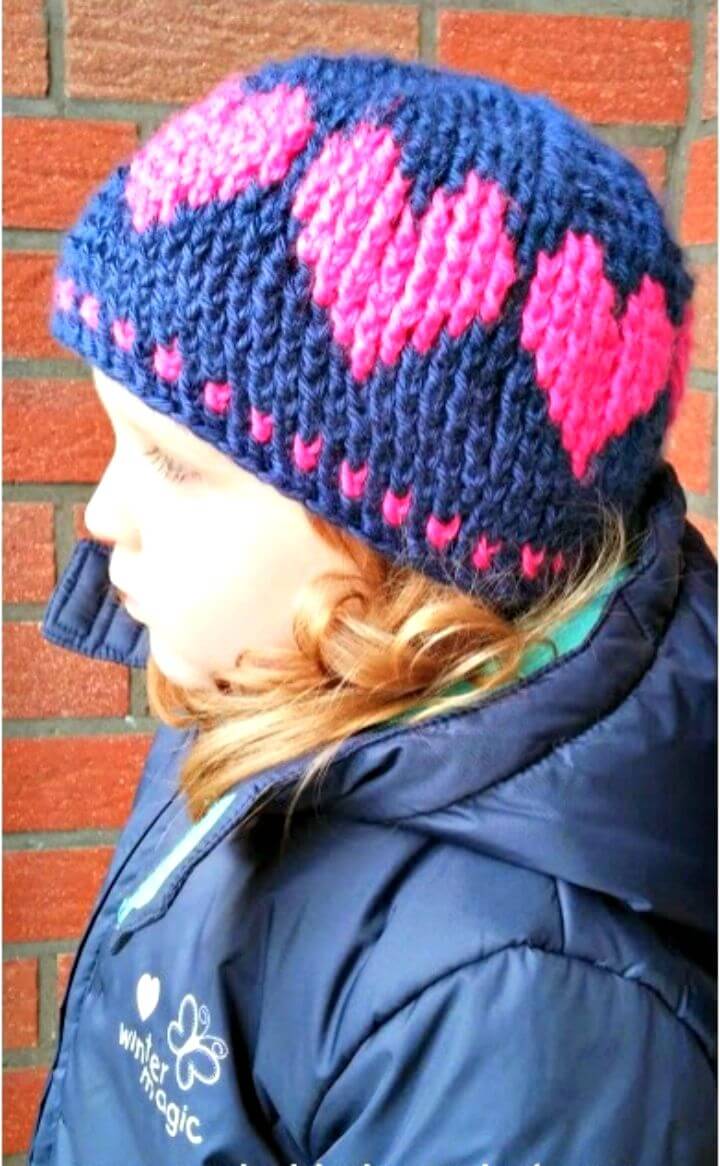 You will definitely praise the yarn color combination displayed in this crochet love heart hat! This is here the teal blue and light pink yarn color that create a fetching look of the heat! In design texture, the hat comes with dominant blue color and comes also with pink heart motifs for outstandingly romantic visual of the hat! This is here another great gift idea for the Valentine's Day to crochet with your hook! Intending to duplicate this very special crochet hat for a beloved kid or style loving teen? Free crochet pattern and instructional tutorial is here myhobbyiscrochet
Crochet Cross Your Heart Coffee Cozy – Free Pattern: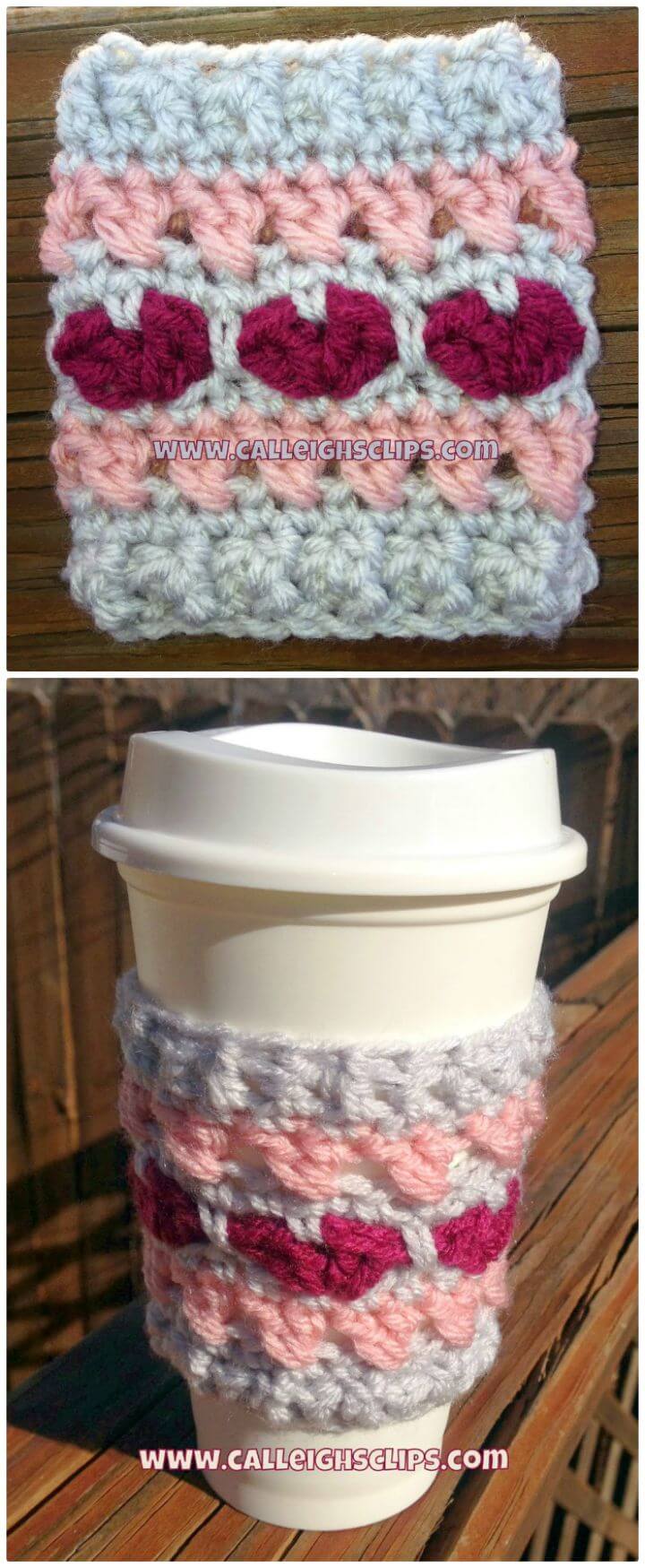 This is something more mind-blowing an enchanting here, this is here the heart crochet coffee cozy, the heart motifs bring great focal stimulation to entire crochet cozy design and hence just bring the precious love vibes! So, this miniature coffee cozy just becomes the perfect gift to choose for the Valentine's Day and is sure to please the receiver which may be your mother, your friend or any coffee lover in your home! This is here one more precious crochet Valentine's Day gift idea to try out in your spare time! Free crochet pattern and easy to follow instructions are here calleighsclips
Crochet A Plain Valentine's Box With This Crochet Bow Pattern:

Have you got the perfect heart-shaped box that would make an outstanding gift for the upcoming Valentine's Day? Willing to decorate your heart-shaped gift basket with custom a ribbon wrap or cover? A great solution would be this crochet bow ribbon that would make an outstanding gift wrap also! Instead of crocheting the bow, you can go with any custom embellishment like with a crochet flower or heart shape! This is another cool and adorable Valentine's Day gift suggestion! Want to duplicate this hot red crochet bow gift wrap? Find the complete free tutorial and easy to follow guides from here petalstopicots
Easy Crochet Magic Hearts – Free Pattern: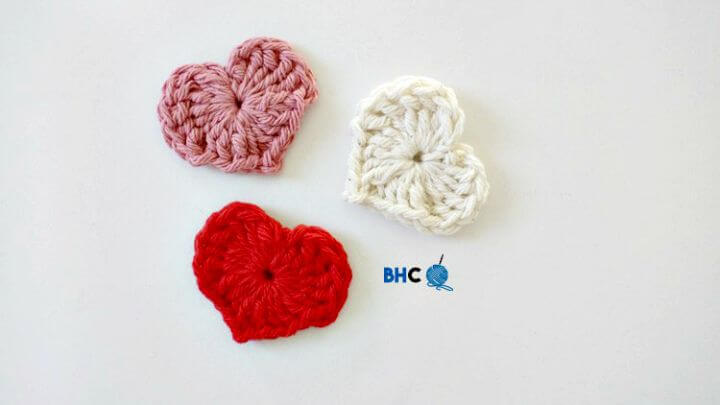 Check out here more cool looking miniature yarn hearts that are both a super cute Valentine's Day gift and the precious love hanging ornaments for a room or space! These hearts are just super easy to crochet and can be used in multiple different ways like as a heart appliqué, heart monogram or embellishments and also miniature love gifts! Willing to know how to crochet these special magic hearts? Grab the full free crochet pattern and easy tutorial guide from here bhookedcrochet
Free Crochet Heart Sachet Pattern: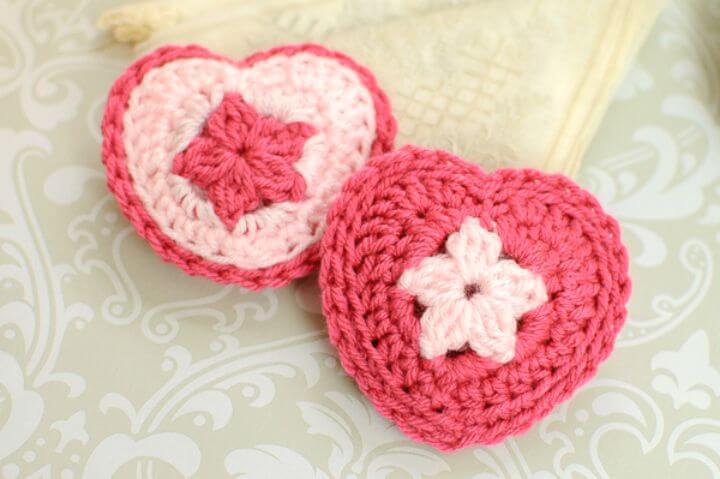 Willing to please a special person at upcoming Valentine's Day? This will demand for a fetching gift and you can simply go with these heart sachets that will be ready even in last few minutes! These lovely colorful mini hearts will speak for you love and will be something enticing also due to precious star centers! Willing to duplicate these utterly cute mini hearts as Valentine's Day gifts? Get the complete free details and free crochet pattern from here petalstopicots
Crochet Valentine's Spike Stitch Heart – Free Pattern: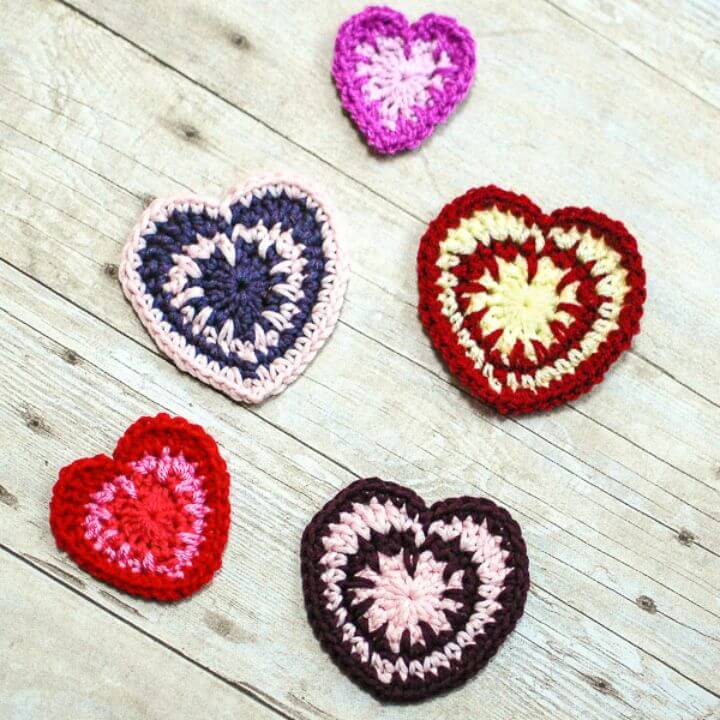 Look at this another fab crocheted gift, the lovely crochet Valentine's Day heart, crocheted to inspire and has been done with the spike stitch! These crochet hearts come with bewitching circles and also in dual color appeal that makes them look extra eye-catching and adorable! Willing to duplicate these precious crochet hearts? Just grab the easy visual guides and free crochet pattern from here valentines
How To Crochet Heart – Free Pattern: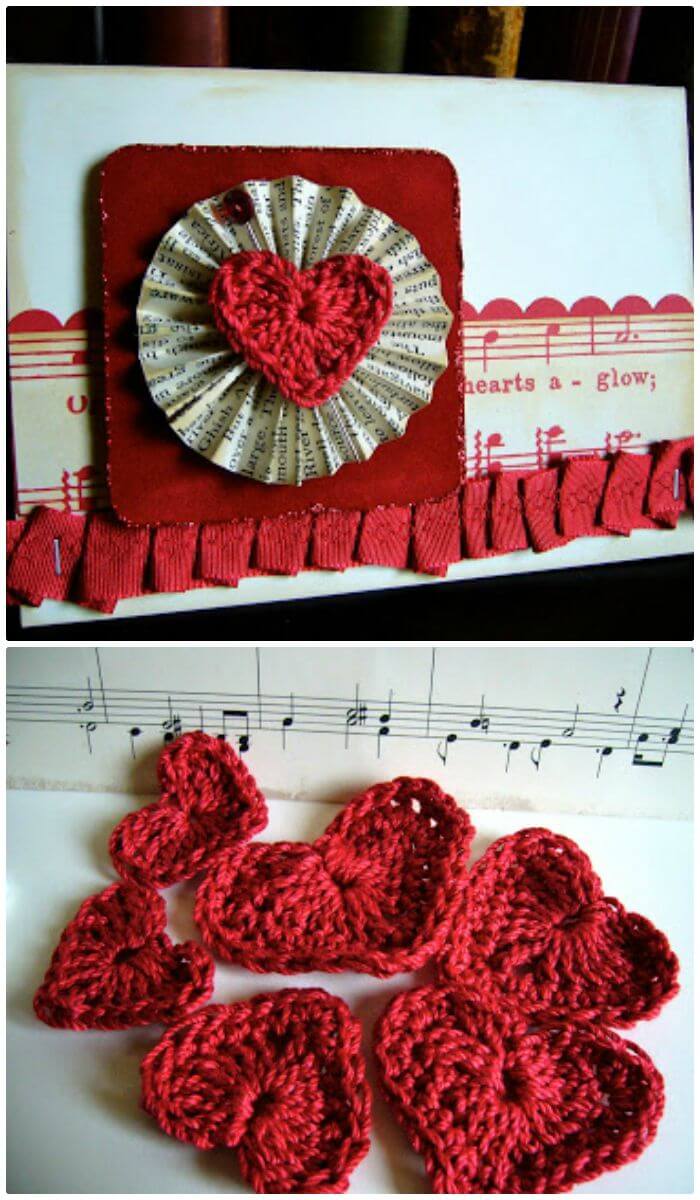 More gift-worthy yarn hearts are here, these are lovely and has been crocheted with a D sized hook! Just grab the worsted yarn weights or anyone you like and just duplicate these miniature crochet hearts for the upcoming Valentine's Day! This crocheted heart can be a part of various Valentine's Day decors also! Further project details and free crochet pattern is here littlebirdiesecrets
Crochet Sweet Heart – Free Pattern: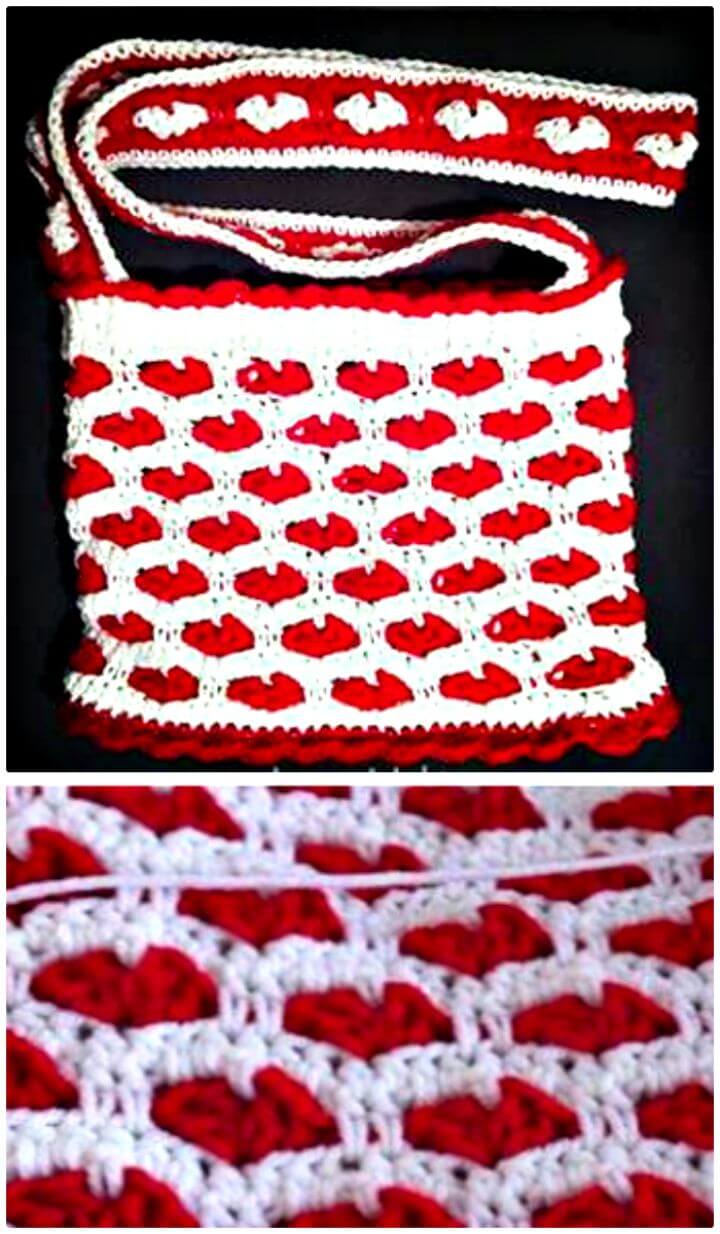 Crochet also the precious accessories with heart motifs that will make bigger Valentine's Day surprises also! Clone this sweetheart lady bag as a Valentine's Day gift and it will keep on reminding your love to receiver! Here this lovely crochet bag also come in white and red that really go best for expressing love! Further project details and free crochet pattern here dearestdebi
Free Crochet Heart Ring Box Pattern: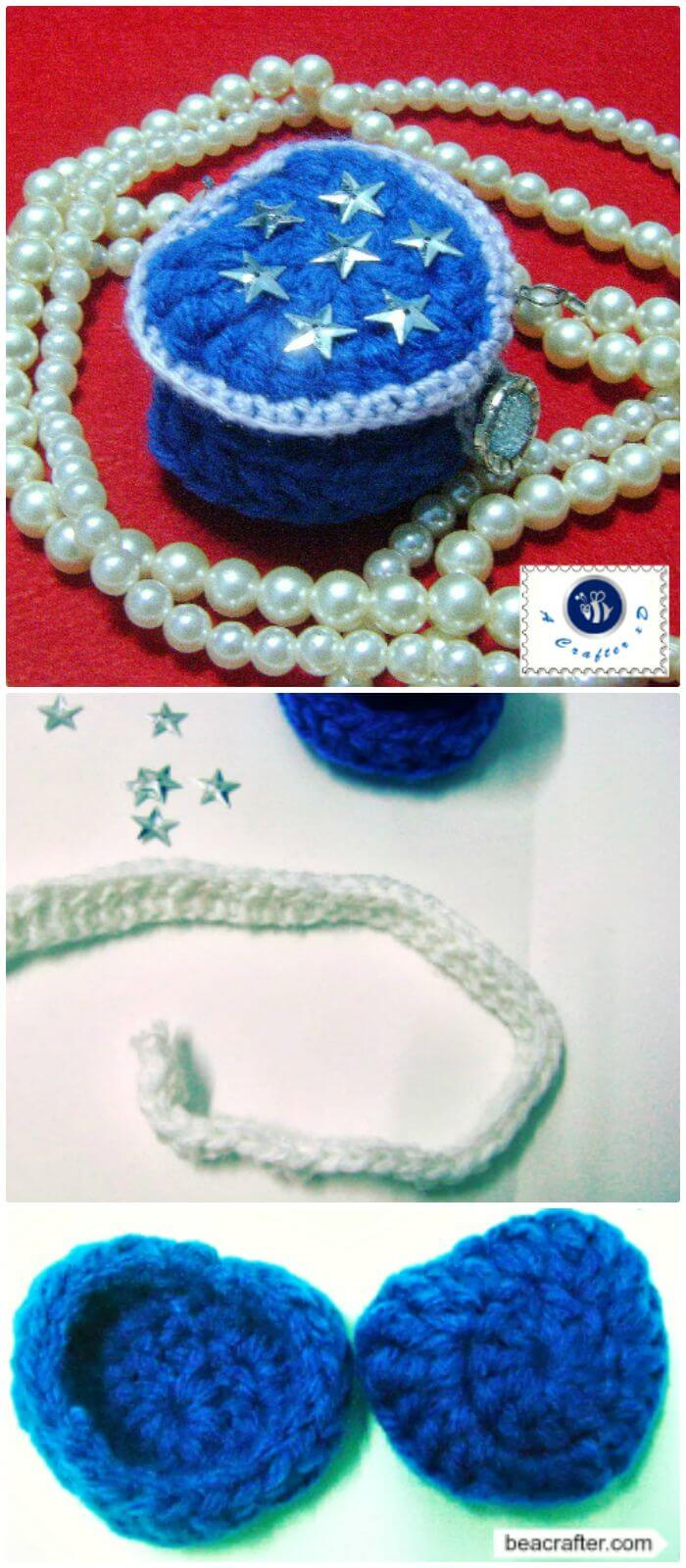 Duplicate this sweet mini gift that will rock for couples to develop stronger love bonds! This is here a crocheted ring box that comes in precious heart shape and hence speaks volumes for the love! Here it comes in a teal blue color and with metal star accents on the lid that makes it look extra eye-catching and precious! Willing to duplicate this handsome ring box that is super gift-worthy for Valentine's Day? Then just grab the full free tutorial and visual guides from here beacrafter
Crochet Heart Appliques – Free Pattern: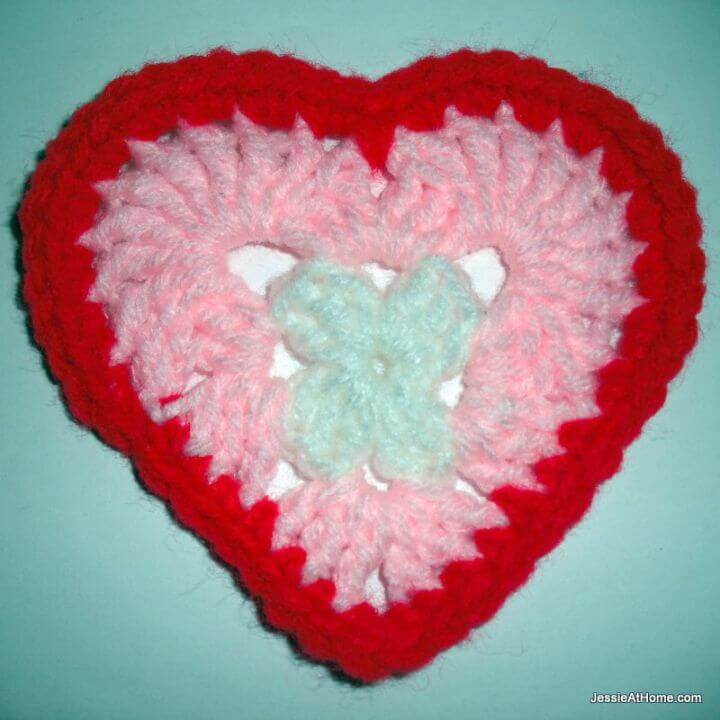 You will just love crocheting this heart shape appliqué that can be crocheted onto item of clothing or of crochet clothing as love monograms! This yarn heart appliqué comes in red and pink and also with a turquoise flower in the center that doubles up the beauty of this yarn heart! Duplicate it now and start using it as best adornment for Valentine's Day gifts! Grab the complete project details and free crochet pattern from here jessieathome
Free Crochet Heart Flake Pattern: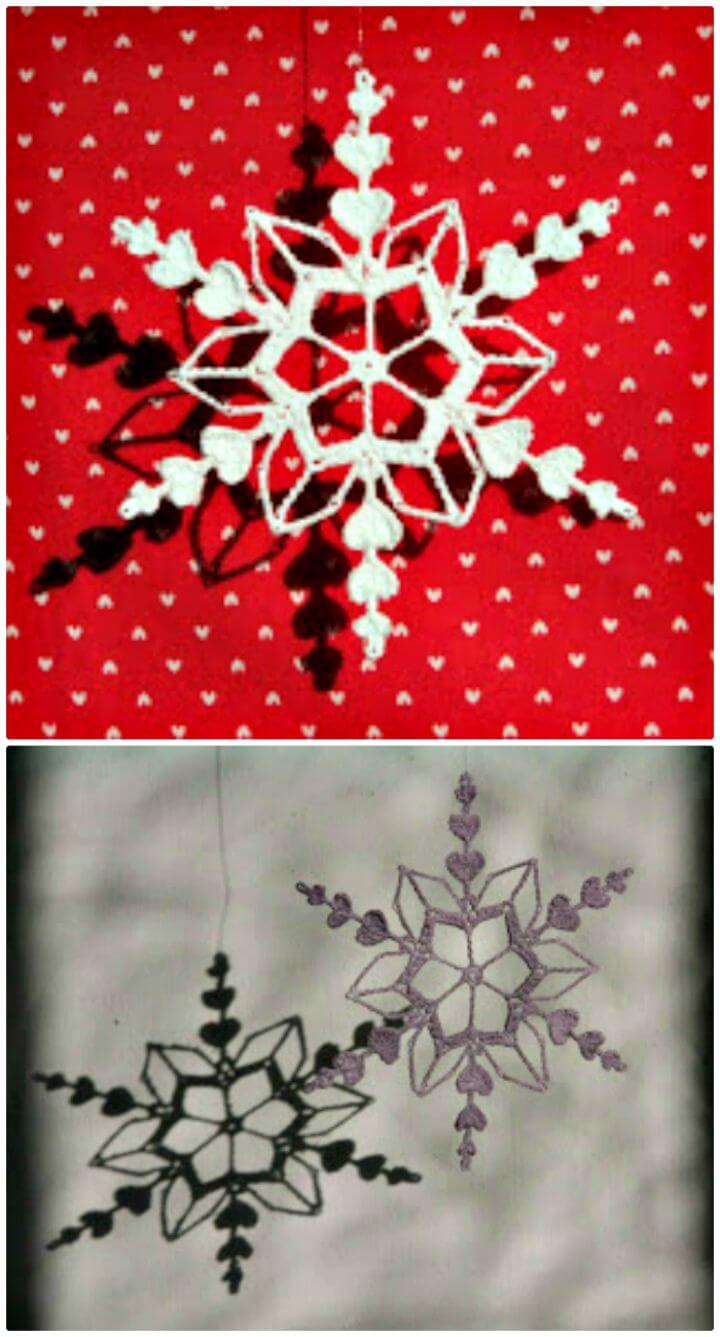 Do you like the snowflakes while hanging as pendant ornaments in your home? This just definitely goes extra eye-catching and adorable! Checkout here another good looking flake that has been given a love theme by going with special heart shapes! This is here the perfect crochet heart flake and it will definitely make an outstanding gift for the Valentine's Day! Willing to duplicate this heart-winning heart-flake? Just get the free tutorial and easy crochet pattern from here minergirlslaboratory
Crochet Valentine's Day Heart – Free Pattern: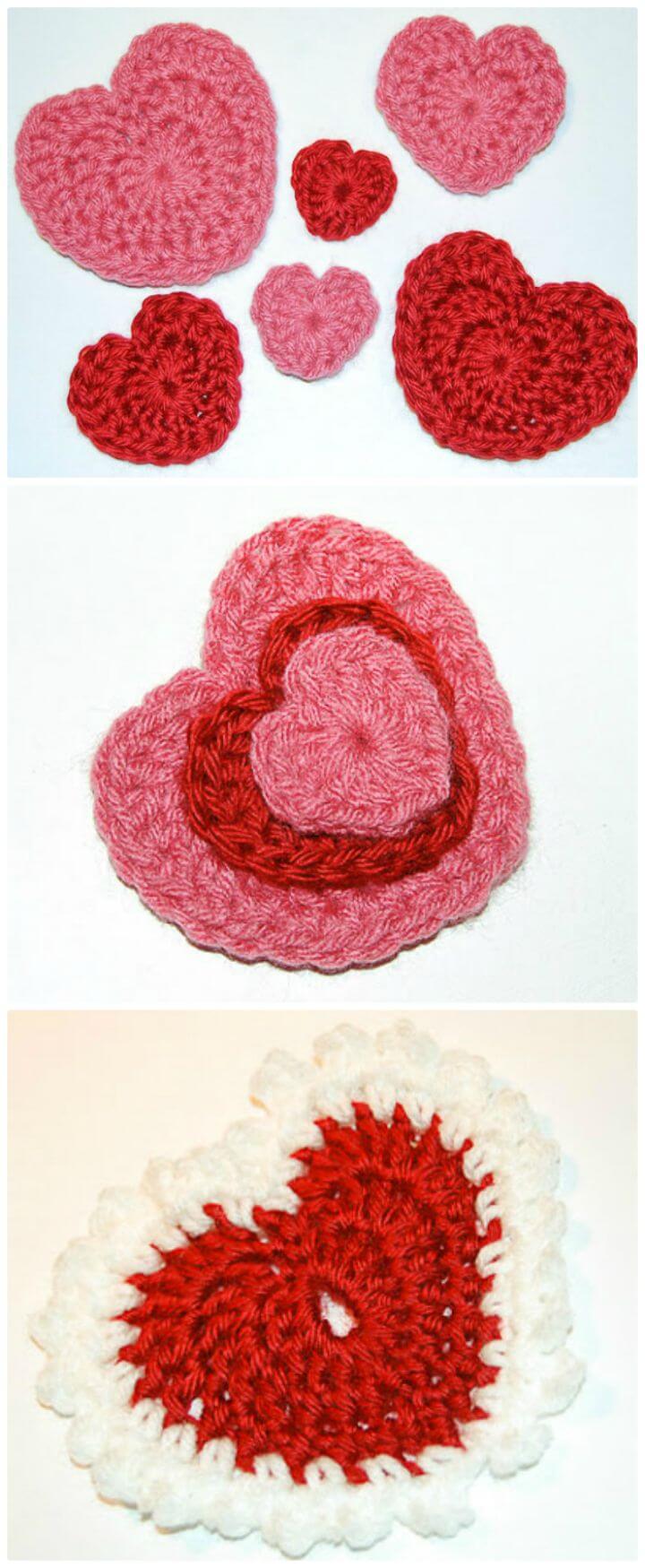 The very first look at a heart shape just awakens our love emotions and that's why they are a crucial part of all Valentine's Day gifts and decors! If you need some super soft heart embellishments then why not go with custom yarn weights to crochet some sweet ones in your spare time! Get inspired of this these given sample hearts that are lovely and has been crocheted using H hook and tapestry needle! You can also clone these hearts by starting from crocheting a magic ring! Moreover, you can also stack these hearts to get bigger and thicker Valentine's Day hearts as shown! Free crochet pattern here petalstopicots
Crochet Valentine Flake – Free Pattern: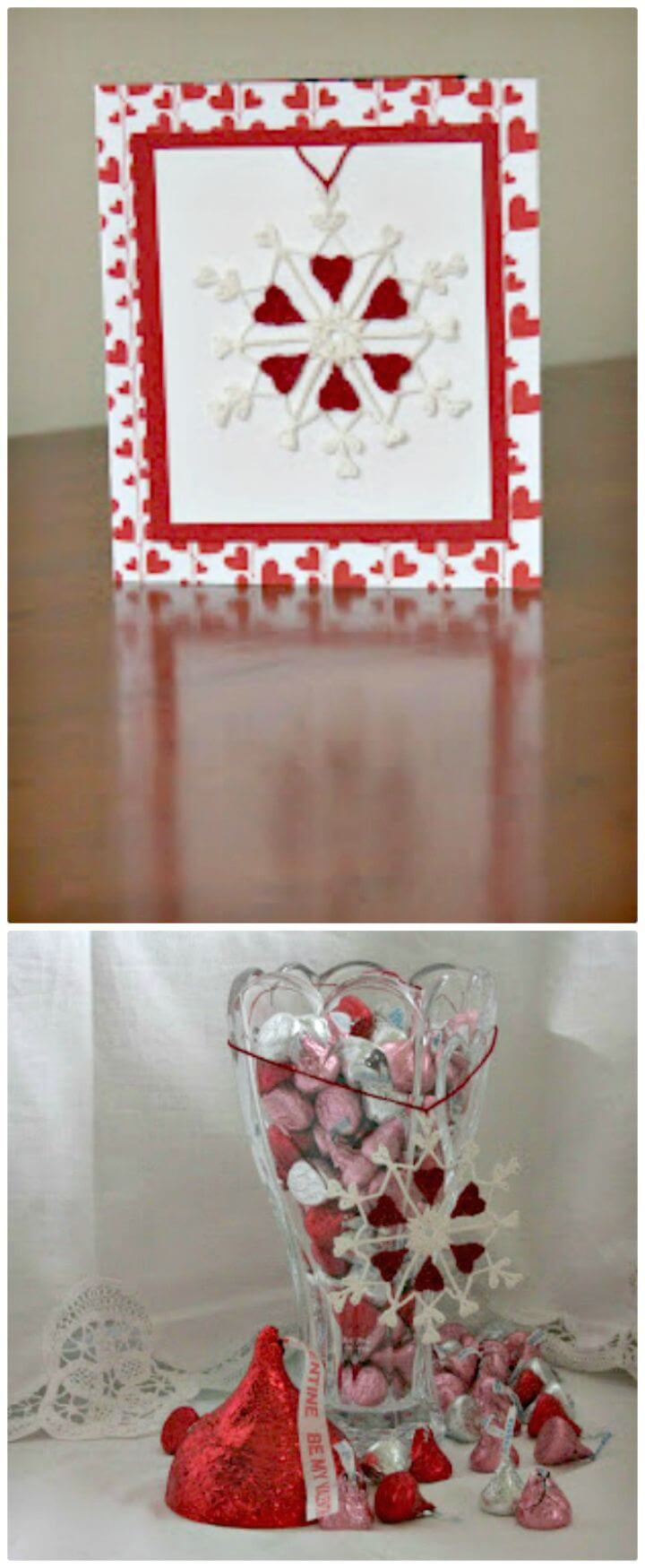 Another sweet crochet Valentine's Day gift idea here, This is here a crocheted art frame that comes with a flake art! Here the flake art has also been crocheted on love theme and hence is made of multiple white and red miniature crochet hearts! Finally it has been pasted in a  love frame making a spell binding Valentine's Day present! Do duplicate this Valentine flake via free crochet pattern and tutorial given here minergirlslaboratory
Crochet 3D Valentine's Heart – Free Pattern: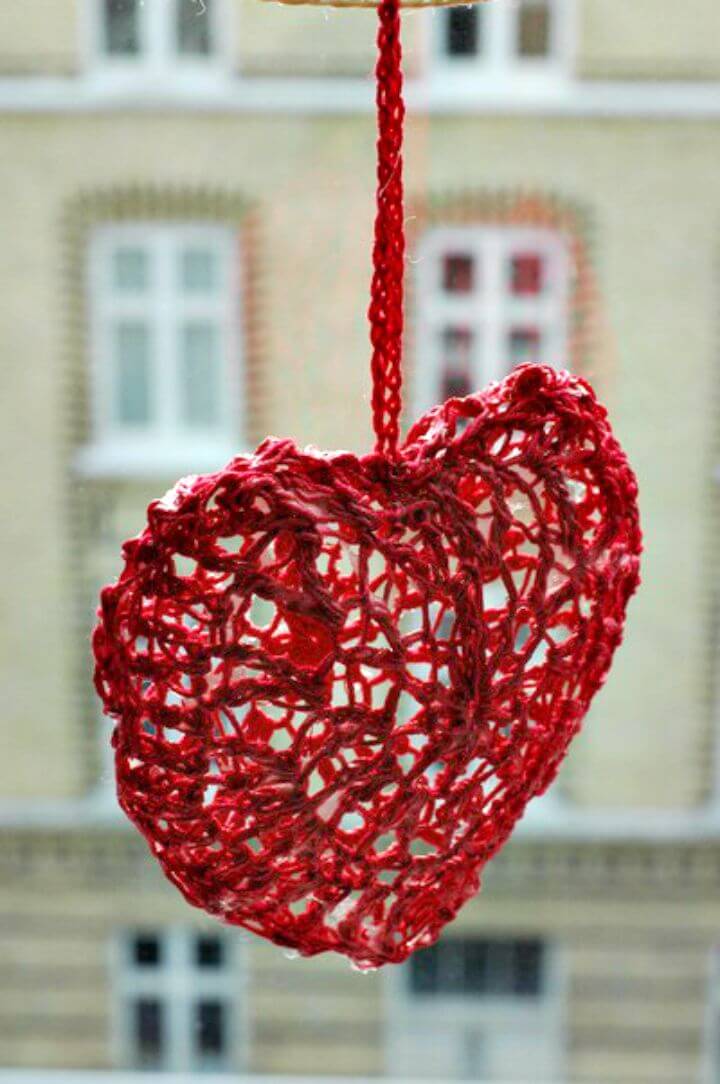 This crochet heart shape is unique but extra brilliant, this is here a 3D heart that will hang like a precious Valentine's Day charm and will be a perfect gift for the love day also! Hot red appeal makes it a more love specific gift or a hanging décor and you can also duplicate it with your minimal crochet skills! Grab the full free pattern and easy crochet tutorial from here bynumber19
Crochet One Round Hearts – Free Pattern: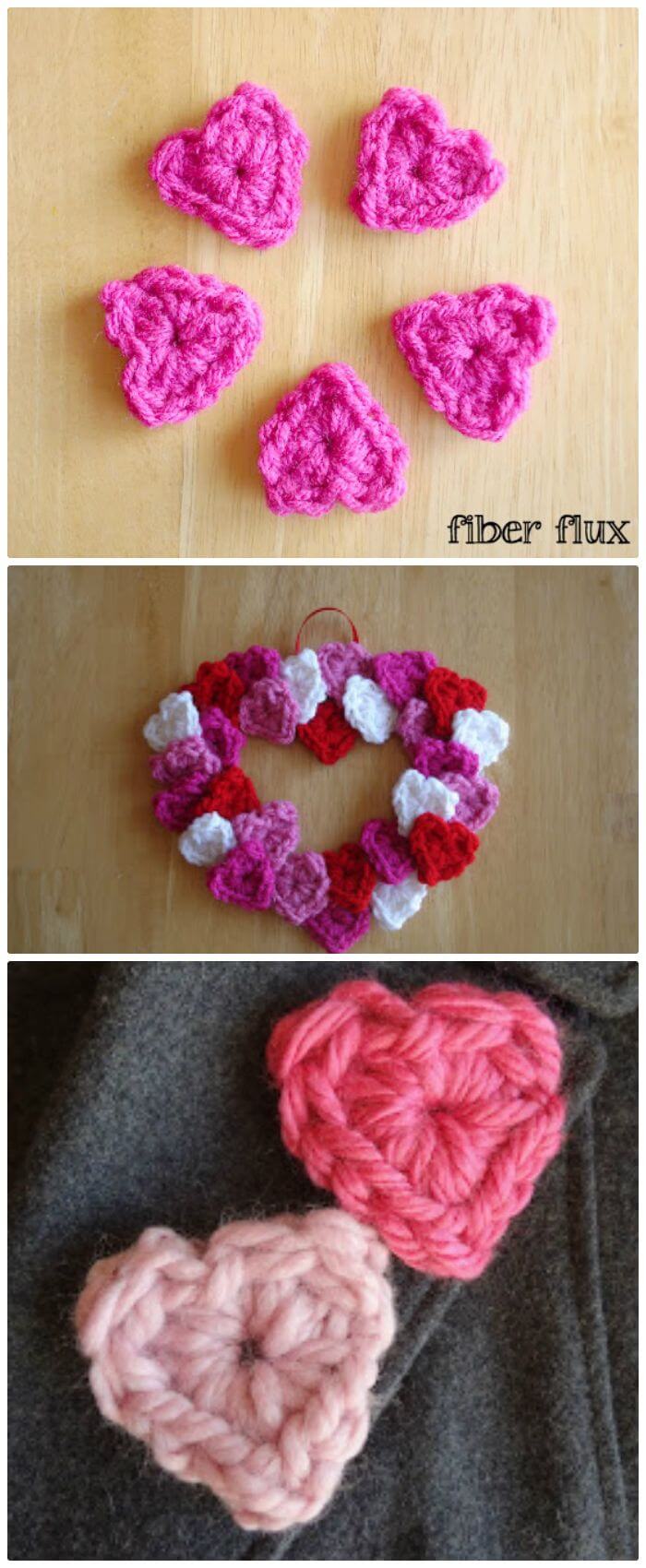 You just can't go out of the red color and heart shapes while making some perfect gifts for a love day, the Valentine's Day heart! If you know how to crochet then you can really enjoy this day more as you can crochet various different types of love gifts in no time and also the mind-blowing little crochet hearts! Checkout here the given sample hearts that will finish in one round only! Crochet these miniature yarn hearts and start using them in making Valentine's Day love buntings and love garlands also! Grab the complete project details and free crochet pattern from here fiberfluxblog
How To Crochet Pretty 'Lil Heart – Free Pattern: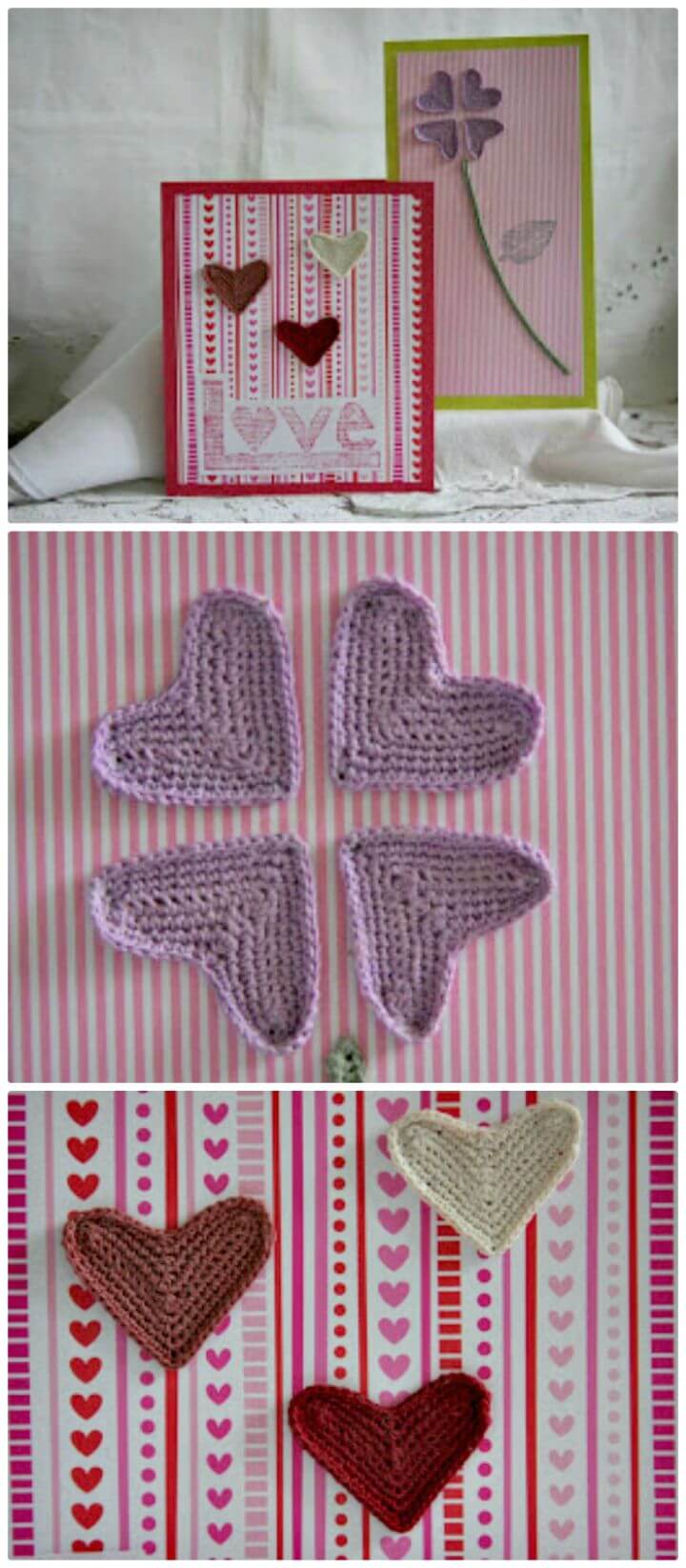 Have you learnt that how to crochet miniature hearts? If yes, then you can crochet also some worthy Valentine's Day decors in just no time, a great example here is this crochet lil heart, the perfect love art frame that would also make a heart-winning love gift along with making an adorable home décor centerpiece! Experiment these hearts with different yarn colors and do duplicate this lit heart frame! Free crochet pattern and complete visual guides from here minergirlslaboratory
Free Crochet Chain-Less Foundation Heart Headband Pattern: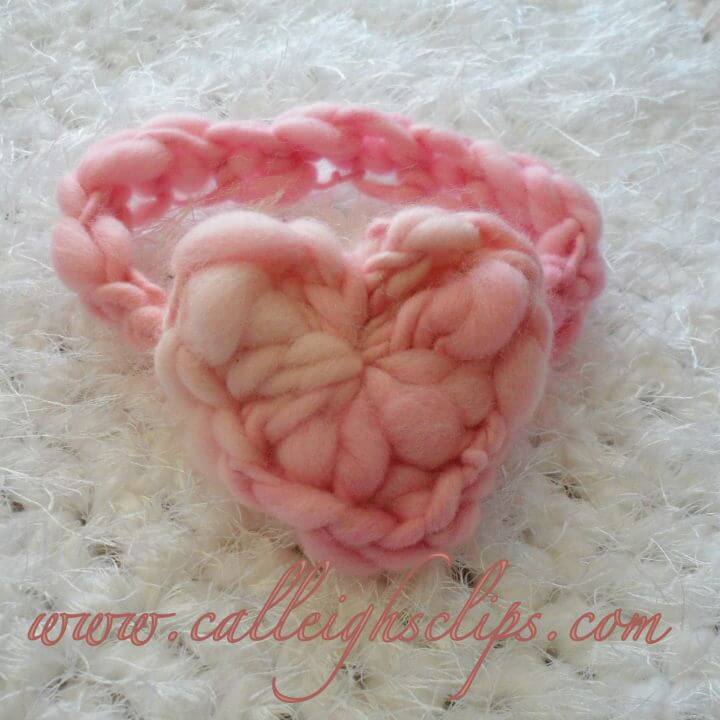 There is just no end to crochet lovely Valentine's gift with smartly incorporated heart shapes! Checkout here one more precious one, this is here the chain-less foundation crochet heart headband that would be a delight to wear over the head and will definitely create a princess's crown! Here it has been crocheted with pink chunky yarn weights and is something very eye-catching! Another romantic gift idea for the love day! Free crochet pattern free visual guides are here calleighsclips
Crochet Conversation Hearts Dog Collar – Free Pattern:

You can also show your love for your pets using your crochet hook, the idea is to crochet some cool pet accessories with smart involvement of beautiful heart motifs! A mind-blowing sample here is this beautiful crochet conversation hearts dog collar that will make your dog look pretty cute and lovable! Here the idea is the same, just crochet the miniature yarn hearts and then put them onto a string! This idea would also work great to create love buntings and garlands for Valentine's Day! Further project details and free crochet pattern here poshpoochdesignsdogclothes
Crochet American Folk-Art Style Heart Motif – Free Pattern:
Intending to bring some Valentine's Day vibes to your spaces? Here is a cool idea to do this, just let some colors and heart shapes be on your most visited items of furniture like on a dining or coffee table! Checkout here the set of crochet cozies that come with a bowl cozy, with a coffee mug cozy and also with a drink bottle cozy and all the cozies come with heart motifs for a romantic love theme! Here are also the mini crocheted hearts that will make outstanding napkin toppers! Complete project details and free crochet pattern here lemonlaneblog
Free Crochet Valentine's Day Project Pattern:

Intending to bring some Valentine's Day vibes to your spaces? Here is a cool idea to do this, just let some colors and heart shapes be on your most visited items of furniture like on a dining or coffee table! Checkout here the set of crochet cozies that come with a bowl cozy, with a coffee mug cozy and also with a drink bottle cozy and all the cozies come with heart motifs for a romantic love theme! Here are also the mini crocheted hearts that will make outstanding napkin toppers! Complete project details and free crochet pattern here blogspot
Free Crochet Cute Headbands Pattern: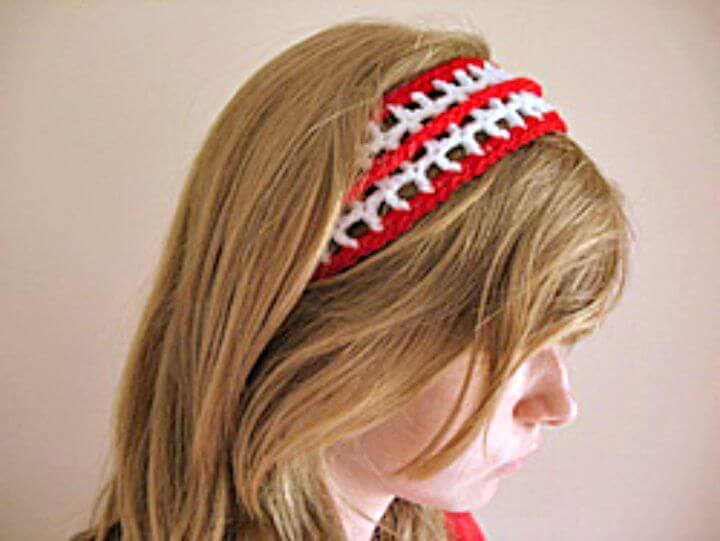 Checkout here another perfect love décor for your space, this is here also based on crocheted yarn hearts and is a beautiful garland that will make a rocking décor for the Valentine's Day! Here the idea is also to crochet some little yarn hearts that can be then added to a piece of string for a lovely garland! Want to duplicate this heart garland for a Valentine's Day party area? Just grab the complete free crochet pattern and visual guides from here learn
Crochet Valentine Heart Garland – Free Pattern: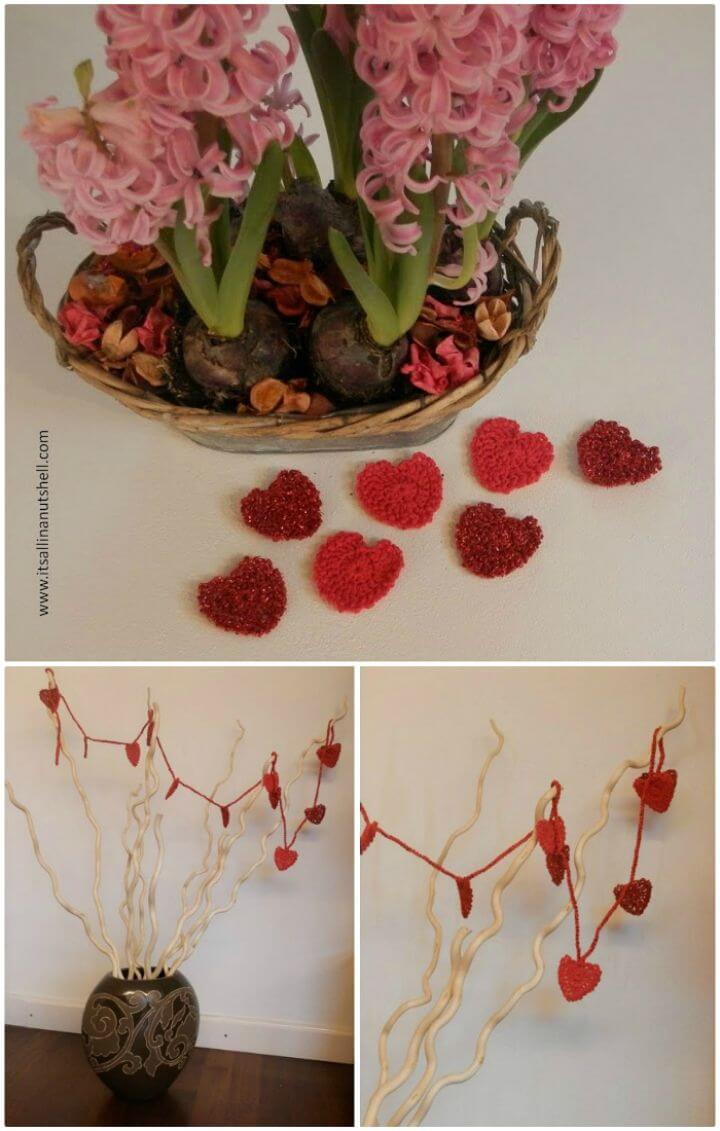 Check out here another perfect love décor for your space, this is here also based on crocheted yarn hearts and is a beautiful garland that will make a rocking décor for the Valentine's Day! Here the idea is also to crochet some little yarn hearts that can be then added to a piece of string for a lovely garland! Want to duplicate this heart garland for a Valentine's Day party area? Just grab the complete free crochet pattern and visual guides from here itsallinanutshell
Crochet Sweet Heart Bag – Free Valentine's Day Pattern: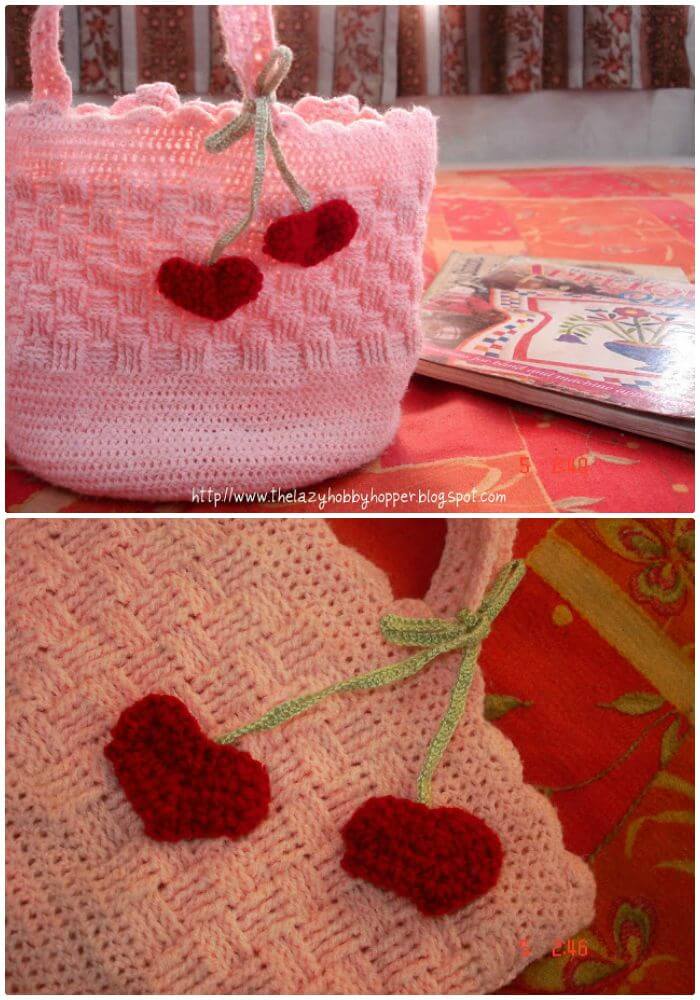 Another attention-grabbing crocheted gift for Valentine's Day, this is here a darling crochet bag that comes with hanging hearts for an exclusive love theme! Another handsome gift for a style loving lady or teen and will definitely go eye-catching! Want to duplicate this sweetheart crochet bag? Just get the complete free tutorial and free crochet pattern from here thelazyhobbyhopper
Free Crochet Heart And Rikki Bear Pattern: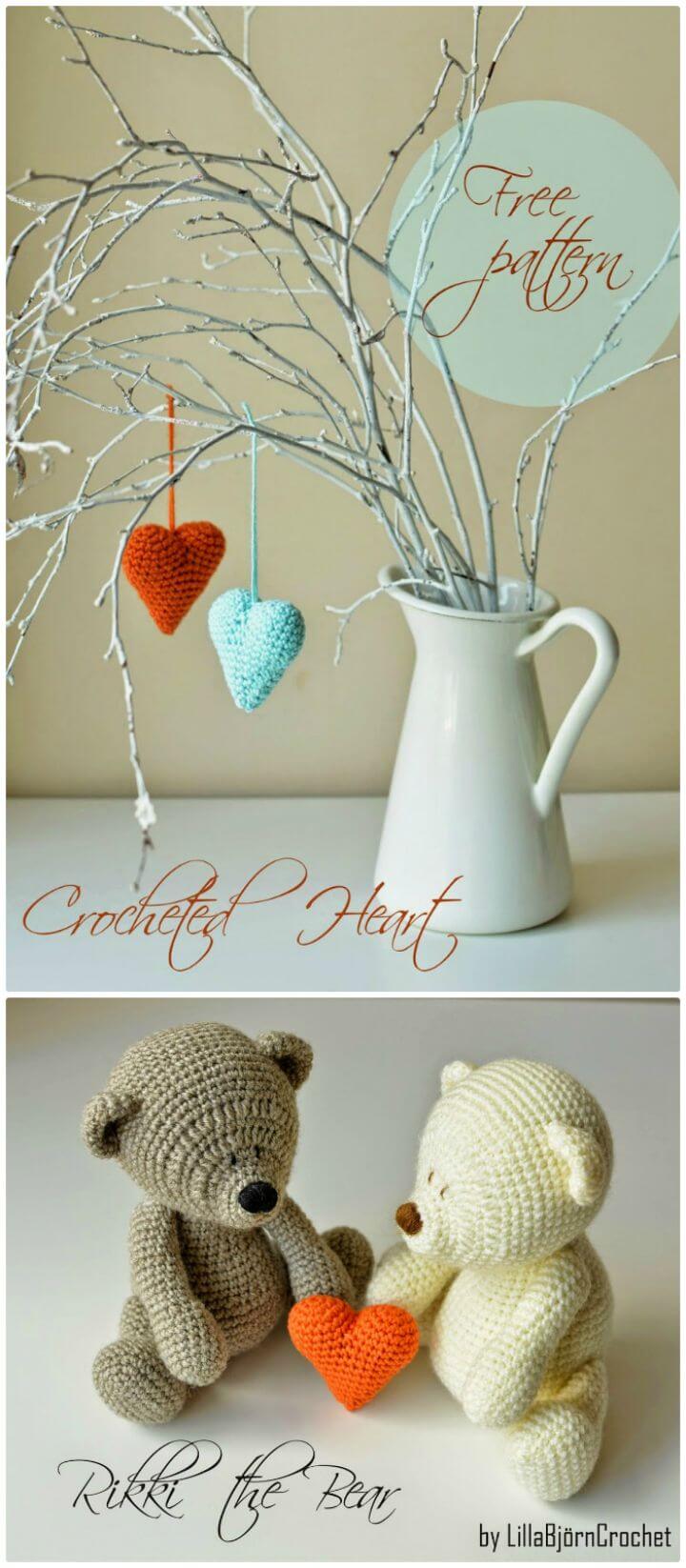 No doubt the mini stuffed crochet heart make cute Valentine's Day gift but you can use them smartly also to bring love vibes to other gifts! Like you can mount those hearts on any other gift as a love monogram, a great sample here the Rikki bear! Get inspired of another great suggestion here, the lovely rustic vase here has been adorned with hanging stuffed mini hearts that also bring colors to it, hence it appears as an enchanting Valentine's Day special centerpiece or gift! Grab the free crochet pattern and tutorial guide from here lillabjorncrochet
Crochet The Love Nest – Free Valentine's Day Pattern: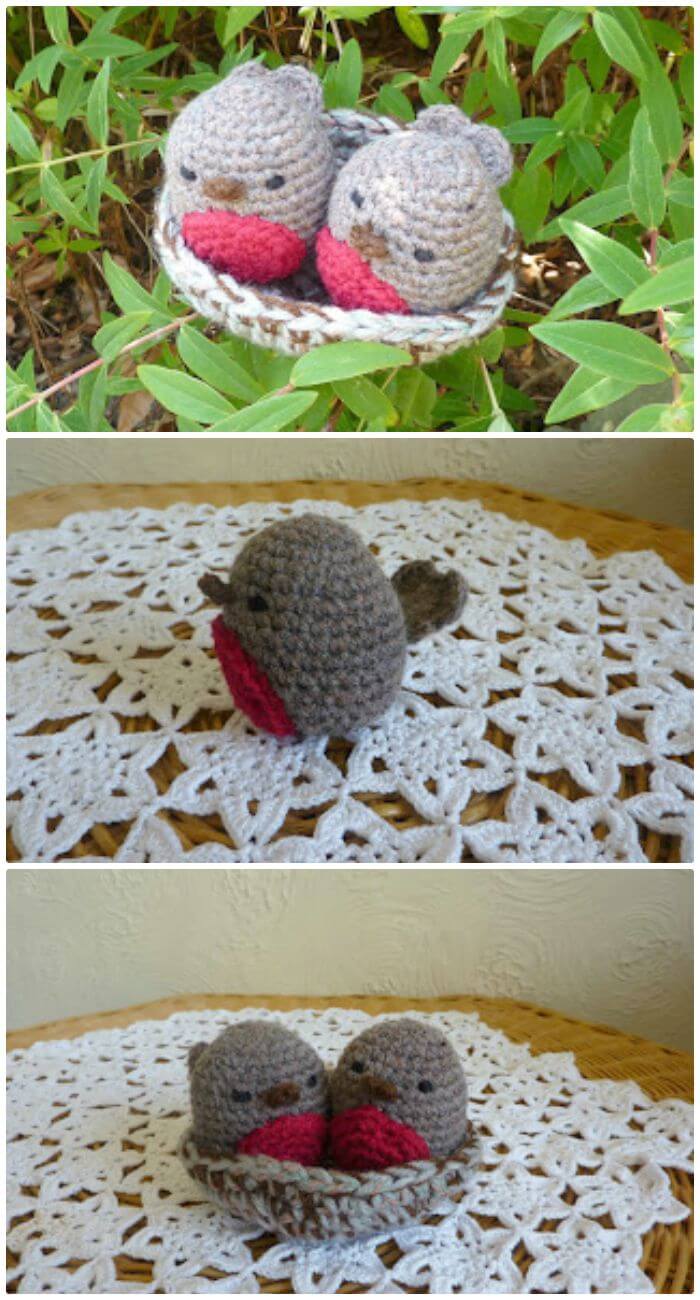 Another big crochet surprise for those who are striving for cool Valentine's Day gift to make at home! This is here the precious Love nest, just crochet a nest like a crochet basket and then house two crocheted lovebirds inside to make a couple special Valentine's Day gift! If you handy at crocheting and also at crocheting amigurumi then this project will just be a piece of cake to clone! Grab the full free guide and visual instructions from here yellowpinkandsparkly
Free Crochet Sweetheart Earrings Pattern: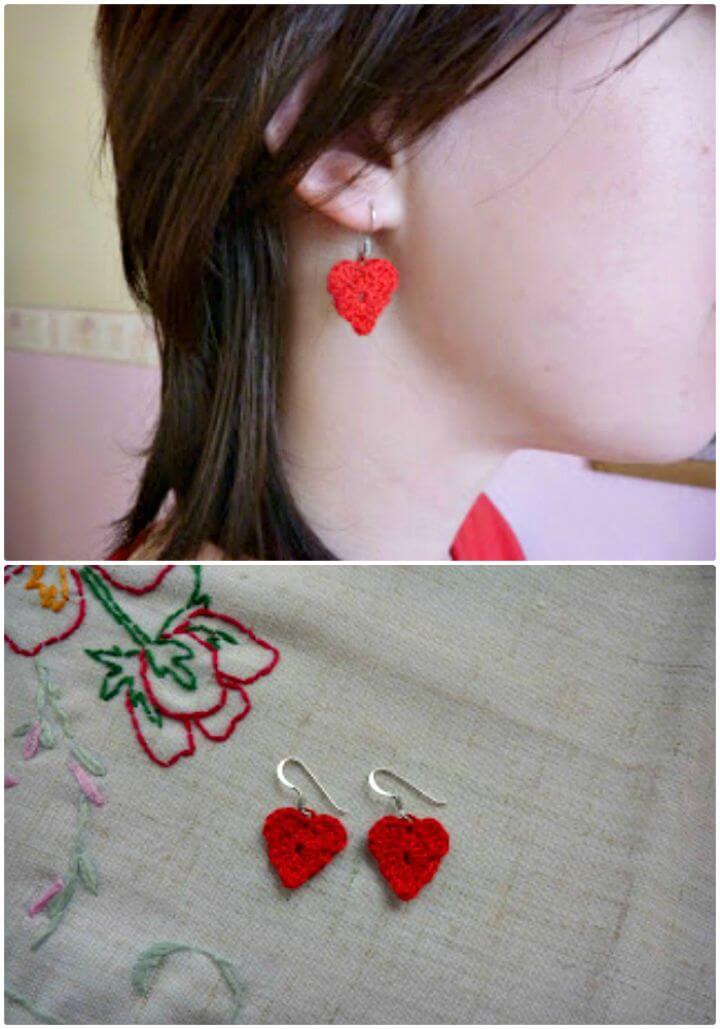 Crochet also the precious jewelry items that if come with some beautifully incorporate love symbols or heart shapes, will make outstanding gifts! A mind-blowing sample here these sweetheart earrings, perfect to give a lady or girl you love a lot! Here just crochet some mini stuffed hearts and add them with earwires making gorgeous earring set! Another love crochet Valentine's Day gift idea! Free crochet pattern and instructional guides are here earrings
Crochet Lips Hair Clip – Free Valentine's Day Pattern: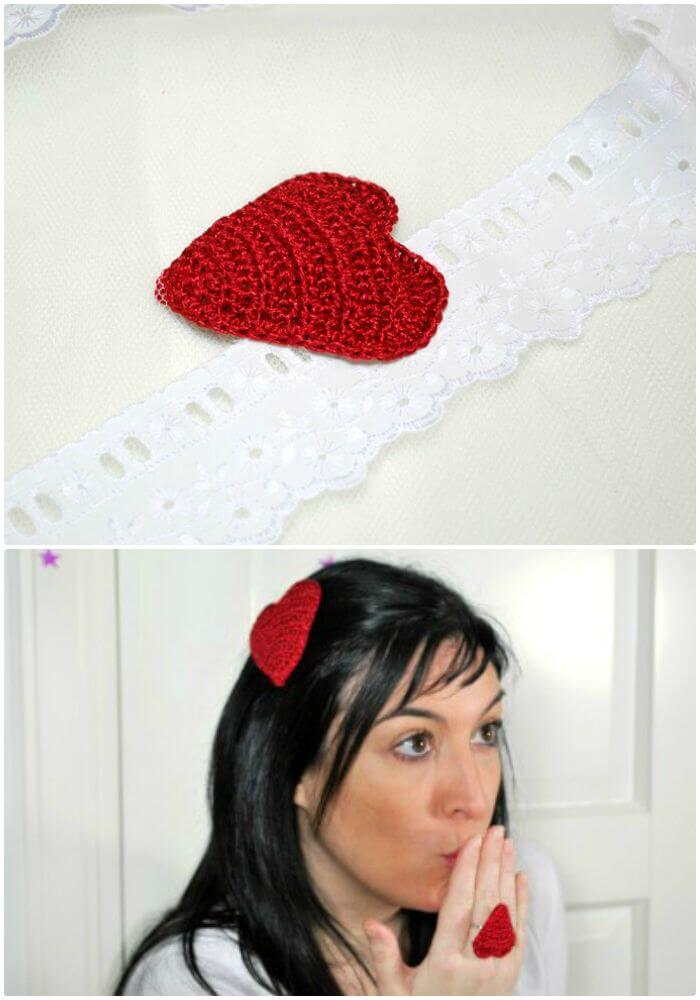 Looking for a last minute crochet gift for the love day? Here is a beautiful one that will be ready in no time and is all beginner-friendly! This is here the crochet hair clip that is utterly cute and will bring great visual details to your personality! Here you all need to crochet a miniature heart that can be used further as an embellishment for the hairclip! Want to duplicate this crochet gift idea now>? Just grab the visual guides and free crochet pattern from here bezencilla
Free Crochet Chocolate Fountain Pattern: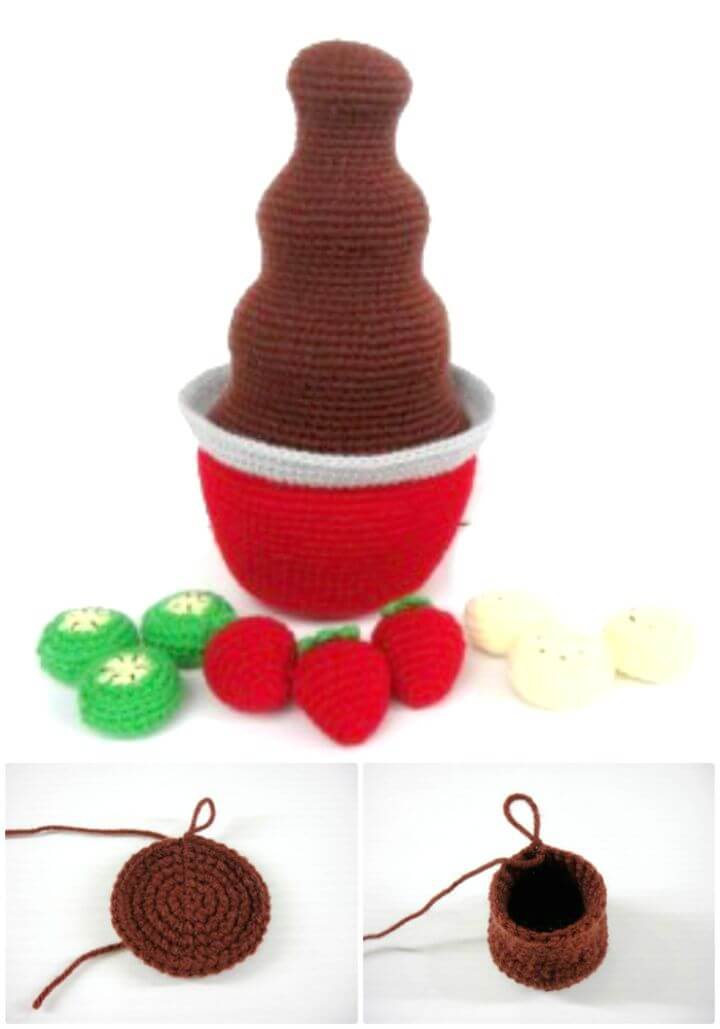 If you know much about art of crocheting and skilled enough then it would not be big hassle for you to crochet anything special like this chocolate fountain! This is here another pretty awesome crochet gift that you can easily duplicate with your crochet hook and there are also crocheted cute strawberries and other crocheted food items that double up the beauty of this chocolate fountain! This crocheted pattern would be both a gift and a home décor! Intending to duplicate this choco fountain to give on Valentine's Day to a beloved one? Find the complete project details and tutorial guide from here project
Free Crochet Bake Me A Cake Cupcakes – Valentine's Day Pattern: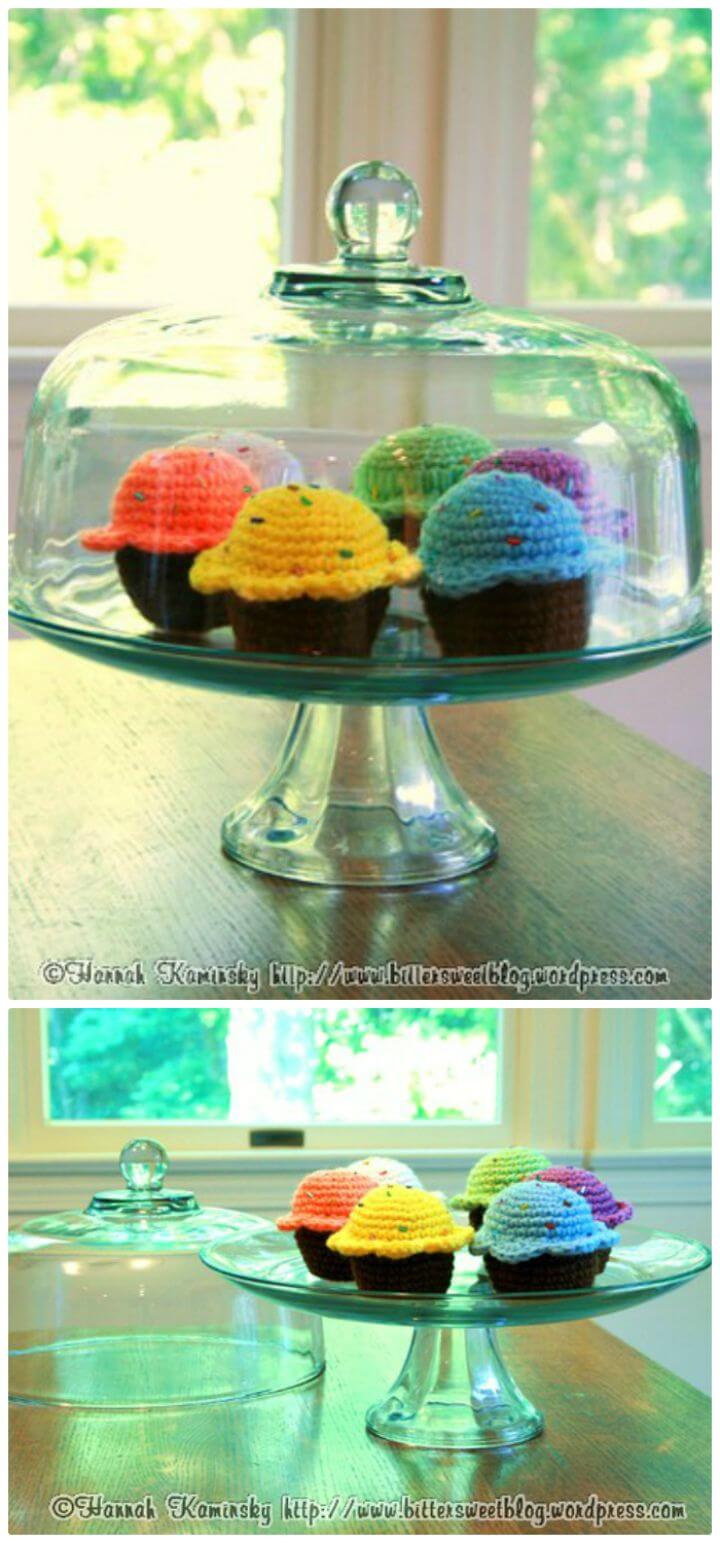 The medium of crocheting provides various gift ideas and suggestions for the Valentine's Day! An interesting and smart one is here, the crocheted cupcakes, enclosed in a glassy housing and looks fab in colorful appeals! This is here the mouthwatering crochet gift that is sure to go sweet to any beloved one! Want to crochet these lovely cupcakes? Grab the full free pattern and easy guides from here bittersweetblog
How To Easy Free Crochet Scarf Sweet Cupcakes Pattern: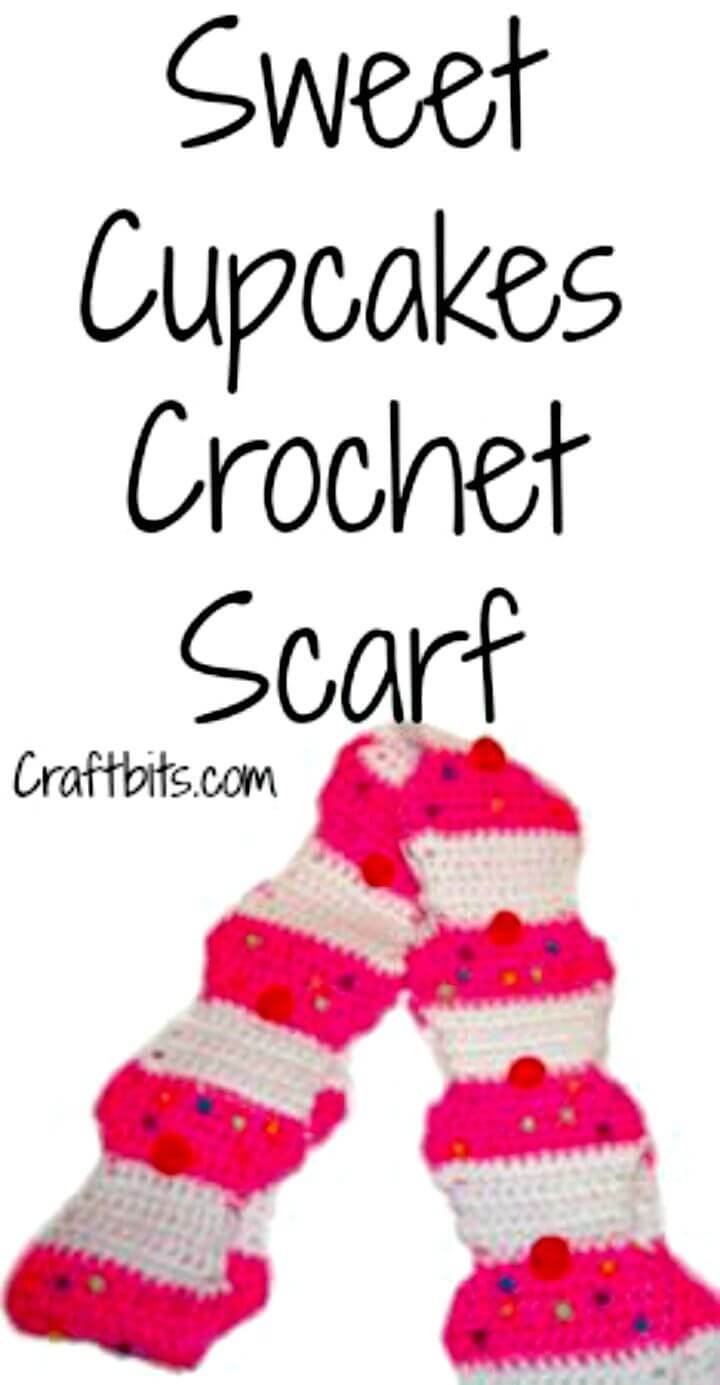 Epic gift idea here using your crochet hook, just crochet a lovely winter scarf that may inspired of something special related to Valentine's Day! Here this handsome scarf it inspired of a sweet cupcakes, the sweet food item that is mostly a part of every Valentine's Day party! Here this scarf is wholly made of miniature crocheted cupcakes that come in white and dark pink and also with red crocheted berries on the top! Do duplicate this sweet cupcake scarf for a beloved one via free crochet pattern and tutorial provided here craftbits
Crochet Long Stem Roses – Free Pattern: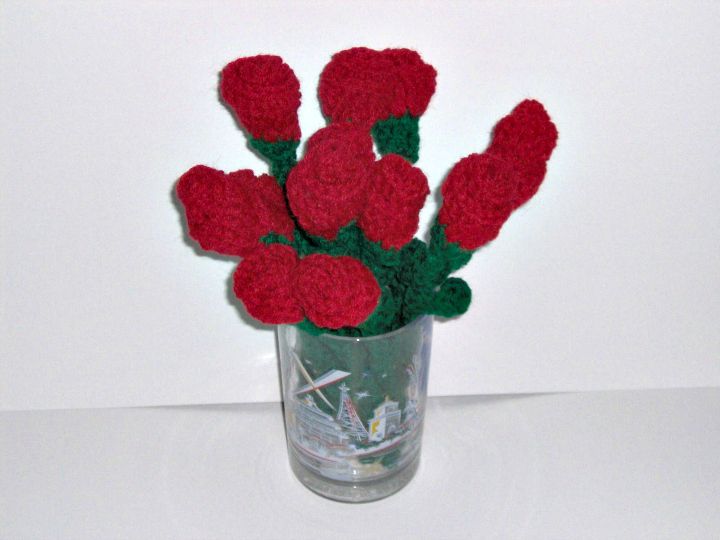 The love is mostly expressed by giving a rose flower to a special one, so they can be an interesting party of the Valentine's Day! So, why not crochet some fab roses that if given as a gift, will speak volumes for your love to receiving person! Just take a look at these long stem roses that come in plastic vases and make precious home décor centerpiece! Moreover, they would also best to give as a Valentine's Day gift! Want to tryout these beautiful roses? Just grab the full free pattern and tutorial from here rsislandcrafts
Crochet Always Blooming Bouquet – Free Pattern: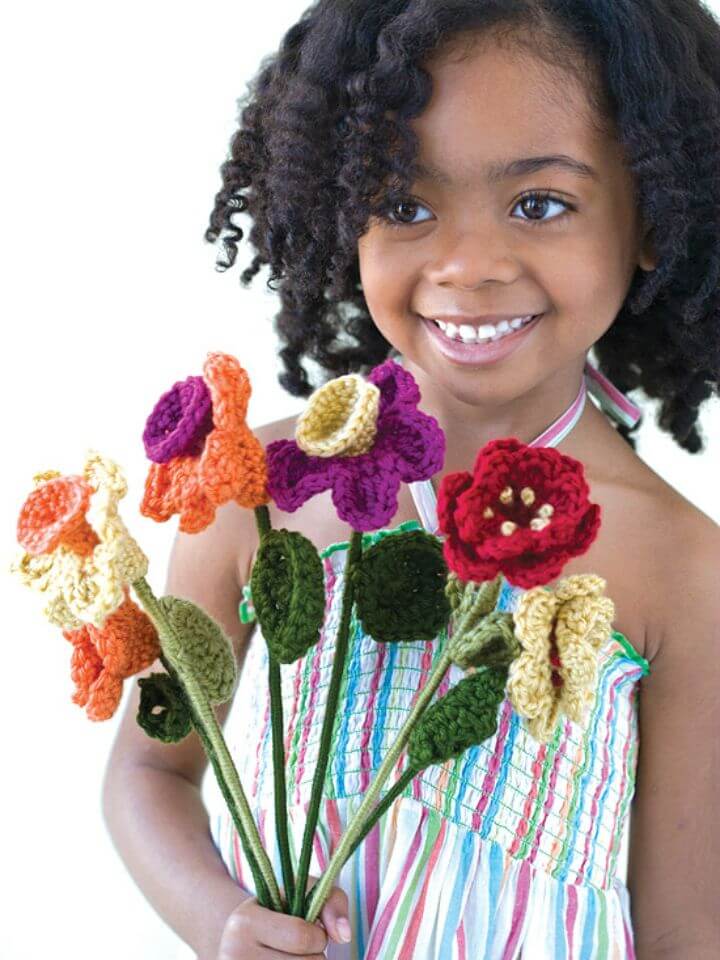 The flowers are a big delight to view and just put a great smile on anyone's face if given as a gift! So, a flower bouquet will also make an interesting gift for the Valentine's Day and what about crocheting a cool flower bouquet at home? This will definitely be a rocking idea and you can take a better initiative by getting the necessary details from this sample always blooming bouquet that is another brilliant crochet achievement for the Valentine's Day! Get the free crochet pattern and easy tutorial from here crocheting
Simple Crochet Heart – Free Pattern: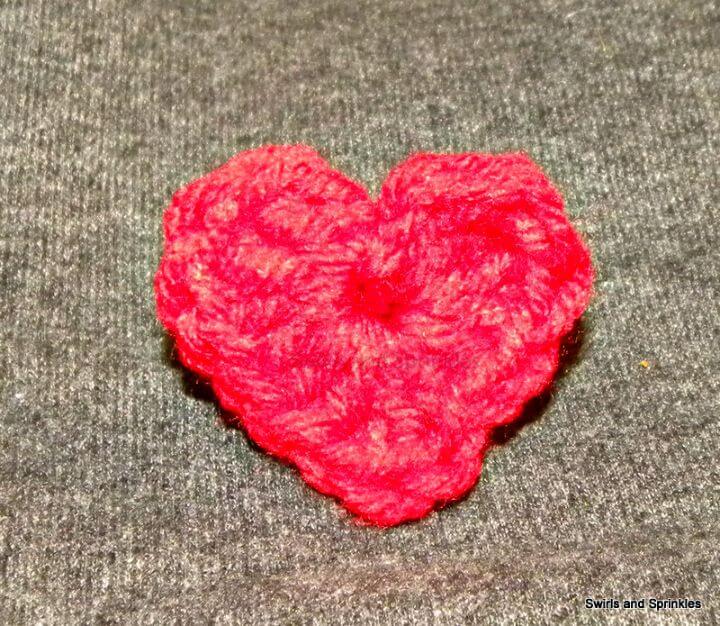 Want to express your love to someone special just without speaking a single word? Just give him/her this mini crocheted heart that will describe all your love emotions nicely! So, just a simple sweet crochet heart would also make a cute mini gift for the Valentine's Day, so just spark your creativity by taking a look at this sample crochet heart that is lovely and praise-worthy as well! Grab the full free pattern and complete instructions from here crochet
Crochet Gorgeous Hearts – Free Pattern: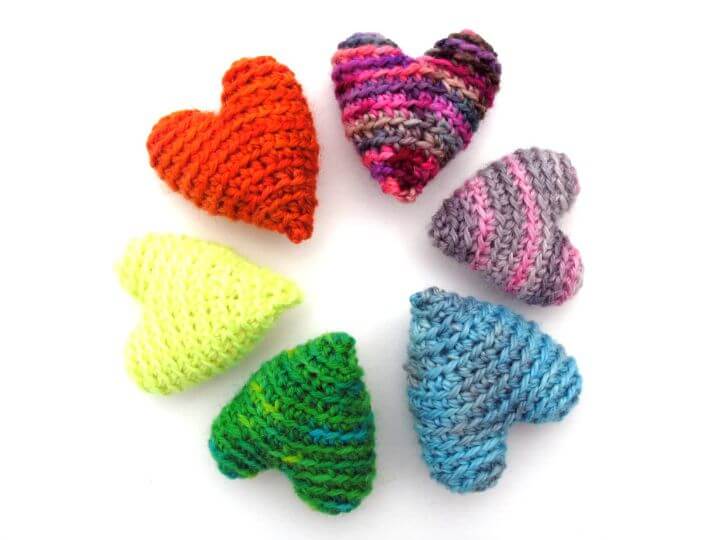 Once again the mini sweet stuffed hearts are here that will define the love cutely! These miniature hearts can also be used to produce various different types of heart-winning Valentine's Day gifts! Add keyrings to these hearts to turn them into gift-worthy love keychains, add ear wires to them for cool Valentine's Day earrings and also get them onto a string for good looking love garlands! There can be much more possibilities and these hearts will themselves make cute mini Valentine's Day gifts! Grab the full free tutorial and easy visual guides from here freshstitches
Crochet Valentine Hearts Afghan – Free Pattern: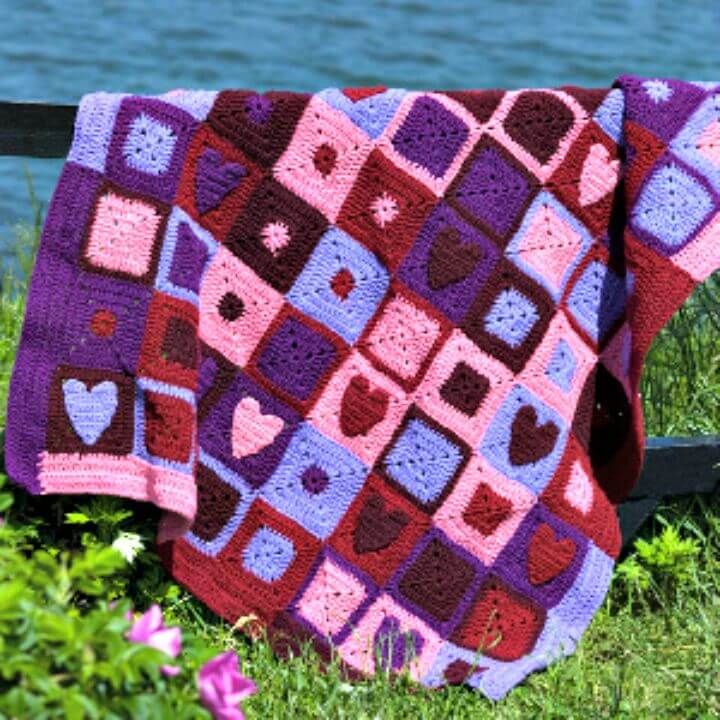 Adorn a girls bed with this at this Valentine's Day with this heart afghan that is beautiful and enticing due to smart involvement of heart motifs! This would also make a Valentine's Day special gift for a mother-to-be as this would also make a perfect winter warmer to wrap your baby in! you should definitely clone this very handsome design of heart afghan! Grab the full free pattern and instructional guide from here favecrafts
Crochet Wide Hearts-Valentine's Day – Free Pattern:

Checkout these wide miniature crochet hearts that be packed or wrapped in something beautiful to give as heart winning gifts on Valentine's Day! This is here another pretty easy gift idea for the love day that will work up super quickly! These wide tiny hearts can also be used in number of different ways to bring Valentine's Day vibes to your home or to your clothing as they would perfect hanging ornaments and also the appliqués! Free crochet pattern and tutorial guides are here icepandora
Crochet Heart Ornament – Valentine's Day Free Pattern: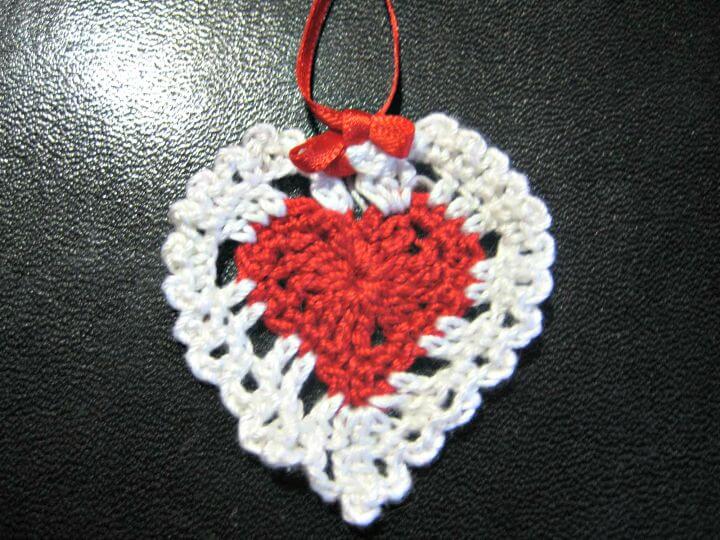 Decorating your home for upcoming Valentine's Day? If yes, then we recommend you to include this precious heart ornament in your plans that would just rock your decors! This is here a crochet heart ornament that come with a loop at the top so can be hanged aloft easily! This is here heart in heart crochet pattern crocheted in dual yarn color white and red is just mind-blowing to look at! Moreover, this heart ornament will also make a beautiful necklace pendant! Free crochet pattern and step-by-step visual guide is here anitalite