Mom just tends to create different cute avatars of their babies and kids by trying different types of clothing, shoes, and accessories! They do so as it provides opportunities for new and memorable photographs of their babies! For not just sake of photoshoot, this is also something the all loving moms do for daily cute and adorable looks of their babies! So, while talking about the favorite and famous baby looks how we can forget about the cowboy look? Have you ever tried a cowboy costume for your baby's photoshoot? A cowboy look can make a baby look extra cute, by having this in mind we are having some beautiful crochet gifts for baby loving moms! Check out here the lovely 7 free crochet cowboy boots patterns that will transform your baby into a cute little cowboy, don't forget to make him/her wear the matching cowboy hat!
Here most of the shoes in this collection are going to be the high ankle, and your kids will look double cute by walking all around the house in them! Maybe you are the master crocheter and have not tried yet any love baby shoe pattern, then here is the opportunity to get the skills in hands about crocheting all kinds of lovely footwear for your babies! So, you can simply start looking at these crochet cowboy boots one by one and can decide the pair you want for your baby!
Here half of the beauty of the shoes will depend on the yarn color combination or mixture you will decide, and half will depend on the style of crochet stitches you will use as it will bring an outstanding design texture! The excellent news is that you are going to get all the information also about the tightness and style of stitches here along with seeing the various appreciated yarn color combo here! The list just promises to make you get the most beautiful crochet cowboy boots you have wished for!
Furthermore, these the crochet baby booties that will make outstandingly amazing, epic and pleasing gifts for babies, for any mother-to-be and for any neighbor who has recently became a mother! You are all free to experiment these high ankle baby shoes with your favorite colors of yarn that will pair best with your baby's outfit! Here most of the boots come with star monogram and with custom crocheted embellishments; you can also go with custom monograms and accents to create a personal look of these crochet baby booties! Check out some brilliant samples below to get inspired!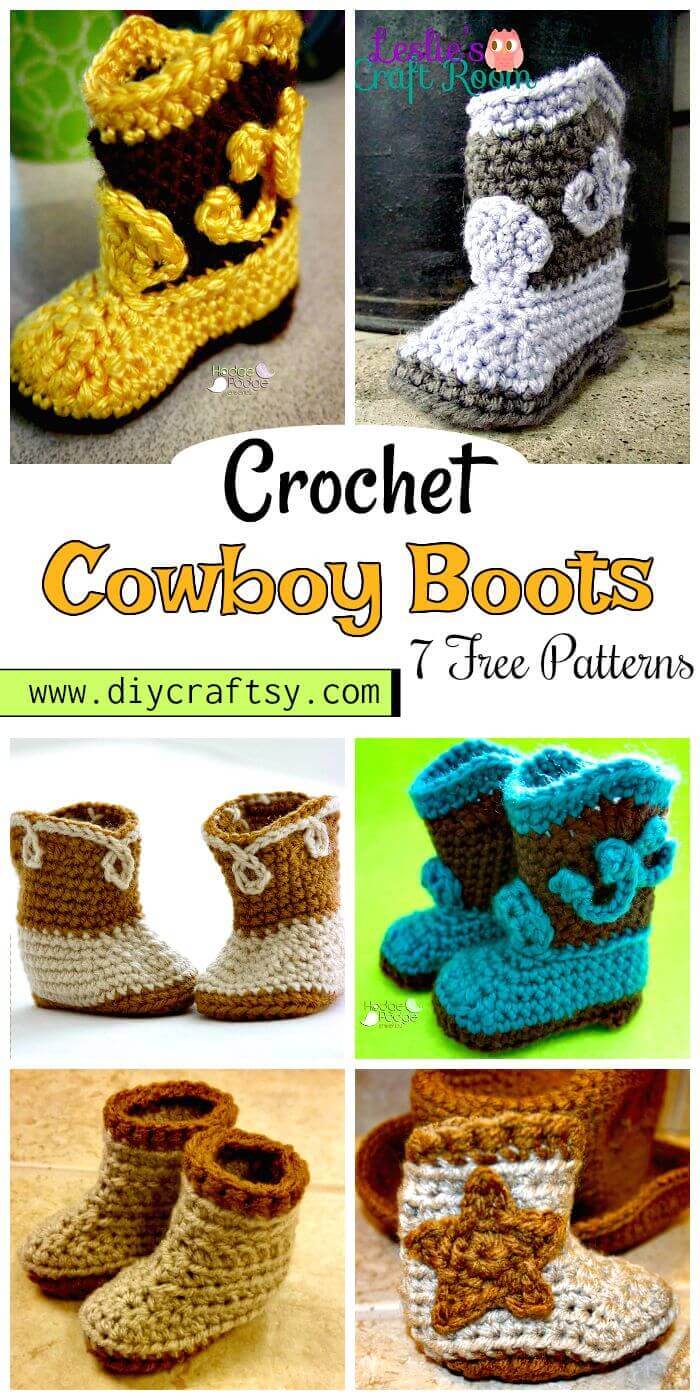 Don't forget to check the respective pasted links that will bring you to complete project details, tutorials, and visual guides for Free Crochet Patterns just on a single click!
You will also love these Crochet Amigurumi – 225 Free Crochet Amigurumi Patterns for your cute kids.
Want more Free Crochet Pattern:
Free Crochet Cowboy Boots Pattern: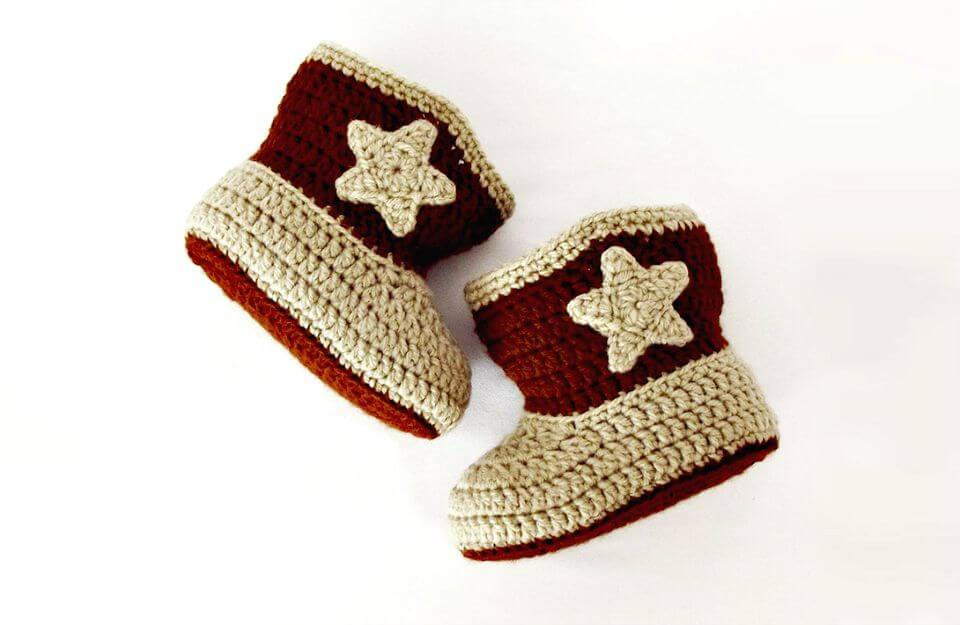 The baby booties are just so cute crochet for your little ones, and as they were grown up into a toddler, you can crochet these gorgeous and stylish cowboy boots for them so that they are never short of the crochet comforts for the feet. The gorgeous shades of the custom cowboy boots and the star at the ankles are just making the boots so much fancy and fun. They would also make a great gift for the little ones in the family too so do grab the free pattern of it here projectarian
Easy Free Crochet Baby Cowboy Booties Pattern: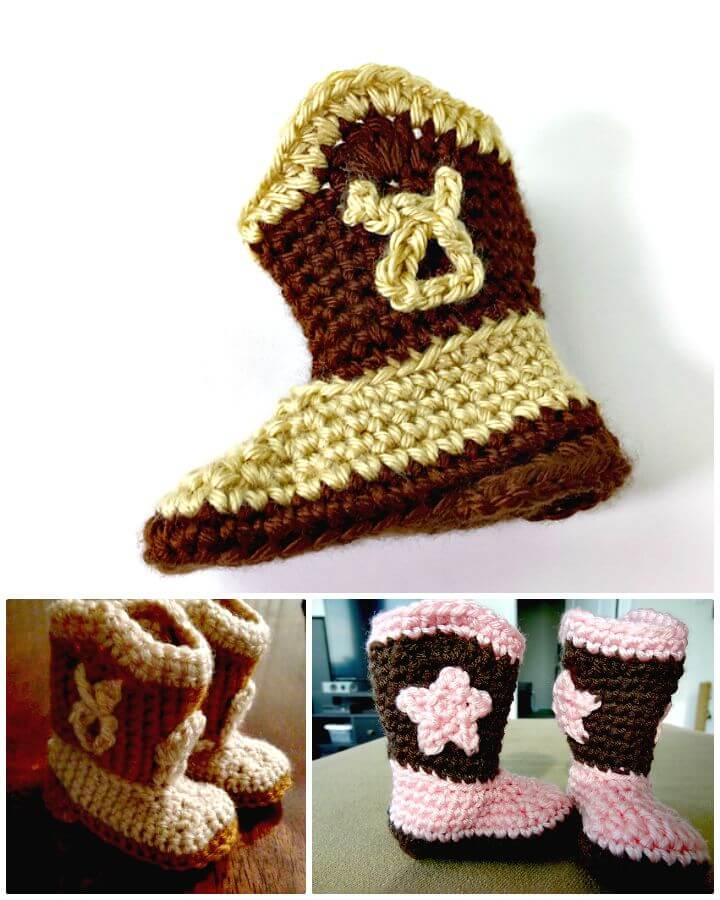 The cowboy boots are so much fun to crochet for the toddlers, and the style is just so apt for the boys and girls and with the simple change of the colors you can crochet these fashionable boots for the little ones of your house. The brown and skin color would go great for the boys and the brown and pink is just so girly for your little princess.Here is the link to grab the easy and fun tutorial on this cool cowboy boots pattern thecrochetcrowd
Free Crochet Cro-Shayley Newborn Cowboy Hat And Boots Pattern: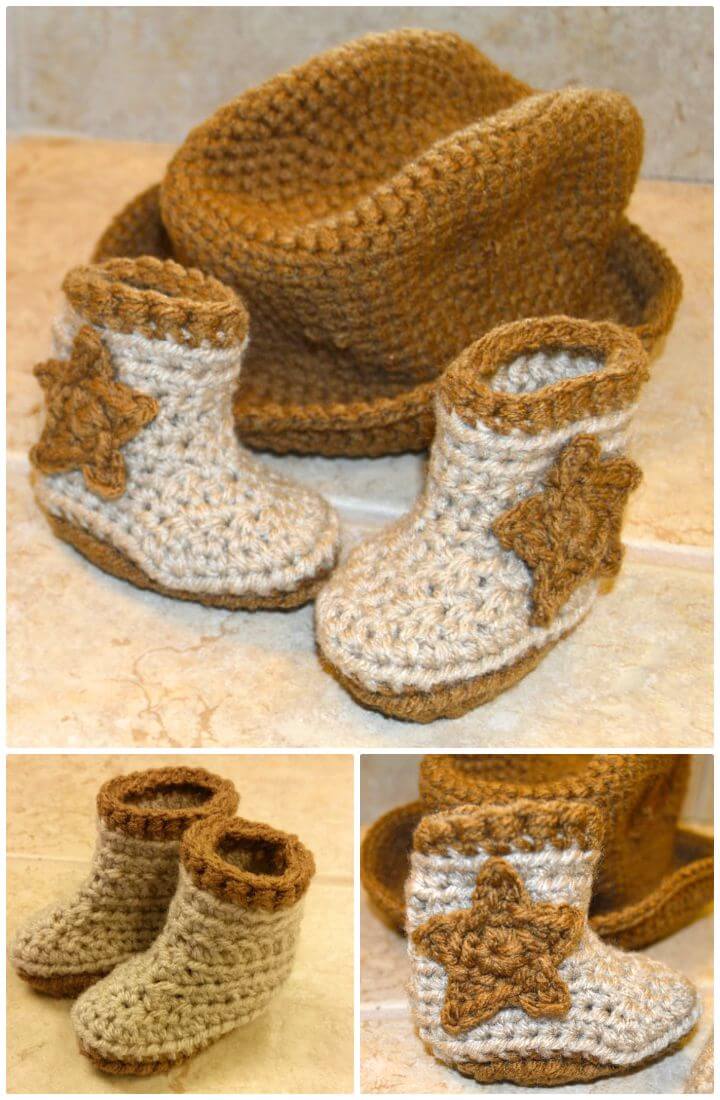 If there is a photo shoot session of your toddler and you are looking for a gorgeous and stylish kind of dress up for him, then the cowboy theme is just never too fun to get your hands on. The timeless design of the cowboy hat and the boots can easily be picked up with the crochet hooks and the custom cowboy hues of the yarn which are the brown and the skin. they are so much fun to crochet on your own and get your kids the lovely fashion possessions redheart
How To Free Crochet Cowboy Booties Pattern: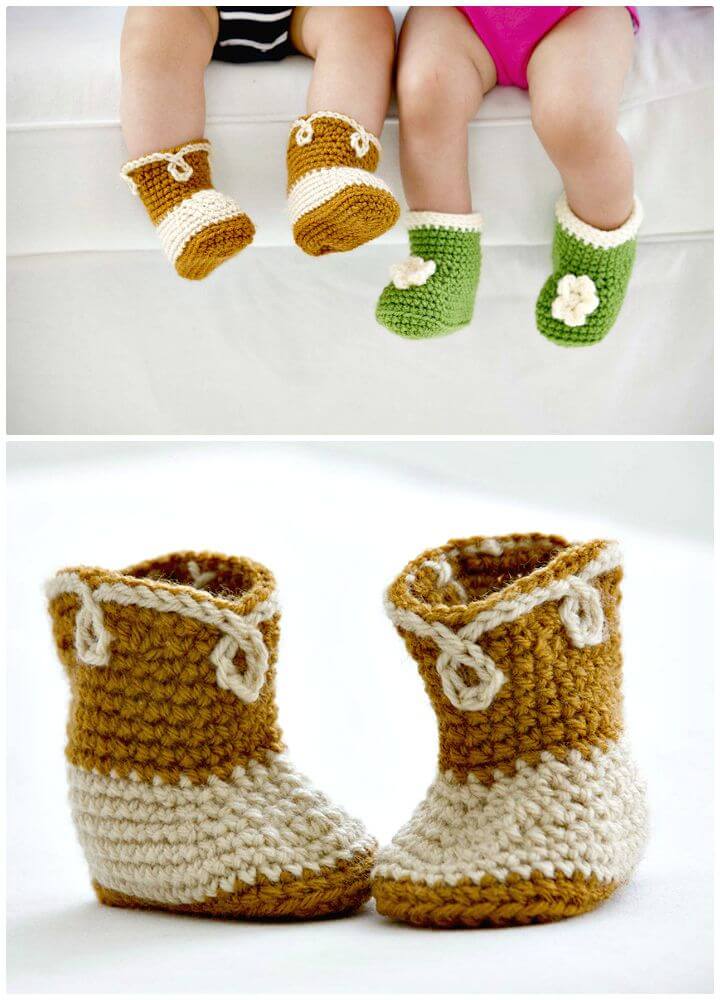 Let the little feet of your toddler feel so much happy, warm and comfortable with these adorable and fun looking cowboy booties, and the icing on the cake is that you can crochet the same pattern both for the boys and girls and distinguish them with the yarn hues and some were embellishing. Here are these brown and white cowboy booties for the boy and the flowery green for the girl and the free pattern of them can be downloaded from this link lionbrand
Easy Free Crochet Cowboy Boots Pattern: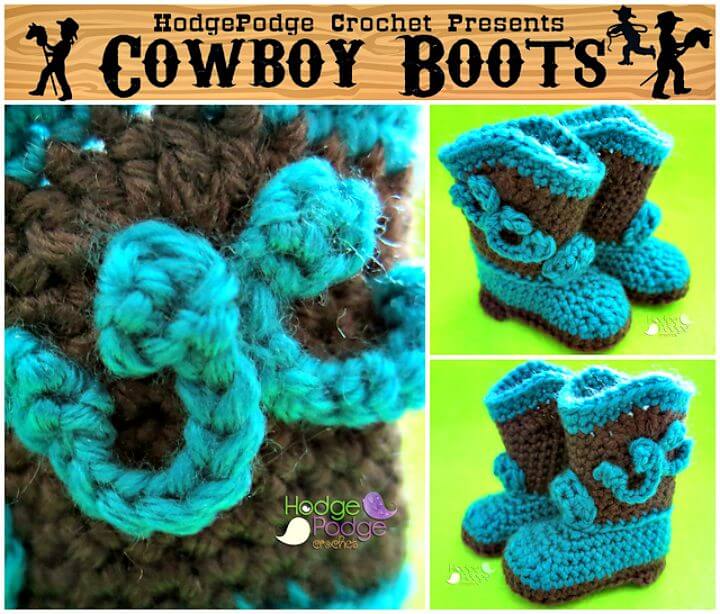 You do not need to follow the tradition while crocheting the lovely cowboy boots for your little ones with your fashion twists and tricks to make them look so much fun and exciting like these with the superior color contrast and the design at the ankles. the simple stitch work makes it more comfortable to let you get your hands on so here is the complete tutorial to let you gain the free pattern and the details and get this novel pair of boots for your little fellow ravelry
Free Crochet Baby Booties Giddy-up Cowboy Pattern: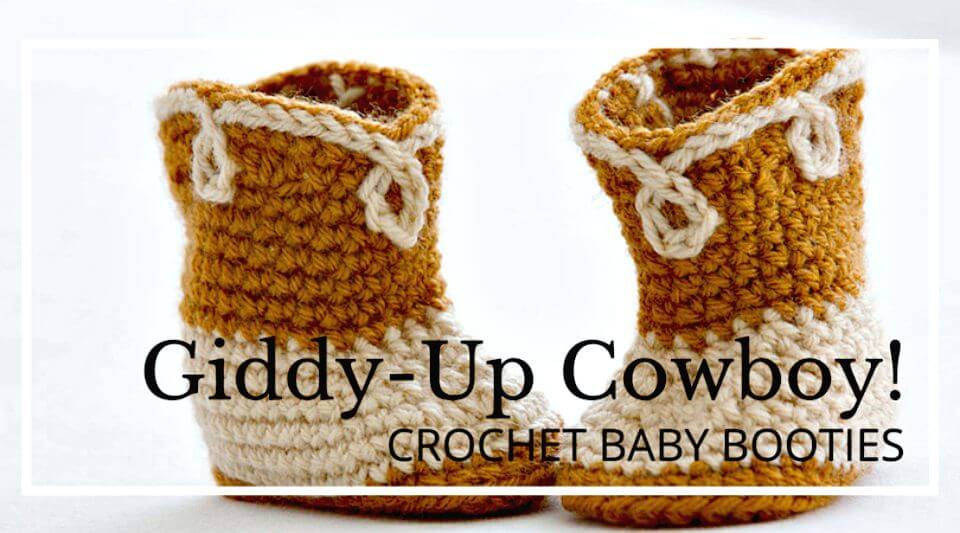 The crochet baby booties are just so much in rage that new styles and new designs are just coming and delighting up the moms as they can find the newer and fun things to keep those tiny feet so warm and cozy and these cowboy hats are the so gorgeous to drool over. The colors, the texture and the cute details of the pattern are just so tempting that you would instantly follow the pattern and grab your crochet hooks to work it all up. Free pattern along with the instructions is here stitchandunwind
How To Easy Free Crochet Cowboy Baby Boots Pattern:
The cute baby booties can add the quick style and warmth to the dress up of the babies in the winters, and instead of getting those old styled booties you can now modify the style, and these cowboy boots would make a perfectly cute replacement.The skin color boots along with the brown stars at ankles are enough to bring the cowboy touch to the boots, and they would be equally cute to cozify the feet of a baby girl or a boy. They would make a perfect gift idea for the first birthday of your toddler or any other in the family. You can hack the tutorial here and add this lovely pair to your next to list of crochet crafts happyberry