Keep the happy hooking to get your babies same in winters without missing out the cute looks of them! You can crochet various items in this respect from clothing to footwear and various kinds of accessories that will help adorn you, baby, nicely! Yarn weights or strands come in a wide variety of colors, and there are also that come with mix colors like the caron cakes, so you can simply get busy with any to crochet a decided pattern! You must be at least a beginner crocheter to crochet something! Here we have come up with these 9 free crochet baby pants pattern that is new to baby winter fashion and would make the perfect leg warmers for the babies! So, here is what the moms can choose to stop trembling of a baby's legs without losing the cute style!
Here you are going to see all the fascinating design of pants ever crocheted in this short collection! The list just promises to make you get the best of best by giving you so many different inspirations! Crochet the newborn paints with chunky yarn weights and let them also come with colorful stripes to be an enticing baby legwarmer! A mind-blowing example is the given toddler pant that is utterly cute and embellished with beautiful crocheted cars that will be center of attention!
You can adorn you baby also by crocheting the baby paints that may come with shoulder straps and will hold your baby very well all the day long with making him/her feel a little cold! Another interesting design here is the yellow crocheted paint that comes with attached foots and hence just removes the need for additional baby crochet shoes or footwear! You can easily duplicate it via your minimal crochet skills!
You baby will not know how to adjust the paint if it is losing the grip, so just go with infant crochet pants that come with waist tie, get inspired of the given sample that is also much visually pleasing due to neutral color stripes! Crochet Bernat smartly pants in your favorite yarn color and also the lovely crochet lil paints that would make a perfect baby shower gift and a big surprise also for a mother-to-be! Provide winter protection to your babies also in style by going with the boutique newborn pants that come with cuffed ends and also with waist ties!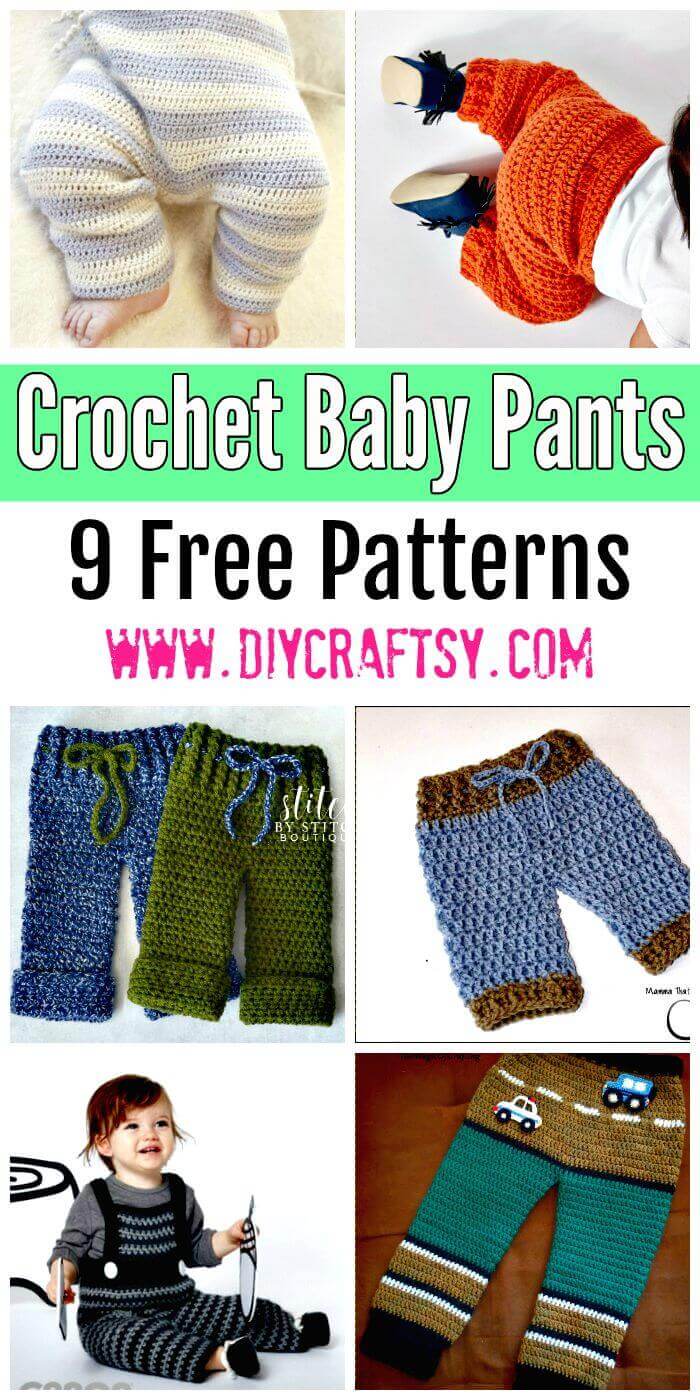 Here this entire list of baby crochet pants patterns is just amazing! Want to try out some of your favorite ones from the list? If yes, then just hit the pasted below links for your open projects to grab the comprehensive project details, easy to follow visual guides and tutorials and also the respective free crochet patterns!
You will also like these Crochet Amigurumi – 225 Free Crochet Amigurumi Patterns for your Cute and Lovely kids.
You may also like these unique crochet baby booties for your lovely kids.
Want more Free Crochet Pattern:
Crochet Newborn Pants – Free Pattern:

All the newborn babies need intense care especially when they are to arrive in the winters and there are so many things to help you out for the purpose like these cozy and cute crochet pants for the babies no matter its a boy or a girl. Using the basic stitch these pretty pants have bee n easily crocheted with measured waist, leg size and the cute cuffs for a totally professional look. You can crochet this merely gorgeous pants pattern in any of the color you want by grabbing the free pattern and the details of it here lovinglyhandmade8
Free Crochet Stitch Boutique Newborn Pants Pattern: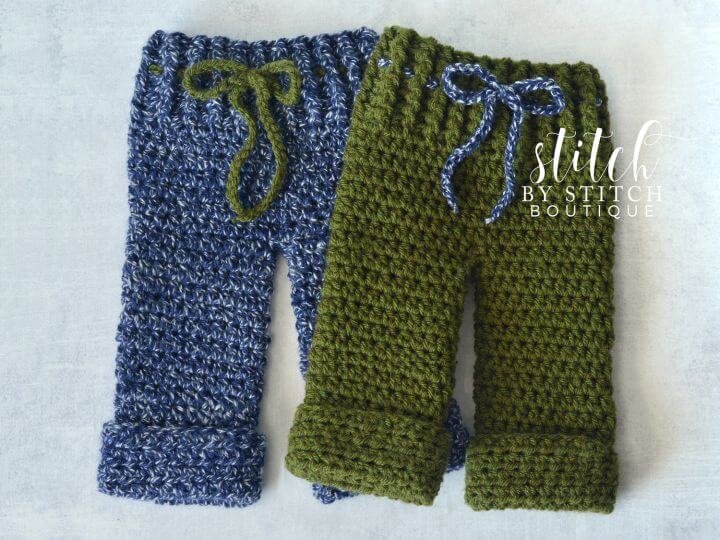 You can fill up the closet of your new born with lots of fancy dresses and clothes and that too without getting them from the market by getting your hands on some gorgeous crochet patterns for the newborn like these utterly cute and warm crochet pants. You can grab any color yarn and crochet these pretty little pants with the folded leg cuffs to look more amazing and fun. you can change the color of the yarn and crochet as many as you want to load the baby closet with them for the whole winters. Details and free pattern here stitchbystitchboutique
How To Easy Crochet Lil Pants – Free Pattern: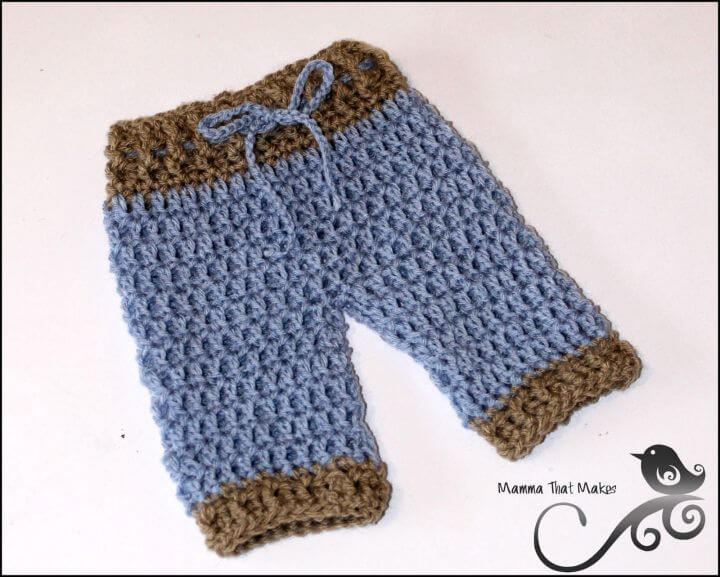 Crocheting gives you the stylish ways to warm up your newborn babies in the winters and here is one thing that you can crochet both for the boys and girls. These are the cute crochet pants to style up the baby and keep him all warm and comfy in the cold weather.These pretty blue pants with the brown waist and the pant cuffs just looks super cool for a newborn to wear regularly or for the photo shoot to look fancy enough.You can find this gorgeous pattern free here with all the details mammathatmakes
Crochet Bernat Smarty Pants – Free Pattern:

The baby clothes are so cute and fun and now you can make some at home if you are a crocheter. So take out your hooks and grab some delightful looking orange yarn to crochet this drool-worthy pants for your little one to wear it up under a plain white t and over the pretty blue boots and look  absolutely lovely and gorgeous in this cool attire. You can crochet these stylish Bernat crochet pants for your baby or for any other baby i the family as a cute gift idea. So get the fully detailed pattern right here yarnspirations
Crochet Baby Pants With Tie Waist – Free Pattern: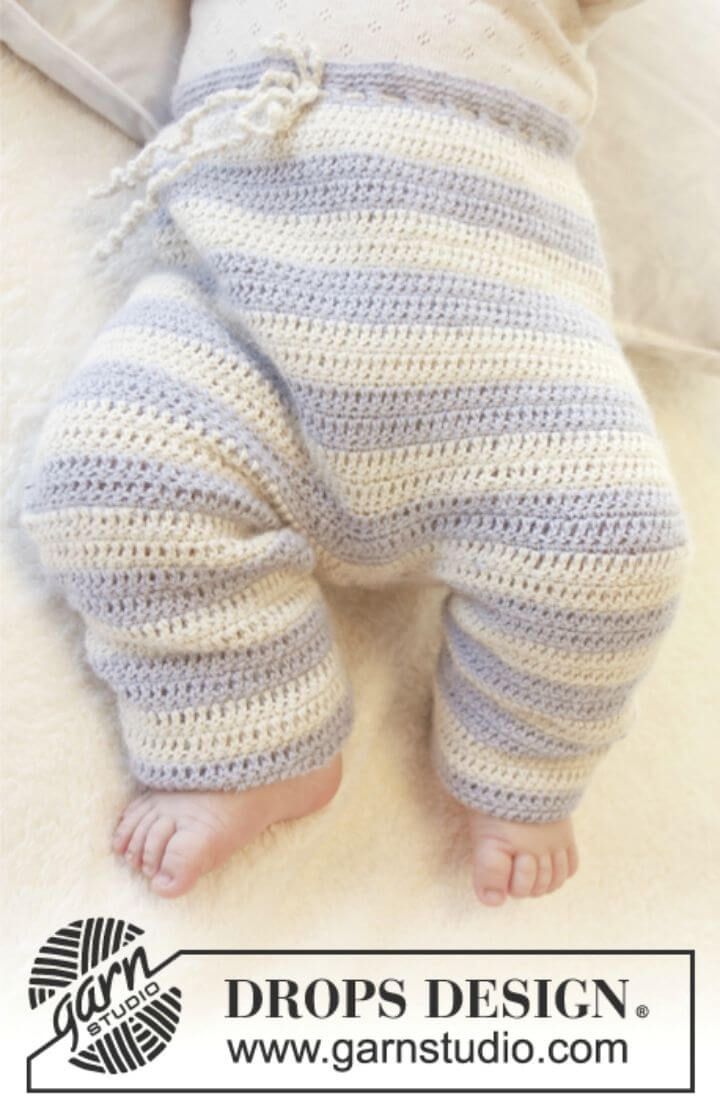 If your baby is in onesie but you suddenly feel that the temperature has gone down and its getting colder and your baby needs some extra warm layers to get warm then these crochet baby pants are the best thing to take out of the closet. with your favorite yarn and the hues you can easily crochet this cute and comfy pair of crochet pants with a tie to make it easy fit around the tiny waist of the baby. The pattern can be altered according to the measures from size 0 to 4 years old and for that you have to check it out completely here garnstudio
Easy Crochet Footed Baby Pants – Free Pattern: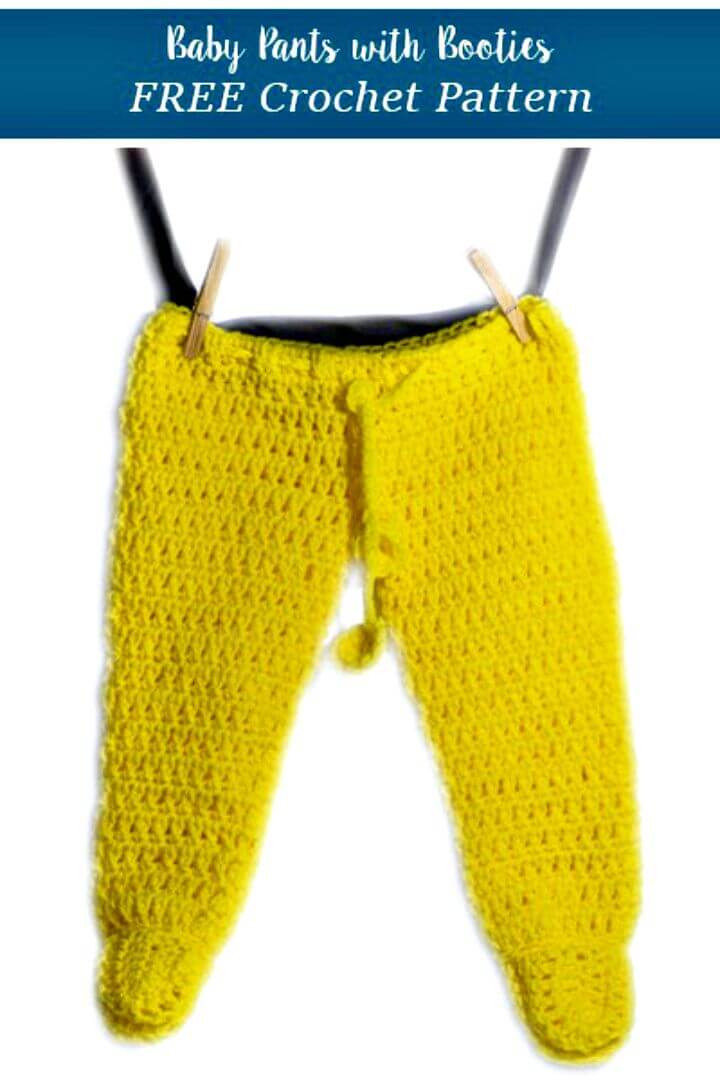 crochet pants are really getting popular among the mommies as they are not only warm and comfortable for the baby but too pretty and stylish too. So here is another fun pattern of the baby pants for you to try and make your baby look a chic piece of cutie pie this winters.These are the footed baby pants so working both as the leg and the feet warmers so you ought to steal this double functional pattern of the pants here craftytuts
Crochet Funny Dungarees Baby Overall Includes Pant- Free Pattern: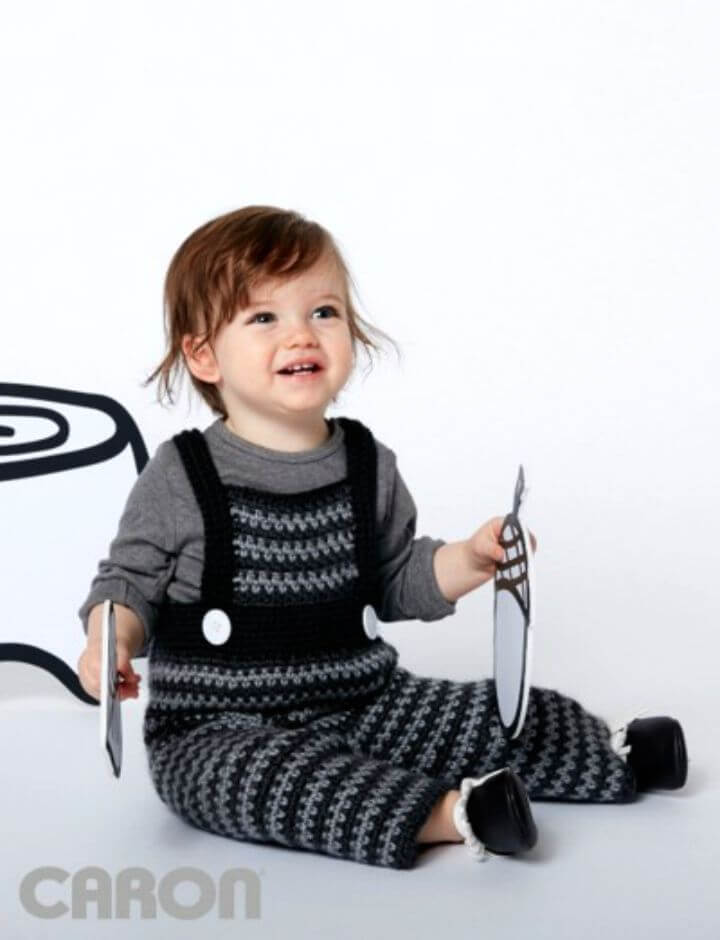 Here is this lovey overall dress for the baby having been so gorgeously crocheted that it would surely win your heart with the very first glance over it. The dungaree style, the lovely stitch detail and the awesome combination of the black and grey are the multiple reasons behind the beauty and cuteness of this baby attire. it would make the best pick up for baby's memorable photo shoots so do learn it all here crochetkingdom
Crochet Toddler Pant-Free Pattern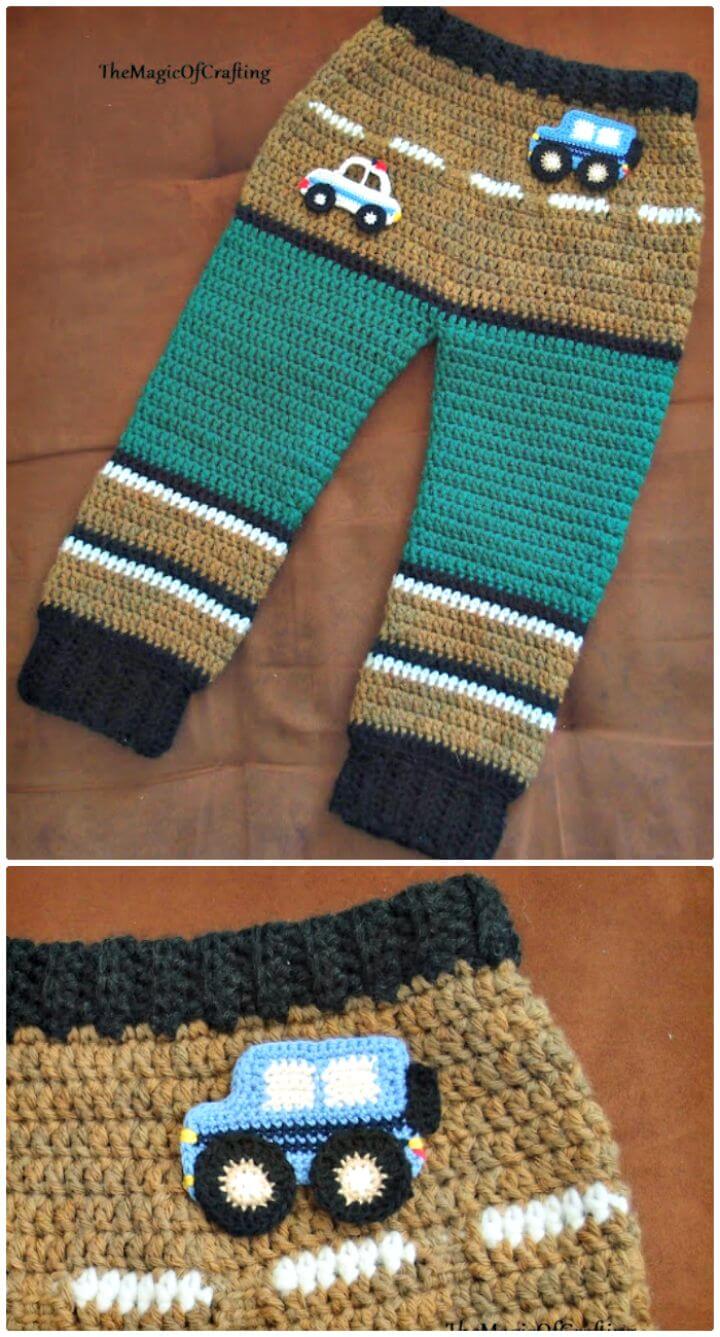 The toddlers and the crawlers are the toughest to take care of as they can not just sit calmly at one place but roam around the whole house without caring about the cold floor. So here are these cute crochet pants that they can wear and feel all warm and cozy to enjoy their step walks on the floor.The bright colored crochet cars have been used as the pretty and fun appliques to the pants to make them look more cool and fun.Details and the free are lying right here for you themagicofcrafting
Crochet Newborn Pants – Free Pattern: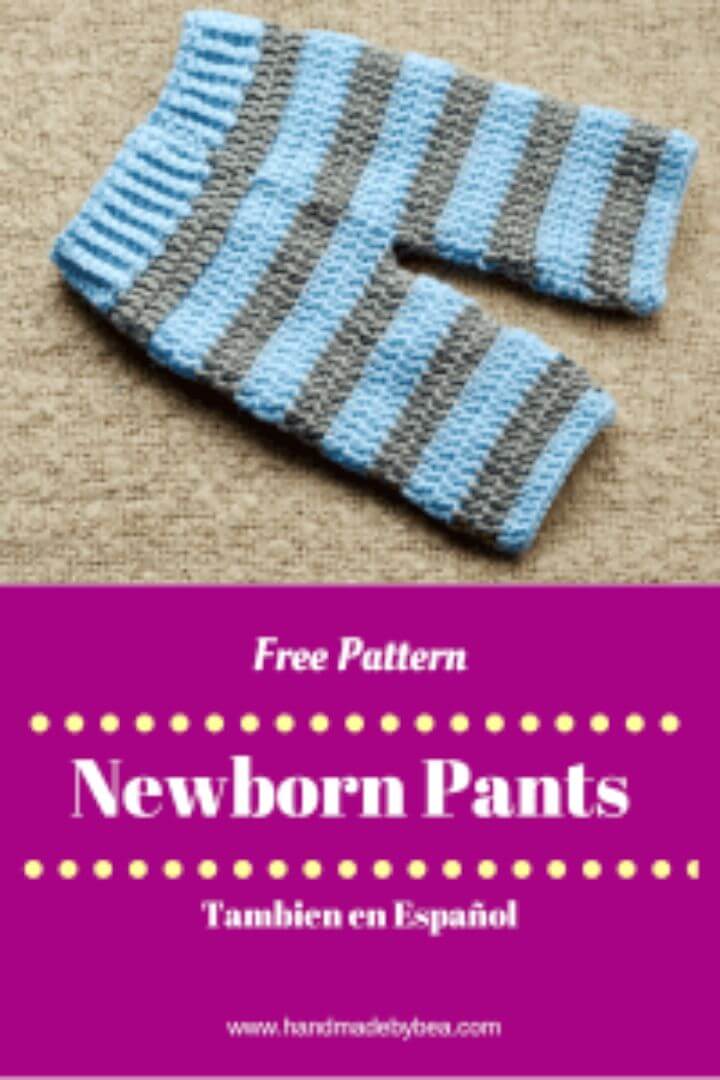 There is fancy and all gorgeous kind of dresses available in the market but what you can make for your kids with your own hands is precious and heartwarming so this time when you pick up your crochet hooks you can create these pretty baby pants for your newborn.These pants are the sheer delight due to the lovely pattern, and the cute color combination of blue and black.here is the link to grab the complete details of the pattern and try making this weekend handmadebybea