Learn how to make a hair bow organizer with these 20 easy DIY bow holder ideas with step by step instructions and video tutorials. Girl's accessories are not a leisurely cup of tea to manage! Even with huge wardrobes and drawers at their disposal, things get messier. We have gathered 20 DIY hair bow holder and organizer ideas for your girls and mommies to organize the headbands and hair bows at home. One of the major concerns is for mommies trying to induce learning and managing of accessories in their little girls, these DIY bow holder ideas can come in handy!
Do you have a lot of hair bows or ribbons lying around and don't know what to do with them? If that's the case, why not create your own diy bow holder? With some creativity and imagination, you can easily make a unique DIY bow holder that will keep all of your items organized.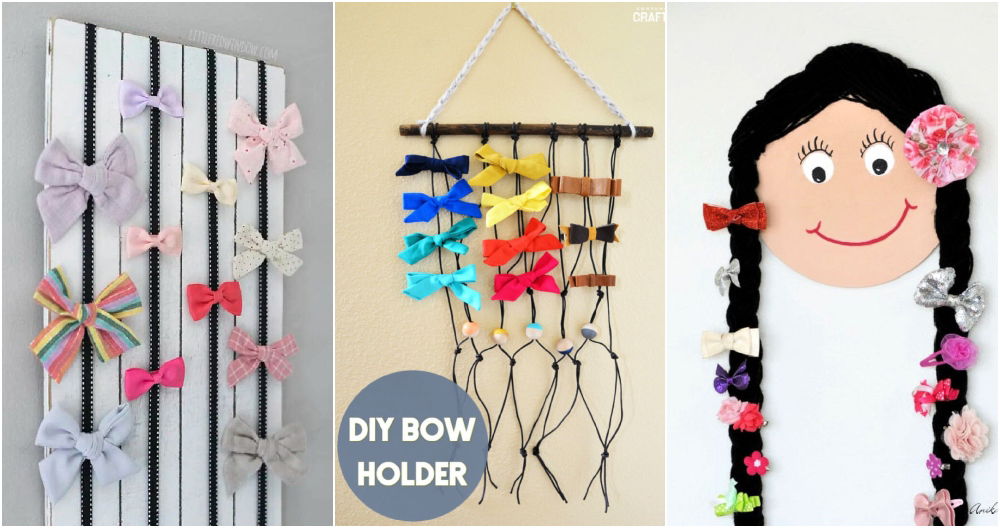 Easy DIY Bow Holder Ideas – DIY Hair Bow Holder
These DIY bow holder ideas come in many shapes and sizes, so no matter your style, you're sure to find one that fits with your home decor. From rustic wooden boards to modern hanging displays, there are plenty of easy DIY bow holder ideas out there that you can use to show off your bows and ribbons in a stylish way. With just a little bit of effort, you'll be able to find the perfect diy hairbow holder for your needs.
1. How to Make a Bow Holder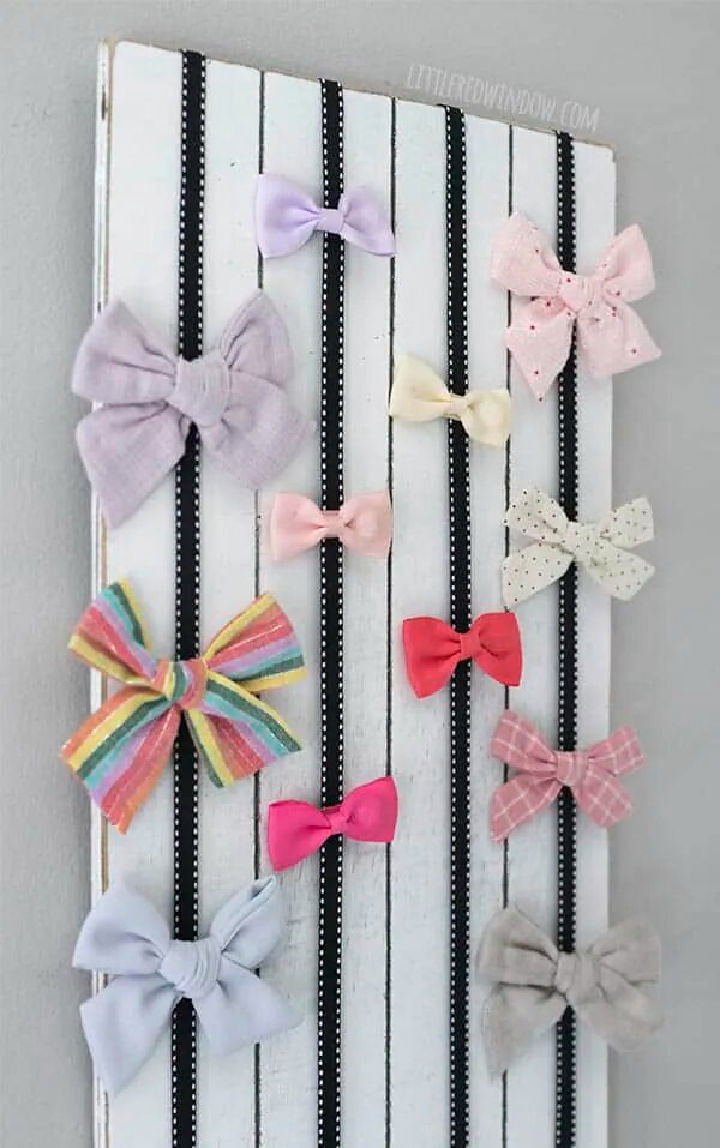 Make a minimalistic and handy bow holder using a blank wood sign as the main base and easily hangable on the wall, an appealing gross grained ribbon, and a staple gun. In case you have a non-white wooden blank at your hands, paint it white to get the perfect look. littleredwindow
2. Easy DIY Hair Bow Holder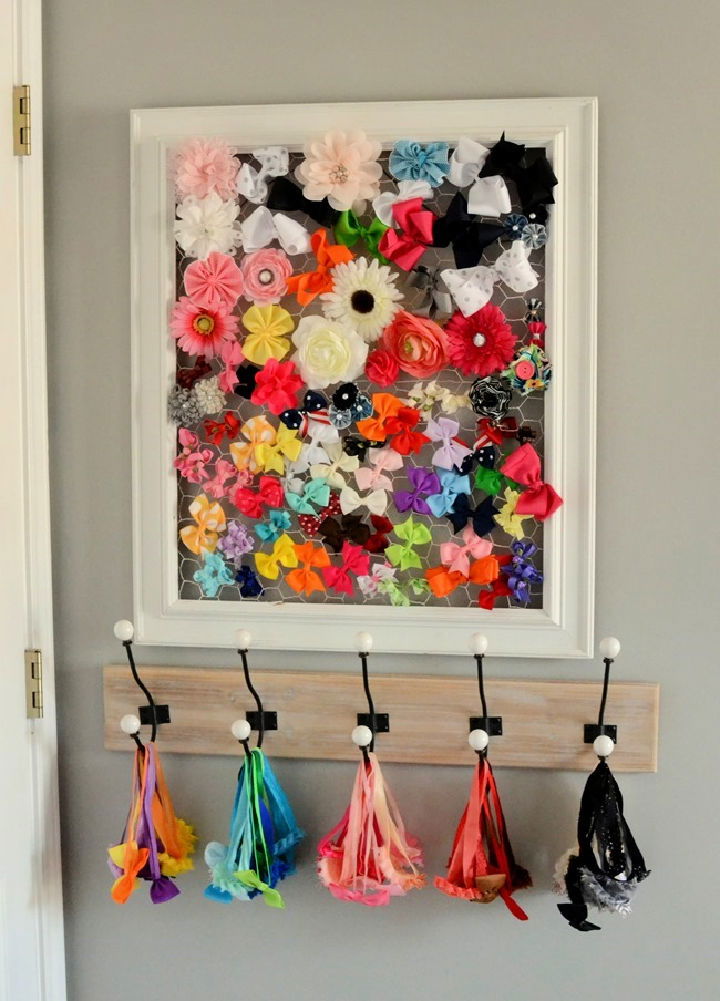 Throwing in your hair bows and headbands in a drawer can make them all messed up, plus finding the matching headband and bow each day could get pretty annoying! Add this farmhouse vintage touch to her room with this DIY bow holder. thefrugalhom
3. Homemade Hair Bow Holder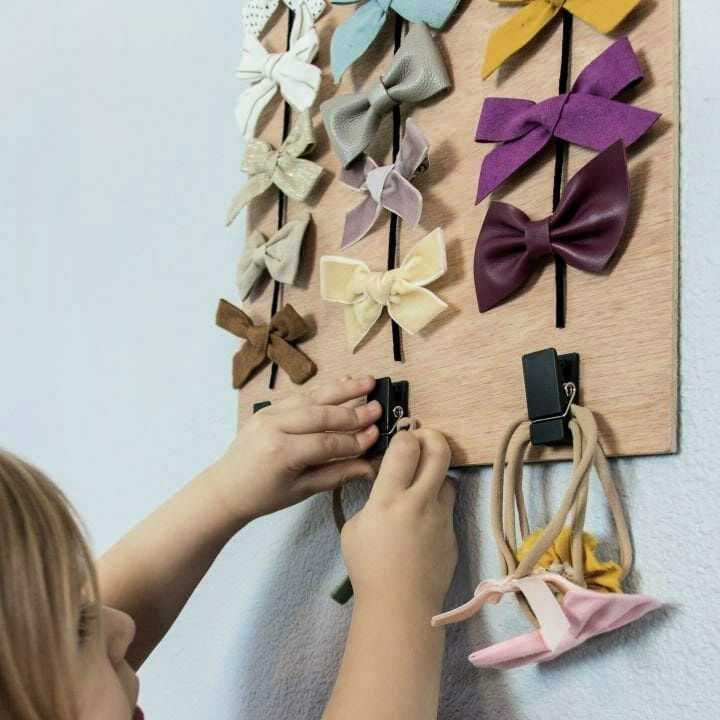 Finding the matching bow each time for your little angel could be a huge and frantic scramble each time! Make that easily accessible and quite organized with this perfectly minimalistic DIY bow holder. You can get done making it in just 20 minutes. acraftedpassion
4. Picture Frame to Bow Holder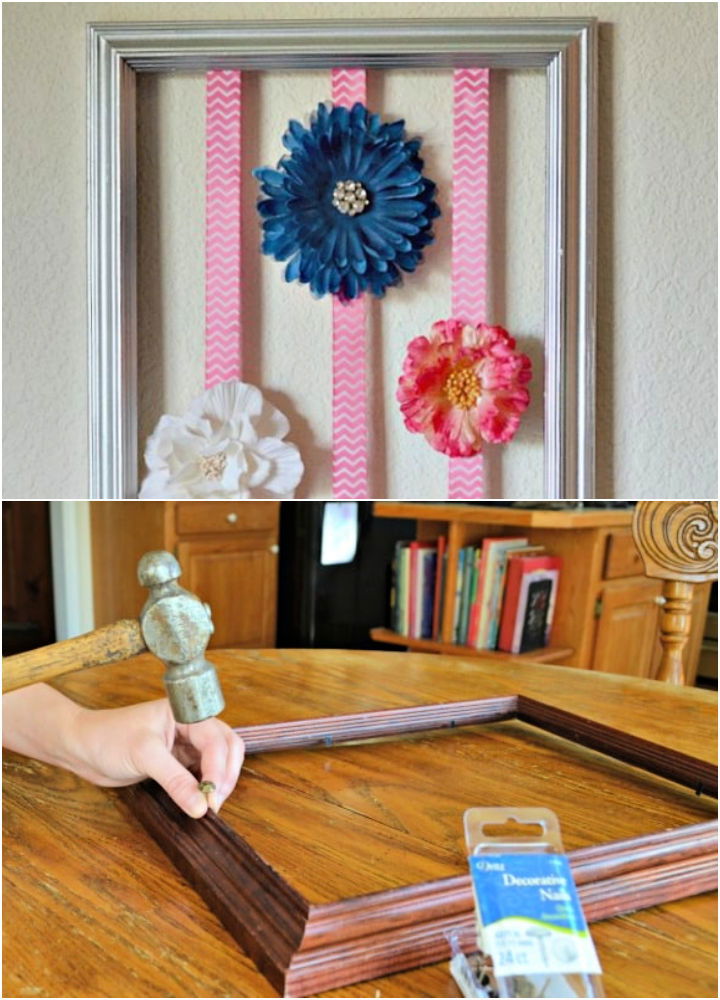 We believe a minimalistic and easily manageable picture frame DIY bow holder is always the safest option to go! Add up some vintage touch to your room décor with this rustic frame and cute grained pink ribbon. happymoney
5. Pretty DIY Picture Frame Bow Holder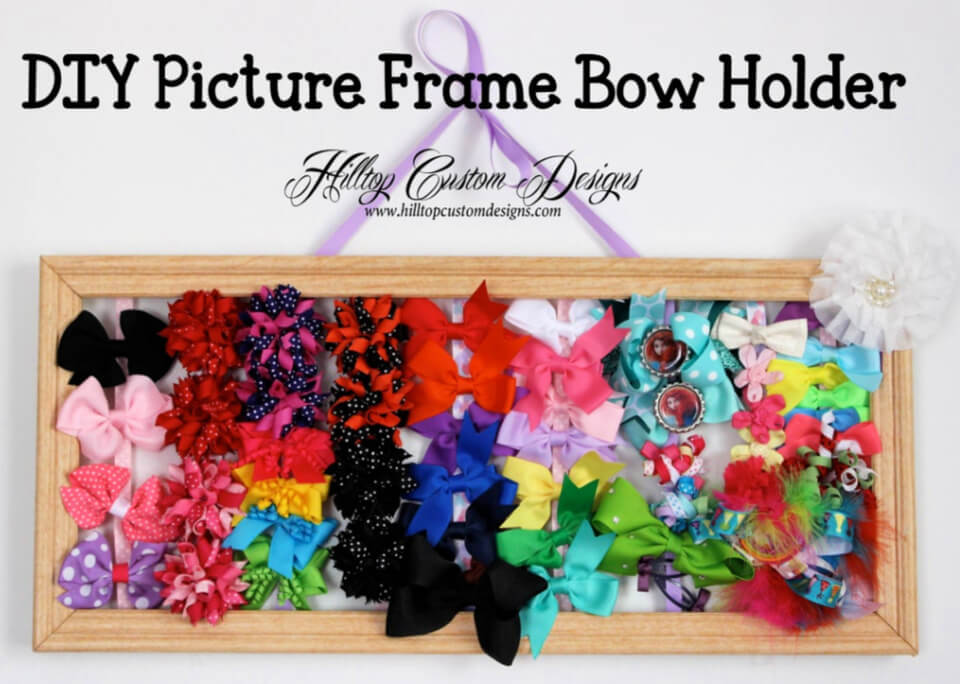 In just hardly $10, make this insanely cheap DIY bow holder for your daughter to stack up against her huge collection of cute bows! All you are going to need is a picture frame of any size, staple gun or glue gun, ribbon, decorative accent for frame and scissors. instructables
6. Make Headband and Hairbow Holder Frame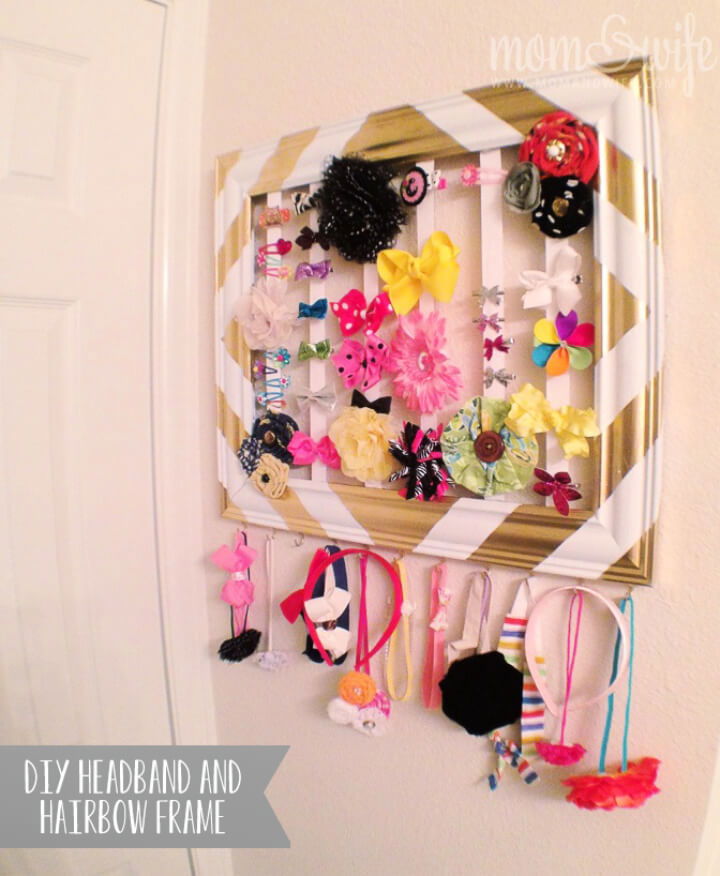 If your little girl and the mid-aged girl share a room, you can know the struggle. Each morning of the fight over finding her headbands first and her hair bows! Get yourself out of that with this uber appealing and easy to make DIY Bow holder which can also be a headband holder. momandwife
7. Handmade Doll Face Hair Bow Holder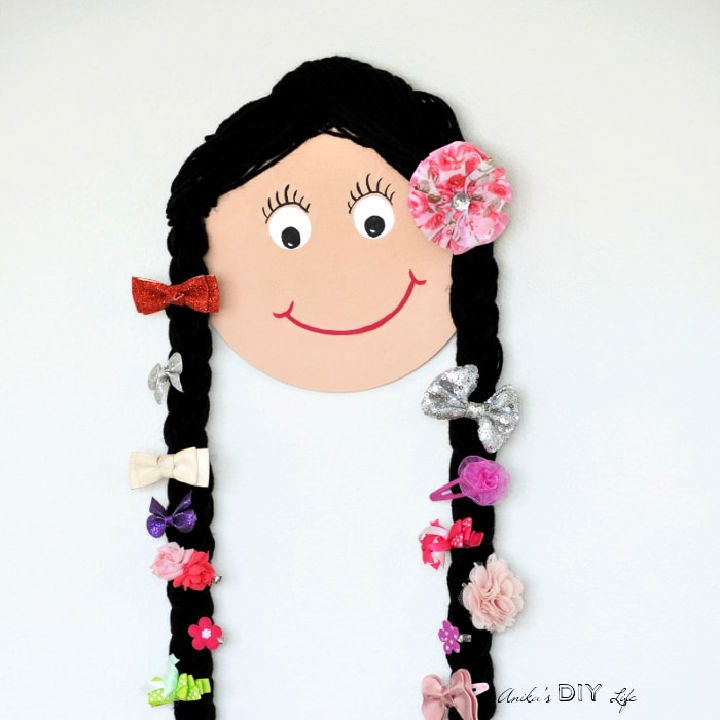 Girls love their headbands and hair bows! And so do they love a cut and huge doll. Set up this utterly adorable doll in your little girl's room and make her manage her hair accessories with SO much fun and enthusiasm. anikasdiylife
8. DIY Arrow Hair Bow Holder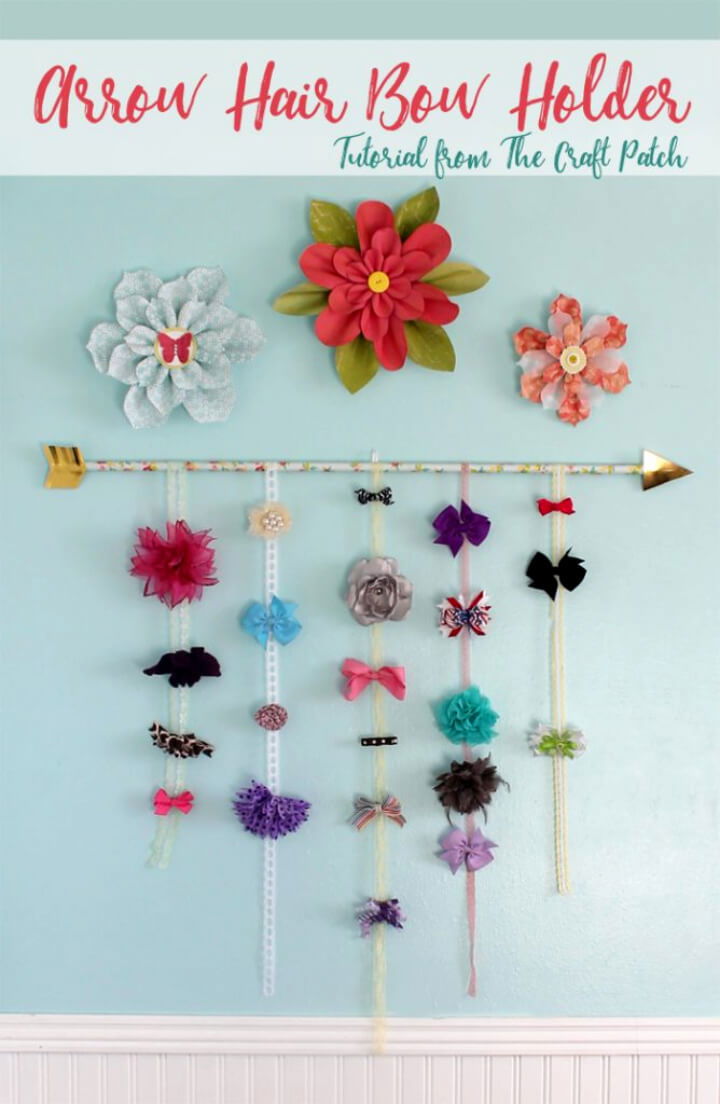 Get your hands on a sleek and cool wooden dowel, scrapbook paper, hot glue gun, glue stick, lace or ribbon. Make this totally chic and easily manageable DIY bow holder for your little girl's room! You can synchronize the arrows color scheme with the room's décor. thecraftpatch
9. Make Your Own Leather Cord Bow Holder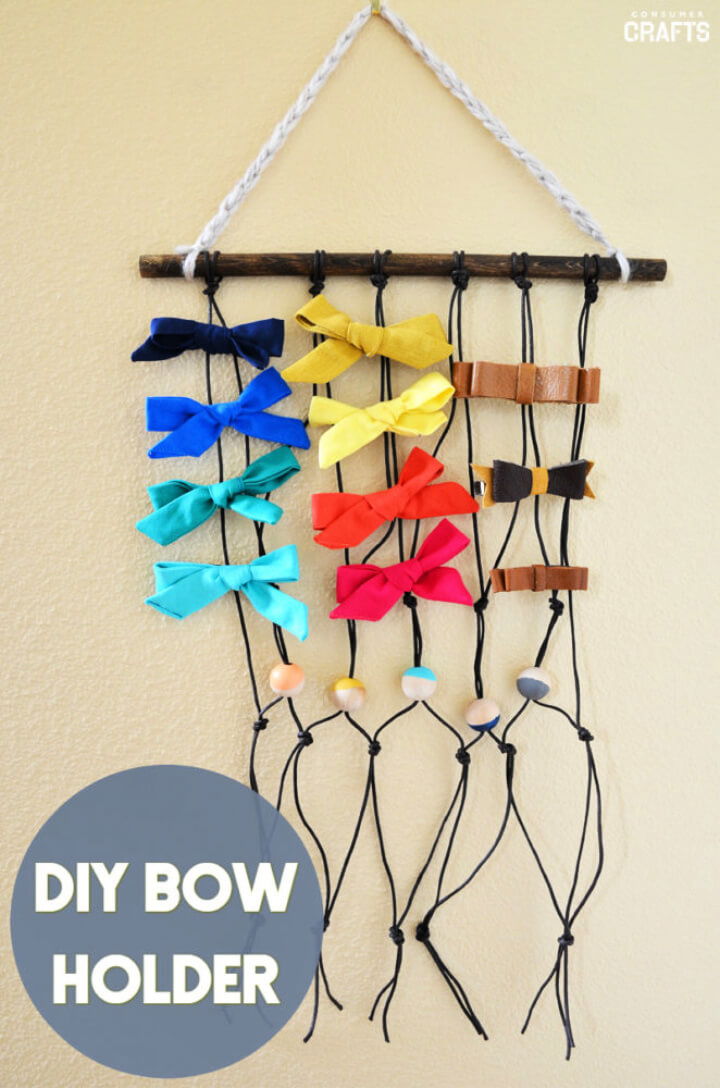 Are you looking for a quick and easy DIY bow holder? After all, managing the bow drawers every other day is not fun! Look no more. Just gather around a wooden dowel, leathercraft cord, wood beads, craft paint, and wood stain. Set up this cool bow holder. consumercrafts
10. Turn a Frame Into Bow Holder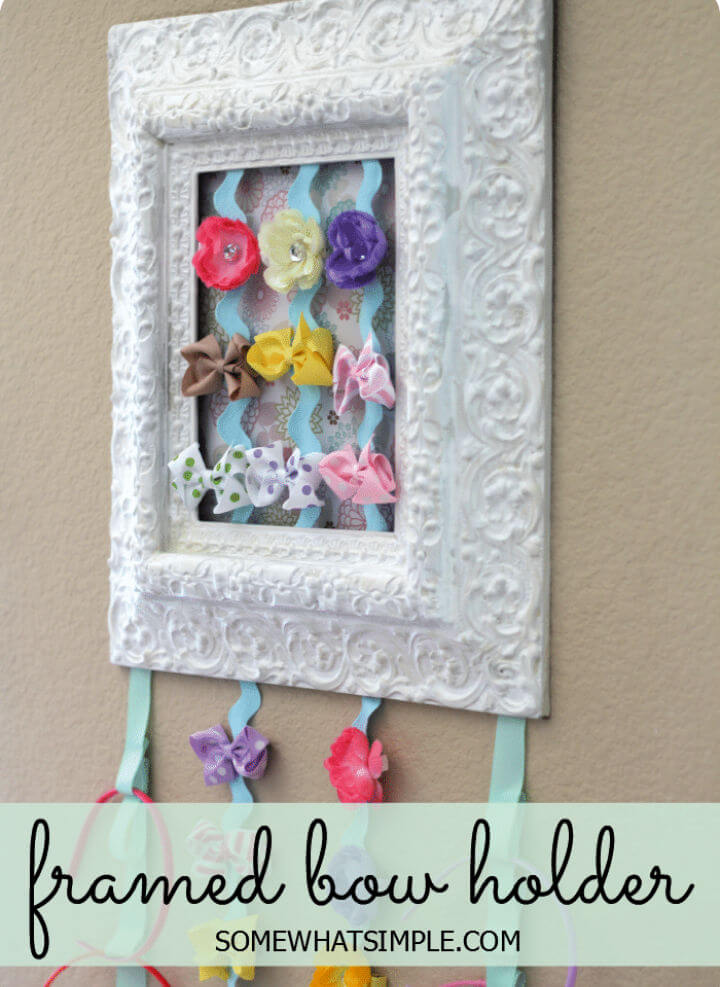 Just spare five to ten minutes of your day and solve the bow problems once and for all! You are just going to need a picture frame, a cool and chic ribbon, hot glue gun, and scrapbook paper. The ribbon will add a trendy and stylish vibe to the bow holder! somewhatsimple
11. DIY Shadow Box Bow Holder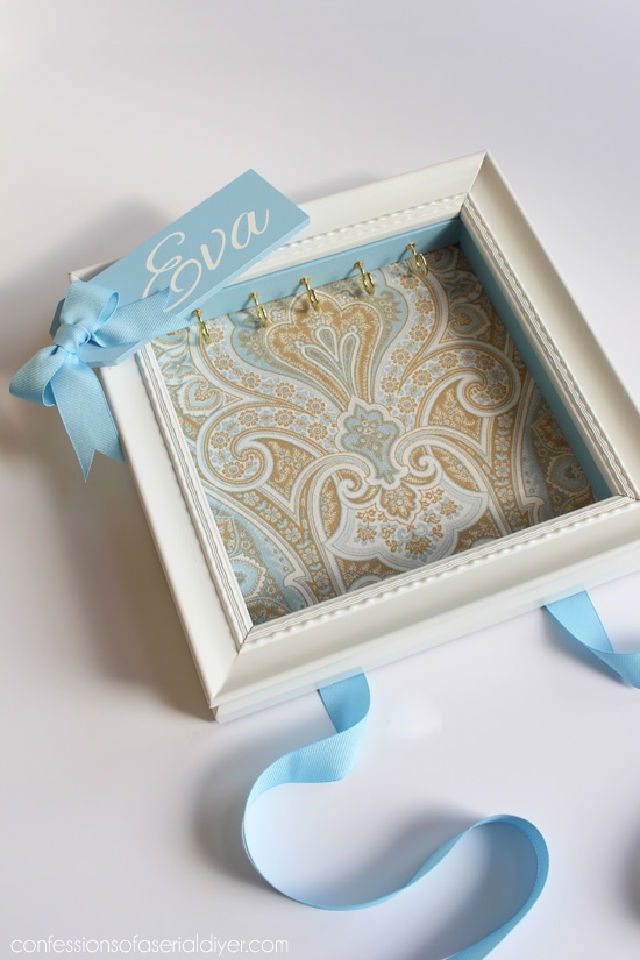 Transform an old shadow box into a pretty cool and easily accessible DIY bow holder! This could be a perfect gift idea for your little fairy niece. Personalize the whole thing by adding an adoring name tag matching with the color theme on the shadow box! confessionsofa
12. Bow Holder Using Embroidery Hoop and Baker's Twine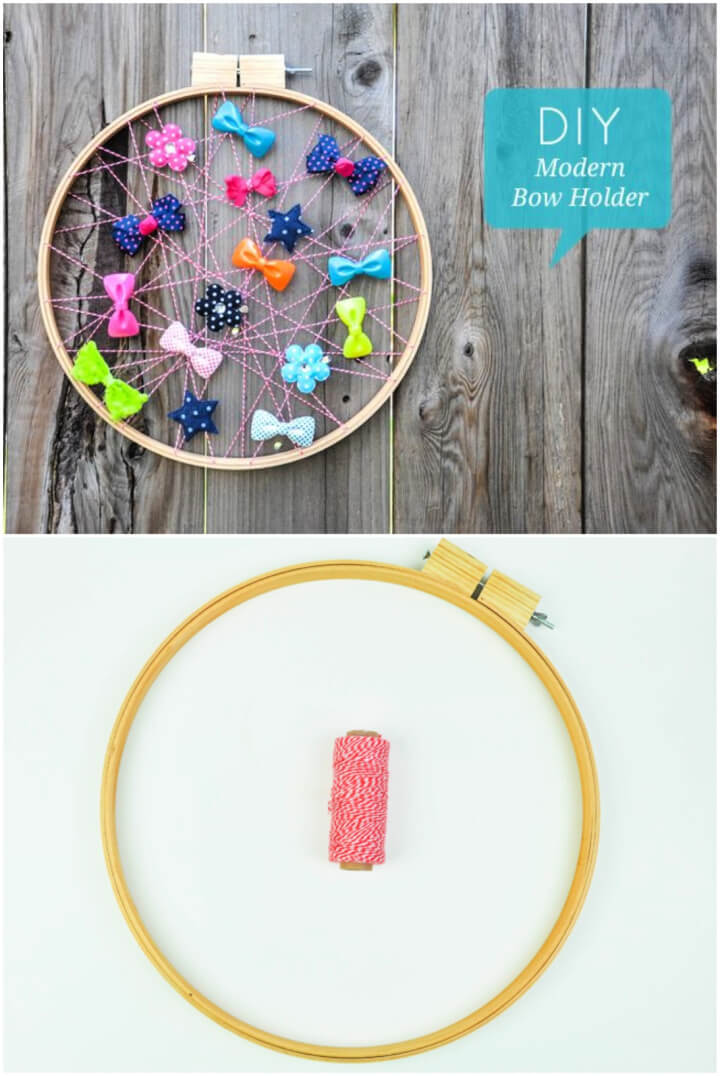 For a true DIYer, there is nothing like a lack of creative and innovative ideas. Look at this totally trendy and SO appealing DIY bow holder using just embroidery hoop and baker's twine. Make a catchy vision out of your bow holder with this stylish idea! momtastic
13. How to Make a Bow Holder Frame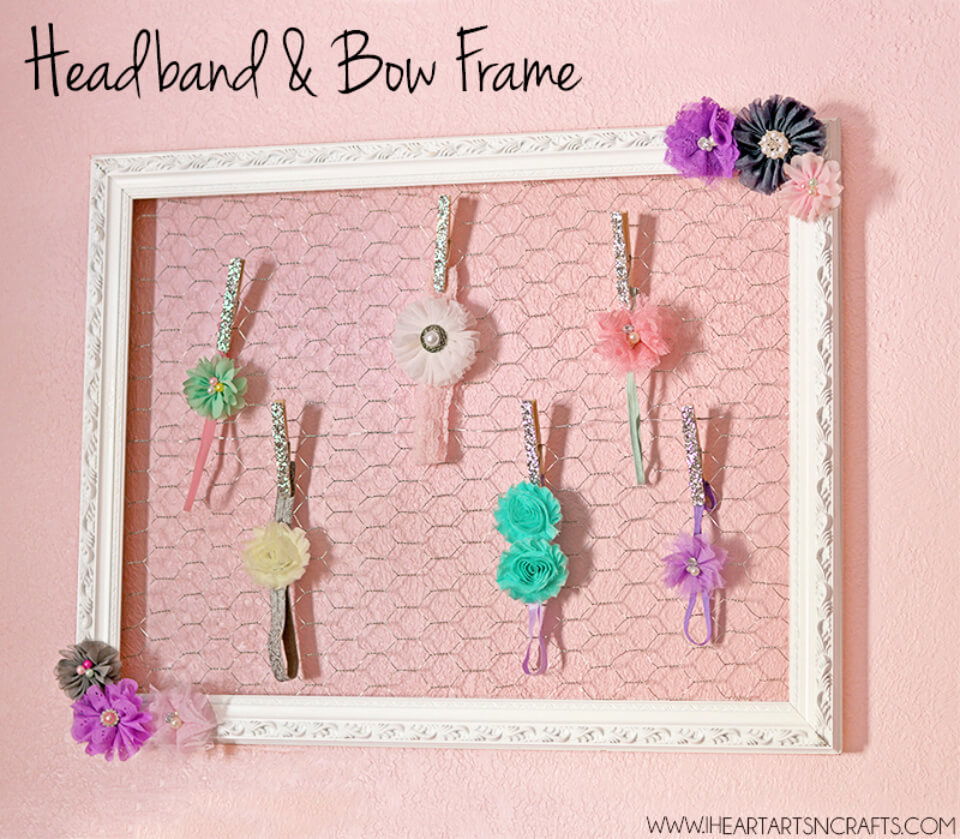 If you heart art and craft, just like Jackie here, you will adore this very easy to make DIY bow holders. Get your hands on a large ornate frame, spray paint, chicken wire, wire cutters, staple gun, glue gun, and your hair accessories! There you are! iheartartsncr
14. DIY Rainbow Unicorn Bow Holder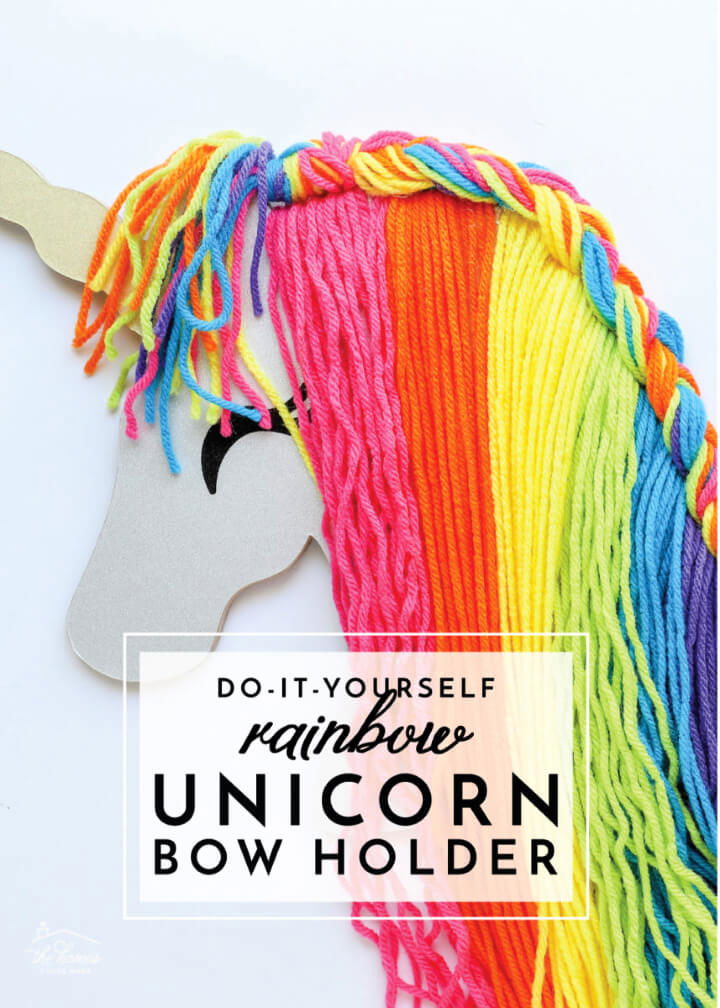 This uber adorable rainbow unicorn DIY bow holder has us all drool-worthy! You will just be needing a sturdy chipboard and colorful yarn for making this beauty! Your girls will literally be magnetized towards it and hence, there goes your bow managing problems! thehomesihave
15. Elsa Tutu Bow Holder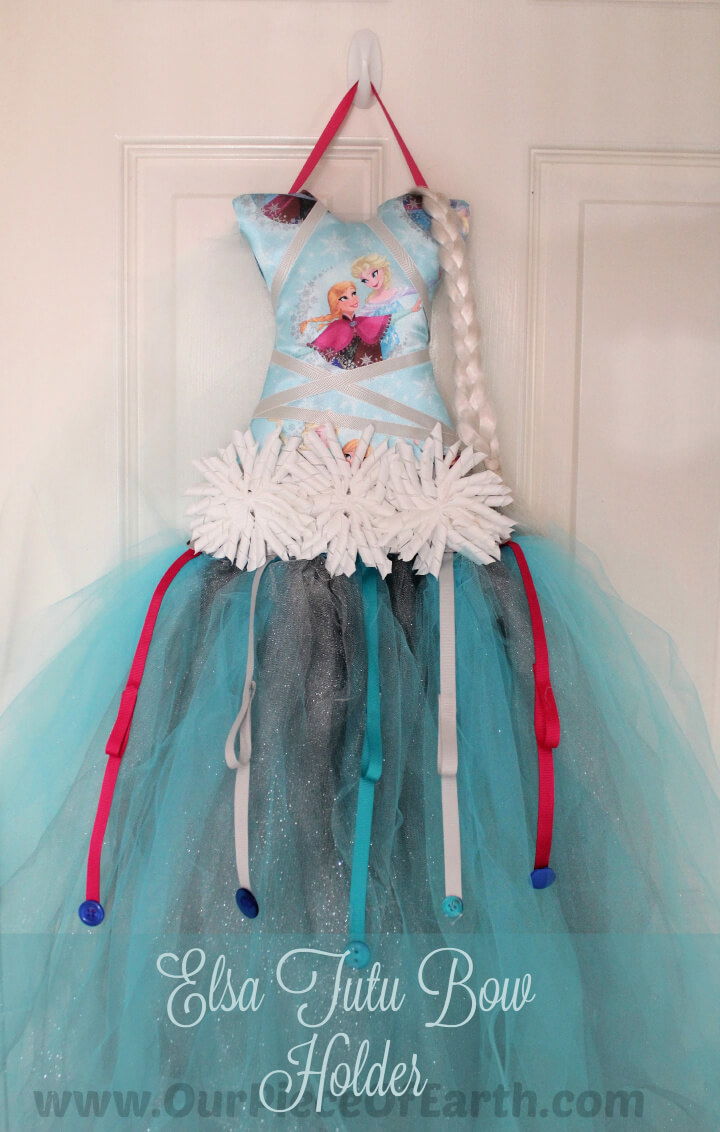 Elsa has been ruling many little girl's hearts since The Frozen movie has entered our lives! With this cool, DIY bow holder idea, you can actually positively reinforce in your little girls to manage and organize their bows like grown-ups. ourpieceofearth
16. Simple DIY Hot Air Balloon Bow Holder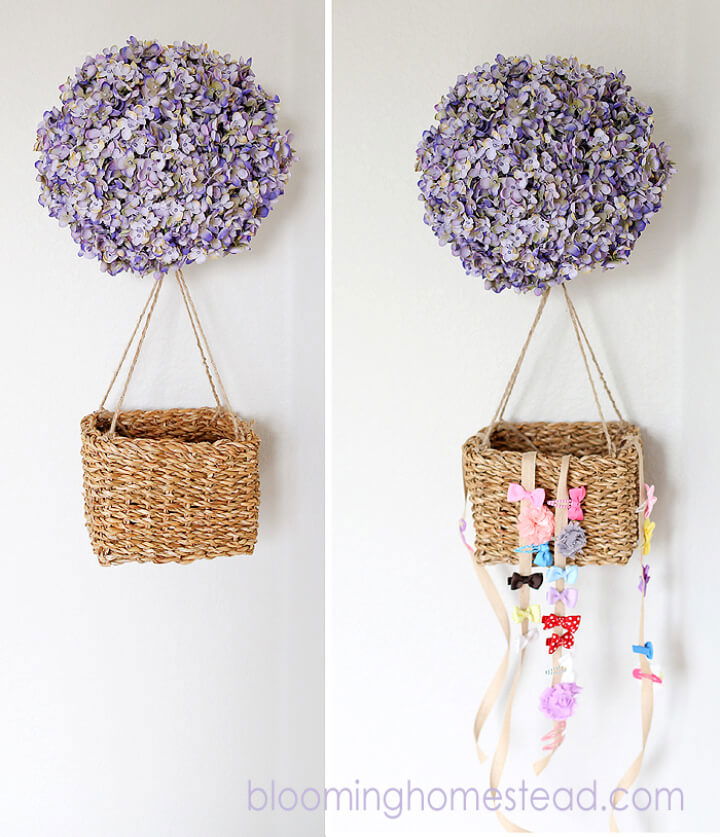 Who says organizing your room has to be dull and all boring? We dare to disagree. Look at this cool and totally serene hot air balloon DIY bow holder. It will add a flair of ultimate beauty in any room. is going to steal your heart! bloominghomes
17. How to Make Hair Bow Holder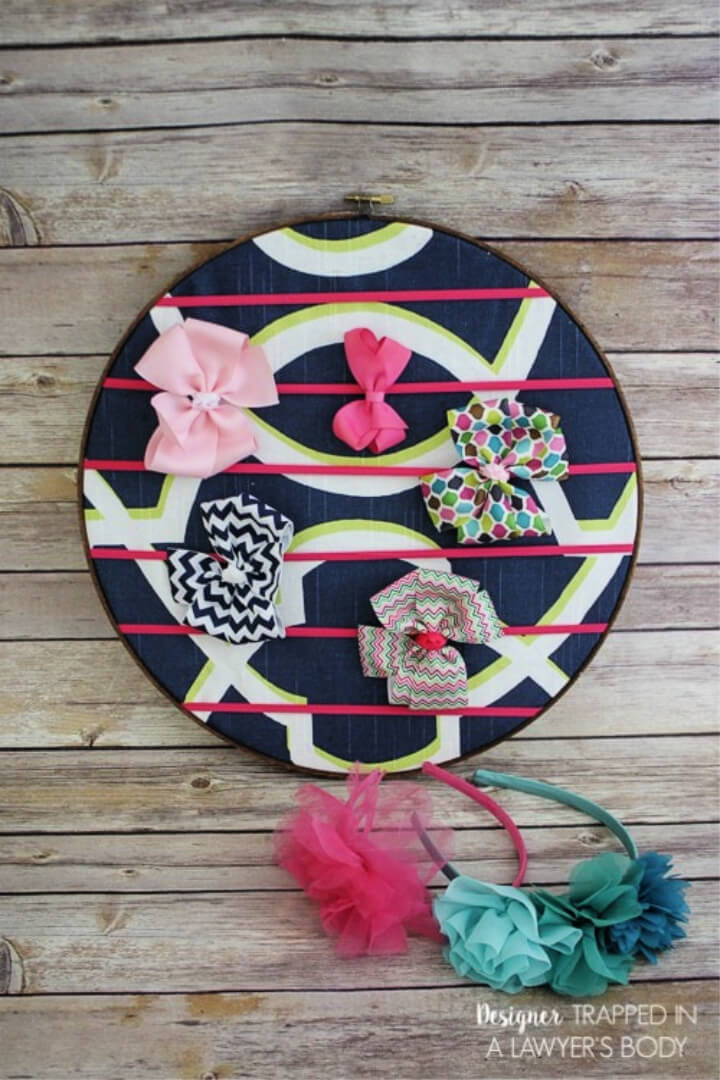 Why be less creative when you can add SO much value and meaning to one simple DIY project! Like this catchy circular and handy DIY bow holder. Mix and match the color schemes so as to steal the hearts of people who dare look at your collection of hair bows. designertrap
18. Tutu Bow Holder with a Bodice Template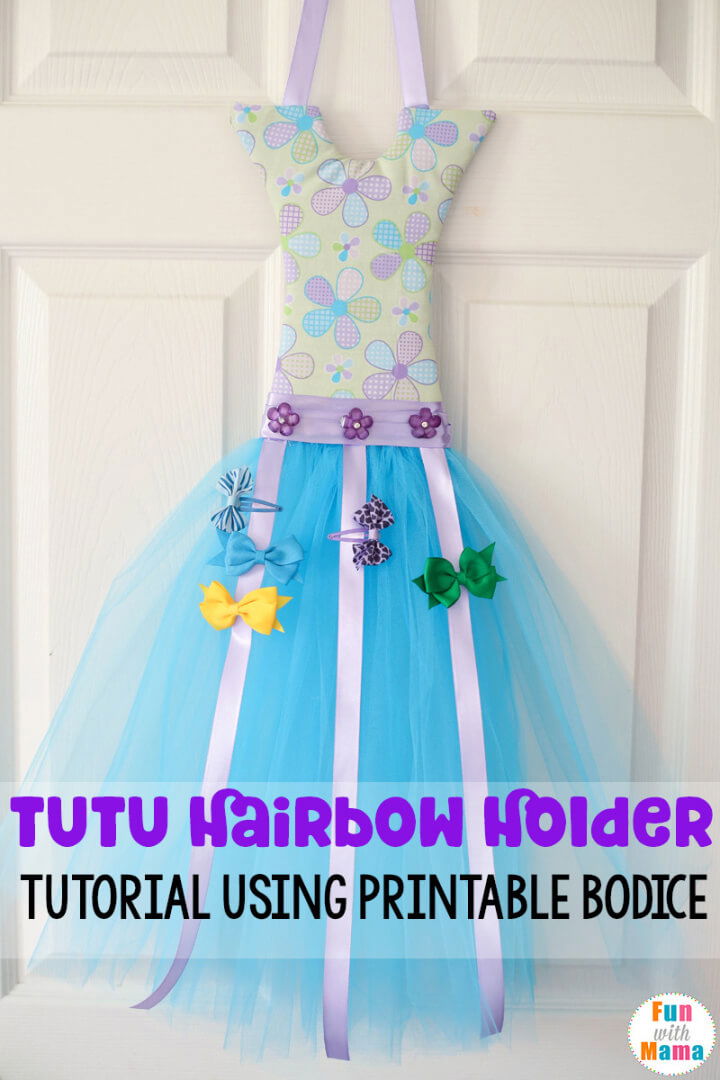 A tutu inspired bodice DIY bow holder is not only going to add more appealing and homey vibes to your little girl's room, but it is going to make it SO much fun for her to organize her hair accessories. Do it with Love! funwithmama
19. Personalized Hanging Bow Holder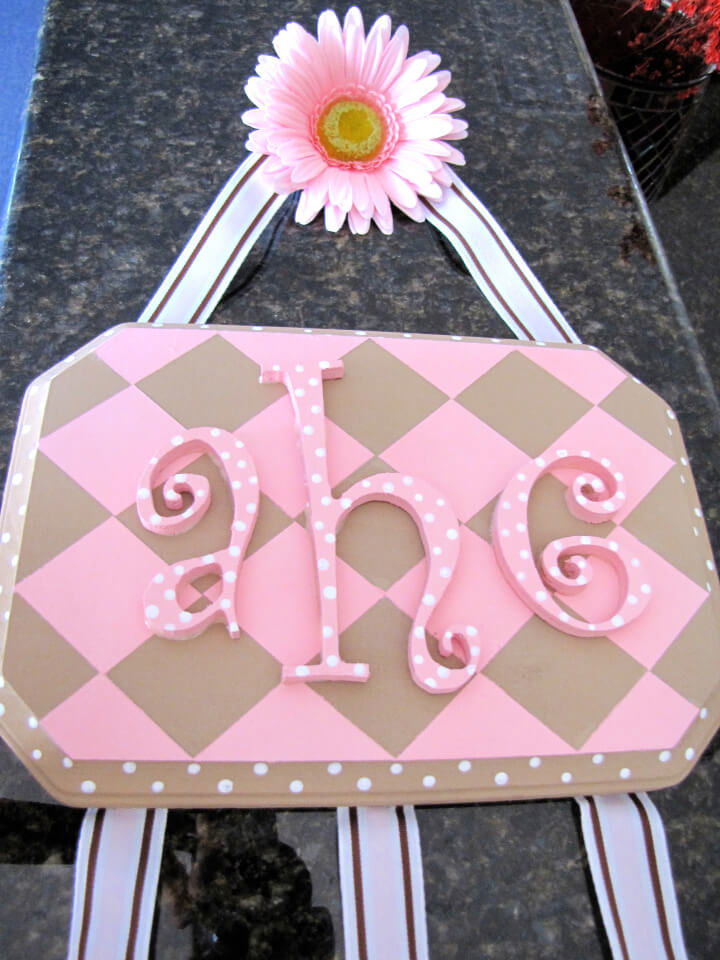 A touch of personalization can boost up any DIY project and hence the benefits you can draw from it. Like for example this cute DIY bow holder with those long, long all the way down ribbons! It will all start with a simple piece of wood. gatheredinthe
20. Cheap DIY Chicken Wire Hair Bow Holder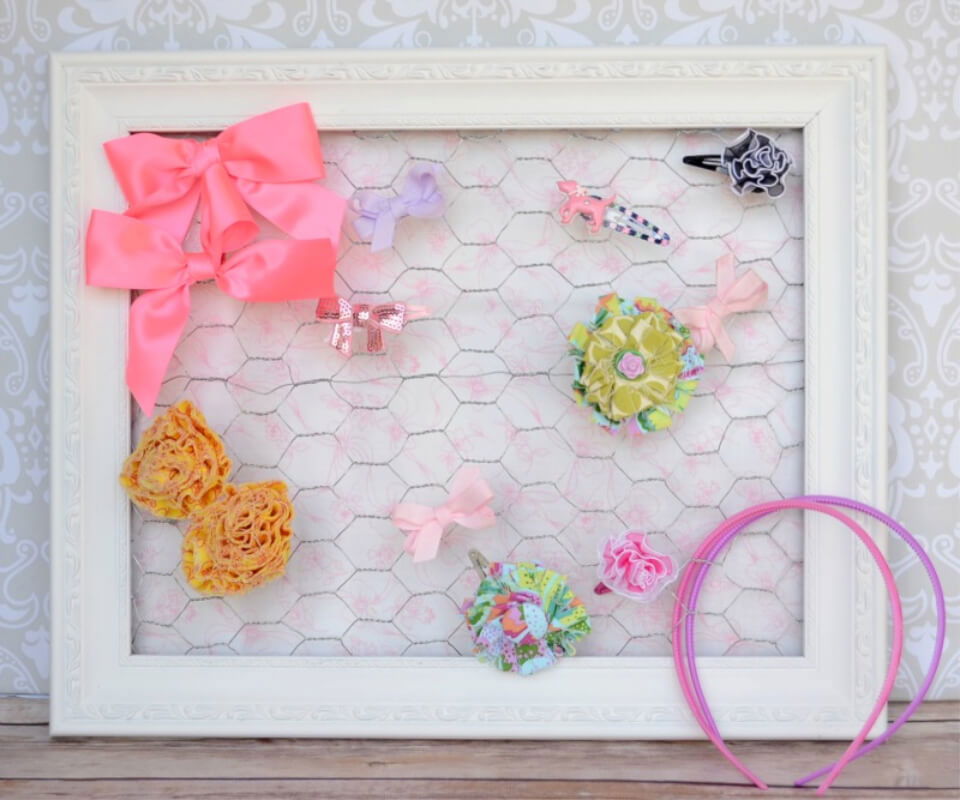 A chicken wire DIY hair bow holder in a frame can be an insanely inexpensive and easy to make bow holder. You can also add fabric in the frame, behind the chicken wire if you want a soft touch or background! Get it done within just 10 minutes. ithappensina
Related DIY Projects and Ideas
Jewelry Organizer & Holder Ideas: You don't need much space to organize your jewelry. With these clever DIY jewelry holder ideas, you can create a stylish and functional organizer for your jewelry.
Earring Holder Ideas: Learn how to make earring holders with these clever DIY earring holder ideas that best store your earrings and keep them organized and easy to find.
Earbud Holder Ideas: Tired of your earbuds getting in the way? Get them off the floor, out of your purse, and on your desk with one of these best DIY earbud holders.
Key Holders Ideas: A DIY key holder is the perfect decoration for any home. They make the perfect gift, too. We've found easy DIY key holder ideas that are sure to add a touch of style and personality to your entryway.
DIY Candle Holders: These pretty DIY candle holders are the perfect way to light up your living room or outdoor space for winter, or any day.You can make them in minutes with a few items you already have in your home.
Wedding Table Numbers and Holders: Looking for the best DIY Wedding Table Numbers and Holders? We've got them. This list will help you find any style, size, color, shape or theme that suits your wedding.
Conclusion:
Whether you're looking for a simple way to store your bows or want a more decorative option, we hope you found these ideas helpful. With a little creativity and some basic materials, you can easily create a bow holder that suits your needs and style. Have you tried making one of these diy bow holders?