Are you interested in building your own teardrop trailer? Learn how to build a teardrop trailer that will last for years with these 10 homemade DIY teardrop trailer plans include step by step instructions. These diy teardrop trailer plans range from a simple design to a more functional teardrop camper, so regardless of your experience level, you should be able to find a design that suits your needs. If you're not sure where to start, we recommend checking out the diy teardrop camper plans for the "Classic Teardrop Trailer" or the " minimalist teardrop trailer." With these free teardrop trailer plans, you'll have everything you need to build a high-quality teardrop trailer that will serve you well on your travels.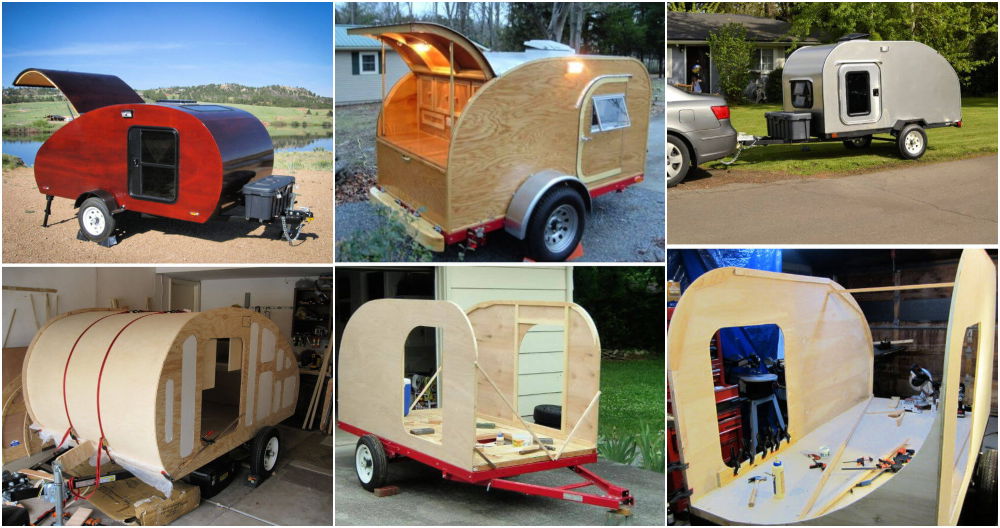 Homemade DIY Teardrop Trailer Plans
Teardrop trailers have this uber cuteness and an amazing feeling of romanticism associated with them! These lightweight trailers or campers are quite easy to carry along, and their compact sizing makes them ideal for towing anywhere! We have gathered here these amazing DIY teardrop trailers for our camping lovers! You can make a customized teardrop trailer for your next camping trip by staying in a budget and at the same time enjoy the comfort of travel by bringing along your personalized mobile home!
These great designs of DIY teardrop camper can inspire you in the blink of an eye, and you can make your camping trips more comfortable and fun-filled. Our inspirations also revolve around reclaimed wood teardrop trailers, including the remodeled and refurbished looks or old trailers! Mostly made with oak wood, plywood, or poplar wood, you can build a teardrop trailer by working around the structure first. Carefully analyzing your needs, budgeting, and then coming up with the sketches. Let's dive right in and see our inspiring collection of DIY teardrop trailer plans!
1. How to Build a Teardrop Trailer
Before building a DIY teardrop trailer, there are a few things you need to consider. The budget, as you can get the teardrop trailers from the market ranging between $4000 to $11000. And another thing to consider is to figure out how much weight your van can manage to pull! The folks at Instructables have got all these figured out. instructables
2. Custom DIY Teardrop Trailer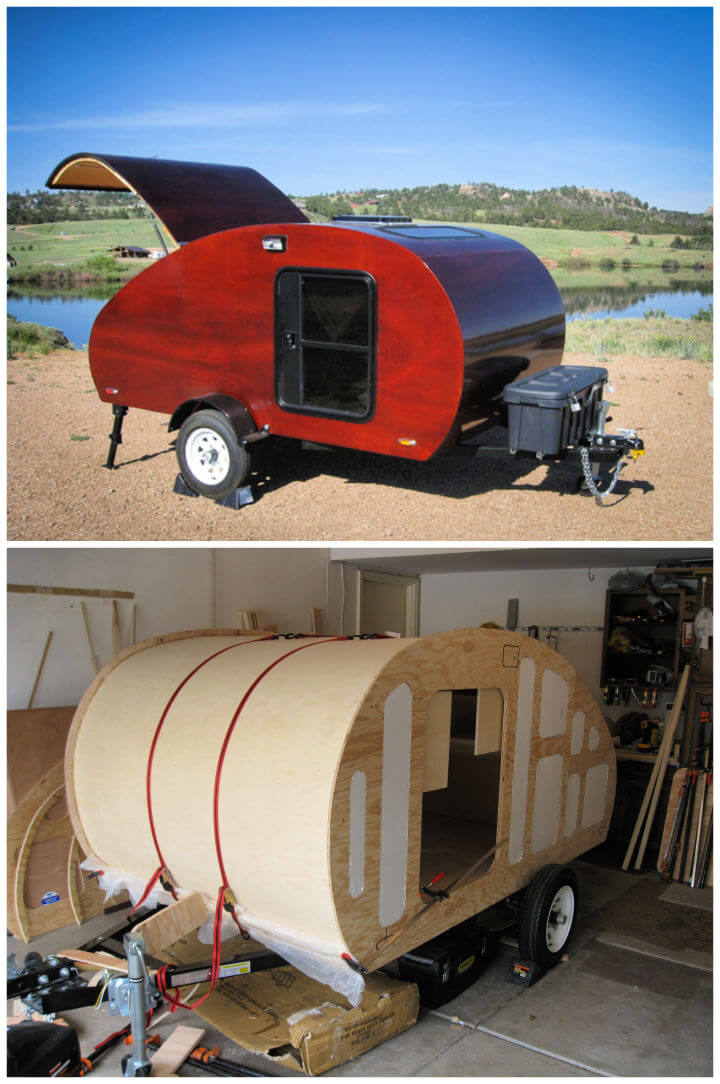 Check out this super cool custom teardrop trailer. With a minimal investment, you can easily build this DIY teardrop trailer. It can perfectly hold a comfy sleeping area or bed for you with an easily accessible galley kitchen! rvshare
3. Homemade Teardrop Trailer – Step by Step Tutorial
Get your hands on a most comprehensive and detailed step by step guide for building a teardrop trailer from scratch here! Made with plywood after laying down the base structure, now comes the part of starting lining up the walls. theteardroptrailer
4. DIY Handmade Teardrop Trailer
If you are looking to build a teardrop trailer from scratch, this one here can do quite the magic! It is a complete guide that can help you take to some great wonders. But, the key is to start with thoughtful planning and sketching. handmadetear
5. Build a Reclaimed Wood Micro Teardrop Camper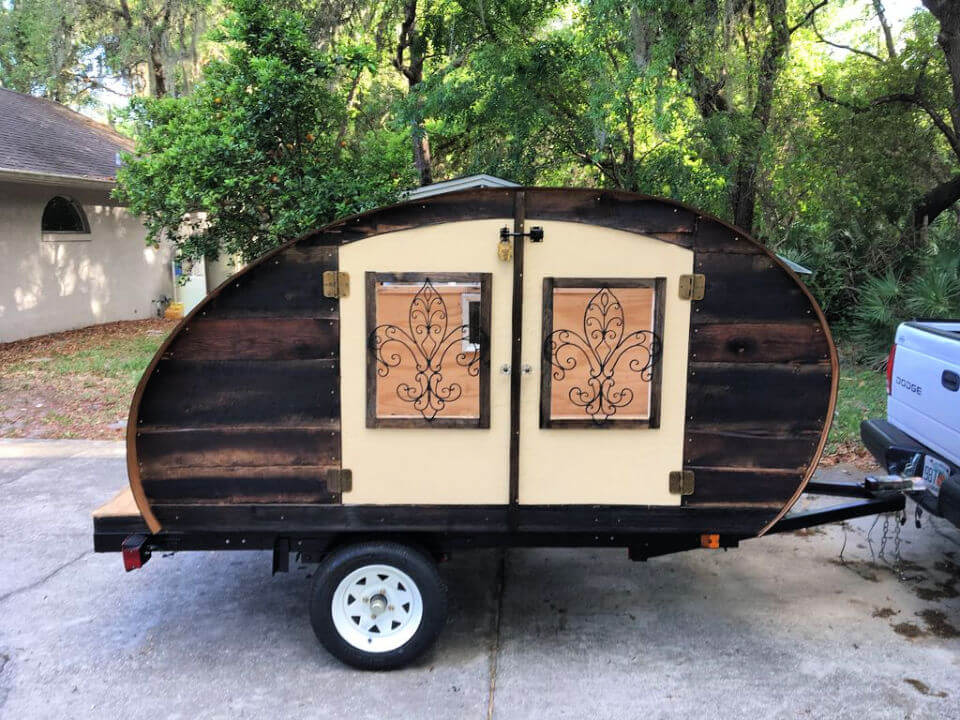 Ready to see the magical transformation of reclaimed wood? Check out this micro teardrop trailer made using reclaimed wood and made perfect with stain finished look! It is 5×8 feet and made using 2x3s and 2x2s. instructables
6. Build Your Own Teardrop Camping Trailer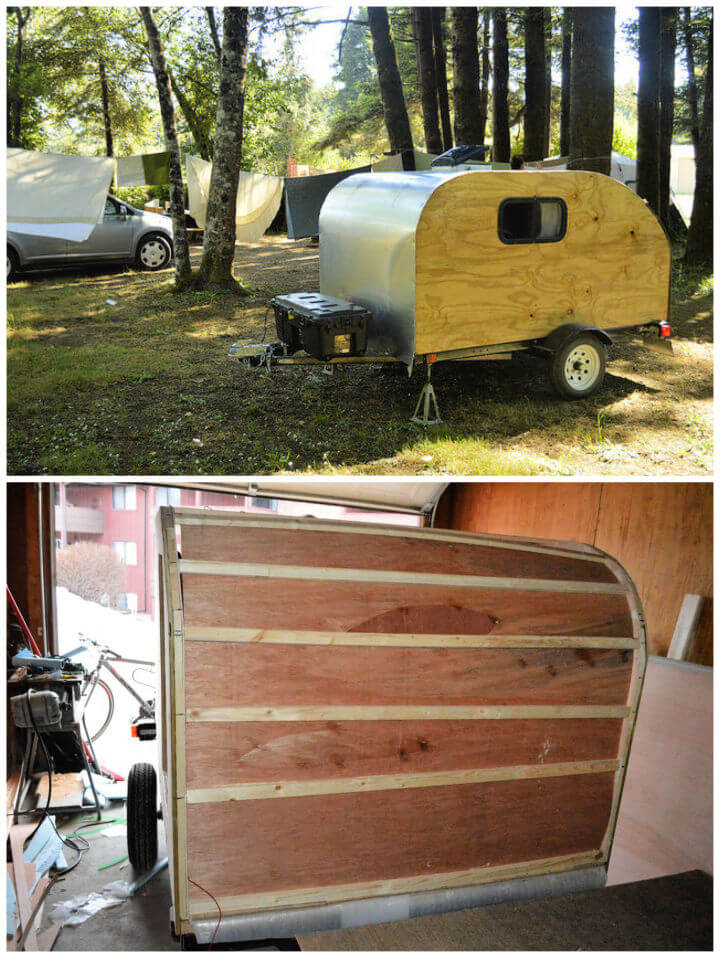 This teardrop trailer can easily house two adults. It features an extra storage space, some room for a small kitchen, a sink, and a fold-up stove counter space. The trailer is made of 5×8 sheets, plywood panels. Get details here. instructables
7. Homemade Tear Drop Camper Without Experience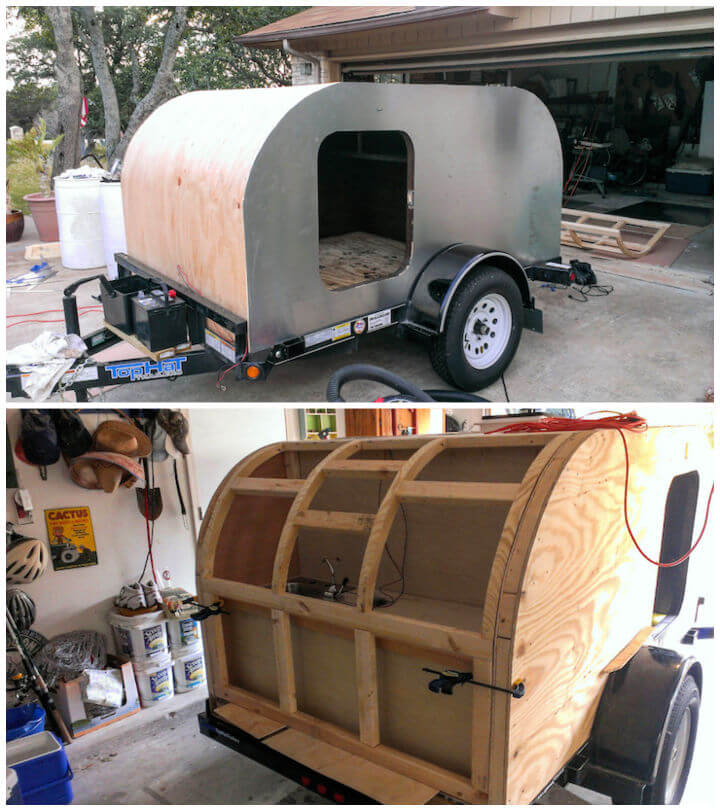 With the base of a top hat trailer, this DIY teardrop trailer is an inspirational woodworking endeavor of a man who has never been into DIYing such huge projects before. This teardrop trailer has a sound insulation system in check with the thick fiberglass insulation! doityourself
8. How to Build a Teardrop Camper on A Budget
The first step in going for a DIY teardrop trailer is to buying a trailer frame and then assembling the floor! After that, the tutorial suggests building walls using plywood and interior framing lumber. Then comes wiring and insulation! wideopenspaces
9. DIY Mini Teardrop Trailer
Check out this super mini teardrop trailer fit to drag behind a Cadillac scooter! The main building materials for this include steel angle iron, steel square tube, flat steel bar, steel rod, Aluminum flashing, poplar, and oak board with oak wood! Get more details in the tutorial. instructables
10. Beautiful DIY Teardrop Trailer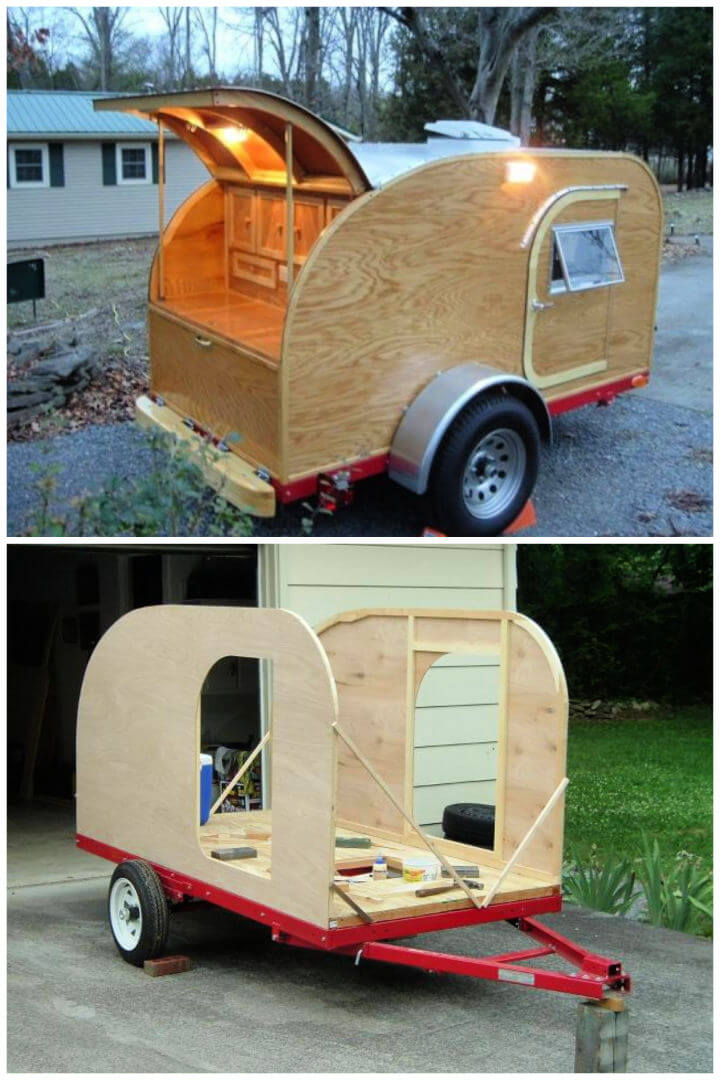 This beautiful DIY teardrop camper is hand-built on a 4'x 8′ trailer. Using a harbor freight trailer frame, the subfloor can be added with a cutout for a tabletop! You can add custom shelves in the galley. tinyhouse
Related DIY Projects and Ideas
Hot Tub Plans: Build your own hot tub at home with these Inexpensive DIY hot tub plans. Whether you want to install a hot tub in your backyard or on the patio, these plans will help you get started.
Free Pergola Plans: Pergolas are a great way to add some shade, privacy, and decoration to your outdoor living space. These free diy pergola plans are easy to follow, and will have you building your own pergola in no time.
DIY Solar Panels: These best DIY solar panels are a renewable source of energy and an inexpensive alternative to large-scale solar power. You can make these solar panels for your own project home or to sell!
DIY Furniture Projects: Build your own furniture with these free DIY furniture plans. You can make a coffee table, a sideboard, or even a bar cart. They're all designed to be quick and easy to build from reclaimed materials.
Dining Table Plans: Make your dining room a showpiece with one of these free DIY dining table plans that are a great way to get into furniture building.
Adirondack Chair Plans: With these free Adirondack chair plans, you can build the perfect Adirondack chairs for your patio or deck.
DIY Backyard Ideas: Find gorgeous DIY backyard ideas and decor projects that are sure to make your outdoor space look amazing. Get tips for creating the perfect outdoor living area with DIY outdoor decorating ideas, patio styles, and more.
DIY Air Conditioner: Summertime means hot, sticky weather. If you're looking for a way to cool down, check out these cheap DIY air conditioner ideas that you can build for your camper too!
Conclusion:
We can bet after seeing that how, by sparing a few weeks, you can totally build a DIY teardrop trailer by staying in the budget instead of making big holes in your pockets! You must be all excited to gear up your next camping trip in any of these versatile and super comfy DIY teardrop trailer plans! Camp like never before!