Take the poultry to the next level with these DIY Pallet Chicken Coop Plans, the best safe houses to raise the chicken properly. You can feel proud by using these miniature hen houses as a mini poultry farm can be a good start for your poultry business. The involvement of pallets makes the projects super budget-friendly, and already built structures of pallets will save a lot of time on cuttings and taking measurements. With pallets, it will be easier even for a beginner to build a wooden chicken coop like a pro. Next, there are step-by-step guides, visual instructions, and tutorials to help you in every way to build and decorate a chicken coop. Explore this collection of 20 free pallet chicken coop plans that involve all designs fitting to every skill level.
From beginner to intermediate to advanced, these chicken coop plans have all the best designs you are looking for. Build a chicken coop with an attached chicken run or select a bigger bungalow-style chicken coop, pallets will rock for all the chicken coop plans.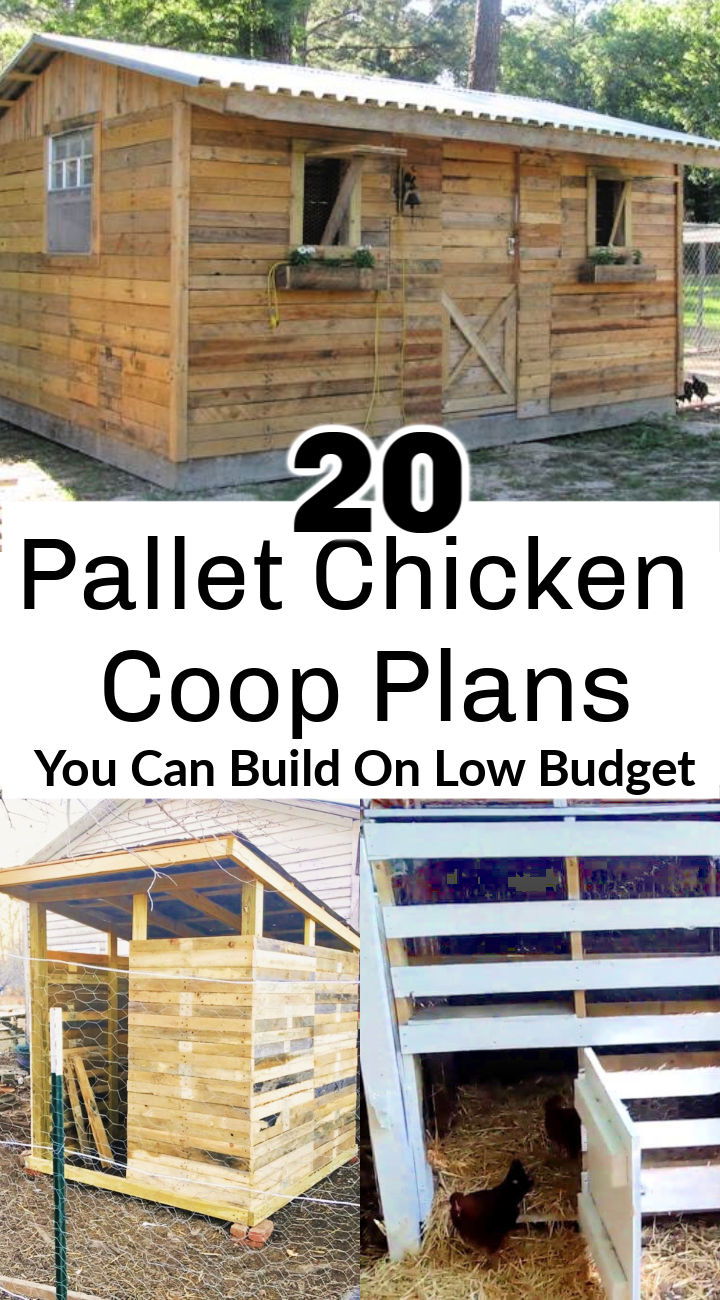 For amazing design variations, you can opt for so many different things and features, build the chicken coops with the corrugated roofs or go with the shingled tilted roofs. Build an elevated chicken coop by adding a concrete block base or style up your outdoor with a bungalow style hen house. Adding a nesting box, the beds, and a feeder is a must. Check out all the DIY wooden pallet chicken coop designs to see what fits bests to your needs.
1. Build a Pallet Chicken Coop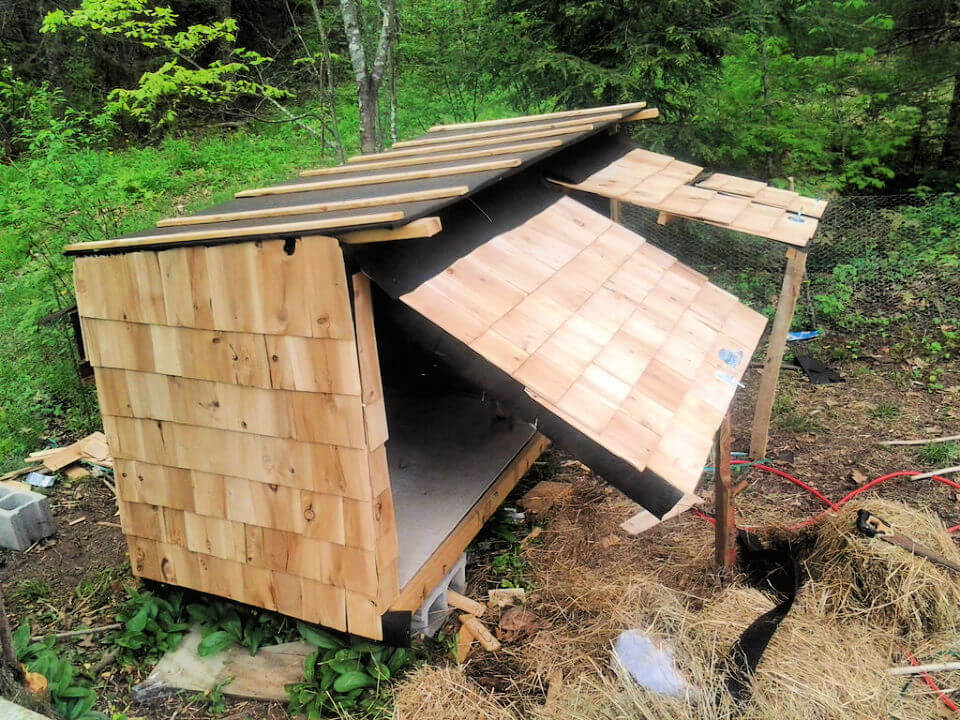 Raise your chicken right in your homestead using this wooden pallet chicken coop. Make it using tar sheet, pallets, cedar shakes, Styrofoam, and it features the shingled sides. Decide location and build the frame first, sheath the wall. Finally, fence the chicken coop front to get all done. instructables
2. DIY Pallet Chicken Coop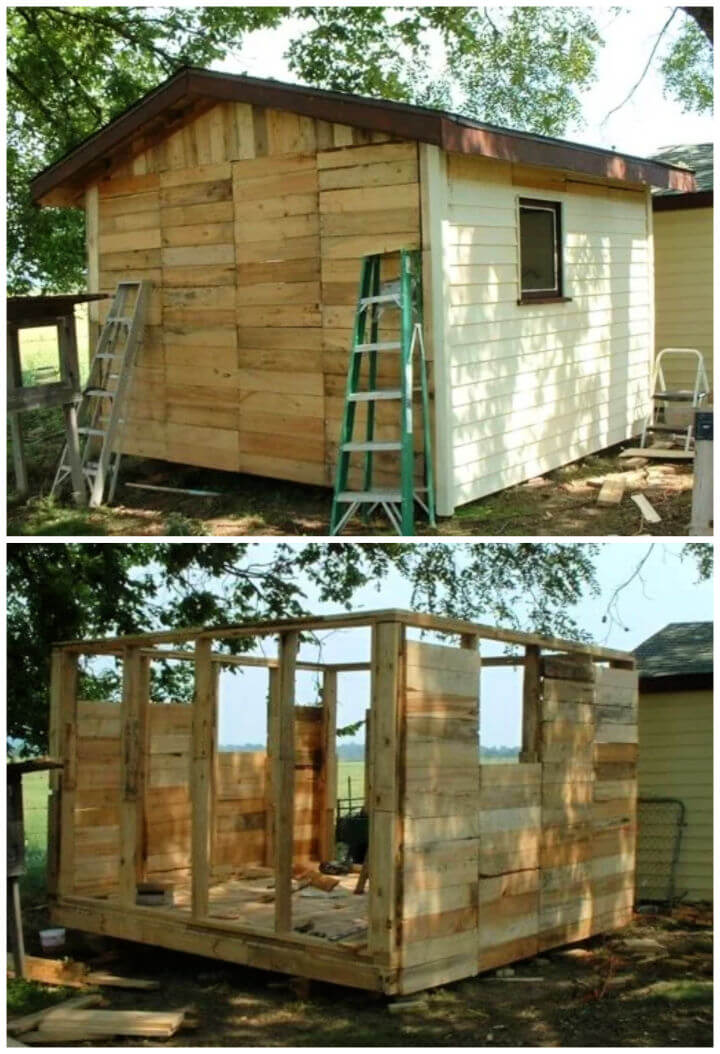 Get the daily supply of fresh eggs by housing your chicken in this wooden pallet chicken coop. Build it with a free stock of pallets that is always easy to manage. Dismantling the pallets to get a supply of 2x6s and 1x6s like boards, will be whole you need to build it. Next, go with plywood to sheath the frame. backyardchickens
3. How to Make a Pallet Chicken Coop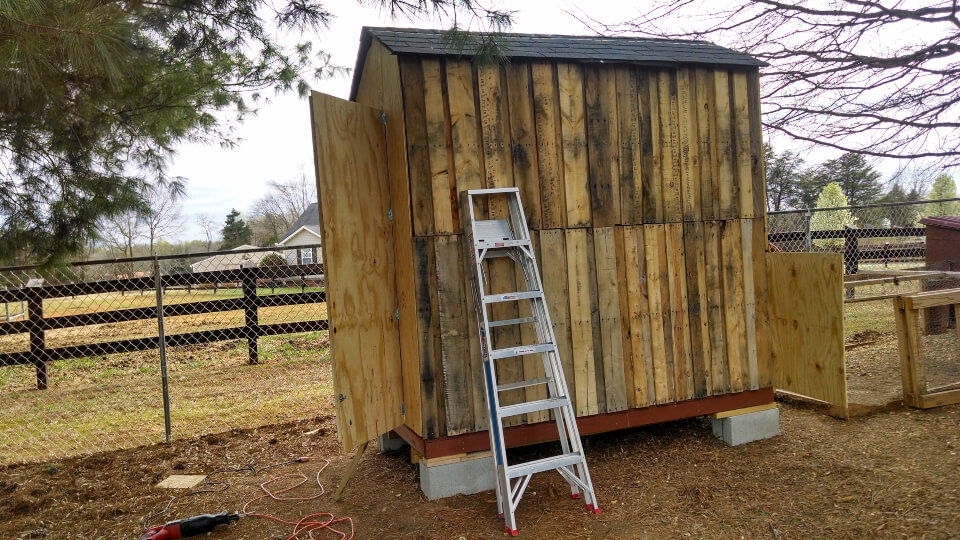 Use 2x4s, wooden pallets, and plywood to build this chicken coop, looking nice in the bungalow style design. First, create the frame for the base using 2x4s, cover it solid with plywood to get the floor. Use concrete blocks to make the floor a little off the ground, next start installing wall frames. summersacres
4. DIY Chicken Coop from a Pile Of Pallets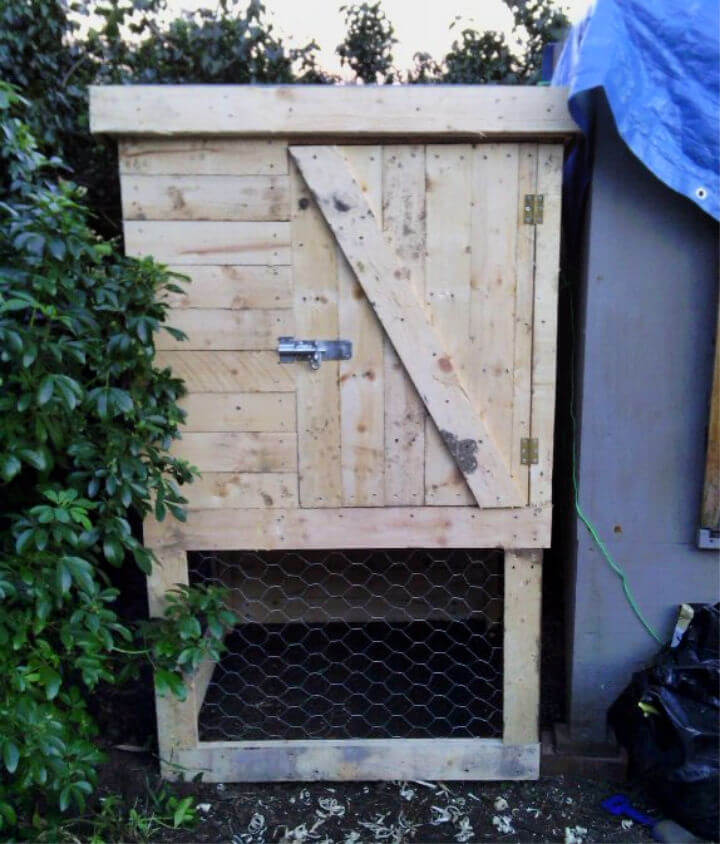 Dismantle pallets to gain a big stockpile of separated wooden slats that you can clad to build the frame of this chicken coop. The best chicken coop that provides a chicken wired run too. Finish the design with a sloped roof and make the inside cozy. Installing little hen beds is a must. shed n beyond
5. Turn Pallets into Chicken Coop
Old pallets are the free-to-get type of wood. Using the right tools, you can easily disassemble and reassemble them, making your favorite items like this chicken coop. A solid little structure, added with tilted metal roof, will nicely house a bunch of chicken for getting a fresh supply of eggs. aranchmom
6. DIY Pallet Sweetchickss Chicken Coop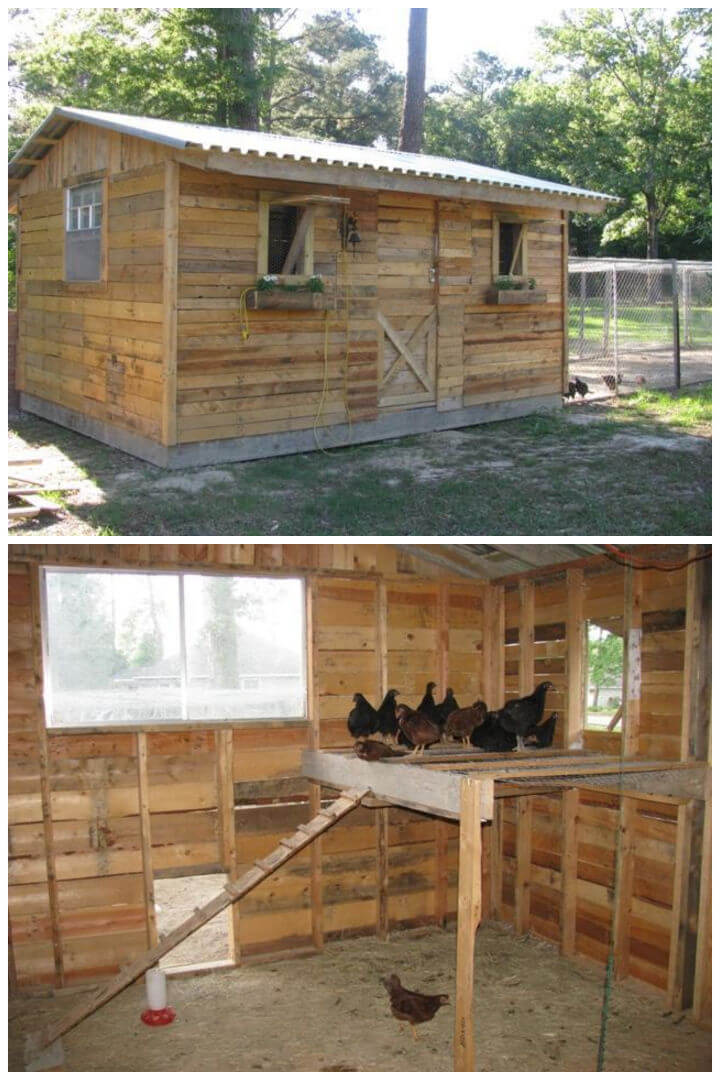 Do you intend to be in the poultry? Then build your little poultry farm using free pallets. The idea is to build this safe house for the chicken. The wooden chicken coop, an advanced wooden project, will take weeks to get completed. Build a big slatted frame for the base, sheath it with plywood to get the whole solid base. The whole little bungalow for chicken with metal chevron roof. backyardchickens
7. Build Chicken Coop from a Pile Of Pallets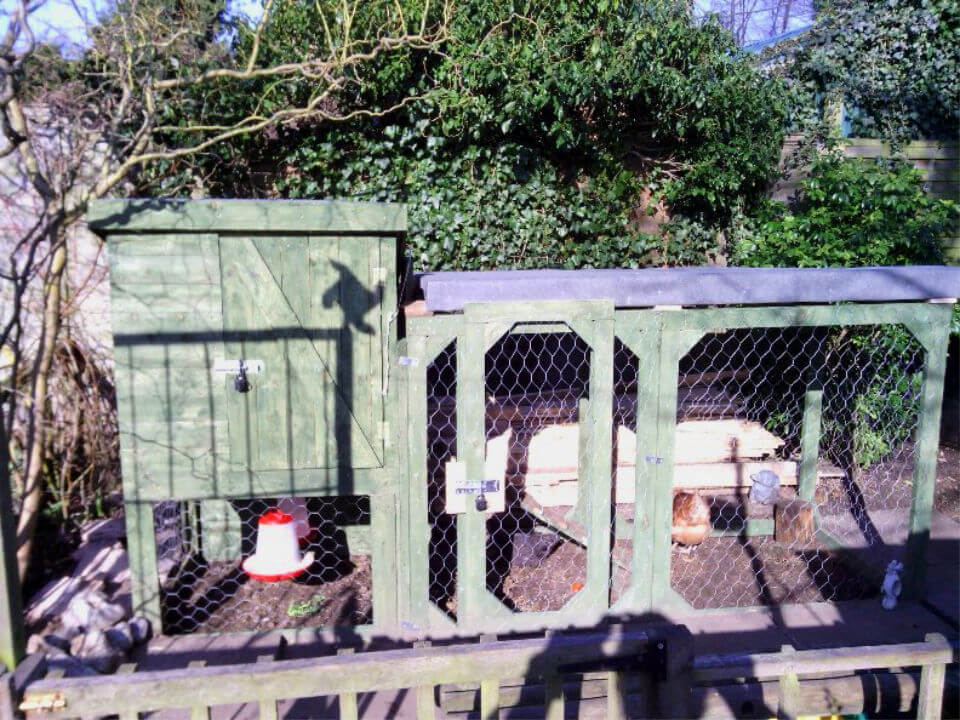 Even a little pile of pallets can make you get with this, the chicken coop comes with a built-in chicken run. The design layout will impress every poultry lover. The chicken, the nesting box, and a well-built tilted roof are the main features of this design. Most of the design is to build with pallet slat cladding. shed n beyond
8. DIY Chicken Coop Built From Old Pallets
Mostly you have nothing to do with pallets. That's why they are often to find in-home trash stores. Take out them out to build this chicken coop, the funhouse for protectively raising chickens. This chicken coop is like a mini slatted box built from pallets, comes with a hinged folding roof that serves as a lid too. ecorenovator
9. Pallet Chicken Coop for Less than $20.00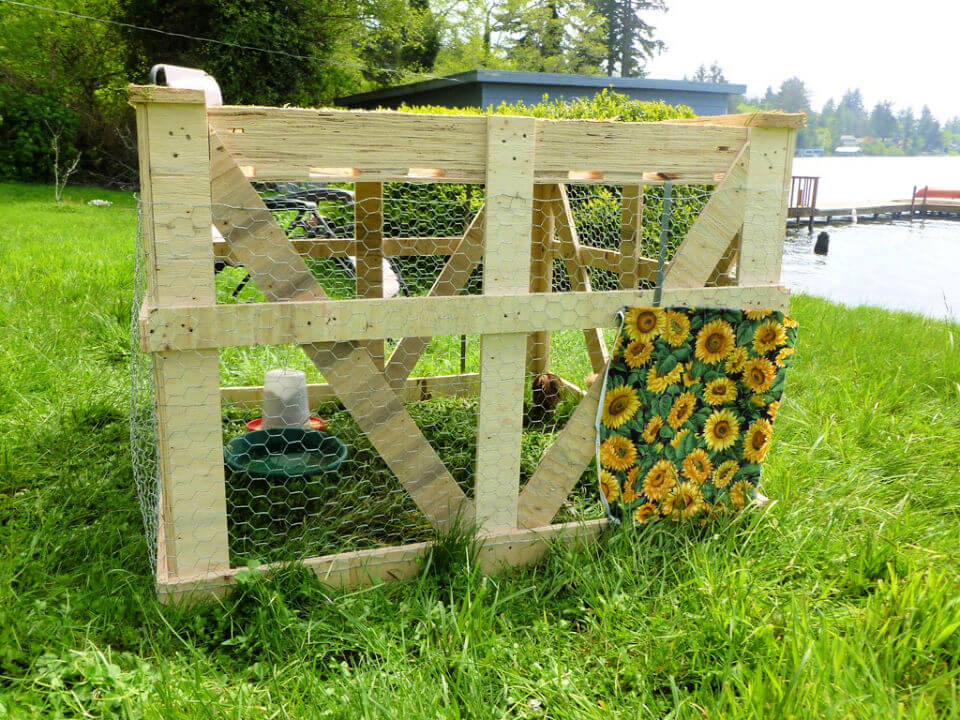 Build the chicken coops in a super cost-effective way of using free recycled pallets. Construct this sweet little design by spending less than $20. Make a small box with the separated apart pallet wood slats, next wrap it up with the chicken wire. It will also raise the beauty of your lawn or homestead. pebblekeeper
10. Inexpensive Pallet Chicken Coop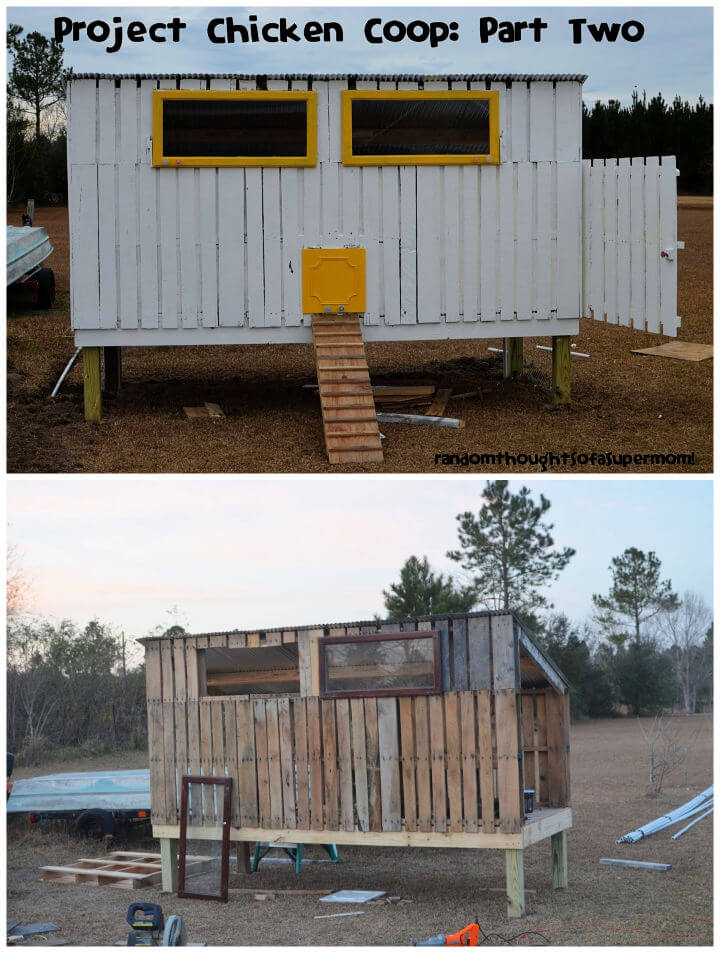 Start poultry inexpensively with this wooden pallet chicken coop, quite easy and quick to build. First, build the base by building a big table like structure, raise the sides from its edges and install side and roof frames. Build roof frame tilted, install inside the chicken bed and nesting boxes, finish with corrugated metal roof. The best-elevated chicken coop design, provide mini doors to let the chicken come out. wilson world
11. How to Build a Chicken Coop From Pallets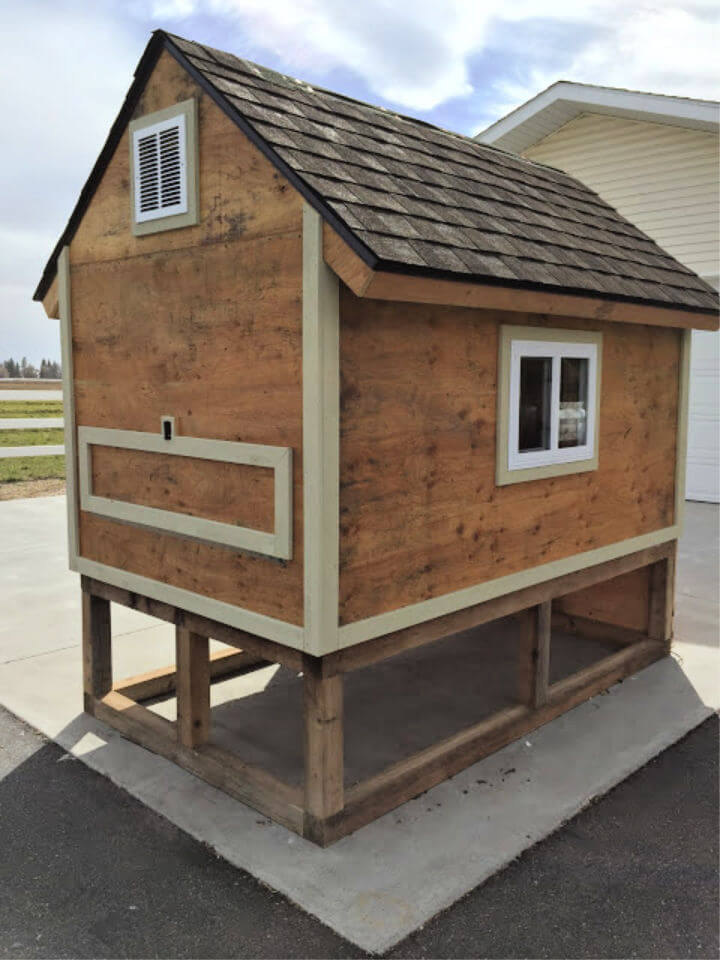 You will love to live in this wooden house, but actually, it is made for the chickens, the lucky ones. Along with the main door, this elevated chicken coop design provides mini doors too with latches. Use a piano hinge for the nesting box. Build the basic frame with pallet, next cover it fine and solid with plywood. avisiontoremem
12. Build Your Own Chicken Coop from Pallet Wood
Are our chicken coops not fitting to your budget? Now they will be as pallets are here. Build free of cost hen houses with pallets, will complete quickly. Decide the design structure, then build that targeted design using uncut and dismantled pallets. Along with pallets, you need 4×4 posts and chicken wire too to build this design. ladyleeshome
13. DIY Chicken Coop With 4×8 Wood Pallets
This design will complete using the 4×8 wood pallet skids. Stack and pile up the pallets to build the rough frame and design structure. Cover the completed design solid using plywood, add a little insulation to keep the interior cozy and warm. Finish the design with a corrugated metal titled roof. backyardchickens
14. Cost-Effective DIY Chicken Coop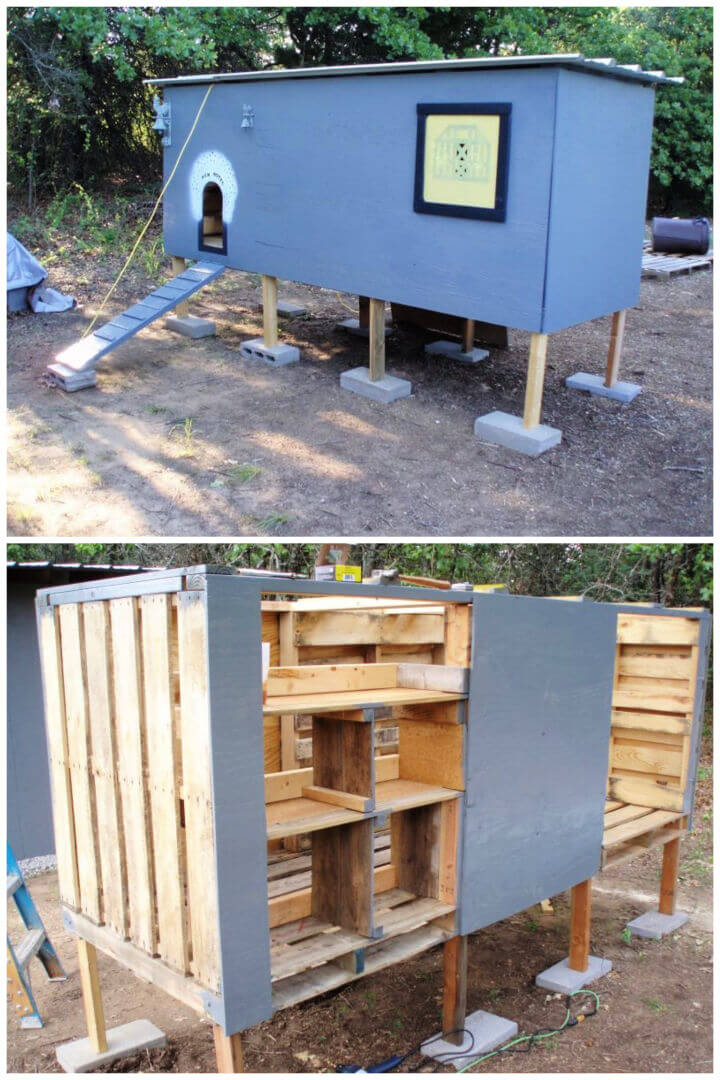 Grab the cement blocks, pallets, plywood, 18″ square glass, door handles, and magnetic latches to build this chicken coop. Use more massive wooden beams for legs that will hold the pallets for making floor base and sidewall frames. Finally, you have to sheath the entire mode with plywood. Do add stairs to the entrance to enjoy a cute walk of chickens. theownerbuilder
15. DIY Chicken Coop from Pallets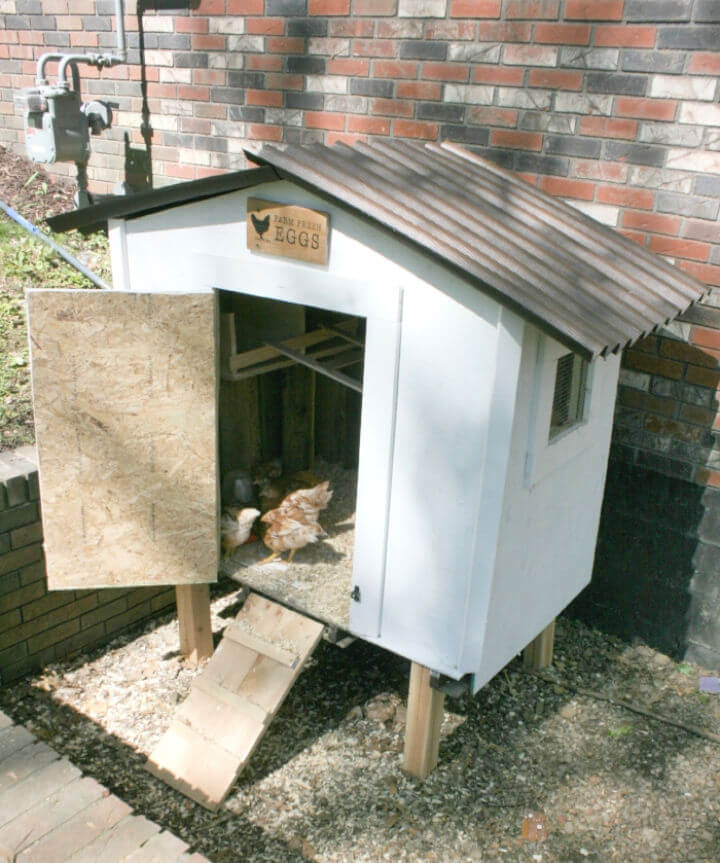 This miniature chicken coop is an interesting pallet wood achievement and will work up super quickly. Use the raw pallets to build the box first skeleton. Use single pallet wood slats to install roof rafters, finally would be to apply the plywood for a covered solid structure. Finish with chevron corrugated metal roof to get a mini chick bungalow. rootsandwingsfu
16. DIY Heather's Chicken Coop from Wood Pallets
One of the best luxurious houses to build for safe and healthy chicken raising. Be in the poultry by building a free of cost wooden chicken coop using discarded old wooden pallet. Elevate the pallets on solid concrete blocks to make the solid floor. Use old recycled windows to incorporate insides, upcycled milk boxes will rock as nesting boxes. onehundreddollar
17. DIY Chicken Coop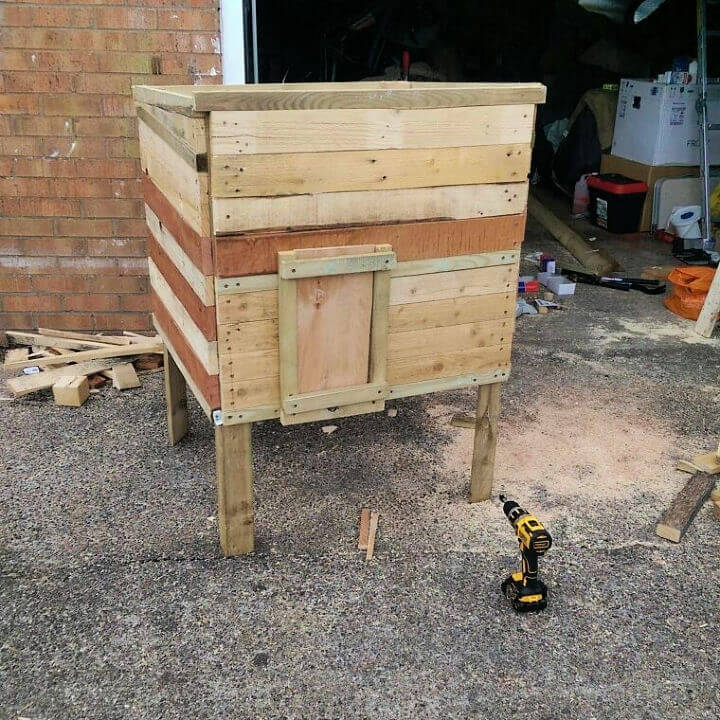 Willing to start poultry on a mini scale? Then this miniature wooden pallet chicken coop will make a rocking choice for you. Build it with dismantled pallet wood slats that you can get in a pile just by dismantling a stock of pallets. The tilted roof of this chicken coop will not let the rainwater to retain. nats homestead
18. Budget-friendly Pallet Chicken Coop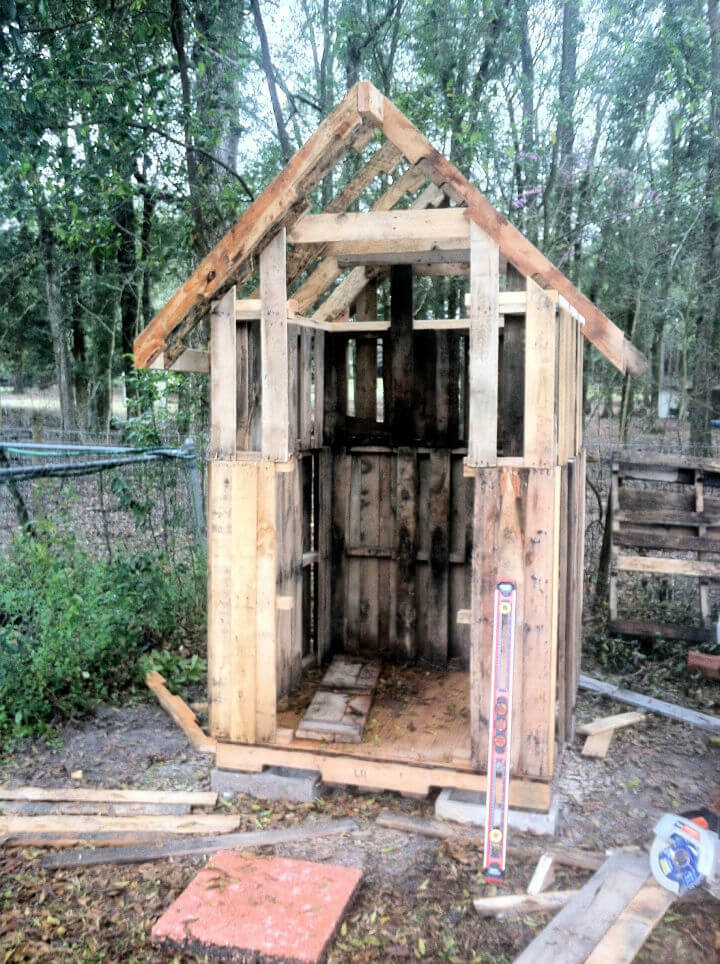 Stack up the wooden pallets to build this lasting longer wooden chicken coop, will be loved dearly by all. Install the chevron frame and rafter, next fill the frame solid by cladding pallet wood slats or using plywood. This chicken coop will work super quickly. chickadeehome
19. Simple Chicken Coop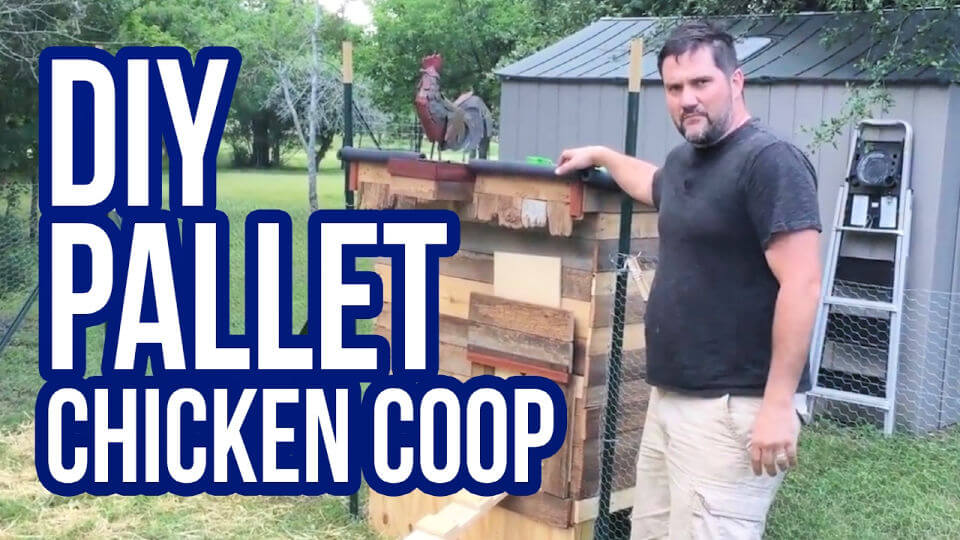 Building a chicken coop like a pro may be tricky sometime. Get here video instructions to learn how to build a fully-featured model of the chicken coop like a pro. This chicken coop design features different tones of wood and gains beauty from the tilted roof design. Add up the roof with a chicken sculpture for a cool finish. youtube
20. Build A  DIY Chicken Coop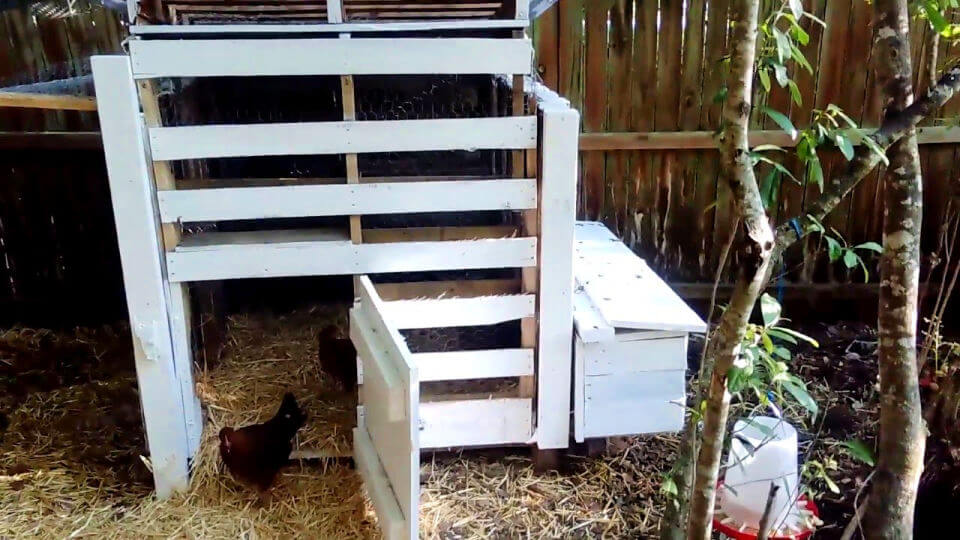 The most straightforward yet gorgeous design of the chicken coop to make with hands. Free pallets will rock again for the quick adorable constructions of this box style slatted chicken coop. It provides a nesting box attached to one side and is painted in white for an adorable look. youtube
You may also like these Pallet Projects: