Learn how to make a homemade cat tree with these 20 free diy cat tree plans, including step-by-step instructions, videos and PDF tutorials. Cat towers or trees are the perfect places for a cat to hide, play, scratch, climb, and sleep. These DIY cat tree plans will show you how to build a cat tower at home.
Keeping cats as pets is not that easy, it can make you tangled in further responsibilities as you really have to take some steps to provide a comfy residence for your cat where she can sleep or relax! Next, you need to be attentive toward the physical health of the cats, lazy cats will not enjoy or will make you enjoy very much, so you can make some custom cat playing stations also to make your cat physically active to ensure better health and physic in your cat!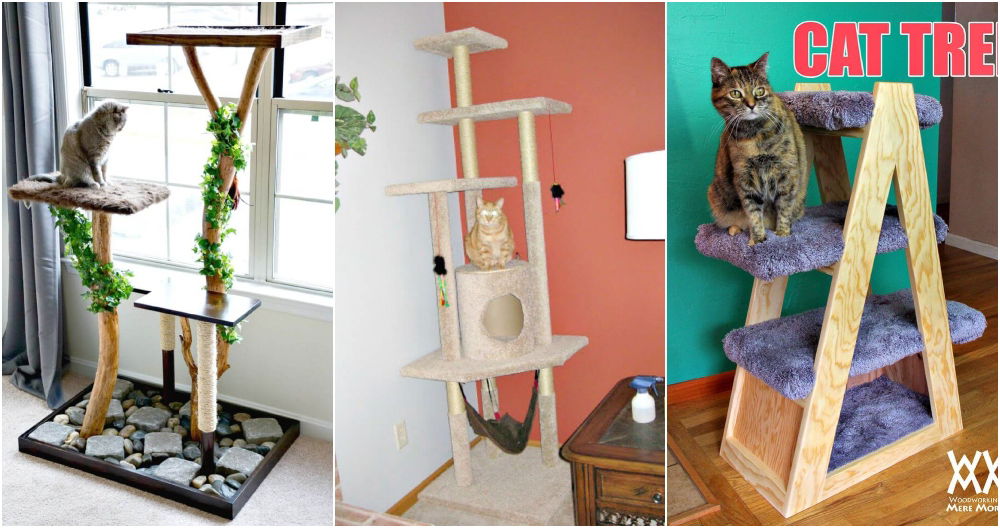 20 Free Homemade DIY Cat Tree Plans
If you're a cat owner, you know that cats love to climb. Not only does it give them a great view of their kingdom, but it also helps them stay agile and fit. Unfortunately, many popular cat trees can be quite expensive. If you're looking for a cost-effective solution, why not consider making your own DIY cat tree? With a little time and effort, you can create a sturdy and stylish cat tree that your cat will love. To get started, check out these 20 free DIY cat tree plans. With a wide range of homemade cat tree designs to choose from, you're sure to find the perfect cat tree plan for your furry friend. And the best part is, you can save yourself a bundle by building it yourself!
Check out more amazing homemade DIY cat tower ideas, cat furniture and cat gym ideas given below and make one that suits your needs and your cat's comfort!
1. DIY Cat Tree Using Real Branches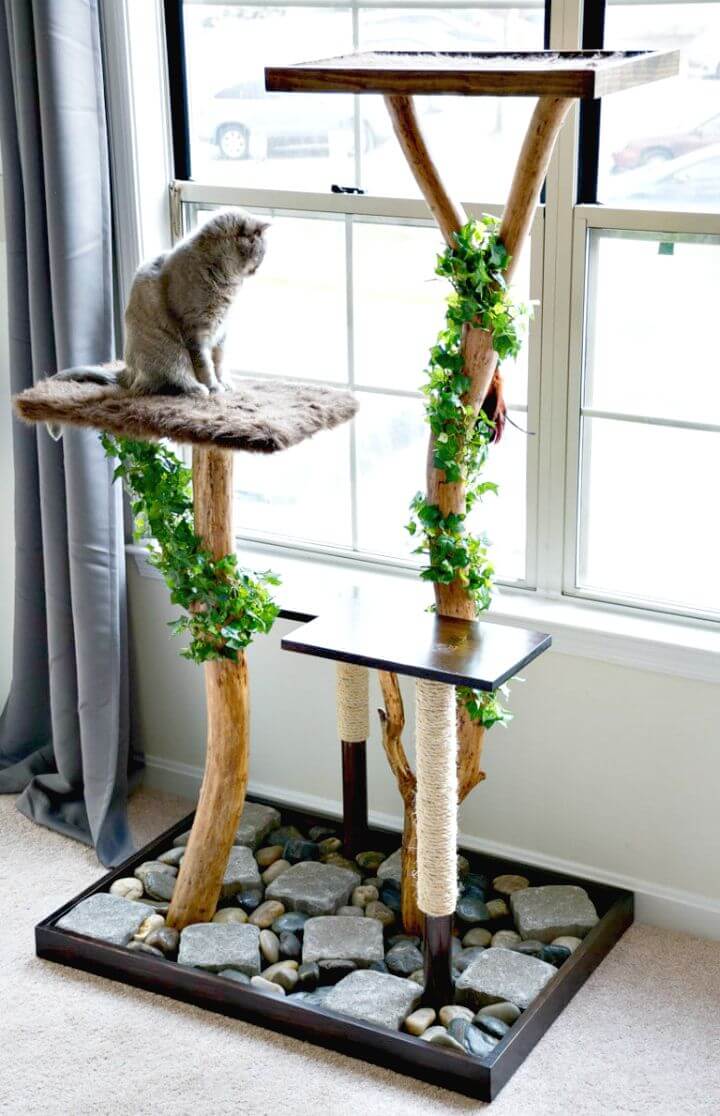 It is good to keep pets like cats, but it also demands to take regular care of your pets and the very first thing, in this case, is to keep your pets physically healthy! You can install some cat trees in your caves that will keep your cats having fun by jumping up and down here is a beautiful cat tree to make at home! Here this cat tree has been made with real tree branches that have been made a stand vertically by providing a durable base next they have been topped up with flat wooden tops and have been garnished with faux vines! Full project instructions here bybrittanygoldwyn
2. How to Build a Cat Tree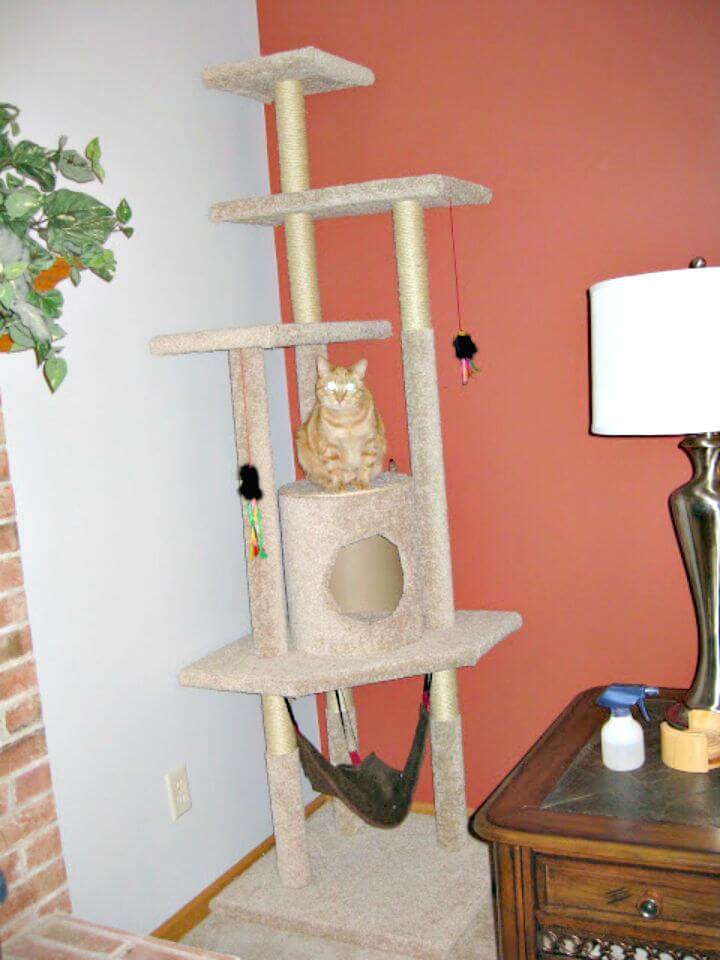 Just plan the cat tree by knowing well the temperament and nature of your cat! They will rock for a cat if she loves to climb or jump! So, make cat trees at home without going out of budget and here is a beautiful sample that you can DIY! Here this cat climber or tree is made of PVC pipes, custom-cut wooden lengths, plywood and with lag bolts and lots of other materials have also been used to make the cat tree soft like the carpet and the fabric! Here this cat tree also comes with a cat hammock! Full project instructions here brookepi
3. Homemade Floor to Ceiling Cats Tree
Win the heart of your cat also by provider here a cool fun-station in the form of this floor to ceiling cat tree that is made of recycled items! Here the PVC pipes, sisal rope and the custom wooden boards have been used to craft this DIY cat tree! Here this cat tree would make all at the same time like a cat climber, a cat tree and a cat scratcher! Wrap the PVC pipes in sisal rope so they will rock as cat scratcher and then put them together in different configurations to make the cat tower and finish with carpet wrapped wooden tops or bases! Full project instructions here meow cat
4. Unique DIY Wooden Cat Tree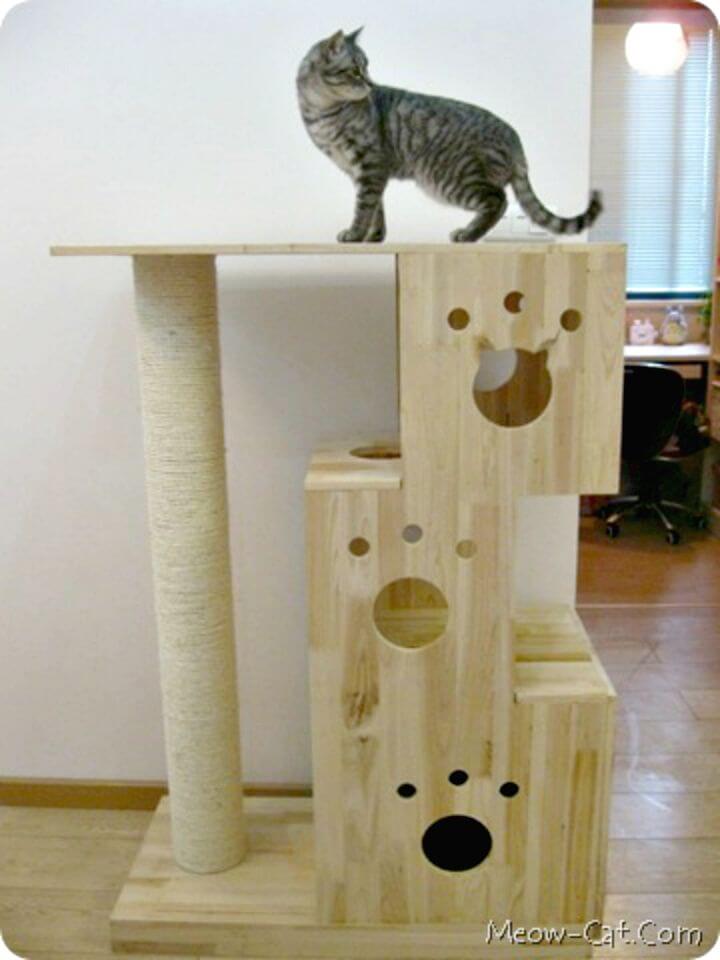 Here is another rocking model of cat tree that has been personalized with cat paw symbols that have been cut out in the wooden sides of this cat tree! Here the hole step style cat tree is made of wood and the grand edged top has been supported with a longer vertical PVC pipe pillar that comes wrapped in rope to make a lovely scratcher for the cat! Willing to duplicate this uniquely made cat tree? Grab the full free instructions and tutorial from here meow-cat
5. How to Make a Cat Tree
One more elegant design of cat tree is here to grab your attention, this is here a pyramid style cat tree that provides 3 level that would be a great fun for your cat to climb up! The fine dimensions and the accurate fittings just create a divine look of this cat tree! Here each level comes covered with the carpet and hence would be soft for your cat to sit on! Just start building this cat tree by making first the triangular side frames! Grab full free tutorial and instructions from here woodworking
6. Cute DIY Cat Tree Condo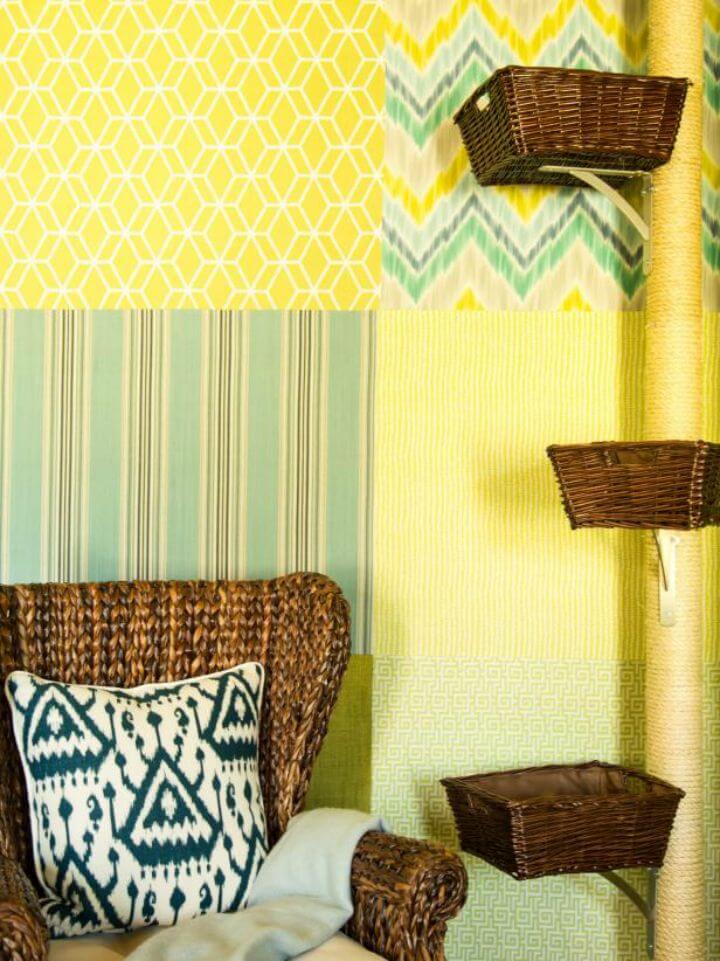 Let your cats be more physically fit by making her doing a daily exercise with this cat tree condo that will also be a perfect fun station for your kids! Making this cat tree tower is pretty simple, just wrap the rope around the PVC pipe and secure each loop of the rope in place using glue gun and next install the angle brackets to sides of the rope wrapped PVC pipe tower and add the wicker baskets to them! Here the rope wrapped PVC pipe tower would also make a perfect scratcher for the cat! Grab the full free tutorial from here hgtv
7. Cat Tree House Tutorial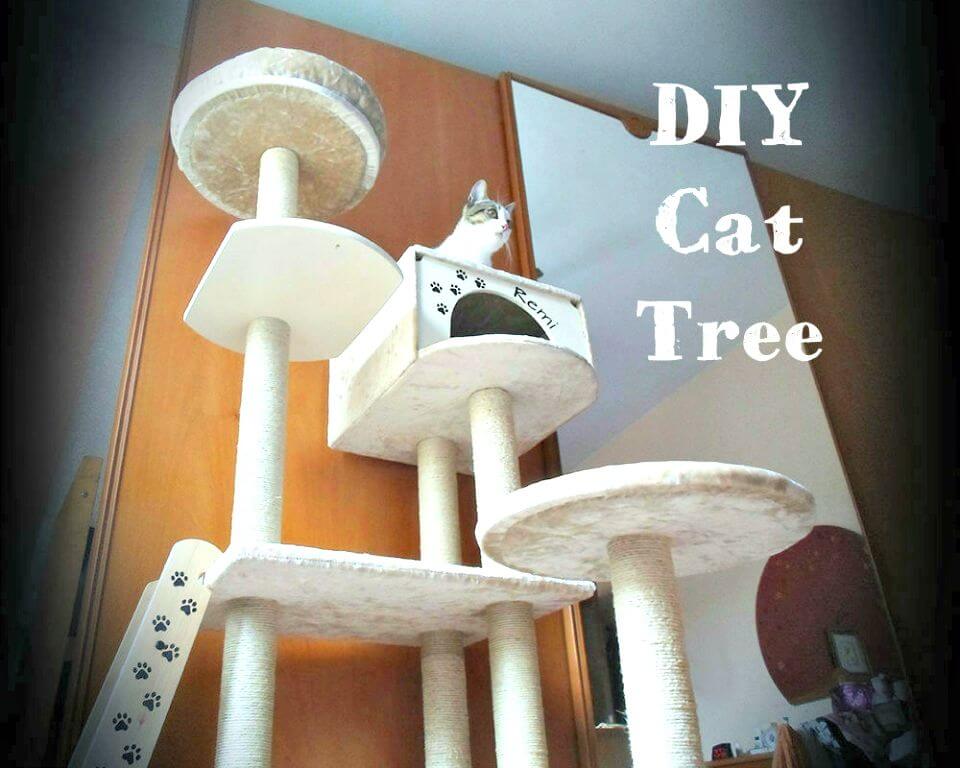 This is here the ultimate cat tree that comes with all the features! It provides a relaxing cat house, a play station, scratchers and the perfect kitty climber at the same time! Here this cat tree house is made if different types of wood, cardboard tubes, Styrofoam, wooden rods and also comes with upholstered surfaces! Lots of more materials have also been used for this enticing cat tower creation which would make a great gift for a cat lover! Full free planks and step-by-step pictorial is here instructables
8. Handmade Cat Tree
Get big thumbs up from your cat by giving here this cat tree gift that is another adorable DIY creation! Here this cat tree also provides the scratcher posts and it would make a perfect kitty climber too! Making this kitty tower is pretty simple and easy peasy! Just grab some wooden pots and top them up with the cardboard pieces that will make the perfect flat bases! Next wrap the entire cat tree with carpet so it will feel soft to cat toes! Let your cats, play, sleep and relax on this cat tree! Step-by-step guide and free instructions here dadand
9. DIY Wall-Mounted Cat Tree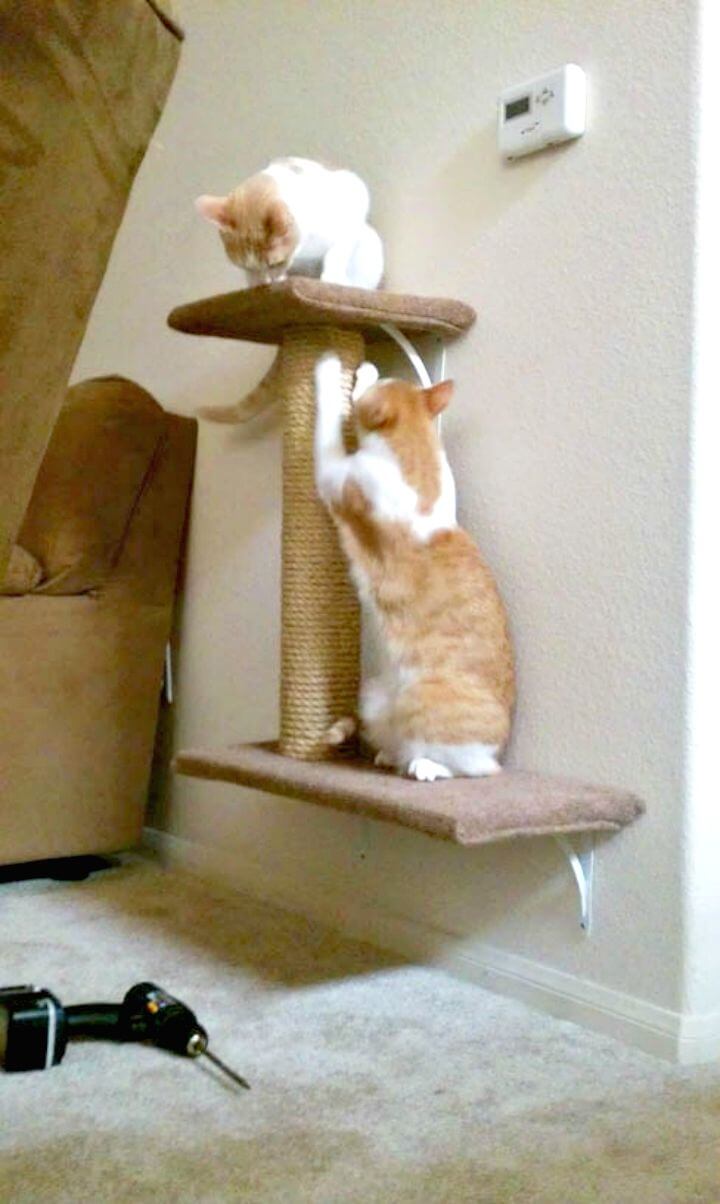 Checkout here another great and terrific self-made model of the cat tree! Here the bases or flat tops of the cat trees are made of carpet wrapped pine boards while the post of the cat tree is made of a thicker round wooden post that has been wrapped in the sisal rope to play also a role of a cat scratcher! Finally the entire cat tree has been mounted on the wall using the metal angle shelf brackets! Another epic model of cat tree that every cat lover can make! Full free planks and visual tutorial here offbeathome
10. Wooden Boards and High Traffic Carpet Cat Tree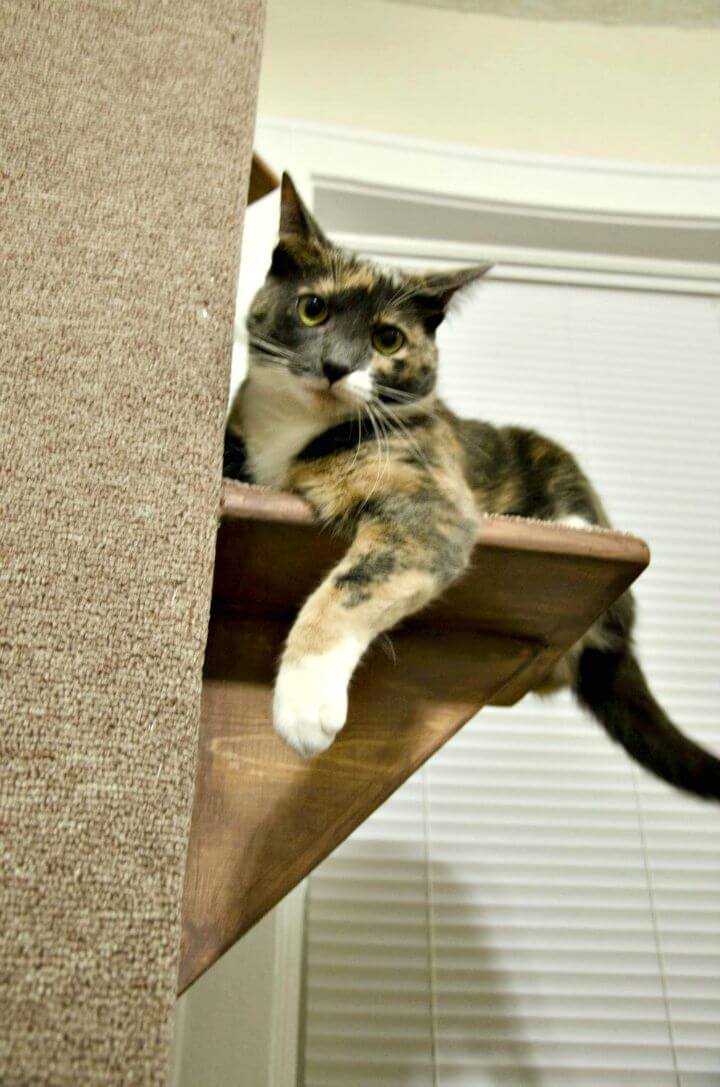 Grab this DIY wooden cat tree that has been made to rock and inspire! In construction, you have to build first a big wooden square tower using custom wooden boards! Next you can finish this large wooden square tower with a round base and custom flat shelves around where the cat will jump and stay! Here custom doors have also been cut out in this tree that doubles up the fun of this cat tree! Finally, this entire high-traffic carpet has been covered in the carpet to be soft-to-touch for your cat! Full free tutorials and visual guides are here imgur
11. Making a Survivalist's Cat Tree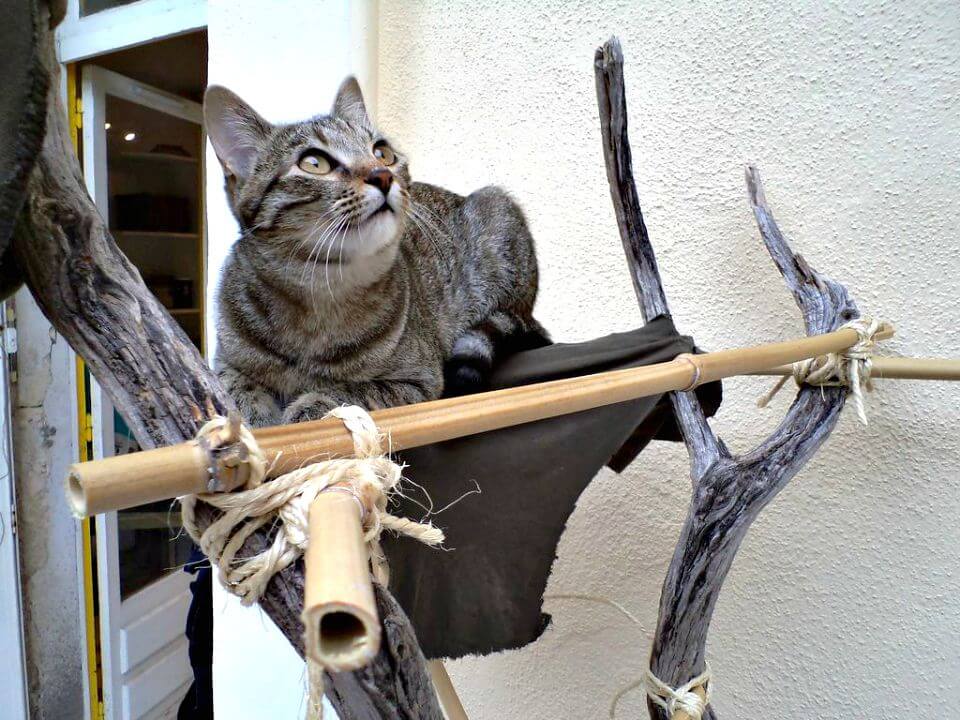 Make your cat feel like she is in a jungle on a real tree by providing this cat tree that is made of real tree branches with bamboo sticks! Here the bamboo sticks have been tied together using the rope to build a frame like of a shelter and finally have been covered with the black fabric to make a cat relaxing or sleeping station! Intending to duplicate this homemade cat tree? instructables
12. Building a Cat Tree with Real Tree
If unfortunately you are going to cut some trees from your back or front yard then time to repurpose them for boosting fun and physical activities of your cat! You will be highly amazed to see this cat tree that is made of a real tree and is something super beautiful to look at! Just clean the tree by removing all the thin branches and greenery and the paste the flat wooden bases or tops on each branch of the tree stem and also top up the stem with a flat wooden board! Make this real tree cat tree stand alone by providing a flat wooden base and that's it! Full project details and tutorial here meow-cat
13. Awesome DIY Cat Shelves Tree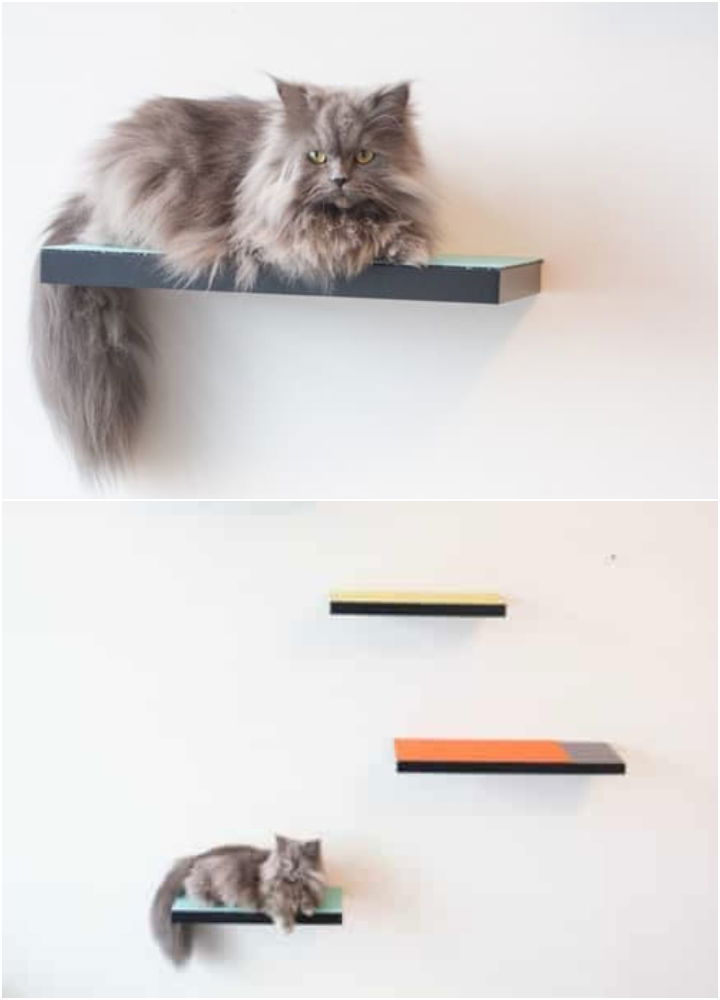 Here is a DIY cat tree that comes in the form of floating wall shelves and is really something super fun-making for a cat! Here all you need is some wall anchors, wooden shelves and some carpet to duplicate this charming kitty climber for your feline friend! Just install the anchors to the wall and then drop the wooden shelves onto the anchor rods! Make sure your shelves come with predrilled holes in them, and hence they will make perfect floating wall shelves! Cover the wall shelves with colorful carpet pieces, and that's it! brooklynfarmgirl
14. How to Make Cat Tree Using Real Tree
Make your cat happily jump on this totally handcrafted cat tree! Here the real tree has been used for this adorable creation of the cat tree that also comes with the biggest post wrapped in sisal rope, and hence it make a perfect kitty scratcher post! Just cut the real tree branches and stems and add them onto a flat wooden base, and next just top them up with custom wooden boards cut into shapes of fish and cat heads shape etc! paint the entire tree or just the surfaces in your own way, and that's it! meow-cat
15. Simple DIY Cat Tree
If you don't want the cat tree models that come on elevated height levels then you will definitely like this cat tree model that is low but super fun-making! This is here the cutest and simplest design of the cat tree ever made and it will please all the onlookers and cat lovers! Here all you need is a branched tree trunk and a round wooden disc to make this cat tree! Just mount well the branched tree trunk on the round wooden base and that's it! Complete project details here marthastewart
16. How to Make Kristen's Cat Tree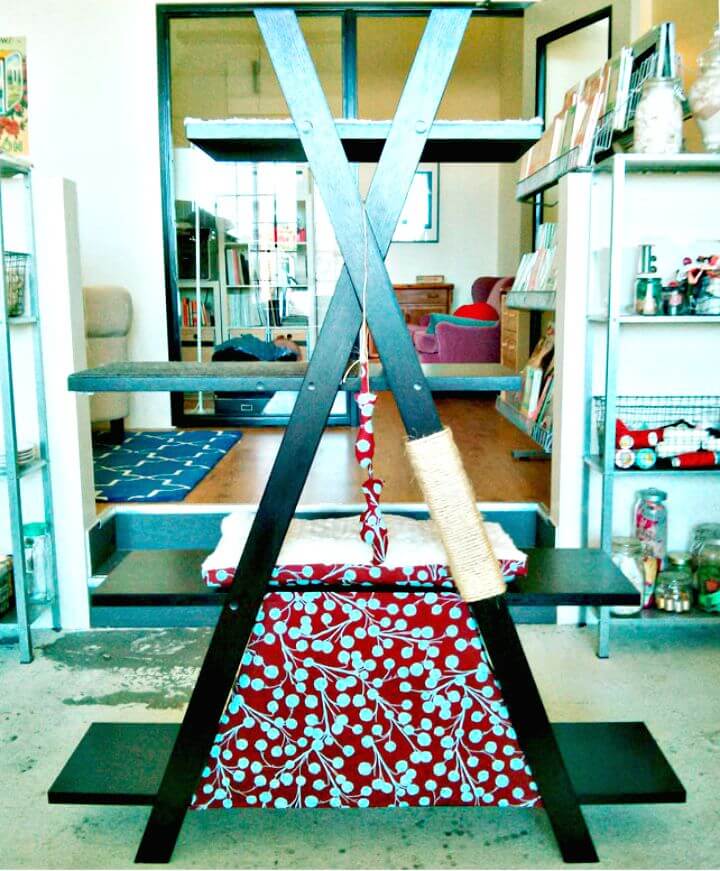 You can also repurpose the old items of furniture to make some DIY cat trees! Here an old A-frame bookshelf has been turned it a cat tree that will be held special to all fun loving cats and is just a super handsome creation! Here the shelving levels of the bookshelf have been covered with the faux fur, batting and quilting cotton which have been adhered in place using glue! Wrap the rope around the lower legs of the cat tree to gain some cat scratchers and that's it! Full project tutorial and instructions here colettehq
17. Make Your Own Wall-mounted Cat Tree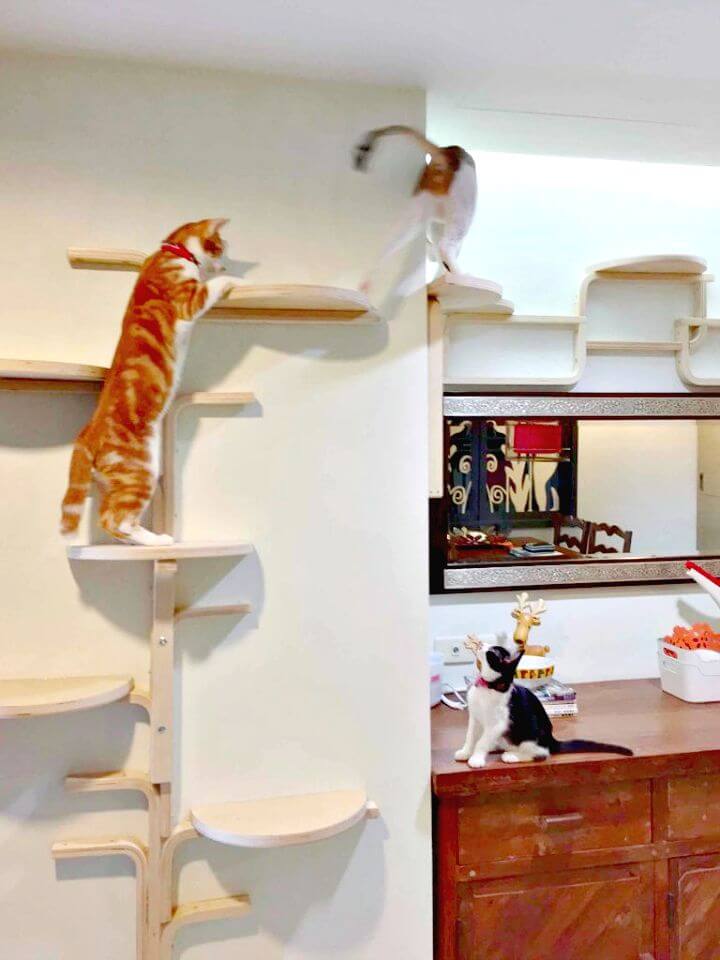 Intending to install some modern wall mounted cat trees? If yes, then here is a great IKEA hack for it, just make use of the IKEA frost X stools to make this wall-mounted cat tree! Just make a rough plan of your design on the wall using tape and then add the selected Frosta components as shown! This is here a super modern, creative model of cat tree ever that one can make for his feline friend! Full project tutorial and step-by-step instructions here instructables
18. DIY Cat Tree with Hammock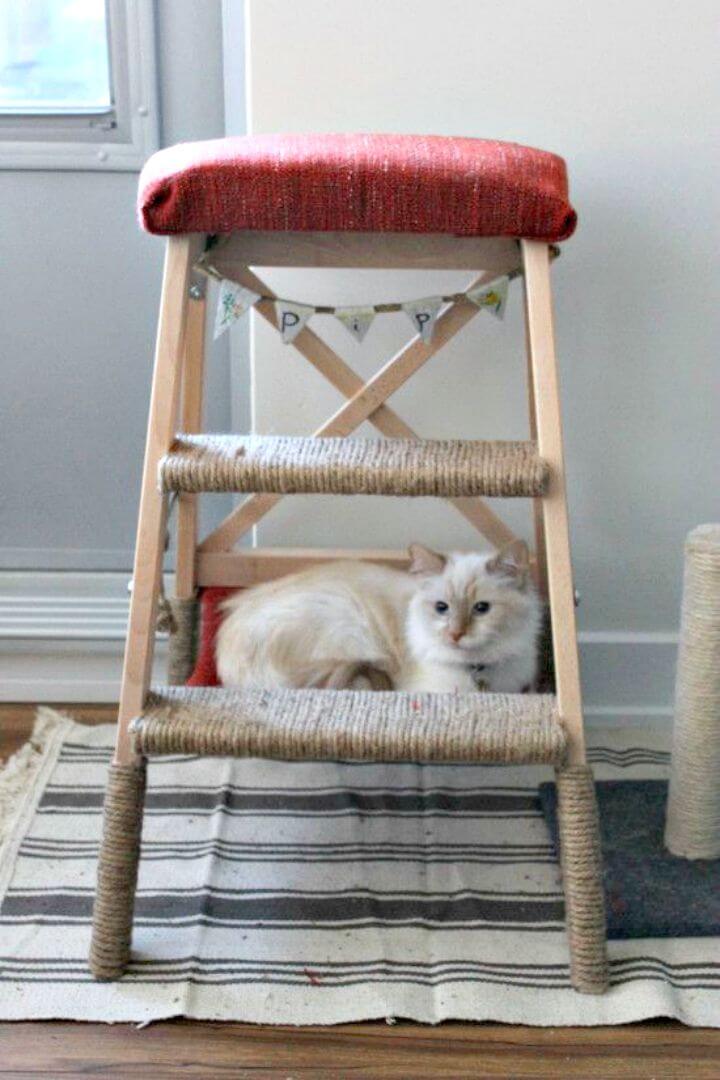 Here is another smart IKEA hack to build a cat tree that will also rock your space! Here all you need a 3-step IKEA stepladder which can then be added with a tufted wooden top and hence it will take the shape of a stool! The final step would be make the ladder steps non-slippery and comfortable for cat climbing, and this can easily be done by wrapping the rope around the ladder steps! The rope wrapped steps would also make great kitty scratchers! Full project instructions here bloglovin
19. Cheap DIY Ikea Hack Lack Shelves Cat Tree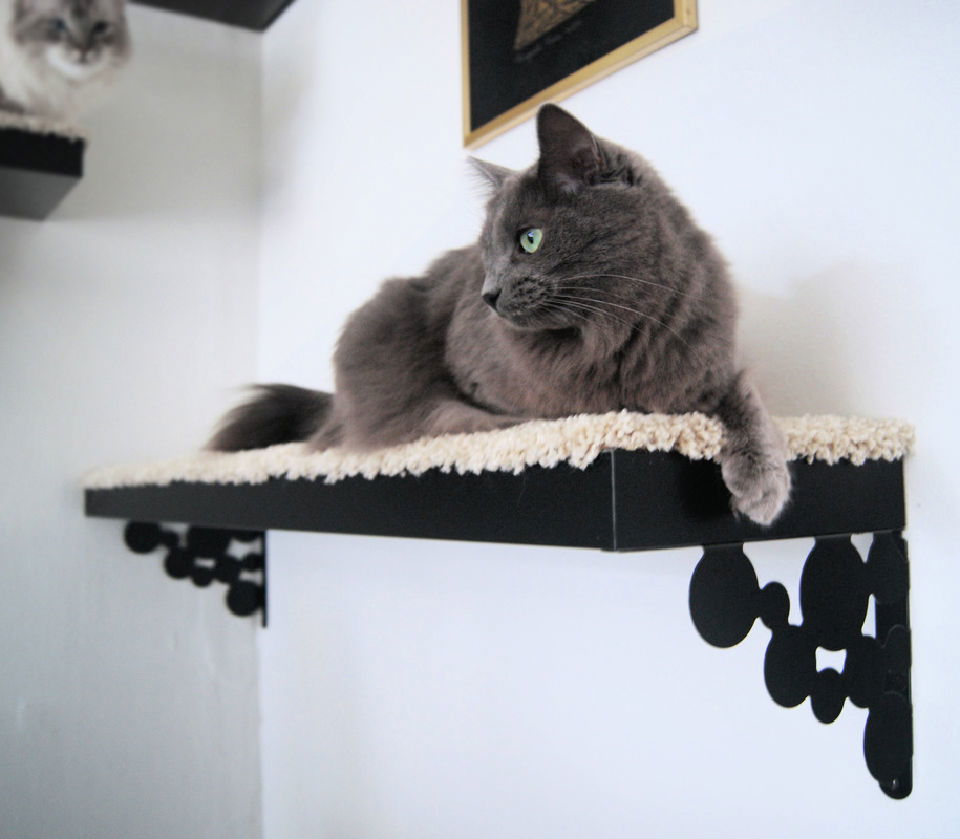 You will definitely fall in love with this DIY cat tree that comes in shelf style! This is here another praise-worthy IKEA hack to gain a low-cost but cat tree! You can also use these wall shelves for numerous different other purposes in the absence of your cat! Here this wall-mounted shelves cat tree is a combination of 2 big and 2 small lack IKEA shelves that have been mounted on the wall using decorative metal shelf brackets and have been topped up with custom-cut rug pieces! Full project instructions and tutorial here tatianasdelights
20. Build Your Own Cat Tree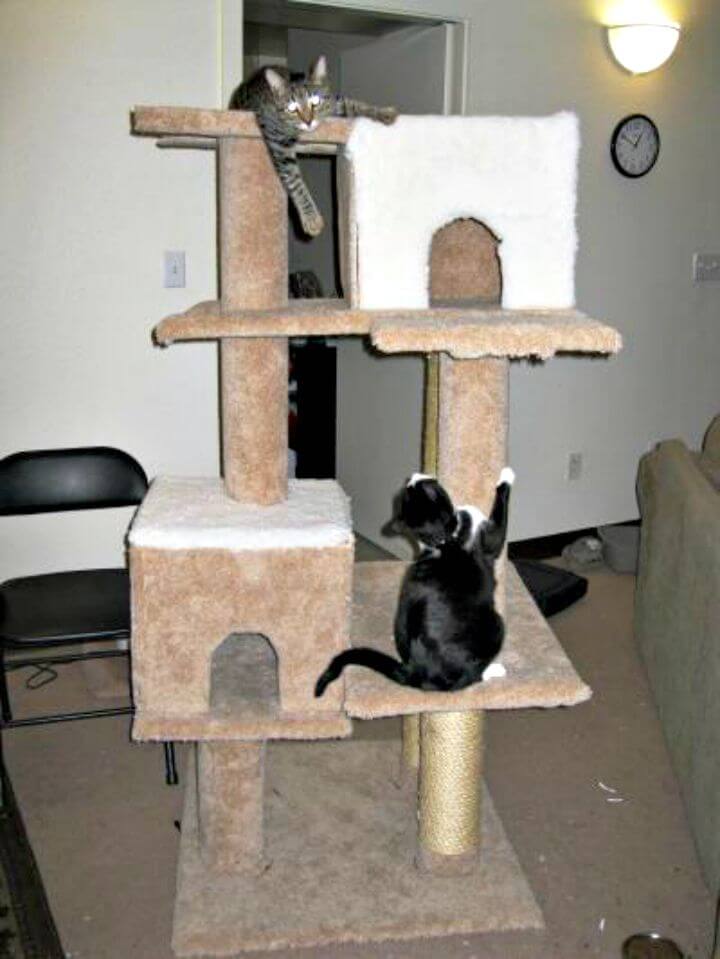 Check out the homemade cat tree that is fully featured and is made of commonly found and recycled home materials! Here the basic frame, including the pillars and surfaces, is made of carpet tubes and plywood. And the posts have been wrapped in the rope a little to be non-slippery, extra durable and be the perfect scratchers for your cat friend! The doormat pieces have been used as a surface and also with faux fur to be comfortable for your cat to sit or sleep on! thriftyfun
Related DIY Projects and Ideas
Crochet Cat Bed Patterns: These free crochet cat bed patterns are easy to make and inexpensive and will give your kitties a place to rest their fuzzy heads.
DIY Cat Toys: Learn how to make cat toys at home on a budget. These easy DIY cat toys are a great way to spend time with your kitty.
Dog Bowl Stand Ideas: If you're looking for a way to feed your dog in style, check out these cool DIY dog bowl stand ideas to create a custom dog bowl holder that is perfect for your pet.
DIY Dog Bed Patterns: These free dog bed patterns will allow you to sew a comfy place for your pup to relax, sleep, and play.
Dog Bandana Patterns: These free dog bandana patterns will give you everything you need to know about sewing your own dog bandana pattern and make a perfect dog accessory for your pup.
DIY Dog Collar Ideas: With these best DIY dog collar ideas, you can create the perfect unique collar for your pup.
Pallet Dog House: Looking for a simple pallet dog house plan? This step by step guide will show you how to build a pallet dog house in no time!
PVC Pipe Dog Bed: Looking for an easy, inexpensive way to make a dog bed? Check out these DIY dog bed ideas using PVC pipe. PVC pipe is the perfect material to build a dog bed cheaply!
DIY Dog House Plans: Looking for a simple yet stylish dog house plan? Check out our free DIY dog house plans with step by step instructions. With a little bit of effort, you can build your pup their very own home that they'll love.
Conclusion:
If you are a cat lover, you know that cats love to scratch. In fact, they need to scratch in order to keep their claws healthy and trim. A great way to give your cat a place to scratch is by building them their own homemade DIY cat tree. Not only will this be fun for your kitty, but it will also help keep them out of mischief! We've gathered 20 free diy cat tree plans for you to choose from so you can find the perfect one for your feline friend. Be sure to build it sturdy, though – after all, cats like to climb and jump around! Have you built a DIY cat tree before?