Looking to add the perfect DIY end tables to your home decor? Learn how to build end tables with our 25 free DIY end table plans and ideas, including step-by-step instructions. With these free and easy-to-follow DIY end table plans, you can craft end tables to suit any room or style preference. Ranging from rustic and farmhouse designs to modern and industrial styles, these free end table plans cater to everyone's taste and skill level. Each plan provides detailed instructions, illustrations, and a list of necessary supplies to ensure a smooth and enjoyable building experience.
DIY end tables not only add character and functionality to your living space but also allow for customization by choosing your preferred wood type, finish, and colors. These do-it-yourself projects can enhance any room, whether it's a living room, bedroom, or home office.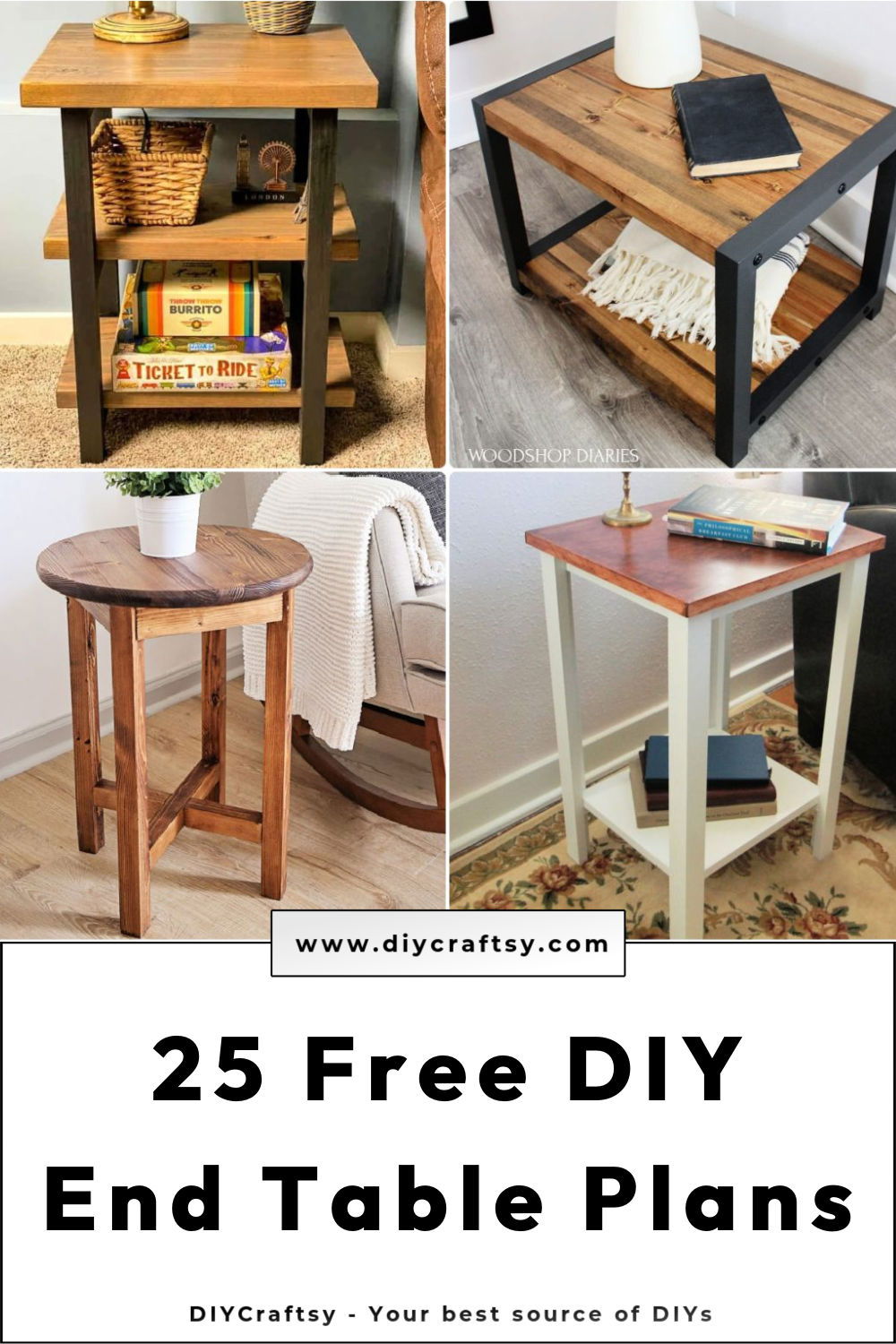 With our comprehensive collection of free diy end table plans, you're sure to find the perfect end table design, from crate end tables to geometric side tables and even end tables with built-in charging stations. Go ahead and dive into the world of woodworking by crafting your very own DIY end tables today!
1. Unique DIY Wooden End Table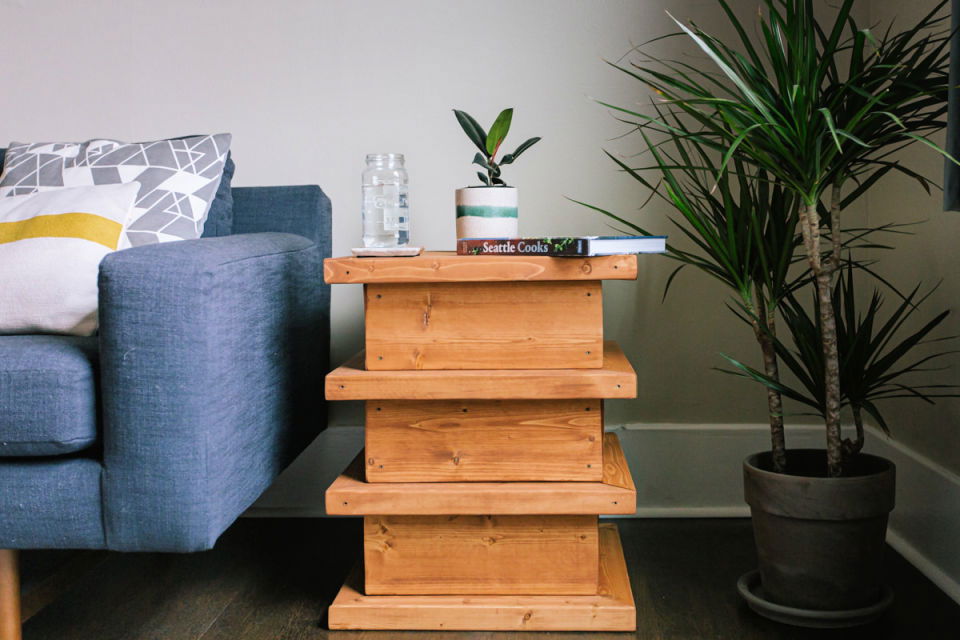 Looking forward to Memorial Day but worried about the uncertain weather? Don't worry! This tutorial presents an exciting indoor project – a rustic-chic side table. Designed with two-by material for a robust look, this table can be assembled using some screws, spruce two-by-sixes, and one-by material for a sleek finish.
This step-by-step guide takes you through cutting, drilling, sanding, and assembling the table, helping you create a sturdy and stylish addition to your living space.
Moreover, the unique design allows the tabletop to be removed for additional storage, adding a practical element to its charming aesthetics. Bring in the holiday spirit with this fantastic side table project! dunnlumber
2. Free Rustic End Table Plan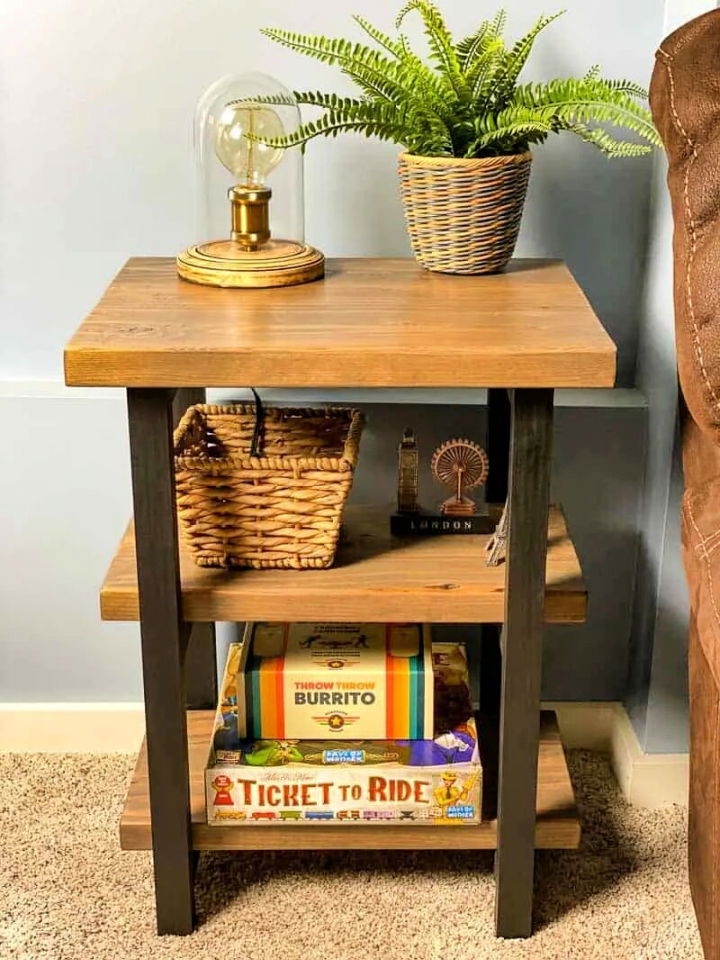 Build an eye-catching and functional DIY rustic end table with this straightforward woodworking plan! Designed for optimal storage, this piece showcases two shelves and a top crafted from reclaimed wood, bound together with a striking black frame for a timeless rustic look.
With essential materials like 2×4 and 2×2 boards, wood glue, screws, a pocket hole jig, and patience, you'll see this project through from start to finish. This project is great for putting spare 2×4 lumber to good use, resulting in a unique and character-filled piece for your living space.
This guide provides comprehensive step-by-step instructions, from preparing your reclaimed lumber to applying your finish, ensuring a seamless and rewarding experience. So why not save a chunk of your budget and create this stunning rustic end table today? You'll gain a wonderful piece of furniture and valuable woodworking skills. handymansdaughter
3. Designer Inspired Two Tier End Table Makeover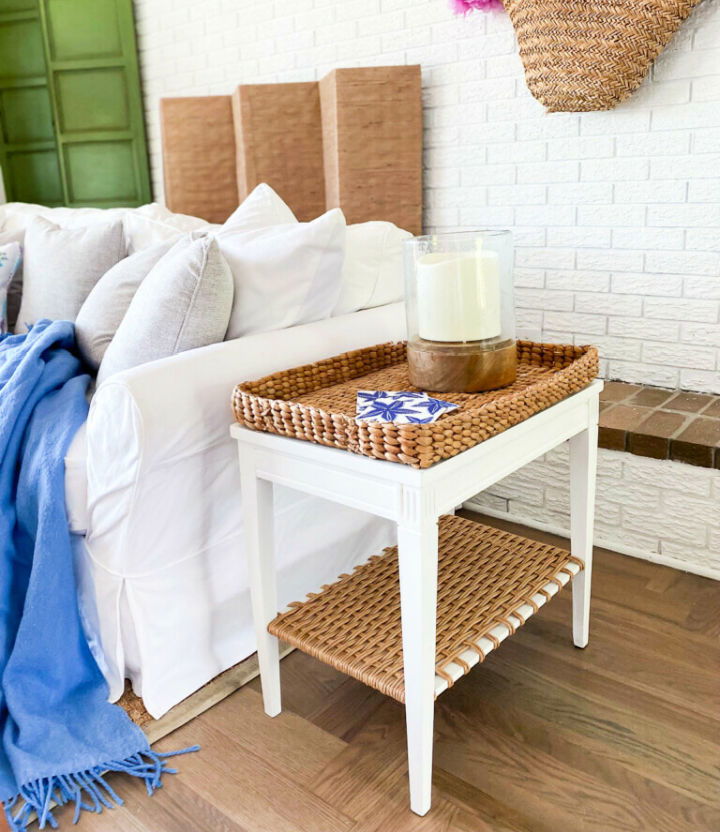 Revitalize your tired wooden end table with an innovative DIY two-tone woven technique, offering a designer's touch without the hefty price tag. This project transforms a thrifted table with paint and a unique weaving process, creating a standout piece for any room.
Starting with an inexpensive find from a yard sale or thrift store, this project breathes new life into old furniture, culminating in a stylish and practical piece that offers utility and aesthetic charm. With a crisp white paint job and a contrasting woven tray added for extra character, this end table makeover promises a fresh and modern look.
It is an encouraging example of how simple, affordable materials like paint, wax, and paper fiber rush cord can completely transform a piece of furniture. The result? A stylish, two-tier end table that rivals those found in high-end furniture stores but for a fraction of the cost. Let this project inspire you to think differently about your furniture makeover journey. inmyownstyle
4. Making an End Table With a Shelf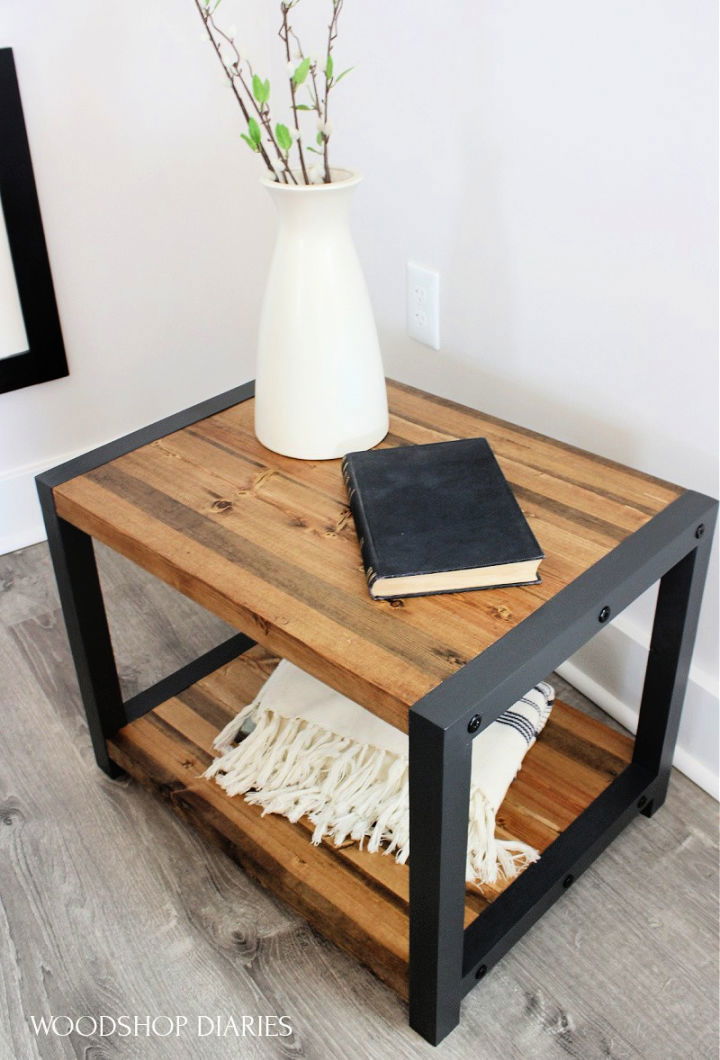 In DIY projects, this guide unravels the mystery of creating a minimalistic yet stylish DIY end table with a bottom shelf using 2x2s. For this easy and engaging weekend venture, arm yourself with 2x2x8s, a saw, a drill/driver, wood glue, clamps, wood screws, black timber screws, and a sander.
With an emphasis on simplicity and functionality, the project entails assembling top and bottom shelves, constructing the end table frame, drilling pilot holes, and finally, putting it all together for a beautiful finish.
The best part? This compact and modern table can be customized to suit your decor, and it's a perfect addition to your couch, recliner, or even as a nightstand. Who's ready to add a dash of DIY charm to their living space? woodshopdiaries
5. Best Narrow Side Table Design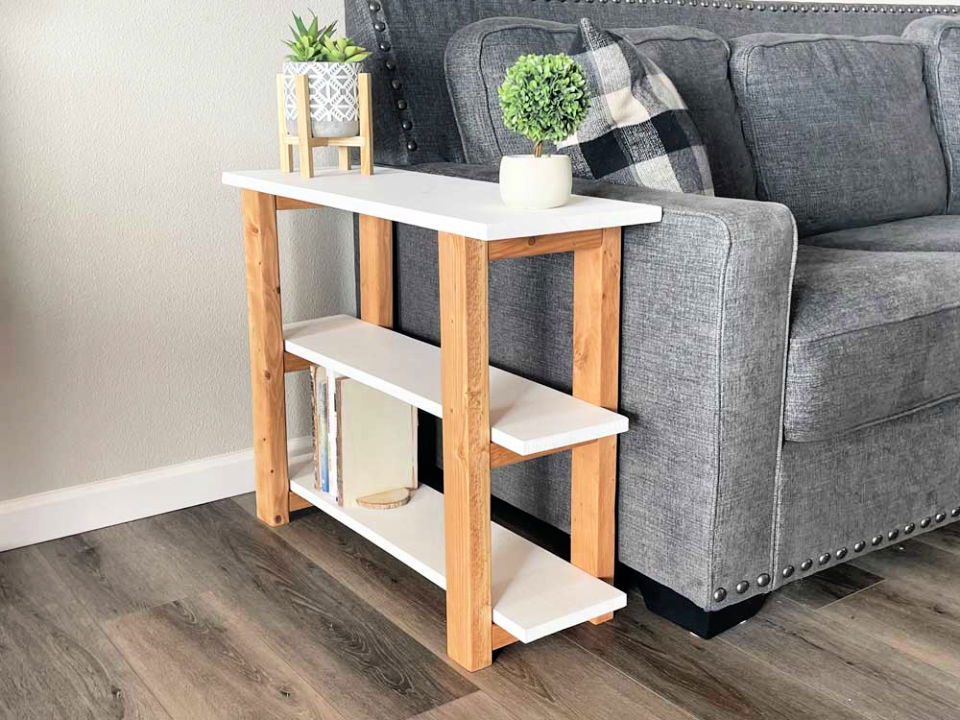 Brighten your living space with this straightforward DIY project: a narrow-end table. This compact piece of furniture brings functionality and style to any room. Use it to hold your cup of coffee, a book, or the television remote while adding a touch of class to your decor. This project is designed to be user-friendly, requiring only basic materials and tools.
Materials needed include a 4-feet long 1×8, a 30-inch long 1×12, a 12-foot long 2×4, and an assortment of self-tapping wood screws. The cut list ensures you have the correct dimensions for each component.
The clear step-by-step instructions guide you through building the two-leg sets and attaching the shelves and the tabletop. The final result? A narrow-end table is perfect for your living room. This project encourages creativity and practical skills and provides the satisfaction of crafting your furniture. ana white
6. How to Make Your Own End Table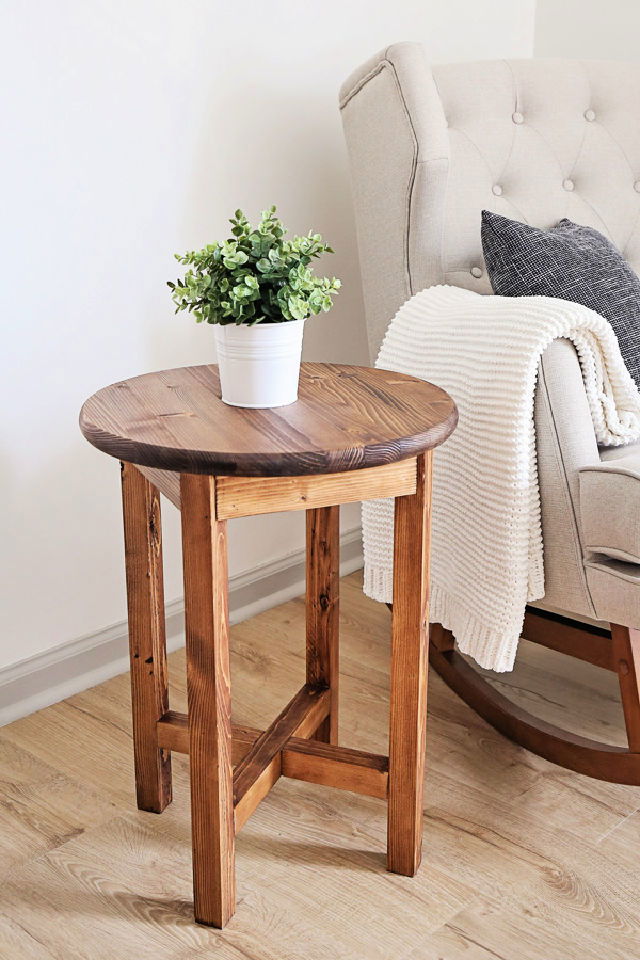 Immerse yourself in woodworking with this simple yet stylish DIY end table. Made from affordable lumber, this table provides a practical addition to any corner space, making it perfect for small homes or rooms needing an attractive storage option. Combining classic and modern aesthetics ensures it can seamlessly fit into various interior styles.
For this project, gather essential materials such as an 18″ round panel board, 2x2s, 1x3s, brad nails, Kreg screws, wood glue, and stain or paint of your choice. This end table is an aesthetically pleasing addition to your living space and a testament to your creativity and craftsmanship. Don't wait – start crafting your table today! angelamariemade
7. How to Build a Crate End Table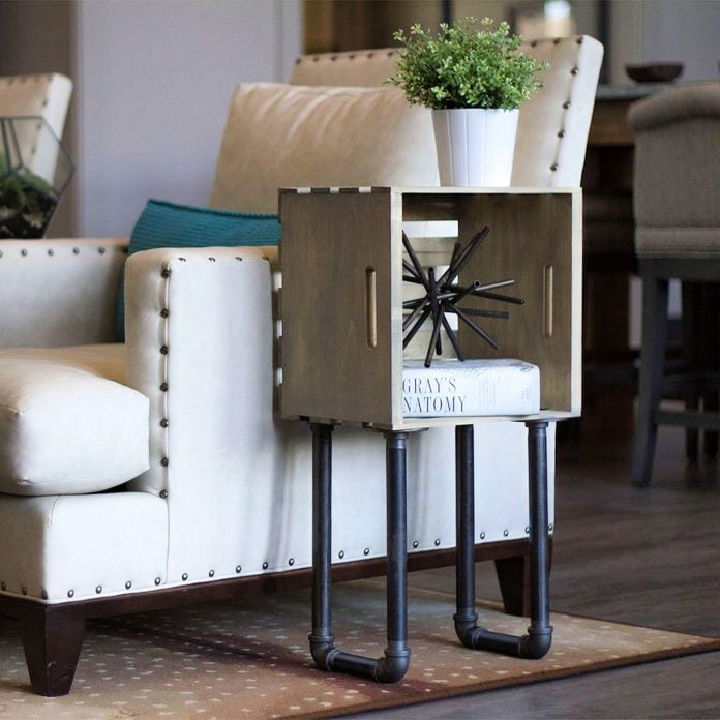 Discover versatile DIY end table plans incorporating storage, adjustable heights, and stunning designs to elevate your living space. Elevate your home decor with a unique DIY wooden crate end table. This straightforward project integrates the rustic charm of wood with the industrial look of steel, creating a harmonious blend that will grab attention. The list of materials consists a medium-sized crate, a wooden board, and steel components such as floor flanges, pipes, and elbows.
The process includes a simple assembly: laying out parts, building the table legs, beefing up the crate side with the board, and finally assembling the end table.
Perfect for those looking to enhance their living spaces with a dash of creativity and a moderate budget. This project is easy to do and fun to spend an afternoon reaping long-term benefits. Transform a regular crate into a bespoke piece of furniture that complements your aesthetic and meets your functional needs. familyhandyman
8. Build Your Own Geometric End Table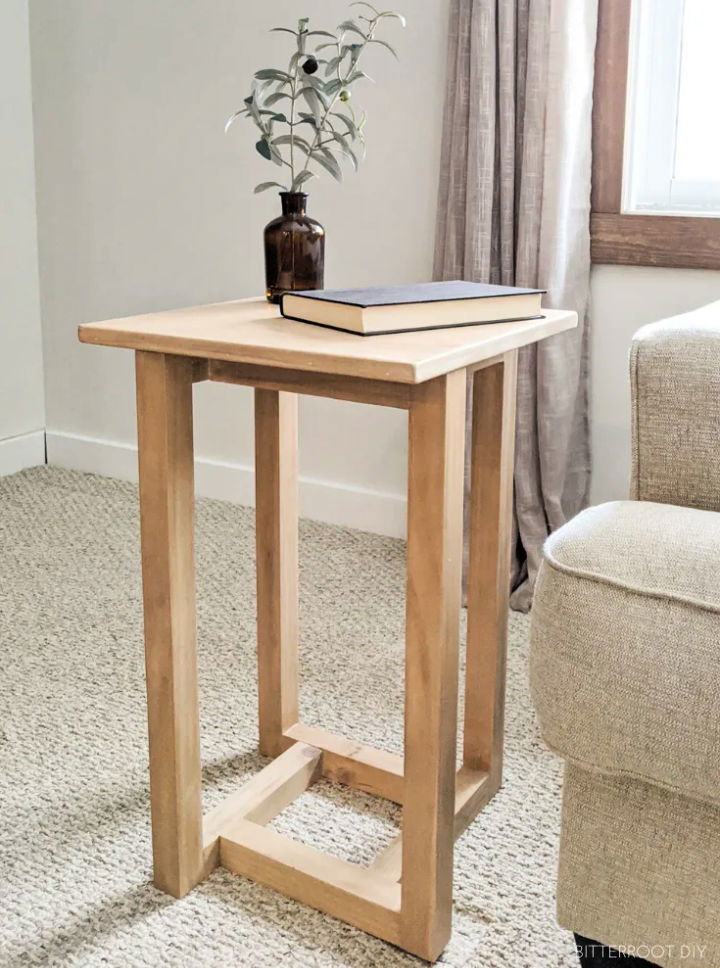 Upgrade your living space with an attractive and functional piece of furniture by constructing a geometric DIY end table. Contrary to the detailed look, the building process is straightforward and promises to add a unique touch to your room. This project requires basic tools like a miter saw, drill, Kreg pocket hole jig, tape measure, clamps, and safety equipment.
The primary materials are 2 x 2 lumber and 1 x 4 lumber, used for crafting the table's structure and the tabletop, respectively. This end table features a white wash stain and early American stain, giving it a rustic yet modern look.
Perfect for displaying your favorite plants, books, or a cozy lamp, this end table offers a beautiful balance between style and functionality. Enjoy the pleasure of creating your furniture piece and the satisfaction of the result. tylynnm
9. Rustic DIY End Table for Living Room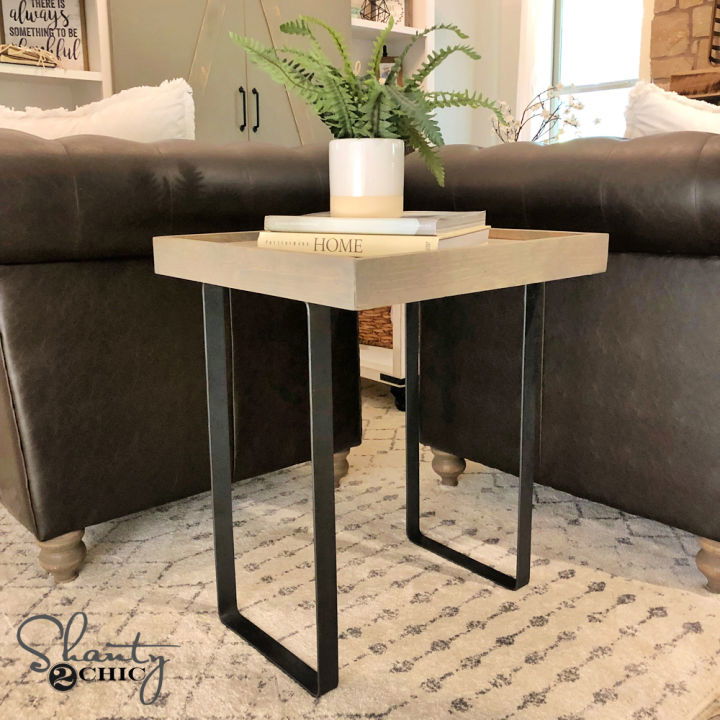 A rustic DIY end table for the living room adds a touch of character to any home! It is chic and an affordable project with an estimated cost of around $80, including table legs. The required supplies are 1×2 boards, a project panel, wood glue, and 1.25″ brad nails.
The process begins with attaching the boards to the panel and crafting an attractive chevron pattern through meticulous 45˚ cuts. The table's charm is further enhanced by 1×3 trim pieces that give it a neat, tray-like appearance. Attach the legs and behold your creation once all elements are securely in place.
It's a fun and engaging way to add a touch of rustic modernity to your home decor. You can modify it into a tray by adding a couple of pulls to the sides. As you embark on this project, remember: it's not just about building a table. It's about crafting a unique piece of furniture that perfectly reflects your style and taste. shanty 2 chic
10. Simple DIY End Table Under $10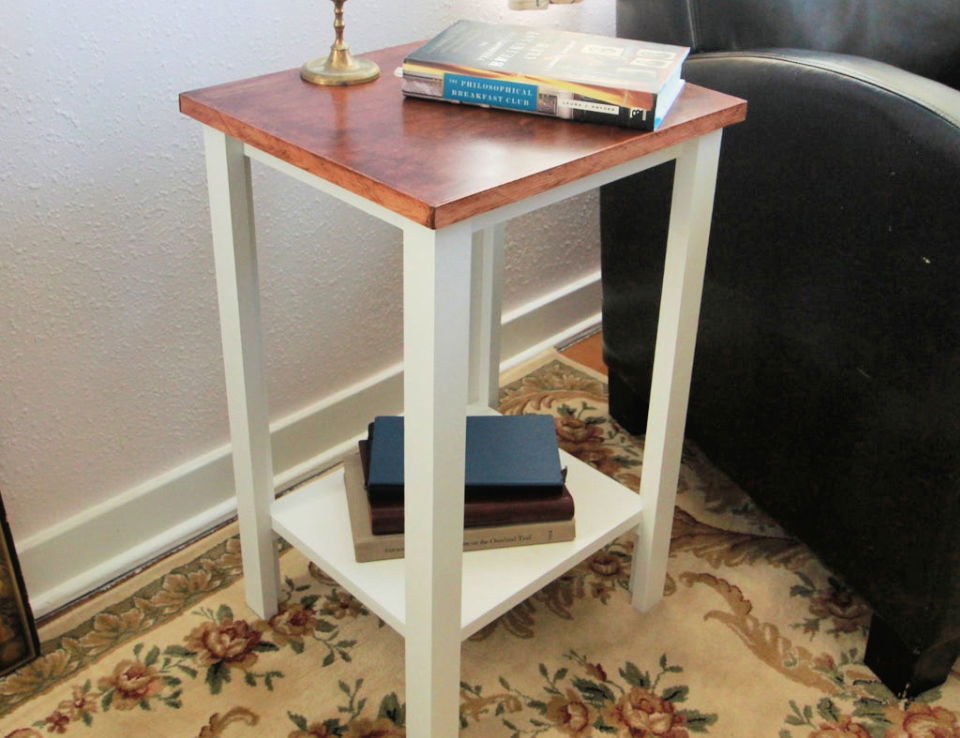 Put your DIY skills to the trial and build a DIY end table for less than the cost of a fancy coffee! Made entirely from a quarter sheet of plywood. This handy table, costing a mere $10 or $20 depending on your plywood source, provides a tasteful addition to your living space. The build requires basic tools like a table or circular saw, a nail gun, and a drill.
Add some edge banding for a refined look, using thin pine strips or your material of choice. Follow the easy assembly process for the legs, rails, and top, then smoothen the end grains with drywall spackle and sandpaper.
Coat the base with flat white paint and primer, and then add your personalized touch to the top with a red mahogany gel stain. Finish it with a linseed oil beeswax polish for a smooth, protective finish. This project is not just a cost-effective way to spruce up your decor but also a fun and engaging woodworking experience. instructables
11. Modern DIY Industrial End Table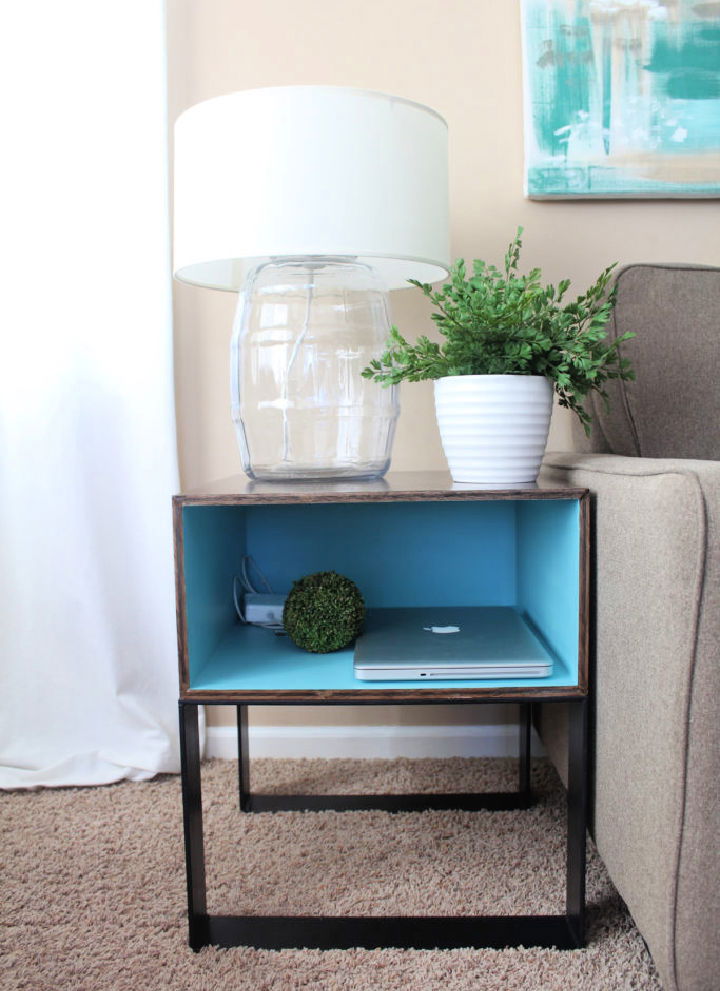 Utilize DIY end table ideas like adding built-in storage, using reclaimed wood, or incorporating unique metal accents for a modern twist. Unleash your inner craftsperson with these stylish, modern industrial DIY end tables. As a culmination of two months of meticulous planning and work, these unique furniture pieces blend the warmth of wood with the cool, sleekness of metal, creating a harmony of materials that suits any living room decor.
You'll work with flat bar steel and birch plywood, using tools like a metal band saw and an angle grinder to create the perfect pieces. Don't worry if you're new to metalwork – with a bit of exertion and some help from family or friends, you can achieve these professional-looking results.
Even better, you'll do all this for a cut of the cost of buying similar items retail, as these gorgeous end tables came to a total of just $80.05 for the pair! Turn your vision into reality and give your living space a makeover with these modern industrial end tables. to the woods
12. How to Make an End Table With Drawer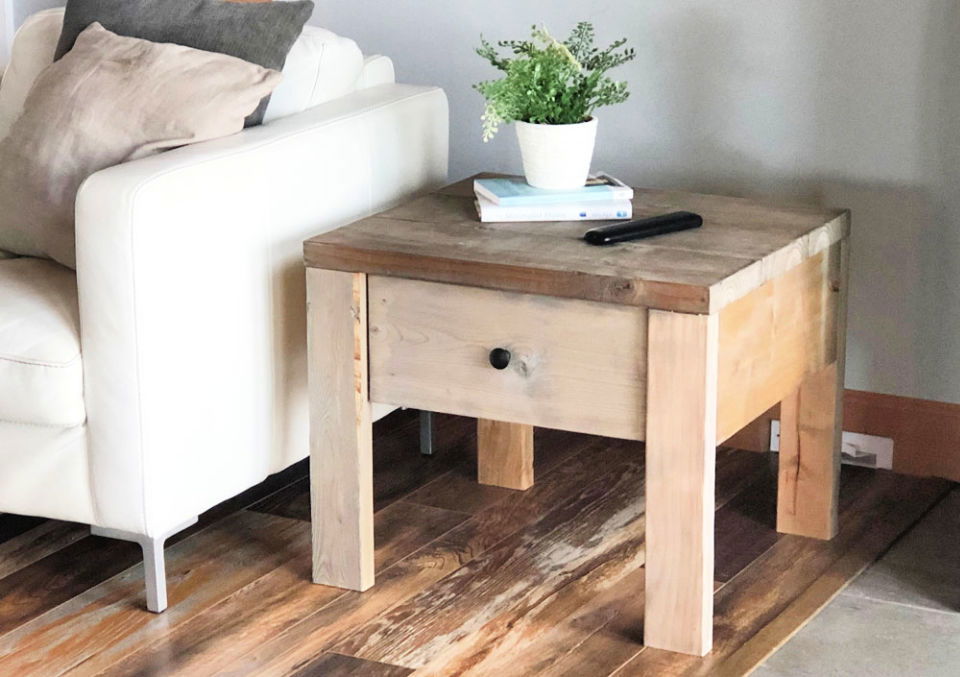 Embark on a rewarding project with this detailed guide on building a DIY end table with a drawer. Showcasing an elegant, solid wood design, this furniture piece brings rustic charm and functionality to your home. Requiring basic power tools and lumber, this project involves crafting a sizable table featuring a spacious drawer and a planked wood top.
The robust, durable structure makes it a stunning addition to your living space. The plans come with comprehensive instructions, including a shopping and cut list, alongside a video tutorial to assist your crafting journey.
This end table doubles as a convenient nightstand, fitting effortlessly with various decor styles. With the ability to be painted, this piece can be tailored to your aesthetic. Enjoy building this delightful yet practical home essential. ana white
13. Easy End Table Building Plans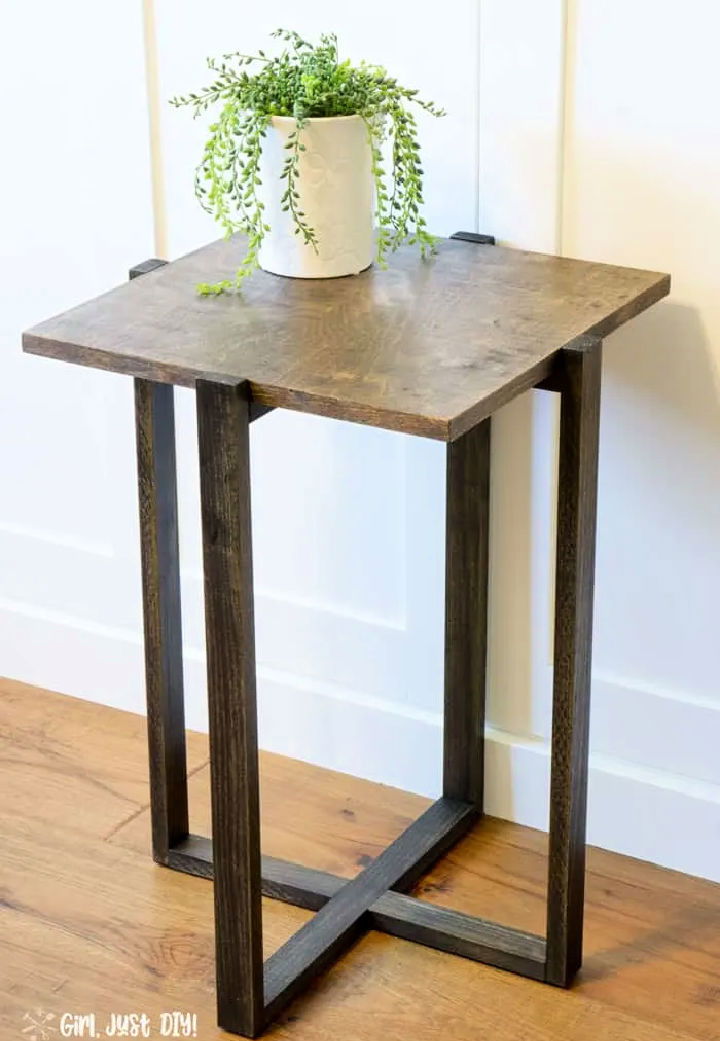 Enliven your living space with a stylish DIY modern end table, built for under $30, an economical alternative to high-end retail versions. This easy-to-build table utilizes wood for a rustic charm. The creation process involves:
Cutting boards to length.
Adding pocket holes.
Assembling the base and top brace.
Adding legs.
Cutting and fixing the tabletop, staining.
Attaching the top.
The end product offers a robust, modern aesthetic, perfect as a nightstand, plant stand, or elegant addition to your living room. So grab your tools, follow the detailed steps, and create your budget-friendly, quality end table today! girljustdiy
14. DIY Small X End Table Blueprints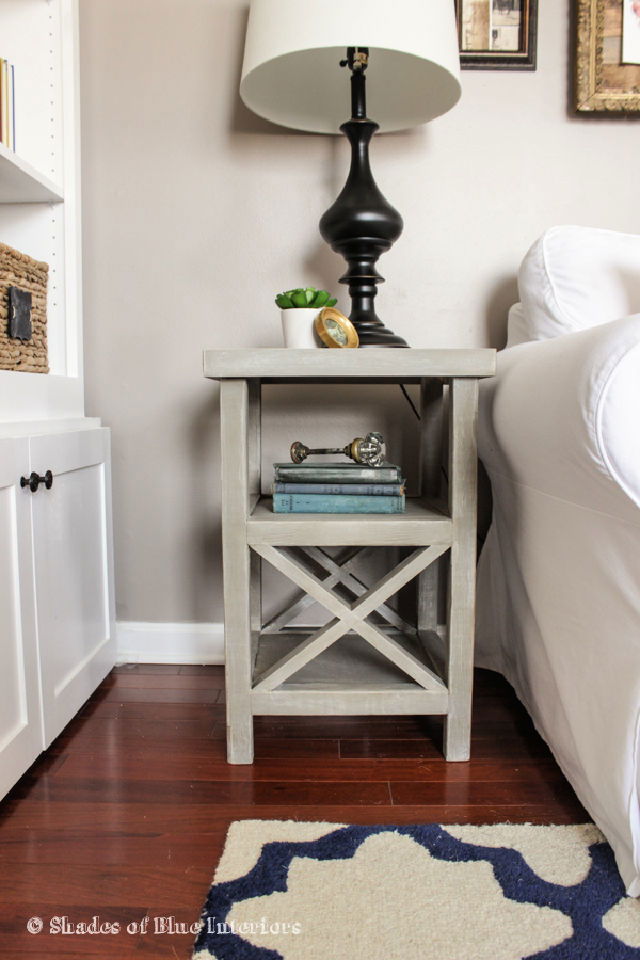 Discover the delight of building your own DIY small X-end table, a beautiful piece of furniture that seamlessly blends style with utility. The charming design is perfect for small spaces and offers handy storage. Moreover, you won't break the bank as you can craft this for about $20 or less in materials! A Saturday night and a little DIY spirit can result in a stylish, versatile end table.
This step-by-step guide provides clear instructions, from drilling pocket holes and attaching supports to adding decorative X supports and finishing with your choice of paint or stain. The result is a delightful 16 "x16 "x24" table, perfect for displaying your favorite lamp or storing those must-have items within arm's reach.
This end table is a testament to the power of DIY – building stylish, functional, and affordable furniture right from the amenity of your home. Give it a try, and enjoy the fruit of your labor! blueinteriors
15. Build a Farmhouse End Table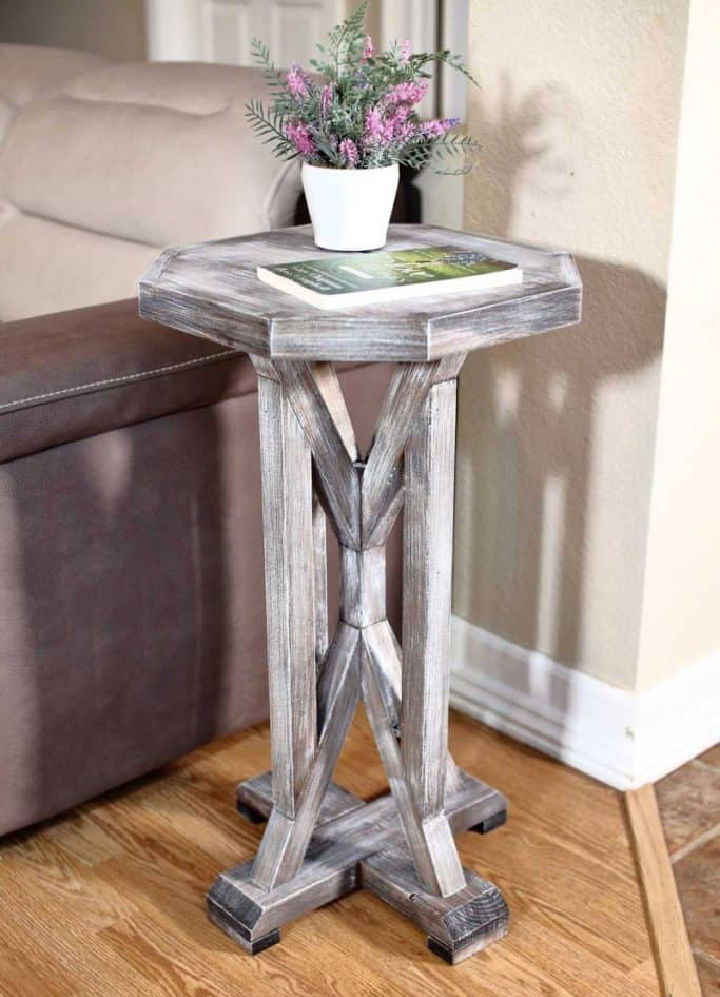 Access countless DIY end table plans online, offering detailed instructions, material lists, and expert guidance for a successful project. Reimagine your living space with this simple yet elegant DIY farmhouse end table. This project cleverly utilizes basic materials, including 2x2x8s, 1x2x8s, 2x4x4s, 1x8x4s, brad nails, pocket hole screws, and a selection of wood treatments to create a tastefully rustic end table.
Even with the angle cuts required, this build is straightforward to follow. The guide provides thorough step-by-step instructions, from cutting the perfect angles using a miter saw to assembling the base, legs, and tabletop. With patience and precision, you'll create a durable, stylish end table that brings a touch of farmhouse charm to your home. thediyplan
16. How To Make an End Table
Delve into the realm of do-it-yourself furniture with a delightful tale of building a DIY end table from scratch to match an existing coffee table. A perfect match was achieved with leftover red oak plywood and sturdy black metal U-shape legs.
The step-by-step process involved precise measurements, careful cutting, and strategic sanding, followed by edge banding to give the plywood a finished look. The project emphasized the importance of wood conditioner in helping the wood evenly absorb the stain while adding a warm tint to the chosen espresso stain.
After securing the legs and sealing the wood with polyurethane, the result is a beautifully matching end table. This heartwarming project illustrates the rewarding journey of transforming raw materials into a unique and personal piece of home decor. homewithemilyjean
17. Building a Criss Cross End Table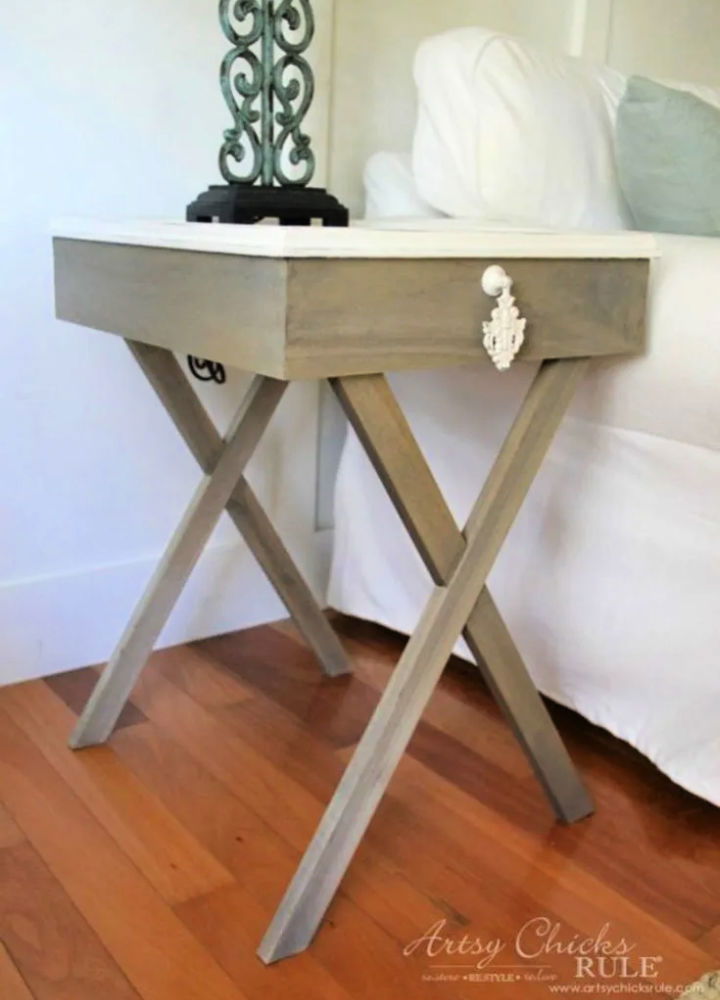 Reinvigorate your interior design by building a unique crisscross DIY end table yourself! Not only does this project save money, but it also provides a personalized touch to your decor. These tables, utilizing materials such as poplar and pine boards, tiles, paints, and wood screws, showcase a light, functional, and chic design perfect for limited spaces.
You'll be guided through the process, from creating the box frames to attaching the mosaic tiled tops, ensuring a sturdy and durable result. Don't miss this chance to make your home even more beautiful and tailored to your style with these custom-made crisscross end tables. artsychicksrule
18. Free Rustic Wooden End Table Plan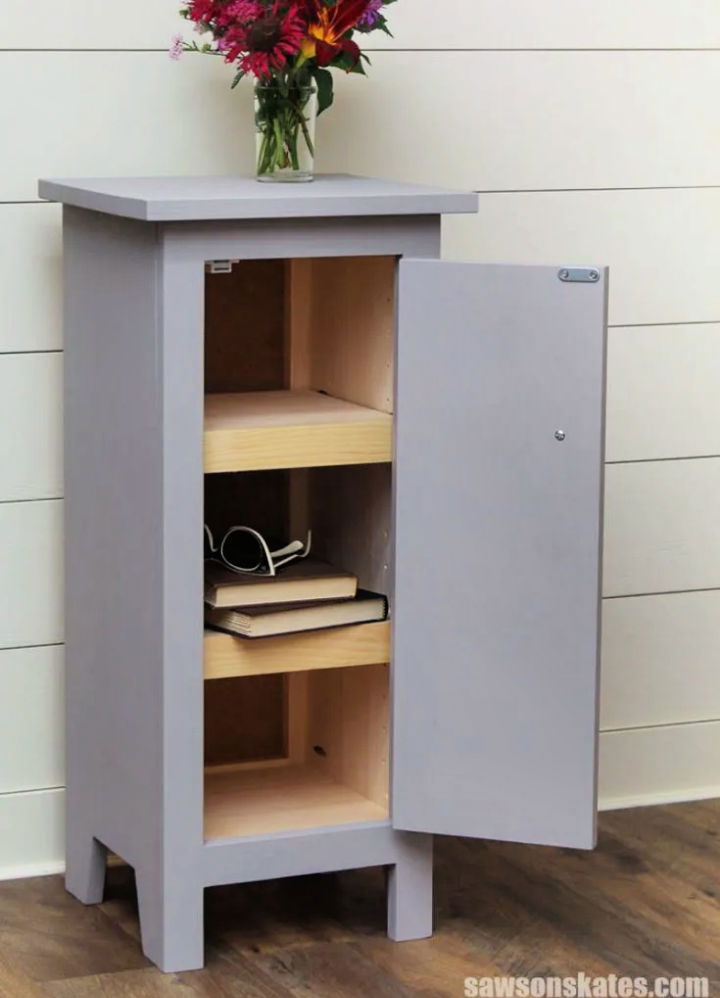 Experience the simplicity and elegance of rustic-style furniture with this DIY end table project. This piece is a perfect companion for your couch or chair and also serves as an ideal nightstand or additional storage in your kitchen or bathroom. With ample surface area for a lamp, beverage, or reading material, its lower compartment cleverly conceals clutter.
Behind its door, adjustable shelves offer customizable storage options for books, magazines, and more. This project requires basic woodworking skills and tools like a miter saw, pocket hole jig, drill, and jig saw.
Choose any wood you prefer – this project uses pine for its affordability and workability. End the storage chaos and add a touch of rustic charm to your home today with this easy-to-make end table. sawsonskates
19. Make a Mid-Century Walnut End Table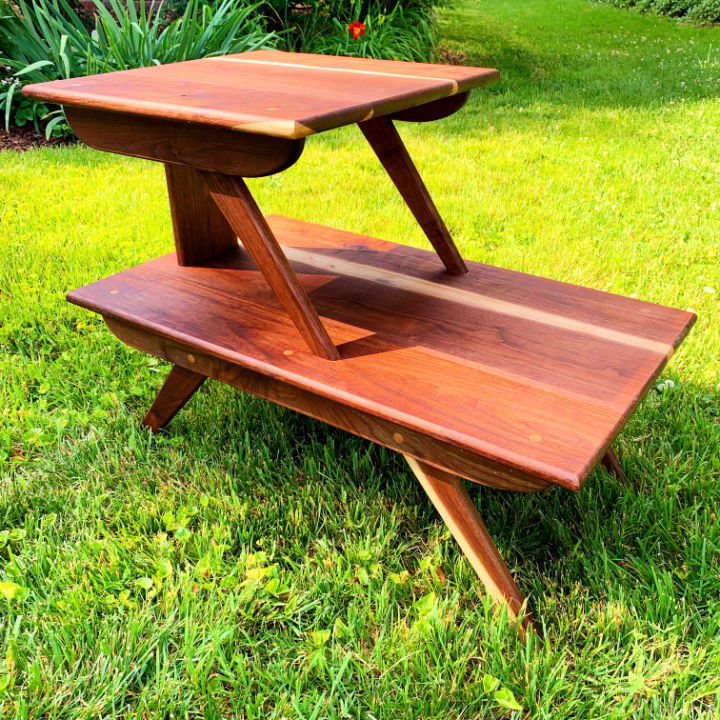 Master woodworking techniques and enhance your decor with DIY end table plans, including rustic, modern, and minimalist styles. Learn how to build a gorgeous two-tiered Mid-century-modern walnut end table with this comprehensive DIY guide. Discover the step-by-step process, from preparing the tiers and building support rails to cutting tapered legs and attaching them securely.
The guide provides detailed instructions, lists the necessary tools and supplies, and offers tips for achieving a professional finish.
Elevate your interior decor with this unique and creative furniture piece, perfect for adding a touch of elegance to any room. Get ready to unleash your ingenuity and build your stunning mid-century modern walnut end table today! lazyguydiy
20. How to Make an End Table With Charging Station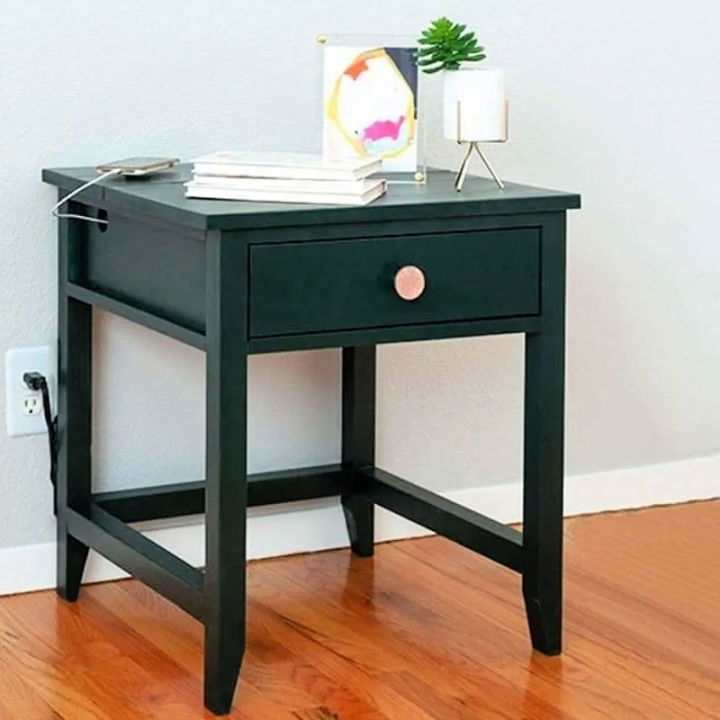 Get creative and build a DIY end table with a remote charging station. Say goodbye to wire clutter with this creative and functional project. This versatile table works perfectly as a charging nightstand too. Discover the step-by-step instructions and materials needed to create this multipurpose piece.
Tailor the size and design to fit your space. Follow the detailed plans and build an organized and stylish end table that keeps all your wires neatly tucked away. Recast your living room or bedroom with this practical and attractive DIY project. anikasdiylife
21. 2×4 End Table Woodworking Plan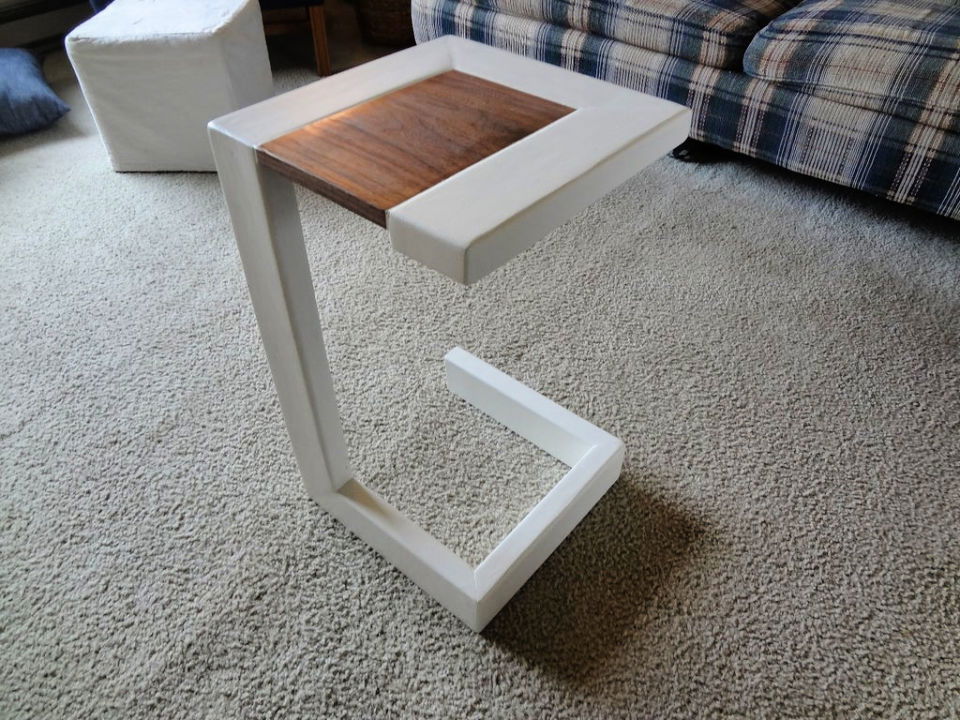 Build your end table – start to finish in a weekend with this easy DIY 2×4 woodworking plan! This versatile piece of furniture, built from readily available materials, adds a touch of sophistication to any room. It starts with 10′ 2×4 walnut scraps, screws, and plugs. You'll require a miter saw, a band saw, and a sander to transform these raw materials into a sleek and functional end table.
The process involves cutting seven pieces, with the longest piece serving as the leg. Next comes sanding, assembling, and gluing the pieces together, crafting the tabletop out of walnut for a rich, warm touch.
A few more sanding and finishing steps and your chic end table is ready! This project is an opportunity to repurpose surplus wood into a useful and appealing piece of home decor. Build your modern end table today and elevate your living space! instructables
22. Making Your Own End Table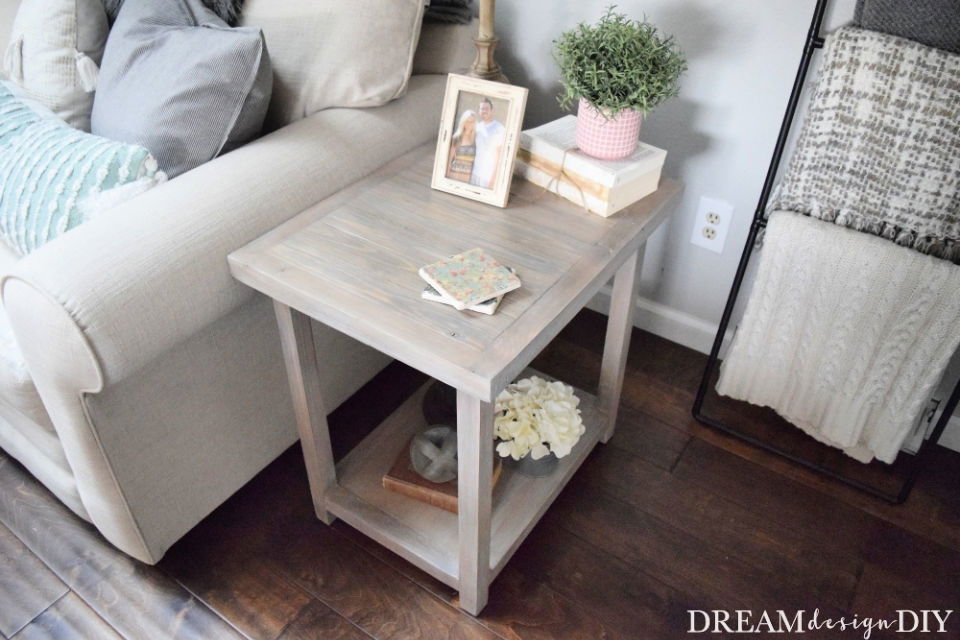 Exalt the look of your living space with stylish DIY end tables that seamlessly blend with diverse design themes like farmhouse, coastal, or rustic. You can build two robust end tables for about $50. Materials needed include lumber (2x4s, 2x2s, 1x3s), plywood, pocket hole screws, wood glue, wood stain, wood filler, glaze, latex paint, sealer, and optional felt pads.
Begin by crafting the base, attaching the bottom shelves, securing the plywood tabletop, and constructing the frame. Cut and set your top pieces and the tables, and apply wood filler to any nail holes or small gaps.
Finish off your end table with a layered stain application for a brownish tone, and seal with a triple-thick poly. Optionally, attach felt pads to the table legs for floor protection. These tables will add character to your living room while offering a practical solution for your everyday needs. dreamdesigndiy
23. Handmade End Table Using Pallet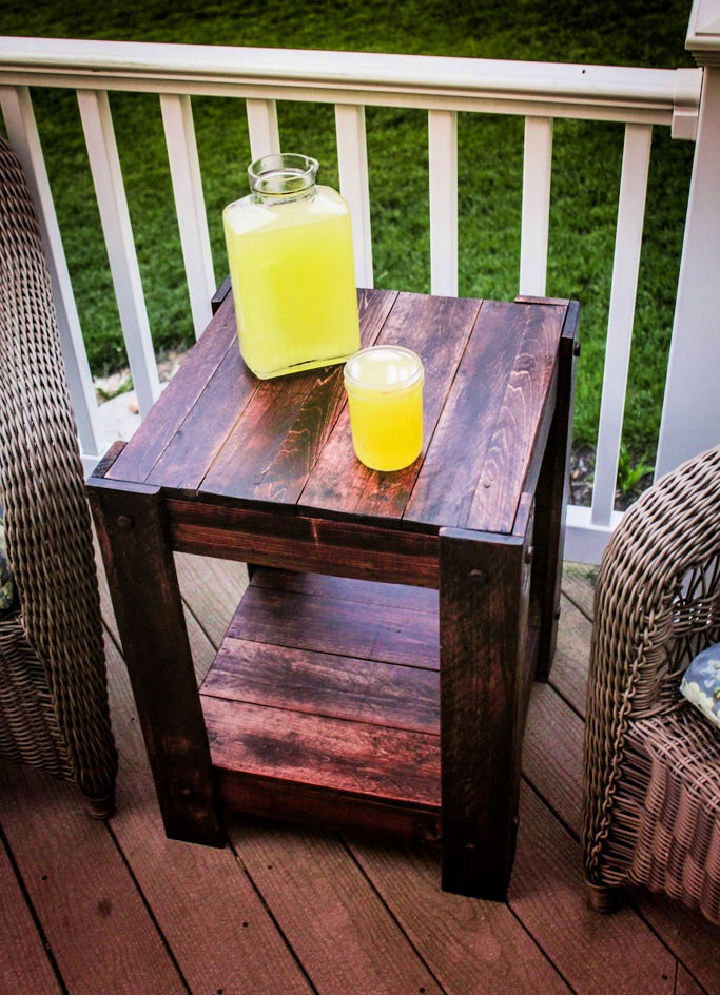 Transform reclaimed wood into a custom masterpiece with step-by-step DIY end table plans that showcase your woodworking skills. Add a rustic appeal to your home with a DIY pallet end table. This straightforward project will enhance your space and provide a functional piece of furniture. The process starts with finding suitable pallets, deconstructing them, cutting the pieces, and assembling the frames.
Next, you add the horizontal slats and begin the leg assembly. Once the legs and pins are installed, your pallet end table is ready for the final assembly. This project transforms old pallets into a unique pieces of furniture, highlighting your commitment to sustainability and creative reuse.
It's a budget-friendly project that delivers a high-end look, adding a new level of warmth and character to your home. Remember, it's not just a table; it's a conversation piece! instructables
24. Building Your Own End Table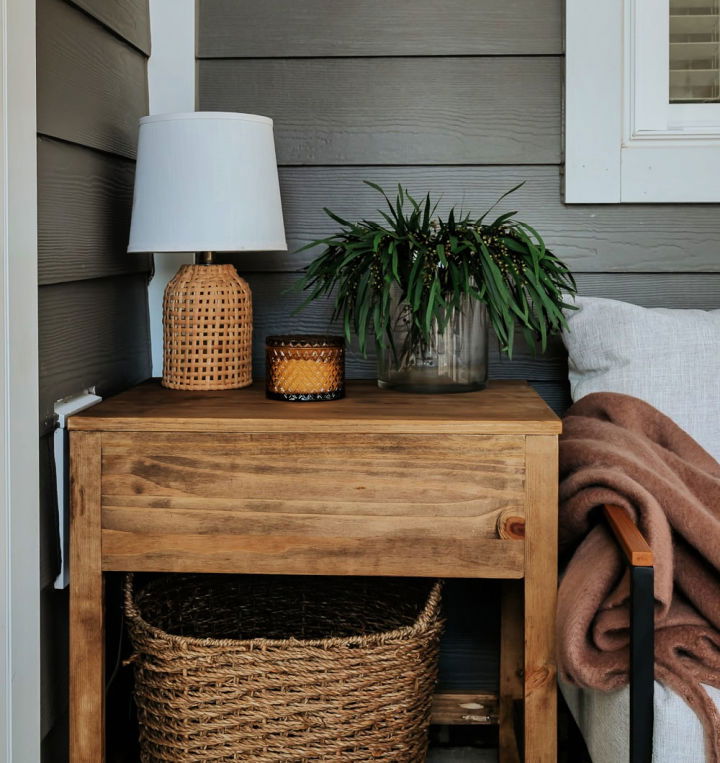 Ready to turn your unused scrap wood into a practical and classy addition to your space? This guide will walk you through crafting a DIY end table from repurposed materials, breathing new life into what was once waste. This endeavor promotes sustainability and offers any room a touch of personalized charm.
This project involves cutting wood to specific dimensions, drilling pocket holes for seamless joins, assembling the table base, attaching the top, and finishing with sanding and staining or painting. To safeguard your masterpiece against the elements, a few coats of polyurethane add the final touch.
The end result? An end table that perfectly masks unsightly wall outlets while offering additional storage underneath and a surface for decorative items. Building an end table upgrades your space and gives a new purpose to old scrap wood. decorhint
25. Homemade Corner End Table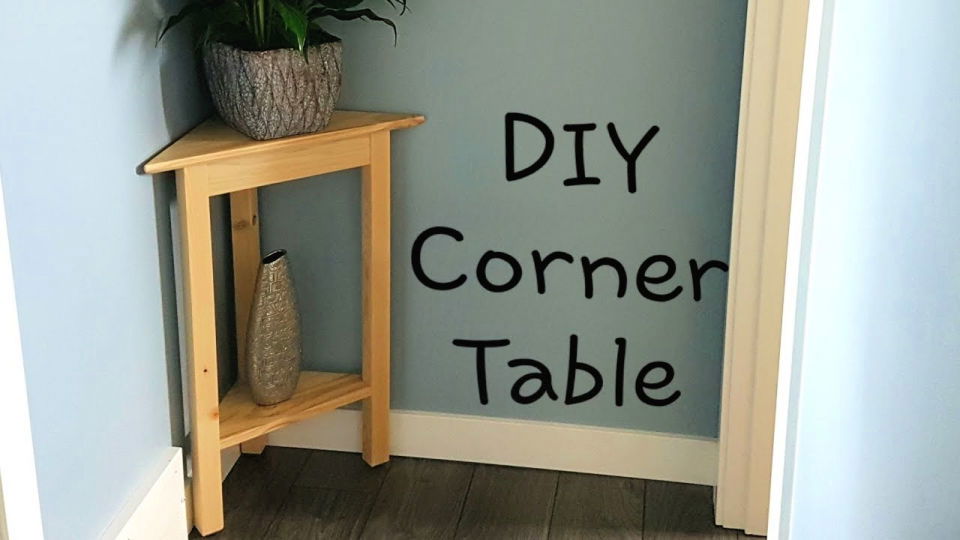 Make a unique statement piece for your home by following comprehensive DIY end table plans and incorporating personal design touches. Bring a unique tinge to any room with a DIY corner end table! Its simple design will grace your hallway or living room- it fits neatly into any space. It's more than just a corner table – it symbolizes your DIY spirit.
This corner table provides ample surface area for placing photo frames, a flower vase, or your favorite knick-knacks. With the potential to add a tiny drawer or multiple shelves, it allows for customization to suit your needs.
A pocket hole jig, a sprayer, and a power screwdriver are all you need to make this happen. This easy-to-follow guide will take you through each step of the process to guarantee that your corner table comes out perfectly. So, why wait? It's time to make your corner table today!
Conclusion: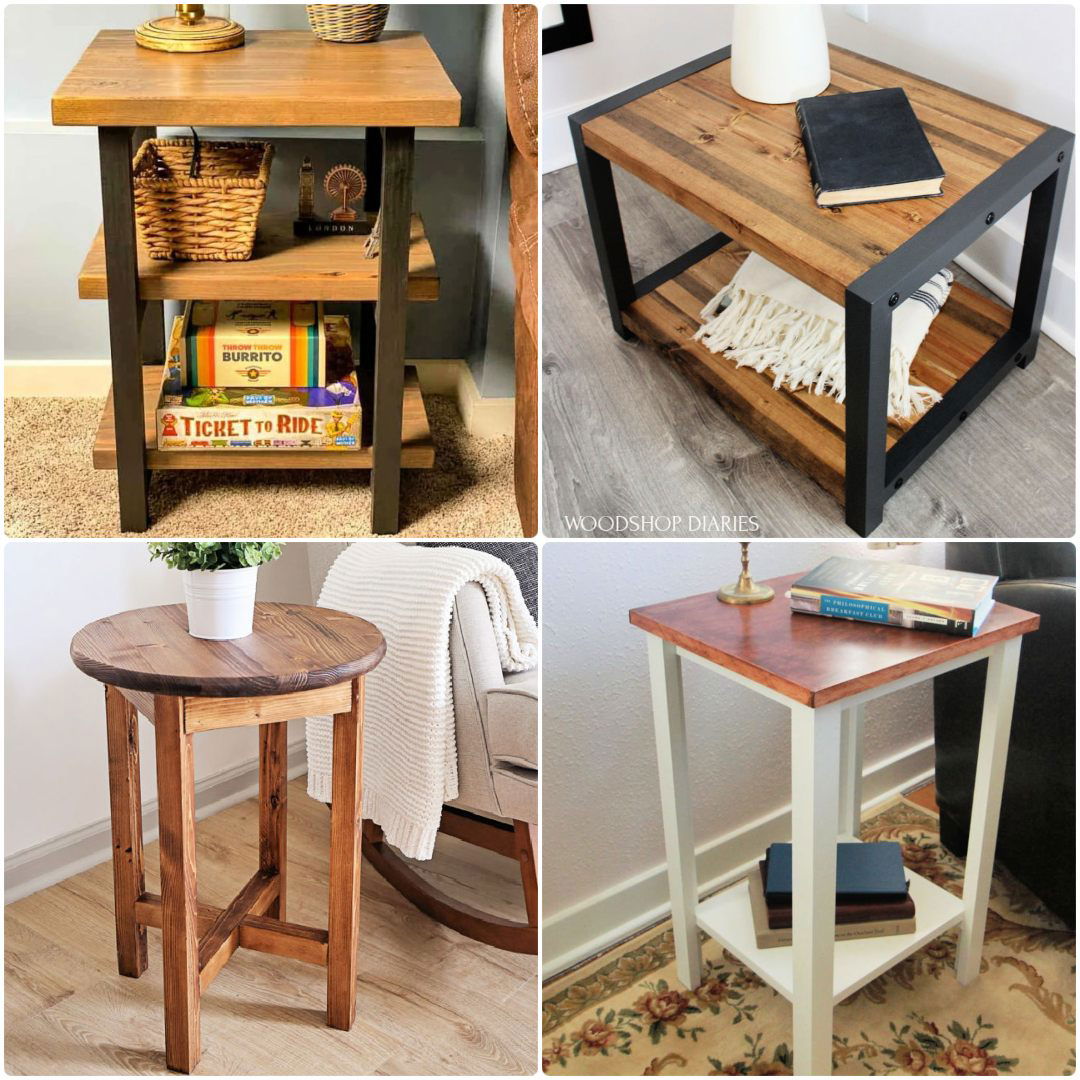 In conclusion, these DIY end table plans offer a creative and budget-friendly way to spruce up your living space. With many free end table plans above, including rustic, industrial, and modern designs, you can easily build the perfect end table to suit your style and needs. With so many DIY end table plans and ideas, now is the perfect time to embark on a DIY adventure, making a functional and beautiful piece of furniture for your home.