The hotter days can be harsh for many of us. If you are often bored more in the summers after a busy day, get instantly relaxed with a DIY lounge chair to double the indoor or outdoor fun. The prices for custom outdoor loungers and reclining benches are considerably higher. So, find these 15 free DIY chaise lounge plans with step by step instructions to build all the custom designs of an indoor and outdoor lounge chair at home. They will be the real luxury to sit on when willing to enjoy the sunny weather and naturally occurring outdoor scenes to the fullest. Explore this collection of 15 DIY chaise lounge plans that are too beautiful to win every outdoor lover's heart at a very first look. They will be a rocking addition to one's outdoor, poolside, deck, and garden and will never get out of style.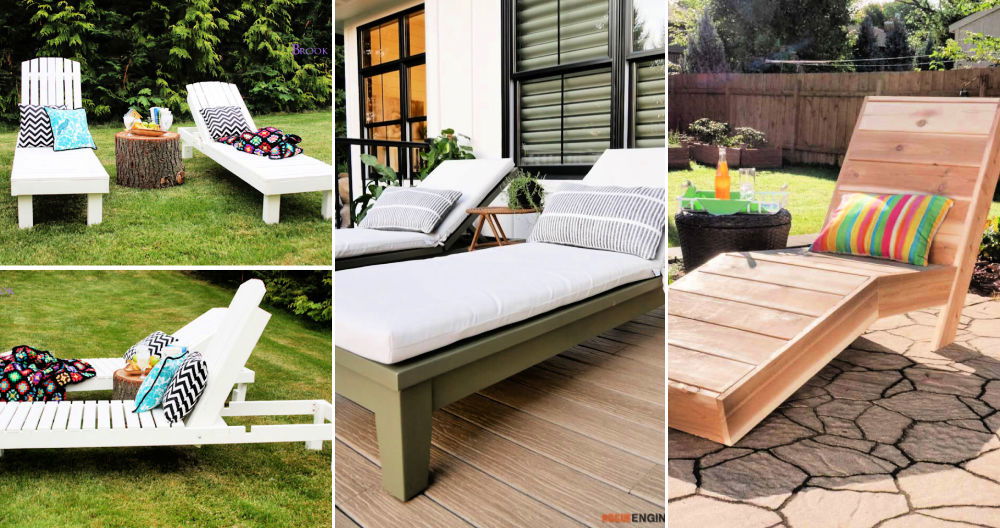 These DIY chaise lounge plans include step-by-step instructions, detailed diagrams, cut lists, material lists, and hardware lists to whip up a brilliantly beautiful and outstanding chaise lounge like a pro. Most of them come with a folding backrest and can be set to any angle to help you make comfortable eye contact with nature and scenes all around. From simple to modern to multifunctional chaise lounges, you will get here step-by-step tutorials for building all sorts of designs. Finally, while looking through these DIY chaise lounge plans, you will get the video tutorials about making the luxurious tufted and upholstered lounge chairs right in your workshop. So get these furniture plans on the list for every skill level and budget.
1. DIY Chaise Lounge
Willing to do a lot for your outdoor comfort? Just build this DIY chaise lounge that will be a lot for your outdoor comfort. It will give you a super comfortable sitting position outdoor and provides a lovely footrest also. It will give the super comfortable outdoor sitting position for book-reading, daydreaming, and also to enjoy poolside. Get craft with 1x6s and 1x4s to build it. buildsomething
Inexpensive chairs: Do you want to save more money? Just give free wooden pallets a try to build your own cheap pallet chair at no cost.
2. Chaise Lounger Made from 2x4s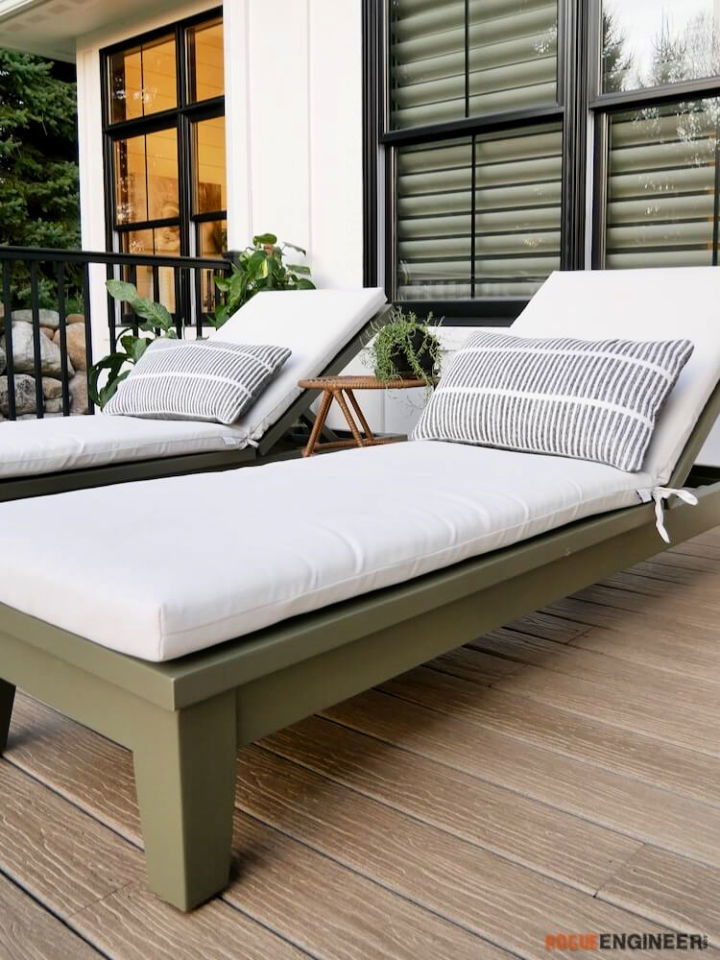 Take your outdoor enjoyments to the next level this summer season by building this DIY outdoor chaise lounge. It will cost you $50-100 and will rock to enjoy poolside and serene outdoor environments. The construction requires an intermediate skill level, and the project will complete in a few days. Build a DIY lounge chair using the 2x4s and 4x4s, and then finish it up with primer and paint. rogueengineer
3. DIY Semi-Chaise Lounge
Transform any carpeted outdoor floor into a super comfortable indoor chaise lounge by building this semi-chaise lounge. It impresses the creative design with the mechanism that adjusts it to different height levels. You need cedar wood, wood dowel, carriage bolts, and teak oil to build this semi-chaise lounge, which will be a great addition to your deck, porch, and garden. diymontreal
4. Building A Cedar Chaise Lounge
Sitting on this chaise lounge chair is recommended if you want to relax instantly after getting tired of routine tasks. This DIY lounge chair will be a remarkable addition to every outdoor deck, poolside, and backyard and will be a great pleasure to sit on. It provides a footrest, but the midsection comes on an angle to not get your slip down. The project is beginner-friendly and will complete in a few hours at the cost of $51-100. familyhandyman
5. Outdoor Chaise Lounge Plan
Get step-by-step instructions here about how to build an outdoor chaise lounge manually like a pro. You need 2x6s, 2x4s, 1x6s, 1x4s, and the latest hardware and wood finish to build this fancy design of the outdoor chaise lounge in wood supplies. First, build the outdoor frame and then fill the frame with flat slatted arrangements of wood slats. Add the folding backrest panel and finish the rear with rolling wheels for easy dragging and pushing. blackanddeck
6. How to Build Chaise Lounge
The hotness of summers is often to get you around the outdoor swimming pools. (You can also beat the hot weather with these DIY air conditioner). So, presenting here this single modern outdoor chaise lounges will double up your poolside enjoyments. The better poolside chair to build at home at the cost of next to nothing will impress with its amazing design. Build the design using 2x4s, 2x2s, 1x4s, hinges, exterior wood glue, and custom screws. Finish the design with a nice cushion. ana white
7. DIY Outdoor Chaise Lounge
Every outdoor lover will fall for this graceful design of a hand-built wooden chaise lounge. The given plans will provide easy-to-follow guides and instructions for building a luxurious and beautiful outdoor chaise lounge at the cost of $25 only. First, build the frame, next fill it and install the folding backrest at the end. The design will be a great addition to one's outdoor furniture or poolside. shanty 2 chic
8. DIY Lounge Chair from Scratch
Learn here how to build a chaise lounge from scratch. This outdoor chair lounge also comes with a tufted seat and will be an amazing addition to the outdoor. First, build the frame for the lounge chair, and next, start filling it solid with the help of other wood slats. Use the carriage bolts and hinges to build the folding backrest panel. One of the best lounge chair plans to build in no time. instructables
9. Ana White Wooden Chaise Lounges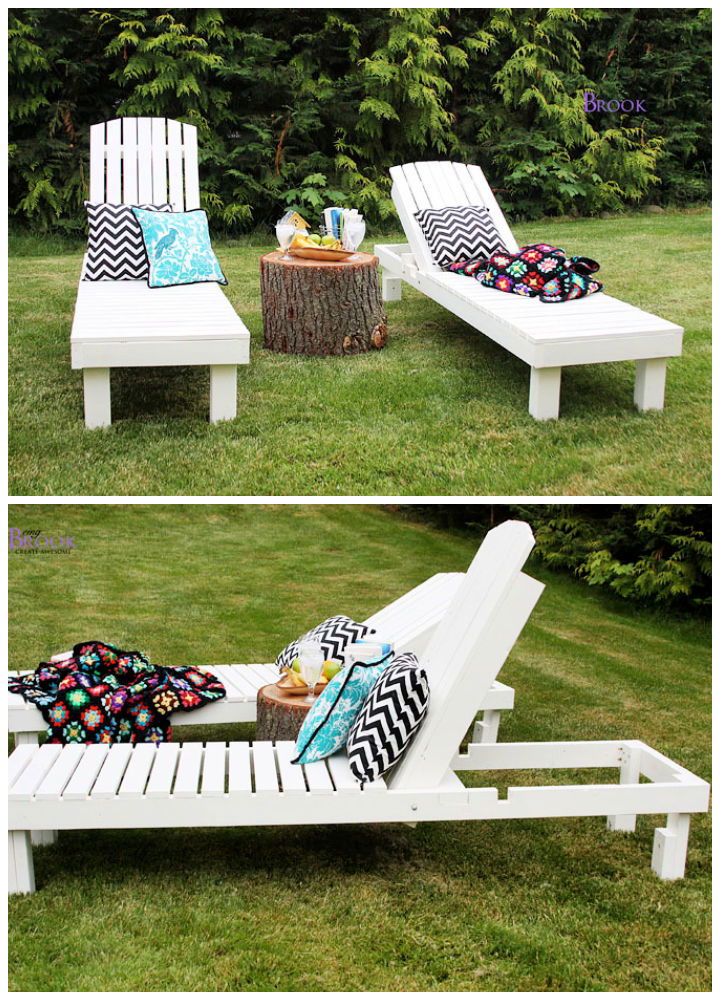 Rock your pool parties and outdoor sitting routines by building these outdoor chairs, which will be a pleasure to whip up. Go handmade 2x6s, 2x4s, and 1x3s to build this epic model of a DIY chaise lounge that is 85″ long and 24″ wide. The folding backrest brings tons of focal stimulation to this lounge chair design, and you will love having it at your outdoor. Paint the completed model in white for extra visual grace. ana white
Do you want to enjoy fit pit gathering? or need relaxation around your swimming? These free Adirondack chair plans help you to build the most comfortable chair design.
10. Storage Chaise Lounge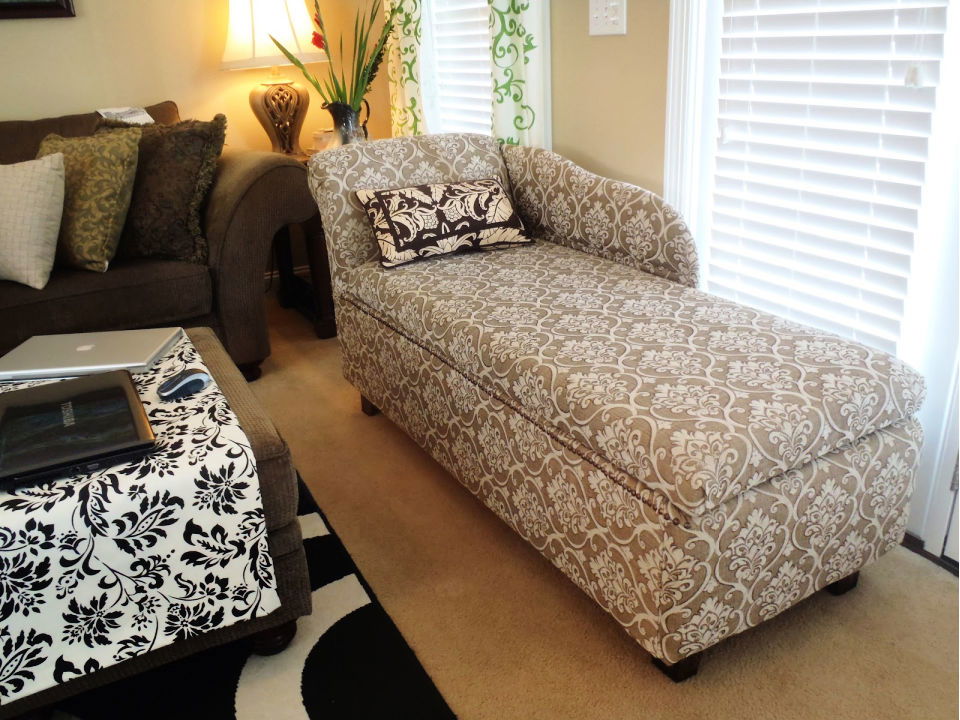 Build this super, beautiful modern living room lounge chair that is well tufted and upholstered. Moreover, it will accomplish your storage desires also with a superior storage-friendly design. This indoor chaise lounge provides storage space in the seat and will be a total luxury to sit on. Use custom lumber or pine wood and plywood to build the overall frame. Make the seat like a box with a lid. Next, upholster it all. lazylizonless
11. Outdoor Chaise Lounge Plan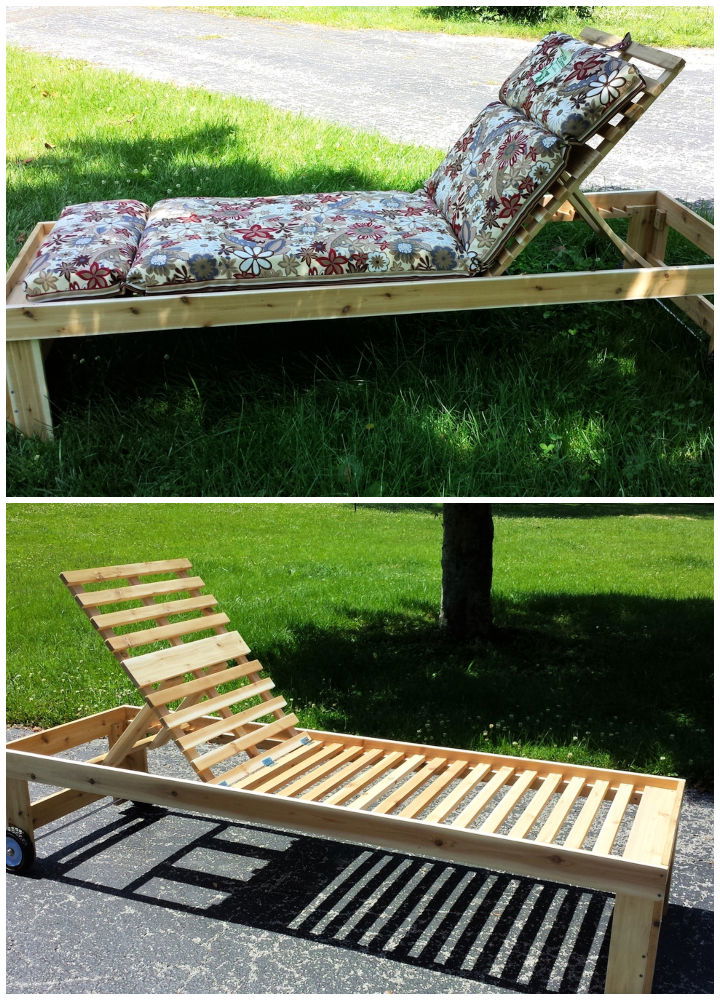 Take your outdoor enjoyments to the next level by whipping up this glorious model of the garden chair. You must have advanced woodworking skills to build this tufted outdoor chaise lounge that is wide enough to be suitable for 2 people at the same time. Build it using 2×2, 1x2s, 1x4s, 3/4″ pipe straps, 3/4″ dowel, hinges, and screws. Next, upholster it using 24″ wide foam. ana white
12. Outdoor Wooden Lounge Chair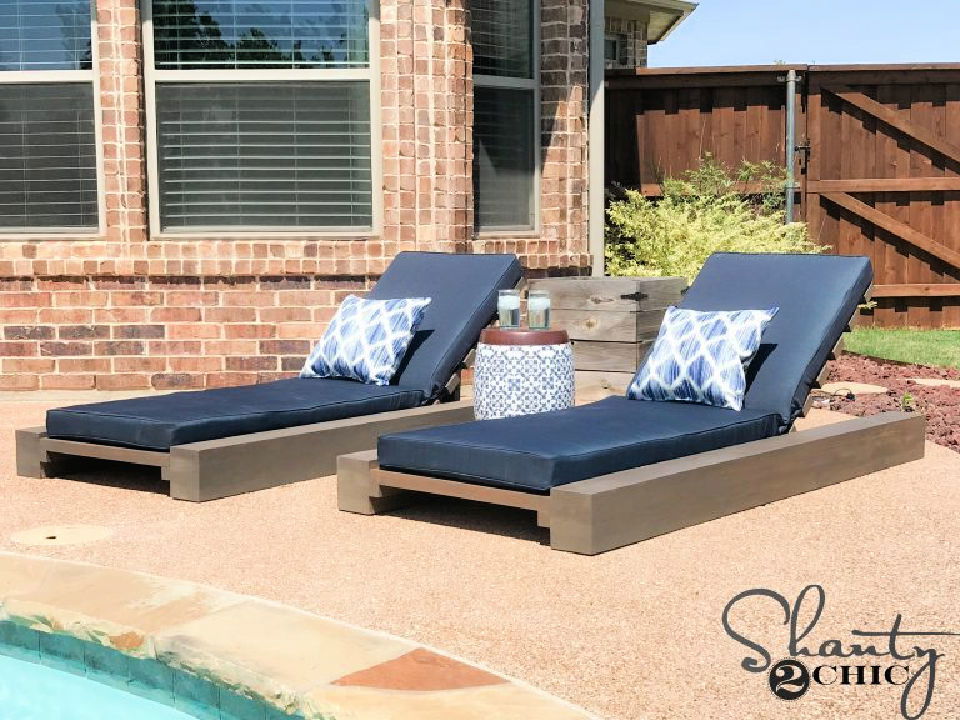 Learn here to build a chaise lounge in a magical way using only 3 tools. Building the entire model will cost you $100, and you will love having these swimming pool chairs installed around your outdoor swimming pool. You need 2x6s, 2x2s, 2x4s, 1x4s, and 1x2s to build the wooden chaise lounge. The very needed tools will be a drill, table saw, and miter saw. Finish your complete lounge chair designs with a luxurious mattress, and that's it. youtube
13. Build a DIY Chaise Lounge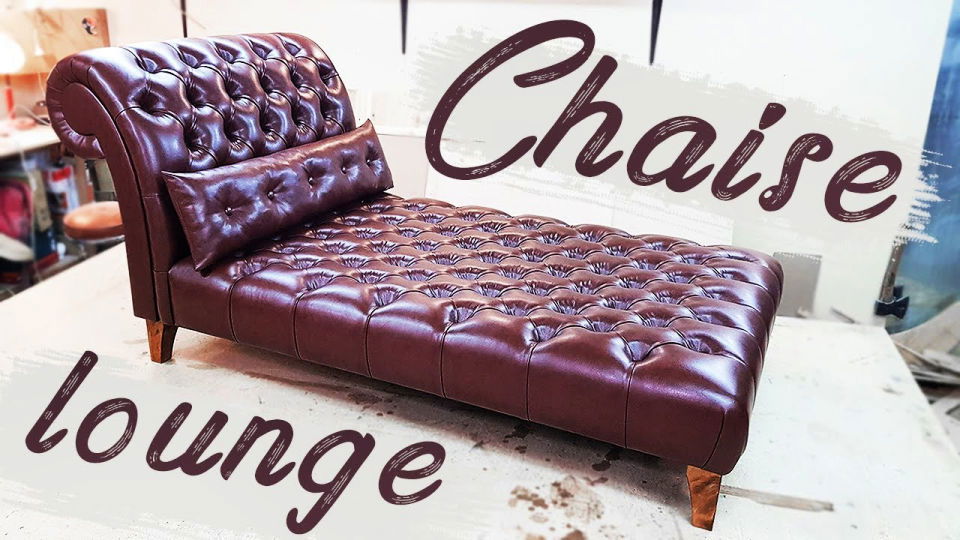 This step-by-step visual tutorial will cover all the creative details about building a modern lounge chair and rock for your resting hours. This homemade chaise lounge is well tufted and is a total professional build. Here is what you can build for your make and sell the shop to earn higher profits. Moreover, building it at home will cost you much less also. Do try out this project right in your workshop. youtube
14. How to Make a Chaise Lounge
Get the ultimate professional instructions for building a modern wavy chaise lounge, which will be a total luxury to sit and rest upon. From cutting the wood parts to building the frame to complete the design's upholstering, you will get the instructions for all for sure. The design will surely be a mind-blowing addition to one's living room, and it will make a superb handmade gift for a friend also. youtube
15. Cedar Outdoor Lounger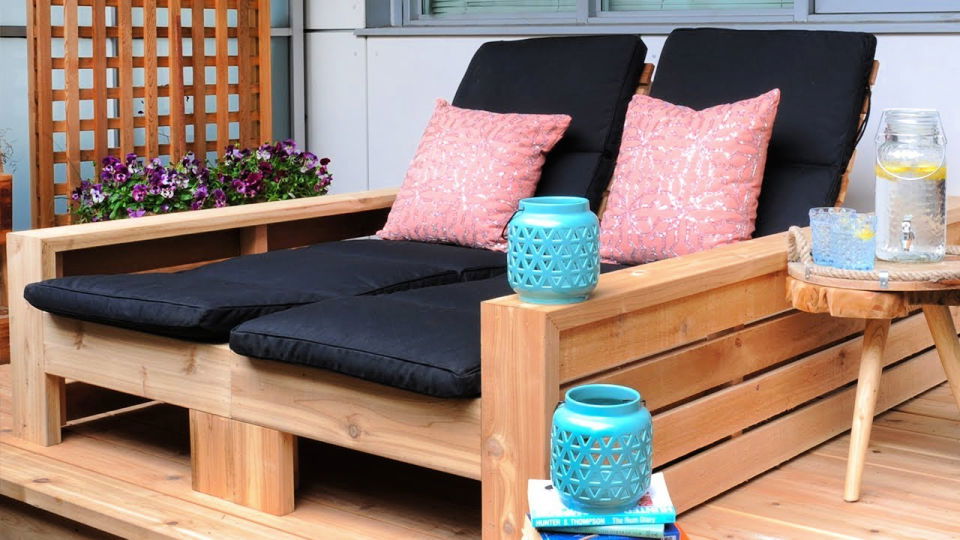 After looking through this project and tutorial, you will leave with no excuse to duplicate this lounge, perfect for any outdoor. The project provides all the step-by-step video instructions for building a lasting longer and durable outdoor chaise lounge without getting expensive. First, build the overall frame with a folding backrest and fill the frame and cushion up to get a fabulous cedar reclining bench at a cost next to nothing. youtube
Conclusion:
The outdoor furniture items are way more expensive than indoor furniture items. They have to withstand the harsh outdoor weather conditioners, and a lounge chair or reclining outdoor benches are among the most loved outdoor items. A normal design of a chaise lounge costs you about $600, and here you will learn to build all popular designs of a DIY lounge chair at no cost. These free chaise lounge plans will cover building lots of beautiful and exceptional designs of pool chairs to make great gifts for outdoor lovers. They are going to be one of the most loved outdoor furniture items for pool parties. The DIY lounge chair list will cover all the hacks for building a durable, functional, and stylish model of chaise lounge at home.