Welcome to the ultimate guide to crafting your own beautiful DIY flower wreath! Learn how to make a flower wreath with these 40 expert-approved DIY floral wreath ideas that are perfect for any occasion. From springtime tulips and daffodils to wintery holly boughs and poinsettias, these easy step-by-step tutorials will help you create stunning handcrafted wreaths for birthdays, weddings, holidays and more. With this collection of inspiring DIY floral wreath ideas, you'll quickly become a master florist in no time. So grab some fresh flowers from your local grocery store and get ready to make a special DIY flower wreath!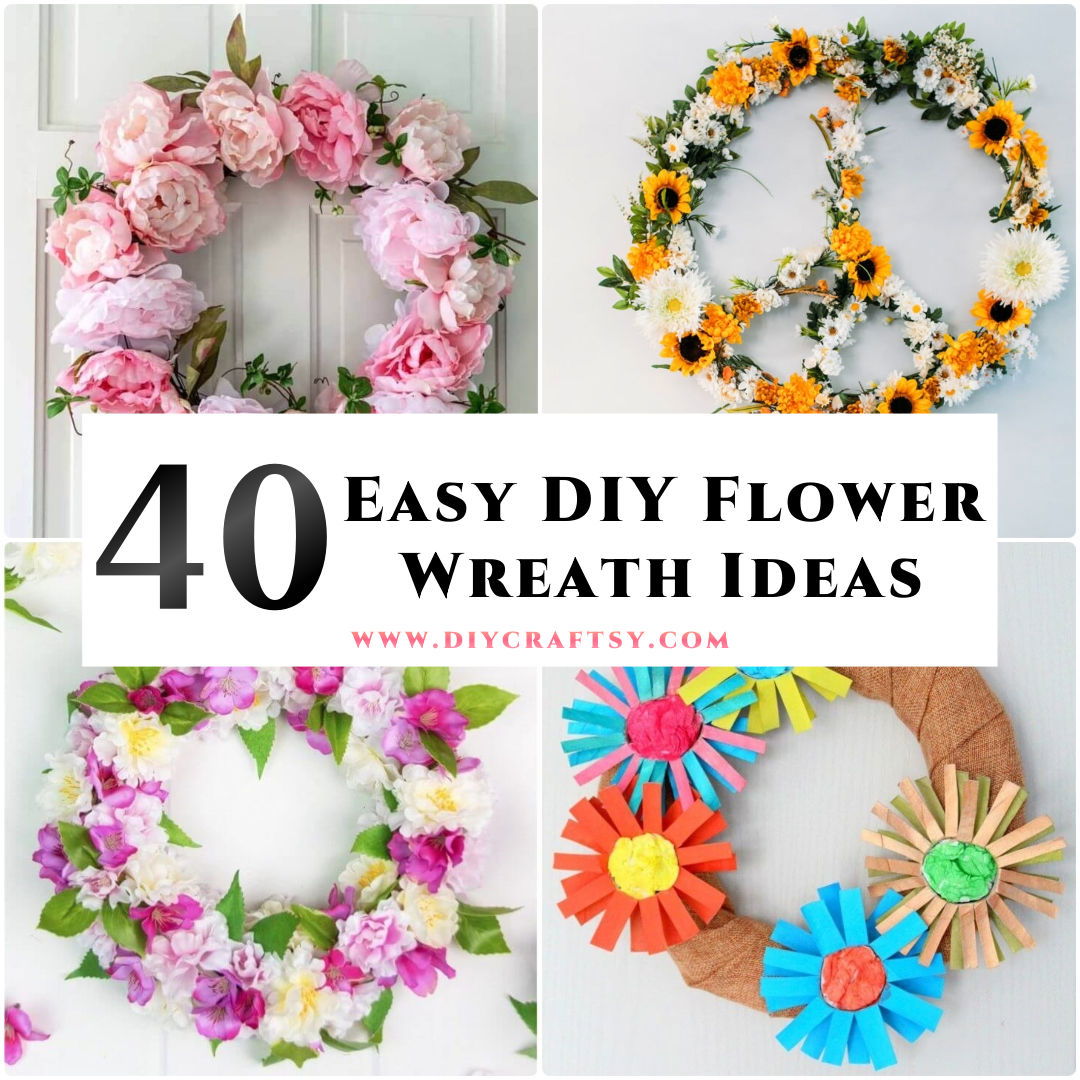 For those looking to add a bit of colour, warmth and charm to their home decor, diy floral wreath ideas are the way to go! Not only are they easy and fun to make, but you can use almost any kind of flower or foliage when creating them. Making a flower wreath can be as simple as gathering up some supplies and getting creative – you don't need to be an experienced crafter or florist in order to create something beautiful. To get started, pick out the flowers and greenery that speak to you the most, then arrange them into a circle shape on your work surface. As you work on perfecting your design, rubber bands and florist wire will help keep everything secure as you assemble it. Finally, just hang it up for all to admire – it's truly that easy!
1. Vintage DIY Floral Wreath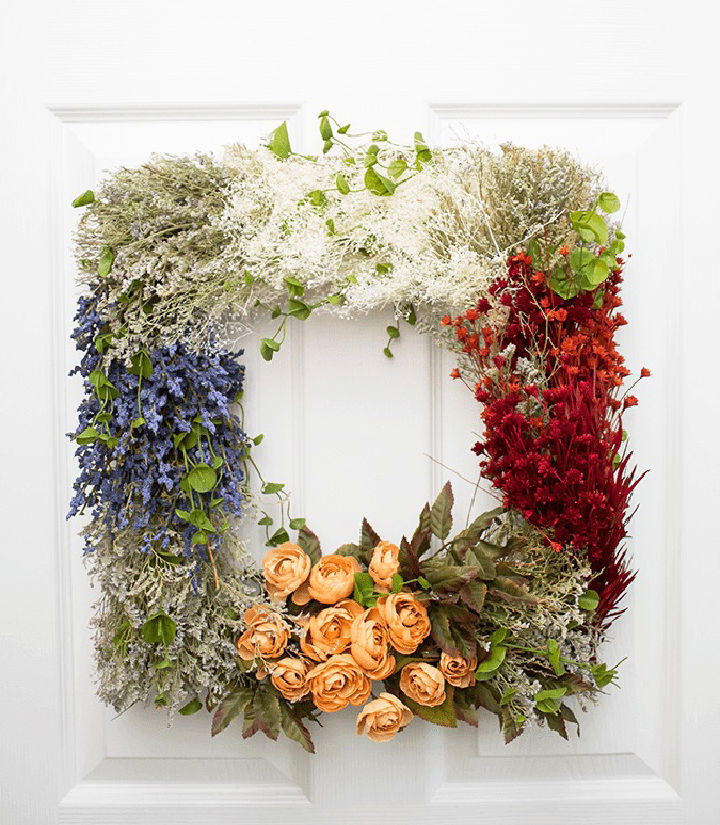 Bring the amazing vintage vibes to your home by making this floral wreath that will spruce up any home exterior if hanged on the front door and is pretty quick and easy to make also! Just grab a square or rectangular wreath form and cover it up with the vintage flowers and that's it! Full details here aprettyfix
2. Modern Spring Floral Hoop Wreath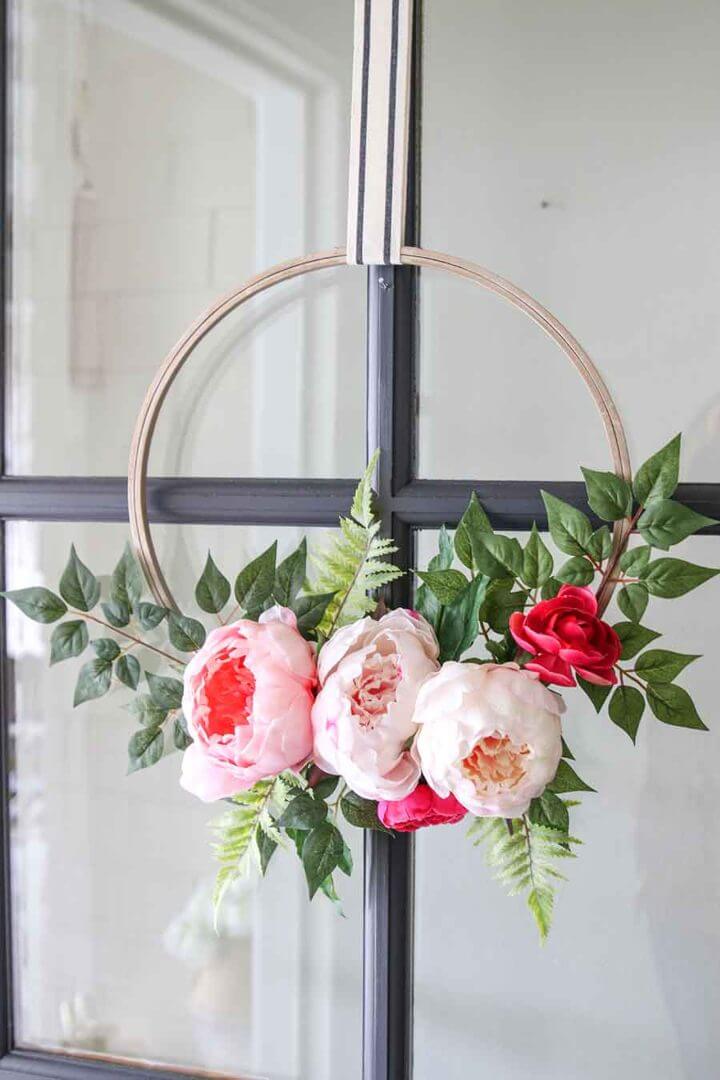 Celebrate the spring season, the season of flowers by making lovely floral wreaths at home, and you can quickly make a beautiful one using an embroidery hoop! Cover the bottom side of an embroidery hoop with the faux or real flowers and make the lovely looking floral hoop! Full how-to instructions and tutorial here modern glam
3. Make Your Own Peace Sign Floral Wreath
Make also this sunflower floral wreath that will also make a brilliant peace sign on the wall and is super quick and easy to make also! Grab a wire wreath form and decorate it with the summer flowers, especially with the sunflowers and hang it on any wall or on the front door! Full how-to instructions here 100layercakelet
4. Making a $344 Flower Wreath Under $15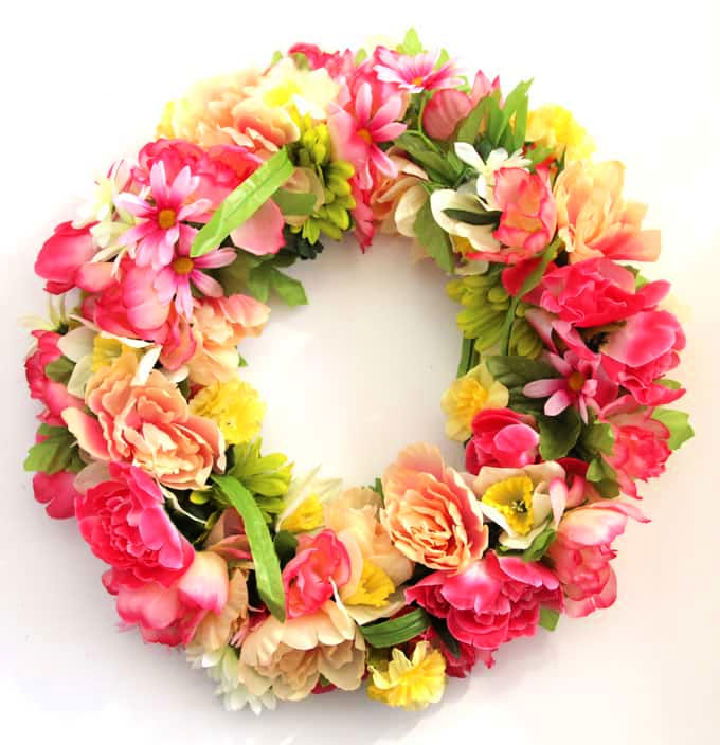 Make expensive looking wreaths inexpensively at home using the items that you always at hands! Grab the metal wire hangers to make the round wreath form and then load the colorful artificial or real flowers on it as you can see! Here this glorious flower wreath will only cost you $15! Full how-to instructions here apieceofrainbow
5. How to Make a Silk Flower Wreath
If you make the flower wreaths will real flowers then they will soon die, so choose the artificial flowers when you want to see them as long lasting decors in your home! Grab a wire wreath form and load it up with the silk flowers and artificial eucalyptuses and make precious silk flower wreaths in no time! Full how-to instructions and tutorial here afloral
6. DIY Floral Hoop Wreath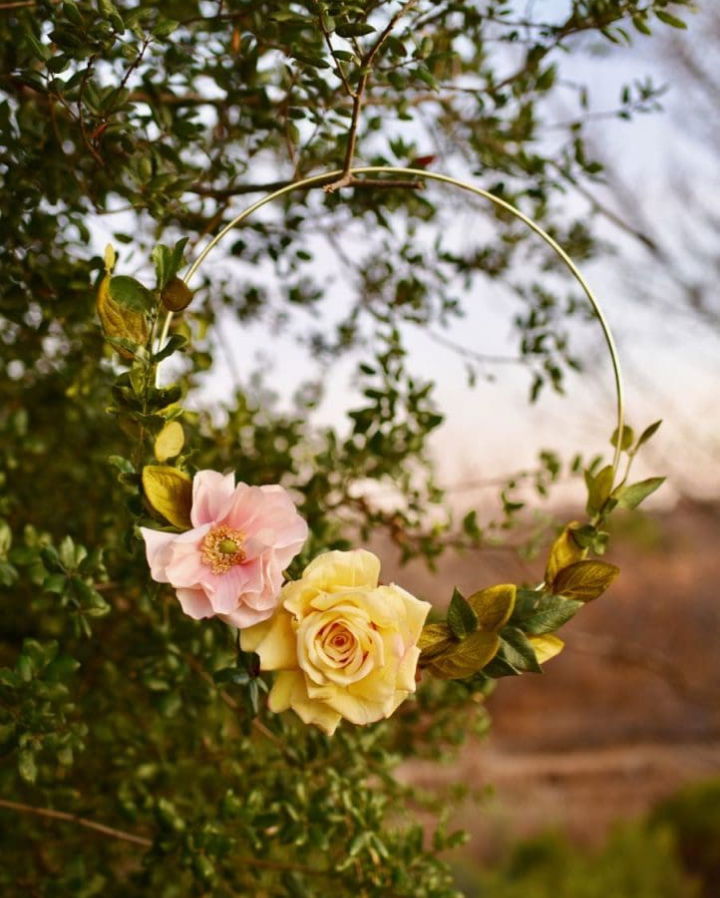 Do you take great pleasure in gussying up your outdoor by installing some lovely hanging decors? Then feel great this time by adding this hanging floral hoop wreath that is nothing making! Grab a metal hoop and load the colorful faux or real flowers to its bottom side, and here you go! Full instructions here makelifelovely
7. Flower Embroidery Hoop Wreath for Summer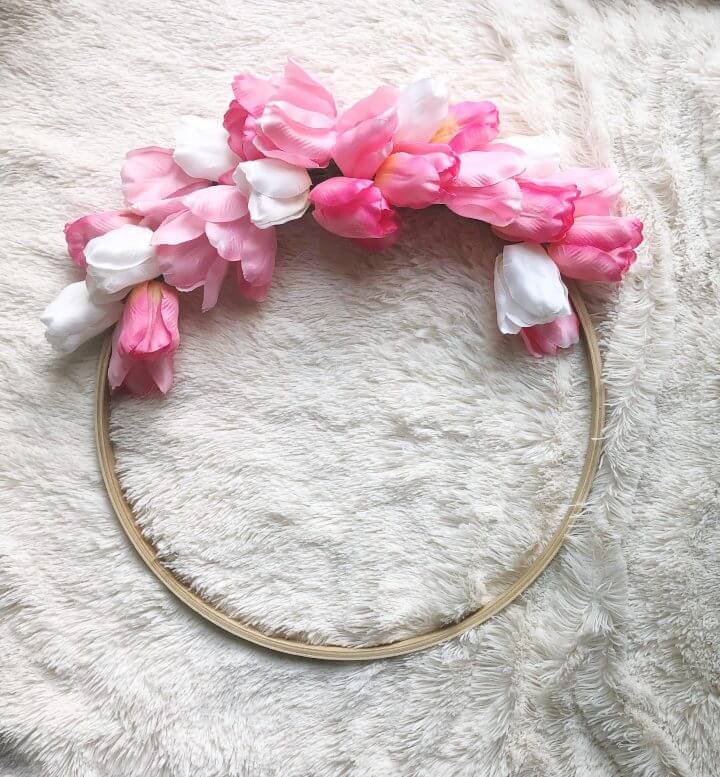 Lacking wreath forms? Repurpose the wooden embroidery hoops to make instant ones and simply cover them half or full with your favorite flowers and make lovely decorative flower wreaths that will bring the festival vibes to any of your space! Welcome the summer with this wreath that is made of faux tulips! Full instructions here urbasicmom
8. DIY English Rose Floral Heart Wreath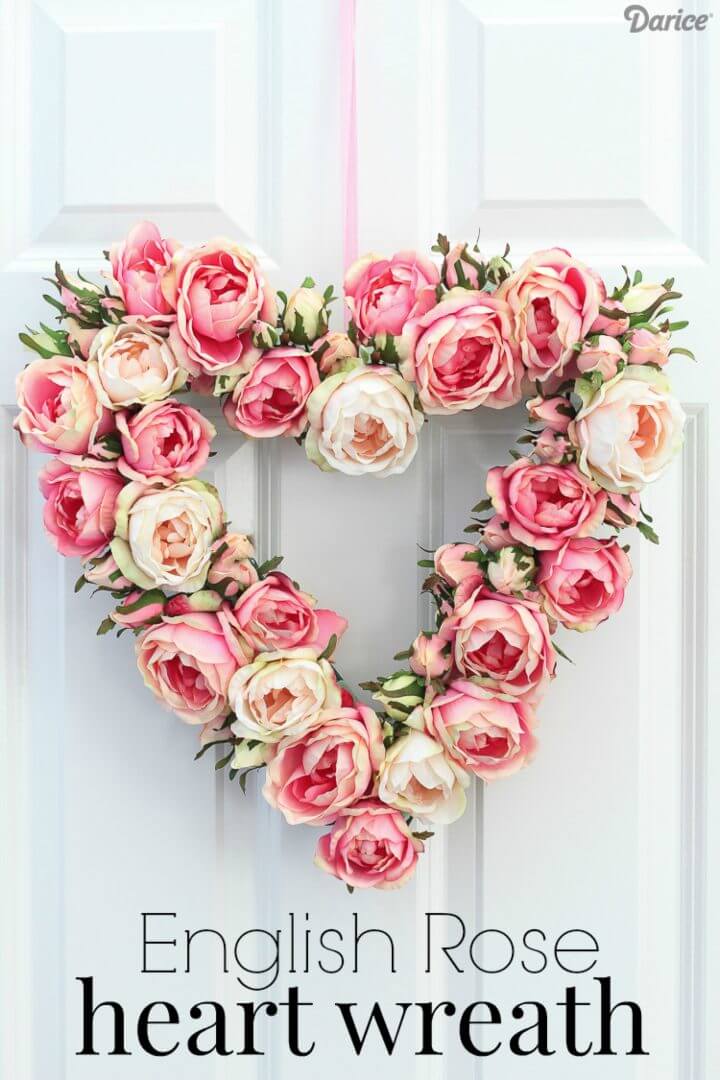 This floral wreath will rock for a party decorated on a love theme! Here this flower wreath comes in beautiful heart shape and is quick to whip up also! Grab a heart shaped wire wreath form and then fill it up to the floral foam! Next, fix the faux English rose stems in the foam filled in the wreath and cover the entire wreath! Full how-to instructions here darice
9. Make Wreath with Faux Flowers
Cut out around wreath form out of foam board and then start adding it up with the faux or real flowers which can easily be fixed deep in the foam making a lovely flower wreath! Here this wreath is made of faux white roses, but you can experiment this wreath with any of your favorite flowers! Full instructions here thesweetestdigs
10. Paper Hydrangea Wreath for Fall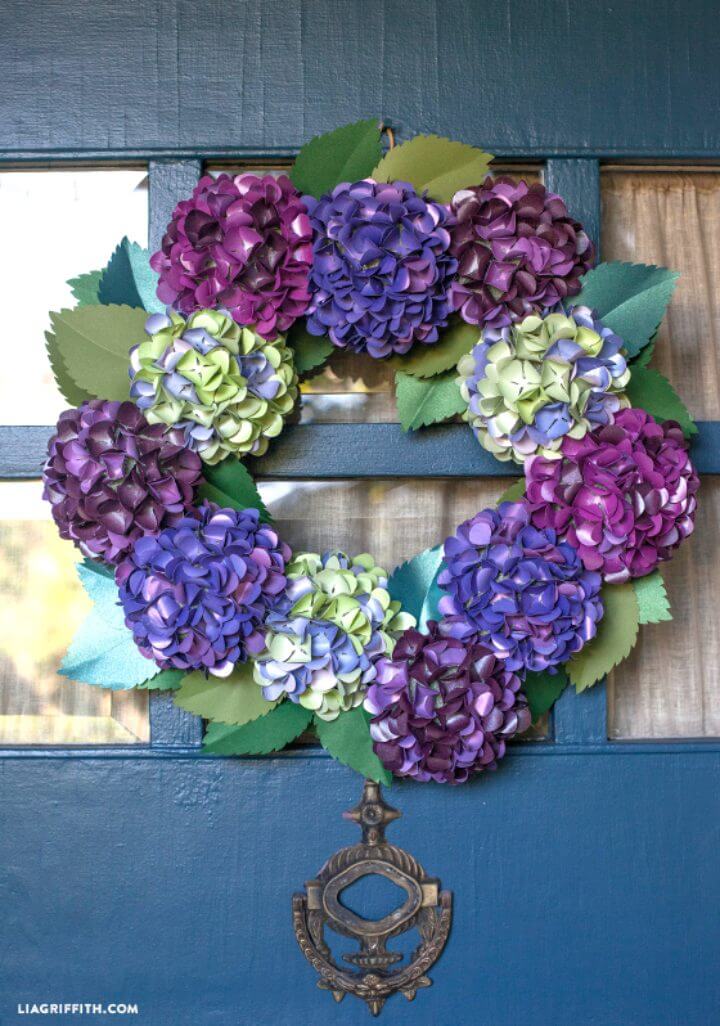 This is the loveliest and genius faux floral wreath ever made at home! Make it by gluing the half cut foam ball all around a foam wreath and then cover these foam ball halves with self-made paper petals creating colorful hydrangeas! Fill the empty in-between spaces with the faux leaves, and that's it! Full instructions here liagriffith
11. Easy DIY Wallpaper Floral Wreath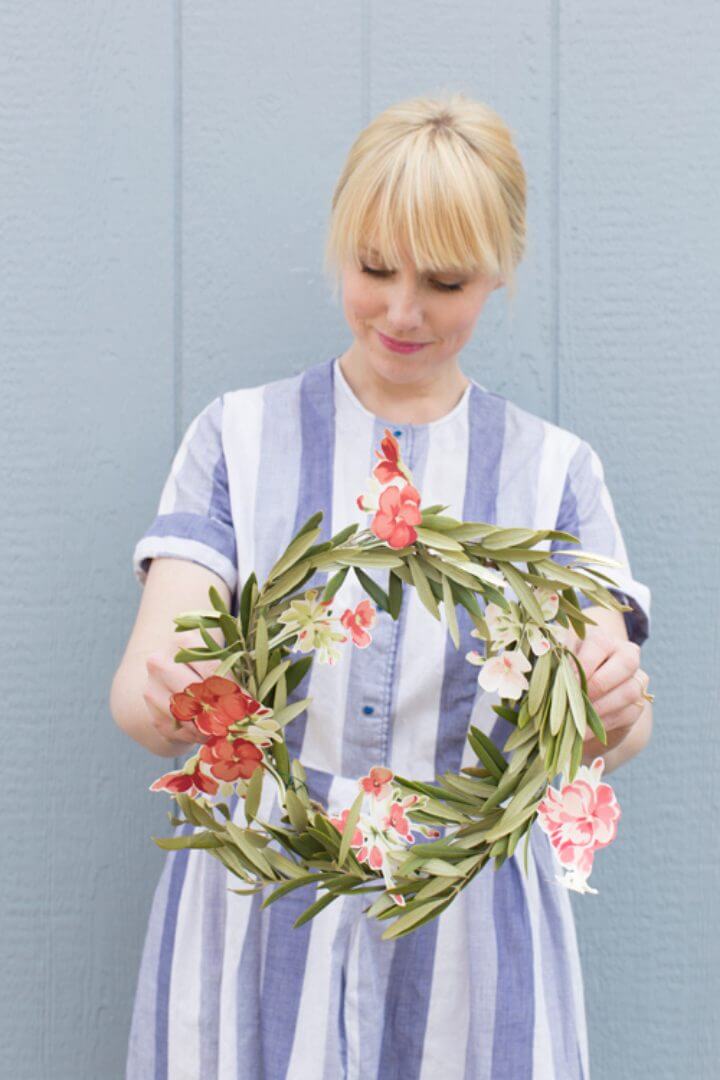 Use also the lovely floral wallpapers to make interesting floral wreaths that will be loved dearly by all the home lovers for sure! Just make the wreath form by taking the wire into a round shape and then cover it up with the florals cut out from the wallpaper and gain a lovely expensive looking floral wreath inexpensively! Full how-to instructions here thehousethatlars
12. Faux Floral Wreath Ideas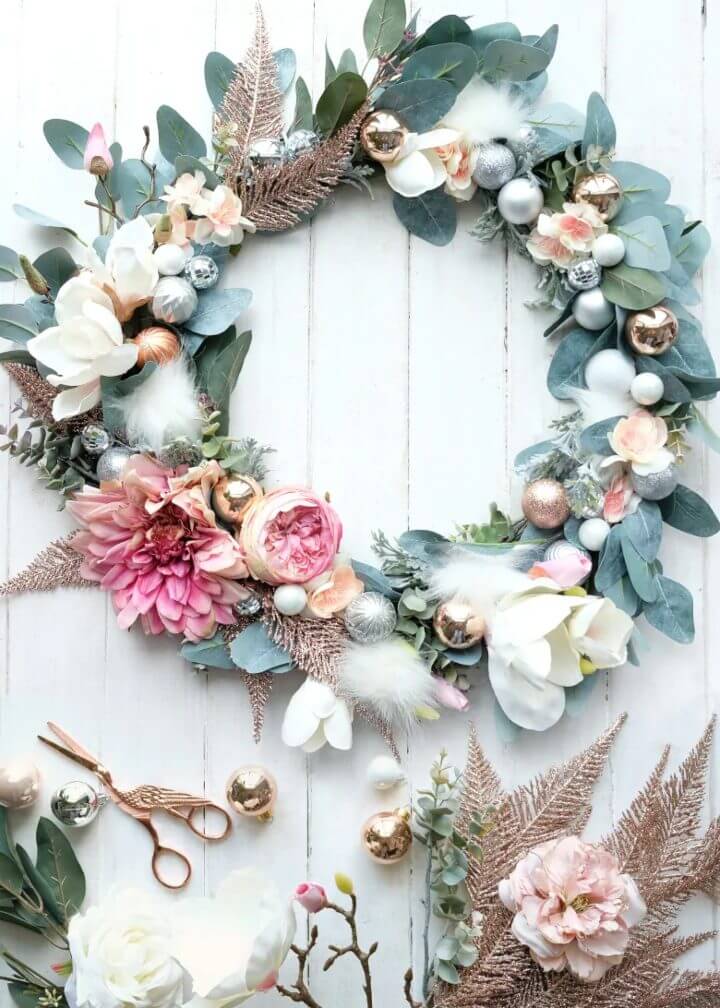 Get lots of praising comments by making this faux floral wreath that is much doable for everyone! Grab a round wire wreath form and cover it up with the assortment of greenery, silk flowers, disco balls and with the pom-poms and make lovely faux floral wreaths that will rock for festival decors! Full instructions here cbc
13. Homemade Cosmos Flower Heart Wreath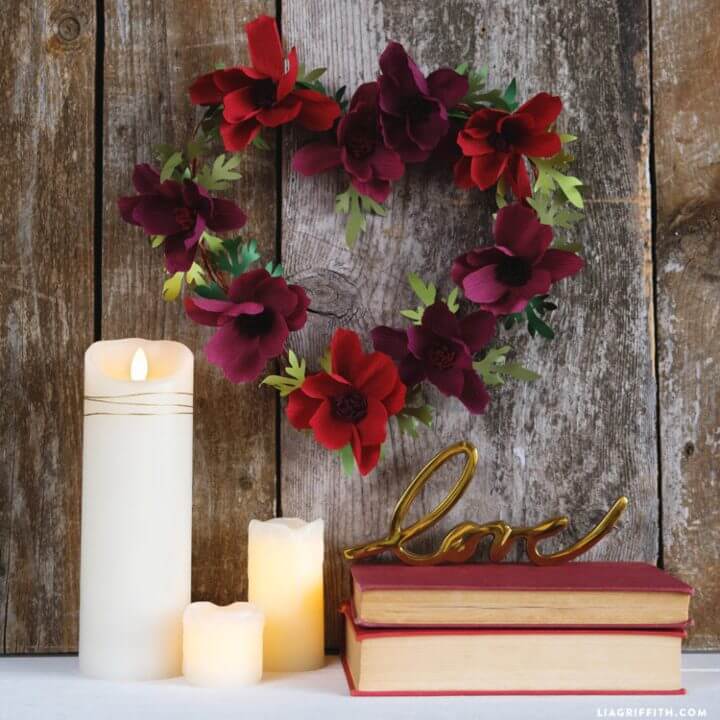 Make this adorably cute floral heart wreath for the Valentine's Day, and it also comes with faux blooms and flowers made of extra fine crepe! Use the green metallic paper to make the lovely green leaves for the wreath! Use glue as a great adhesive! Full how-to instructions and tutorial here liagriffith
14. DIY Burlap Flower Wreath for Fall Decor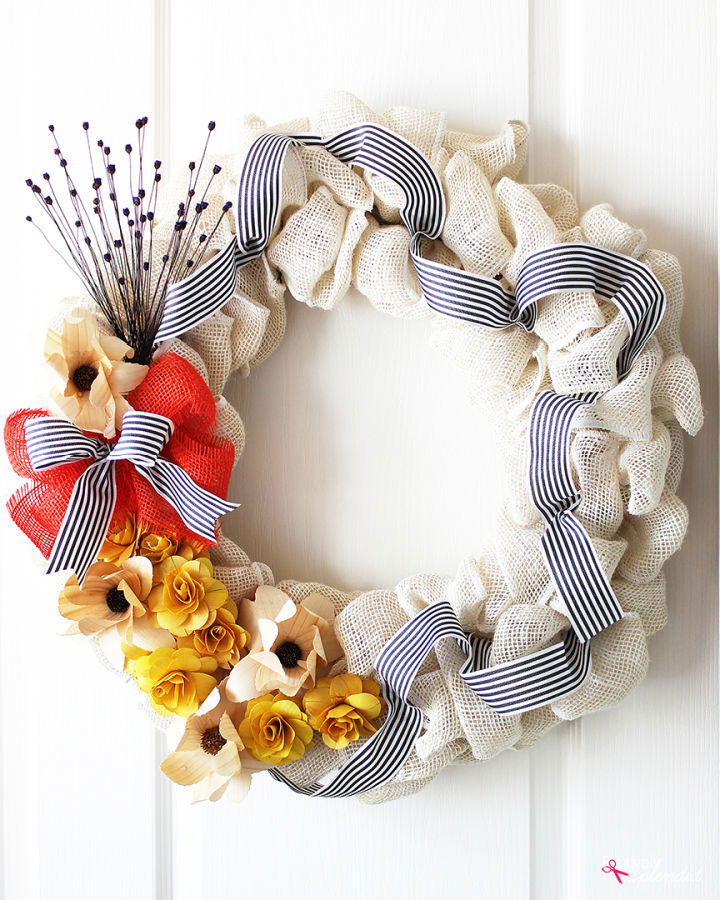 Willing to make a fall special flower wreath at home? Then do clone this burlap flower wreath that is made of a wire wreath form that comes covered with burlap ribbon selected in different colors and patterns! Finally, the wreath has been finished with adorably cute flower accents, and that's it! Full how-to instructions here positivelysplendid
15. How to Make a Paper Flower Wreath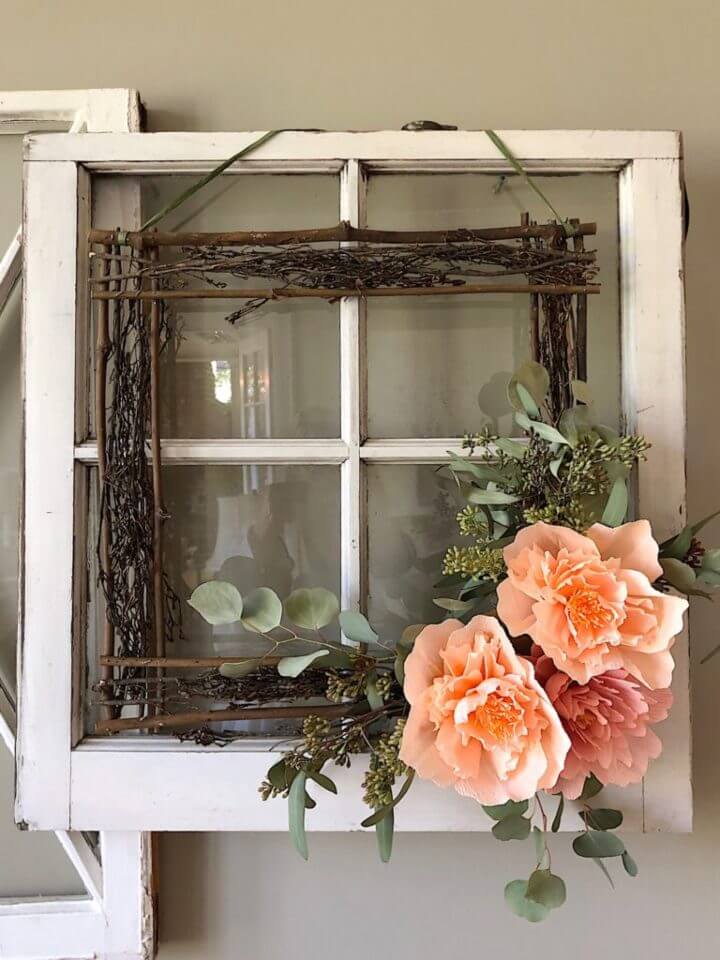 Double up the charm and grace of your home with this epic paper flower wreath that is looking pretty rustic as it is having the square wooden wreath form made of rustic tree branches packed flat together! Next , this wreath has been finished with accent paper flowers and is looking damn beautiful! Full how-to instructions and tutorial here my100year
16. Simple DIY Patriotic Floral Wreath
Willing to celebrate the 4th of July with a great country love passion? Then this patriotic floral wreath will really rock and is super easy and quick to make! Make this Independence day patriotic floral wreath using an embroidery hoop covered with blue yarn and covered half with the assortment of red and white flowers! Full instructions here consumercrafts
17. Making Spring Paper Flower Wreath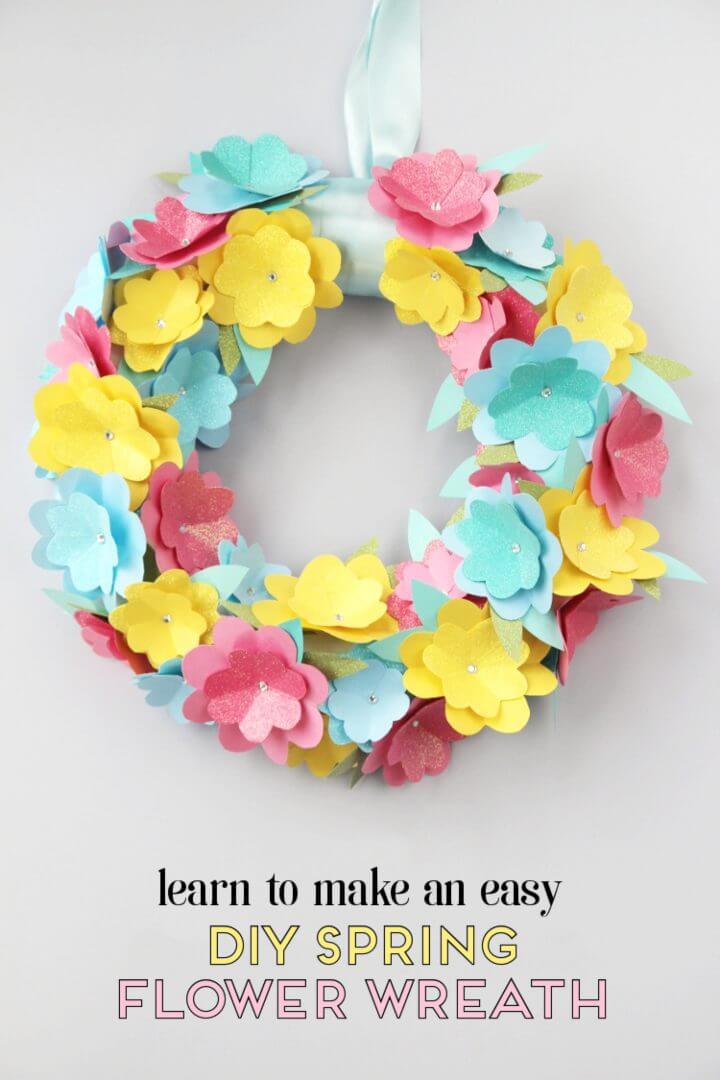 Celebrate the colors of the spring season by hanging this colorful wreath over your front door! It also comes loaded with faux paper flowers that you can make with your favorite papers! Cover a foam wreath with silk ribbon and then cover with colorful and lovely paper flowers and that's it! Full how-to instructions here gatheringbeauty
18. Buffalo Check Paper Flower Wreath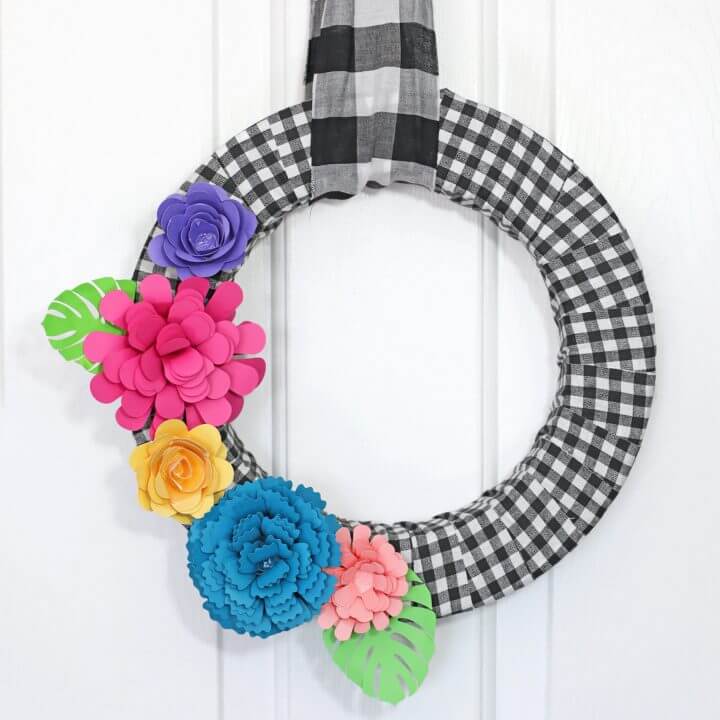 Grab a wreath form and cover it up with black and white check flower and then decorate with the paper carnation, rose and daisy that you can easily make using a silhouette cameo as you can see! Full how-to instructions and tutorial here thecraftpatch
19. Paper Tube Flower Wreath – Step by Step Instructions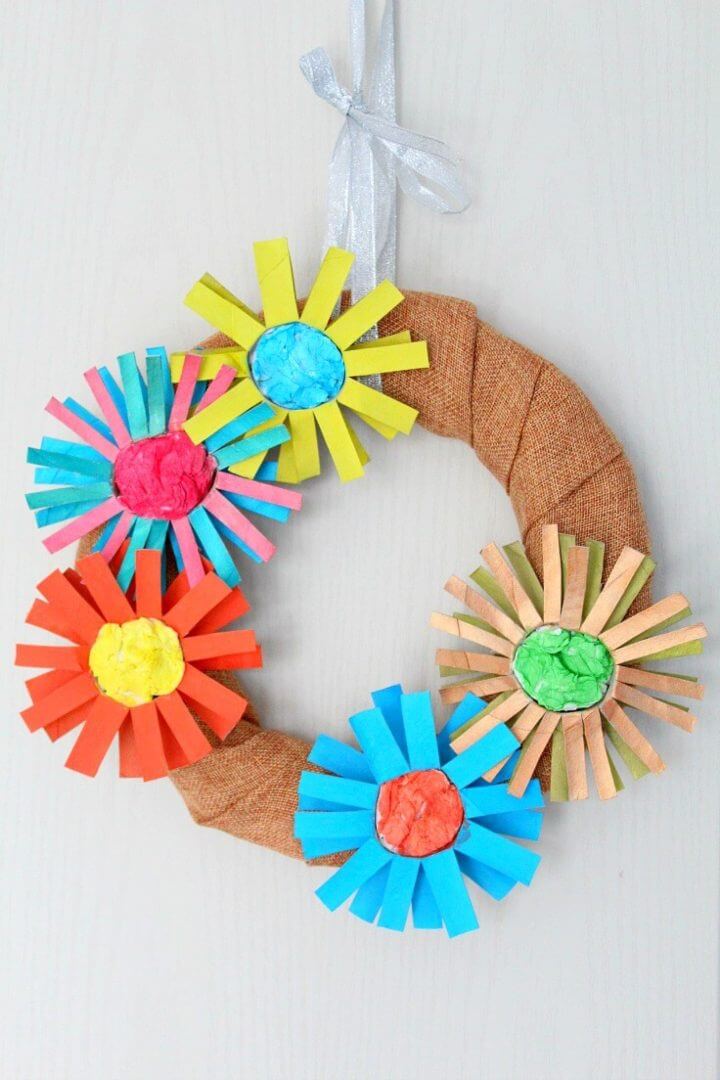 Make a wreath out of floral foam that you can easily trace and cut out and next cover it up with burlap and decorate with the toilet paper tube flowers that will be super quick to make and paint and can be added on the wreath using the push pins! Full how-to tutorial here theseamanmom
20. Handmade Felt Flower Wreath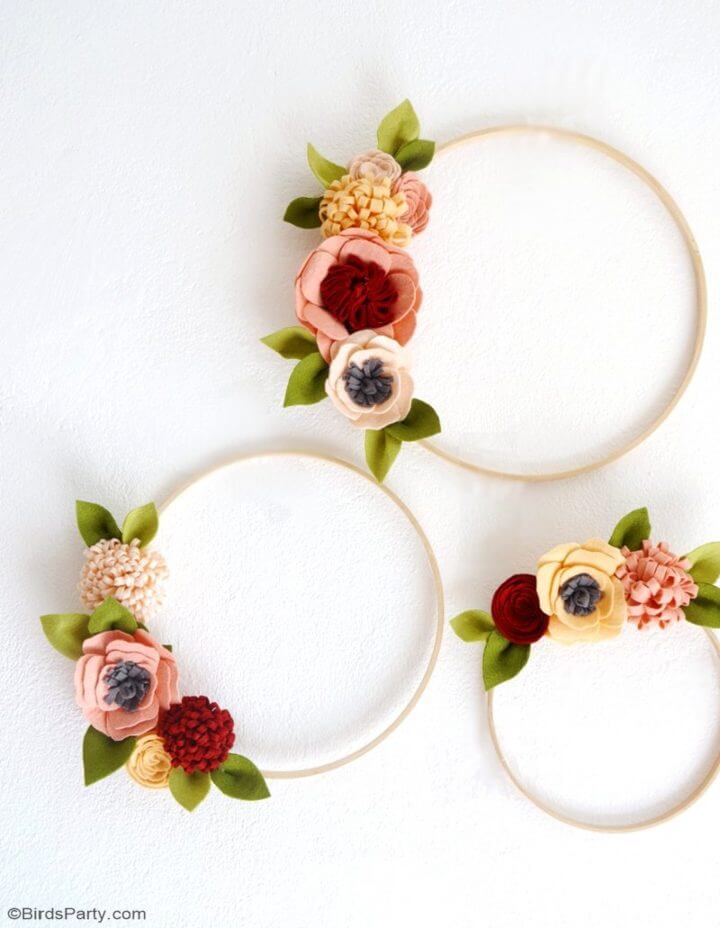 You can make faux flowers with so many different things like with fabric, paper and felt and here this precious floral wreath is made of felt flowers and is looking damn lovely and precious! Make your favorite flowers using felt in your favorite color, and next mount them on the bottom side of an embroidery hoop! Full instructions here birdsparty
21. Awesome DIY Paper Flower Wreath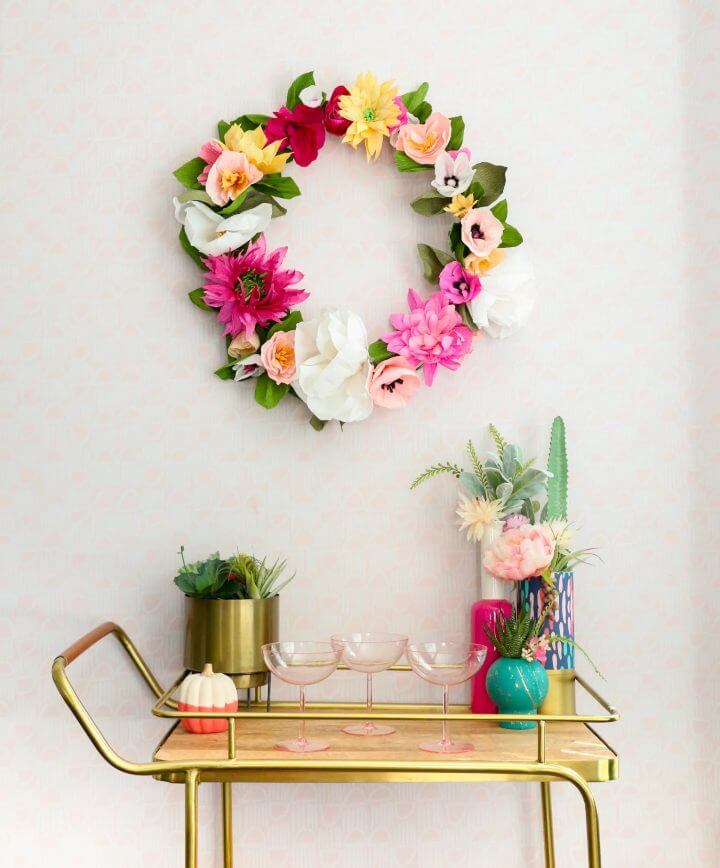 Make a circle out of a long floral wire and then just add it up with the awesome paper flowers that you can instantly make using your crepe paper! Get inspired by the lovely given flower wreath that is sure to impress and will definitely jazz up any blank! Full how-to instructions and tutorial here abeautifulmess
22. DIY Floral Heart Wreath Backdrop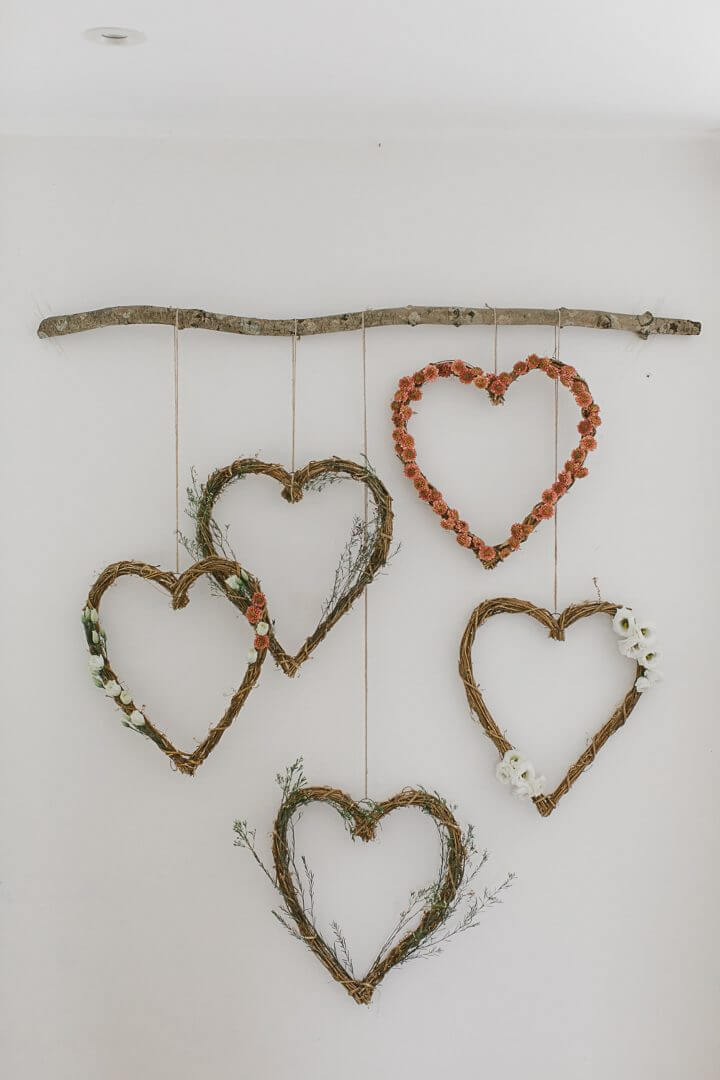 You can also further make various other things and stuff and even the home decors using a bunch of your homemade wreaths! Here the heart shape floral wreaths have been tied onto a wooden stick using twine, and they make a perfect backdrop for your photography! Grab the rattan heart wreaths, faux flowers, twine, and a branch to make this precious floral heart wrath backdrop! Full instructions here rockmywedding
23. Silk Flower Wreath with Spring Blossoms
Give a warm welcome to spring season also by making this precious silk flower wreath that is looking divine by being densely loaded with white and red spring blossoms! Here you can experiment this floral wreath with any wreath form like with willow or foam made wreath form! Full how-to instructions here countryhill
24. Paper Floral Wreath Design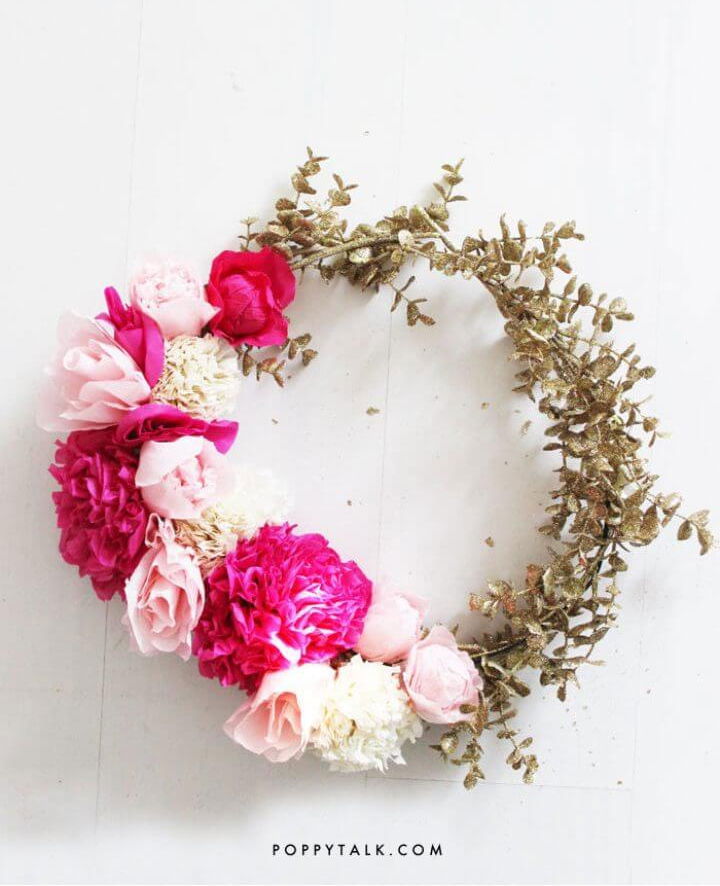 Make also lovely decorative flowers using tissue paper and crepe paper and tissue paper and then load them all around a wreath form that you can quickly make using floral wire or pipe cleaner! Use glue to adhere to the crepe paper and tissue paper flowers in place, and here you go! Full how-to instructions and tutorial here! poppytalk
25. Cute DIY Floral Rainbow Wreath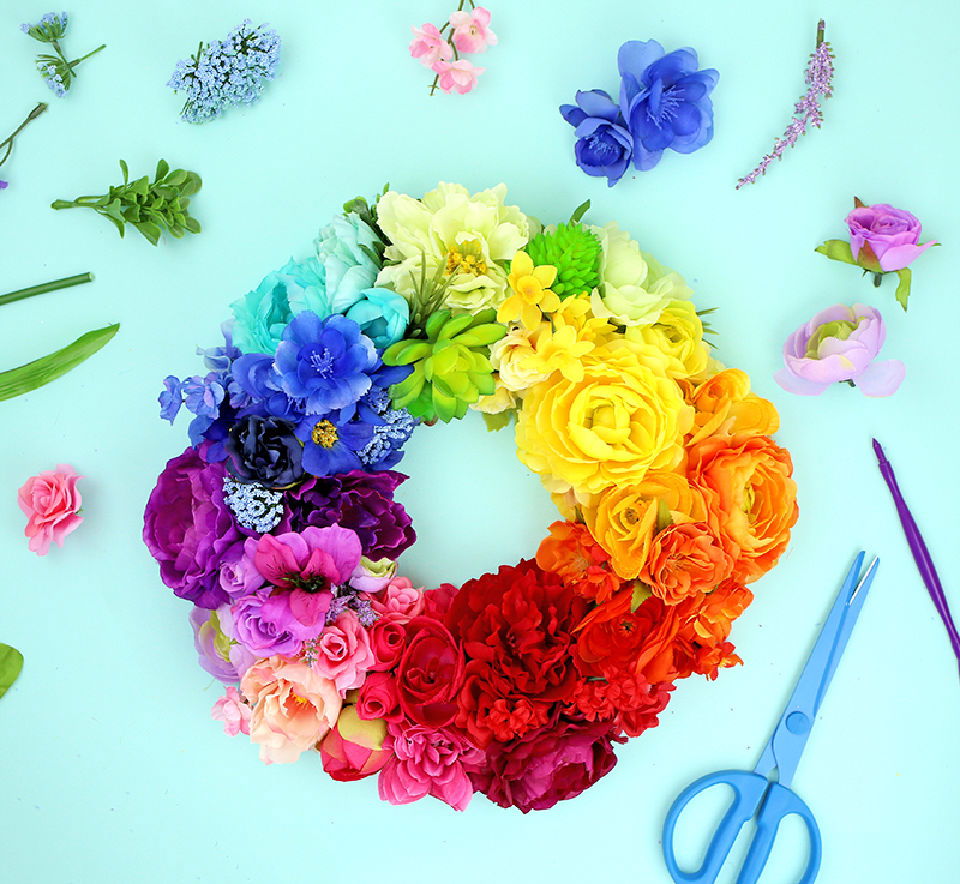 Willing to impress someone with your great crafting skills? Then do make this rainbow floral wreath that will never go unnoticed or will be praised by everyone for sure! Here you need to glue or fix a large variety of faux flowers all around a foam wreath form making a lovely and gorgeous rainbow floral wreath! Full how-to instructions and tutorial here linesacross
26. Spring Paper Flower Wreath Ideas
Are you interested in paper crafting? Then you will definitely be knowing about making cool and colorful paper flowers, put together those paper-made colorful flowers on a wreath form and make a precious spring flower wreath that will be loved dearly by all for sure! Look at the given lovely sample that comes with flowers made of self-printed papers that come with custom design patterns! Full instructions here ishouldbem
27. Fresh Flowers Spring Hoop Wreath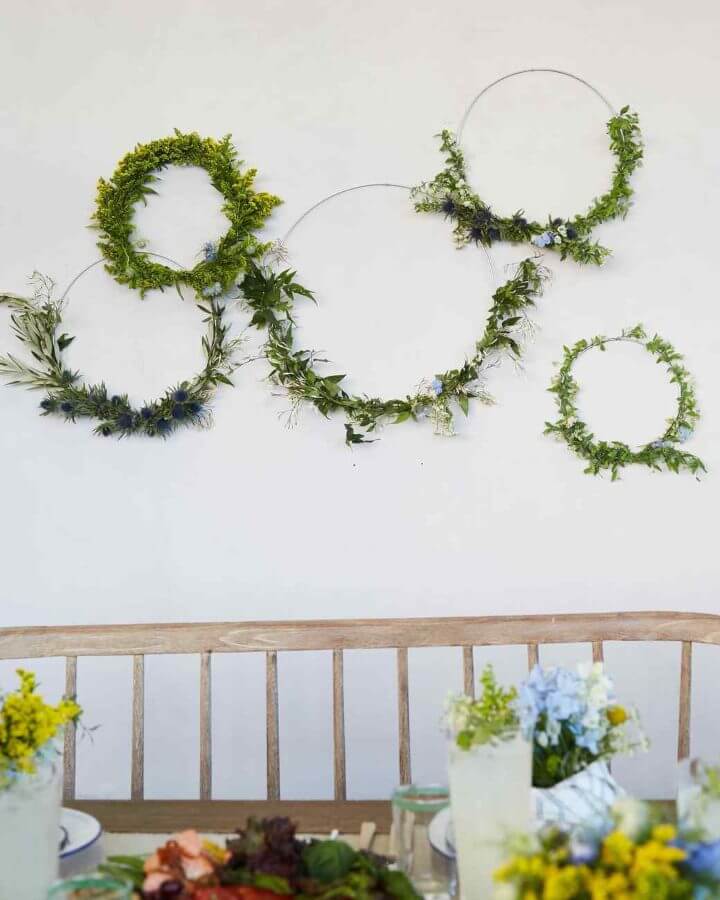 Make the lovely round wreath form using floral wire and next cover it up with the fresh flowers having an excess of green leaf stems! Look at the given samples that come in a dominant green appeal and are quick to make also! You can also put together a set of such a wreath on a wall for bigger decor statements! Full instructions here marthastewart
28. Pretty DIY Faux Flower Frame Wreath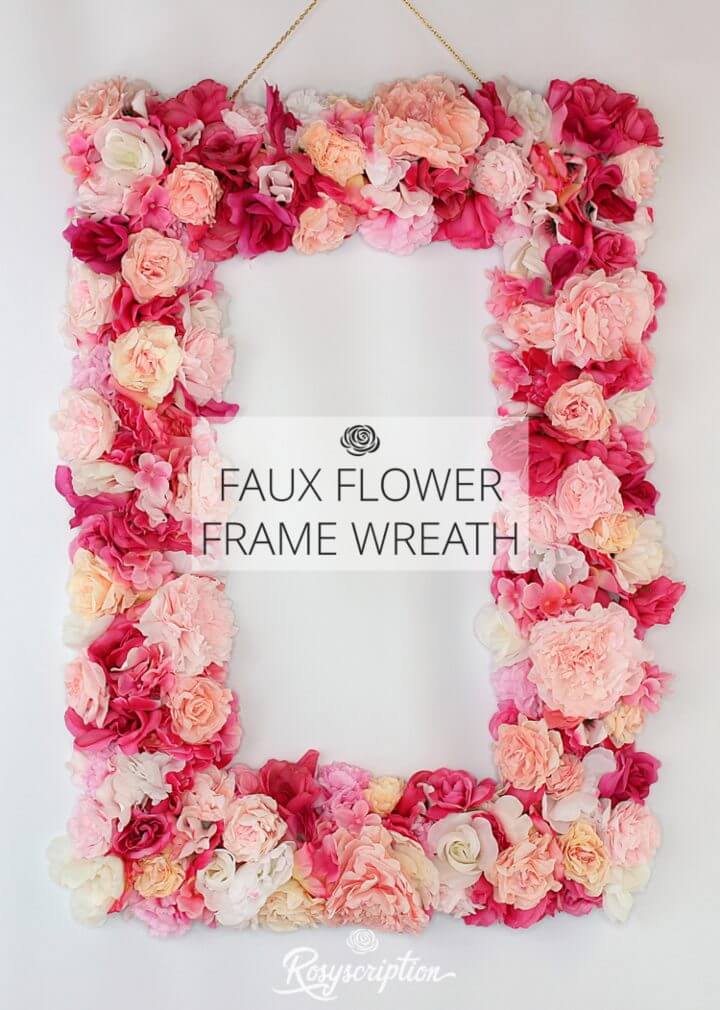 Cut out a rectangular photo frame out of foam board and then cover it up with the silk and coffee filter flowers and make a precious rectangular frame wreath that you can also put around a wall photo for bigger home decor statements! Full how-to instructions here rosyscription
29. Spring Peony Door Wreath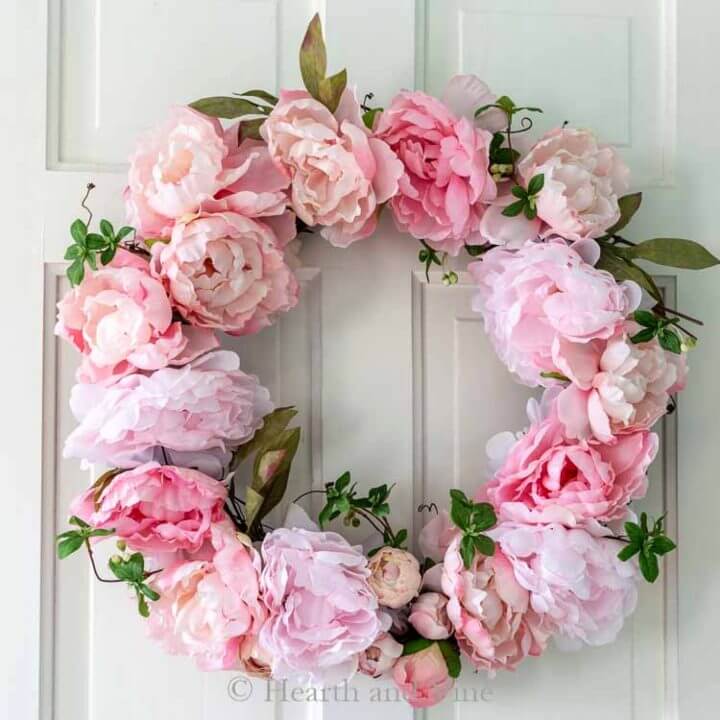 Sorting out perfect spring decors to make in last hour? Then do make this super beautiful spring peony wreath that will be ready in a single hour and is sure to impress to all the onlookers! Grab grapevine wrath and load it up with mini peony stem, peony bushes and also with gypsophilia leaf system and that's it! Full tutorial here hearthandvine
30. Boxwood Wreath with Paper Flowers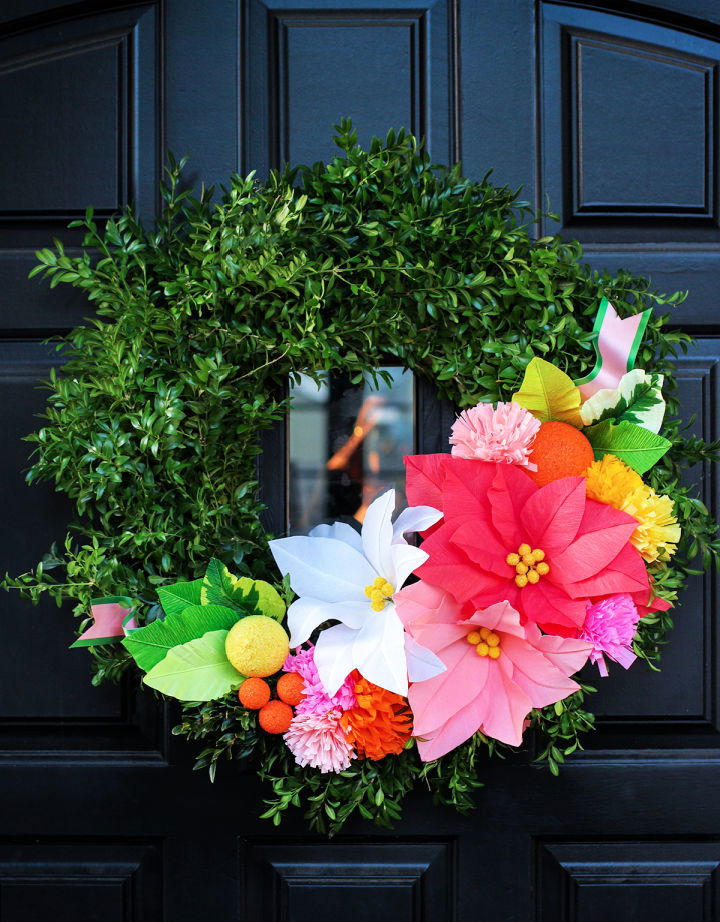 Another outstanding wreath to make at home using the crepe paper poinsettia kit, spun cotton fruit accent, decorative ribbon, and floral wire! Just make the poinsettia flowers out of colorful crepe papers and then load them up on the floral wire around the wreath form and here you go! Full how-to instructions and tutorial here honestlywtf
31. Easy DIY Sage and Blush Spring Wreath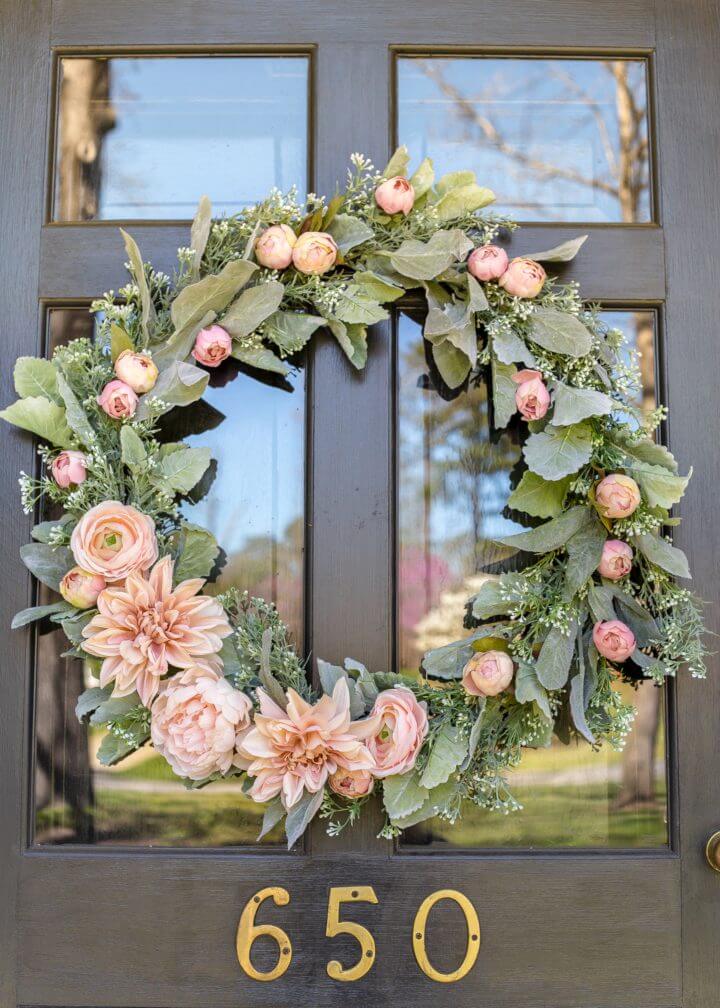 Duplicate also this super beautiful homemade spring wreath that will be praised by every onlooker! Just load a wire wreath form with colorful rose, dahlia, ranunculus, peony and white berry bushes and make this interesting spring wreath that will definitely be of centerpiece worth! Full how-to instructions and tutorial here blesserhouse
32. Floral Hoop Wreath for Your Front Door
If you have the metal hoops in home lying for nothing, then upcycle to make lovely floral wreaths that will bring your home decors to next level for sure! Just cover the very bottom side of the metal hoop with the green leaf bushes with ranunculus and peonies and gain a fabulous front door floral wreath! Full how-to tutorial here twofeetfirst
33. Cute DIY Spring Felt Flower Wreath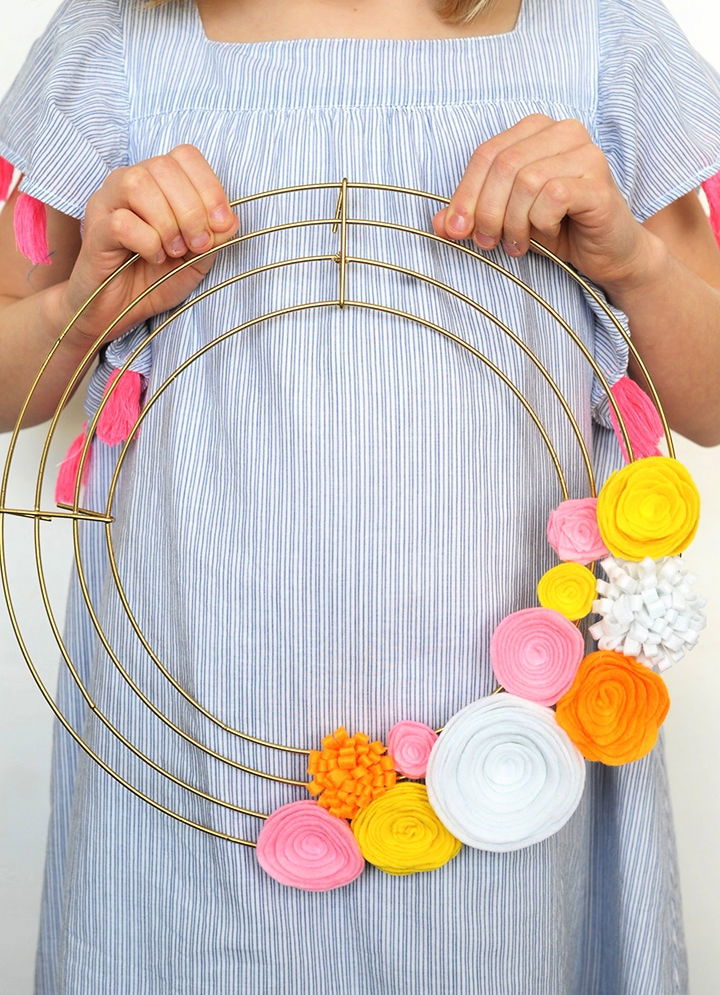 This handsome floral wrath will not bring a glam flower touch to any front door or indoor wall but will also spruce it up with the metallic luster! Spray paint the metal wire wreath form and then load it up with the felt flowers that you can quickly whip up at home! Full how-to instructions and tutorial here aliceandlois
34. DIY Umbrella Wreath In 5-minute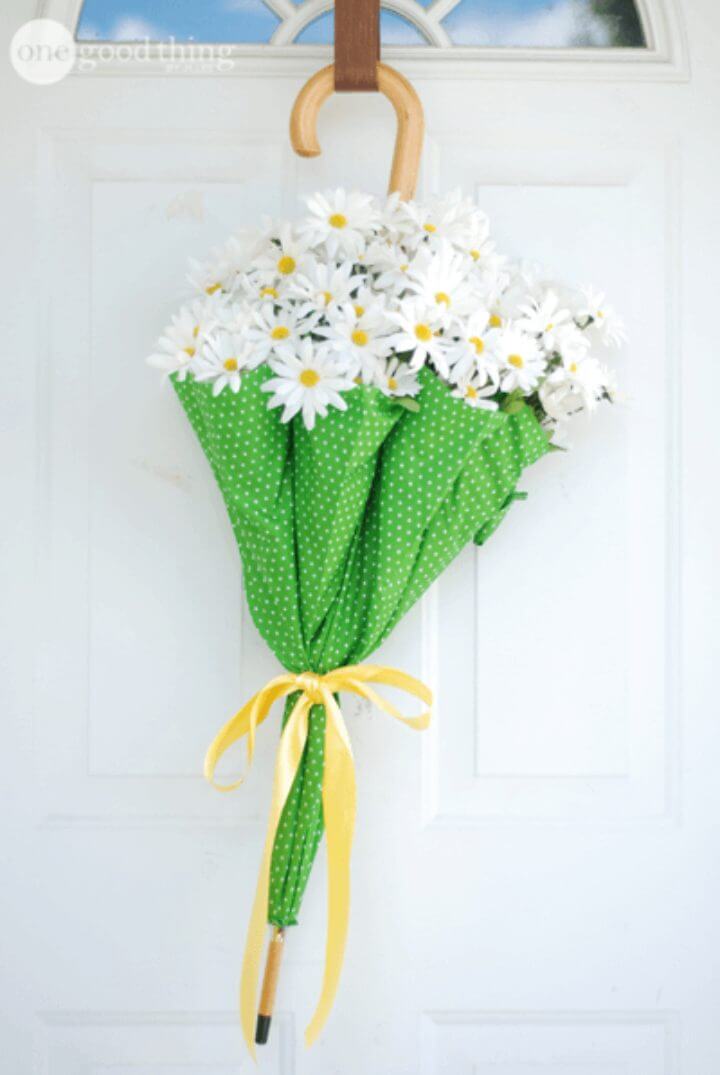 Willing to make a beautiful instant wreath for your front door? Then do make a lovely one using an old umbrella! Just fill an upside down closed umbrella with your favorite flower stems and make lovely umbrella wrath in less than 5 minutes! This wreath will be easy to hang on a wall or door hook! Full instructions here onegoodthing
35. How to Make a Flower Wreath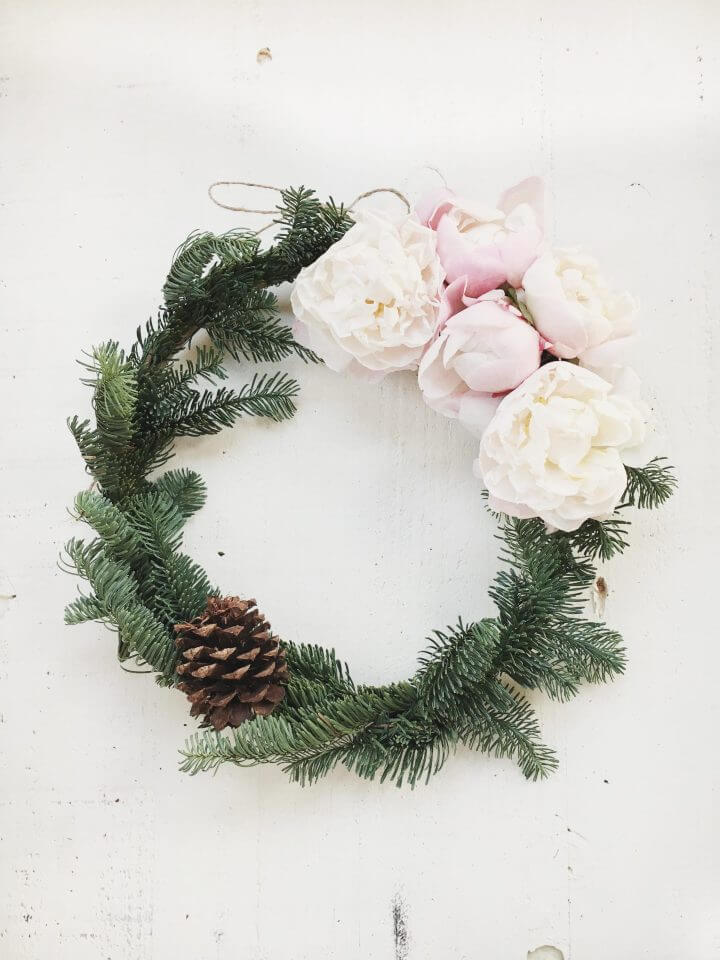 Wondering how to make a lovely flower wreath that you see in the market? Then here is the perfect how-to tutorial to make a flower wreath like a pro that will never go unappreciated! Just load the green sprigs or leaf bushes all around a cardboard wreath form and finish by adding the pinecones and eucalyptus flowers and that's it! Details here publiclives
36. Easy and Affordable Floral Wreath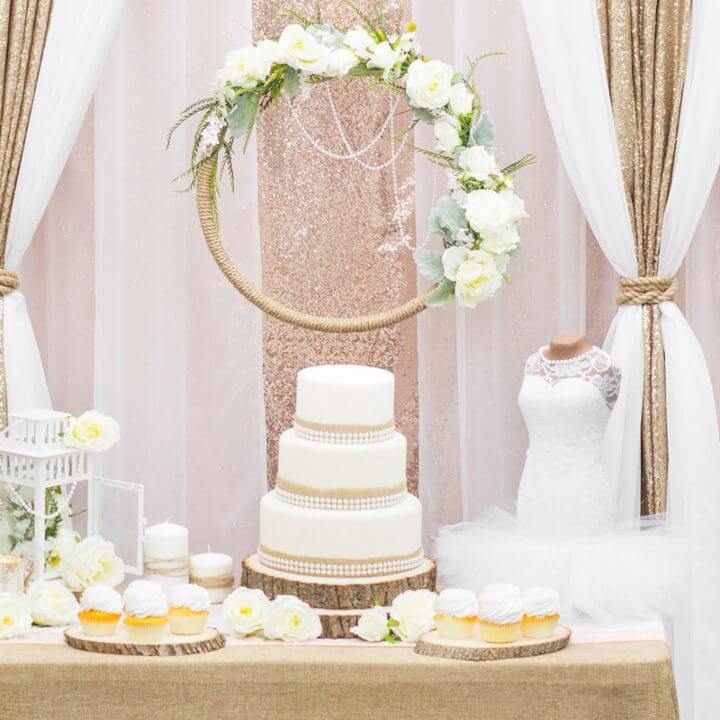 A perfect decorative floral wreath to hang just above your party dessert table! Grab a hula hoop and wrap the jute around it and then add it up with garland greenery and faux flowers! Add the pearl strands at the end for an amazing posh appeal of the wreath! Full project details here cvlinens
37. Paper Flower Wreath Tutorial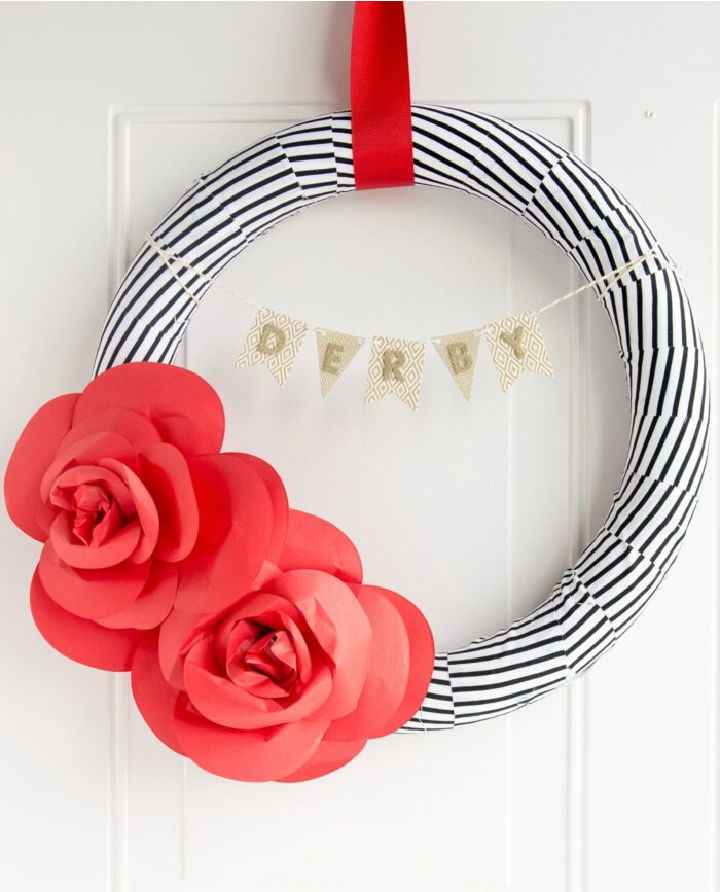 At a very first look, you will fall in love with this graceful wreath that comes with faux red roses and is just looking divine! Grab a foam wreath form and cover it up with the black and white lined fabric taking into longer strip form! Next, finish it up with lovely artificial roses and hang on your front door, will rock for the holiday decors! Details here polkadotchair
38. Make a Floral Spring Wreath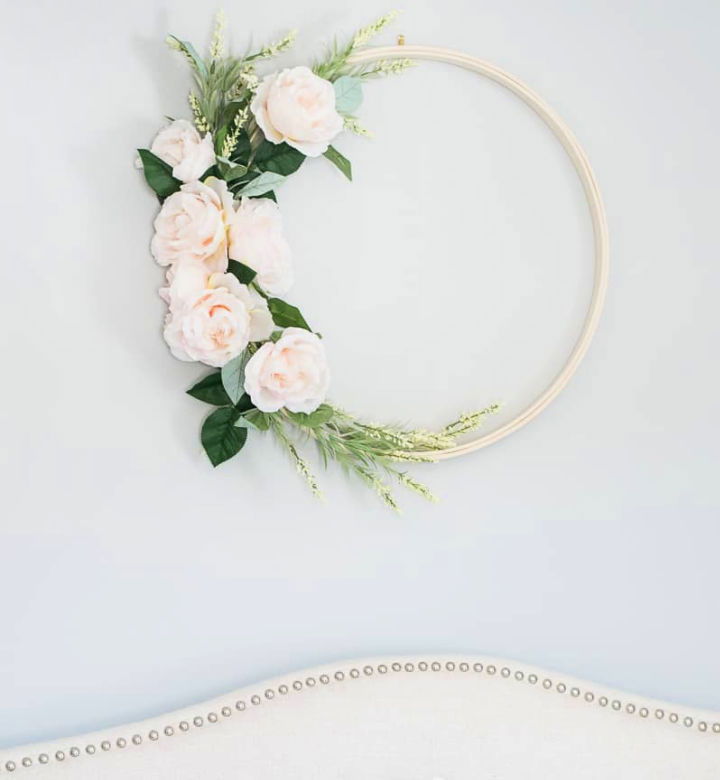 Upcycle also the embroidery hoops to make fascinating floral wreaths at home! The idea is just to transform a blank embroidery hoop by loading garland greenery, and faux flowers, here white roses have been used! This wreath will rock for as a holiday and party decor and can also be hanged on your front door! Full tutorial here jennakateathome
39. Gorgeous DIY Floral Spring Wreath
One more mind-blowing wreath design is here to grab your attention, this comes wrapped in cotton rope and is sure to impress! Wrap the rope around a Styrofoam wreath and then load a bunch of greenery and fabric flowers on it and make this floral spring wreath! Complete project details here arkandthread
40. Chic DIY Flower and Greenery Wreath
In crafting mania, there is nothing easier more than making a lovely wreath! Grab a foam wreath form and load it up with the greenery bundles, flower stems and with custom floral and use the glue to hold the pieces in place and here you go, get inspired of this lovely given sample! Full instructions here shelterness
Related DIY Wreaths: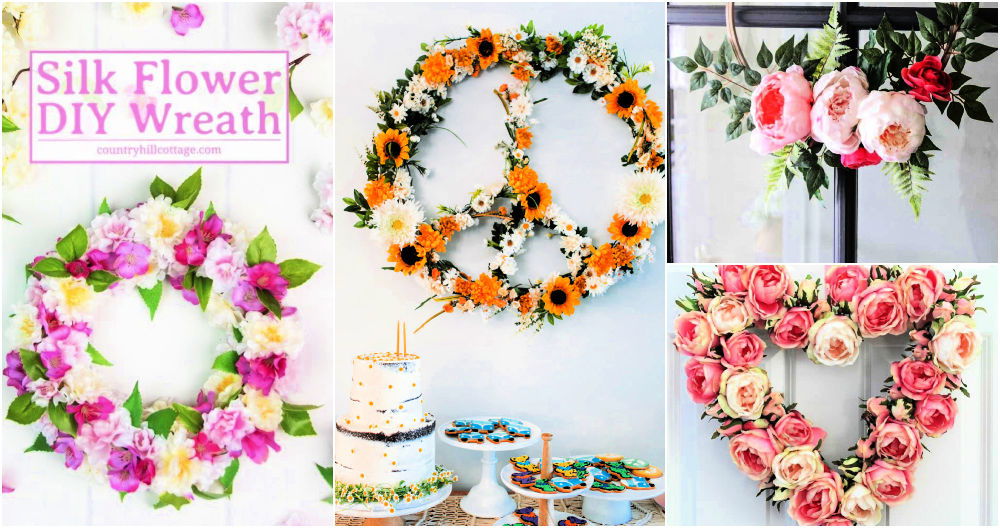 DIY Wreath Ideas: Need an easy and beautiful wreath for your front door? These best DIY wreath ideas can be made with any type of material: flowers, sticks, twigs, burlap, ribbon, etc.
DIY Fall Wreaths: Get ready for Fall with this list of most beautiful DIY fall wreaths that you can make to decorate your home for the Fall season. Here you will find a wide variety of styles including rustic, vintage, floral, and gothic.
Spring Wreath Ideas: Get the most out of your flowers and greenery with these easy DIY spring wreath ideas. These beautiful floral arrangements are perfect for any occasion or special someone.
Summer Wreath Ideas: Looking for a summer wreath that won't break the bank or tie you down? These superb DIY summer wreath ideas are budget-friendly and beautiful. From simple to elaborate, you'll find the perfect style for you.
Patriotic Wreath Projects: If you want to make a wreath that's patriotic and decorate your home for the 4th of July, this list of awesome DIY patriotic wreath projects is perfect for you. From memorial day to fourth of July, you'll be able to celebrate your country in style.
Burlap Wreath Bow Ideas: A burlap wreath bow is a beautiful and easy way to add a touch of rustic charm to your home. With these ideas you can easily learn how to make burlap wreath bow, from the traditional loop method to the simple knot.
DIY Welcome Signs: Welcome visitors to your front porch with one of these fabulous DIY welcome signs! With a little creativity and spare wood, you can easily create a custom welcome sign.
Related DIY Home Decor Ideas:
Discover unique and easy DIY home decor ideas that will add a personal touch to your house. Browse related projects and get inspired to create something special with plenty of tips and tricks!
Free DIY Arbor Plans: Looking to make DIY arbor? Get easy-to-follow DIY garden arbor instructions to make your own at low budget and in no time!
DIY Mosaic Ideas: Create beautiful mosaics at home with these creative DIY mosaic ideas, crafts and art projects. Learn how to transform ordinary objects into amazing works of art with simple tools and materials.
Homemade Wind Chimes: Create your own beautiful wind chimes with these easy-to-follow DIY wind chimes! Find the perfect homemade wind chime for your outdoor space.
Small Porch Decor Ideas: Looking to spruce up your porch on a budget? Check out this list of great DIY small porch decor ideas, perfect for any outdoor space.
Cheap DIY Backyard Ideas: Transform your backyard into a stylish outdoor oasis with these cheap DIY backyard ideas and decor projects. Get the most out of your budget without sacrificing style!
DIY Wood Signs: Make your own unique statement with a handmade DIY Wood Sign. Get creative and customize it with your favorite words, colors, and designs.
Conclusion:
Overall, making a floral wreath can be an incredibly rewarding and unique experience. With these easy DIY floral wreath ideas outlined in this article, you now have the tools to make exactly what you envision for your home or special event. Whether its using more traditional materials like roses and daisies or incorporating some of the more creative options such as succulents and ribbon, there is a DIY flower wreath for everyone. No matter what design you choose to create with these 40 easy DIY floral wreath ideas, we hope that it brings beauty and joy into your life!