Looking for diy burlap wreath ideas? Crafting a beautiful burlap wreath can be a fun and rewarding experience. It's also an easy project for beginners – with some twine and ribbon, you can assemble a wreath within minutes. To make things easier, Learn how to make a burlap wreath with these 30 easy DIY burlap wreath ideas, including step by step instructions guide for beginners. From adding flowers and foliage to obtaining that perfect weaving pattern, diy burlap wreaths are among today's most popular craft projects. So get creative and unleash your inner diy spirit!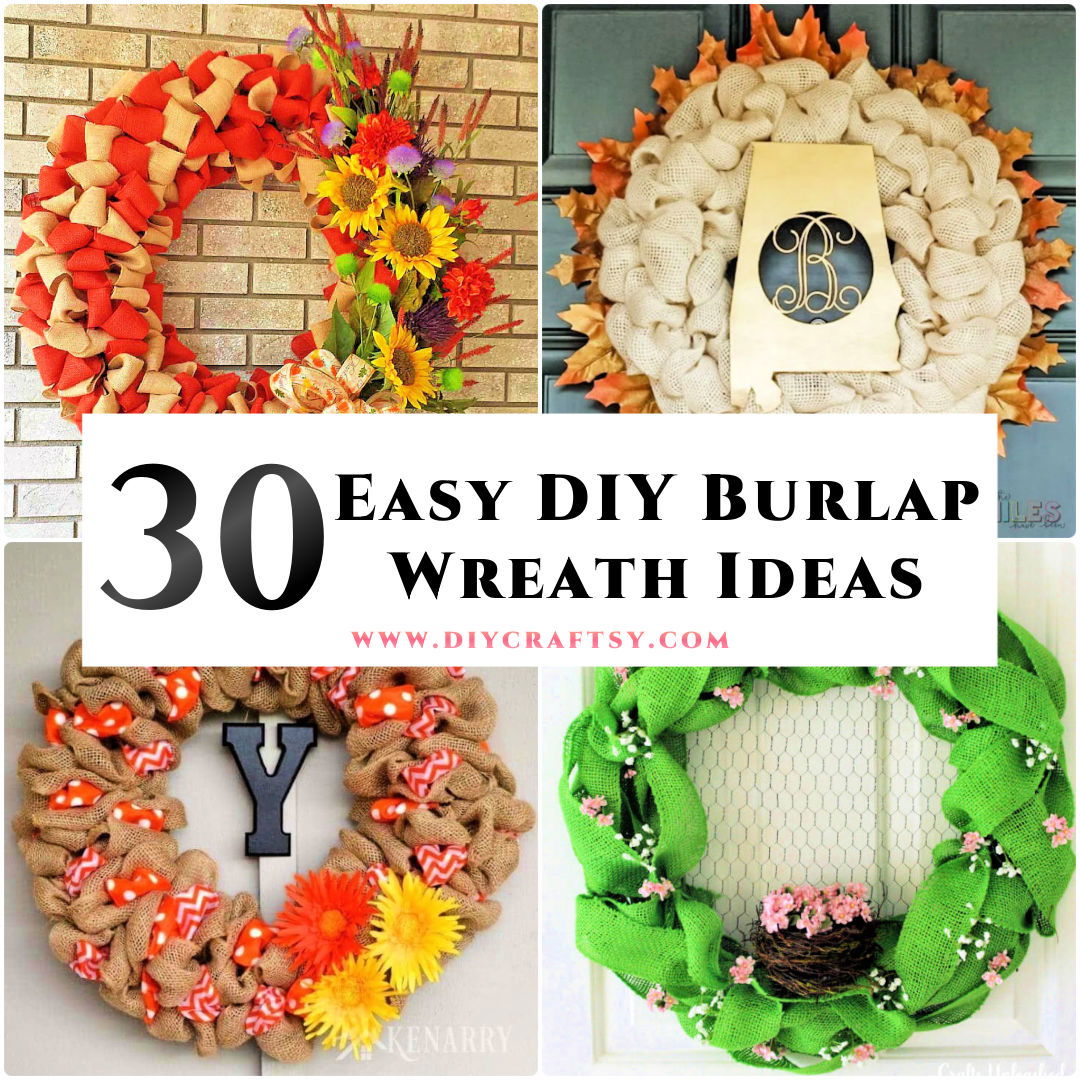 Easy DIY Burlap Wreath Ideas To Make
Make your home look rustic and stylish with these 30 DIY Burlap Wreath Ideas. From simple and elegant to unique, you'll find the perfect burlap wreath for any occasion or season. These DIY burlap wreaths are easy to make at home and require minimal supplies such as twine, wireframes, ribbon and fabric strips. Whether it's for a wedding or seasonal decor or for shabby chic home look, create a beautiful piece of art that will last forever. Get creative with these diy burlap wreath ideas by adding texture and color to these versatile pieces of craftsmanship.
How much burlap do I need for a burlap wreath?
The amount of burlap needed for a wreath depends on the size of the wreath. For a standard-sized wreath, you will need about 10 to 12 yards of medium weight burlap (30 feet and 6″ wide). If you're making a larger or smaller sized wreath, adjust accordingly. Remember to account for any fraying when cutting and plan ahead so that you have enough burlap to complete your project. With some planning and patience, you can easily create a beautiful burlap wreath!
How do you make a farmhouse burlap wreath?
Making a farmhouse burlap wreath is easy! Start by wrapping a straw wreath form with burlap and glue it in place. Then, add ribbon accents and fabric flowers to give the wreath a unique look. Finally, use wooden signs or decorations to complete your project and hang it on your door for an instant farmhouse feel. With just a few simple supplies and some creativity, you can craft the perfect farmhouse burlap wreath in no time!
How do you make a wreath with 2 colors of burlap?
To make a two-colored burlap wreath:
Start by cutting the burlap into strips.
Gather the strips in one hand and fold them in half to form a loop.
Tie the loops together with twine or ribbon, alternating colors as you go.
Once you complete the outer circle, fill in any gaps until it is full.
Attach a hanging loop to the back of the wreath and hang it on your door or wall!
How do you stiffen a burlap wreath?
To stiffen a burlap wreath, use diluted fabric-stiffening or spray starch and spray it onto the burlap. Allow it to dry completely, and then repeat as necessary. Mix equal parts of all-purpose flour with water in a bowl for extra stiffness until you have a paste. Paint the paste onto the burlap using a brush and let it dry for a few hours. Once the paste is dry, spray with fabric-stiffening spray or starch again to set the shape of your wreath.
How do you cut the burlap so it doesn't fray?
The best way to cut the burlap so it does not fray is to use scissors with a serrated blade. Begin by folding the fabric over itself, allowing the serrated teeth of the scissors to grip the fabric. Then, make sure you are cutting along a straight line for a neat finish and trim any loose threads. Alternatively, using pinking shears will also help to reduce fraying. When storing any cut pieces, be sure to keep them flat and away from direct sunlight.
What is the best way to attach burlap?
Burlap can be attached in a variety of ways. One of the easiest and most secure methods is to use staples or nails to fasten it directly onto wood framing, keeping it firmly in place. Alternatively, when attaching burlap to a frame, you can use adhesive tape for more delicate surfaces and grommets for a decorative finish. It is best to use staples and grommets when possible for extra stability.
What is the easiest way to cut burlap?
The easiest way to cut burlap is to use sharp scissors. Make sure your scissors are clean and sharp; this will make getting a neat, straight cut easier. Place the burlap on a flat surface and use a ruler or straight edge as a guide for cutting. You can also use an electric rotary cutter for larger pieces of burlap.
1. How to Make a Burlap Wreath
Willing to feature the neutral hues in your fall decors? Then you must learn some smart uses of burlap to get the fall decors a bit more impactful! Welcome the season with this burlap wreath that looks more specific with the fall leaf background! Give a personal touch by adding a monogram in front! Details here wherethesmiles
2. DIY Burlap Wreath Using Wire Coat Hanger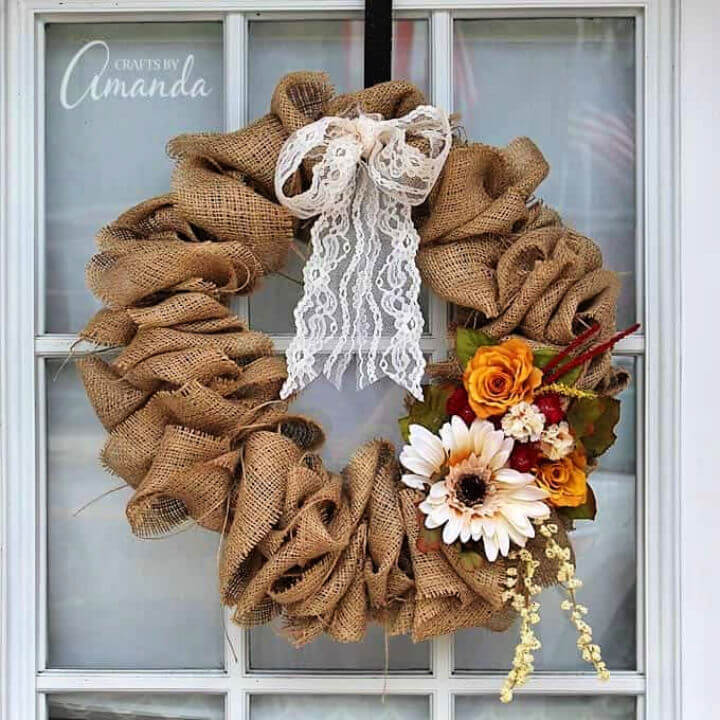 One more brilliant wreath is here to go ahead with! Making involves using cheap materials in the smartest possible ways! It is here a burlap wreath having wreath form made of a wire hanger twisted in round shape! Add the burlap on the wire wreath in a ruffled way and then decorate with lace and accent faux flowers! Full how-to guides here craftsbyamanda
3. Make a Burlap Wreath With Accent Ribbon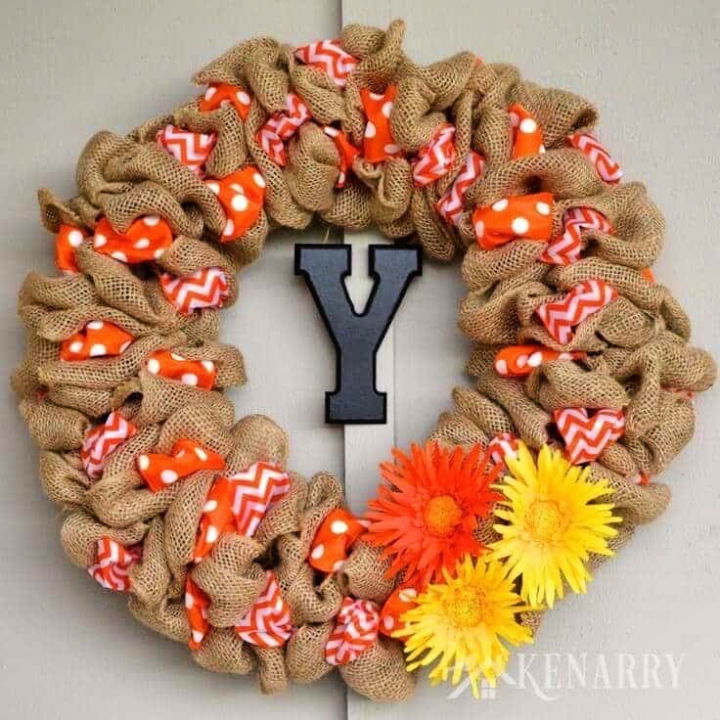 Rock your parties also with this burlap wreath that looks romantic with the colorful ribbon lines visible through the burlap medium! Make use of faux silk flowers to bring a glorious floral touch to the wreath and also add a monogram letter in the center for an enchanting personal appeal! Complete how-to guides here kenarry
4. DIY Burlap Wreath for Beginners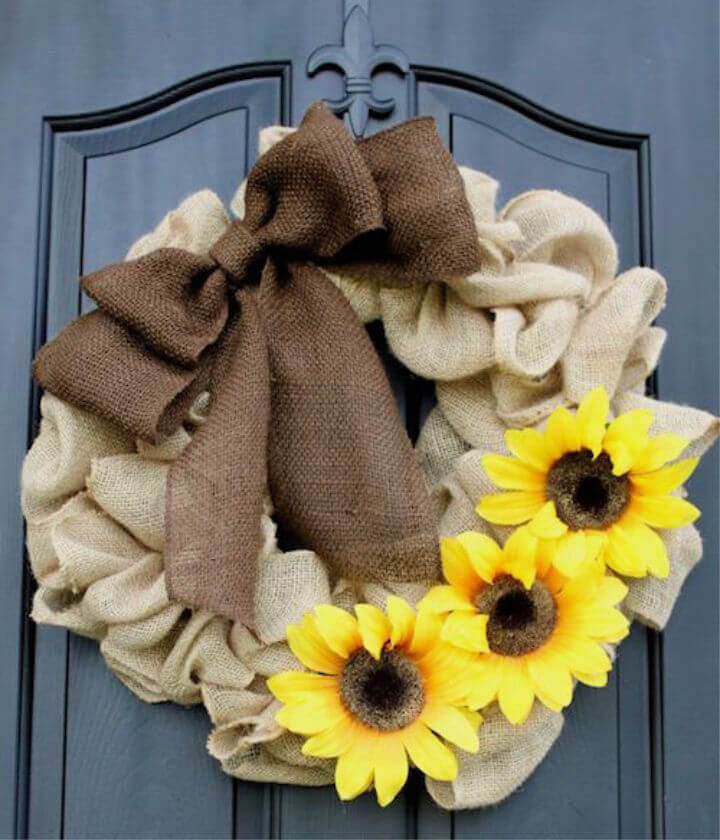 Cover also the floral wire wreath form with the outstanding ruffles of burlap ribbon and gain an epic burlap wreath in just no time! Get the final appeal dignified more with an accent bow made of a different colored burlap ribbon! Use the sunflower embellishments for adding instant visual grace! Complete how-to guides here howtomakeaburlap
5. Making a Burlap Wreath for Your Home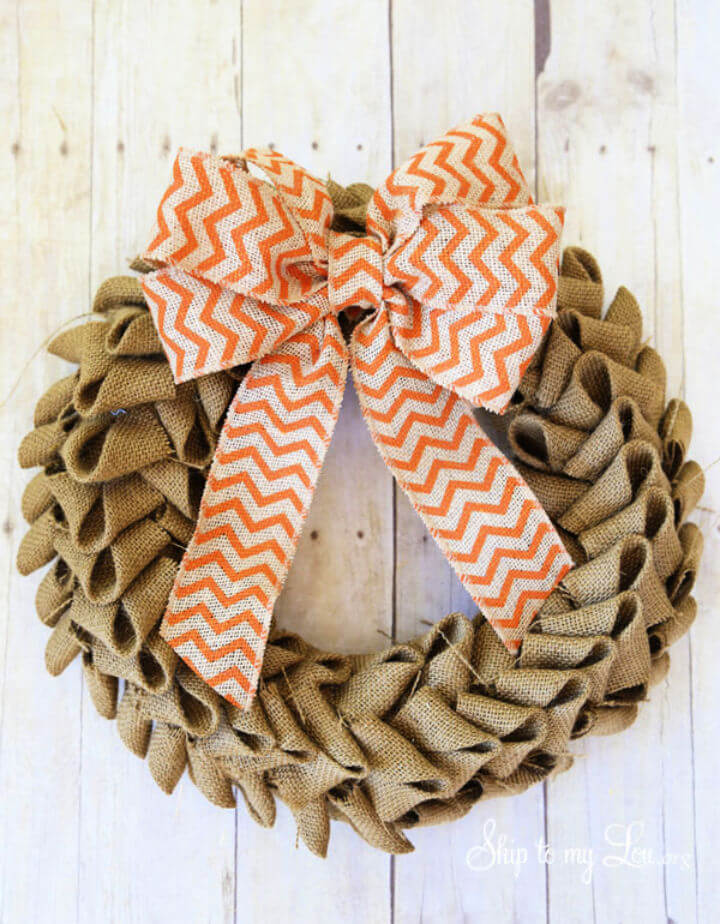 Intending to incorporate the neutral hues in your fall party decorations? Must go with this burlap wreath, made to inspire! This wreath will be the smartest decor to add your main entrance to show your love for the season! This burlap wreath is a hot combo of rustic glam and hot chevron effect is guaranteed to impress!! Complete guides here skiptomylou
6. Easy DIY Burlap Wreath for Spring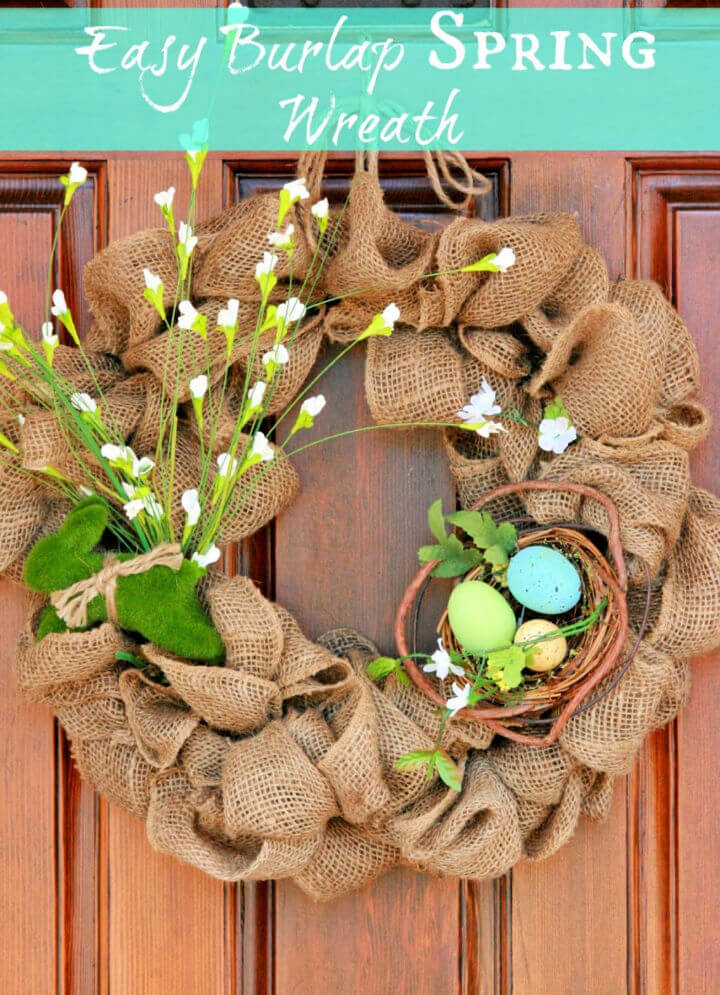 Maybe you are having too many cool choices to dress up your front door, but going with this rustic burlap wreath will be much appreciated! The final rustic appeal of burlap wreath has been got dignified with the green sprigs and with a faux colorful egg nest, mounted to one side of burlap wreath! Complete guides here dukemanorfarm
7. DIY Burlap Starfish Wreath for Front Door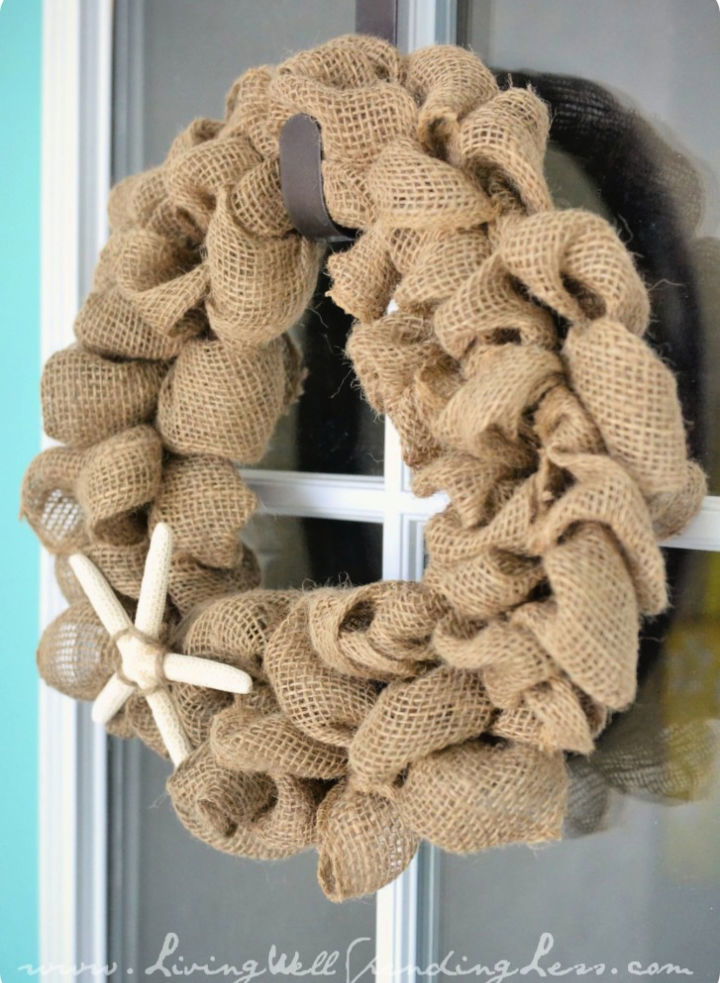 Mix the fall love in the air by sprucing up your front door up with this burlap wreath, the easiest burlap wreath creation! Again cover the wire wreath form with the burlap ribbon ruffles and to make the people keep staring at it, add a star-fish embellishment in front! A perfect type of burlap wreath that will also rock for a beach house! Complete how-to guides here livingwellspendingless
8. Homemade Burlap Wreath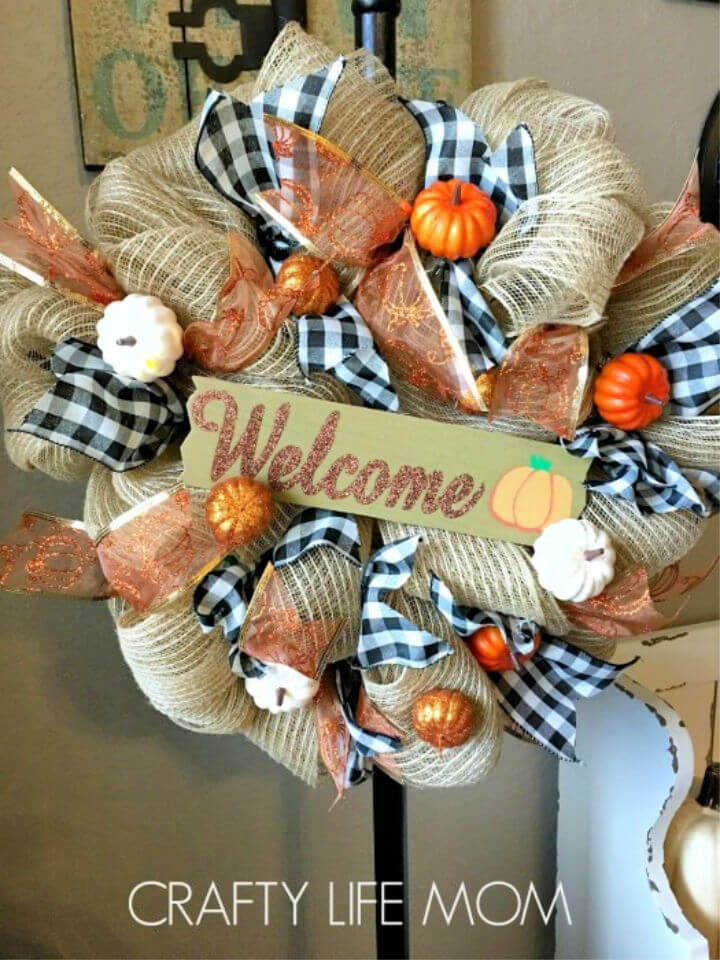 The most fall specific type of burlap wreath, also comes loaded with mini pumpkins that go best as stunning fall decoration too! First tie the burlap ruffles on the wire wreath form using pipe cleaners, next mix a little romance in the burlap using lovely ribbons! Add pumpkin embellishments and then personalize it with a final fall quoted sign! How-to guides here craftylifemom
9. Simple, Elegant DIY Burlap Wreath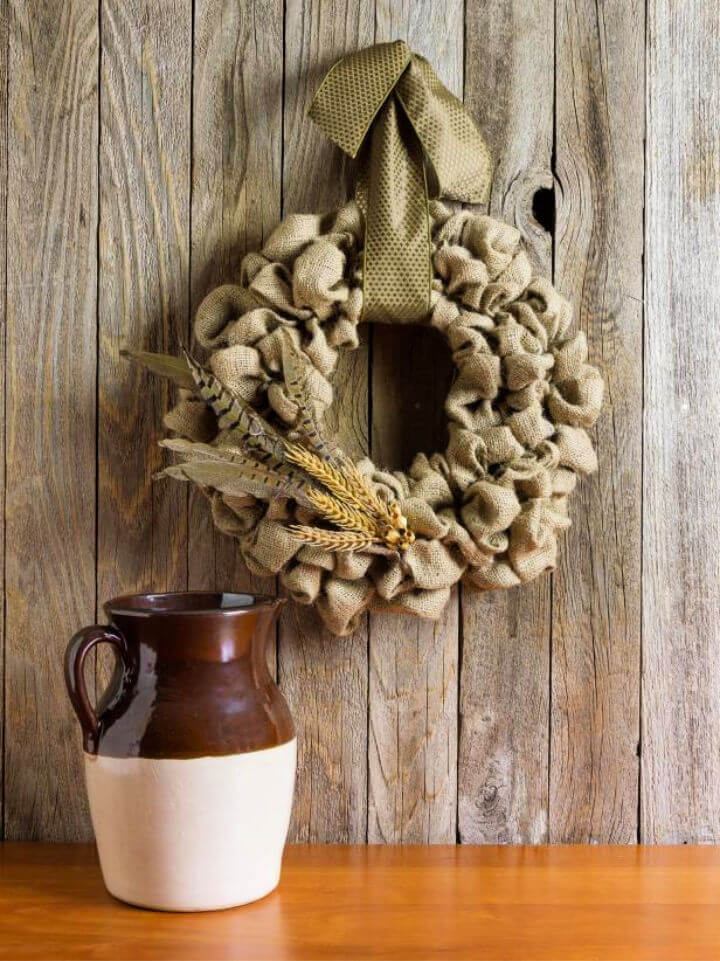 This burlap wreath will only speak for the fall decors as it only features the neutral hues! Again wrap the yards of burlap around the wire wreath form and then embellish the finally finished wreath with your own favorite embellishments, the wheat shucks will really rock! Use also the accent ribbon loop to hang the wreath on the wall! Full how-to guides here diynetwork
10. DIY Fall Burlap Wreath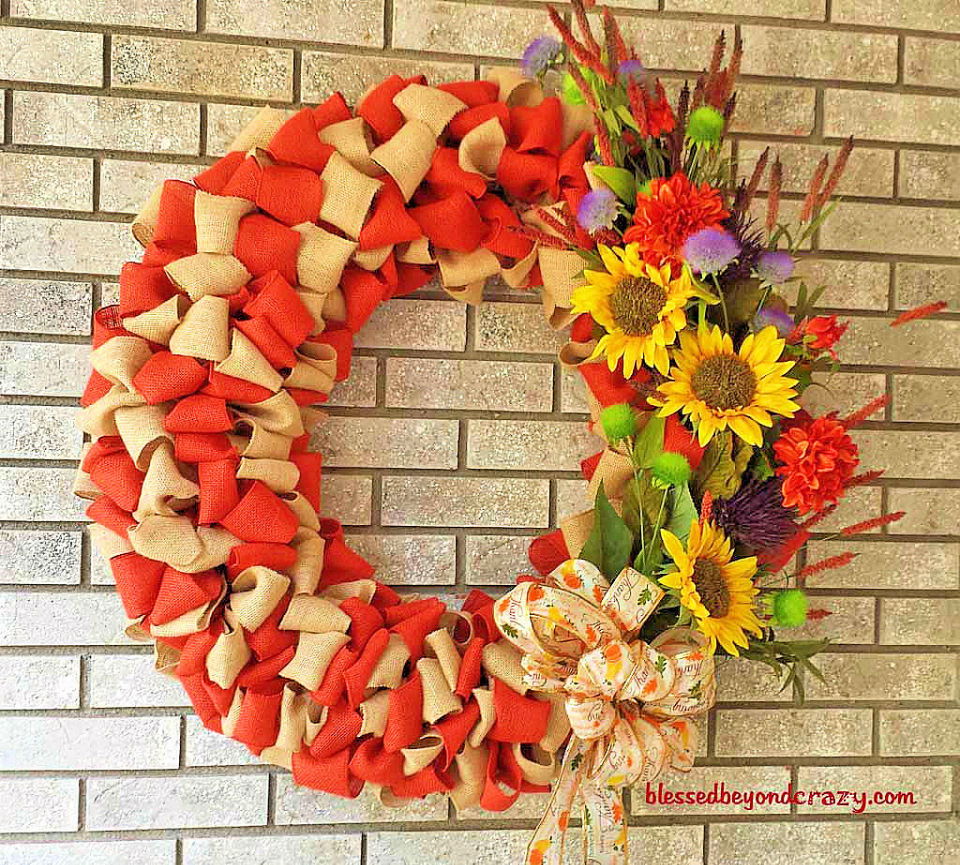 Burlap is a great type of fabric to feature in the fascinating fall decors! Opt for the different colors of burlap rolls to make the burlap fall decors a bit more interesting! You praise the neutral and red ruffles of this enchanting burlap wreath that mix well for an impactful appeal! Use fake flowers as embellishments! Full how-to guides here blessedbeyondcrazy
11. How to Make a Sunflower Burlap Wreath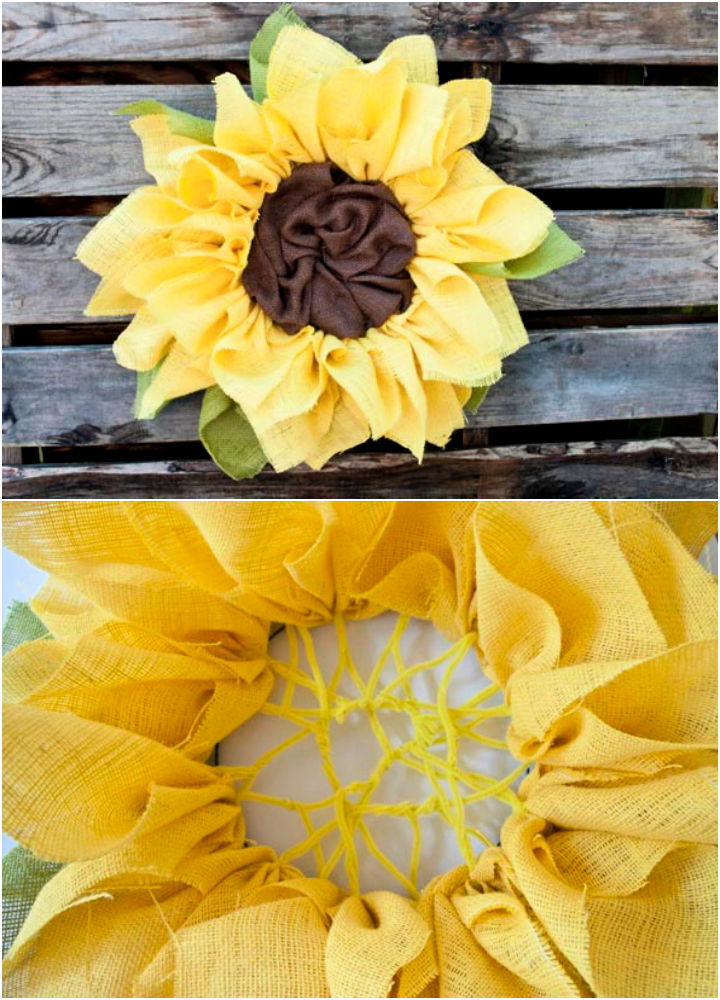 Look how amazing this giant sunflower is, made of burlap selected in respective colors, will make a most glamorous wreath to add to your front door! Again you need a wire wreath form and burlap in green, yellow and brown colors to whip up this gorgeous sunflower burlap wreath! How-to guides here clumsycrafter
12. DIY Fluffy Burlap Wreath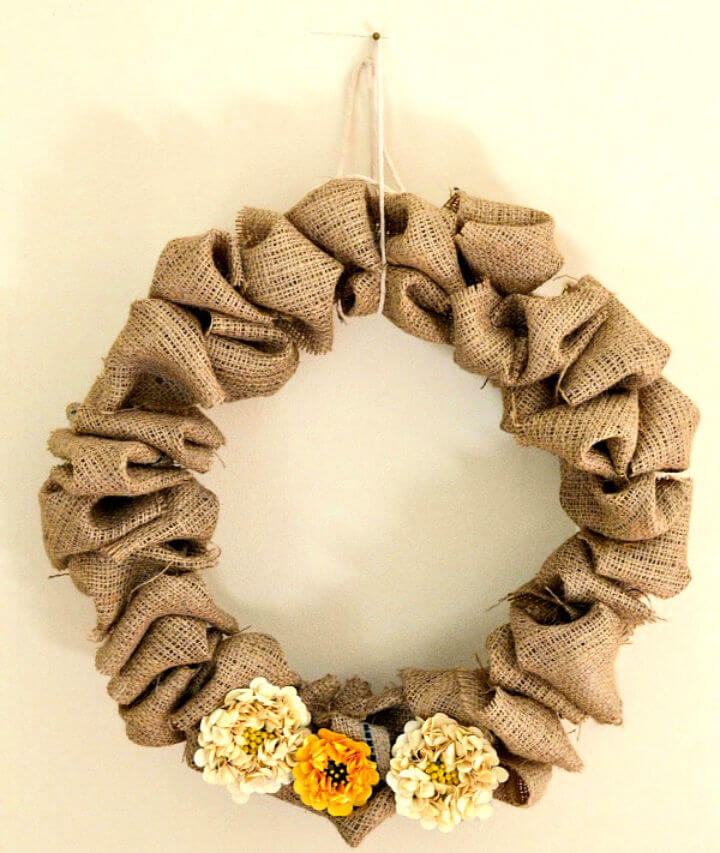 A fluffy but super good looking burlap wreath to make in no time! Again cover a wreath form by adding ruffles and then decorate it with your own special embellishments like fake flowers, pumpkins, sprigs and even the wheat shucks! A complete guide to make this wreath is here sheknows
13. Make Burlap Wreath for Any Season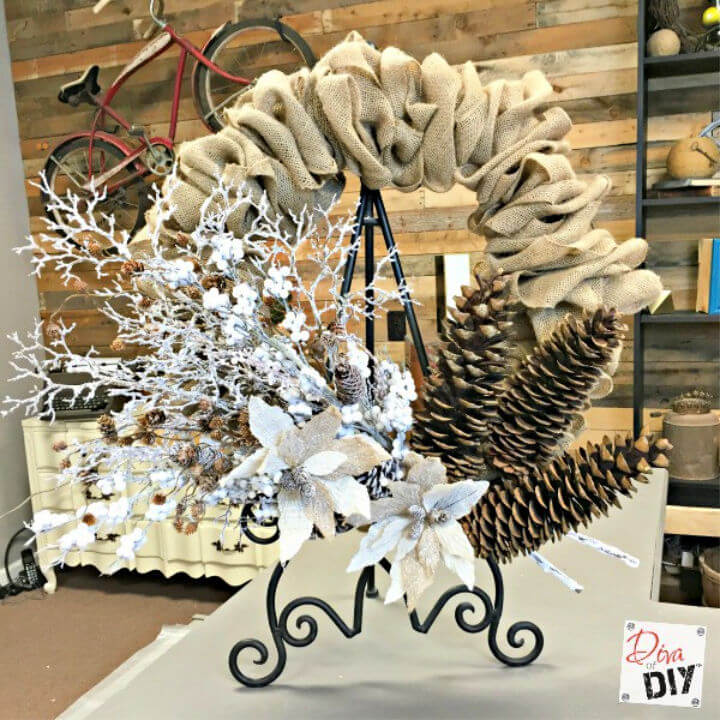 This is here the most beautiful burlap wreath that will fascinate all the onlookers! It will be the best decor for every season! In features, it can stand alone due to nicely sitting on a metal easel like stand! Do a little needle and thread work and make a ruffled round of burlap that you can tie onto a wire wreath form! Load your custom picks of embellishments and that's it! Details here divaofdiy
14. DIY Burlap Birthday Wreath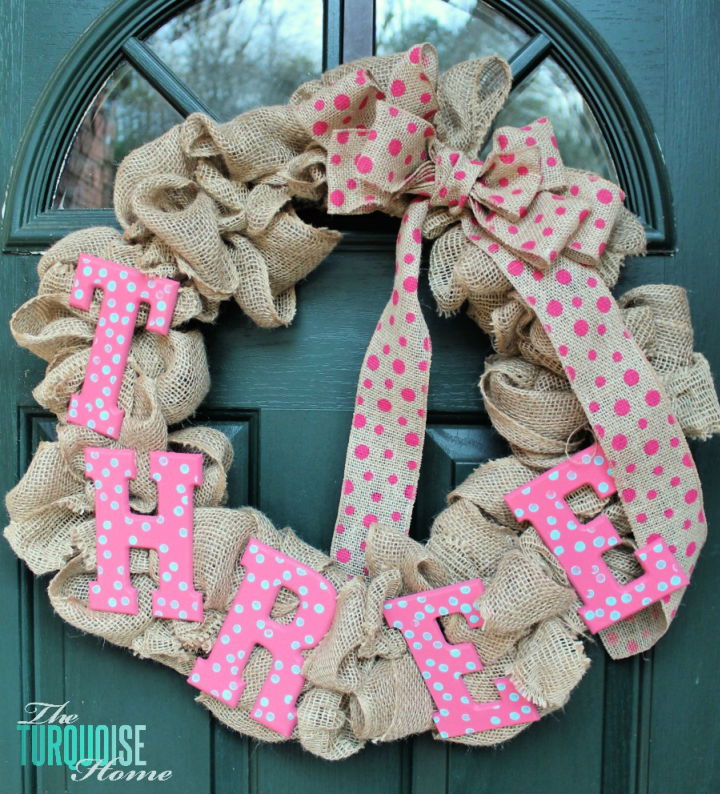 Impress the guests and welcome every season by adding this hanging decor on the main entrance door! A very gorgeous looking burlap wreath, adorned with white "WELCOME" letter alphabets! A polka-dotted ribbon bow tie raises the aesthetics of this wreath to peak level! Complete guides here theturquoisehome
15. DIY Spring Burlap Wreath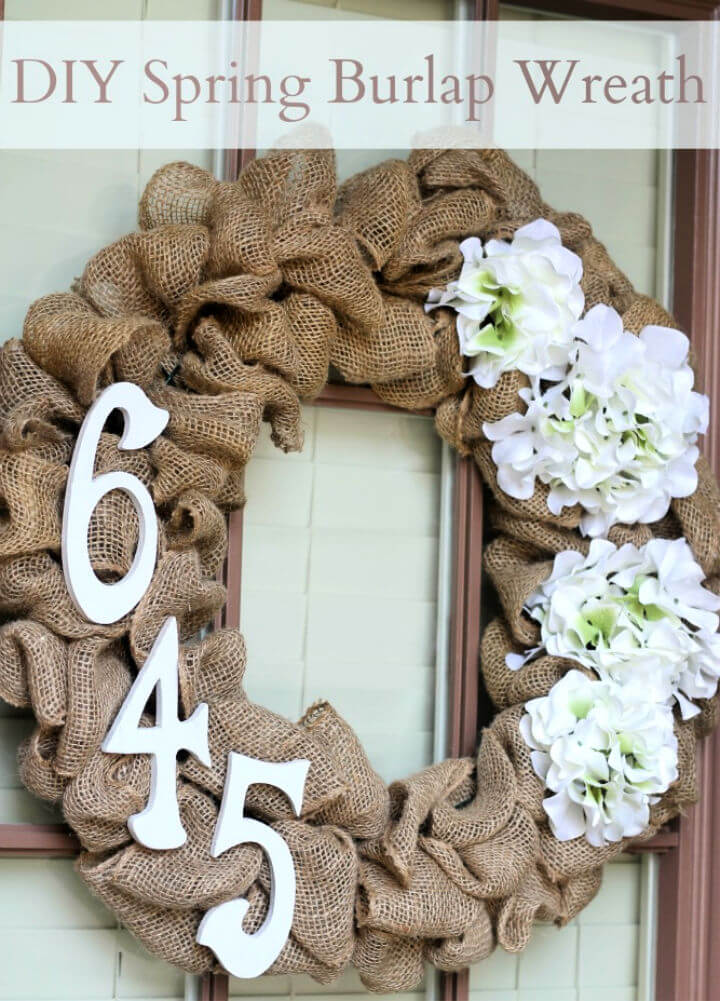 One more brilliant wreath is here that will dominate as the best spring decor! The white will really go fair with the neutral rustic appeal of burlap, so this burlap wreath come decorated with white blooms and number letters! Experiment this burlap wreath with your own favorite embellishments! Full details here domesticsuperhero
16. Fun and Easy DIY Burlap Wreath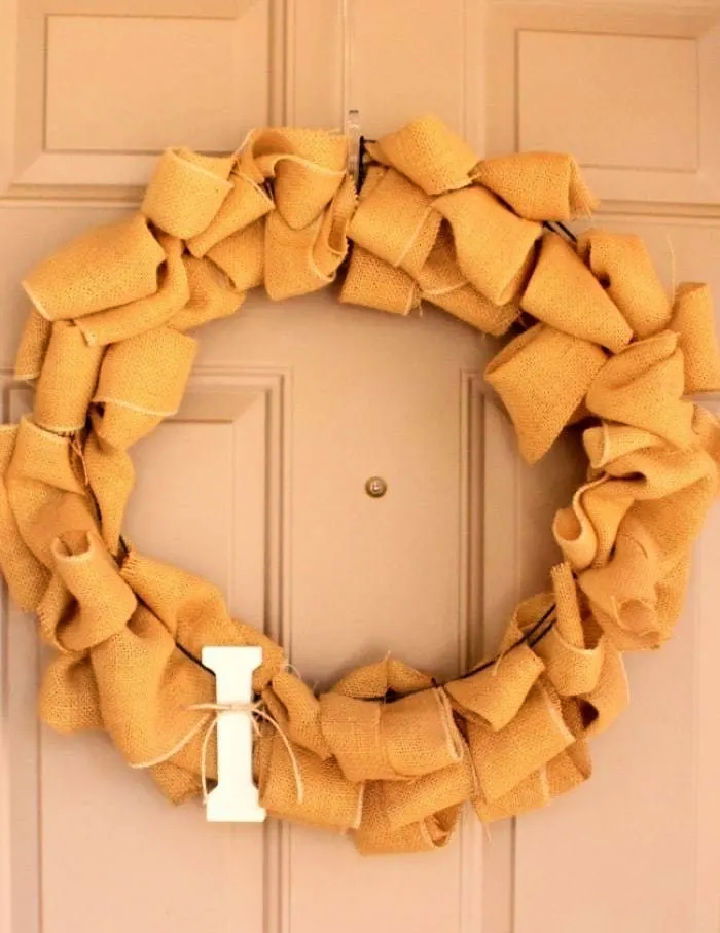 Give a damn warm welcome to the season of snow, the fall with this handmade welcoming burlap wreath! It will be a big pleasure to make while creating ruffles on the wire wreath form! Tie your favorite alphabets onto the completed burlap wreath for a brilliant personalization! How-to guides here amomstake
17. DIY Burlap Wreath With Fall Flowers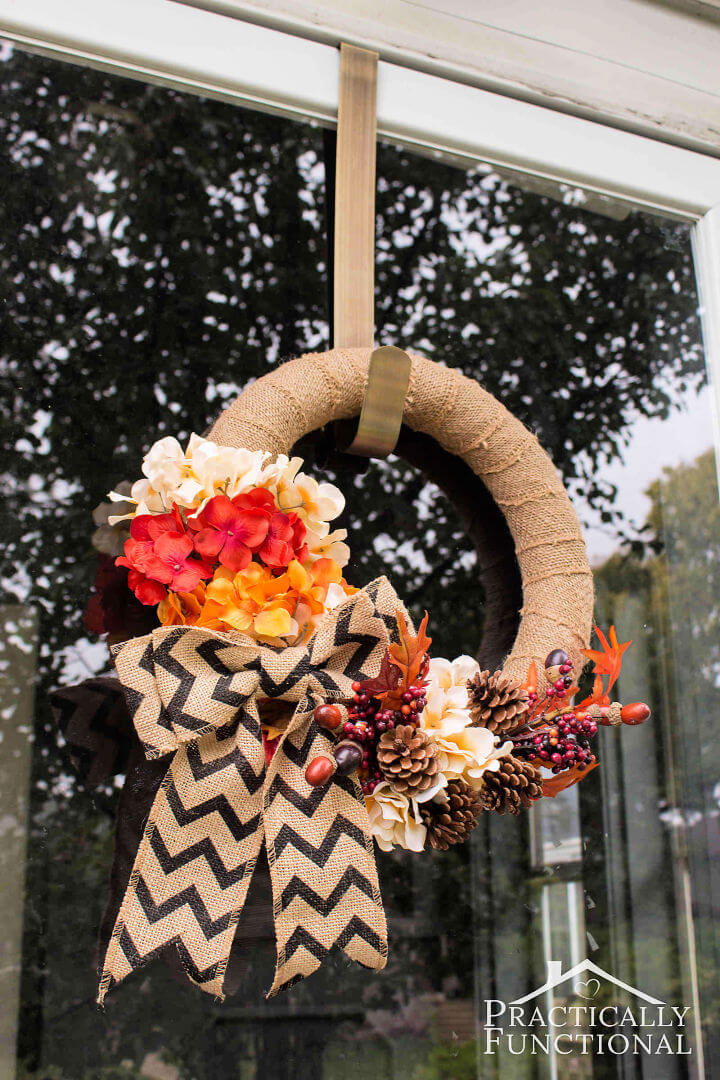 While making wreaths with burlap, there are several different hacks to make it! Use different wreath forms to give amazing variations to your wraths! Wrap also the burlap around the round thick foam wreath form to make this crazy round wreath! It comes decorated with lovely acorns, pinecones, colorful blooms and with chevron burlap ribbon! Full project instructions here practicallyfunctional
18. DIY Burlap Fabric Wreath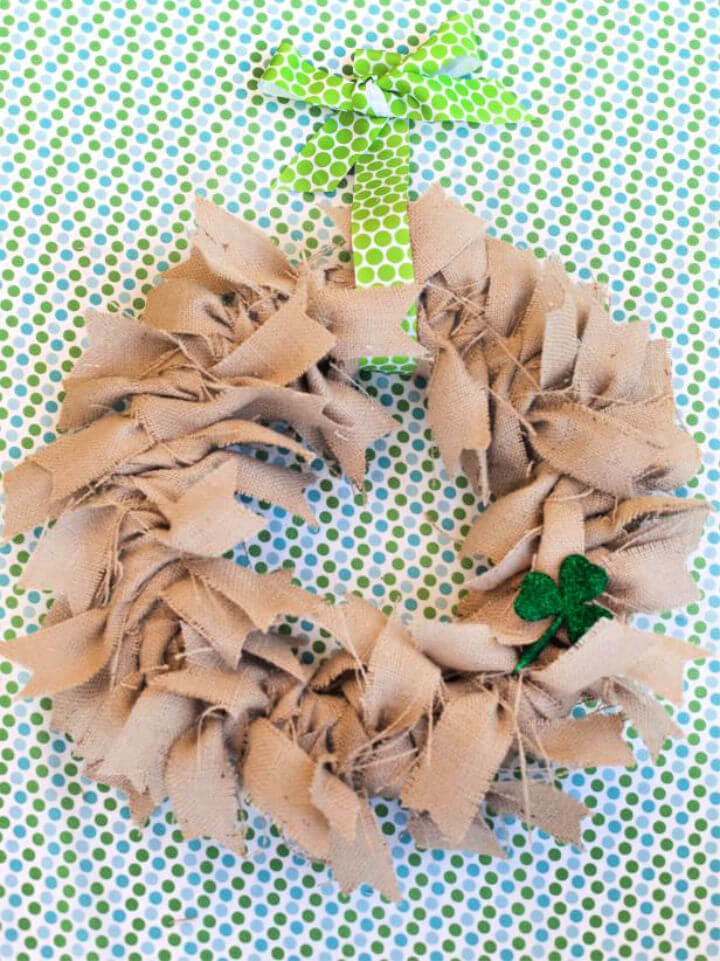 Make also this handsome burlap fabric wreath that will impress with crazy burlap wear and tears! The design is a bit crazy but impressive and can be made more spell-binding by loading extra embellishments and decors! Here got green shamrock embellishment jazzes up the appeal of the wreath! Full how-to guides here hgtv
19. Make Your Own Winter Burlap Wreath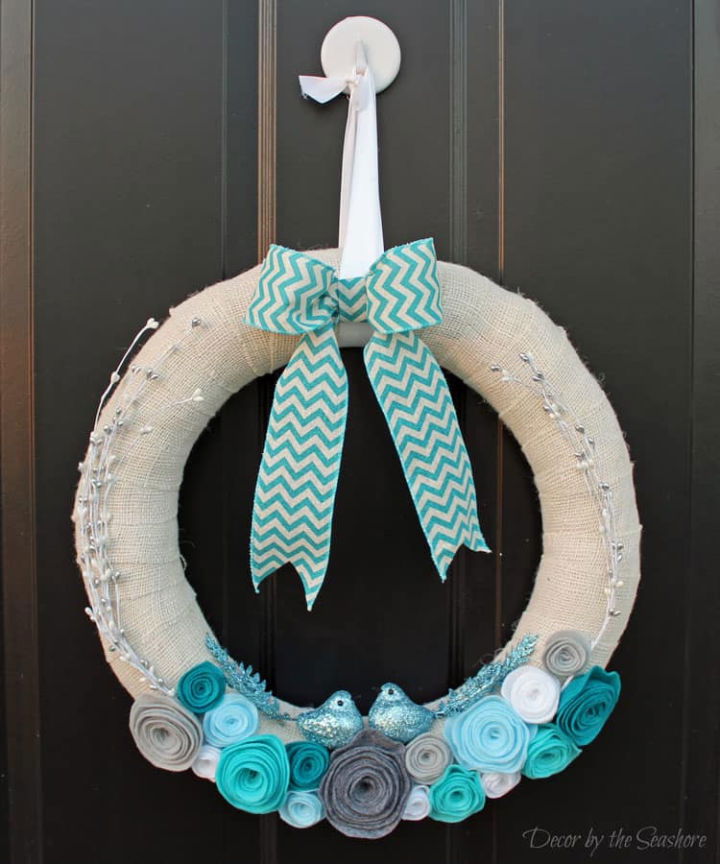 Burlap is not specified for fall only, make also the very special winter wreaths out of it for the winters! Greet your guests with this burlap winter wreath, made of a foam wreath form covered with burlap! Next, spruce the wreath with the felt flowers and faux birds, can be a glued to its bottom side! Full how-to guides here decorbytheseashore
20. Homemade Burlap Wreath – Best Gift Idea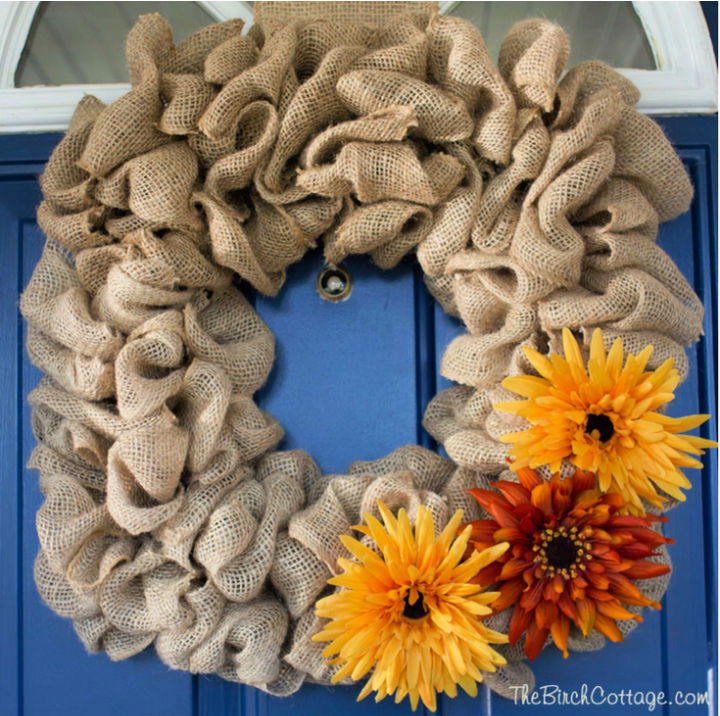 If you have got enough skills to make a wreath like a pro then you can also make a wreath components to give as wreath kit gift to someone special! Look at this sample burlap wreath that looks much precious due to colorful flower embellishments mounted to its front bottom side! How-to tutorial here thebirchcottage
21. Create a Heart Burlap Wreath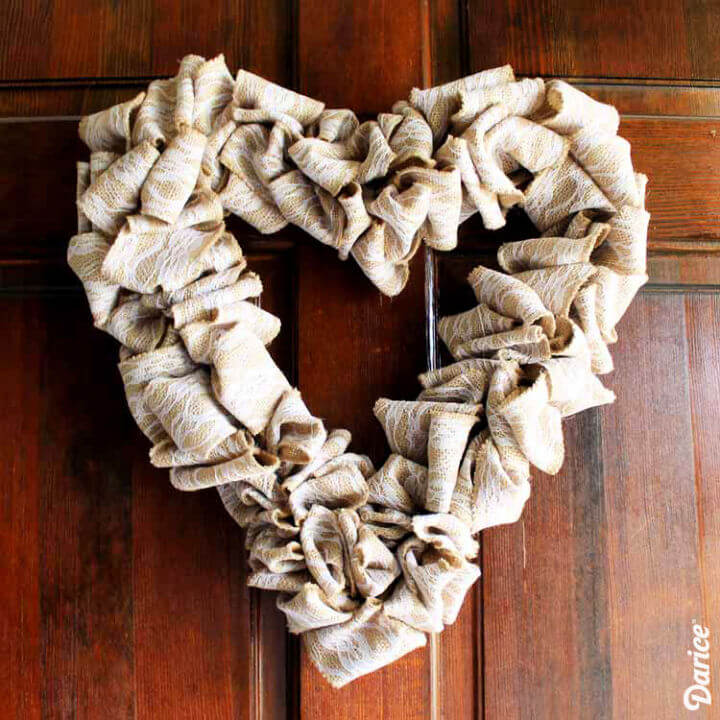 The burlap ruffles can be added to any type of wreath form to make the wreath in respective shape! Bring love to your party decors with this heart burlap, will also be the first choice while looking for the best Valentine's Day decors! Use a heart-shaped wire wreath form for this burlap wreath! Full how-to guides here darice
22. Festive Burlap Wreath for Holidays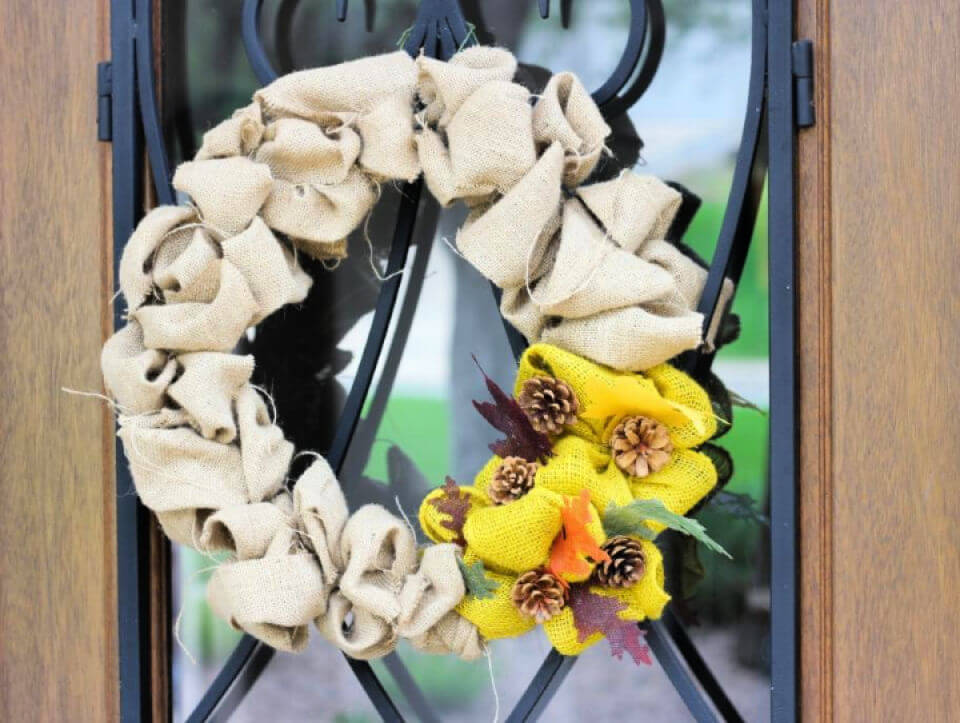 Looking for perfect holiday decorations? Then must make this sun-flower embellished burlap wreath, will be a graceful addition to your front door! Here this burlap wreath comes with a little patch of yellow burlap that has also been embellished with pinecones and fall leaves! How-to details here orientaltrading
23. DIY Burlap Wreath – Step By Step Tutorial
A super visually pleasing burlap wreath, personalized with a hearty monogram! Burlap is often to make the best rustic decors but you can also mix some enchanting colors in them for getting them suitable for every type of decor themes! Pass the rustic and red burlap ribbon through the wire wreath form to make it! Next spice it up with custom embellishments! Full tutorial here sweetlifeofanna
24. DIY Burlap Daisy Wreath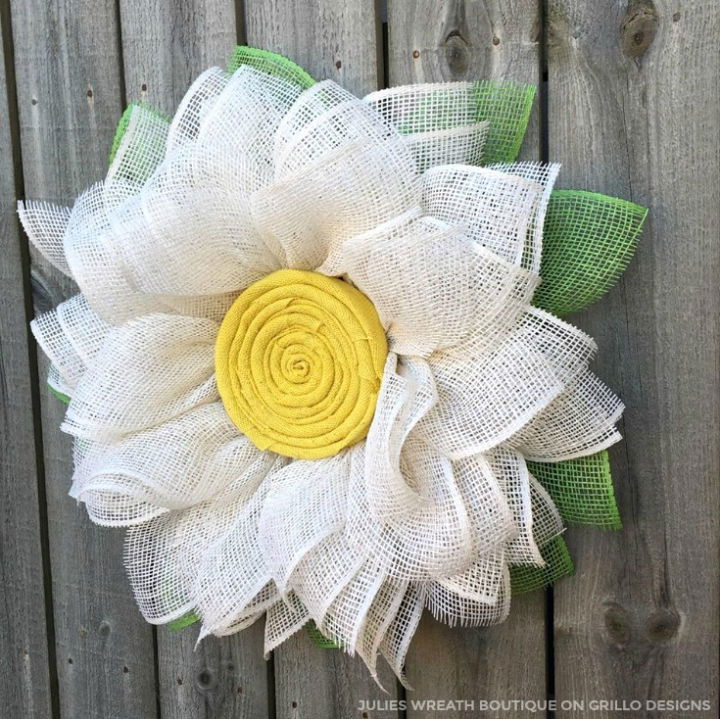 Make also smart use of burlap to make giant daisies, will be your next most impressive type of decor to welcome the spring! In the first round, make green petals out of green burlap squares, tie them onto wire wreath form using pipe cleaners! Next, add white petals and a yellow flower center! Details here grillo designs
25. DIY Coastal Retreat Burlap Wreath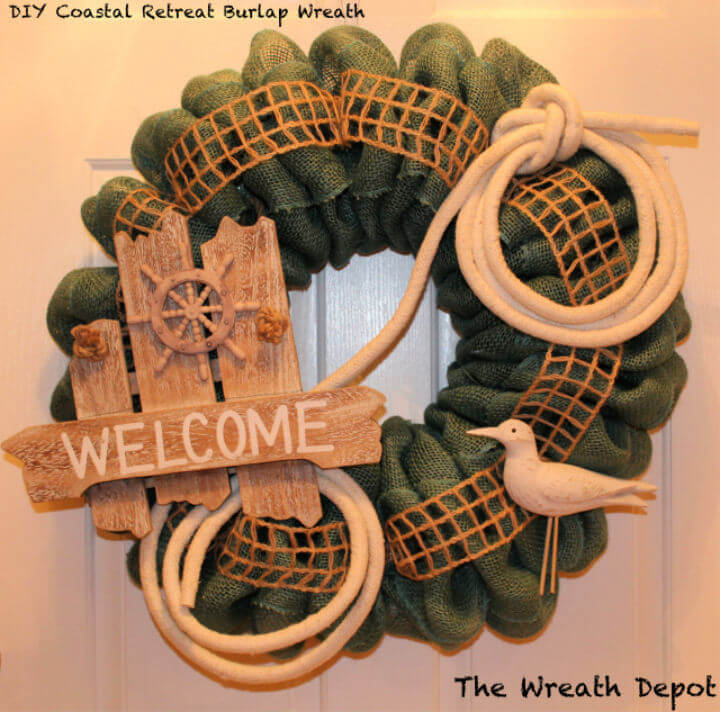 One of the best burlap ever made at home will be a gorgeous addition to a beach house! Use a thick round wreath form to make this coastal retreat burlap wreath, gains a dignified appearance with the best possible coastal decors like with a rustic wood welcome sign, water house embellishment and with a coastal bird embellishment! Full guides here thewreathdepot
26. Budget-Friendly Burlap Petal Wreath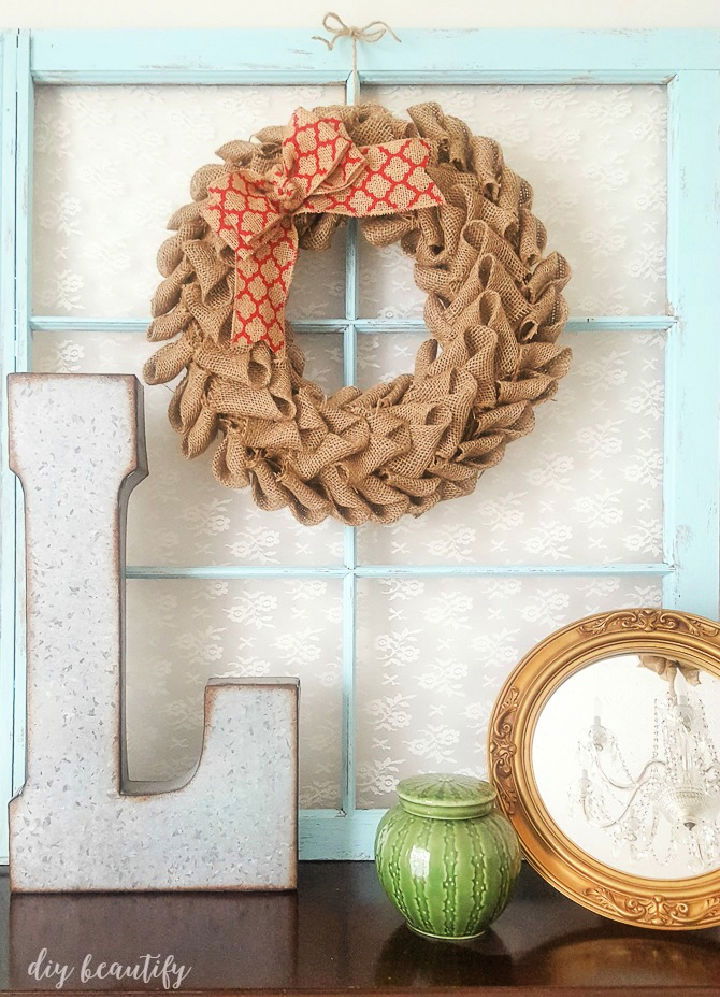 Looking for the super budget-friendly type of decors to celebrate the seasonal parties? Grab this rustic burlap wreath, will be best to feature in the fall decors! Make the rustic petals out of burlap, load them on the wire wreath form and finish with a chevron ribbon! An easy and quick to make burlap wreath! Details here diybeautify
27. Make Your Own Burlap Wreath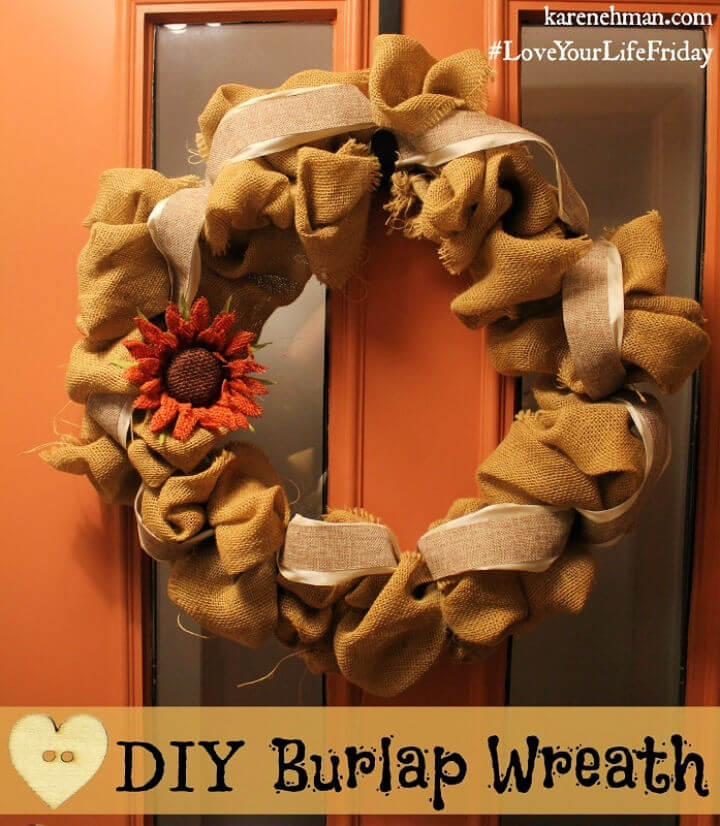 Compliment your home decors style also with this handmade burlap wreath features an accent ribbon inlay and also the enchanting faux flower embellishments! You only need a wire wreath form and burlap to make this burlap wreath, will never get unnoticed! Complete how-to guides here karenehman
28. Easy DIY Fall Burlap Wreath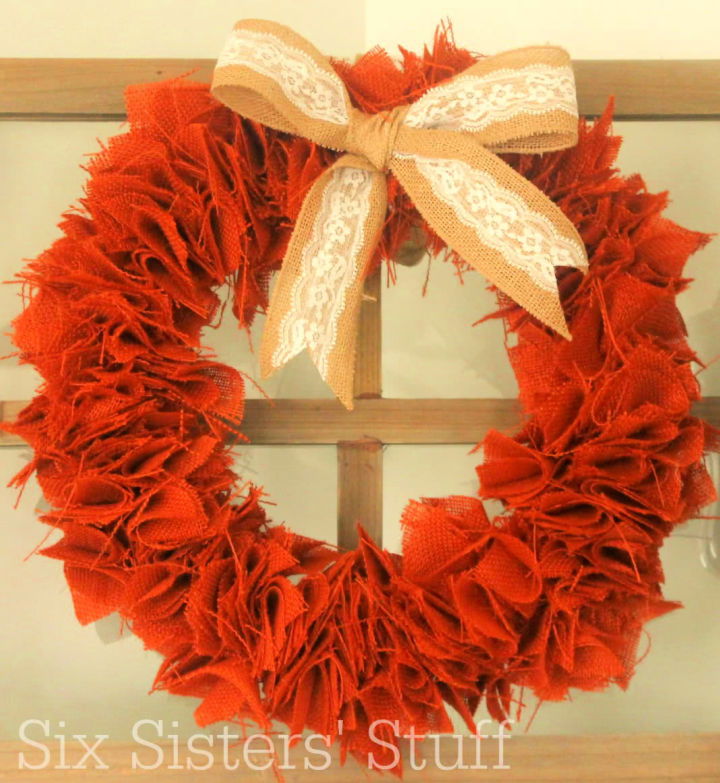 Achieve this a more fascinating wreath using burlap in a red or orange color, a flawless wreath creation that will make a best front door decoration! Award a more gorgeous look to this wreath using a laced burlap accent bow! Complete how-to guides and tutorial here sixsistersstuff
29. Pretty DIY Burlap Wreath for Spring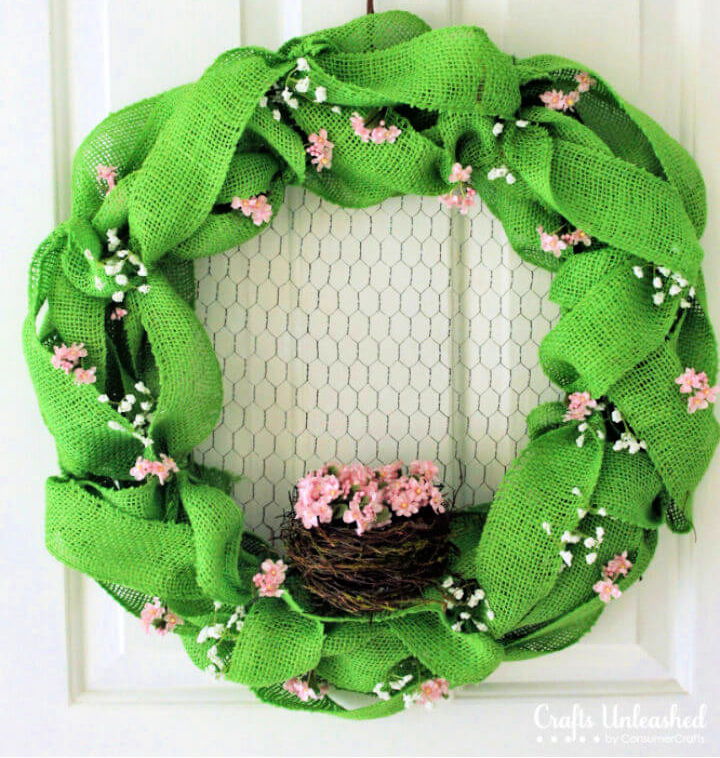 Everyone will love to stare at this burlap wreath, again and again, there is so much fun involved in the making process! A green appeal is sure to greet the guests, a little mix of blooms in green brings creates amazing romantic appeal! Full guides here consumercrafts
30. How to Do Burlap Wreath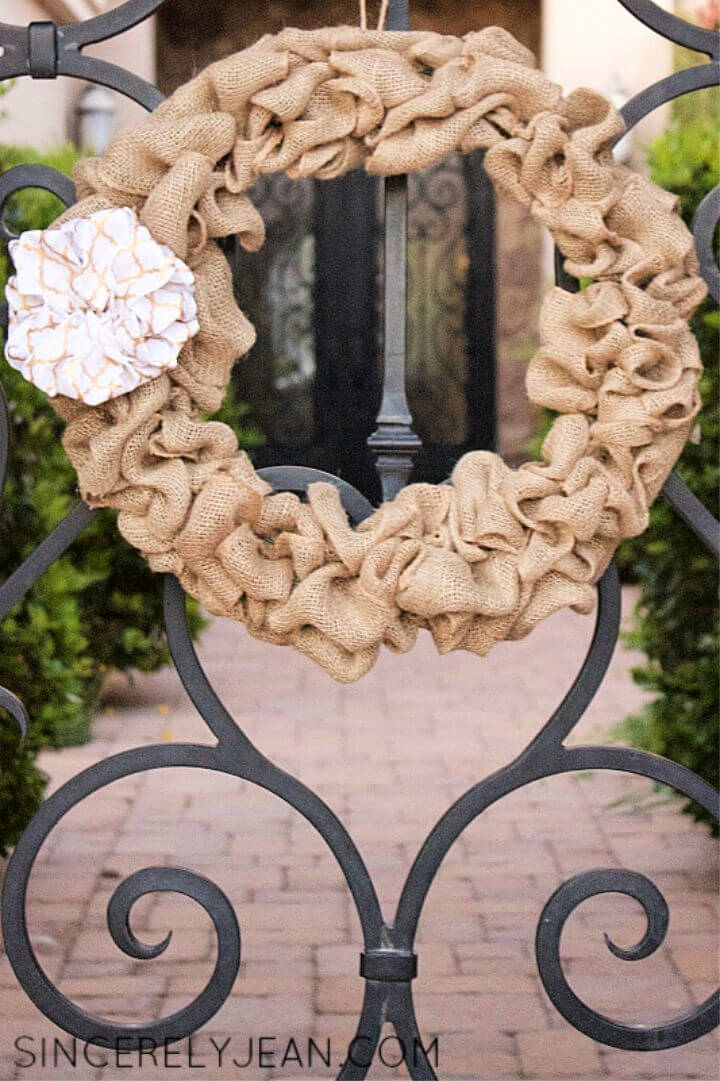 It will only demand you to cover a wreath form with burlap in your favorite style, the going with ruffles with be a great choice, to make a gorgeous burlap wreath! If you love keeping the things simple then this burlap wreath is for you, comes only with a single fabric flower embellishment! Full how-to guides here sincerelyjean
Related DIY Projects and Ideas
DIY Wreath Ideas: Make an eye-catching wreath for your home in no time with these easy DIY wreath ideas! Learn how to craft the perfect seasonal decoration and wow friends & family.
Fall Wreath Ideas: Create a unique and festive fall wreath this season with these great DIY ideas! Make the perfect combination of colors, textures, and materials to make your home look cozy and inviting.
Spring Wreath Ideas: Check out these easy DIY spring wreath ideas! Make beautiful decorations for your home with simple materials and step-by-step instructions.
Summer Wreath Ideas: Make a beautiful summer wreath for your home! Get inspired with our creative DIY summer wreath ideas featuring colorful flowers, natural materials & more.
Patriotic Wreath Projects: Make your home look more festive this Independence Day with these great DIY patriotic wreath projects. Show off your patriotism and get creative!
Burlap Bow Ideas: Make the perfect DIY burlap bow quickly and easily with these easy-to-follow ideas! Learn how to create beautiful bows for gifts, decorations, or craft projects.
Balloon Garland Ideas: Create a stunning balloon garland with these creative DIY ideas! From simple designs to elaborate setups, you'll find the perfect fit for any occasion.
Paper Garland Ideas: Make your home unique with easy DIY paper garlands! Create a stunning decoration for any special occasion or just for fun. Easy to make and can be customized to fit your style.
Crochet Garland Patterns: Learn how to make a beautiful crochet garland with these free and easy patterns. Choose from hundreds of designs and sizes to customize the perfect decoration for your home or special event.
DIY Floral Wreath: Create beautiful floral wreaths for any occasion with these easy DIY flower wreath ideas, including step-by-step instructions that make it easy to craft your perfect design.
Conclusion:
In conclusion, the 30 DIY burlap wreath ideas provide a creative and unique way to decorate your home for any season or occasion. From the classic burlap wreath with monogram letters to more modern designs like a succulent-decorated burlap hoop, each of these ideas is sure to add a touch of rustic charm and warmth to whatever space it adorns. With minimal supplies needed and simple instructions, anyone can easily make their own unique wreath at home in no time at all!