Learn how to make homemade felt boards with these 16 creative DIY felt board ideas come with step by step instructions and tutorials. Felt boards are a great way to help children develop language and storytelling skills. Learn how to make easy felt board projects that keep kids engaged and entertained!
Boost the kids' creative activities with these DIY Felt Boards that will be a smart choice for your kids' educational purposes. It is super easy to pin or glue things on a soft fabric. This will attract the kids to be around a felt board to practice alphabet lettering, to make art paintings, and much more.
Making a felt board is darn easy and involves using a handful of supplies. Just stretch the felt over a canvas frame or glue it all around a wooden board to get the board made instantly. Cut out different letters, shapes, and art pieces from the remaining felt that kids could paste on the felt board to express themselves. Explore these 16 homemade DIY felt board ideas to choose from according to the age and level of your kids.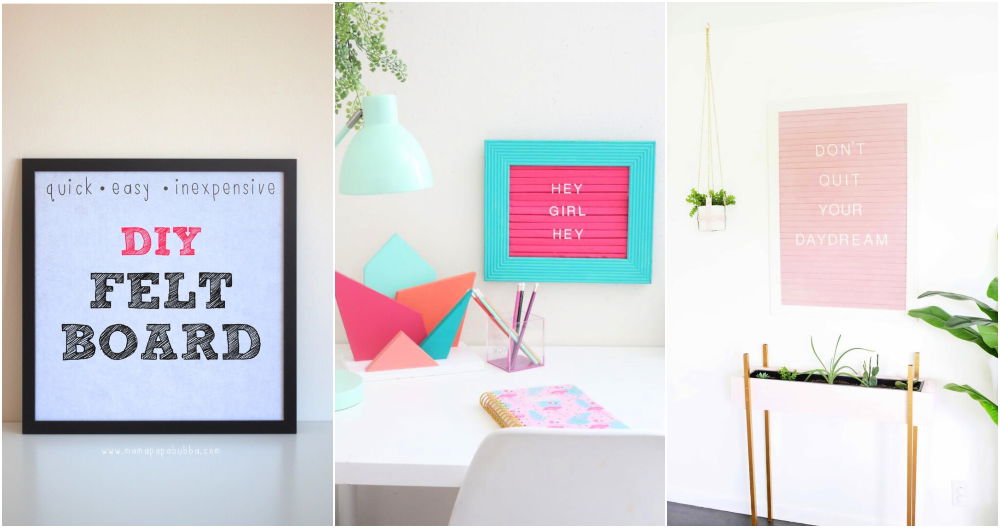 Creative DIY Felt Board Ideas
Felt comes in all colors under the sun, so along with improving the color cognition of kids, play with felt will improve fine motor skills too of the kids. Here you will be delighted with so many different ways to build a felt board like a pro.
The list will amaze you by providing smaller felt board design. One can build even using a plastic cutting board. Make banner style felt boards using wood dowels and felt sheets. Use the IKEA NYYTJA frames too create modern and expensive looking felt boards quickly at home. Browse the entire list of these DIY Felt Board to see a variety of homemade felt board designs.
1. How to Make Your Own Felt Board
The building felt boards are great for kids' educational purposes. Make this felt board using a framed corkboard and a large piece of felt. Use the adhesive spray to adhere the felt on the board and next push pins. The best board to display kids' art and craft projects. Use it as a memo board too. buggyandbuddy
2. DIY Felt Boards
Check out here a lovely IKEA hack to build a gorgeous felt board. Grab the IKEA NYTTJA frames to make this gorgeous but inexpensive felt board. Remove the backing and layer the mod-podge over it to nicely adhere to the felt nicely. Next, display your art pieces on the board and put the backing back in place. Details here mamapapabub
3. DIY Animal Felt Board for Kids
Felt boards are soft to touch are the first choice to display the kids' art pieces. Here you need a wood dowel, a large piece of felt and string to make this hanging animal felt board. A great project to do for the educational purposes of your kids. Help kids boost their creative imaginations using this animal felt board. momprintables
4. How to Make a Felt Marquee Letter Board
Craft lovely felt boards to display custom messages and marquee letters too. Grab the 3/4″ thick letters, corkboard with foam backing. Use a craft knife to cut the needed strips on the corkboard. Glue the foam board to each felt strip and then add your completed felt board into the frame. Full details here diynetwork
5. DIY Over-sized Felt Letter Board
If you want to build crazy letter signboards, then felt boards are an excellent choice. Grab 24″ x 36″ frame, 24″ x 36″ foam core board, thin felt, and large letter board letters to whip up this felt letter board. Creating this felt letter board with name letters will help create a personal statement in a particular home space. abeautifulmess
6. Making Travel Size Felt Board for Kids
Keep the kids creatively busy even when traveling using this travel size felt board. All you need a plastic cutting board and some felt to make this travel size for kids. Glue the piece of felt on the plastic cutting board and then keep on gluing the kids' art on the board. The best felt board to make in no time. preschooltoolkit
7. Easy DIY Felt Board Ideas
Get crafty with the cardboard boxes too to make easy and quick felt boards, will nicely display the kids' art and crafts. Cut down the front and top and modify the sides to get a lovely display board. Glue felt of your favorite color on all sides, and that's it. Next, glue the kids' made letters and crafts on the board. powerfulmothering
8. Simple DIY Felt Activity Board
Boost the kids crafting activities by making a cool felt board. Use a large, felt piece to make the background board. Add two dowels, one to each side, to get a fold-down the banner shape of the board. Add felt letter stickers and use small pieces of felt to cut different shapes to glue on the board. homemadeinterest
9. Make a Felt Board for the Crafty
Nothing works best for the kids, but a felt board when they need to let their creative juices flowing. Grab and 18″ x 18″ felt board or make a one by stretching up the fabric on an artist canvas board. The final step would be to draw and cut shapes out of the soft felt and to glue it on the felt board, kids' will love to do it. houseofpeanut
10. Homemade Felt Board
Grab the 2′ x 2′ plywood pieces with 1/4″ thickness and 25″ x 50″ piece of felt or flannel to make this felt board. The project involves painting the wooden board and then to sandwich it between the felt or flannel pieces to get the precious felt board. Add a custom hanging loop and paste the kids to cut out art. littlehouseinth
11. Create Felt Board Folio for Busy Bags
Create felt books too for displaying kids' art like this felt folio. Making this folio will allow you to keep the felt board with you even when traveling. For making it grab a fabric piece of 12″ x 18″, fusible fleece in size 11″ x 17″, 12″ x 18″ felt and vinyl zipper pouches to make this felt board folio. Keep the felt shapes and pieces in attached vinyl zipper pouches. orangebettie
12. DIY Large Felt Board
For making this felt board, you can opt for any size you want. Grab a canvas frame, cover it all with the felt, use a staple gun to fix it all around. You need blue felt 37.5″ x 23″ and green felt in 30.5″ x 37.5″ dimensions to make this large felt boar displaying sky and green grass. Next, let your kids complete the drawing. athomewithna
13. Make Your Own Felt Board
Make this another wall hanging felt board using a picture frame, mod-podge, and felt. The idea is to adhere to the felt all over the backing of the structure that you can fit back in place then. Remove the glass front or plastic insert. quietbookqueen
14. How to Make Felt Letters for Kids
After making the felt board, you need to make some quickly felt letters that kids' can paste on the felt boards to make lovely name letters. Learn here how to make best letters out of felt, will rock for educational purposes of kids. Hopefully, you can make them in any color you want. Details here applegreencottage
15. DIY Felt Board for Kids Activity
Doing great efforts to boost the kids' creativity? Then do consider building this felt board for kids, they will love to be around it all the time. Making this felt board will involve putting together 4 equal pieces of felt together creating a lovely rectangle. Cut out shapes, and letters out of leftover felt to let the kids' play with them. orientaltrading
16. Awesome DIY Felt Board for Toddlers
Teach your kids alphabets and name letters using this precious felt board, the best game board to make for toddlers. Again glue the felt on the canvas or a wood frame, add the accent ribbon board. Next, let the kids paste the felt letters on the board, making custom messages and name letters. thegreenwife
Related DIY Projects and Ideas
DIY Bulletin Board: Looking for a way to organize your home or office? Try a bulletin board! Check out this list of simple bulletin board ideas perfect for organizing home or office spaces.
Plinko Board Plans: Learn how to build your own Plinko board using the best DIY Plinko board plans on DIYCraftsy. You can make the board any shape, size, or design with a little creativity.
DIY Board Game Ideas: Board games are a great way to bring the family together and have fun. These easy diy board game ideas are quick to make and require simple supplies.
Easy Shark Crafts: Whether your child is obsessed with sharks or has a fascination with sea life, this list of fun and easy shark crafts and activities will have them created in no time.
Crafts for Kids: Get your kids crafting today with these easy and fun crafts for kids that they're sure to love, which includes painting, drawing, paper crafts, and more.
Flower Crafts for Kids: Explore fun and easy flower crafts you can make with your children. These all use simple supplies that you may already have.
Egg Carton Crafts: If your kids are bored, give them some fun with these awesome DIY egg carton crafts that your kids will love, including a bunny, snowman, and more!
Needle Felting Ideas: Felting is a great needlework craft that doesn't require any sewing skills, only patience and an understanding of basic needle felting techniques. You can use wool roving to create almost anything – from coasters to pillows and toys.
Conclusion:
Whether you're looking for a fun and easy way to keep your kids entertained or want a new creative outlet, DIY felt boards are the answer. And with so many DIY felt board ideas shared above, you can tailor the experience to fit your needs. From simple felt board ideas that use basic materials to more complex scenes that require a little crafting know-how, there's sure to be a project here for everyone. Have you tried making your own felt board? What was your experience like? Let us know in the comments below.