Find 50 easy, best, and unique DIY family command center ideas to get everything organized like your home, kitchen, events, etc. It tells you are not organized if you respond late to significant life events, tasks, and messages. It can turn into a total loss for a business to run late for a meeting, reply late to the emails and letters, and pay the bills after the due dates. So, want to take quick steps to get organized? Schedule all in your life routines with these 50 easy DIY family command center ideas, which will be the best systems to keep everything crucial and essential in check. Don't let the horrible situation come again, like missing out on essential appointments, forgetting about shopping for the necessary kitchen materials, and canceling the doctor's appointments. Using these family command centers will make you keep an eye on every life event.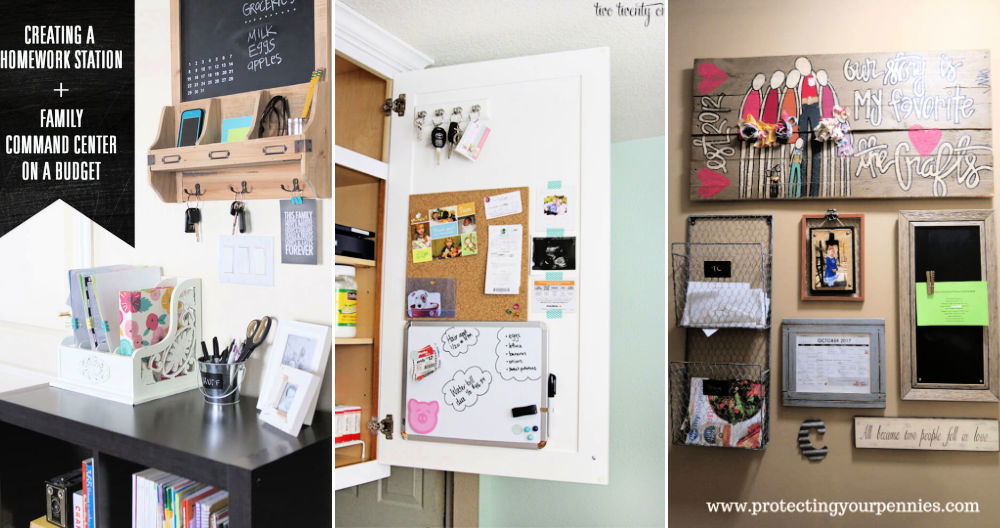 There are some signature features for a command center that must be installed in every design them. Like a notice board, a chalkboard, custom accessory holders, file organizers, and calendars. You can add more organizers and clipboard holders according to need, like holding to-do lists of tasks, kitchen material lists, and family chores.
The list will introduce you to all the incredible family command center ideas to choose from. The farmhouse style, industrial, modern-minimalist, and rustic command centers are highly popular ones. Browsing the list will make you have a peek at all the interesting read-made samples.
1. Family Command Center Inside Kitchen Cabinet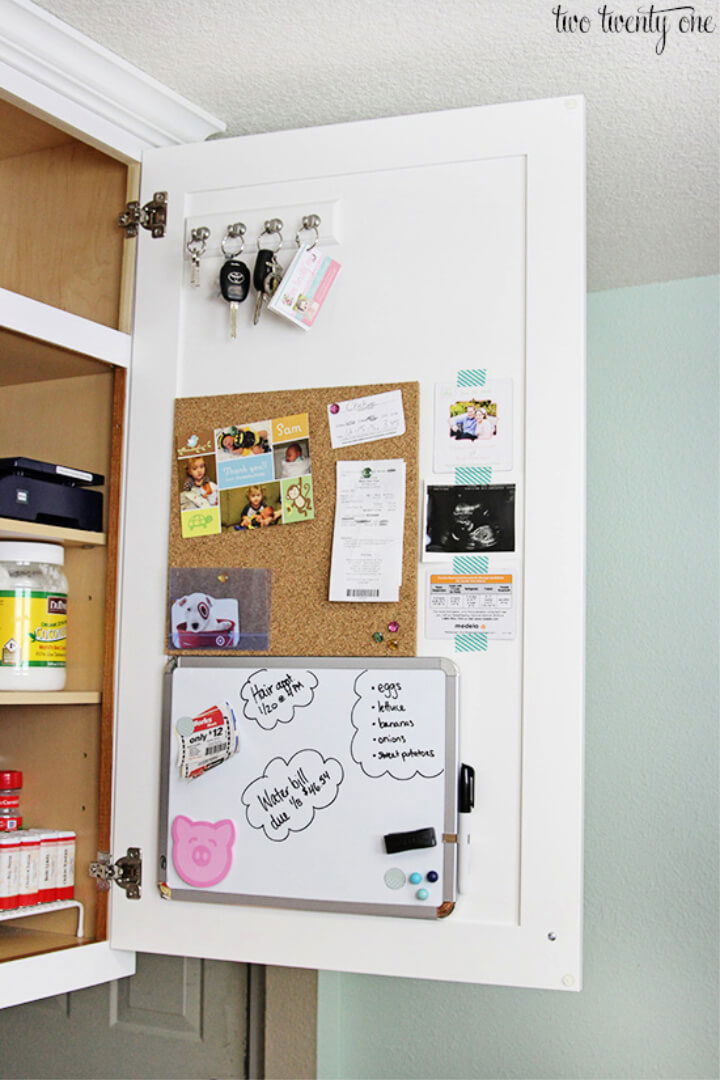 Want to get yourself aware of all the life events and schedules and don't miss out on any mail or letter to read? Then you must consider making this command center. Even the space inside a cabinet will work great to add cork board notice boards, dry erase boards, and command quartz key rails. Opt for these command center ideas if you need a designated space to organize keys, photos, notes, and gift cards. twotwentyone
2. Wooden Command Center
This handsome family command center design is similar to a memo board, added with 4 main features to organize your things stylishly and carefully. It comes with peg hooks, a bottom shelf, a cork notice board, and a chalkboard where you can write family rules or custom everyday quotes. Plywood, wooden pegs, wood slats, cork sheets, and chalkboard paint will be must-have supplies to make it. hobbylobby
3. Budget Friendly Family Command Center
Getting a command center anywhere at home should not cost you big. Avail here the cheap plans to build a cuter one with a chalkboard board, built-in shelves, and hanging double-sided hooks. Make the wall mounted part with wood and then use the file cabinets and IKEA expedit units to organize books. Full details here simpleasthat
4. Kitchen Command Center
Is it a dire need of you to get a command center in the kitchen? The pick here the free plans to build a functional one in your kitchen without getting expensive. This is all about building a wall cabinet using wood slats, having different tones of wood. Next, target its inside, inside door areas to create all you need like a cork notice board, a chalkboard, custom mini organizers, storage pockets, and hanging hook sections. Tutorial here homedepot
5. Farmhouse Style Shiplap Command Center
The shiplap style is high in the interior design decors, also get the wood slats organized in a horizontal way to whip up the wall command centers. Arrange scrap wood slats on a plywood piece to get the board for a family calendar. Add up the bottom with cork tiles to get sections for hanging notes and pictures, etc. kenarry
6. DIY Family Home Command Center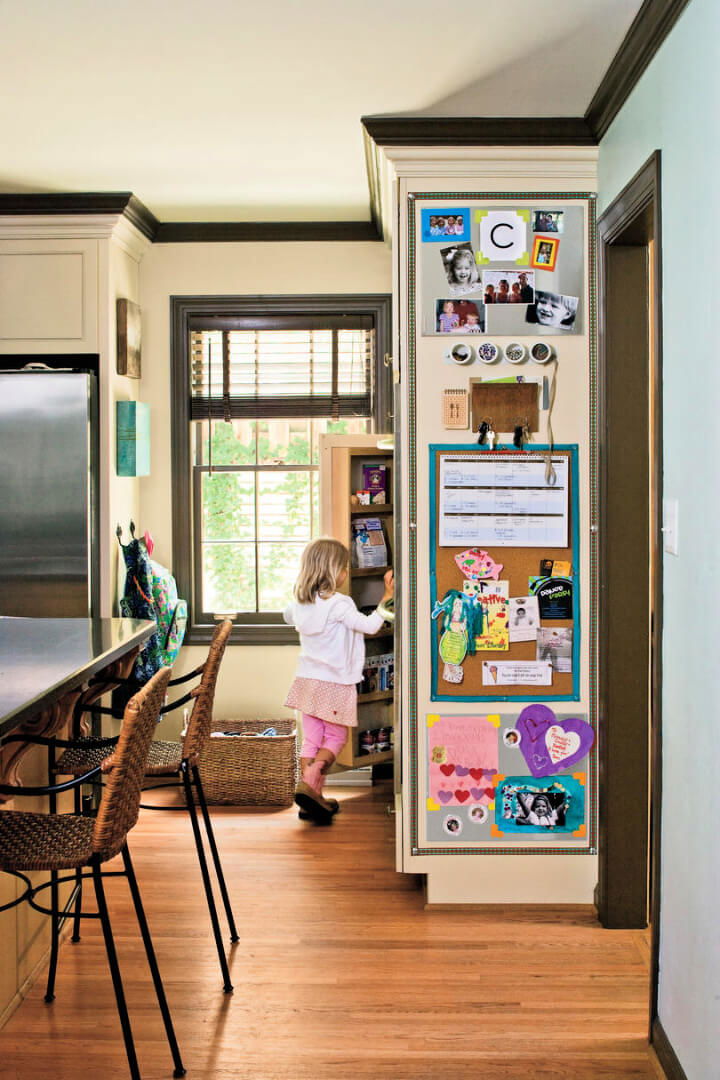 You should get a spot in the home to organize everything necessary, like meeting schedules, notes, announcements, memories, pictures, emails, letters, etc… This command center design provides magnetic storage jars, magnetic picture holder, corkboard calendar, and kids' art display section. Some hanging hooks are also a part of it to organize keys. Detailed guides here southernliving
7. Command Center for Small Space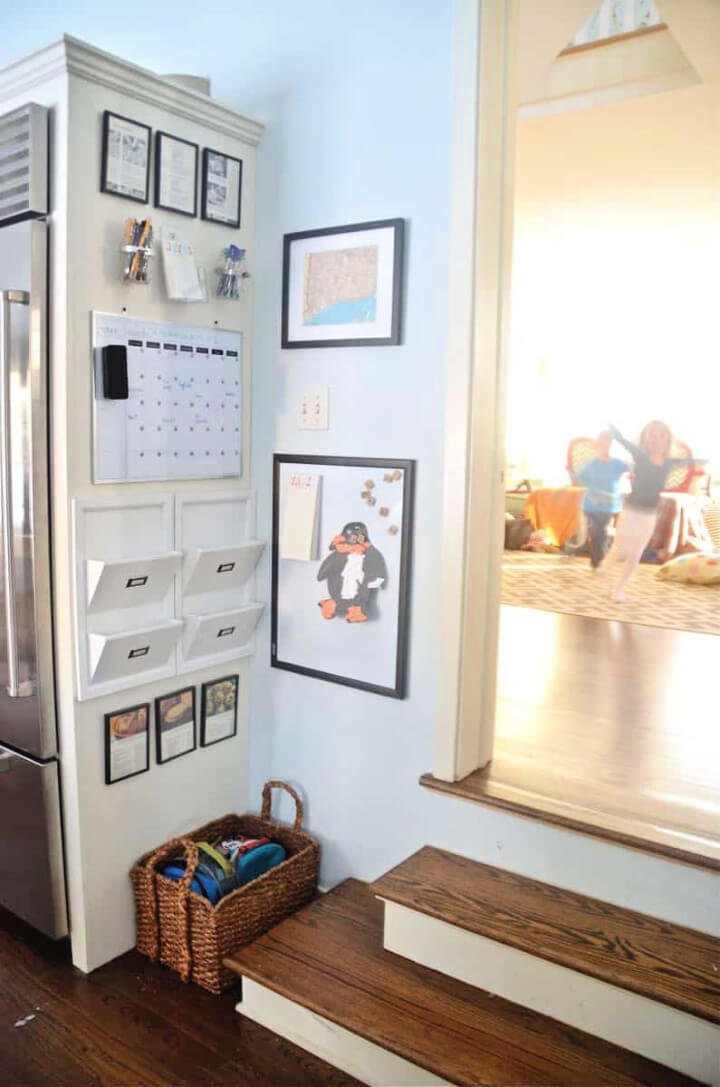 Sorting out the best spots to build a command center in your kitchen? Then target also the sides of the refrigerator wood frame to make a cool one. A cool sample inspiration comes with file organizers mounted to the very bottom side. Above there comes a family calendar and next to Mason jar accessory holders. Picture frames get the display space at both header and footer positions. ciburbanity
8. Organizing Life with a Family Command Center

These command center ideas have made organizing life reasonably easy; you will get noticed by all the life routine events at one spot. Decide your wall area and divide it into different sections to display your to-do lists, calendar, picture frames, and notice boards. Add key organizers and family chores notice boards and custom home material reminders too. lemonlime
9. How to Easily Build a Command Center

If you often forget about the things important in your life, then a command center is a significant need for you. Get here the free plans to install a fully-featured and user-oriented command center by yourself. First, declutter the wall space, next add your notice boards, accessory organizers, key hooks, cork notice boards, mini memo boards, and enchanting picture frame display. Rest of the details here simplysep
10. DIY Kitchen Command Center
Organizing kitchen life has been simplified here, building this kitchen command center and not missing out on anything valuable in your life or kitchen routines. It involves adding a tiered storage basket on the wall to organize your documentation like letters and emails. Make the notice board out of a metal sheet covered with mod-podge map paper and finally framed up cool. domesticim
11. Industrial Command Center

There are various styles out there for command centers to choose from, also. Go with this industrial command center, which will feature wood rusticity and metallic touch. A metal basket mail sorter or organize at one side and a magnetic memo board at one side are the main features of this command center. The quoted wood plank at the top, cool picture frame and calendar in the center are other main features. Details here theturquoise
12. Modern DIY Command Center

For contemporary minimalist interior or kitchen, here comes the best command center design. It has got all over a wooden board like a storage shelf, to-do list holder, family chores, a chalkboard, and key hooks. Stain a plywood board to make a cool base for this modern command center. How-to tutorial here shanty 2 chic
13. Family Command Center in a Closet

For a narrower kitchen interior, this command center will work great. Build it in a closet availing the inside cabinet door space smartly. Paint inside the cabinet door sections differently, next hang clear bins there in tiered manner decorated with scrapbook paper. A smooth, low-cost but beautiful family command center. Full details here sandandsisal
14. Industrial Command Center Reveal

Presenting here a cool industrial command center will rock for all who are a big fan of industrial features and furniture. Target the fridge cabinet sides to paint chalkboard notice boards, to build key organizers, mail holders, to-do list holders, and accessory holders. Add cool pencil holders to counter coming next and directly write custom notes and meeting plans using chalk. lovecreatecele
15. Rustic Hallway Command Center

See here a great and creative use of chalkboard paint and clipboards in building an outstanding hallway command center. 4 clipboards will allow you to display the to-do lists, family chores, custom notes, and all you want to schedule for the same or next day. Complete tutorial here housefulofhand
16. Command Center Home with Clip Boards

Decide any wall for making a command center, and you get half of your work done by simply painting the wall area in black chalkboard paint. Next, you add the custom sections for displaying a to-do list of tasks, meeting plans, schedules, and notes, use the clipboards and metal basket organizers for brilliant results. An acrylic wall calendar with a wooden frame dominates in this command center. Details here lovelyetc
17. Back to School Command Center

One of the most colorful command center ideas will also bring tons of focal stimulation to a decided interior. Use the back to school supplies to make this back to the school command center. Use clipboard for displaying every task, missing materials, and planned meetings. Add a giant calendar at the top underside to add rules, calculates, pencil holders, and custom pads to write some important notes. the36thavenue
18. Kitchen Command Center Organization

Get your kitchen more than functional by adding this lovely combo of organizers and memory boards. A cool chic white command center with new file folders, drawers, file organizers, and well-mounted accessory holders. Offers a notice board at one corner to hang pictures and custom announcements, and there comes to the hanging hooks on the shiplap baseboard, making it more functional. Details here cleanandscent
19. Kitchen Command Center Under $75

If shopping lists have shocked you while wishing to build a kitchen command center. Then you must go with this kitchen command center plan, which will cost you under $75. It is mainly divided into the 3 sections, offering picture frames at the top, a calendar in the center, and desk organizers at the bottom side. Here is how to build it. howtonest
20. Command Center Station for Small Spaces

Living in small spaces should not make miss out on a command center; you can still manage it there. Target the close inside areas to build a command center with no other floor or wall space use. Start the project by adding groove paneling to inside the closet, add a custom file sorter, notice boards, calendars, notice boards, and another accessory holder. Get more tips by having a peek at the readymade sample. thehappyhousie
21. Chalkboard Command Station

Opt for these command station for bringing pleasing rustic details to a decided interior. Build a wooden caddy with the chalkboard center panel and built-in pockets, add some bottom hooks, and enjoy a lovely command station. The quick command center that you can also grow out of recycled wood. Guides here sarahdaisyco
22. Perfect DIY Command Center

Spend only a Sunday afternoon to get this command center made will cost you creative labor of one hour. The provided smart tips will make construction work a bit easier. Build it all over a 24×36 well-stained wood panel. Use chalkboard vinyl for getting a chalkboard panel. Add paper clips to hold your list of notes, missing out on materials and to-do tasks, and finish with bottom metal hooks. theshabbycreek
23. Abacus-Inspired Family Command Center

A 47.4″ by 24″ command center loaded with all features you wish to have in a fully functional command station. An abacus inspired family command station that comes with 3 partitions. The center is specified to hold pictures, notes, and all to-dost list. There is a cork sheet board memo board on one side and a chalkboard on another. Don't forget to add bottom hooks. Details here thehandmade
24. DIY Hallway Command Center

If you plan to build a command station in the hallway, you must go with this plan, featuring well-framed notice boards and chalkboard panels. It offers a mail organizer in the center and hanging hooks at the bottom, a pretty quick and straightforward to make command center. Details here positivelysplen
25. Hidden Command Center in Kitchen

These command center ideas must be added to a kitchen, and here is a way to get them there in a hidden way. Build this miniature command center inside a closet door will cost you much less. Fit in the sheet metal inside the cabinet door, cover it up with a shelf liner piece, add a clothespin hook, and enjoy it. iheartorganizing
26. Free Standing Cabinet Command Center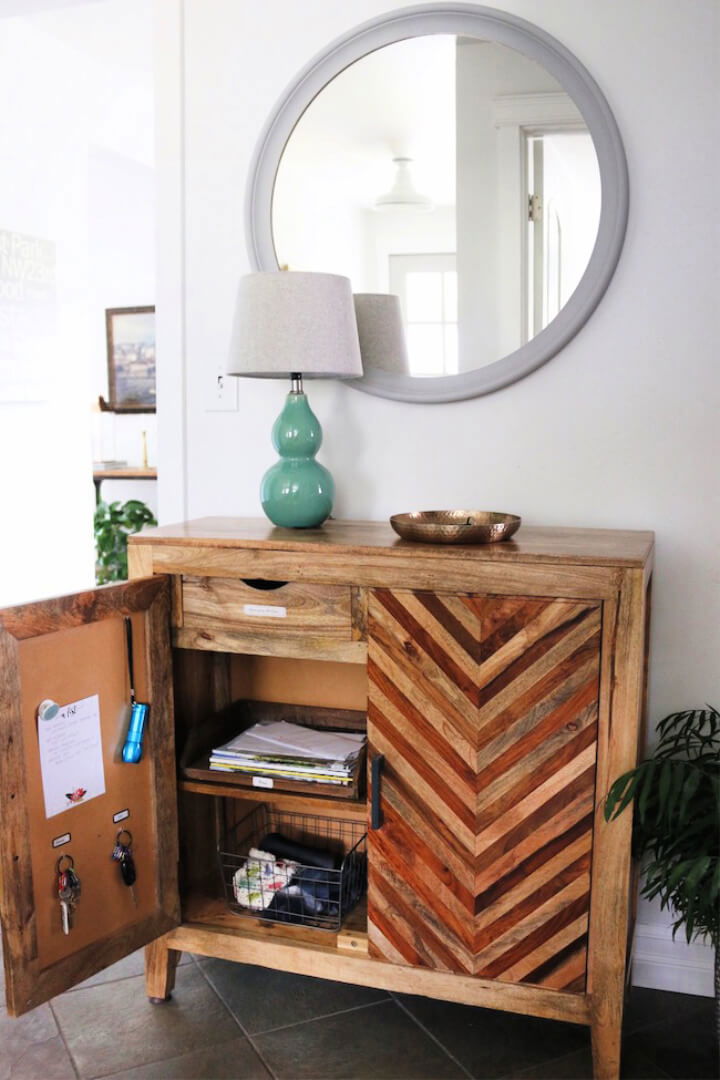 Also, target the leftover cabinets in your home to whip up cool command centers. Add sheet metal to inside the cabinet doors or cork sheet to pin up your messages and notes there. Next, add custom trays or baskets over the inside cabinet shelves to get your letters, emails, and documentation organized. Details here theinspiredroom
27. Farmhouse Style Family Command Center
Want to build a command center matching to current home decor theme? Then must make this farmhouse style family command center, it features rusticity. Build custom rustic chalkboards, picture frames, notice boards, and calendars separately and add to the custom configuration wall. protectingyour
28. Build a Family Command Center
There are really no rules set for building a command center. You can add a lot of stuff, defining your needs well. Upcycle a wooden caddy or shelf with a lower wooden dowel organizer to build half of this command center. Hang your to-do lists, notes, and schedules on a piece of rope using clothespins to make the rest half of the command center. Details here thehomespunhy
29. Simple and Functional DIY Command Center
If you are a fan of things that go simply providing the same benefits, you must go with these DIY family command center ideas. It involves simple details but is super functional. The file and mail organizer is made of a Kvissle wall magazine rack while the notice board is made of corkboard framed up white. Add also a big calendar on the top and even some hooks and organizers anywhere for added functionality. elizabethjoan
30. Command Center for Small Family
A small scale command center for a small family involves all simple and has a desk with two drawers and underside basket storage. Add white trays as paper organizers, a sheet metal magnetic board, and even a magazine rack as an organizer. Hooks in the center hold the keychains beautifully. Details here momontimeout
31. Organization Board Family Command Center
One big self-made command center hit, excellent design with all added features. A big wooden panel with varying tones of wood holds all in place the picture frames, family chores frames, list of daily tasks, and missing out materials lists and calendars. The addition of paper clips and a pencil holder make it more functional. girllovesglam
32. Family Command Center Using Plywood

You will love to add this family command center to any of your walls, will rock for farmhouse style interiors. First, build a distressed white plywood panel, add a wood dowel paper roll holder, the framed calendar, hooks, basket organizers, and paper clips. For amazing visual details, consider adding some decorating buntings and wreaths. thecrafting
33. Simple Command Center Organization

For antique interiors, do get this rustic command center, which has a distressed painted frame. The build compartments make new notice boards, calendars, and picture holders, and finally, there are hooks added to the bottom side. They will hold all you need to organize. The best compact command center idea. simplifying
34. Family Command Center with Calendar

A simple yet modern family command center provides a big chalkboard calendar and a notice board. Next, it features an art style wooden mail organizer with 3 boxes! A round top desk with built-in shelves also brings a big functional character to it. iheartorgan
35. How to Make Homework Command Center

Get tons of praising comments by building this command center in the kids' room will help kids explore their creativity and promote regular life routines. A big chalkboard surface, curtain rod organizers, and wall-mounted cork board memo boards are the main features. Along with the top mantle and lower desktop, it also provides file cabinets to get organized. Details here bydawnnicole
36. Mini Command Center with Printables

Two clipboards and a corkboard are required to build this mini, but a fantastic command center will never get out of style. Paper clips will allow displaying your schedules and menus properly, while another clipboard can hold a calendar. Next, you can highlight anything important on the corkboard. How-to guides here housemix
37. DIY Refrigerator Command Center

One of the cutest command centers to build a refrigerator's insides comes with all components made inexpensively. The budget-friendly command center, having a framed up corkboard, two clipboards, and a chalkboard. A quick to build a command center. Details here thecountrychic
38. Coastal Farmhouse DIY Command Center

If you live in a beach house or a farmhouse, you must make this coastal farmhouse command center. Along with a farmhouse style desk, it also has the notice board, chalkboard, and caddy well framed in antique style. The envelope style file organizer brings new beauty. sanddollarlane
39. Command Center on Budget

Organize your shopping lists, bills, chores, emails, etc., with this affordable command center. A top wood plank nameplate, metal basket organizer, picture frames, chic white family calendars, and 4 clipboards are the total assets of this command center, built to inspire. sweetmaple
40. Minimalist Family DIY Command Center

Depending on your style, you can choose from so many different styles of command centers to build at home. Go with this minimalist family command center, will be much focally stimulating. The yellow file organizers and white pencil holders go very best with the painted wall's background color. It is also other signature features like a notice board and calendar board. Full how-to tutorial here hometalk
41. Magnet Board Command Center

The whole modern and straightforward solution to build a significant command center. Here you only need to integrate a metal sheet panel in the wall. Where you can hang all your notes, messages, pictures, and chores using mini magnets. It is having a colorful modern calendar and also adorable pencil holders. 4men1lady
42. Family Command Center in Living Room

Another brilliant and good looking family command center having all the signature features. You can give your command centers amazing variations using so many different styles of organizers, calendars, cork boards, chalkboard boards, and picture frame holders that you can find in this list of command center ideas. Total instructions here sarahjoy
43. Entryway Family Command Center

A unique but creative design of the command center that works on the curtain rods. It is having all features and components hanging on the curtain rods using s-hooks. Frame up a chalkboard calendar and a notice board, hang them on the upper curtain rod, and attach the metal magazine organizers to the lower curtain rod. A complete modern command center to make in no time. How-to guides here ana white
44. Back to School DIY Family Command Center

One of the best innovative designs of a family command center. The free family command center ideas include using back to school supplies for bringing a cool design theme to the command center. This command center differs due to a monogrammed accent frame and also due to chic white file organizers. The rest of the features are the same. justagirl
45. Interchangeable Kitchen Command Center

Finding the best plans for kitchen command centers that you must choose this flexible command center idea. According to this plan, you can interchange the components for maximum impact and ease. Here every panel from a memo board to the chalkboard to picture frames comes with a painted frame. All parts lie on a large wooden group jazzed up with accent side trimming. Details here allthingsthrifty
46. DIY Industrial Farmhouse Command Center

This unique design of the command center features burlap and metal and hence will be best to add to a farmhouse interior. Install a metal curtain rod paper roll holder, mount the calendar wall hooks just below it, and hang the hooks' burlap pockets to organize your items of interest. Don't forget to add the metal organizers to one side of it. createpraylove
47. DIY Dollar Store Command Center

Build also super cheap but affordable command centers using dollar store items. Grab the grill trays, and dry erase boards, round pizza pans, flower boxes, magnets, and a wall calendar from the dollar store to build this super command center. It will cost you under $20. Assort components on the wall in the way you like. mylifeandkids
48. Dollar Tree Family Command Center

You need the corkboard, whiteboard calendar, backpack hooks, chore charts, driftwood pieces, etc., to compose this large dollar tree family command center. This will help you get punctual and to be up to date without missing a single task of the day. The best way to get organized. downhome
49. Easy DIY Organized Command Center

A fanciful plan for the command center is also built on a painted blank wall. Assorted picture frames surround a big well-framed corkboard, and it provides storage basket pockets to its bottom side. A digital calendar is the most impressive feature of it. Add wood plaque hook too for hanging keys and other stuff. oursouthern
50. Bulletin Board Command Center

The easiest but unique command center ideas using the bulletin board. All command center signature features like a calendar, pencil holder, picture display, and a notice board have smartly added to this easy-to-make command center. Here you need corkboard, adhesive, and fabric to make it.