Upgrade your kitchen organization with DIY plate racks that will beautifully display and store your dishware. Explore 25 useful DIY plate racks that cater to all skill levels and budgets. These practical and cost-effective DIY plate rack options include designs such as unique shiplap plate racks, rustic farmhouse styles, and even industrial pipe setups. Following the detailed step-by-step instructions, you can construct DIY wall mounted, cabinet, or shelf based plate racks that suit your kitchen decor and storage needs perfectly.
These DIY plate racks not only enhance the aesthetics of your kitchen but also maximize space and accessibility. With a variety of options such as wooden plate racks, cottage-inspired plans, and full-length plate racks, there is a DIY project tailored to every home and style.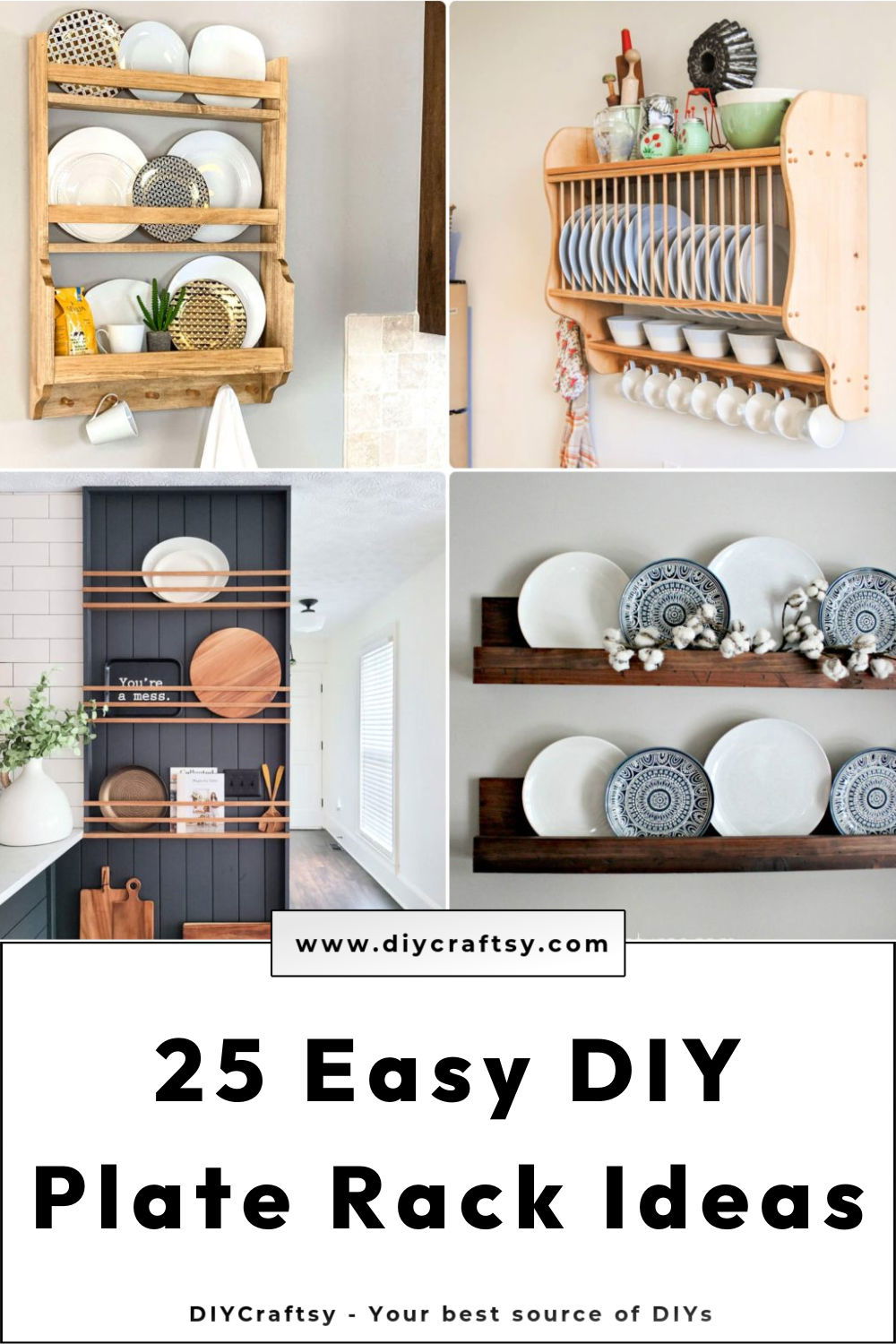 So gather your materials, pick a design, and start making a stunning and functional plate rack to transform your kitchen organization today! DIY plate rack success awaits you.
1. Unique DIY Shiplap Plate Rack
In a quest to transform an ordinary kitchen wall into something truly stunning, this DIY shiplap plate rack project is the perfect solution. With a creative approach to home decor, this design focuses on filling an awkward space with a functional, stylish plate rack. First, trim is installed on both sides of the desired rack space, followed by a vertical shiplap to contrast the kitchen's horizontal lines.
After patching, caulking, and painting the trim and shiplap, custom-cut shelves are introduced into the mix, adding function to the aesthetic. Crossbars are made and installed to complete the shelves, offering an excellent spot for showcasing your choice of cutting boards, serving platters, or cookbooks.
The finishing touch comes with a Sherwin-Williams Iron Ore paint coat, a matte finish that hides imperfections and is easy to clean. The result is a fantastic shiplap plate rack that adds charm to your kitchen while providing extra storage space! simplyalignedhome
2. Wooden Wall Plate Rack Design
Build a beautiful and functional DIY wall plate rack with a step-by-step free plan. This project perfectly showcases your treasured china set or other decorative plates while efficiently using space. You'll need basic carpentry tools such as a miter saw, orbital sander, a drill, and a few affordable supplies, including wood, screws, and glue.
The finished rack is both decorative and practical, adding a personalized touch to your home decor while providing an organized storage option for your china.
This project makes excellent use of small kitchen space, offering an elegant solution for displaying dishes without taking up too much room. Join the trend of transforming homes with unique, handmade wooden creations today with this easy-to-follow guide to building your wall plate rack. tylynnm
3. Free Cottage Plate Rack Plans
Unleash your inner craftsperson and spruce up your kitchen with a charming, self-built DIY plate rack! In this detailed walk-through, you will learn how to make an English cottage-style plate rack, from planning to assembly. Combining practicality and aesthetics, this project helps you to declutter your space, display your favorite pottery, and bring a warm, rustic touch to your home.
The rack's design includes thoughtful details such as pegs for mugs and a top shelf for showcasing vintage kitchen goodies. With readily available materials like lumber, dowels, and shaker pegs, the process is straightforward and fun. Don't worry about perfection; remember, the handmade charm makes this rack truly special! quintessentially
4. Handmade Plate Rack for Wall
Maximize unused wall space with an inventive and practical DIY plate rack wall! Perfect for smaller homes, this space-saving design provides additional storage for platters, cutting boards, and decorative items, adding a unique aesthetic appeal to any room.
Built from simple materials such as four eight ft. 1″ x 4″ MDF boards, an eight ft. 1″ x 3″ board, screen molding, and some paint; this project can be tailored to suit your own style and storage needs.
A floor-to-ceiling plate rack wall is a functional and beautiful solution for those who crave organization and a touch of charm in their home. Revel in the convenience of extra storage and the satisfaction of having a project that enhances the appeal of your home. littlevintagecottage
5. How to Make Wall Mounted Plate Rack
Revamp a forgotten corner of your kitchen with this unique DIY plate rack project! This guide reveals how to transform a neglected wall into a display of your favorite plates, adding charm and functionality to your kitchen. The process involves:
Creating a frame from 2×1 wood pieces.
Adding intricate moldings.
Securing the structure with screen moldings to hold the plates in place.
A coating of ivory paint provides a finishing touch, integrating the rack seamlessly into any kitchen decor. No longer merely a pass-through space, your kitchen wall will become an eye-catching centerpiece, exemplifying the beauty that can come from a little creative initiative.
This project enhances your kitchen's aesthetic and echoes a profound life lesson about recognizing the potential in forgotten things and letting them shine. atthepicketfence
6. Make Your Own Plate Rack
Boost your home storage and style quotient with this DIY plate rack, offering a unique and functional design. This project is a perfect afternoon task, easily enhancing your kitchen's aesthetic and storage capacity. For the build, you'll need materials including 1×6, 1×2, and 1×4 planks, dowels, and pocket hole screws, with finishes in Danish oil walnut and dap rapid fuse glue.
The unique design of this plate rack serves dual purposes: providing a smart storage solution for your dishes and adding a stylish focal point to your kitchen decor.
Beyond its practicality, this project gives you a satisfying experience and a chance to display your creativity and skill. Explore the step-by-step process and build your customized plate rack today. handmade haven
7. How to Build a Plate Rack
Add a touch of charm and practicality to your kitchen with this DIY open plate rack project. With the capability to mount it on the wall, this rack not only declutters your counter space but also beautifully displays your dishes, making them accessible and visually pleasing.
This rack promises durability and style and is made with sturdy poplar or similar lumber for the sides and shelves, beadboard for the back, and hardwood dowels. This moderately-skilled project costs approximately $120 for materials. The rack mounts use a French cleat crafted from wood or purchased in metal.
Following this step-by-step guide, you can alter the design to fit your dishes by adjusting the depth of the sides of the room between shelves. Get ready to offer your dishes a place to shine and enhance your kitchen aesthetic with this open plate rack! thisoldhouse
8. Wall Plate Rack – Step-by-Step Instructions
Exalt your kitchen aesthetics with an easy-to-build, DIY plate rack wall. Ideal for those with space constraints, this rack can showcase your beautiful dishes with flair, eliminating the need for a large china cabinet. This practical solution employs readily available materials, including wood, dowels, cup hooks, and screws, costing around $57.
This guide will assist you in crafting this homey rack to display your cherished china collection, such as the Vera Wang Lace by Wedgewood in the example. The process involves measuring, cutting, and assembling the wood and dowels to form the rack.
The final steps entail finishing with wood filler, sanding, and painting. A plate rack wall adds a personal touch to your kitchen while making your fancy dishes readily available! athomewithashley
9. Easy Plate Rack Building Plans
Experience creatively transforming your kitchen space with this exciting DIY plate rack project. This unique design, far from the typical plate racks you've seen, boasts rounded edges, curved elements, and an optional clever little drawer at the bottom. A noteworthy aspect of this project is using scrap wood, making it an affordable and cost-effective venture.
You'll need tools and materials, including a saw, nails, screws, and mostly scrap wood, proving its budget-friendliness. Preparation and construction are straightforward and accessible for anyone undertaking a project.
This plate rack serves a dual purpose – offering a stylish storage solution for your plates while adding an aesthetic appeal to your kitchen. One of the standout features is the cleverly incorporated drawer at the bottom, an additional storage space that can be used to keep smaller items. Give your kitchen a well-deserved update, and start making a sawdust storm today! jenwoodhouse
10. DIY Industrial Pipe Plate Rack
Add a touch of industrial chic to your home with an easy DIY industrial plate rack! This statement-making piece will not only fill up blank wall spaces in your kitchen but also offer a stylish space to display your dishes and platters.
With materials like a Purebond plywood sheet, wooden planks, galvanized floor flanges, and street elbows, you can replicate this on-trend design found in upscale stores like Pottery Barn and Restoration Hardware, all within a budget of $225.
This industrial plate rack standing over 6ft high, not only serves as an elegant storage solution but also enhances the aesthetics of your space, bringing in a unique blend of functionality and modern design. So, get started and inject a dose of character into your home! shanty 2 chic
11. DIY Plate Rack Under $40
Discover how to build a personalized DIY plate rack for your kitchen with this beginner-friendly project. Customize the size and design of the rack to fit any wall or room, and enjoy the cost-effective benefits of this creative organization solution.
With easy-to-follow instructions, learn how to assemble the rack using simple tools and materials or have them cut at the store. Enhance your pantry or kitchen with this practical and stylish addition that will greatly impact you. Get ready to showcase your favorite platters and add a touch of ingenuity to your space! 11magnolialane
12. How to Build a Wall-Mounted Plate Rack
Uplift your kitchen aesthetics with this DIY wall-mounted plate rack, a creative solution for showcasing your plate collection. Engineered for functionality, this display allows the layering of plates, ensuring a perfect fit for your space.
Materials needed include 1x4s for shelves and frames, quarter-round molding, screen molding, wooden dowels, and basic tools. Get crafty and adapt the structure to your requirements, adding decorative molding to enhance its appeal.
The result? A rack that accommodates up to three plates per shelf or a large serving platter, ensuring your century-old china or seasonal dishes take center stage. Get started on making this modern kitchen feature today. moppingthefloor
13. Make a Plate Rack in the Kitchen
Bring a charm to your kitchen with a DIY plate rack. Easy to make and budget-friendly, a plate rack is a practical and aesthetically pleasing storage solution for those large platters and serving dishes. A blank wall instantly transforms into a homey space filled with your favorite dishware.
You can have your custom plate rack with a few basic materials such as 1×3″ and 1×4″ boards, wood screws, glue, and creativity. Adjust the spacing between shelves to accommodate your dishware, and add a front trim to secure the dishes in place.
You can even add cup hooks for extra mug storage. Undertake this quick afternoon project and revitalize your kitchen with your personalized touch. mariedesigns
14. Rustic DIY Farmhouse Plate Rack
Enjoy the delightful transition into Fall by crafting your own cozy, cost-effective home decor with this DIY plate rack, a popular farmhouse fixture, and a perfect addition to your kitchen space.
Using just a few materials, mainly scrap wood, wood glue, nails, a table saw, and an affordable board, this guide helps to replicate an exquisite Etsy piece tailored to your preferences and requirements.
This project also has incorporated a touch of personalization, rounding off the tops to add a quaint cottage feel. Hanging hardware is also installed, making it ready for immediate use. At just $12, this plate rack provides a gorgeous, custom-made piece without breaking the bank. It's a testament to what a little ingenuity and handiwork can achieve.
Transform your home and kitchen with this project, providing great satisfaction and saving you money. thelatinanextdoor
15. DIY Small Plate Rack for Under $10
Beautify your kitchen with this charming and simple-to-make DIY plate rack. You can build a stunning rack to display your favorite dishes with a 2x12x8′ board, six carriage bolts, and some Gorilla super glue gel. Customize it to match your decor by cutting the board to your desired length and staining it with your choice of wood stain – this project uses Early American from Varathane.
Make it unique by distressing the edges and corners. It's an aesthetically pleasing addition and a practical storage solution, offering a neat and visible spot for your plates. Affordable at under $10 per rack, it's an excellent project for those who enjoy the hands-on creativity and functional design. shanty 2 chic
16. DIY Wooden Plate Rack
Unleash the joys of building your customized DIY wooden plate rack with this insightful guide. An answer to all your kitchen space woes, this handcrafted rack is both functional and aesthetically pleasing. Made from 5mm plywood board and 2cm wide Dowling, it offers a stronger and prettier alternative to traditional plastic racks.
You can bring this wooden plate rack to life using tools like a jigsaw cutter, a sander, and some paint. The instructions are easy to follow and adjustable to suit your plate and bowl sizes. With some patience, you can free your cupboards of clutter and add a dash of color to your kitchen with this unique and customizable wooden plate rack project. makesbakesand
17. How to Make a Plate Rack Under $95
Amplify your dining space with a DIY plate rack, an impressive seven ft. long and eight ft. tall storage piece crafted with just $95 in lumber! This rack is a fantastic way to repurpose an underused space and add an appealing contrast to your decor while offering ample storage across four eight-foot shelves.
It's a straightforward project, ideal for those willing to venture into DIY furniture building. You'll need materials like 2×12 and 2×3 boards, pocket hole screws, matte black spray paint, and Dark Walnut stain to give the piece a polished, professional finish.
With the free printable plans, a step-by-step guide, and a dash of dedication, you can assemble this modern plate rack in your home, offering an efficient, stylish solution to your storage needs. Turn unused spaces into attractive, functional areas of your home with this innovative project today! shanty 2 chic
18. Make Your Own Full-Length Plate Rack
Take advantage of your empty wall with this easy-to-build plate rack! This DIY project serves as a practical and aesthetic solution for limited cabinet space, perfect for displaying not just plates but also cutting boards, serving trays, decor, books, and more.
The rack dimensions are about 5'2″ feet tall and 3 feet wide, fitting comfortably into most interiors. You'll need 1×4 and 1×2 boards, brad nails, wood glue, and optional alternative fasteners to get started.
Detailed instructions, including a cut list and steps for assembly and finishing, are provided to guide you through the process. This project allows you to maximize your wall space and add an innovative touch to your room decor. A classic combination of utility and style, this plate rack is a standout addition to any home! ana white
19. Building a Plate Rack at Home
Take on a creative journey to organize your kitchen space with custom-made DIY plate racks. Using easily sourced materials such as 1″x 2″ and 0.25″ dowels, wood glue, and BEHR Chalk Decorative Aerosol paint, these racks bring order to your cabinet clutter. The process involves:
Cutting and drilling the dowels.
Assembling them precisely.
Enhancing the aesthetics with a coat of paint.
The racks are tailored to fit the dimensions of your cupboards and tallest plates, ensuring seamless integration. This versatile project suits any kitchen and is economical, estimated at just $10-$15. Start crafting these utilitarian plate racks today to showcase your plates with pride and ease. pmqfortwo
20. Easy DIY Antique Plate Rack
Capture the charm of a bygone era with this homemade antique plate rack. Remaking the past with the right tools and a dash of creativity has never been this rewarding. This DIY rustic wooden rack is the perfect accent piece to display your beloved plates or platters. Made from 1″ x 1″ wood and ⅜" dowels, this versatile rack can be customized to suit your needs. Forget perfection; slight imperfections only add to its charm. So roll up your sleeves, gather your drill, wood glue, and dowels, and bring a slice of the past to your present. Let's start this rewarding journey of crafting together! theartofdoingstuff
21. Homemade Plate Rack
Embrace the charm of tiny kitchen spaces with this creative DIY project! An ingenious way to utilize the often-overlooked side of your fridge, this minimalistic plate rack brings style and storage to your kitchen.
It requires just a few supplies – 1 x 2 pine, screws, paint, and some trim for added safety. The design process is akin to building a ladder with shelves attached to the wall, then installing trim at the front to secure your plates.
Painted in your preferred shade, this DIY addition can flawlessly blend with your kitchen decor. This handy rack caters to your storage needs and is a charming display for your collected plates. So, use this easy, innovative project today to utilize every inch of your kitchen! remodelandola
22. Simple DIY Ledge Plate Shelf
Enrich your living spaces with an uncomplicated and cost-efficient DIY ledge shelf. For less than twenty dollars and under 30 minutes, you can adorn your walls with elegant wooden display shelves. If you're a first-time DIYer, this project is perfect as it requires minimal hands-on time and basic tools such as wood, screws, and stain.
You can personalize the dimensions, ensuring the shelves fit perfectly in your desired location. Give life to a blank wall by dressing these shelves seasonally, from cheerful spring colors to festive holiday decor. Beautify your home in a practical and pocket-friendly way with this ledge shelf guide. christinamaria
23. DIY Built-in Plate Rack
Imbue your living space with creative charm by building a DIY grown-up plate rack. This project marries functionality and aesthetic allure in a homely fusion that will undoubtedly draw the eye of any visitor.
The project begins with a simple pine frame built into your chosen wall, followed by adding decorative molding to each shelf. To ensure stability for larger plates, two rows of screen molding are added, completing the project's construction. The resulting plate rack can be transformed into a recipe wall or a monochromatic display, whatever fits your creative vision.
Embrace your adult self by taking on this fun project, bringing personality and uniqueness into your home. Let your creativity flow and relish the benefits of crafting something tangible and lasting. thistlewoodfarms
24. DIY Inside Cabinet Plate Rack
Smarten up your kitchen space with a customized DIY plate rack. Perfect for organizing your kitchenware, this project provides a charming and practical solution. Begin by cutting the dowels to fit your cabinet size, allowing a little wiggle room. Mark and drill holes on your square dowels for the round ones to fit. An important step is to dry fit everything before securing it with glue on each round dowel's end.
The plate rack must be assembled inside the cabinet in parts due to the cabinet's face frame. Ensure that the rack is aligned right behind the face frame before marking the locations to screw it in place.
Finish by sanding, priming, and painting the rack to your preference. Add your plates and admire your work. A bit of patience is required for drilling and measuring, but the result is a stylish and functional kitchen addition. This project is excellent for those seeking to add a personal touch to their kitchen decor. remodelandolacasa
25. How to Make Your Own Floating Plate Rack
Transform your kitchen with a custom-made DIY floating plate rack, a unique blend of style and practicality. With this innovative design, you can give your walls an elegant look while efficiently displaying your plates. This space-saving solution is perfect for small areas, adding functionality and a contemporary aesthetic to your home decor.
Made with everyday materials, like wood and screws, the process of building this rack is simple and budget-friendly. The method is easy to follow, making it an ideal project even for those new to DIY tasks. This rack is practical for organizing your dishes and elevates your interior design.
It serves as a modern, stylish element, seamlessly blending in with your existing decor and enhancing the overall appeal of your kitchen. Make your home more special and fashionable by adding a personalized touch with this unique project.
Conclusion:
In conclusion, DIY plate racks offer an affordable and customizable solution to keep your kitchen organized and showcase your beautiful dishware. From unique shiplap designs to rustic farmhouse styles, there are numerous DIY plate racks available to suit every taste and skill level when it comes to making your own plate rack. Embarking on this DIY journey helps you make wall-mounted, shelf, or cabinet plate racks that perfectly fit your space and style. So, add a touch of personalization to your kitchen with a DIY plate rack project today!