Are you ready to improve your sleep quality with a stylish and practical solution? DIY sleep mask is easy, fun, and customizable to fit your personality. Learn how to make a sleep mask with these 30 homemade DIY sleep mask ideas, perfect for those seeking a better rest while making a fashionable statement. These homemade sleep masks come in various designs, from elegant Holly Golightly-inspired creations to adorable cat and bunny patterns, perfect for kids and adults alike.
Making your own homemade sleep mask allows you to pick the ideal materials, such as soft silk, comfortable velvet, or cozy quilted fabrics, suited to your personal preferences and needs. Making a sleep mask is a simple and enjoyable project, with step-by-step instructions provided for each idea, including no-sew options and free printable templates for the ultimate convenience.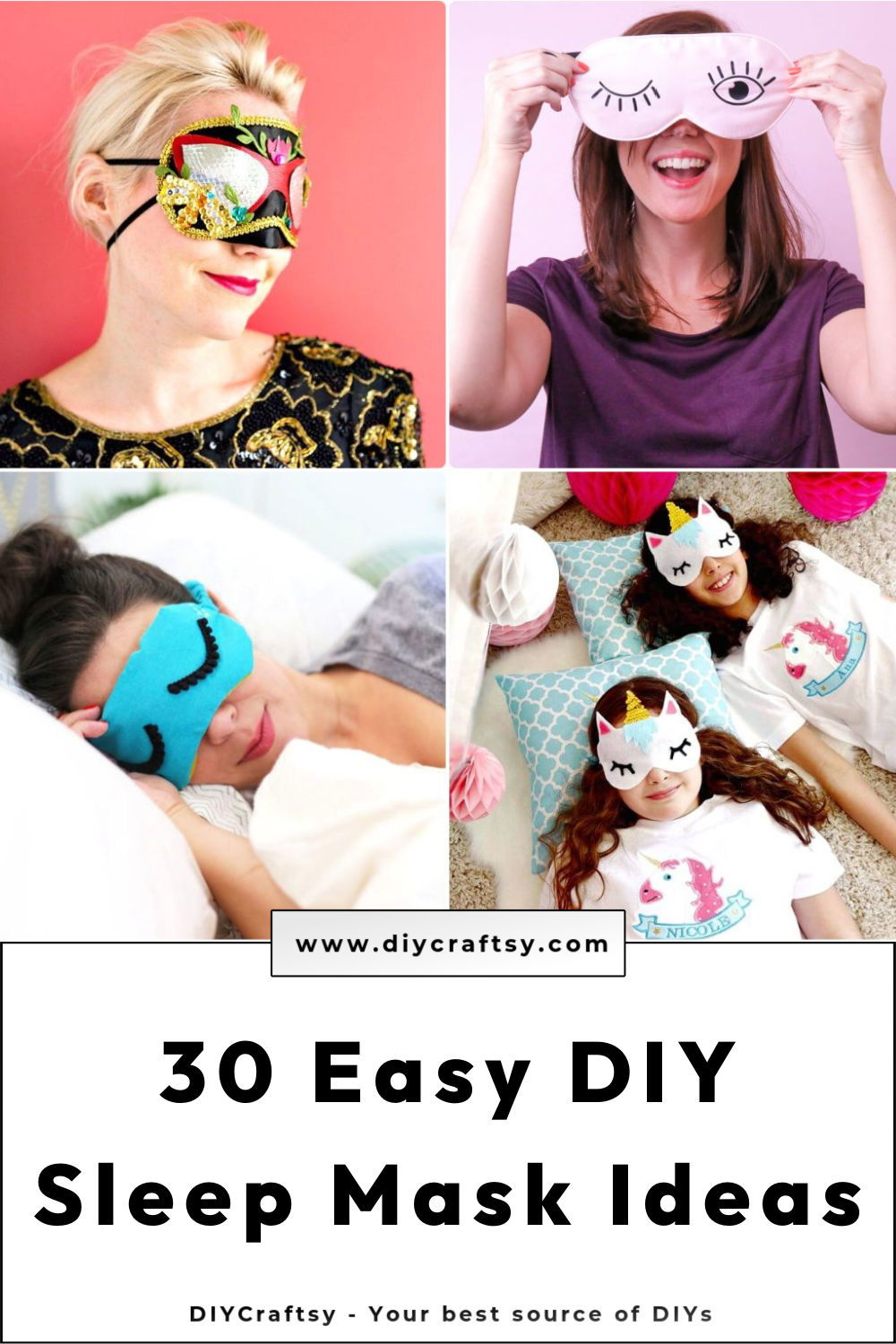 Not only are homemade sleep masks perfect for improving your own rest, but they also make delightful gifts for friends and family. Consider making a personalized bridal sleep mask or superhero design for a loved one. With these 30 DIY sleep mask ideas, you'll be well-equipped to craft the perfect accessory for a more restful night, while adding a touch of creativity and customization to your bedtime routine. So, grab your supplies and let the DIY sleep mask adventure begin!
1. How to Make Holly Golightly Sleep Masks
Take your sleep to another level with DIY Holly Golightly sleep masks! These masks serve the functional purpose of blocking out light and are vibrant, eclectic, and full of character. You'll require a few essentials like sleep masks, fabric scraps, ribbons, fringes, and tassels.
The process begins by sewing fabric scraps to the front of the masks, then crafting the look of closed eyelids and eyebrows using cut fringe and ribbons. To add a touch of charisma, the design incorporates tassels, pom-poms, and jewels.
These affordable and easy-to-make masks, inspired by the iconic Holly Golightly, ensure a peaceful sleep while serving as fabulous gifts for friends and family. This creative project brings color and fun into your nighttime routine today! pmqfortwo
2. Free Sleep Mask Sewing Pattern
Seek comfort in the darkness with the DIY sleep mask – a savior for those who need a pitch-dark environment to drift off. This tutorial provides a detailed guide on sewing your sleep mask at home with a few readily available materials. The sleep mask is the perfect companion for travel and home, comprising three layers for comfort, light-blocking efficiency, and aesthetics.
Utilize patterned fabric for a stylish front, interfacing or felt for blocking out light, and soft fabric for the back to caress your skin. Complete the design with a chic little bow for a hint of cuteness.
This affordable project not only offers a customized solution for your sleep woes, but it also makes for an attractive gift option. Get ready to make your haven of tranquility and plunge into a sound sleep like never before! wonderforest
3. Homemade Sleep Masks With Felt
Looking to add style and amenities to your slumber? Consider crafting a personalized felt sleep mask, a project that's as creative as practical. You can make an eye-catching and functional accessory using just a few materials like felt, a black elastic band, scissors, a pencil, and Aleene's Felt and Foam tacky glue.
First, trace an outline of a sleep mask onto your chosen color of felt and cut it out. Repeat this process with black felt for the mask's backing. After securing the elastic band between the two cut-outs using the specialty glue, enhance your mask by designing and attaching felt features like eyebrows and eyelashes.
This easy-to-follow guide offers a great way to make sleep more enjoyable and encourages creativity and self-expression. Step into the DIY world and start making your fancy sleep mask today! fancymomma
4. Wonderful Cat Sleep Mask for Kids
Delve into the world of restful sleep with a charming DIY cat sleep mask. Using a soft, breathable fabric like quilting cotton or flannel, along with fusible fleece for a plush feel, this easy-to-follow template and tutorial will have you dreaming in no time.
You'll also need a small piece of felt for the nose, fabric pen or paint for the eyes, and comfortable elastic to secure the mask. A printable pattern piece is provided for convenience. The process includes the following:
Pressing the fleece onto the fabric.
Decorating the mask to resemble a cat face.
Basting the elastic.
Stitching the mask together.
The final touch is topstitching around the entire mask, and voila – your unique sleep accessory is ready for a nap. Craft your feline-inspired sleep mask today for an adorable addition to your bedtime routine. treasurie
5. Pretty DIY Sleeping Mask
Introduce tranquility into your nighttime routine with an innovative DIY project: crafting personalized sleeping masks. This engaging activity lets you shut out the world, enveloping yourself in peace and serenity as you drift off to dreamland.
You'll require straightforward tools and materials such as a sewing machine, a template, fabric, felt, pins, an elastic band, and glue. Following a simple seven-step process, you can design an eye-catching mask that blocks visual distractions, encouraging uninterrupted rest.
Make a statement by adding bespoke lettering onto your mask with felt and glue. This handy accessory could be the perfect addition to your travel bag for those long-haul flights. Remember, a good night's sleep is just a mask away! mottes
6. Make a Sleep Mask With Household Items
Optimize your sleep quality with this straightforward DIY sleep mask tutorial. Requiring only 30 minutes, you can craft this eye mask using common household items such as cotton fabric and batting. The poly-fil project fleece batting ensures a soft, robust mask for a peaceful rest, unbothered by light.
From choosing comfortable, non-irritating fabric to attaching cute eyelash embellishments, every step is designed with your utmost comfort in mind.
The beauty of this guide also lies in its adaptability, offering alternatives like using an old flannel shirt for fabric or hand-stitching in the absence of a sewing machine. Try this sleep mask tutorial and pave your way to restful nights and productive days. creativelybeth
7. Embroidered Sleep Masks for Mother's Day
Get ready to gift the joy of relaxation with these stunning DIY stitch 'n' turn sleep masks, perfect for upcoming Mother's Day or any other special occasion. You can easily craft these eye-catching sleep masks using supplies like fabric, embroidery thread, and Dritz braided elastic.
The process is quite simple; start by cutting your fabric, and follow through with detailed machine embroidery using a sewing & embroidery machine. Add a personal flair by embroidering names or customized designs on these masks, making each unique and special.
Pair these sleep masks with a spa gift basket for an unforgettable present. Be it for a bridal party, baby shower, or holiday celebrations, these sleep masks are versatile gifts sure to delight the recipient. Let the journey of DIY embroidery gifts begin today! trashtocouture
8. Best DIY Silk Eyelash Sleep Mask
Delight in a peaceful, well-lit room while also enjoying complete darkness for your rest with this DIY eyelash sleep mask. This project utilizes a pink silk sleep mask, elevating it to a stylish accessory with the addition of a playful vinyl eyelash design.
The process is simple – cut the design using a Cricut machine or craft knife, iron it onto the mask, and you're all set. The result is a fun and functional eye mask that's not just for blocking out light but a nod to your unique personal style.
Follow the steps in this guide and experience the blend of form and function in your sleep routine. Cover the vinyl with a towel when ironing to protect the material. Time to get crafty and sleep stylishly! clubcrafted
9. Making Sleep Masks for Gift
Bring an end to your light-sleeping woes with your own customized DIY sleep mask. Ideal for those who crave complete darkness for a good night's sleep, these handmade masks also double as thoughtful gifts for loved ones. Easy to make and customize, the masks can be personalized with any phrase you choose, adding a playful twist to your sleep essentials.
You'll need satin sleep masks, a design program like Photoshop, a Cricut Design Space, and iron-on transfers readily available at any craft store. Perfect for everyday use or when traveling, these sleep masks make it easy to get the rest you need wherever you are.
Try sewing one today and relish the luxury of uninterrupted sleep! Enjoy the comfort and benefits of your personalized sleep mask, helping you rest better while adding fun to your bedtime routine. thoughtfullysimple
10. Do It Yourself Velvet Sleep Mask
Revitalize your travel experience with a custom-made velvet sleep mask! Made with the softness of black velvet fabric and quilt batting, this DIY sleep mask is comfortable and chic. With a touch of creativity and following easy step-by-step instructions, you'll have your stylish eye mask ready in no time.
Crafting your sleep mask is simple; you'll need basic supplies such as 1/4 yard of black velvet fabric, soft quilt batting, 1/2 yard of elastic, white craft paint, freezer paper, and an X-acto knife.
Adding a charming eyelash design with craft paint gives it a personalized, fun flair. Ideal for long flights or simply to catch a few more minutes of beauty sleep, your sleep mask is a practical yet trendy addition to your travel essentials! thehomesteady
11. Creative Quilted Sleep Masks
Explore the benefits of a restful slumber with this intuitive, stylish, and comfortable DIY quilted sleep mask guide. This project requires only a selection of materials like front and backing fabric, batting, scrunchie band fabric, bias binding, and elastic.
With easily downloadable templates and detailed step-by-step instructions, you'll learn to fashion a personalized sleep mask that promises quality sleep, whether on a flight, a camping trip, or just to shut out the morning light.
As an added advantage, it's a fantastic way to use your leftover fabric stash, making it as resourceful and beneficial. So, why wait? Dive into this quilting journey, craft a sleep mask tailored to your preferences, and embrace peaceful, undisturbed sleep in no time. suzyquilts
12. Sew Your Own Fabrics Sleep Mask
Craft a personalized, hand-sewn sleep mask using this straightforward DIY guide! This project repurposes leftover fabric and batting into a practical, stylish item, ideal for gifting or personal use. Comfortably travel or manage early morning light with this homemade solution.
Choose lightweight, non-scratchy outer fabrics like quilting cotton while opting for soft, comforting linings such as flannel or fleece. Cotton or wool batting adds plushness and assists in blocking light.
Within 30 minutes, a custom sleep mask is yours to create. Experiment with fun prints or stick to calming patterns, and enjoy this simple, fulfilling sewing endeavor that marries creativity and utility. createwhimsy
13. How to Make a Beautiful Sleeping Mask
Stress can become a part of our lives without realizing it, and finding unique ways to manage it can be a journey. But with a creative twist, these DIY sleep masks help promote better sleep and add stylish elegance to your nighttime routine.
These chic sleep accessories include cat-eye, heart, and round frames made from eye masks, leather scraps, sequins, jewels, and ribbon trim. The process is straightforward and allows you to customize each mask. Along with these masks, consider trying rescue remedy products for stress relief.
These natural remedies can serve as quick stress relievers, improving sleep, reducing irritability, and calming the mind. So, try making these trendy sleep masks and experience a tranquil, stylish, and rejuvenating night's sleep. thehousethatlarsbuilt
14. DIY Bunny Sleep Mask – Free SVG Pattern
Engage your crafty spirit with this charming DIY 30-minute bunny sleep mask project! This fun project is a joy to create, made with a blend of quilter's cotton, fleece, felt, and glitter iron-on. Still, it can be a playful sleepover accessory or an adorable Easter gift.
Using your Cricut Maker and sewing machine, you can effortlessly follow the step-by-step instructions and transform these materials into a darling bunny-shaped sleep mask. The free SVG pattern ensures precision in the crafting process.
Moreover, the variety of fabrics used makes it possible to tailor your bunny mask to your unique style. Get started today, and bring to life a delightful, handmade keepsake with this sewing project! hellocreativefamily
15. Make Your Own Superhero Sleep Masks
Honor the superhero in your life this Father's Day by crafting a unique and personalized DIY sleep mask! Designed with iconic superhero masks in mind, these DIY projects will guarantee Dad's dream-filled slumber. Using the felt superhero mask patterns provided in this guide, you'll need felt in different colors, black felt for lining, soft satin-like fabric for comfort, and 3/8 inch wide elastic.
This detailed guide takes you through making a Captain America-themed mask, complete with sewn details, but the creative scope is limitless! From Batman to Spiderman, match Dad's favorite superhero or let your imagination run wild.
This project is a thoughtful present and an engaging family activity – sure to add a special touch to your Father's Day celebrations. Craft these manliest sleep masks and let Dad wake up feeling like the superhero he truly is. cutesycrafts
16. Cool DIY Fabric Sleep Mask
Alleviate your stress after a demanding day by making a soothing DIY eye mask infused with Peppermint essential oil. The mask, made from a fabric of your choice, relieves tension and offers comfort to tired eyes. The key components required include:
Fabric.
A sewing machine with matching thread.
A downloadable eye mask template.
1.5 cups of Flax seed.
6-8 drops of Peppermint essential oil.
After cutting and sewing the fabric as per the template, mix the flax seeds with the oil and fill the mask. Peppermint oil, known for its soothing properties, helps ease tension in the head and neck.
You can also cool the mask in the freezer for an enhanced calming effect. Get ready to make your eye mask today and experience the relaxing power of essential oils. createcraftlove
17. Handmade Sleep Mask With Step by Step Instructions
Unlock the secret to a sound slumber with a creative DIY sleep mask. Research shows quality sleep is essential for overall health, and a sleep mask can help by covering the eyes and stimulating melatonin production, enhancing restful sleep.
This engaging project requires a few materials: a downloadable pattern, felt sheets in black, white, and pink, elastic, scissors, and textile glue. Optionally, you may want to include wadding for a softer mask.
These easy-to-follow instructions lead to a charming sleep accessory tailored to match your favorite Momiji doll. Transform your sleep routine today with a custom-made, rejuvenating sleep mask! lovemomiji
18. Sleep Masks DIY With Iron-on Vinyl
Uncover how to build a personalized sleep mask using your Cricut and iron-on vinyl in this easy DIY guide. Ideal for gifting during holidays, birthdays, or to new moms, these sleep masks provide a comfortable and stylish way to help someone get some much-needed rest.
Learn how to customize the masks with Cricut Design Space and the EasyPress Mini, and add a touch of uniqueness with trendy iron-on vinyl designs. Perfect for spa gift baskets or stocking stuffers, these sleep masks are a thoughtful and practical present that anyone will appreciate. Get crafting today and make someone's sleep time extra special. jugglingactmama
19. Adorable DIY Sleep Mask
Achieve the tranquility of restful sleep with an easily crafted, comfortable sleep mask. This DIY project utilizes two 10″ x 7″ fabric scraps, a similar-sized dark fabric, and matching pieces of batting. Essential supplies, including a template for the sleep mask, .25-inch bias tape, 15″ of elastic, and basic sewing accessories, complete the list.
Sew your mask 'sandwich,' layer by layer, and secure it with stitches. After attaching the bias tape and elastic band – measured to fit your head perfectly – your custom sleep mask is ready.
Embrace restful siestas, power naps, or a peaceful night's sleep courtesy of your newly-made sleep mask. With this accessory, bask in the luxury of darkness, whether day or night, supporting your body's natural sleep cycle. Enjoy rejuvenating sleep anytime, anywhere! dearhandmadelife
20. How to Sew Sleep Masks
Make your own chic and practical sleep accessory with this DIY guide to crafting a 'Breakfast at Tiffany's' style eye mask! Essential for light sleepers or those craving undisturbed rest, this eye mask combines style and functionality.
Armed with materials like cotton fabric, quilt batting, elastic, fabric glue, felt, and suede fringe, you can personalize your sleep routine while adding a touch of glam. The process involves measuring, cutting, sewing, and decorating to design an eye mask that's not only effective but also fashion-forward.
This eye mask can be a thoughtful gift for a loved one, ensuring they enjoy tranquil slumber even in the busiest environments. Enjoy sweeter dreams with your handmade eye mask! abeautifulmess
21. Awesome Sequin Fried Egg Sleep Mask
Unveil a unique and fun sleep accessory with this DIY sequin fried egg sleep mask! It is perfect for those who enjoy complete darkness during slumber and brings a whim to your nighttime routine.
With simple materials like a plain sleep mask, white felt, white and gold sequin trims, fabric scissors, and fabric glue, you can transform an ordinary mask into a delightful brunch-themed accessory. The step-by-step process includes the following:
Cutting out egg-shaped felt pieces.
Gluing them to the sleep mask.
Adorning them with sequins for a charming effect.
The best part? Since the sequins are on the outside, there's no discomfort while sleeping. You can also make an extra one as a thoughtful present for your brunch-loving friend. Optimize your sleep environment and make it more enjoyable with this adorable sequin-fried egg sleep mask! abeautifulmess
22. DIY Unicorn Sleeping Masks
Looking for a charming, whimsical craft activity? These DIY unicorn sleeping masks are the perfect pick! These adorable masks double up as slumber party photo booth props and unique party favors. Crafted from white, pink, blue, and black felt, they are decorated with gold sequined ribbon and secured with elastic.
The creation process is easy and enjoyable, suitable for involving little helpers under adult supervision. The project can also be done well ahead of your party. The detailed instructions make the crafting process seamless, ensuring a fun and creative time while making memorable party keepsakes. This delightful unicorn sleeping masks add a personal, crafty touch to your next celebration. birdsparty
23. How to Make a Unicorn Sleep Mask
Venture into the magical world of DIY crafting with this charming unicorn sleep mask. This creation, perfect as a party favor or a summer craft project for tweens and teens, will let your imagination take flight. The mask features whimsical elements such as unicorn ears, horns, and beautiful eyelashes, all accentuated by a delicate flower crown.
Creating this mask requires just a handful of materials, such as an old t-shirt or t-shirt scraps, multiple felt colors, a quarter-inch elastic, scissors, and fabric-safe glue. Plus, using a free downloadable pattern ensures the mask turns out to be a fascinating piece of perfection.
The result is a soft, comfortable sleep mask that brings a sprinkle of magic to every night. It's a unique project that breathes new life into old t-shirts and adds a touch of enchantment to your slumber. Let your creativity shine as you embark on this fun-filled crafting journey. creativegreenliving
24. Making Bridal Sleep Masks With Cricut Maker
Have a dreamy wedding night with your handmade bridal sleep masks made with the Cricut maker! Using a Cricut Maker, satin fabric, and iron-on designs, you can design an eye mask that keeps the morning light at bay and adds a touch of style to your sleep routine.
Use the free Cricut SVG cut files to cut the fabric and Thermolam, an essential light-blocking material, and then personalize your mask with an iron-on design. The process takes less than an hour, resulting in a charming and practical sleep accessory.
Make these DIY masks as a fun activity for your bachelorette party or gift them to friends – they'll love this creative, personalized touch to their sleep routine. Don't miss the chance to protect your eyes from harsh light with style! somethingturquoise
25. Gorgeous DIY Sleepy Eye Mask
Discover the peaceful serenity of a good night's sleep with a DIY lavender-infused eye mask. Tailored for restful nights, the mask combines the softness of cotton fabric with the relaxing aroma of dried lavender. The cute design, enhanced by pompom trim and optional embroidery, is a stylish addition to your bedtime routine.
With common sewing accessories, a sewing machine, and the printable sleepy eye mask template, sew this sleep essential in just 90 minutes. Promising comfort and tranquillity, this eye mask is a must-have for those seeking an effortless way to relax and rejuvenate. Enjoy a more serene sleep with this charming lavender-infused eye mask. lovelyindeed
26. Sew a Sleep Mask for a Better Nights Rest
Embrace the art of restful sleep with these handmade sleep masks, an excellent accessory for those who are always on the go or frequent travelers. Crafting these DIY masks is as simple as selecting the right fabrics to suit your style, assembling them, and sewing.
Utilize the easy-to-follow template provided in this guide to cut out the three distinct layers of the mask and leverage the utility of bias tape as trim for foolproof sewing. With soft flannel, batting, and your choice of the front fabric, these masks come together in no time.
The crafting process is straightforward and allows you to churn out several masks in one sitting, reducing your holiday gift list effortlessly and beautifully. Enjoy the peace of a relaxing night's sleep or a quiet moment of relaxation with this unique, easy-to-make sleep mask. marthastewart
27. Make a Sleep Mask With the Cricut Machine
Undergo the joy of making your bespoke sleep mask with this innovative DIY project, brought to life with the Cricut Explore Air 2. This project offers a brilliant way to flex your creative muscles and make a functional, personalized accessory for better sleep. Key materials include:
The sleep mask pattern.
Your chosen fabric for the front.
Soft, Minky material.
A 13-inch fold-over elastic, black iron material.
The individual Eyelash PNG cut file for that touch of creativity.
Not only is this project perfect for crafting enthusiasts, but it's also an excellent entry point for those just starting on their DIY journey. This sleep mask is lightweight, easy to assemble, and incredibly comfortable, making it a joy to use.
It's perfect when the world is too bright, offering an oasis of darkness for a relaxing nap. Moreover, the end product is a testament to your creativity and craftsmanship. So, grab your sewing machine, and let's get crafting! ambersimmons
28. Cute DIY Felt Sleeping Mask
Gift your mom the ultimate relaxation with a custom-made sleep mask! This fun and easy DIY project use a sheet of felt, scissors, vibrant thread, a needle, fabric glue, and elastic to make a soft and comfortable sleep mask, ideal for that much-needed beauty sleep. You start by sketching a mask template on paper, transferring it onto the felt, and cutting out the shapes.
The next step involves sandwiching the elastic between the felt pieces with fabric glue.Add some playful stitching for a pop of color and extra security. The outcome? A perfect, handmade sleep mask that brings comfort and style to bedtime. With this simple yet thoughtful gift, let your mom unwind and rest in style! momtastic
29. No-Sew Sleep Masks With Free Printable Templates
Take advantage of those long summer days and make a simple, no-sew sleep mask, ensuring peaceful and uninterrupted sleep. All you need are a few basic supplies, and in less than 30 minutes, you can craft a sleep mask perfect for keeping out any disruptive light.
Even better, it doesn't involve sewing, making it an enjoyable DIY project for the whole family. It's versatile enough to adapt to more 'manly' designs. This no-sew sleep mask provides a fun activity and results in a functional item that aids restful sleep, a true win-win. Try out this quick and easy craft today and enjoy the perks of a good night's sleep! kleinworthco
30. Sew a Sleep Mask With Glasses
Add a whimsical twist to your bedtime routine with a homemade sleep mask featuring fun sewn-on glasses! This DIY project lets you catch a few extra Z's and spark laughter among your friends. To make this novelty sleep mask, you need some basic supplies – beige and black fabric, an elastic band, interlining, and a textile marker.
Start by cutting your fabric and elastic to size, then carefully placing and ironing the glasses pattern onto the interlining on the black fleece. Next, meticulously topstitch the edges of the glasses and eyebrows, adding an extra personal touch by drawing and stitching the eyes.
Secure the elastic at the glasses' temples, hiding the seam at the back. With these straightforward steps, your quirky night mask is ready to deliver both style and uninterrupted sleep. lamaisondiy
Conclusion:
In conclusion, these DIY sleep mask ideas are a fun and versatile way to improve your sleep quality. With 30 unique homemade sleep mask ideas to choose from, ranging from holly golightly sleep masks to unicorn sleeping masks, you'll find the perfect mask to suit your taste and skill level. Make a personalized sleep mask by using a variety of materials, such as felt, silk, or fabric, and techniques including sewing, embroidery, and iron-on vinyl. Crafting your own DIY sleep mask not only enhances your creativity but also promotes better rest.