Learn how to make necklaces at home with these 35 unique and easy diy necklace ideas that will add homemade charm to your jewelry on a cheap budget. The fun and exciting part of making your own necklace is being free to customize it according to your preferences, using various materials such as beads, wire, clay, pearls, wood, and even some unexpected items like plastic lids or vintage buttons.
This guide provides everything you need to know about making stunning DIY necklaces at home, from easy step by step necklace making tutorials for beginners to more challenging projects for creatives seeking a new challenge. Each DIY necklace idea includes a detailed tutorial with clear step-by-step instructions and a list of supplies needed. These DIY necklace ideas range from popular styles like beaded necklaces, tassel necklaces, and pendant necklaces to innovative creations like a scandinavian hoop necklace or a knot necklace.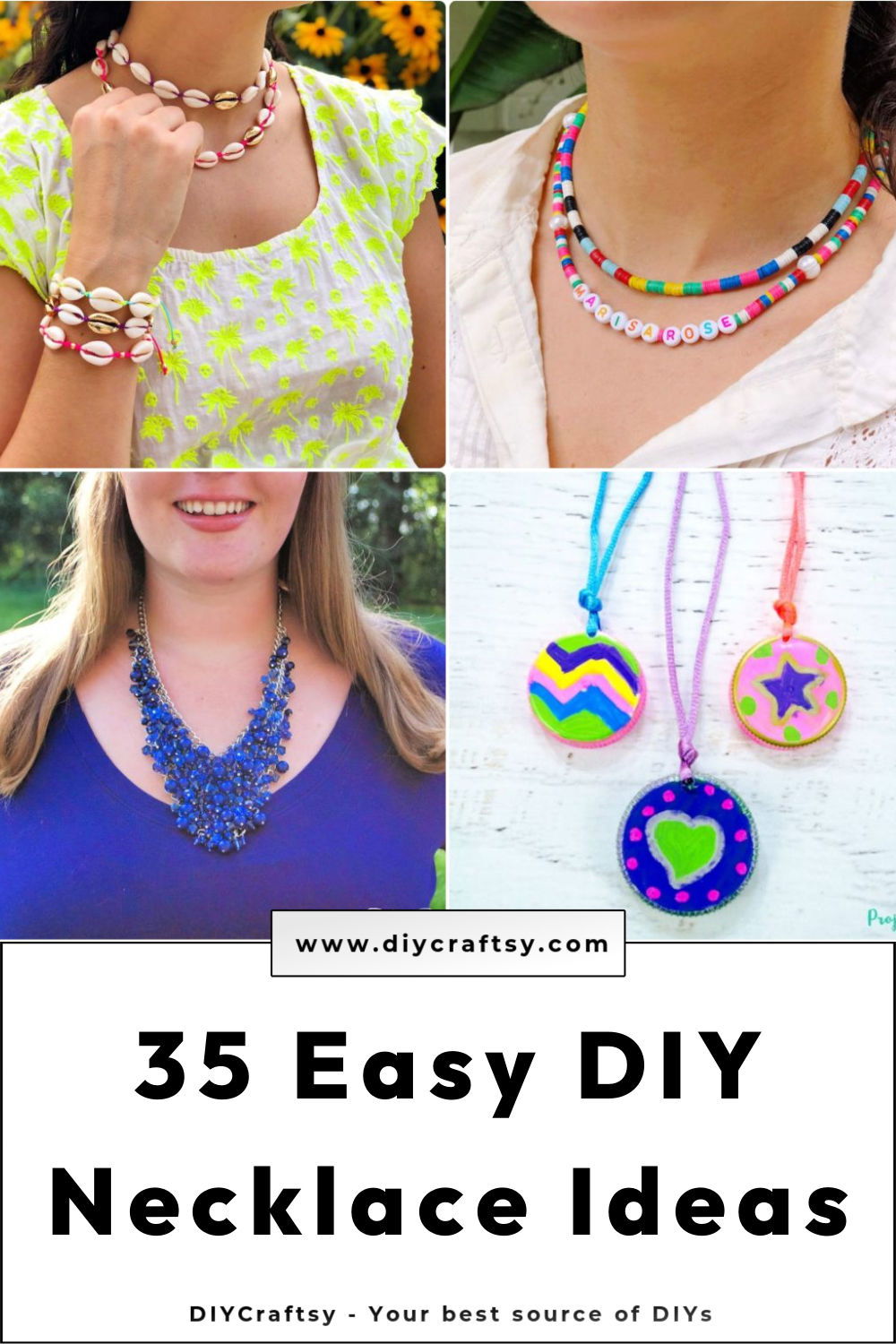 Get started today using these 35 beautiful DIY necklace ideas as your guide and producing stunning homemade necklaces. With commitment and creativity, you can transform ordinary materials into extraordinary DIY necklaces. So, grab your materials, and let's delve into the charming realm of DIY necklaces making fun.
1. DIY Color Blocked Disk Beaded Necklaces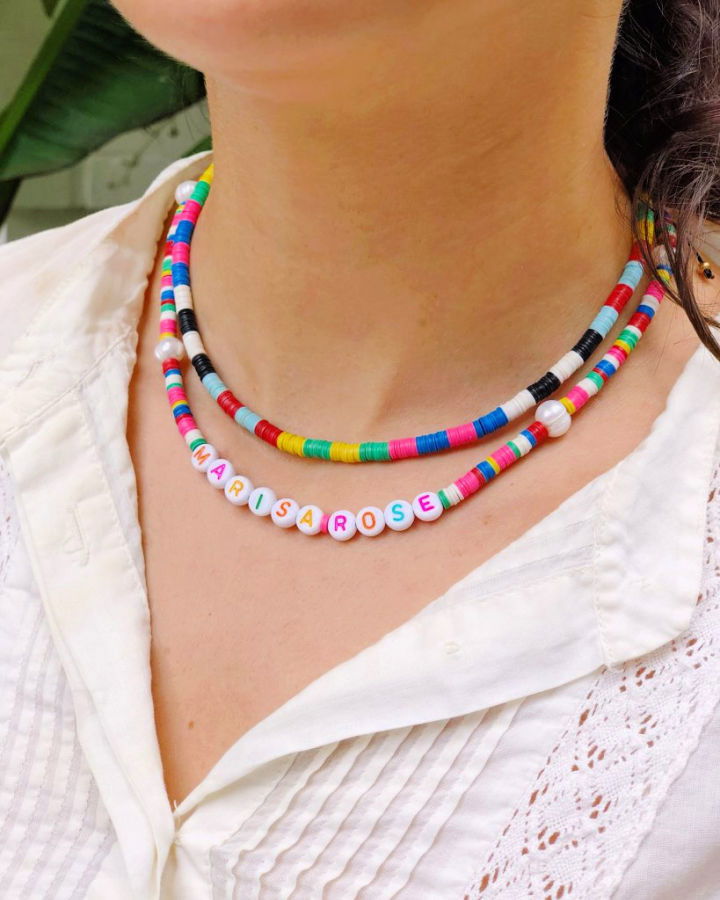 Make a stunning color-block necklace with this easy DIY tutorial. This trendy piece of jewelry is made using African vinyl disk beads, knotting cords, gold spacer beads, and other supplies. The color block pattern adds a unique touch to the necklace, and you can customize it by varying the width of the color blocks.
Follow the step-by-step instructions to string the beads, secure them with knots, and add an adjustable square knot closure at the back. The result is a vibrant and eye-catching necklace you'll love to wear daily. Get creative and make your version of this fashionable accessory. Happy crafting! theneonteaparty
2. Handmade Beaded Statement Necklace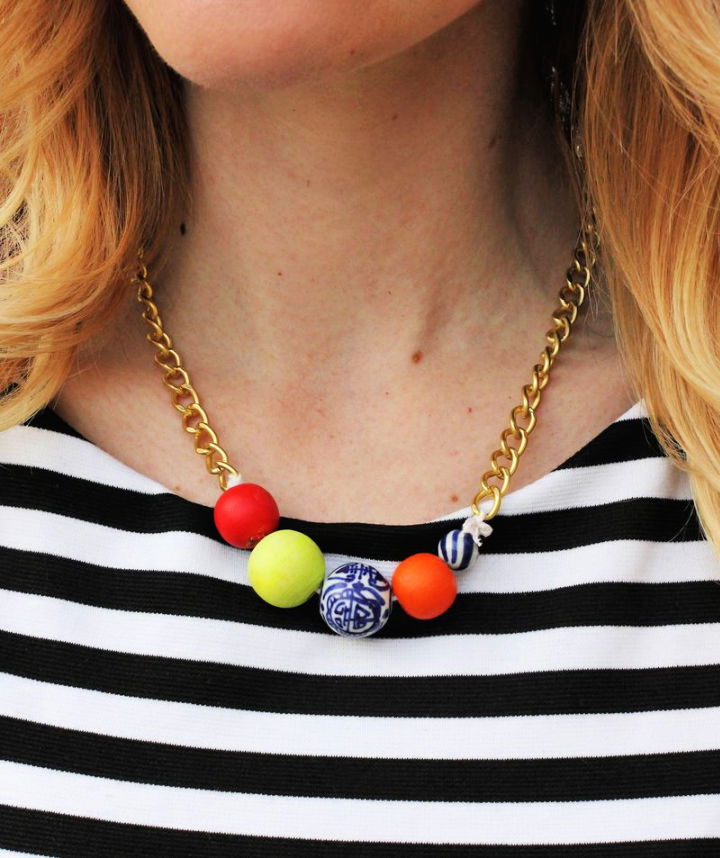 Step outside your comfort zone and make colorful jewelry with these easy DIY necklace ideas. The first necklace features painted wood beads and colorful craft store beads strung together with twine, making a unique and fashionable look.
The second necklace incorporates chains, beads, head pins, and jewelry pliers for a more polished design. Add beads to the head pins, attach them to the chain, trim the excess wire, and secure the loops with pliers.
Experiment with other color schemes and designs to make your personalized pieces. Get creative and indulge your newfound passion for jewelry making! abeautifulmess
3. Marbled Clay Pendant Necklace Design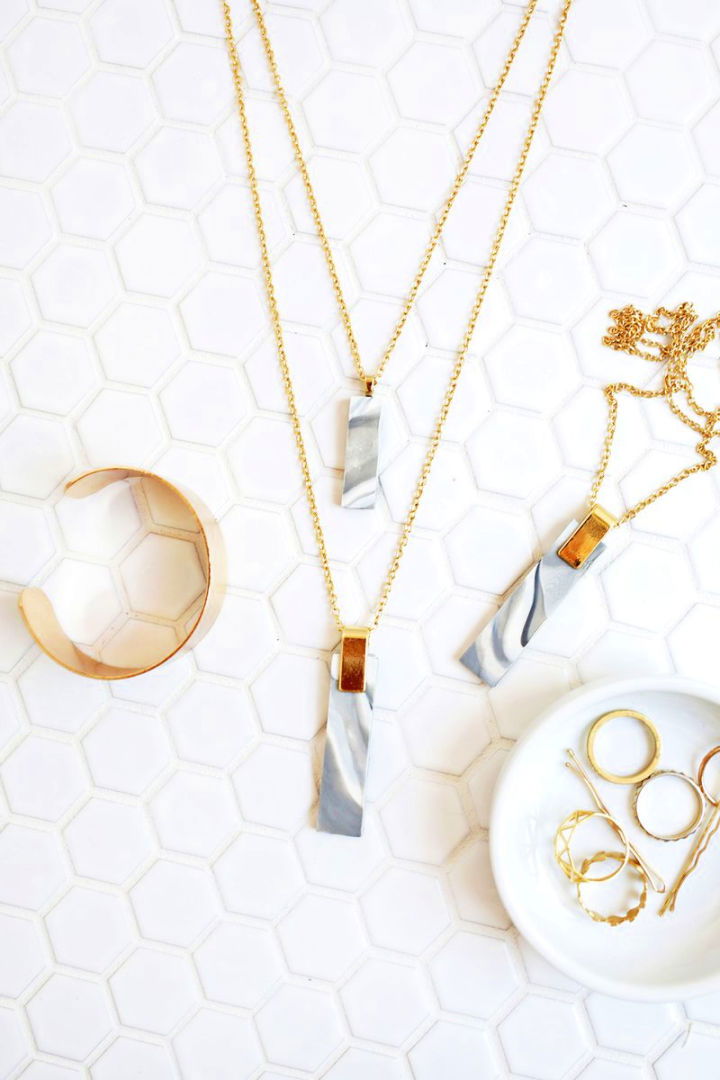 Elevate your style with a DIY marbled clay pendant necklace! This versatile accessory is perfect for casual and formal outfits, and its longer chain creates the illusion of height. Inspired by the marbling technique in making clay ring dishes, this tutorial guides you through making a stunning pendant necklace.
Gather your supplies, including oven-baked clay, a rolling pin, an X-Acto knife, parchment paper, super glue, a necklace chain, jump rings, and necklace closure. Feel free to experiment with colors and sizes to personalize your pendant necklace.
Whether crafting for yourself or making a thoughtful gift, this project is quick, easy, and sure to impress. Embrace your creativity and make a fashion statement with your marbled clay pendant necklace today! abeautifulmess
4. Making a Wire Hand Necklace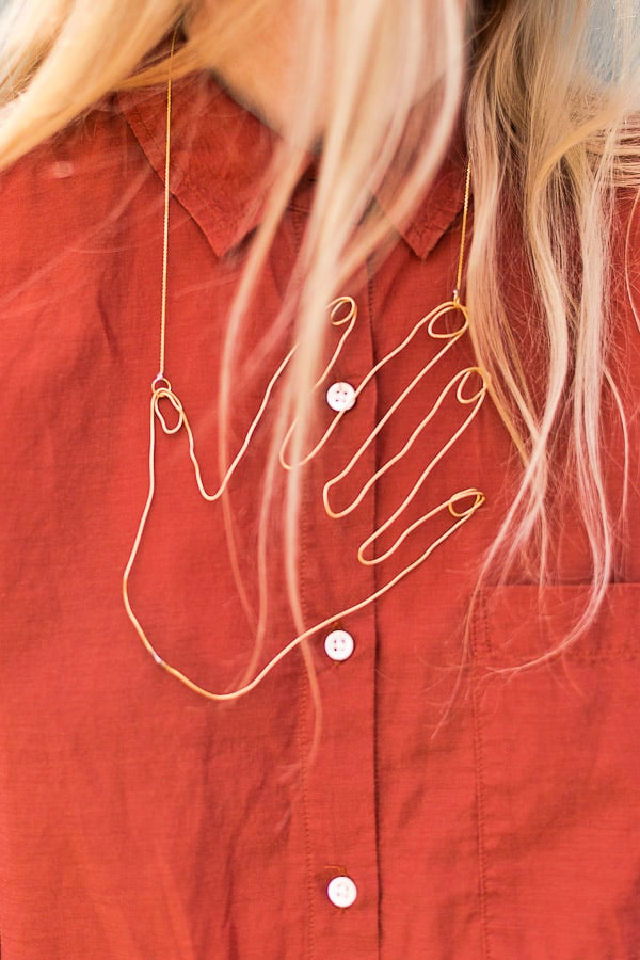 Craft your stunning statement piece with this DIY hand necklace tutorial. If you've been curious about soldering, this project is a perfect introduction. You'll learn how to shape and bend the wire to make a hand pendant using a soldering iron set, brass wire, flux soldering paste, and other supplies.
The detailed instructions guide you through the soldering process to connect the wire pieces seamlessly. Complete the necklace by attaching a gold-plated chain and jump rings to different fingers of the hand pendant. This unique and stylish necklace will turn heads and make a fashionable statement. papernstitchblog
5. How to Make Your Own Polymer Clay Necklace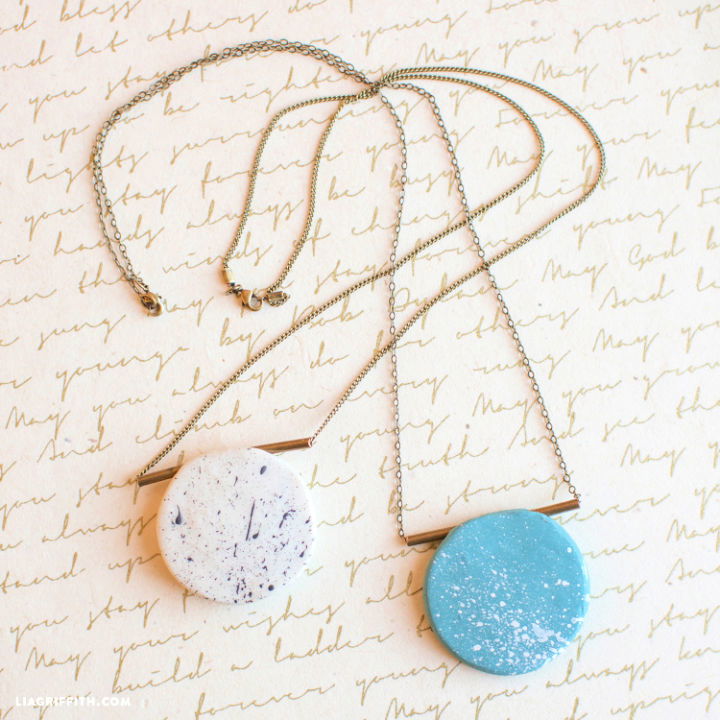 Have a stunning DIY polymer clay necklace with this easy-to-follow guide. Polymer clay is a versatile and affordable modeling clay, perfect for crafting beautiful jewelry. With a broad range of vibrant colors, you can let your creativity soar.
Roll out the clay, shape it into a 1/8-inch thick circle, and insert a copper noodle lengthwise. Smooth out any imperfections, then bake the necklace. Afterward, splatter acrylic paint onto the surface for a unique design.
Thread the chain through the copper noodle, attach the clasp and jump rings, and proudly wear your handmade statement necklace. Experiment with different chain lengths and color combinations for endless possibilities! liagriffith
6. DIY Scandinavian Hoop Necklaces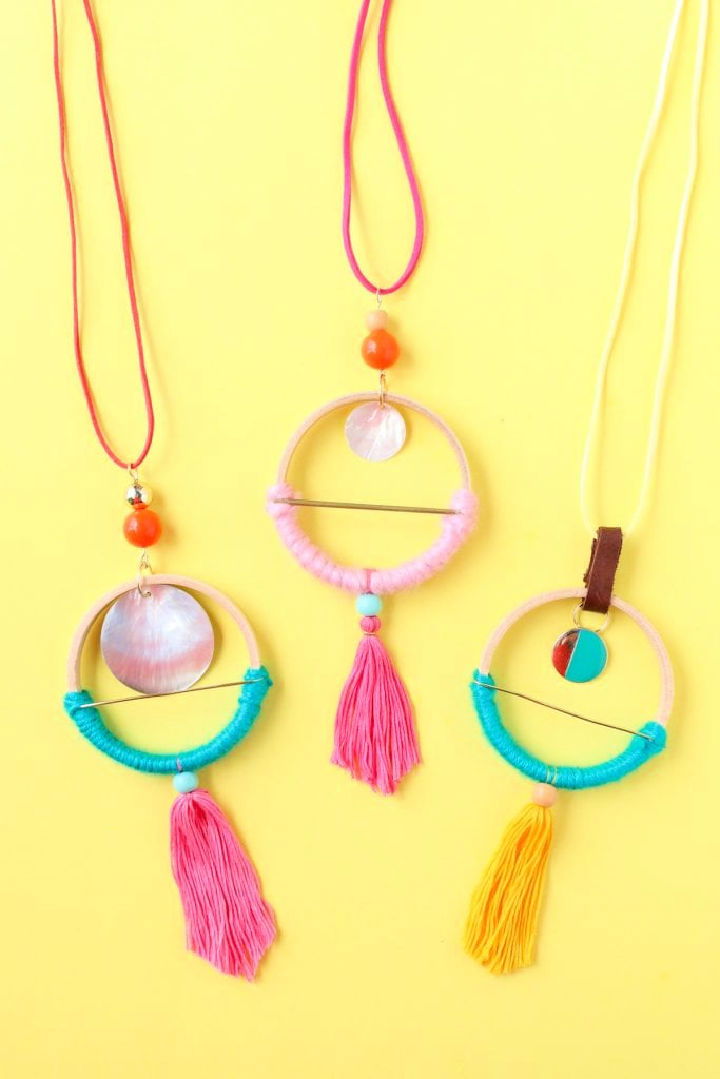 Get ready to make a fashion statement with these trendy DIY Scandinavian hoop necklaces! Inspired by the popular hoop mobiles, these necklaces combine the charm of woven wall hangings with the mobility of a necklace. You can make your unique statement piece using materials like a 3″ wood embroidery hoop, yarn, embroidery floss, brass jewelry wire, colorful beads, and faux suede cording.
Follow the step-by-step instructions to wrap the wire around the hoop, add embroidery floss and beads, and wrap the hoop with yarn. Customize your necklace by attaching a pendant piece and adding additional beads.
Finally, complete the look by looping the suede cord through the hoop and tying it to your desired length. With its vibrant colors and mix of wood, metal, and fibers, this necklace is perfect for adding a stylish touch to your summer outfits! lovelyindeed
7. Homemade Chain and Pearl Necklace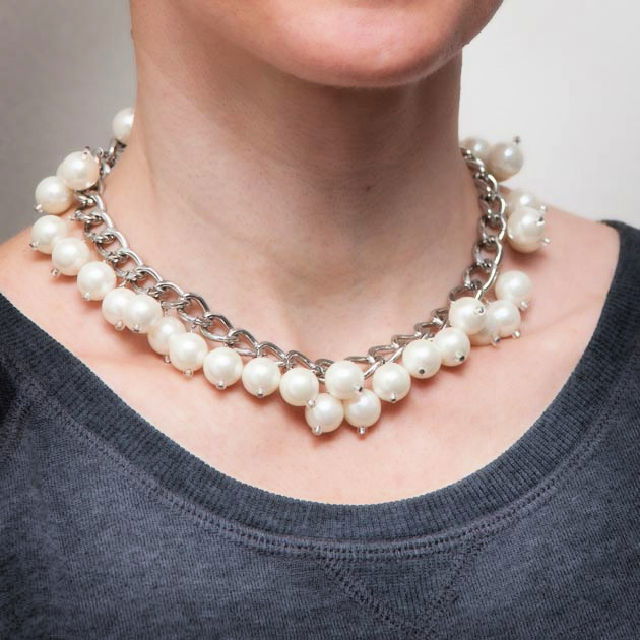 Elevate your style with a unique twist on the classic pearl necklace. This large chain and pearl necklace DIY offers an edgy and contemporary update to this timeless accessory. Combining a heavy chain with delicate pearls, this necklace is a versatile piece that can complement any outfit. Gather your materials, including a large chain, large pearls, small beads, jump rings, closure, pliers, and bead pins.
Measure out the wanted length of your chain and attach the closure using jump rings. Make bead pins by adding a small and large bead to each pin and securing them to the chain links. The resulting movement adds an intriguing touch to the necklace.
Experiment with gold or silver chains to personalize your creation. This necklace exudes elegance and edge, whether paired with a casual ensemble or a little black dress. Unleash your creativity and make a statement with your very own pearl necklace. trinketsinbloom
8. DIY Wood and Copper Necklaces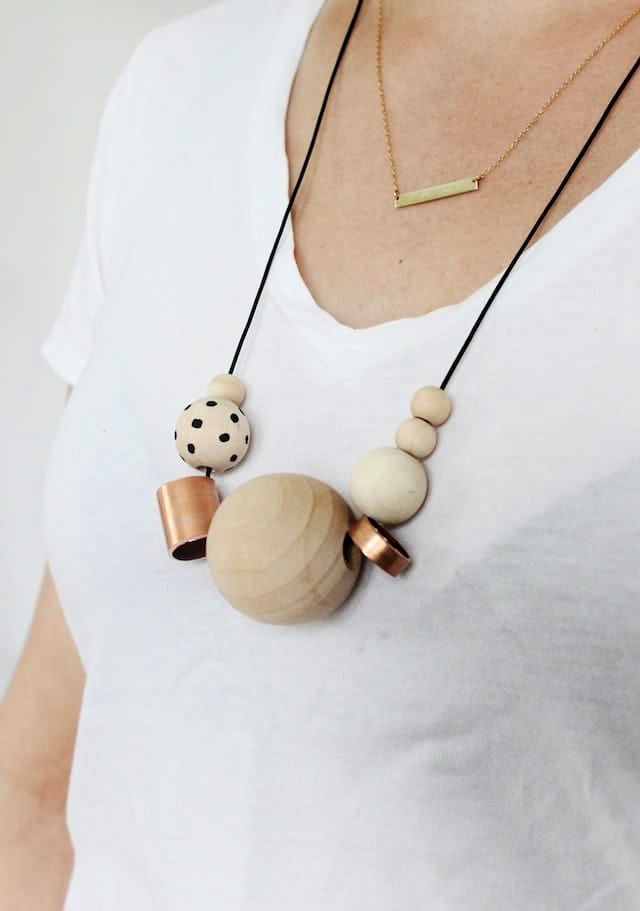 Discover the creative world of DIY with this unique and modern project: DIY wood + copper necklaces. These statement necklaces are made using raw and simple materials like wooden beads and copper tubing. The possibilities are endless, as you can personalize the design to match any outfit.
Follow the step-by-step instructions to make copper tube beads using a tube cutter. Add a touch of flair with polka dots painted on some wooden beads.
String together different combinations of beads and tubing on a leather cord, allowing for variations in length and style. Finish off each necklace with a small bead and knot. Embrace your creativity and enjoy the stunning results of this jewelry project. seekatesew
9. Modern DIY Tassel Necklace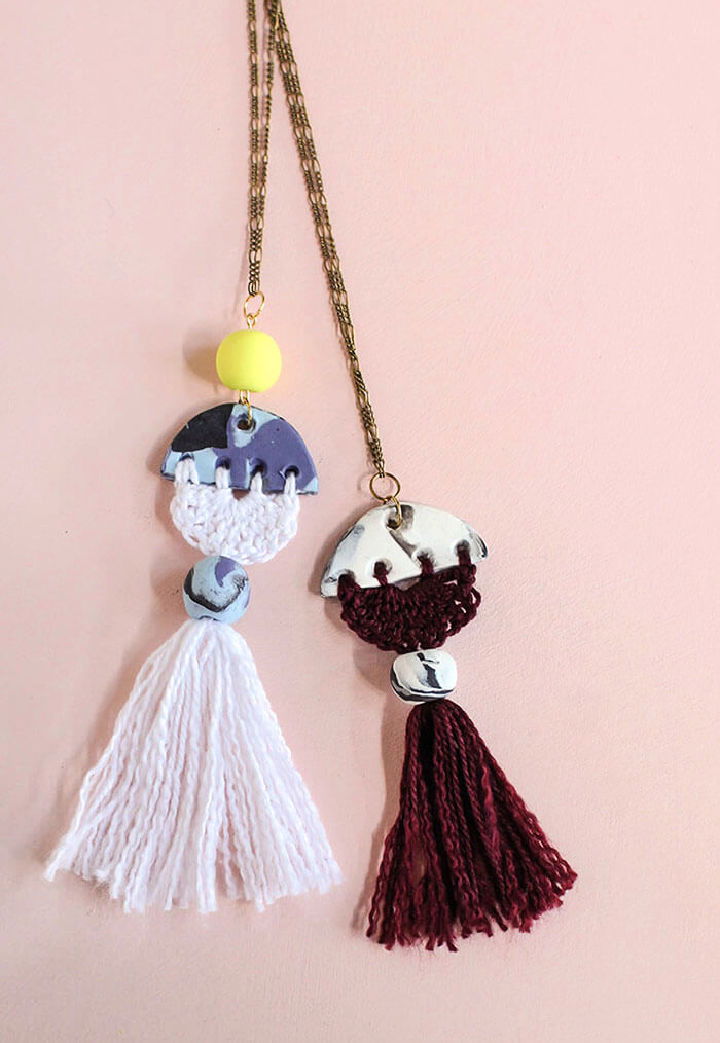 Discover stunning DIY necklace ideas to create unique, customizable pieces that showcase your personal style and creativity. Get a one-of-a-kind piece of jewelry with this modern tassel DIY necklace tutorial. You can customize this necklace to suit your style by combining marbled clay and crochet.
You can make multiple necklaces in no time with simple steps and supplies like oven-bake clay, a craft knife, embroidery floss, and crochet hooks. The tutorial guides you through marbling the clay, cutting circles, making clay beads, and baking them.
Then, you'll learn how to crochet a semicircle and add a tassel for a unique touch. Finally, attach the chain and jump rings to complete the necklace. This project is a delightful way to showcase creativity and craft a trendy accessory! persialou
10. Painted Wooden Bead Necklace Ideas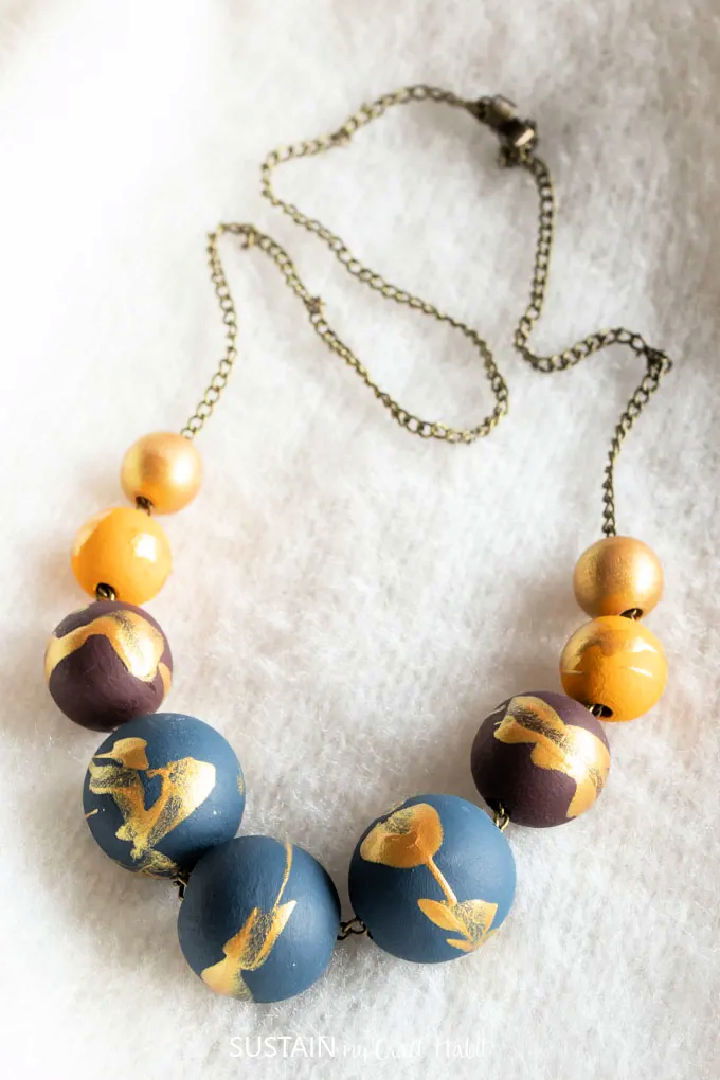 Unleash how to make a stunning painted DIY wooden bead necklace with jewel tones and gold embellishments with this easy-to-follow tutorial. Perfect for adding glamour to any outfit! This DIY jewelry idea is perfect for gifting or selling as a handmade craft. You can easily make this one-of-a-kind necklace using natural round wood beads in varying sizes, antique gold jewelry chains, jump rings, and a magnetic clasp.
Paint the wood beads in deep midnight blue, black plum, saffron yellow, and extreme sheen 24K gold for a modern and stylish look. With simple instructions and tips, you can assemble the necklace and attach the magnetic fasteners to complete the piece.
This handmade jewelry will catch your attention and garner compliments whenever you wear it. Consider using a lobster clasp for a stronger closure. Get creative and enjoy the process of making this painted wood bead necklace. sustainmycraft
11. Easy Hand-stamped Necklace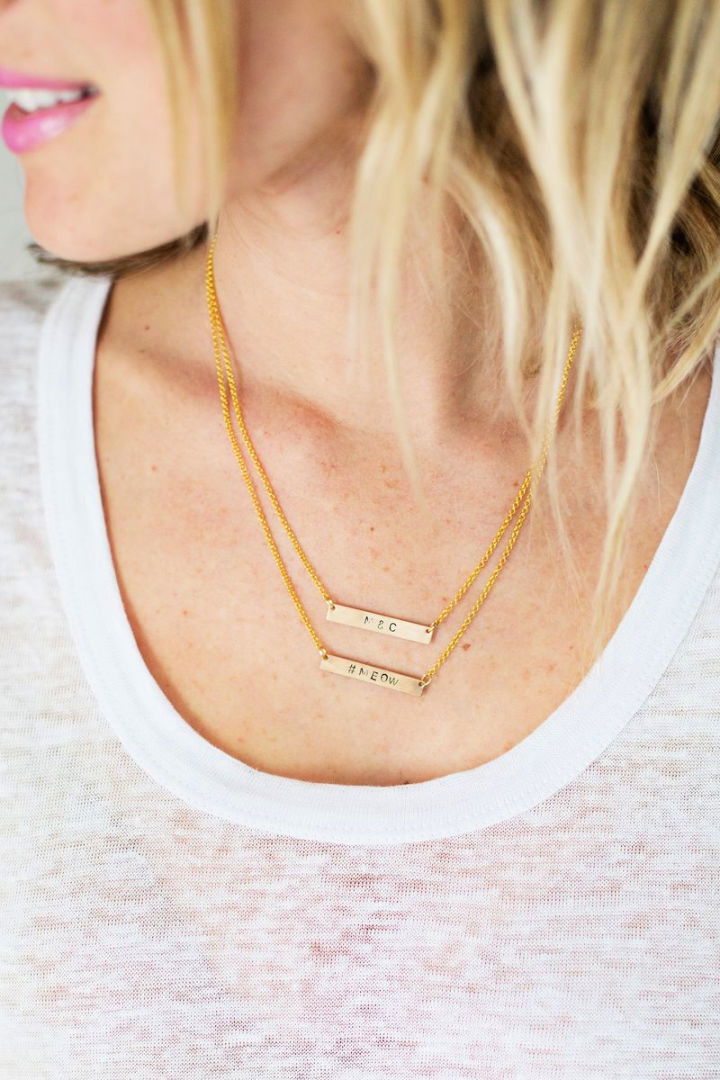 Elevate your style with personalized DIY stamped metal jewelry using this easy technique. You can make unique and customized necklaces with just a few supplies, whether a meaningful phrase, name, or initials. The process involves stamping metal blanks using letter and number punch stamps, a jeweler's bench block, and a hammer.
Following step-by-step instructions, you'll achieve clean and defined impressions on the blanks. To add depth, darken the stamped letters with a black marker and then wipe off the excess. With the basics mastered, you can make double pendant necklaces by attaching stamped blanks to gold necklace chains using jump rings.
The possibilities for personalized jewelry are endless, from anniversary dates to fun hashtags. Get creative and make thoughtful gifts or stylish accessories for yourself. Happy stamping! abeautifulmess
12. How to Make a Knot Necklace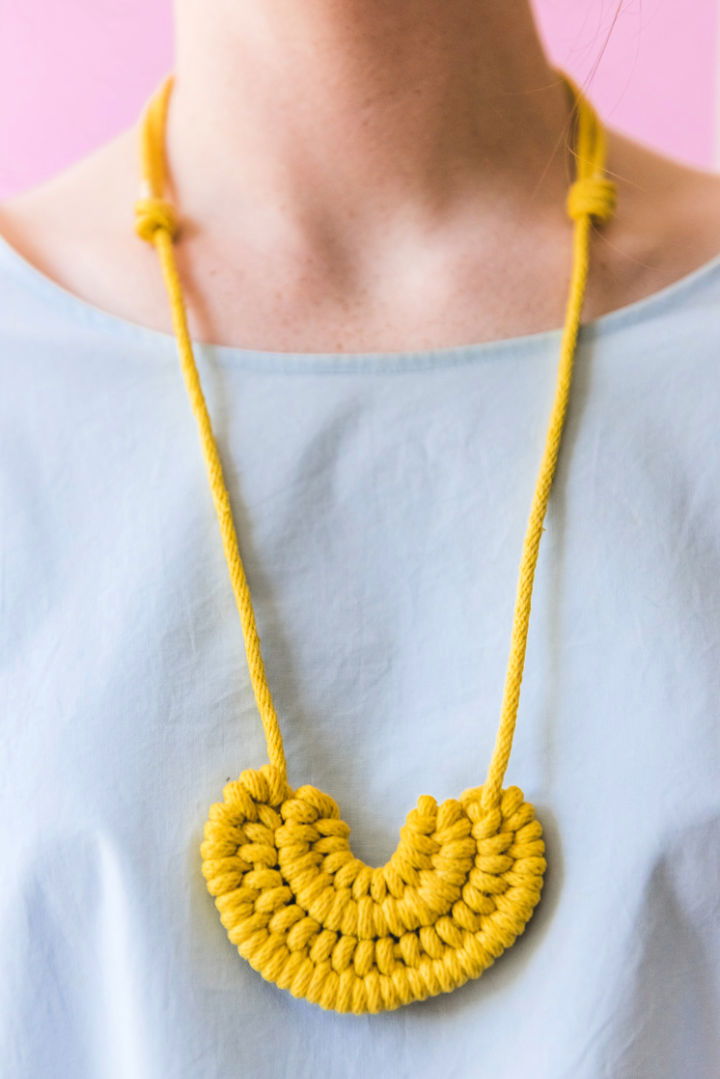 Unleash the captivating world of knot artistry with this knot necklace pattern. This ultimate DIY craft guide is a must-have addition to your collection, featuring a variety of tutorials from home decor to fashionable shoe embellishments. One of the standout projects is the intricate yet simple knot necklace.
You can make a stunning accessory that elevates any outfit using ¼" rope, thread, needle, hot glue gun, and Rit Dye. This guide provides detailed instructions on crafting the necklace's inner and outer semicircles and how to attach them and make sliding knots for closure.
Additionally, the guide offers valuable tips on dyeing your necklace to achieve your desired color. Unleash your creativity and elevate your style with this unique and stylish knot necklace. larsbuilt
13. Pretty DIY Tassel Necklace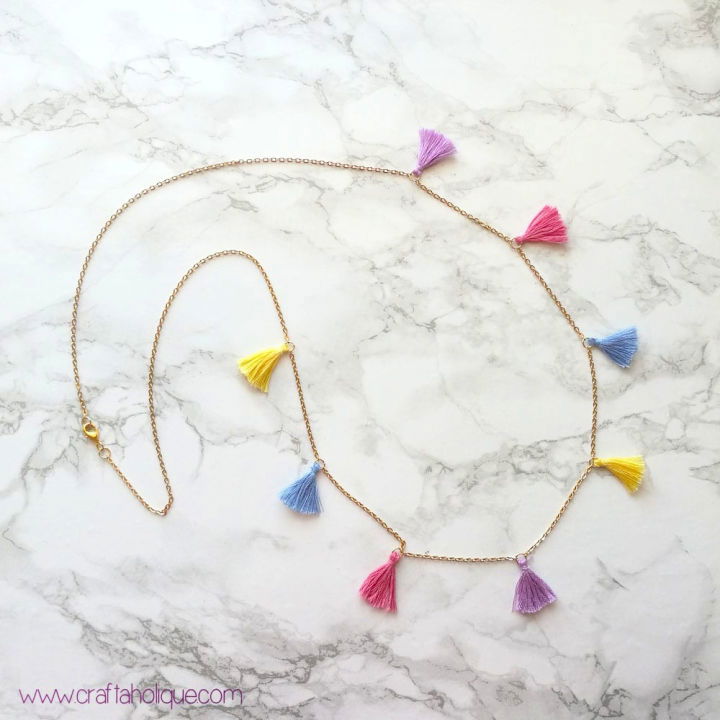 This easy-to-follow DIY tutorial teaches how to make a stylish and vibrant tassel necklace. This long necklace is Perfect for summer, with colorful yellow, pink, purple, and blue tassels. Gather your materials, including gold tone chains, jump rings, embroidery thread, and jewelry-making tools.
Follow the step-by-step instructions to make the tassels, wrap them securely, and trim them to the desired length. Measure the chain to fit around your neck and mark the placement for the tassels.
Attach the tassels to the chain using jump rings and complete the necklace by adding a lobster clasp. Wear this beautiful necklace to enhance any casual summer outfit and add a touch of creativity to your jewelry collection. craftaholique
14. DIY Statement Necklace for Beginners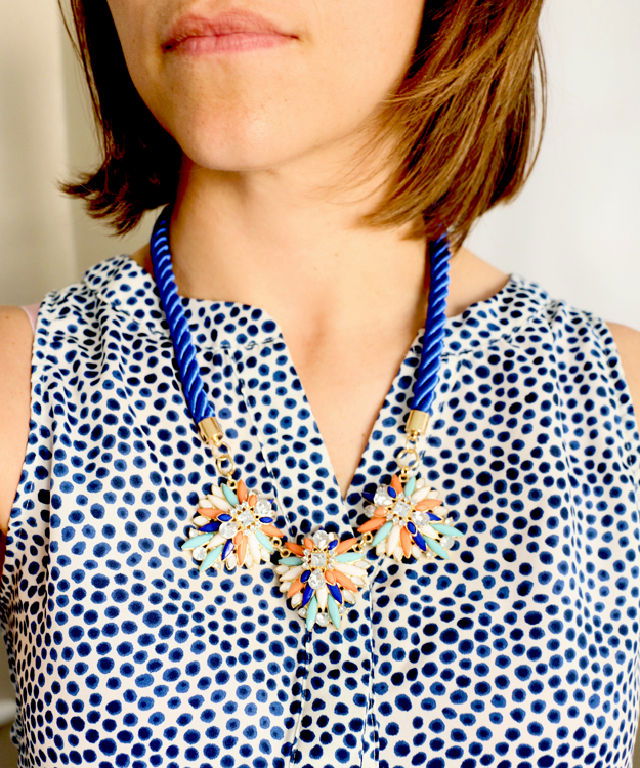 Craft a breathtaking statement necklace in mere minutes with this effortless DIY guide! This necklace is both stylish and budget-friendly. Using Darice Statement Looks components; you can easily mix and match to make a necklace that rivals any high-end piece.
With just a few supplies, including Darice Statement Looks Chain, Darice Statement Looks Statement Piece, and jewelry pliers, follow these three easy steps. Open a jump ring, slide on the statement piece, and close the jump ring.
Repeat on the other side of the chain. Voila! You now have a beautiful necklace that will turn heads at a fraction of the cost of a J.Crew necklace. Get creative and enjoy making this effortless jewelry piece today. happinessiscreating
15. Make Your Own Boho Fringe Necklace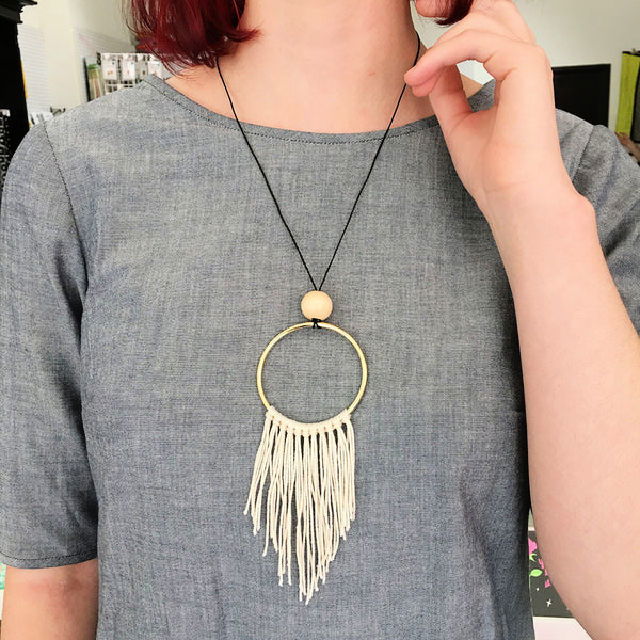 Get a trendy boho fringe necklace with this DIY tutorial. You can easily make this stylish accessory using macrame supplies like brass rings, wooden beads, and cotton cords in under 30 minutes. The tutorial provides step-by-step instructions for cutting the fringe, tying knots, trimming the ends, and adding a large bead and leather cord to complete the necklace. Perfect for beginners and experienced crafters, this project offers a creative and unique way to showcase your macrame skills. Get ready to rock this fashionable necklace and showcase your handmade jewelry expertise. brooklyncraft
16. Plastic Lids Necklace Craft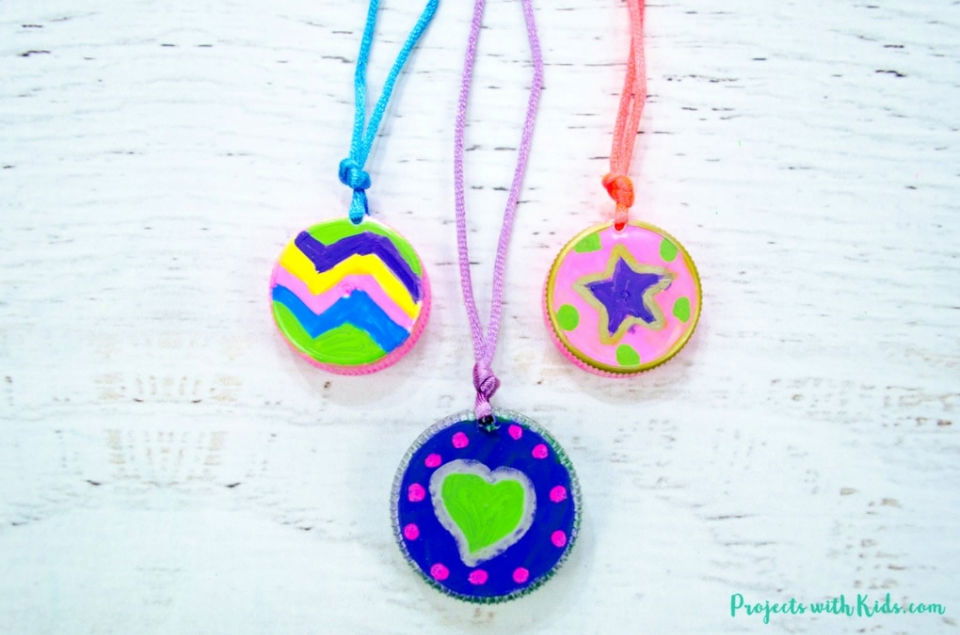 Unleash your inner artist with these easy-to-follow DIY necklace ideas, perfect for crafting elegant accessories on a budget. If you're looking for a fun and easy DIY project for your kids, look no further than this fun and easy upcycled necklace craft! Your child can unleash creativity and make unique necklaces using plastic lids, satin jewelry cord, paint pens, and optional jewel stickers. This craft is perfect for Earth Day, Mother's Day, or a fun birthday party activity.
Simply gather clean and dry plastic lids, draw designs with paint pens, and add jewel stickers if desired. Then, poke holes in the lids (adult supervision required), thread the satin cord through the holes, and tie a knot to secure the lids.
The finished necklaces are bright and colorful and make great accessories. Your child will have a blast making these and can even share them with friends. Explore more jewelry crafts for kids on Pinterest and other inspiring projects in the Recycle & Make Earth Day Series. projectswithkids
17. Making a Beaded Pendant Necklace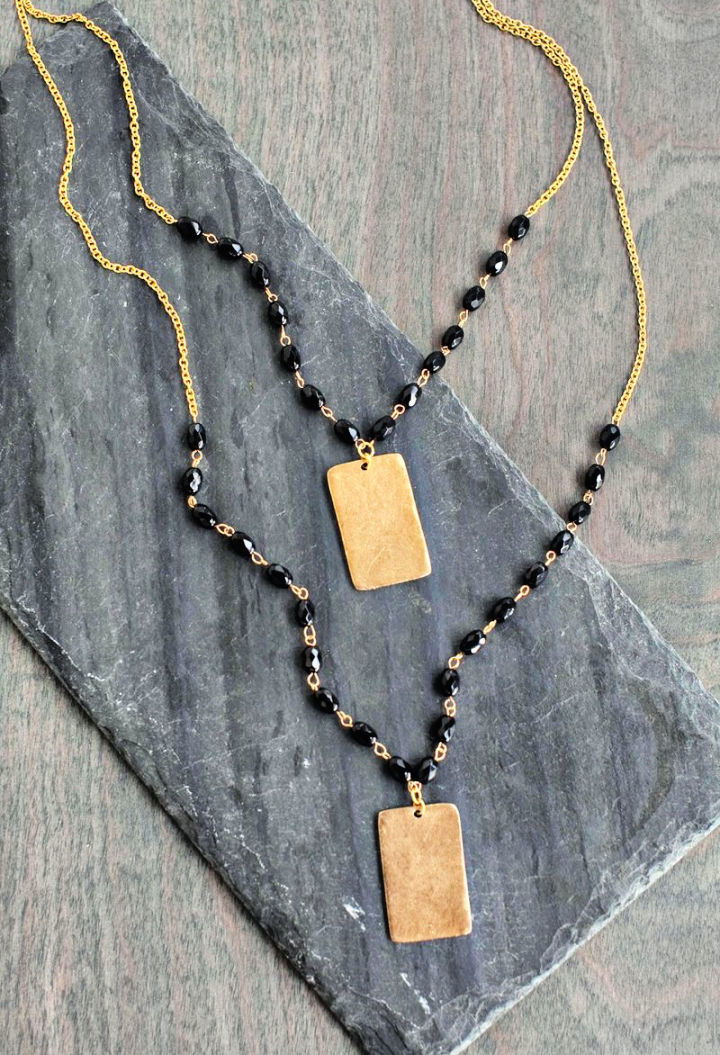 Get ready to make a statement with your stunning DIY pendant necklace! With this easy tutorial, you can make a unique piece similar to the one that sold out at Anthropologie. Let's get creative and make a necklace that would make any fashion lover envious!
With just a few supplies like gold eye pins, faceted black onyx oval beads, gold cable chain, gold hammered rectangle blanks, jump rings, and a lobster claw closure. You can make your unique piece. Simply link the beaded sections using pliers and wire cutters, connecting them with jump rings. Add the hammered rectangle blanks and attach the chains to complete the necklace.
This budget-friendly version costs around $40, offering significant savings compared to the original $240 necklace. Customize the length and bead count to suit your preferences. Unleash your creativity and enjoy the satisfaction of crafting your stylish accessory. abeautifulmess
18. Beautiful Pearl and Gold Chain Necklace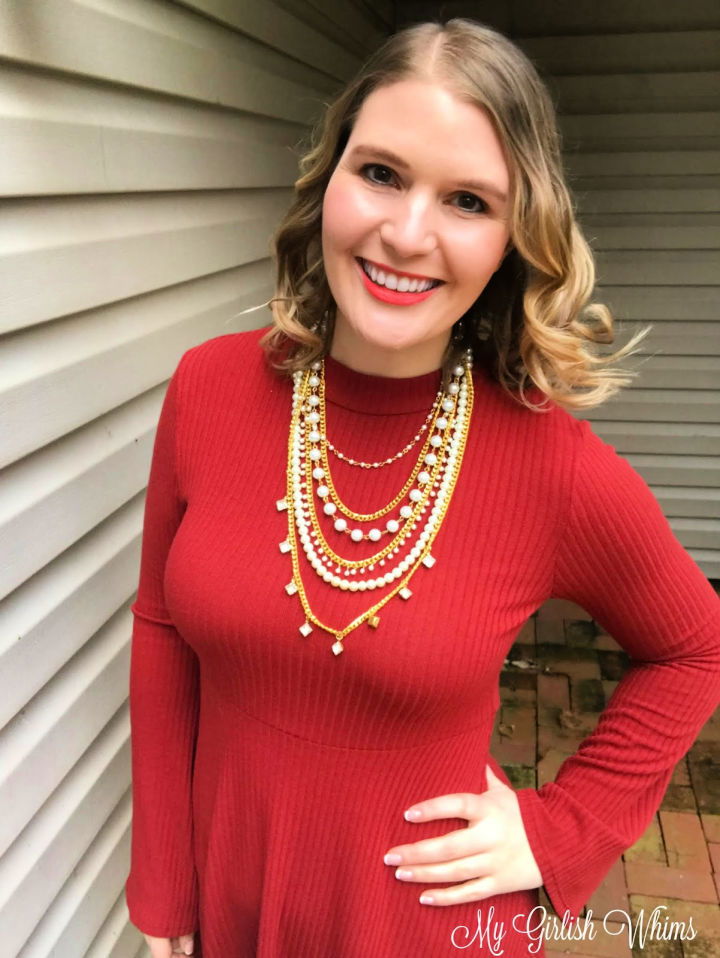 Impress your friends with these trendy DIY necklace ideas, designed to elevate any outfit with a chic, personalized touch. Make a beautiful DIY necklace with a gold chain and pearls inspired by a LOFT design. This step-by-step guide will teach you how to make your version using simple jewelry-making techniques. Gather supplies like needle nose pliers, round nose pliers, wire cutters, pearls of different sizes, eye pins, head pins, chunky gold chains, crystal charms, jump rings, and beading wire.
Follow the instructions to make chains of pearls, add charms and string pearls onto the beading wire, and attach crystal charms to the longest chain.
Finally, assemble all the strands using multi-strand connectors and jump rings. This brilliant necklace is perfect for adding a touch of elegance to any outfit and is sure to receive compliments wherever you go. mygirlishwhims
19. Cowrie Shell Macrame Jewelry Ideas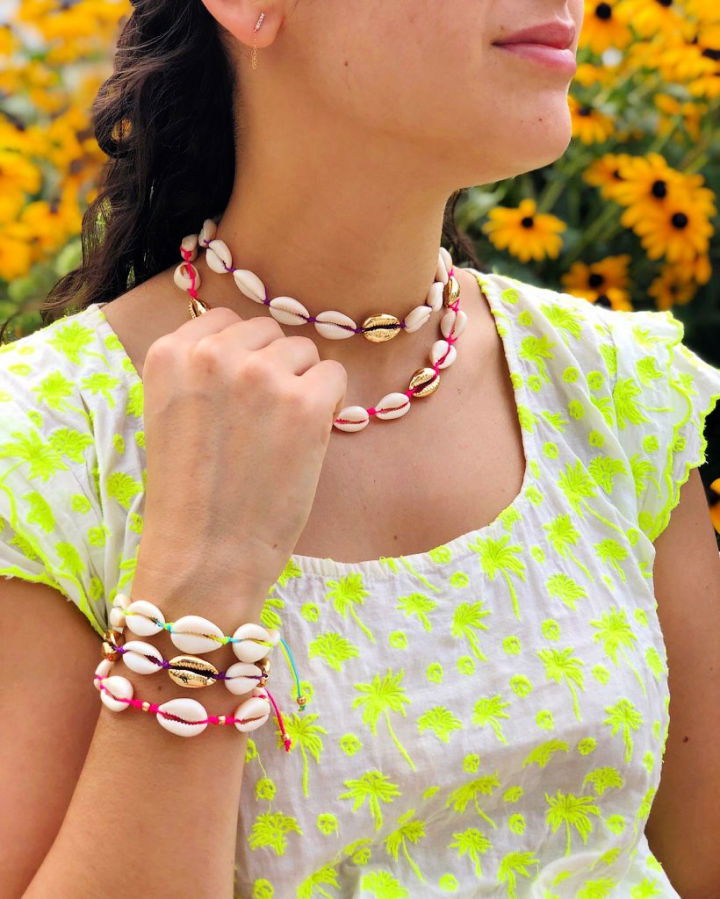 Explore eco-friendly DIY necklace ideas by repurposing old materials, transforming them into stylish, one-of-a-kind statement pieces. Want to make your own fancy cowrie shell jewelry? Follow this simple DIY tutorial and show off your style! Cowrie shells, also known as puka shells, are perfect for making necklaces, chokers, bracelets, and more.
This macrame method requires just a few materials: cowrie shells, knotting cord in your preferred color, and gold seed beads for a professional touch. Follow the step-by-step instructions to knot your strings together, add shells, and make an adjustable square knot closure.
You can customize your shell jewelry by using different colors, adding beads, or experimenting with different styles. Get creative and show off your trendy handmade accessories! theneonteaparty
20. DIY Triple Strand Crystal and Pewter Necklace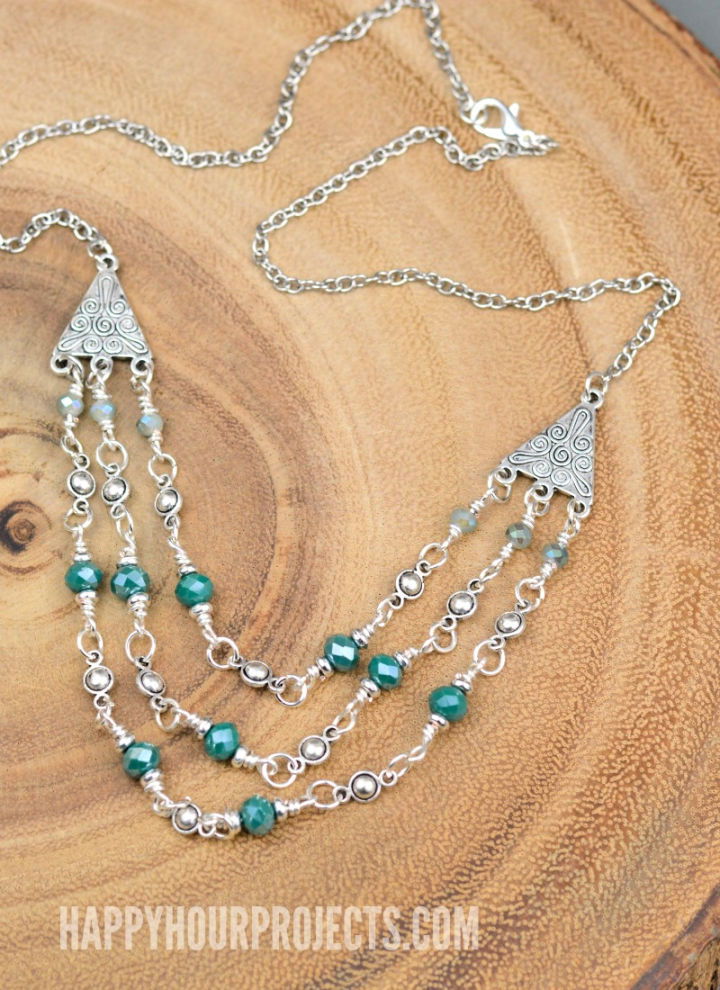 Add a special touch to any outfit by making a beautiful triple-strand necklace with this easy DIY jewelry project. Perfect for! This versatile design features crystal and pewter elements that complement casual and dressy styles. The bib-style coverage adds a touch of elegance without being bulky. Customize the necklace with your favorite colors to make it truly unique.
The project is sponsored by Happy Mango Beads, a fair-trade and eco-conscious bead retailer offering a wide selection of natural and ethnic beads. You'll need basic wire wrapping skills and supplies like pewter connectors, crystal beads, spacer beads, a silver plated wire, chains, jump rings, and pliers.
Follow the step-by-step instructions to make beaded connectors and assemble the necklace. In under an hour, you'll have a beautiful piece of jewelry that showcases your creativity. Enjoy the art of beading, and have fun making your necklace! happyhourprojects
21. Easy DIY Lava Stone Necklace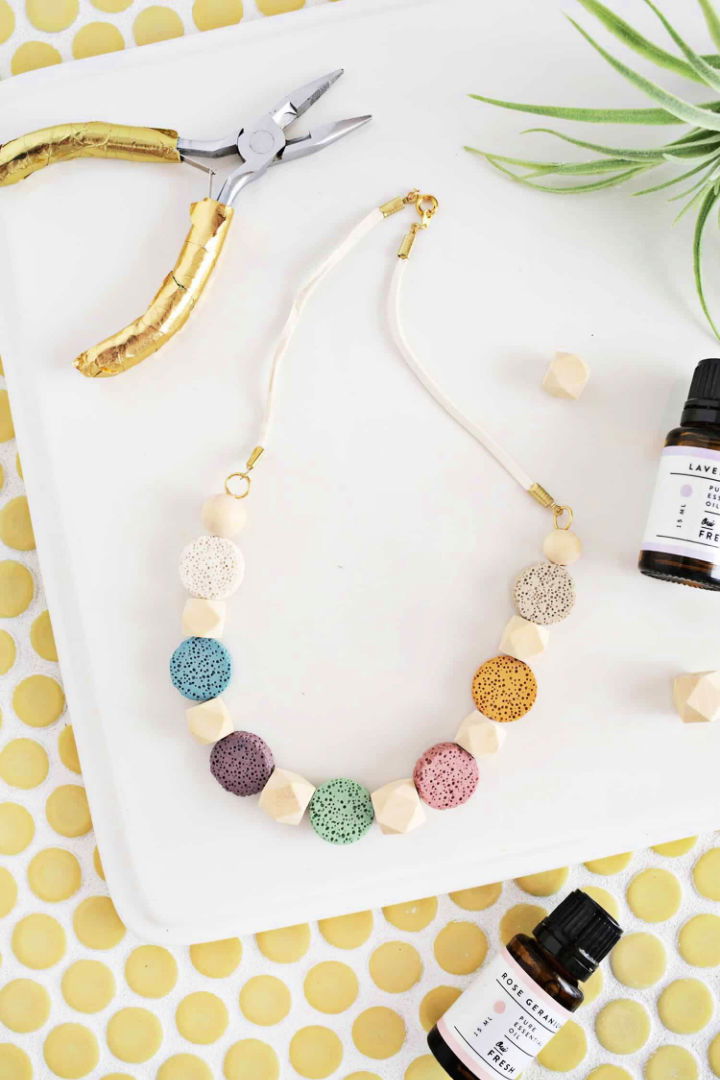 Enhance your style and well-being with a DIY essential oil lava stone necklace! Discover the incredible benefits of incorporating essential oils into your jewelry collection. By using lava stone beads, which are porous and absorbent, you can infuse your favorite scents into the beads and enjoy the fragrance wherever you go.
This step-by-step guide lists all the materials you'll need, including lava stone beads, flat cords, fold-over cord ends, wooden beads, jump rings, and essential oils. Make a unique pattern with your beads, thread them onto the wire, and secure them with jump rings.
Attach the flat cord using cord ends, and add a jewelry clasp for easy wear. To apply the essential oil, dilute a few drops with a carrier oil and gently drop them onto the stones. Allow the oil to absorb before wearing. This fashionable and aromatic accessory is a must-have with endless possibilities for scent combinations. abeautifulmess
22. How to Make Macrame Necklace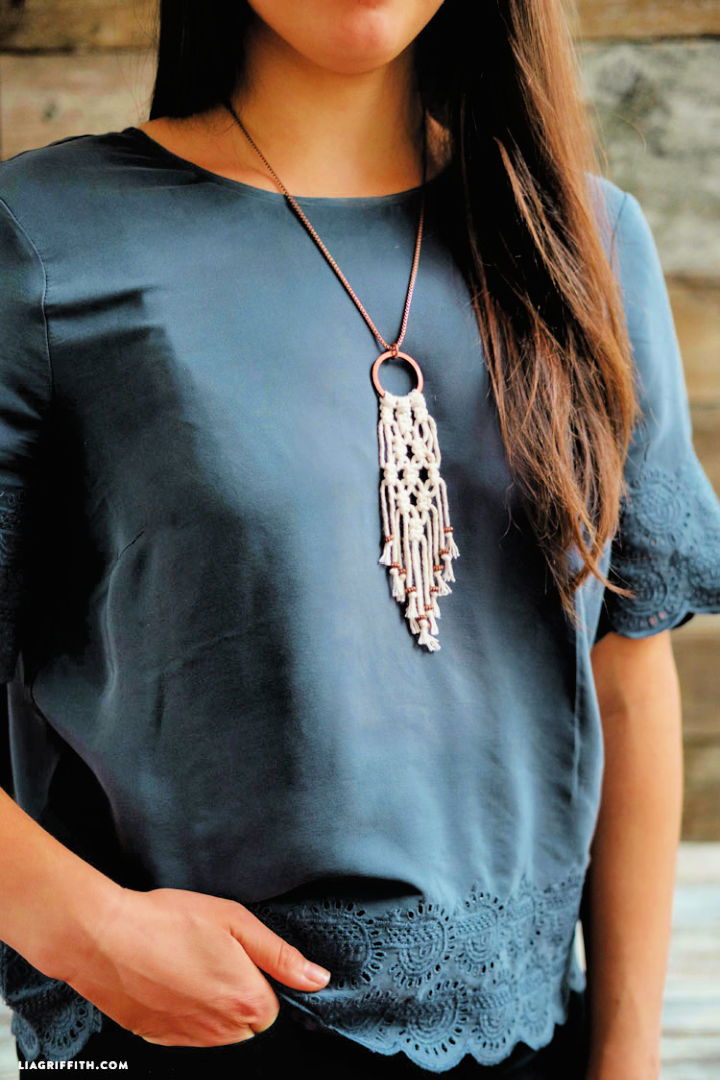 Elevate your style and embrace the therapeutic benefits of essential oils with this DIY macrame necklace. Macrame has gained immense popularity due to its natural and artistic appeal, allowing you to craft unique pieces.
This necklace utilizes the square knot, one of the basic macrame knots, and can be paired with your summer outfits. Gather your materials, including a chain, jewelry findings, beads, cotton twine, and hemp cord. Follow the detailed photo tutorial to braid your macrame necklace. Get ready to showcase your creativity! liagriffith
23. Making Your Own Vintage Button Necklace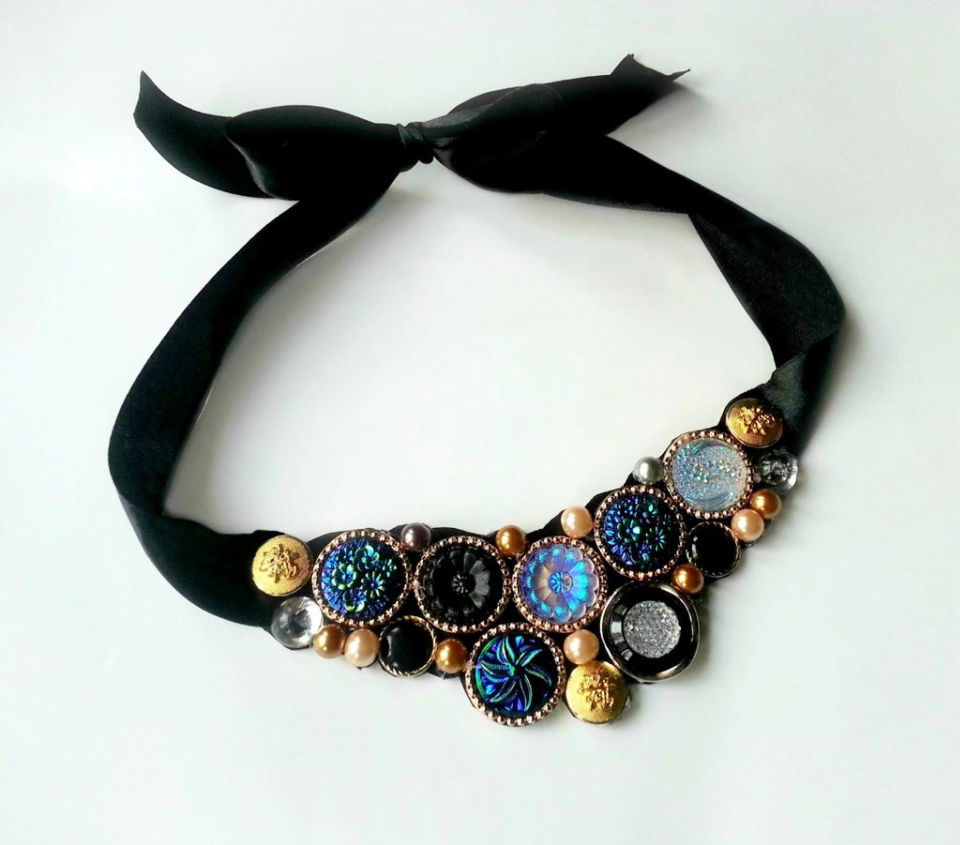 From minimalist designs to bold statement pieces, our DIY necklace ideas cater to every fashion enthusiast's taste and skill level. This DIY vintage button necklace tutorial will make a stunning accessory. Embrace the charm of vintage crafts by crafting your necklace using a collection of unique buttons. Begin by embarking on a mission to collect vintage buttons by asking friends and family or repurposing old sweaters.
This hands-on project will not only result in a beautiful necklace but also allows you to showcase your creativity. Gather the necessary materials, including cutting pliers, rexine or faux leather, satin ribbon, sewing scissors, hot glue, and faux pearl beads.
Follow this informative guide's step-by-step instructions to make your vintage button necklace like a pro. Elevate your style and flaunt your individuality with this delightful accessory that combines nostalgia and fashion-forward design. instructables
24. DIY Reversible Valentine's Heart Necklace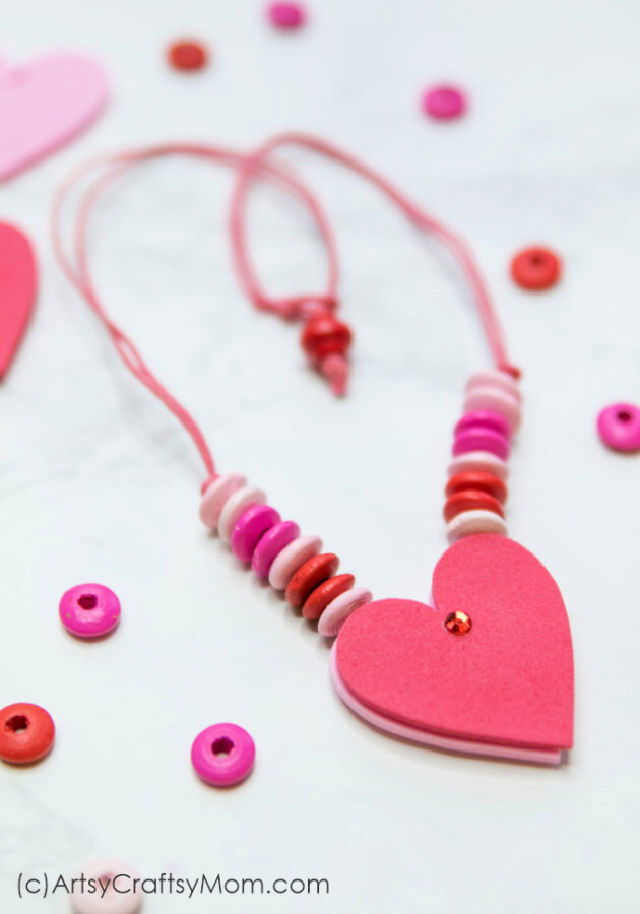 Gear up to craft a one-of-a-kind and sentimental present with this DIY reversible Valentine's heart necklace guide. In just a few minutes, you can craft a beautiful necklace that can be worn in two ways. Recalling the romantic charm of heart lockets from older movies, this necklace adds a touch of nostalgia to your Valentine's Day celebrations.
You'll make a stunning piece with simple materials like wooden beads, jewelry-making nylon cord, and foam hearts. Follow the instructions to thread the beads, attach the foam hearts, secure the loose ends, and add a necklace lock.
Perfect as a classroom gift or for best friends, this necklace pairs wonderfully with a cute Tic Tac Toe Valentine Card. Get ready to ingrain your loved ones with this thoughtful Valentine's Day gift! artsycraftsymom
25. How to Make Resin Feather Pendants Necklace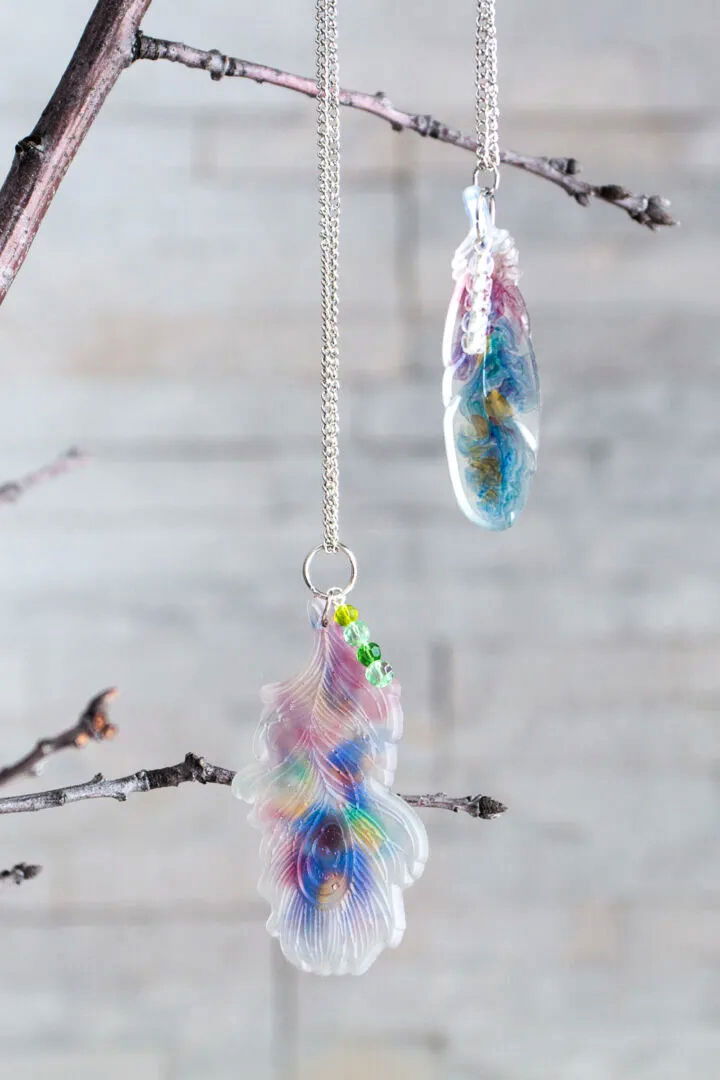 Spark your imagination with these DIY necklace ideas, offering endless possibilities for creating fashionable, handcrafted jewelry at home. Want to make beautiful, nature-inspired resin feather pendants? This easy DIY guide makes them easy to make, and you can add a lovely watercolor effect! This step-by-step guide will show you how to use a feather silicone mold, resin, and transparent dyes to achieve the desired look.
Mix equal amounts of resin and hardener, pour into the mold, and then add drops of different colored dyes. Use a toothpick to make a watercolor effect by drawing out the colors.
Let the resin cure, drill a hole in the feather's stem, and add jump rings for hanging. These boho-style pendants are perfect for adding a touch of nature to your jewelry collection. resincraftsblog
26. How to Make a Crescent Moon Necklace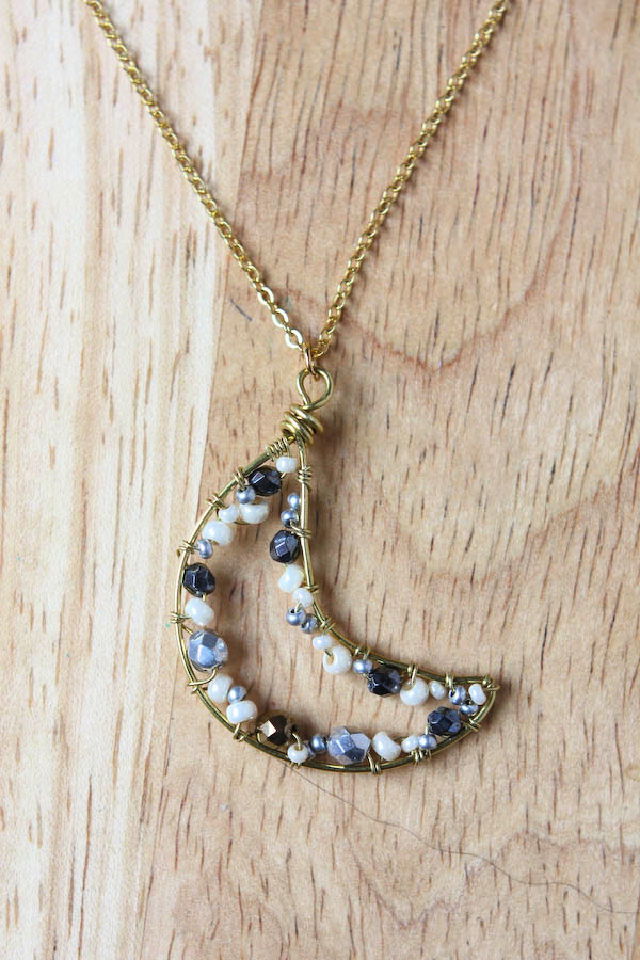 Take up the sparkle and make this DIY crescent moon necklace using just wire and beads! This project is easy and perfect for anyone exploring their creative side. Shine bright like the moon and make something unique, customized to your taste and style. Let's start crafting! The crescent moon symbol is popular and timeless, making this necklace a stylish accessory.
You can choose any type and color of wire and a selection of beads to customize your necklace. The project involves making a teardrop shape with wire, forming a wrapped loop, and shaping the wire into a crescent moon.
Then, add your chosen beads by tightly wrapping wire around the frame and threading the beads onto the wire. Continue adding beads until you've gone all the way around the inside of the crescent. Finally, attach the pendant to a necklace using a jump ring. Express your creativity and enjoy the process of making your unique necklace. makeandfable
27. Cute DIY Saint Patrick's Day Necklace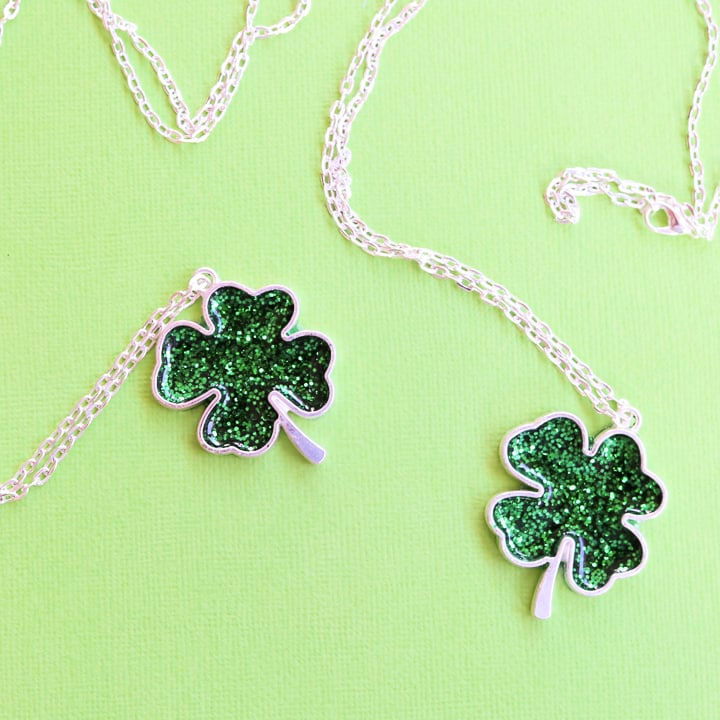 Master the art of personalized jewelry with these beginner-friendly DIY necklace ideas, designed to boost your confidence and creativity. Make a charming DIY St. Patrick's Day necklace to display your green spirit proudly! This easy project combines resin, shamrock-shaped bezels, and a touch of glitter for a super cute accessory. Even if you're new to working with resin, this beginner-friendly tutorial will help you dive right in.
Simply secure the bezels with masking tape and hot glue, mix the resin according to instructions, add green dye and glitter to the mixture, then carefully pour it into the bezels.
Allow the necklace pieces to cure for 24 hours, periodically checking for resin seepage. Once cured, attach a necklace chain, and voila! You'll have a dazzling piece of green jewelry to complement any outfit! countrychiccottage
28. How to Make a Stone Necklace at Home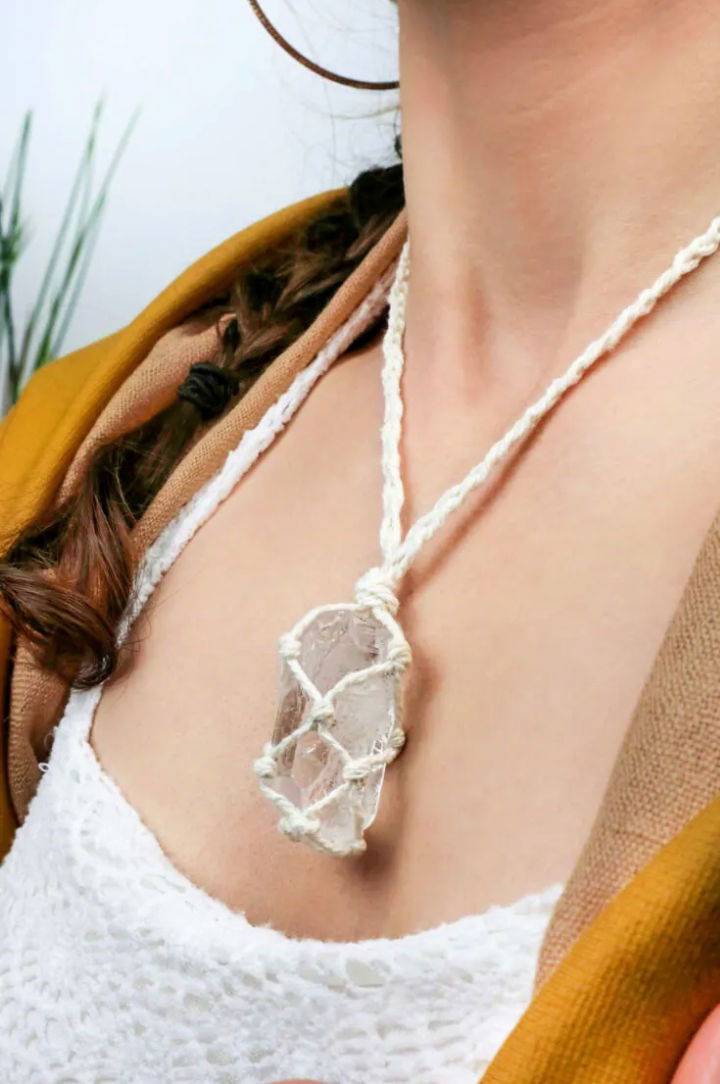 Dive into the world of crafting and DIY a beautiful macrame necklace with this easy-to-follow tutorial. This macrame necklace features an earthy-looking crystal and is an amazing gift for your near ones or yourself. You only need a rock or crystal, 1mm cotton twine, and scissors. Cut the twine to around 32 inches, depending on your desired necklace length and stone size.
Fold the twine in half and make a loop at one end with loose ends at the other. Knot the twine around the bottom of the crystal to secure it in place. Then, make a series of knots to form a triangular base for the crystal. Continue knotting around the crystal, working your way up and making a netting pattern.
Finally, braid the cords to make the necklace strands and secure them with a knot. Customize your necklace by adding beads or using different colored cords. This macrame necklace is a great craft project to sell or gift, suitable for teens and adults. craftsyhacks
29. Make Your Own Bead Cluster Web Necklace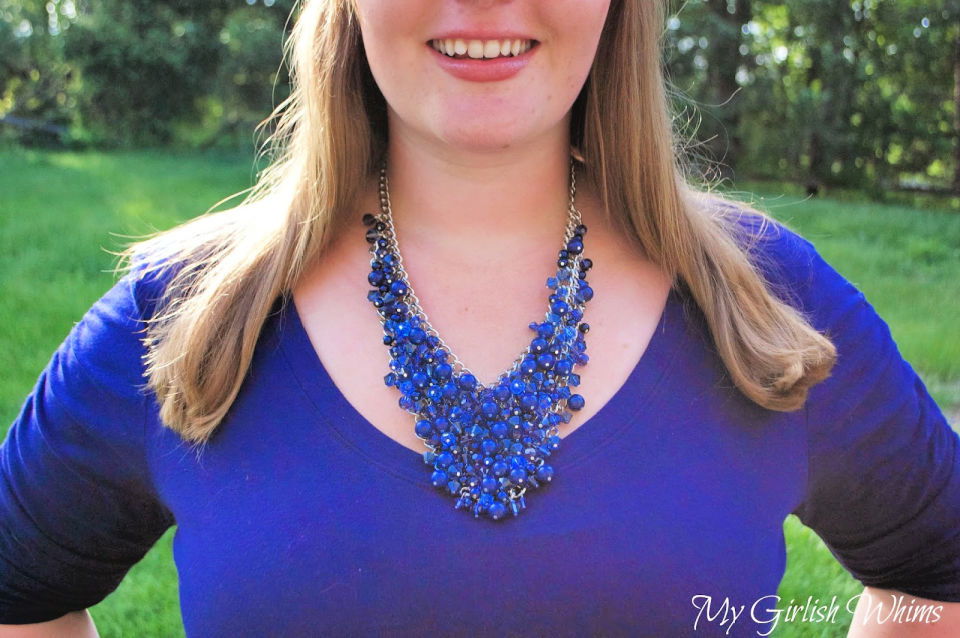 Uplift your style with a stunning DIY bead cluster web necklace. Amazing for adding elegance to any outfit, this necklace is a labor of love that yields impressive results. Gather your supplies, including chains, jump rings, head pins, crystals, and various blue beads, to begin the creative process.
Following step-by-step instructions, make the base using chain and jump rings, gradually decreasing in length. Then, attach various beads to the necklace base, alternating sizes and colors for a visually appealing design.
Finish off the necklace by connecting chain pieces with a split ring and adding a clasp. The result is a breathtaking cluster necklace that exudes charm and sophistication. Experiment with color schemes to match your wardrobe and showcase your unique style. mygirlishwhims
30. DIY Woven Bead Statement Necklace for Under $15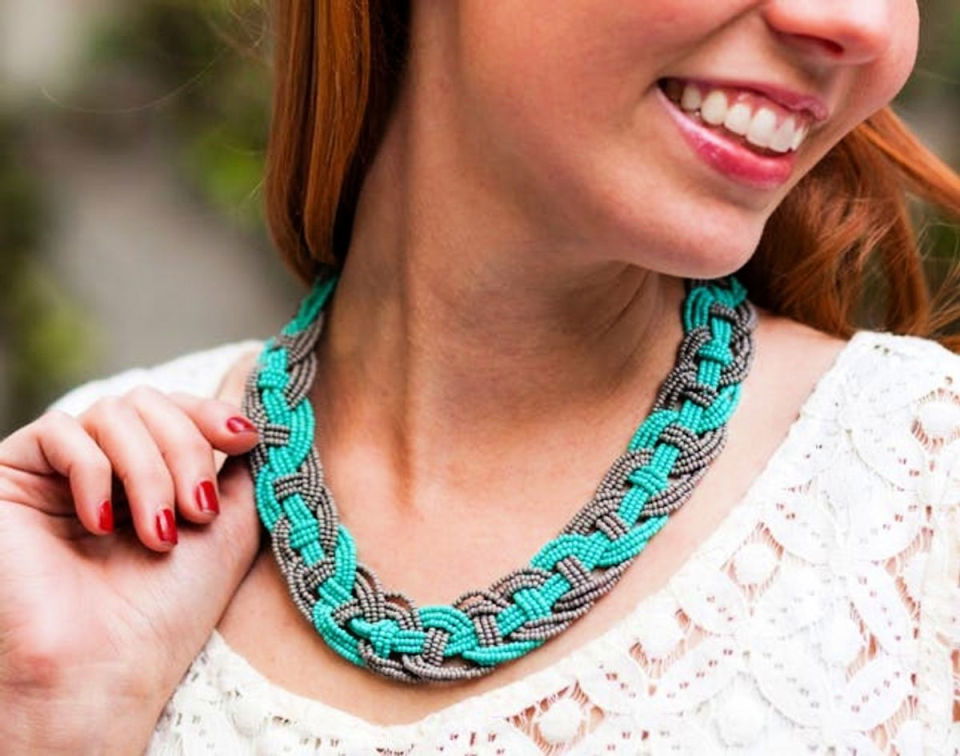 Gift your loved ones a heartfelt, homemade treasure by following our curated list of innovative DIY necklace ideas. Have a bold and trendy statement necklace for spring with this DIY weaving pattern. With a customizable color palette, you can choose the perfect seed bead combination to match your style. Follow the semi-intricate weaving instructions using jewelry thread and seed beads in your chosen colors.
The process involves weaving the strands together to make a stunning pattern. Once the necklace is complete, assemble the ends with silver cones, jump rings, and a lobster clasp. Apply E6000 glue to secure the ends and let it dry.
This eye-catching necklace is a must-have accessory for the season, and it's all handmade with love. Get ready to rock your unique creation and showcase your spring style! britco
31. DIY Tassel Statement Necklace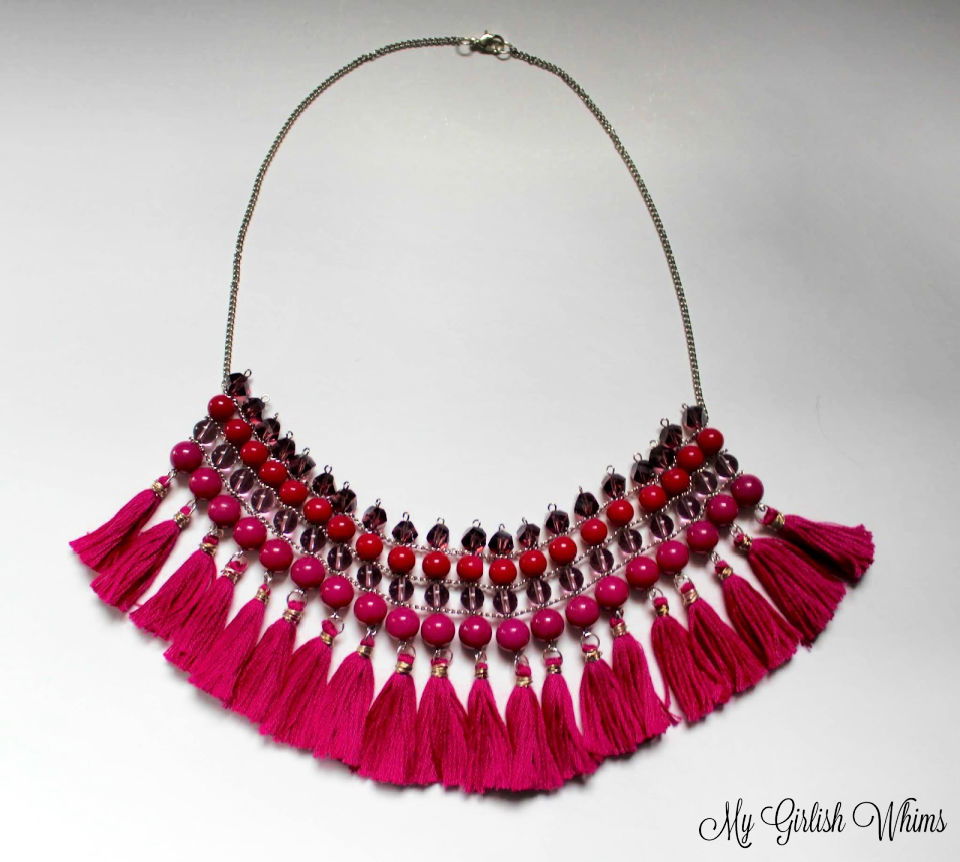 Turn your cherished memories into wearable art using our sentimental DIY necklace ideas that celebrate life's special moments. Embrace the tassel trend and showcase your creativity with this eye-catching necklace! This guide will show you how to make a gorgeous collared necklace adorned with colorful stone beads and playful tassels. No need for a tassel maker—this tutorial offers alternatives.
You can fashion your version of this trendy accessory using basic jewelry-making skills and supplies like needle nose pliers, wire cutters, embroidery thread, and more.
The step-by-step instructions ensure you'll achieve a professional-looking result. Pair this unique necklace with a simple outfit to instantly elevate your style. Make a stylish statement with this tassel necklace! mygirlishwhims
32. Shrinky Dink Jewelry Making Ideas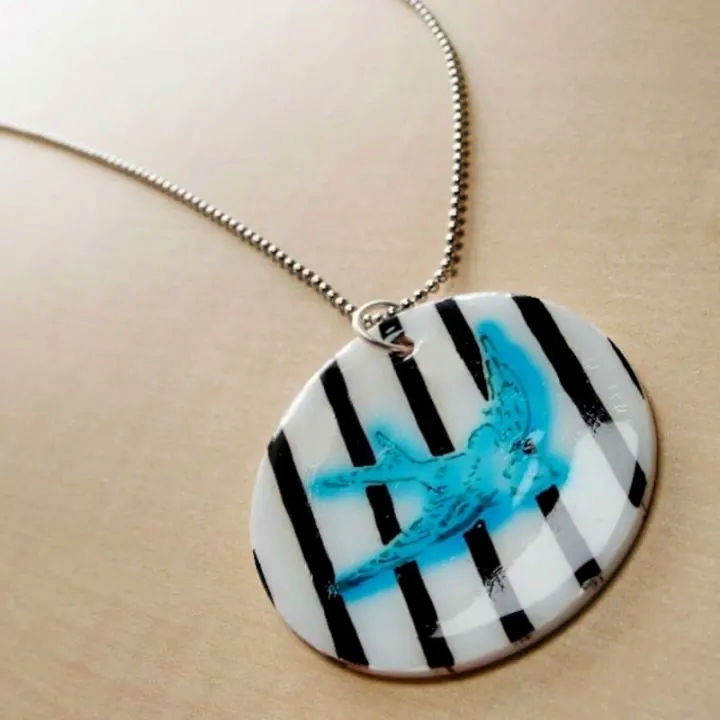 Try making this DIY shrinky dink necklace for a unique and trendy! Using shrink plastic, Sharpies, and stencils, you can craft a personalized necklace that is both lightweight and stylish. The Shrinky Dinks shrink to a smaller size and become thicker, making them perfect for jewelry.
This project involves cutting a circle shape from the Shrinky Dink material, coloring it with Sharpies, and baking it in the oven. Finish it off with Dimensional Magic for a glossy look. The resulting necklace is a creative and fun accessory you can proudly wear or gift to others. modpodgerocks
33. Beaded Statement Collar Necklace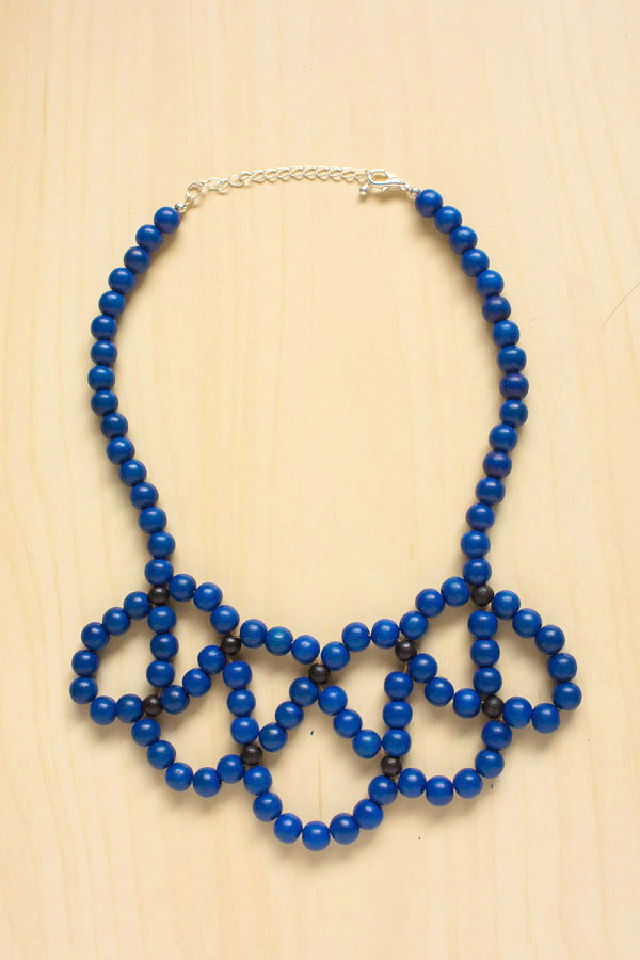 This DIY beaded statement collar necklace adds color and style to your outfit. Using wooden beads and thread, this lightweight accessory is perfect for adding uniqueness.
Inspired by the ancient netting technique, this contemporary take on beadwork is easy to create. The necklace features a pattern of 8mm and 6mm wooden beads, with detailed instructions on how to weave them together.
With the addition of a clasp and extension chain, you can adjust the necklace length to your preference. Try making your own and showcase your creativity with this stunning statement piece! makeandfable
34. DIY Beaded Necklace for Beginners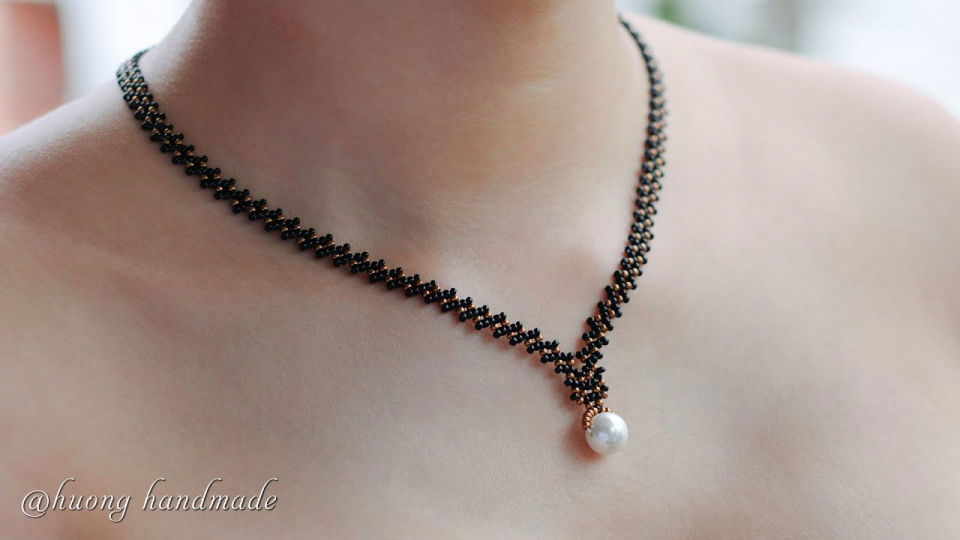 Want to impress your pals? Learn to make a DIY beaded necklace that everyone will envy. Don't worry; it's easy-peasy! This easy-to-follow tutorial provides step-by-step instructions and a list of necessary materials, including seed beads in two colors, a 10mm pearl, a lobster clasp, an extension tail chain, jump rings, a beading needle #11, and beading thread.
This guide offers more information about the materials used. Follow this tutorial dedicated to crafting beautiful beaded jewelry, where the necklace is created with love and passion. Discover the joy of making your unique accessories with this simple and stylish beaded necklace tutorial.
35. Quick and Easy Beaded Necklace Tutorial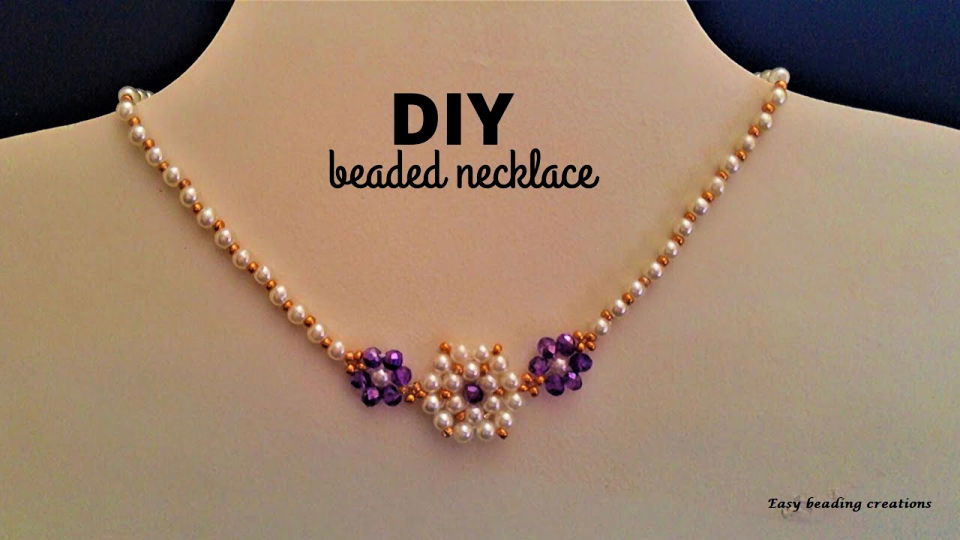 Unleash your creativity and make a striking statement that fits your style with this easy-to-follow DIY necklace tutorial! Using white pearls and rondelle beads, you can make a beautiful piece of jewelry to complement any elegant outfit.
This step-by-step guide will walk you through the process, ensuring you achieve professional-looking results. Whether you're a beginner or experienced in jewelry making, this tutorial is perfect for enhancing your skills.
Don't miss out on this opportunity to make your unique necklace. Follow this easy tutorial and be inspired to explore your creativity.
36. How to Make Beaded Necklace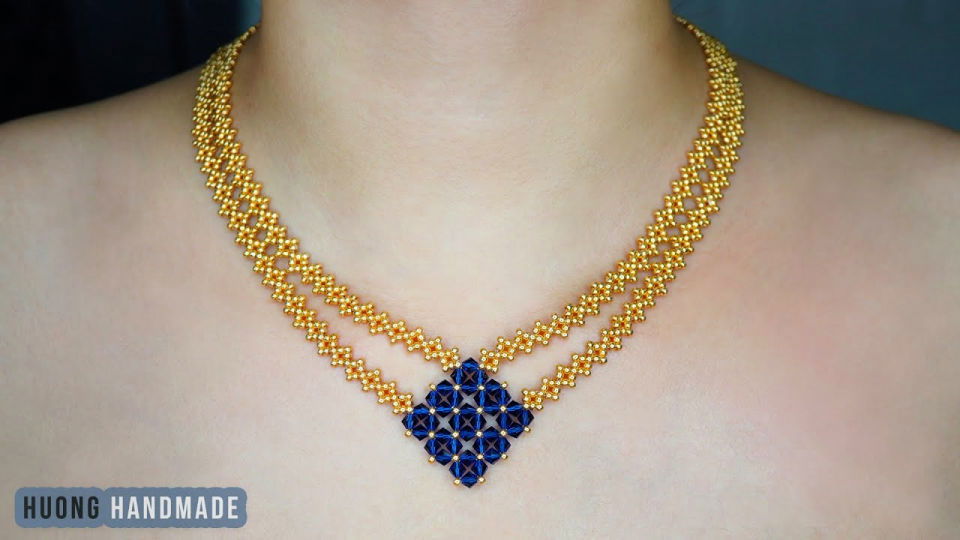 Add a touch of bohemian flair to your wardrobe with these inspiring DIY necklace ideas, perfect for free-spirited fashionistas. Unveil the secret to crafting a beautiful DIY beaded necklace effortlessly with this beginner-friendly tutorial. You can craft a beautiful accessory using only seed and bicone beads in no time.
Gather your materials, including seed beads size 11/0, bicone beads 4mm, a lobster clasp, an extension tail chain, jump rings, a beading needle #11, and beading thread.
Follow the step-by-step instructions in this helpful guide to make your unique beaded necklace. Whether you want to expand your jewelry-making skills or make a personalized gift, this tutorial will help you.
37. Make a Beautiful Necklace at Home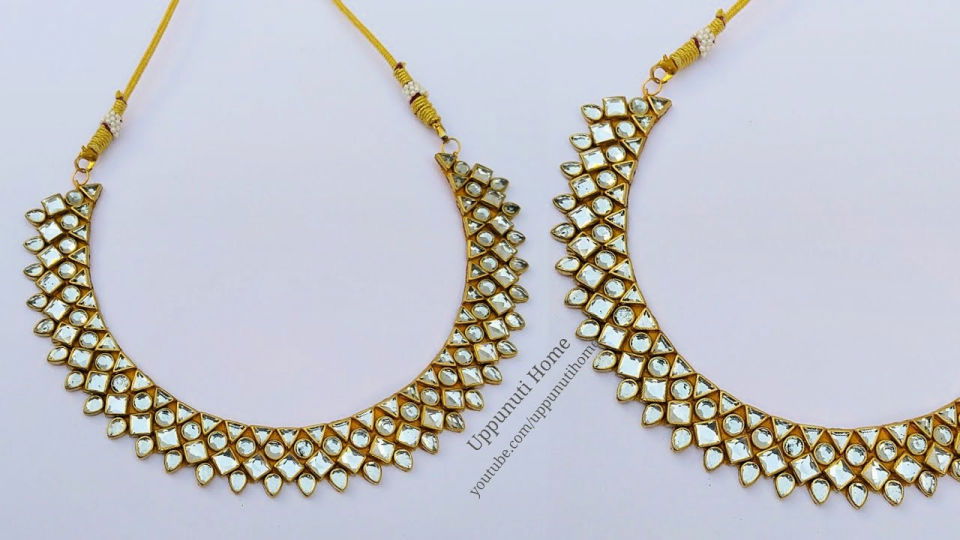 Set your inner designer free and make a dazzling necklace that's all your own! Learn how with our DIY guide and have fun crafting a truly unique accessory from the comfort of your home.
This choker-style necklace is a beautiful handmade accessory, perfect for bridal wear or to add elegance to any outfit. Using easy steps and readily available materials, you can unleash your creativity and craft a unique piece that reflects your style.
Whether you're a starter or an experienced jewelry maker, the tutorial will guide you through the process, allowing you to make a designer necklace that is both fashionable and budget-friendly. Elevate your accessory collection with this creative and unique project.
Related DIY Jewelry Making Ideas:
Discover fun and creative DIY jewelry making ideas that will inspire you to make unique pieces for yourself or as gifts.
DIY Jewelry Organizer
Check out our DIY jewelry organizer ideas with easy-to-follow steps! Perfect for keeping all of your accessories in one stylish place.
Conclusion: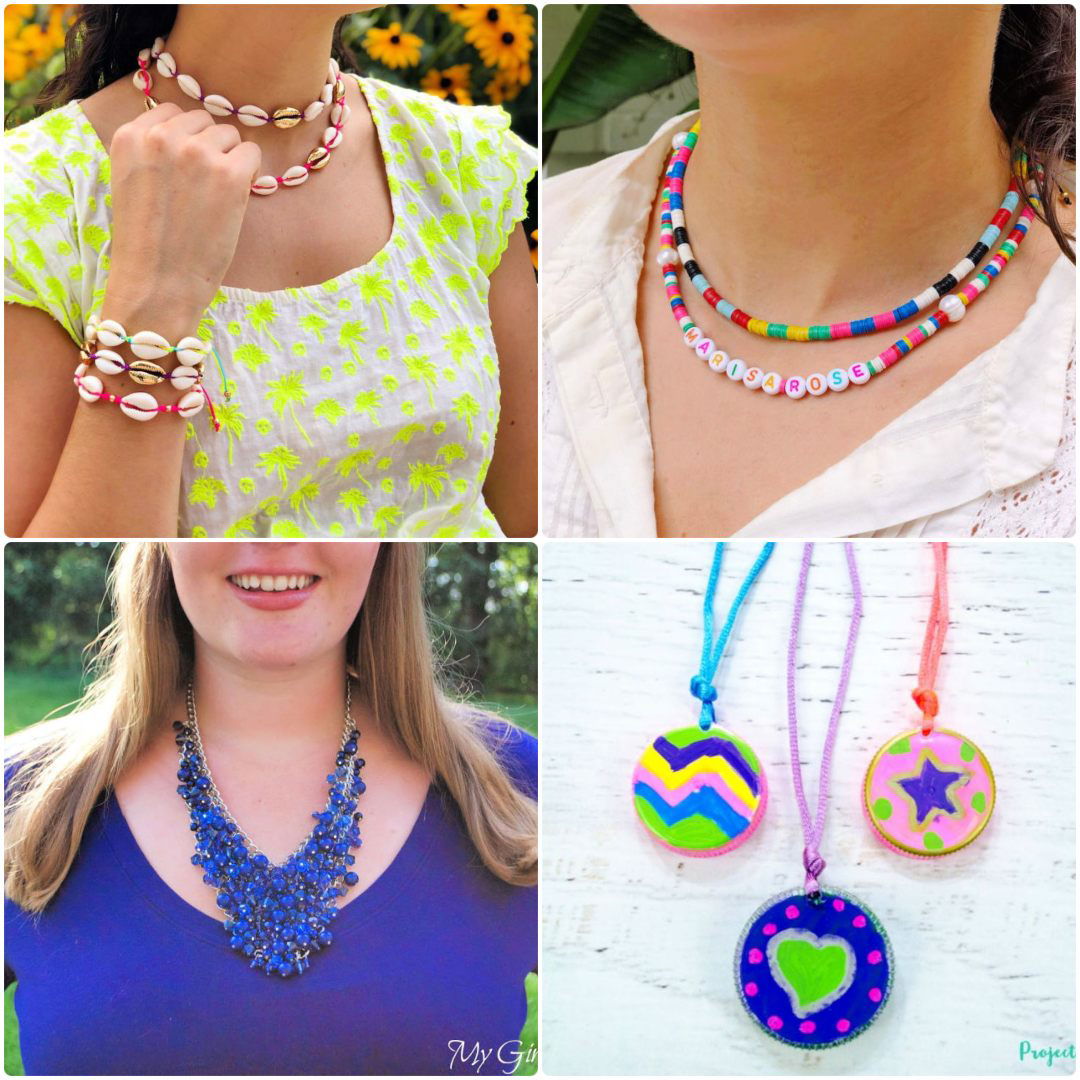 In conclusion, these DIY necklaces offer a creative and personalized approach to jewelry making. With 35 easy DIY necklace ideas covering various materials, techniques, and styles, there's no shortage of inspiration to spark your creativity. From color-blocked disk beaded necklaces to handmade statement pieces and resin feather pendant designs, the possibilities are endless. Embrace your inner artist, learn new skills in jewelry making, and fashion necklaces that reflect your unique taste. Craft your own stunning accessories and discover the joy of homemade jewelry today.