Having curly hair doesn't have to limit your hairstyling possibilities! With a few easy curly hair updos, you can keep your curly locks out of your face in style. From a simple high-bun to the classic French twist, there are plenty of updo hairstyles for curly hair to experiment with. Even if you're a beginner, you can master these looks without stepping into a salon! All you need is the right techniques, tools and tutorials – and an adventurous attitude – to create an updo that's perfect for every occasion. So get ready to up the ante on your curly hairstyles with these 10 easy curly hair updos for beginners step by step!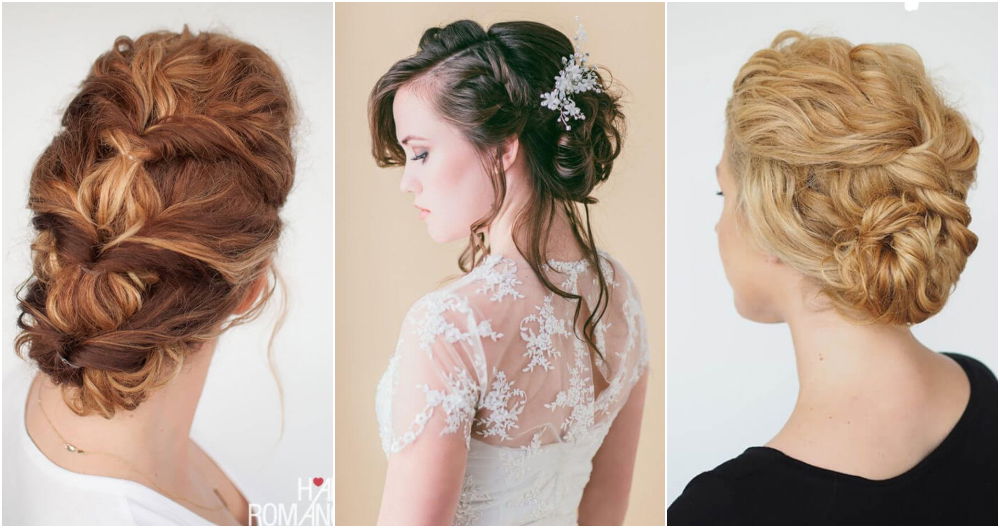 10 Easy Curly Hair Updos for Beginners Step by Step
Almost ninety-nine percent of curly hair people do not like their hair. The reason is the hair being super frizzy, tangling and dry. But the fact cannot be ignored that they look so charming and gorgeous if managed well. Here we have brought these 10 updos for curly-haired girls to make them fall In love with their curly locks more and more. Keeping the curly hair open tends to frizz them up more, so these updos would make you learn the easy taming ways for your curls be it any day or the event.
Buns are the most casual and cute kind of hairdos for all hair types. The curly hair looks just utterly captivating when given an updo into a bun. So you can go for a messy loose bun, donut style bun or the knot buns to look chic with your crazy curly hair. The twist rolls also prove to be the cool and calming hairstyles when your hair is on frizz and dry hype. So either you are looking for a casual hair updo for your curly locks or you want to style them up for a wedding, these ideas would let you manage your curls beautifully.
1. 2 Min Updo for Curly Hair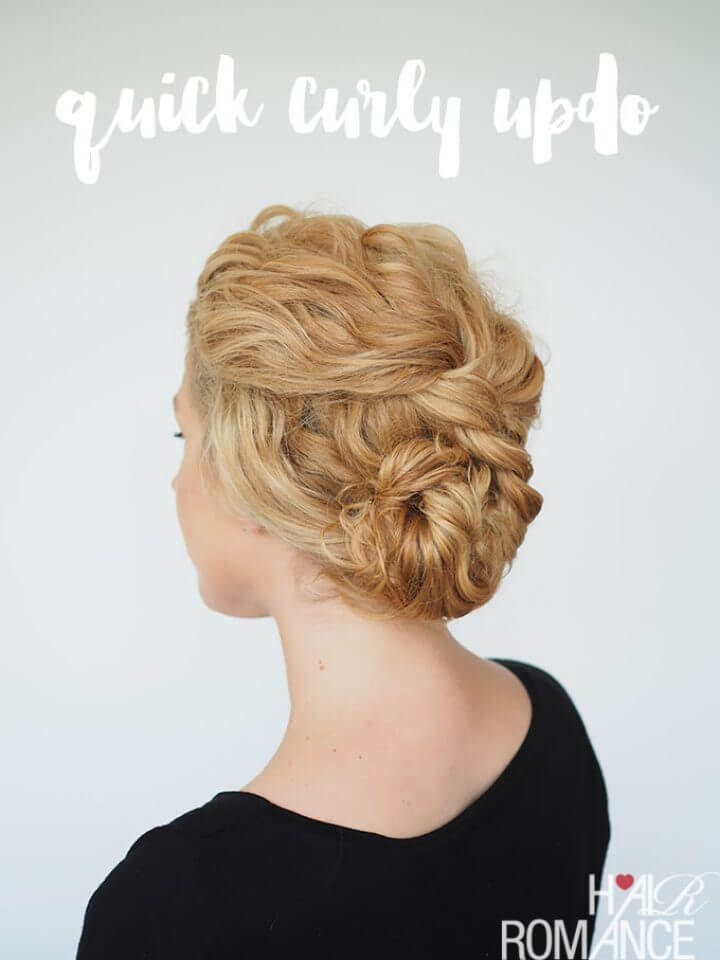 Curly hair is not easy to tame. So here we have brought you this 2 min updo to manage your curly hair beautifully. The pretty hairstyle would keep you intact for long and make you look so gorgeous too. Details here hairromance
2. Loose Braided Updo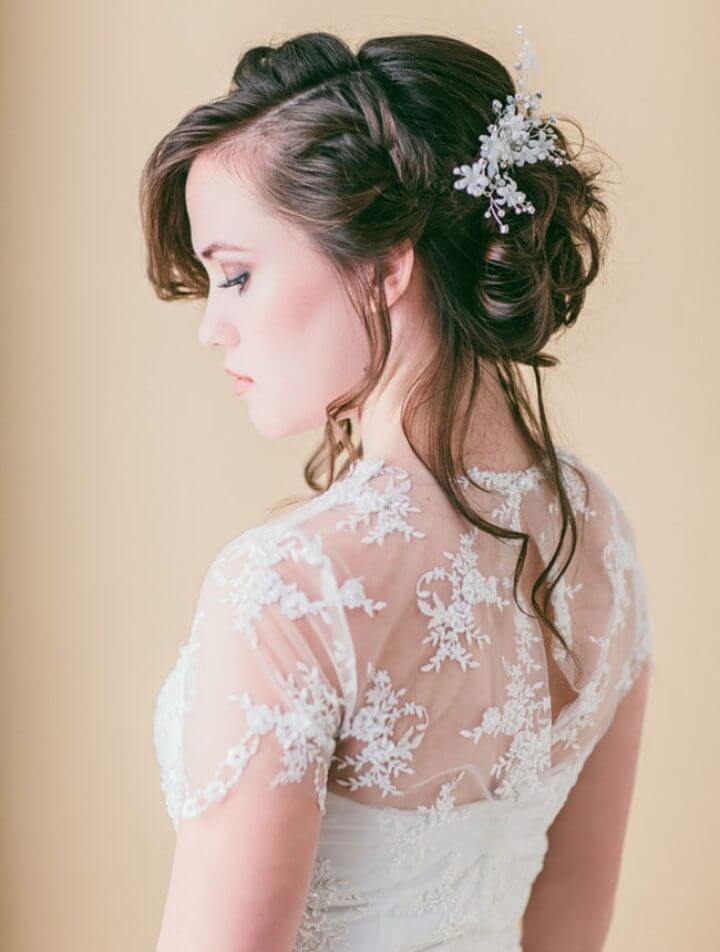 A bride wants everything so perfect and beautiful, especially for her looks. For a bride with curly hair, this loose braid updo is the prettiest hairstyle to carry and look stunning. The hairstyle is a combination of loose curls and braids, which is beautified more with accessories. Tutorial here greenwedding
3. Folded Ponytail Updo – for Curly Haired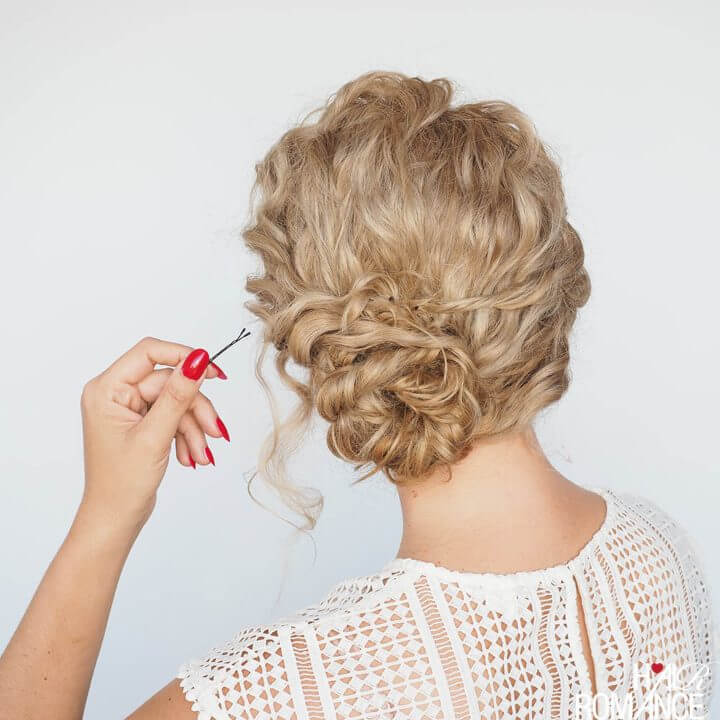 Curly hair is so gorgeous, especially when they are tied up into a bun. This folded ponytail updo is an easy and cute hairstyle to add to your list. Either you are going to a friend's house or getting ready for the office. This quick style is going to make you look gorgeous. hairromance
4. Topknot Updo for Curly Hair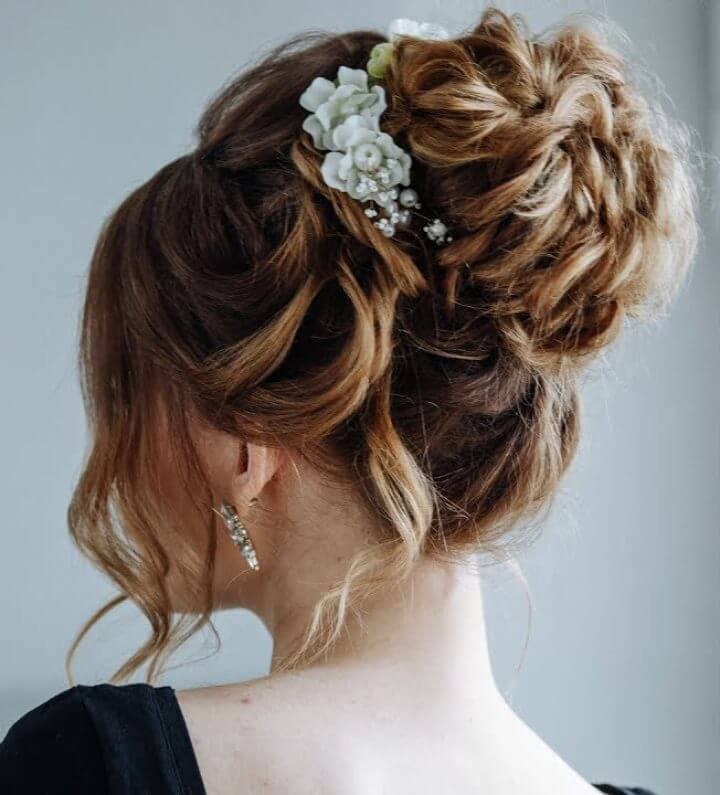 One of the favorite hairstyles for a lady surely includes high buns. Especially if you have curly hairs, the hair updo style turns out to be bliss as it makes you look pretty and keep your curls at one spot. So learn this lovely topknot updo for your curly hair right now.
5. How to Make Twisted Updo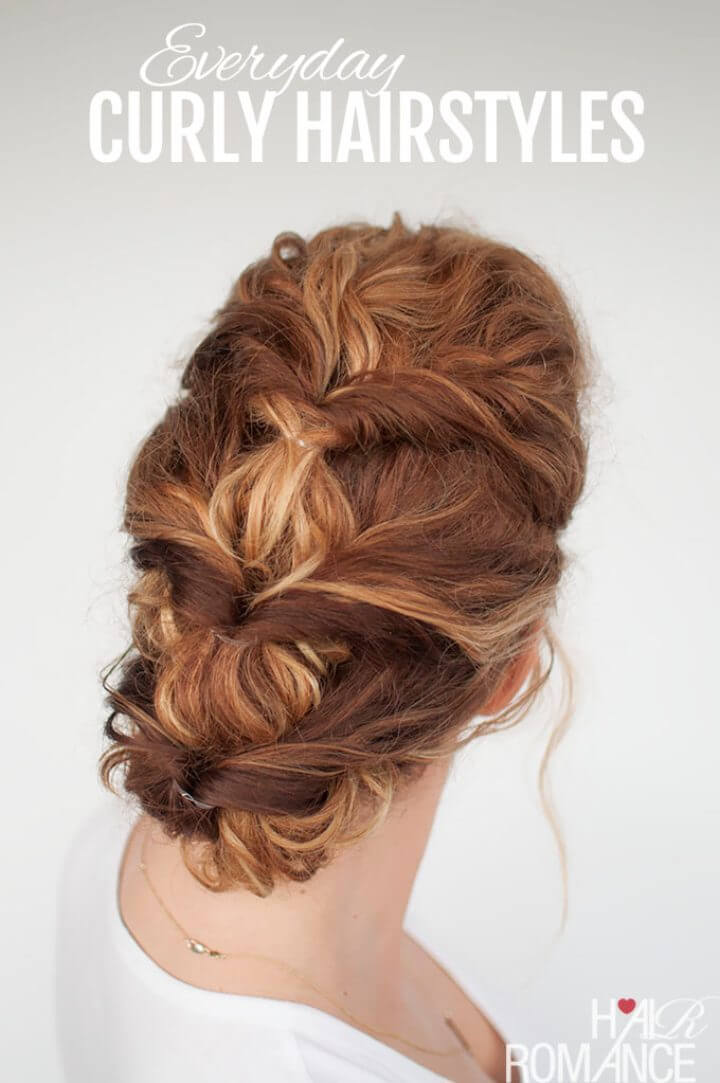 Curly hair needs a lot of time to get managed, and if you want to style them, you are sure to lose more time. So save your time with this easy and quick twisted updo of curly hair that has two versions. After the series of twists, you can either keep it in pony style or tie it up as a bun. hairromance
6. Curly Wedding Updos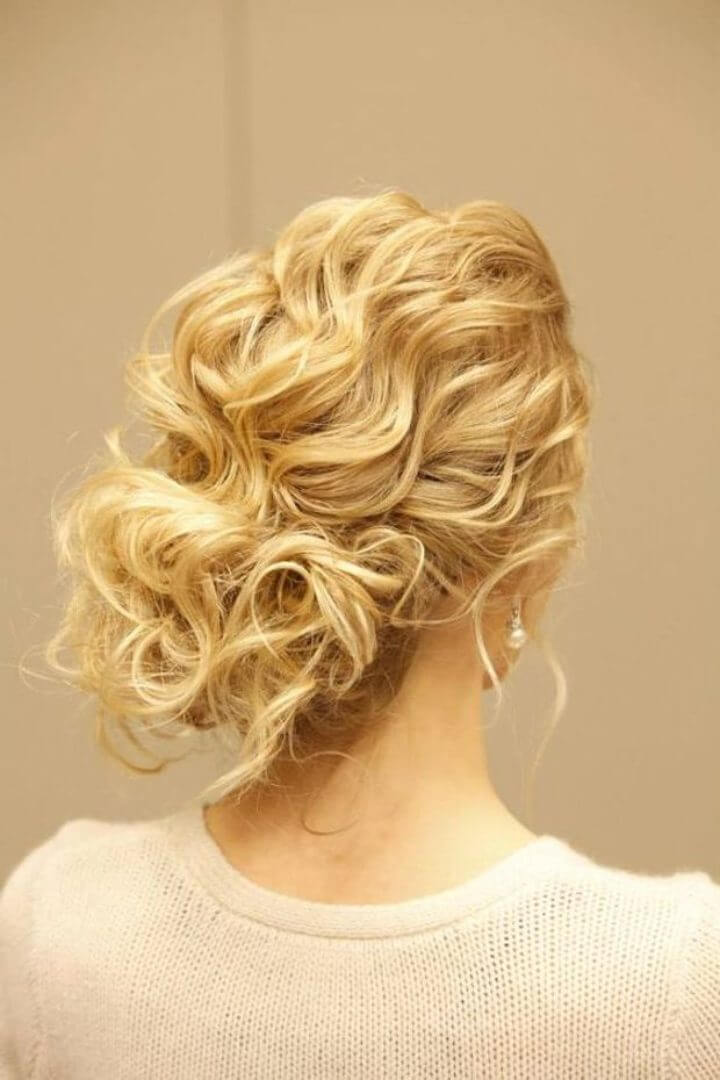 You are wrong to think that curly hair cannot look gorgeous at a wedding without a straightener. Here is this easy and gorgeous curly wedding updo that you can easily do on your own. All you need to do is give your curly hair a little raise and tie them up and then accessorize. taniamaras
7. Twist and Pin Updo for Curly Hair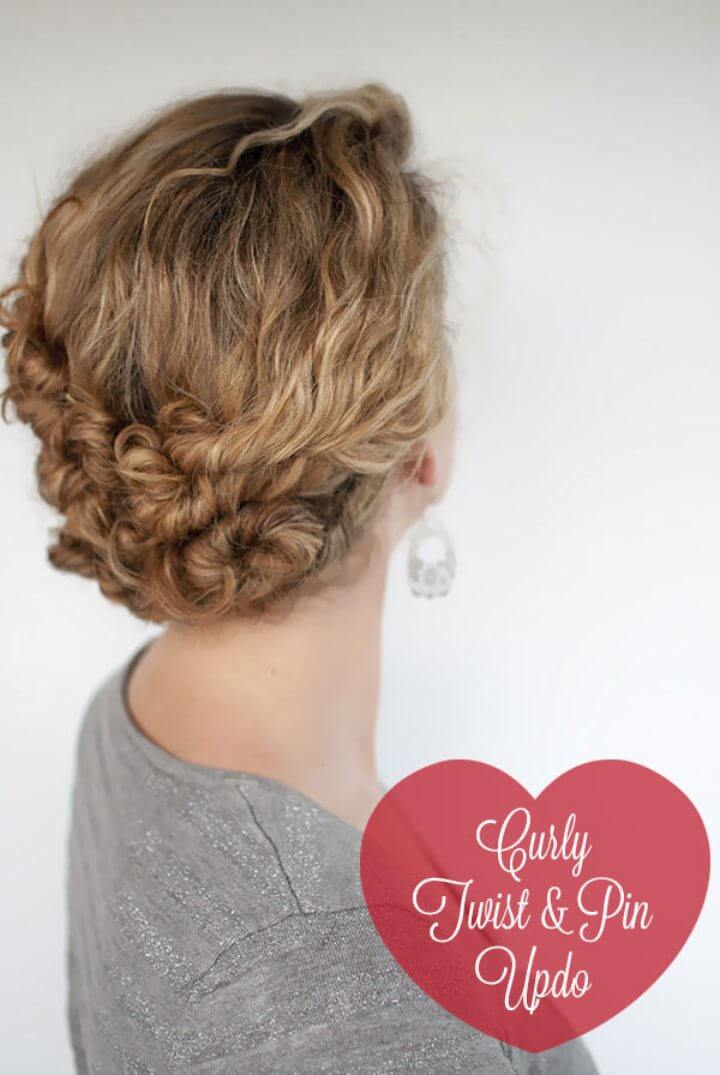 There are days when the curls are super angry and do not obey you. To tackle your lovely locks in such a condition is best done with some lovely hair updos. This twist and pin updo would get all your curly hair nicely sit together and that too in a super chic hairstyle. Details here hairromance
8. Easy Updo for Curly Hair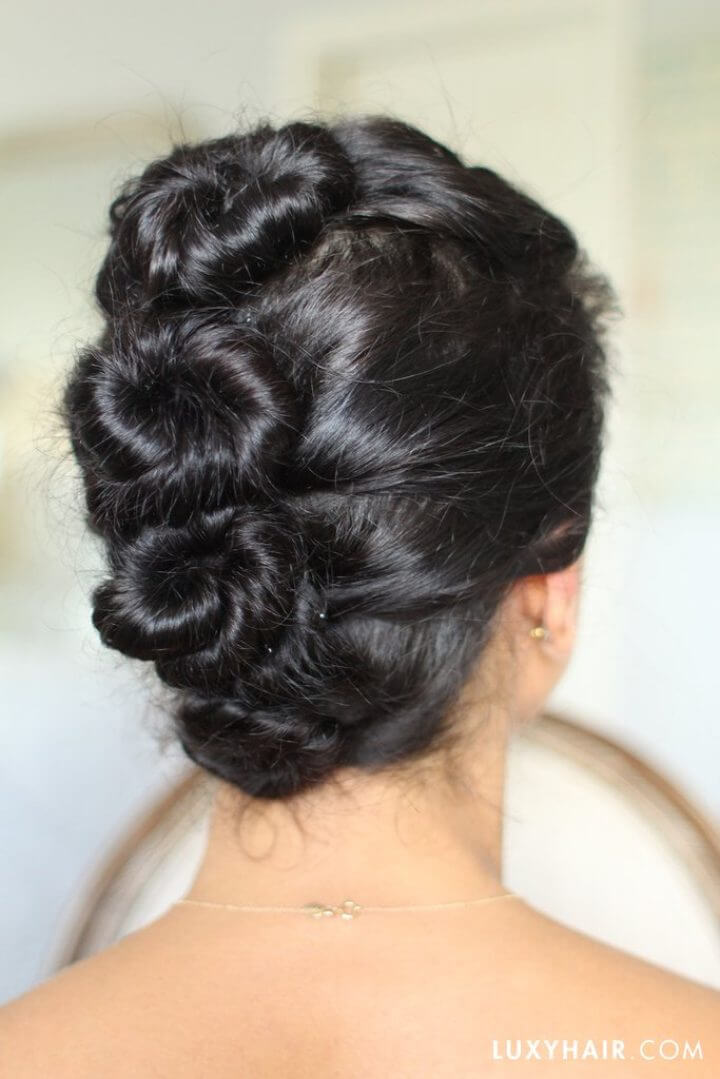 You are going to love your curly and frizzy hair when you get them styled with this easy updo. This gorgeous hair updo suggests multiple twist buns on the back of your head and thus keeping the frizz at bay. Office, home, or a party this updo is going to rock your look for any. luxyhair
9. Curly Hair Double Bun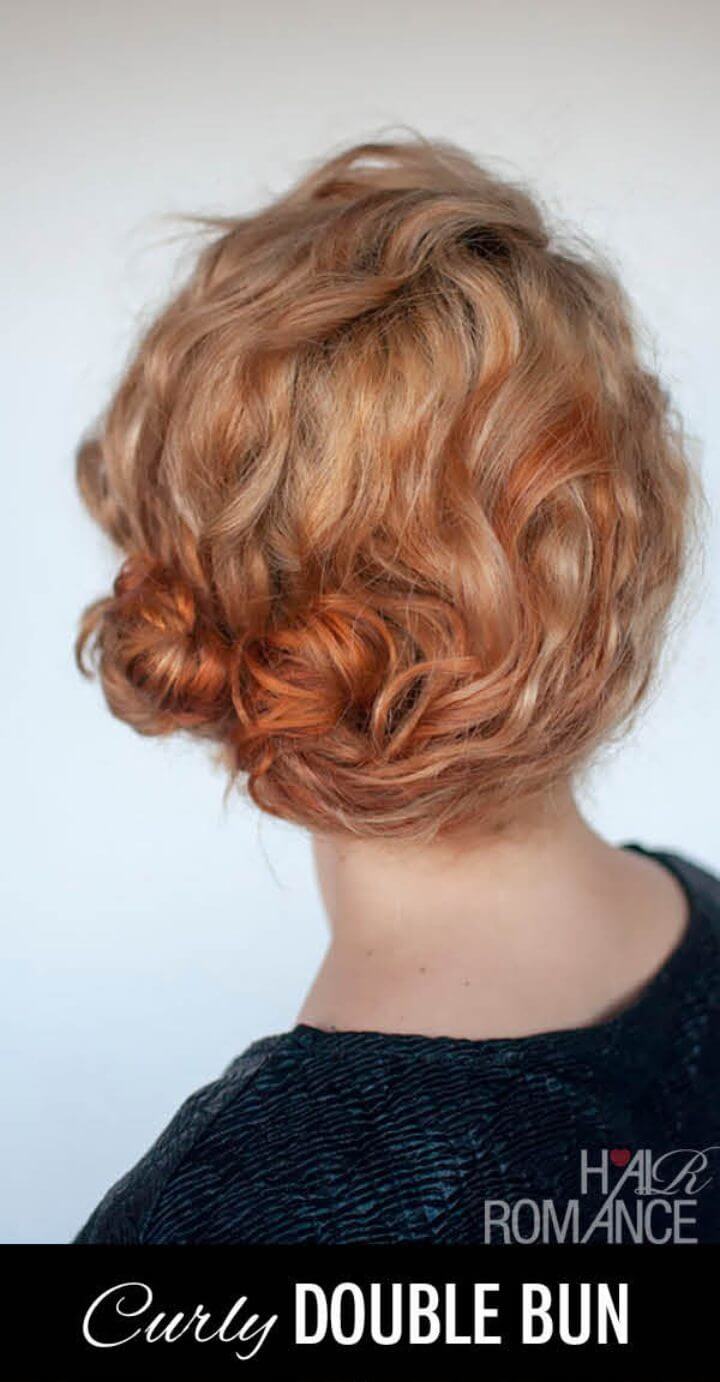 Let your curls define you, and this curly hair double bun is the best way to flaunt them on any day. Separate your hairs into halves at the back, twist them up, form the buns, and pin-up. This lovely hairdo would take only about two minutes of yours, so do have a look at its details here. hairromance
10. Curly Top Knot Hairstyle Tutorial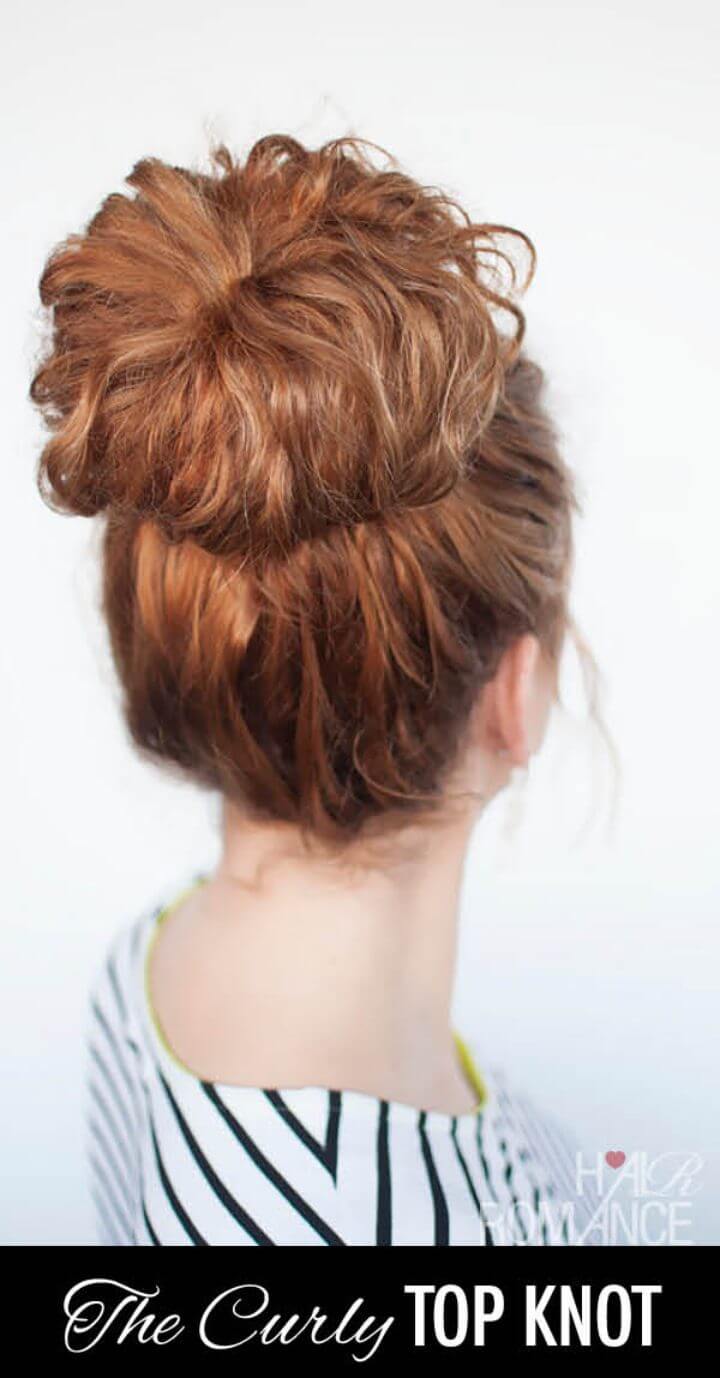 Curly hair would frizz up more if they are open for a long time. So here is this gorgeous way to tie them up and keep them all intact for work or a busy day at home. This big donut styled bun is super easy to do in just minutes. Picture instructions here. hairromance
Related DIY Projects and Ideas
DIY Hairstyle Ideas: Learn how to do different hairstyles with these step by step simple DIY hairstyles tutorials. From braids and buns to messy updos and more – these are easy enough for anyone who knows how to brush their hair.
5 Minute Hairdo Ideas: These easy 5 minute hairdo ideas are the perfect answer for a beauty emergency. Whether you're running late for work or school, or simply want to switch up your look, these simple and quick tutorials will have you looking stunning in seconds.
Hairstyles for Girls: Whether you're looking for a cute, casual look or a formal updo, this list of the best hairstyles for tweens and toddlers will have you ready to tackle any style with confidence.
Nail Art Ideas: Whether you are looking for the perfect nail art for a night out, or just want to add some flair to your daily routine, these amazing cute nail art ideas are perfect for all your nail art needs.
Charcoal Face Mask Recipes: Learn how to make detoxifying DIY charcoal face mask recipes using ingredients you can buy at your local grocery store.
Beauty & Skin Care Recipes: Check out these easy natural beauty & skin care recipes to make your own natural skin care products at home. For oily, dry, or normal skin.
Conclusion:
Whether you're looking for a way to style your curly hair on a day-to-day basis or want to try out an updo for a special event, these ten easy hairstyles are perfect for beginners. All of the tutorials included here are step by step, so you can follow along with ease, and they all use simple techniques that anyone can master. So what are you waiting for? Try one of these easy curly hair updos today!