Burp cloths come in handy for the burps, dribbles and spills that accompany inevitable with babies! Learn how to make DIY burp cloths with 20 free burp cloth pattern with step by step sewing instructions and free printable to download. With 20 different printable and DIY burp cloth sewing patterns from popular sewing bloggers, you'll be able to find the perfect project to fit your skillset – whether it's a flannel burp cloth or an embroidered burp pad. With a few pieces of simple fabric and thread, you can make an adorable burp cloth set that will last through all those baby burps that just won't quit!
Baby spit-ups over your shoulder while burping your babies will raise your laundry expenses by spoiling the clothes. Enjoy smooth, comfortable, and mess-free baby burping with these Burp Cloth Patterns that are must-add accessories in the baby's care wardrobe.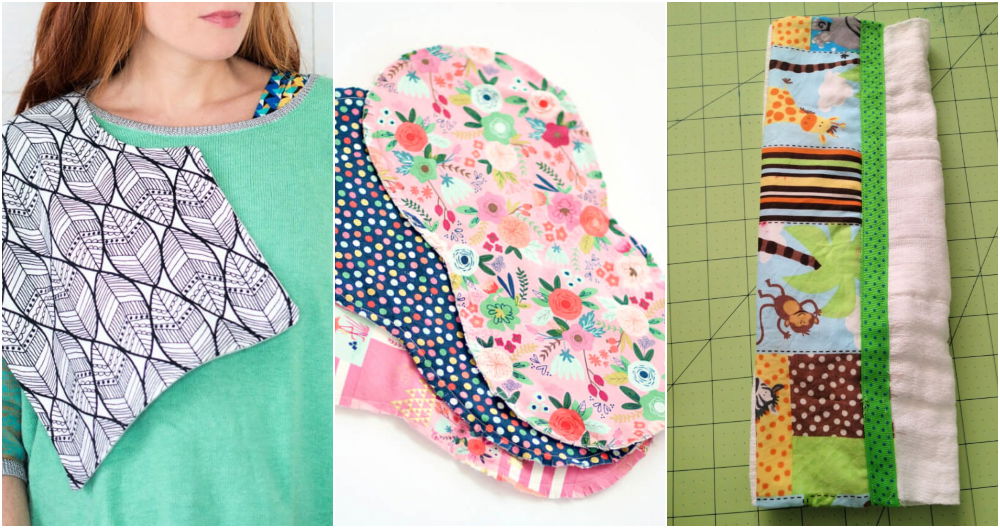 20 Free Burp Cloth Pattern – DIY Burp Cloths
Along with being a super soft absorbent for baby spit-ups, they are one of the easiest sewing patterns. The list of these 20 free burp cloth patterns provides step-by-step instructions, tutorials, and visual guides for trouble-free sewing of burp cloths. You need to layer together a fabric with a decorative design print and the same-sized fabric piece with outstanding absorbing qualities to sew most of these burp cloth patterns. So, ease yourself into baby burping after feeding with these simple soft cloths, which will also help a baby get rid of excess gas. Make the matching bibs, too, so you can use the burp cloth and big sets as epic handmade presents to a mother-to-be.
For accent edging and side trimming, use rick-rack or ribbon, going with ruffled edges will work great too. Make the curved, contoured and simple rectangular designs of burp cloths according to choice. Cotton fabric, flannel, terry cloth, and quilt batting are ideal materials for sewing a burp cloth. Take a tour of all the DIY burp cloths to get lots of more unique design inspirations, sharing important information about sewing a single burp cloth design in many different ways.
1. Free Baby Burp Cloth Sewing Pattern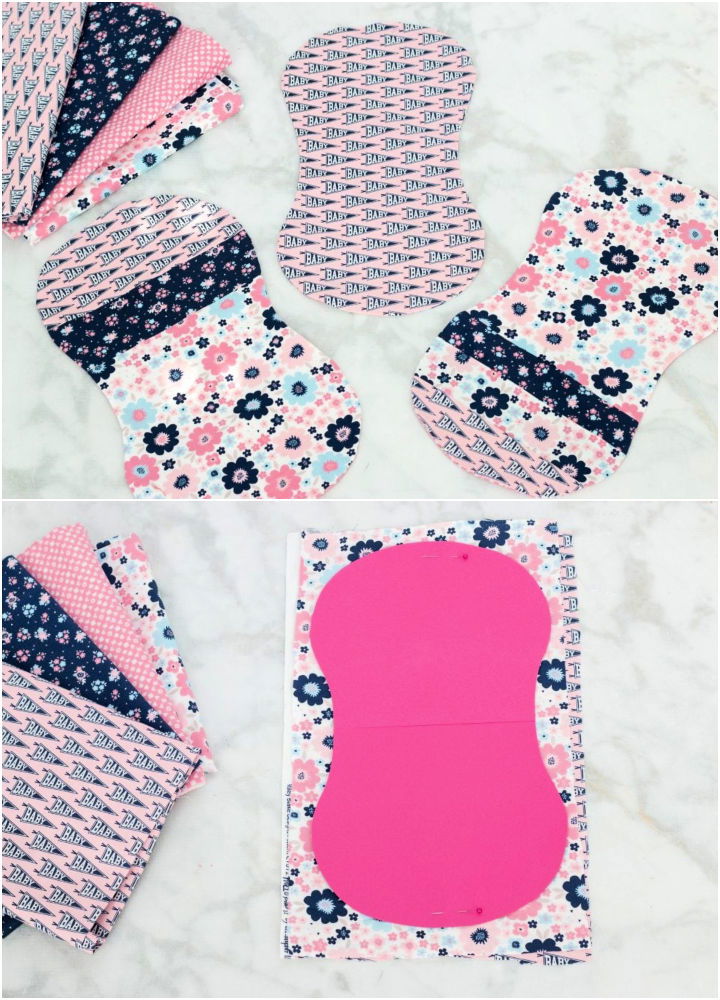 Protect your clothes from spoiling while holding the baby spit up with care using this burp cloth, the easiest sewing pattern ever! You need only 2 fat quarters of quilting cotton to sew this burp cloth, going with a pattern, rotary cutter, and with a cutting mat will ease your work for sure! sweetredpoppy
2. Burp Cloth Pattern in 3 Styles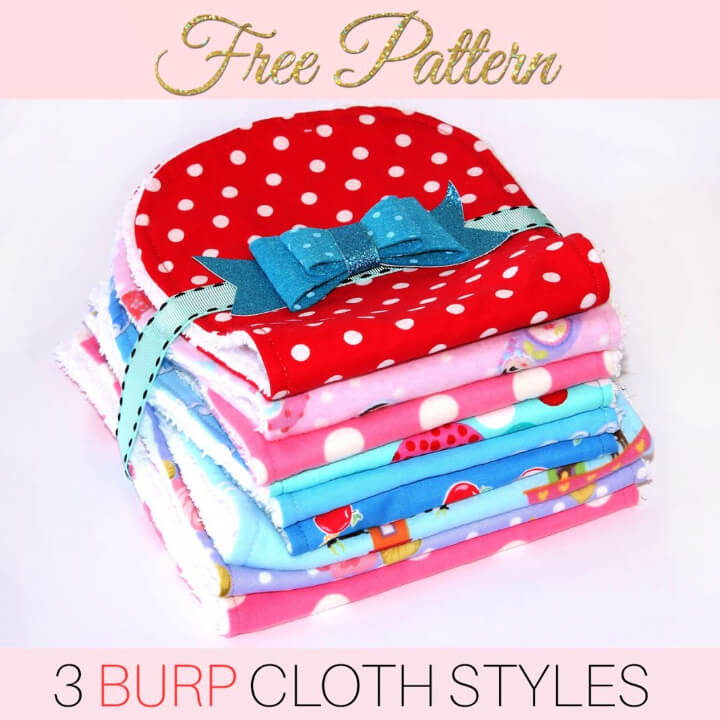 Get here the pro instructions for sewing an amazing burp cloth. The single pattern will guide to sew a burp cloth in 3 different styles! This free burp pattern will guide to sew a rectangle, two-sided contoured, one-sided contoured designs! Use a fat quarter of 100% cotton fabric and some toweling to sew a few burp cloths! treasurie
3. Baby Burp Cloth Sewing Pattern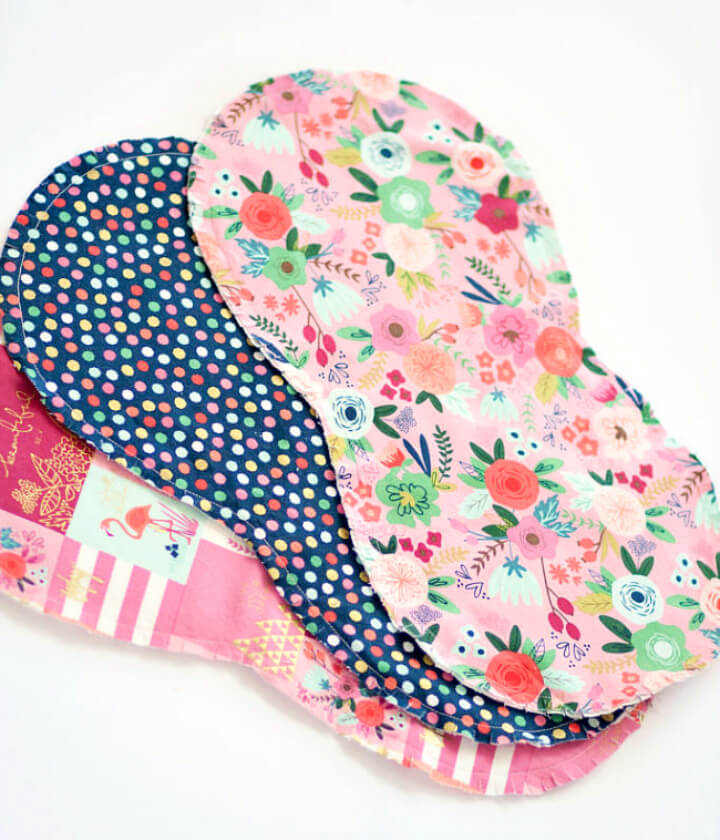 A burp cloth helps to remove gas from your baby's belly and provides the baby the ease of burping! So grab the fabric scraps to sew some burp cloths, which will be a great addition to your baby's care! 1/2 yard of each quilting fabric and flannel to sew these burp cloths, the best gift for a newly became mother! crazylittleprojects
4. Free Burp Cloth Sewing Pattern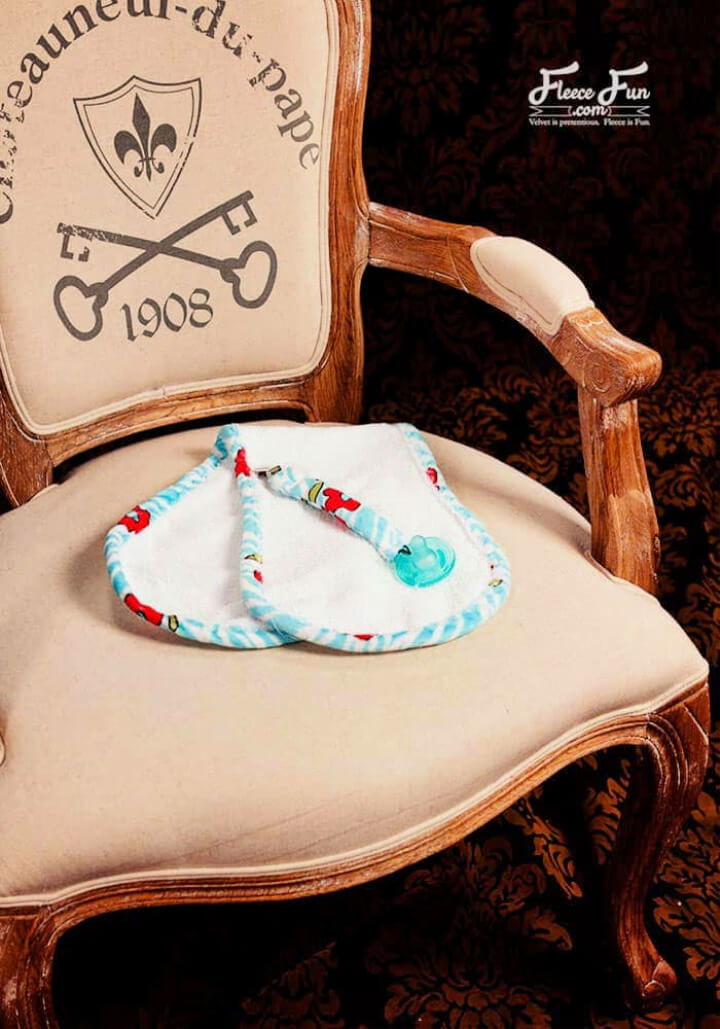 An excellent fabric stash buster project and an easiest sewing pattern is to sew a burp cloth! Cut out your design first out of your favorite fabric using a template, next make the binding! Finally, sew the binding to burp cloth design! Make a bunch of burp clothes to give as a delightful baby shower gift! fleecefun
5. DIY Burp Cloths Simply The Best Ever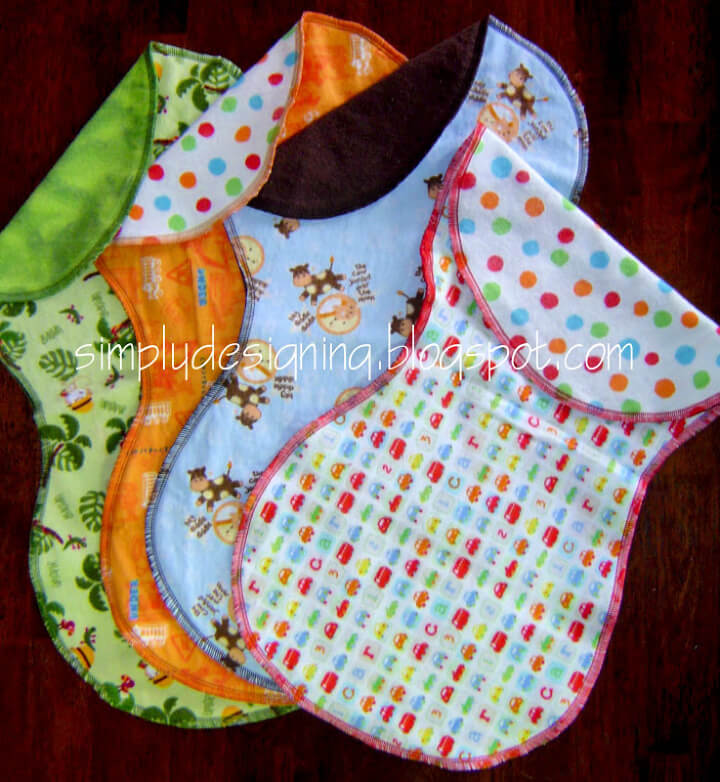 Get help by these burp cloths to not get spoiled your clothes from baby spiting while holding him/her on your shoulder! Make the burp cloth pattern using a grocery bag and next use 1/3 yards of flannel fabric to sew each of the given burp clothes having a width of 44″! simplydesigning
6. Free Bib and Burp Cloth Pattern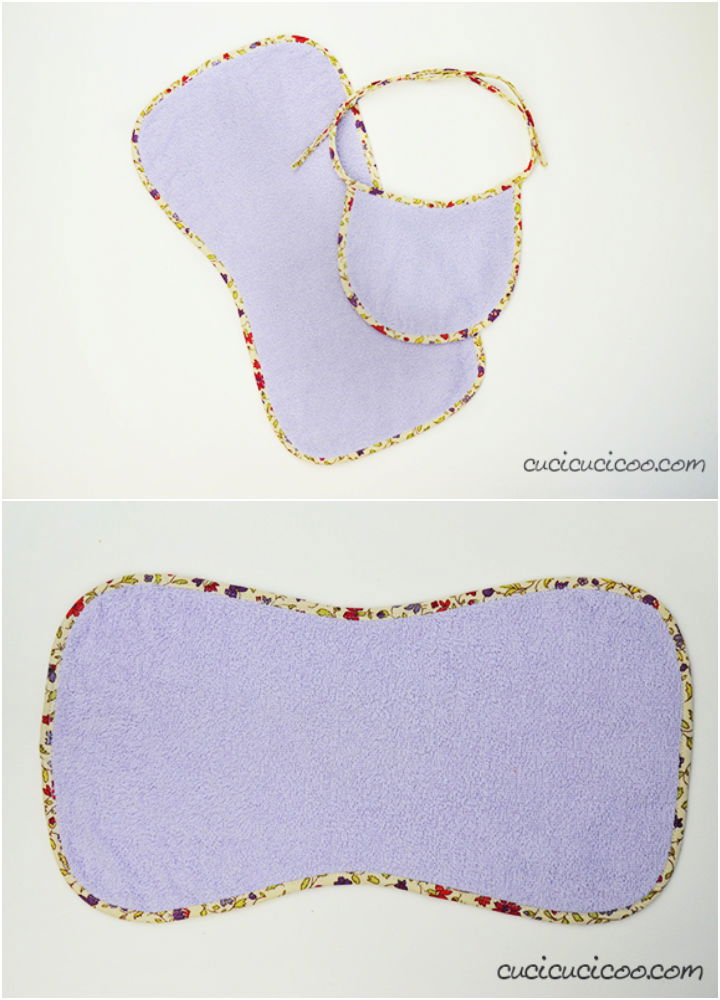 Bibs and burp cloths make the best baby shower gifts together, helping a moth in easy baby care! Both bibs and burp cloths are used to catch the baby spits hence helping you not to spoil your clothes! Grab here the free baby bib and burp cloth pattern, you can try even with the fabric scraps from home! Details here cucicucicoo
7. Beginners Burp Cloth Pattern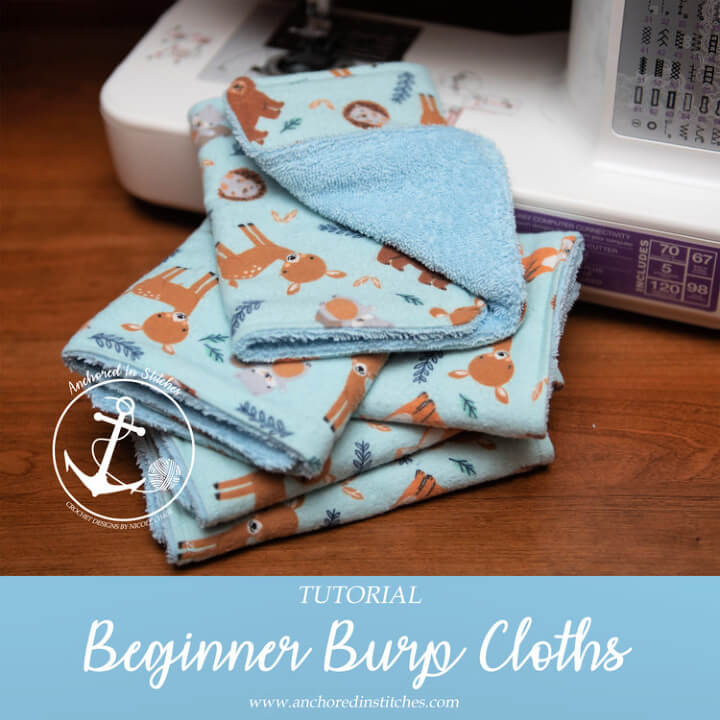 Fabric and toweling can be a great option to sew the world's best burp cloths! Get here the easiest sewing pattern for an excellent looking burp cloth! Here you need 1/2 yard of each terry cloth fabric and flannel fabric to sew this beginner burp cloth pattern! Details here anchoredinstitches
8. Making a Burp Cloth for Kids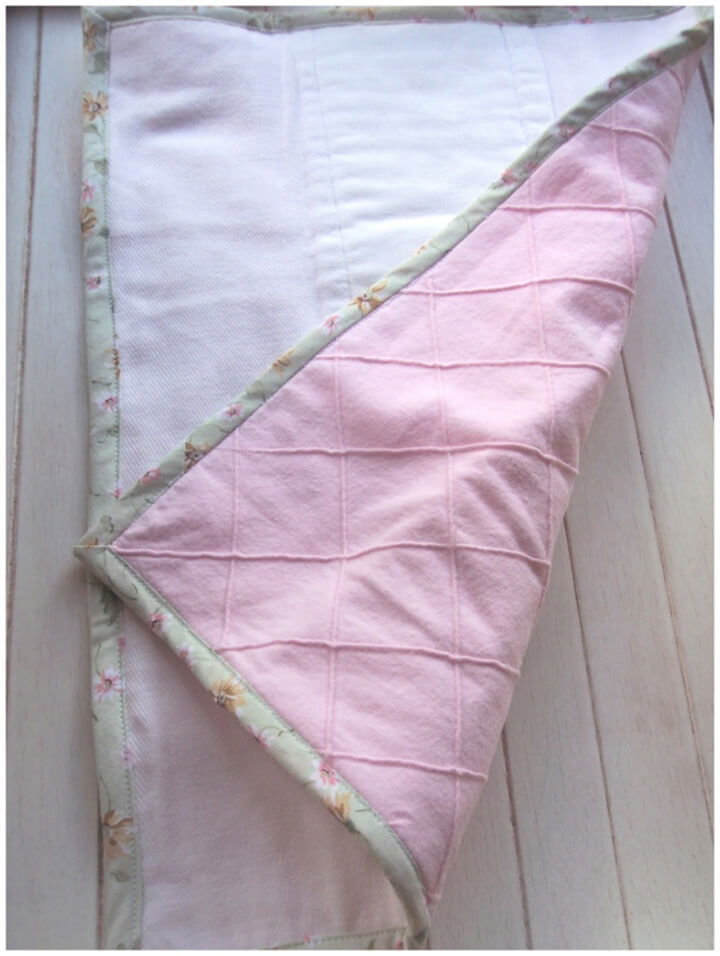 Win the heart of a Mother-to-be by giving her a set of handmade burp cloths! Just be around your sewing machine for a few minutes to sew this burp cloth! Grab the washed and dried, diaper cloth, 18″x13″ piece of flannel, and 64 inches of bias tape to get this burp cloth made! sewtakeahike
9. Burp Cloth Pattern – 3 Easy Ways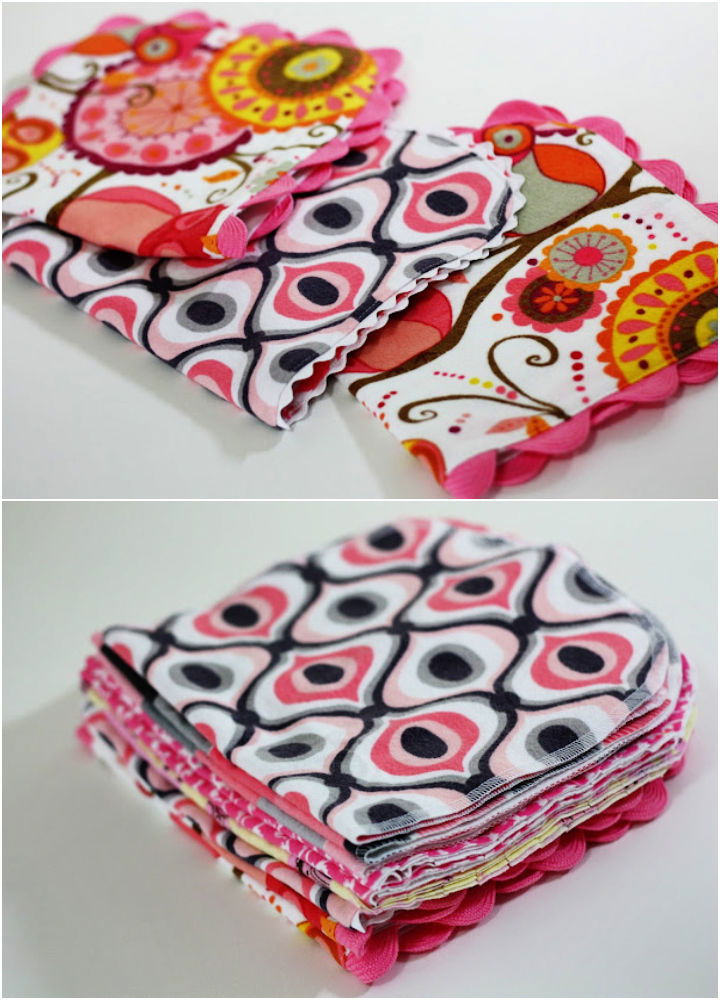 Get your baby burped nicely with these 3 burp cloth patterns, each is different due to being made of different fabric designs. The rick-rack accent trim brings extra elegance to design. Grab the flannel piece of size 16″x19″ to sew these burp cloths. Curved round edges make them look great. sewmuchado
10. Baby Burp Cloths from Diapers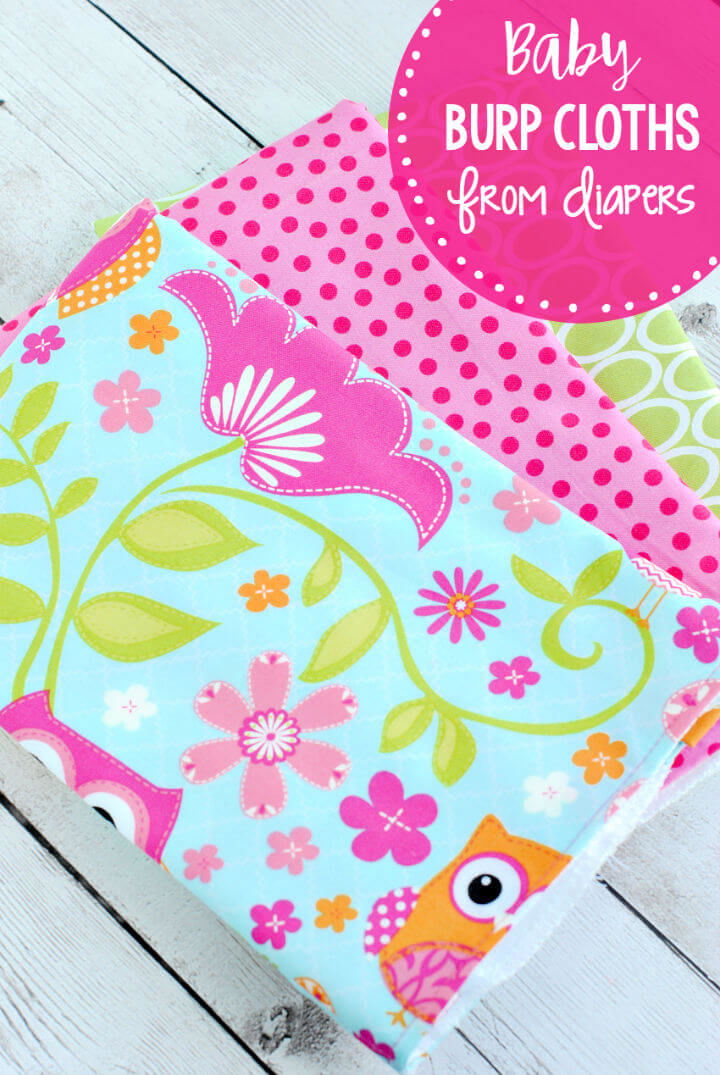 Having some diapers? Then quickly transform them into cool burp cloths by sewing with another fabric of choice. Lovely use of the diaper cloths that you mostly have in stock while having a baby at home. The soft and easy to use burp cloths ever made at home. Details here crazylittleprojects
11. Best and Easiest DIY Burp Rags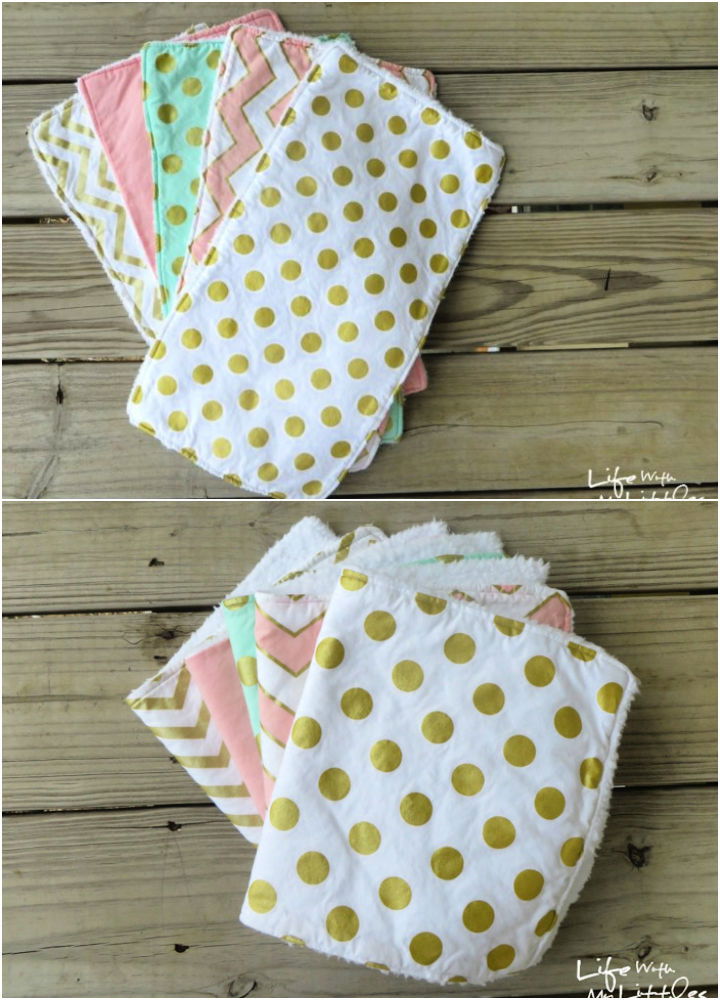 For mess-free baby burping, opt for these burp rags, quite something easy to sew in very of your free time. Grab 1/3 yards of each prewashed minkey and patterned fabric to sew these burp rags, can be combined with a bib to create a gift set for a mother to be. Sewing instructions here lifewithmylittles
12. Sewing a Burp Cloth – Free Pattern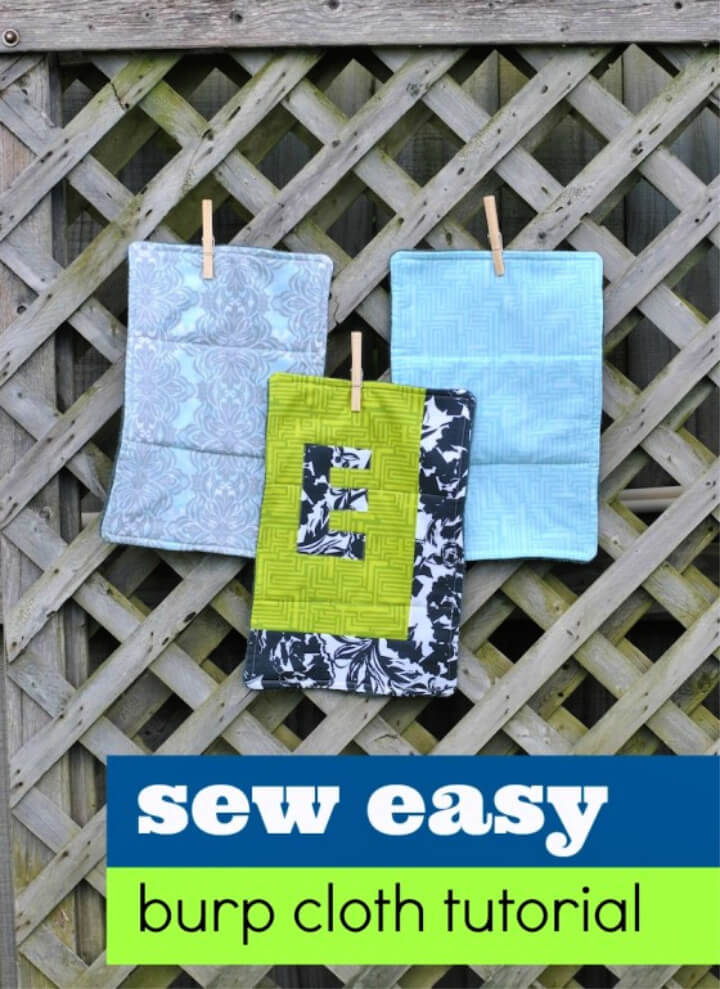 Don't let the burping baby spits all over your floor or cloths. Wear protection by sewing these burp cloths. Get the old towel, fabric, and batting to sew these super soft burp cloths, will make it super comfortable to burp a baby. The easiest sewing projects to do for getting fantastic pet care. Details here craftbuds
13. Free Ruffled Burp Cloth Pattern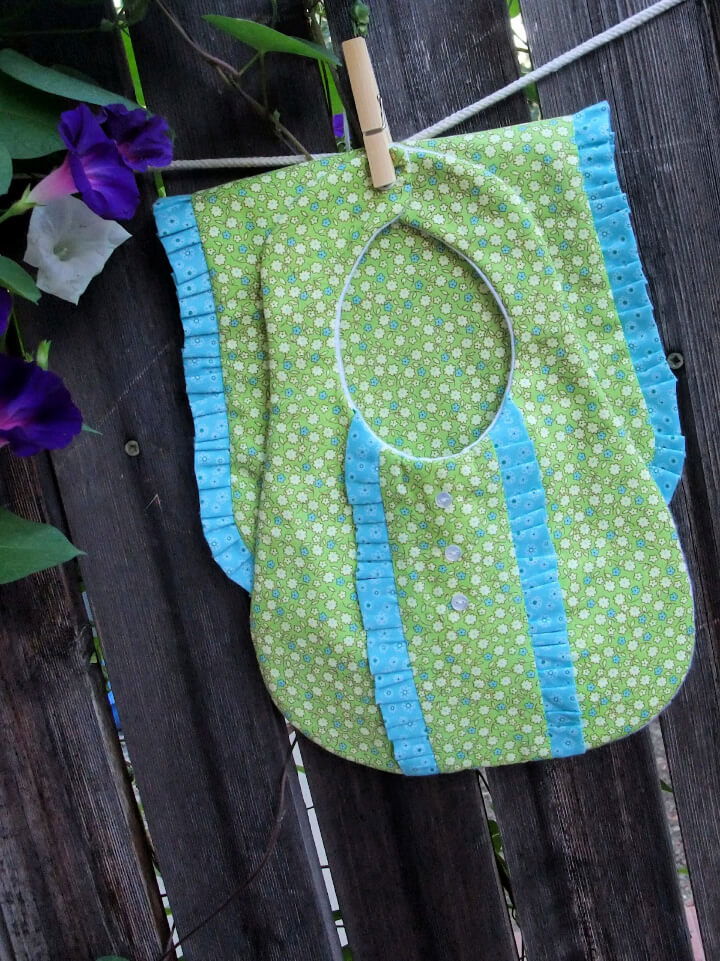 A burp cloth can be sewn soft and with lots of design variations. Sew this ruffled burp cloth comes with a matching bib too. Both will make a pleasing gift for a mama-to-be or to a newly became mother. Make these ruffled beauties using flannel, cotton fabric, fabric strips for ruffled trim, and lovely interfacing. Details here justanotherhan
14. Easy Burp Cloth Pattern – a Different Design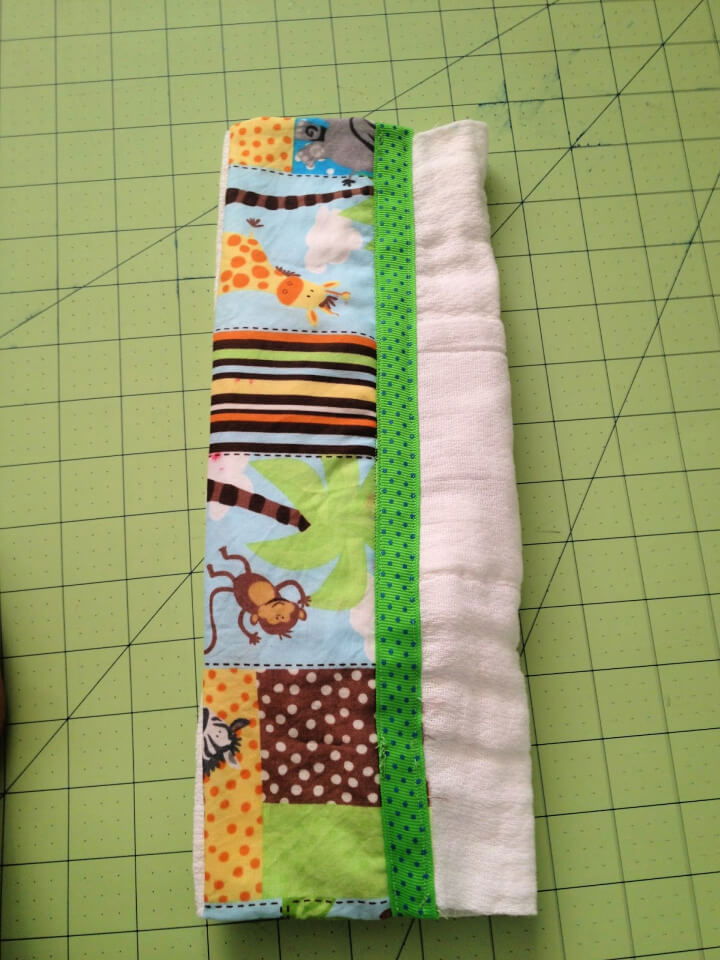 Do your naughty baby spit up all over your face and clothes? Save your clothes from spoiling using these burp cloth, super easy to sew with the provided pattern. These burp cloths come with cute labels, sew them using the diaper cloth, cotton fabric, ribbon, and labels. thestitching
15. How to Make Burp Cloths – Free Pattern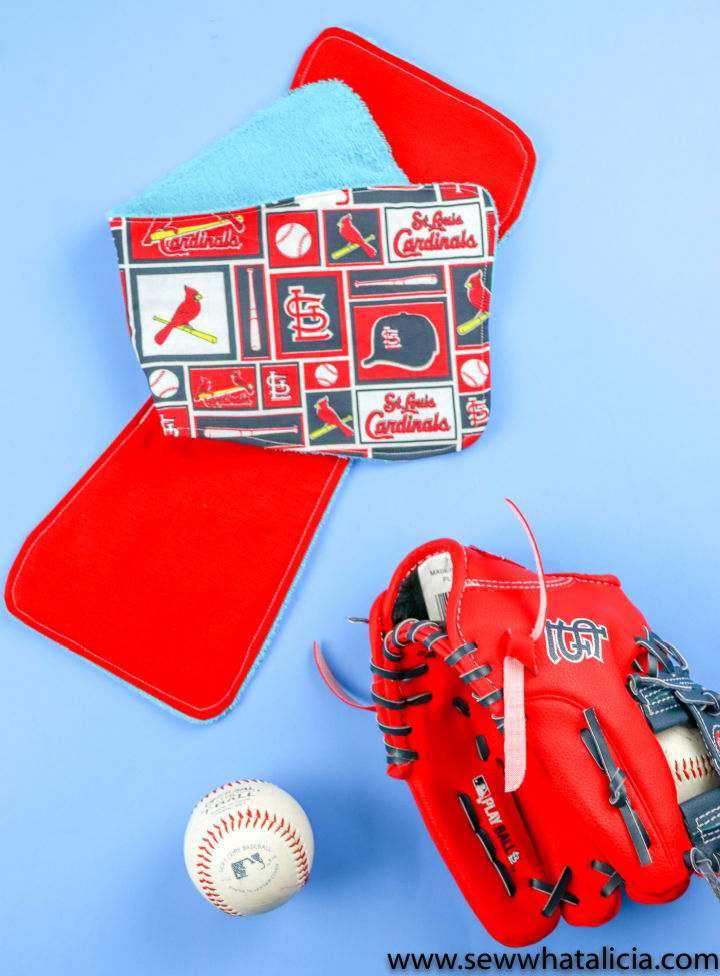 Puzzling at how to sew burp cloths? Get here detailed guides and step-by-step instructions for sewing a burp cloth like a pro. Use terry cloth, an excellent absorbent, and fabric of choice to make these burp cloths. They will help in easy cleaning and will nicely protect against baby spit ups. Guides here sewwhatalicia
16. Free Burp Cloth Pattern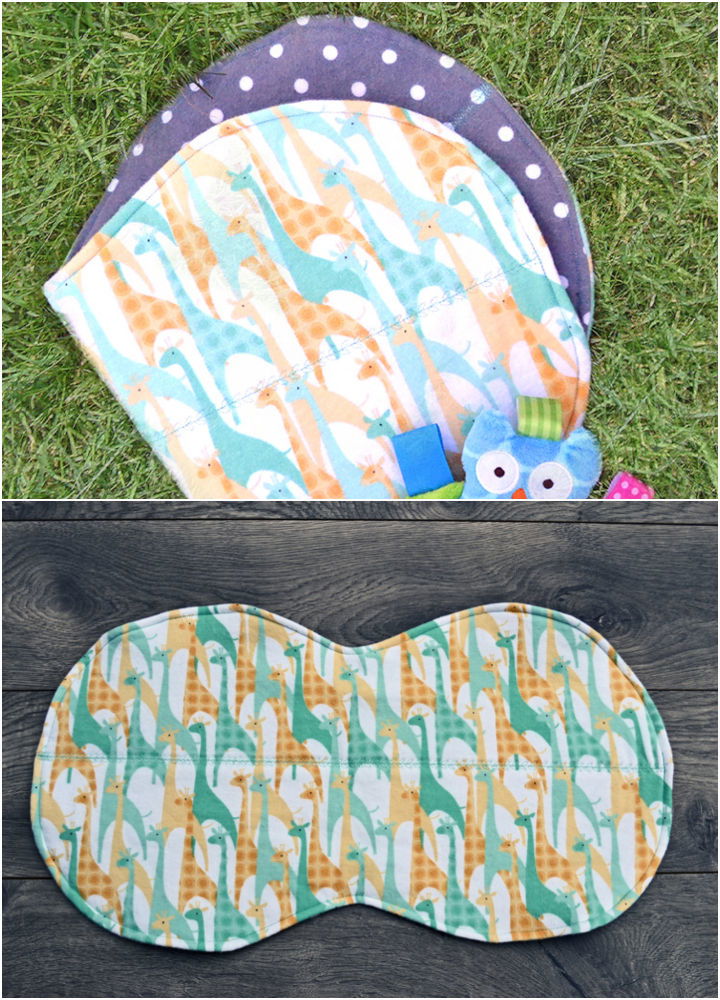 Does your baby need to be burped after feeding? Get helped by this burp cloth will help remove gas too from the baby's tummy. Lay it flat over your should hold the baby for burping, will protect your clothes from baby spit ups in a cool way along with beautifully absorbing the wetness. bitesizedbiggie
17. DIY Curved Burp Cloth for Baby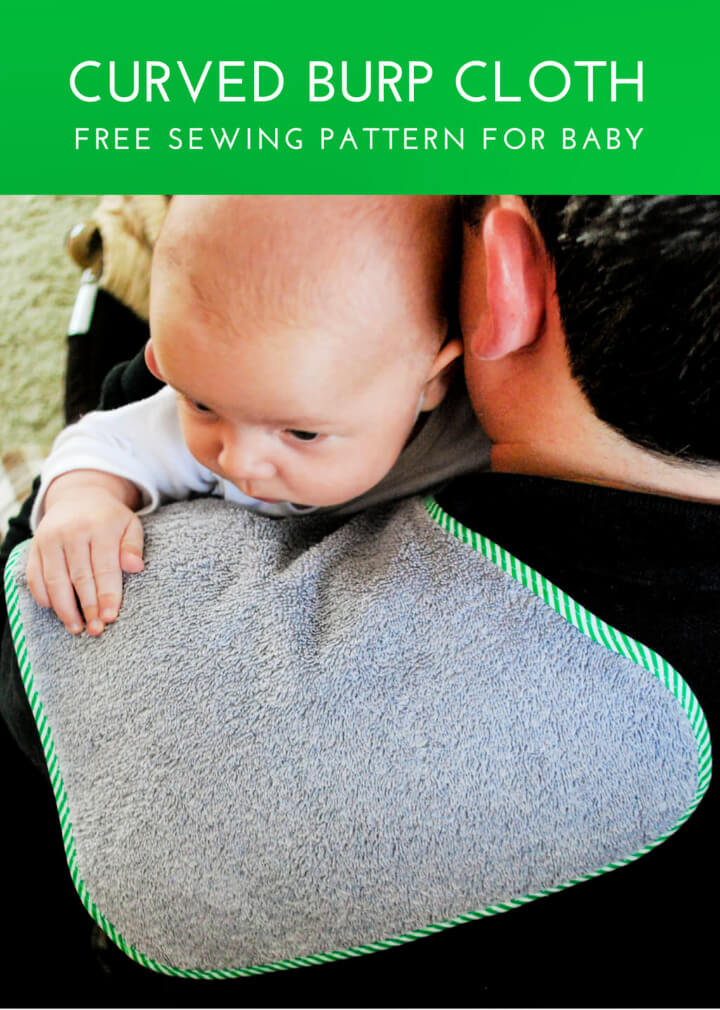 While taking good care of your baby, it often becomes hard to stay clean. Make it easier with a burp cloth, will catch all the baby spit ups while burping, hence saving on laundry. If you are getting confused about sewing a burp cloth, then find here detailed guides for sewing a curved burp cloth easily. merrimentdesign
18. Terry and Flannel Burp Cloths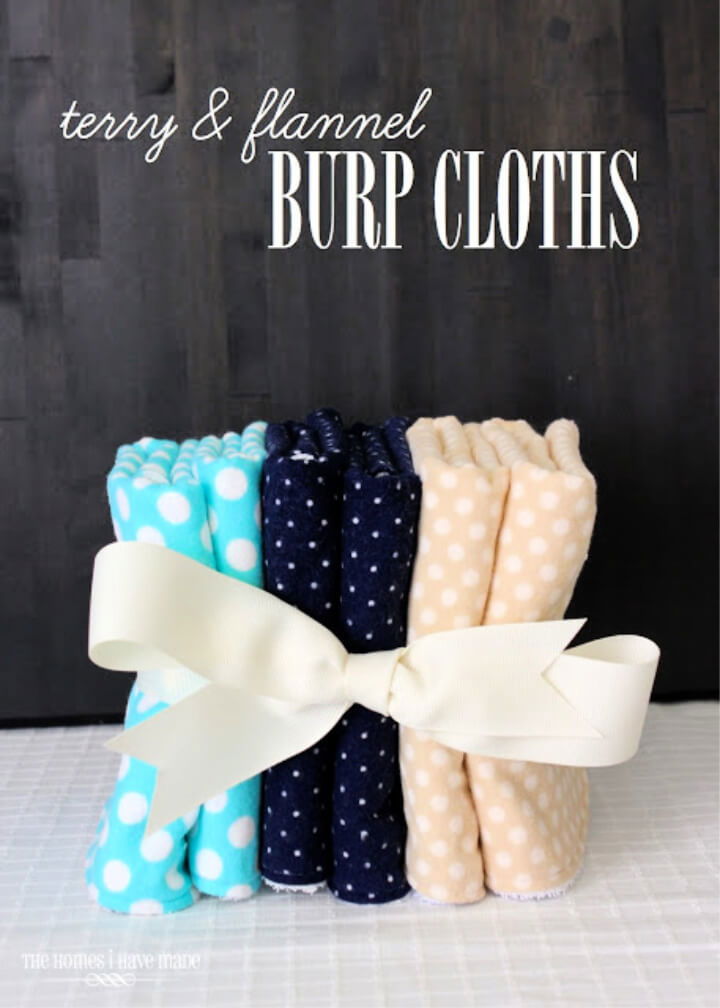 You need a decorative fabric and other with some fantastic cleaning and absorbing features to sew the best burp cloth. So, terry and flannel fabric combinations will rock. Sew these sample burp clothes using both of these fabrics. Use the polka dotted fabric over the terry cloth for these cutest burp cloth patterns. thehomesihavema
19. How to Sew a Contoured Burp Cloth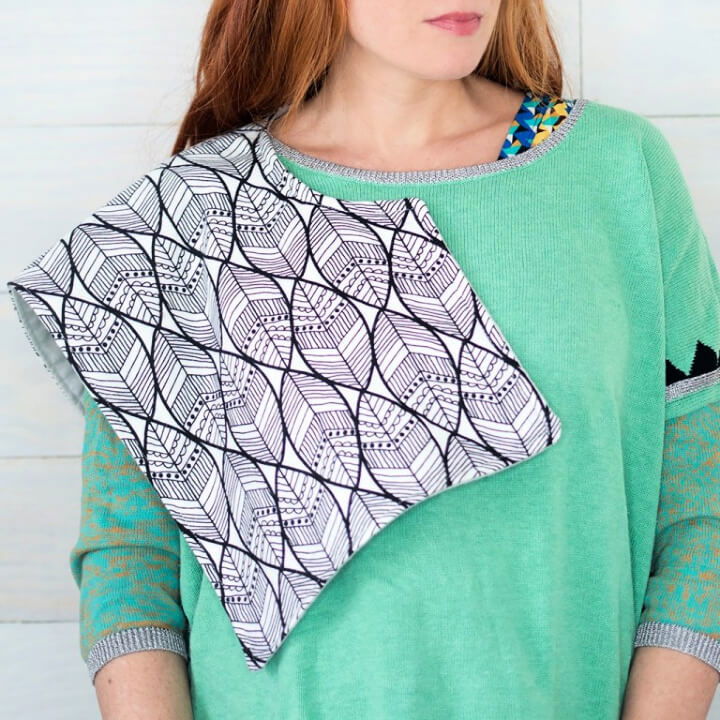 As the burp cloths are mostly to place over your shoulder, you choose the design that will fit your shoulder beautifully. Sew this contoured burp cloth will help you stay clean by absorbing all those baby spit ups. A must-to-add material in baby's care also gives as a decent baby shower gift. gina michele
20. Cute Burp Cloth – Free Pattern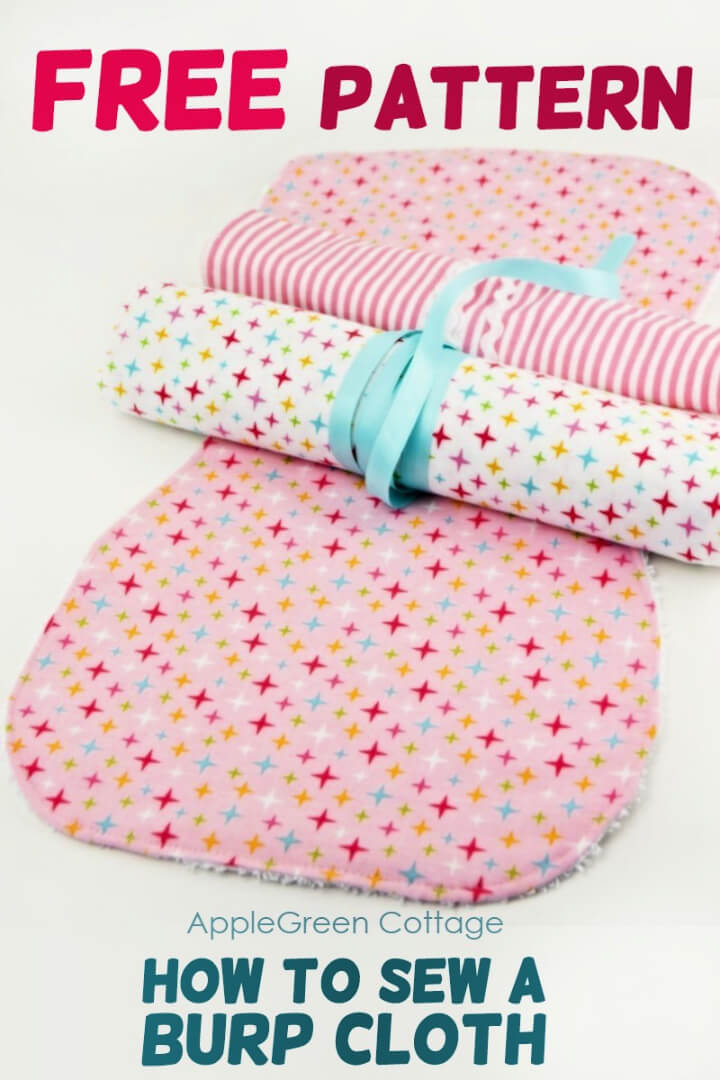 Get your hands onto a fabric having size 18″x21″ to sew this cute burp cloth having final size 17″x9″. Again you need the cotton fabric or flannel and terry cloth to sew this lovely burp cloth with amazing absorbing qualities. The contoured design will best to your shoulder when you need to have your baby burped. applegreencottage
21. How to Sew Quilted Burp Cloths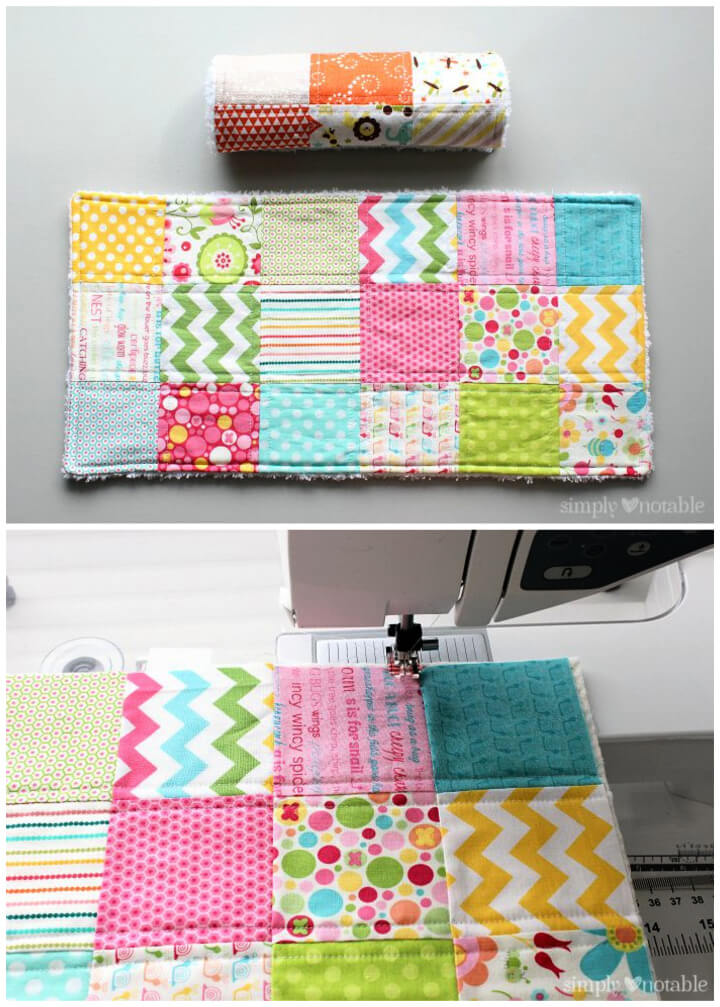 Willing to make special burp cloths for maximized absorbance? Then sew these quilted burp cloths using the 9.5″x18″ of each flannel and chenille piece or terry cloth. Use 18 3.5″ squares of different fabric for creating a square patterned quilted front of the burp cloth. simplynotable
Related DIY Projects and Ideas
Baby Bib Patterns: These free baby bib sewing patterns are designed to protect clothes from drool and food stains. They are easy to make and can be attached with Velcro or buttons.
Baby Clothes Patterns: These free baby clothes patterns are the perfect way to make a baby dress, romper, or a layette to celebrate an upcoming arrival.
Mei Tai Baby Carrier Patterns: These free Mei Tai baby carrier patterns are perfect if you're looking to make a DIY baby carrier. They're designed to be easy-to-sew, with detailed instructions and tutorials.
Babies Pants Patterns: Here are free baby pants patterns for you to enjoy. We hope these patterns will be useful in making adorable clothes for your little ones.
Baby Sling Ideas: A list of easy DIY baby sling ideas to help you carry your baby in style and comfort. These tutorials will help you to find an awesome present for a pregnant woman or a new mom.
DIY Baby Shoes: Making your own shoes is a fun and easy craft that lets you personalize your little one's look-and-feel. You'll find the best baby shoe patterns and tutorials, all with free step-by-step instructions!
Baby Blanket Ideas: Blankets are a great way to keep your baby warm and cozy. Choose from creative DIY blanket ideas to sew or quilt, including free patterns for the beginner sewer.
Conclusion:
Whether you are a new mom or just need some extra burp cloths on hand, we've got you covered. We have a free printable 20-page PDF with all sorts of different patterns for you to sew your own burp cloths. You can use any type of fabric you want, but we recommend using flannel for absorbency and softness.