Everybody loves a trendy and stylish wardrobe! However, running over to the tailor or seamstress every time a new design pops up in your head or in the market, could get quite exhausting. Try these 15 latest neck designs, you can totally make these all by yourself. All it needs a few basic sewing techniques, and guess what? The tutorials that we have chosen below will let you master these new neck designs art from scratch! Even if it is your first time trying your hands at sewing something by yourself, you can still pull off these popular neck designs. It is mainly just the cutting technique, and then comes the carefully sewing part!
We have got some minimalistic and trendy neck designs like the evergreen and charming boat neck design, the simple piping neck design, a V-shaped ban collar design with buttons or loops, or simple piping. The frill round the neck has been quite famous for a long time! And we have added to that to the list too! Plus, if you have an old shirt which you would like to make a little more formal for any occasion, get the different neck designs to hack for it too, below. So, just grab your sewing machine, chalk, Buckram piece, piping material, or scrap piece of cloth, buttons, loops, lace, stones, and let's get started to DIY Fashion now.
1. Dori Neck Design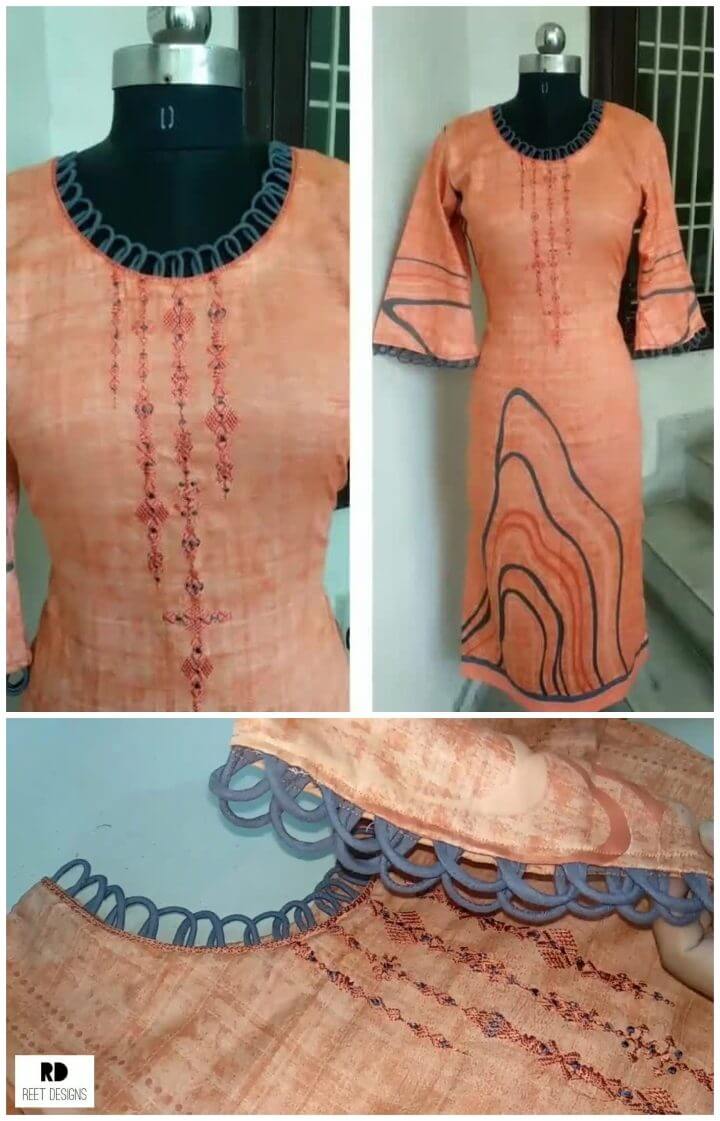 Are you looking for an Asian traditional neck design? This Dori neck pattern is making quite the perfect spirals and giving this shirt quite the charming appeal. The over-lapping Doris is making a very catchy spirally look. youtube
2. Kurti Front Neck Design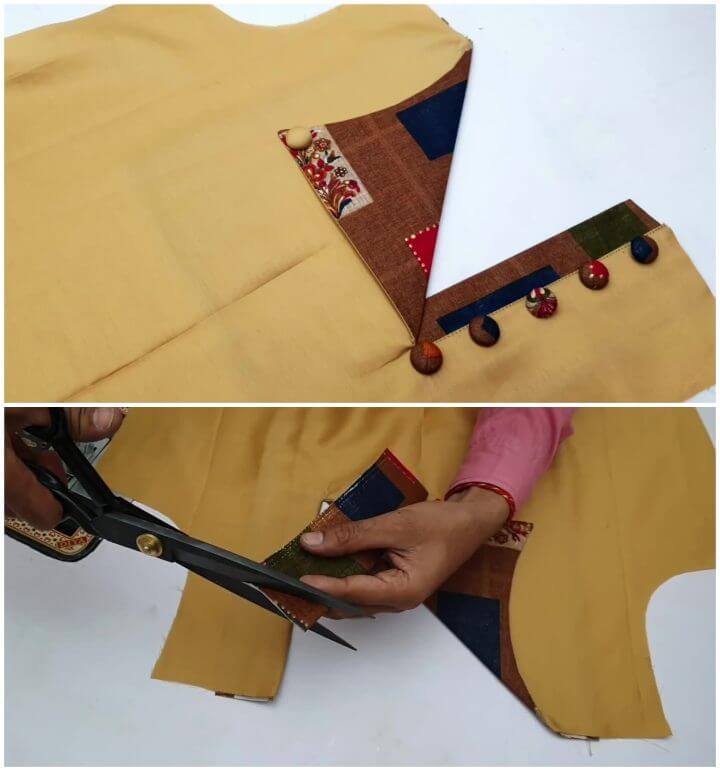 On a monotone color kurta, add this textured and charming, subtle neck design with layered ribbon-ed buttons! The single shade of the shirt is making the textured neck design quite stand out. Hit the tutorial for the sewing details. youtube
3. Lace Dori and Buttons Neck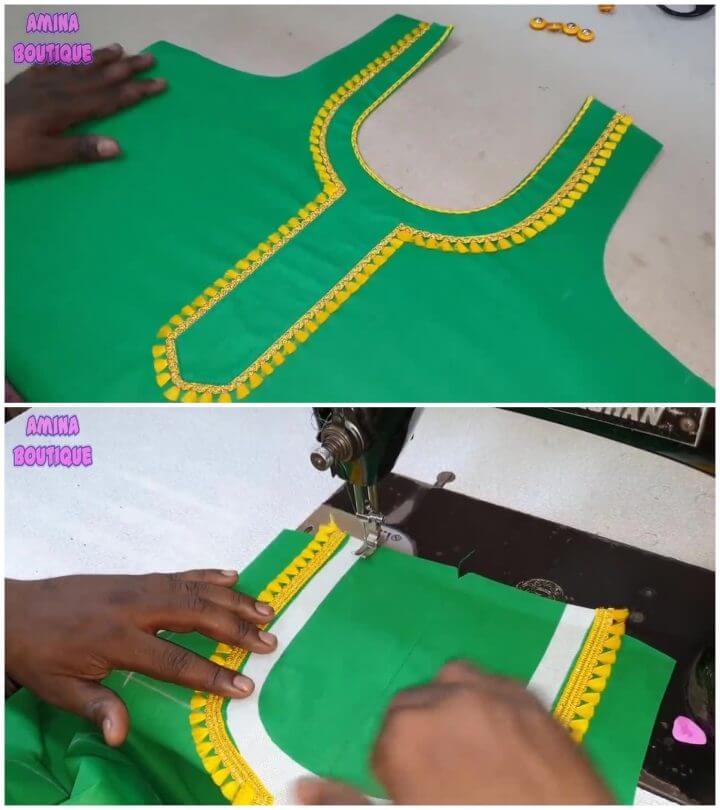 The neck design of any shirt is the most outstanding part ad it usually gives the true #feels to it! Given how all the ladies are always so concerned about it. If you are looking for a catchy design yourself, this Dori combines with lace design is looking quite appealing. youtube
4. Neck Cutting and Stitching Pattern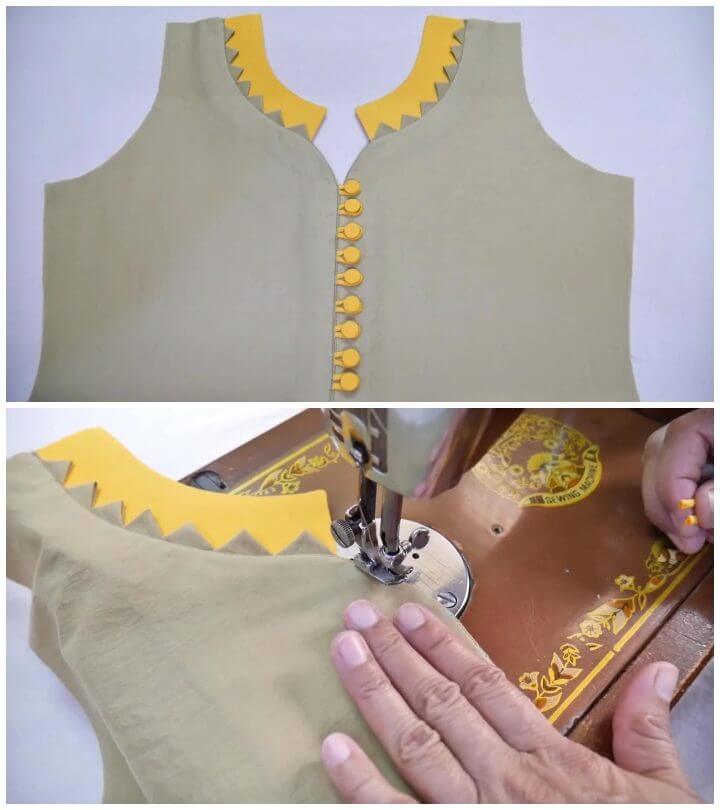 Add an applique touch to your neck design with the oh so easy sewing technique, as shown in the tutorial! Combined with two monotone shades, the key in sewing this applique ban collar design is to work closely around the triangles of the front shirt piece. youtube
5. Piping Neck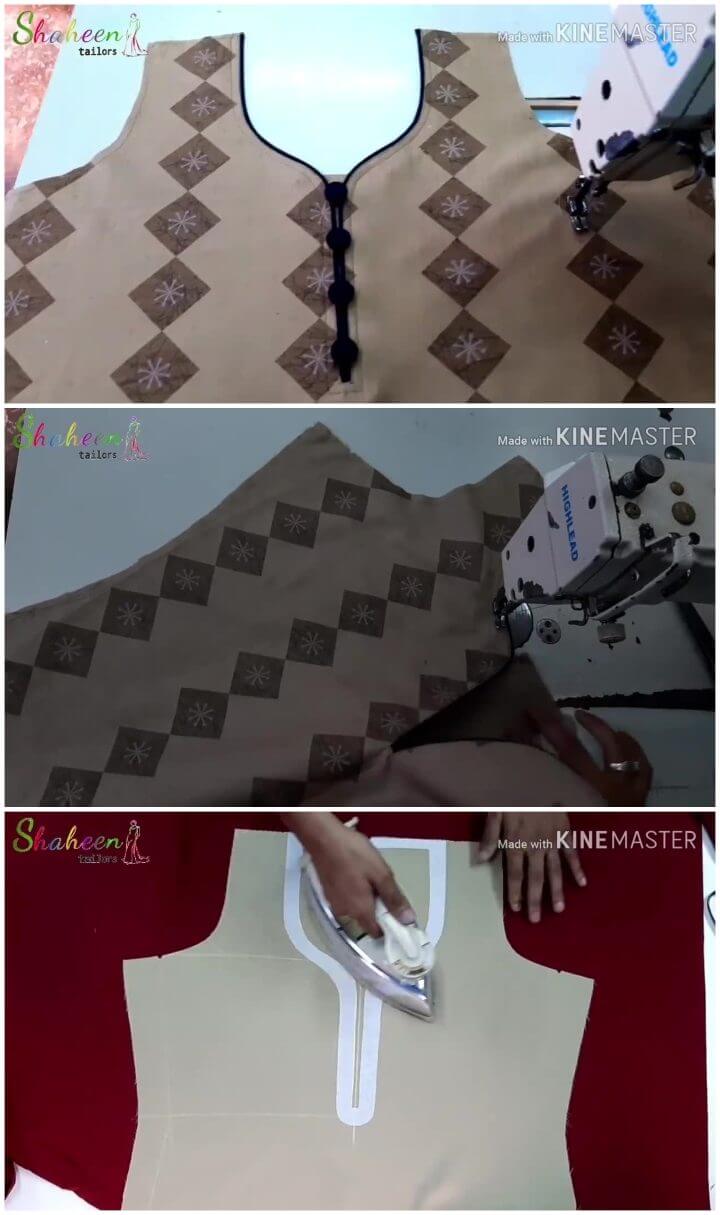 Piping has always been ladies' favorite clothes embellishment design thing! It is quite easy to make, and it adds quite a minimalistic yet stylish appeal to the dress. You just need to find the single shade color of the most dominant or contrast color of the shirt and sew it like close piping across the neck. youtube
6. Button Loops Neck Design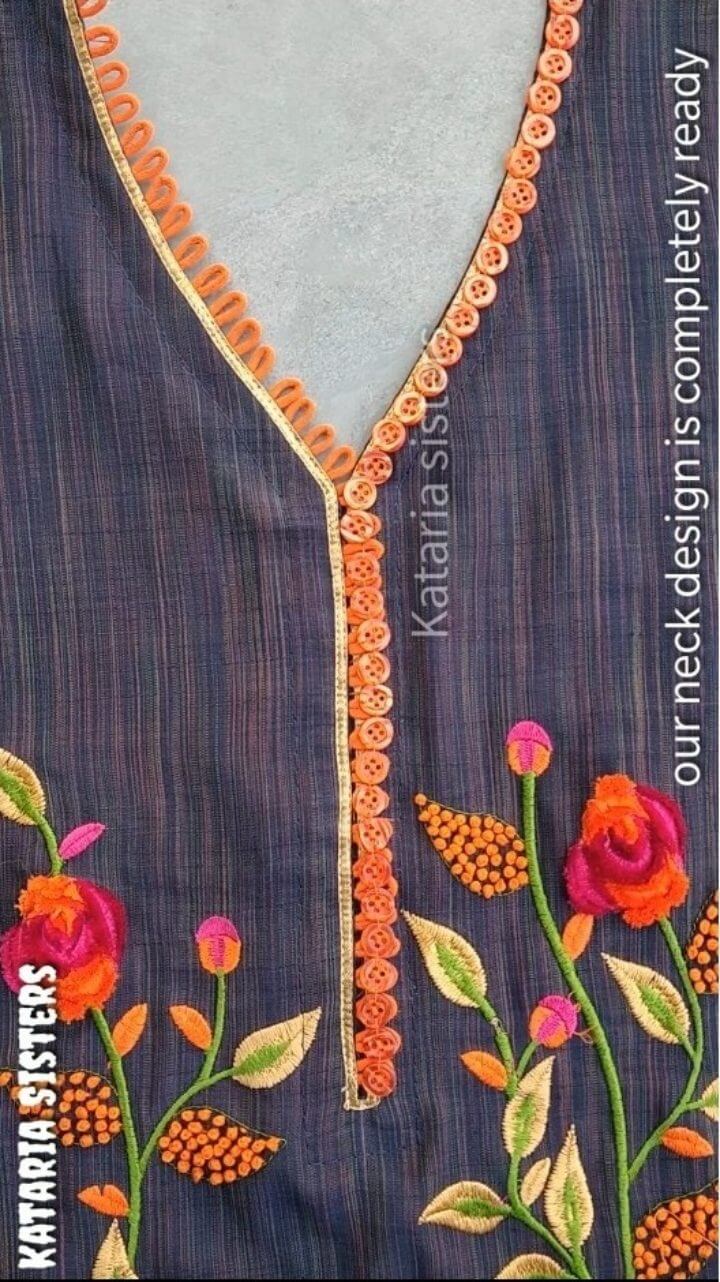 This button loop neck pattern is surely going to a major hit around your friends and family! Around a simple V-neck, you can just start of sewing the buttons and loops from the two opposite lines of this V and then join them together to close the buttons in the loops at the end! Like a bridge joining at the end. youtube
7. Neck Design for Beginners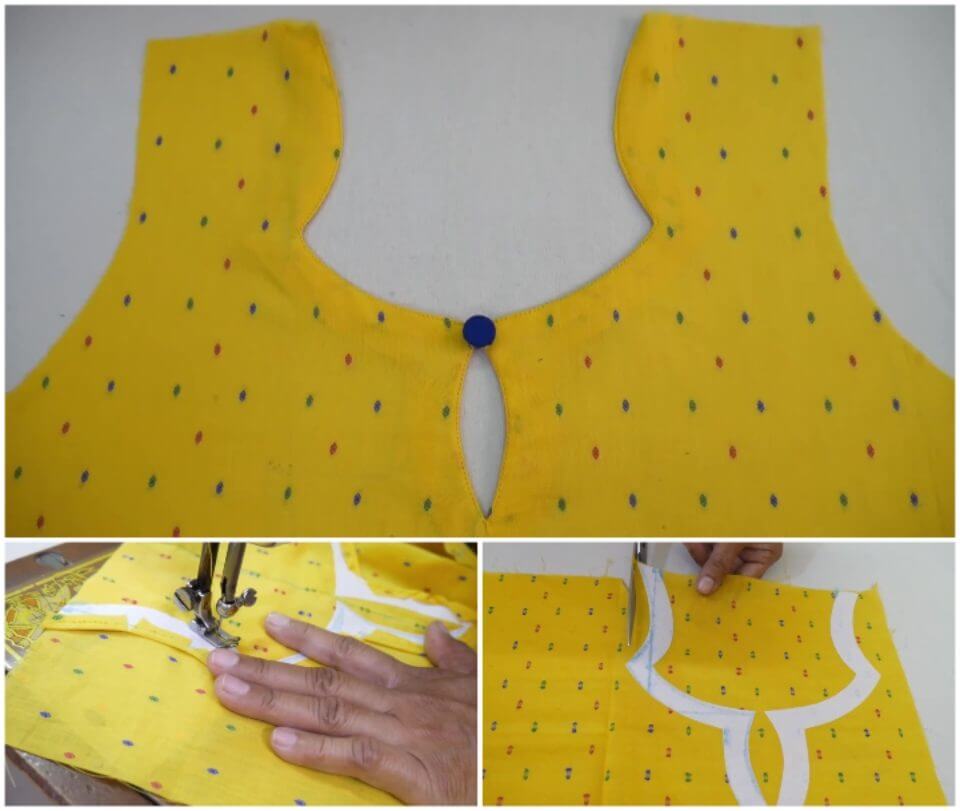 Are you a beginner at sewing and cutting neck? With this tutorial, you can nail the art of making a DIY neck design by working around a piece of buckram piece and starting with the measurement using chalk to mark the points of cutting. youtube
8. Stone and Lace Work Neck Design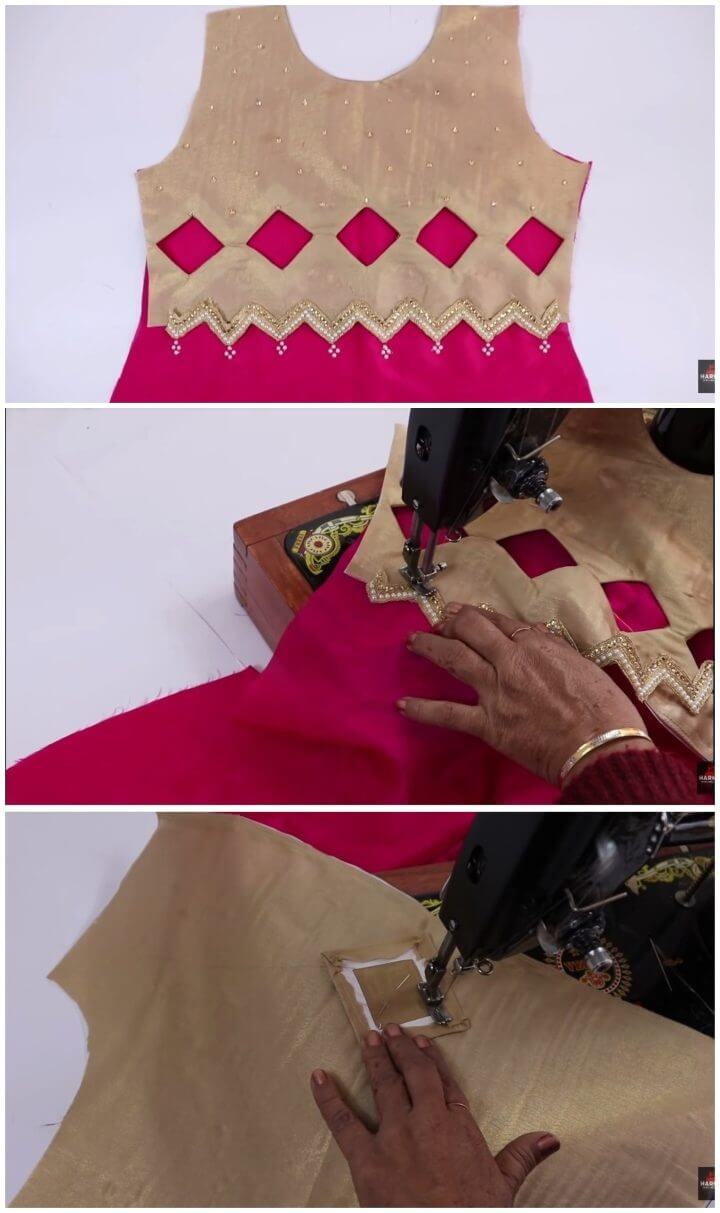 You can introduce a hint of formal wear in your casual shirt or a monotone shirt with stone and lacework neck design! Add pieces of stone to a simple piece of clothing, you can add them using glue! Make these charming square dropdowns in the middle and finish the neck pattern with triangular cuts covered with fancy lace. youtube
9. Piping Neck Design for Suit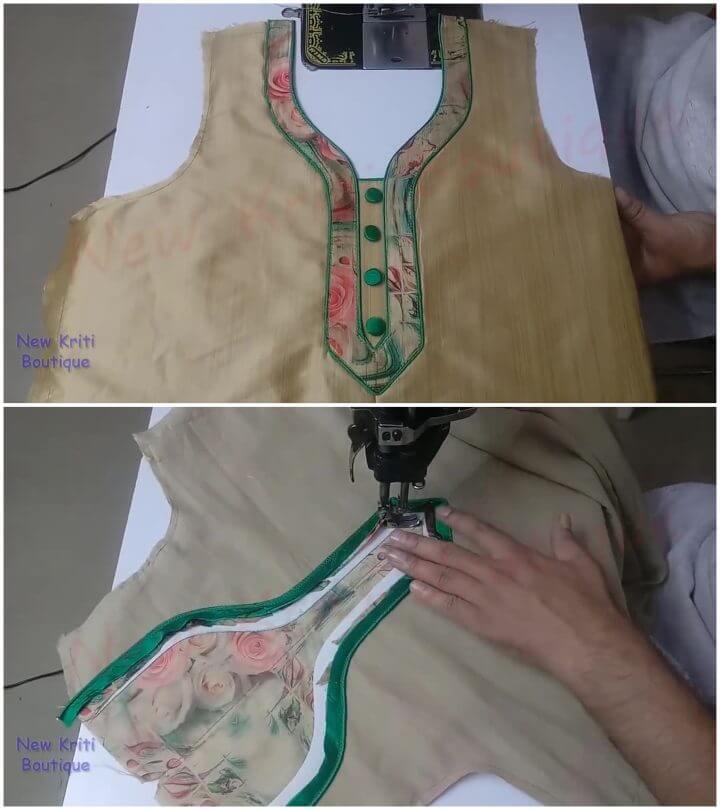 Check out this floral embedded piping neck for your simple shirt! It will add quite a lovely touch to your shirt! Just cut down a V-shaped neckline design with piping at the sides and floral or any colorful textured print inside. youtube
10. Pintex Neck with Lace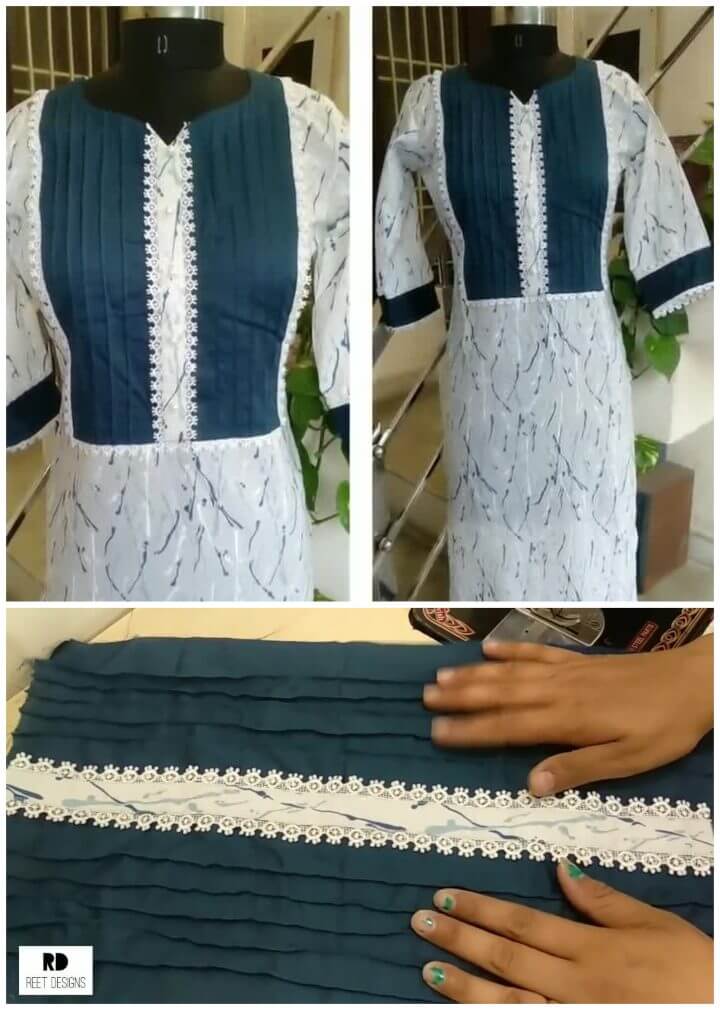 Check out this trendy kurta with a pintex open neck style in the middle! With the pleated textured at the sides, the lace inside and right under the pintex is giving a very pretty, overall look to this design. Get the sewing technique here. youtube
11. Boat Neck Pattern with Pom Pom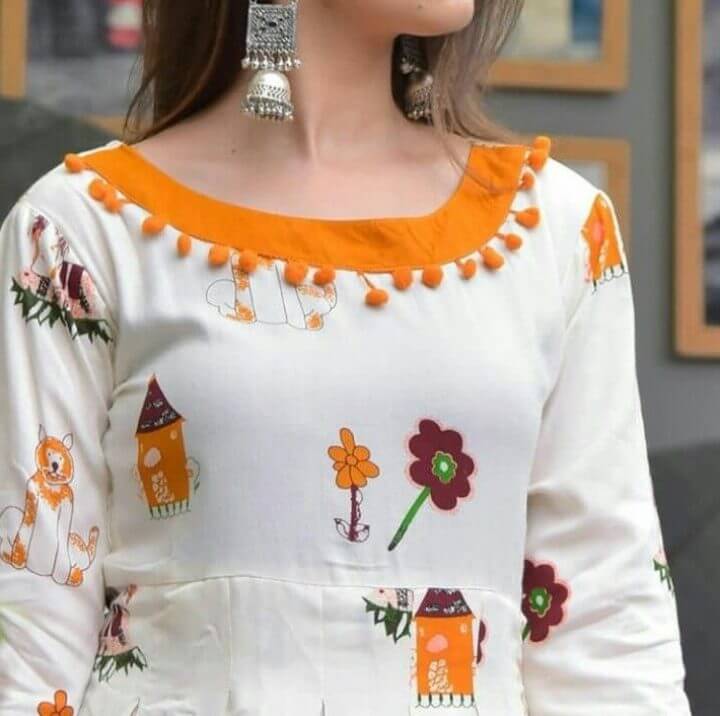 Boat necks can add quite the trendy feels to even a simple shirt! We totally love the look of this boat neck design with the pom-poms attached at the end! You can either keep the boat neck with piping at the upfront top or use a bordered contrasting piece of cloth to make it stand out.
12. Button and Doru V Neck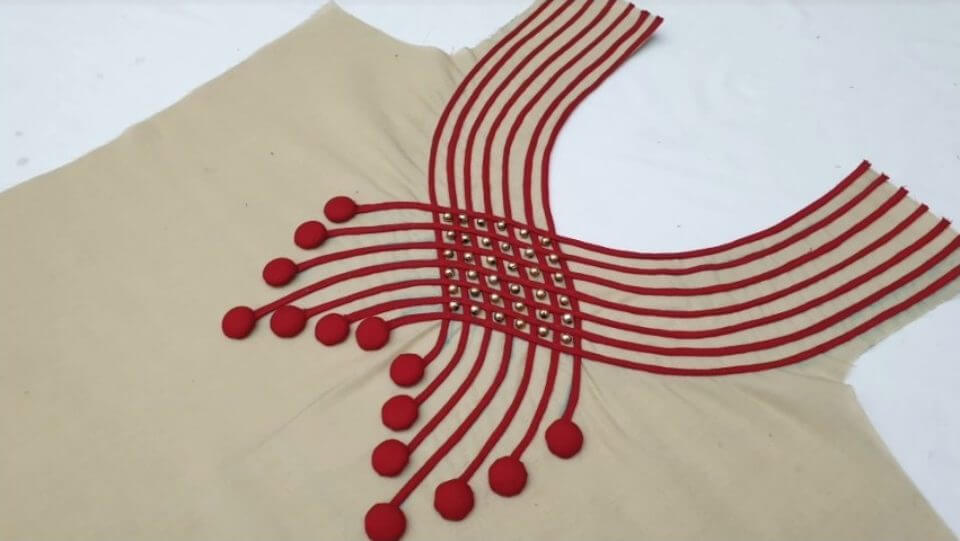 Check out this uber-stylish but darn simple to sew Dori and button neck design! Embellished with some stones in the patterned texture. This design looks like some enchanting long branches of some appealing long branches with buttons at the end, as the main petals! youtube
13. Boat Neck Designs for Kurti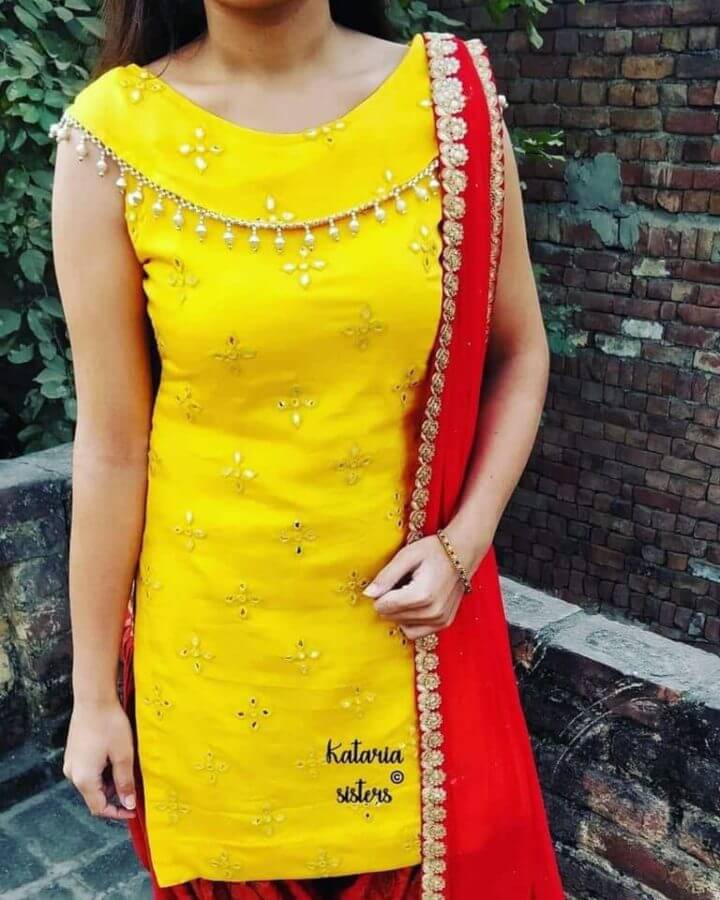 This boat neck is going to make your kurta look way more trendy than it already looks! Just the same piece of kurta print turned as the thick base of the boat neck and laced with some beaded lace at the bottom. youtube
14. Nyc Collar Neck Design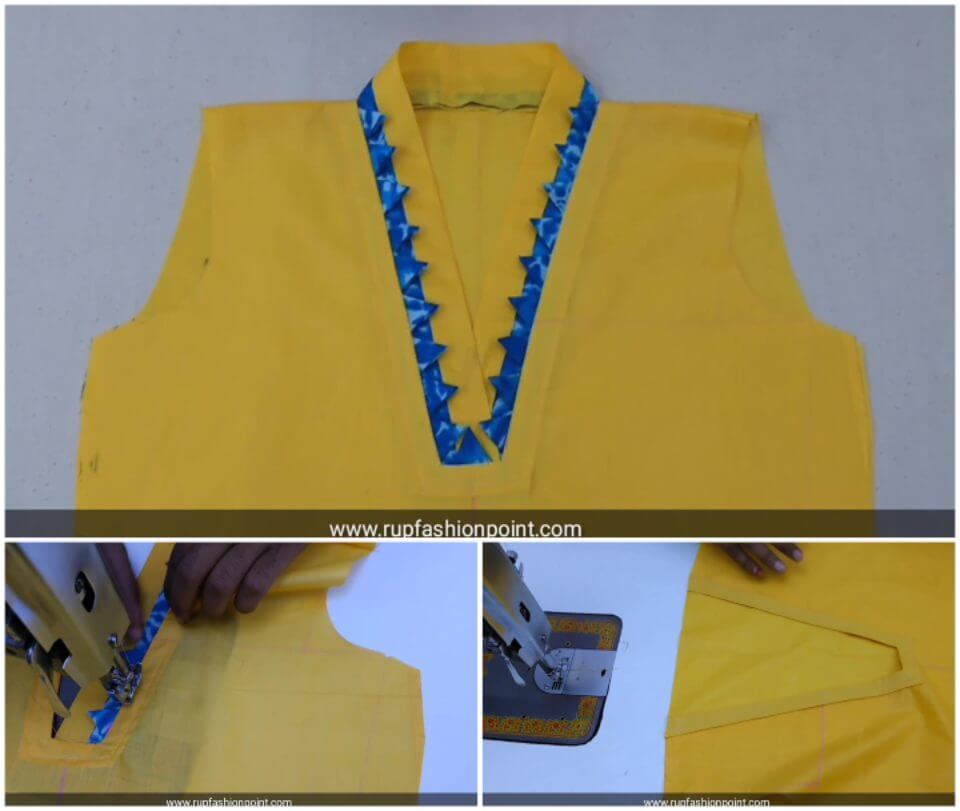 The ban color neck is quite favorite and trendy for quite a long time, now! It gives quite a stylish and elegant look to the shirt! You can make it look even prettier by embellishing the sides of the V-neck design with this applique kind of sewing pattern. Check sewing details in the tutorial. youtube
15. Frill Work Neck Design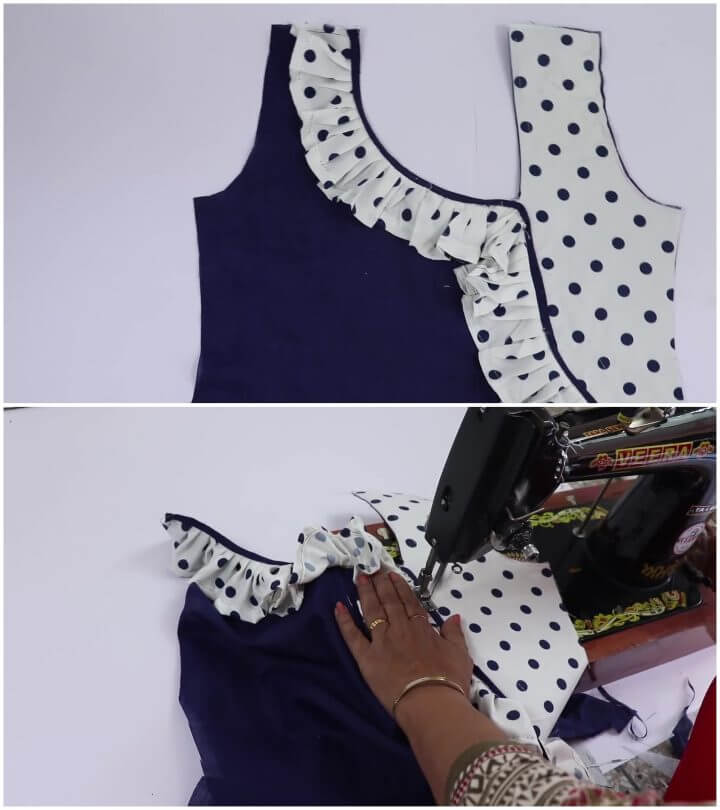 Give your shirt a trendy frill neck form by using two contrasting fabrics! Use the textures or in this case, the polka-dotted print as the frill sews on a plain base. This will make it stand out even more, and you can also add plain piping at the other end too! youtube
Bring the oh so easy to make trendy neck designs to spruce up your wardrobe! These different types of neck designs are darn simple, and they can come in quite handy to add a simple yet elegant and stylish look to any casual or formal kurta and shirt! Happy sewing, fellows. Be your own happy designer!