If you love looking stylish and spend most of your time thinking about how to create the dazzling good looks of you then you should definitely stay here! Here we are talking about the boho style that is in rage and has won the heart of every fashion enthusiast with its amazing traditional values and fabulously stylish features! So, if you also want to wear a boho style and then you should definitely consider making your own bohemian clothes and accessories at home to add to your wardrobe and we have made it super easier for you! Simply browse this collection of 25 Best DIY Boho Clothes and Jewelry Projects that have exclusively been thought and designed to rock your summer fashion! So, enjoy this summer by updating your wardrobe with these DIY boho clothes and jewelry items that are all well-thought ones and are sure to be special for bohemian-style lovers! These are really the best picks here if you want to make some boho accessories at home using the item you already have in homes like the fabric scraps, denim jeans and yarn and other items of this kind!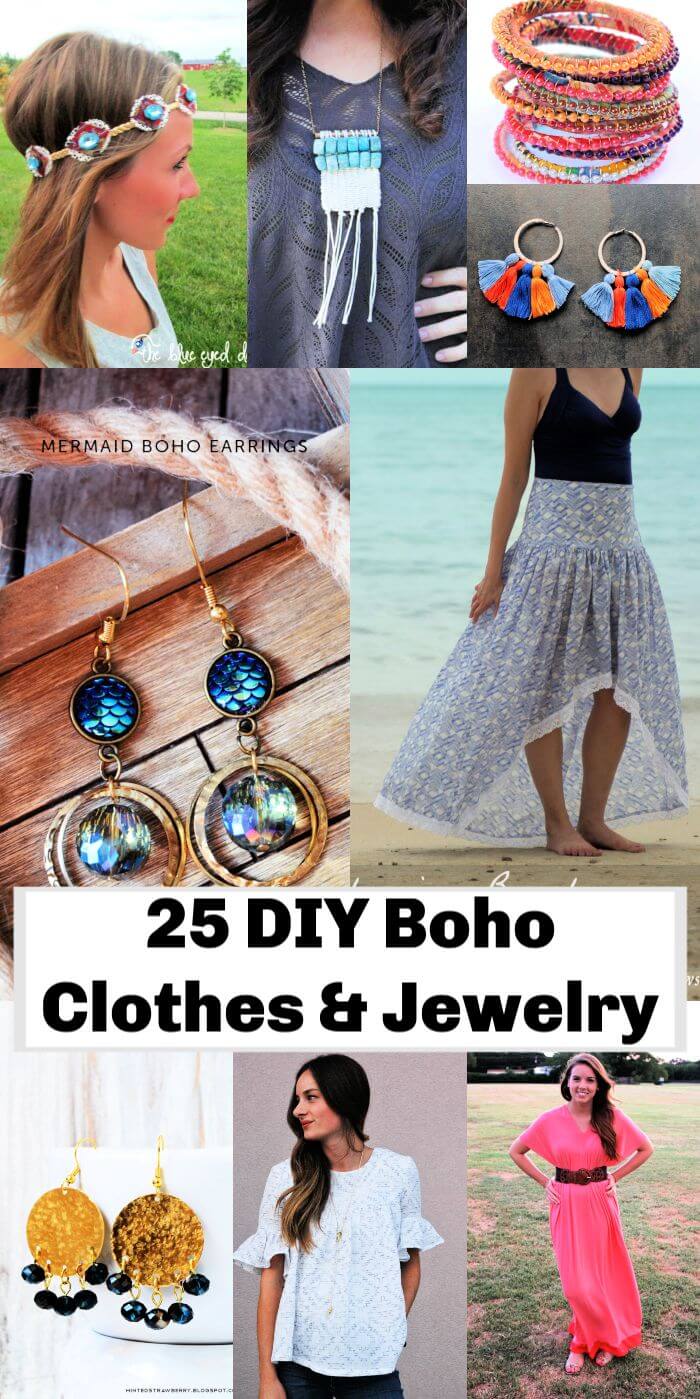 In clothing, sew the lovely summer kimonos, the best boho open front shirts to wear this summer when going for a beach picnic may come with bell arms and laced edging, learn more by putting a glance at the given below samples! Modify your jeans with the bell-bottoms and bring a bohemian clothing style to them and also upgrade your normal jackets to special bohemian uppers by sprucing them up with the yarn fringe trims! Also, sew the lovely bohemian style maxi dress and also design the lovely boho jeans shorts, will make a great wardrobe must-have to wear boho style this summer!
Summer Clothes:
In jewelry, make the woven yarn necklaces, the yarn or leather cord tassel earrings and also the very special boho-chic headbands that will all make you wear an outstanding and summer special bohemian style and you can quickly make all these bohemian style jewelry items at home! This not ends here, also make the yarn boho choker necklaces, the darling tassel boho rings, super beautiful shell embellished beach boho ankle cuffs, special bohemian bracelets and earrings at home without getting expensive! Browse the collection to see mind-blowing sample DIY crafts and check the respective links to get project instructions and tutorials!
Easy DIY Boho Style Kimono: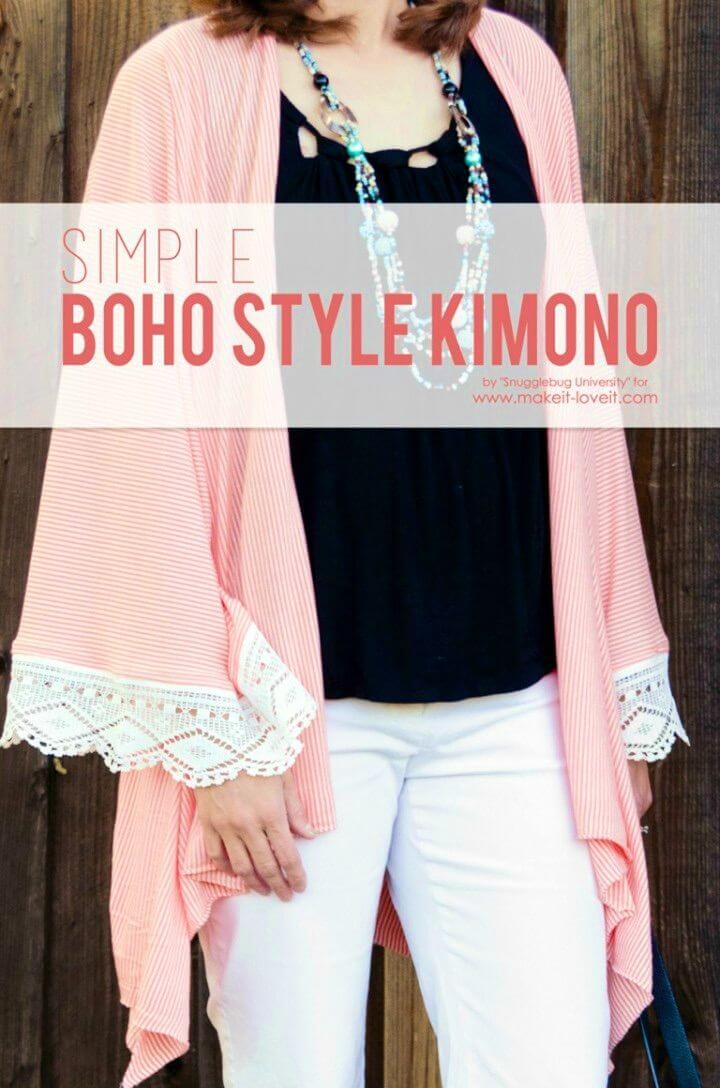 For all the boho style lovers, we have got here a lovely wardrobe must-have to show off the style this summer, this is here a lovely boho kimono that comes with accent laced edges and is sure to create a stylish boho personality of you this summer! Here you can easily sew the kimono at home! Details here makeit-loveit
Make Boho Inspired Jean Cutoff Shorts: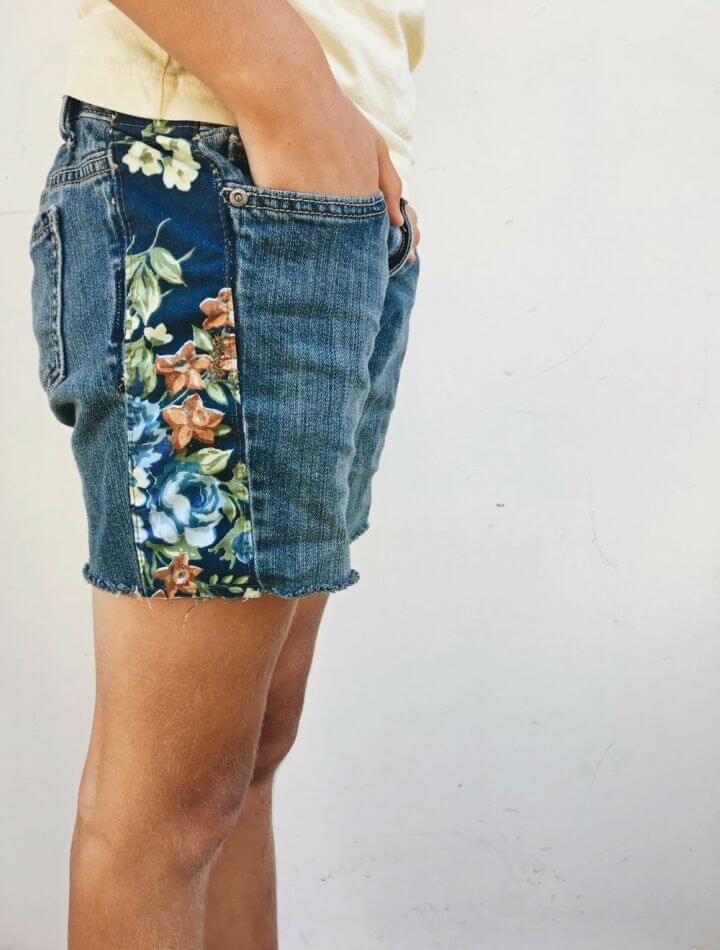 Beat the summer heat in a brilliant fashion way by wearing the boho style! So, start showing off your boho style by making these boho-inspired jean cutoff shorts that are sure to be loved by all the style loving ladies! Trim down your denim jeans to shorts size and then raise the feminine appeal of them with a fabric patch! bluecorduroy
How to Make Boho Kimono Dress: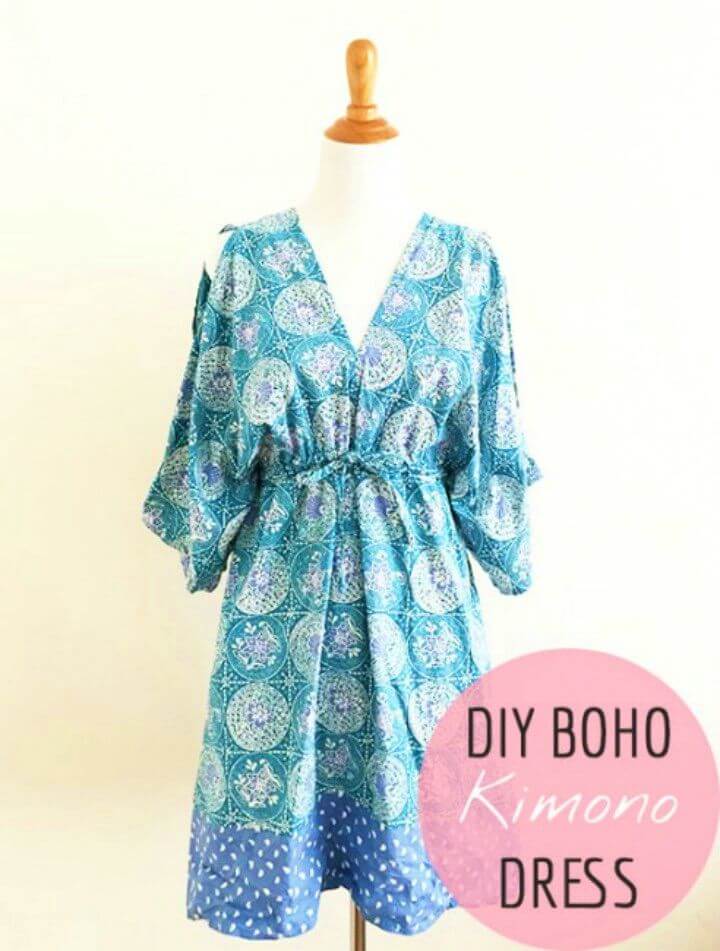 Update your summer wardrobe also with this kimono dress that every fashion lover can quickly make at home! This dress will make you wear a great bohemian style, and it will also make a great gift for a boho fashion lover that may be one of your friend or a family member! Here is how to make it so-sew-easy
Simple DIY Boho Style Earrings: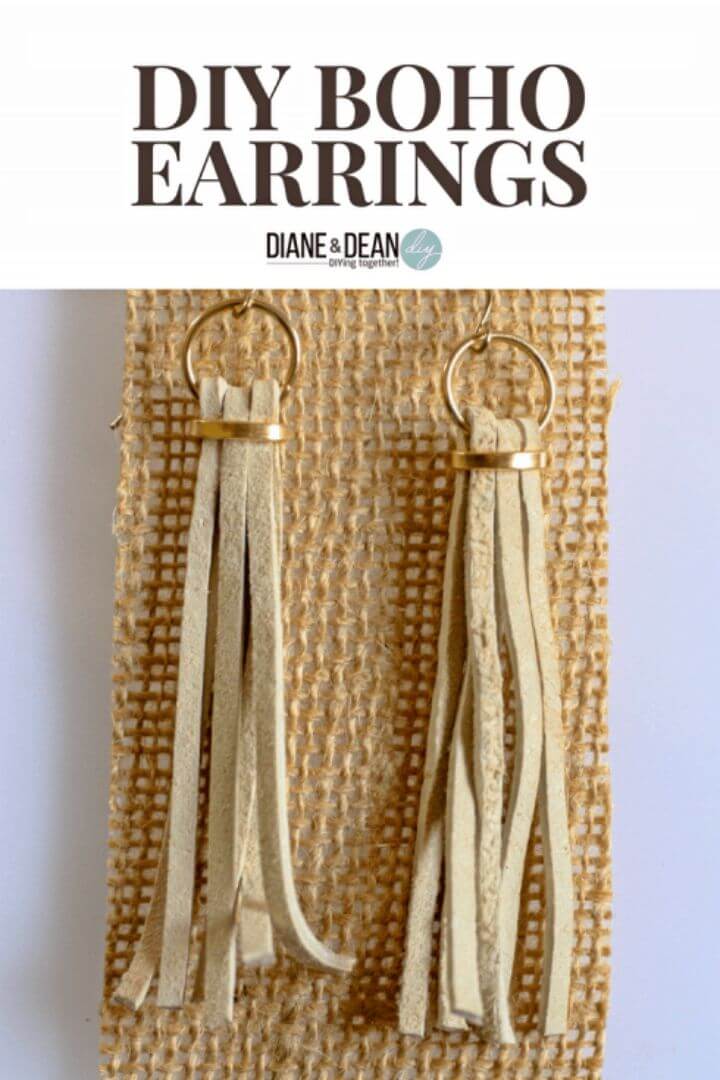 Make also the boho style jewelry items that you can easily pair your boho dresses to get a complete bohemian fashion look this summer! Make these earrings using the fishing hook earrings, jump rings, D-rings and leather cording and wear a great bohemian style with them! A lovely boho jewelry project! prettyhandygirl
Easy to Make Bell Bottoms: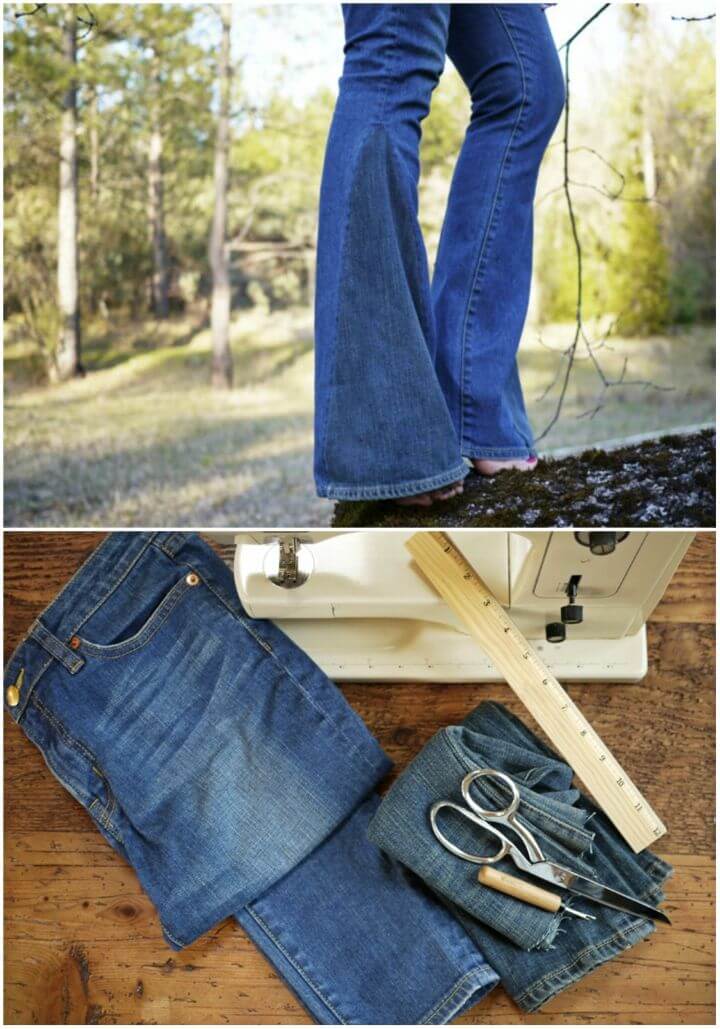 If you create the bell bottoms or sleeves of your dresses or denim jeans, they will also look like the perfect bohemian fashion dresses that you can wear this summer for wearing a bohemian style! Check out here the self-made bottoms of the denim jeans that are looking lovely and this will be smart trick also to boost the feminine appeal of jeans! honestlywtf
Pretty DIY Fringe Jean Jacket: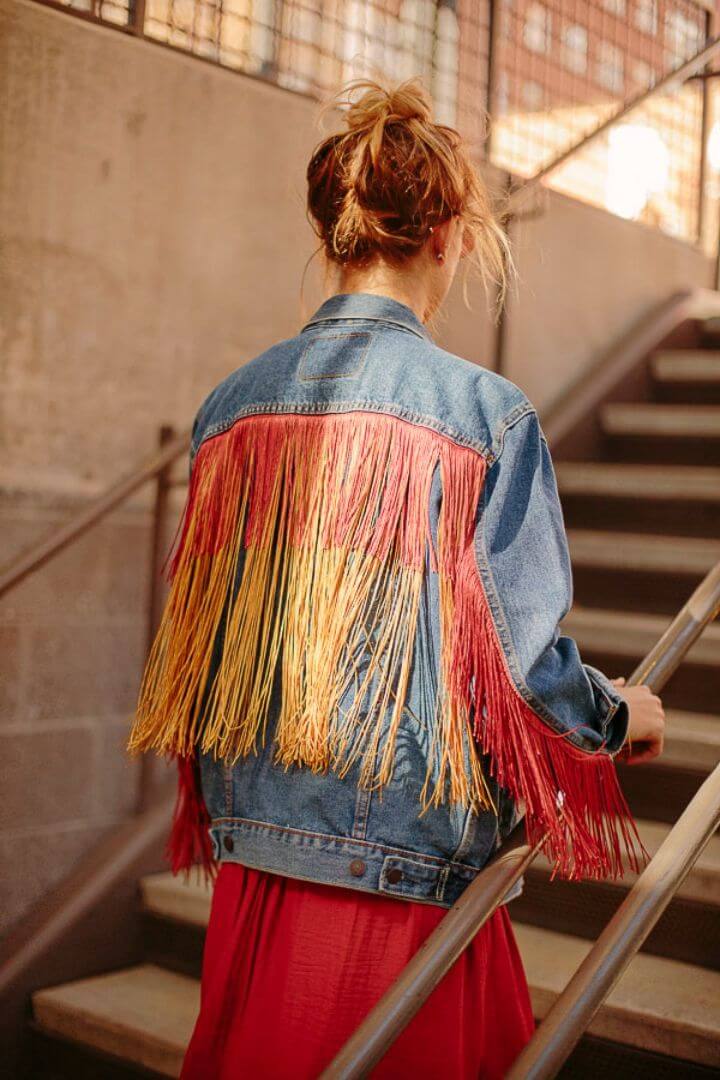 The smoother flow of things mostly of strings is a major concern in the bohemian style, and hence you can also add the colorful yarn fringes to your favorite items of fashion and interest for a cool bohemian touch! Get inspired by this lovely fringed jean jacket that is made for rocking boho summer fashion! How-to details here papernstitchblog
Make Dip-dye Side Split Maxi Skirt: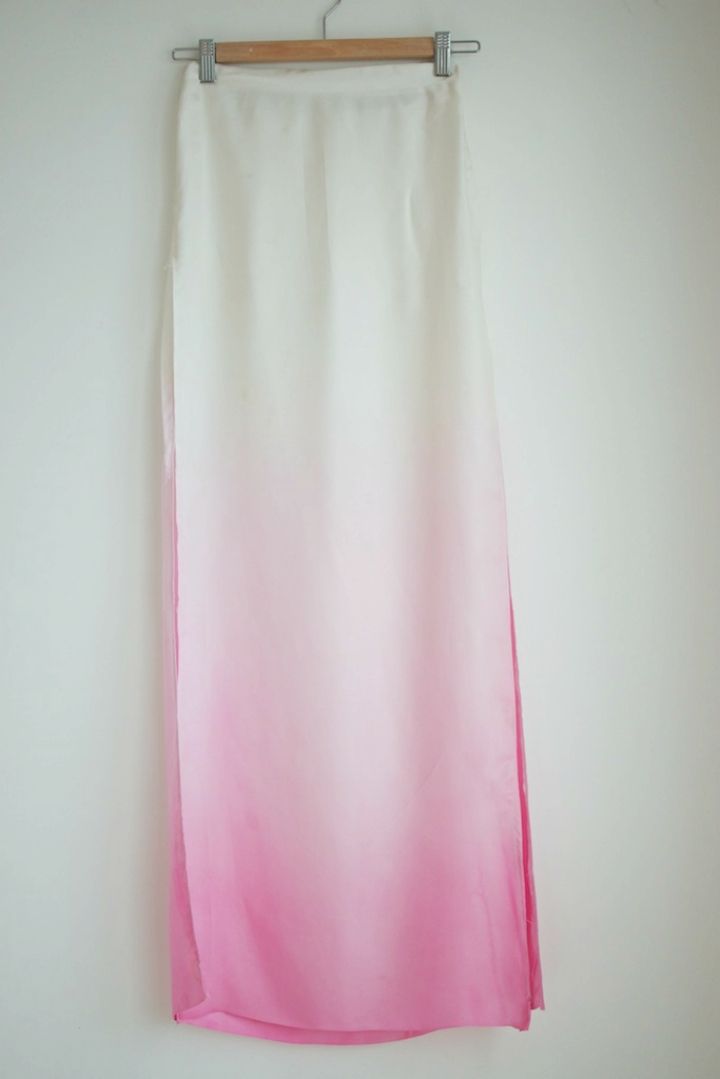 Fall in love with this another great bohemian fashion item that every fashion loving ladies can make at home! Gain a lovely boho style by wearing this dip-dye side split maxi that is sure to be loved by all and will definitely make a big must-have for a boho fashion lover! Also, give it as a gift! Details here apairandasparediy
DIY Boho-maxi Dress – Sew Pattern: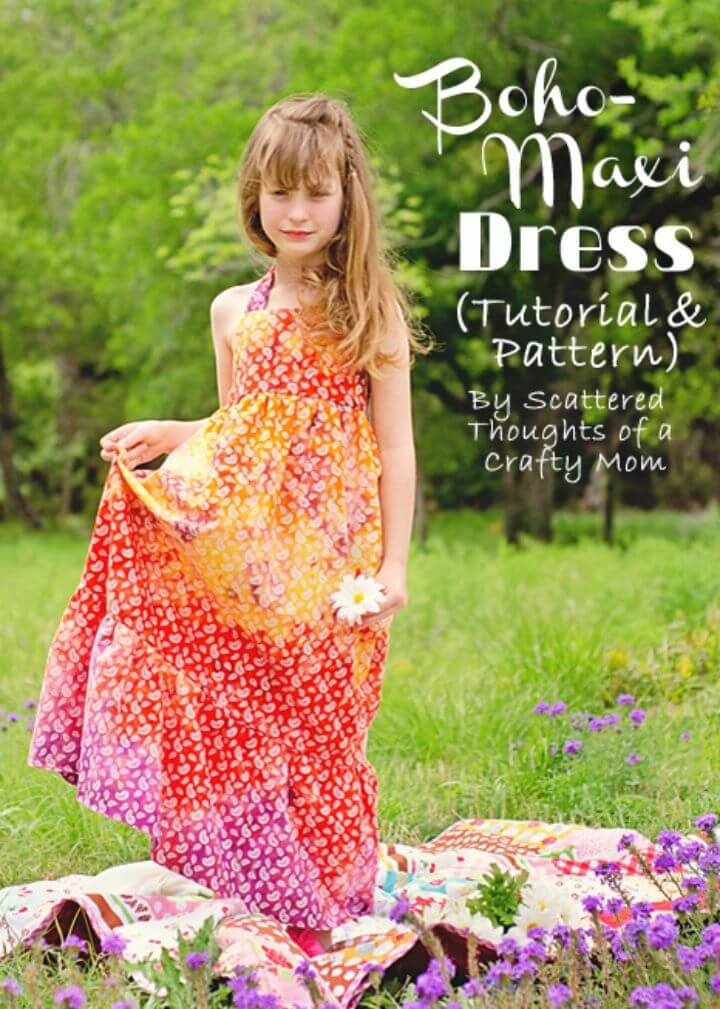 Catch extra eye-balls this summer by wearing this boho maxi that is super easy to sew even if you are a beginner! This maxi dress is for all who want to enjoy the bohemian good looks in the hot days and what amazing in this project that you will get this precious stylish dress without getting a bit expensive! Details here scatteredthoughtsofacraftymom
How to Make Boho Maxi Dress: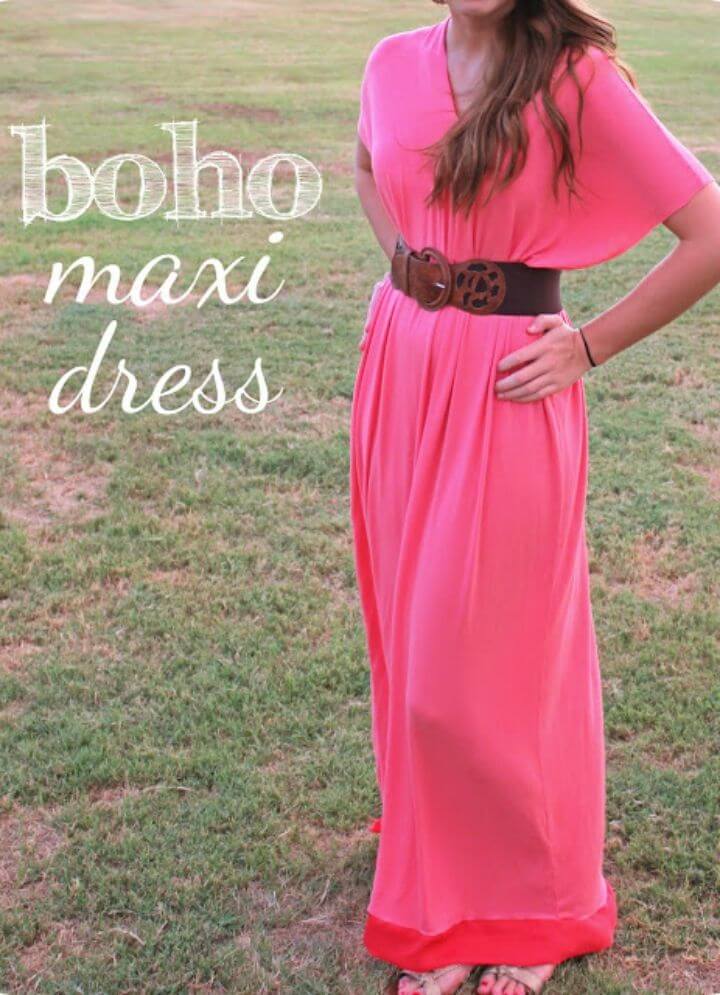 This outstanding maxi dress is definitely going to grab the attention of all boho style lovers, a perfect homemade item of bohemian clothing that everyone can make at home without getting a bit expensive! Sew it with the jersey knit fabric and give accent fabric trim and then dip dye for a hot pink look! Details here sweet-verbena.blogspot
DIY Bohemian Skirt: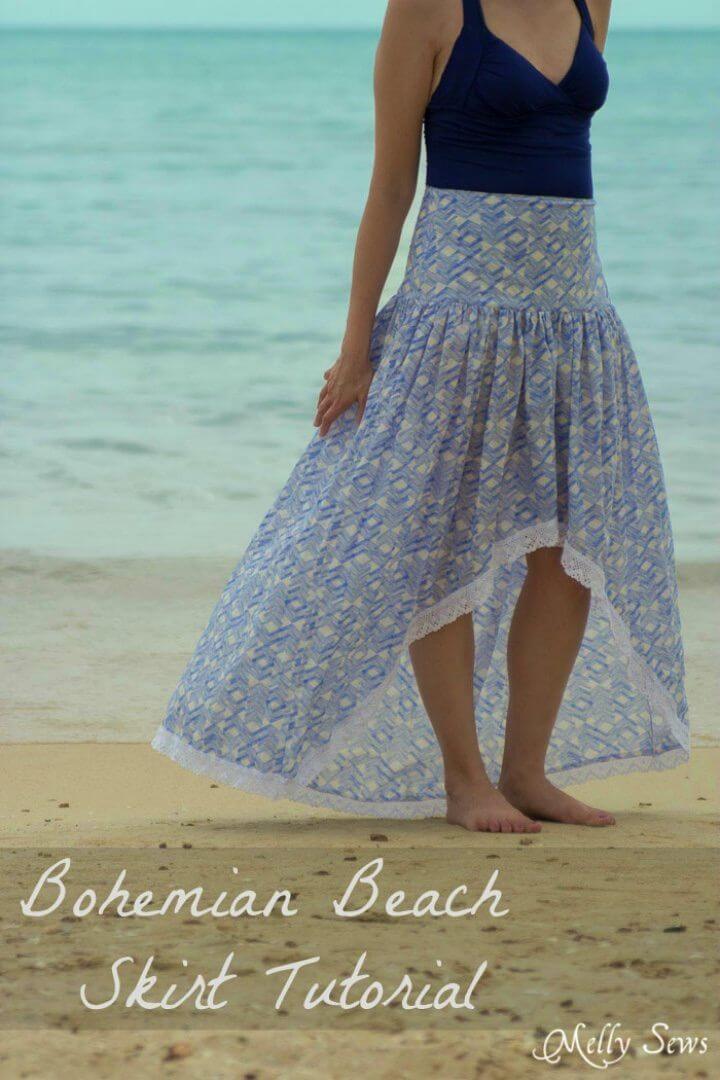 Also, gain the amazing boho style by wearing the lovely skirts that you can sew at home in the bohemian fashion style! If you need some inspirations in this case, then do have a look at this sample bohemian skirt that is sure to create a super cute and stylish personality of your this summer season! Sewing pattern her mellysews
How to Make Woven Necklace: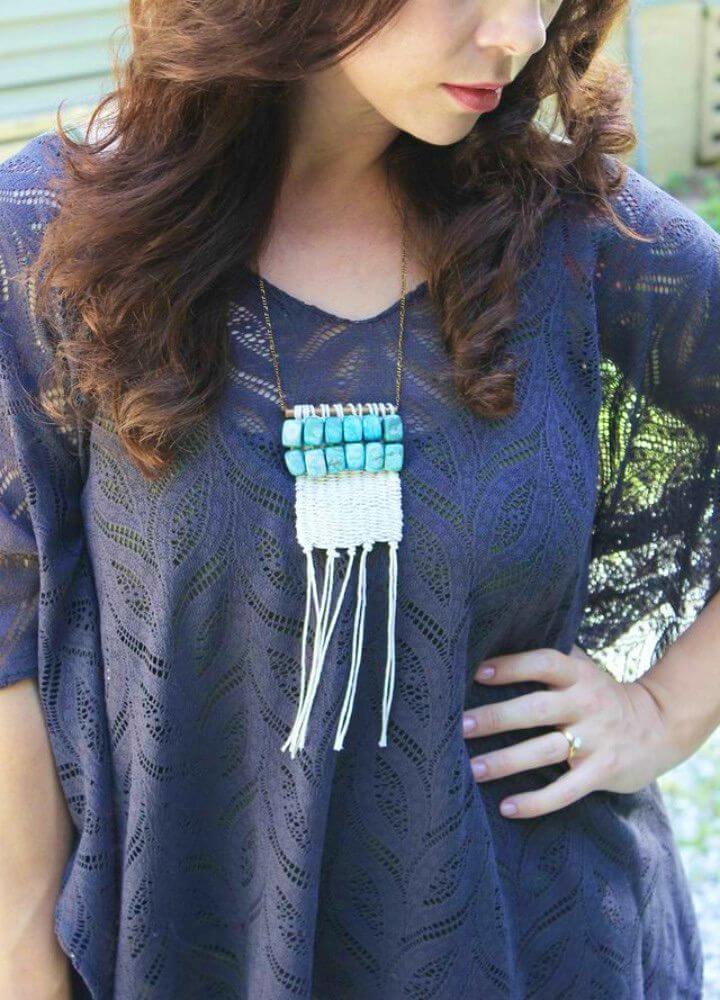 The smooth flow of string patterns and the white color is highly dominant in the boho style! So, you can make anything with a hot touch of these features so it will like perfect bohemian fashion inspired! Get inspired of this woven necklace that is a perfect boho jewelry item here to clone for your jewelry organizer! Details here abeautifulmess
Easy DIY Boho Tassel Earrings: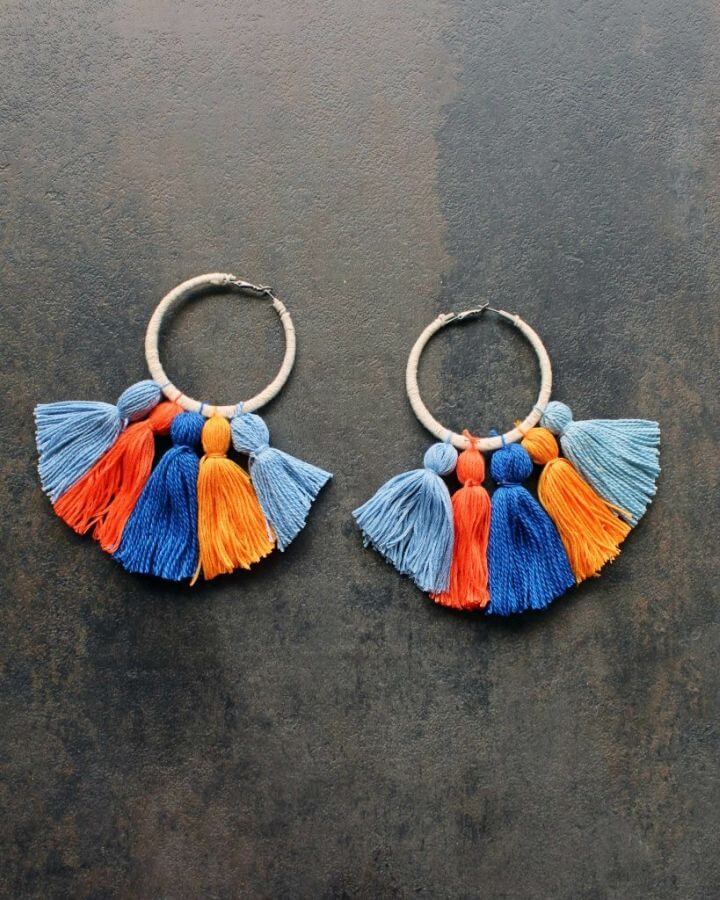 Prefer also the items with lovely tassel attachments and accents if you are on a mission to wear the boho style this summer! Make also the fantastic items of boho jewelry using the tassels just like these boho earrings that one can duplicate by simple adding some yarn tassels to jump rings! Details here creativefashionblog
Pretty DIY Boho Chic Headband: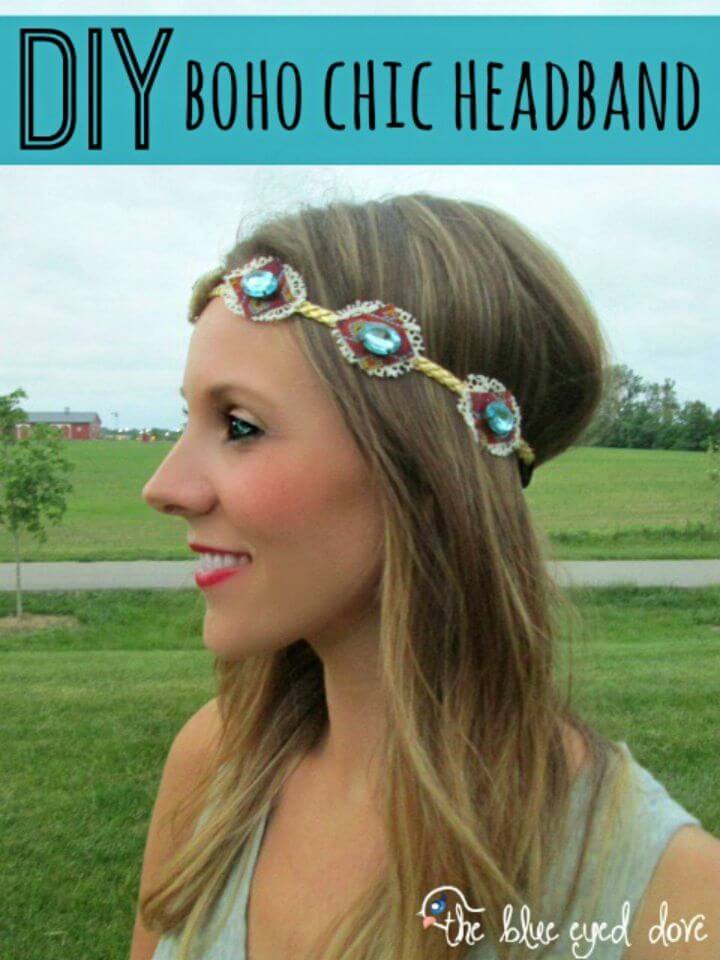 Look like a bohemian princess by wearing this gorgeous boho chic headband that is not less than a princess crown! Make this boho headband using a braided headband, bohemian ribbon, lace, and rhinestones! Another great and perfect item of boho jewelry to make this summer for wearing a boho style! theblueeyeddove
Quick DIY Boho Choker Necklace: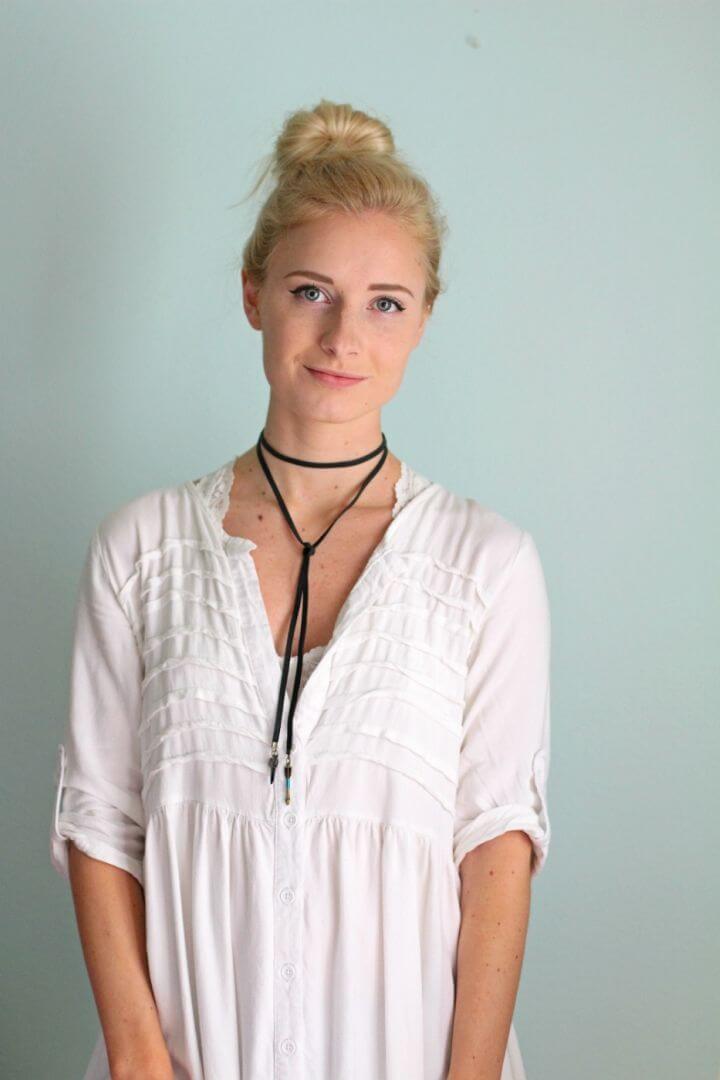 Create an adorable boho personality of your by wearing this very glam choker necklace that also comes inspired by bohemian fashion and is pretty quick and simple to make! Grab the black leather cording, end caps and custom charms to duplicate this boho choker necklace in just a few minutes! Details here sweetteal
Easy DIY Wire Ring with Leather Tassels: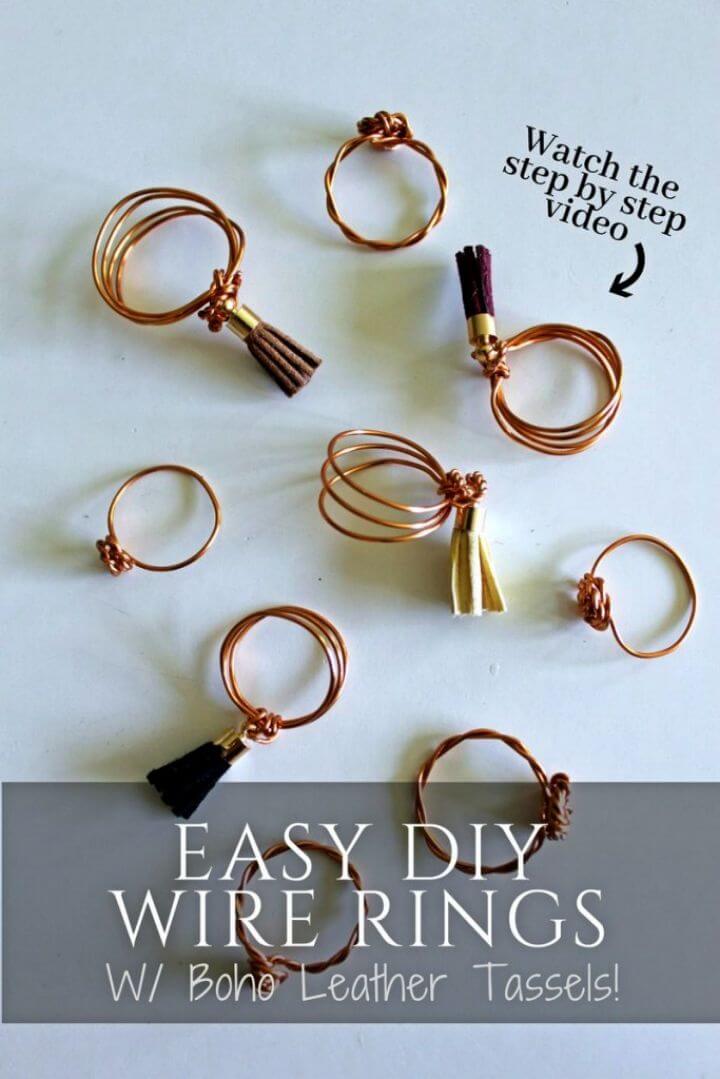 Make the fabulous items of jewelry and finish them up the custom tassel accents to get them boho fashion inspired! Have a look at these lovely wire rings that come with leather tassels and are just perfect for the boho fashion! Twist and coil the flexible copper wire to make the ring base and then finish by adding tassels! creativefashionblog
How to Make Crystal Necklace: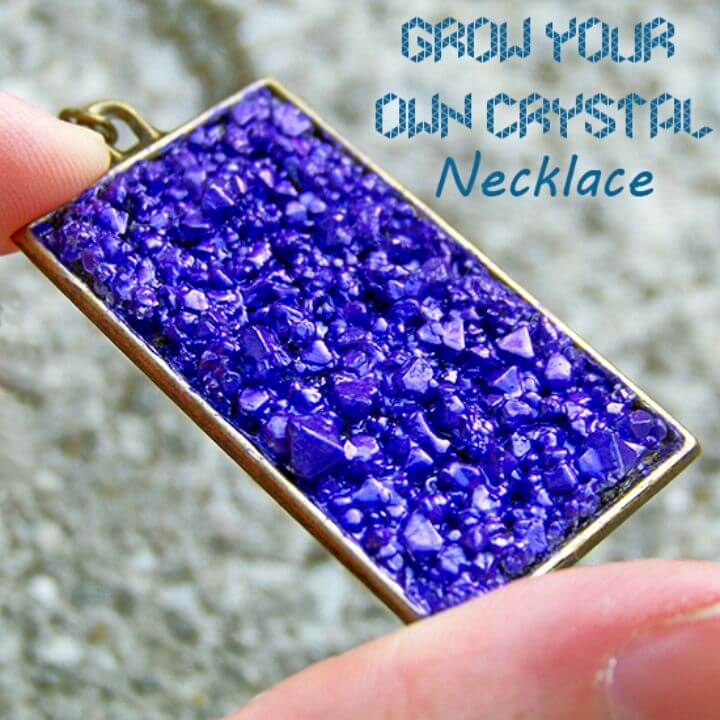 Bring also a great touch of bohemian fashion to your personality by wearing this charming crystal necklace that is super easy to make! Make the alum salt crystals using water, glue them inside a metal necklace pendant charm and then use watercolors and nail polish for creating a crystal appeal of them! Details here thecwaftyblog.blogspot
Make Shell Embellished Ankle Cuffs: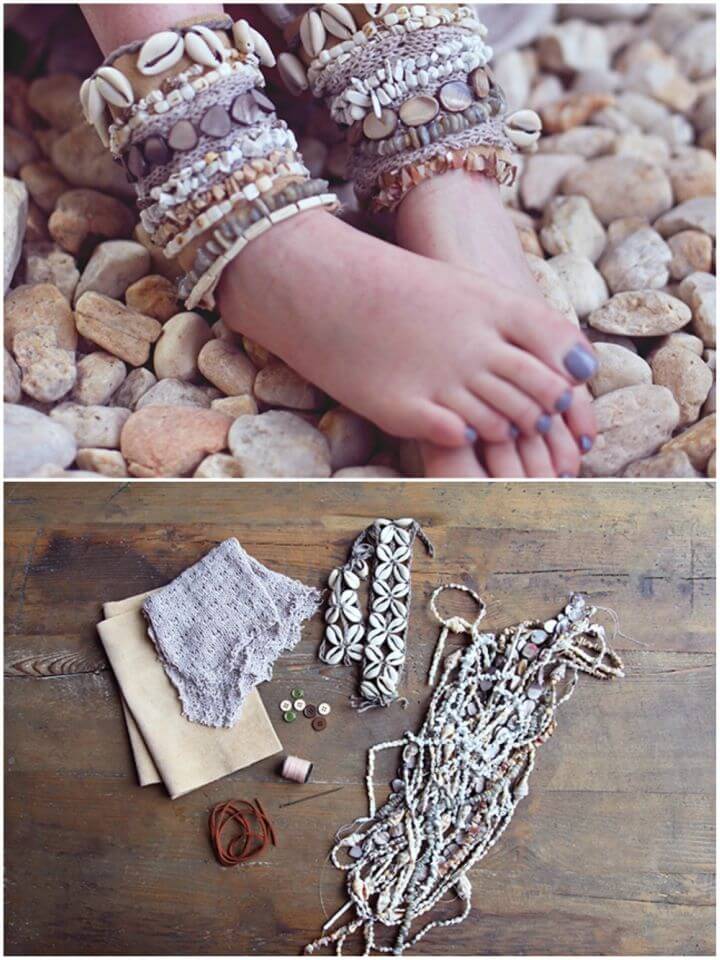 Another great inspiration is here for making a boho-inspired jewelry item, make the boho styled ankle cuffs that will be a big treat to wear while going for a beach visit or coastal walk! Here these boho angle cuffs come embellished with the shells and are sure to bring amazing bohemian vibes to your summer personality! honestlywtf
Super Easy DIY Boho Earrings: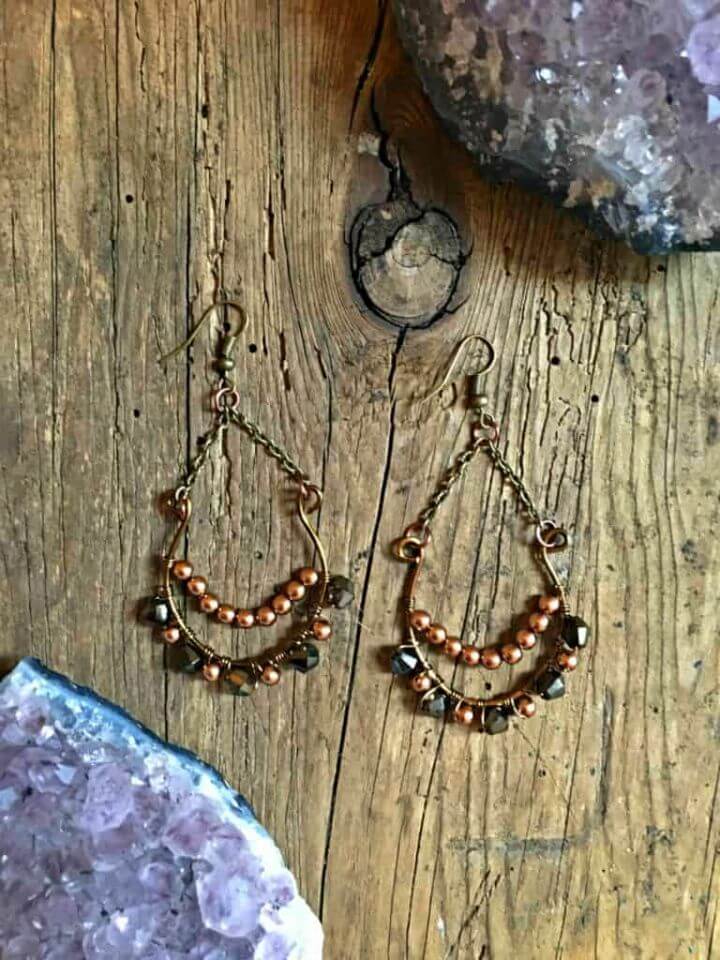 Add up your earring collection also with these boho earrings that are totally handcrafted ones and comes with delicate details! Here you need the brass wire, assorted beads, metal chain pieces, and ear-wires to make these fantastic boho earrings that will also make an excellent gift for boho fashion lovers! Details here craftylittlegnome
DIY Painted Leather Bracelet: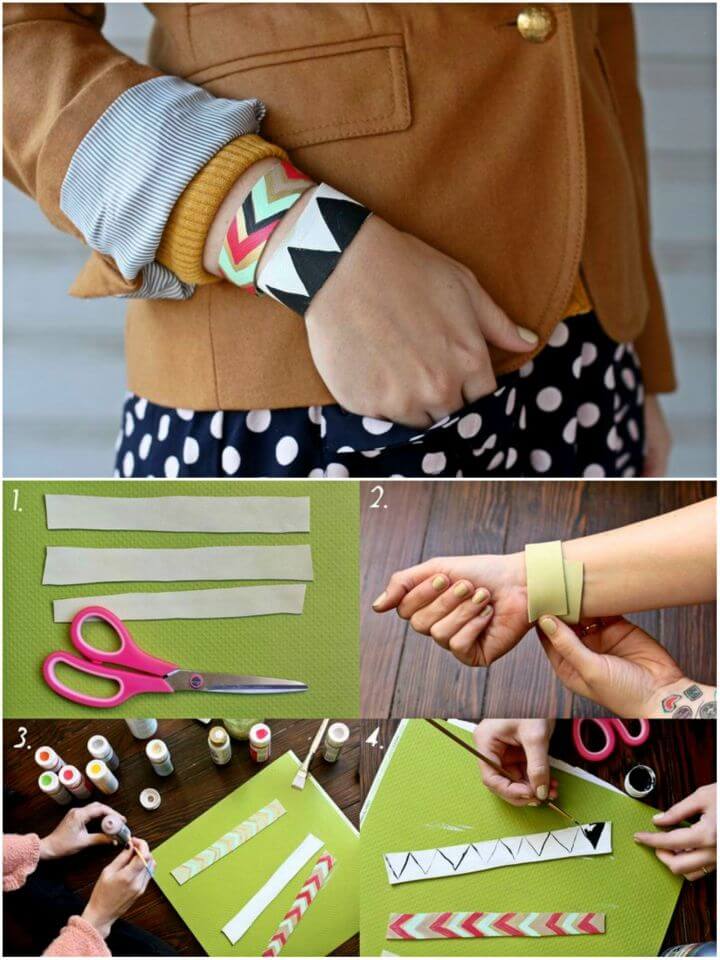 Check out here the super simple but elegant item of boho fashion jewelry that will be ready at just blink of an eye! This here the painted leather bracelet that you can easily make by painting some geometrical or striped chevron patterns on a leather strip! First, trace your patterns on the leather strip and fill paint in them! abeautifulmess
DIY Boho Blouse for Beginners: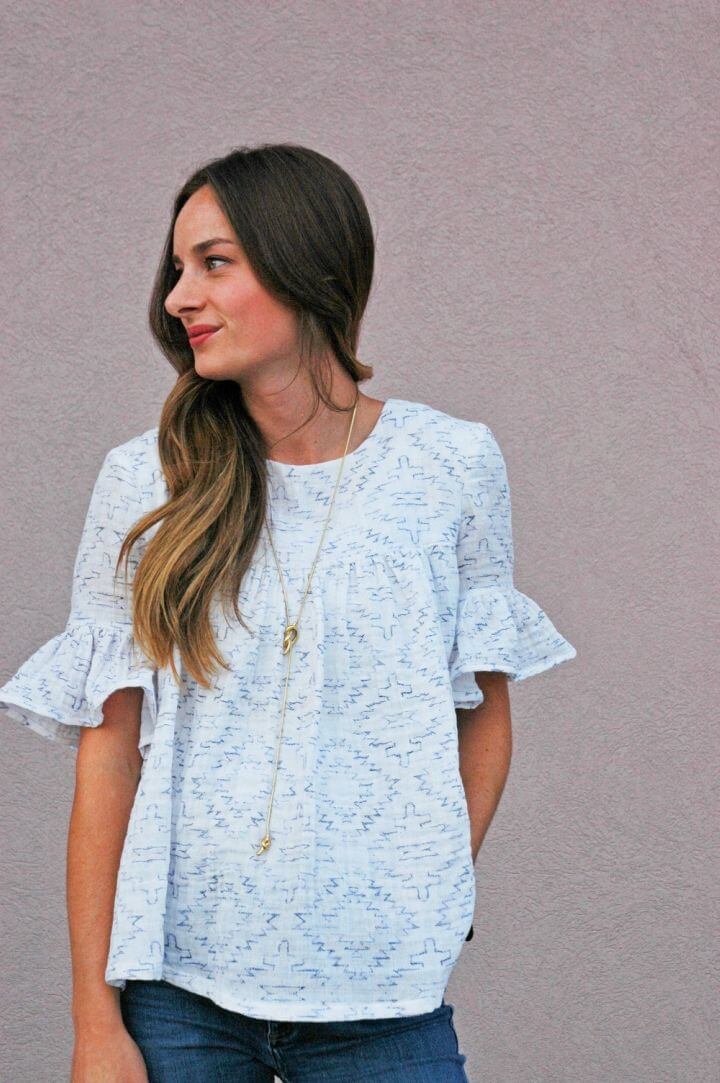 Are you a beginner and willing to do some boho crafting projects? Then do this boho blouse that is beginner-friendly to make and will definitely give your fashion a glam bohemian touch and is super easy to sew! Grab the tracing paper and French linen fabric to sew this boho blouse! Details here blog.spoonflower
Simple DIY Rainbow Earring: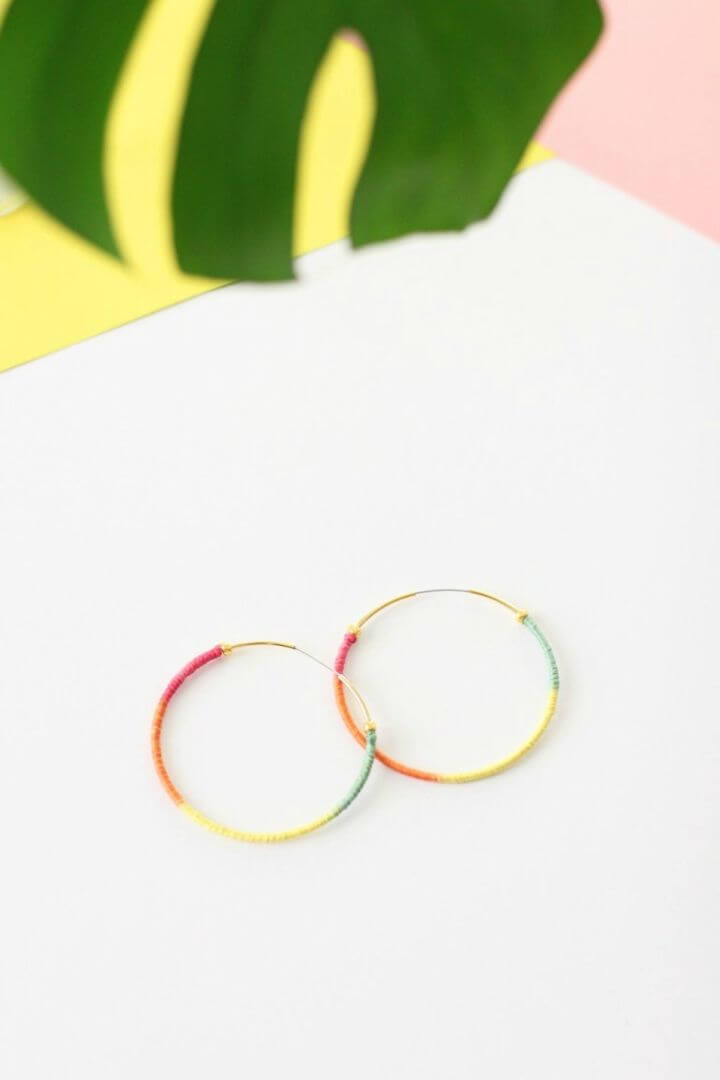 Bring a glam touch of bohemian fashion to your summer personality by wearing these rainbow hoop earrings that are also a piece of cake to make! Grab the normal hoop earrings and then wrap the rainbow colored yarn around them and create a lovely rainbow appeal of them! Another great boho jewelry idea! Details here blissmakes
Make Textured Circle Boho Earrings:
Are you striving for wearing the best ever boho jewelry? Then do wear these circle boho earrings that you can easily and quickly make at home without causing any load on your wallet! Here these earrings come in alluring gold appeal and have been spruced up with the black gemstone charms that hang around them! How-to details here mintedstrawberry.blogspot
How to Make Boho Dress: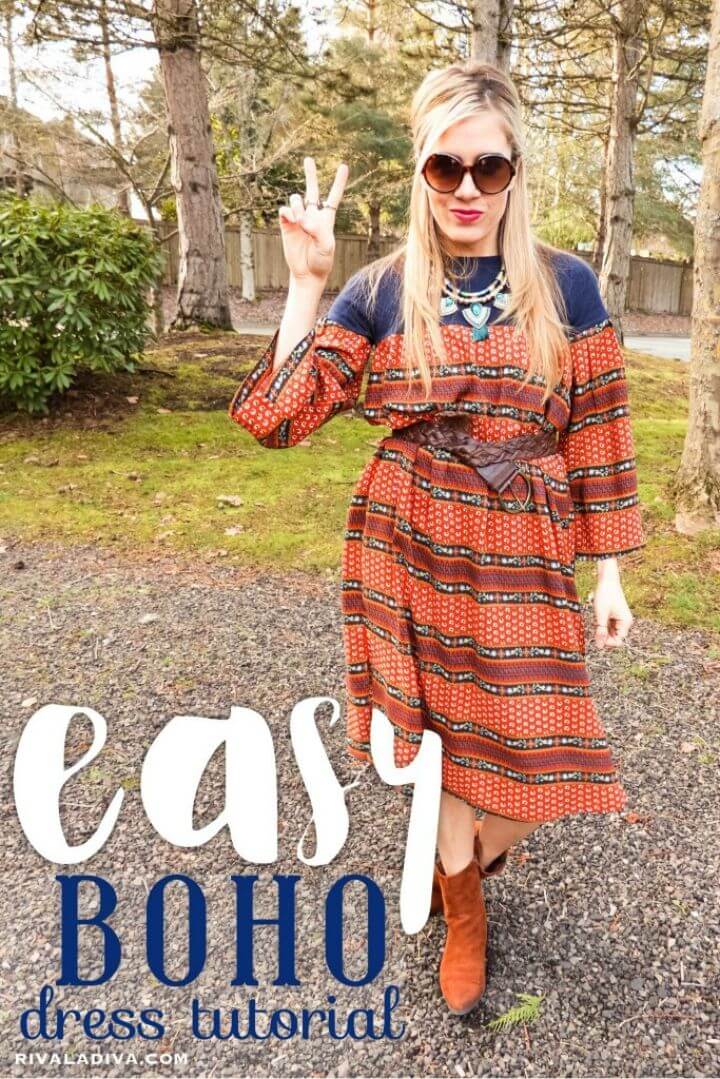 Show off this summer by wearing bohemian style and to do so you can grab the boho jewelry and clothing items! Rock your summer fashion by wearing this boho dress that is self-sewn and is super easy to sew for every sewing lover and even for a beginner!  Make it using a long sleeve knit shirt, and matching fabric! rivaladiva
Beautiful DIY New Boho Bracelets: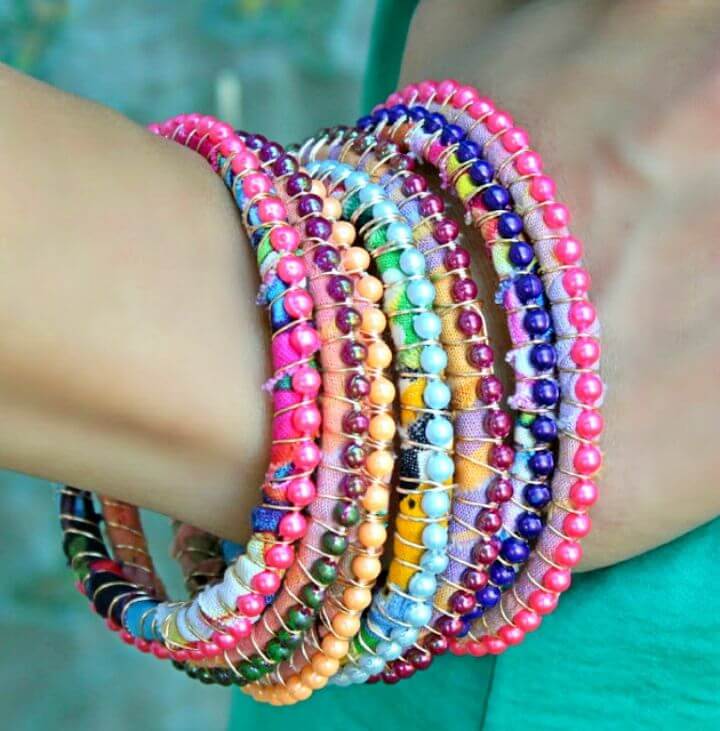 There is no end to creative bohemian jewelry crafts also make the epic boho bracelets home with the minimal crafting experience and bring a great touch of bohemian fashion to your personality this summer! These here the colorful beaded bracelets that you can duplicate using the fabric strips, wire and bead trim! markmontano
Awesome DIY Mermaid Boho Earrings: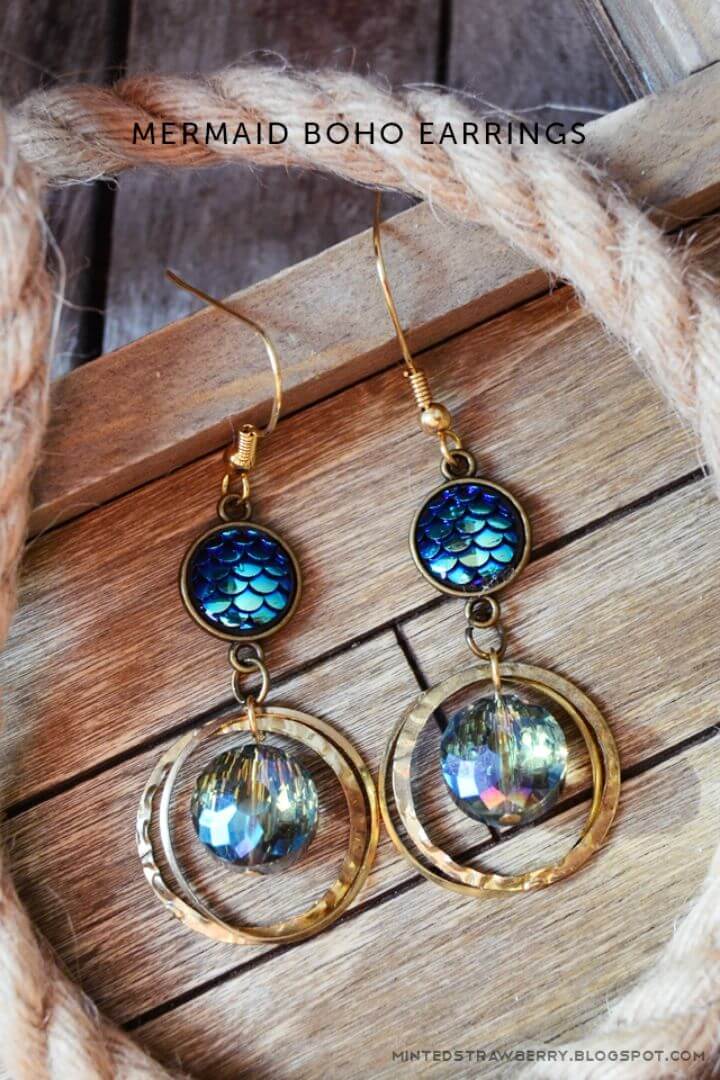 Satisfy your love for the bohemian fashion also by making these mermaid boho earrings that looking just mind-blowing! Here great crafting tricks have been used to craft these mermaid boho earrings, and you can also craft these boho earrings easily at home using the jewelry making supplies! Here is how to make these boho earrings! Details here mintedstrawberry.blogspot