Don't let winters interrupt your fashion statement at all as you can enjoy it all like a style diva with some particular fashion pick ups for the season like the lovely crochet scarves. And there is a variety of the scarves that you would love to buy from the market but it would cost a big fortune so for most of ladies its like an impossible thing to do. But knowing crocheting can be really in your advantage as you can crochet your favorite kind of scarf yourself. To ease your task more we have rounded up these 45 DIY Infinity scarf with free patterns or tutorials so that not only the expertise but the beginners can also take step by step guide to crochet their favorite scarf pattern which they have been lusting for so long.
Not only for the winters but these DIY scarves are also best and apt to wrap around in the fall when there is shuddering chill in the air. Gorgeous color combinations, adorable patterns and variety of ways to wear the DIY infinity scarves make them favorite of every young lady. A casual outdoor trip, any formal party or simply going to the college or university can be styled up with a lovely dress up and infinity scarf on top. An updated design or pattern of the infinity scarf adds a glam look to your personality and that too so cheaply and feasibly when you would crocheting them of your own.
Chunky scarf patterns, textured scarves, lacy scarf designs you would get to see them all with tutorials and crochet instructions right down in the collection. You would also witness some uniqueness aspects added to the infinity scarves for example scarf with the headband, scarf hood and scarf with headband and mittens as a complete warm set for your upper body. Some of them are half an hour scarf projects so the busy ladies and working one can go for them. So get some free time out of your routine, pick your favorite yarn, crochet sticks and start crocheting your favorite bunch of scarves from the following and glam up your wardrobe.
Chunky Crochet Infinity Scarf: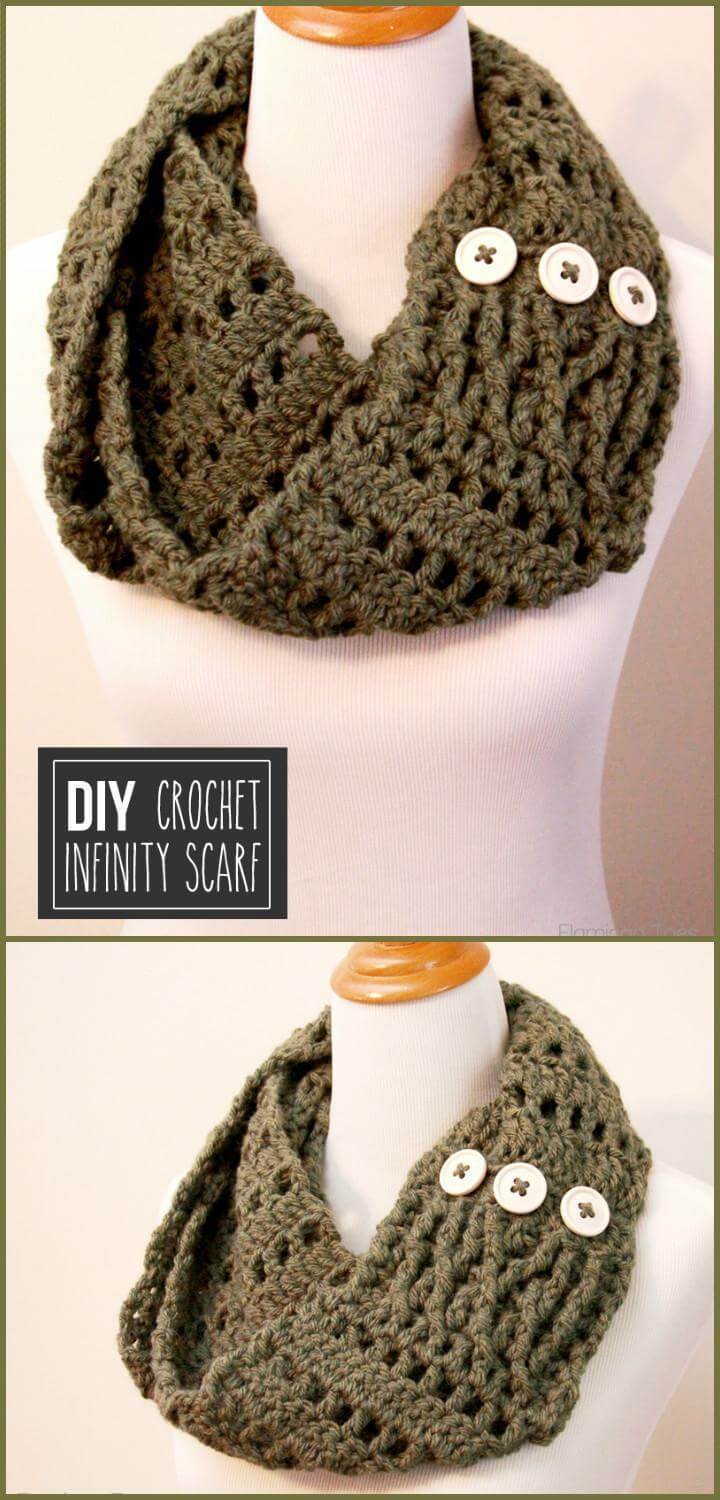 This chunky infinity scarf with buttons is something that a celebrity would wear and now you can owe it yourself at home. I know you want complete tutorial guidance to get this scarf right with your crocheting so here is the link to explore and get indulged flamingotoes
Knit Infinity Scarf and Matching Headband:
This infinity scarf with a headband would be unique to wear and look stand out this fall and if you know how to crochet then you can make it easily at home.Even the beginners can crochet it as we got step by step instructions right on this link for your extreme convenience.garnstudio
Crazy Shell Crochet Infinity Scarf: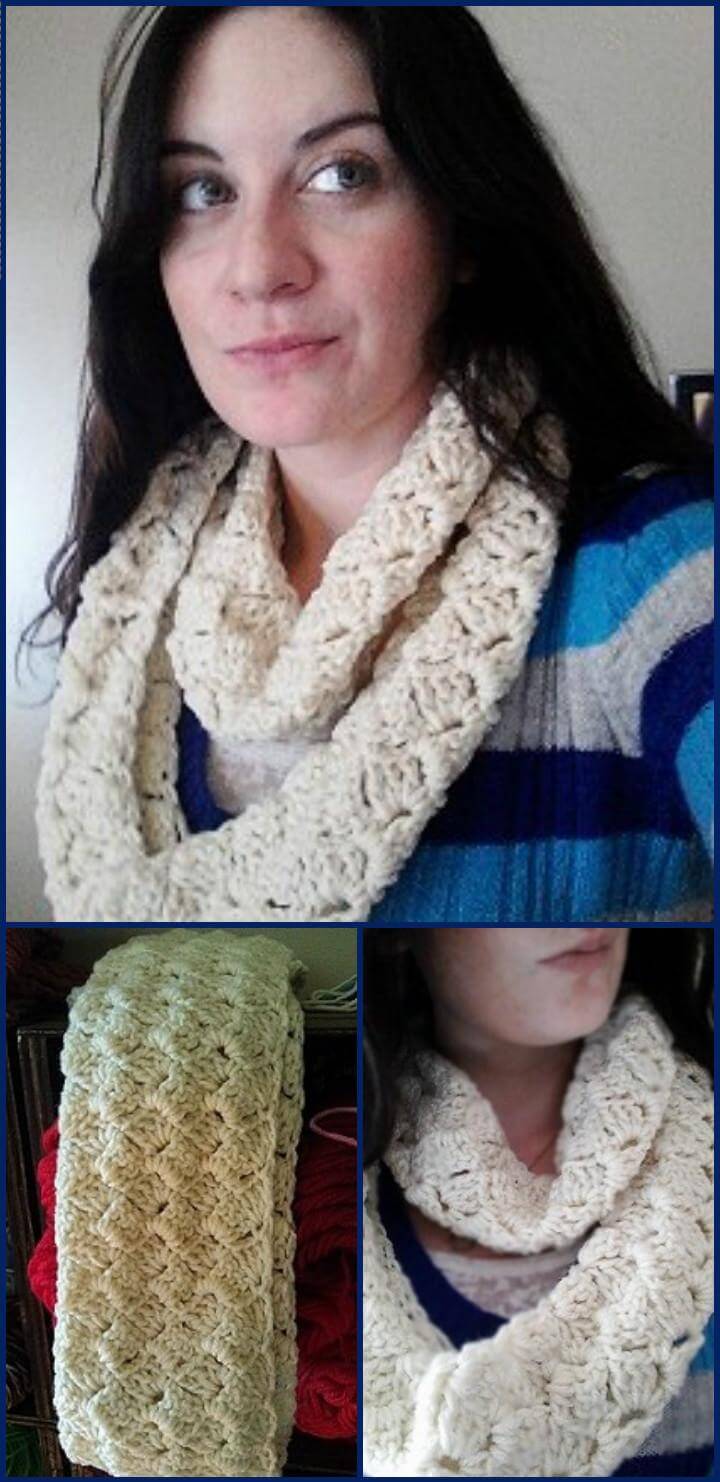 When there is chill in the air a scarf round your neck really makes you feel cozy so have a scarf that is super comfortable and super stylish too. Here is this crazy shell infinite crochet scarf to make you to look classy with it and you can crochet it yourself at home getting the instructions from this link thebattersboxblog
Double Crochet Infinity Scarf:
This double crochet scarf would look really stylish over a top or tank especially for the college going girls. You can quickly learn to make it from the provided link which has pictorial as well as written guidance so you can perfectly get the pattern here deliacreates
Self-Made Broomstick Lacy Infinity Scarf: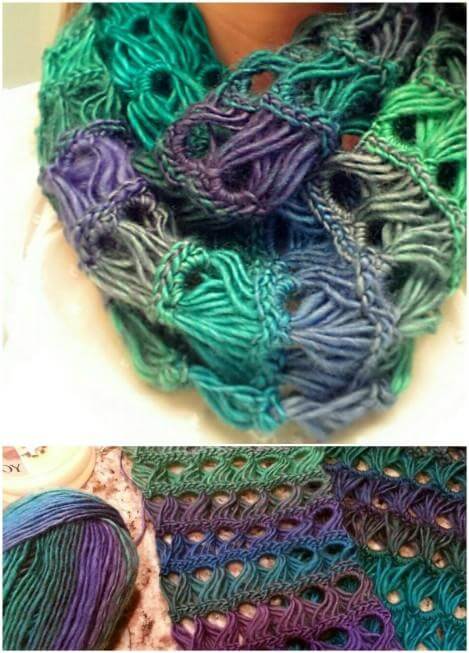 This utterly gorgeous colorful infinity lacy scarf is best for not only formal but informal use too to wear over your frocks and maxi dresses and instantly glam up your look with it. Here is the 30 minute video tutorial of it to make you learn its crocheting method so easily and nicely. bhookedcrochet
Style-Worthy Pink Double Strand Infinity Scarf: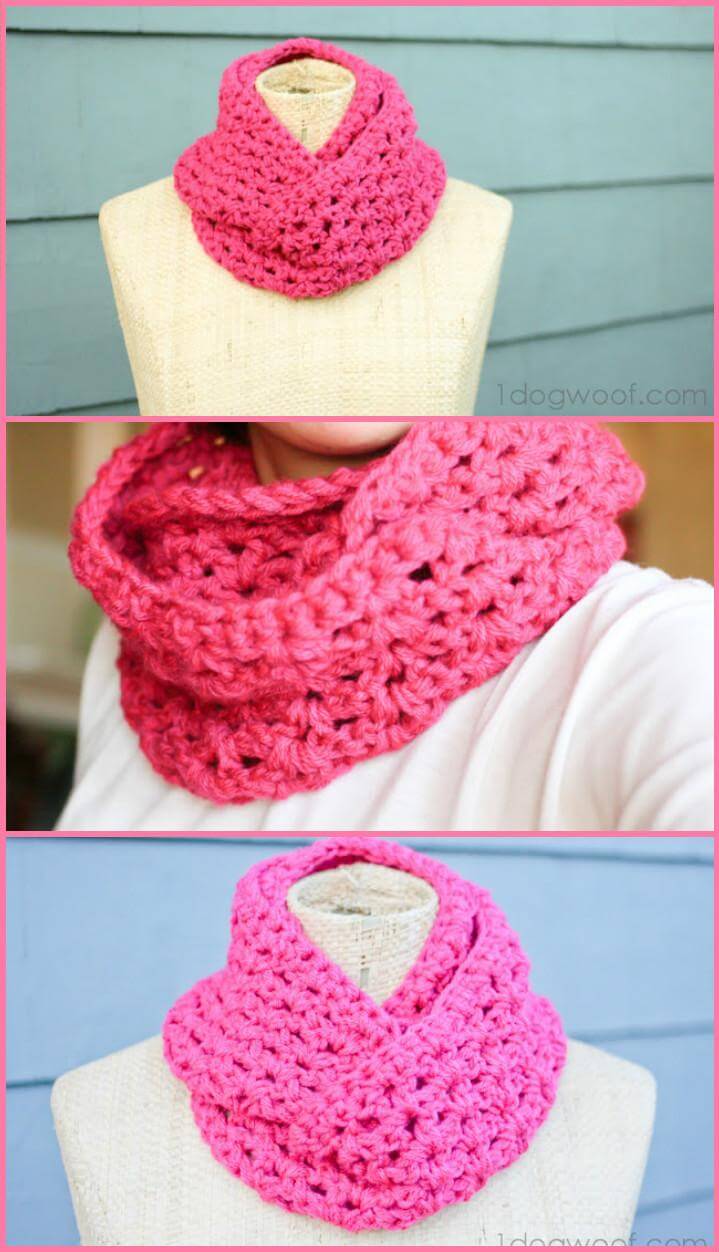 This crochet infinity scarf looks so pleasant to eyes with the very first glance and you can make it yours to wear over tops and tanks with a simple crochet stitching experience. If you need some help you can click on this link and get all your confusions corrected 1dogwoof
Easy Infinity Rugby Scarf: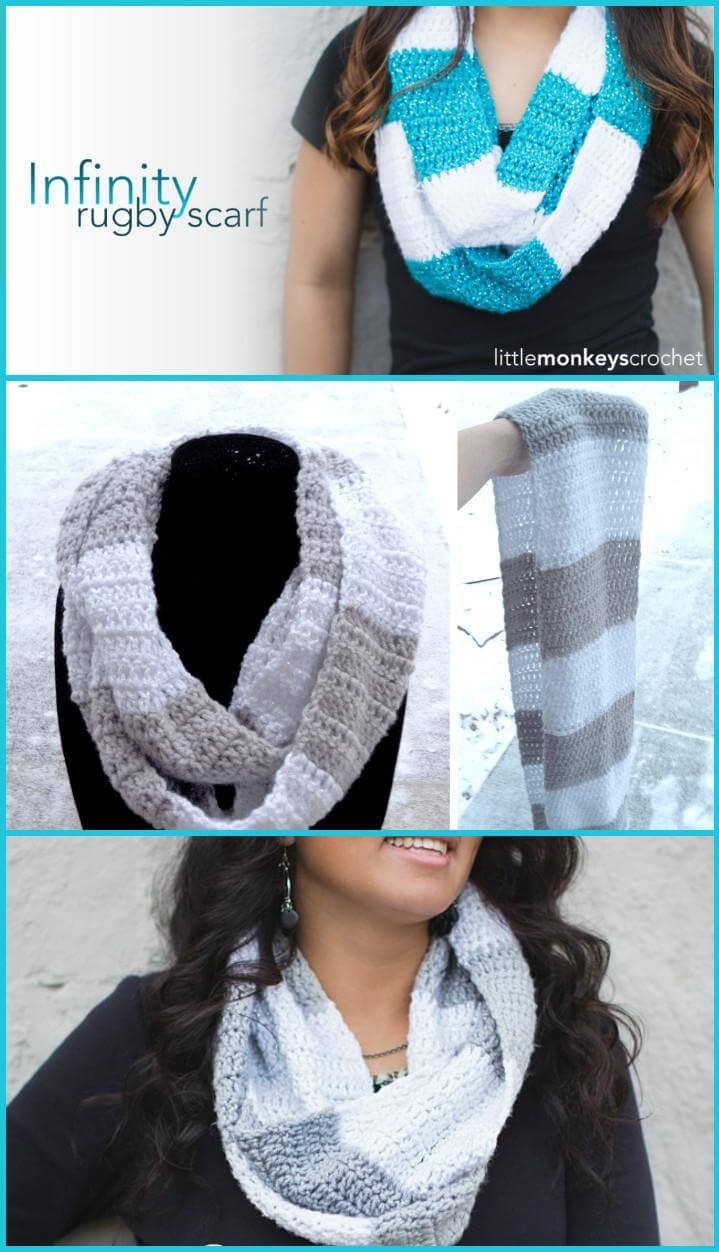 Mixing two colors for an infinity scarf would add more style and beauty to it and you can easily and cheaply grace up your personality with. Here we have this two colored infinity rugby scarf with free pattern tutorial so do browse the link to learn its making littlemonkeyscrochet
Light Pink Crochet Hooded Infinity Scarf:
With a little creative approach you can give your scarves a very unique and prompting look like this infinity scarf comes with a hood to warm your head, neck and ears at a time. I know you loved the idea and want to try it so here is the link for compete directions thesequinturtle
30 Minute Infinity Scarf Video Tutorial: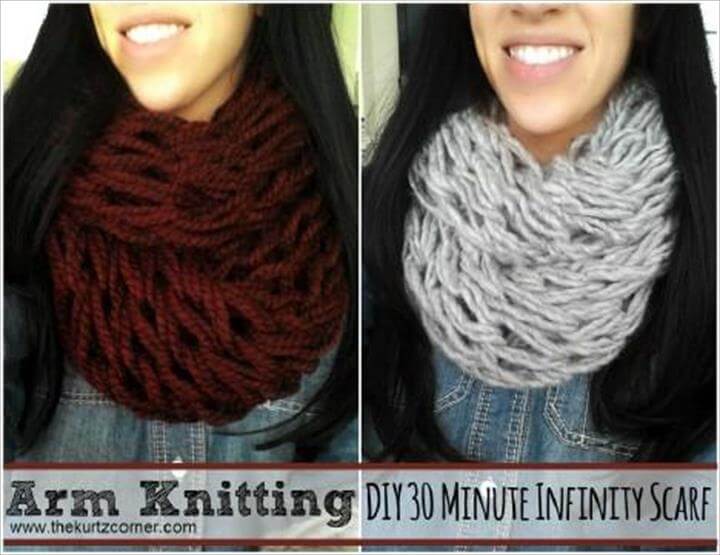 3o minute infinity scarf? yes we are not kidding, the above pictured gorgeous and funky scarf can be yours within half an hour using arm technique so here is the video tutorial to learn this technique and make this stylish scarf youtube
Gift-Worthy Knitted Infinity Scarf: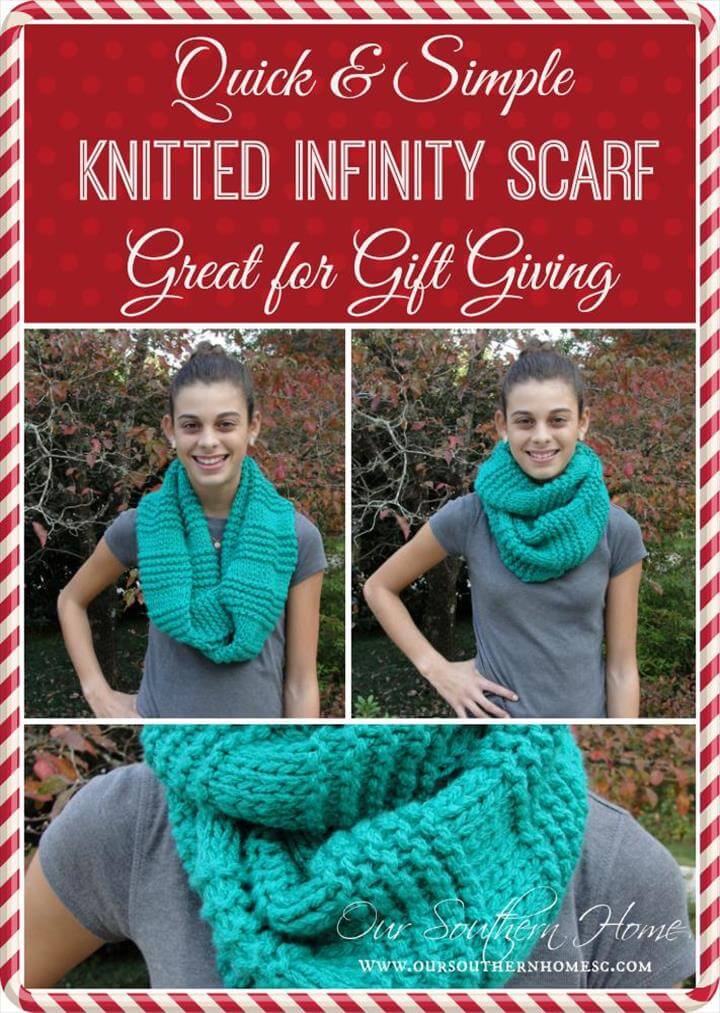 Get your daughters and sister look all styled up in the chilly weather with the infinity scarf around their necks. Here is another amazing free pattern to get handy with and that too so quickly and easily. All the directions and instructions are right on this link oursouthernhomesc
Stylish Bellflower Infinity Scarf – Free Pattern:

This bell flower infinity scarf must be a part of your winter wardrobe for being simplistically stylish. And here we have a link where you can get the details of all the tools and step by step instructions to make this scarf of your own and save your money on the market bought one. hooked-on-crafting
Super Chunky Infinity Scarf: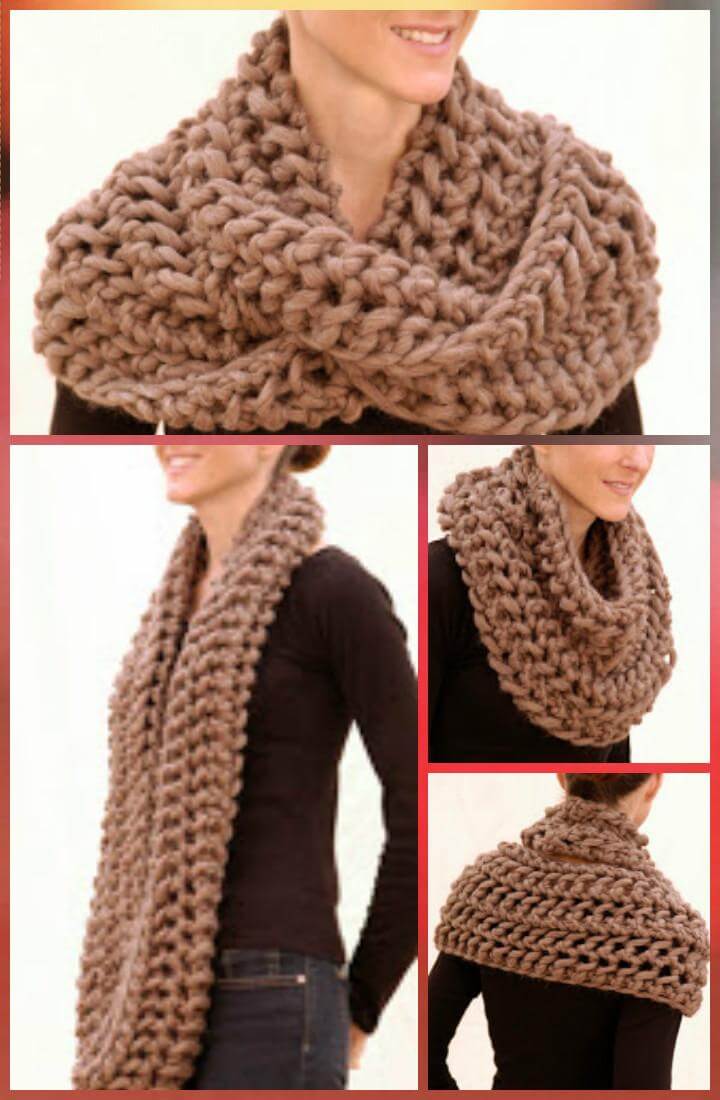 Here is thin chunky infinity scarf that you can easily crochet yourself and wear this winter in three lovely ways to add a stylish touch to your personality. Here we have provided you the complete tutorial of its making so that you can go perfectly with this lovely crochet infinity scarf project. knit1la
Easy Infinity Scarf Tutorial:

Here is a nice looking infinity scarf idea for the ladies who can not crochet. Just get a piece of fabric, cut it and with a few stitches this lovely and simplistic scarf would be ready to g around your neck. Here is the step by step tutorial to make this scarf too easily iheartnaptime
Cozy Winter Infinity Scarf: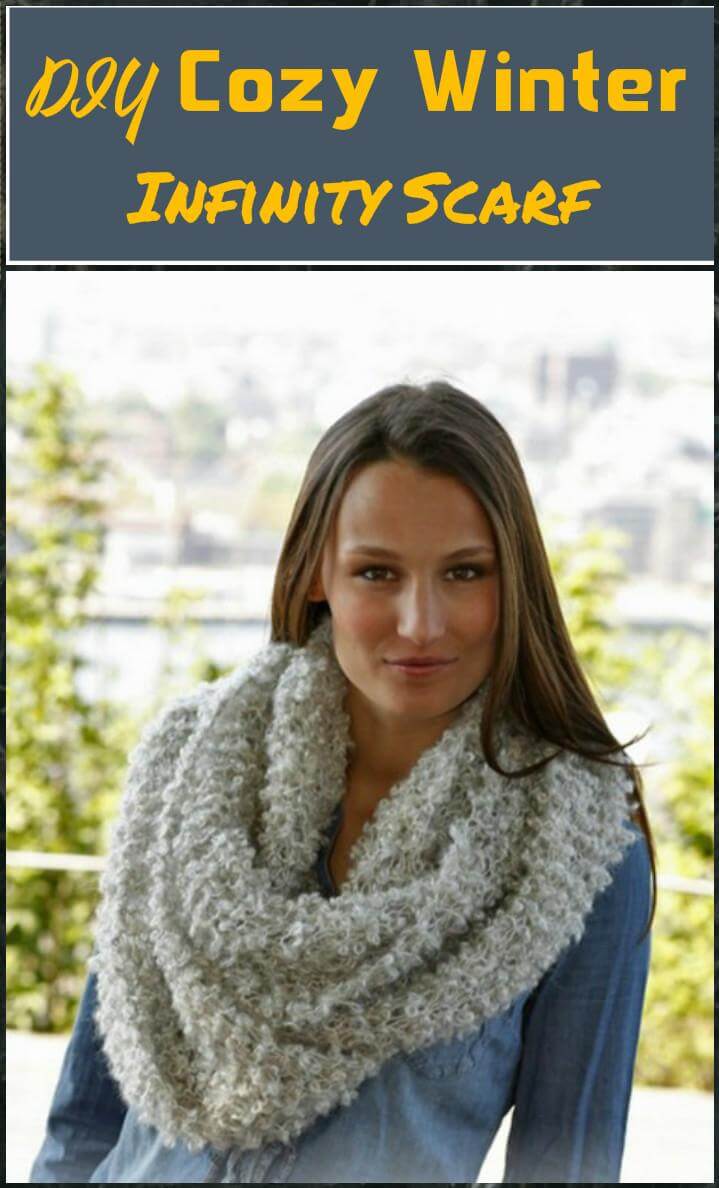 This scarf looks really cool in looks to keep your neck warm in the winters because it has been made with DROPS yarn. Further details are right here on this link so visit it if you want to have this quirky scarf for yourself this cold season.garnstudio
Simple and Sophisticated Infinity Scarf: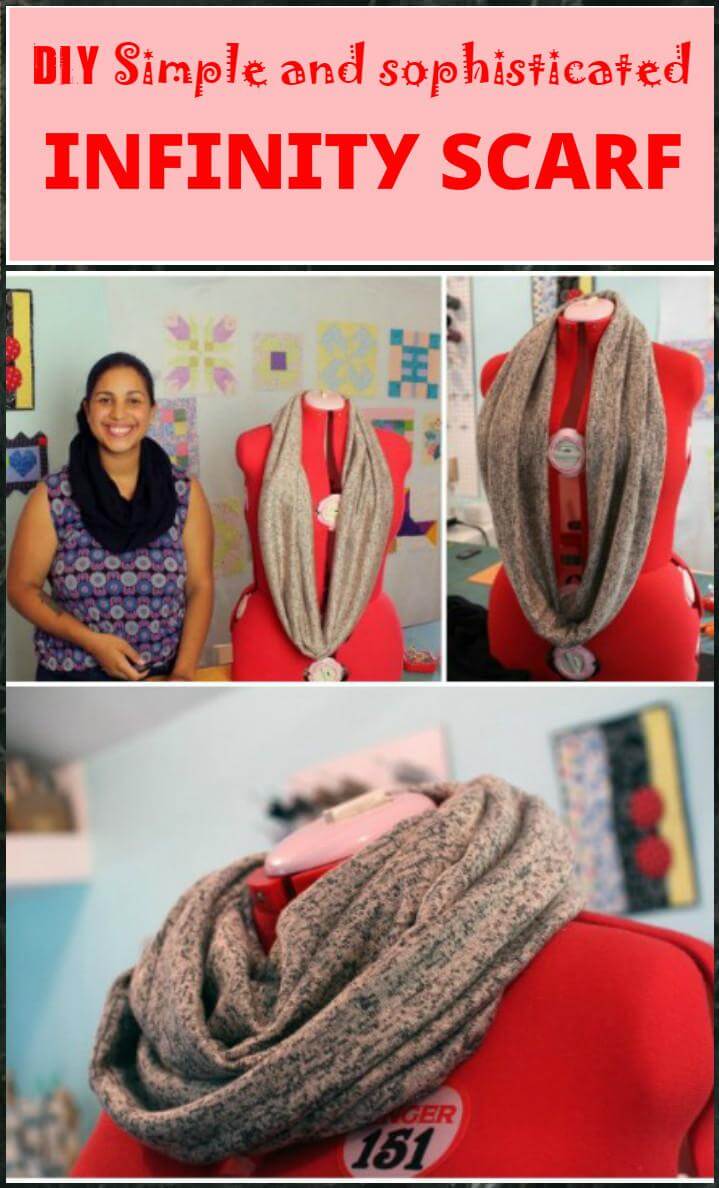 This funky infinity scarf is so damn easy to make from a piece of fabric and saving your money to get styled up in chilly weather. You just need a stretchable piece of fabric and your sewing kit the rest of the details are right here to follow youtube
Easy Bernadita Winter Infinity Scarf: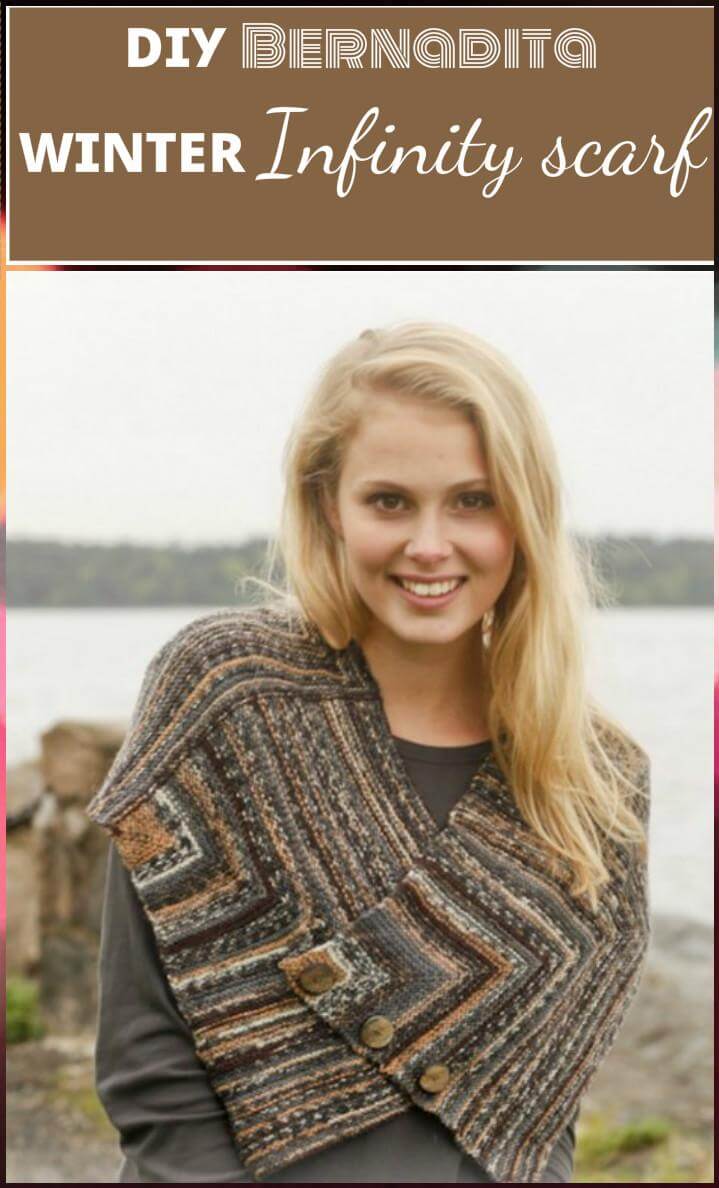 This super stylish scarf would add four moons of beauty to your dress up and personality with its attractive design. want to have it? Here on the link is all the information from yarn color and type to complete crocheting method so do visit garnstudio
Easy American Apparel Circle Scarf Knock Off Tutorial: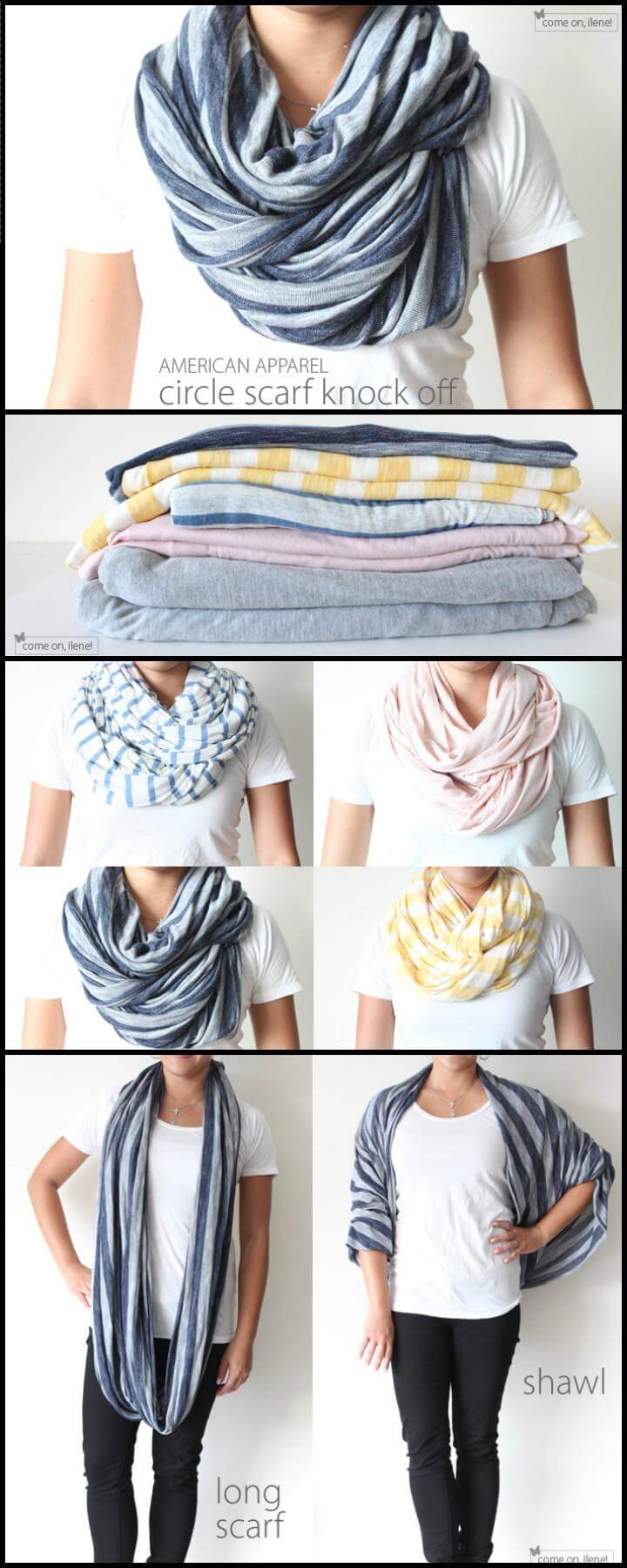 The infinity scarves are best as they are too easy to sew yourself and can be worn in lots of ways to get yourself look different every time. Just get some stretchy knit fabric in any color either plain or stripe and you can have your favorite circle scarf so nice and easily. comeonilene
How to Convert a Regular Scarf into an Infinity Scarf:

You don't need to get a new infinity scarf as you can make one from your old scarf and that too so easily with just simple tie and knot steps. Here are the picture by picture guide telling you the whole method to turn a regular scarf into super stylish infinity scarf gimmesomeoven
Beautiful Textured Infinity Scarf: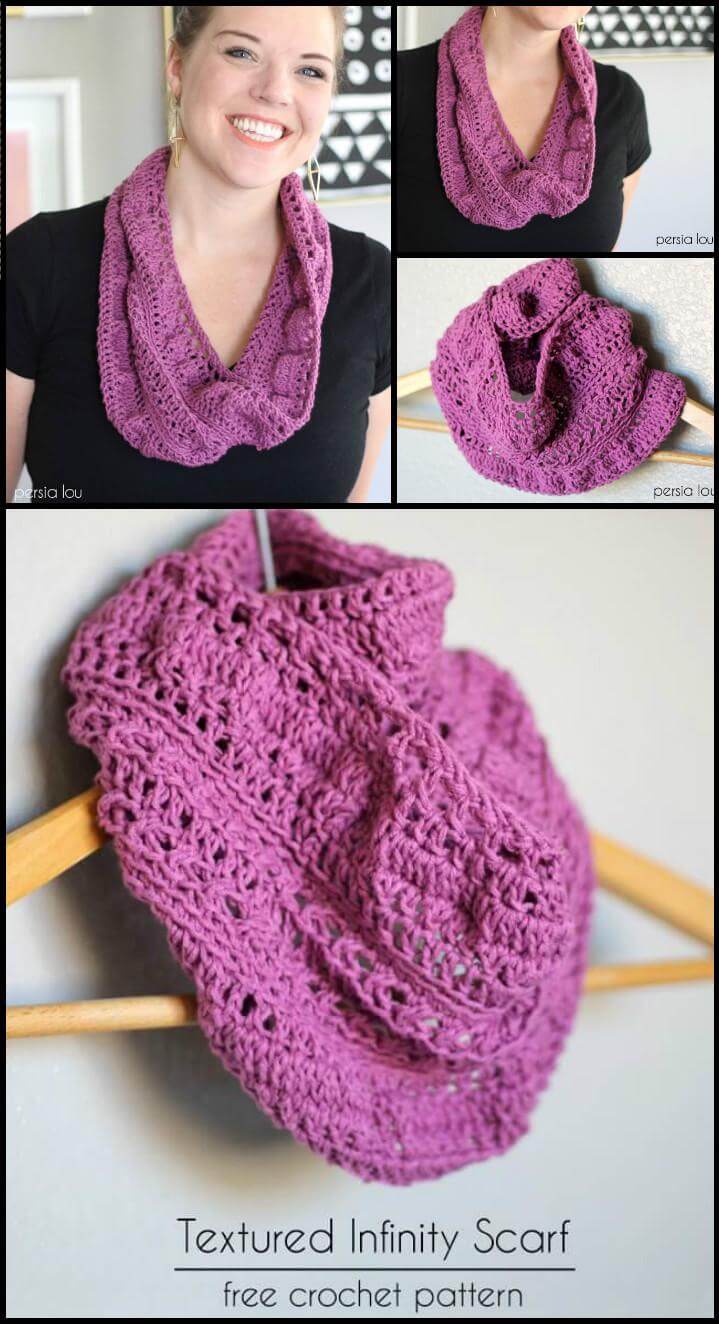 This utterly cute and gorgeous textured infinity scarf would be a nice addition to your dress in fall and it would also make a nice gift for your beloved one. So take up some yarn and your crocheting sticks to make this lovely scarf this weekend. The complete stitch guidance is here persialou
Warm Infinity Scarf: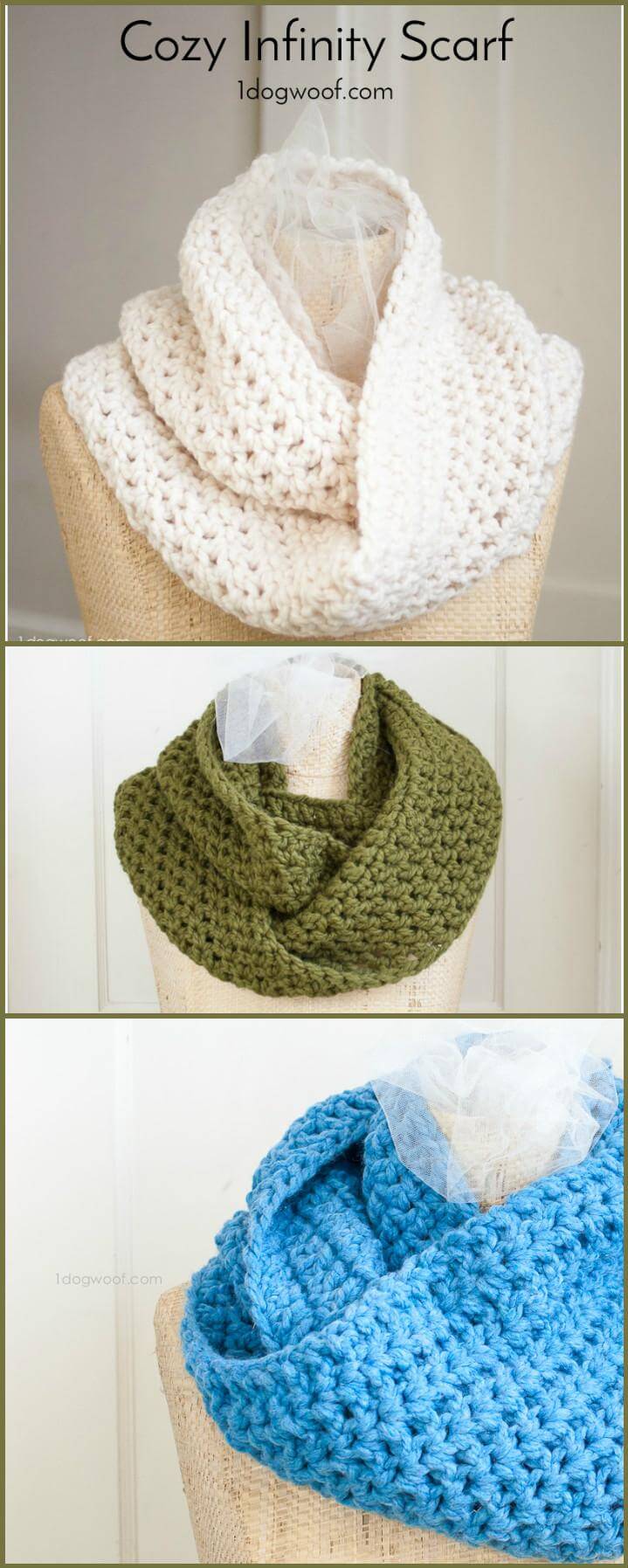 These lovely infinity scarf would not keep you warm and cozy but also make you look a fashionista while getting outside of the house. Blue, green, pink, white or any other color of yarn can be used per your preference to crochet this lovely scarf with all the stitching details here 1dogwoof
Self-Made Infinity Scarf, Hat, and Mitten Set: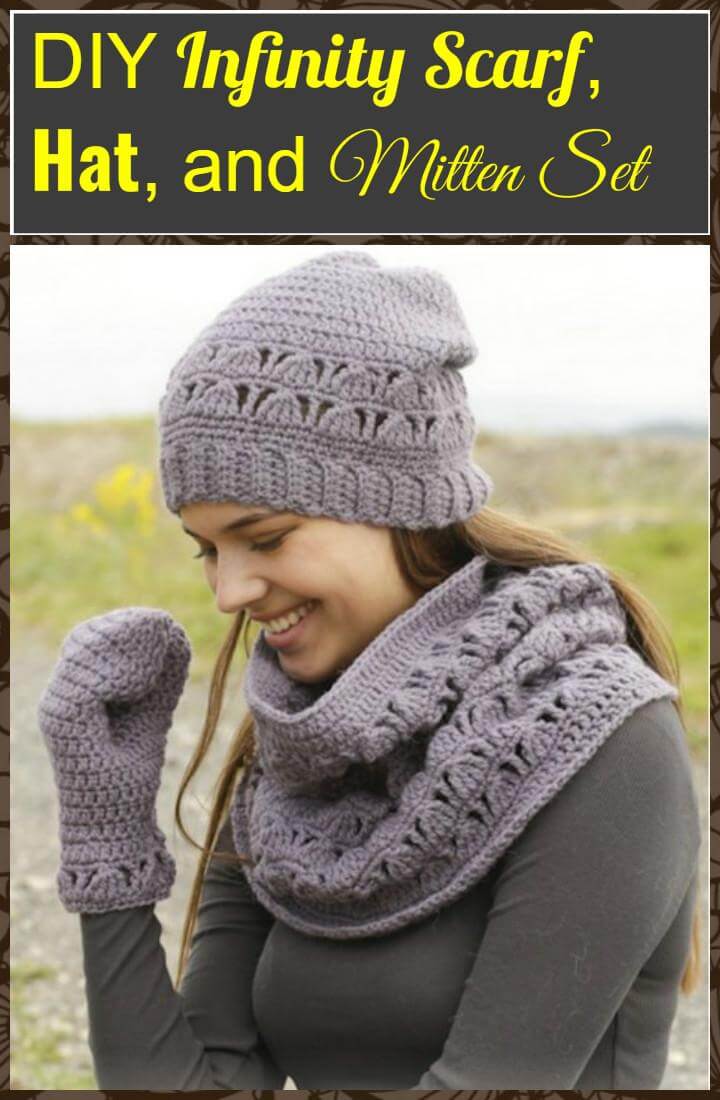 This complete crochet set of a cute crochet hat, infinity scarf and mittens in hands is something really a girl or woman would to wear in intense cold days to get cozy in style. This crochet trio has been done in lacy crochet patterns and its details are right here garnstudio
Light Pink Isis Infinity Scarf: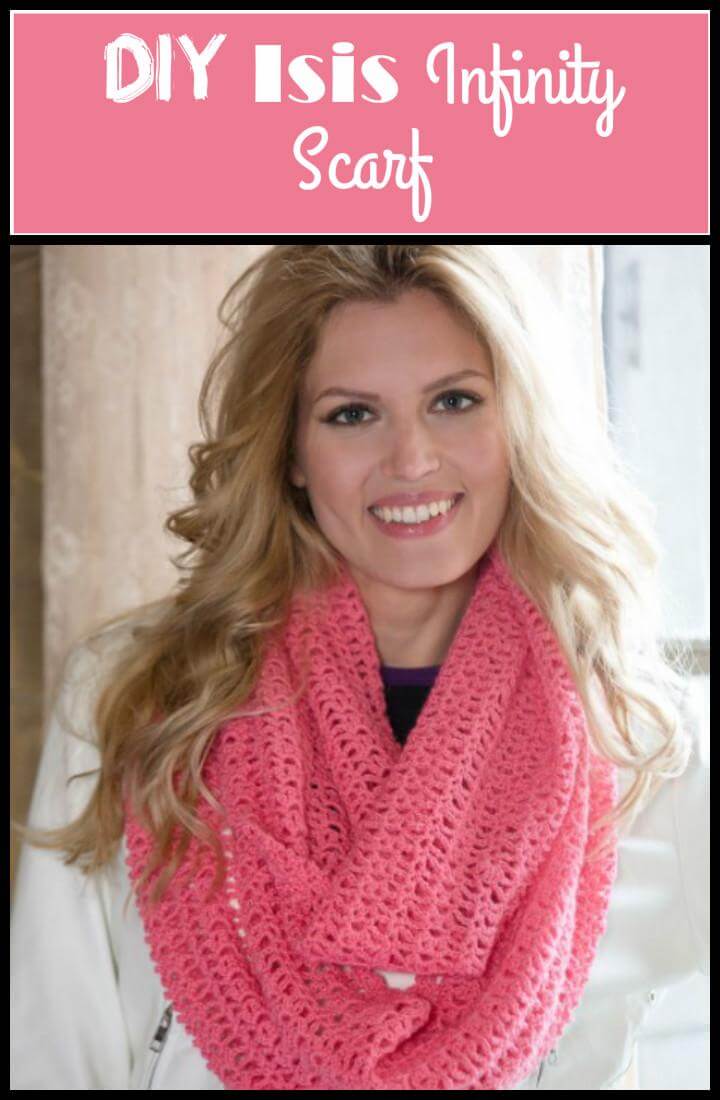 This adorable infinity scarf has been made from a think yarn and so it can be worn in all seasons to give yourself a diva look while stepping out of the house. For the skilled crochet persons this would be so easy and beginners can learn it here redheart
Super Stylish Braided Infinity Scarf and Headband: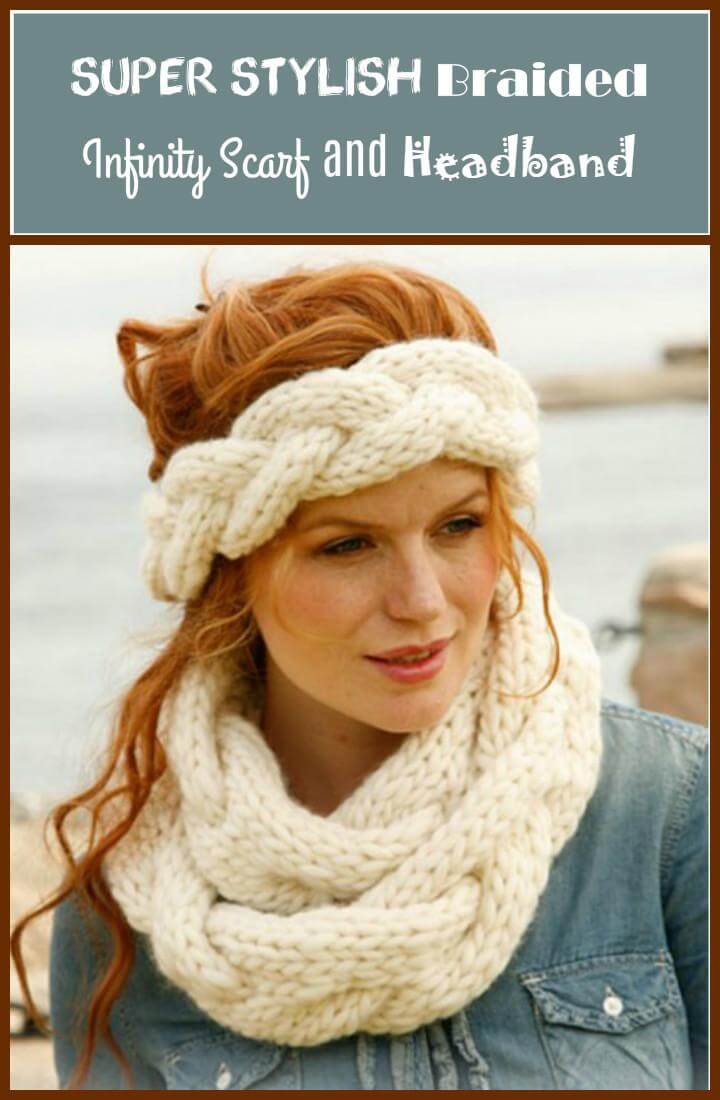 This highly stylish braided scarf with headband is too fashionable to make to u look like a model of your town and its damn easy to do yourself at home. Just get the yarn and the rest of the details about tools and measurements are on this link garnstudio
Fashion-Worthy Marquise Lace Infinity Scarf: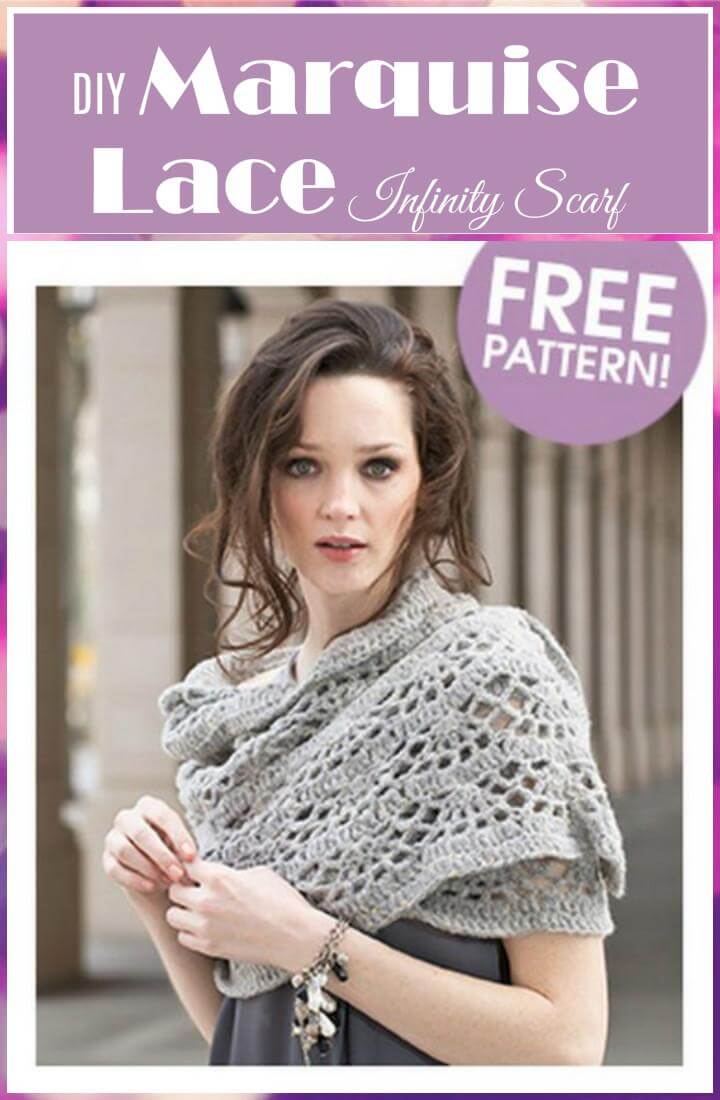 Using the metal chic marquise this lovely and light weight lacy scarf has been nicely crocheted to give your any dress up an instant fashion boost. You can hack the pattern for free from the link given and can also change the color per your choices deramores
Easy Star Pattern Infinity Scarf Hat Set: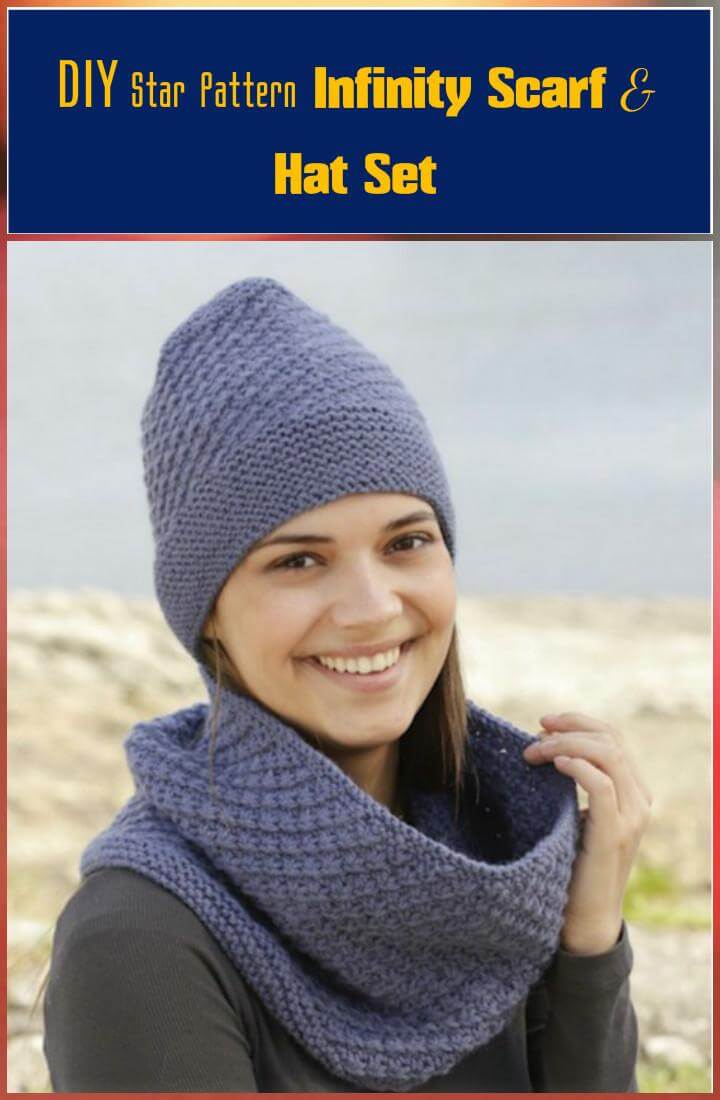 Neck warmers with hats are new and look really unique too and they are too comfortable and useful too by covering our ears, head and neck simultaneously. So if you like this one crochet neck warmer with hat idea you can steal it from this link and enjoy wearing it in cold. garnstudio
30 Minute Infinity Scarf Sewing Tutorial: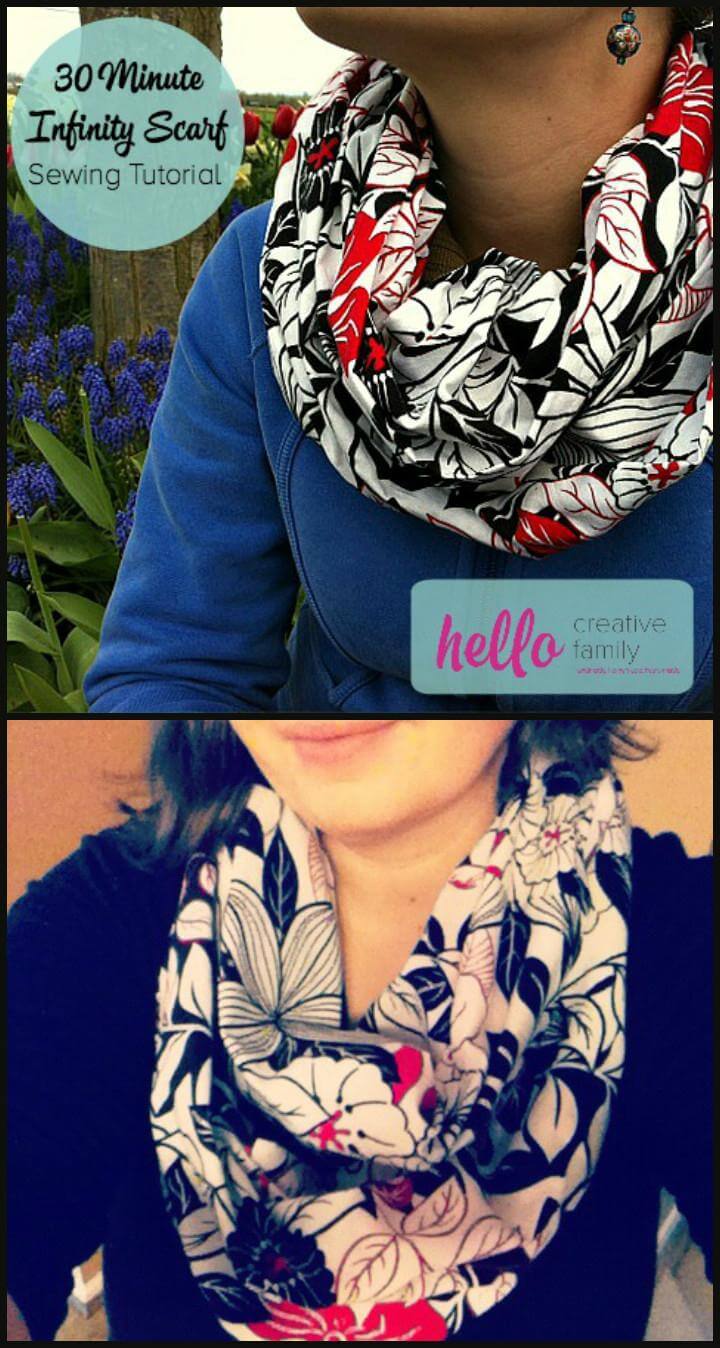 Crocheted scarves are not the only ones to come in infinity style and nor they are limited to cold season only.The above pictured floral patterned infinity scarves are for the spring and summer fun look and can be made in half an hour. Here is the tutorial. hellocreativefamily
Cool Infinity Scarf Tutorial and Amazing DEEMA Hand-Dyed Giveaway:
When spring is giving colors to the nature and the surrounding you can also bring colors to your dress up with this rainbow infinity scarf. Its so dame feasible to cut and sew from a big piece of fabric and here on this link are complete sewing and cutting instructions goinggreenwiththegrizls
Self-Made Coral Infinity Scarf: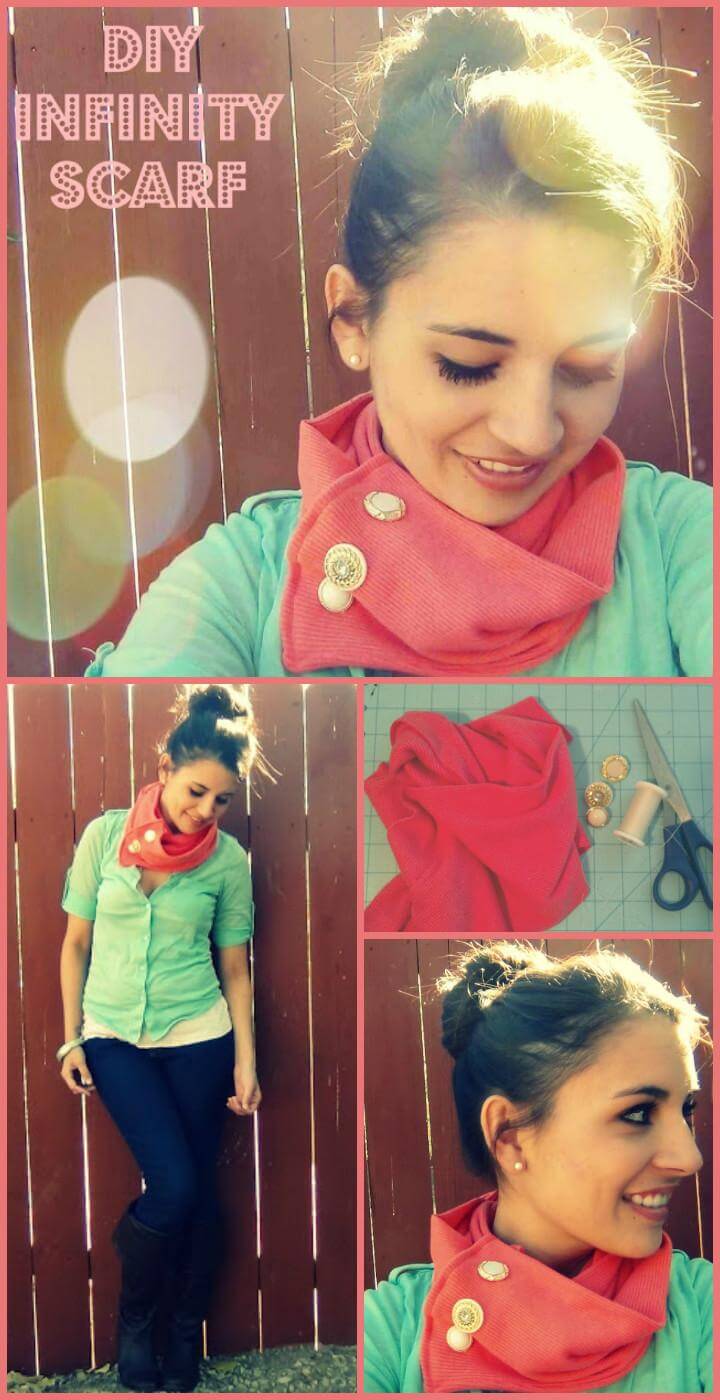 unlike the other traditional infinity scarf this one seems to be a modern avatar of this scarf genre and would look super dashing over a jean and shirt dress code and that too in contrasting colors. The buttons are adding more fun touch to it and we know desperately want it so get its tutorial here lovesparklepretty
Easy Lacey Infinity Scarf:

This lovely and eye catching scarf looks really cute and you would be glad to know that it has been made with a mere lace piece and a navy jersey piece so you can make one with left over piece of your fabrics at home. Here is the simple process of making it from start to end wraysist3rs
Old Flannel Shirt Infinity Scarf:
If you have an old flannel T shirt at home don't throw it away as you can make a fun infinity scarf out of it with some simple cutting and sewing techniques which have been shown step by step right here on this link so do click to have a look. ducttapeguitar
Chunky Knock Off Infinity Scarf:

This lovely close knit scarf would add a bunch of style and glam to any boring an dull regular dressing so must crochet it get instant model like look in minutes while planning to go on an outdoor trip in the winters. The complete crochet directions are right on this link agirlandagluegun
Stylish Reversible Cowl Infinity Scarf:
Here is another amazing infinity scarf which is double functional for being reversible and thus you can enjoy it from two sides with different pattern and design and here you can see all the instructions to get yourself a reversible scarf this weekend. madiganmade
Floral Fabric Infinity Scarf: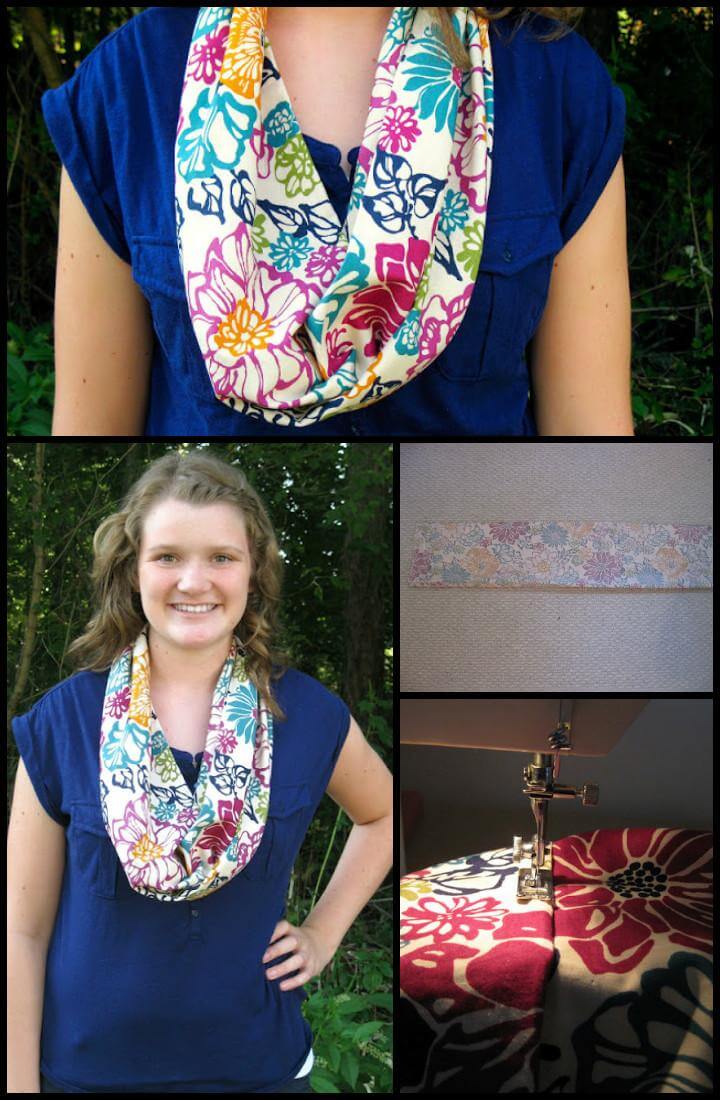 This lovely colorful scarf would be a nice way to enhance the impact of your personality int he fall, spring and even in the summer season as it has been been made from a light and thin fabric material. The cutting and sewing details are right on this link to click and enjoy taylormegancrafts
Easy 30-Minute Infinity Scarf:
If you are new in the crocheting filed an do not how to work with crochet needles but need an instant infinity scarf then this no tool infinity scarf is totally your thing to get started with. Its a 30 minute project with no tools but both of your hands would do the whole task. Here is the complete tutorial check it out handimania
Jersey Infinity Scarf or Nursing Cover: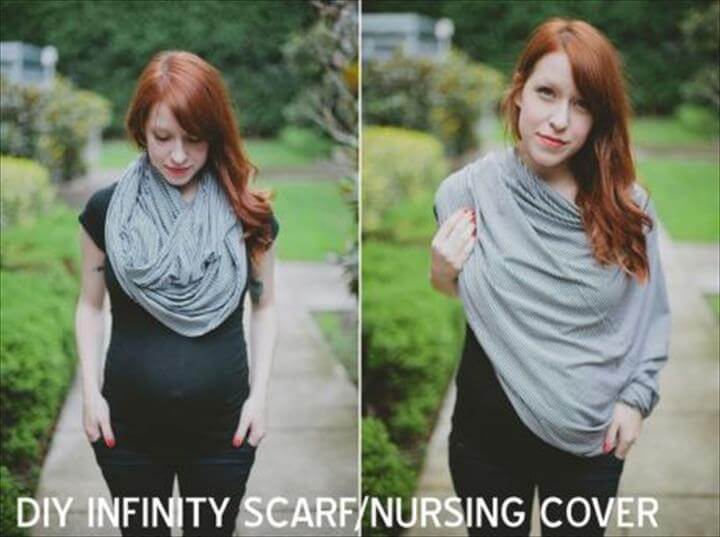 For the nursing mothers this infinity scarf is the best to opt for as it can be a stylish scarf and instantly a nursing cover when you need to feed your little baby. Get some fabric and from the link given you can know the instructions to make it babble
5 Minute Infinity Scarf:

Those who hate to sew or to crochet for being a time taking process must have a look at this idea which suggests a nice looking infinity scarf from an old fabble shirt and that too in only 5 minutes. Here is the eay peasy tutorial of this five minute infinity scarf sweetcsdesigns
Quick Fabric Infinity Scarf Tutorial:
This gorgeous short infinity scarf is superbly gorgeous for the lovely print and combination of colors and it requires only a yard of this fabric to get this scarf done easily at home. Here on this link step by step instructions have been shown. girllovesglam
Self-Made Floral Fabric Spring Infinity Scarf:
being short on money and not getting your favorite scarf is not a problem now as you can make a lovely infinity scarf of our own with basic stitching skills and for further help you can go to this link and get all in detail. thecottagemama
3 Step Infinity Scarf: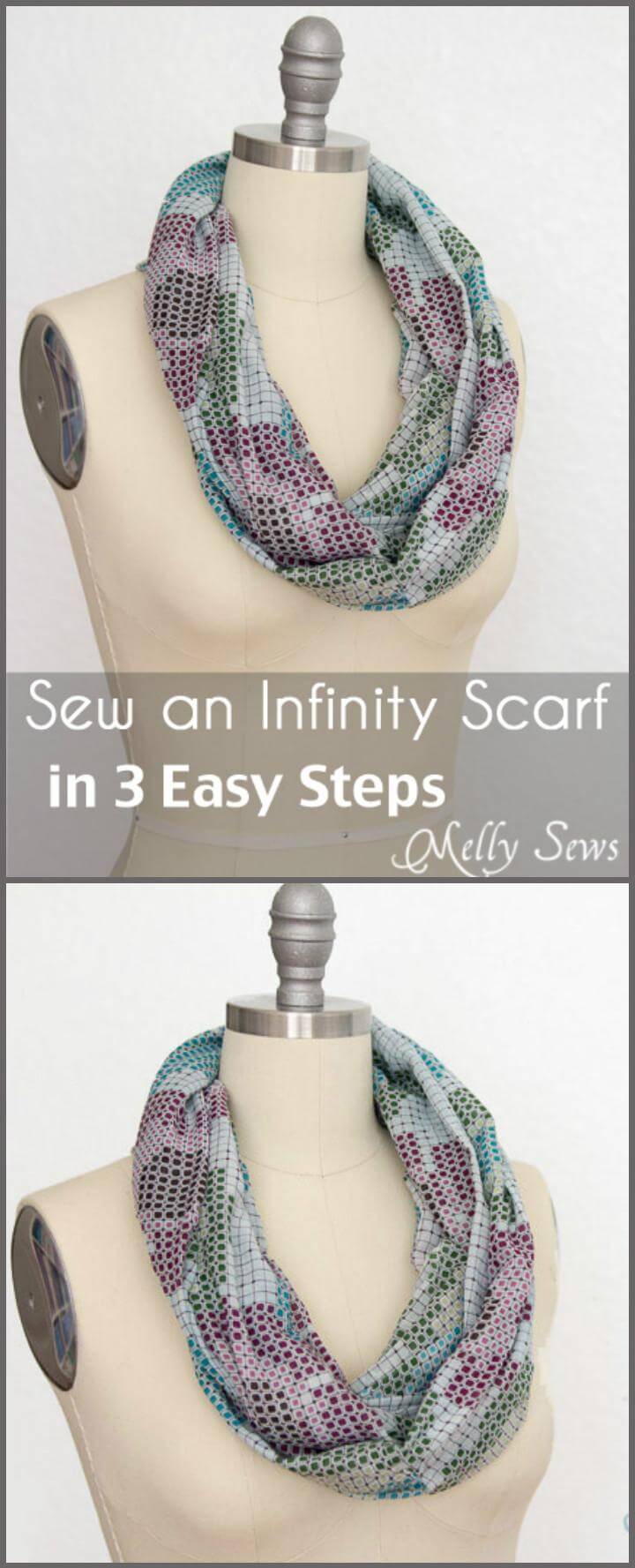 A small and short length scarf would not get twice flipped around your neck but still it would look adorable with that one loop and to make such a cute small infinity scarf is much more easy and you can know this by browsing this link mellysews
Easy-to-Sew Infinity Scarf:

A lengthy infinity scarf would take multiple flips around your neck and would look heavy and bulky like this one in the picture and for that purpose you need extra yards of fabric than a normal infinity scarf demands. get more information of the is lovely scarf on this link momtastic
Simple Fabric Infinity Scarf Tutorial:
If you have some old fabric pieces even of two colors you can combine them to make a lovely infinity scarf out of it like the one in the picture. Just get the fabric and get your sewing kit and tools and you can make this scarf within half an hour and that too at a high low cost. instructables
Quick & Easy Sewing Infinity Scarf Project:

These gorgeous lightweight and delightfully patterned scarves are the style gift for the spring an summer and even the beginner seamstress can make it within a c couple of minutes and that too with a few stitches. Here is the complete tutorial guide to sew it diynetwork
Easy Sew Infinity Scarf Project and Tutorial:

If you are totally unaware of the crocheting but want to make an infinity scarf of your own you have sewing option for it. here is a lovely scarf that you can sew within half an hour and enjoy wearing it over all types of clothes. Sewing tutorial along with some additional tips is right here craftsy
Fashion-Worthy Infinity Scarf Sewing Tutorial: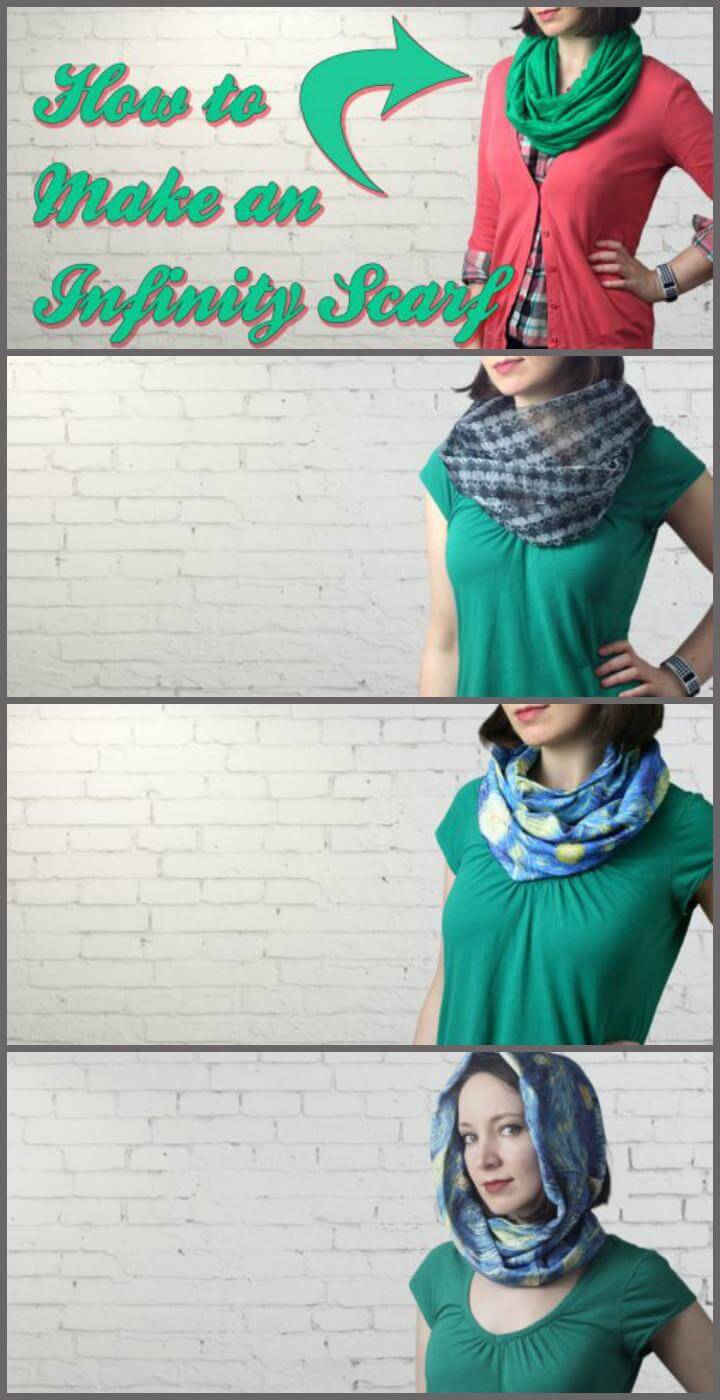 The best thing about the infinity scarves is that you can make them of any size and of any fabric thin or thick and also wore them in lots of different styles. Here is the step by step tutorial of another fashion worthy infinity scarf for your regular dress up.whatthecraft
Fabric Infinity Scarf Tutorial:
A boring top or shirt that you have worn many times and now you want to toss if off? but let me tell you that with an infinity scarf over your that boring top and shirt can make it look all new and exciting. Here is the tutorial to make this funky floral pattern infinity scarf.sewcanshe