Are you a scarves hoarder? Learn how to store scarves? Scared of the scarves monster that awaits you every time you have to go out and pick the one that matches your outfit! Our best way to store scarves can be a life savior for you! Nobody likes a messy drawer or a messy closet. But not everyone has the time or idea as to how to manage it aesthetically and functionally. Well, this very useful and might we add, a roundup of 20 simple DIY scarf storage ideas can be the best thing you will read on the internet today! Scarves are for every season, and they add a different kind of whimsical vibe to your outfits. So, why not store scarves easily manageable, so you never have to swim across that flood of scarves to choose just the right one for the day!
These scarf storage ideas are for every season and for everyone to learn how to store scarves! If you like to showcase your collection, you would love our ladder or shutter leaning against the wall scarf organizer. If you are rather someone who would like to keep things tucked under the bed of just hanging nicely and neatly over the wall, you are going to adore so many of those ideas below! From a DIY scarf hanger to scarf display and scarf storage boxes, you can find it all here.
The best part of scarves display? You get to have complete autonomy over the design and appeal of these scarf storage ideas. Spare a few minutes, fewer bucks, and get started!
1. How to Store Scarves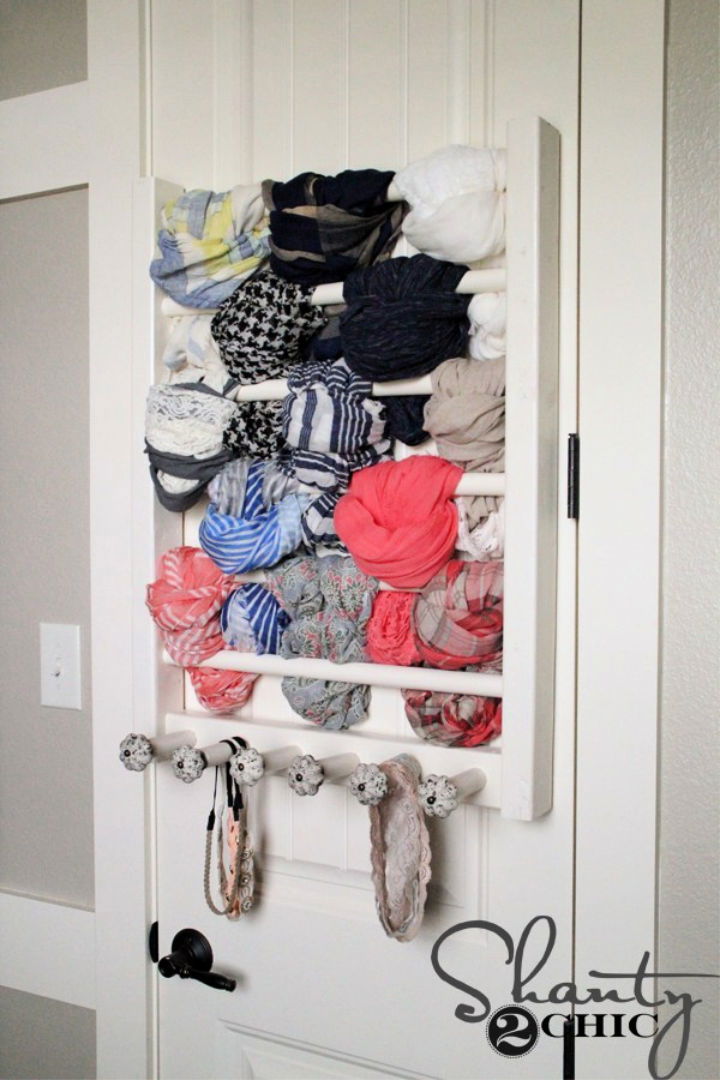 Are you obsessed with scarves? If yes, we are sure they must be oozing out of your closet. Well, not anymore. With this brilliant scarf accessory rack, you can now manage your scarf collection separately! Get hands-on some dowel rods and 2 x 3s. Spare 45 minutes and you are all done! shanty 2 chic
2. How To Store Scarves
How to store scarves? When you are a DIYer, everything can be so much more than just a boring storage idea! This scarf storage idea has got our hearts. Such a perfect way to take care of an empty wall! This delicate looking accessory hanger is going to cost you even less than 2 dollars. All you need is shower curtain hooks, pants hanger, and a few more supplies! sparkandchemistry
3. Storing Scarves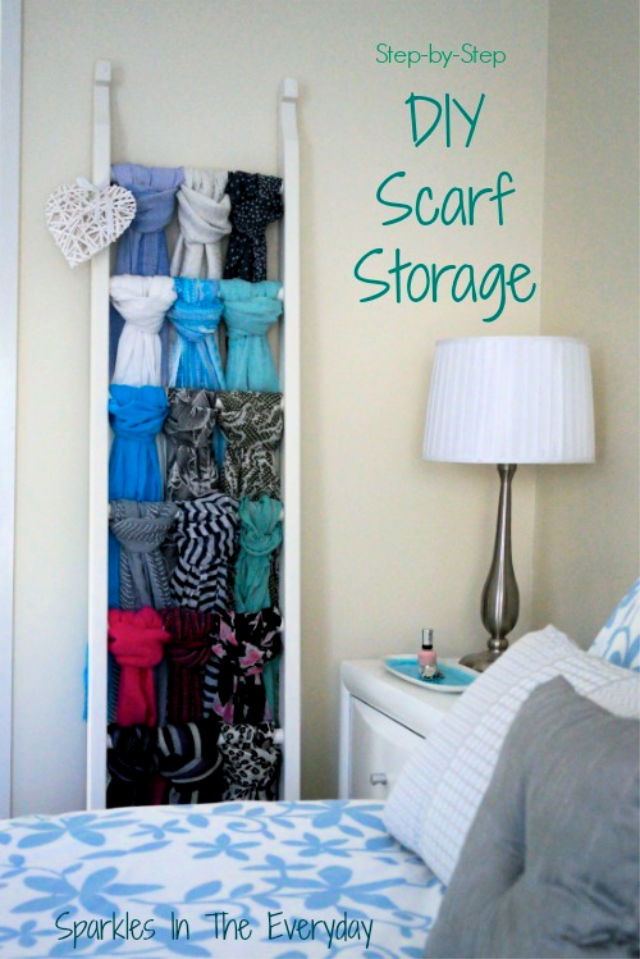 Here's another brilliant idea to showcase and manage your scarf collection like a true DIYer. If you too hate searching them from your flooded closet or drawer, every time you have to go out. This scarf storage design is for you! Hit the link for more details! sparklesintheevery
4. How to Organize Scarves
If you are not much of a builder even then, a simple hanger and a few shower rings will suffice! You can easily arrange and hang all of your scarf collection on these shower rings. But make sure to use a sturdy wooden hanger as a plastic one would give up too quickly under the weight of all your scarves! alldaychic
5. Best Way to Store Scarves
Get your hands on a wooden hanger, some waxed paper, metal upholstery in multiple sizes, needle nose pliers, some markers, toothpicks a few more things. With this scarf storage idea, you can get a little more creative with hoarding your scarves for each season. everydaydishes
6. How to Hang Scarves
For every minimalist out there who doesn't like a lot of details and just a simple yet functional storage would o, hop on to this tutorial! It's a pretty straightforward, more like a 10 minutes scarf storage idea. All you need is a wire, combination pliers, leather, scissors, and strong glue. poppytalk
7. Organizing Scarves
Some people like to opt for a rather display-y kind of storage! If you are one of them and would love to showcase your scarves, then this tutorial is for you! Find a ladder that can be leaned against the wall or use an old, vintage shutter. Once you have got that, go crazy by showcasing your scarves on it! homeheartcraft
8. Scarf Organizer
There should be no compromise on not dressing your best self because you couldn't find the matching scarf for the day! Remedy that with this easy to make and pretty simple scarf organizer. Plan a trip to the Dollar store and get a plastic hanger, some ribbons, plastic shower curtain rings, and a clear tape. livingchiconthe
9. DIY Scarf Storage
This one here is a DIY cardboard and fabric scarf organizer. If you like to be more creative and in charge of your DIY wonders, this project is for you! Just simply cut some rings around 28 x 36 cm on a piece of cardboard using a paper cutter, wrap them with fabric strips and attach them with the hanger using duct tape and string. apopofred
10. Scarves Display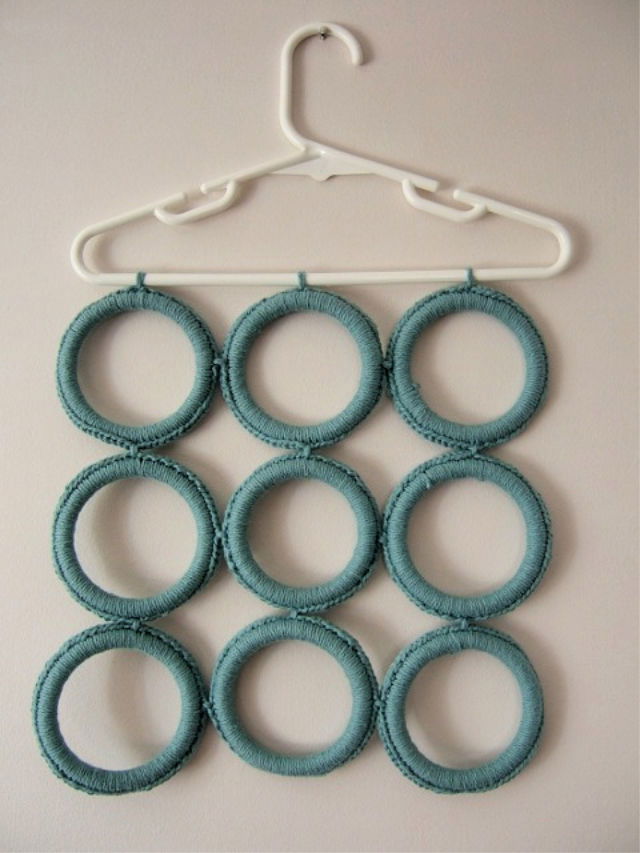 Are you a crochet person? You would be surprised to know that how your crocheting skills can help you whip up a perfect scarf organizer for yourself! Get yourself a scarves display hanger, some plastic shower rings, and use some cotton yarn to crochet around the rings. The tutorial suggests using cotton yarn given is durability! tossedcookies
11. DIY Scarf Hanger to Store Scarves
Buttons and Paint have got the perfect straightforward and easy to whip up idea for you to try and cherish your scarves a little more! A DIY scarf hanger! You just need a wooden hanger and some wooden curtain rings, use a napkin and decoupage the rings and the hanger, and you can even display this as a perfect piece of décor organizer or something! buttonsandpaint
12. DIY Scarf Hanger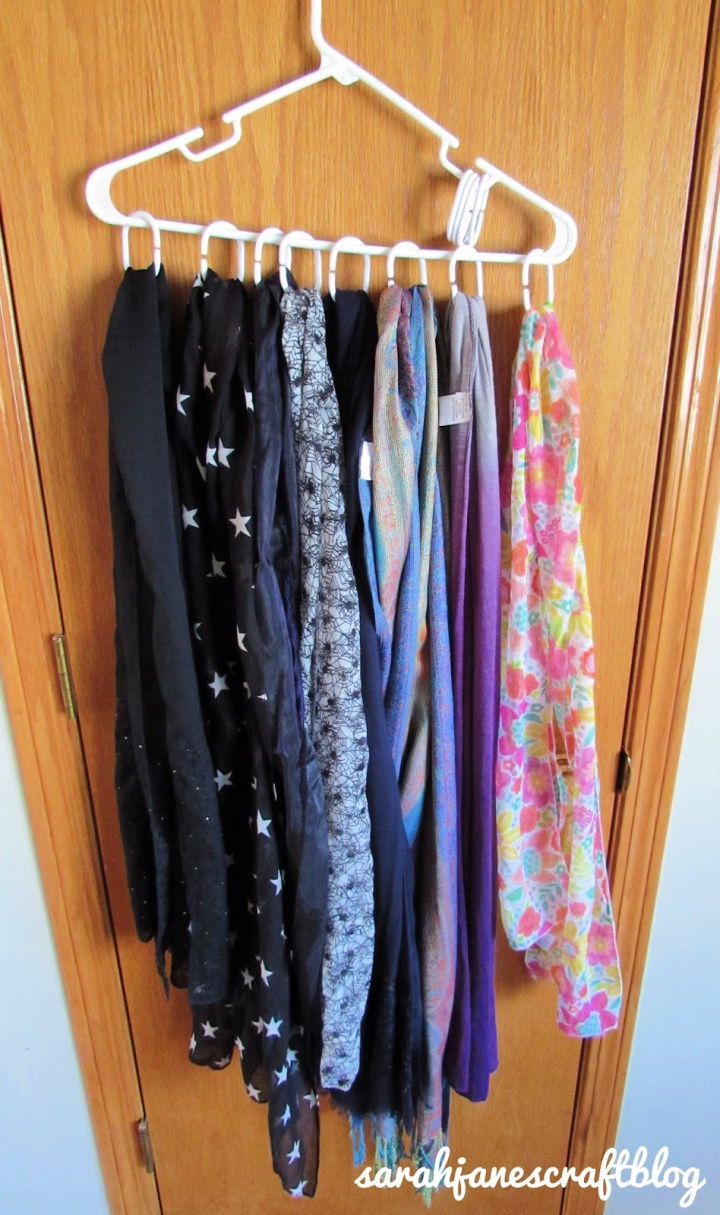 Looking for a better and durable way to store your scarves collection? This one is both of them. A simple DIY scarf hanger laced with some shower rings. Put the rings inside the hanger, and then strung your scarves through it, and you are all done! sarahjanescraft
13. Organize Scarves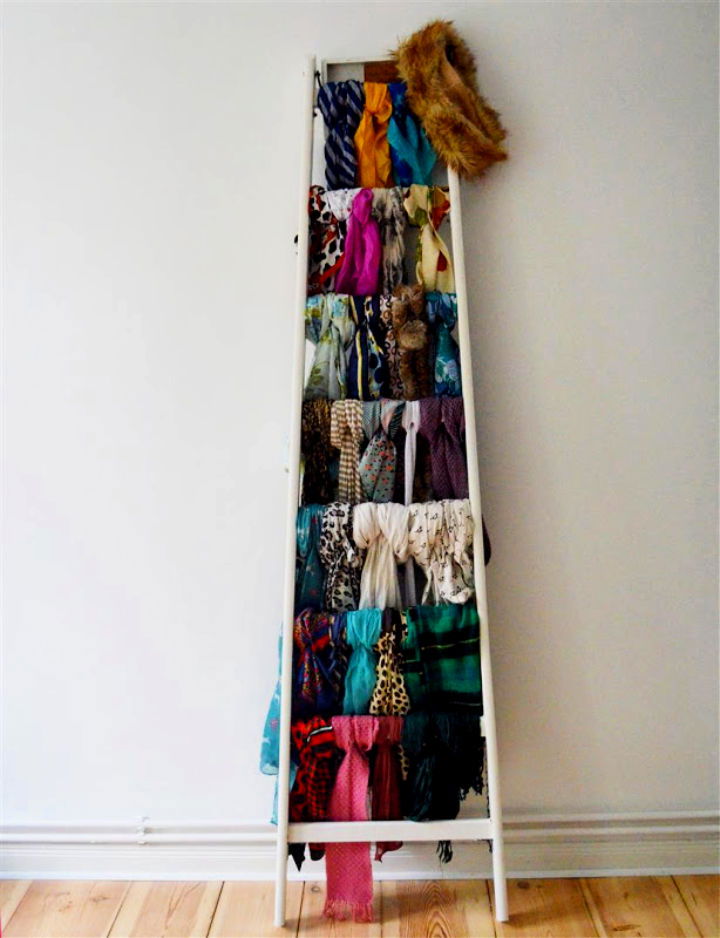 There's not just one way to organize your scarves! This scarf organizer is for everyone who loves their scarf collection and would love to have a view of them. Got an old ladder? Transform it into your new scarf organizer. Click the link to get all the details and cherish your collection like never before! almoststylish
14. DIY Scarf Organizer
If you live in an apartment or perhaps a dorm room, then storage must be a tough spot for you! In times like these, a functional and smart DIY storage idea is your key to survive! Got a lot of scarves? Try gluing together some shower rings on a hanger and go crazy, managing your scarves like never before. Details here. reneetbouchard
15. Scarf Hanger DIY
Get more room in your closet by acting smartly and taking your scarves flood into more like a scarves stream! If you can't find shower rings, book rings (2") at least, would work too. Hang them inside a wooden hanger, and you are all set to go! attheparks
16. Scarf Storage Box
Not more of a showcase or hanger kind of person? If yes, then this scarf organizer is going to be your personal favorite! It's a perfect way to keep all your scarves neatly folded inside a cardboard box and wrap it up with a piece of fabric. All you need is a piece of fabric, craft knife, spray adhesive, yardstick, cotton cord, grommets, and empty boxes. iheartorganizing
17. DIY Scarf Hanger
This might surprise you that how much more a curtain tie back can do for you! IF you want to go for a handy yet pretty enticing scarf organizer, we bet this is just the one you might be interested in. You just need to choose your kind of curtain tie back, attach it to the wall and hang all your scarves on it! sweetparrishplace
18. DIY Scarf Holder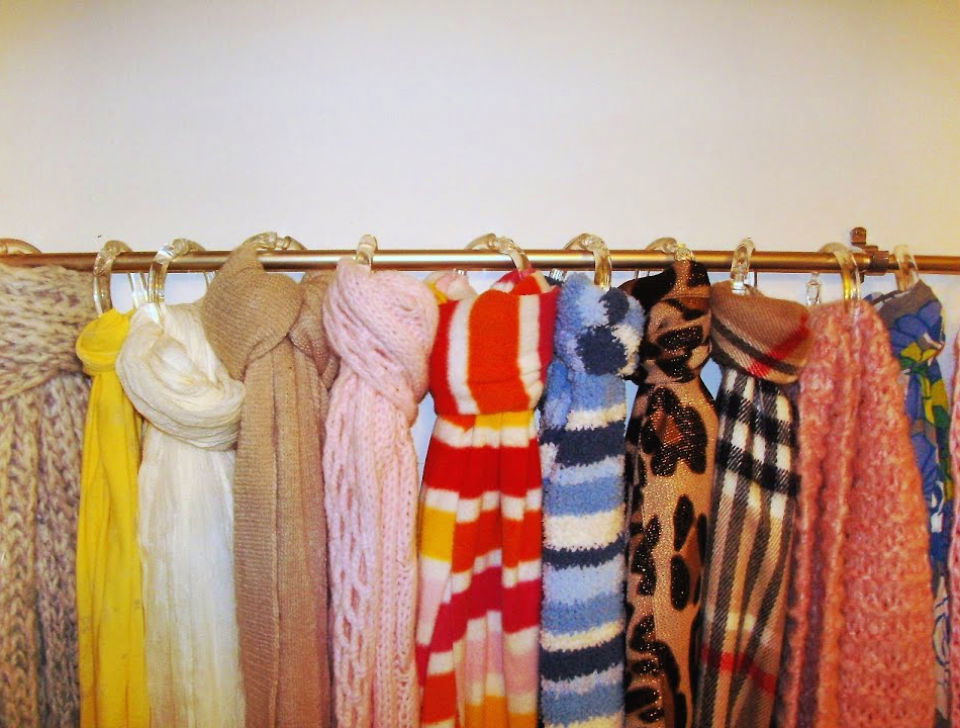 Check out this brilliant and pretty spacious way to organize and hang your scarves on the wall! All in one place. You just need to get your hands on the desired size of a curtain rod, take measurements, and make marks on the wall or back of the door. Using hooks, insert the rod inside, and then put in the rings. Hit the link and go through the video to get all the stepwise details! youtube
19. Best Ways to Hang Scarves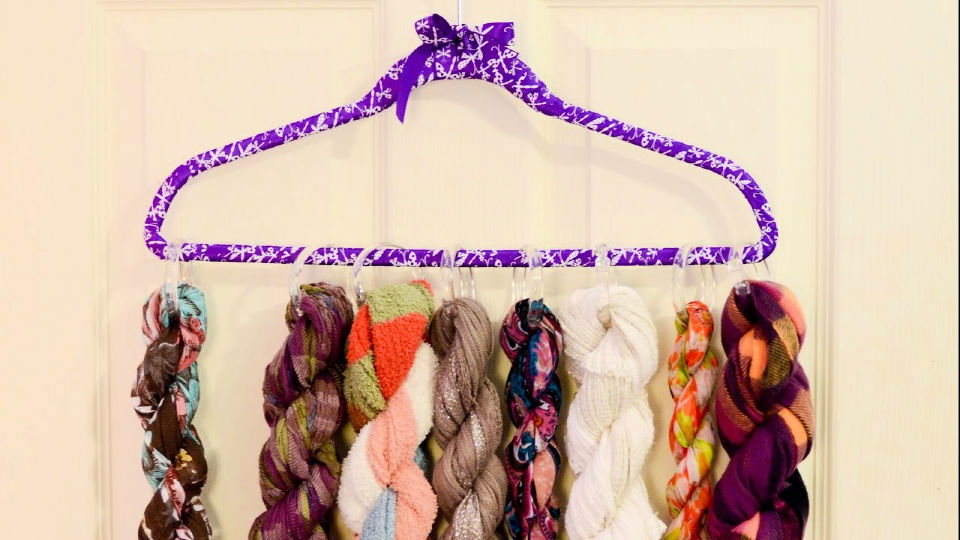 Because everyone has their own best way to take care of their accessories or scarves! This might be the one for you. Especially if you like to be a little more creative and swanky in your décor and storage, likewise. Get your hands on a hanger, ribbon, and shower curtain rings. See the details on youtube
20. DIY Hijab and Scarf Storage
This tutorial has not just one but three pretty enticing and handy scarf and hijab organizer ideas for you to try! You can either easily hang them up on the wall in a screw rod, or keep them folded inside a basket. Or just go for a drawer storage idea! The success of these scarf storage ideas lies in how well you fold all that scarves collection. youtube
Wrapping Up:
We are certain that you must be tempted to try these scarf organizer ideas! They are all pretty simple and chic in their own way to say no. But before you start, gather around your entire scarf collection and then purchase the supplies accordingly. If you follow the tutorials, you can end up having some really nice and creatively neat scarf storage ideas for your closet or your rooms! Thanks, later!