The babies are sensitive to cold and hence need some special winter treatments to stay warm and cozy! If you are a loving mother and want to do it fascinating then going with crochet baby cocoons would be an ideal choice! So, presenting here the 33 free crochet baby cocoon patterns that are more than beautiful and eye-captivating along with being a cozy cave for all the cute babies! The list will provide you the most popular design of baby cocoon to swaddle in your babies without losing the cute looks of them! The yarn choice would matter if you want to come up with a more or less warm baby cocoon, this will also depend on the season and weather conditions your region is going through!
Crocheting baby cocoons with matching hats can be great fun as you can go with any of your favorite character you want your baby see into like from a cartoon to a Disney character and also from a cute animal to insect you and your baby love a lot! So, with the help of a custom crocheted cocoon, you can create any unique and fun avatar of your kids, see some very interesting samples and examples given below!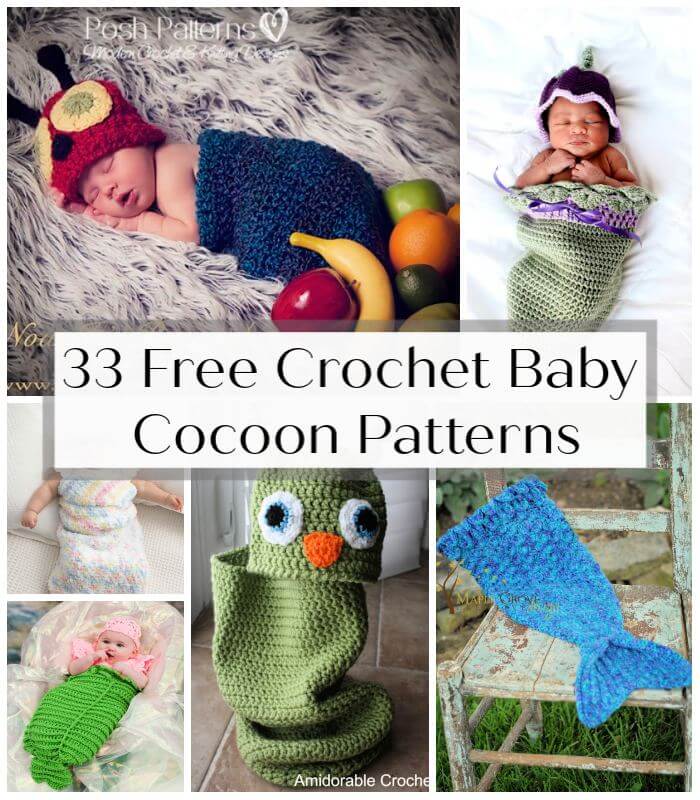 Crochet precious merry mermaid baby cocoon that will wrap around your baby creating a beautiful mermaid look of her! Crochet was also dashing wild animal inspired cocoon, and an exciting example is the giraffe crochet cocoon that comes in respective colors! Swaddle your baby in the beautiful caterpillar cocoon and turn ON his/her cute double look! Crochet also super snuggle cocoon that may come with a line of a button at one side and would make fabulous gifts for a mother-to-be! Another brilliant design is the crochet snowman ear muff cocoon that would make an epic present for a six mother or newly born baby!
Free Crochet Pattern:
All these baby cocoons would make fantastic gifts for all about-to-be-mothers, and you can also give them as most Thanksgiving and epic baby shower presents! They can be, and they for various more reasons, they are the perfect winter accessory too to ensure winter protection of your newly born babies! So all crochet mother can try crocheting these lovely baby cocoons to add to their babies wardrobe! Pick your favorite mix of yarn colors and get busy with your favorite crochet hook to crochet your favorite cocoon design from the list!
Furthermore, these baby cocoon would also make interesting photo props while going for a very first photo shoot of your six months or newly born baby! Just make your baby wrapped in a cocoon showing a fun character and take the memorable photos of your baby! Just choose your favorite cocoon designs from the list and then browse the respective pasted links to open the full project details, instructional guides and complete free crochet cocoon patterns!
Free Crochet The Merry Mermaid Infant Baby Cocoon Pattern: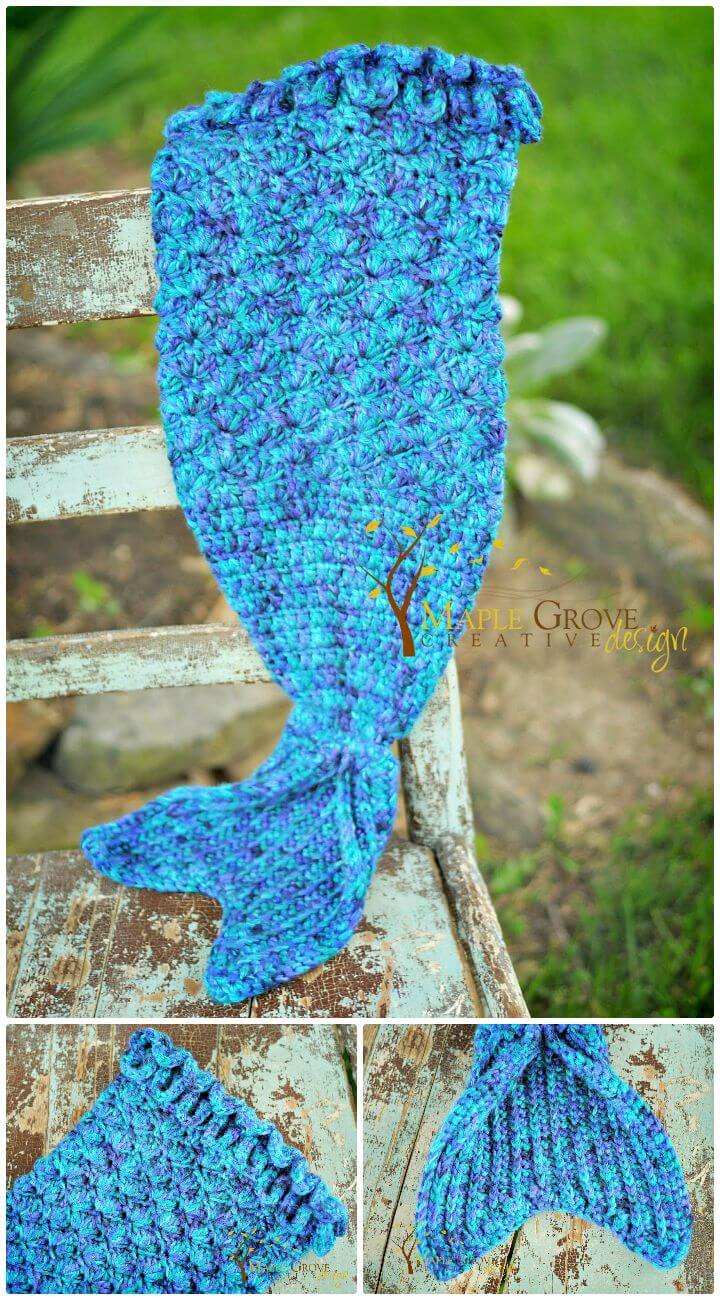 A mom's priority is always is her newborn baby! So, it always becomes a big demand to take good care of your babies as they are all delicate to even a little harsh weather conditions! So, here is a smart solution to cover an infant baby warm in the dead of cold! Just crochet a superb cocoon for him/her that will be a cozy baby covering; a mind-blowing sample here is this merry mermaid infant baby cocoon that is lovely to look at! Willing to own it for your baby? Grab the full free pattern and tutorial from here maplegrovecreative
Free Crochet Coo-Coo-Cocoon Pattern: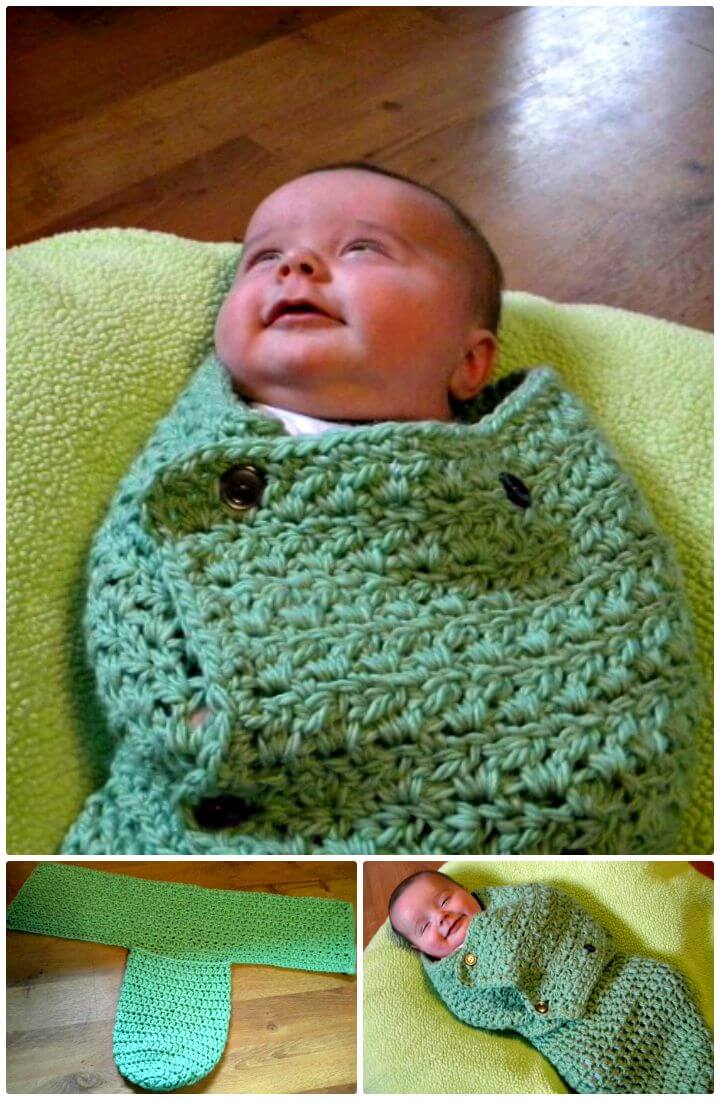 The babies especially the newborn or six-month babies are always sensitive to cold, so moms can get busy with their crochet hook to ensure winter protection of them! A perfect and mind-blowing sample is here, the crochet coo-coo-cocoon that is a perfect baby snuggly and will adorably wrap around your baby for instant winter warmth! Intending to duplicate this wonderful crochet cocoon? Get the full free pattern and guide from here crochetvolution
Free Crochet Chunky Giraffe Cocoon & Hat Pattern: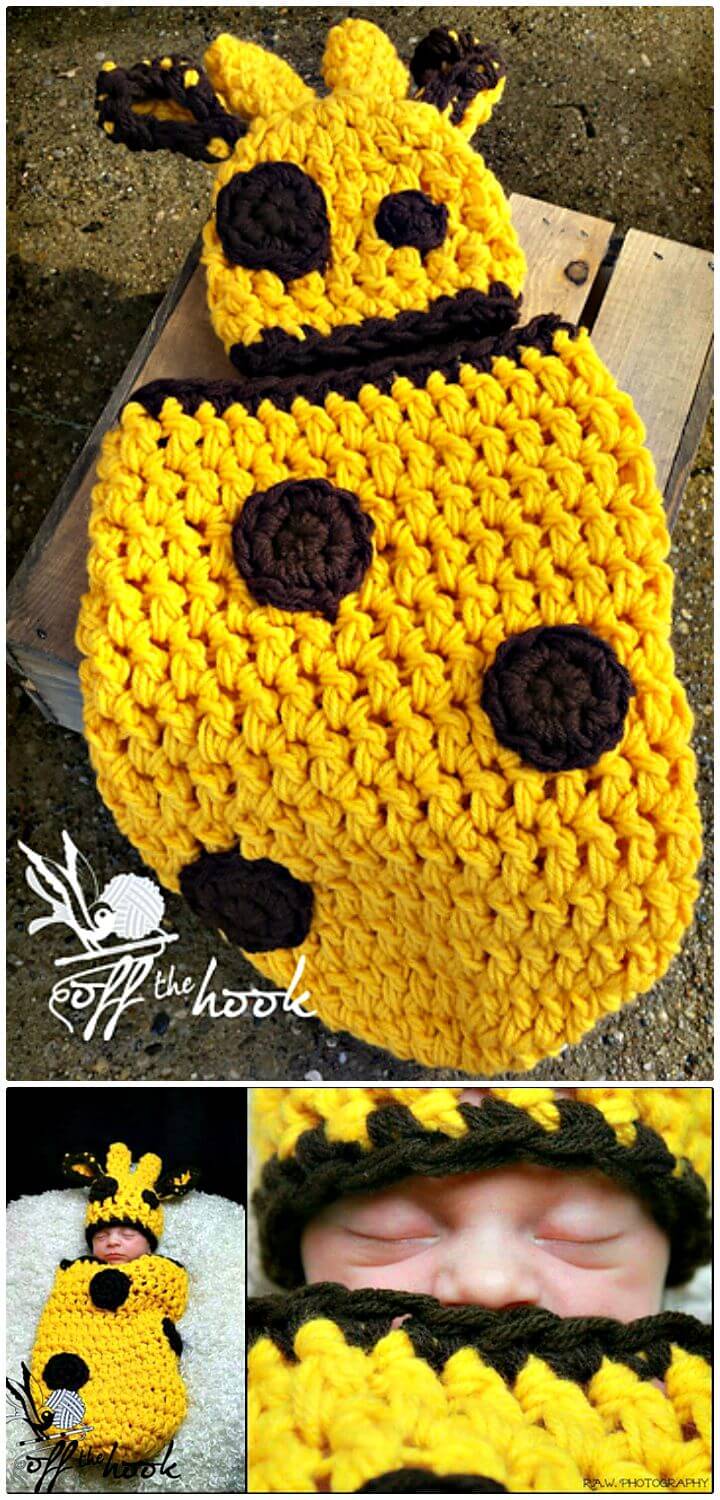 It may not be necessary that covering your baby warm can cause losing his/her cute look! You can also crochet some funky and good looking designs of crochet cocoons that will be cute and beautiful as your baby! Cover your baby warm with this chunky crochet giraffe cocoon that also comes with a matching hat and hence the whole two pieces crochet set will turn your baby into a baby giraffe along with providing your baby durable winter protection! Want to clone this precious wild animal inspired cocoon? Find the complete free pattern and tutorial from here ravelry
Free Crochet Tulip Hat And Cocoon Pattern: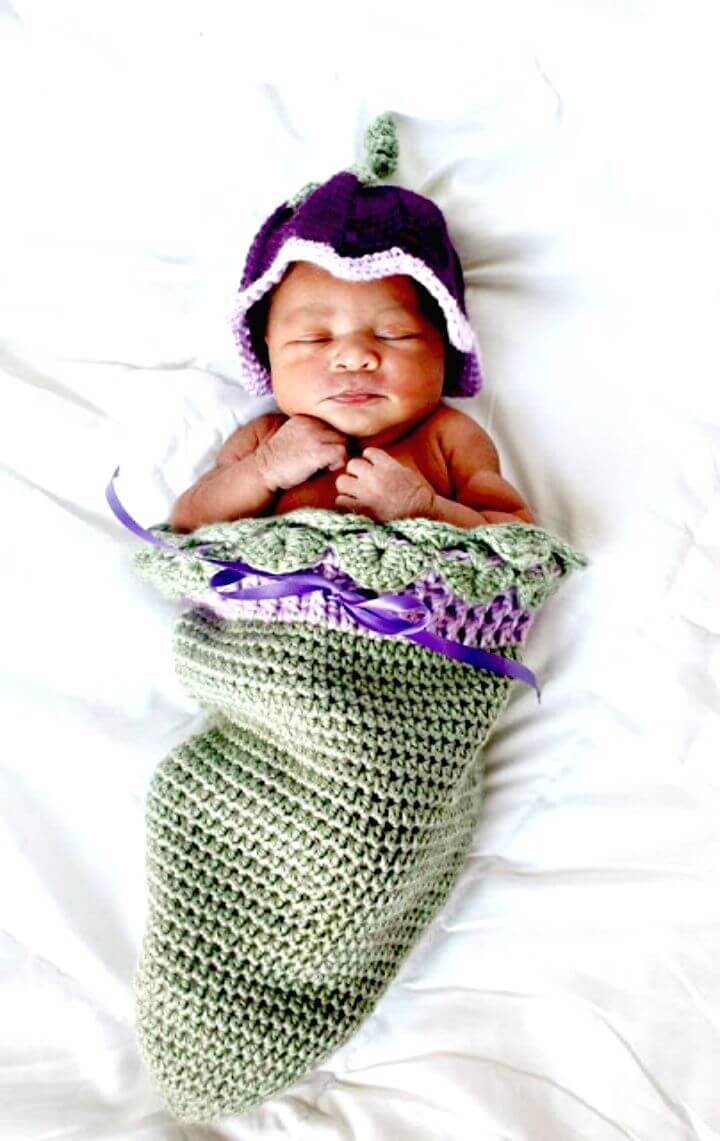 Check out here another two pieces crochet set that is sure to keep your baby warm and cozy throughout the winter! This is here the tulip crochet hat and cocoon set that is super adorable and would make a perfect gift for a mother-to-be! Another great solution to make your baby winter protected without losing the cute looks! Want to duplicate this very special crochet cocoon now? Free crochet pattern and tutorial is here salliestinypushes
Easy Free Crochet Caterpillar Cocoon Pattern: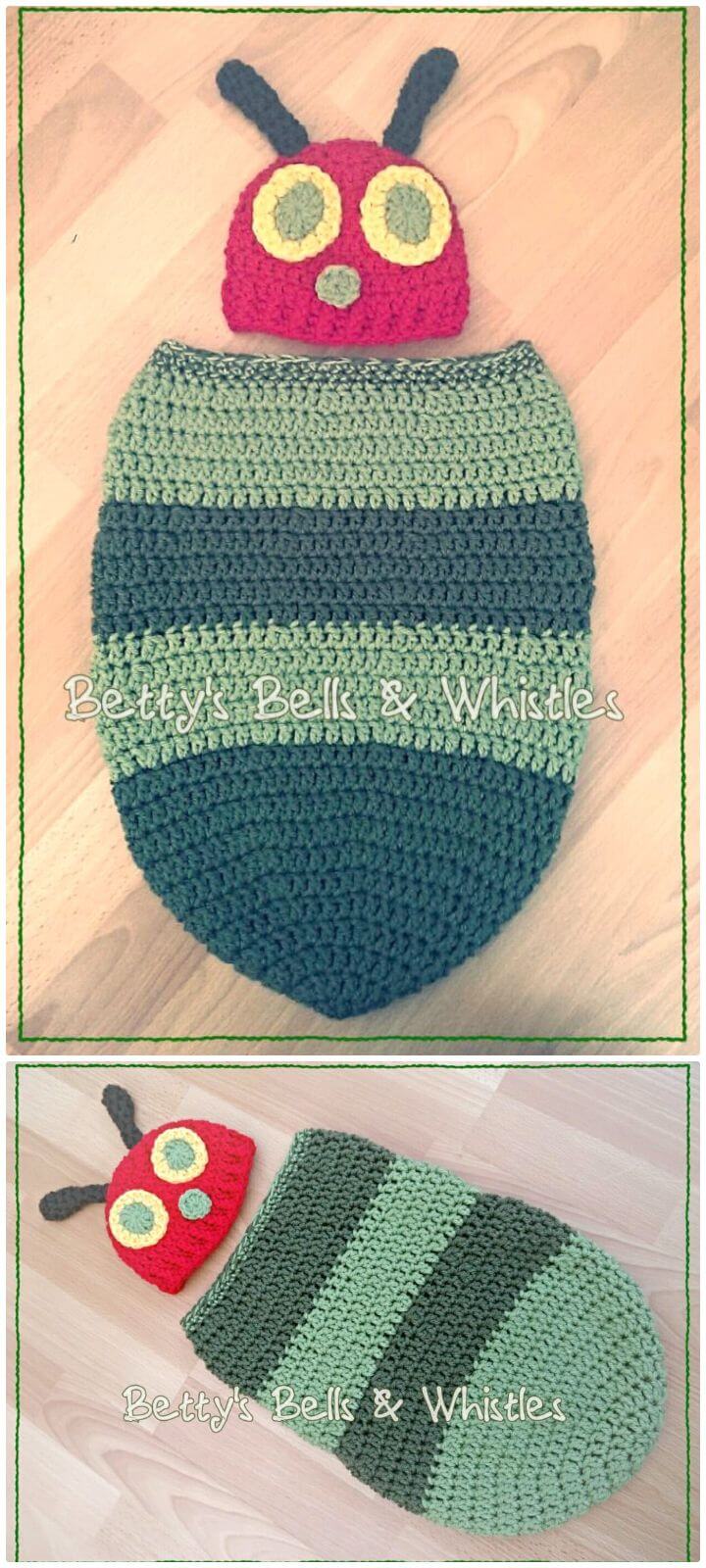 Transform your newborn or infant baby into a cute looking caterpillar by wrapping him/her in this lovely crocheted caterpillar cocoon! This also comes with a matching hat that is inspired by a caterpillar face and is damn beautiful! This is here another mind-blowing crochet set to provide ultimate winter protection to a baby just in a cute way! Free crochet pattern and instructional guides are here bettysbanter
Free Crochet Snuggle Cuddle Cocoon Resized Pattern: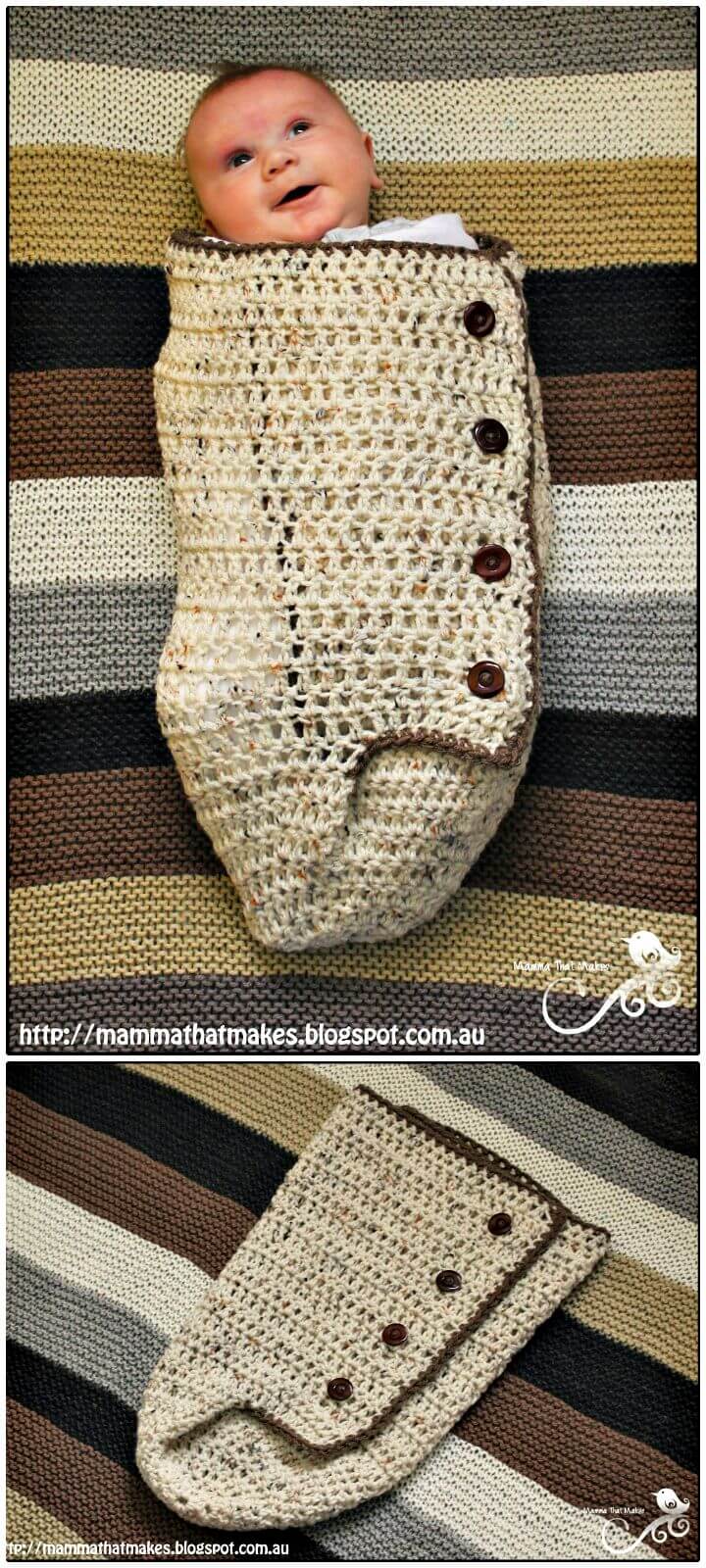 Encase your six months and infant baby in this wonderful-looking cocoon that comes chunky and is very precious to gift to a recently became mother! Take a look at the neutral hue of this fantastic crochet snuggle cuddle cocoon that is a perfectly cute winter warmer for a baby! Here this super comfortable baby winter warmer wraps around the baby with the help of buttons that fits in the holes made in opposite ends! Want to duplicate this lovely cocoon, grab the full free pattern and guide from here mammathatmakes
Free Crochet Snuggle Bug Cocoon Pattern: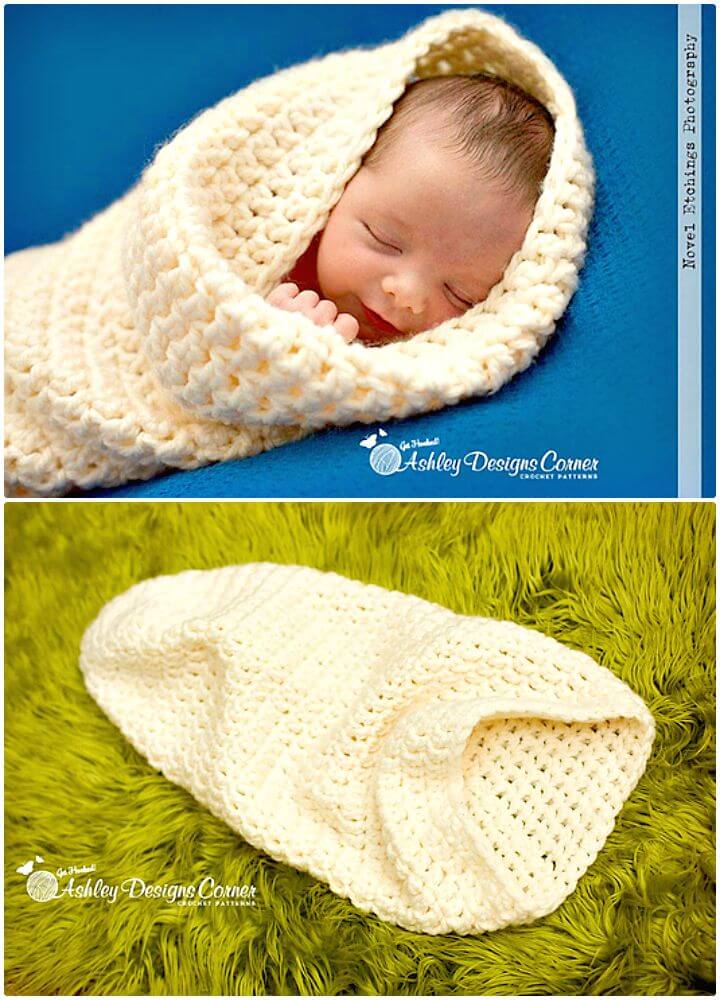 One more enchanting crochet cocoon is here that features a precious neutral yarn hue! Perfect crochet cocoon for your baby to snuggle in to be cutely winter protected! Here this enticing cocoon design is inspired by a bug and is amazingly lovely to look at! Here the yarn texture is all praise-worthy that has been generated by going with custom style of stitches! Further project details and free crochet pattern is here ashleydesignscorner
Free Crochet Snowman Ear Muff Hat And Cocoon Pattern: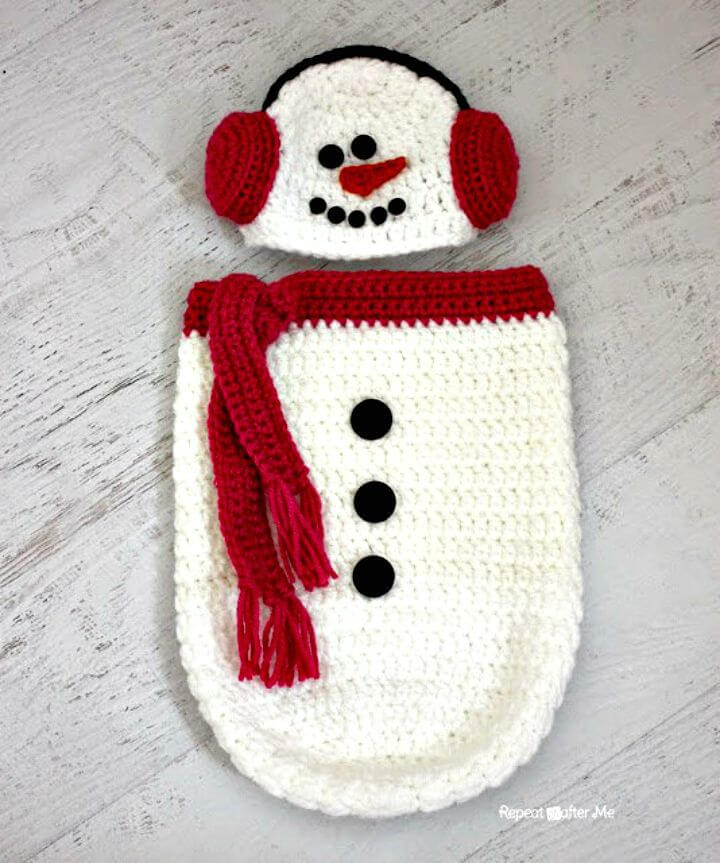 Willing to keep on your baby looking cute along with providing him/her winter protection? This all one solution here is this crochet snowman ear muff hat and cocoon set that is utterly cute and amazingly beautiful! Crochet the respective yarn colors like the white and red for a snowman and give some fun statements by going smart with your hook, the crocheted earmuffs are a great example in this case! Turn your baby into a cute looking snowman with this snowman cocoon set! Free crochet pattern and tutorial is here repeatcrafterme
Free Crochet Pretty Baby Cocoon Pattern: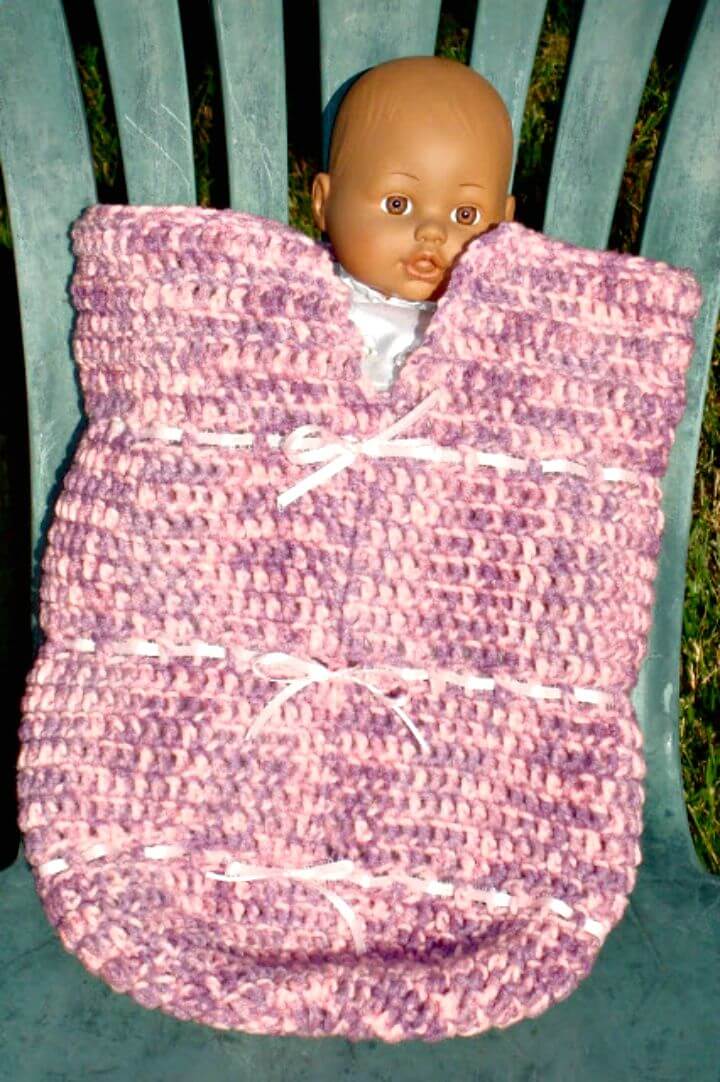 Avoid your newborn baby getting a victim of cold with this cute looking baby cocoon that has been crocheted chunky and is damn beautiful to look at! It comes with crocheted ribbon belts that help to make it softly tight around the body of the baby, and it also comes with the v-shape top or neck to be more comfortable around the baby! Want to own this cocoon for an infant baby? Grab the full free guide and free crochet pattern from here hooksandyarns
Free Crochet Newborn Cocoon Pattern: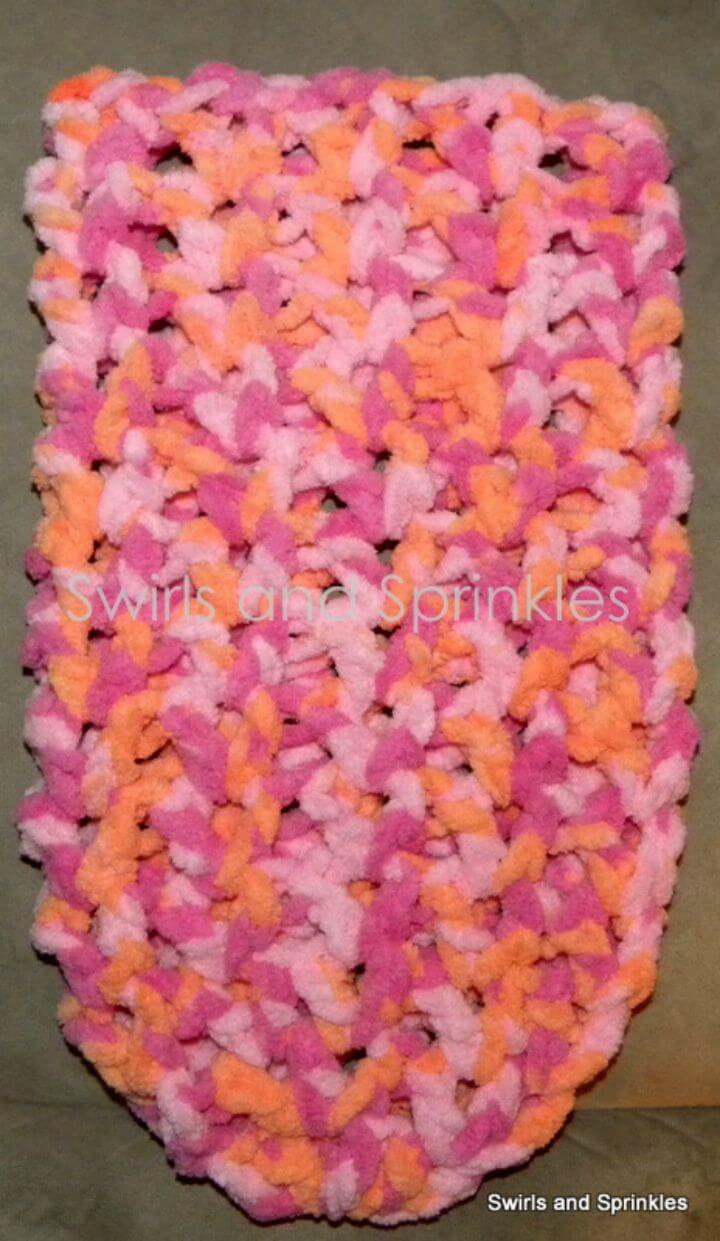 You can crochet chunky or light weights of yarn to vary the amount of heat your crocheted winter warmer will provide! Want to provide unbeatable winter protection to your baby? Just go with this lovely newborn cocoon that has been crocheted extra chunky! You can crochet the chunky yarn weights or also the t-shirt yarn to duplicate this gorgeous crochet cocoon design pattern! Another pretty handsome crocheted capsule to make your baby safe in the dead of cold! Free crochet pattern and tutorial guide is here swirlsandsprinklesblog
Easy Free Crochet Baby Cocoon Pattern: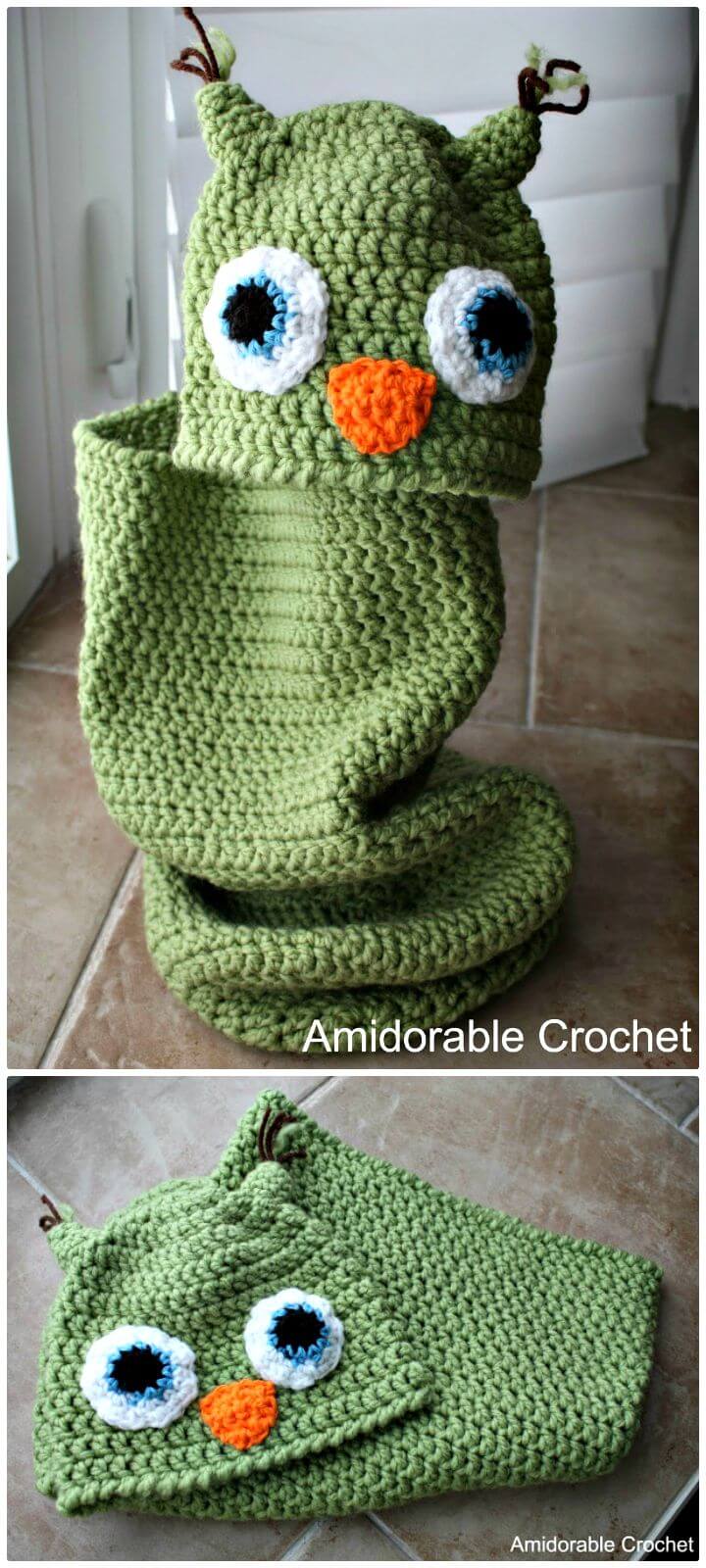 Provide both love and comfort to your baby by owing this very adorable extra chunky crochet cocoon! It is also inspired by an animal shape and would create the cute looks of your baby! This crochet cocoon design is just pretty easy to whip up as you have to work upon easy crochet stitches only! Another great crochet achievement provide winter safety to any newborn or infant baby! Want to crochet this pretty cute owl inspired crochet cocoon? You should give it a try using your favorite yarn colors! Further project details and free crochet pattern is here amidorablecrochet
Free Crochet Infant Cocoon Flower Photo Prop Pattern: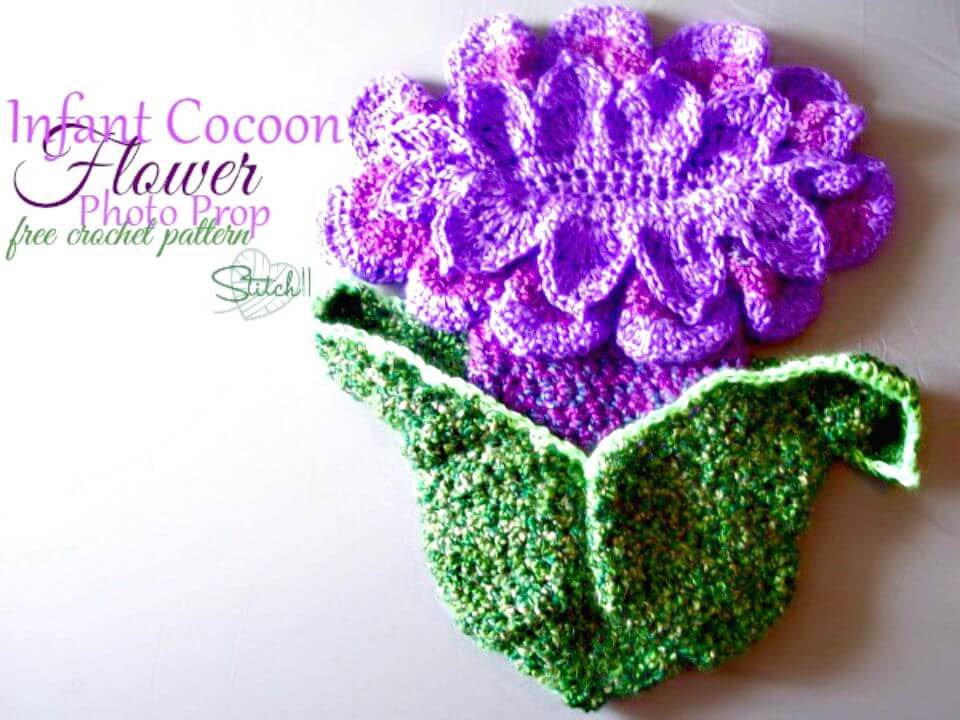 When there is a newborn baby in the family, it's compulsory to have his or her photo shoot so that you can lock down the cute and sweet newborn looks and memories forever. Here is this lovely crochet flower for you to use a cute photo prop for your little one so that he looks nothing less than a God's gift in this lovely and soft attire of the crochet flower in pretty colors of green and purple for an extra touch of cuteness. You can grab the complete tutorial of making it at home here stitch11
Crochet Mermaid Cocoon – Free Pattern: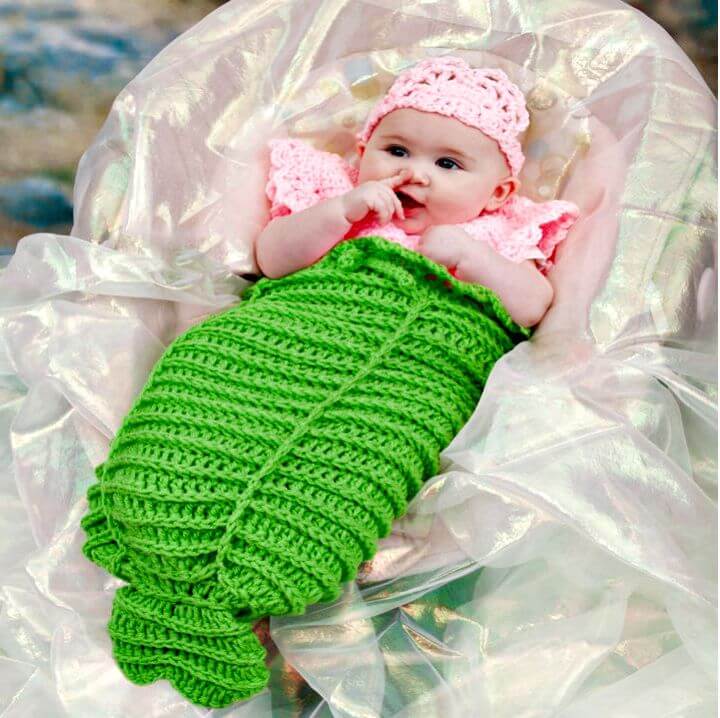 The babies are the greatest bliss of God, and that is why we love them the most and care them the most. So here is this lovely winter dress up for them to keep up with the cute festive vibes and also get warm and cozy against the cold and that too in the cutest and the prettiest of the ways. This is an adorable crochet baby cocoon in a mermaid style with the green mermaid body, and the peach shaded head and chest cover and thus create a lovely contrast to adore to the core.Here is the link to let you grab the details of the pattern and more redheart
Easy Free Crochet Baby Cocoon – Pattern And Tutorial:
Free Crochet Newborn Baby Pumpkin Hat And Cocoon Pattern: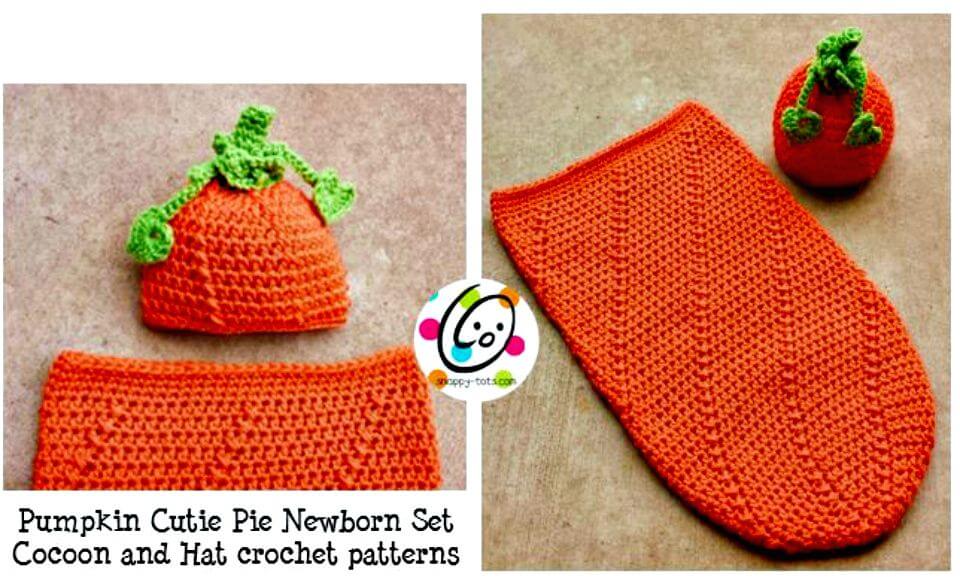 Pumpkins are all around us when its fall and if a baby shower is coming there too then you should really opt for a pumpkin theme for the cute gift idea for the newborn and here is this lovely little pumpkin cocoon set for the baby. It has a pretty and simple cocoon wrap for the body and a cute little pumpkin hat to make the newborn look just like an adorable pumpkin in the custom pumpkin shades and features of the cocoon. Here is the link to grab the details of the pattern and learn to make it quickly snappy
How To Free Crochet Baby Cocoon Pattern: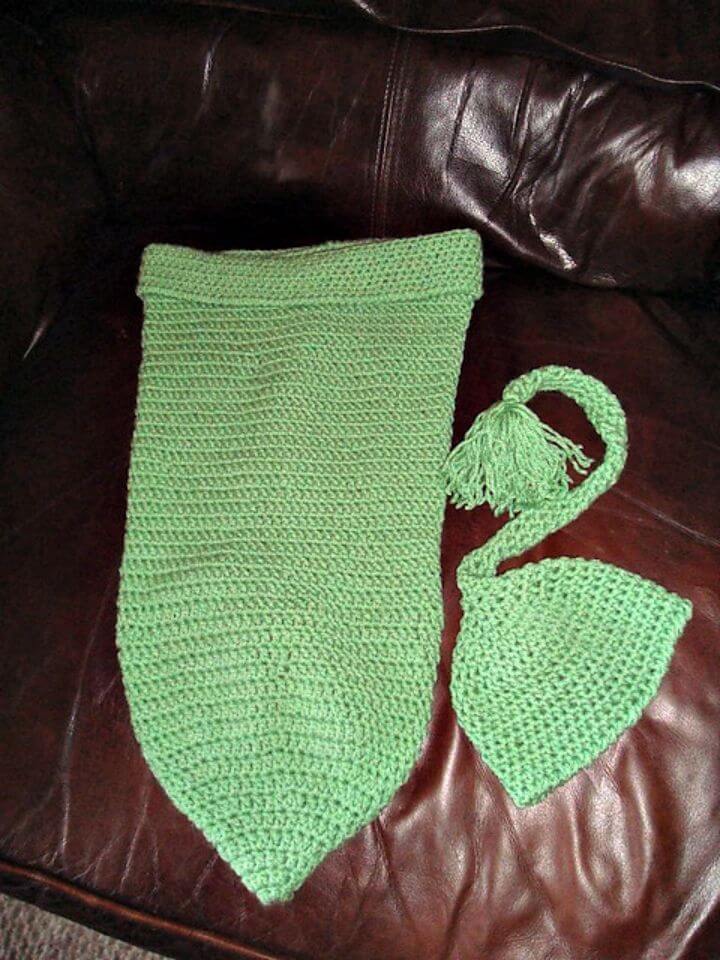 Instead of wrapping up the baby in the so many layers you should just wrap the baby in the cocoon, and he would be all warm and cozy in the cute attire and by pairing the cocoon with a matching hat you can just get your kid covered from head to toe and thus get free from the care of them from the cold as they would be the most protected I this lovely dress up.Here is the link to grab the details of this simple cocoon and hat set ravelry
Free Crochet Mystic Mermaid Baby Cocoon Pattern: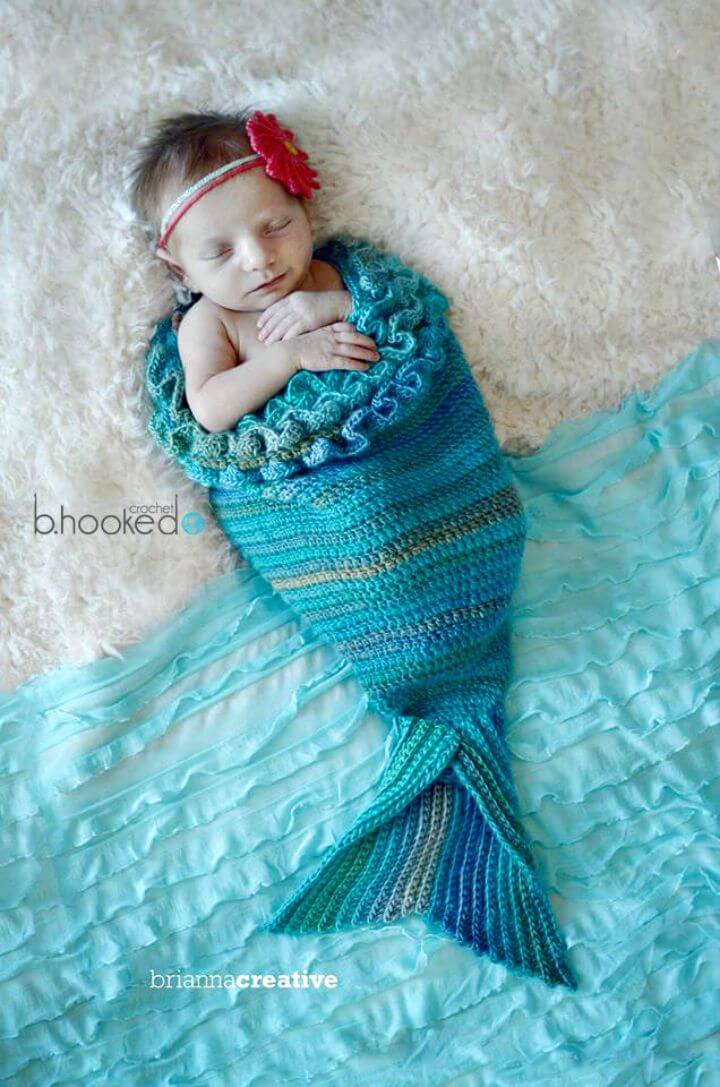 Its the most lovable period in the lives of parents to receive their little bundle of joy and to capture his/her cuteness, the newborn looks and first arrival in the world so that you can cherish this great time forever.You can crochet this lovely blue mermaid cocoon for the baby sot hat he/she looks the cutest and the prettiest in their first photo shoot and also stays warm and cozy in this lovely and comfy wrap-up. You can make this cocoon so easily with simple stitches in rows and here is how you can learn to make it quickly and easily at home bhookedcrochet
Free Crochet Fleecy Cloud Cocoon & Beanie Set Pattern: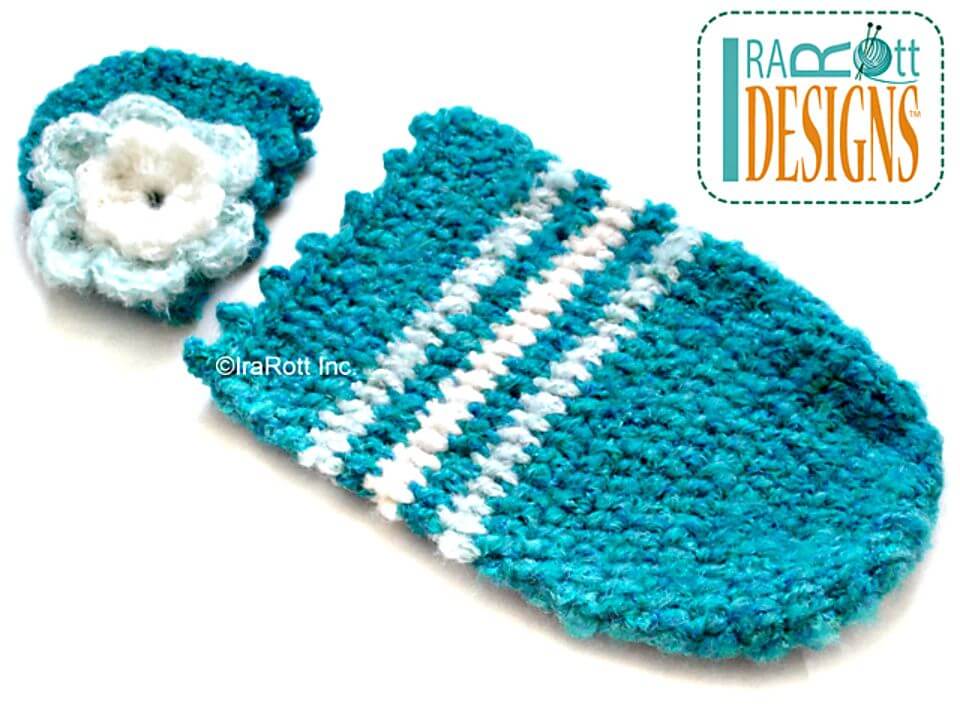 Kids have the view that the babies are dropped off the clouds by the God so why not make it look real by creating this beautiful and fun cloudy crochet baby cocoon and the beanie hat for her and that in the amazingly cute shades of the blue and the white. It would also be a perfectly stylish and cute dress up for her first photo shoot too so wait no more and click on the link here to catch the free pattern and its details and make this pretty cocoon for the newborn in your family as the gorgeous, welcoming gift ever ravelry
Cute Free Crochet Button-Up Baby Cocoon And Hat Pattern: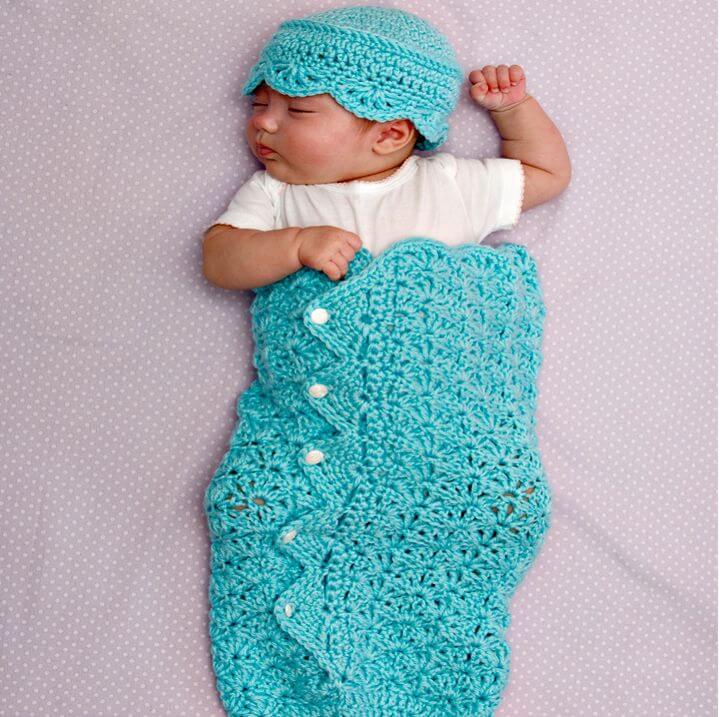 The first clothes of the newborn should always be special and highly comfortable and soft to his delicate skin and that is a crochet dress up would be perfect for this first time. So while bringing your baby back to the house from the hospital or the clinic, you can wrap him up in this gorgeous and comfy crochet cocoon with a hat so that his first arrival to the house is just perfect and beautiful. here is the link to catch the complete details of this buttoned cocoon and the hat redheart
Free Crochet Baby Caterpillar Cocoon Pattern: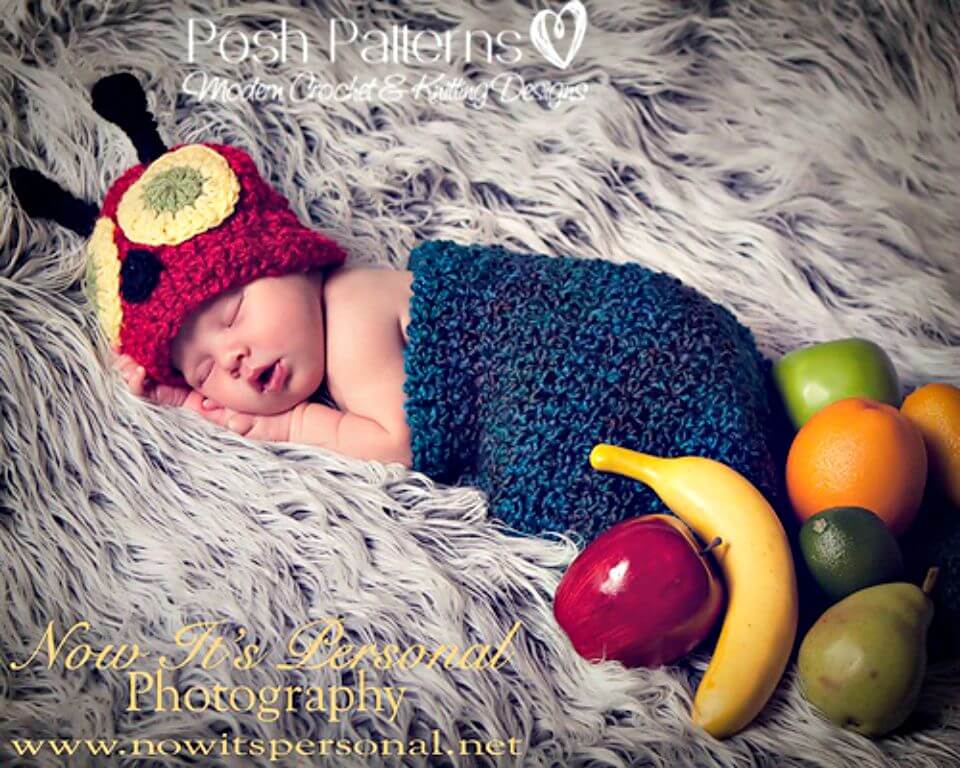 How cute are those tiny and colorful caterpillars and how cute are the babies? so why not combine this cuteness by making this beautiful caterpillar cocoon for the newborn and make them look the cutest and the most adorable for their first photo shoot. The lovely and simple cocoon and the fun caterpillar hat with the antennas look perfect to warm up a baby in the winters and that too in the most heartwarming style. So here we got the link for you get your hands on its free pattern and more poshpatternsblog
Free Crochet 3 Button Baby Owl Cocoon & Hat Pattern: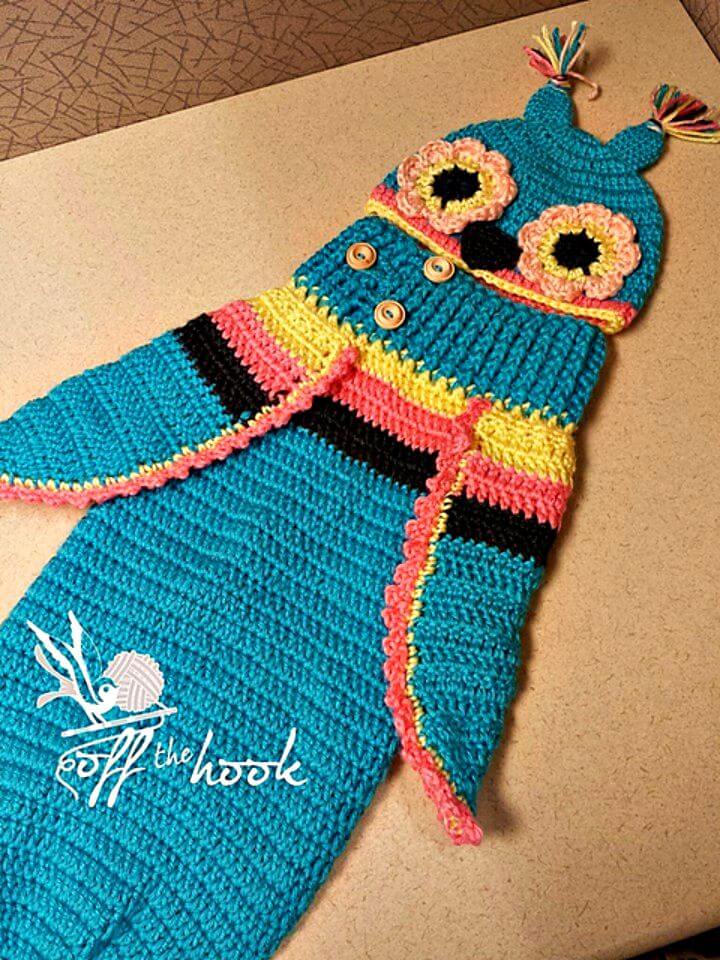 The Animals and birds make the perfect inspiration for the patterns when you plan to crochet for the babies, and the owls are the just the most adorable pattern in this regard, and they are just brimming all over the internet with so many cute designs and patterns for the babies. Here is this lovely owl cocoon with the hat to make the most adorable gift for the baby showers so that the newborn looks cutest when wrapped up in this lovely owl dress up. You can customize it with the colors and shades of your choice ravelry
Free Crochet Mile-A-Minute Baby Cocoon Pattern:

It is so hard for the mothers to take out the babies it the cold as they do not want to take the risk of getting them affected by the cold. But when this cute and totally warm cocoon would be on the baby covering him from all the side then there is no need to worry about the cold and the baby as he would so much comfy and comfortable in this cute crochet cocoon cover having been done in the lovely and cute shades of the yarn.here is the link where you can catch the complete details of the pattern and more and add it to your next crochet list crochetparfait
Free Crochet Lace Up Cocoon Pattern: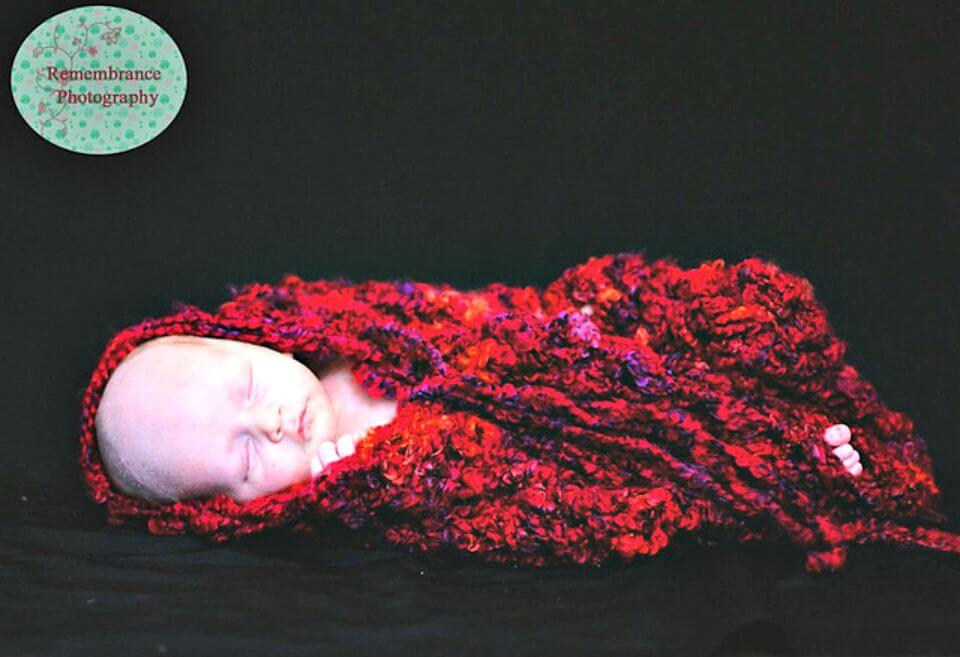 need an instant baby shower gift for a baby shower party that you forgot about? Here is what can save you and make your gift to look the cutest and adorable for the baby among all. Yes, this is a pretty and fun baby cocoon made out of a bulky yarn with just thirteen stitch rounds, and it would take the least time of the two hours or less with its lacy pattern to be worked up so quickly and easily with the crochet hooks. So grab the yarn and your hooks and start working on this cute and feasible project ravelry
Free Crochet Crocodile Stitch Newborn Baby Cocoon Pattern: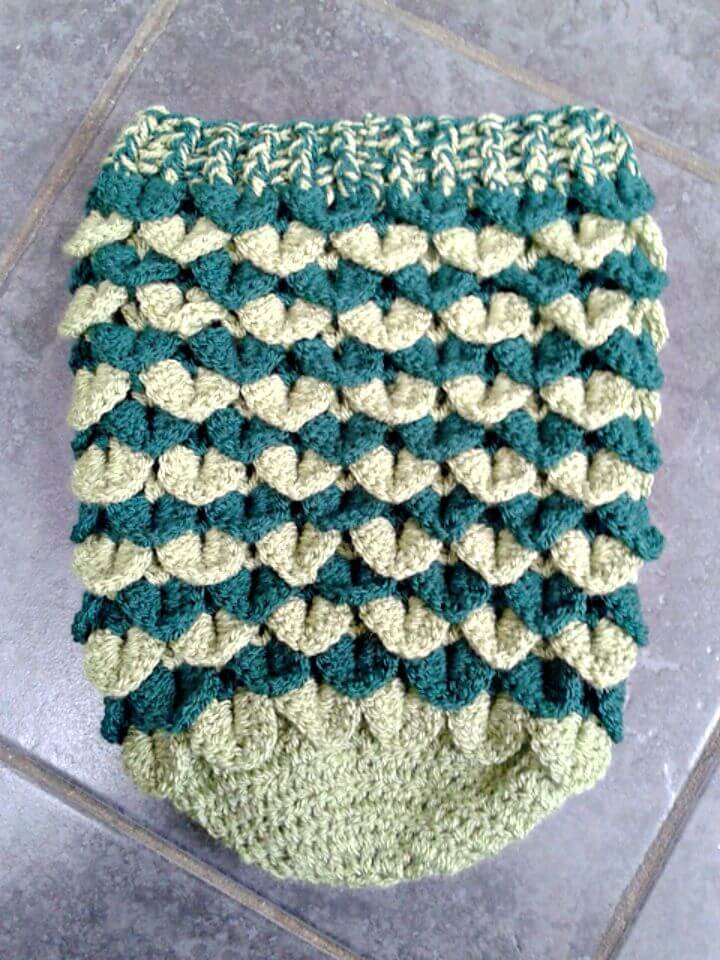 Crocodile stitches come up as a huge hit when it is about the baby projects as it looks so much cute and fun for them with those cute round crocodile scale like layers and that too in pretty hues of the yarn. So for the newborn or a six month old you can use the cute and fun crocodile crochet pattern and create this utterly functional and simply gorgeous cocoon in multiple shades and let the baby look just a cute bundle of joy and happiness that has just arrived at you.check out this link for the free pattern and details of its ravelry
How To Free Crochet Newborn Caterpillar Hat And Cocoon Pattern:

In winters all the attention of the mothers is to the baby and the ways to keep him warm and cozy, and if you know the crochet art, then you can come out with lots of cold safety solutions for them. Like here is this pretty and fun kind of cocoon to get the baby into it and forget about the cold as it would be so much warm and comfy to keep him safe from the severe effects. You can personalize this simply cute cocoon pattern with the custom colors and yarn ouicrochet
Simple Free Crochet Pea Pod Cocoon Pattern: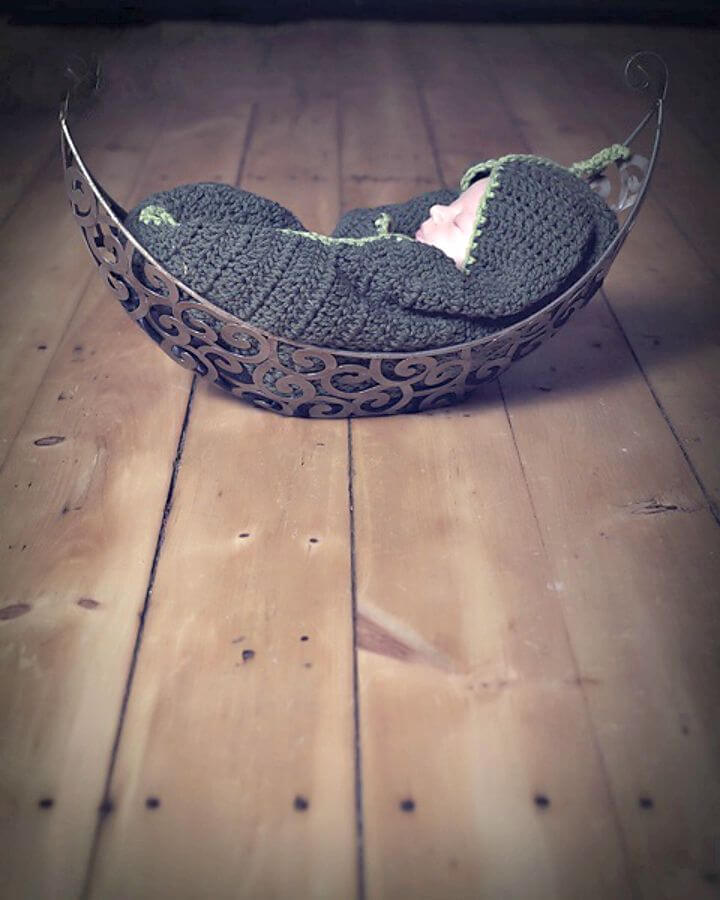 Either you need a fun and innovative kind of photo prop for the newborn photo shoot, or you are looking for a fun baby shower gift for the newborn in your family then this pea pod baby cocoon is the right thing to get your hands dirty with. So grab the right colored yarn you like it to be in and start working on this adorable and heart touching pattern of the baby cocoon with the soft texture and appeal. You can catch the free pattern with complete details here to copy this idea for you poshpatternsblog
Free Crochet Baby Cocoon Pattern – Raspberry Stitch:
Do you like the deliciously sweet raspberry? Here is something that would make you fall in love with this cute fruit more and this is the pretty crochet baby cocoon crocheted out of a raspberry stitch that really great an eye-catching pattern of the scalloped design all over the cocoon and that too in the bright yarn hues of the boyish shades and you can turn it to be girly with the custom changes in the yarn shades according to your choice.here is the link for the details of this pretty pattern of the cocoon mymerrymessylife
Free Crochet Spring Flower Newborn Cocoon With Pattern: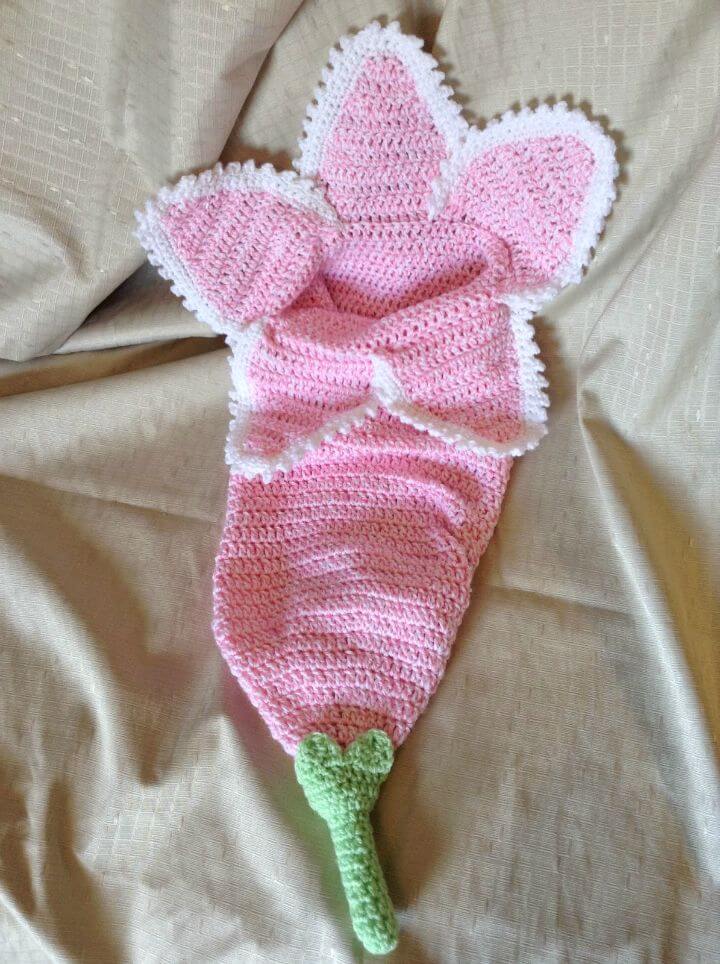 Babies are no less beautiful and delicate than the flowers, and that is why you can crochet this pretty flower cocoon for them to look like a spring bloom in the cute human avatar. This flower cocoon would be a great idea for the babies to be used as the baby shower gift or to use it as the cutest and the stylish kind of photo shoot prop. You can choose any of the flower colors and designs to make your cocoon in the most custom and personalized way. For this pattern you can have all the details and instructions here theshtickido
Free Crochet Baby Cocoon And Hat Pattern: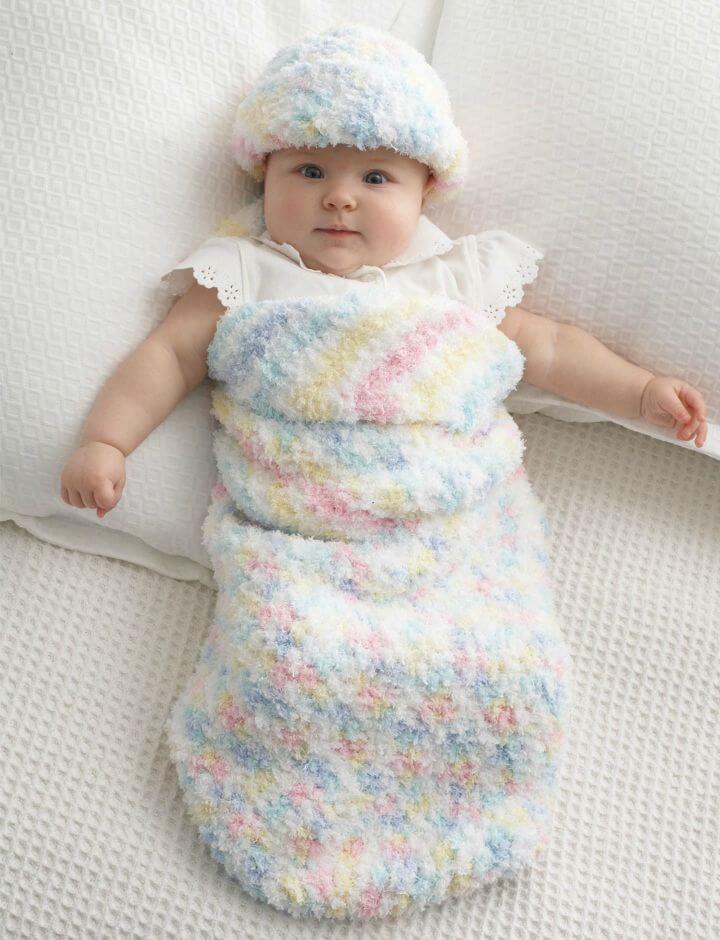 When it's all snowy outside and getting colder, you can turn your little one in the cute and warm snowflake with this white cocoon and hat set which is just the perfect baby styling for the cold season. The dark colors of the multiple yarn hues bring the more cute flairs to the pattern and the design of the cocoon. So here is how you can easily and quickly learn to crochet this pretty cocoon either for your baby for the one in the family yarnspirations
Free Crochet Plaid Baby Cocoon And Hat Set Pattern: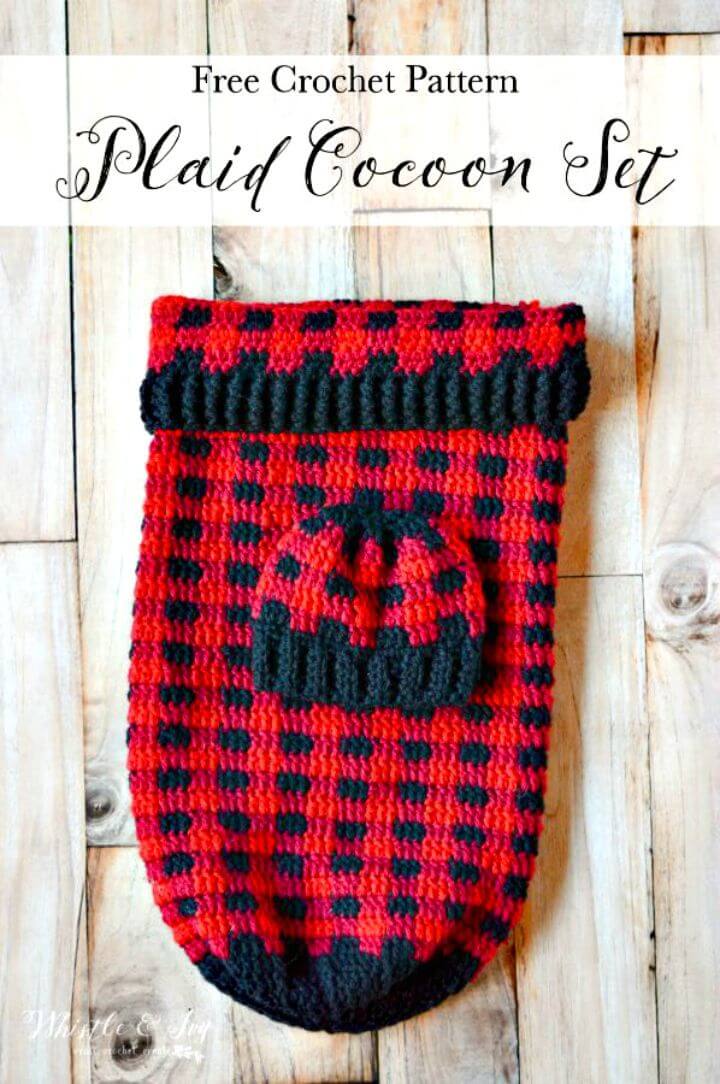 The colors matter for the style and the beauty of your cocoon that you are so much eager for the winters to crochet and keep the baby warm in a gorgeous way. So here we offer this lovely cocoon and that set having been done in the attractive shades of the red and black and thus bringing out the most brilliant color contrast and the pattern. It would make a great photo shoot wear or the baby shower gift, so this cocoon is a must hack and you can have it all here be it the free pattern or the details and more whistleandivy
Free Crochet Baby Hat And Cocoon Pattern: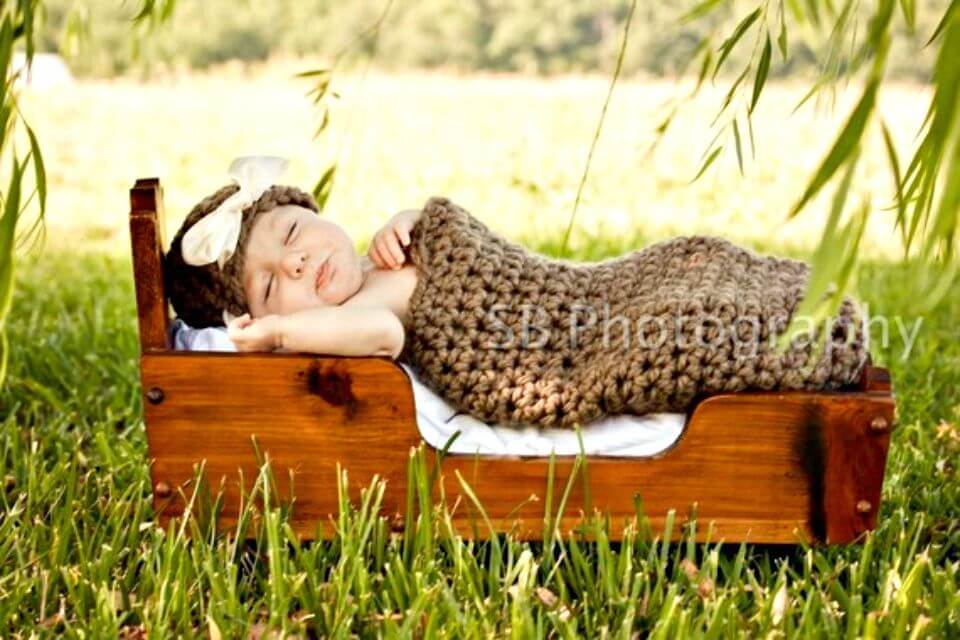 the newborn is just the beauty of all the things in the world and the cute dress ups make them look just so heart touching and gorgeous that you can stare them forever and this crochet baby cocoon and the bow that is just the right photo shoot wear for them in the winters to not only stay calm and cozy but also look perfectly and cutely stylish in it too. Here the cocoon has been done with the heavy brown yarn, but you can do it in any of your favorite hues for the more heartwarming look prettydarnadorable
Free Crochet Cabled Baby Cocoon Pattern: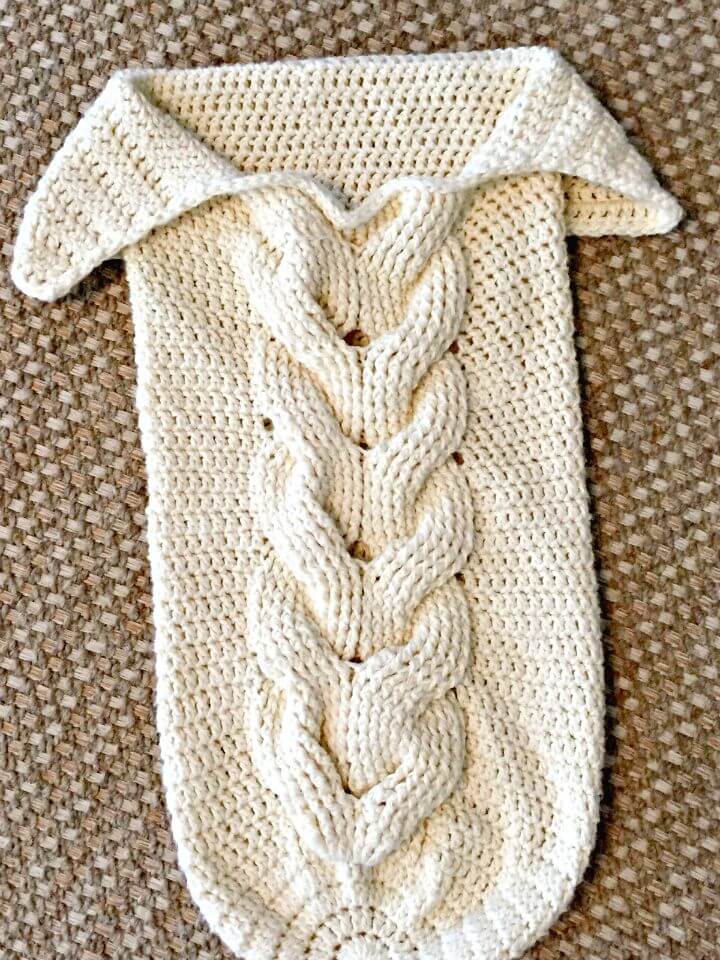 The baby cocoons are the just perfect kind of patterns to whip off this winters as they not only keep the baby warm and cozy but also keep them look so much stylish and cute in them too. So here is this lovely cabled design for the cocoon that you can crochet yourself and thus make your baby a beautiful wrap up to stay hot and comfy int he dead cold. It would be difficult for you to work on the first cable, but after making it, it would easy to do the rest. You can learn it all from the details given here skeinandhook