After the shipping duties, the free pallets are mostly to find on the landfills but you can repurpose them to build stylish beautiful items of pallet furniture instead of scrapping them away! Upcycled wood pallet ideas are highly popular around the globe and geniuses around the world have given a lot of creative width to the recycling of pallets and the result is that now you can build awesome indoor or outdoor furniture, wooden wall and floors and also the amazing outdoor houses with them! In short, they have really made the life of people easier by providing the low-cost furniture furnishings that if bought from the stores, leaves you with no money in the pocket!
Want to do some amazing pallet projects? Then check this grand list of 60 Unique Wood Pallet Ideas and what amazing and fantastic you can build with pallets that will make bigger changes to your life! Build the inexpensively luxurious sitting furniture with pallets that will allow you to sit at a patio or at any outdoor while enjoying the parties or conversations and with dismantled pallets, you can build every kind of furniture in custom dimensions and style that will fit best to a custom space of your home or room!
Next, you can go handmade with pallets to build fantastic storage units, racks, organizers and accessory holders that may involve the storage cabinets, hall tree, chest of drawers and bookshelves; you are going to see all the fantastic ready-made samples in the given list! Build also the luxurious wooden beds with pallets with your own added features that will come with zero price table and also repurpose them to build all sorts of tables, chairs, and benches that you can put together to install lovely pallet furniture plans for sitting!
Also, plan the pallets to do some bigger indoor and outdoor home improvement projects! Like build the wooden outdoor decks with them with attached seats and also the outdoor coolers that will keep liqueur and beverage bottles cold throughout the parties and outdoor conversations! Do amazing wood wall paneling projects with pallets and also plan the whole and dismantled pallets to build large outdoor sheds, cabins and kids' playhouses! Browse this list of unique wood pallet ideas to see all the homemade samples that are guaranteed to win your heart and to inspire your imaginations!
Pallet Bookshelves:
This is what you need for amazing and organized book storage, the brilliant wooden bookshelves made of free pallets! These bookshelves would already be built in the pallets, and you only need to cut them apart and then give a nice wood finish! Pallet Projects
Pallet Flower Box Bench:
Dual functional items of wood pallet ideas always grab more of our attention and the same will do this pallet flower box bench that will go best to a corner due to having an L-shape! This is actually an L-shape flower box that comes with a triangular berth!
Pallet Planter:
Make also good looking planters out of pallets that you can quickly mount on the garden walls for an instant garden or outdoor beautification! Just rebuild the cut apart pallet sizes to have some bottom pockets or potting soil holdings! 70 Inexpensive DIY Herb Garden Ideas
Wooden Pallet Planter Box:
Add amazing finishing touches to any of your outdoor or patio by making beautiful planter boxes out of pallets! Look at this given one that is made of separated pallet slats and would rock for garnishing of your outdoor or patio!
Pallet Bed Frame:
Build all with pallets that are most expensive in the home furniture that is probably going to be a bed! Duplicate this given pallet bed that comes with a headboard and also with nightstands and has been given a burnt wood finish for a rustic appeal! Pallet Bed Frame
Pallet Outdoor Furniture:
Enjoy the summers by sitting at outdoor and by making conversations with friends, and this will definitely demand an outdoor sitting furniture set that you easily build with free pallets just like this given wooden pallet L-shape sitting sofa set painted in turquoise!
Pallet Ottoman for Bedroom:
Complete the look of your bedroom with this pallet ottoman that will also help boost the storage space of your bedroom by being a lovely foot chest! Build also this big storage box or chest with the separated pallet planks!
Wooden Pallet Wall:
Nothing can grace up an interior more but a hot touch of wood and do this cost-efficiently by building a rustic wood wall with pallets, time to do the wood wall paneling with pallets and this is going to be like a great puzzle game for you and your kids! The idea will also rock to install a rustic wooden background to your bedroom!
Pallet Wood Shoe Rack:
Are you tangled in the messy collections of shoes? Then do make the lovely shoes storage units out of pallets for free and a great sample here is this wooden pallet shoes rack that is just like a mini cabinet having two built-in shelves, clone using separated pallet slats!
Pallet TV Cabinet:
A stylish media console is always a big must-have for gaining an organized and sophisticated look of a living room! So, build lasting longer and durable wooden TV cabinets and media console with pallets for free and check out a lovely design inspiration here that is super storage-friendly! 5 DIY Entertainment Center Plans
Pallet Barn Door:
With pallets, you can do amazing indoor and outdoor home improvements at almost no cost! Bring a great style to any of your room or space by installing this wooden sliding door that is also made of free pallets!
Pallet Patio Furniture Set:
Rock your patio and any outdoor area also by building lasting longer wooden sitting furniture sets with pallets! Organize your patio with this pallet-made Adirondack chair sitting furniture set, built to last and is amazingly stylish and durable! 30+ Pallet Ideas – Creative ways to recycle Pallets
Pallet Wall Paneling:
Give a glam wooden touch to any room or home ambiance by installing lovely wood pallet walls, take the pallet into separated slats and then install them to the wall for building instant wood accent walls! Just like this given one that comes with an enticing diagonal filling of pallet slats! Pallet Wall
Pallet Drawers Chest:
Lacking storage space in your home? Then do build custom storage furniture with pallets, and this will cost you next to nothing for sure! Grab the free pallets and plan them to build a chest of drawers just like the given one that will allow organized storage of home items! 20 Creative Pallet Ideas To Decorate Your Home
Pallet Mud Kitchen for Kids:
Plan also the free pallets to boost the outdoor entertainments of your kids and take a smart start by building this wooden pallet mud kitchen that is robust and comes with all the features like a stove, a sink and lot of storage space and a shelf too!
Pallet Coat Rack Seat and Storage:
Organize also your entryway or hallway with this fabulous wooden hall tree that is also made of free pallets and is too robust to last longer! Put together again the pallet wood slats to build it and don't forget to add the hardware hanging hooks! 20+ DIY Pallet Ideas
Pallet Chair:
Have a great view of your outdoor by sitting in this pallet chair, built in robust wooden dimensions and is another lovely pallet plank creation! Do build this chair to enjoy this summer season, and it is just super easy and quick to build! 17 Pallet Chair Plans
Bathroom white Washed Pallet Wall:
Give also a glam touch of rustic wood to your bed by building an accent rustic pallet wood wall! If you need inspiration, then look at this bathroom whitewashed pallet wall that is super easy to build and install!
Pallet Coffee Table or Dining Table:
With pallets, you can build all types of tables and hence can really make your life easier with them! Style up your dining routines with this pallet dining or DIY coffee table that comes in large dimensions and the separated pallet slats have also been packed in the lovely big square pattern for making the top! Pallet Dining Table
Pallet Wall Decor for Mirrors:
Also, style up your shops and working areas with the pallets and look at this barber shop that has been spiced up with a rustic wood feature wall that also holds the shop mirrors and is wholly made of pallet planks! Another great pallet wood wall paneling project!
Wood Pallet Coffee Table: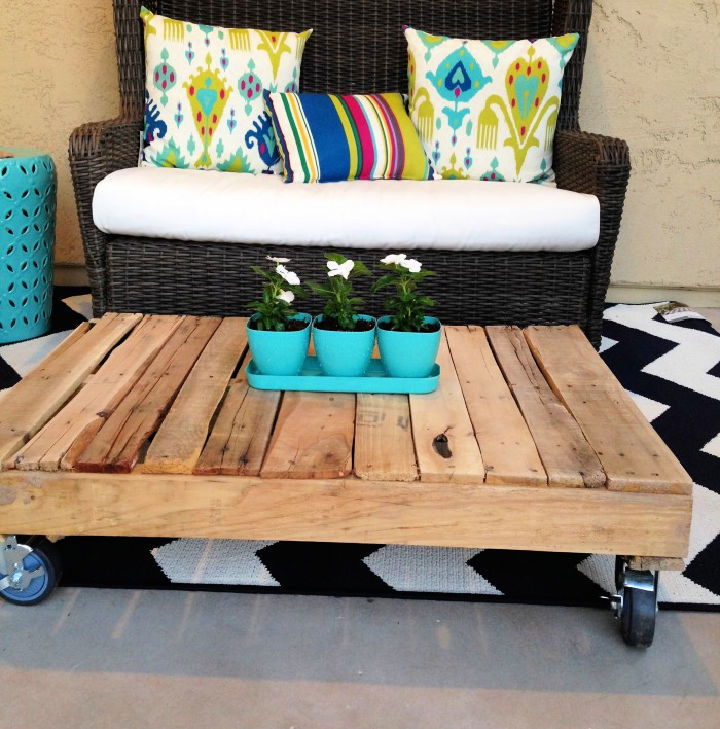 It is only a good looking coffee table that brings a great style to your living room, and it also completes the look of your living room! So, also build stylishly beautiful wooden coffee tables out of pallets just like this given one that is white painted one and is made by stacking two pallets only and has been raised on caster wheels!
15 Pallet Projects for Bathroom
Pallet Wall Mounted Bathroom Shelves:
Going through short space issues in your bathroom then also accomplish your bathroom storage desires with pallets! Build the lovely wooden bathroom wall shelves and let them store toiletries and other bathroom stuff nicely with a beautiful display!
30 Pallet Ideas to Organize Your Home Storage
Wooden Pallet Storage Box for Bedroom:
Build also bed end chest out of pallets that will also make a great ottoman in your bedroom, and you can also use it as a part-time coffee table there! Plan also the rustic dismantled pallets to build a big wooden box with hinged lid, and this will be your next bedroom storage box!
Pallet Chair with Storage Box:
You can really do wonders with pallets and building the sitting furniture with pallets is really big fun! Clone this stylish wooden chair with free pallets that also comes with storage boxes in the armrests that will hold your beverage mugs, books, and other concerns! This chair will really make your sit like a boss!
Pallet Outdoor Bench:
Having a stock of heat treated EPAL pallets then why not reuse them to overcome your outdoor sitting space needs? Build the adorable and durable wooden outdoor benches with them and accomplish all your outdoor sitting space desires!
Pallet Side Table:
Here is what you can do make lovely and outstanding with the miniature pallets you got from the surrounding areas or from the landfill! Just install the metal hairpin legs to their bottom side and build awesome looking side tables for your home and spaces as you can see!
20 Best Pallet Ideas to DIY Your Own Pallet Furniture
Pallet Vanity Table:
Build also gorgeous wood vanity tables with free pallets that will be loved dearly by all home lovers! Here color separated pallet slats have been packed flat to build this gorgeous wood vanity table! Here separated apart pallet stringer boards build the cross supports of the table!
Pallet Wood Headboard:
It is super easy to pack the pallet wood slats together to build large wooden slabs that you can also use as lovely headboards in your bedroom! Look at this graceful wooden pallet headboard that is solid and robust one and is sure to make an accent rustic wooden head of your bed! Pallet Headboard
Pallet Living Room Table:
Build also the lovely behind sofa tables, side tables, media consoles, entryway or foyer tables with pallets, and this will simply cost you nothing! Duplicate this living room accent table that is also made of pallets and comes with a bottom shelf and also with stylish crisscross sides!
Pallet Coffee Table for Living Room:
You can also build a whole set of living room tables with pallets that are often expensive to buy from the market! Clone this wooden pallet coffee table and side table set that will create an instant organized look of your living room! Don't hesitate to give them a nice wood finish!


Pallet Entryway Table for Living Room:
Sorting out a perfect wooden entryway table for your living room? Then do make an instant beautiful one using the free pallets and have a look at this gorgeous given sample that is storage-friendly and comes with criss-cross legs, it will nicely hold and display the living room stuff and decors!
DIY Pallet Bed:
You can really build the pallets solid for the block-style look and next you can easily plan them to make solid wood furniture items and also a lovely wooden bed! Peek into design dimensions of this given wooden pallet bed that is beefy and comes with a comfy foam mattress!
Pallet Wood Shelf with Hooks for Bathroom:
Make also the adorably cute and functional type of wooden shelves for your bathroom using the free pallets! Mount a modified part of pallets on the bathroom wall and next add it up with custom bolt hooks and gain a lovely wooden shelf with hooks for your bathroom! 
Wooden Pallet Console Table:
You will love this another fetching pallet wood creation, a super gorgeous and robust wooden console table that comes with 2 built-in shelves and is sure to make a great media console too! Use bigger pallet skids to make it!
Pallet Chair Ideas for Garden:
Stare at your green outdoors by sitting in these Adirondack wooden pallet chairs that come painted in blue and are super solid! Again make these chairs with pallet wood slats and paint for a custom look and appeal that will go best to your outdoor!
10 Wood Projects For Kids Made out of Pallets
Pallet Bookshelf / Bookcase:
You can just put together the separated slats of pallets to build anything special that is in your furniture need-list! Build a robust shelving tower with separated pallet wood slats and use it as a glam bookshelf in your living room or home! Look at the given sample that comes with an exterior made of diagonally aligned pallet wood slats!
Pallet Bench:
Build also robust and stylish sitting benches with pallets that rock at any patio or outdoor and will also be a big pleasure to sit on! Duplicate this colorful wooden pallet bench that comes with dominant white color appeal and is wholly made of separated pallet wood slats! 
Pallets Wood Made Cooler for Outdoor:
Build also robust wooden outdoor coolers with pallets that will make it possible to enjoy the fresh cold beverage and drinks anywhere at outdoor! Just build the wooden stands and housing for the plastic igloo coolers and then also fit the steel buckets to bottom side at an angle as you can see!
Pallet Sofa and Coffee Table DIY:
Recycled both wooden crates and free pallets to build lasting longer and stylish sitting furniture set just like this given one that comes with a robust sofa made of stacked pallets while the front coffee table is made of recycled wood crates and is also storage-friendly!
30 Pallet Projects That Are Easy to Make and Sell
Pallet Bar Table:
You will fall in love with the pink appeal of this wooden pallet bar table that is also a lovely pallet wood creation! Join the pallets vertically in bottom-to-bottom arrangements to build the base of the bar table and then finish with a slatted top, install the rolling wheels for an industrial touch and also for touch to move movements of the table!
Pallet Fence:
Join also the recycled pallet skids vertically in side-by-side arrangements and install fantastic wooden fences around any part of your outdoor! If you need some inspirations, then take a look at the given pallet wood fence that is robust and beautiful!
8 Plans to Build a Pallet Fence
Pallet Wood Outdoor Sofa and Coffee Table:
Again a big thanks to pallet wood stacking for this lovely sitting furniture set that comes with an L-shape wooden sofa and also with a square wooden coffee table that is placed in front side of it! Cushion your sofa and raise the coffee table on wheels for amazing results!
Pallet Cup Holder:
Put also the separated pallet slats together to make a square or rectangular slatted wooden boards and then add the slatted planks with hardware hooks to make interesting kitchen utensil racks and coffee cup holders as you can see!
Pallet Sofa and Pallet Coffee Table:
Organize any of your patio or outdoor for free by following the pallet-stacking method that makes you get with instant wooden sofas and coffee tables as you can see! Put the pallet skids vertically behind the pallet stacks to make lovely backrests! Pile up only 3 pallets to build a lovely wooden coffee table!
Pallet Sofa:
You only require 8-10 wooden pallet skids of the same size to duplicate this very good looking wooden pallet sofa! Stack the pallets up to two layers for the seats and then use pallet vertically for the backrests! Add cushions and seat mattress for a luxurious look as you can see!
Pallet Sofa – 21 DIY Pallet Sofa Plans
Pallet wood raised bed vegetable garden:
Build also the raised wooden boxes out of separated pallet wood slats that will make instant beautiful raised garden beds! Take a look at the given lovely sample that is super beautiful and is sure to make a great vegetable garden bed!
Pallet Bookcase:
Look at this another gorgeous wooden pallet bookcase that is made of pallet slats! Here this miniature wooden pallet bookshelf will also make a great handmade gift, and it has been finished by burning the wood for a gorgeous rustic appeal!
Pallet Playhouse for Kids:
Make your kids also addicted to outdoor this summer by installing outstanding wooden playhouse at your outdoor using free wooden pallets! Check out here this grand and full-featured model that is totally self-made one and is sure to make the best gift of the year to all fun loving kids!
Pallet Wall Art A Tree Art:
Also, do instant beautification of your interior home walls by making glorious wooden wall art signs with the pallet wood slats! Build square wooden boards out of separated pallet wood planks and then paint and stencil for a tree art as you can see!
Pallet Bed:
Build all with pallets that are in your desire-list and even a luxurious wooden bed! Here a solid wooden bed has been made with free pallet skids that are robust and full-featured and also comes with a headboard! It will also make a great handmade gift!
Pallet Shelf:
Cut the very lower part of pallets apart and fill the bottom solid using extra wood and build a fantastic wooden pallet shelf that will rock for holding the beverage and drink bottles! Check out a lovely given sample that will also make a great mini magazine rack!
Wooden Pallet Serving Tray:
Pack also the slats of pallets together to build fantastic wooden serving trays that will be a big breeze to make at home! Look at the given lovely sample that also comes with accent inlays and is super beautiful to look at due to metal accent handles!
Pallet Clock:
Wall clocks make the perfect indoor wall decors too so also make lovely wooden pallet wall clocks for free using some separated pallet wood slats and clock kit! Pack the pallet wood slats to build wooden boards and cut a round clock face out of it and install clock mechanism!
Pallet Sofa Table:
A rustic yet graceful design of wooden pallet sofa that is sure to bring a great functional and decorative character to your living room! It has again been made of rustic wood pallets and is made of separated apart wood pallet slats wholly!
Pallet Entryway Table with Flag:
Build fantastic entryway tables with recycled pallets and then use the leftover slats to make the gorgeous wall sign! Here a lovely wooden flag sign has been made that will be a smart way to express your patriotic emotions also!
Pallet Planter:
It is super easy to pack the pallet slats together for making gorgeous wooden planter boxes that you can also combine to make all in one wooden pallet planters! Peek into creative details of this given lovely sample that is sure to fancy up your garden!
Pallet Cabin:
From kids' playhouses to awesome outdoor sheds to fantastic outdoor houses, you can build all wit pallets and get inspired of this lovely wooden pallet cabin, a beautiful sample here that comes with a tiled roof and is wholly made of free pallets!
Pallet Deck and Sitting:
Do amazing outdoor improvements with pallets and also build the wooden decks with attached benches using free pallets which you can drag anywhere at your outdoor for getting an instant sitting space to enjoy conversations!
Pallet Dog Bed:
Also, make the life of your pets easier with pallets, build fantastic beds and feeding stations with pallets and pleas your dog by giving this hand-built wooden pallet dog bed as a gift that you can make using even a few of pallet wood slats!
Pallet Dog House – Step by Step Plan
DIY Wood Pallet Hall Tree: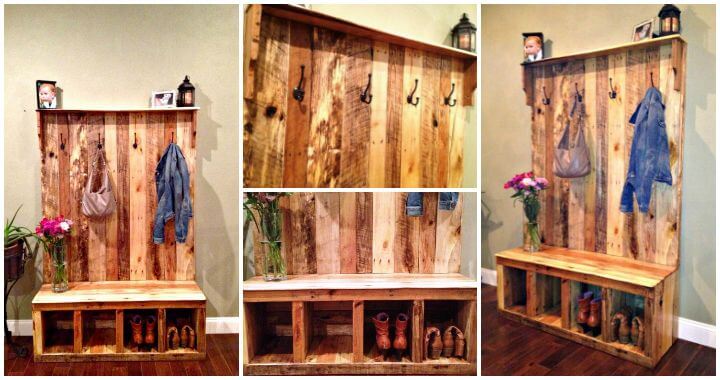 Create also custom organizers, racks, and storage units with pallets and overcome your storage space need in a home! Organize your shoes, ties, handbags, and scarves also by making this wooden hall tree with pallets that come with beautiful hanging hooks and also with a bottom bench and shoe rack!
42 DIY Recycled Pallet Bed Frame Designs:
Not even a market-bought one model of bed can beat this pallet bed in beauty, style, stability, and features! A luxurious wooden bed made of pallets that comes with a grand headboard that is also having an attached box style nightstands! Pallet Bed