Desks are a piece of furniture that is of vital importance. It is used widely in the home for operating computers, laptops, and also for read-to-write purposes. So, build your own DIY desk by following these 15 simple DIY pallet desk plans with step by step instructions and diagrams. These pallet desk plans are sharing all the different ways to repurpose pallets for building cool desks. These projects will make design inspirations to choose from. You will see the amazing pallet projects already built using a whole wood pallet that can be used directly for durably stylish wooden desks. From simple to multifunctional, the list provides free plans for building all sorts of wooden desks out of free pallets.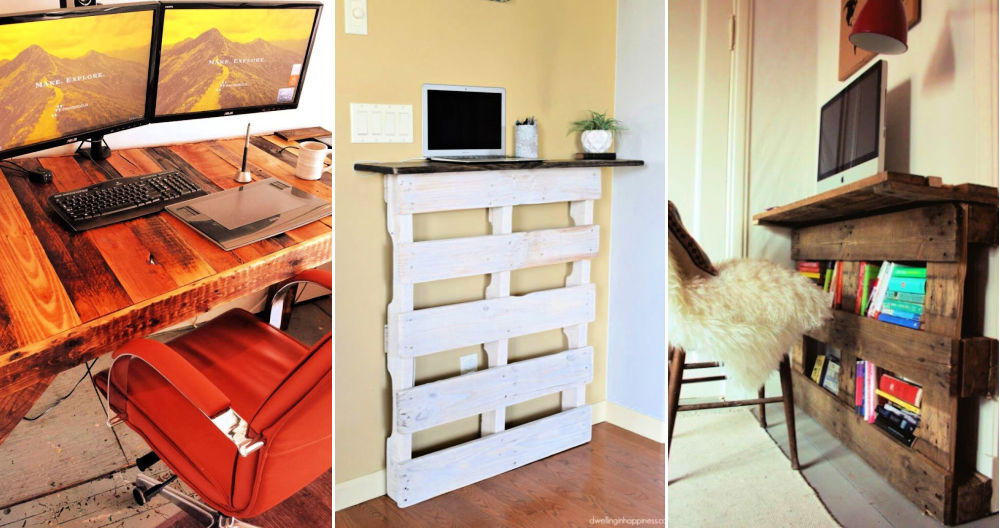 If you go with the dismantle pallets, then you can build any type of desk design. The separated slats are like a brick to a building and can be utilized smartly to build wooden infrastructures. Finish a whole pallet skid with reclaimed or IKEA legs to modern, all from vintage-inspired to modern designs of desks comparatively.
Build an awesome wooden desk by using the pallets vertically, stack pallet slats to build a robust piano-style desk, which will bring alluring glam to any space. Browse the entire list of these easy to build wooden pallet desk plans to see more interesting designs.
1. DIY Pallet and Sawhorse Desk
Build this incredible design of desk with free pallets, gains a stunning standing style with the sawhorse legs! The rustic slatted appeal looks stunning white being surrounded by the modern room decors! The perfect free of cost wooden desk to gain for a home office! Top planks vary intones, and a glass top finish brings modern furniture elegance! Tutorial here simplestylings
2. Build a Pallet Wood Desk
Loads of wood rusticity make this wood desk a bit more beautiful! Compose this rustic wooden desk with a reclaimed ladder, pallets wood slats, and sawhorse legs. Cover a rustic wood ladder with pallet wood slats building a solid wood desktop and then finish it with rustic trestle legs! Looking at this desk is a total delight! Details here funkyjunkinter
3. Make Pallet Desk on Low-Budget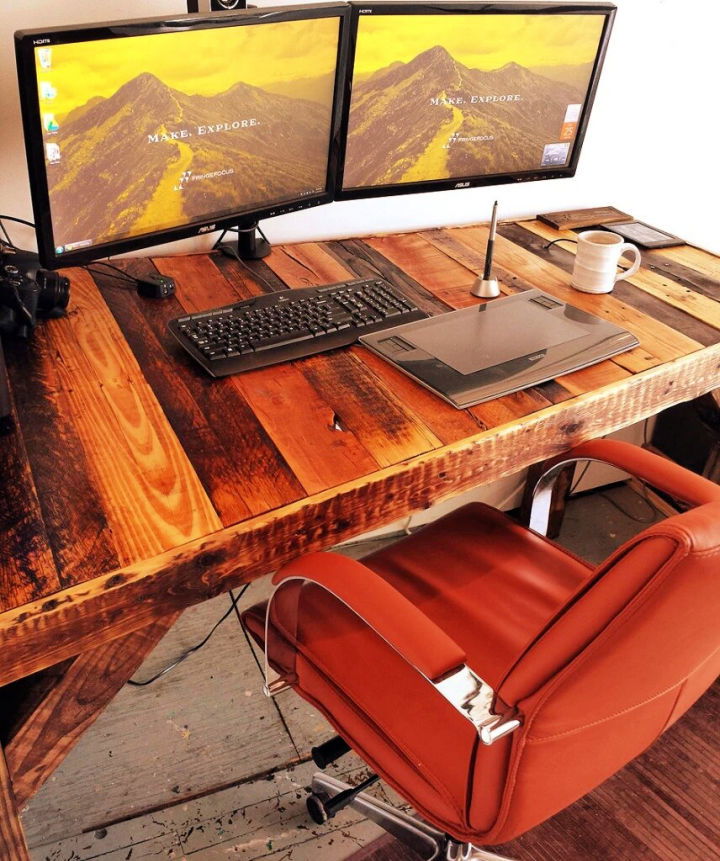 Accomplish your functional table furniture desires with pallets always lying around begging for a second chance. Take the pallet wood into separated wood slats, put together those slats building an arresting design of the wooden table. It stands on robust wooden beams to gain a stylishly durable standing position. Different tons of wood make this desk a bit more special. fringefocus
4. How to Build a Simple Pallet Table
The best design of the pallet entertainment table will impress with its sleek slatted appeal. Due to having cool integrated storage options, it will rock for a home office. The rustic design provides a built-in compartment to hold the CPU inside with great care. A subtle finish can create a shiny appeal. Get it stunning with a glass top finish too. Step-by-step guides and tutorial here instructables
5. DIY Folding Pallet Desk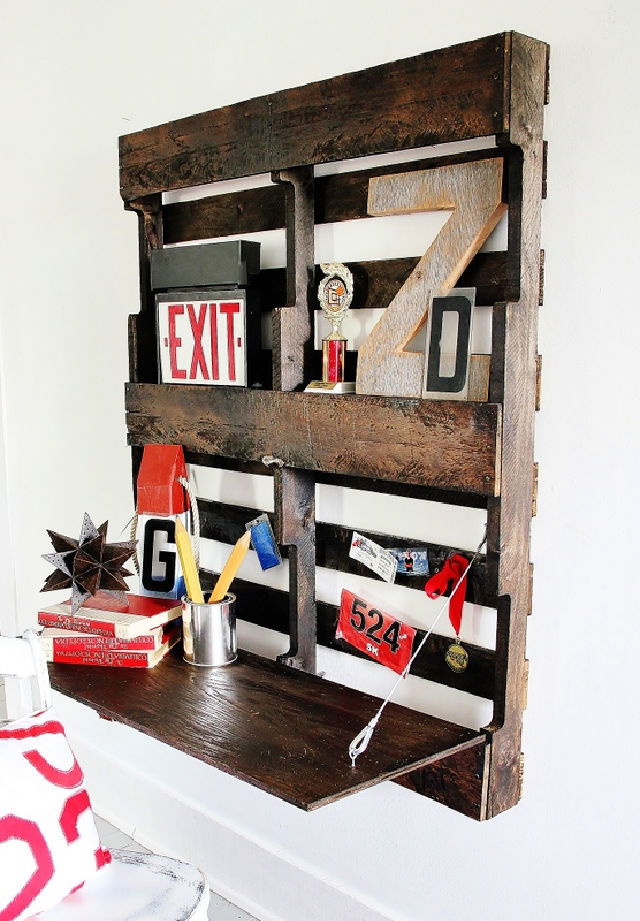 Wooden pallet skids can do wonders, sharing a cool one here, the fold-up wall hanging desk. The whole construction is all about to mount a recycled pallet skid on the wall, add it up with a folding surface at the same time. Support the folding surface with metal chains for an accent metallic touch, and that's it. Complete tutorial here thistlewood
6. Pallet Desk with IKEA Vika Legs
Get crafty with pallets also without going through a dismantling process to build this fantastic wooden pallet desk design. Add up a single pallet skid with plywood top surface, add its bottom with the wood floorboards. Finish the bottom side of floorboards with IKEA Vika Legs, and that's it. A rustic yet modern design of pallet desk. instructables
7. Computer Desk
Wooden pallets are highly versatile in building stably functional designs of furniture. Get inspired by this wood pallet desk, a gorgeous remake of wooden pallet skids. It also provides flat wooden shelves. Next cut the shelving panels from another pallet to add to its sides. A wooden desk project to do with uncut wood pallets. removeandre
8. Wooden Desk Top
Along with building whole stable wooden desks, rebuild pallets to make robust desktops too. Grab a reclaimed wood door panel, fill it up with evenly flat pieces of plywood slats, and finish with an accent wood trim. Raise the complete desktop on drawer cabinets to build a fully functional wooden desk design. Get inspired by the given design. prettypurple
9. Incredible 8 Foot Long Pallet Desk For $50
Shipping skids are much doable for cool pallet table constructions, build them in custom dimensions and styles to serve as cool home office desks. Repack the wood pallet slats densely to build solid wooden desktops, finish with reclaimed wood legs to gain fantastic desks. A cool way to bring wood rusticity to your home. Look at the same readymade grand desk design. lehmanlane
10. DIY Corner Desk
Buying corner desks is an expensive affair, give this opportunity also to pallet wood to build a gorgeous design. An interesting wooden project for avid crafters that involve filling a plywood base with pallet wood slats to construct the corner desk base. Install legs of choices, and enjoy a free of cost corner desk design. gotwoodwork
11. Standing Pallet Desk
Install a custom wooden top to a white painted vertical pallet skid. It will build this standing desk, highly economical to build. The easiest and quick pallet desk project involves no cuttings and no boring dismantling but some fun painting and staining. The perfect desk design for a narrower space. dwellinginha
12. Build a Wooden Pallet Desk
Reclaimed rustic pallet skids can be your next vertical bookcases. Simply adding them up with the custom edged tops will result in lovely looking wooden desks. The given sample will rock for laptop and computer operating, and it holds the book stacks beautifully inside. A rustic yet modern design of desks to build quickly. bigdiyideas
13. Study Desk
Start running a home office with this elegant modern chic white design of a wooden pallet desk. It is something that will quickly install, and whole constructions are all about adding custom legs to the bottom side of a wood desk. It provides built-in storage cubbies to store your book stacks. Full how-to guides here homedepot
14. Craft Desk
This handsome desk design looks like a piano and is made of stacked pallet slats. Add the threaded rods straight through the stacked pallet slats to build this one-of-a-kind and robust wooden desk in no time. The whole desktops are supported with 3 main wooden supports and finish the final stacked wooden desktop with durable stylish legs. overthinking
15. Pallet Console
Check out the adorable conversion; an old broken table has been updated with a new pallet wood top to serve as a functional desk. The white, painted base looks just fabulous. Use the built-in cubbies as desk storage pockets. A lovely and gorgeous wooden pallet console table to make at home. thistlewood