Pallets are always lying around and begging for some recycling, upcycling, and repurposing! There are tons of ways out there to bring the pallets in the home for bringing a damn cool rustic wood touch to your home decors by building particular vintage and rustic decorations with them and also the durable rustic furniture items that you lack! You can go handmade with pallets to build amazing pallet furniture crafts, but here we are to show you how you can make the precious wooden entertainment centers with them! Need to gain complete how know about making a perfect entertainment center for your living room?
Then have a look at these 5 free DIY pallet entertainment center plans that are amazingly beautiful, gorgeous to look at, and super functional too! Here all these pallet media centers have been built to suit the custom needs of home lovers, and they have also been designed primarily to fit custom living room spaces without narrowing the room space! Building these wooden entertainment centers would be great fun, and you can also try your hands in making great-looking media consoles and entertainment centers at home using the free shipping pallets!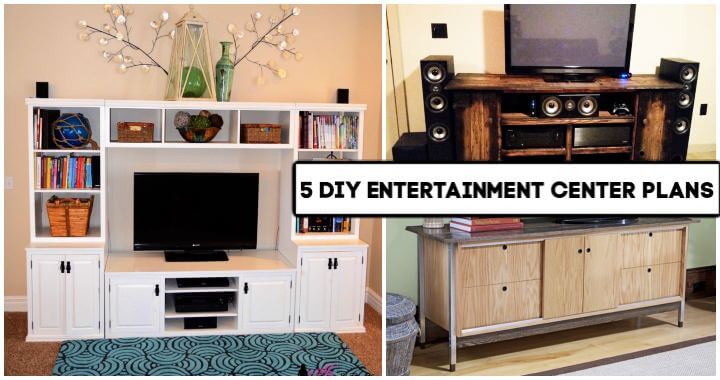 Make the wooden crates out of pallets or crate style units that can be stacked up to custom rows to make super storage-friendly entertainment centers in just no time, just have a look at this given one that is having lots of compartments filled with the wicker baskets and hence gives some secured types of storage options to user to store the media, book and custom accessories! Recycle also the pallets to build modernly styled entertainment centers that will provide the space for the display screen in the center and will offer various shelves, storage compartments, and drawer build to either side of the design.
DIY Pallet Projects:
Just check out the given sample that is beautiful to look at and has been painted in white! Make also use of plywood and rustic pallets to build more stylish design of media console tables that will have precise and accurate dimensions too! Check out some more pallet-made entertainment center design given below in the list and click the attached links to open complete project details and step-by-step instructions for that selected project!
How To Build A Media Center Out Of Pallets:
Entertainment is the must part of our lives and our home as well, and now you can create a big entertainment center in your living room spaces and that too without costing a significant fortune that you might spend on a market bought one. SO you need to grab some pallet wood to make storage crates out of then, and they put them together to create a big entertainment piece with immense storage space and organizing value to hold all your media possessions nicely in it. The rustic appeal of it makes it look all charmed up for your chic spaces. You can check out the details of the idea right on this link tarynwhiteaker
Easy DIY Entertainment Center Tutorial:
The media accessories can mess up your living room spaces if you do not have an entertainment piece there. So here is the chic idea of creating a stylish and super functional media storage unit with drawers, cabinets and the shelves. Its modern style would make it an apt fit to your updated living room decor with the dazzling white satin finish. Your LED screen, Video players, CDs, Books and so much other can be all fully and nicely organized on it. Here is the link to catch the complete details of the project hertoolbelt
Build Your Own Entertainment Center:
If you do not have a gorgeous and functional media center in your space, then you are so undone with your living room decor and set up. So its time to show you crafting skills and get your hands dirty with this stylish and utterly useful media center table for your living room spaces. It got cabinets and drawers and a wide top to hold and house all your media possessions nicely on it and thus make your spaces look all neat and tidy and jazzed up too. You can check out the step by step tutorial of the entertainment center right here lowes
DIY Pallet Wood Entertainment Center:
From LED screens, players to games and music everybody has his own entertainment needs and desires and the stuff according to it and this means you need a huge entertainment center to store them all up nicely. Here is the idea of creating a totally functional entertainment center having all the storage capability to house your media possessions and add to the beauty of the living room with its utter rustic appeal and distressed beauty. Here is the link to learn the complete tutorial making of this pretty pallet entertainment center on your own gotwoodworkshop
Adorable DIY Pallet Entertainment Center: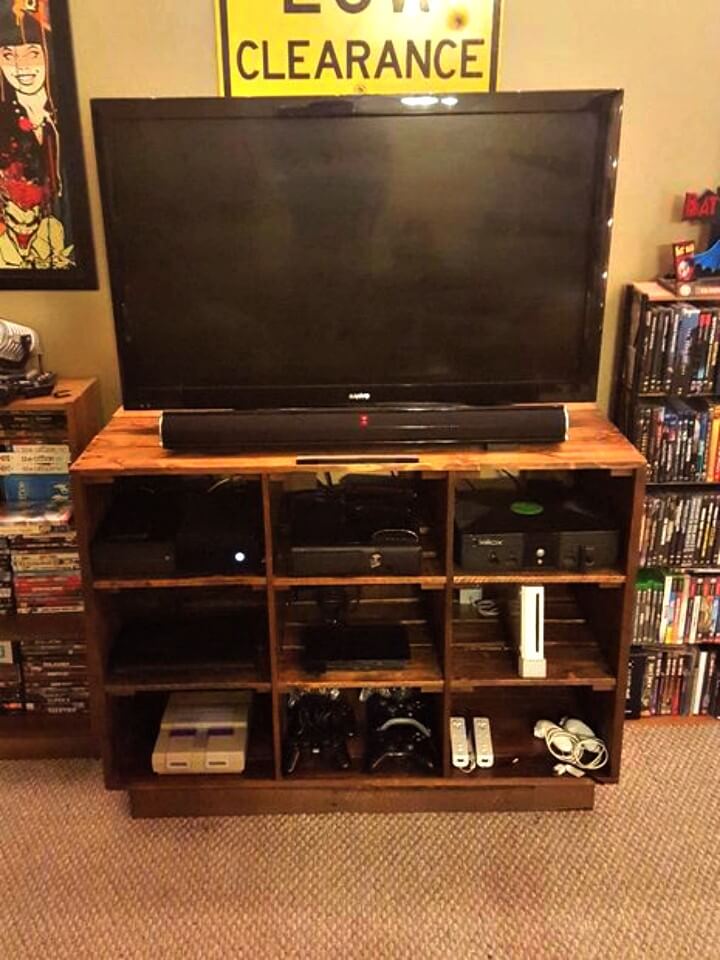 Pallet wood is all lying there for free to solve all your storage problems so nice and easy. So using some of the recycled wood you can now build this great functional and fun looking entertainment center for your living room spaces and add much convenience to your fun and entertaining hours while enjoying your favorite tv show or playing games with the kids. It got multiple storage shelf sections to house all your media stuff and accessories in apple pie order with that rich rustic appeal. You can check it out all here instructables