Pallets are a great source of free wood and they just come back to you after great shipping duties. You can just make almost all the things with pallets from durable furniture to outstanding decor and also from lovely gifts to precious signs. Along with the small and easy pallet projects, you can also do these most profitable woodworking projects to build and sell to improving your outdoors by installing a wooden floor, to grace up your interiors by building wood accent walls and to fancy up your patios also by building lasting longer wooden decks. The pallets are a magical kind of wood and you can really do wonders with them? Need some inspirations in this case? Then browse this list of 25 DIY pallet wood ideas that are creative to make you fall in love with the free shipping pallets and after taking a short tour of these pallet ideas, you will definitely be sorting out some great wood pallets.
Unique Pallet Wood Ideas To Reuse Old Pallets: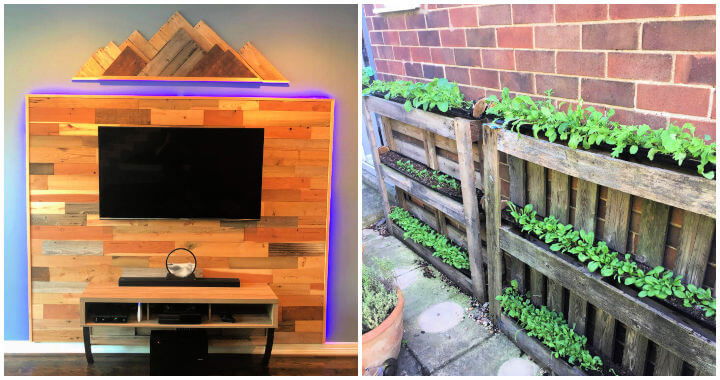 Get crafty with the free pallet and build outstanding entertainment centers in your living room. And go smartly handmade with single pallet skids to make wall mounted dart games and Murphy bars that will provide folding down surfaces supported with metal chains where you can make drinks. Put together the pallets at outdoor an instant raised deck and for a wooden floor, get inspired by the given pallet gym. Make also a vertical painted pallet hold some pots and planters and make gorgeous natural beauty stations for your garden and also make wall mounted planters out of pallets that will be a breeze to make at home.
Bring a great wooden character to your home and spaces by making lovely wooden walls and dividers, you can make them with both dismantled pallets and with uncut pallets. Build also raised wooden beds in your garden using the free pallets and also build the outstanding beds and headboards out of pallets that will cost you nothing for sure. Brighten up also your spaces in a style by building outstanding ceiling light fixtures and win also the heart of your kids by making outstanding playhouses and treehouses with pallets. Browse the entire list of these DIY pallet wood ideas!
Pallet Entertainment Center Backdrop with LEDs: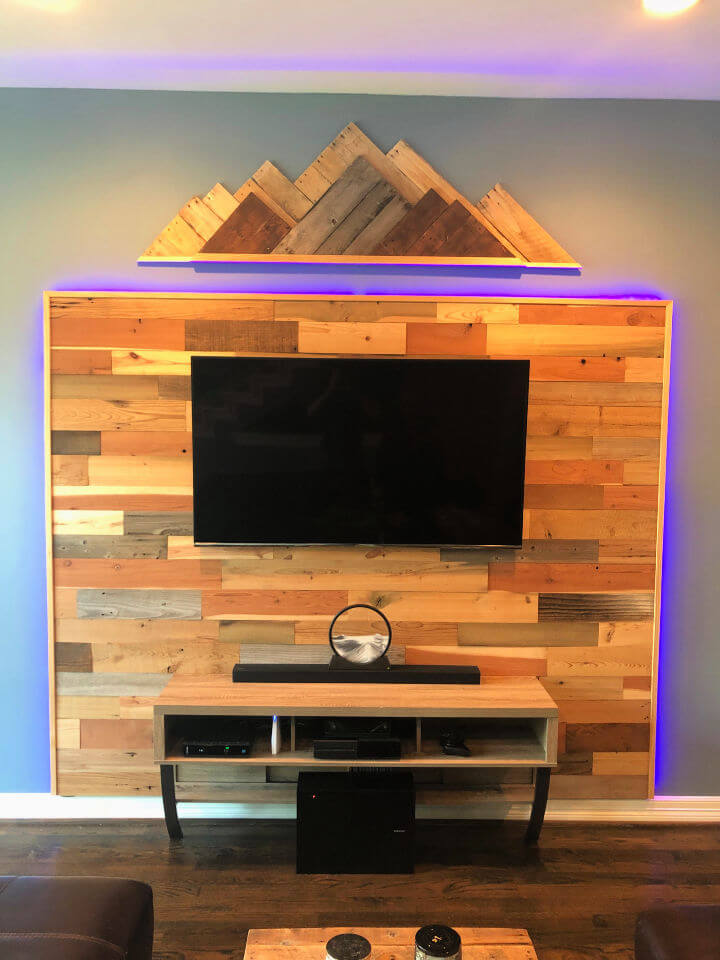 Get also smartly crafty with pallets to boost your entertainments. You can easily do so by building first this wooden pallet entertainment center that is super space-savvy. Build the wooden pallet wall and then install your display screen on them and next add rest of features. Here this entertainment center also comes with a wooden mountain art mounted above. Details here Shared by OnlyMyCouchPulls0ut
Turn Pallets Into A Functional Wall Decoration: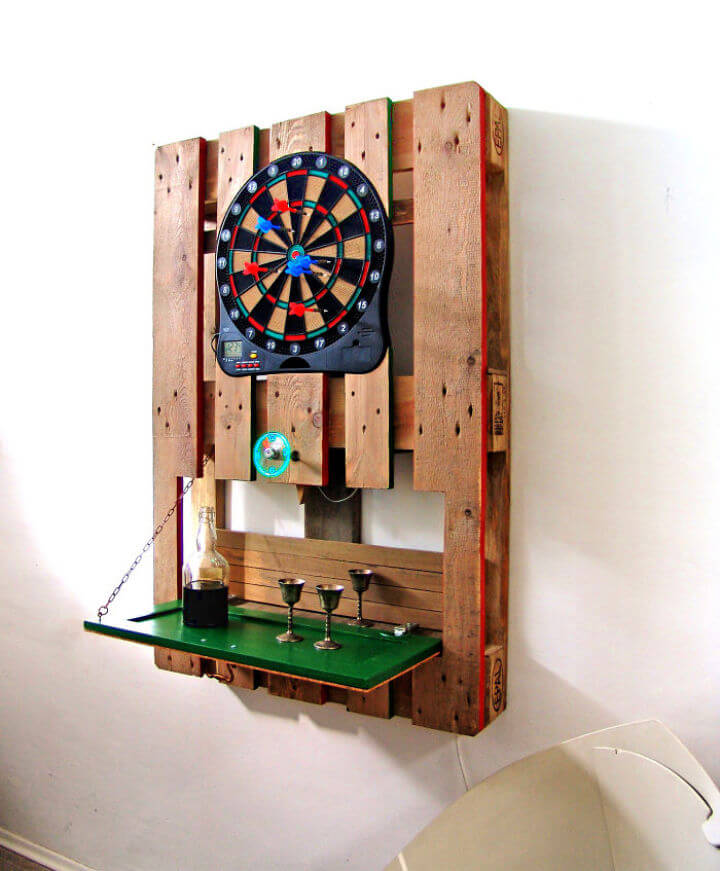 Dual functional wood pallet projects, the lovely dart wall decoration, and a Murphy bar also, made to inspire, and it will only cost you a single pallet, wood surface, and some metal chains. Add the colorful dark accent at the end.  Made by Kone Mei
Pallet Gym Station for Your Backyard: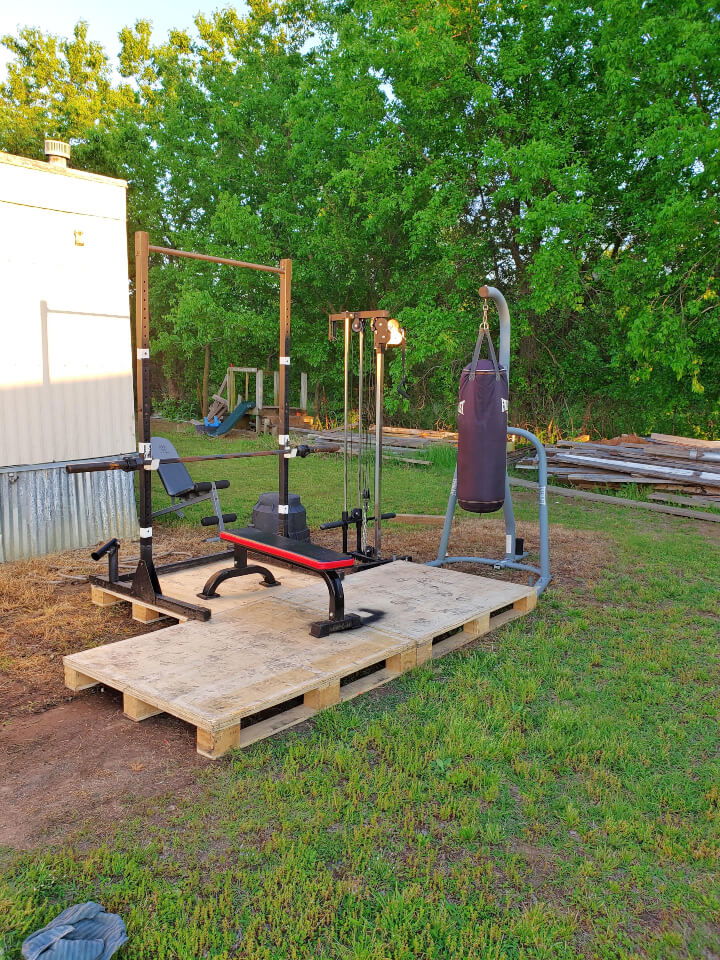 Put together also the wooden pallets to install quick lovely wooden floors and then install your gym equipment over them and make lovely looking wooden pallet gym stations that will rock in your backyard for sure. Get inspired by the given sample one. Share by Draugr9
Painted Vertical Pallet Garden: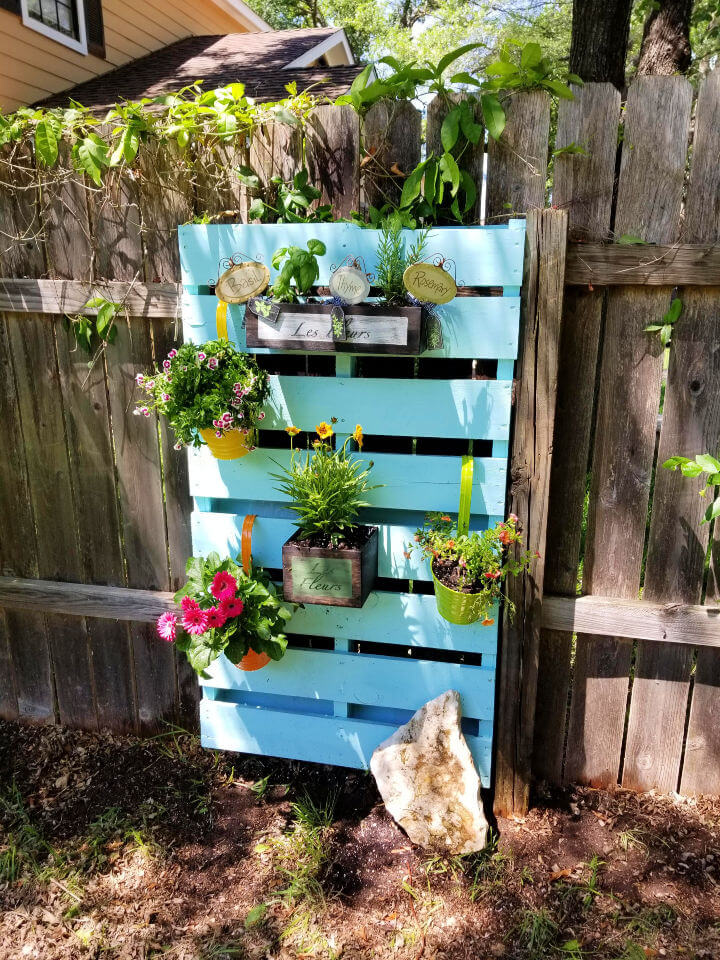 Rank up your garden decor by adding this flawless centerpiece that is also made of a single pallet. Just paint a pallet in the color you like and then make it hold the colorful planters and pots using hardware pot hangers and gain a lovely vertical pallet garden, will be a big show-stopper. Shared by Fordhoard
Small Herb Planter Out Of an Old Pallet:

Grow all your hard to find herbs quickly with this small herb planter that is made of pallets and is sure to impress. It allows potting in the backside pallet chock sections which have been covered from the bottom side to gain wooden holdings that will be the lovely planter pockets. Shared by MustardOrc
Beautiful Pallet Wall: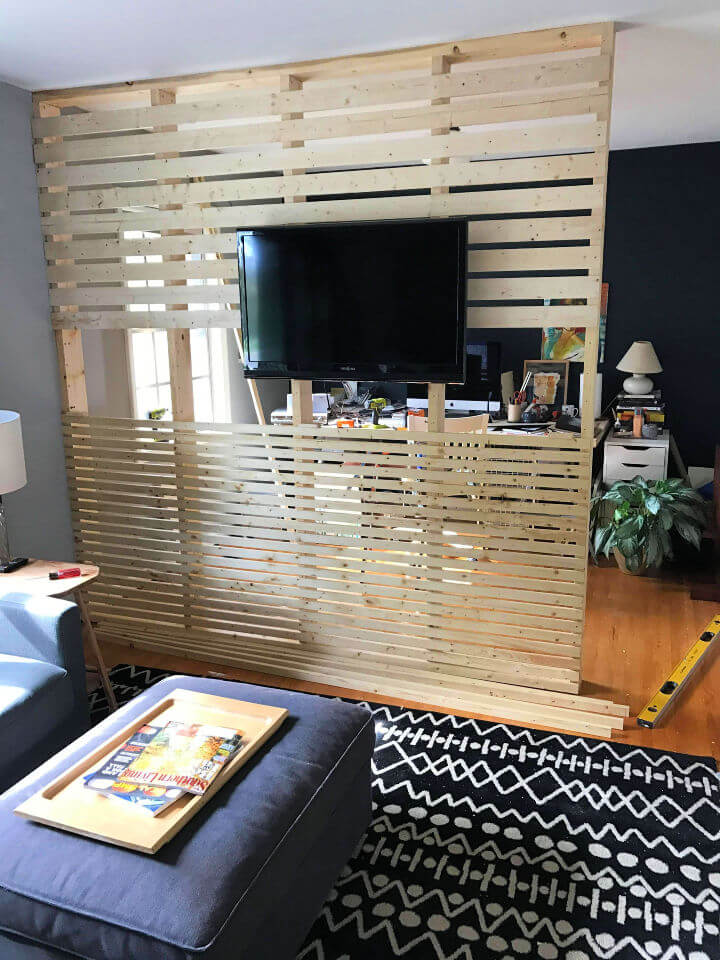 You can do all sorts of home improvement projects with pallets without getting a bit expensive as you can quickly build big wooden walls with pallets that will work great as room dividers in your home or office and will be super quick and easy to make also. Look at this sample pallet wood divider that is sure to impress and will be a breeze to make. Made by josephph
Pallet Retro Arcade Cabinet: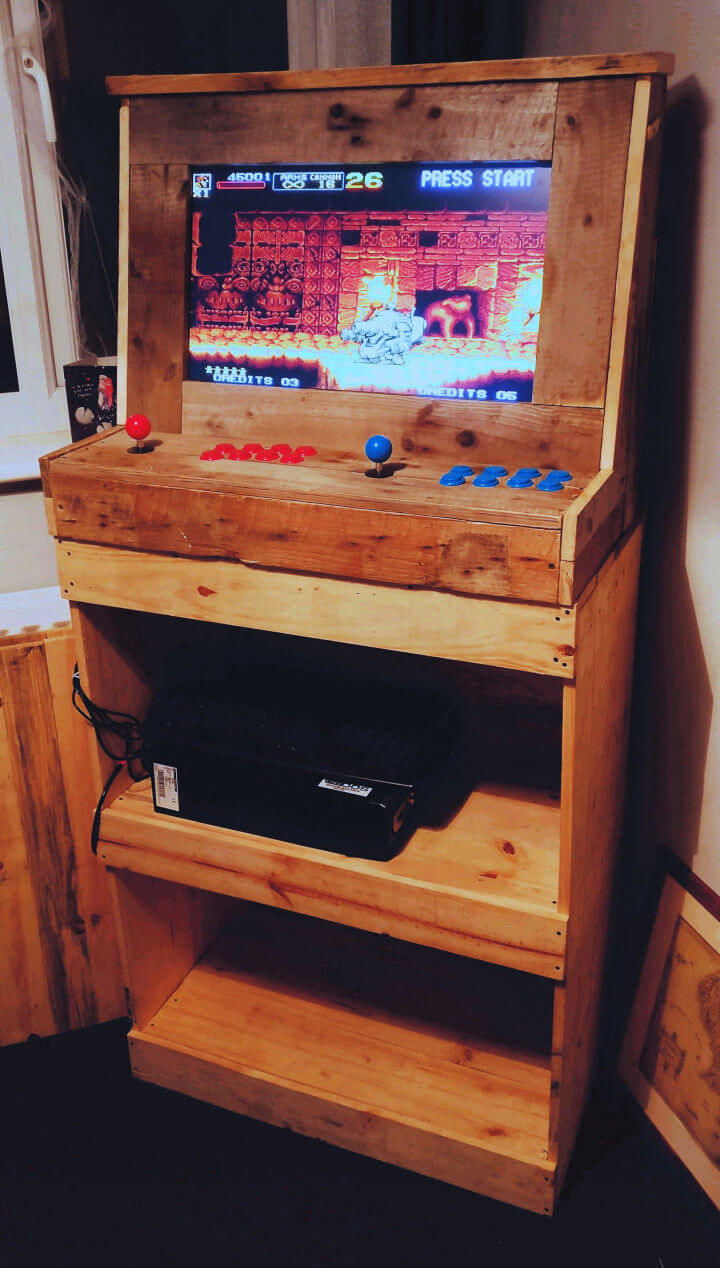 This is where the super unique pallet project and a lovely gift for the kids that will instantly win their heart. A lovely wooden pallet retro arcade cabinet that provides hours of fun to your kids for sure. This is one of the most beautiful pallet projects to do at home for the sake of your kids' love. Shared by Nbrown1589
Salad Bar Out Of Some Old Pallets: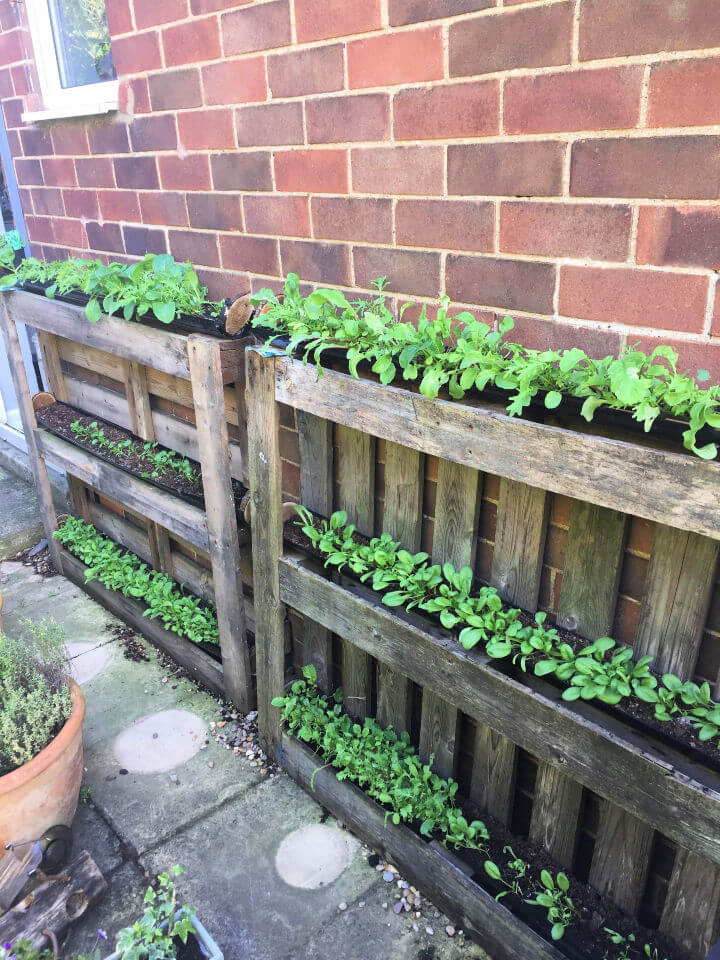 Check out here some more fantastic looking pallet wood ideas that will help you grow the herbs easily. Just transform the pallet dice sections into planter shelves using extra wood and then mount them on the wall as lovely pallet vertical planters. Shared by TheFigBird
Pallet Raised Beds and Harvest: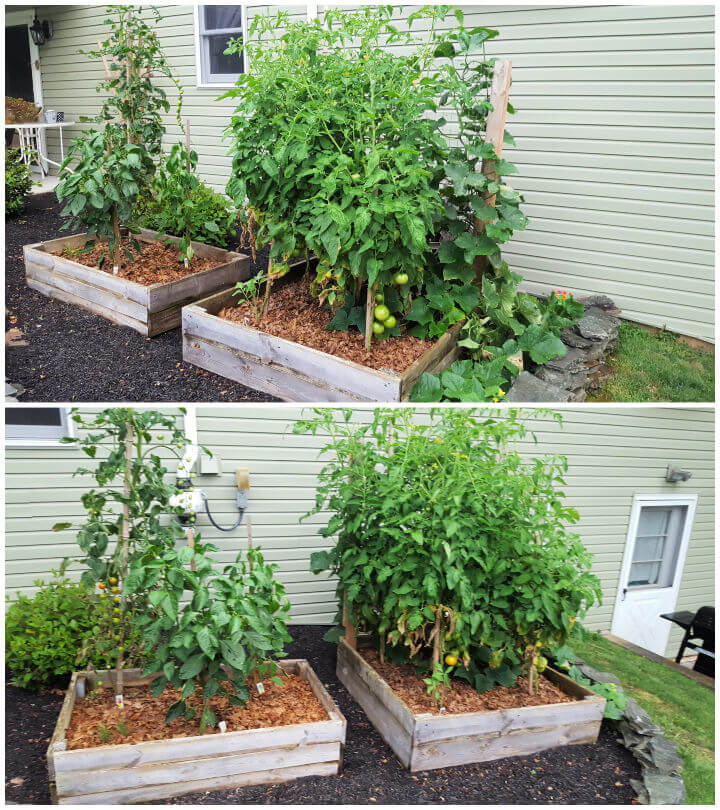 Build also raised garden beds with pallets and hence pallets will also help to make your garden look beautiful. Get inspired by the sample pallet garden bed that is sure to amaze and will be super quick to build also. Just dismantled pallets to build these raised beds. Shared by Granolees
Pallet Bed and Headboard: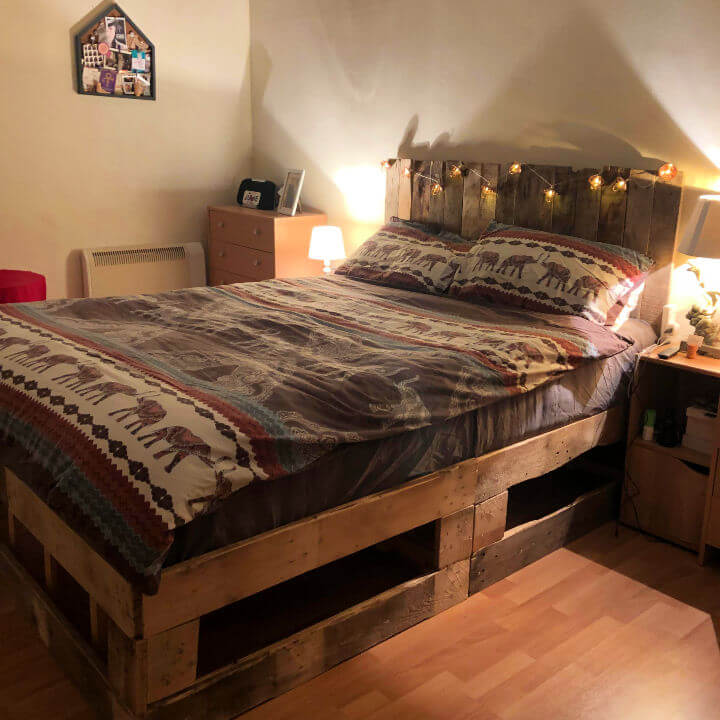 Build the items with pallets that are most expensive in the home furniture, like a bed or a sofa. Look at this sample wooden pallet bed that also comes with a decorative headboard made out of pallets. Here the single pallet headboard has also been spruced up by using a light garland as you can see Shared by JulieMorris
Pallet Wood Light Fixture: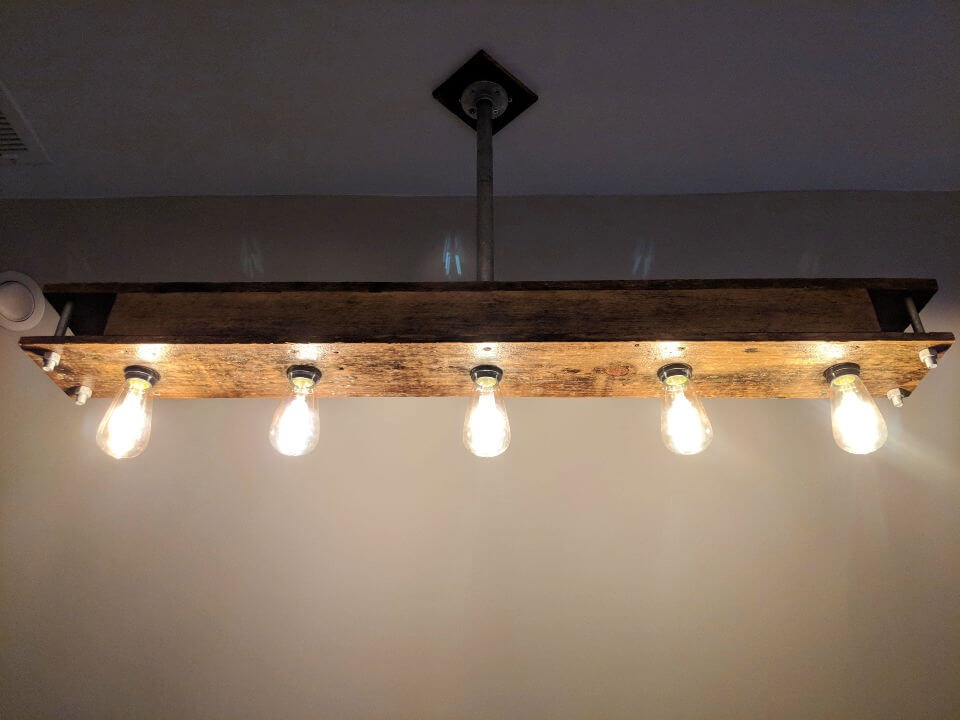 Spruce up your rooms and spaces also by making lovely light decors out of pallets just like this lovely pallet wood light fixture that comes with a row of light bulbs and is made of pallets and has been supported with recycled metal pipes and floor flanges. Shared by Raleigh984
Pallet Sofa That Doubles as A Bed: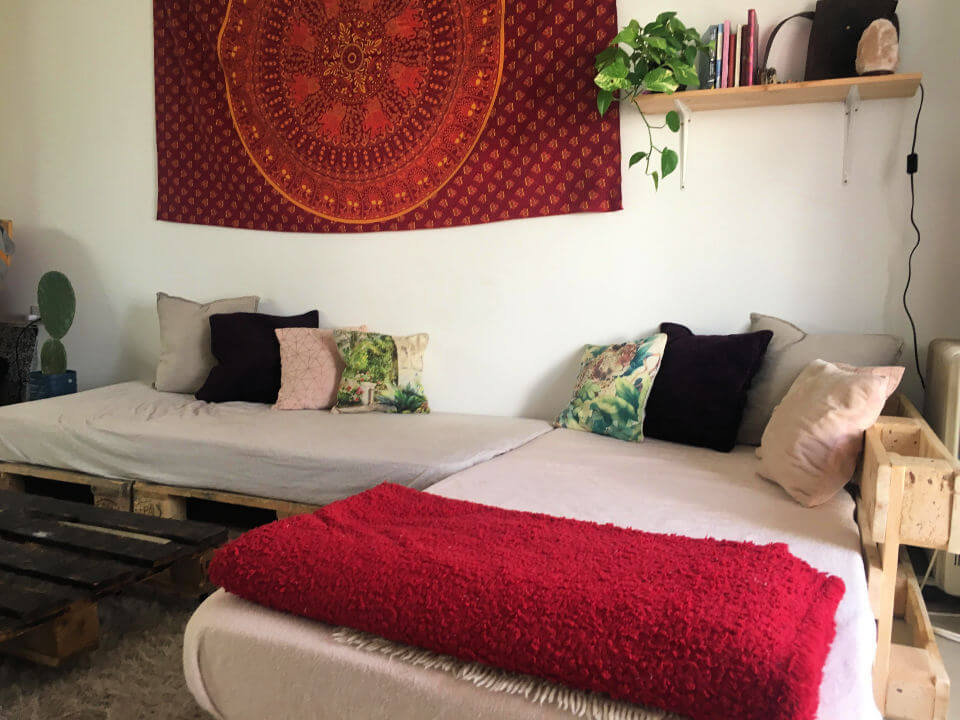 Build also the superb dual-functional furniture out of pallets that will be loved dearly by all the home lovers will be ready in a few easy steps. Just check out here this pallet sofa that doubles as a lovely bed and can quickly be made only by stacking a few pallet skids as you can see. Shared by Sbarnes1
You may also get some best pallet sofa ideas from 101 Pallets!
Free Pallet Treehouse: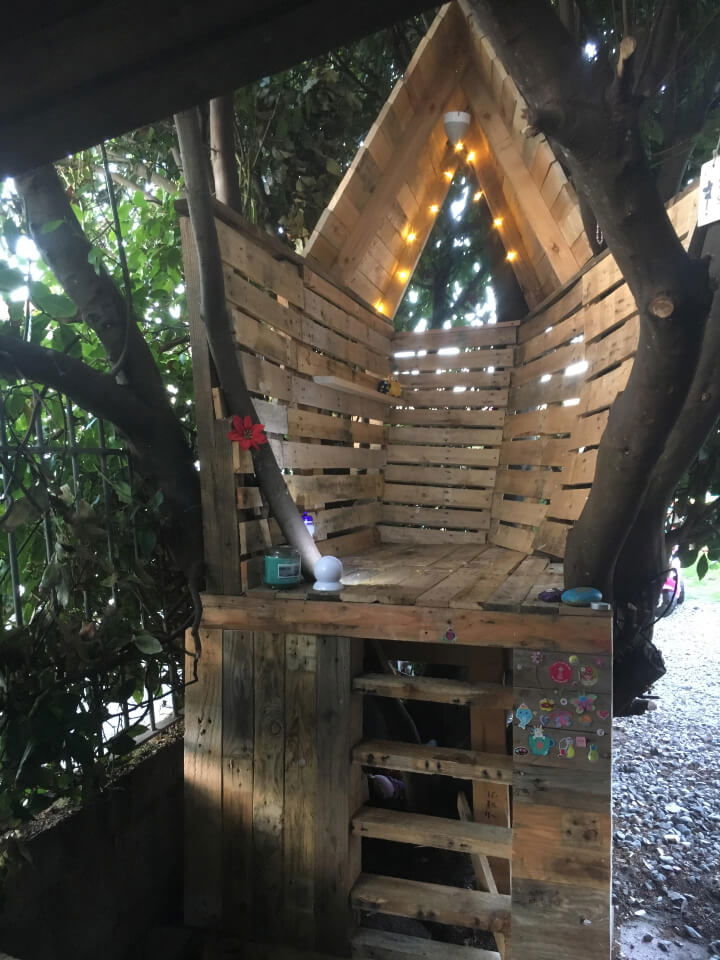 Give the best surprise to your kids of their life, the wooden pallet treehouse that will be heavenly play station for the kids for sure. Use the free pallets to build a lovely one inexpensively just like this given one that comes with a chevron roof and is accessible through lovely stairs, also made of pallets. Shared by Will-i-am-knot
Chest Out Of Pallet Wood And Metal: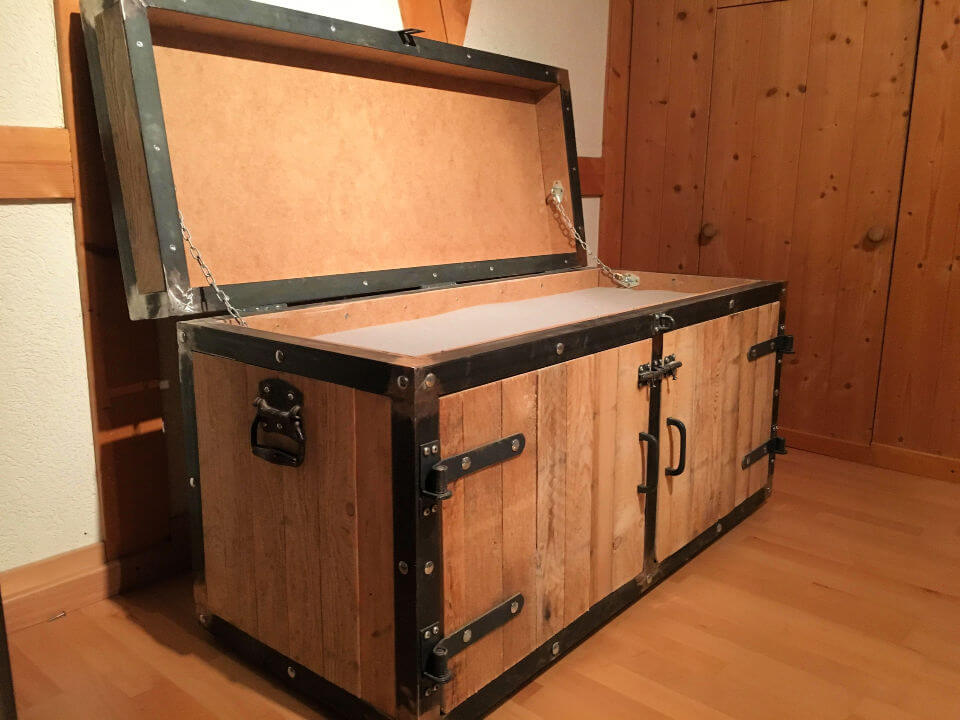 Build also amazing storage units out of free pallets and update your home storage with them. A great example here is this wooden pallet chest that is made out of pallet wood and recycled metal like with angle iron that gives the accent metal boundary and edging. This looks like a treasure chest. Shared by Dsjuri
Pallet Wall For Over The Mantle: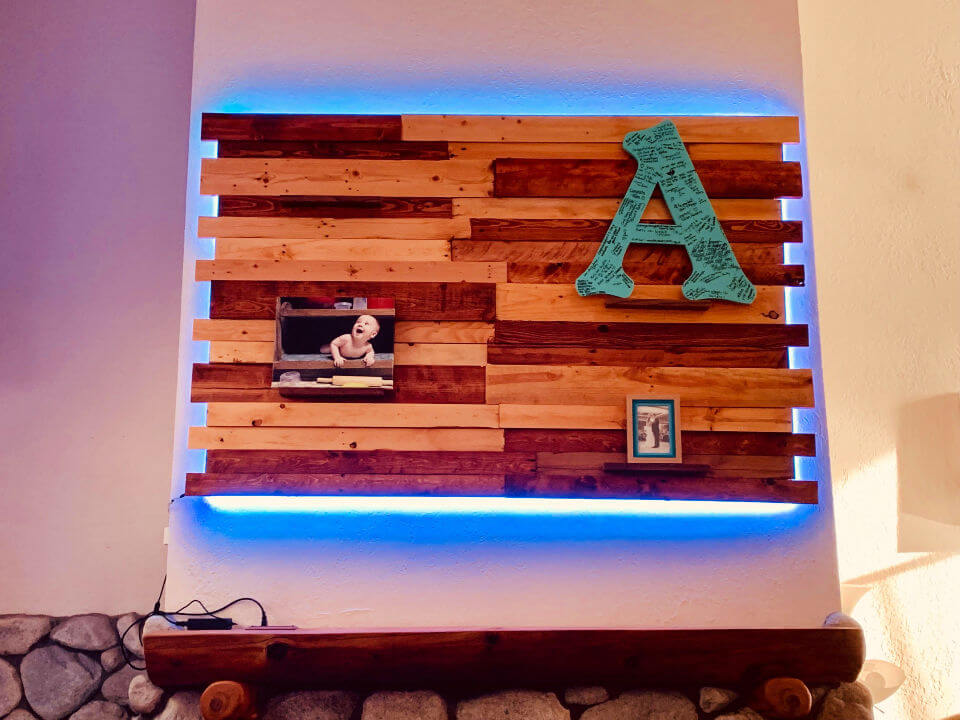 Here is another lovely pallet decoration that will bring tons of charm and grace to any interior, wood pallet lighted wall over the mantle that also comes with miniature shelves to display the decors and photo frames. Here this wood wall is made of separated pallet slats and is sure to impress. Shared by Proto1Star
Lettuce and Herb Pallet Garden: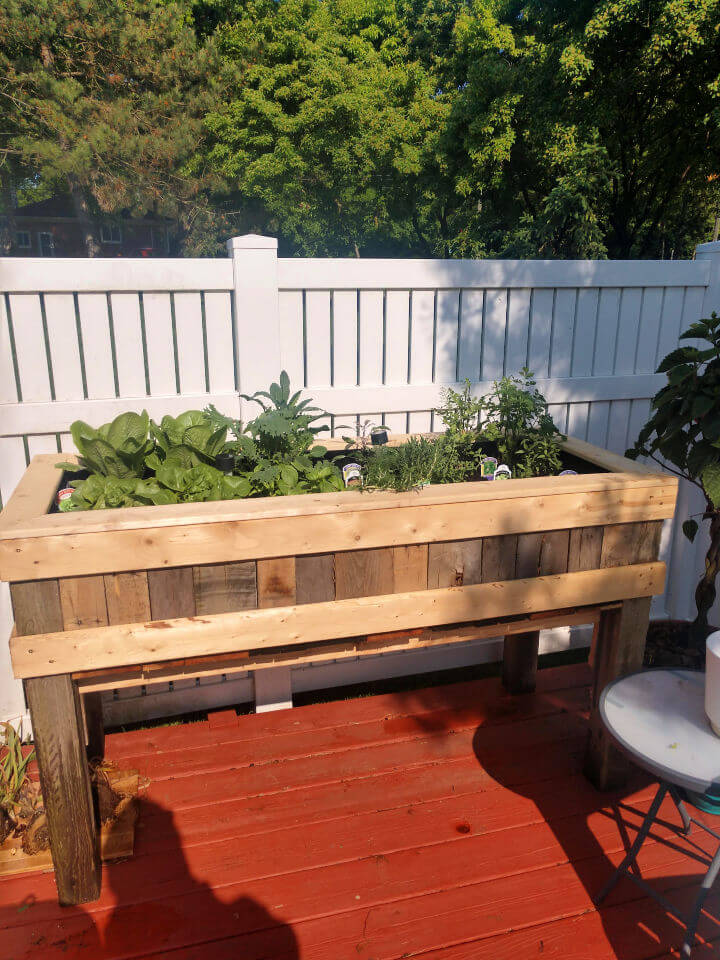 Build also raised wood planters and mini pallet garden that will be a cost-efficient way also to grown your hard-to-find herbs and lettuce. Duplicate this given lettuce and herb pallet garden that looks like a giant box raised on robust wooden legs. A perfect pallet planter to make at home. Shared by Badcabbage88
Planter Made for Old Pallets: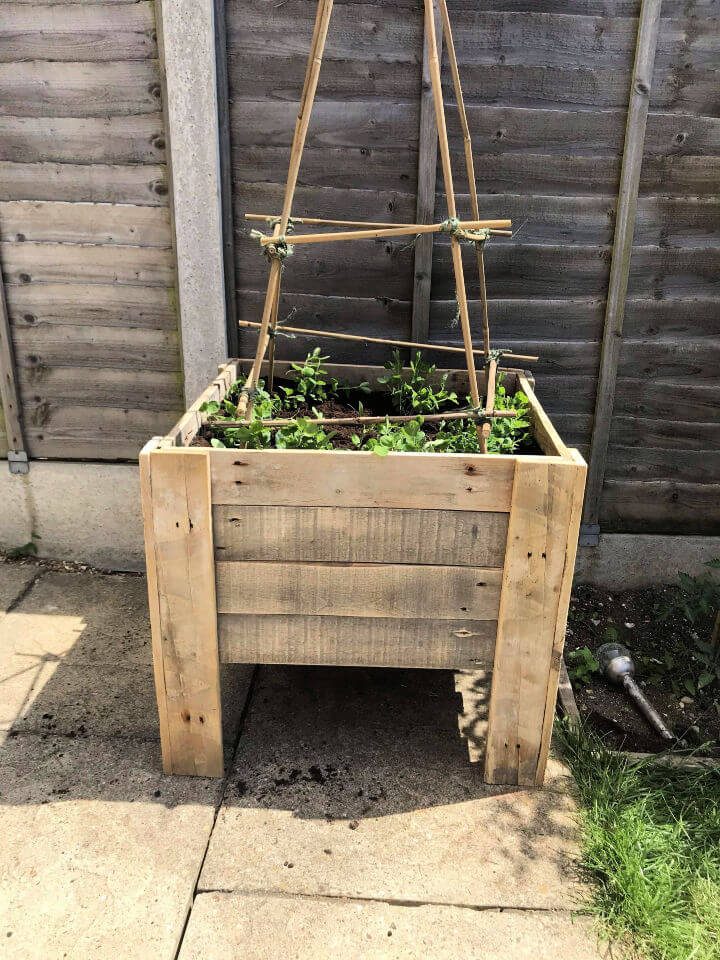 Make also fantastic looking planters out of free and recycled pallets that you can add to your home and outdoor garden space as lovely natural decor centerpieces. Pallets can withstand the outdoor weather condition, so building outdoor planters with pallets will always be a great option. Shared by MrAndyBear
Beautiful Pallet Backyard Party Terrace: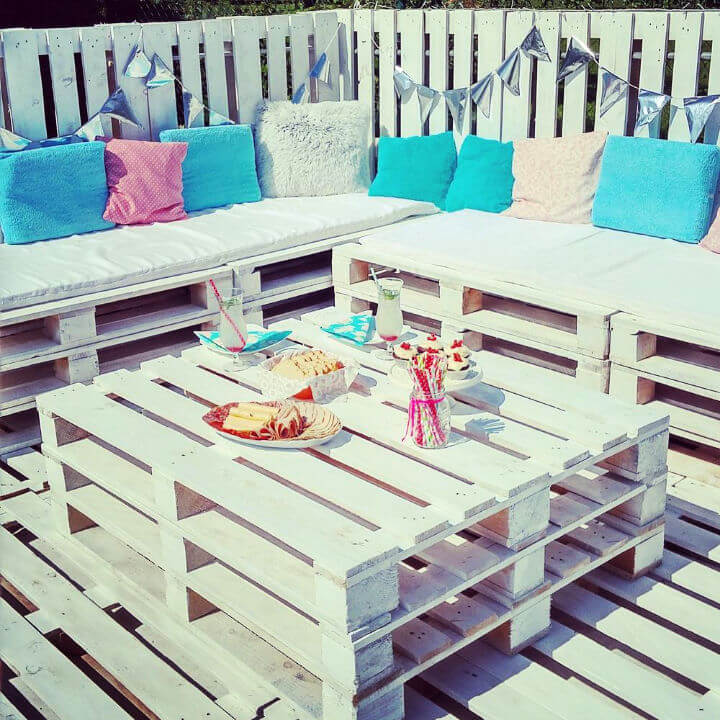 Willing to organize some parties at our patio or at outdoor lack some sitting furniture plans? Then build party sitting sets and outdoor sofas quickly with these pallet wood ideas just like this pallet backyard party terrace that comes with an L-shape pallet sofa and also with a central coffee table made of stacked pallets.
Shared by RedheadFox
Dog Pallet Castle Lighted With Pallet Lamp: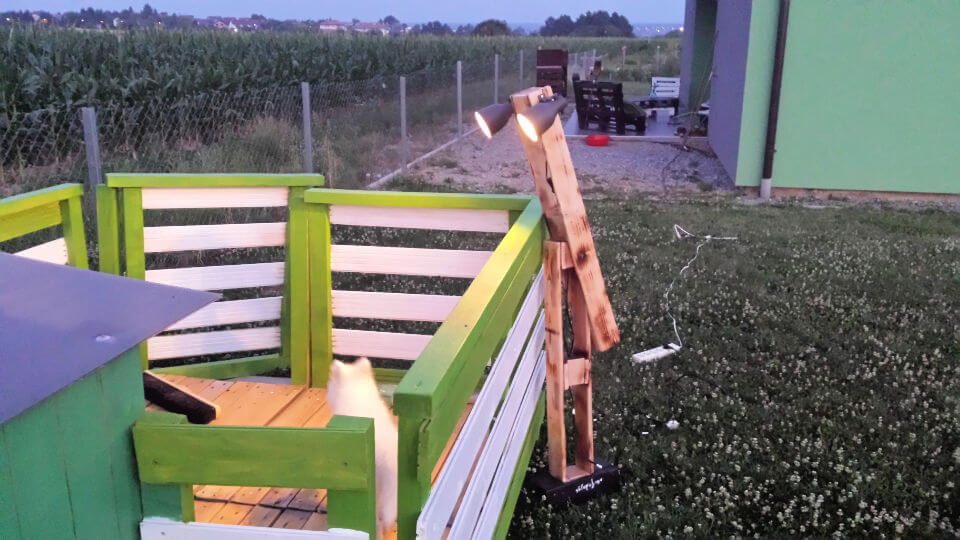 Make also the life of your pets easier with the free pallets, make your dog fall in love with your gain by building this dog pallet castle that has also been brightened up with a pallet wood lamp. For making a lamp, use separated apart pallet dice sections that will beautifully hold the lights as you can see. Shared by Ipallet4me
Man Garden Slash Chill Spot from Pallets: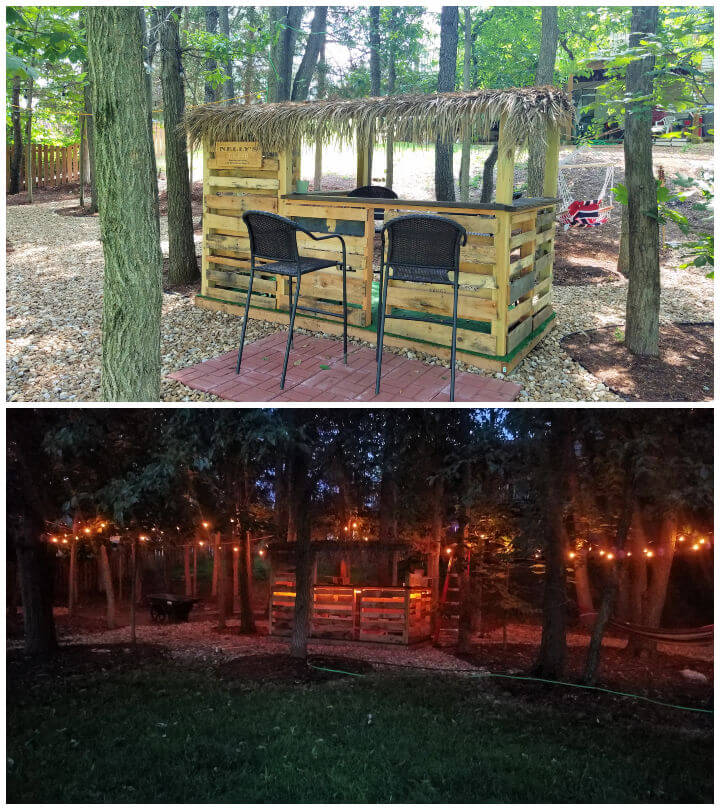 Make also your outdoor life easier with pallets by building the custom beverage and drink party station with them. Check out this garden slash chill spot that is made of free pallets and is the perfect wooden outdoor bar to make with pallets. Time to chill out with your friends and family by building this outdoor chill station with pallets. Shared by Jmikesyo
Pallet Chicken Coop: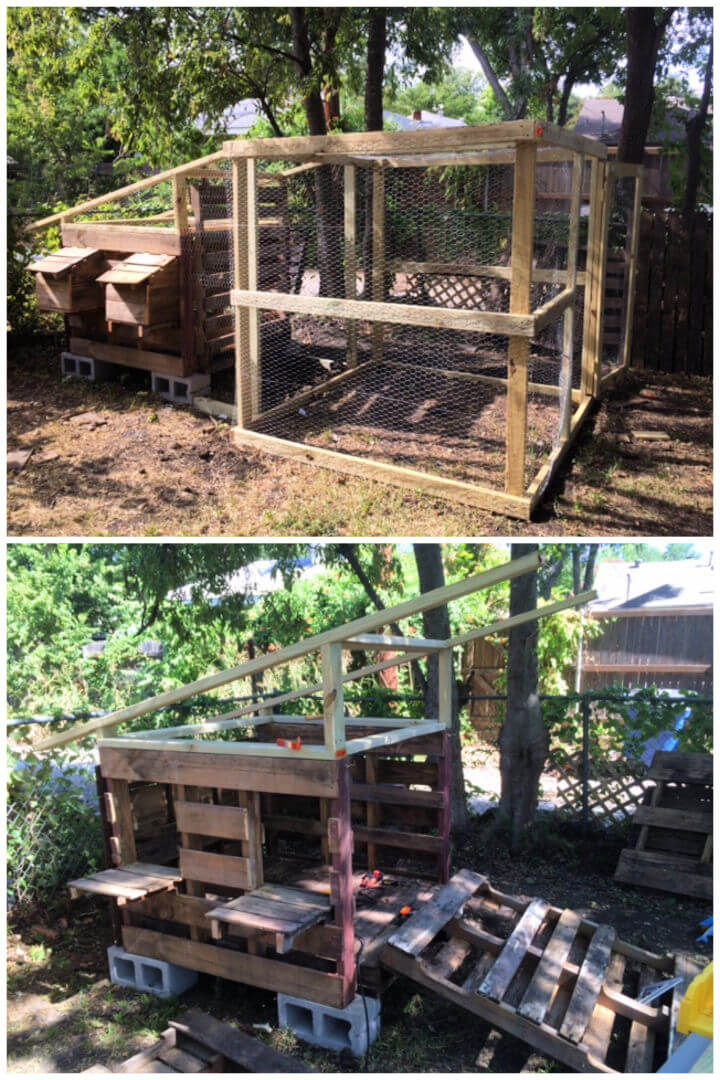 Are you interested in poultry or you take great pleasure in raising your own chickens? If yes, then you will definitely fall in love with this wooden pallet chicken coop that is made of free pallets and will also super safe to house your chicken. It also comes with a chicken wire section. Shared by dtximgur
Easy Pallet Walkway Project: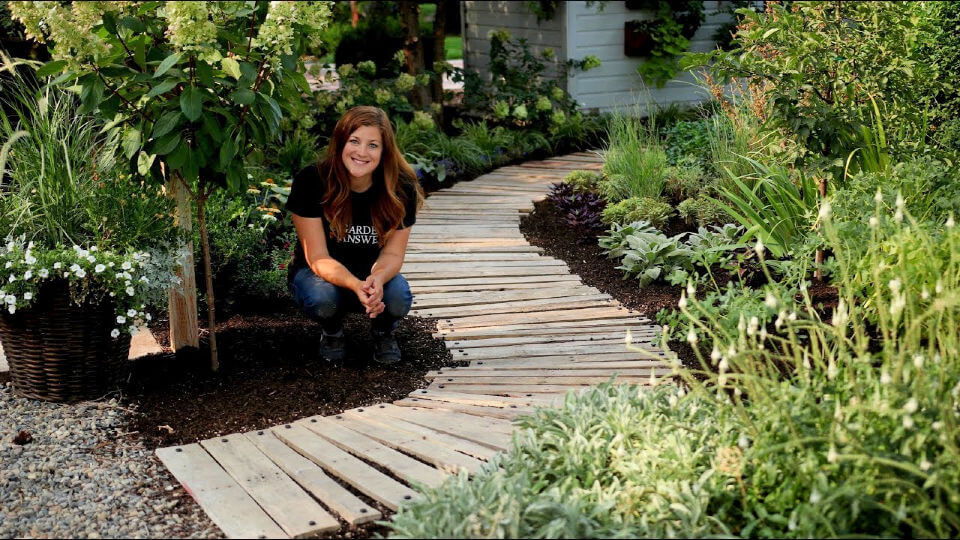 If you are addicted to gardening and have the garden improvements on your brain all then also do amazing garden improvement projects with these pallet wood ideas. Take the dismantled pallets and build this wooden garden walkway that is looking beautiful and will bring lots of warmth and grace to your garden. Details here youtube
Homemade Pallet Coffee Table:

Make all sorts of furniture with pallets and bring too much fun to your life. Build this coffee table if you need to add a lovely one in the center of a sitting sofa set. It comes with A-frame legs and is super quick and easy to make also using disassembled pallets. Here is how to make a pallet coffee table. Shared by Nebulezz
Pallet Gun Safe: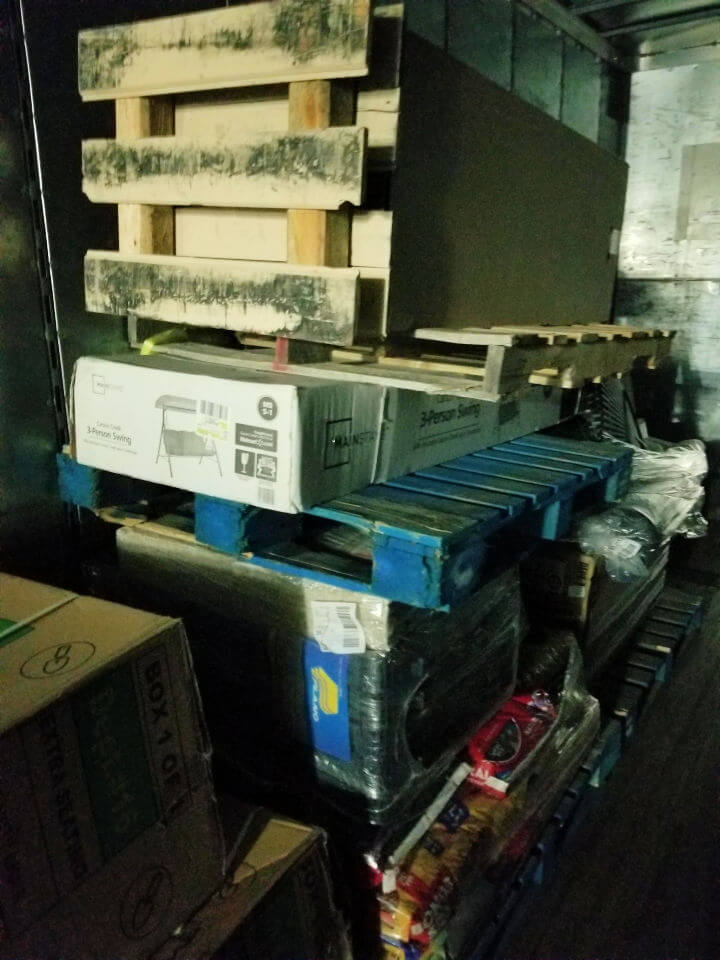 Pallet projects are just never-ending, and here is another smart one to win your heart, the pallet gun safe, made to rock and inspire. Another great craft to do with the free pallets.  Shared by Afganistanlol