It is horrible to imagine a life with no furniture. Think about having no coffee table in the living, a comfy bed in your den, a functional sofa to linger on and watch TV, it would scare the death out you or any other. But thankfully we have all of them and so much more and enjoying such a luxury and comfortable life with gorgeous and functional furniture pieces in each section of the house, the interiors and the exteriors. And a mighty thanks to the Pallet wood who have made it huge into the world of Pallet furniture for its recycling abilities, cost efficiency and high feasibility to work with. The pallet wood junk is lying around aimlessly, and you can pick them up and repurpose into some beautiful and useful pallet projects or pallet furniture possessions for your house, be it any.
There are like endless possibilities to work with the pallets for the gain of all furniture kinds and types a house needs or demands. To ease it out for you we have lapped up these 150 easy DIY pallet projects and ideas that you can look into and get functionally pallet furniture build up on your own. Sofa, chairs, swings, coffee tables, planters, dog beds, bars, beds, shelves, or name anything that comes under the label of Furniture and you would surely find it in our giant pallet furniture collection given below. Each of the pallet projects has been allotted with the links to access the easy details and fun tutorials so you ought to explore them and enjoy utter ease to work up on your favorite pallet ideas.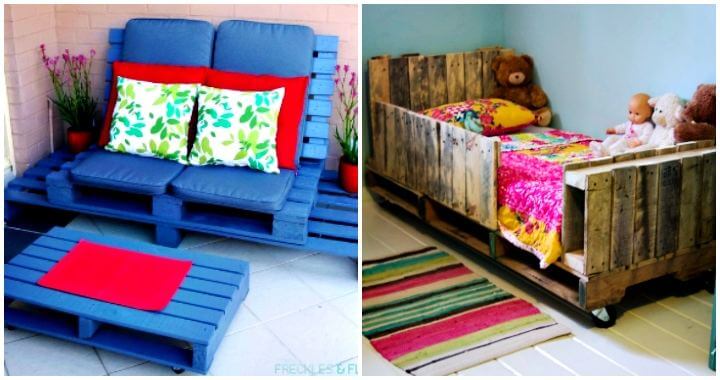 Enjoy great having by lying comfortably on a hanging pallet garden bed which would be pretty quick to build and also make life easier with the special succulent pallet table, an ever unique hand-built table! Gain the comfy seats at outdoor to enjoy the daydreaming and party time sitting and also build custom beds and headboards with pallets for your newly built bedrooms! Check out some interesting samples given below in the list!
More, also raise the fun of life by building a custom bar furniture with pallet, an interesting sample here is the homemade L-shape wooden pallet bar that is robust and comes with edged countertop! Next also boost your garden decors by building lovely accent planters and vertical garden with pallets and enhance interior wall decors also by making some interesting wooden pallet wall art pieces and signs, check out some amazingly beautiful and interesting samples given below!
Build the interesting laced paracord hanging chairs for your garden and also install the outstanding-looking Adirondack furniture with pallets that will make you enjoy the outdoors more! ( ) Moreover, also make gift-worthy wall clocks with rustic pallet slats and install the luxurious chill-out lounges and daybed by just stacking a few pallet skids! Install also precious wall hanging potting benches with pallets and stack pallets also for amazing patio and garden sofas!
more Pallet Projects You May Love:
Check out much more interesting pallet projects give in the list that will truly be life changing! Hit the source links to grab full free project tutorials, instruction, and step-by-step guides!
DIY Succulent Pallet Table Tutorial: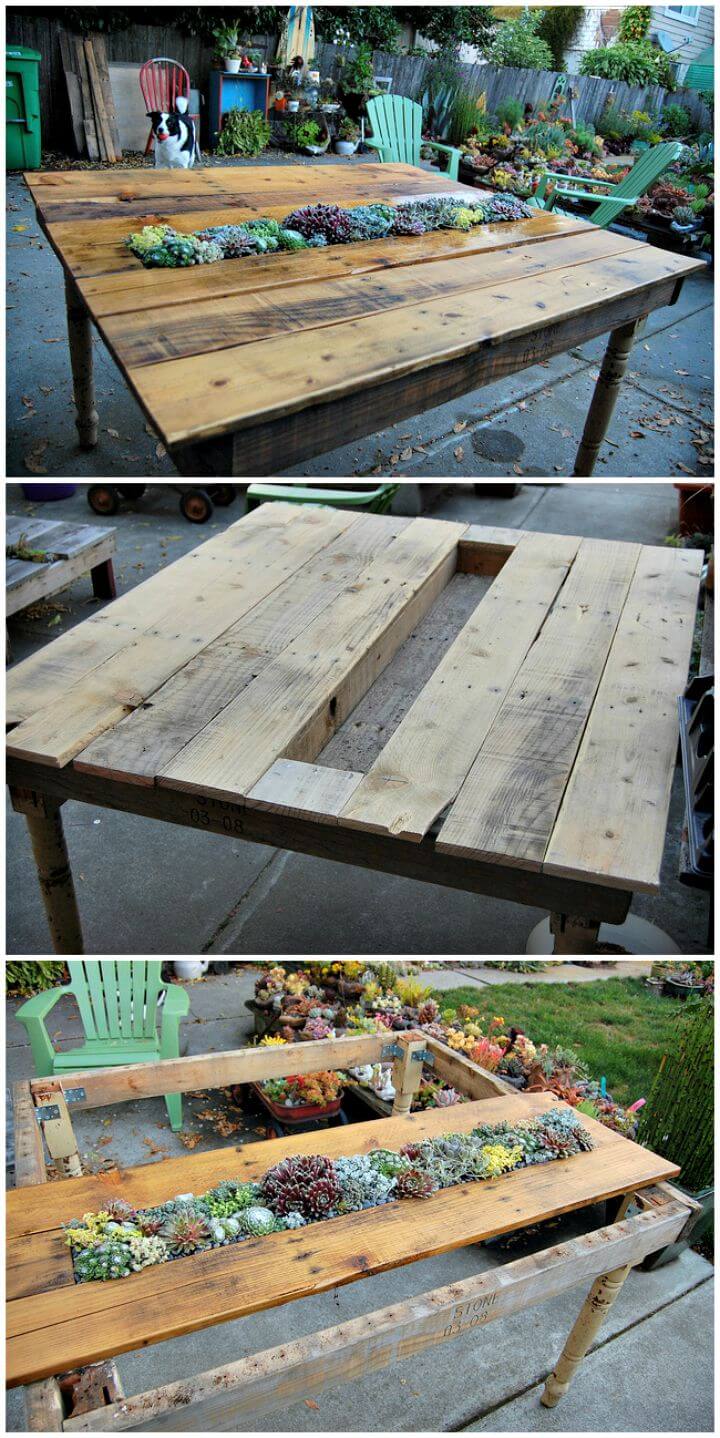 Also, build outstanding furniture out of pallets, look at this fantastic table that looks odd due to planter box addition in the center! The purpose of this table is to freshen up your day by making you stare at the cool succulents while enjoying coffees or other refreshments by sitting around this table! Another great rescue of pallets! Complete project details and tutorial here archive
How To Build a Pallet Headboard Tutorial: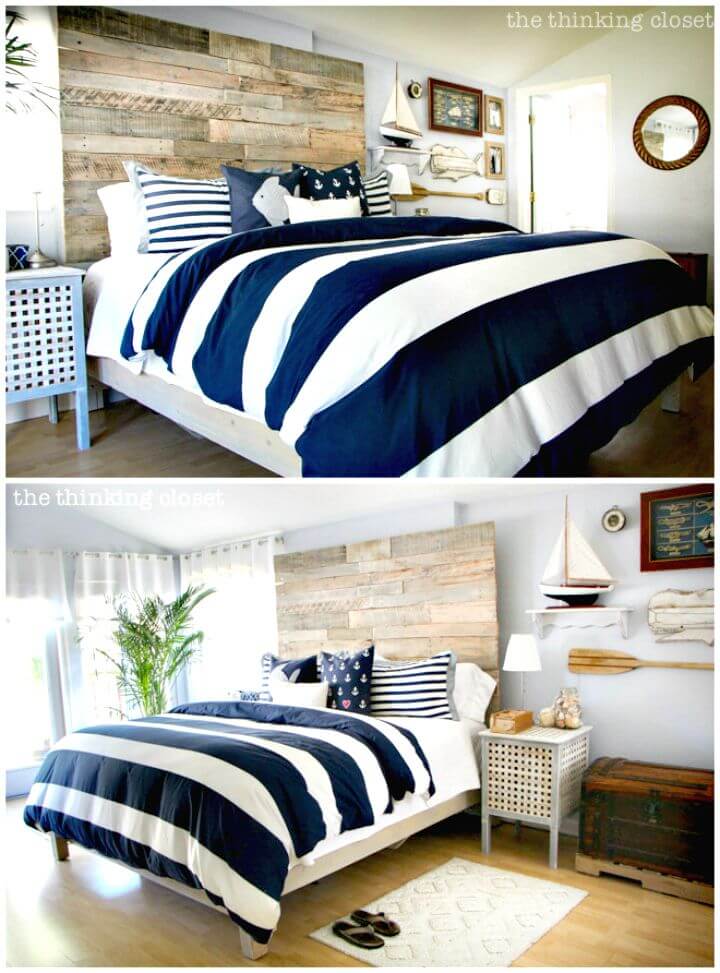 Use pallets as they are or just take them first into pieces that can be rebuilt again into custom items of need and furniture! Have a look at this precious headboard that is an interesting remake of a wooden pallet and will bring an enticing rustic statement to entire bedroom by being an accent head of the bed! Another great pallet recovery! Find the complete free tutorial and visual instructions from here thinkingcloset
Easy DIY King Size Pallet Bed Tutorial: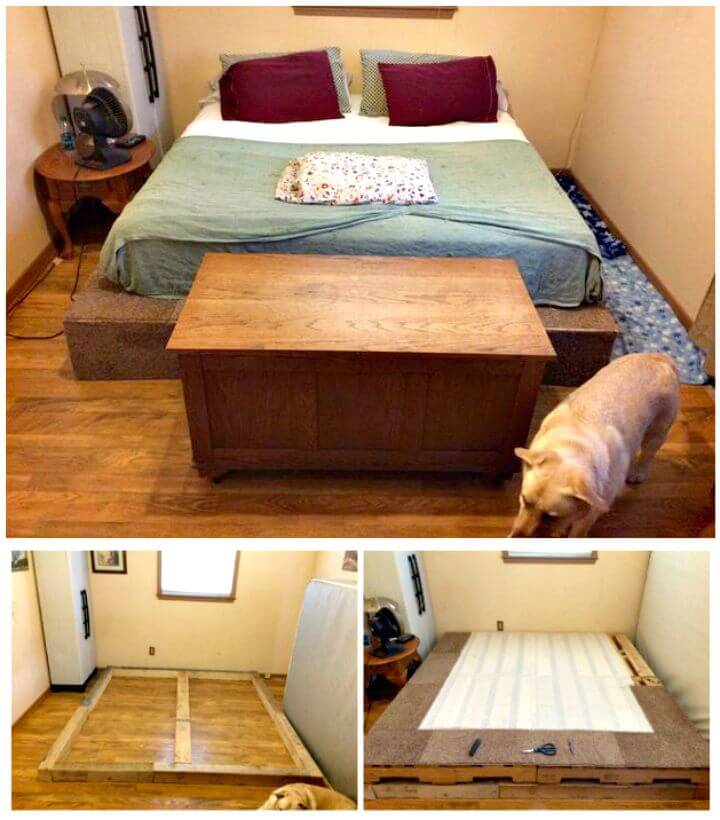 Build also very good looking beds out of pallets, the most expensive furniture item to buy but by going with pallets you will get it for free! Have a look at this wooden kind size bed that is having the base frame or layout made of lumber beams which has then been filled with uncut pallet skids for a solid wooden bed frame! Finally finished model has been covered with a carpet and then with a foam mattress making a beautiful bed design! Willing to duplicate this wooden pallet bed? Grab the full free guide and visual instructions from here instructables
How To Build Pallet Bar Under 34 $ Tutorial: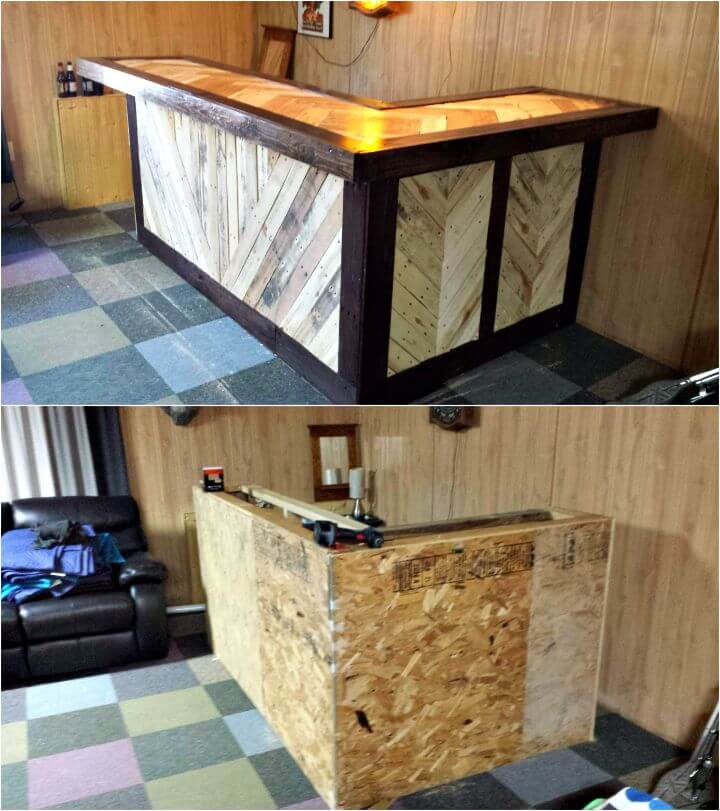 If you are having an indoor or outdoor bar then you will be having a great fun with friends! If not yes, then here is a budget-friendly way to get a fantastic looking bar table for any of your space! Repurpose pallets to build a durable looking wooden bar in no time, get inspired of this given sample, having inside frame made of plywood and custom wooden braces and finally have been got covered with chevron alignments of separated pallet slats! It is all awesome from L-shape counter to beefy dimensions! Step-by-step tutorial here imgur
How To Build Your Own Pallet Coffee Table Tutorial: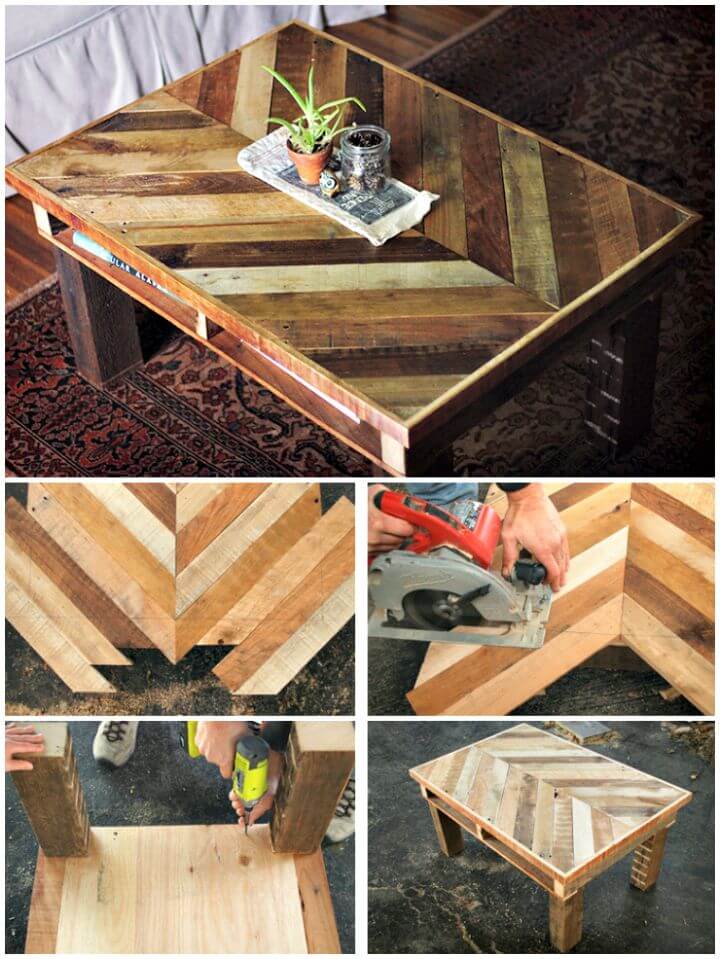 Go also handmade with rustic pallet skids to build fantastic looking table furniture! A very charming sample here is this coffee table that comes with a chevron top and with beefy legs, another decent and creative pallet wood creation! This handsome coffee table offers also two storage cubbies where the user can hide the TV remote and the magazines! Complete tutorial here themerrythought
Easy DIY Pallet Sign Tutorial: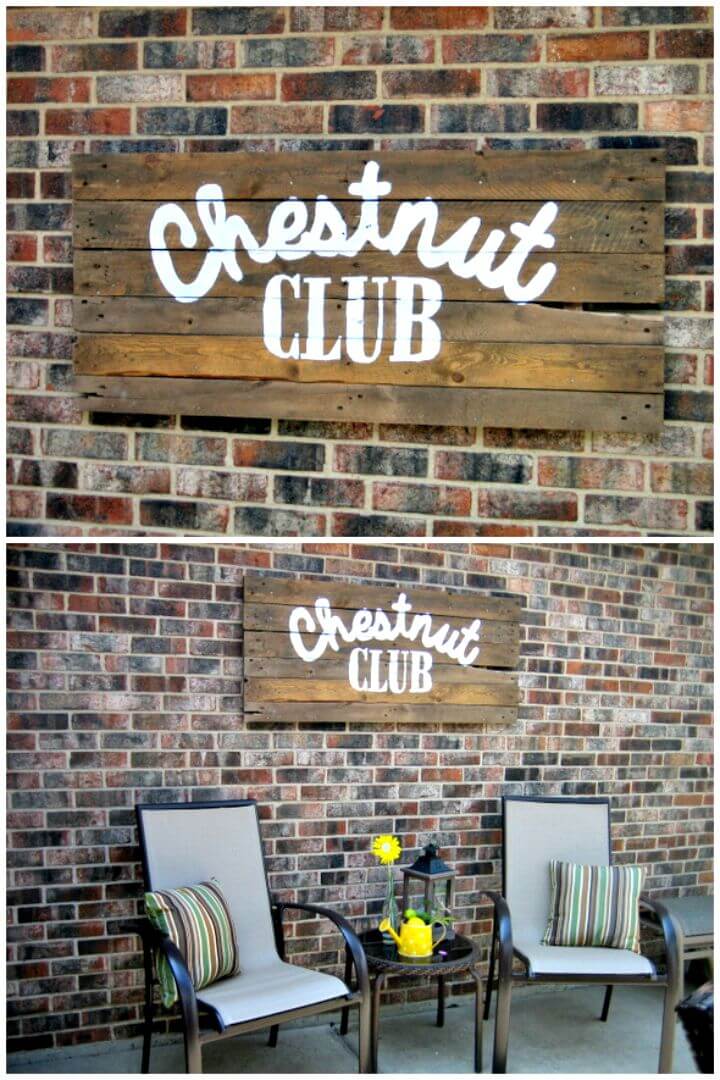 Craft also stunning wall art signs and symbols using custom cut single pallet wood slats! Have a look at this given sample pallet sign that is just much visually attractive and is only made of 6 separated apart pallet slats put together for a beautiful rectangular board which has then been overwritten custom letters! Another great pallet project to boost your home decors! Complete project details here thediyplaybook
How To Make Pallet End Table Tutorial: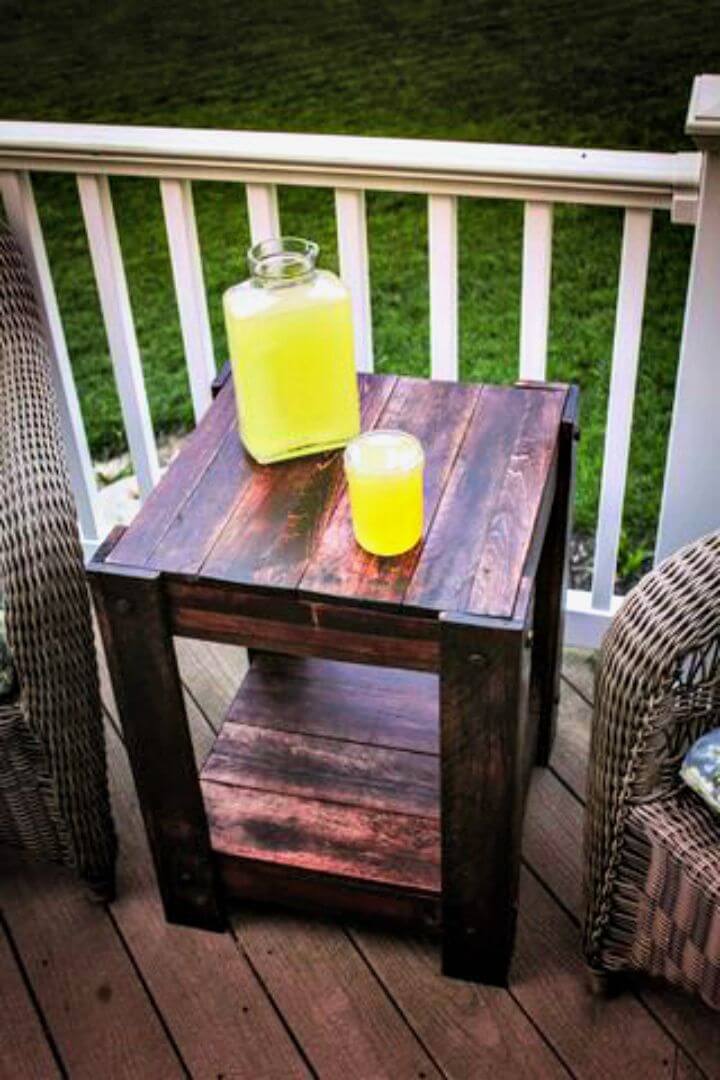 Build all types of table furniture also with pallets, if you are in dire need of a side or end table then you can clone this given end table design that is beefy and comes in dark brown tone of wood! It comes with a square top and also with a bottom shelf and looks pretty cute! Want to tryout this end table? Grab the full free guide and visual instructions from here instructables
Easy DIY Pallet Planter Box Tutorial: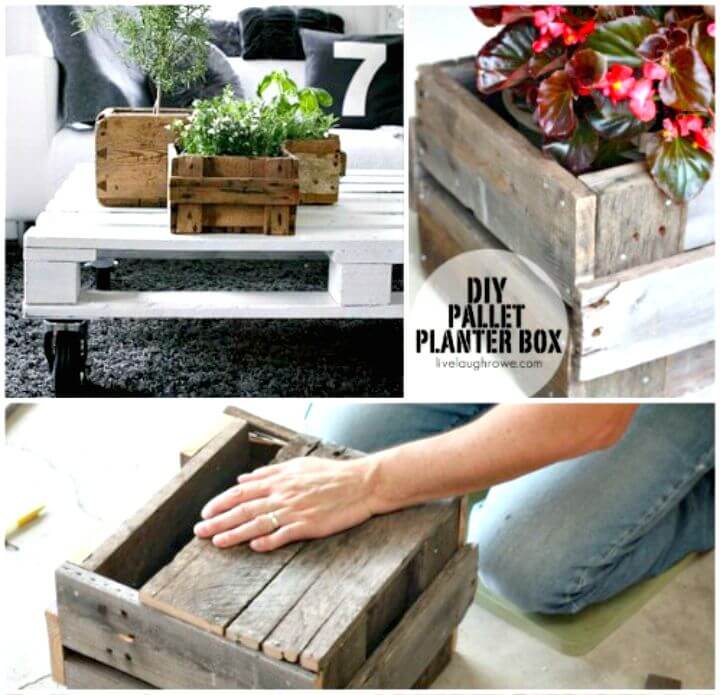 If you go smartly handmade with pallet wood slats or separated planks then it would be like a piece of cake to build outstanding wooden boxes! These boxes can be used in number of different ways like they will also make great looking planter boxes which can be placed in your garden or on any flat surface for a precious natural décor statement! Get inspired of this given sample and also duplicate it! Complete tutorial and instructions here livelaughrowe
Easy DIY Pallet Wood Bench And Gabion Table Tutorial: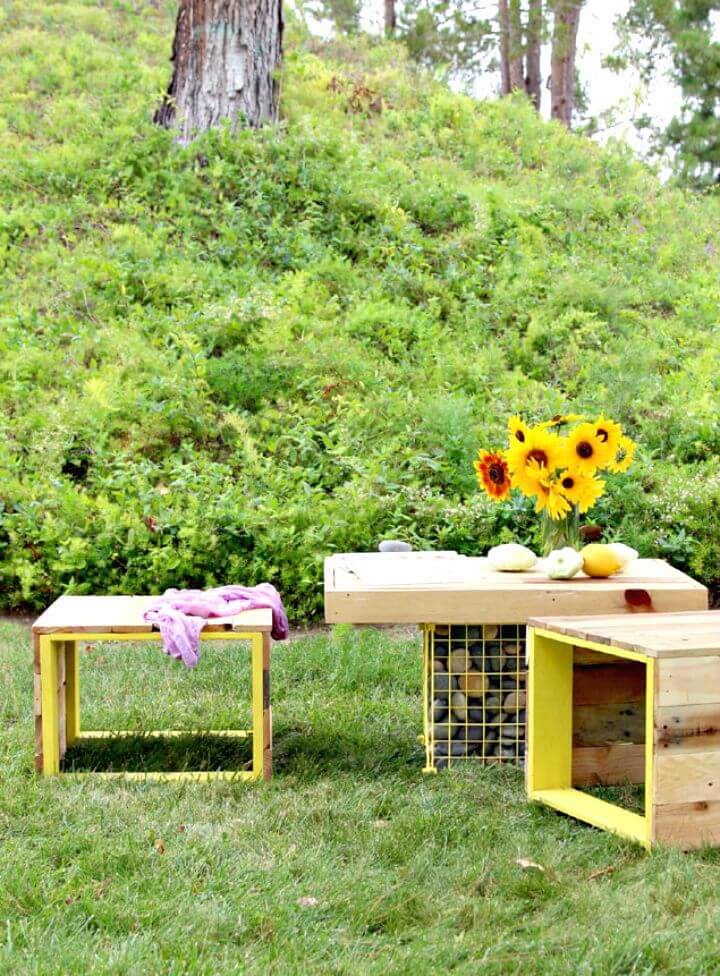 One more genius project here to do with recycled pallet wood, built outstanding looking bench and a gabion table with wood you will get from the pallets! It would really be a great addition to any garden or outdoor! Checkout here the sample pallet gabion table and bench set that is looking mind-blowing and would definitely hold your attention! The hollow cube like shapes would definitely put everyone in big amazement! Want to duplicate this sitting furniture set? Get the free tutorial from here apieceofrainbow
DIY Paracord Laced Pallet Hanging Chair Tutorial: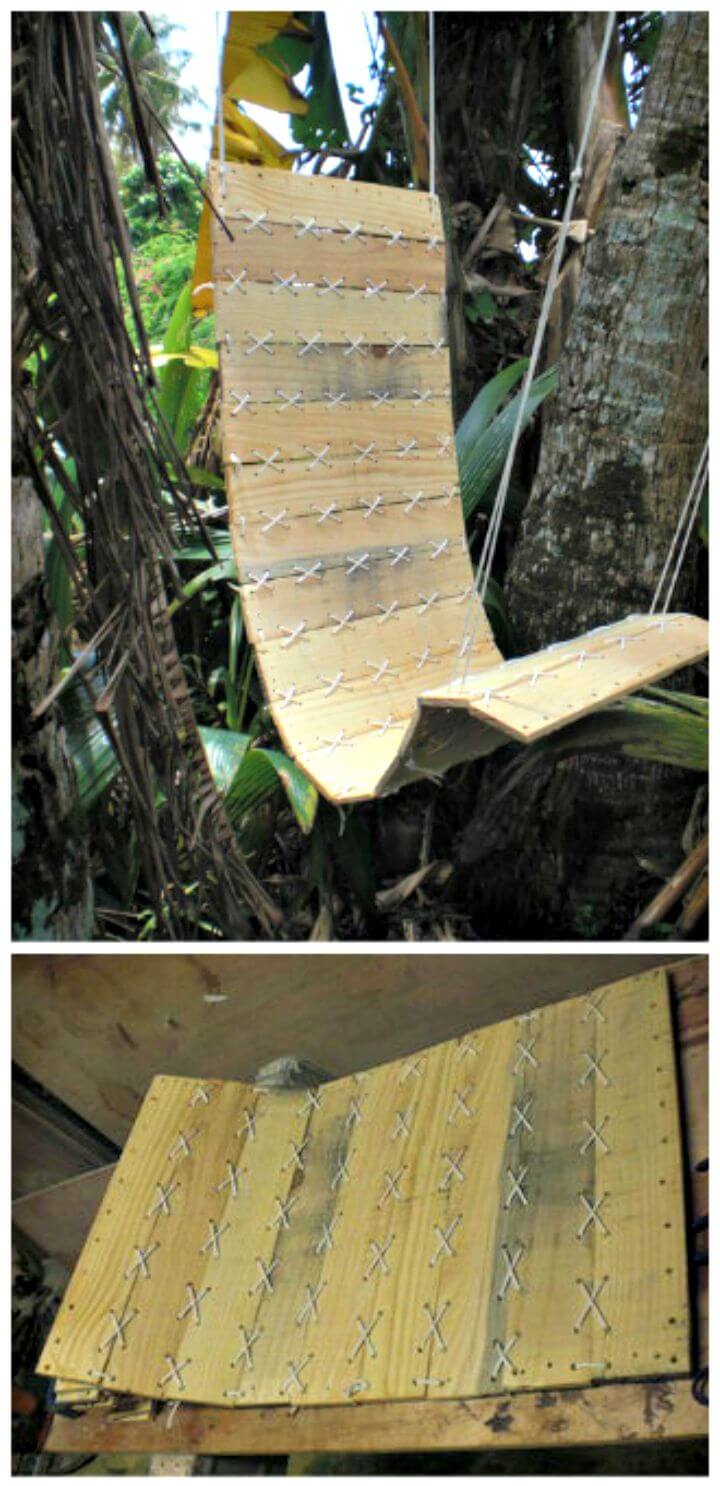 Do amazing things with rustic pallets that are mostly to get for free! A very interesting example here is this wooden pallet hanging chair that is made of single pallet slats and paracord! Drill tiny holes in the sides of pallet wood slats and then pass the paracord through them by connecting the pallet slats one by one in shape of chair! Another cool pallet project that will rock your garden space! Complete tutorial and visual instructions here instructables
How to Build a Wooden Pallet Adirondack Chair Tutorial: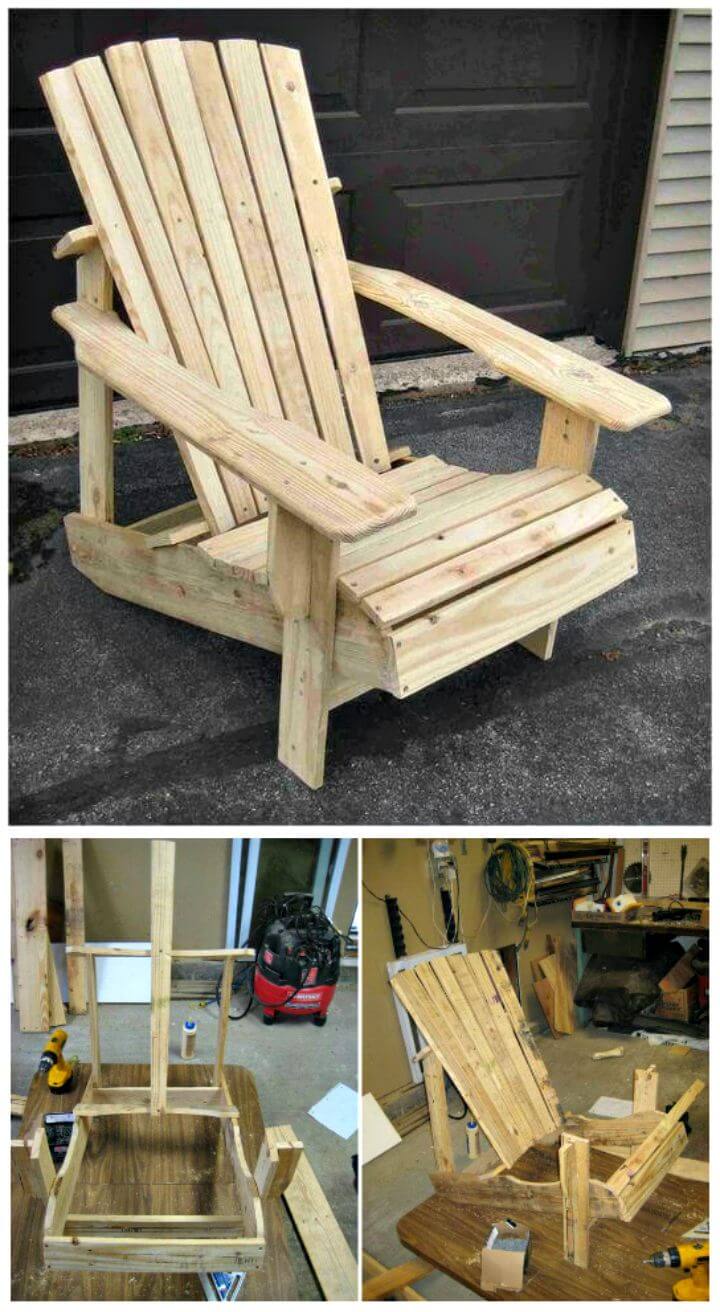 Build all different kinds of furniture with pallets, just checkout here this precious Adirondack chair that is looking lovely and would be a perfect kind of chair to enjoy any outdoor! Here this glam achievement has been done using the single pallet wood slats which have been put together for building different parts of the chair from artistic backrest to comfortable berth and also from precious armrests to cross back supports! Create a custom wood tone of this chair using a custom stain shade and enjoy! Complete tutorial here homestratosphere
How To Make Pallet Vertical Garden Tutorial: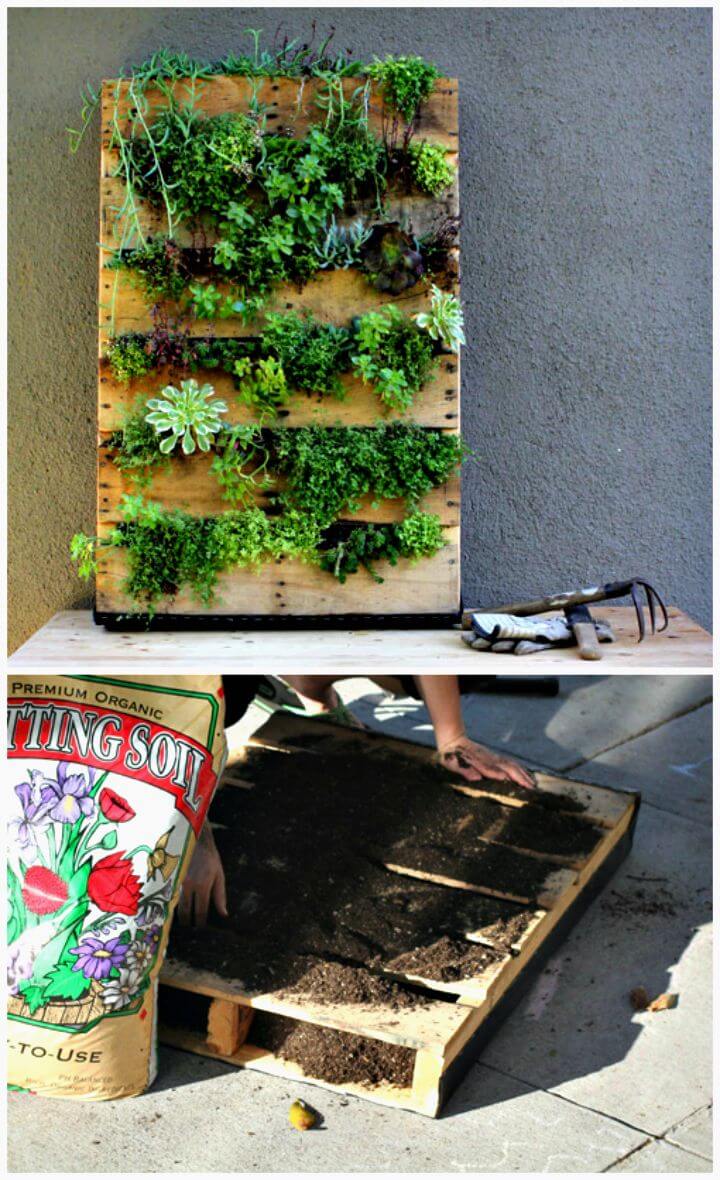 Another great pallet achievement is here, a very glam looking wooden pallet vertical garden that would make a perfect décor and would also be a way to bring garden vibes to any of your interior space! One more outstanding suggestion to recycle the rustic pallets! Willing to duplicate this vertical pallet garden? Then just the full free guide and visual instructions from here designsponge
Build Your Own A Pallet Wood Clock Tutorial: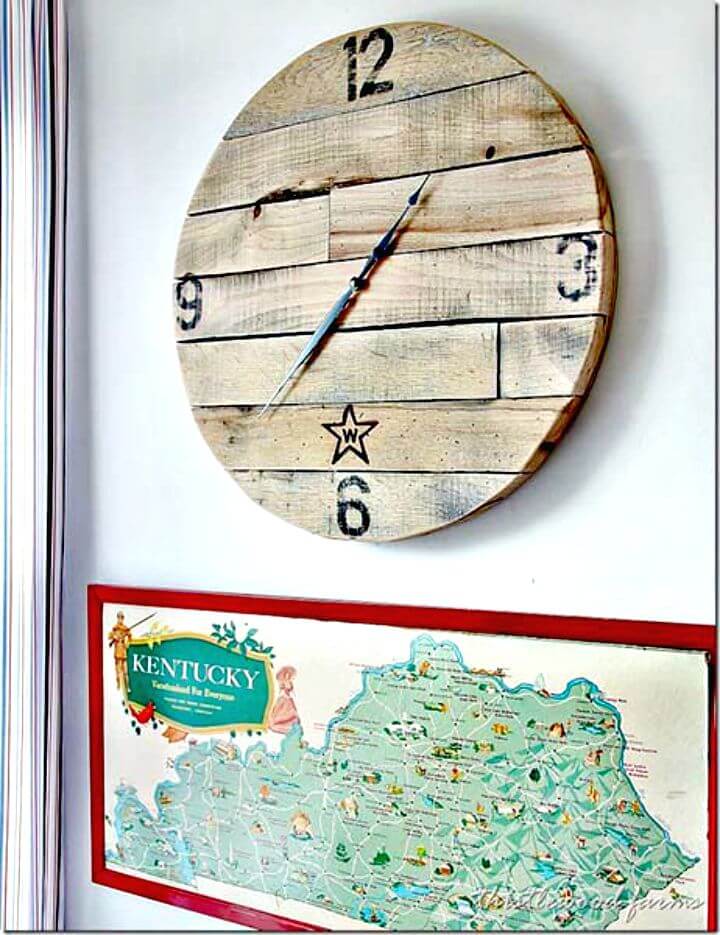 You can go handmade also with single pallet slats to build some outstanding wall gifts and signs! A very smart and precious example here is this rustic pallet wood clock that comes in perfect round shape and pure quartz clock system has been installed for precise and accurate tick-tock! Another great and extraordinary wooden pallet achievement! Here is how to make this clock thistlewoodfarms
How To DIY Wooden Pallet Chillout Lounge Tutorial: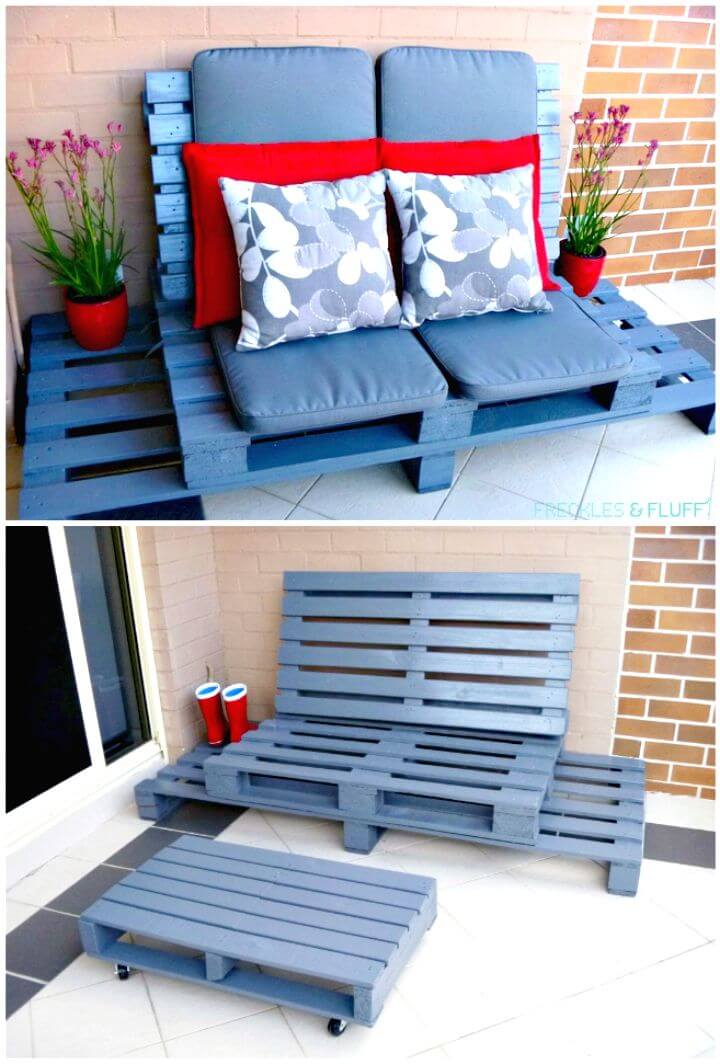 You always need a comfy corner at your outdoor or at a porch area to chill out alone or with couple of friends! So, you can also go smartly handmade with pallets to gain some relaxing stations at any outdoor! A very interesting example here is this wooden pallet chill out lounge that is looking fabulous in blue painted appeal and is made of complete pallet skids of different sizes! A complete pallet on wheels serves as a coffee table and hence gives a complete sitting set! Complete project guides and instructions here frecklesandfluff
How To Build Your Own Pallet Gardening Table Tutorial: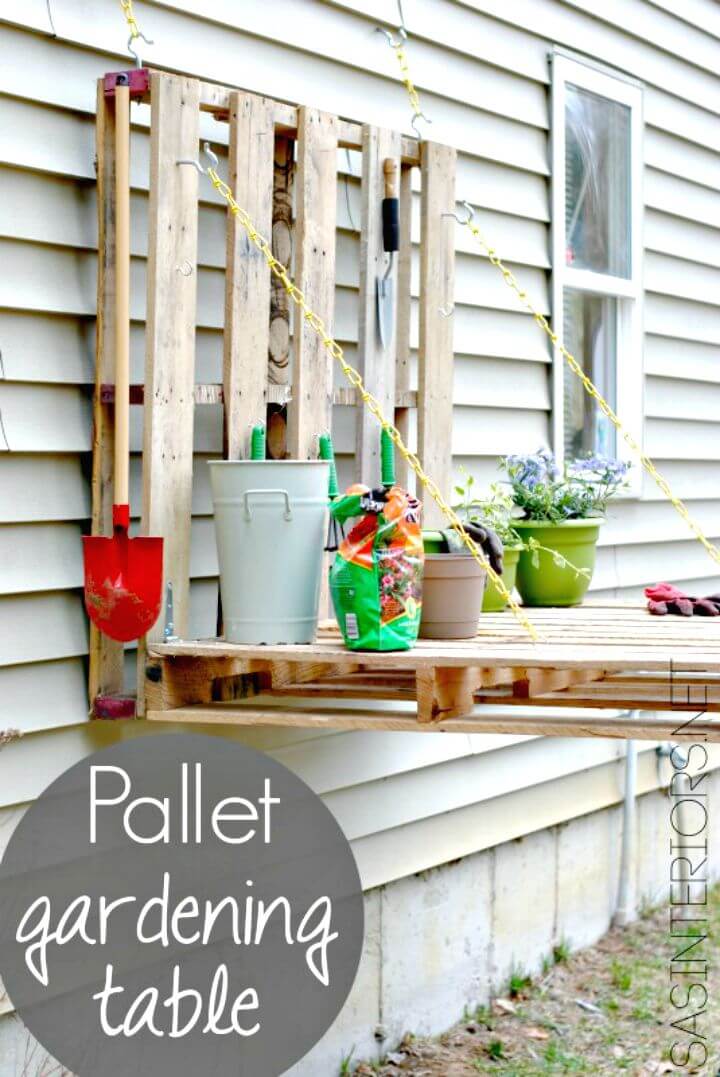 Pallet can also lend you a helping hand in doing your garden related tasks! Build outstandingly gorgeous and good looking potting benches with pallets and an interesting example is this wall mounted pallet gardening table! All you need is to build an L-shape using 2 complete pallet skid and then you can simply mount it on any custom wall area to serve the purpose! Here the pallet gardening table has been supported and hanged with metal chains and s-hooks! Another great pallet project to do! Complete project tutorial and instructions here jennaburger
Beautiful and Easy DIY Pallet Furniture Tutorial: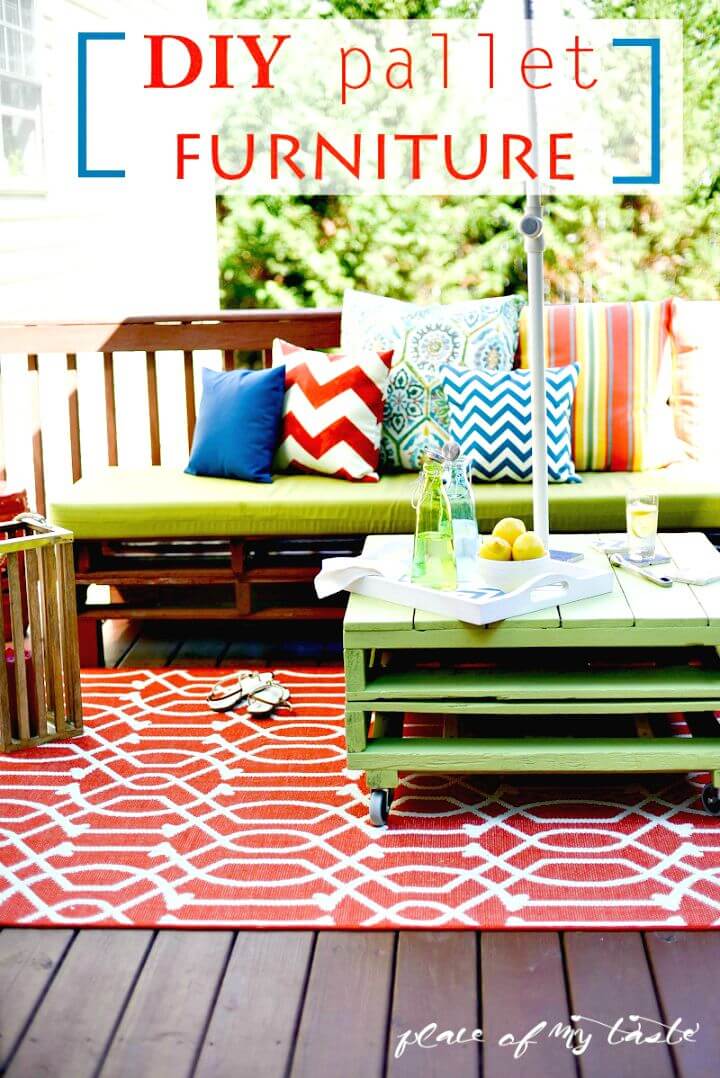 Repurpose pallets also to build brilliant patio and outdoor furniture! Here the custom pallet skids have only been stacked to give a patio sofa and a coffee table set that makes a perfect sitting plan! Here the coffee table has been raised on wheels while the sofa has been cushioned for comfortable and cozy type of sitting experience! Complete project details and guides are here placeofmytaste
Easy DIY Pallet Patio Day Bed Tutorial: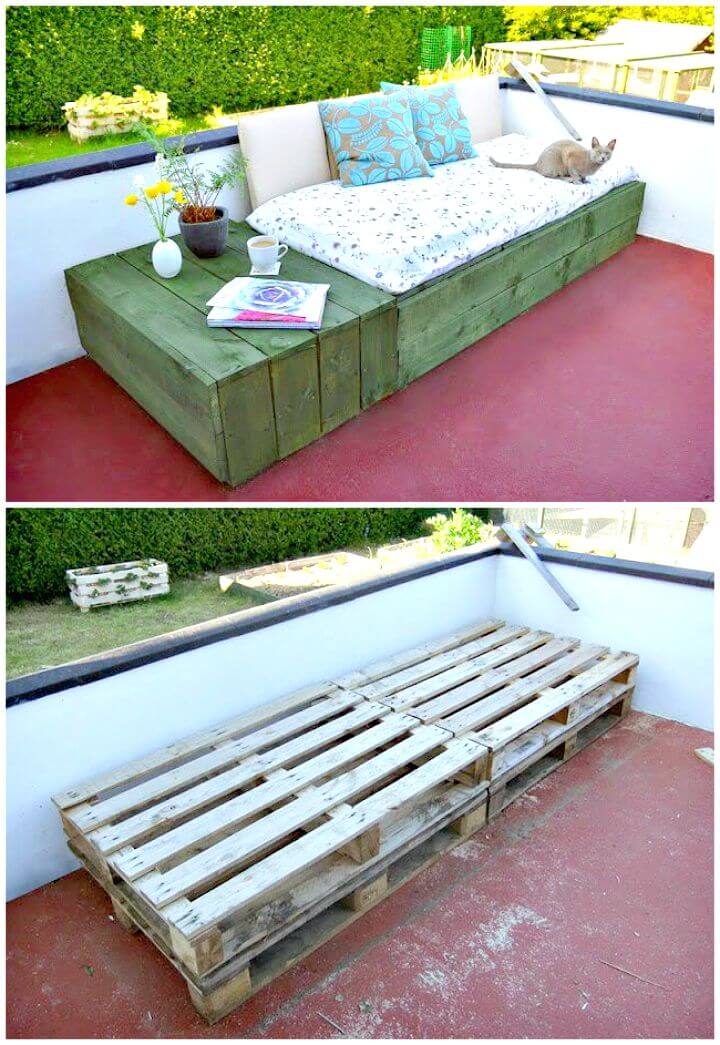 Stack pallets also for a cool patio or outdoor day bed which can be cushioned beautifully to enjoy part-time sitting and daydreaming! This is here another mind-blowing pallet recycling project that gives a brilliant no-cost furniture! Here stacked pallets have further been covered with extra wood for a big block like structure! Moreover, this daybed needs no side table also! Complete project instructions and tutorial guides are here lovelygreens
How To Build Your Own Pallet Playhouse Tutorial: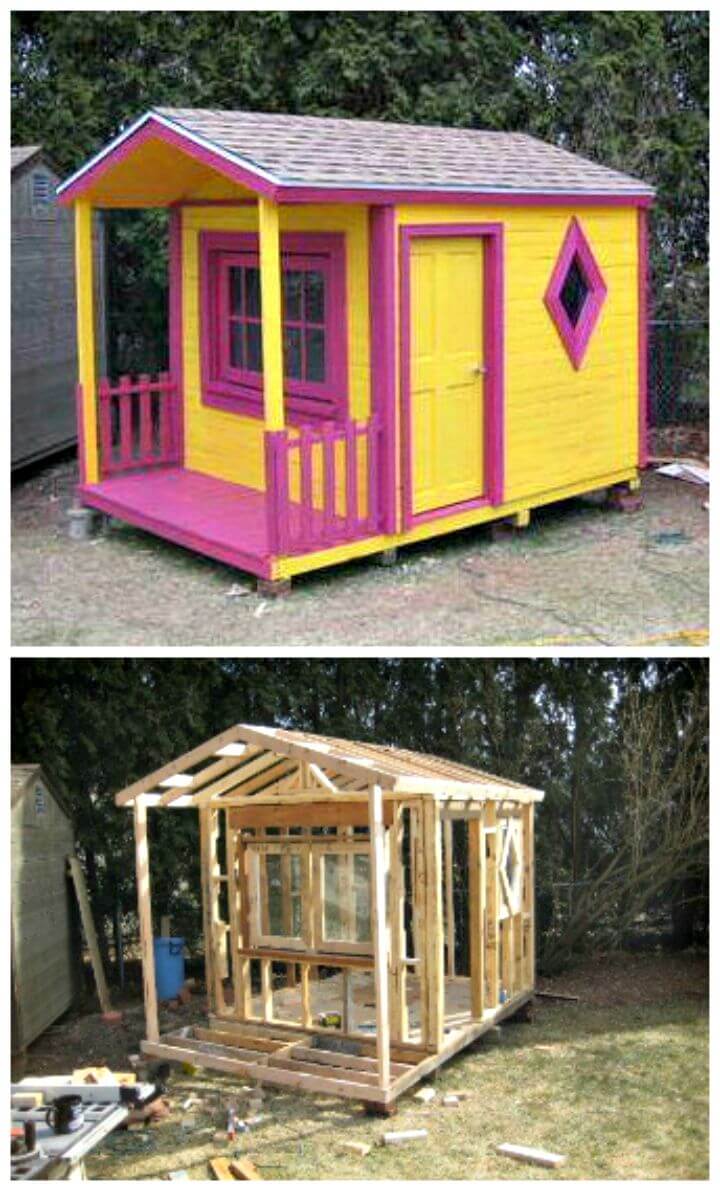 When you dismantle pallets you gain single wooden slats that can be resized and repacked to build anything special that is in your imagination! Get inspired of this wooden playhouse that is made of recycled pallets and comes in a charming painted appeal that would be liked by all kids! This is like a sweet mini bungalow that comes with a chevron roof and also with a veranda! Complete project tutorial and guides are here instructables
Simple DIY Pallet TV Stand Tutorial: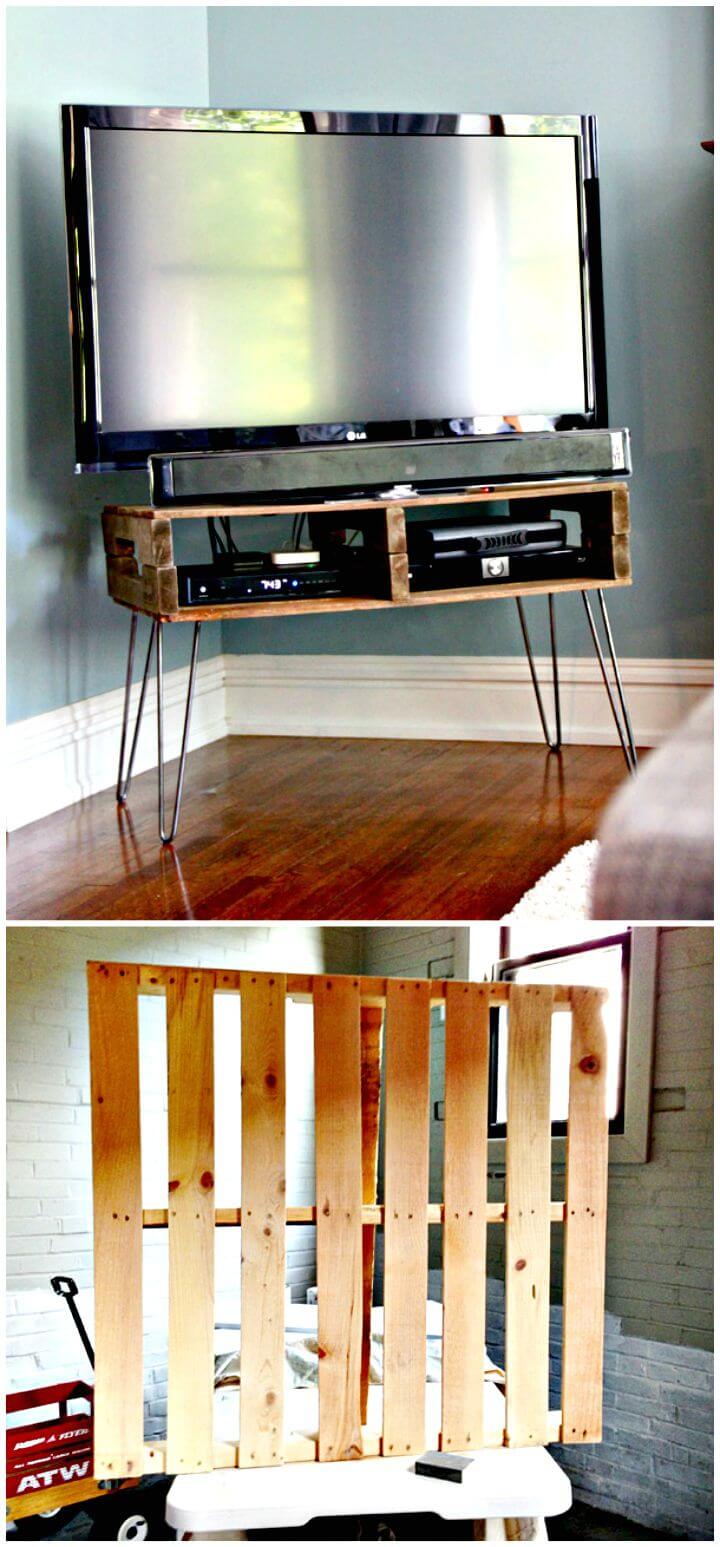 If you are sorting out some brilliant media consoles or TV stands for your living room then you can also get smartly crafty with pallets! Check out here a sample model of media stand made of rustic pallets! Here two equal sizes of pallets have been put together in bottom-to-bottom arrangements and have been finished with metal hairpin legs for a fantastic looking TV stand! Another handsome pallet recycled project you can duplicate! Complete tutorial and instructions here preparingforpeanut
How To Make Pallet Lounge Chair Tutorial: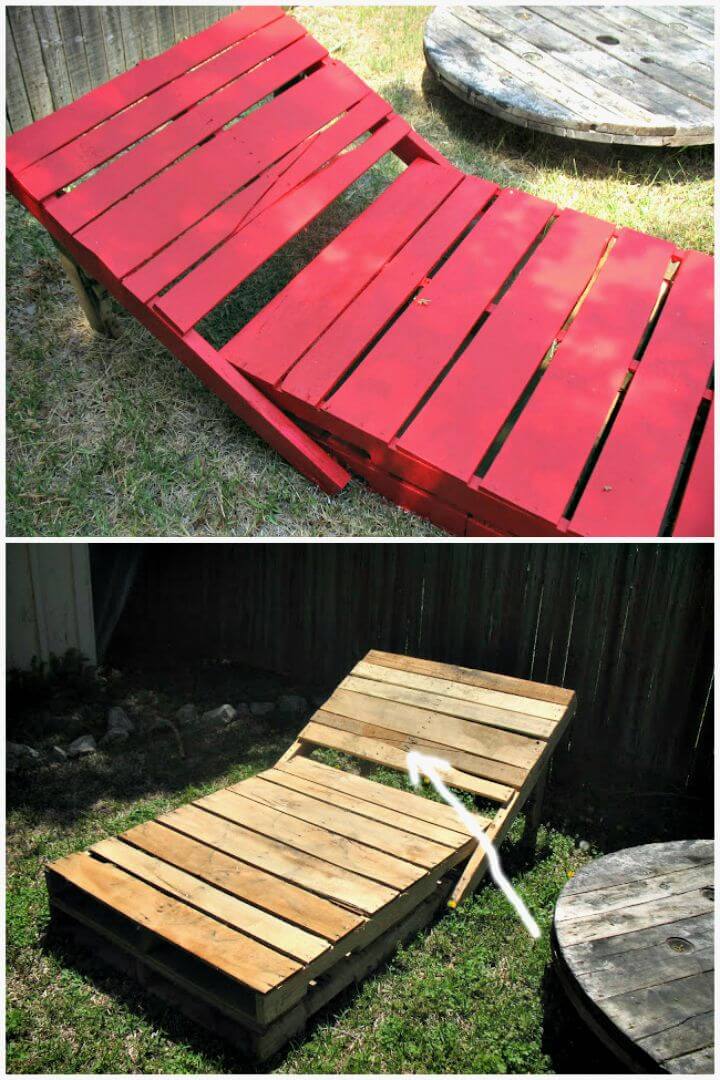 Enjoying outdoor may demands for some super comfortable type of furniture and nothing can beat the outdoor lounge chairs in this case which are always great to enjoy the green outdoor or to catching some rays by laying half down comfortably! Recycle pallets also to build great looking lounge chairs, get inspired of the given sample that is looking great and has been painted in red! Complete tutorial and guides are here shoestringpavilion
How To Build Pallet Swing Chair Tutorial: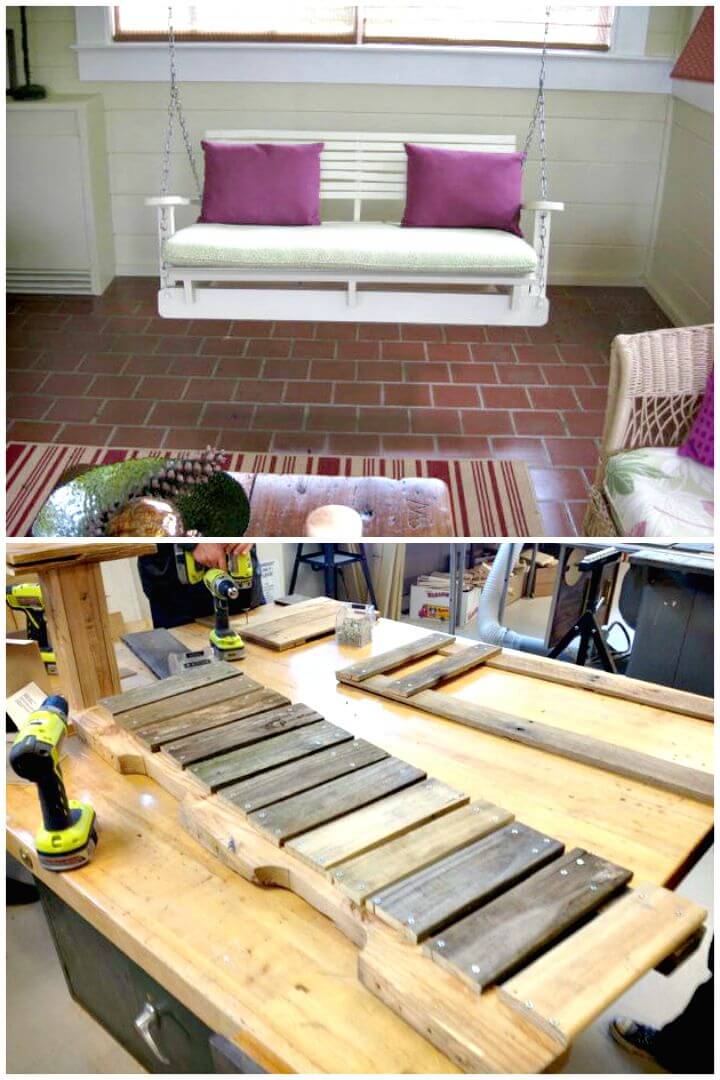 Pallet skids can be life-changing as you can build all different kinds of luxurious furniture too with them! Just fall in love with this wooden pallet swing chair that has been painted in white has beautifully cushion for high value sitting comfort! In hanging systems, the metal chains and eye-hooks have been used as you can see! Another mind-blowing pallet recycling project you can duplicate easily! Here is how to build this enchanting pallet swing instructables
Easy DIY Pallet Sliding Barn Door Tutorial: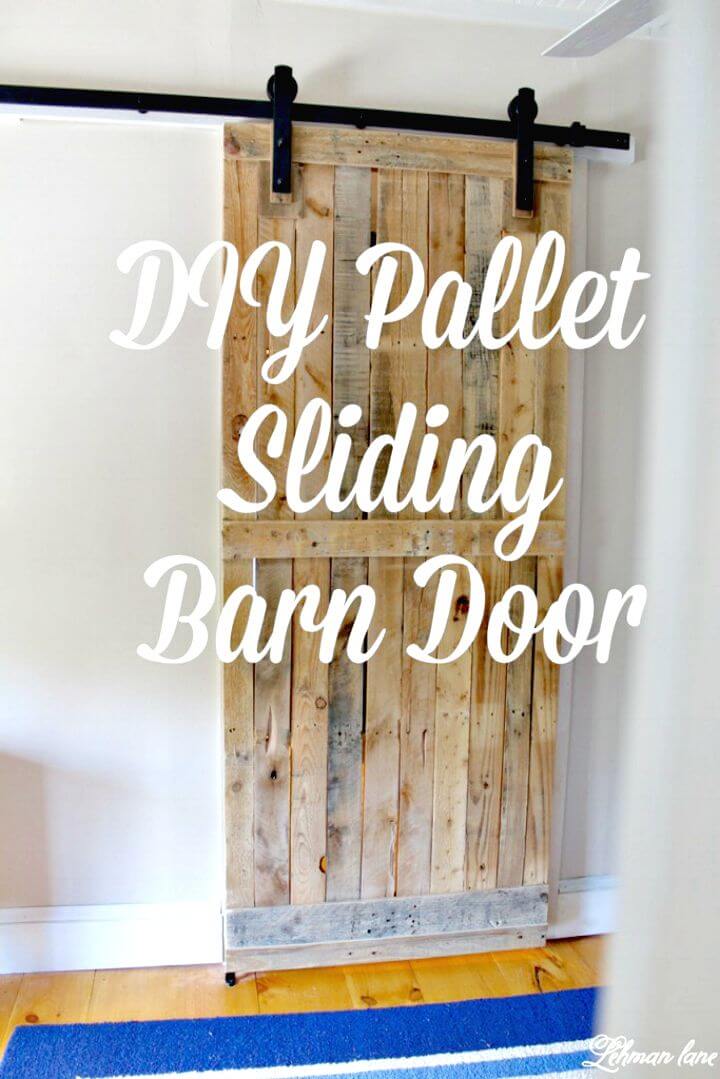 Do also amazing home renovation and improvement projects with pallets! A great example is the given wooden pallet sliding barn door that is wholly made of wooden pallet slats, put together flat for a durable wooden door which has then been installed to decided area using perfect sliding door hardware system! This is where the super smart and creative pallet recycled project that every home lover can try out! Complete visual instructions and tutorial guides are here lehmanlane
Easy DIY Pallet Compost Bin Tutorial: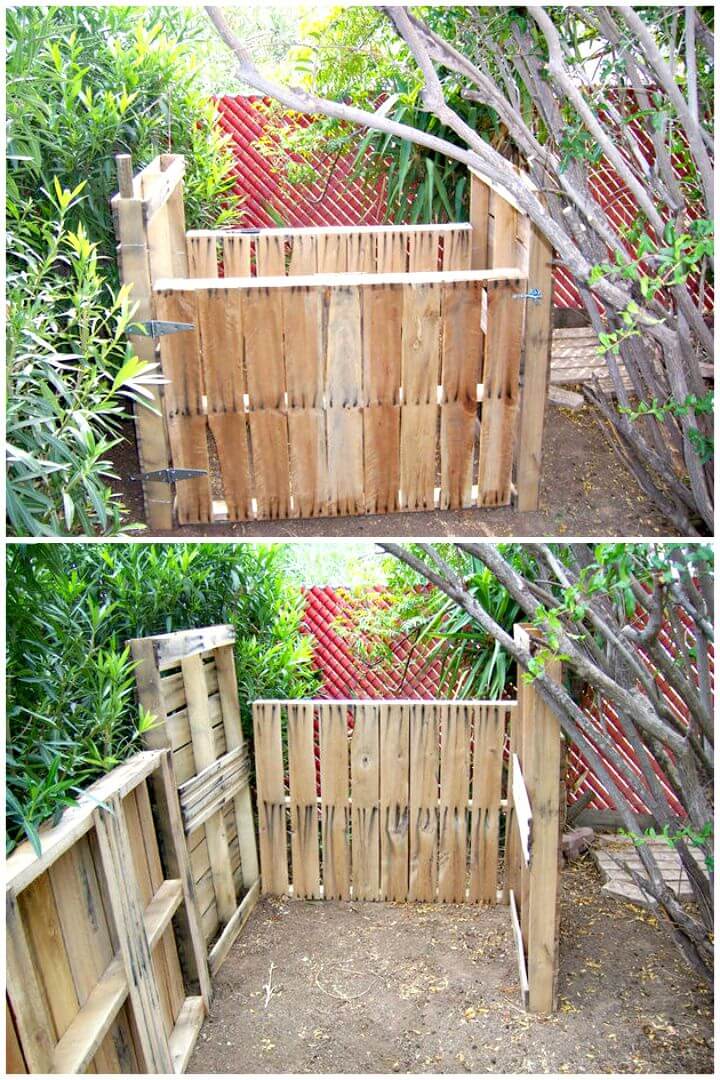 Sometime you need to store the different items that can be recycled again! These items are mostly stored in composite bins that may come with separate bins for trash and recycled items! The idea here is that you can build outstanding composite bin with pallets and that will cost you just nothing! Get inspired of the sample composite bin here that comes with hinged doors and sides and is really mind-blowing! Want to duplicate this project? Complete project tutorial here instructables
How To Make Pallet Bench Tutorial: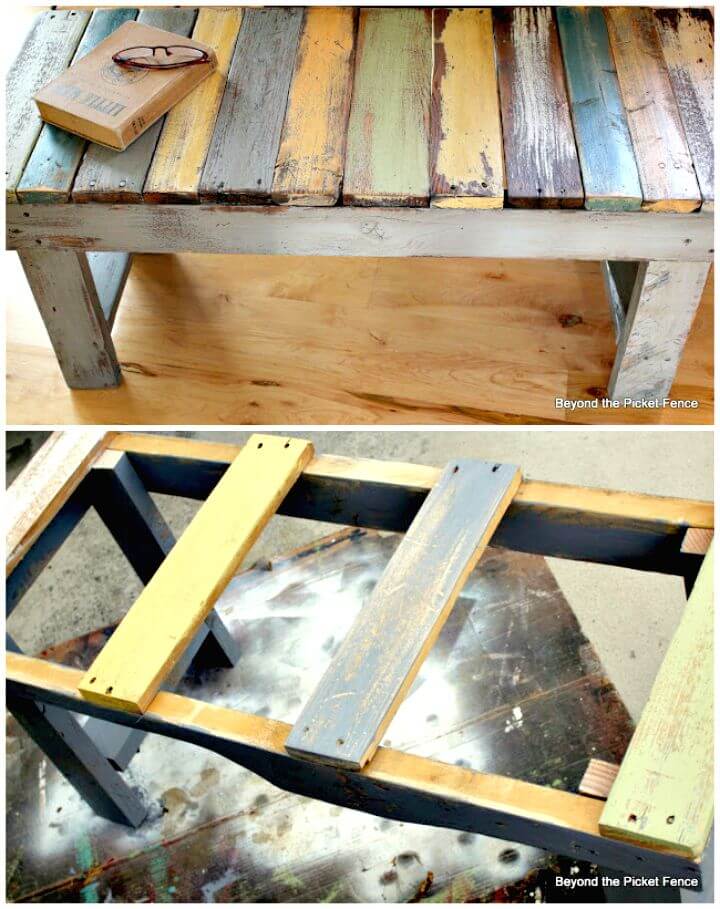 Just look at this fab design of wooden bench that is another great rescue of pallets! Here this bench is also a lovely pallet creation and is purely made of separated wooden planks! Here first the wooden pallet slats have been put together for the bench frame and then the frame has been filled up nicely with tight and flat packing of wooden pallet slats! So, recycle pallets also to build amazing garden furniture! Complete project tutorial and instructions here beyondthepicket
Easy DIY Pallet Sofa Table Step By Step Tutorial: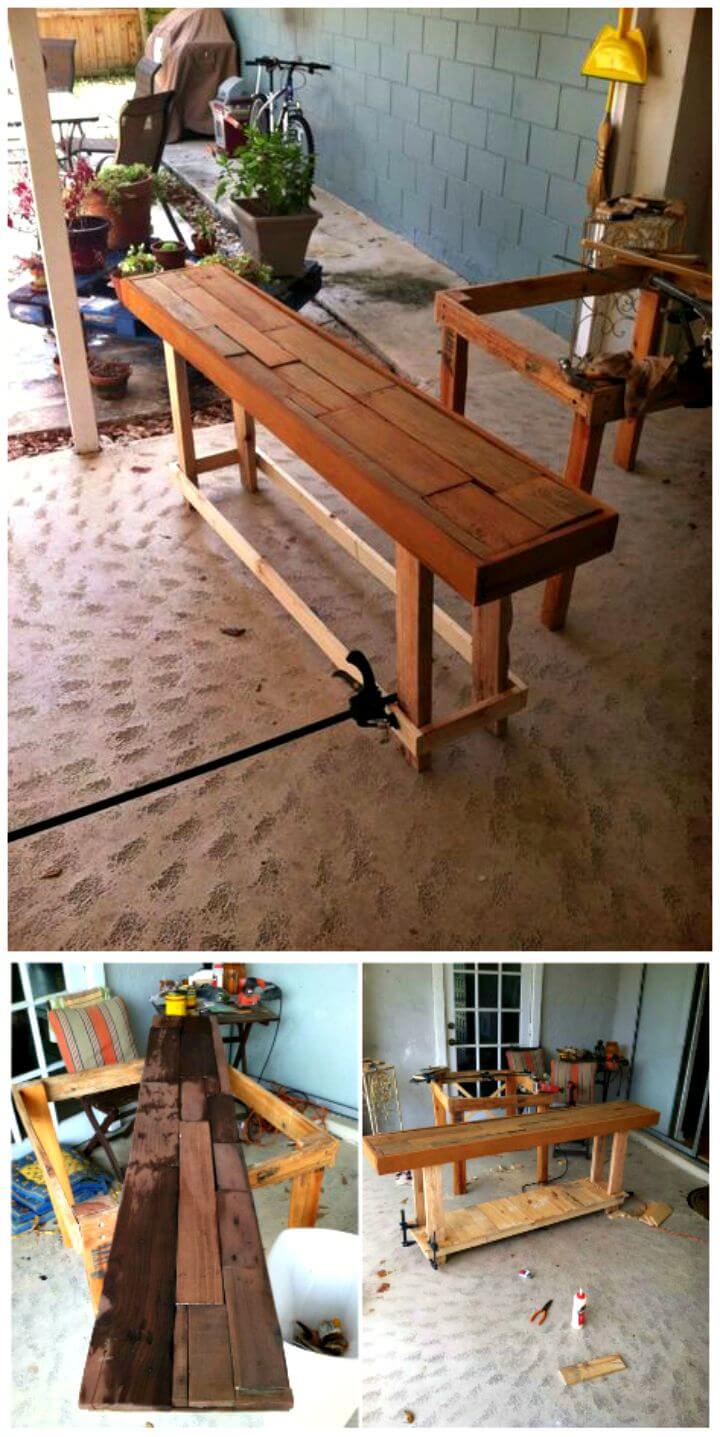 Living room furniture is the most expensive and you can also build outstanding living room furniture out of free wood pallets! You will definitely think twice at this graceful design of sofa table that is purely handmade and comes with slim long top! Pallets planks have been put together straight and tight for the solid looking table top! Here the 4 wooden planks built the legs of the table which have further been supported with durable cross supports! Complete tutorial and instructions here instructables
Easy DIY Pallet Herb Garden Tutorial: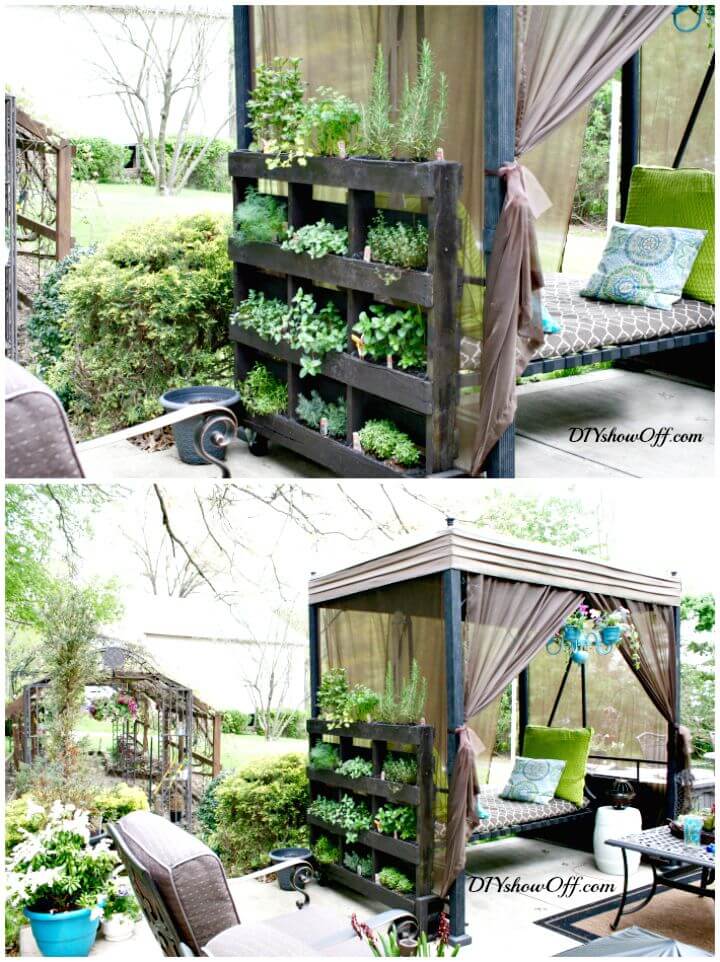 You will be amazed to see that how durable pallets are to stay in harsh outdoor climates! This just helps to do amazing outdoor projects too with pallets! You can even start potting in pallets to build fascinating garden decors and planters, a nice example here is this given herb garden that is much visually pleasing and attractive would make a great garden centerpiece! Another great pallet project! Complete tutorial and instructions here diyshowoff
Easy How to Make a Pallet Barn Tutorial: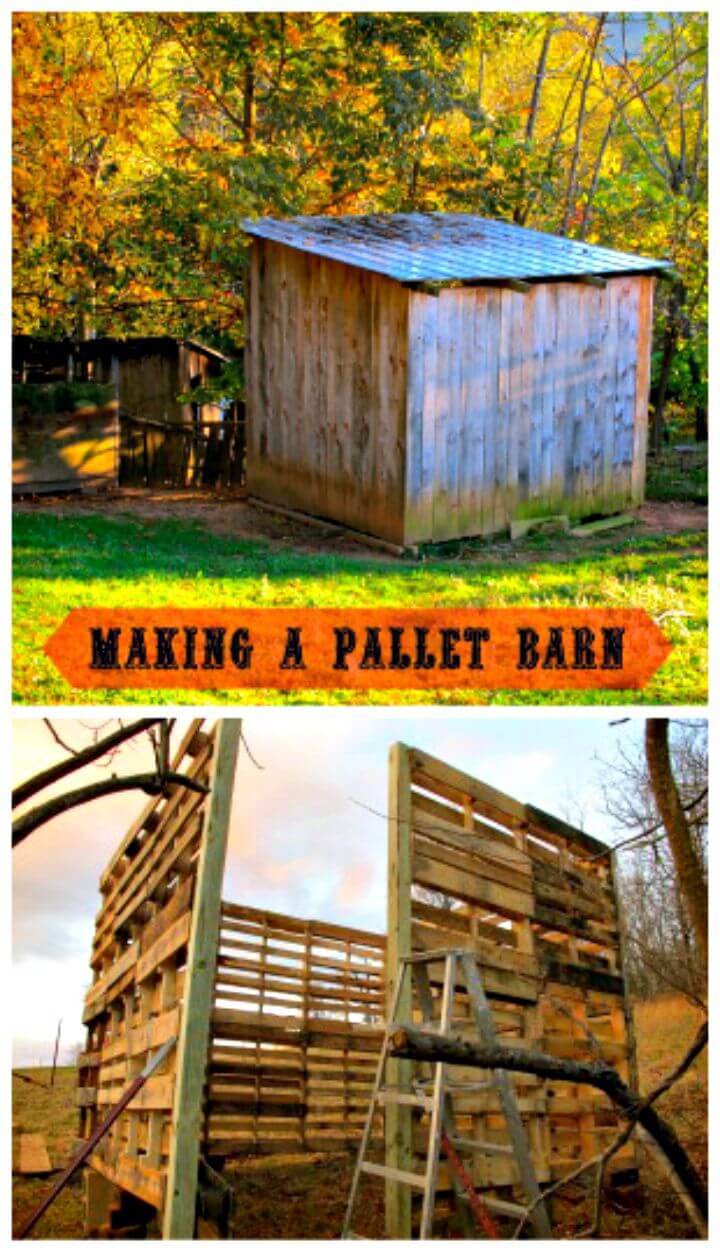 If you think a little on higher levels, you can build also do various other great projects with pallet like building custom houses, sheds, tree houses and even the barns! Just have a look at this sample wooden pallet barn, built to rock and inspire and comes with tilted metal roof that will not allow retaining of rainwater! Another brilliant pallet project idea! Complete free guides and tutorial here thefreerangelife
Easy DIY Pallet Shoe Rack Bench Tutorial: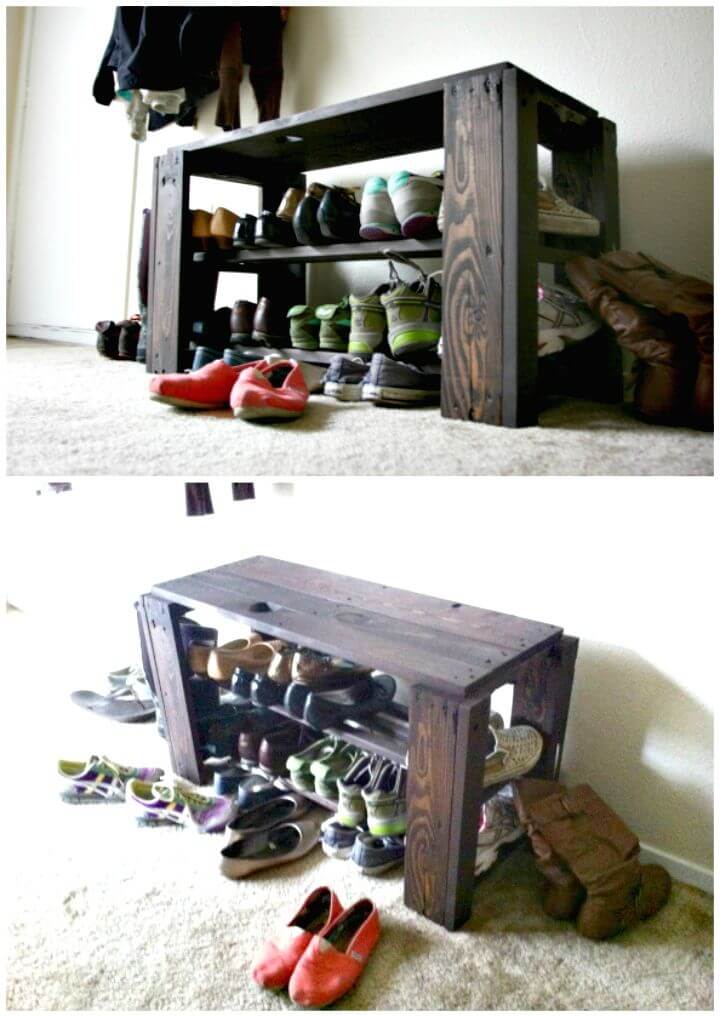 Are you tangled in shoes storage issues? Not having enough money to buy a functional shoes rack? Then build gorgeous looking shoes racks for free using free rustic pallets, get inspired of the given sample that is solid and provides two built-in shelving levels to organize the shoes clutter! A rocking pallet project you can do for a mudroom! Complete project details here ndwdesign
Easy DIY Pallet Wood Shoe Storage Tutorial: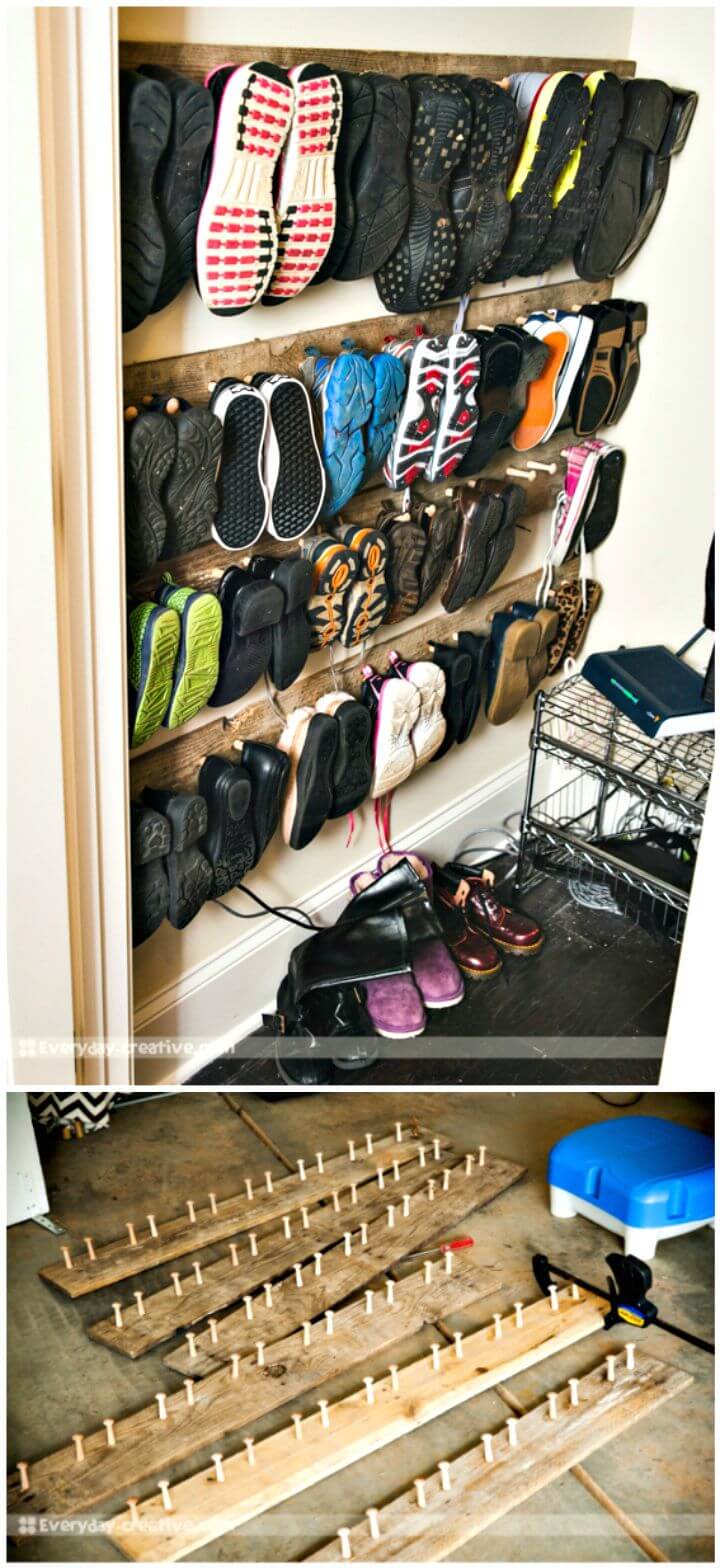 If you willing to get rid of messy collection of shoes then here s another great pallet solution for it! Just take the pallets into pieces and screw in the pegs in each slats making straight rows! Now you can just mount the finally finished pallet slats with pegs on any custom wall area to organize your shoes in a fantastic way as you can see in sample inspiration! Another great and fab pallet project! Complete tutorial and visual instructions here everyday
How To Make A Workbench Out Of Pallets Tutorial: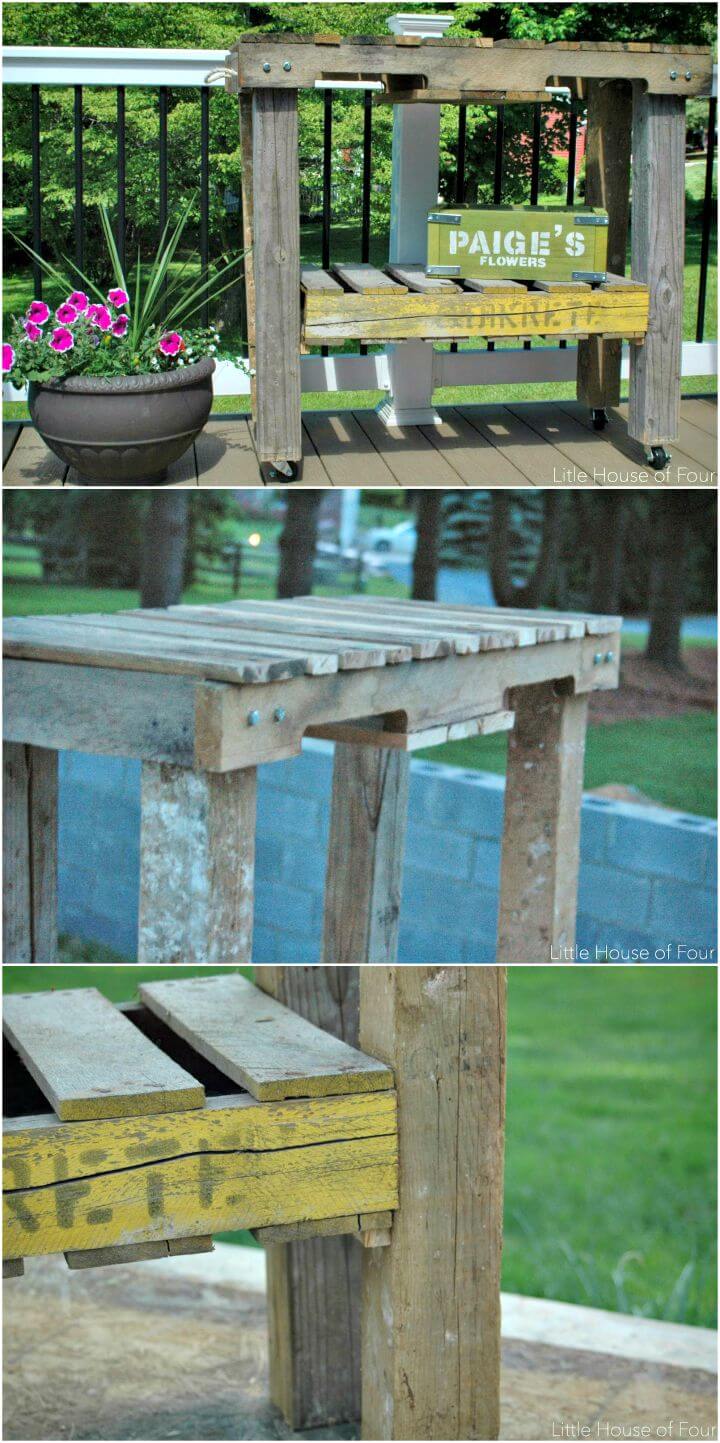 Reclaim pallets also to custom wooden stuff you are in dire need of! A very amazing example here is this wooden pallet workbench that comes with a built-in shelf and is also having wheels installed to very bottom sides of legs for modern rolling movements! Here an uncut pallet skid builds the whole top of this wooden workbench! Another smart and genius pallet project that everyone can try out! Here is how to build this flawless wooden workbench littlehouseoffour
Build Your Own Two Pallet Potting Bench Tutorial: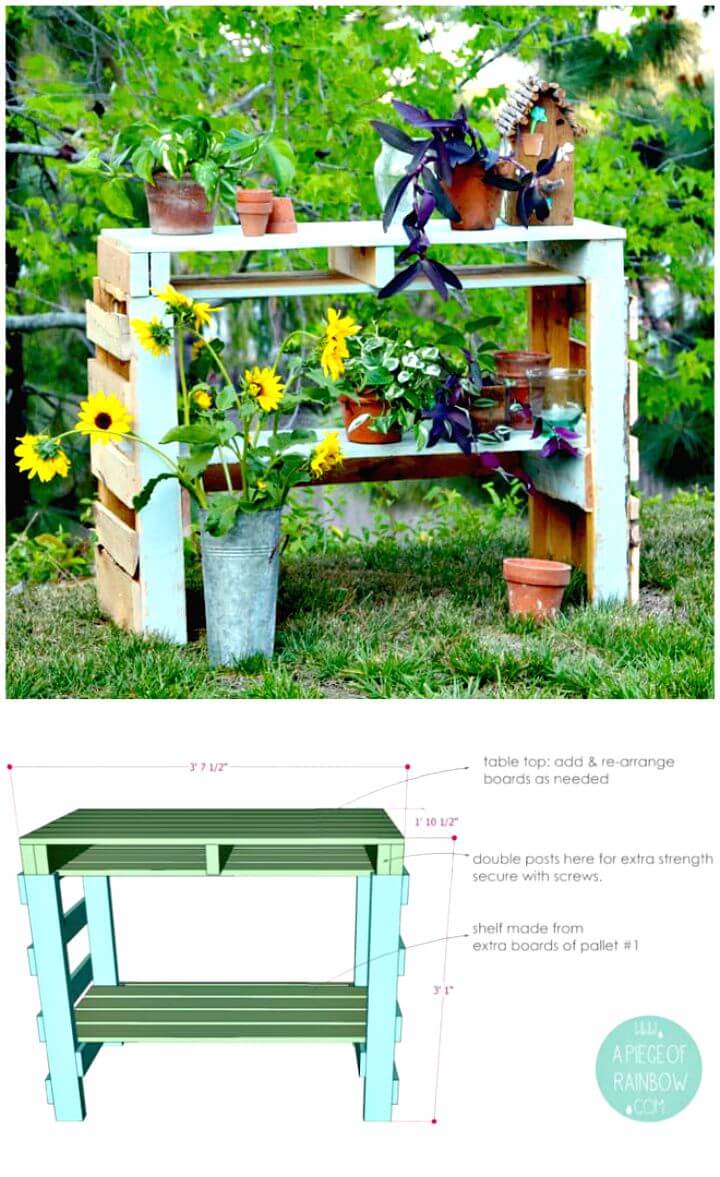 You often need a potting bench in your garden to do some instant garden repairs, so you can choose building a potting bench as your next pallet project! First checkout a dashing sample that is just mind-blowing and has been gained by taking the pallets into a big U-shape! Here custom cut and resized parts of a pallet skid build all the top and sides of the potting bench and there are underneath shelves too to hold your spare pots! Another brilliant project you can do with pallets! Complete free instructions and visual tutorial here apieceofrainbow
How To Make Pallet Laundry Basket Dresser Tutorial: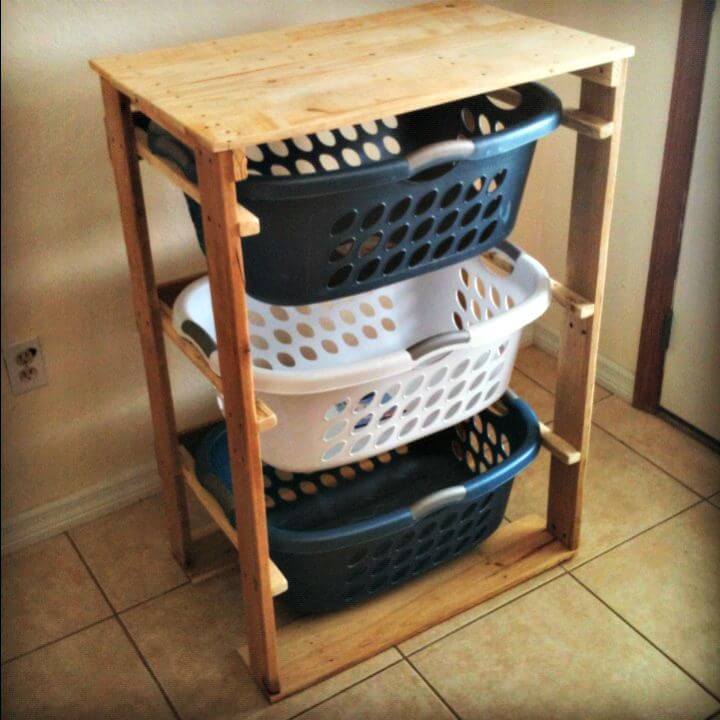 It often demands for some cool storage options in the laundry room otherwise the messy collection of cloths can put you in a big problem! The laundry basket dressers are a great solution and you can get them almost at no-cost just by going with pallets! Build durable wooden basket dressers at home using old pallet wood and some plastic baskets! Duplicate the given sample that is super easy to duplicate and comes with 3 baskets! Complete tutorial and instructions here ana
How To DIY Pallet Bookshelf Tutorial: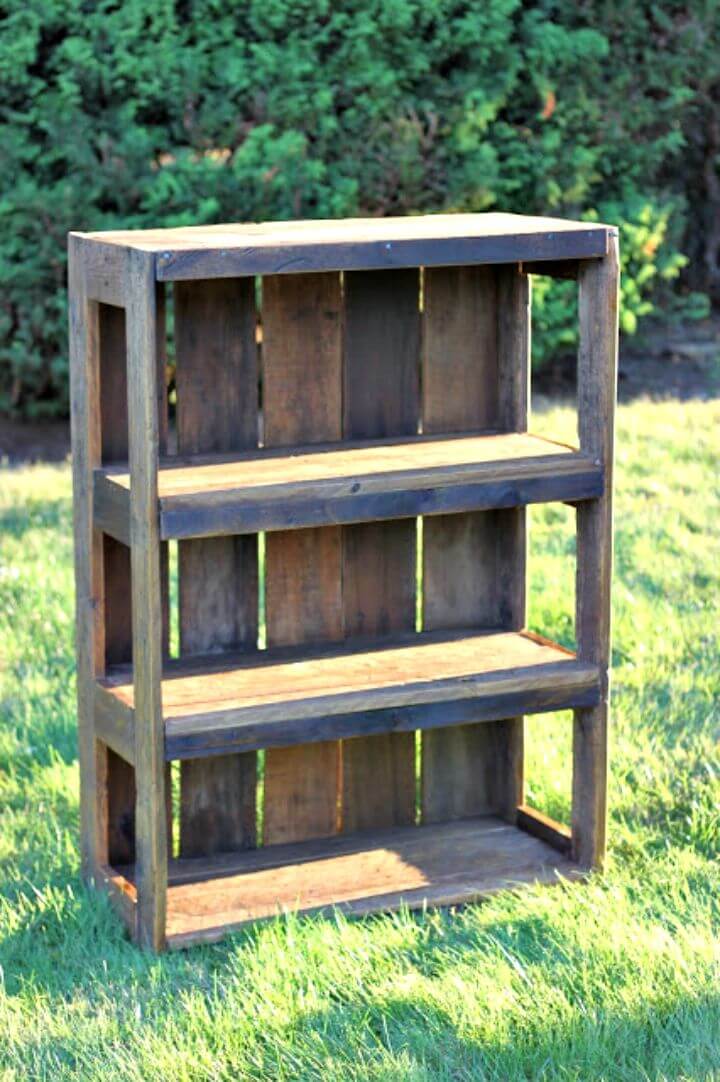 Get also crafty with rustic pallets to build custom shelving and storage unit that will help digesting the interior clutter leaving behind the sophisticated interior environments! You can take a start by building this adorable wooden pallet bookshelf that comes in precise dimensions and provides 3 built-in shelving levels! This wooden pallet bookshelf is just amazing to store and organize the books along with living room centerpieces! Another smart pallet recycling project! Complete visual tutorial and guides are here madewithlovetcbf
Easy DIY Pallet Art Tutorial: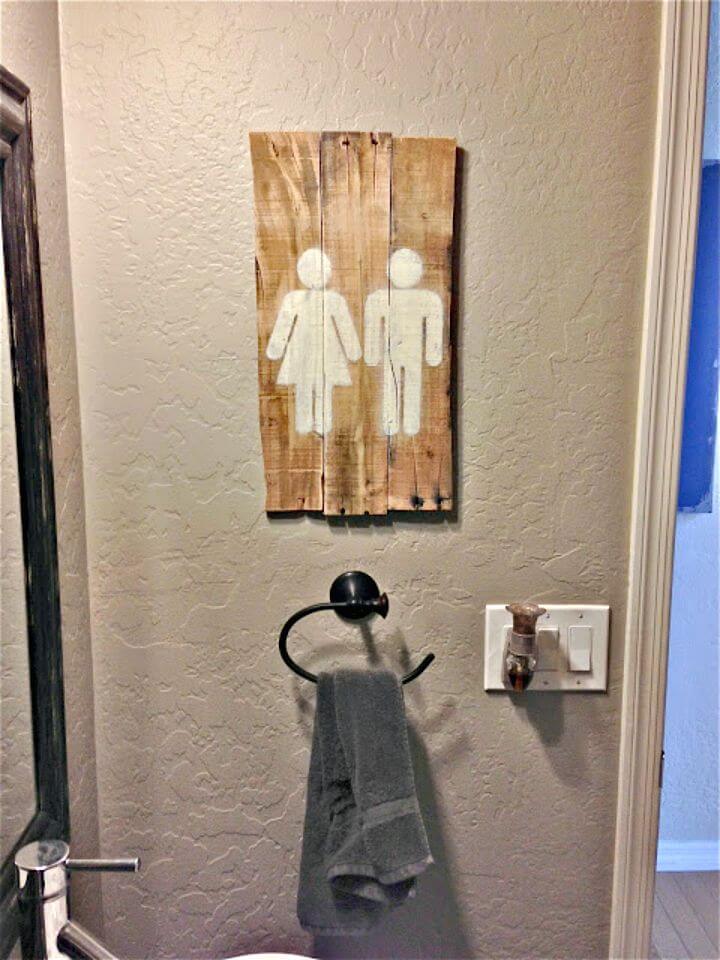 You can even recycle beautifully the odds and ends of pallets to boost your interior wall decors! A precious sample is here, the lovely wooden pallet wall art that comes with a white painted couple monogram and is just perfect for a bathroom wall! You can experiment this project with custom quotes and shapes you like! Complete visual guide and tutorial here loveurspace
Easy DIY Jam Jar Pallet Planter Tutorial: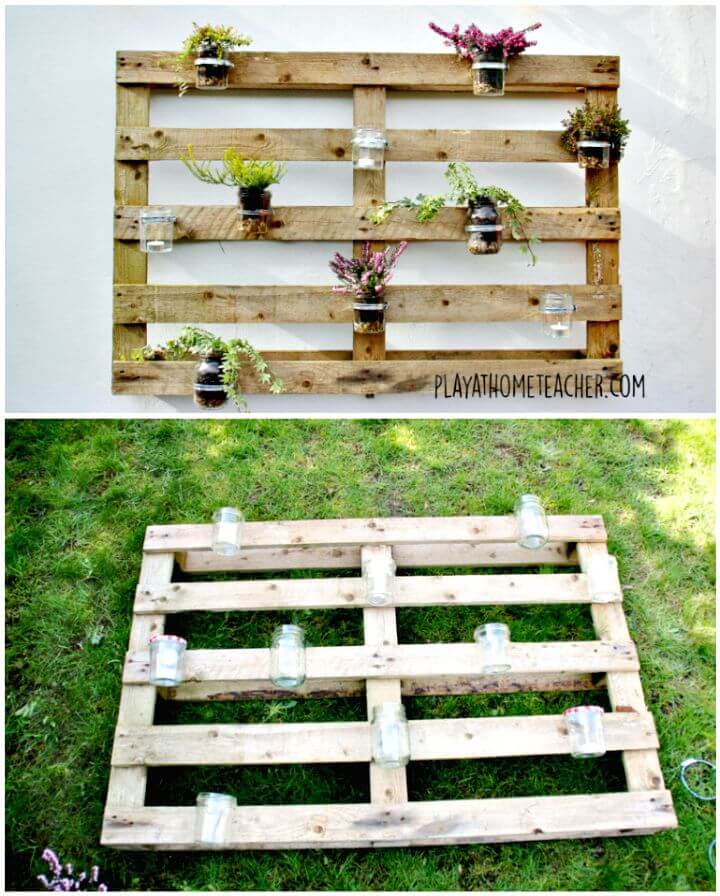 Sorting out some great but low-cost ways to bring a natural decor vibe to your interior spaces? A very interesting and almost no-cost solution would be the pallet planters! Checkout here a brilliant sample, a wooden pallet skid has been added with jam jar vases that have been fixed in place using hose clamps! Next the jars have been filled with potting soil and then green plants have been added to them for a great looking wall planter! A super smart and lovely pallet project to tryout! Complete tutorial and guides are here playathometeacher
How To DIY Pallet Planter Box Tutorial: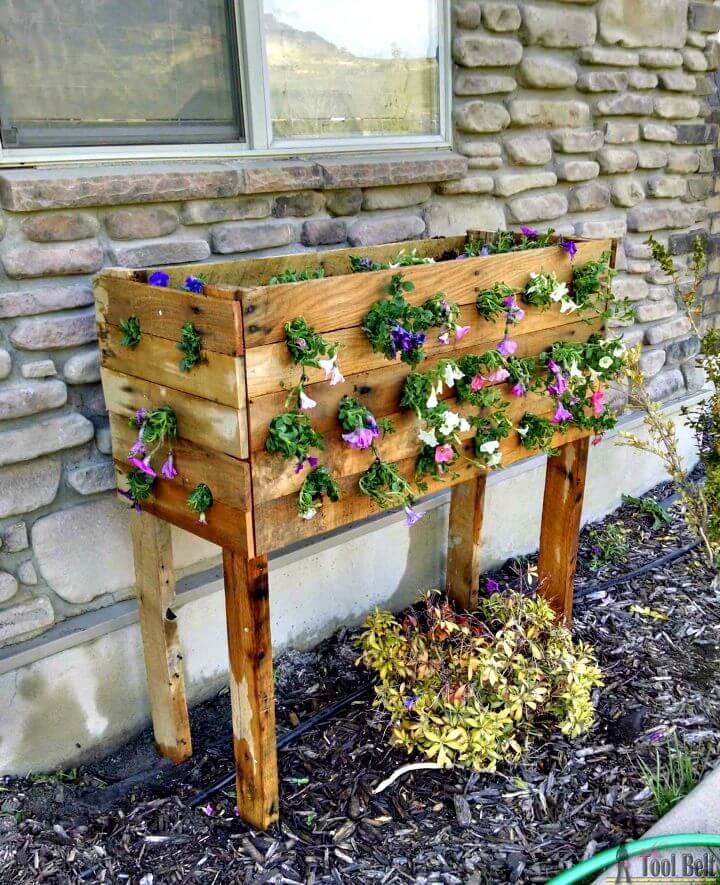 Shape up a big wooden box and add it up with custom wooden legs to build a great looking planter box! Next you can drill holes in the sides and bottom for drainage and air circulation and also to let the popped up plants come out for a gorgeous look of planter! Another great pallet recycling project! Want to see this handsome planter box next in your garden space? Then just grab the full free guide and visual instructions from here hertoolbelt
Build Your Own Rainbow Pallet Flower Garden Planter Tutorial: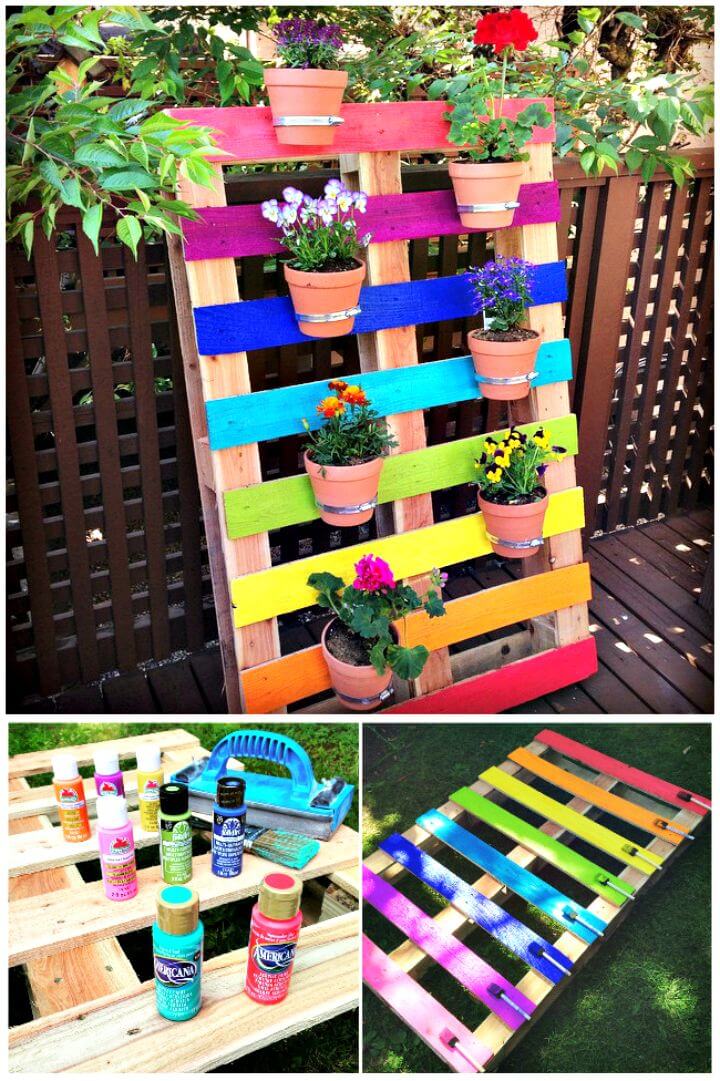 Get inspired of this another garden centerpiece that will help creating an amusing focal point in a garden! Here the deck boards of a big wooden pallet skid has been painted in rainbow color palette and then the custom pots have been added to them that hangs there with the help of hose clamps making a stunning vertical flower garden! You can use the herb pots for a big vertical herb garden! Complete project tutorial and instructions here hellocreativefamily
DIY Pallet Wood Hose Holder With Planter Tutorial: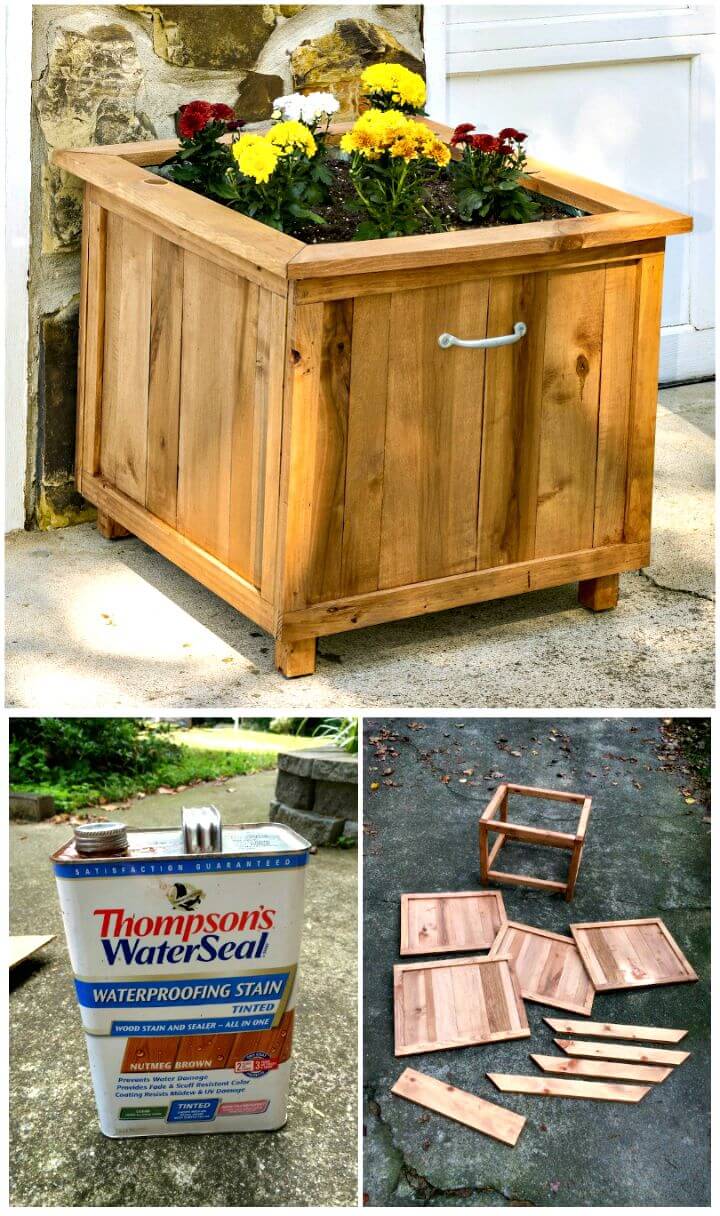 You will just fall in love with this another great planter box that is having a perfect cube like shape! Here first a hollow cube frame has been made using custom pallet lengths! Next each side has been covered solid with prefabricated pallet wood panels or boards as you can see! Finally the accent wooden trim has been applied to very top of the planter for a more graceful look! Another great pallet project you can try for your garden! Complete visual tutorial here diycandy
How To Build Your Own Pallet Shelf Tutorial: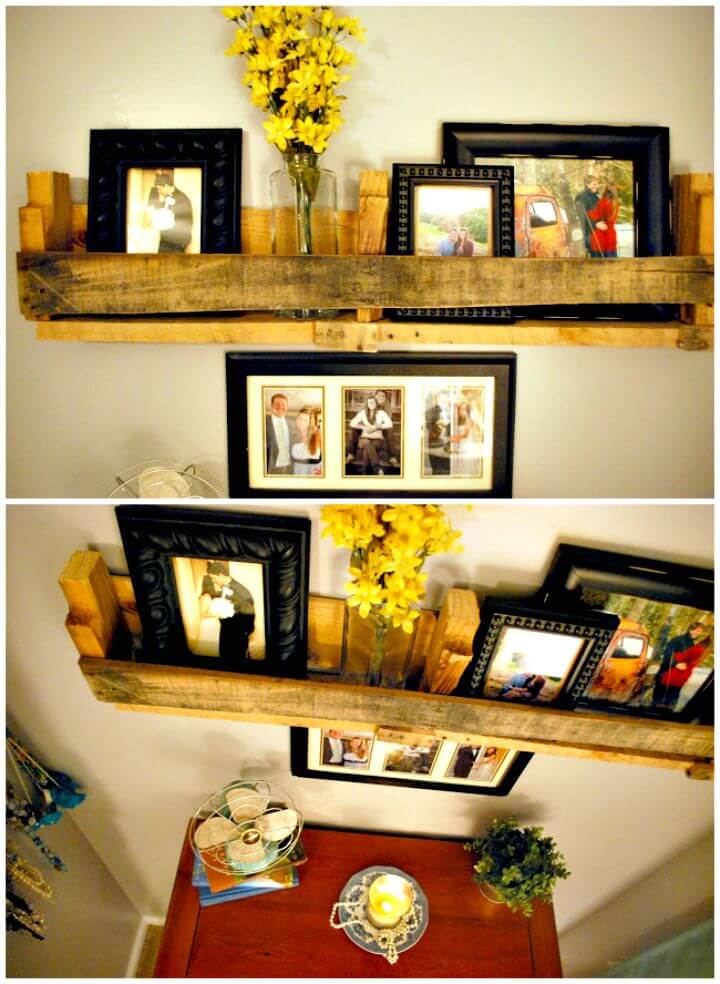 You can build pretty much everything with pallets from furniture to home decor! Here we with a brilliant wooden pallet shelf that has been mounted on the wall to hold the magazines and picture frames! A very bottom part of the pallet has been got separated through a sharp straight cut and serves as a ready-made wall shelf! One more epic DIY pallet project! Complete project details here sethandkait
DIY Pallet Photo Frames With Mod Podge Photo Transfer Tutorial: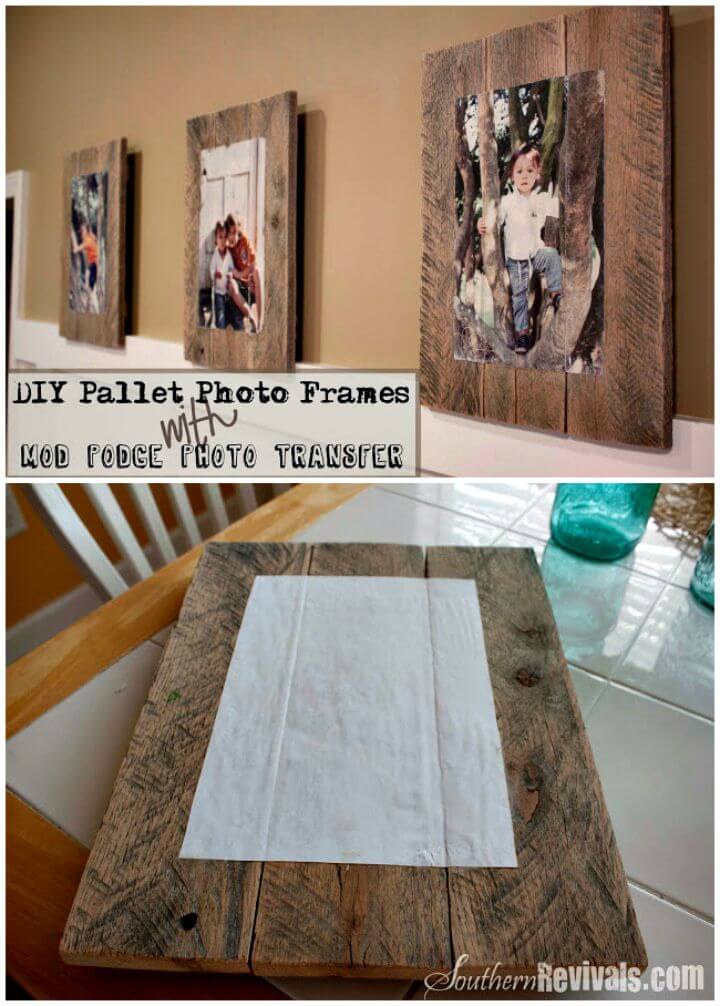 Are you a big fan of rustic decors? If yes, then you can smartly get creative with old looking pallets to build some custom rustic crafts and items of need! Here brilliant photo frames have been made by joining 3 of custom cut but equal sizes of separated pallet slats! Finally the memorable family photos have been pasted to them using mod-podge photo transfer technique! Another pallet project to bring a rustic vibe to your interior walls! Intending to tryout this fantastic pallet project? Full project tutorial and visual instructions here southernrevivals
DIY Pallet Outdoor Lounge Low Budget Project: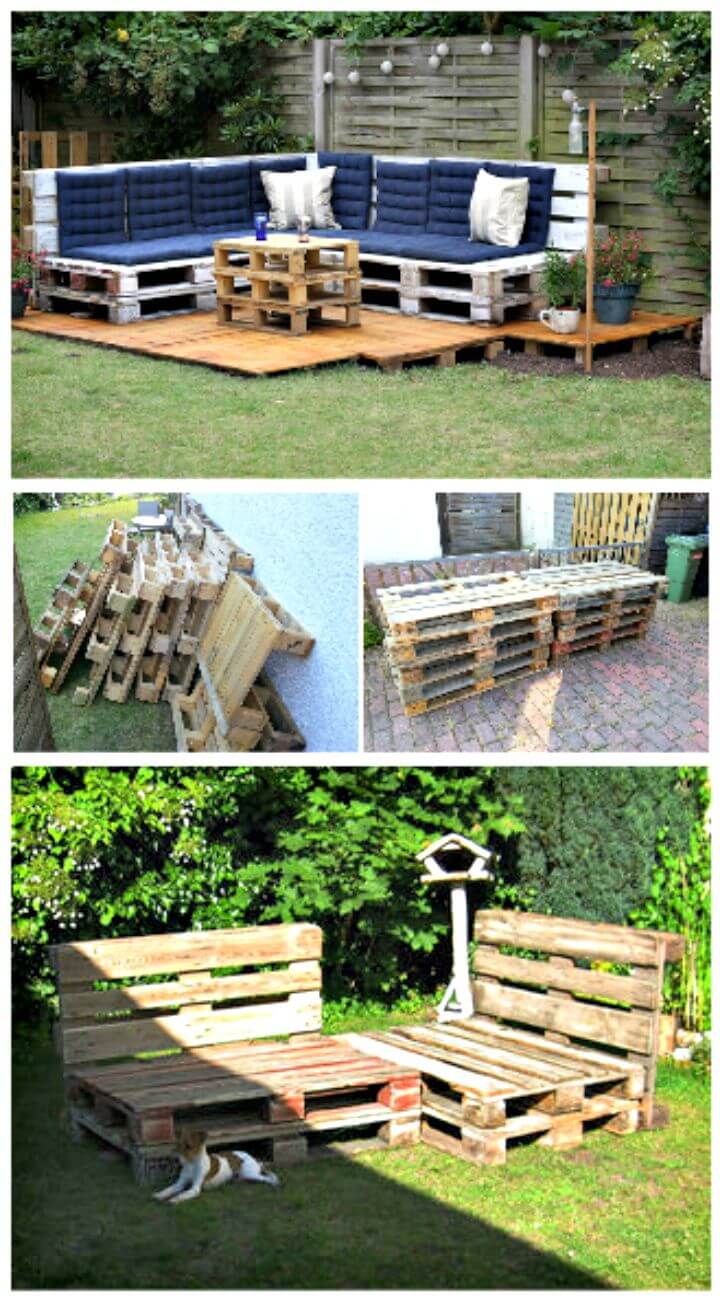 Build outstanding patio and garden furniture with rustic wooden pallets skids that will be unbeatable in durability and beauty too! Just have a look at this outdoor pallet lounge set that has beautifully been cushioned and is made of only by stacking pallet skids, for backrests, a set of pallet skids have been aligned vertically! Here a set of 3 stacked pallets also builds a gorgeous coffee table that has been placed in front of the L-shape sofa or lounge! Complete project guide and tutorial here instructables
How To Make Your Own Pallet Table Tutorial: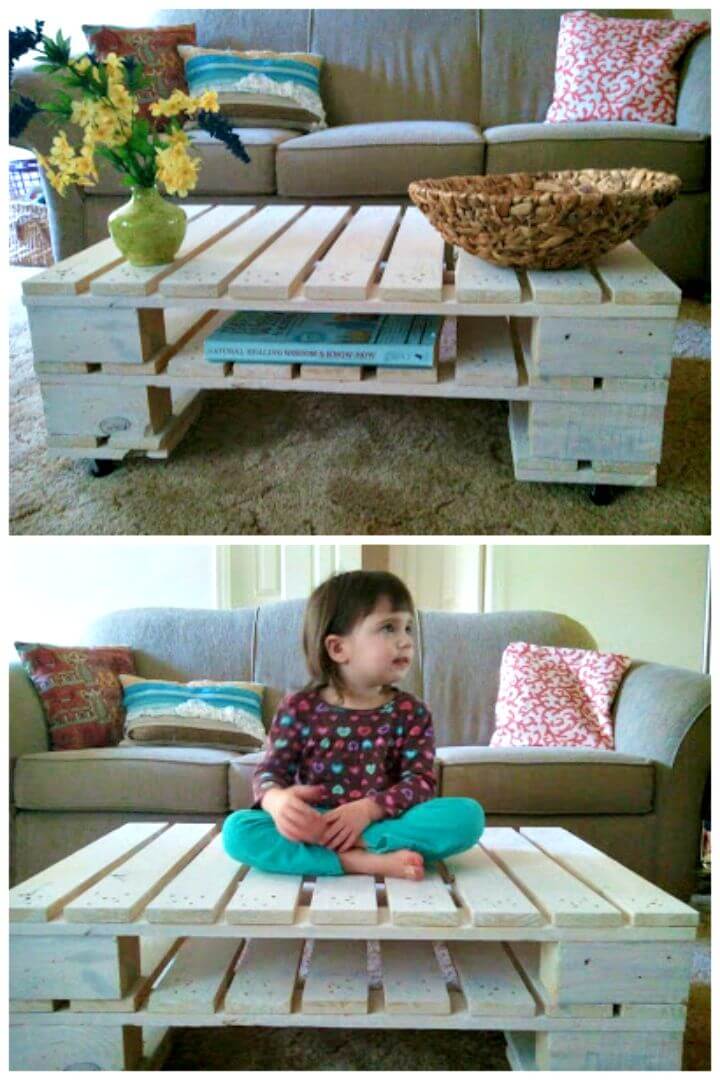 Stack also two clone sizes of EPAL or any heat treated pallets and get a fantasic and storage-friendly design of coffee table that can be finished with custom legs to gain some height! Just in case, if you want a low-height table then you can finish the same stack of pallets with caster wheels! Just checkout the given sample design that appears in natural blanket tone of wood! Complete tutorial and visual instructions here sewhomegrown
Easy DIY Pallet Headboard Tutorial: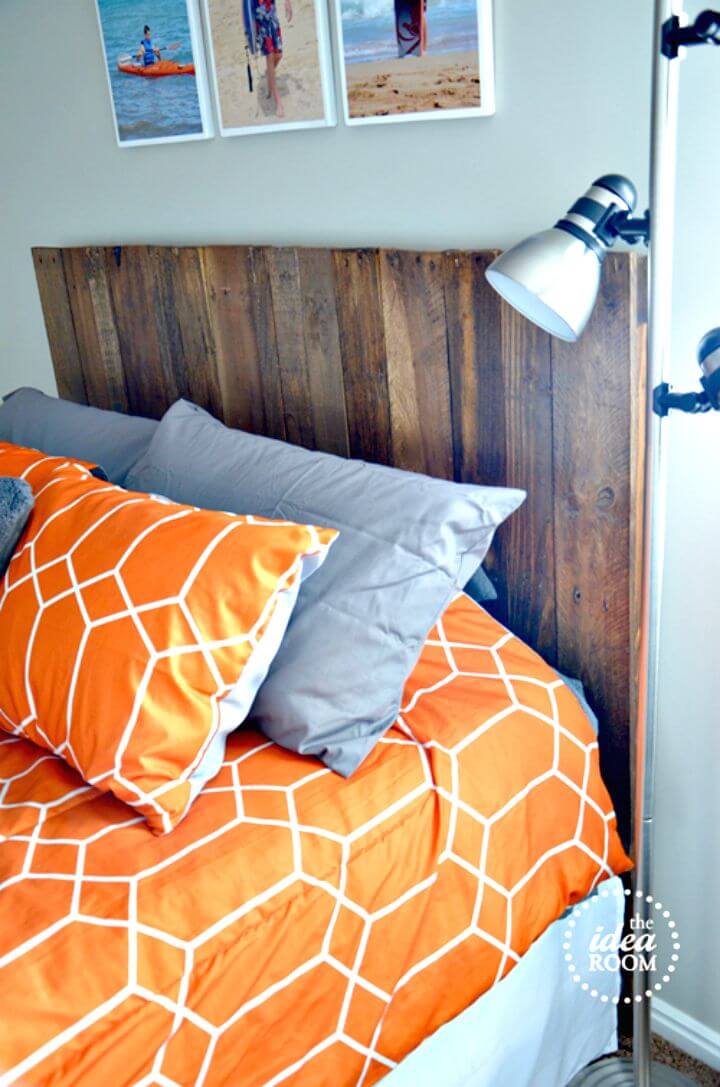 Accentuate your bed by giving it a dashing decorate head, the headboard! The very good news is that you can build outstanding wooden headboards too with pallets, just put together some wooden pallets form some rectangular boards with some custom short legs and enjoy! Get inspired of the given sample here! Intending to duplicate this headboard? Complete project tutorial and instructions here theidearoom
How To Make Wood Pallet Arrow Sign Tutorial: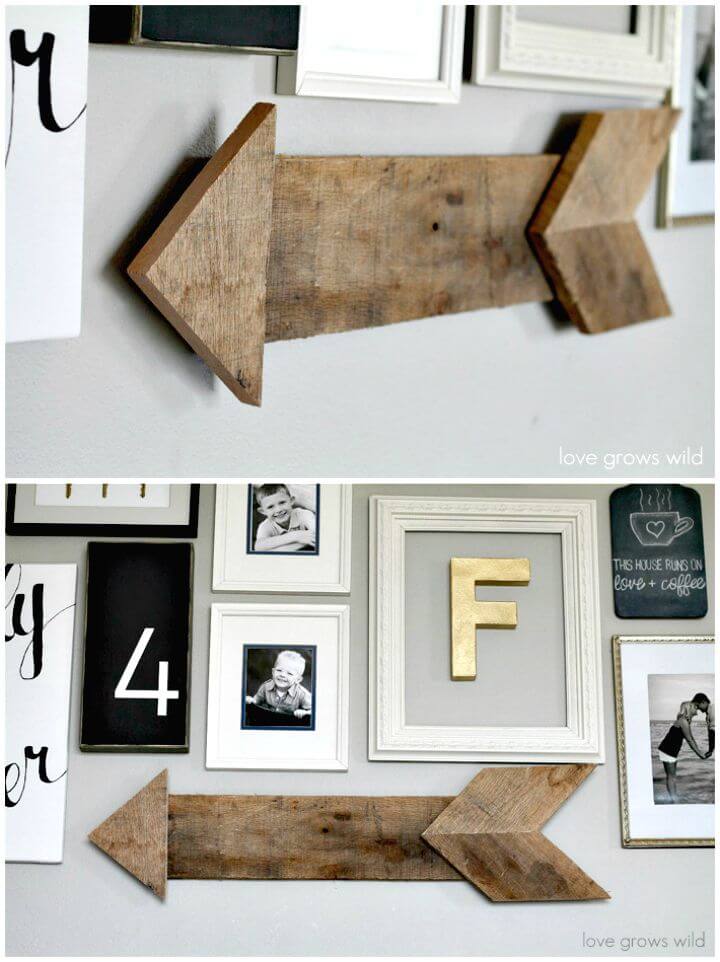 Bring tons of visual attractive to your interior walls by crafting beautiful signs and decors also! AN interesting sample here is this wooden pallet arrow sign that can also be mounted on any outdoor wall to show the directions! Here is how to make it at home lovegrowswild
How To DIY Fold Up Pallet Desk Tutorial: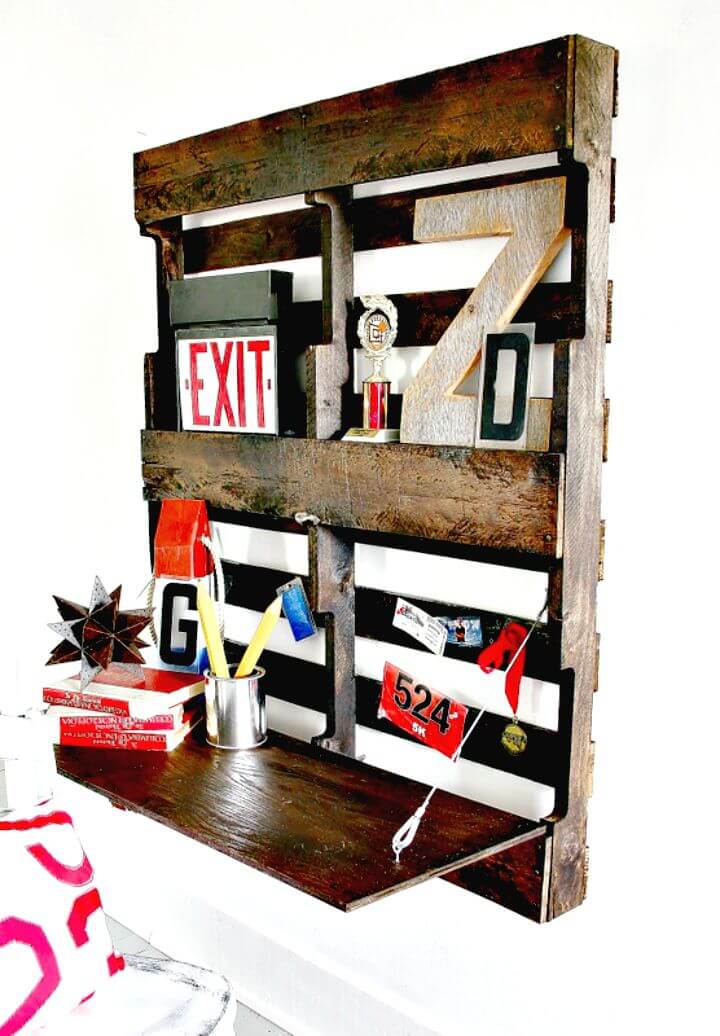 Intending to having a desk for easy doing of office tasks? You can also build outstanding desk with pallets for comfortable laptop operating and also for study purposes! Just peek into creative details of this wall mounted pallet desk that comes with a folding desk surface supported with rope! Here the already built pockets and shelves in pallet board have beautifully been used to organize the respective concerns! Complete project guide and tutorial here thistlewoodfarms
Easy DIY Outdoor Pallet Sofa And An Unexpected Guest Tutorial: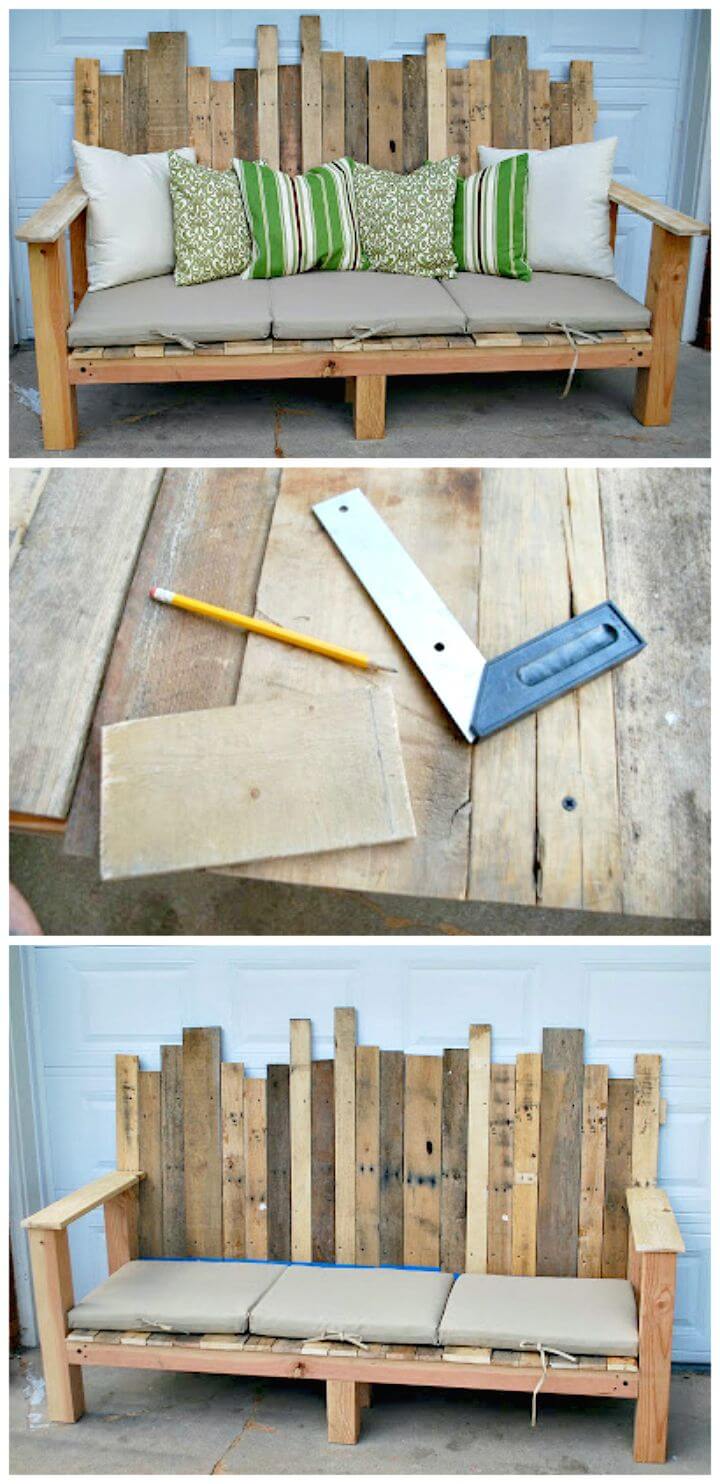 Outdoor furniture is what that always costs you an arm and leg but you can build outstandingly gorgeous and durable outdoor furniture with pallets for free! Just have a look at this pallet sofa that is perfect for every outdoor, patio or garden sitting area and has been cushioned beautifully! Here along with separated apart wooden pallet planks, the heavy duty wooden beams have also been used to craft this long living model of sofa! Complete tutorial here theironstonenest
How To Build Your Own Pallet Garden Wall Tutorial: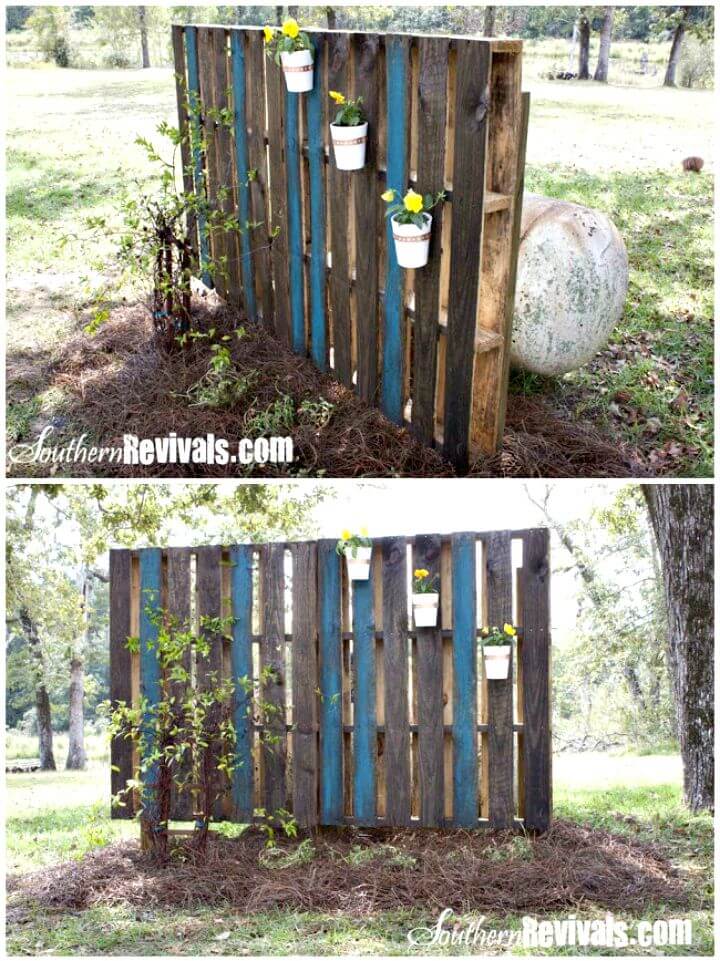 What makes the pallets an interesting recycling materials is also their geometrical shapes and here is a great projection you can do by availing the shapes of pallets! Just put together various pallets vertically fixing in garden ground and make adorable garden walls where you can also hang your eye-catching garden pots for extra visual stimulation! By going in the same way you can also install durable fence walls around your garden or garden beds! Get inspired of this sample project here! Complete tutorial an instructions here southernrevivals
DIY "EAT" Sign From Pallets Tutorial: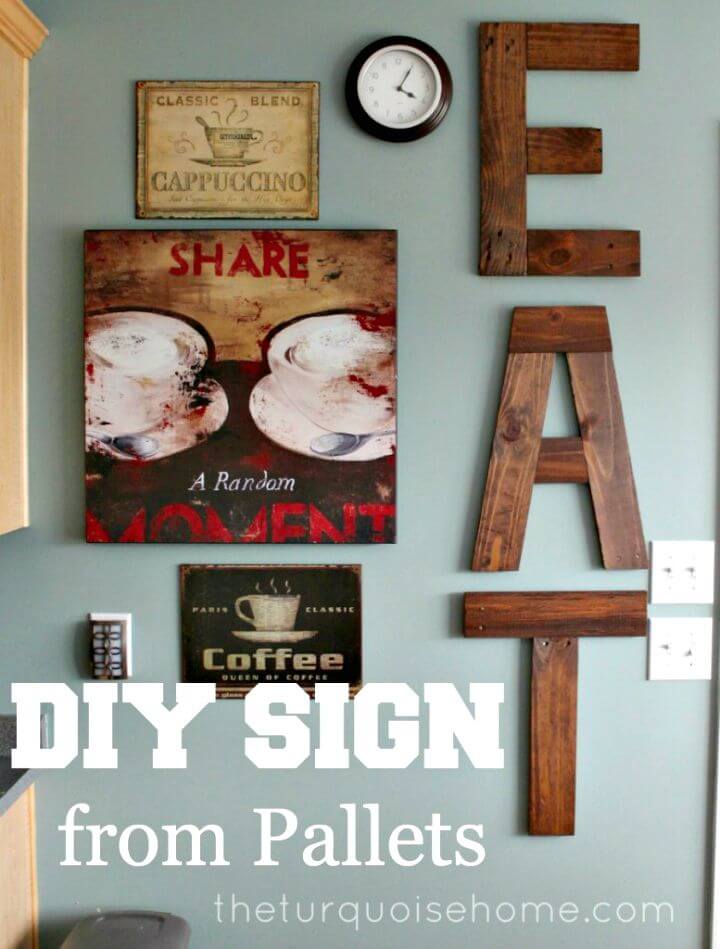 While being on mission to get fantastic interiors, the interior wall grace is what that often intended to boost! Pallets can also lend you a helping hand in this case, craft outstanding interior wall decors with pallets! A fab example here is this "EAT" sign that will rock on any interior wall and is looking much focally stimulating! All you need some single pallet wood lengths to do this project! Complete instructions and step-by-step tutorial here theturquoisehome
Easy DIY Pallet Reading Bed Tutorial: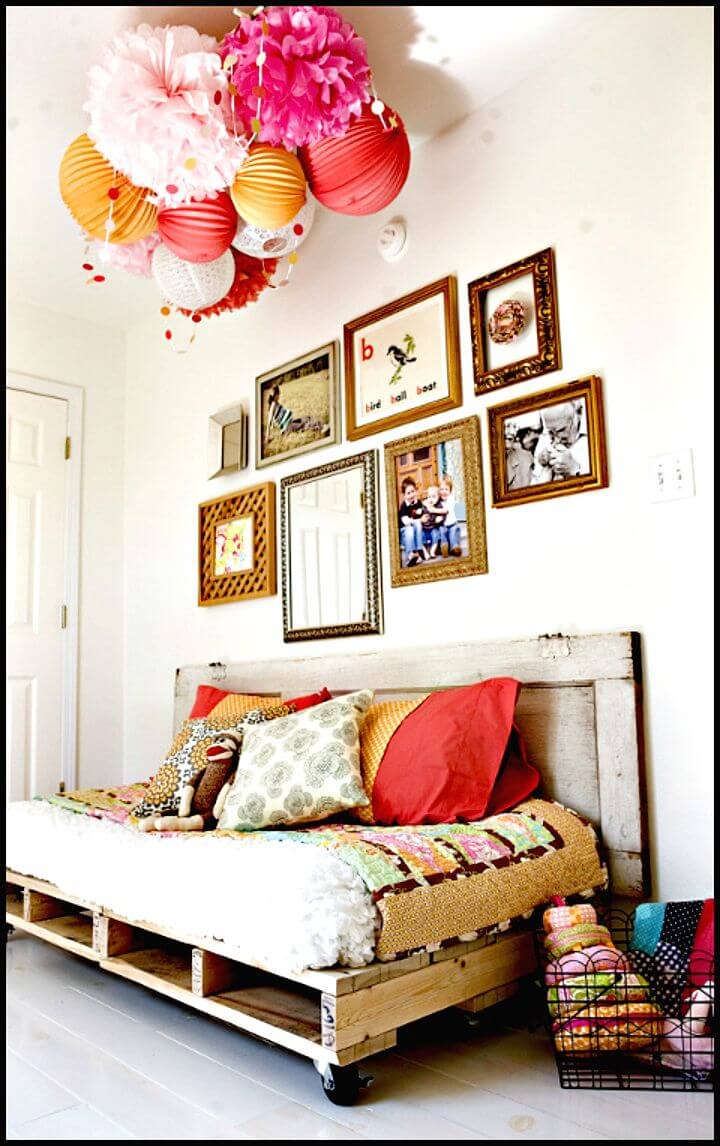 The book lovers often demand for a daybed or a for a cozy and comfortable sitting spot where they can enjoy reading their favorite books! Pallets are also a great solution to this problem! Build outstanding daybeds or reading beds with pallets and save tons of your costs! Checkout this sample pallet reading bed that comes with backrest made of a reclaimed old door! Two pallets have been put together for this adorable reading bed which has been cushioned and then raised on wheels! Complete project details here
Easy DIY Pallet Art Display Tutorial: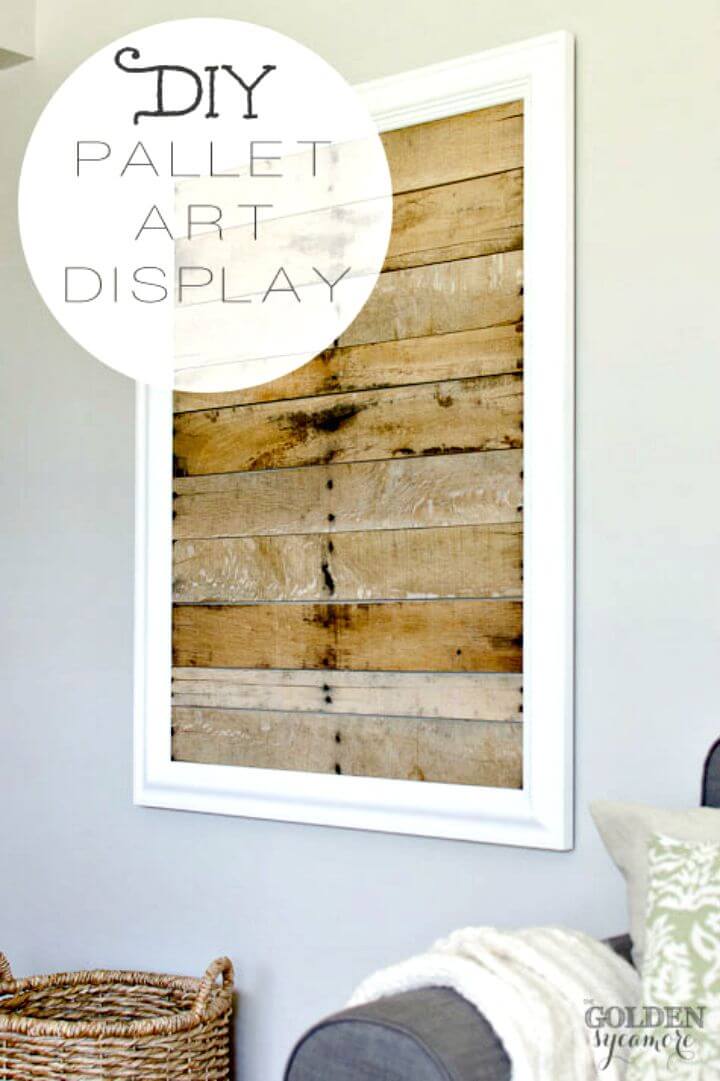 You always need some interesting frames to display your art, paintings and even the photos on an interior wall you are intending to spruce up! The very good news is that you can also build beautiful and outstanding looking art display frame with pallets! Just put together separated pallet boards and then just frame them up, the rustic pallet boards will serve as dashing background to your art! Have a look at the given sample pallet art display! Complete instructions here thegoldensycamore
DIY Farmhouse Style Pallet Wood Memo Board Tutorial: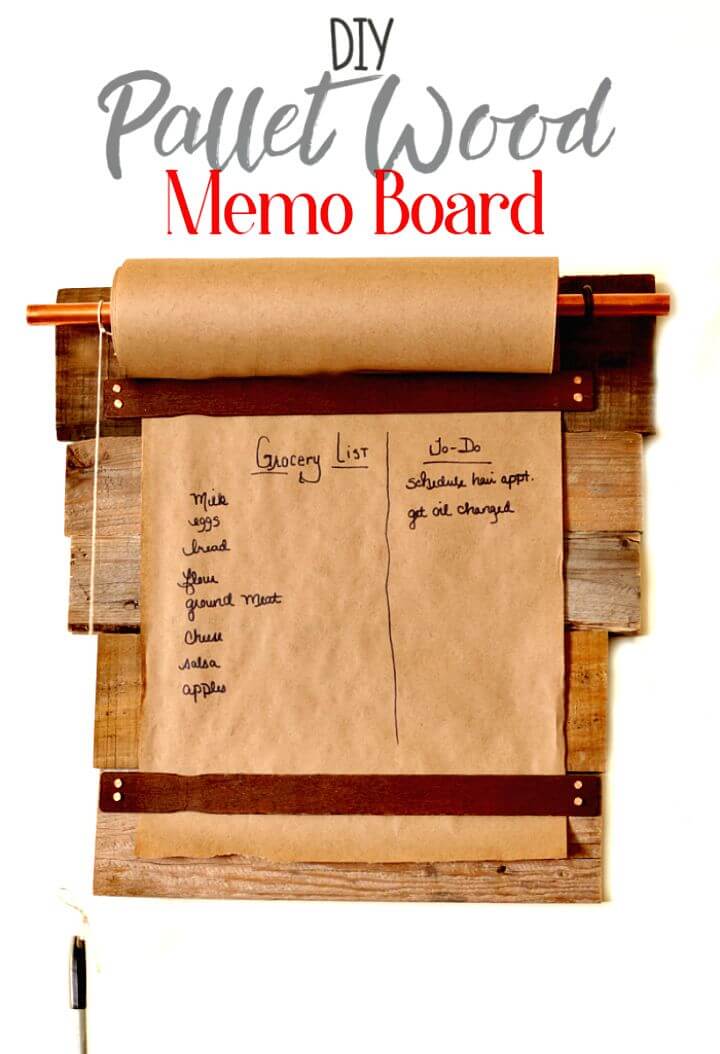 Sometime you are to lots of tasks in a day, in a weekend or in a month which often makes us confused and we just forget about some important ones! So, you can make the precious memo boards also with pallets that will would as a reminder and can be hanged on any interior wall you look at multiple times in day! Checkout her the sample pallet wood memo board that made of a copper pipe and rustic pallet wood slats! Complete project details here cupcakesandcrinoline
How To DIY Pallet Pumpkins Tutorial: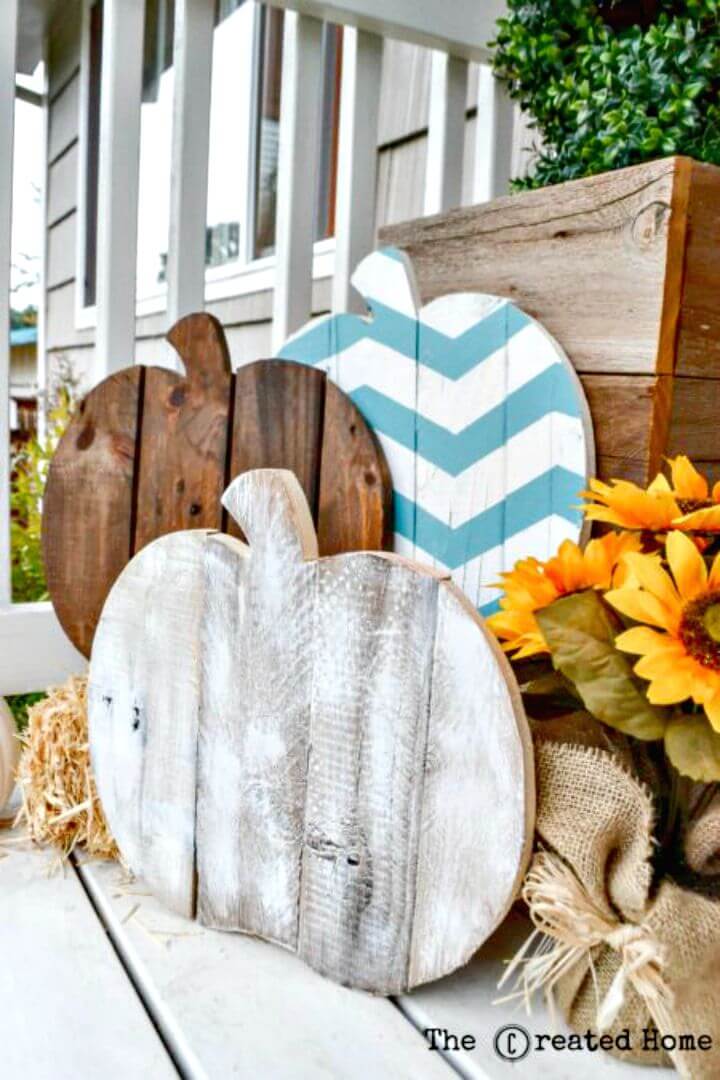 Craft also great looking fall or Halloween decors with pallets! Make brilliant looking pumpkins by combining custom cut odds and ends of pallets and use them as both fall and Halloween decors! Checkout the sample wooden pumpkins given below that can be painted n pumpkin colors or any other color matching your decors! Complete tutorial and project details here thecreatedhome
Easy DIY Pallet Holiday Sign Step By Step Tutorial: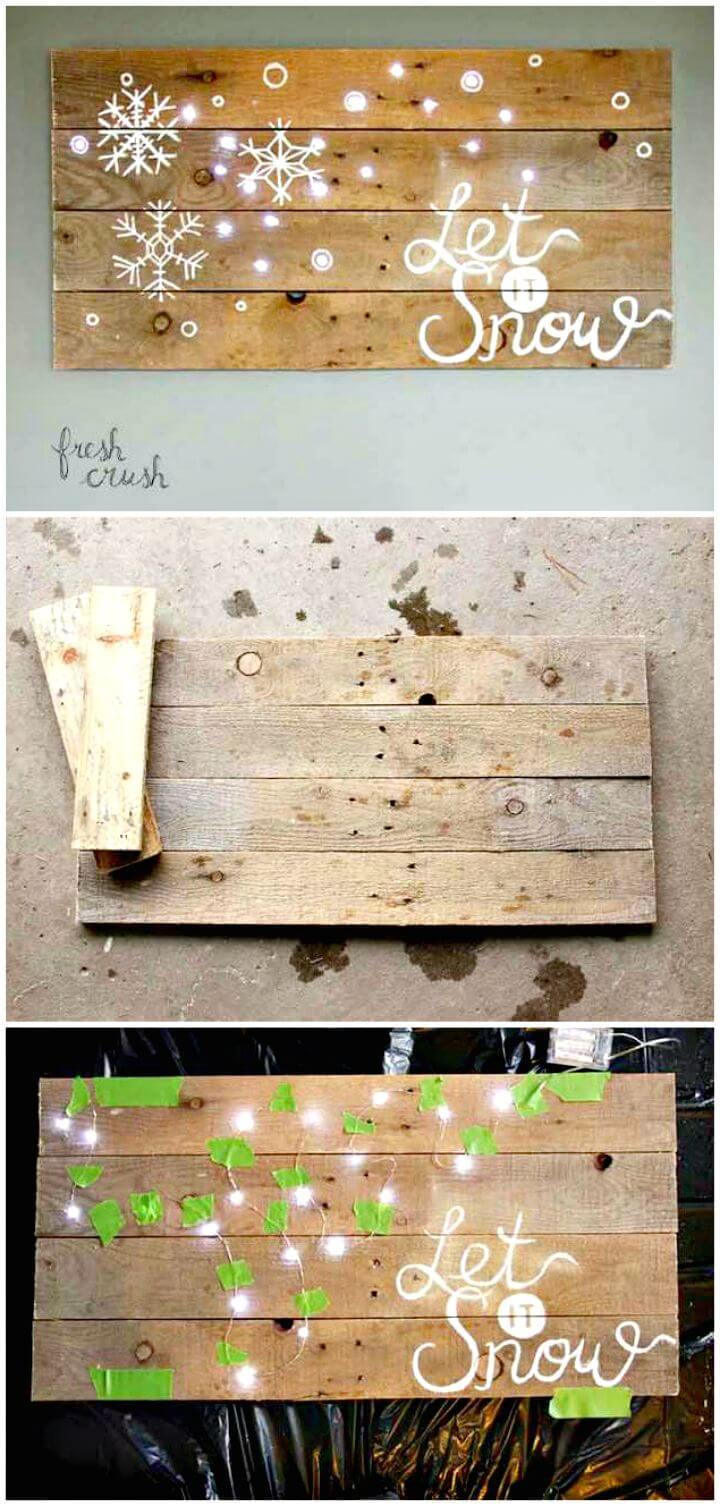 If you are sorting out a very good looking interior wall centerpiece or a holiday décor sign then you will find nothing better than this handsome pallet wood sign! Here the custom cut slats of pallets have been put together for a rectangular boards which has been over written for some custom letters, painted for cool doilies and has also been lighted with twinkle lights for a graceful appeal! Further project guide and tutorial here freshcrush
Easy DIY Pallet Art Tutorial: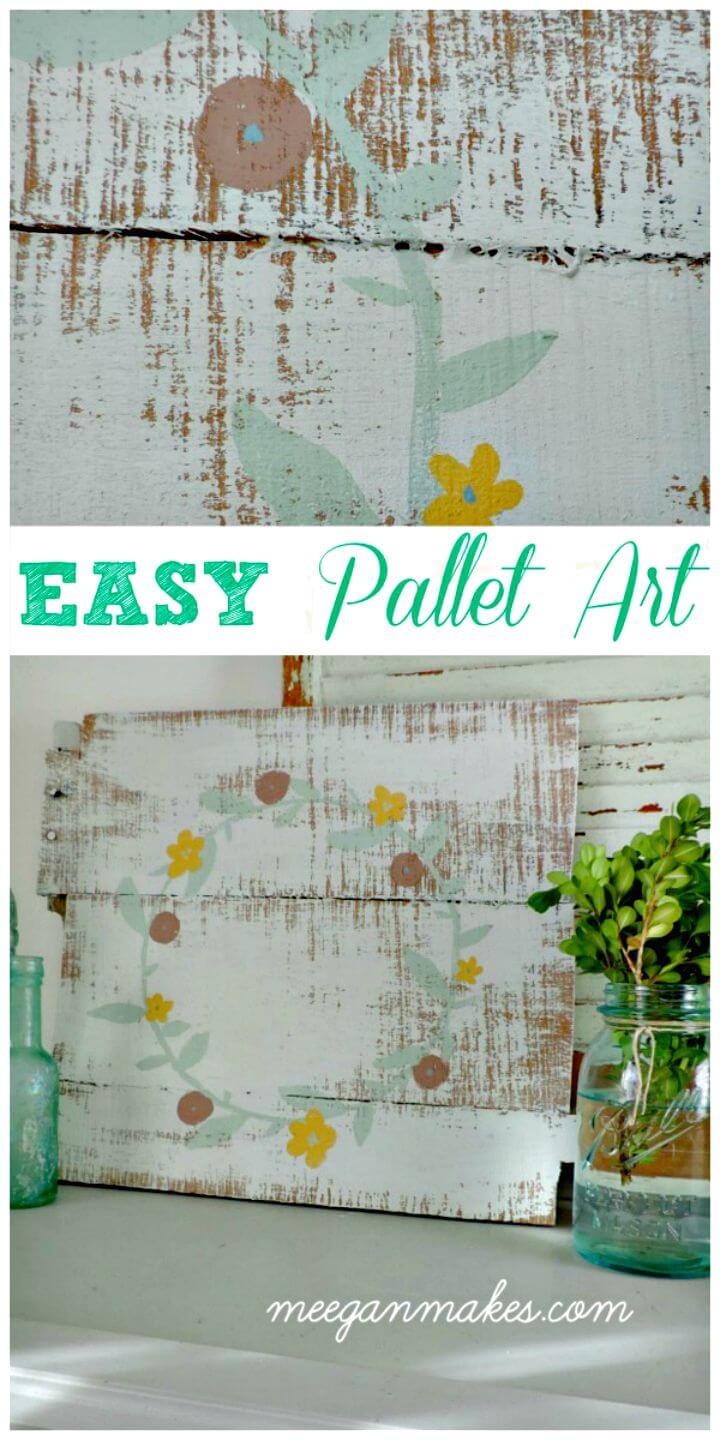 Another graceful interior wall art design is here made of pallets, here once again the custom cut slats of pallets have been put together for a geometrical wooden board which has then been distressed in white and then painted for custom floral art, a perfect rustic wall décor sign you can get for free! Complete instructions here meeganmakes
How To Make Your Own Coffee Table Tutorial: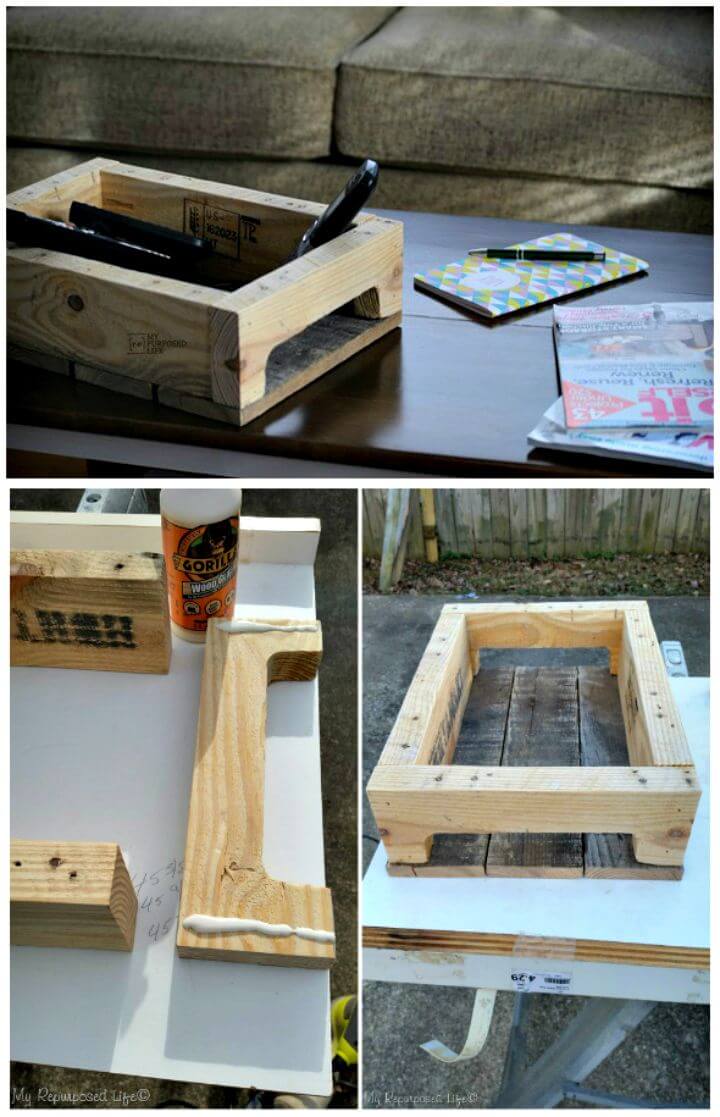 Another great pallet hack is here to make your dining routines interesting! Make also beautiful looking table runners with pallets for each of your breakfast or dining table! All you need to do is to put together some slats of pallets for longer rectangular wooden boards which are can then be painted or stained to serve as table runner! Get inspired of the chic white pallet table runner, would rock for rustic and farmhouse styled dining environments! Further project details here myrepurposedlife
Easy DIY Rustic Farmhouse Pallet Table Runner Tutorial: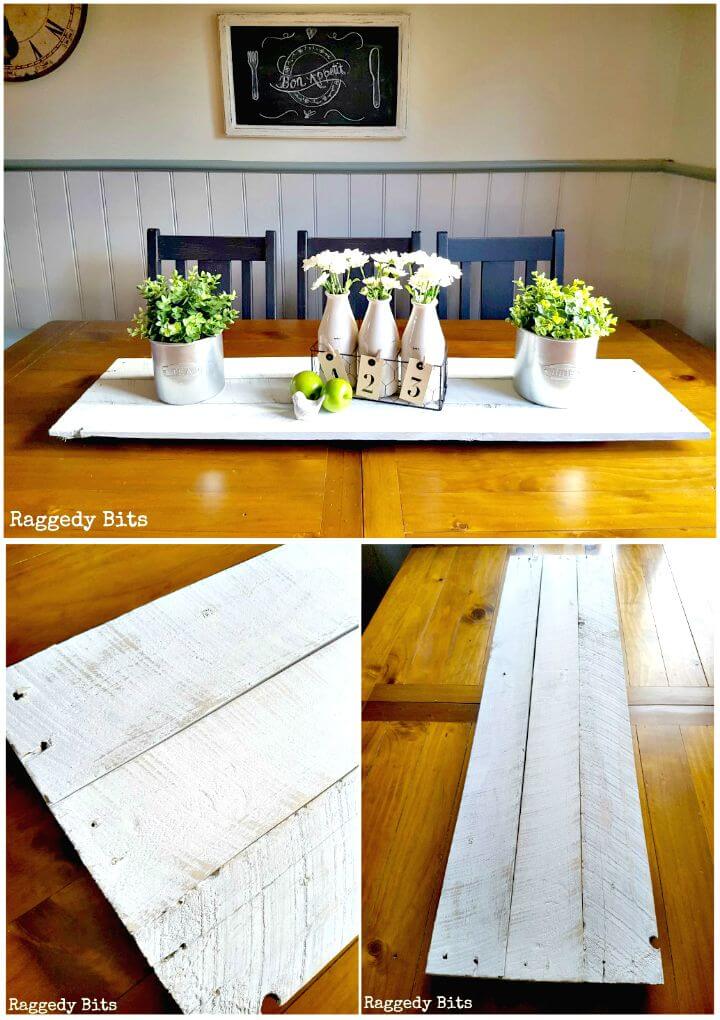 Another great pallet hack is here to make your dining routines interesting! Make also beautiful looking table runners with pallets for each of your breakfast or dining table! All you need to do is to put together some slats of pallets for longer rectangular wooden boards which are can then be painted or stained to serve as table runner! Get inspired of the chic white pallet table runner, would rock for rustic and farmhouse styled dining environments! Further project details here raggedy
How To Make Rustic Pallet Jewelry Holder Tutorial: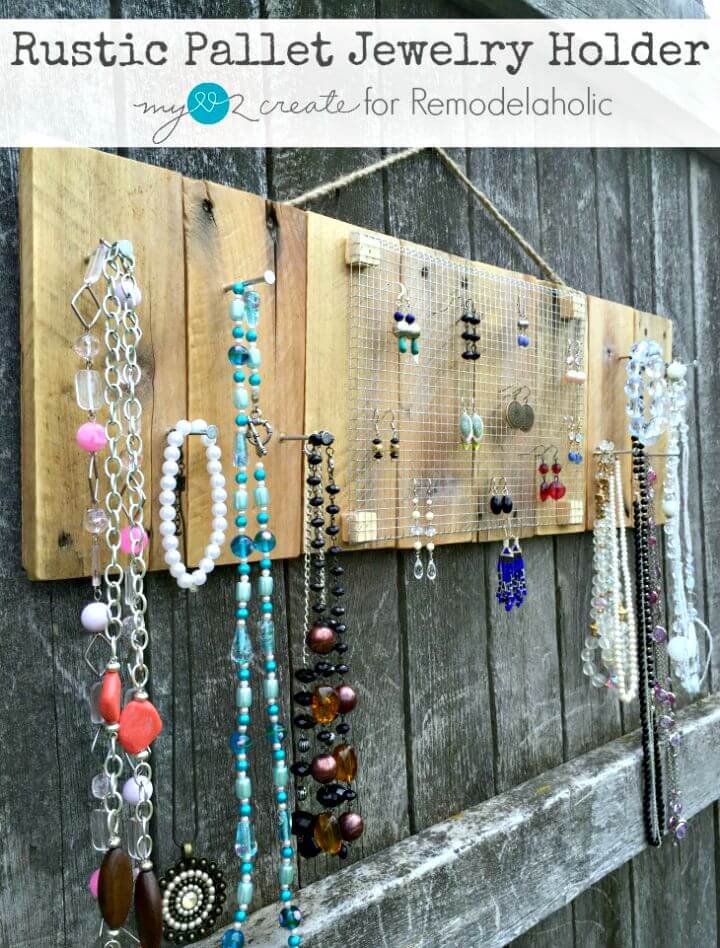 Go with flat and cross arrangements of custom cut pallet slats and make square boards, add them with custom hooks and star using as custom organizers and accessory holders! A very interesting example here it this given pallet coffee mug rack that would also make a great gift for a coffee shop owner or for a kitchen loving mom! It comes also with stenciled "COFFEE" letters for a more graceful appeal! Complete tutorial and project guides are here remodelaholic
How To Build a Coffee Mug Rack Tutorial: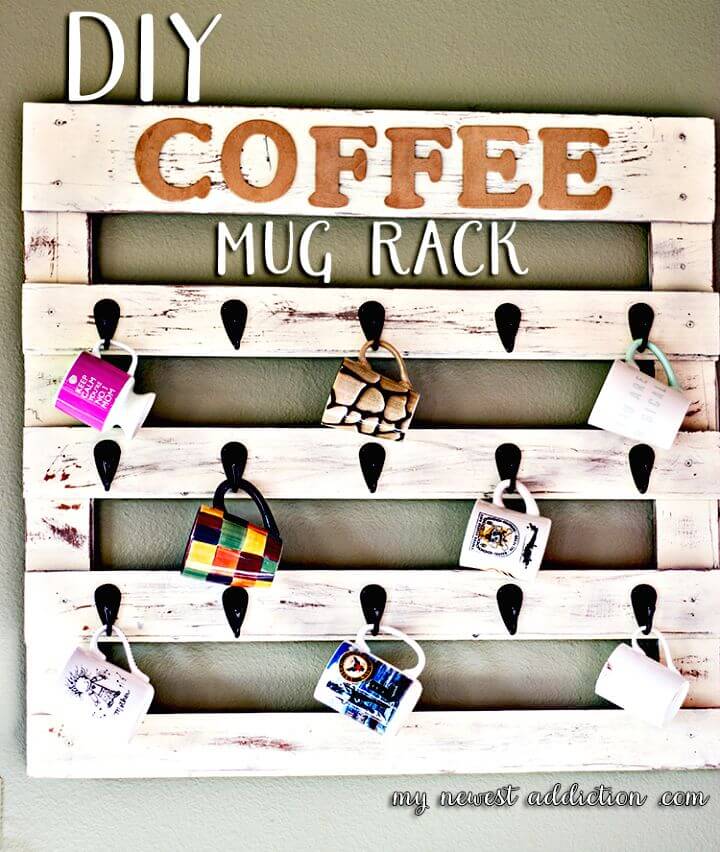 Go with flat and cross arrangements of custom cut pallet slats and make square boards, add them with custom hooks and star using as custom organizers and accessory holders! A very interesting example here it this given pallet coffee mug rack that would also make a great gift for a coffee shop owner or for a kitchen loving mom! It comes also with stenciled "COFFEE" letters for a more graceful appeal! Complete tutorial and project guides are here mynewestaddiction
Easy DIY Test Tube Pallet Spice Rack Tutorial: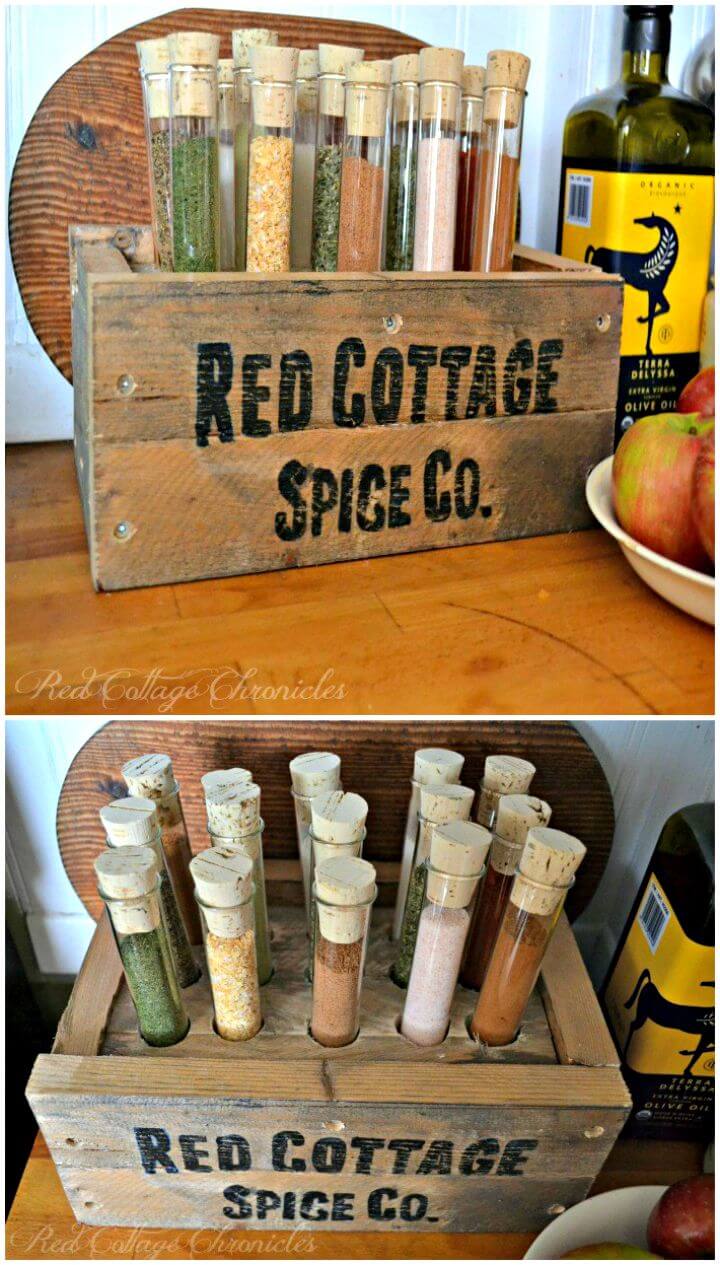 Here is what you can do amazing using recycled home materials! Here the pallet wood remains and some test tubes have been repurposed to serve as a cool spice rack! The entire box is made of rustic pallet wood lengths while the test tubes have been filled with spices and comes with corks fitted to their openings! Another cool and mind-blowing pallet project! Complete project details and tutorial here redcottagechronicles
How To Make Tall Pallet Pub Chairs Tutorial: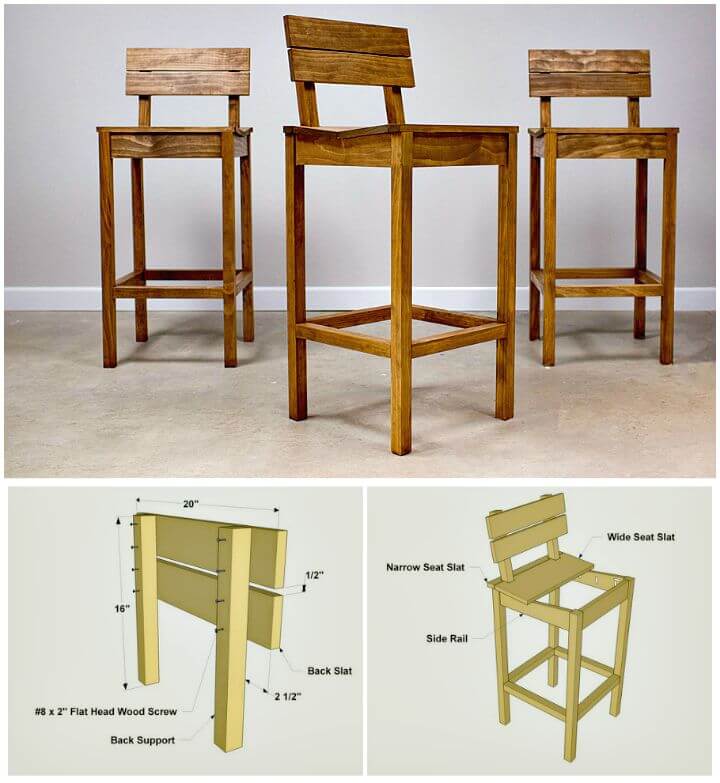 Having a bar or pub installed to indoor or outdoor of your? If it is lacking of sitting space then you can make outstanding bar stools and pub chairs also with pallets! Checkout here the sample wooden pallet pub chairs that comes with shorter backrests and also provide the footrest positions! Another great pallet furniture project you can easily duplicate! Here is how to make these chairs buildsomething
Easy DIY Pallet Coffee Table Tutorial: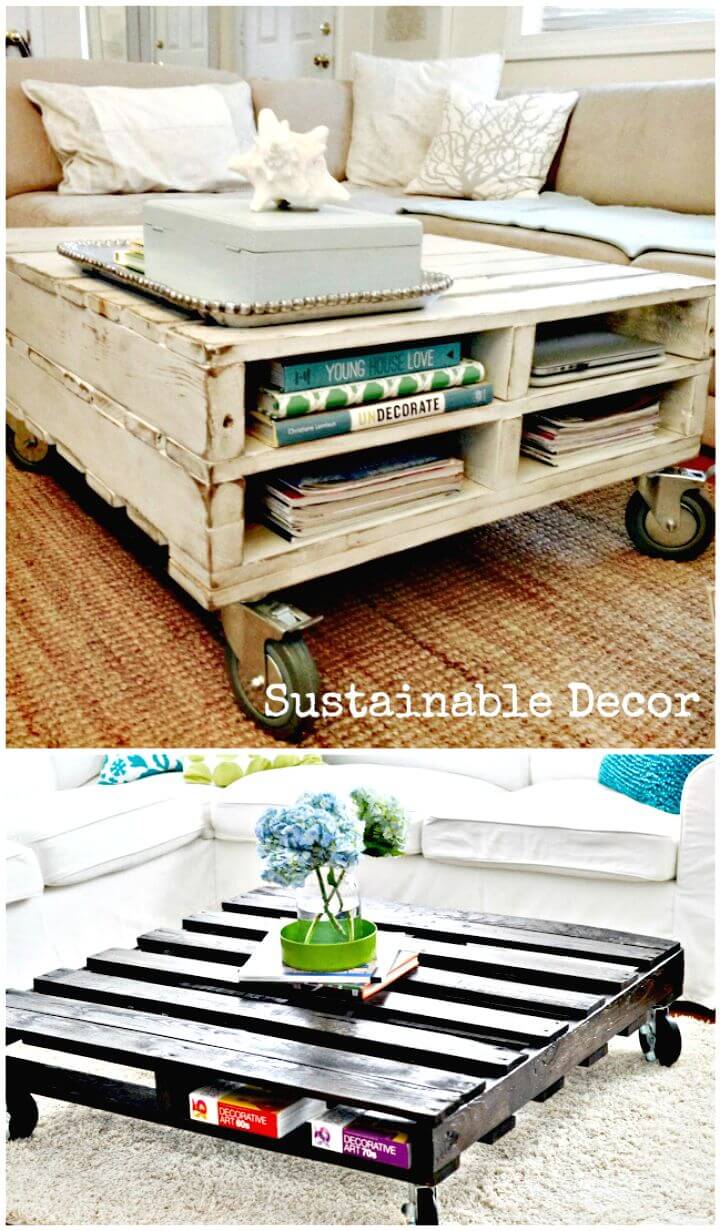 Grab the some healthy looking pallet skids and then just raise them on wheels or finish them custom legs, the cool coffee tables would be ready to go to your living room or in center of any sitting furniture set! You can also stack multiple pallets, if you need some storage-friendly and robust kind of wooden coffee tables! Get inspired of the given samples that are looking amazingly beautiful! Complete project tutorial and guides are here sustainabledecor
Easy DIY Pallet Console Table Tutorial: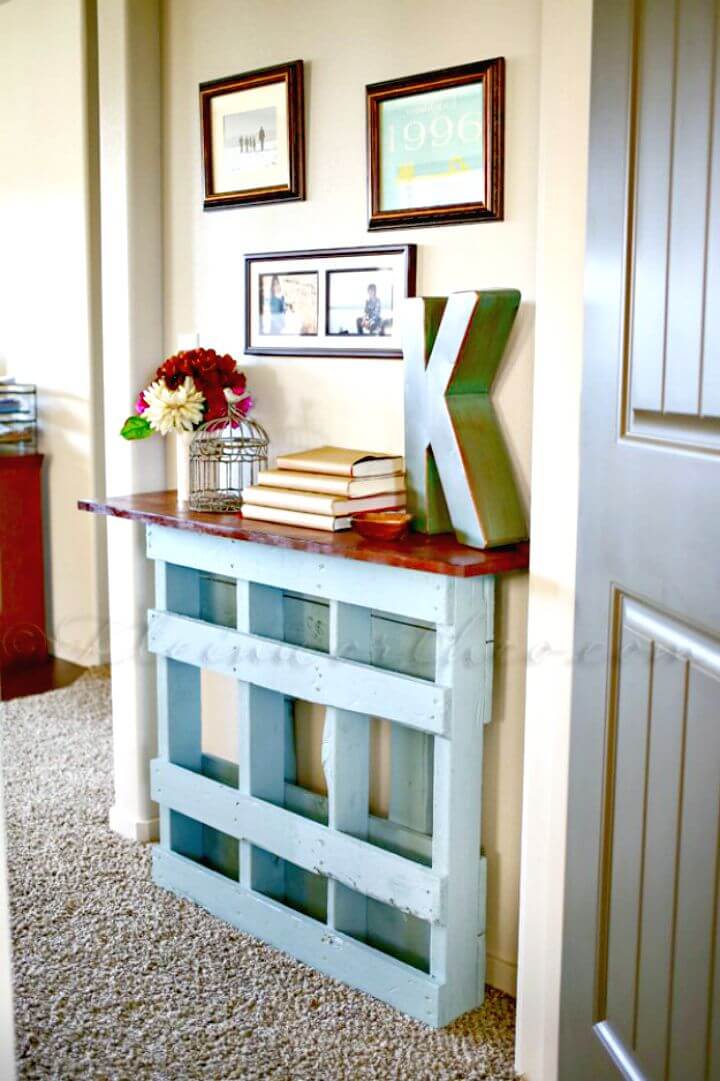 There is no limit for DIY furniture project you can do with pallets! Build also the outstanding foyer and entryway tables with pallets, a very interesting design here is this wooden pallet console table, built to inspire and is really looking gorgeous! Here the whole turquoise painted base of table is made if a single pallet that comes in vertical standing position! Next the base has been finished with a sparking stained wooden top! Another cool pallet furniture project! Complete project guides and free tutorial here kleinworthco
DIY Pallet Wood Vertical Blinds Tutorial: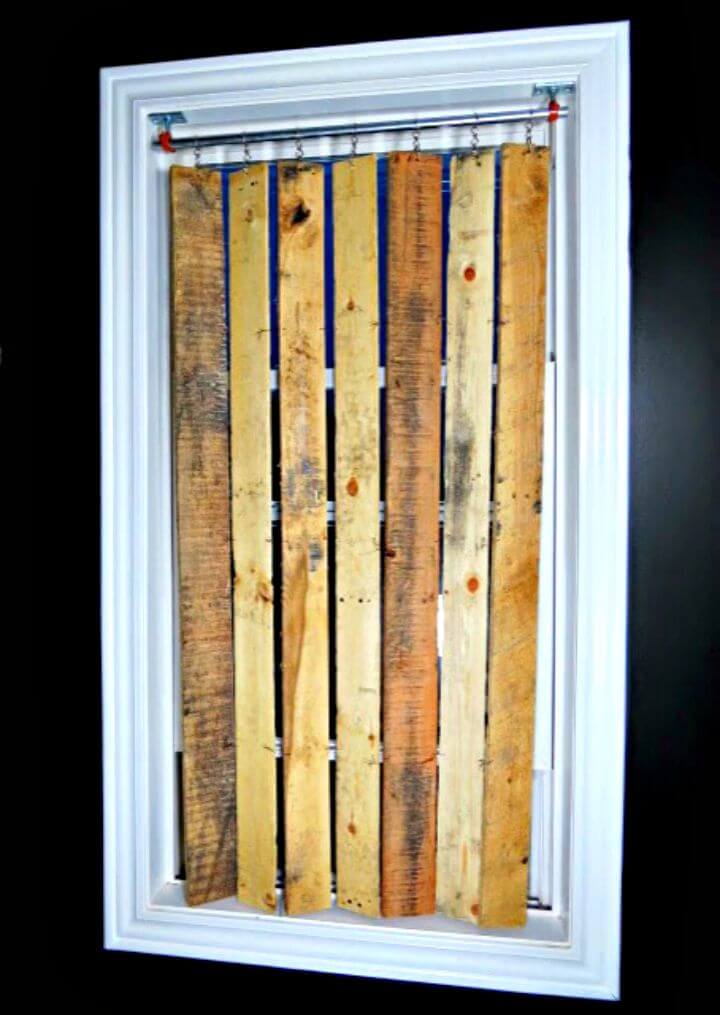 Go handmade also with pallets to build fantastic looking window screens! Checkout here this sample wooden vertical blinds, here the custom pallet wood slats hangs on a metal rod through custom hooks t and the finally finished screen has beautifully been adjusted in place using durable hardware for a charming window blind as you can see! Complete tutorial and visual instructions here humboldtartdept
Easy How To Build Pallet Kids Bed Tutorial: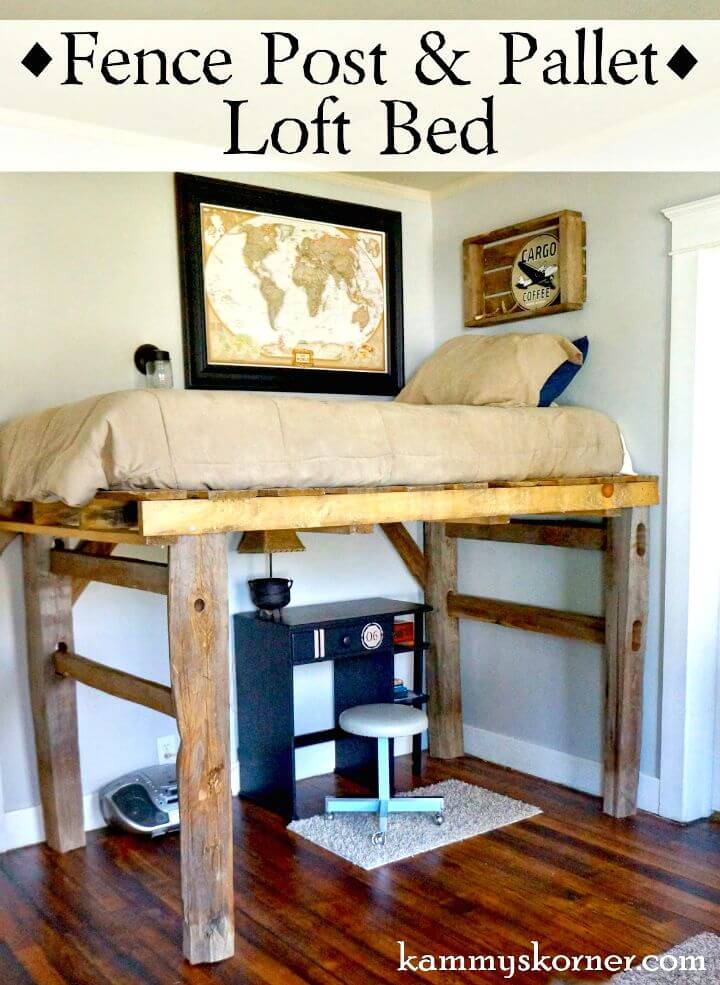 Build also outstanding and very good looking headboards with pallets just in no time! Checkout here the very good looking headboard here that is looking outstanding due to random design curves and also comes with a black painted art! Here pallet slats have been put flat together to build a large rectangle with legs that appears as a beautiful headboard! Get the full free tutorial and instructions from here kammyskorner
Easy DIY Headboard From Wooden Pallets Tutorial: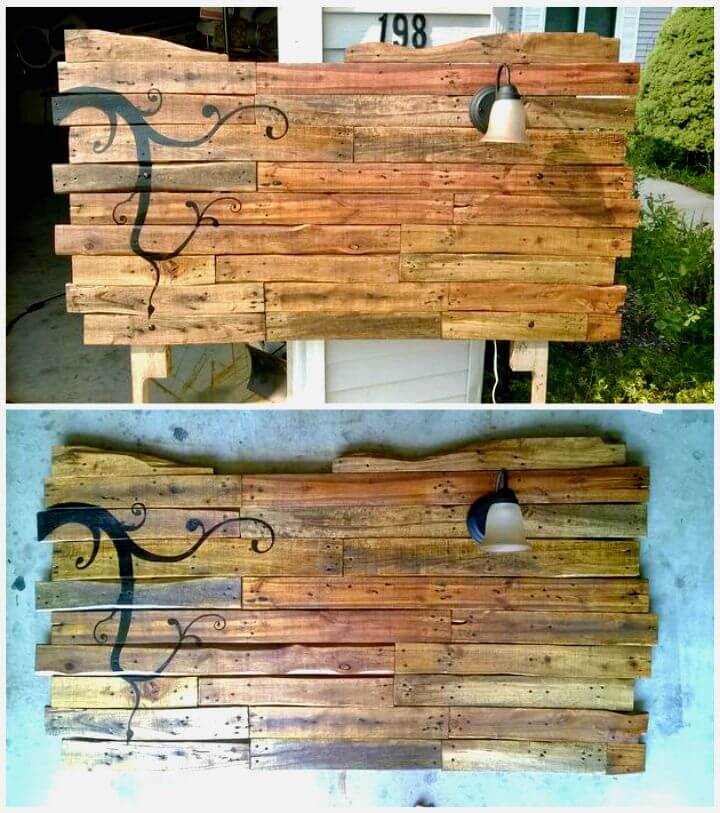 Build also outstanding and very good looking headboards with pallets just in no time! Checkout here the very good looking headboard here that is looking outstanding due to random design curves and also comes with a black painted art! Here pallet slats have been put flat together to build a large rectangle with legs that appears as a beautiful headboard! Get the full free tutorial and instructions from here instructables
Easy DIY Pallet Dining Table Tutorial: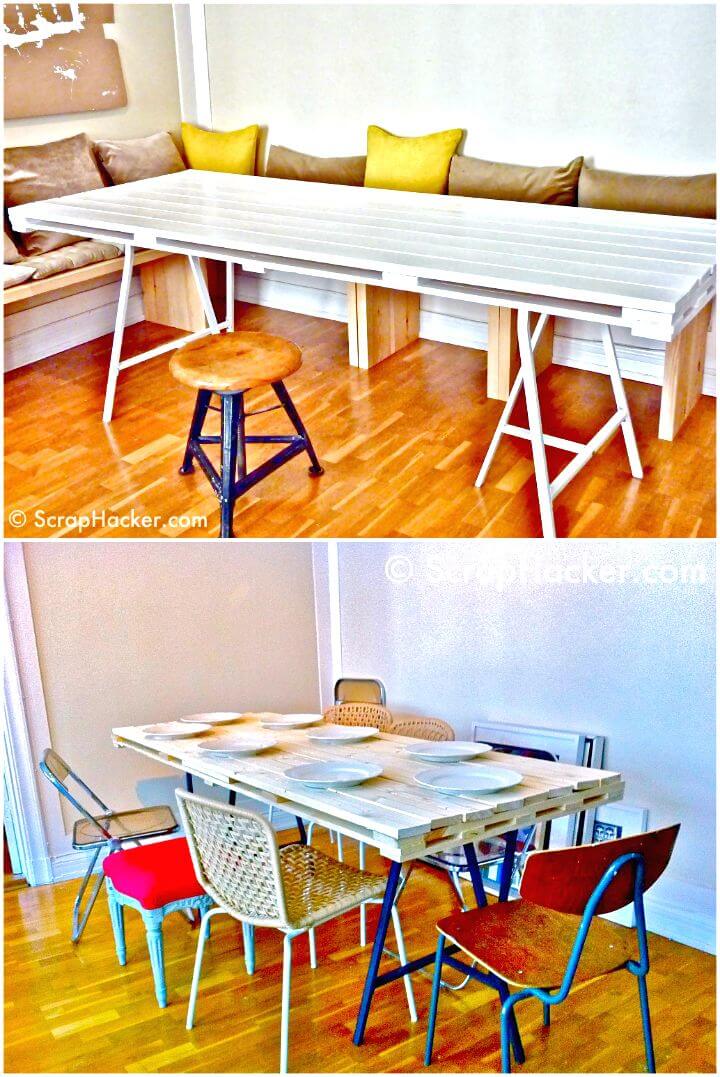 Get also crafty with pallets to build gorgeous looking dining room furniture with pallets! Have a look at this given wooden pallet dining table that is grand and comes on trestle legs! Here a grand slim pallet board has been painted in white and has been finished with legs to form a very good looking dining table that has been painted in white for modern aesthetic appeal! Another great pallet furniture or pallet projects recovery! Complete project tutorial and instructions here scraphacker
Build Your Own Pallet Serving Tray Tutorial: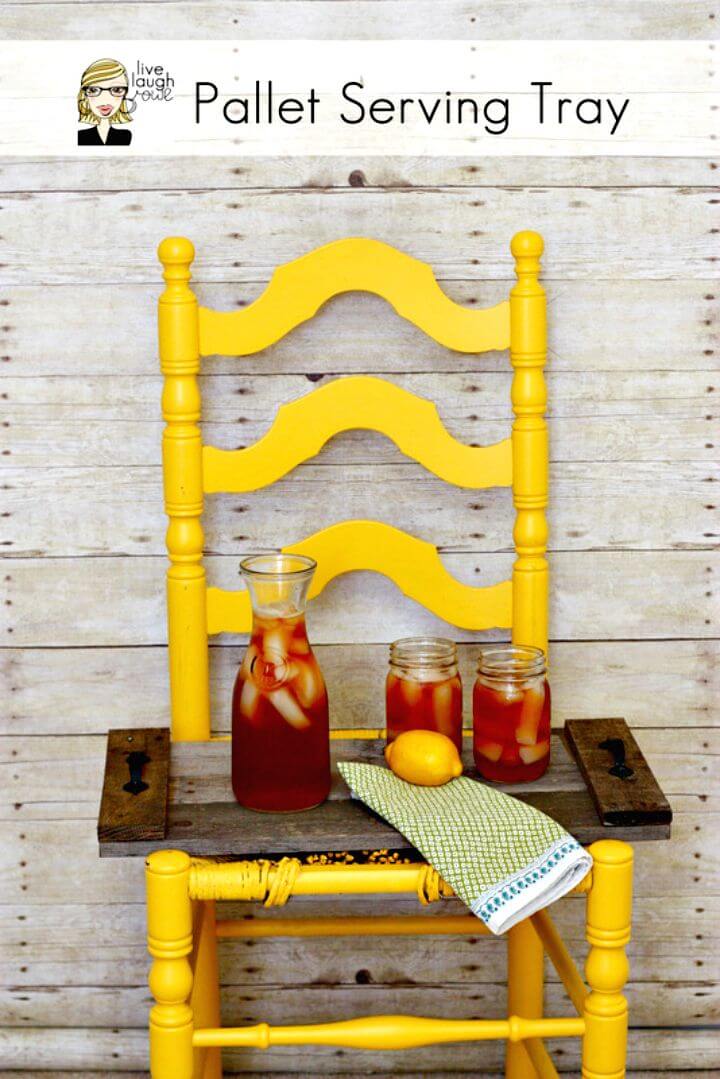 While doing some bigger projects with pallets, you often left with lots of wood remains that can be put together also for various other artistic and functional objects! Here only a some pallet wood slats have been put together for a rustic serving tray that has comes with drawer pulls fixed to both sides that serve as beautiful handles of the tray! An easy and super quick pallet project! Complete project details here livelaughrowe
How to Build Your Own Pallet Shoe Table Tutorial: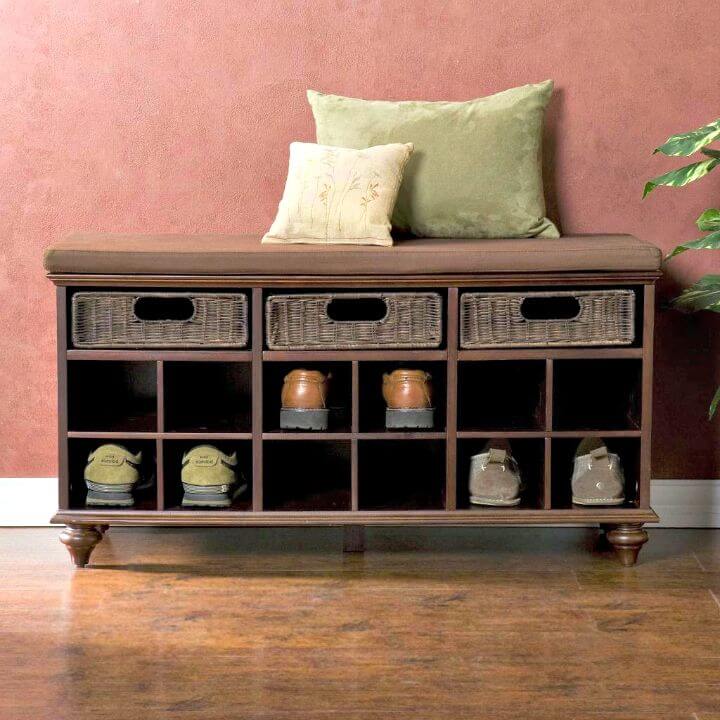 Organizing shoes is a major problem in every home but custom-built shoes racks can really be a great solution to this problem! So, you can head over to pallets too to build custom designs of shoes racks or shoe tables like pro! Here custom modified pallet skids have been stacked to build an adorable design wooden shoes table that provides several compartments for shoes storage! Here is how to make this wooden shoes table! Complete free tutorial and visual instructions here between3sisters
How to Make a Pallet Bed Tutorial: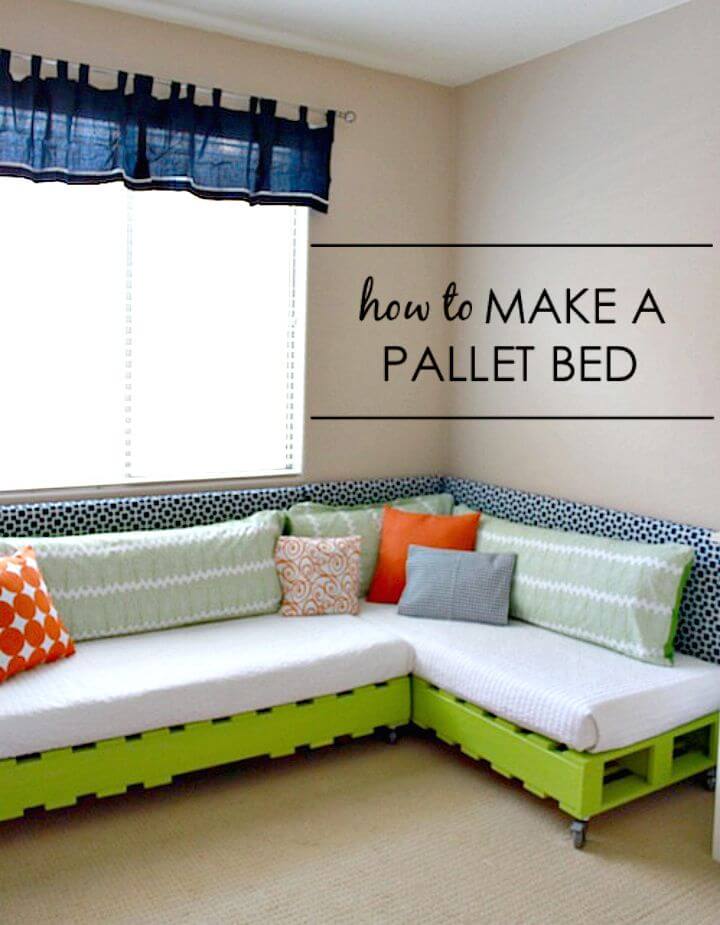 Want to bring coziness to any empty corner of your room or space? A cozy L-shape or corner daybed would be a great option! The very good news is that you can also get smartly craft with pallets to build fetching and great looking designs of corner beds! Checkout here the sample pallet bed that has beautifully been cushioned to provide ultimate sitting comfort! Just bring the pallets into L-shape and raise them on custom wheels if you are intending to clone this project! Further guides and details here projectnursery
How To Make A Reading Nook Using Two Wooden Palettes Tutorial: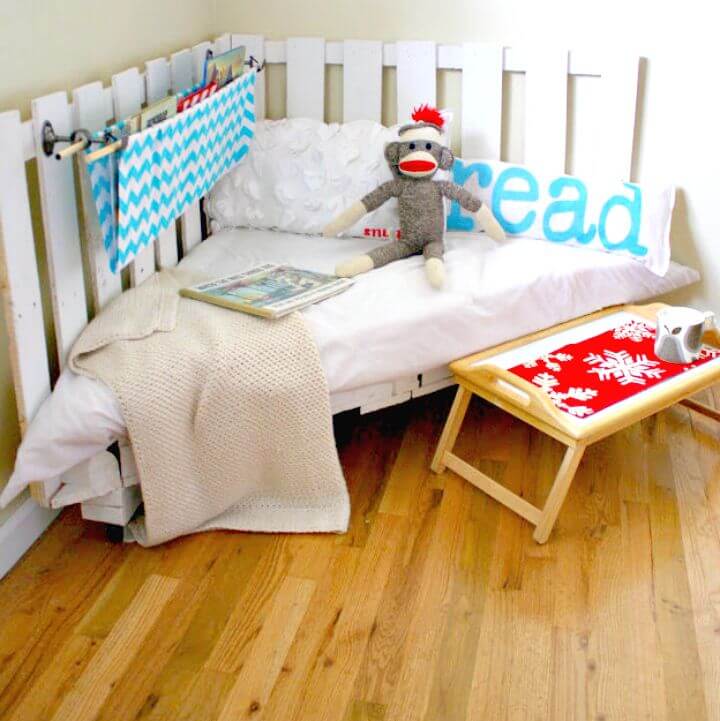 Go handmade with pallets also for low-cost betterment of your garden! Build fascinating vertical planters to adorable box planters with pallets without getting expensive! A very adorable sample here is the wooden strawberry wooden planter that is looking great due to spaced structure that helps the grown strawberry plants to come out from the sides! Another outstanding pallet project you can duplicate easily! Complete project tutorial and step-by-step instructions here designs
How to Make a Better Strawberry Pallet Planter Tutorial: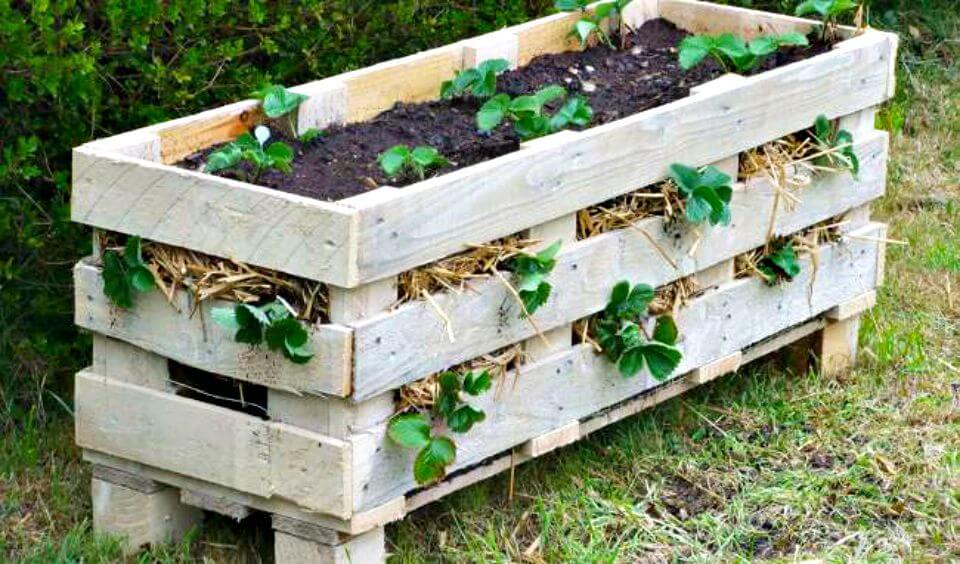 Go handmade with pallets also for low-cost betterment of your garden! Build fascinating vertical planters to adorable box planters with pallets without getting expensive! A very adorable sample here is the wooden strawberry wooden planter that is looking great due to spaced structure that helps the grown strawberry plants to come out from the sides! Another outstanding pallet project you can duplicate easily! Complete project tutorial and step-by-step instructions here lovelygreens
How to Build a Wood Pallet Deck Tutorial: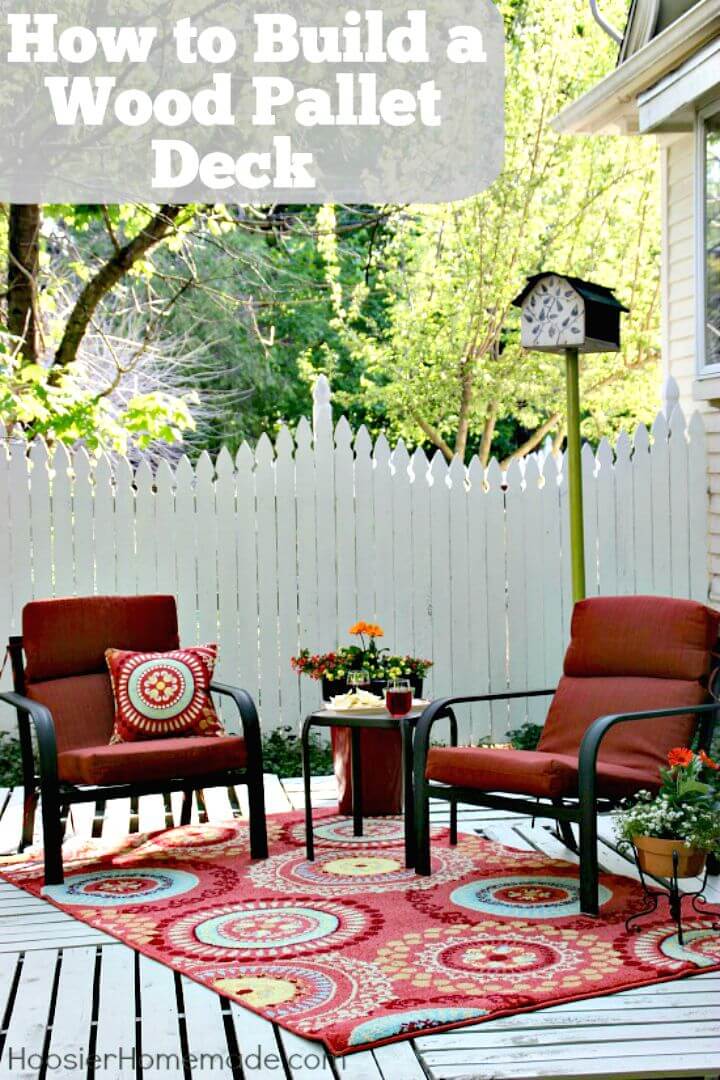 Do also brilliant home improvement projects with pallets in a budget-friendly way! Installing a precious wooden deck can be a costly project by any other mean by going with pallets you can achieve sumblime wooden decks for free, checkout here a brilliant one installed to a green space! Just level up the ground and then arrange pallets one by one to fill the measured space and then add extra layers of pallets to reach to a certain height level! Get great information from this sample project! Complete project details here hoosierhomemade
Easy DIY Pallet Table Tutorial: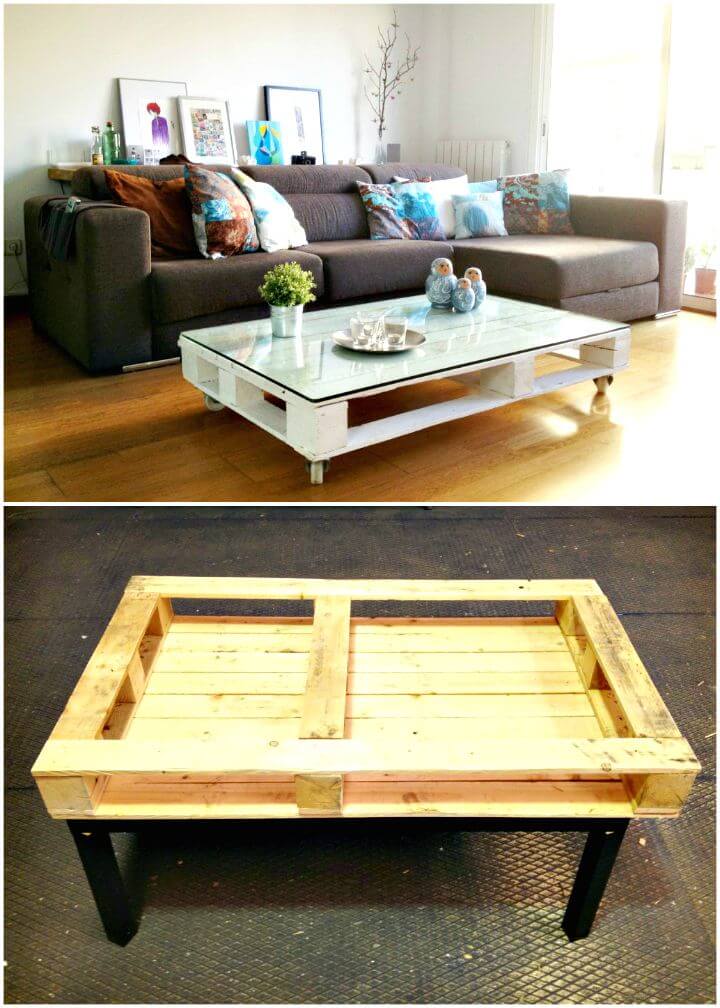 You can take into account the geometrical shapes of pallets and can do various amazing projects with them also! For example, you can take the pallets as ready-made wooden tabletops and can simple finish them wheels or custom legs for building outstanding tables! Have a look at the given sample tables that are amazingly beautiful and fetching! A glass top finish can really bring the modern charm to entire table design! Full project details here annaevers
Easy DIY Outdoor Pallet Sofa Tutorial: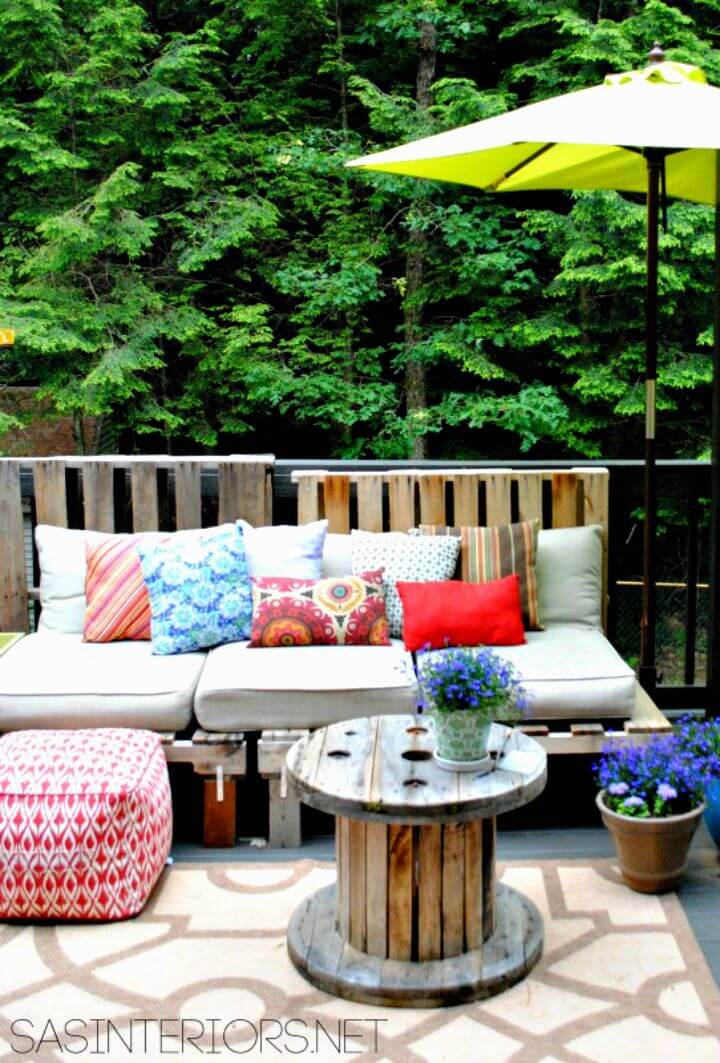 Get crafty also with pallets to build stunning patio and garden furniture! You can simply bring any two sizes of pallets into L-shape and then can finish them with custom legs or wheels making outstanding sofa or chair frames that will last for years! Checkout here the sample pallet outdoor sofa that is looking extra beautiful and fetching and has beautifully been cushioned! Here the old wooden spools have been used as dashing s coffee table! Complete project guides and instructions here jennaburger
Easy DIY Pallet Reading Bed Tutorial: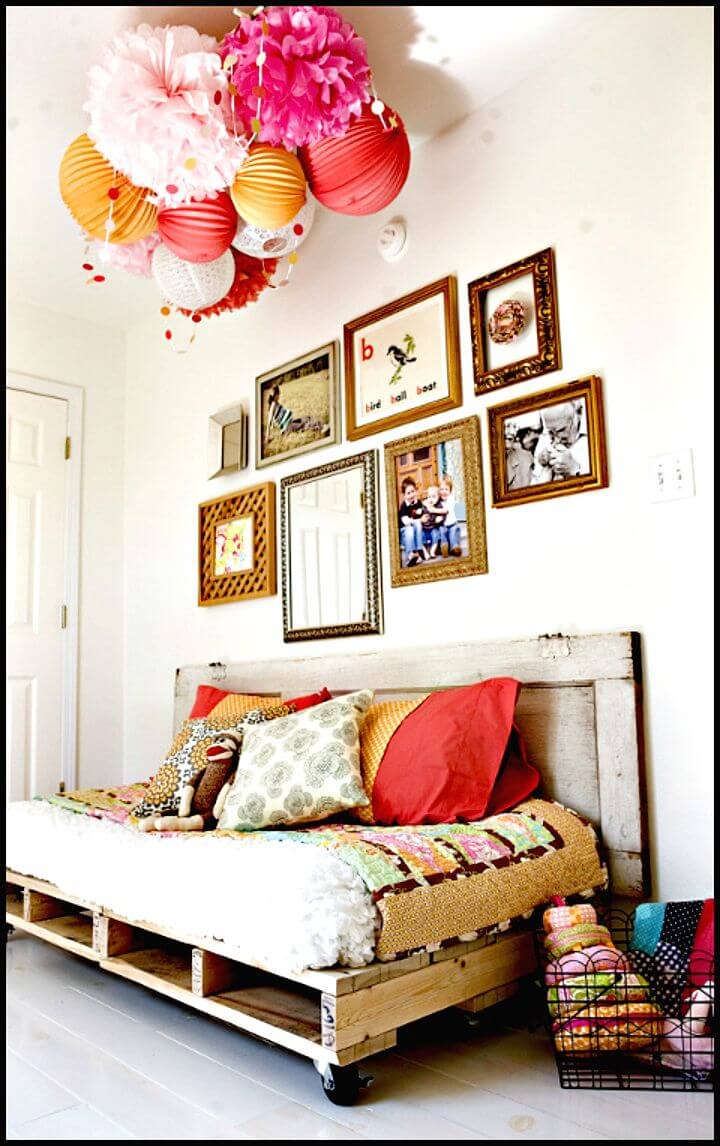 Are you handy at tufting or upholstering? If yes, then also build modern tufted furniture with pallets for free! You can take a smart start by building this interesting ottoman that is made of a custom cut pallet size and plywood and finally comes on custom market bought wooden legs! At the end the tufting has been done for a super soft ottoman that will also rock as a footrest! Complete guide and tutorial here ashleyannphotography
DIY Tufted Ikat Ottoman from Up-cycled Pallet with Tutorial: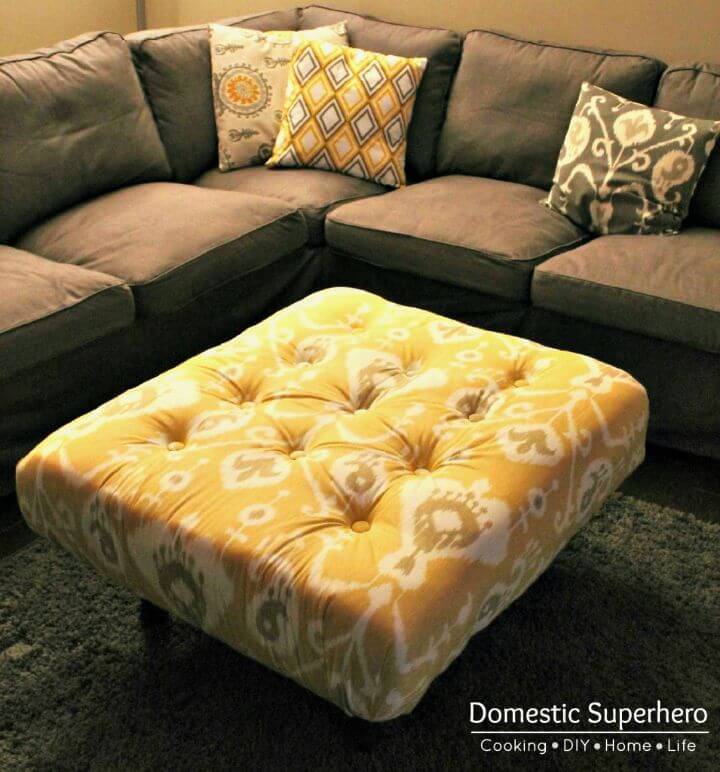 Are you handy at tufting or upholstering? If yes, then also build modern tufted furniture with pallets for free! You can take a smart start by building this interesting ottoman that is made of a custom cut pallet size and plywood and finally comes on custom market bought wooden legs! At the end the tufting has been done for a super soft ottoman that will also rock as a footrest! Complete guide and tutorial here domesticsuperhero
How To Make Your Own Pallet Bookshelf Tutorial: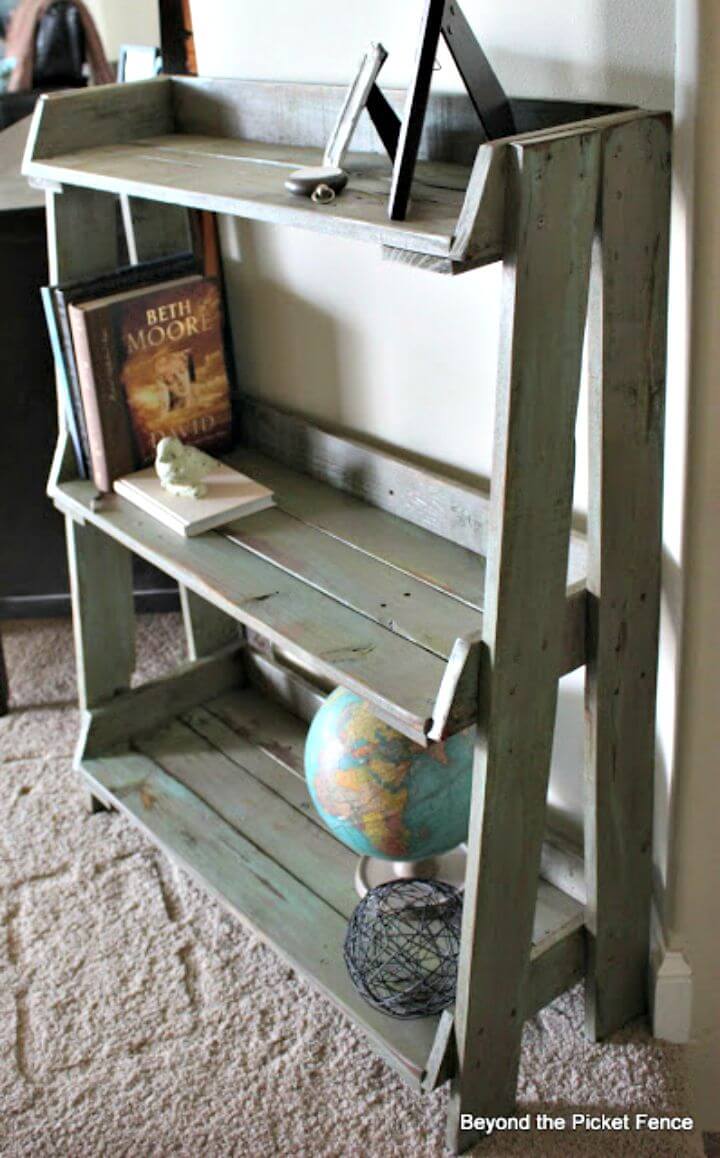 If you are wise enough in your thing and take great interest in DIY furniture building, then you can build any custom item of home furniture with pallets! You will just fall in love with this handsome wooden pallet bookshelf that is artistic and provides 3 shelving levels! It would just rock in any living room and would make a great gift too for a neighbor! Here is how to make it beyondthepicket
Easy Build Your Own Pallet Wall Tutorial: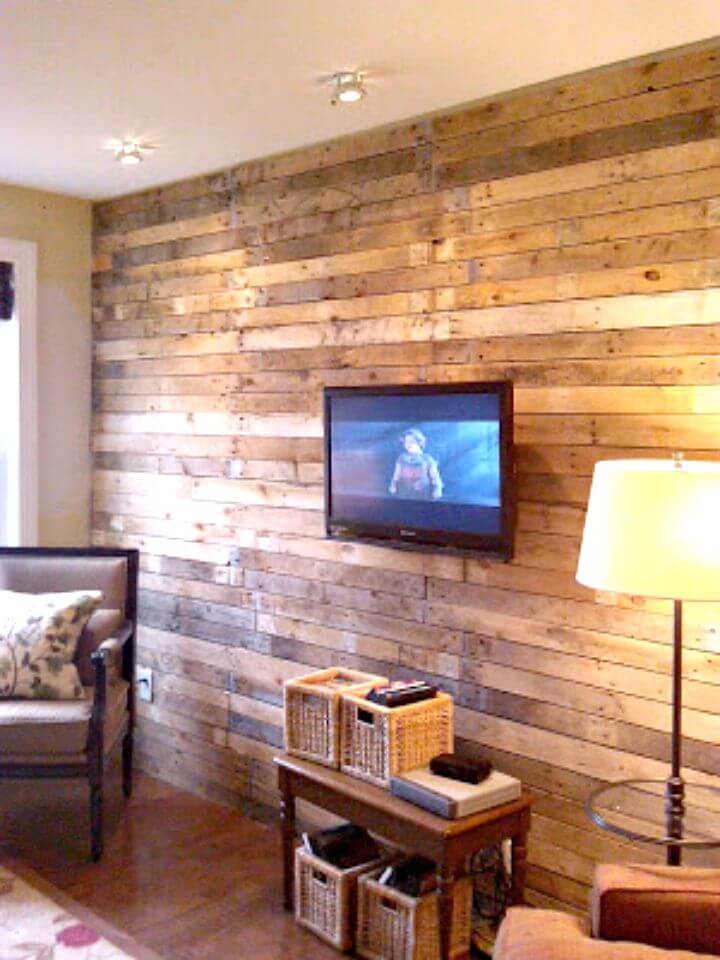 If you are intending to do some home improvements like wood wall paneling then you can also prefer pallets to do it in a budget-friendly way! Have a look at this sample wooden wall that has been done to accentuate the entire room ambiance and brings a rustic glam and a interesting wood texture to entire room interior! This wooden wall would further provide various solutions to get your interior rocking like it would be easy to paint the wood and to fix custom hooks in the wood wall! Complete tutorial and guides here momandherdrill
How To Make A Pallet Potting Table Tutorial: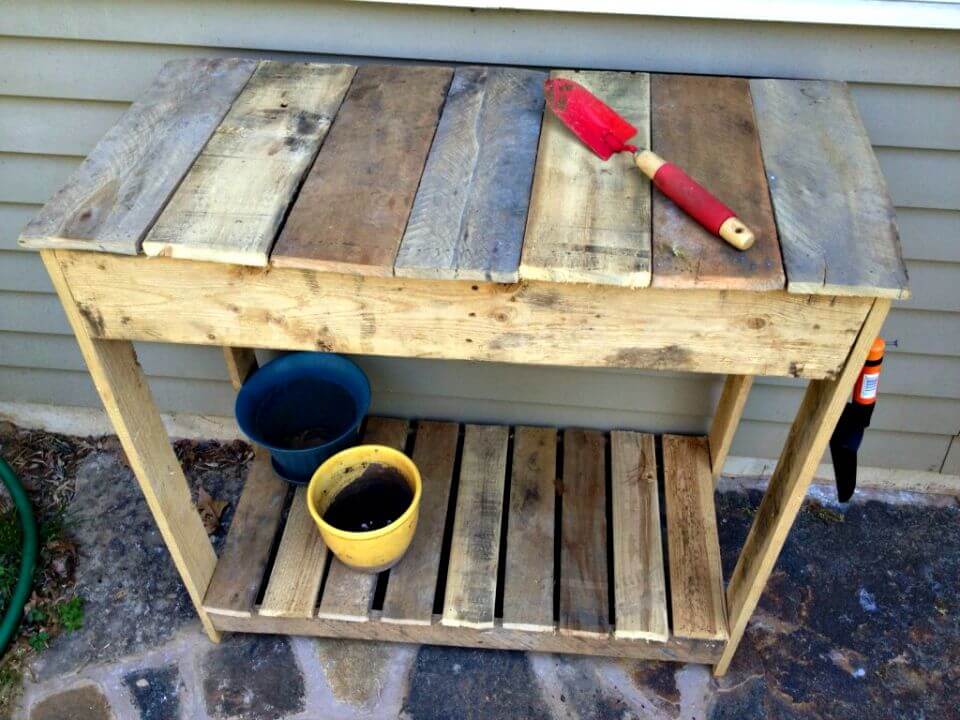 Another mind-blowing pallet craft project is here, this is here the wooden pallet peg board that is made of a single pallet slat which has been added up with masonry nails that are looking fabulous with the rustic tone of wood! This is here another handsome pallet craft project that you will love to copy as this wooden pallet pegboard will also work great as a jewelry holder and also as a coat rack! Complete project details here dazeknights
DIY Pallet Peg Board Tutorial: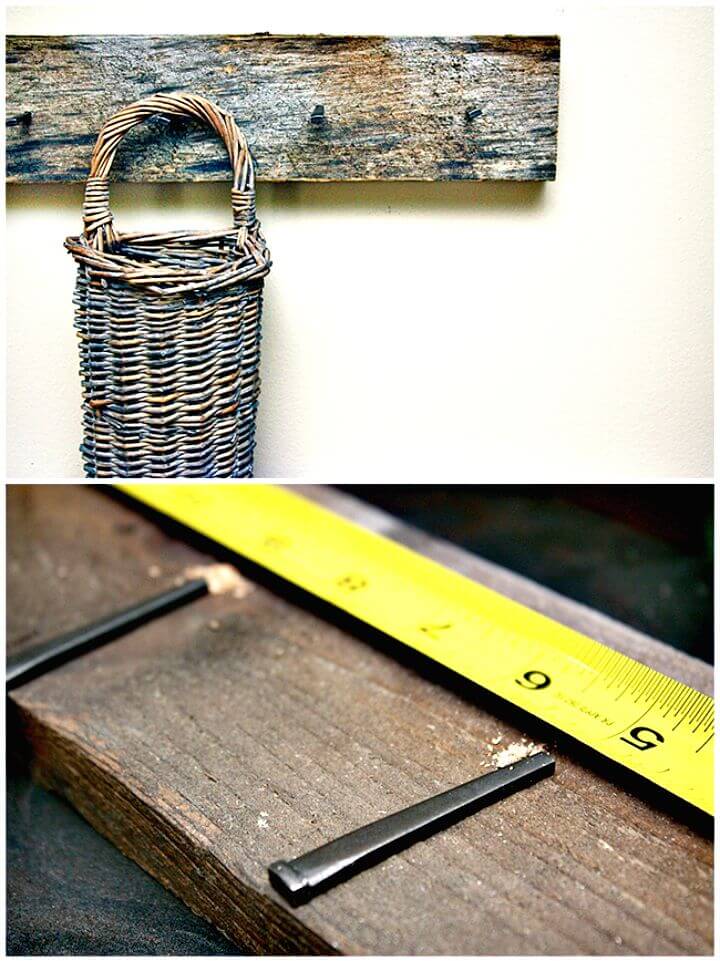 The main entrance to any home is what that makes the first impression of home so should be nicely decorated! So, you can also craft outstanding entryway decors with pallets just like this given sample that is a simple square board made of single pallet slats and comes with a little wreath hanging over! Another great pallet wood décor project that you will love to copy! Complete details here livelaughrowe
How To Entry Way Pallet Wood Tutorial: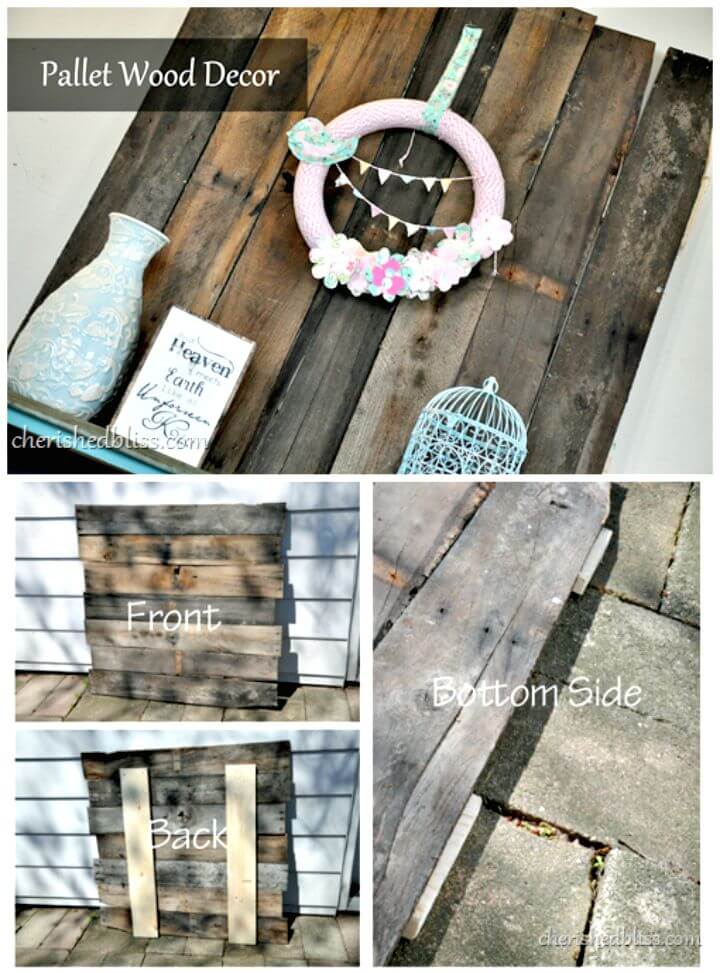 Looking forward to spruce up your interior walls with pallets? Then just make cool signs and wall art pieces with pallets, a very handsome and interesting one is here, the wooden pallet train wall art, built to inspire and rock! Here all you need some separated wooden pallet planks to duplicate this project and a train art stencil! Willing to duplicate this precious wall art? Complete tutorial and free guide is here cherishedbliss
Easy To Build Train Pallet Art Tutorial: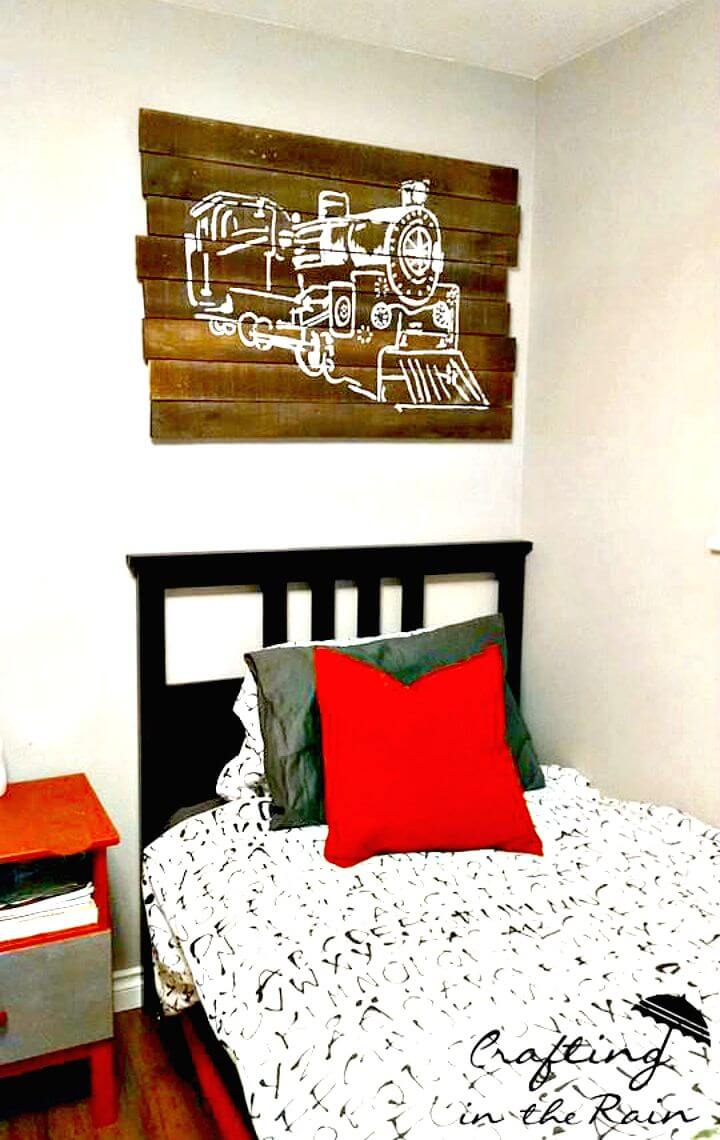 Looking forward to spruce up your interior walls with pallets? Then just make cool signs and wall art pieces with pallets, a very handsome and interesting one is here, the wooden pallet train wall art, built to inspire and rock! Here all you need some separated wooden pallet planks to duplicate this project and a train art stencil! Willing to duplicate this precious wall art? Complete tutorial and free guide is here craftingintherain
How to Make Your Own Pallet Garden Tutorial: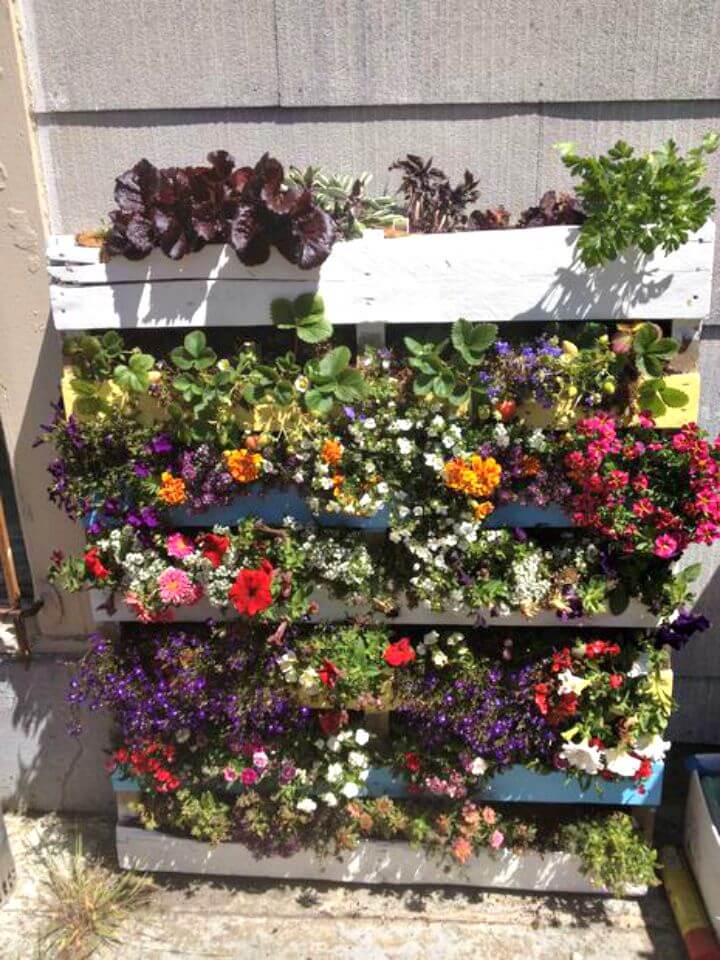 Go handmade with whole pallet skids and build fab garden decors and centerpieces out of them! A very interesting sample is here, the super handsome wooden pallet vertical flower planter that is actually a mini flower garden that can be dragged to any interior or exterior space for a garden like atmosphere! Another outstanding pallet project that everyone can duplicate! Grab the full free guide and visual instructions from here instructables
DIY Pallet Wood Hearts Step By Step Tutorial: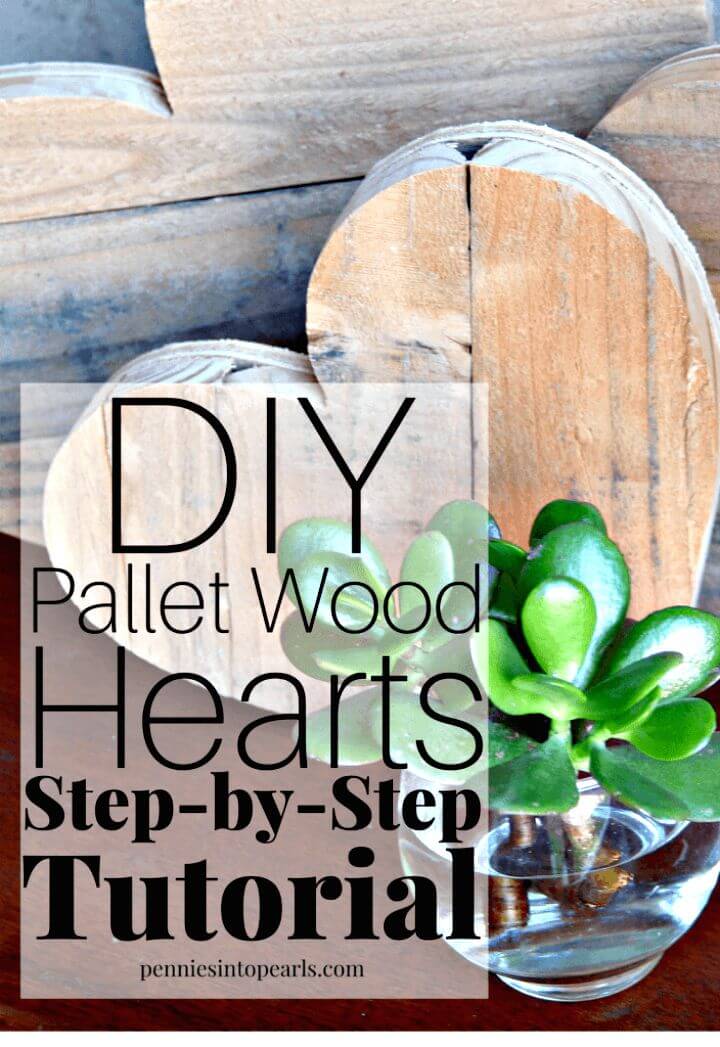 Willing to get some interesting love decors for any of your space? If yes, then you would definitely like these handcrafted wooden hearts that are made of single pallet slats! Here first the paper heart template has first been placed on a plywood sheet and traced out then the whole plywood heart has been filled with according sizes of pallet wood slats making a thicker rustic wooden heart! These rustic hearts would make a dashing love gift for Valentine's Day and the decors as well! Complete tutorial here penniesintopearls
Build Your Own Pallet Art Using Foam Tutorial:
Another mind-blowing wooden pallet décor is here that is much focally stimulating and will rock for fall and Halloween! This is here wooden pallet pumpkin sign that also comes with custom over written quotes! Make the entire rustic wooden background with pallet slats and then mount the foam pumpkin over for a gorgeous wall art piece! Another interesting pallet wood décor craft project! Complete tutorial and visual instructions here rosyscription
DIY Rustic Look Giant Pallet Bed With Storage Tutorial: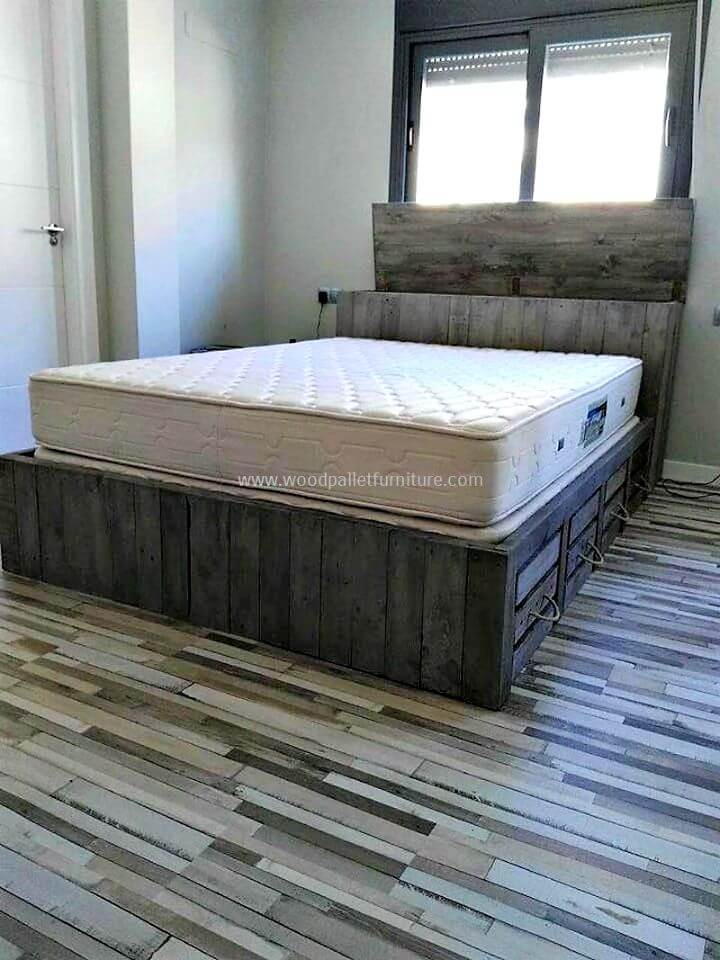 If you are smart enough in your imaginations and are interested also in building DIY furniture that you can do amazing furniture project with pallets and can also build precious wooden beds with pallets! Checkout here a featured design of giant wooden pallet bed that also offers underside storage options! This rustic wooden bed comes also with a headboard and has been comfy up with a thicker foam mattress! Complete visual guide and instructions here pallet ideas
Easy DIY Wood Pallet Photo Display Tutorial: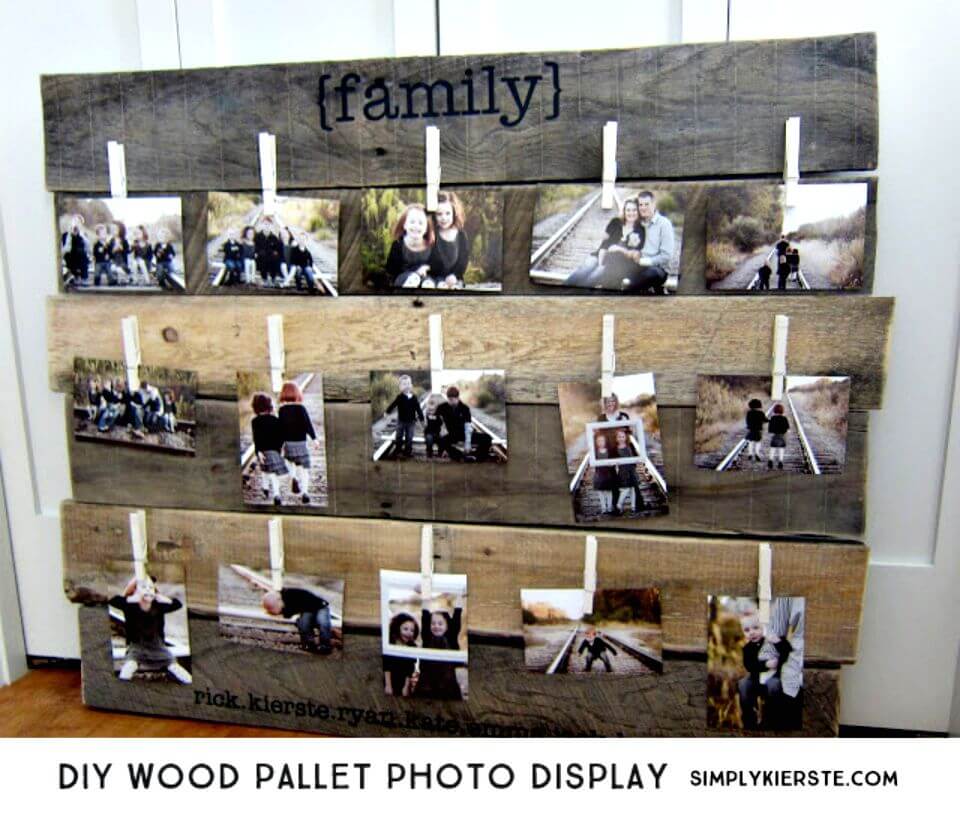 Build also amazing wooden boards with rustic pallet slats that will work great as rustic wooden backgrounds for your wall photos! If you like rustic decors then you will just fall in love with this pallet photo display that is brilliantly beautiful! Here the photos have been hanged using the clothespins which are fixed in the wooden pallet board! simplykierste
How To Make Your Own Toddler Pallet Bed Tutorial: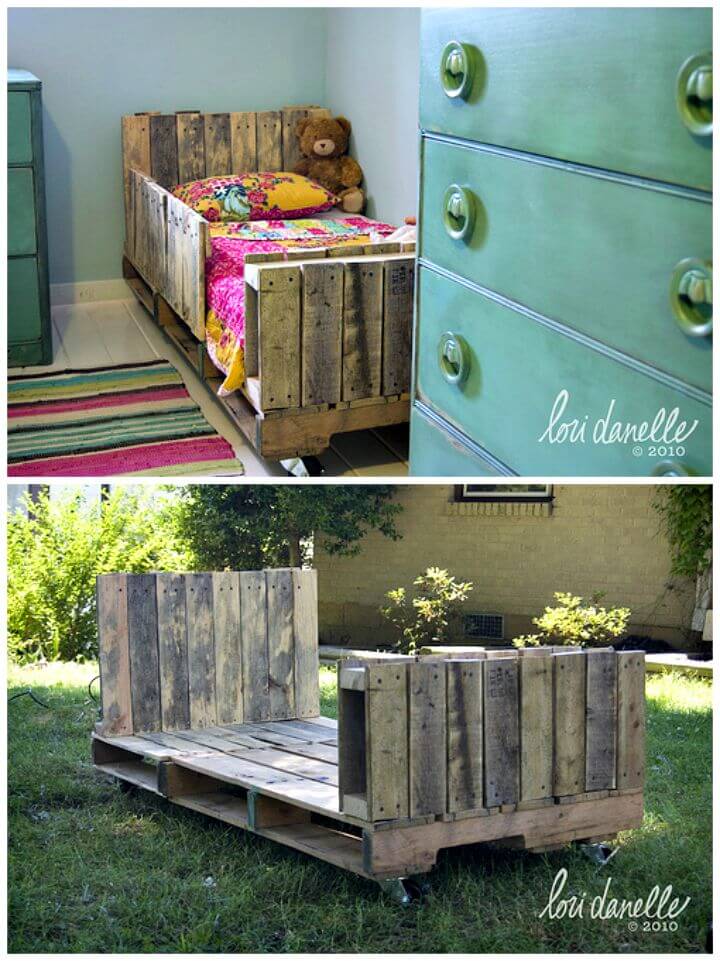 If you have just build some new kids bedrooms and are looking for the respective furniture like a bed then you here is another pallet surprise for you, the graceful wooden pallet toddler bed, another great recycling and a smart rescue of pallets that will help saving lots of your costs! This miniature bed is heavy in duty and come with footboard, headboard and also with side rails that will not let the mattress fall off! Here is how to make this wooden pallet toddler bed loridanelle
How To Create A Pallet Wood Wall Art Sign Tutorial: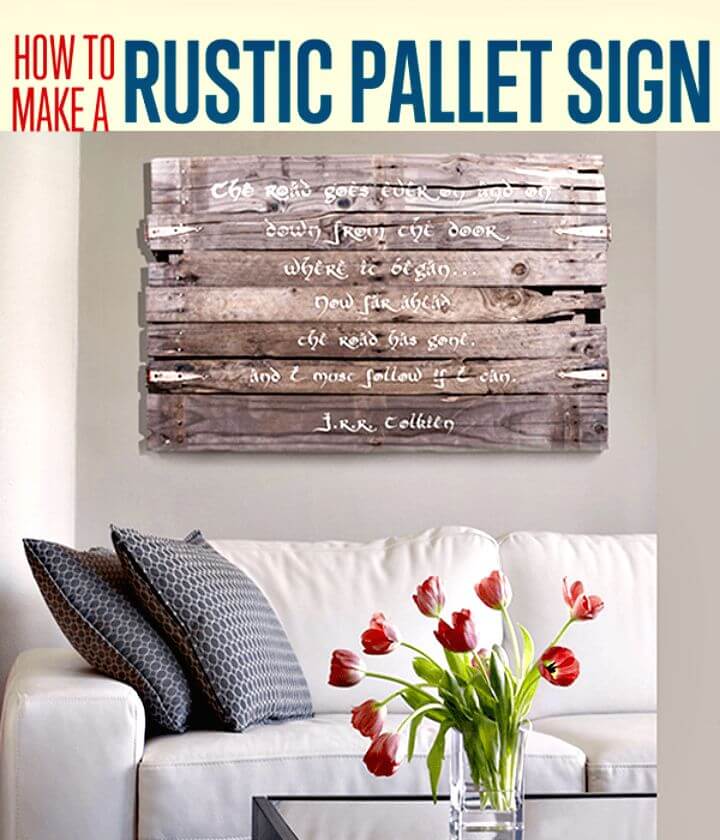 Checkout here the dashing wooden festival tree that is looking much focally stimulating and will hold your photos and greeting cards in a dashing way with the help of clothespins, you can also mount this wooden pallet tree on a custom wall for an instant charm and rustic grace! Complete project details and tutorial guide is here diyprojects
Easy DIY Pallet Wood Christmas Tree Photo & Card Holder Tutorial: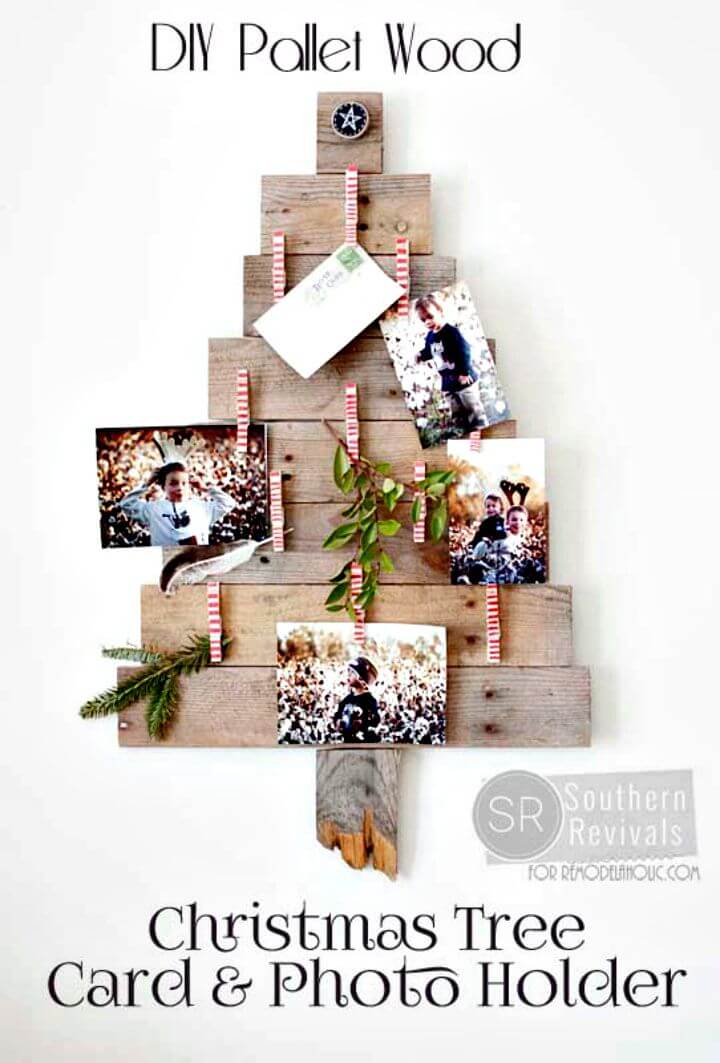 If being available in dismantled form, pallets are damn easy to repack again in shape of wooden geometrical boards that can be painted and overwritten for gorgeous looking wall signs and art pieces that would make a great gift too, get inspired of the given hand painted wall signs that are looking fetching and would really double up interior wall charm! Complete project details and instructions here southernrevivals
DIY Hand Painted Pallet Signs Tutorial: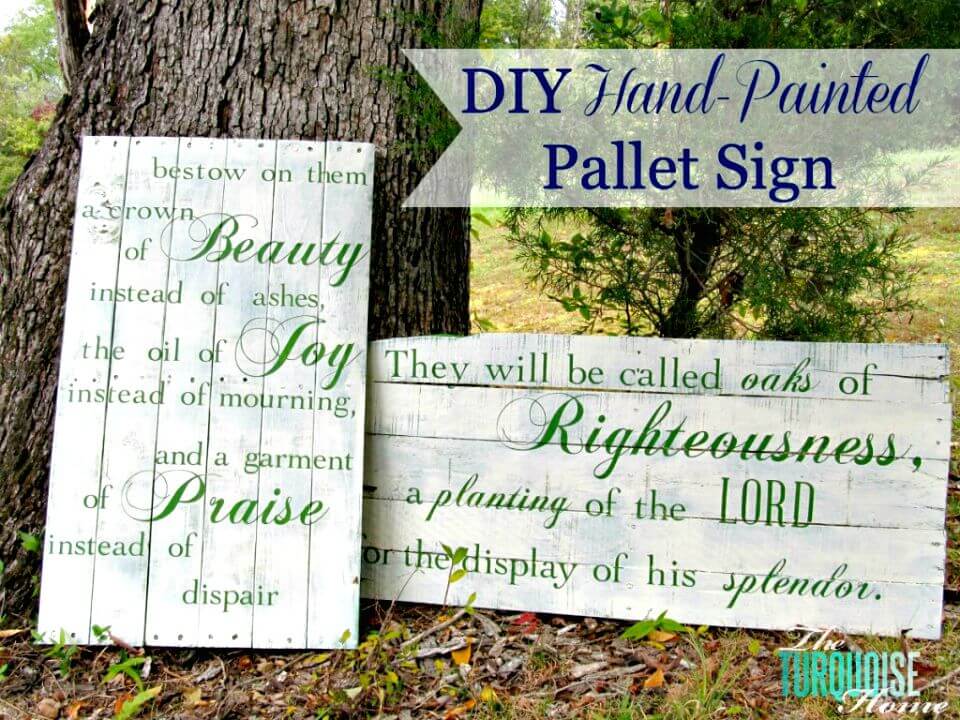 No matter if you are not having some durable wood planters, you can solve it by recycling some pallets, just put custom cut wooden slats around your planters and give them enticing wood covers, checkout the sample planter covers that are much focally stimulating! Another great pallet project idea to boost the visual and beauty of your pots and also of your green space or garden! Complete project tutorial and guides are here theturquoisehome
Easy DIY Pallet Wood Planter Covers Tutorial: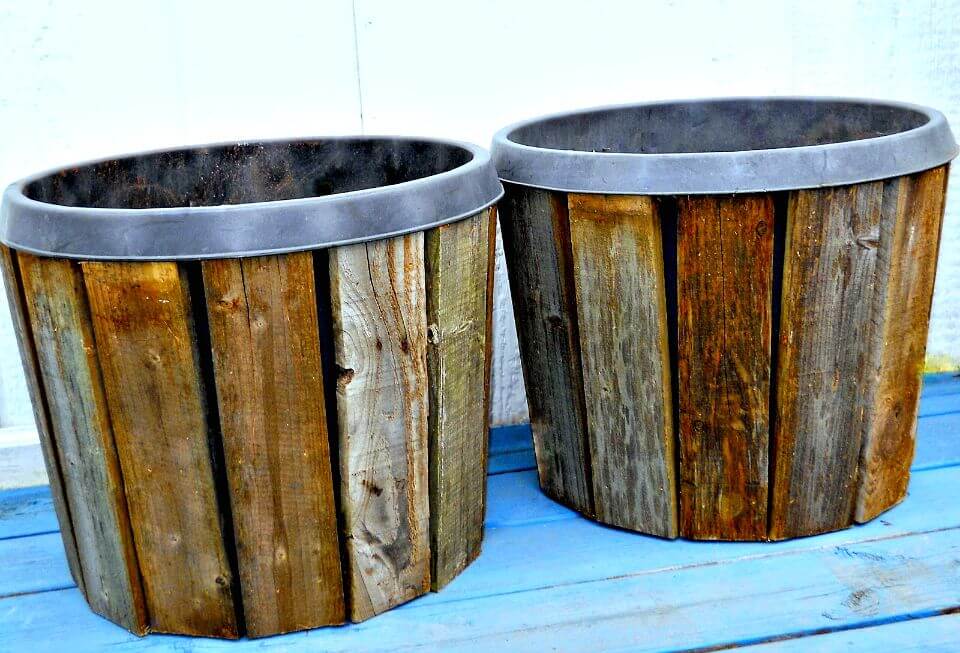 No matter if you are not having some durable wood planters, you can solve it by recycling some pallets, just put custom cut wooden slats around your planters and give them enticing wood covers, checkout the sample planter covers that are much focally stimulating! Another great pallet project idea to boost the visual and beauty of your pots and also of your green space or garden! Complete project tutorial and guides are here makethebestofthings
How To DIY Rustic Bench Made From Wood Pallets Tutorial: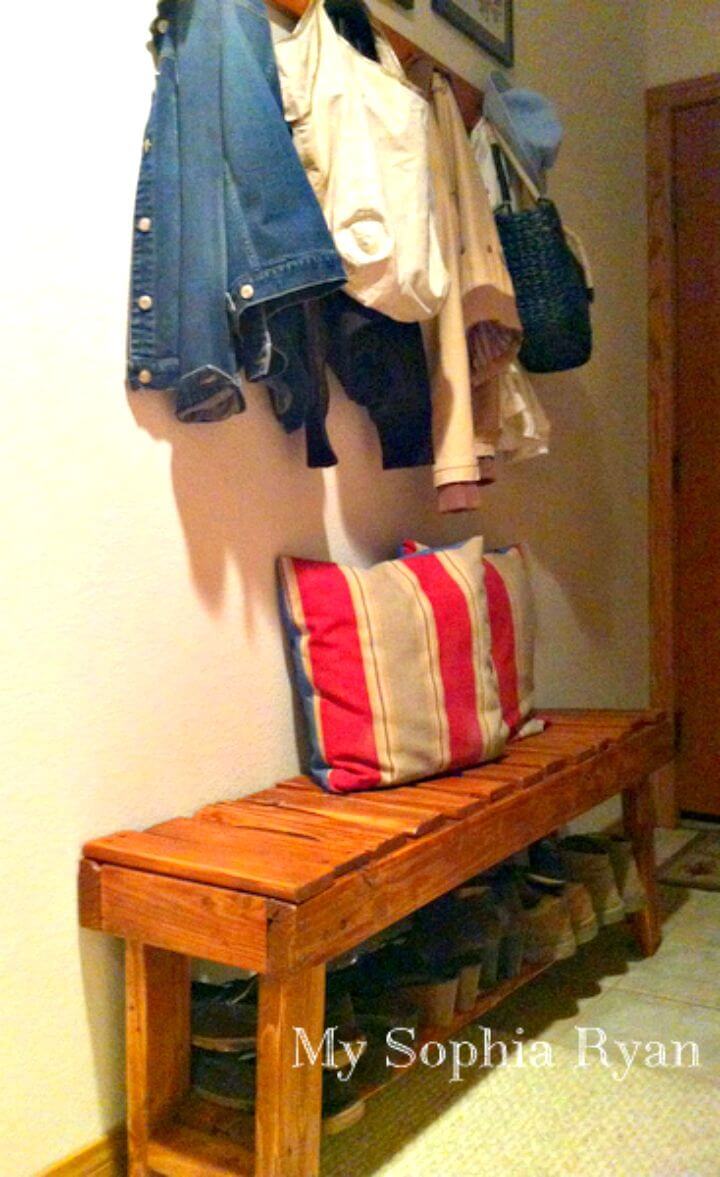 Get inspired of this another smart pallet recovery, a wooden ladder has been built that rocks as a blanket holder or towel rack! Here all you need to put flat some durable wooden planks and then adding the cross supports and braces that would actually be the ladder spindles! Another smart and easy pallet project that everyone can do to organize his blanket collection! Complete project tutorial here mysophiaryan
Easy DIY Pallet Blanket Ladder Tutorial: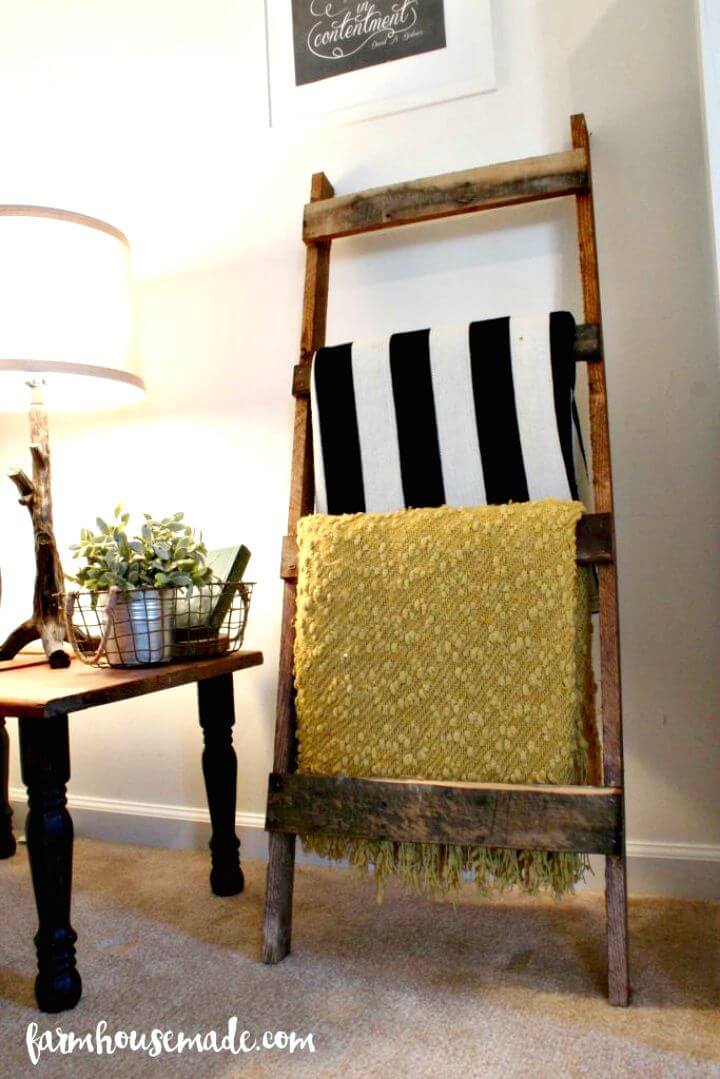 You may think that for what a single rustic pallet length can be worthy, then the answer here is that you can build rocking rustic coat racks and organizer with it just by finishing it up with custom hardware hooks! Just stare at the given sample that is made of an extra rustic and weathered pallet wood slat and is has also been mounted on the wall using durable hardware! Complete project details here farmhousemade
Easy DIY Rustic Pallet Coat Rack Tutorial: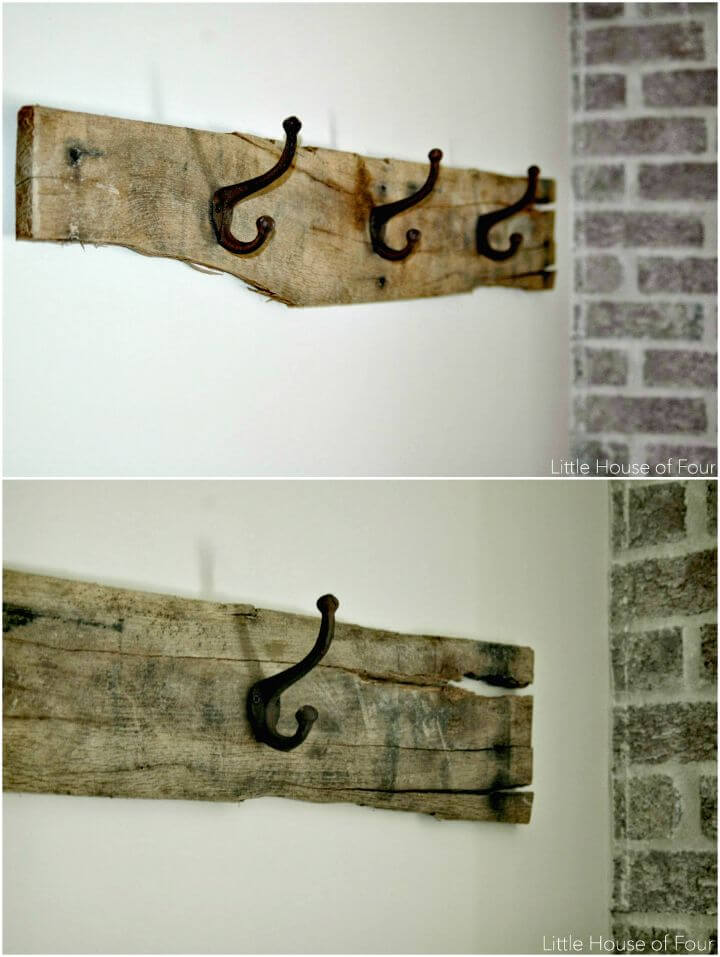 You may think that for what a single rustic pallet length can be worthy, then the answer here is that you can build rocking rustic coat racks and organizer with it just by finishing it up with custom hardware hooks! Just stare at the given sample that is made of an extra rustic and weathered pallet wood slat and is has also been mounted on the wall using durable hardware! Complete project details here littlehouseoffour
How to Build a Pallet Wall Tutorial: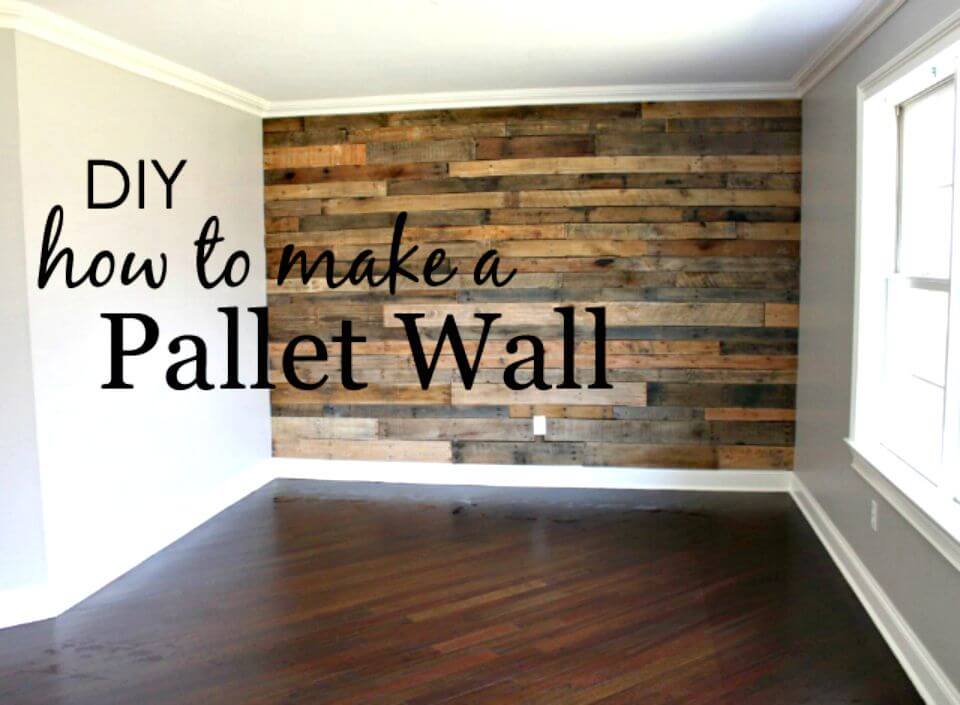 Willing to lure the number of views of a custom interior wall that is looking a little boring? You can also decorate using pallets as they can also be used to build handsome walls decors just like this rustic wood wall sign, this is here a single pallet slat project to do in very spare time! Just grab a pallet wood slat and write over it custom letters and you are done! Complete project guide is here projectnursery
How To Make Your Own Pallet Wood Sign Tutorial: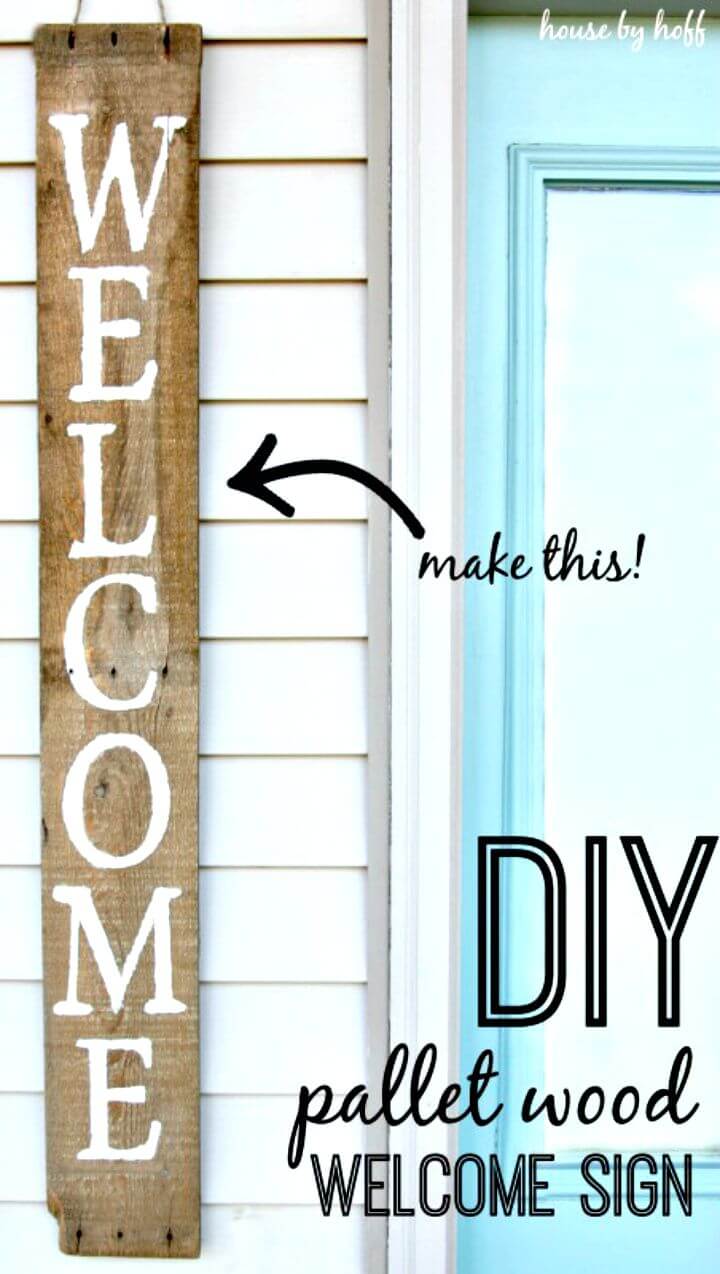 While talking about the interior decors, the wall clocks also make outstanding wall decors, so why not build some great looking wall clocks too with pallets? Get inspired of this rocking wall clock design that is having an enticing round shape and comes with beautiful looking numerals! Just install an accurate clock system to it and you are done, prefer the quartz clock system! Complete details here housebyhoff
Easy and Simple DIY Wood Pallet Clock Tutorial: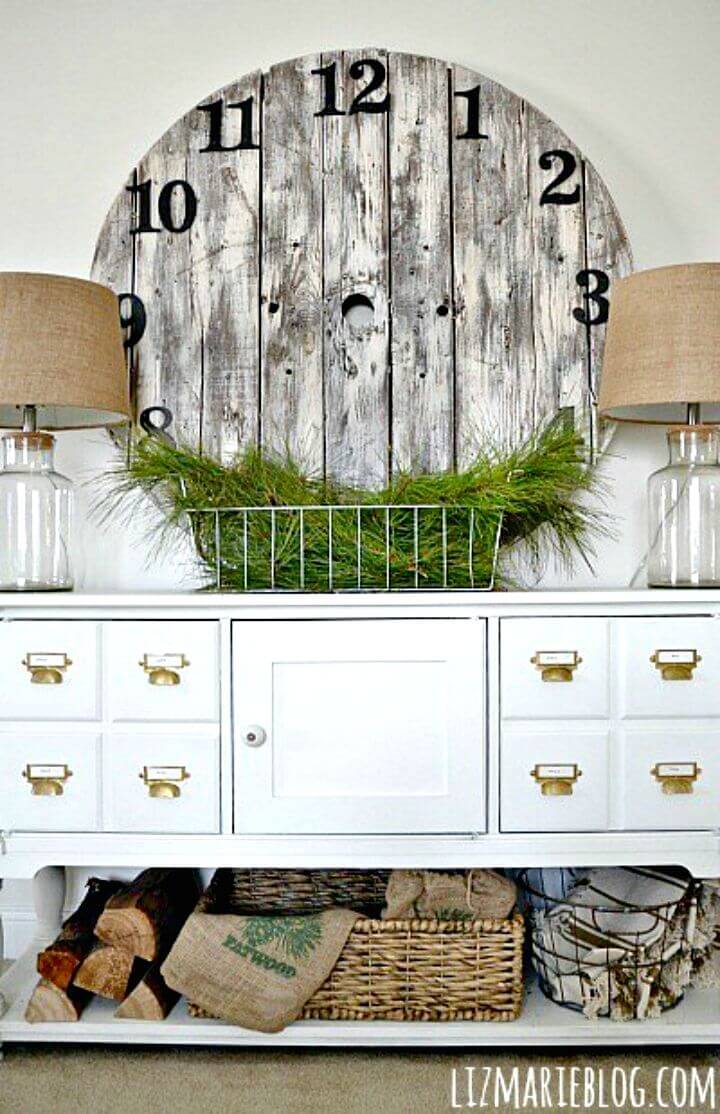 Are you on a mission to digest the interior clutter? If yes, then pallets can also be a great and smart option, build custom racks and shelving units with pallets and just get inspired of this rocking wall rack that is made of a few pallet wood planks, resized and refitted in particular dimensions as you can see! Another great and outstanding pallet recovery! Complete project instructions here lizmarieblog
How to Build Your Own Pallet Wood Wall Rack Tutorial: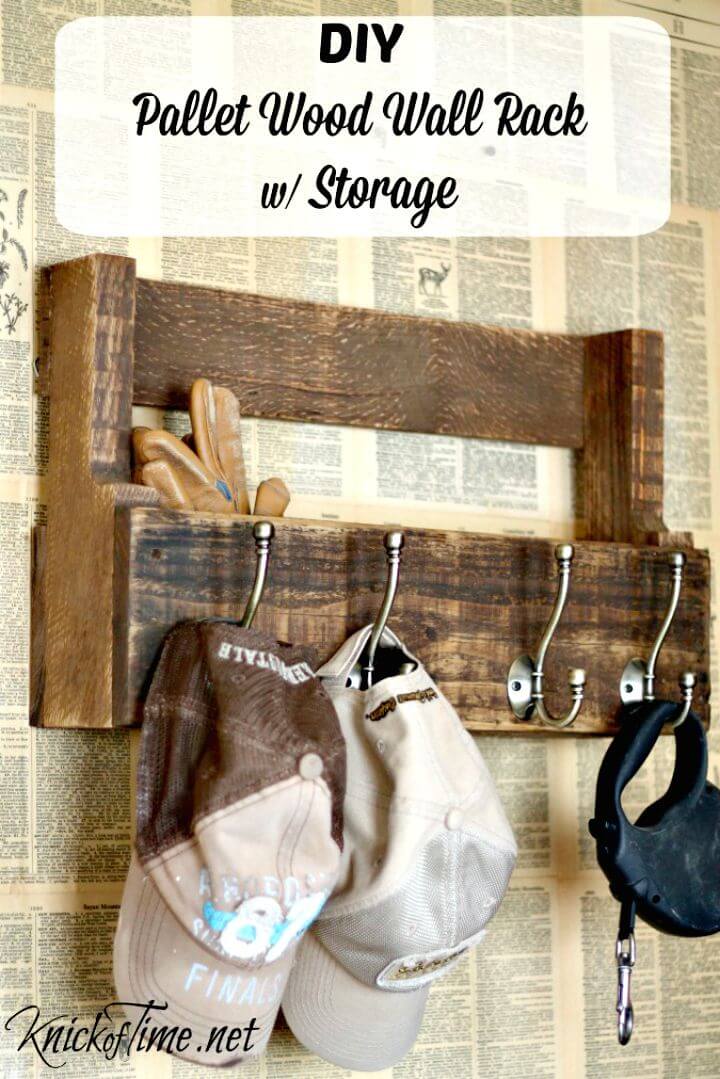 Here is another great décor project you can do with pallets, just repurpose the single pallet slats to build wall hanging candle scones for any of your particular interior wall or space! Get inspired of the given sample that appear in dark choco tone of wood and are super easy to build also! Another genius rescue of wooden pallets! Complete project instructions here knickoftime
Easy DIY Pallet Wood Candle Sconces Tutorial: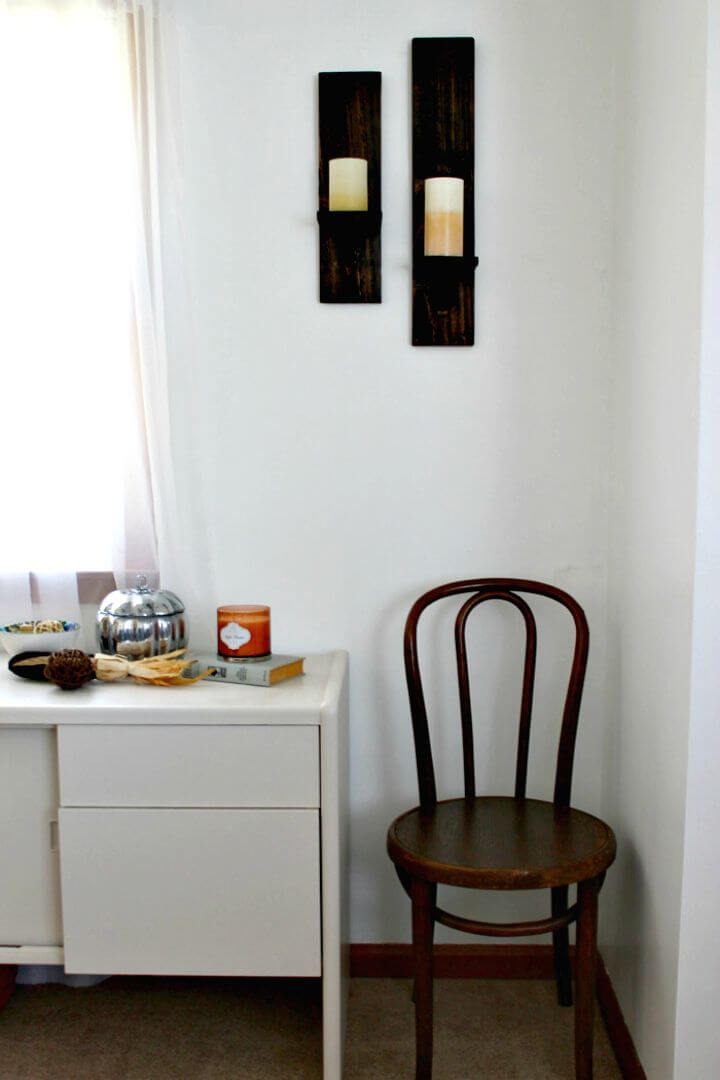 Here is another great décor project you can do with pallets, just repurpose the single pallet slats to build wall hanging candle scones for any of your particular interior wall or space! Get inspired of the given sample that appear in dark choco tone of wood and are super easy to build also! Another genius rescue of wooden pallets! Complete project instructions here amandakatherine
Make A Decorative Pallet Shelf Tutorial: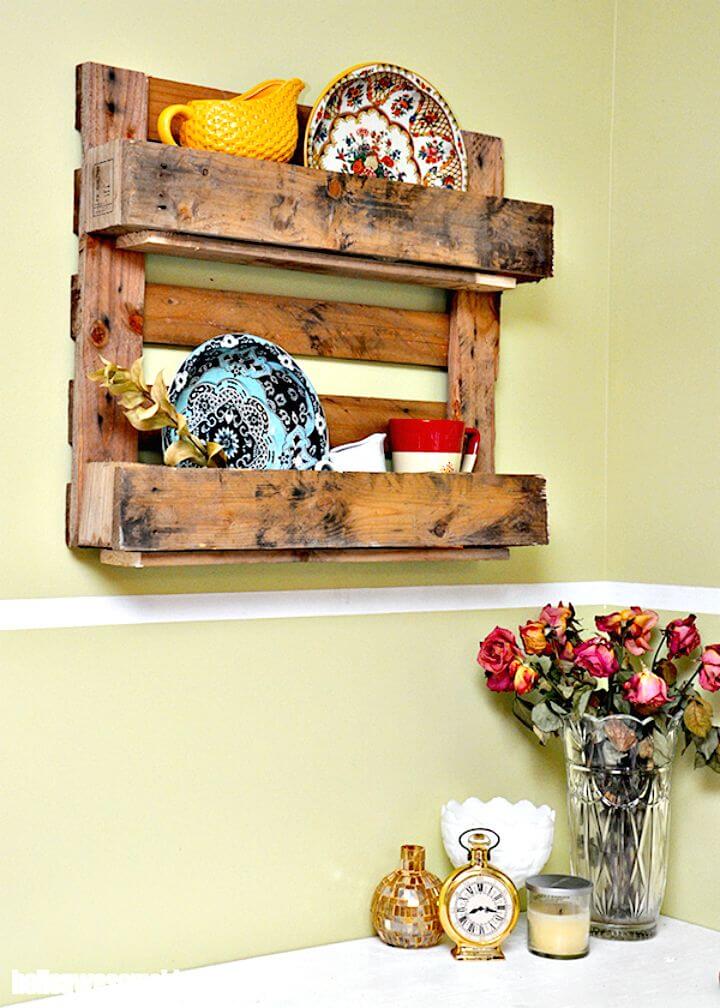 If you are really concerned with the interior wall decors and grace then you can also go handmade with pallets for making some interesting wall signs and decors for free! You can like this wooden pallet sign that is fab example in this case and is purely handcrafted! Just put together some separated pallet slats of equal size and build custom geometrical wooden boards with it! Next just stencil the boards or custom letter or quotes using paint for gorgeous wall signs! Get inspired of the given sample! Complete details here diycandy
Easy DIY Pallet Wood Sign Tutorial: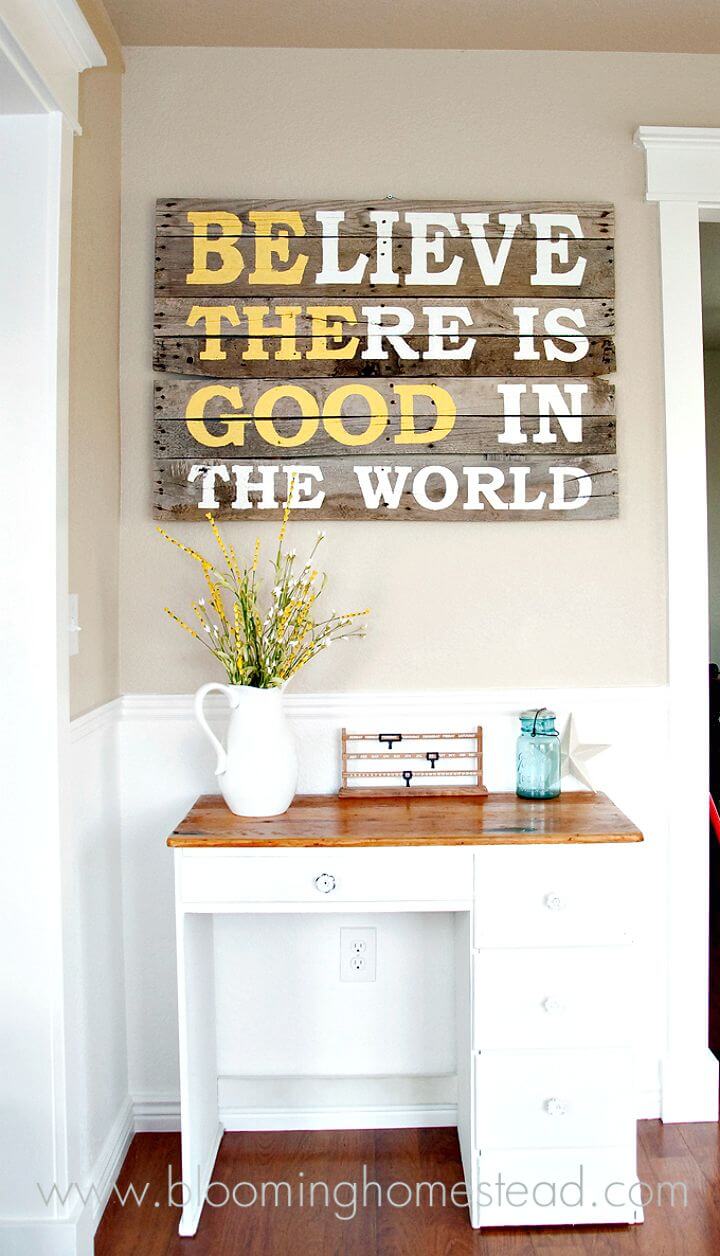 If you are intending to install some amazing refreshment centers or beverage stations in your home or outdoor then you can also get crafty with pallets for respective kind of furniture! A very charming example here is this given wooden pallet bar table that comes with edged counter and is much focally stimulating! Here the entire construction has been done with single pallet slats, don't forget to give a nice wood finish! Complete project tutorial and guide here bloominghomestead
Easy DIY Gorgeous Wood Pallet Bar Tutorial: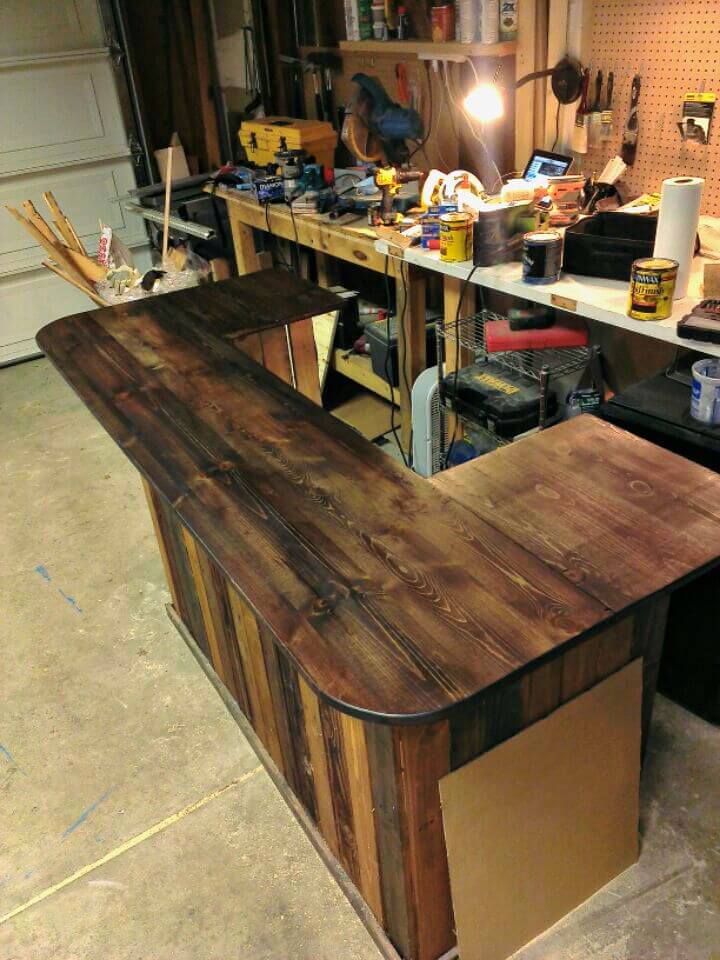 If you are intending to install some amazing refreshment centers or beverage stations in your home or outdoor then you can also get crafty with pallets for respective kind of furniture! A very charming example here is this given wooden pallet bar table that comes with edged counter and is much focally stimulating! Here the entire construction has been done with single pallet slats, don't forget to give a nice wood finish! Complete project tutorial and guide here imgur
Simple DIY Pallet Coffee Table Tutorial: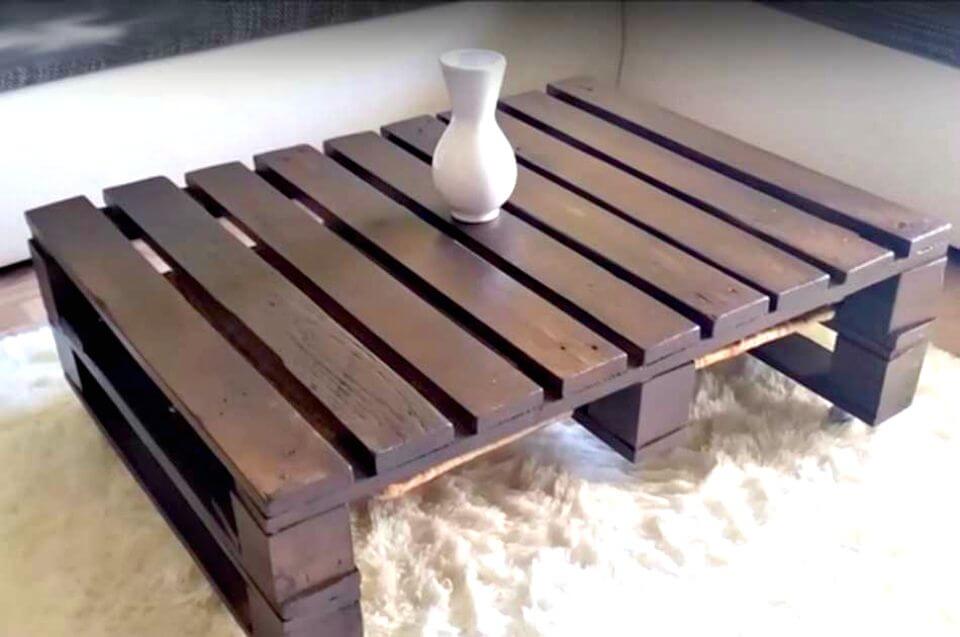 You can build anything special and that is required with pallets! Here a great pallet recovery and achievement that will please all the pet lovers! Just build fetching wooden pet beds just by building some outstanding boxes with pallet wood slats, here this custom wooden dog bed comes on metal pipe legs that ends up with floor flange feet! Don't forget to cushion the bed! Complete visual guides and instructions here diyprojects
DIY Pallet & Pipe Dog Bed Tutorial: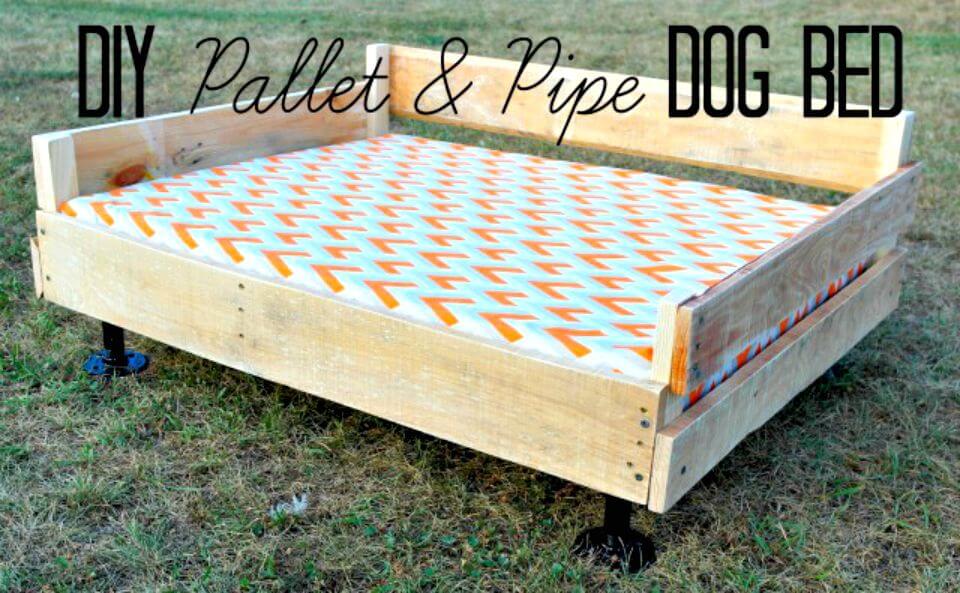 Think twice before you throw pallets to outside as they can come in handy for building amazing low-cost furniture, have a look at this no-cost wooden pallet bed that comes with thicker foam mattress and is only made with pallet put flat on the bedroom floor! An instant and super cost efficient bed idea! Complete project tutorial here thecharmingfarmer
Easy Build Your Own Wood Pallet Bed Frame Tutorial: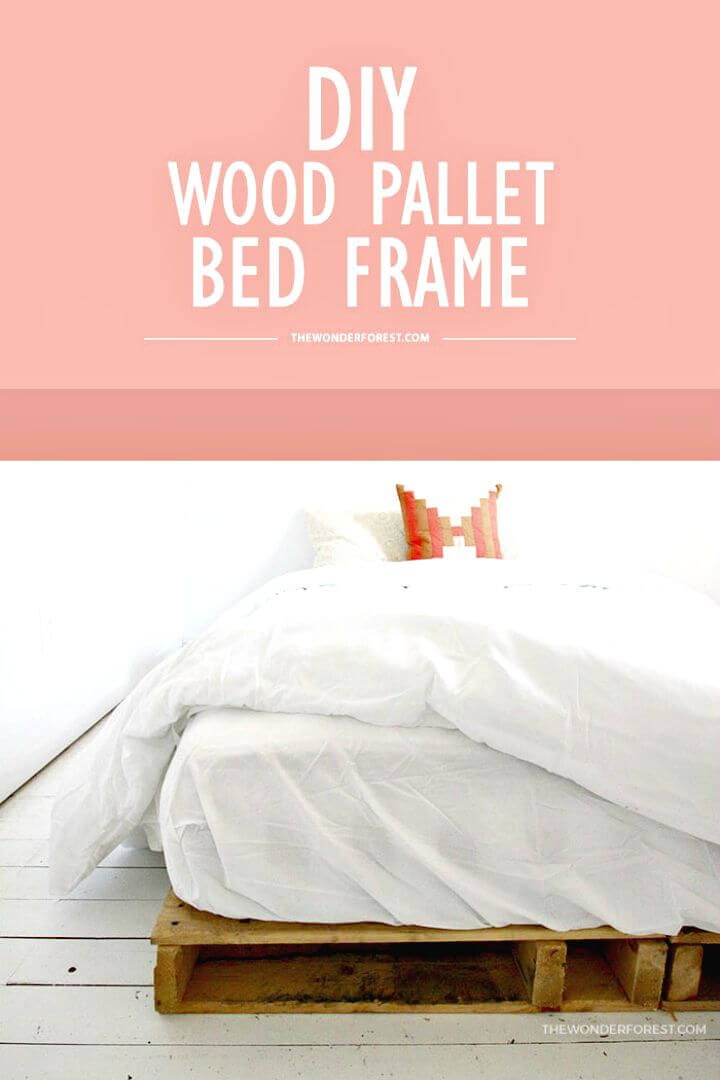 You can think a little on higher levels and can do amazing home renovation and improvement projects with pallets without causing any load on your wallet! You can do also the amazing DIY wood flooring and wall paneling projects also with pallets, get inspired of this sample wood floor, done with wooden pallet slats, put flat and tight in place! The finally finished wood floor has been stenciled for extra charm and grace! Complete how to tutorial and instructions here thewonderforest
Easy DIY Stenciled Pallet Wood Floor Tutorial: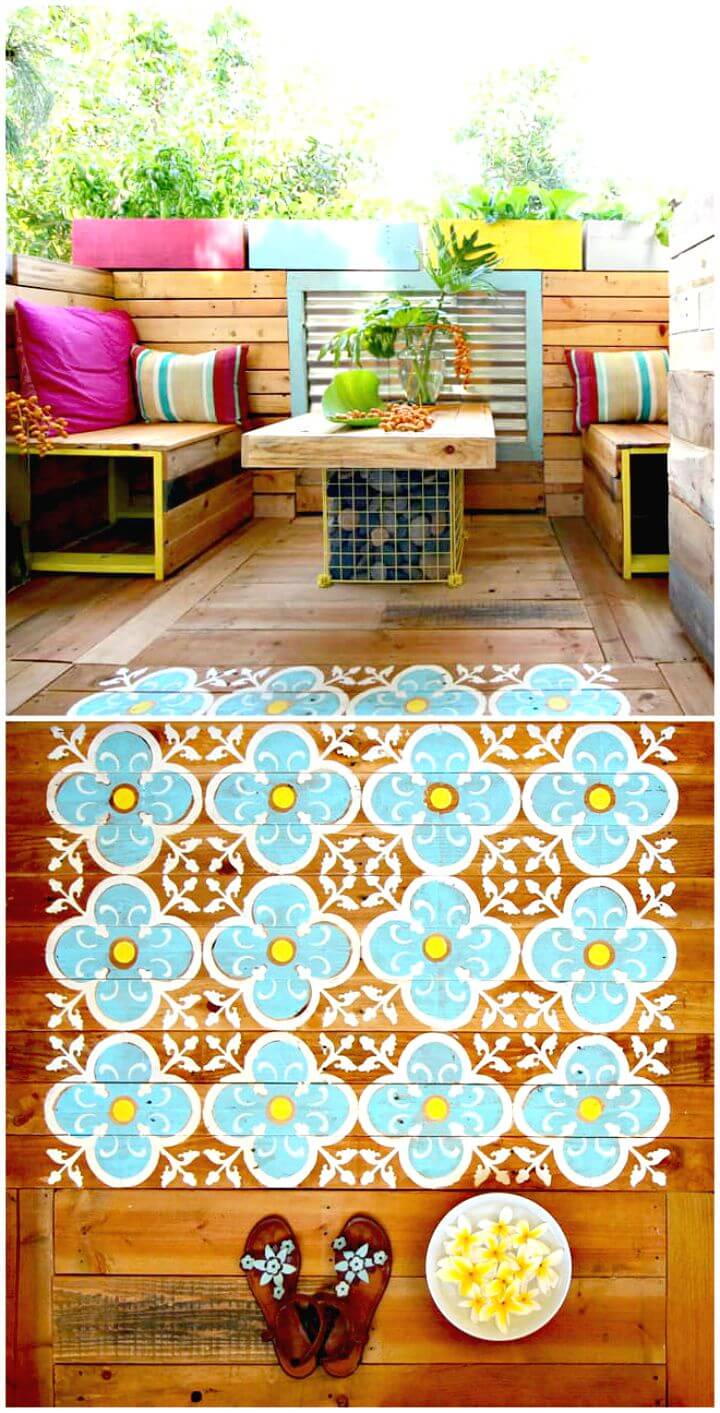 You can also do amazing garden and patio decor projects with pallets, build great looking wooden planters or planter boxes also with pallets! Get inspired of given wooden triangle pallet planter boxes that are awe-inspiring and looking damn beautiful and gorgeous! Here again the separated wooden planks have been put together for making these gorgeous looking planters! Complete tutorial here apieceofrainbow
Easy DIY Triangle Pallet Planters Tutorial:
You can also do amazing garden and patio décor projects with pallets, build great looking wooden planters or planter boxes also with pallets! Get inspired of given wooden triangle pallet planter boxes that are awe-inspiring and looking damn beautiful and gorgeous! Here again the separated wooden planks have been put together for making these gorgeous looking planters! Complete tutorial here lovecreatecelebrate
How to Make a Towel Rack From Pallet Wood Tutorial: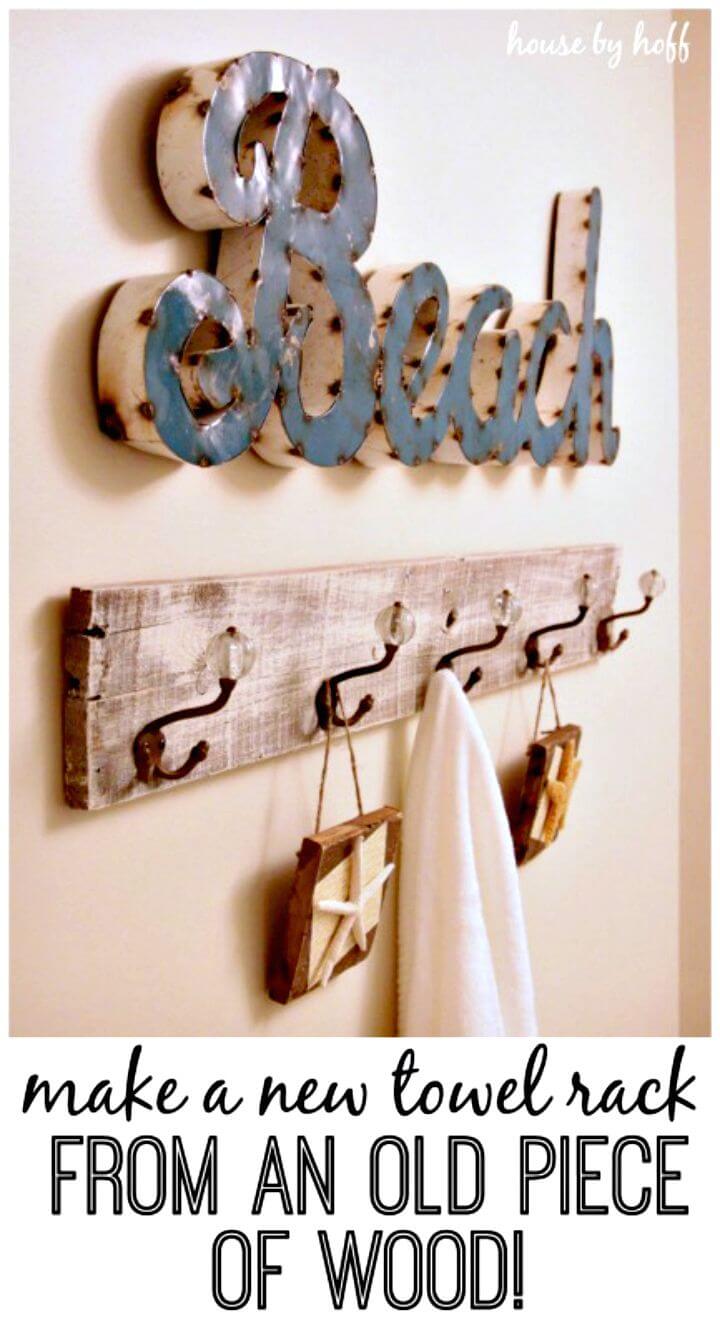 Just tear the pallets apart into pieces and use the single pallet slats to do amazing home organizing projects! This may sound strange to you but you will find the statement so true after taking a look at this towel rack made of a single pallet wood slat! The grabbed pallet wood length has only been added with custom hardware hooks to make a graceful towel rack! Complete project details and tutorial here housebyhoff
How To Build Your Own Garden Pallet Tutorial: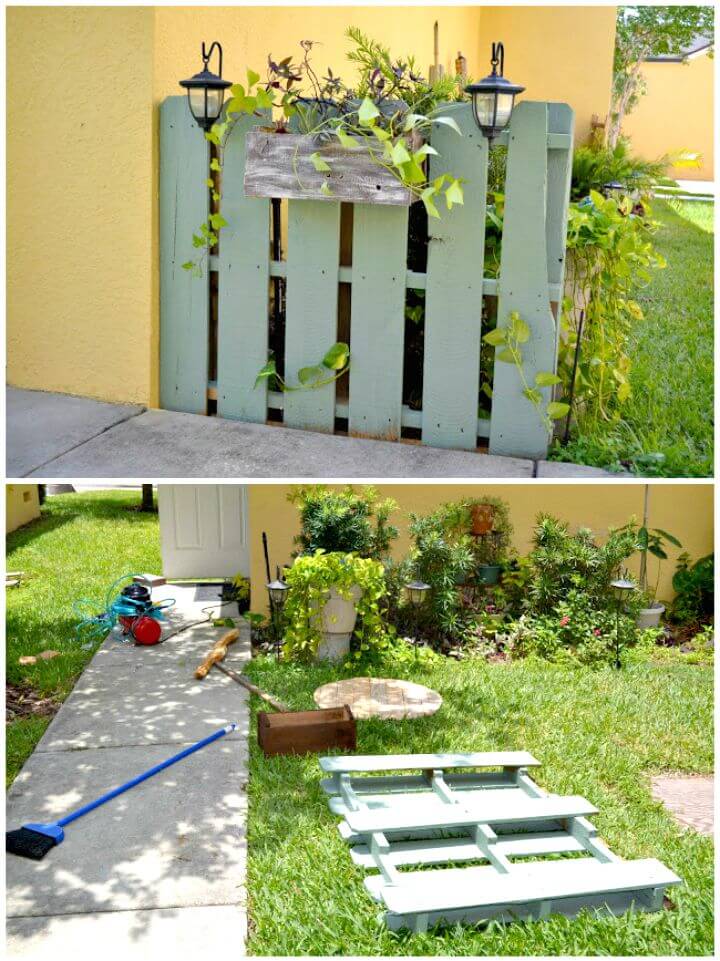 Here another lovely art creation done with pallets, a custom wooden board made of pallet slats have been painted first for brilliant white chevron lines and then has been written over custom letters and quotes for a graceful wall art sign and piece! Another outstanding wooden pallet art sign that you can easily duplicate for your space! Complete project instructions and guide here camelotartcreations
Beautiful DIY Pallet Art Tutorial: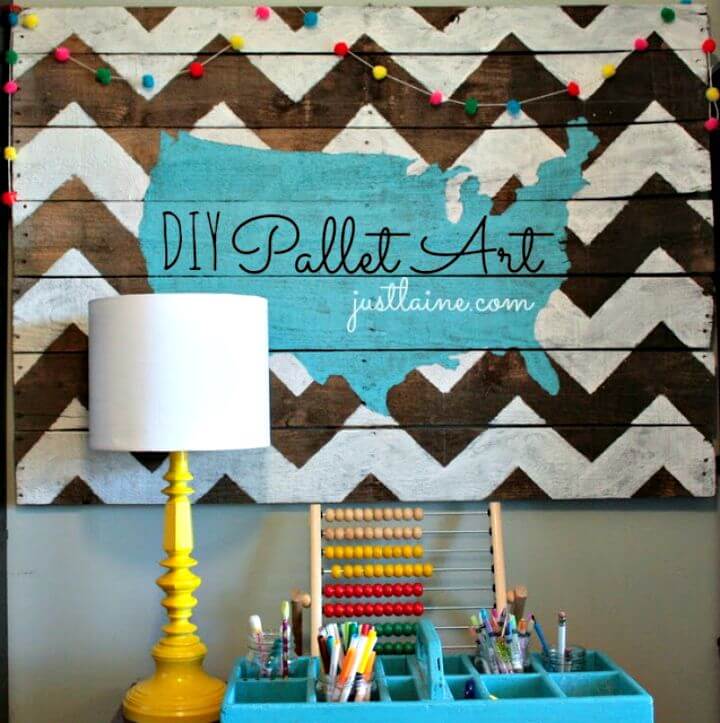 Also make smart use of separated apart pallet wood slats in making gorgeous garden decors like handsome wooden planters and planter boxes! Checkout here a precious sample, a longer wooden cubby that is deep enough to hold safely your little terracotta pots and mason jars vases beautifully in a line! Have a look at the sample inspiration! Complete project instructions and guide here justlaine
DIY Pallet Planter Box Tutorial: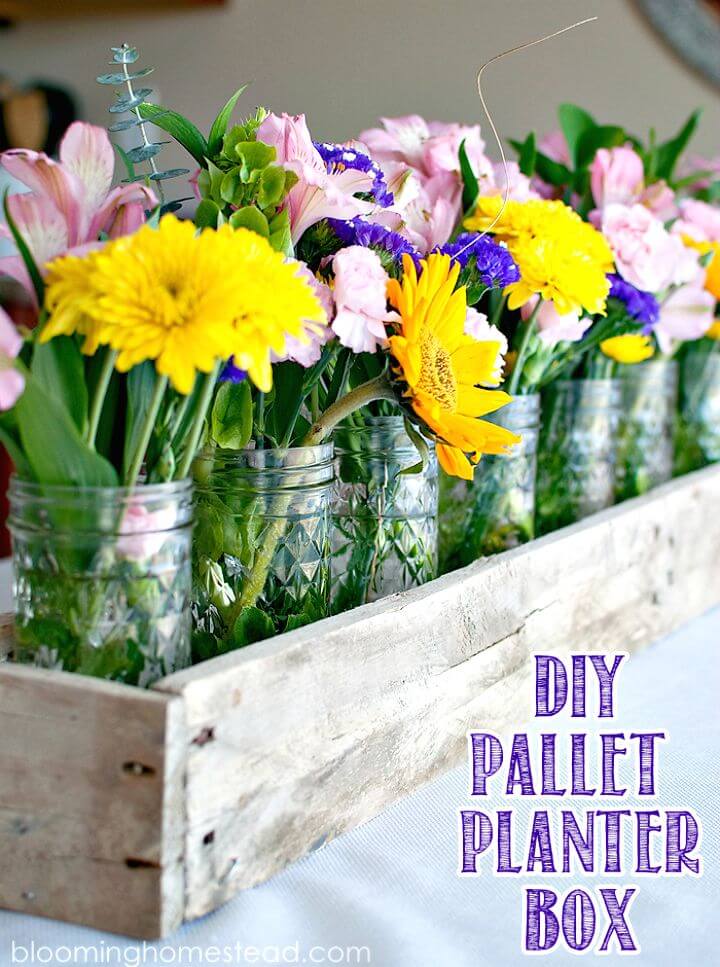 Another great and handsome pallet creation is here, the very good looking wooden pallet clock that comes in an enticing round shape and has been painted for roman numerals! It is super easy to make using pallet wood slats and a round wood template which you can easily make out of a plywood sheet! Just install the final clock system and enjoy a handsome looking wall clock that would also make a great gift! Complete project tutorial and instructions here bloominghomestead
Easy DIY Roman Numeral Pallet Clock Tutorial: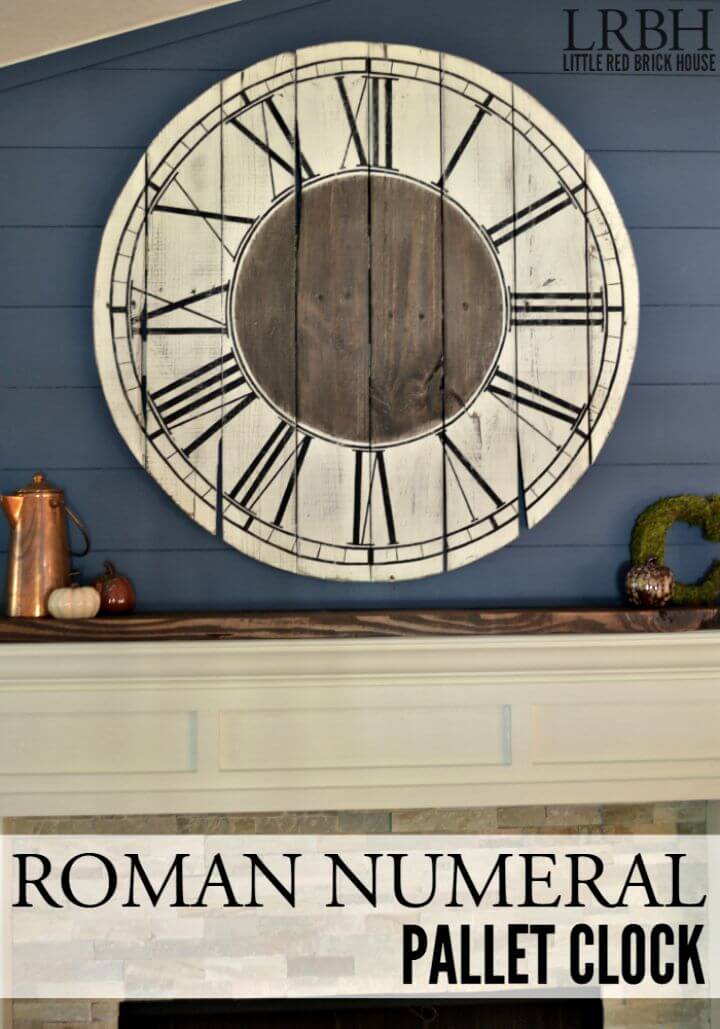 Another great and handsome pallet creation is here, the very good looking wooden pallet clock that comes in an enticing round shape and has been painted for roman numerals! It is super easy to make using pallet wood slats and a round wood template which you can easily make out of a plywood sheet! Just install the final clock system and enjoy a handsome looking wall clock that would also make a great gift! Complete project tutorial and instructions here littleredbrickhouse
How to Build Your Own Reclaimed Pallet Bookshelf Tutorial: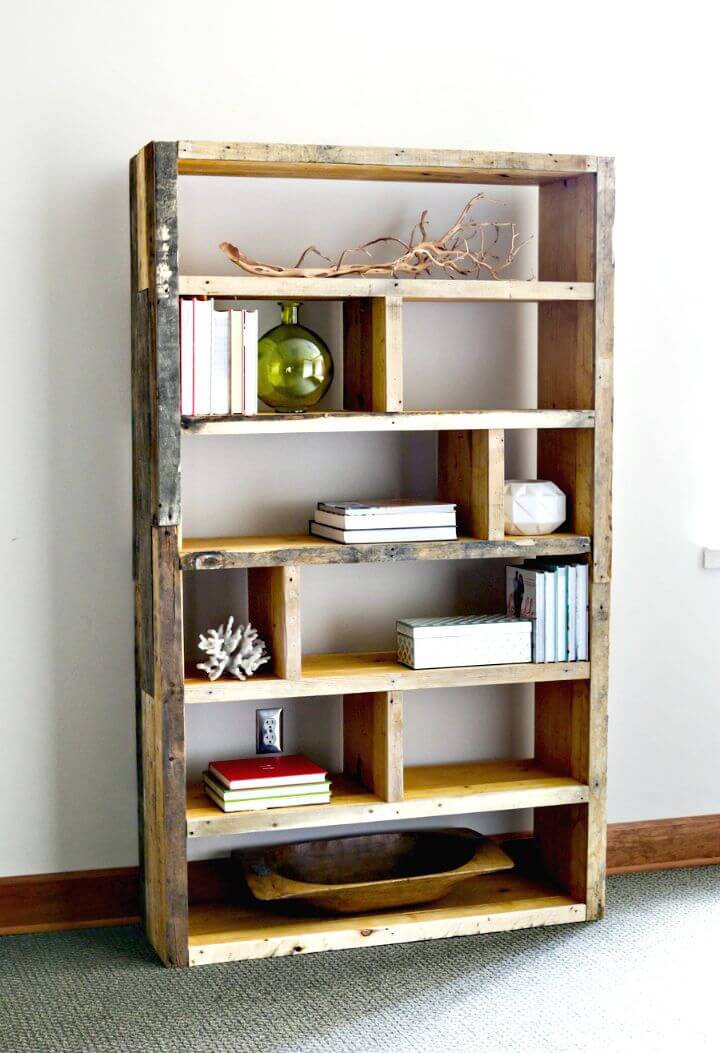 Go handmade with pallets also smartly to build fetching design structures of shelving units that will help organizing the messy collections of things in your home! A very interesting example here is the given wooden pallet bookshelf that is fetching due to clever storage options! Custom dividers have been added to partition a shelving level into two for interesting display of stored stuff like books and other centerpieces! Complete project guides and instructions here jenwoodhouse
How to Make a Chocolate Brown Pallet Coat Hanger Tutorial: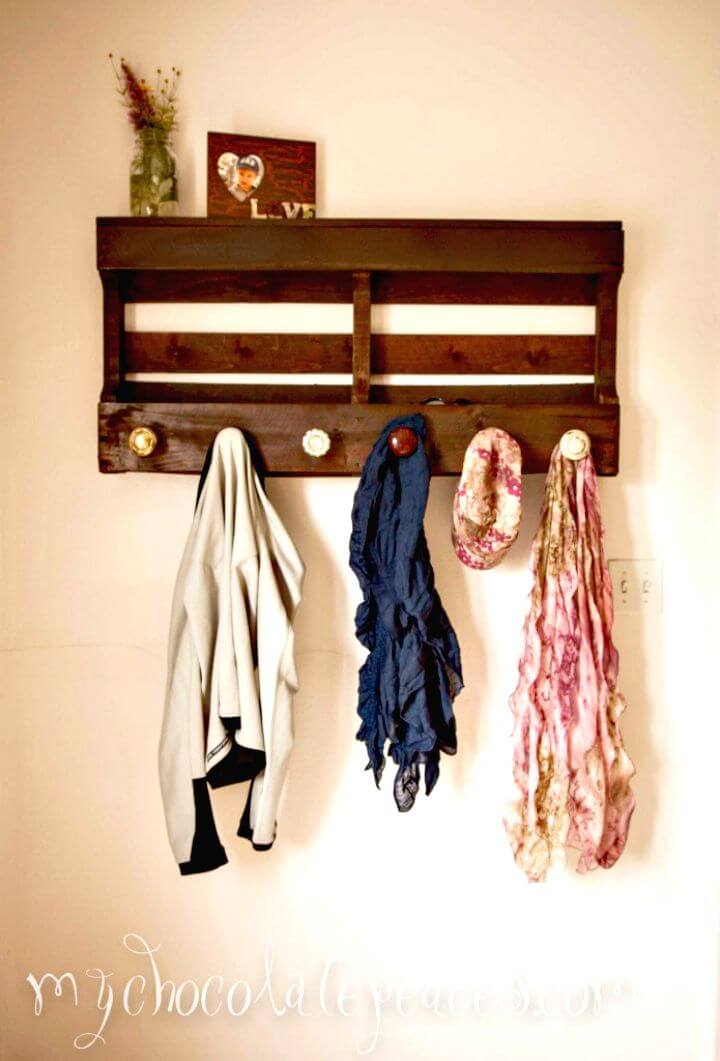 Recover also ready-made functional items out of complete pallet skids! Checkout here the wooden pallet wall hanging coat rack that is actually a custom cut part of a wooden pallet skid and has been added with custom knobs that will hold your custom items of interest from handbags to coats! Looking forward to duplicate this mind-blowing wooden pallet coat hanger? Grab the full tutorial and instructions from here momitforward
How To DIY Rustic Pallet Coffee Table Tutorial: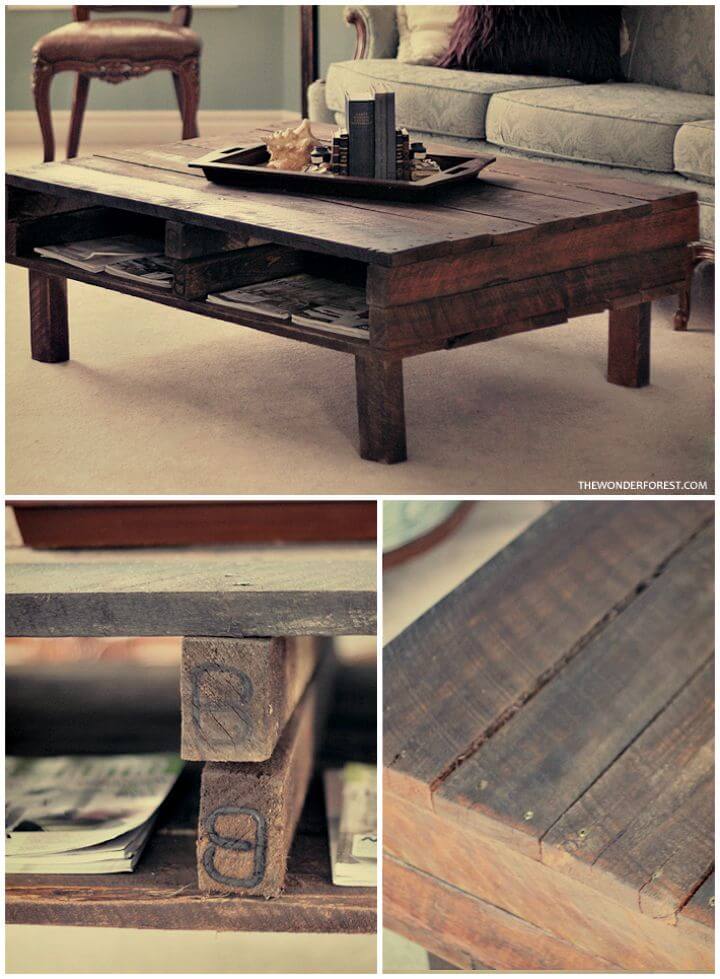 You will just fall in love with this interesting wall art sign that is much focally stimulating and visually attractive and would please every home lover! This is here an antler wall art that comes on a wooden background that is purely made of separated pallet slats! So, dismantle a few pallet skids to duplicate this enchanting wall art piece! Complete project instructions and guides are here thewonderforest
How To Make Pallet Antler Wall Art Tutorial: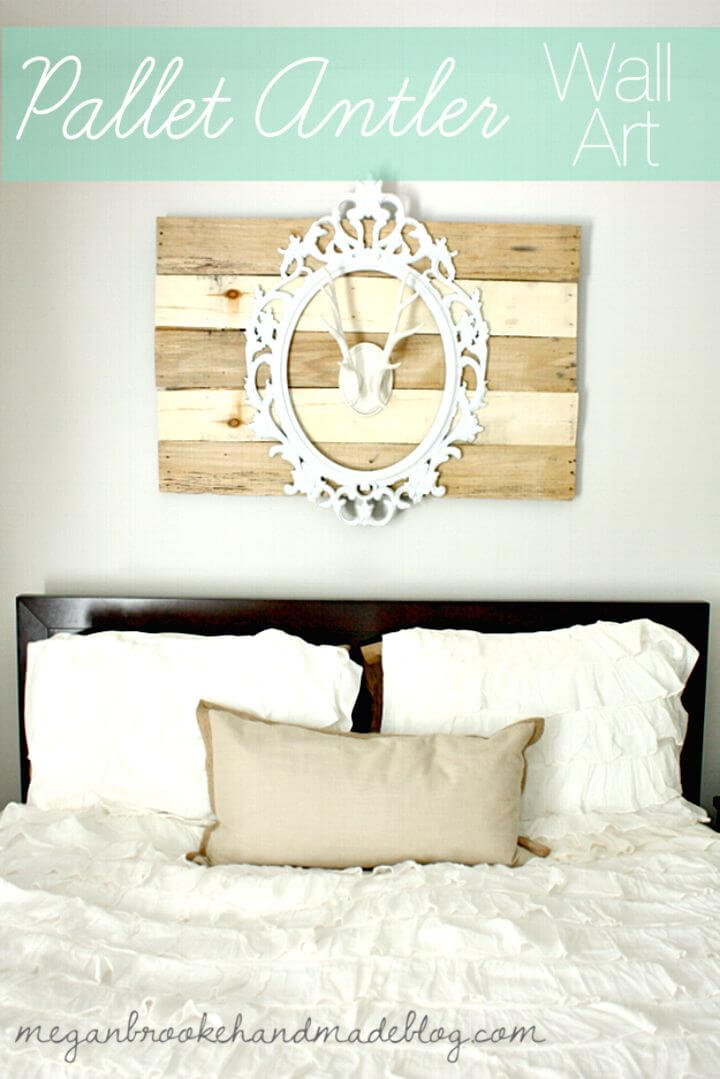 If you are having some leftover pallet wood planks then you can also duplicate these wooden snowflake chargers that will rock on a dining or breakfast table! Here all you need is to put together the custom cut wooden slats for amusing wooden squares and then you can paste the snowflakes which can also be painted on the pallet boards! Complete instructions here meganbrookehandmadeblog
Easy DIY Pallet Wood Chargers Tutorial: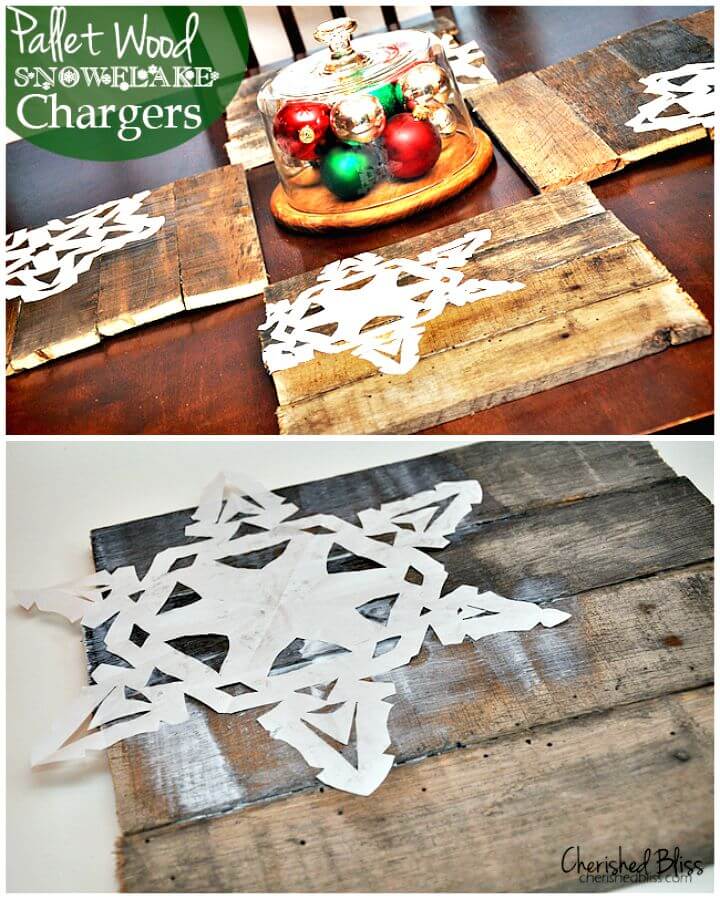 Get your bed designs dignified by adding rustic wooden headboards to them that will rock for mix rustic modern bedroom decors also! Have a look at this given precious headboard that is made of separated wooden pallet planks put together tight vertically and finally have been added with reading lights! A nice wood finish has been given that creates a fetching wood tone! Grab the full free guide and visual instructions from here cherishedbliss
How To Build Pallet Headboard Tutorial: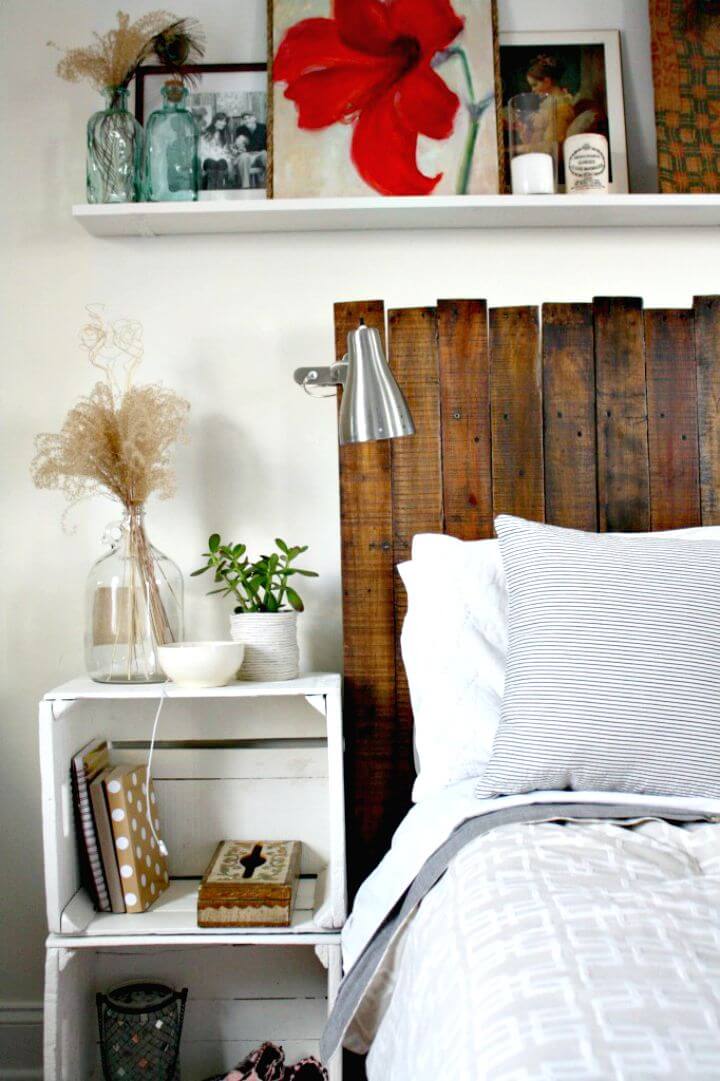 The possibilities are just never ending for building enticing looking wall art signs and decors with separated and custom cut pallet wood planks! Checkout here another great one, the pallet wood state art wall sign that will hang like a patriotic wall décor too! This is also super easy to make and can be duplicated in just no time! Complete how to tutorial here ricedesignblog
How To Make Your Own Pallet Board World Map Tutorial: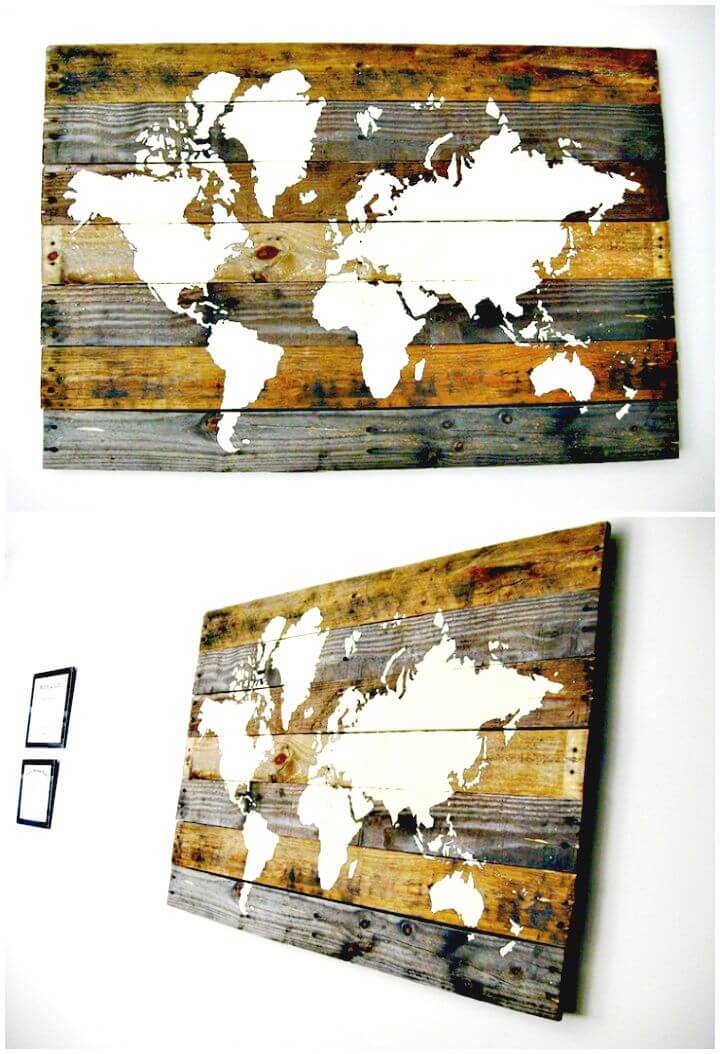 The possibilities are just never ending for building enticing looking wall art signs and decors with separated and custom cut pallet wood planks! Checkout here another great one, the pallet wood state art wall sign that will hang like a patriotic wall décor too! This is also super easy to make and can be duplicated in just no time! Complete how to tutorial here themerrythought
How To Build Your Own Distressed Pallet Board Tutorial: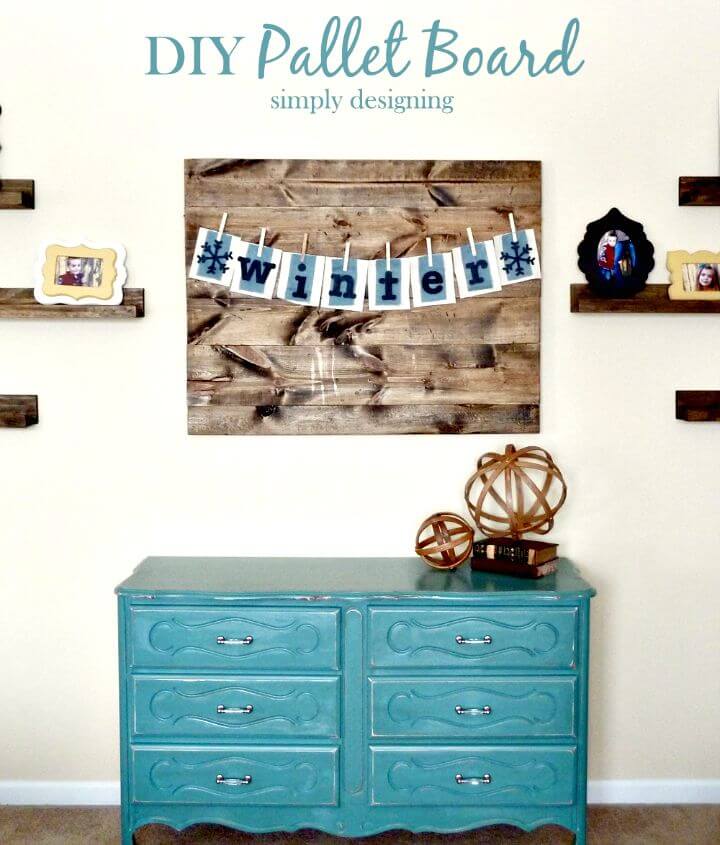 Another eye-catching wall sign is here that is looking fab in distressed wood tone! This is here the eye-catching sign built to give a warm welcome to winters! Here custom snowflake and letter cards have been fixed in place on the pallet board using clothespins! Another mind-blowing and interesting pallet wall décor project that everybody can duplicate! Complete project instructions here simplydesigning
Easy DIY Pallet Board Serving Tray Tutorial: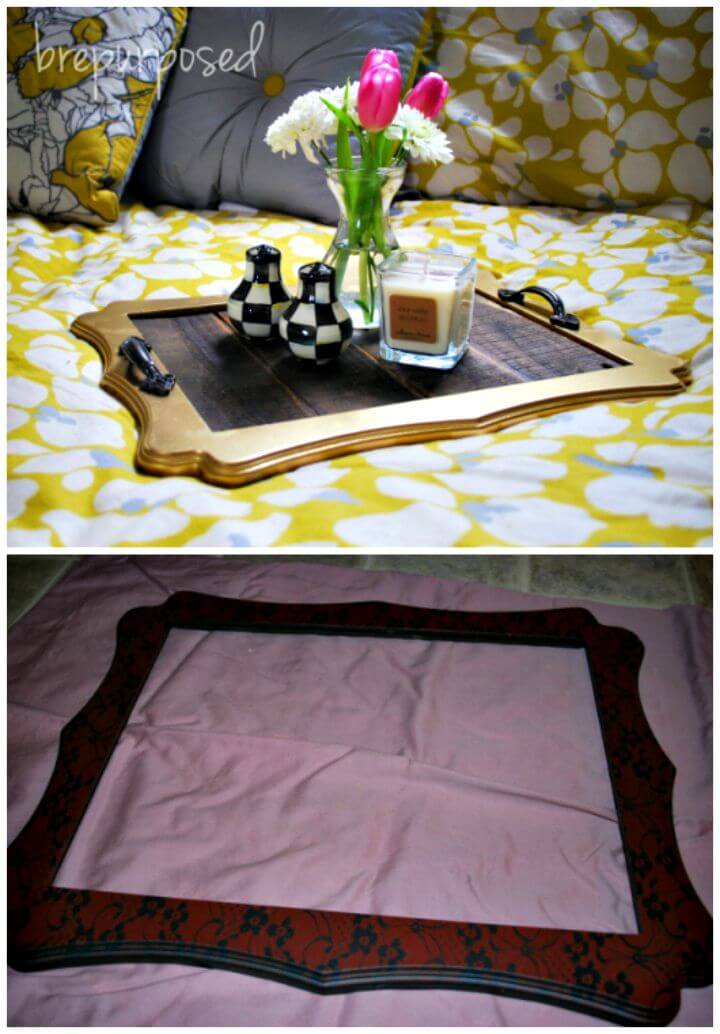 One more exceptional pallet wood wall art design is here, this is here the fair isle faux pallet sign that would make a brilliant gift for art lovers and would make a spell-binding wall décor! It would be a great solution to turn a boring wall into a charming one! Here all you need some pallet wood slats, custom hardware hanging systems and according shades of paint to duplicate this project! Complete project instructions here brepurposed
DIY Fair Isle Faux Pallet Sign Tutorial: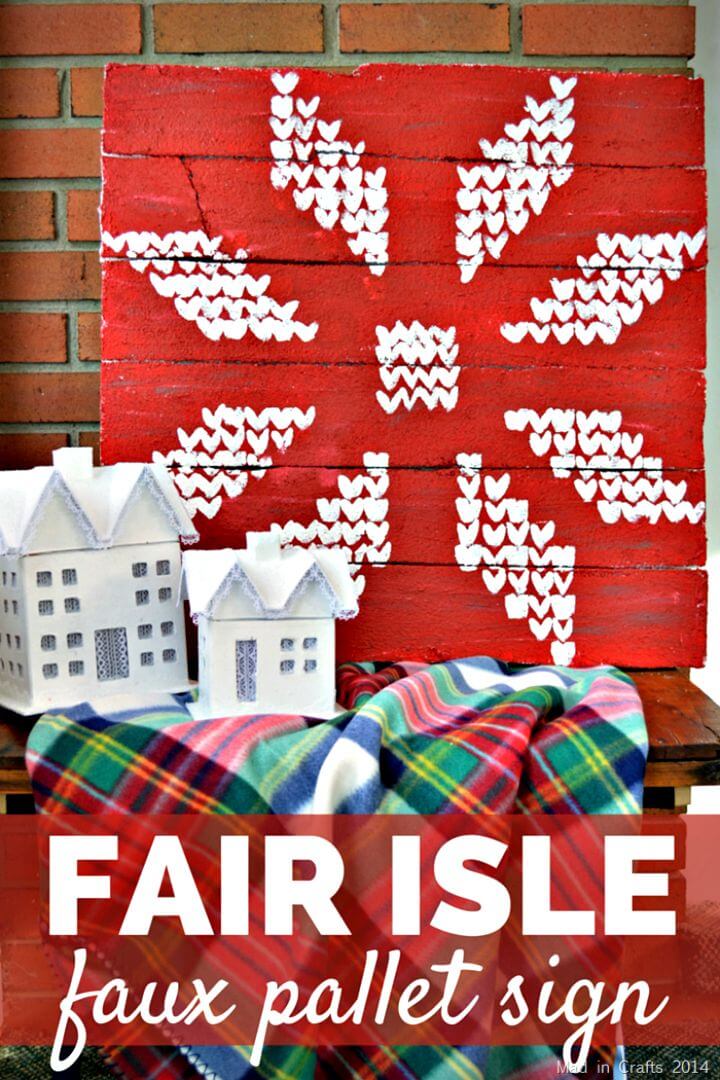 One more exceptional pallet wood wall art design is here, this is here the fair isle faux pallet sign that would make a brilliant gift for art lovers and would make a spell-binding wall décor! It would be a great solution to turn a boring wall into a charming one! Here all you need some pallet wood slats, custom hardware hanging systems and according shades of paint to duplicate this project! Complete project instructions here madincrafts
Easy DIY Pallet Wall Reveal Tutorial: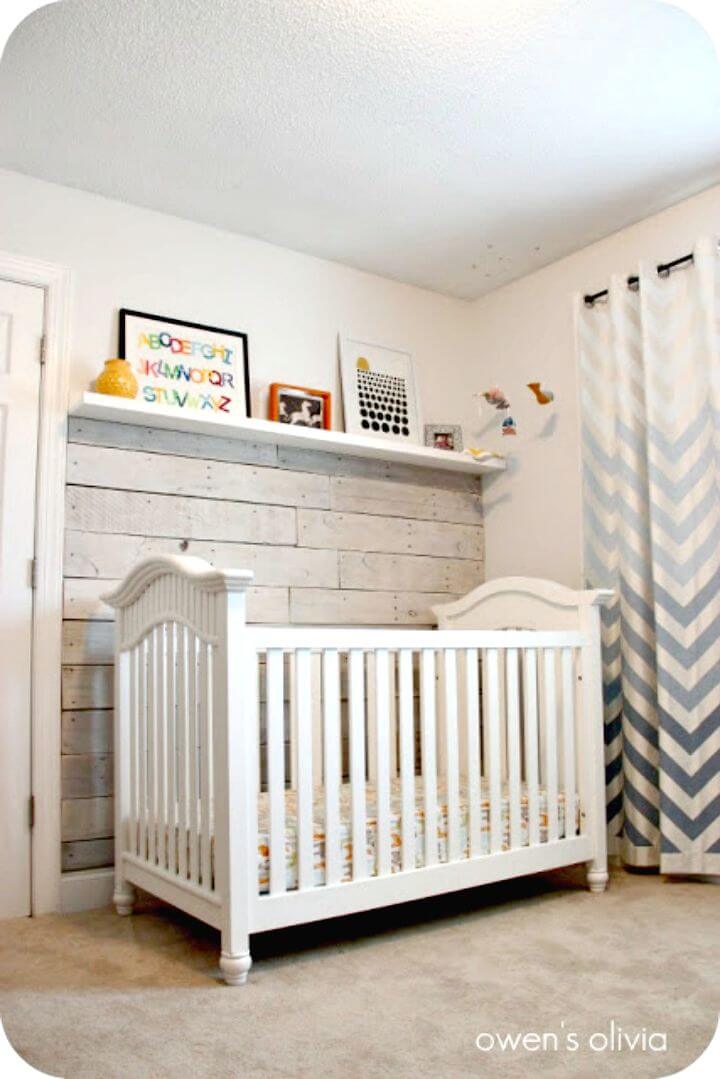 You can get crafty with pallets for any custom home renovation or improvement project! A very smart one is here that you can do, build fantastic AC covers with pallets that will provide weather protection and will also keep the AC save from accidental damage! Checkout here the sample AC cover this looking robust and is made of uncut wooden pallet skids! Complete how-to tutorial and visual instructions here owensolivia
How To Build Your Own Pallet AC Cover Tutorial: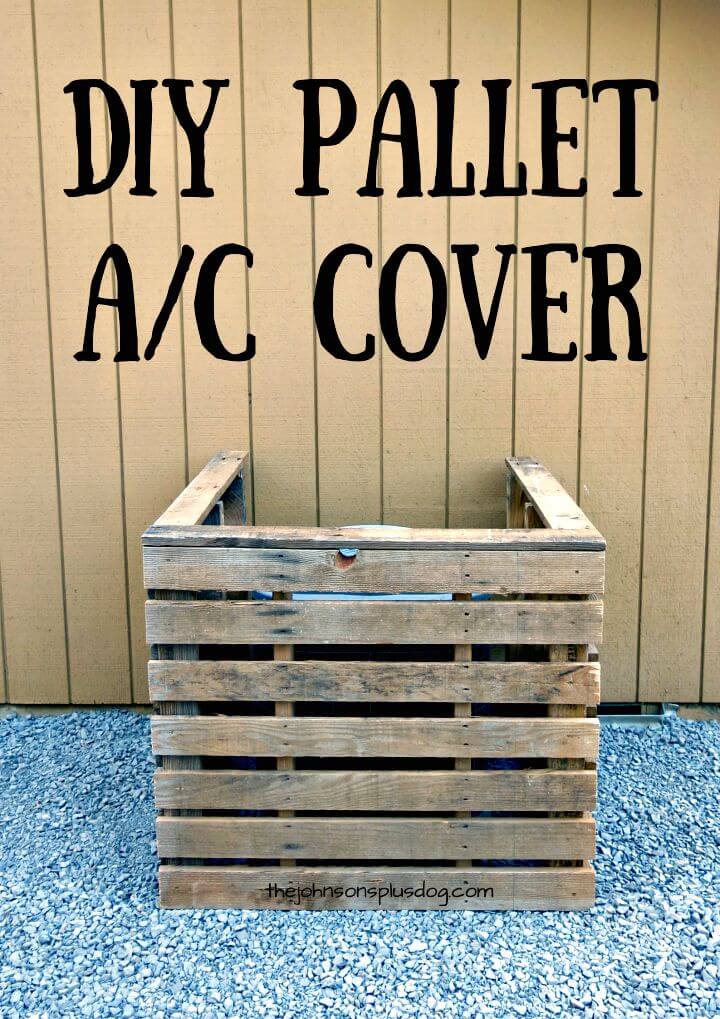 You can get crafty with pallets for any custom home renovation or improvement project! A very smart one is here that you can do, build fantastic AC covers with pallets that will provide weather protection and will also keep the AC save from accidental damage! Checkout here the sample AC cover this looking robust and is made of uncut wooden pallet skids! Complete how-to tutorial and visual instructions here makingmanzanita
How To Make Pallet Swing Tutorial: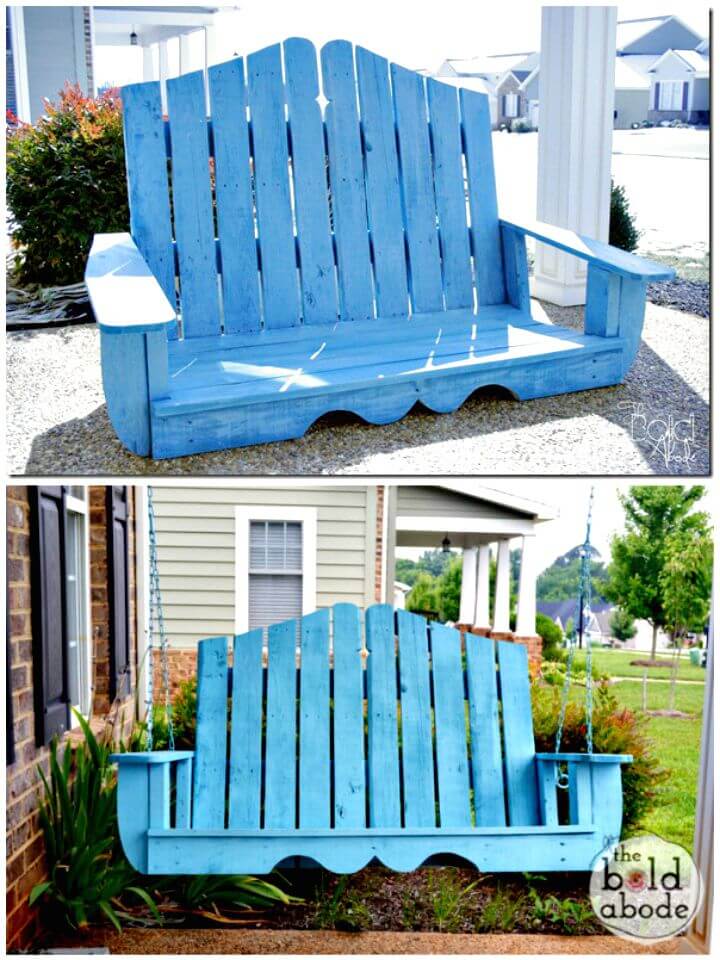 Another great project here that you can do with pallet wood scrap, a precious painted wall sign that comes in an enchanting ombre hue! Here the custom cut 2 slats of pallets have been combined and painted for a charming wooden board that has been overwritten for a graceful love wall sign! Willing to duplicate this interesting wall art piece? Grab the full free guide and easy instructions from here theboldabode
Easy DIY Pallet Wood Ombre Sign Tutorial: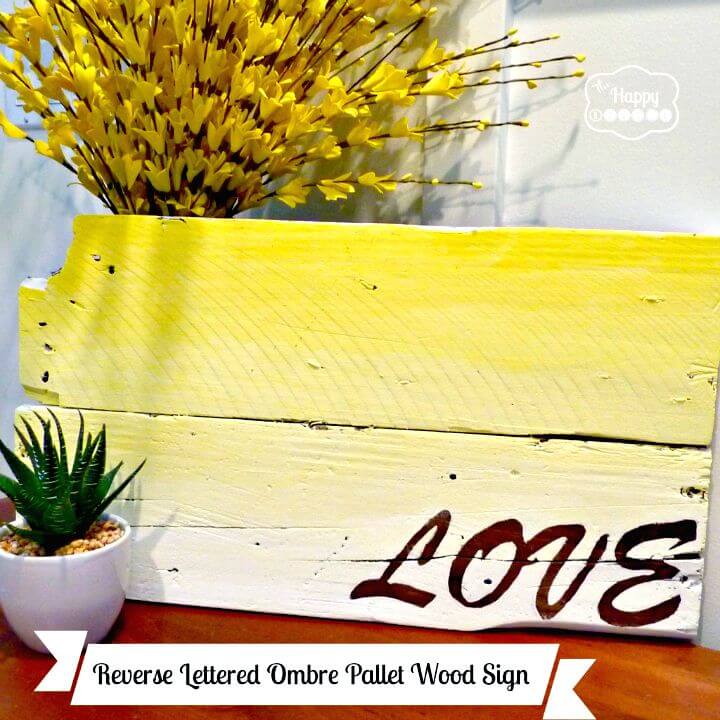 Another great project here that you can do with pallet wood scrap, a precious painted wall sign that comes in an enchanting ombre hue! Here the custom cut 2 slats of pallets have been combined and painted for a charming wooden board that has been overwritten for a graceful love wall sign! Willing to duplicate this interesting wall art piece? Grab the full free guide and easy instructions from here thehappyhousie
Easy DIY Wood Pallet Sign Tutorial: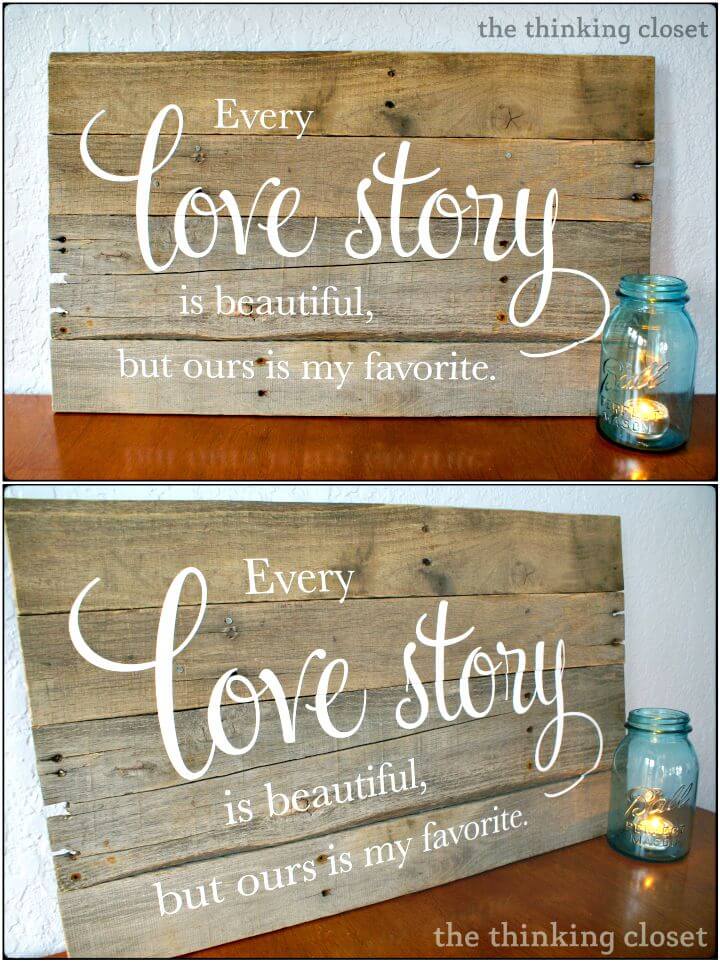 Making quoted arts for interior wall is a hot trend and you can create amazing overwritten wall signs using pallets and some paint! Check out here the lovely wood pallet sign that is made of separated apart wooden planks put together for a rectangular shape wooden board that has been written over a custom love saying! Complete project instructions here thinkingcloset
How to DIY Pallet Table Tutorial: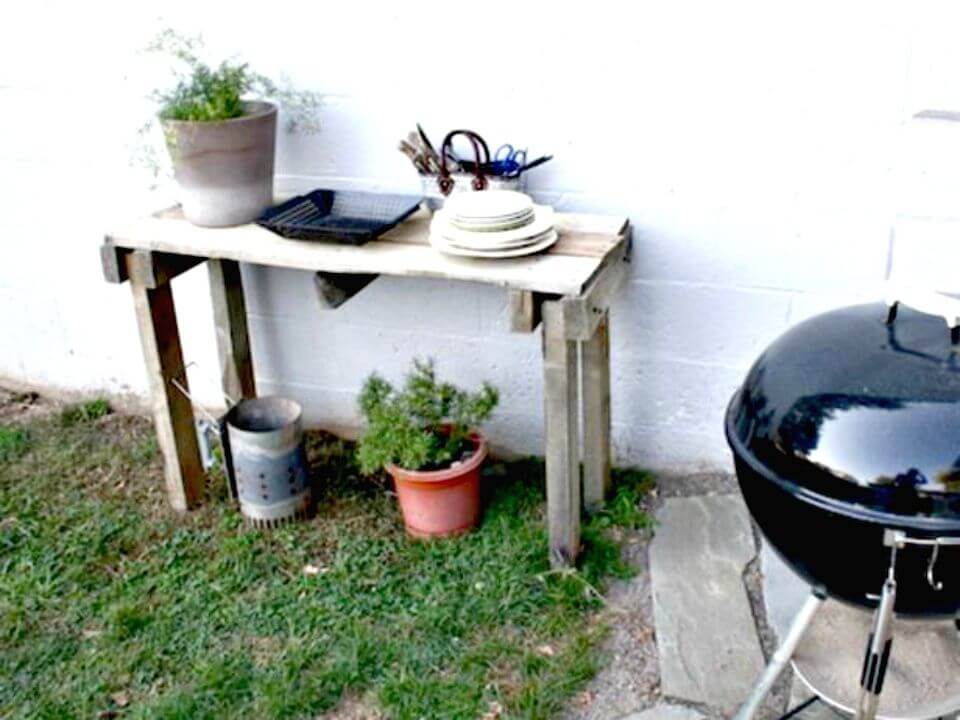 You will surely feel like a boss or a ruling personality by sitting in this robust wooden chair that is having a low berth and raised armrest positions! Cut a durable looking pallet into custom pieces that will help building the whole chair! Use two custom cut pieces to build an L-shape for the seat and use two clone sizes to build armrests! Another great furniture project to do with pallets! Complete visual instructions and tutorial here diynetwork
How To Make Your Own Pallet Chair Tutorial: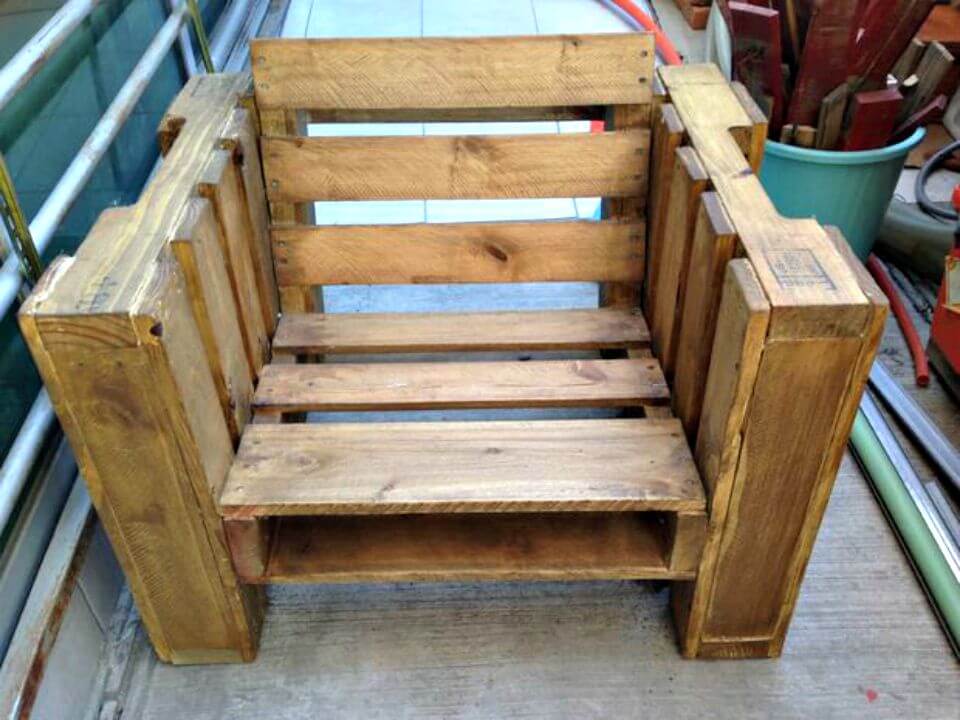 Get inspired of this another pallet wood achievement, a stylish outdoor chair that is having design inspired of an Adirondack chair! Here this charming wooden pallet chair comes with a titled back and also with a sloped berth position that will provide a super comfortable sitting style to enjoy the patio and green outdoors! Complete free tutorial and visual instructions here instructables
Easy DIY Wooden Pallet Patio Chairs Tutorial: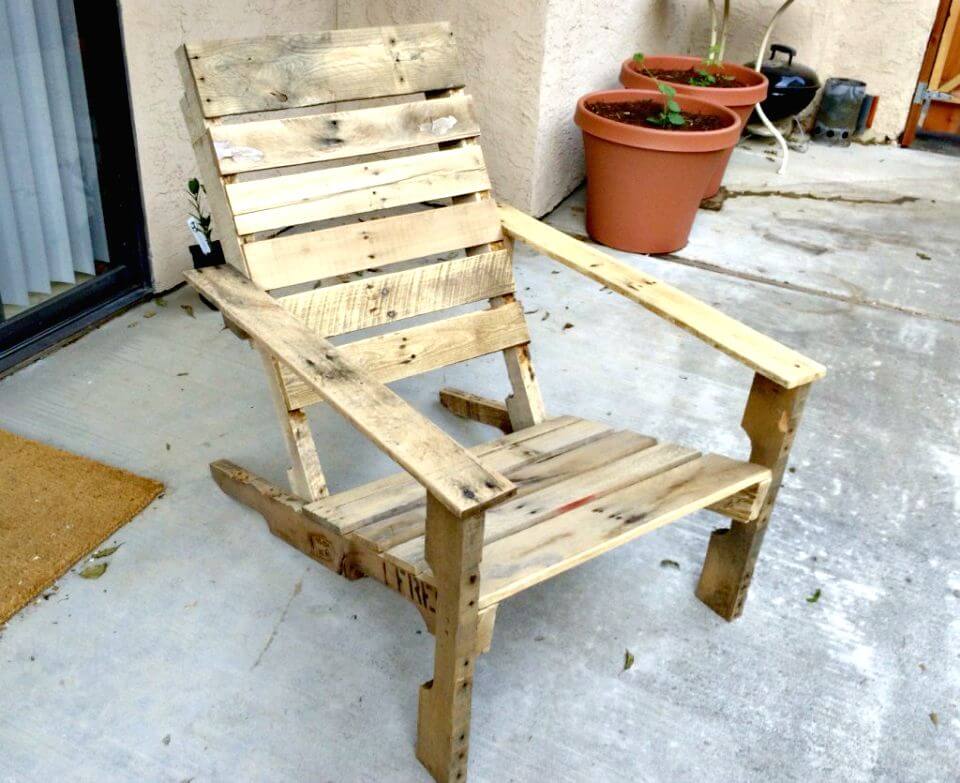 Get inspired of this another pallet wood achievement, a stylish outdoor chair that is having design inspired of an Adirondack chair! Here this charming wooden pallet chair comes with a titled back and also with a sloped berth position that will provide a super comfortable sitting style to enjoy the patio and green outdoors! Complete free tutorial and visual instructions here makezine
How To Build Your Own Pallets Outdoor Dog Bed Tutorial: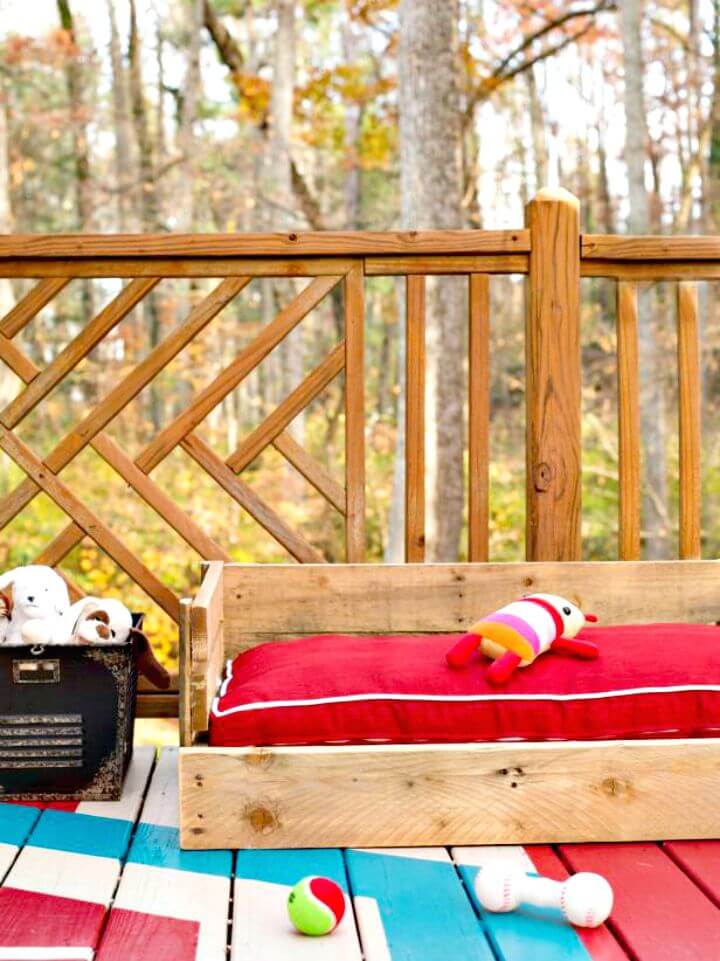 Fall in love with the design curves of the armrest of this self-made wooden pallet chair that is another great and lovely pallet wood furniture project! Here first build curved back frame on which the single pallet slats would sit one by one to give a berth and backrest! Next install the carved armrests and side braces and final step would be to add a built-in table surface that will also help holding the baby safely in the chair! An exceptional pallet wood recycling project! Complete visual instructions and step-by-step instructions here hgtv
How To Make Kids Chair With Pallets Tutorial: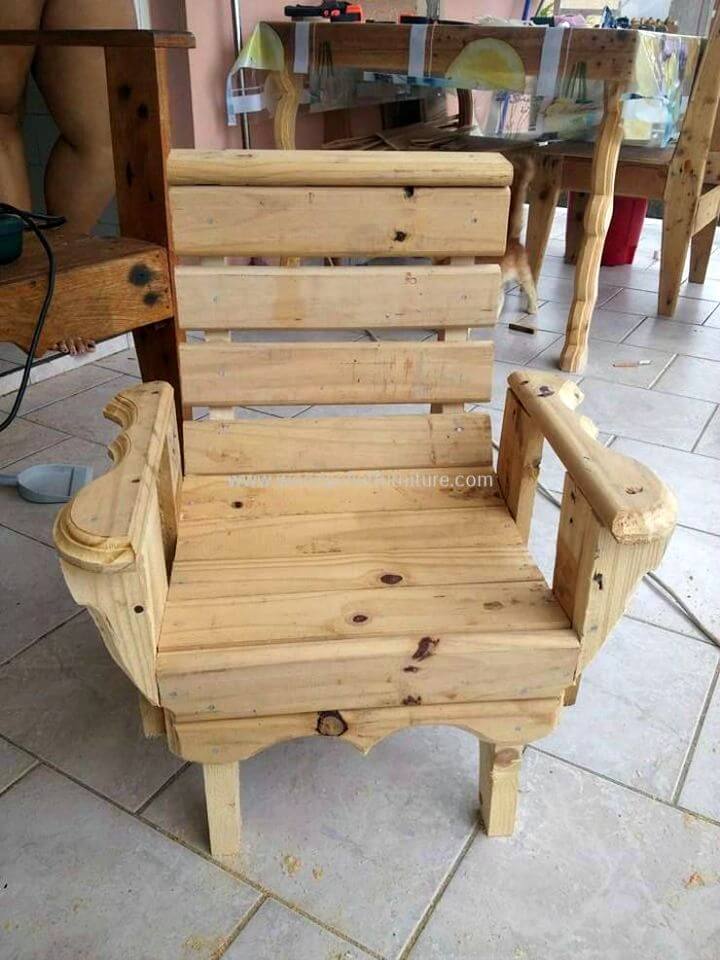 Are you willing to get a separate resting corner or a reading nook in your home? It can just demand for a cozy daybed for sure and you can like this pallet bed too that comes on wheels and is super cost-efficient! Just put together some durable wooden pallet boards and first build the frame of the wooden pallet bed, next install the backrest that is here a reclaimed old door! Final step would be to add a foam mattress for a comfortable napping and sitting! Complete project instructions and tutorial here Pallet Furniture
How To DIY Pallet Bed Tutorial: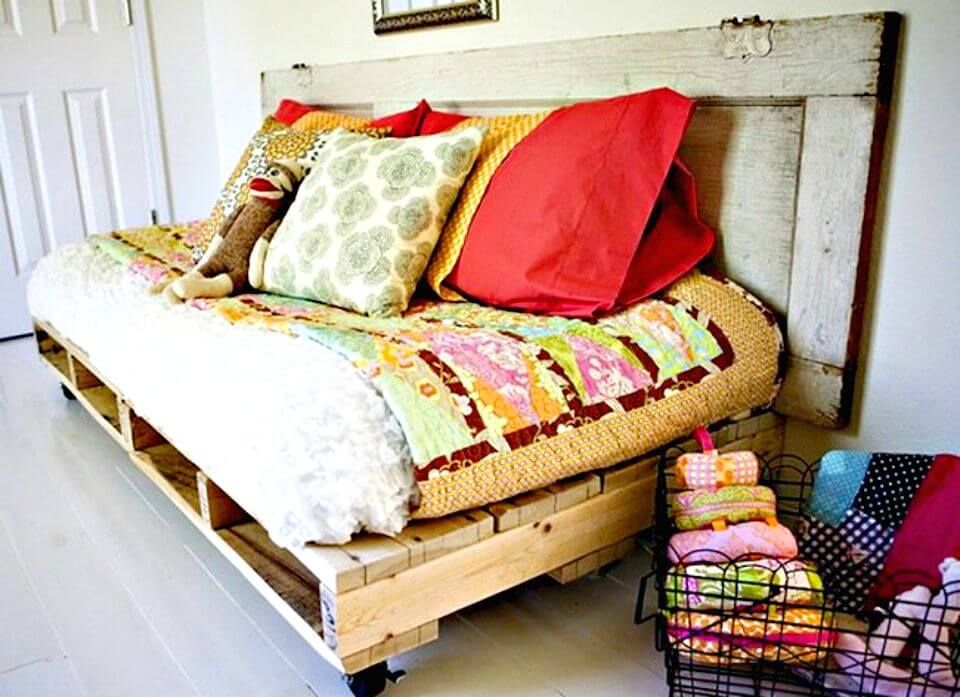 You will definitely like to praise this another great DIY pallet project, a vertical pallet garden! There a whole skid has been modified to give built-in shelving levels or longer boxes that have targeted for potting plants! Finally the entire pallets have been painted for a charming appeal and custom quotes have been written over for a super graceful look! This is what you need to create a focal point in your garden! Complete project tutorial and instructions here bobvila
Easy DIY Vertical Pallet Garden Tutorial: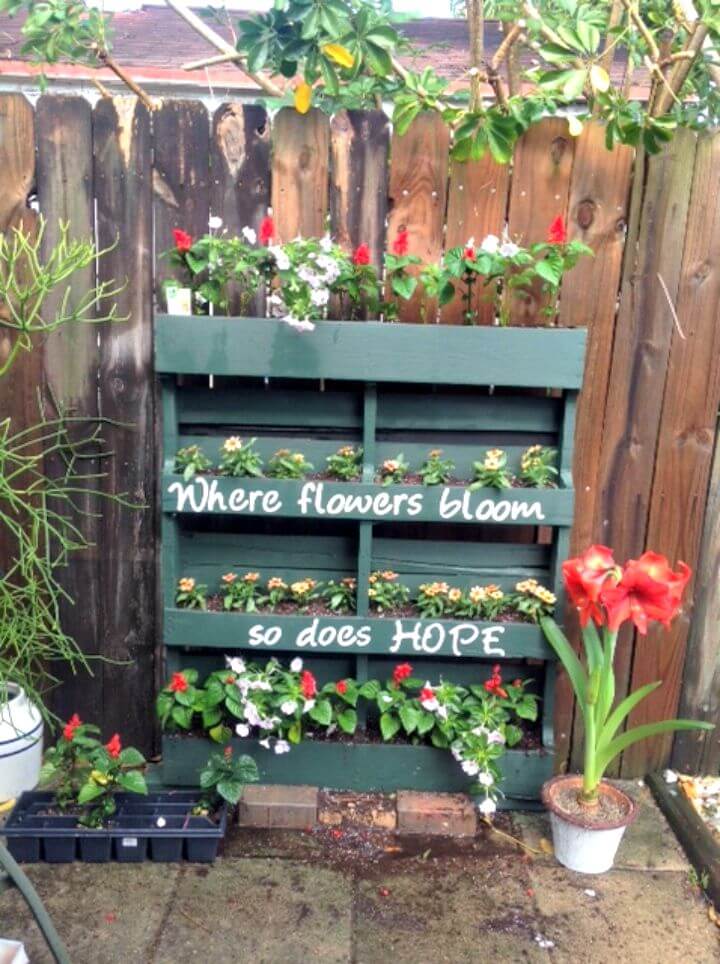 You will definitely like to praise this another great DIY pallet project, a vertical pallet garden! There a whole skid has been modified to give built in shelving levels or longer boxes that have targeted for potting plants! Finally the entire pallets have been painted for a charming appeal and custom quotes have been written over for a super graceful look! This is what you need to create a focal point in your garden! Complete project tutorial and instructions here hometalk
How To Build Pallet Mason Jar Vase Tutorial: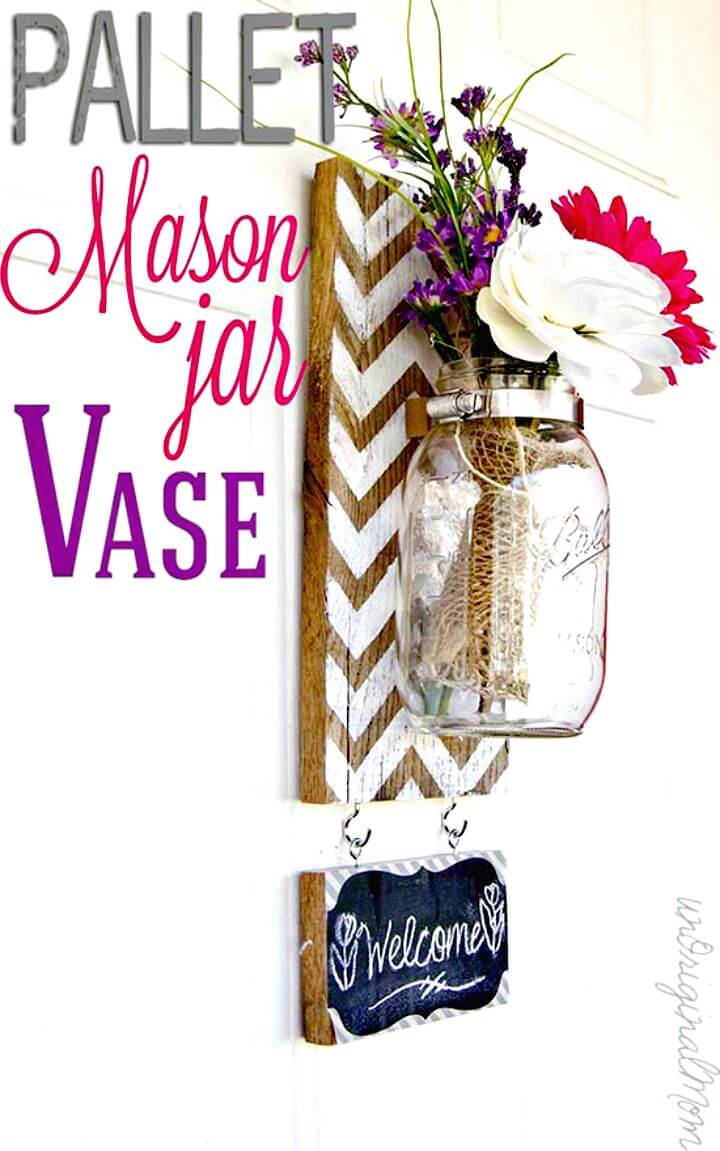 Are you deficient of garden sitting space? This is mostly the case due to high prices of outdoor furniture! But you can easily resolve the issue by getting some free pallets! Just get a little creative and do some manual wood constructions with pallets to build amusing garden furniture just like this fetching garden bench that looks stunning in blue painted color! Here the round edges of this bench are what that makes it a one-of-a-kind piece! Complete project instructions here unoriginalmom
Easy DIY Pallet Garden Bench Tutorial: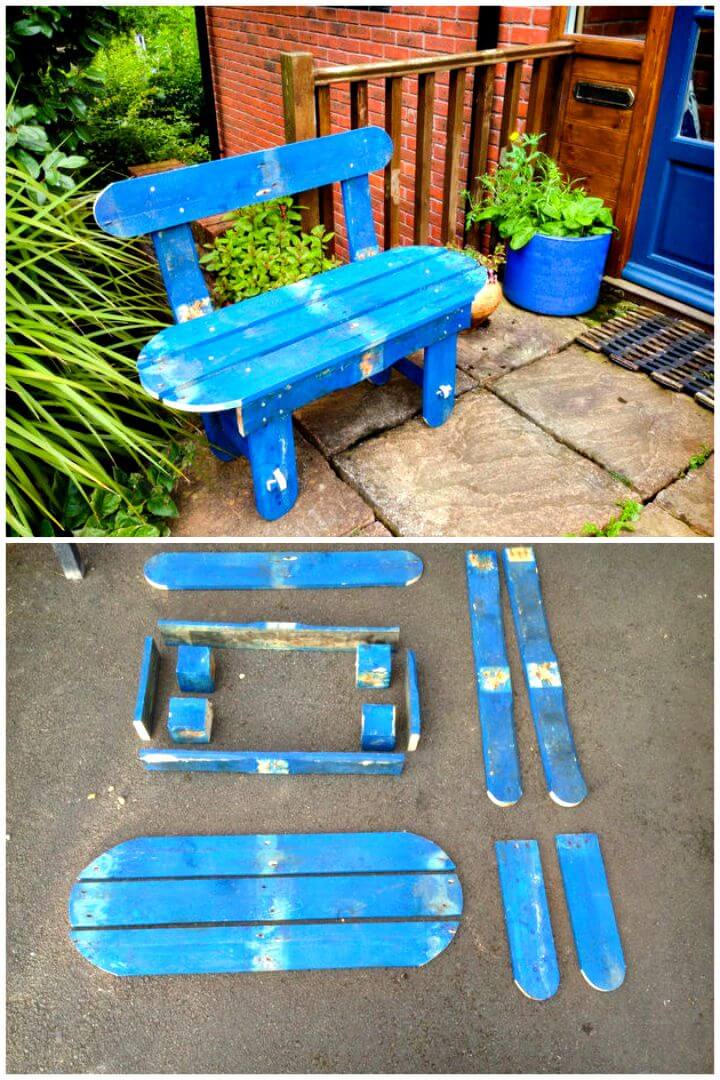 Building custom and particular items of furniture is a very hot topic and here is another pallet achievement to get you inspired! Check out here a robust wooden kitchen island that is made of pallets and hence will cost you almost nothing! It is storage-friendly and provides a thicker wooden top for easy food preparations! Give it a nice wood finish in your case or paint just modern! Complete tutorial here instructables
Easy DIY Pallet Kitchen Island For Less Than $50: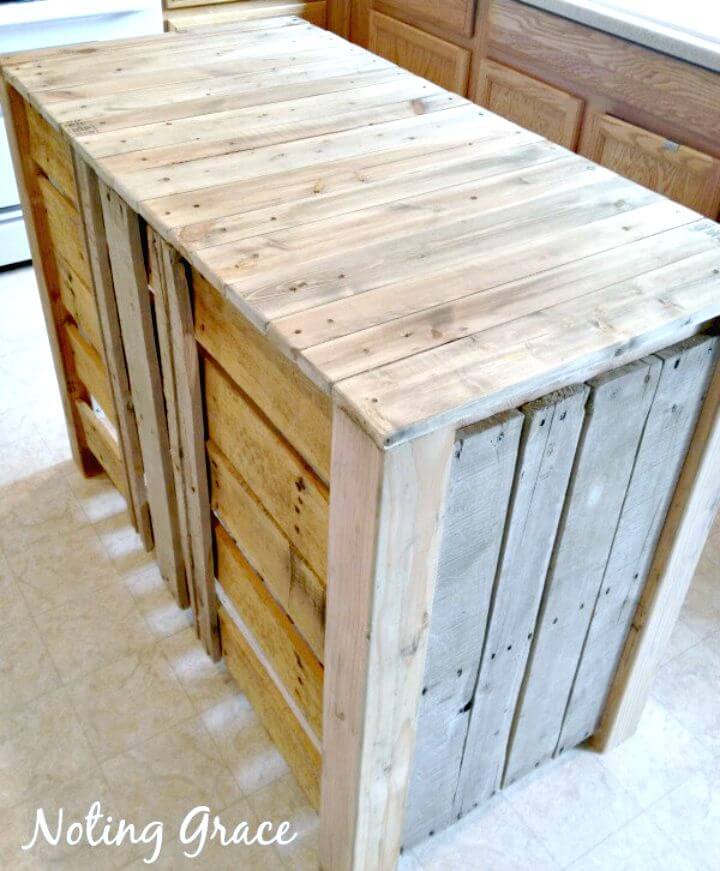 Here is what you would like to look at twice for sure, a handsome wooden pallet clock that comes in perfect round shape and is something that is super gift-worthy too! Joint some pallet wood slats making good looking wooden boards and then cut a round shape out and then just add the clock numerals! Finally you can install a clock system and that's it! Complete visual instructions here notinggrace
How To DIY Pallet Clock Tutorial: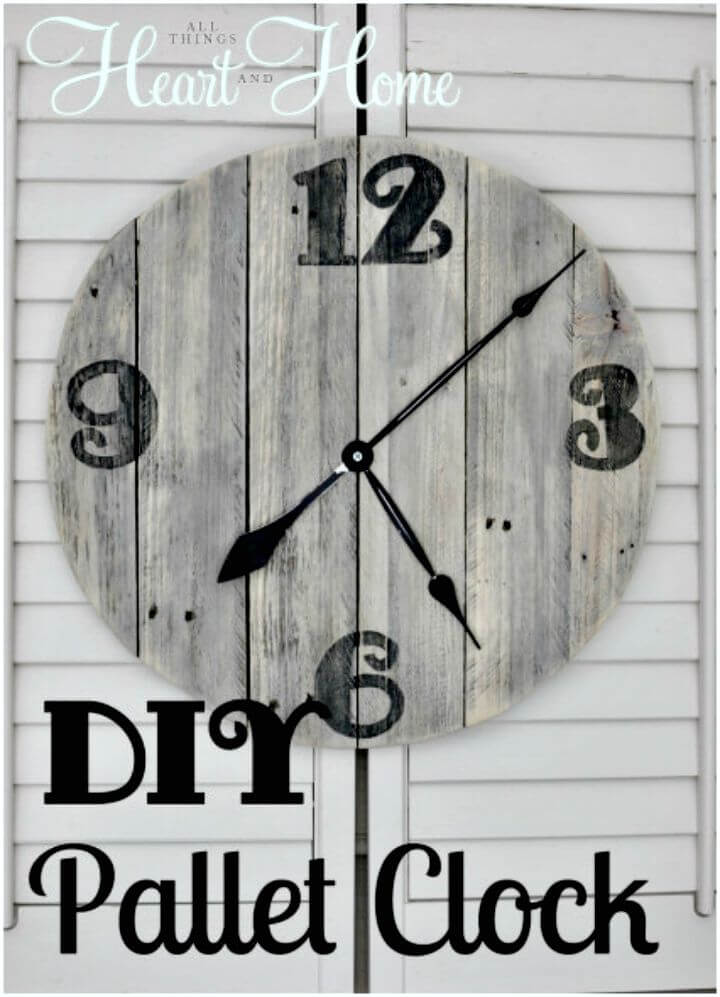 Willing to jazz up your interior walls? Then just go with this wooden pallet shark art that would also bring a rustic touch to that particular interior wall! Put a shark template on your targeted pallet board and then trace it out, now make use of precise wood tools and cut the out the traced layout and that's it! Give a nice wood finish or paint it if you like to match it with your interior wall decors! Complete project instructions here allthingsheartandhome
Easy DIY Pallet Shark Art Step By Step Tutorial:
Checkout something more graceful and lovely here to put extra grace to your interior wall or accent table! This is here a stenciled pallet sign that comes with custom overwritten letters and is much visually pleasing! Here the rustic tone of wood is what that will bring a prehistoric touch to any space! Another great looking wooden pallet sign that one can easily duplicate! Complete project instructions here sandandsisal
Beautiful DIY French Pallet Art Tutorial: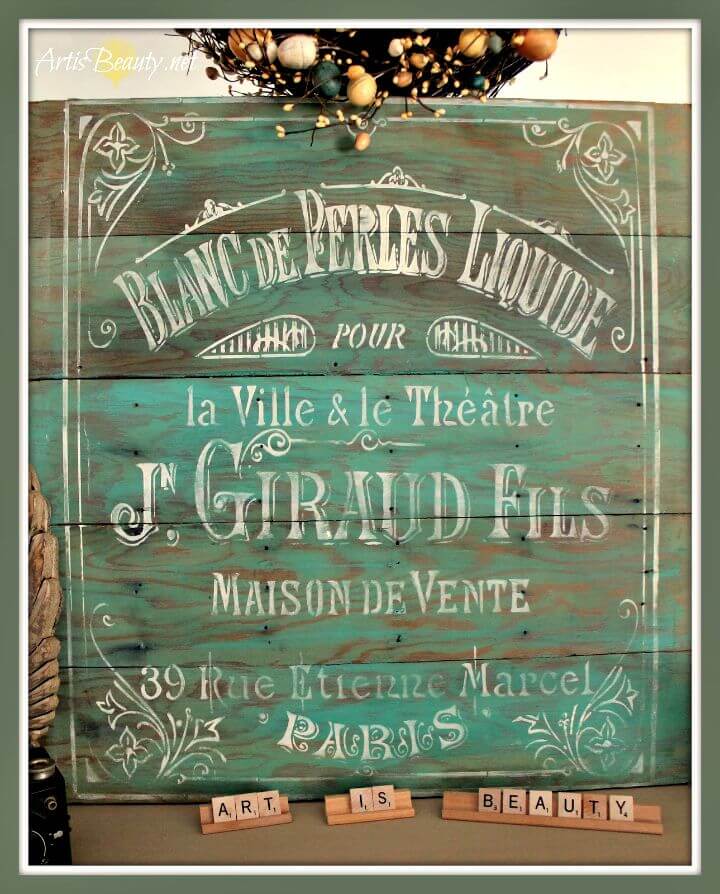 We often need some shelves and wall hooks to organize several of our items of need! Here is another smart pallet solution for it, the wooden pallet coat rack that also provides a shelving level, the two in one solution at no-cost! You will find this coat rack built in a pallet skid structure, all you need to do is to cut is apart! A custom wood or paint finish would help matching it to rest of room or wall decors! Complete instructions here artisbeauty
Easy DIY Pallet Coat Rack Tutorial:
We often need some shelves and wall hooks to organize several of our items of need! Here is another smart pallet solution for it, the wooden pallet coat rack that also provides a shelving level, the two in one solution at no-cost! You will find this coat rack built in a pallet skid structure, all you need to do is to cut is apart! A custom wood or paint finish would help matching it to rest of room or wall decors! Complete instructions here fabbed
How To Build Your Own Pallet Swing Tutorial: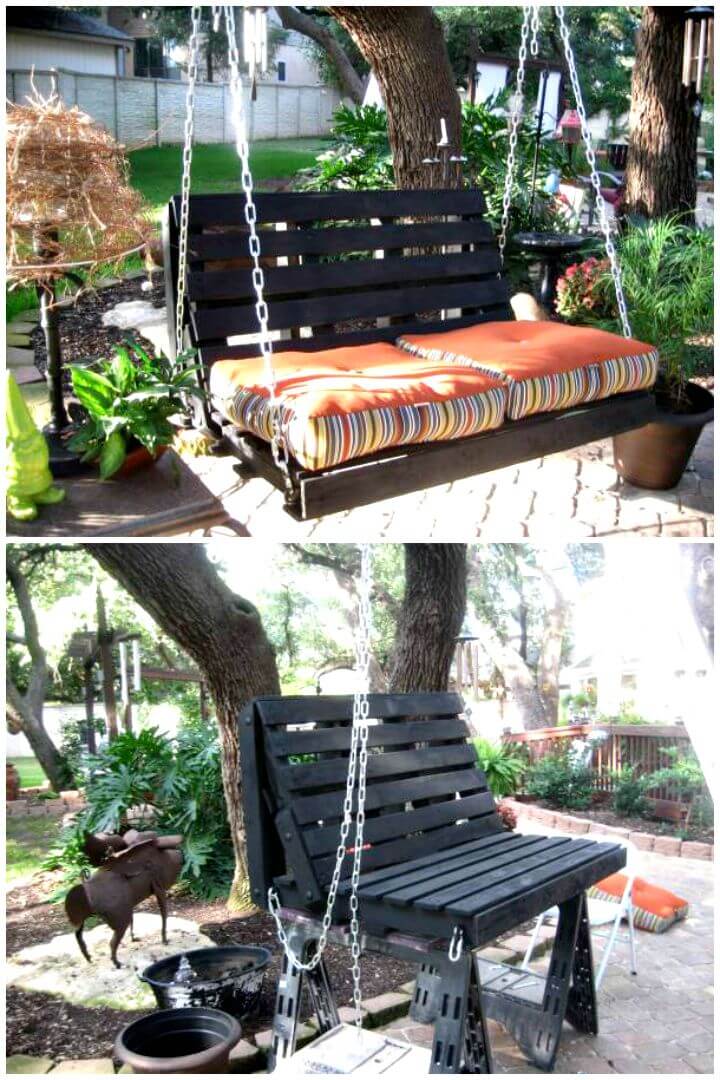 Rebuild pallets into great and durable looking wooden boxes that can serve in several different decorative and functional ways! An interesting sample here is this hand-built wooden storage bin that would be a lasting longer storage solution for your items of need and interest! Another smart pallet project that one can easily duplicate or clone! Complete visual tutorial and instructions here 'twelveoaksmanor
How to Make a Storage Bin From a Shipping Pallet Tutorial:
Rebuild pallets into great and durable looking wooden boxes that can serve in several different decorative and functional ways! An interesting sample here is this hand-built wooden storage bin that would be a lasting longer storage solution for your items of need and interest! Another smart pallet project that one can easily duplicate or clone! Complete visual tutorial and instructions here diynetwork
How to Make and Install Pallet Bookshelves Tutorial: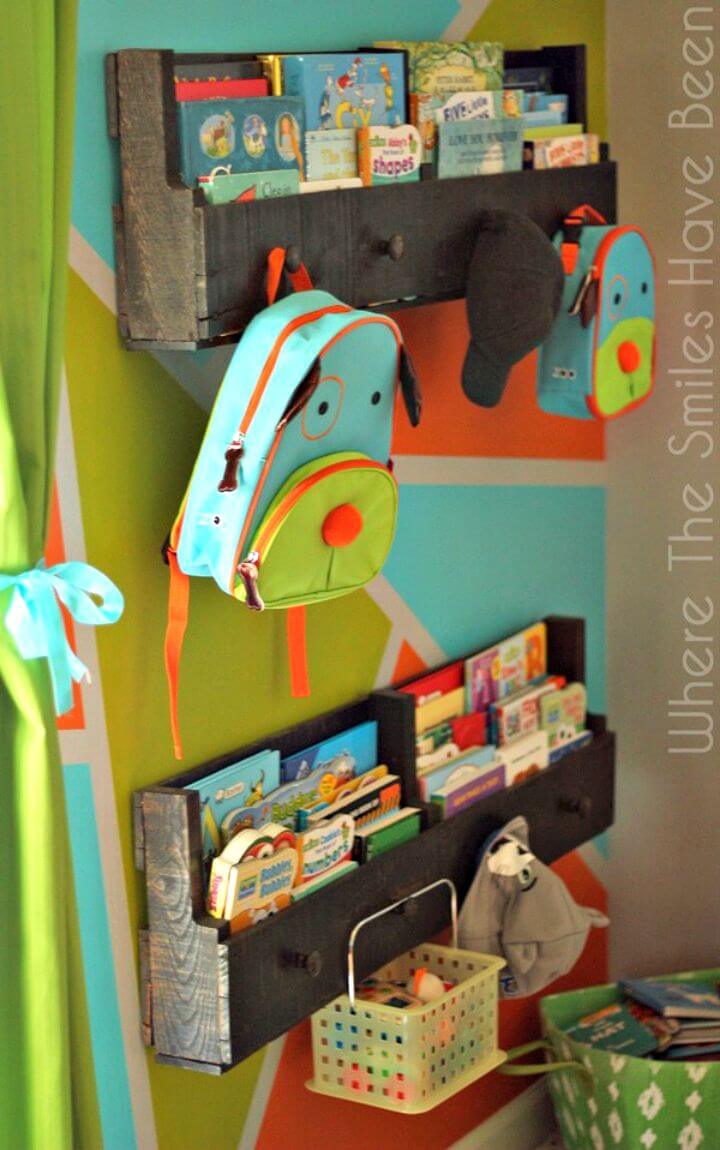 Once again the lovely pallet bookshelves are here that will rock in kids study rooms! This type of wall hanging shelves one can make easily just by getting a little crafty with single pallet wood lengths and slats! So, a single pallet would be enough to make several of this kind of wall shelves! Another great pallet project for interior home organization! Complete details here wherethesmileshavebeen
Easy DIY A Pallet Bookshelf Tutorial: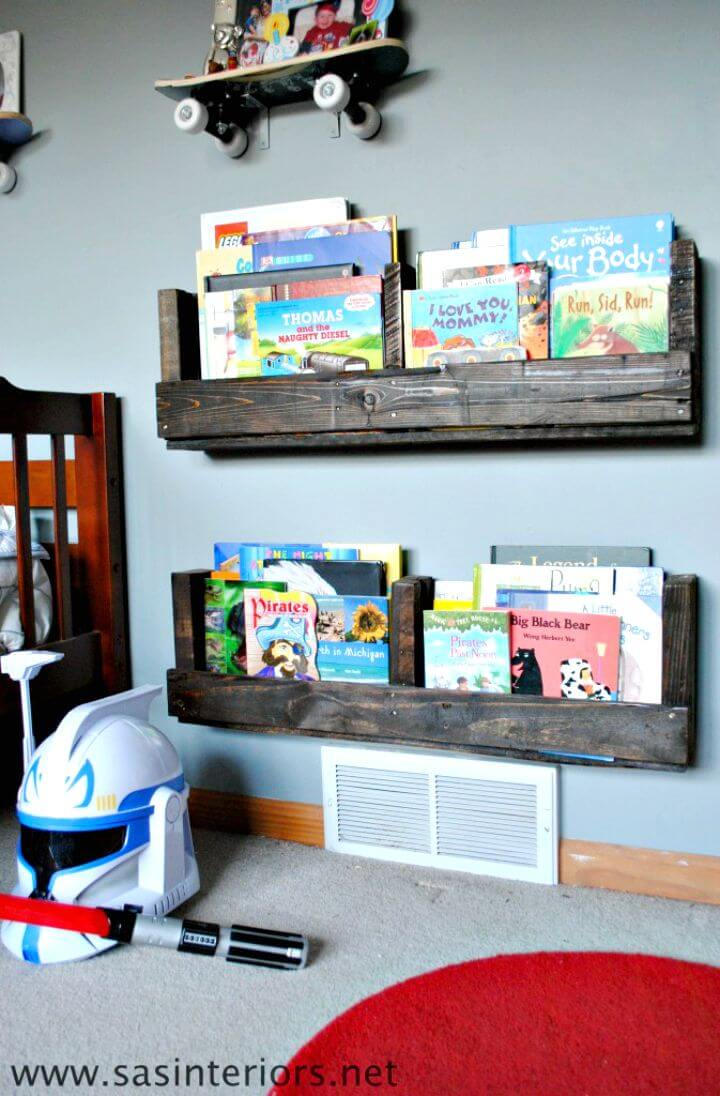 There are several things in a home that become retired after a single use but can be recycled in 2nd turn! So, you should own the recycle bin to store this time of scrap items and to get a beautiful storage bin, you can also get crafty with pallets! Have a look at this rustic recycle bin that is a beautiful sample here and is entirely made of pallets! Moreover, it also comes with a lid and you can also put the plastic bin or bags inside to hold the recyclable items! Complete project instructions here jennaburger
Easy DIY Pallets Into A Rustic Recycle Bin Tutorial: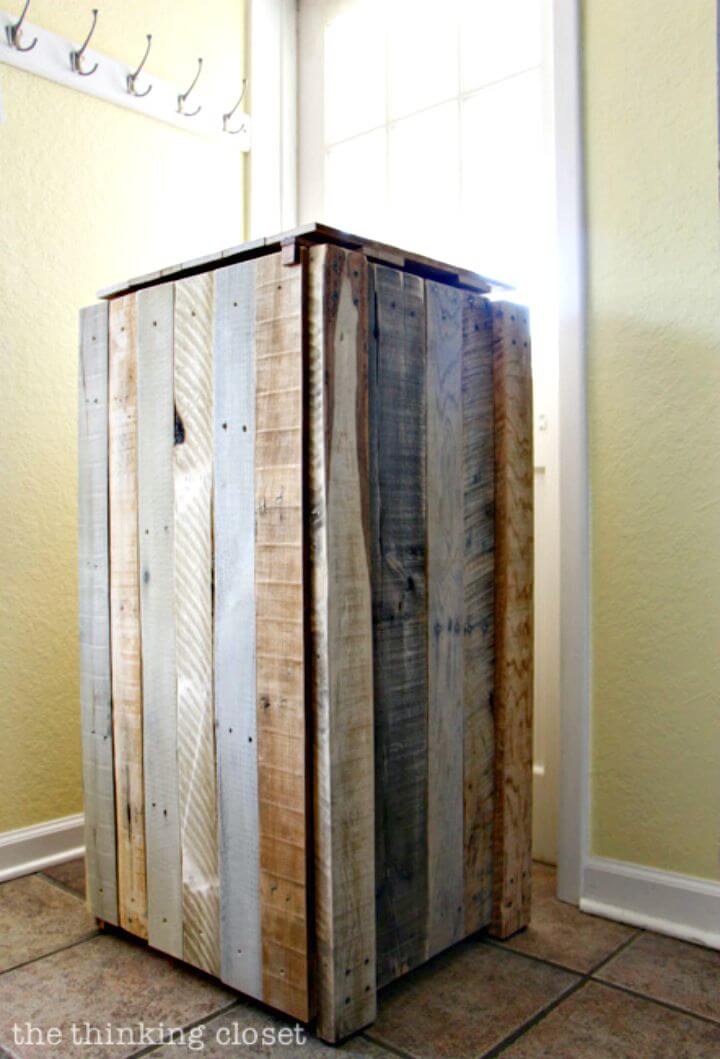 Do also custom constructions with pallets to build efficient kids furniture! You will definitely love to praise this hand-built wooden pallet picnic table that would be dearly loved by all kids! It provides a grand tabletop and comes with built-in benches, so kids can enjoy sitting, eating and playing on it in any free time! Complete visual tutorial and instructions here thinkingcloset
Easy DIY Kids Picnic Table From Pallet Wood Tutorial: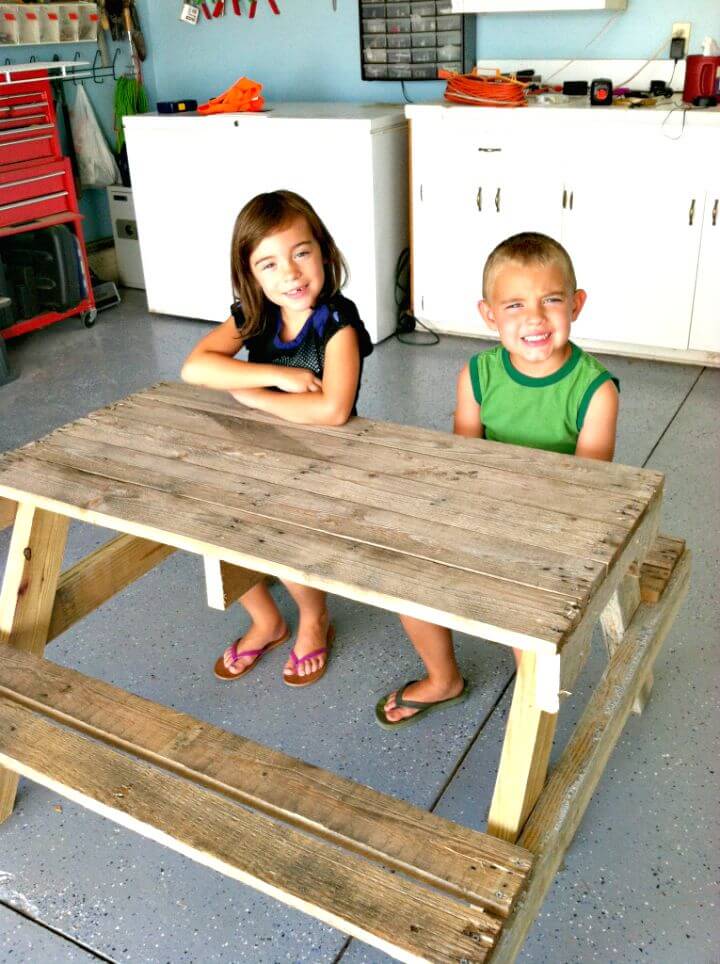 Also craft the love decors and signs with pallets for the love day, the Valentine's Day! The idea is to build some interesting wooden hearts, the symbol of love which can be painted in respective colors to make great Valentine's Day gifts! Checkout here a precious pallet wood wall art sign that is made of pallet slats and comes with a mounted wooden heart that is also made of pallet wood pieces! Complete project tutorial here needlesandnailsblog
Easy DIY Rustic Pallet Wood Valentines Heart Tutorial: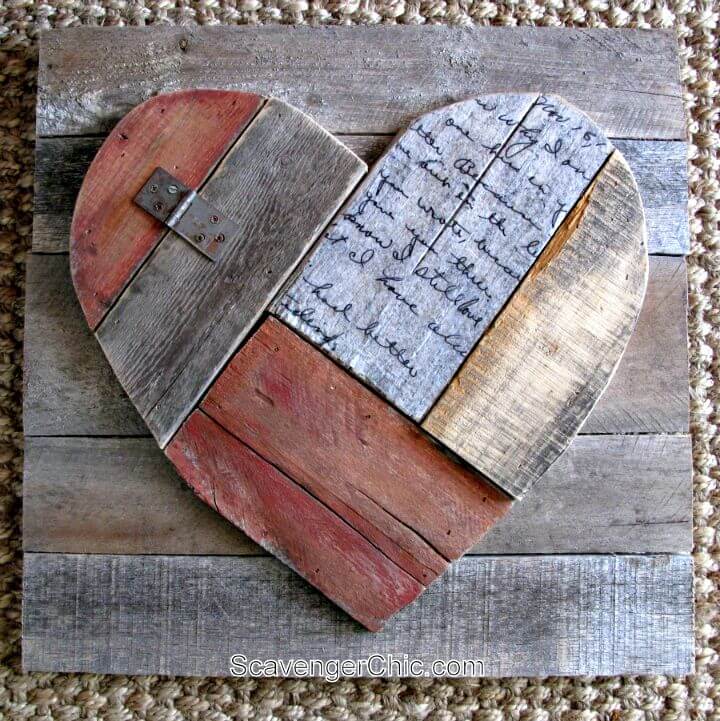 Also craft the love decors and signs with pallets for the love day, the Valentine's Day! The idea is to build some interesting wooden hearts, the symbol of love which can be painted in respective colors to make great Valentine's Day gifts! Checkout here a precious pallet wood wall art sign that is made of pallet slats and comes with a mounted wooden heart that is also made of pallet wood pieces! Complete project tutorial here scavengerchic
Build Your Own Pallet Daybed Tutorial: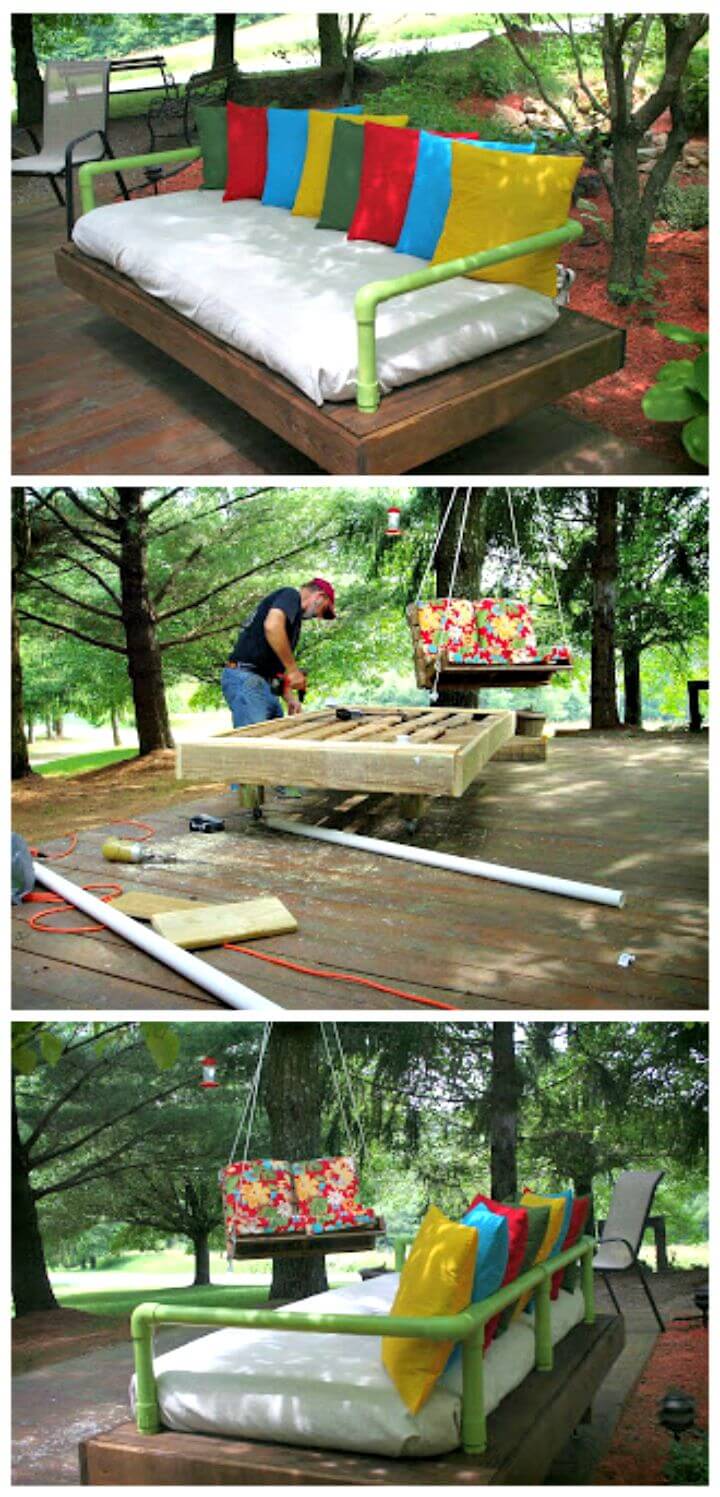 Build also the adorable outdoor furniture with pallets, an interesting example here is this wooden daybed made from repurposed pallets! Here the hack is to gain a big wooden slab that would make the whole seat, so this has been achieved by filling a big pallet skid solid using extra wood! Plumbing metal scrap has been used to build the arm and backrest positions and finally, the entire day bed design has been raised on custom legs that end with rolling casters! Put the mattress over and enjoy a great daybed! Complete project details and tutorial here ondawaytosomewhere
Easy DIY Pallet Swing Bed Tutorial: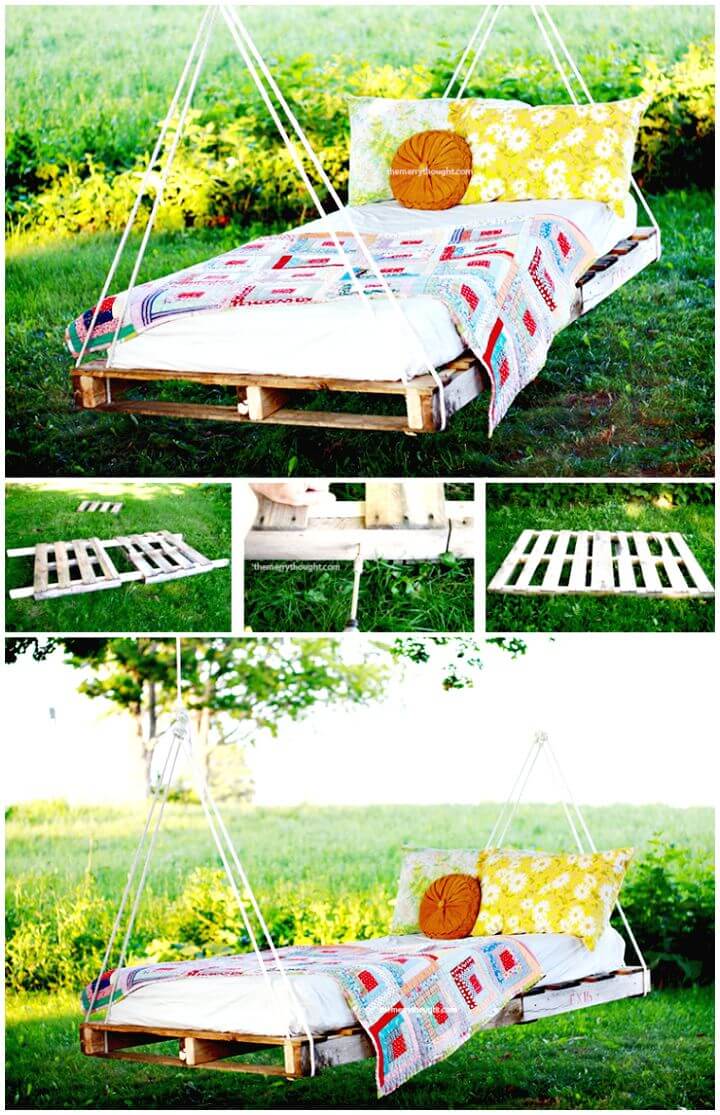 Take the pallets as ready-made wooden seats and built awesome swings out of them just by hanging them higher in your garden or porch! Use the nautical rope or metal chains to support hanging of wooden pallets as the swing! This sample swing bed is wholly made of free pallets and is just perfect to for daydreaming and to read books in your spare time while enjoying the garden breeze too! Here is how to make this wooden pallet swing bed themerrythought