Everyone is just well familiar with pallets as they mostly come to sight while you are visiting the shipping areas, dumping grounds and the scrap material heaps! They can be a material good for nothing for many of us but for recycling lover, they are a big item of interest that can be recycled in numerous different ways in the world of crafting! However, you can also go handmade with pallets to generate a handsome amount of income by making and selling the pallet-made products! So, these useless wooden skids can be life changing if you are having a smart brain in you and the creative hands! Intending to make some pallet projects to make and sell? Then just have a look at these 30 DIY Pallet Projects to Make and Sell that are based on ingenious hacks and extra brilliant thinking and will definitely put you in a big amazement just at a first look!
Just make smart use of pallet wood shapes and the spacing among their deck boards and make interesting bike racks for home, friend or to sell, take a look at the sample rack that is made of 2 pallets only! Generate higher revenues by selling self-made wooden playhouses that can easily be made with pallets if you take them as prefabricated panels or units, just look at some amazingly beautiful samples given below and you can choose any to duplicate according to your skill level!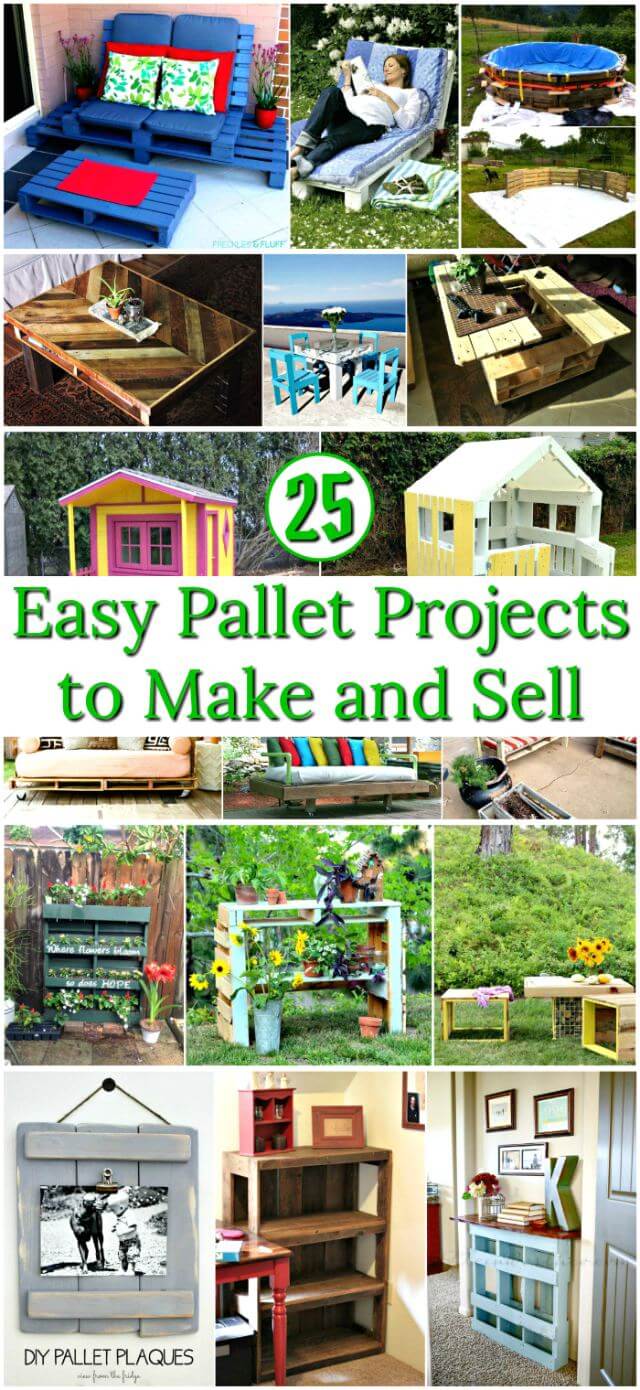 Please also your vintage-loving customers by making adorable vintage pallet furniture for them using pallets, a very fantastic example here is the wooden pallet desk that comes with reclaimed old table legs! Earn also a handsome amount of money by making and selling the bike trailers, which are a matter of minutes to make with pallets, check out a given sample to give extra wings to your creativity!
Make also fantastic looking swimming pools at your outdoor and you can also make the wooden swimming pools to sell to earn some dollar bills! Moreover, the craft also amazing wall decors and centerpieces with pallets to sell in your craft store, have a look at the wall hanging pallet and mason jar vase and also the pallet wood arrow signs that have been made to rock your walls! Next, you can also plan and build outdoor furnishings with pallets that will help to earn a lot of money, just make adorable pallet sitting sets, benches and cushioned daybeds that will be ready in no time!
Make also the modern coffee tables with pallets and also the lots of festival decors and interesting wall decor signs that will also be the most profit-making products in your craft store and also double up your income by selling the pallet-made workbenches, chillout lounges and also the vertical planters or garden that will also be a piece of cake to make at home! Check out a lot more in the given collection and do visit the attached links to reach to complete tutorial and instructions for your favorite selected pallet ideas!
Pallet Projects You May Like:
Simple DIY Pallet Bike Rack: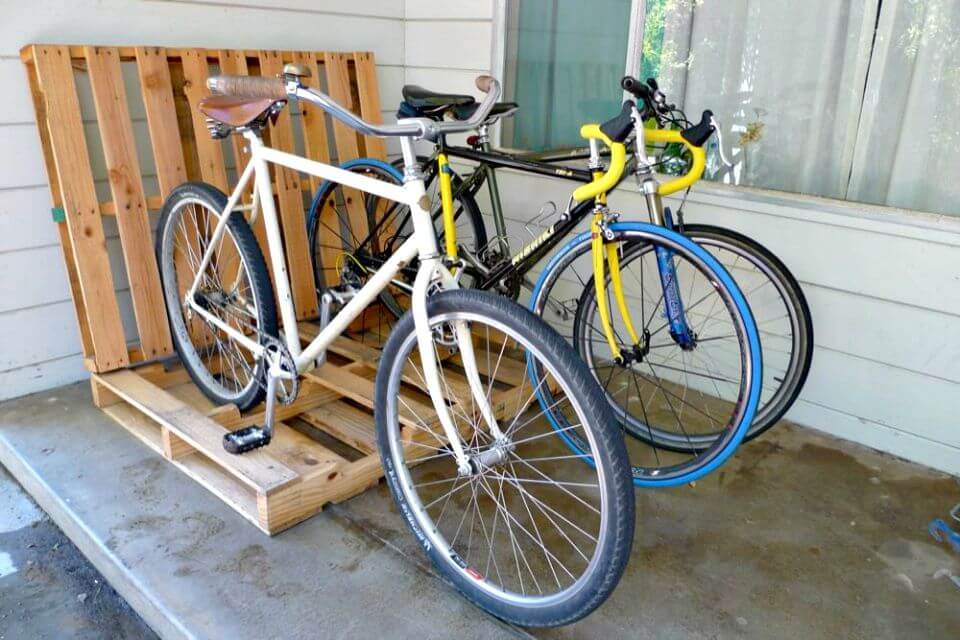 If you are intending to do some smart pallet projects to earn some revenue then here is a beautiful suggestion! Just make lasting longer wooden bike racks out of pallets and just start selling them to earn some revenue! Check out here the sample pallet bike rack that is made of 2 pallets put together in L-shape in such a way that the back wheels of the bicycles fit in the spacing of vertical pallet! Willing to duplicate this project? Grab the full free project details from here instructables
DIY Wooden Pallet Little Playhouse For The Kiddos:
Make also brilliant looking playhouse with pallets that would be another great make and sell pallet craft project! You can build the pallet playhouses from simple to multi-featured ones but if you are a beginner then you can take a start by building this little bungalow style playhouse! Here this pallet playhouse comes with a chevron roof and is wholly made of pallets! The robust pallet skids build the sides of the playhouse and the pallet stringer boards have been used to install the L-shape chevron roof frame! Use custom cut pallet squares to make the gate and use the outdoor fabric to cover the roof! Complete tutorial here ahappywanderer
Adorable DIY Pallet Desk:
Make also custom wooden furniture pieces with pallets that can be sold to earn some fortune! Just make this wooden pallet desk in your showroom of handmade furniture crafts that is looking fabulous and is something super easy to make! Here the legs and braces of the desk have been repurposed from an old table while the whole storage-friendly top is made of a rustic pallet skid! Here this desk will come in hand to operate well your computer and you can also store the books and other documentation in the built-in cubbies! Grab the full project tutorial from here thistlewoodfarms
Build Your Own Bike Trailer For Less Than $10: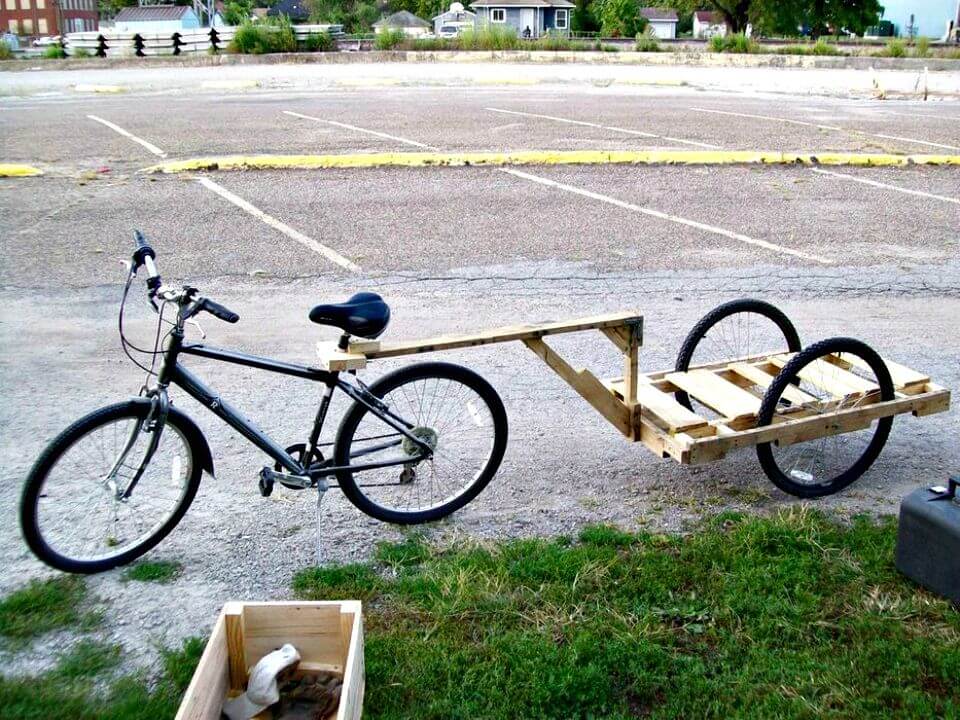 Another smart make and sell craft that will help to generate bigger amounts of revenue and will be the high selling handmade items in your entire store! This is here the bike trailer that will cost you much less under the $10! Here all you need a pallet that can be added up to two wheels to make the trailer and next you can use the scrap wood to make the hitch system! Install the wooden pallet trailer to bicycle through hitch and hardware and that's it! Grab the full project tutorial and step-by-step instructions from here instructables
DIY An Incredible $75 Swimming Pool:
Another outstanding and great looking pallet project that you will make a great summer make and sell craft! Just install the outstanding-looking swimming pools at home using the pallets that will cost you almost nothing but can help you to earn some higher amounts of money! Here the pallets have been put together for a round shaped swimming pool which has been covered from inside using waterproof fabric! Install the custom hardware to hold the pallets together and also install the pump system to fill the pool with water! Grab the full free guides and visual instructions from here pallet swimming pool
DIY Chevron Pallet Mason Jar Vase:
Another fantastic wooden pallet craft that will make great sales in your store of handmade items! Here this is the wall hanging vase that is made of a wooden plank painted for chevron stripes and finally, a mason jar vase has been hanged on it using a steel hose clamp! Add a chalkboard nameplate to bottom side using custom hardware and gain lovely mason jar and pallet vase to sell! Complete project tutorial here unoriginalmom
Gorgeous DIY Pallet Console Table: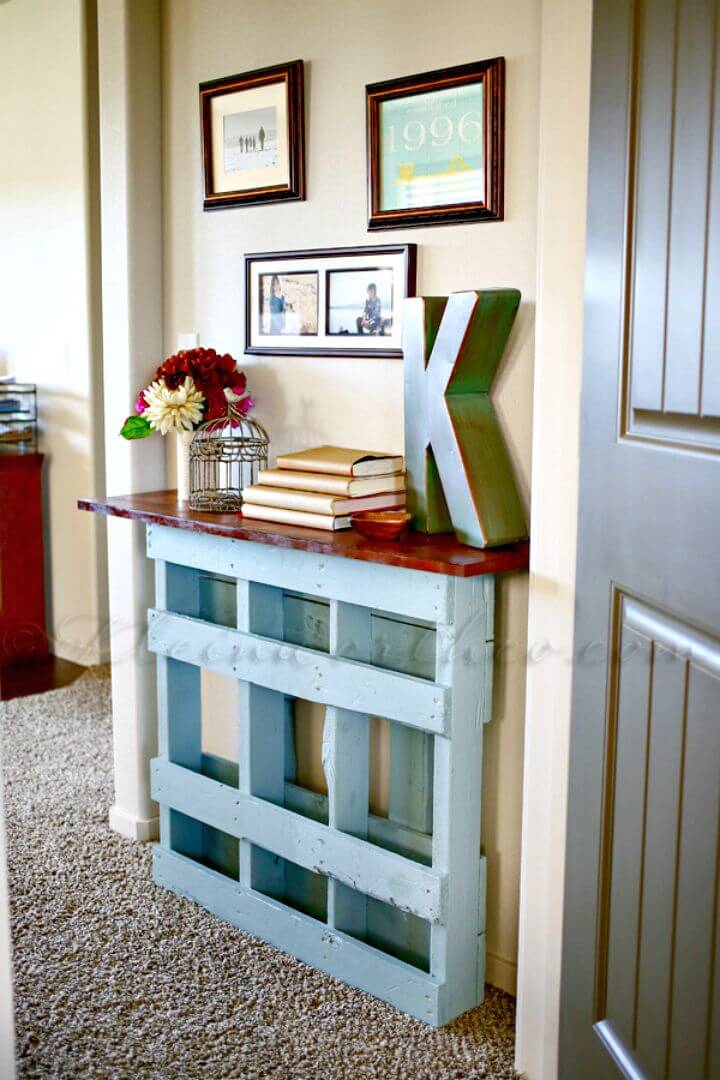 Check out another amazing and adorable item of furniture that has been done to inspire and is just looking extra beautiful due to fetching color combination! This is gain a piece of furniture made at home using pallets and some scrap wood! Just take a look at this wooden pallet console table that is having the whole base made of a single pallet skid that stands vertically and comes painted in turquoise! Here this vertical pallet has been finished with a well-stained wooden top to gain a fantastic console table that can be sold easily to earn some money! Complete tutorial here kleinworthco
How To Turn Pallets Into An Outdoor Patio Bench:
Outdoor furnishings and items of furniture are always expensive to buy but you can easily make outstanding outdoor furniture at home using free pallets which can also be sold to earn some money! Check out here this interesting looking pallet outdoor or patio bench that has been done to inspire and is just looking damn beautiful! Use the custom cut sizes of pallets to build an L-shape and then add the side frames including legs and armrests! Cushion the benches and given them along with the benches to your customers! Complete project instructions here rkblack
DIY Pallet Wood Arrows Tutorial:
Make also the cool interior wall decors and wall art signs with pallets that all home lovers would love to buy for sure! Just get inspired of these pallet wood arrows that are another beautiful pallet craft to make and sell! Here the custom cut pieces of wooden pallets have been put together to make nice looking arrows that would be a big delight to view on any interior or exterior wall! Another brilliant pallet craft to make and sell! Complete tutorial here 100things2do
Easy DIY Reclaimed Wood Pumpkins:
Make also cool seasonal and festival decors with pallets that you can sell to earn a handsome amount of money! Rest of the story will tell these handsome looking wooden pumpkins that are made of separated apart pallet slats and also come with good-looking wooden tails! Here all you needs is to put together the resized and well sanded lengths of pallets which can then be cut out in pumpkin shape! These pumpkins would just make outstanding fall decors! Complete tutorial and details here findinghomefarms
Make Your Own Pallet Plaques:
Another praise-worthy pallet craft idea, just make the good-looking wooden pallet plaques or wall hanging photo frames that will loved dearly by all home lovers and rustic lovers! Hence they will also be a high selling handmade item in your craft store! Check out here the sample wooden pallet plaque that adds a glam rustic background to a photo and hangs on the wall through a string loop! Another great and outstanding pallet project to make and sell! Complete visual tutorial here ohmy-creative
How To Build Pallet Bench:
If you are handy at wood constructions then you can really get crafty to make adorable items of both indoor and outdoor furniture! Without getting a bit expensive, just make this handsome-looking bench with pallets that comes in sturdy dimensions and has been done to rock and inspire! What you have to do is to assemble the halves of pallets in L-shape that can then be added with extra wood braces and legs to shape up a handsome bench! Another great and lovely item of furniture to make and sell! Grab the full free tutorial from here instructables
Build Your Own Coffee Table With Storage:
Not only the basic and rustic kind of furniture, you can also make modern and ultra modern items of furniture with pallets that will be cost-efficient to make at home but can earn higher revenues for you if sold! Just have a look at this coffee table that comes with a lift-top installed with latest hardware lift up system! The lift up top also reveals a secret stash where the user can easily store the items of need and interest! You can use up to 2 pallet skids to duplicate this handsome and featured model of coffee table! Complete tutorial here instructables
How to Build Pallet Bookshelf:
Get inspired of this another lovely and mind-blowing item of furniture that you can easily make with pallets and can sell to earn sufficient amount of money! Here a custom wooden pallet bookshelf has been made using the custom pallet wood lengths and slats that comes with 4 levels of shelves! You can also use as accessory organizer and also as a display unit in your living room! Another great and outstanding pallet furniture craft to make and sell! Grab the full free tutorial and instructions from here madewithlovetcbf
Make Your Own Pallet Playhouse:
You will definitely fall in love with this fancy looking playhouse that comes in enticing combination of colors and also offers a veranda! Here this good-looking pallet playhouse has been made with pallets and will cost you much less but you can make it sell to earn some higher amounts of money! Avail the free wood source, the pallets, to earn some income! Chevron roof, side windows, accent front fence and the adorable veranda are the key features of this brilliant looking pallet playhouse model! Here is how to make this pallet playhouse instructables
How To Build Kids Pallet Workbench: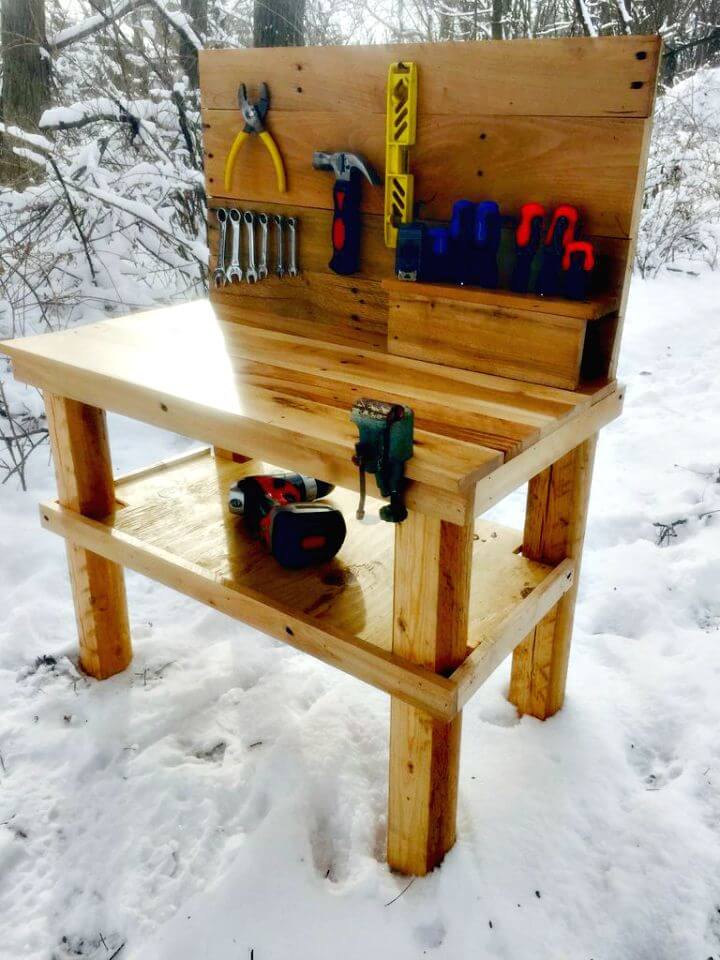 You can also build the custom kids stuff with pallets including the cute looking items of furniture and need! Here is another charming looking item of furniture that can be made with pallets to sell! This is here a charming looking wooden workbench that comes with sleek surfaces due to a nice wood finish! Here this workbench has been added with custom storage and hanging features and also comes with a built-in shelf! Another brilliant pallet wood creation to inspire your creativity! Complete project tutorial here instructables
Simple DIY Pallet Coffee Table:
You will definitely fall in love with this interesting looking wooden coffee table that has been done to inspire! This is here another fantastic item of handmade pallet furniture that you can sell to earn a handsome amount of money! Just alter a wooden pallet skid a little and then just raise it on custom wheels and casters to make a handsome looking cart style coffee table! Here this coffee table is vintage inspired and hence will be center of attention for vintage lovers! Willing to duplicate it for your craft store? Grab the full free tutorial from here unexpectedelegance
Lovable DIY Pallet Table:
Look at this another interesting and glam looking wooden pallet table that has been built to organize and outdoor sitting area! Here a custom sitting furniture set has been made with pallets that is just looking fantastic and amazingly beautiful! Just finish a custom cut size of wooden pallet with custom legs and make a dashing looking dining or coffee table! Here this table also comes with a 4 matching chairs that are also made with pallets! Another genius pallet furniture idea to make and sell! Grab the full free guides and visual tutorial from here bridgman
Adorable DIY Pallet Garden Bench:
Make also stylish looking outdoor furniture with pallets that will be a big delight to view and to make at home! A very gorgeous sample here is this wooden pallet garden bench that is having a fantastic looking design and comes with enticing round edges! Here the custom cut lengths of pallets have been put together to build this interesting looking garden bench! Also duplicate this wooden pallet bench for your garden and also to sell in your craft store! Grab the full project details and tutorial from here instructables
How To Build Pallet Lounge Chair:
It always demands for a comfortable and relaxing platform to enjoy book reading and daydreaming! So, presenting here the handmade wooden pallet lounge chair that would make a perfect reading nook at your outdoor! Put one or two pallets together flat and let one come at the back a certain angle to make the backrest and hence you will get a brilliant looking lounge chair! You can also clone this wooden pallet lounge chair to sell! Pretty simple and easy peasy pallet furniture project! Grab the full free tutorial and instructions from here dekorella
DIY Industrial Style Pallet Coffee Table:
Even if you are having zero woodwork experience and has just an easy skill level then you can still get crafty with pallets to make some adorable items of furniture to sell! Simply stack the pallets to build modern and stylish items of furniture at almost no-cost price! Check out there a brilliant stack of 2 pallets that results into a fantastic looking pallet coffee table, finished with glass top and also with hardware wheels for a glam industrial touch! Moreover, this coffee table is storage-friendly and will make a great living room centerpiece! Willing to duplicate this coffee table? Grab the full free guides and visual tutorial from here instructables
How To Make A Two Pallet Potting Bench: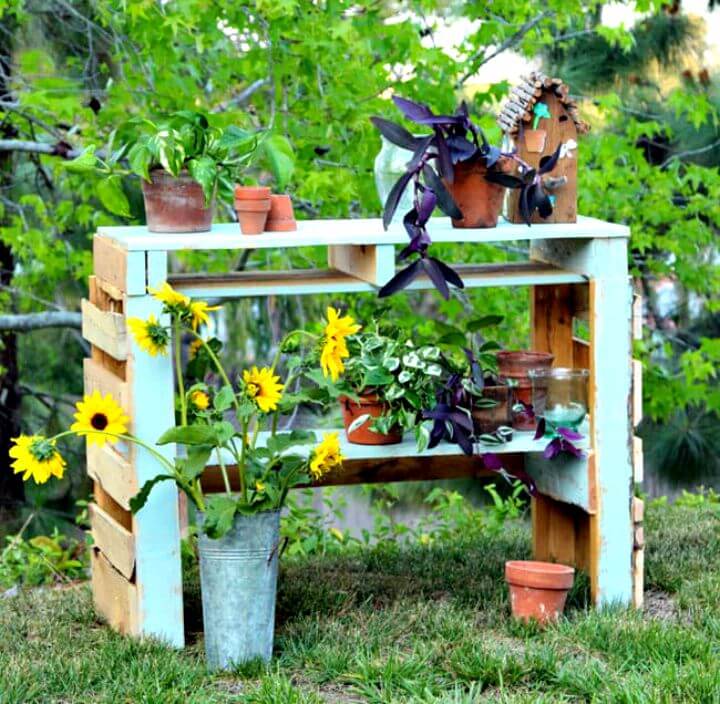 Build also the interesting garden furniture with pallets that will be highly selling among the garden lovers! Grab a free stock of shipping pallets skids and use only 2 out of them to make this handsome-looking wooden pallet potting bench! Here this potting bench comes with a built-in shelf also to provide some extra display and storage space for your pots! Another great and brilliant pallet craft to make and sell! Here is how to make this pallet potting bench apieceofrainbow
Cute DIY Washi Tape Mini Wood Pallet Coasters:
You can also make smart use of pallet wood remains and leftover pieces to make interesting crafts to sell! Here the bits and pieces of pallets have been turned into mini pallet shapes that have then been adorned with the colorful washi tape strips to make interesting coasters! These coasters can easily be sold in your craft store to earn higher revenues and they would also make a housewarming warming gift to a new homeowner or neighbor! Grab the full project details and instructions from here washitapecrafts
Adorable DIY Roman Numeral Pallet Clock:
Get inspired of this another fantastic pallet wood creation, the lovely wooden pallet clock that comes in perfect round shape and is wholly made of pallet wood slats! Just dismantle a pallet skids and put flat to separated planks to shape up a wooden board, cut out a round piece to make this clock! Next just paint in desired color and add the custom numerals, here roman numerals have been used for this clock! One more gorgeous pallet creation to make and sell! Complete project tutorial here littleredbrickhouse
How To Make Pallet Coffee Table:
A coffee table is the most made item of furniture with pallets! There are tons of designs of pallet-made coffee table that come in all designs from rustic to modern to vintage inspired and can also be made to sell! Building coffee table with pallets is something that is super budget-friendly, so you can also try building this chevron pallet coffee table to earn a handsome amount of money! Here this multi-tone chevron pallet coffee table provides storage pockets and stands on thicker wooden post legs and is really something super beautiful to look at! Here is how to make it themerrythought
Build Your Own Vertical Pallet Garden:
Here is another smart and interesting project to do with pallets either to earn a revenue or to boost your garden decors! Just start potting in pallets and build fantastic looking vertical pallet garden at just a drop of the hat! Get inspired by this sample pallet garden that has been personalized with white overwritten letters! Here the idea is to somehow create the holding in pallets that can be filled with potting soil to grow custom plants and herbs! Also, paint your vertical pallet garden in your favorite color! Complete project instructions here hometalk
Make A Pallet Daybed: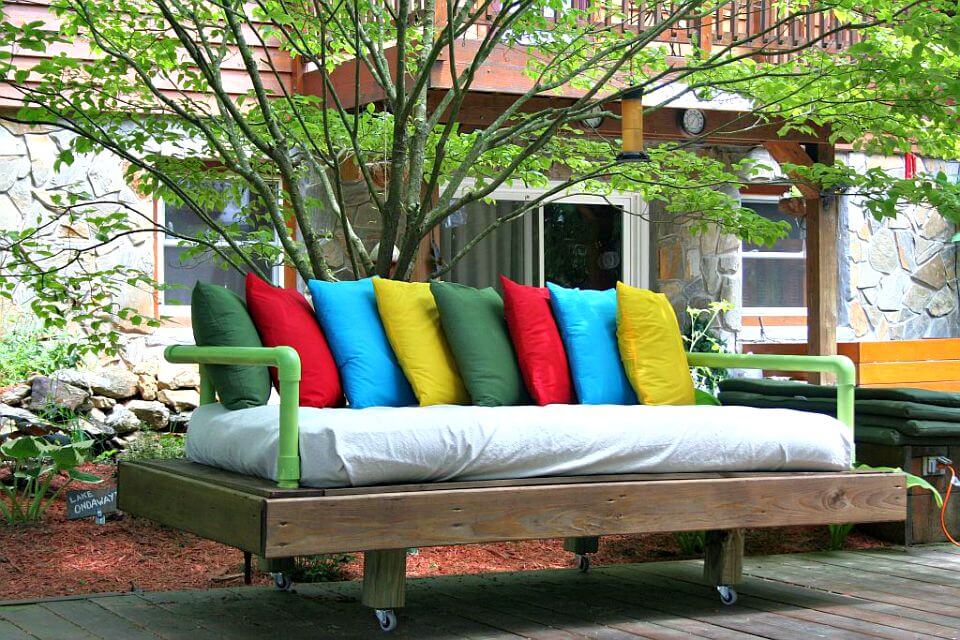 If you are intending to gain a perfect reading nook at your outdoor then you must like this wooden pallet daybed that is another mind-blowing pallet achievement! Here again, you have to get crafty with pallets to build a thicker wooden slab or platform which can then be added with durable legs having wheels at their end! Build the entire side rail using the PVC scrap and cushion your finally finished model of wooden daybed! One more interesting pallet furniture creation to make and sell! Complete project instructions here ondawaytosomewhere
Adorable DIY Pallet Wood Bench and Gabion Table:
If you are big outdoor lover then you will definitely like this set of wooden pallet bench and gabion table that has been built to last and inspire and is something super beautiful to look at! Here the base of the table is made of a metal wire cage that is filled with stone for gaining the respective appeal and look! The empty box style benches have also been made with pallets and come around the gabion table to give a nice sitting plan! This furniture set would also be amazing to make and sell! Complete project guides here apieceofrainbow
DIY Wooden Pallet Chillout Lounge: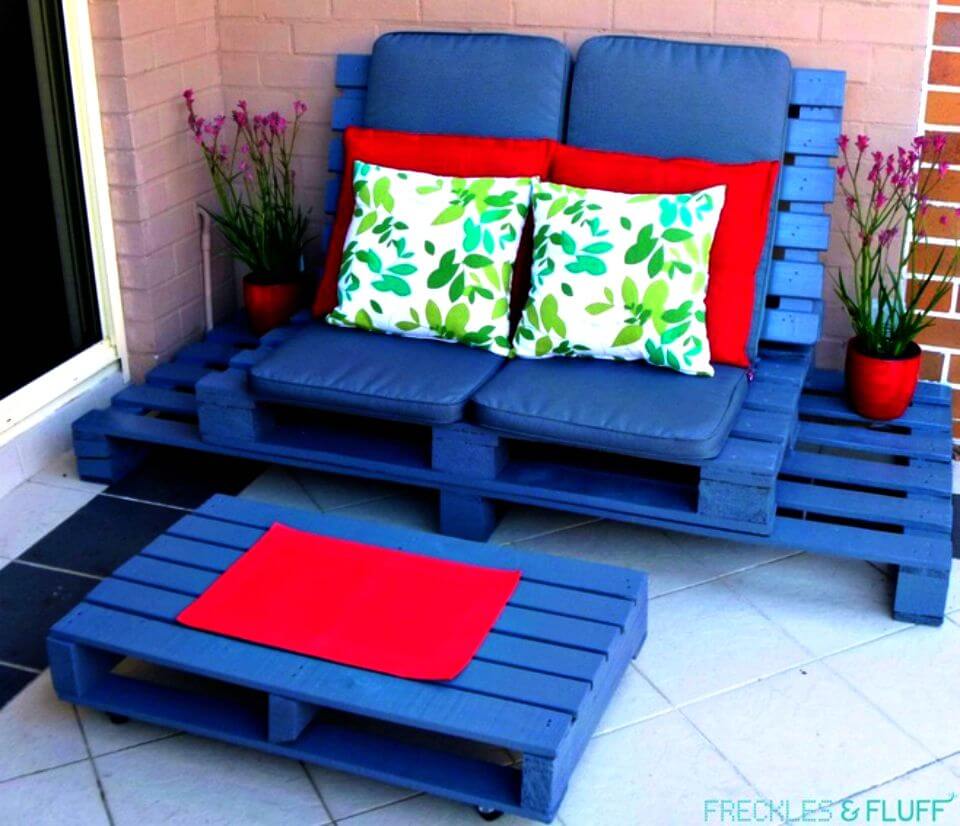 You will just fall in love with this pretty awesome piece of handmade furniture that is also a pallet wood creation! This is here the self-made wooden pallet chillout lounge that is made by using uncut pallet skids! Just grab a bigger pallet and then put a smaller one on it, add another as a backrest and gain a beautiful looking pallet chillout lounge! Here this sample chillout lounge need no side table as it offers the space for placing the refreshments and other items of need! Moreover, an extra pallet has been finished with rolls to make a matching coffee table to put in front of this lounge! Also make and sell this lounge to earn a lot! Don't forget to paint and cushion your lounge in the desired way! Complete project tutorial here frecklesandfluff
Build Your Own a Pallet Daybed: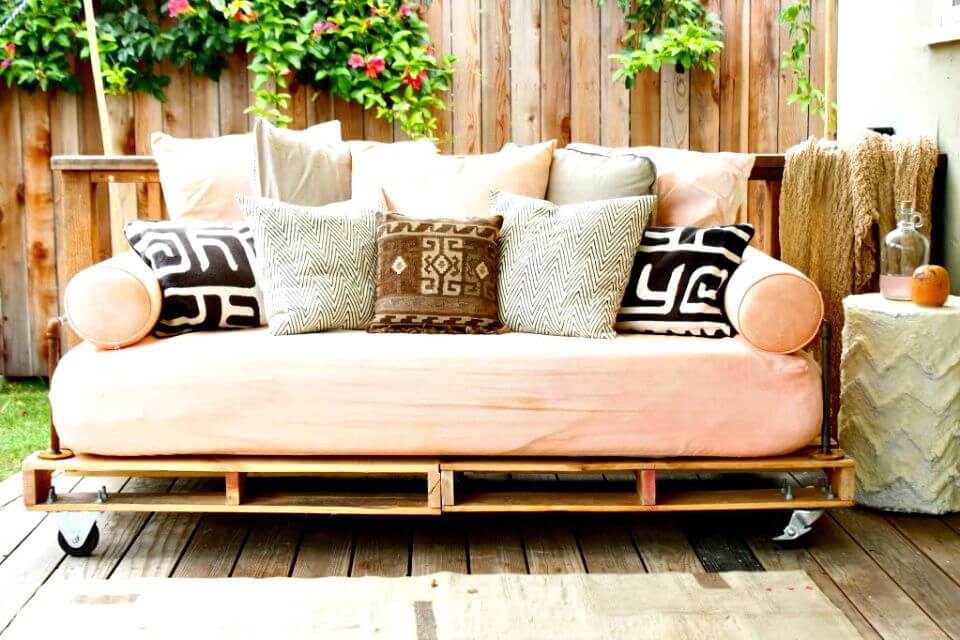 Enjoy daydreaming also by sitting and sleeping comfortably on this wooden pallet day bed! One more innovative pallet furniture craft to hold your attention and has been made to rock, amaze and inspire! Here this precious looking wooden pallet daybed would be ready in no time and all you need a big single pallet board to supplicate this fantastic-looking pallet daybed! Just install wheels to an underside of a bigger wood skid and then just install the side rail! Here the rail is made of plumbing metal pipes that will give the enticing backrest and also the boundary all around the daybed! Just finish your model with a thicker foam cushion and that's it! Another brilliant pallet woodcraft to make and sell! Complete tutorial here prettyprudent